Pages 180-184
A History of the County of Somerset: Volume 8, the Poldens and the Levels. Originally published by Victoria County History, London, 2004.
This free content was digitised by double rekeying. All rights reserved.
STAWELL
TOPOGRAPHY
The ancient chapelry and tithing of Stawell lies on the south side of the Polden ridge, its chapel nearly 2 miles (3.4 km.) north-west from its mother church at Moorlinch. Settlement comprises the small village of Stawell. (fn. 1) The western boundary of the chapelry was governed by Pendon Hill (47 m.) and the adjoining West moor, its northern by the Roman road along the Polden ridge. Inclosure of King's Sedgemoor in 1795 added 107 a. to the tithing. (fn. 2) The tithing measured 974 a. in 1840. (fn. 3) In 1933 the civil parish absorbed that of Sutton Mallet (fn. 4) and in 1981 it measured 917 ha. (1,270 a.). (fn. 5) In that year parts of Edington and Catcott south of the Glastonbury-Bridgwater road opposite Stawell were added, making a total area of 951 ha. (2,350 a.) in 1991. (fn. 6)
Most of the chapelry occupies a shallow valley between Cock Hill, near the high point of the Polden ridge on the north and Ball Hill (49 m.) on the south and is sheltered from the west by Pendon Hill. The soil is largely Keuper marl with a ribbon of clay and outcrops of limestone on Cock Hill; Pendon Hill has a cap of lias. West Moor, to the south of Pendon, is alluvium. (fn. 7) In the later 18th century the place was known for its white lias. (fn. 8)
POPULATION
In 1563 there were 26 households in the chapelry (fn. 9) and c. 1785 23 houses. (fn. 10) In 1801 there were 144 inhabitants, rising to 221 in 1841 but thereafter falling in nearly every decade to 167 in 1891 and to 126 in 1901. In 1921 and 1931 the figure was 137 and after the amalgamation with Sutton Mallet the total rose to 296 in 1961, fell to 257 in 1971, but by 1991 had almost reached the level of thirty years earlier. (fn. 11)
SETTLEMENT AND BUILDINGS
The main settlement of the estate mentioned in Domesday Book is along a single street, part of a road running westwards from Moorlinch which forks beyond the village, leading along Wood Lane on the north side of Pendon Hill to fields, and on the south of the hill to West Moor and Chedzoy. An indirect minor road runs north from the centre of the village, now to Ford Farm in Bawdrip and the Glastonbury-Bridgwater road but also to a site north of the village, perhaps the site of the demesne farm which by the early 17th century was also known as Littleton. (fn. 12) There were common arable fields east, south, and west of the village. (fn. 13)
Before the 20th century all the farmhouses were in the village street and several have subsequently become substantial private houses. The Poplars and Onaping House, a single structure, dates from the 16th or the 17th century, and is probably the oldest surviving building. Prosperity in the 18th and the early 19th century is indicated by West House, Manor Farm, Elm Tree Farm, Stawell House, Old Manor House, and the Grange, the last two wholly or partly of brick. Elm Tree Farm is of the early 18th century and Stawell House, of the mid 18th century, may incorporate elements of an earlier building. Snowdrop Cottage is a small house of c. 1600. (fn. 14) Much infilling with substantial houses in former farmyards has been a feature of the later 20th century.
SOCIAL LIFE
In 1280 four people sold ale in breach of the assize, in 1311 three; in 1418 three brewers were similarly accused, and in 1531 one seller. (fn. 15)
The village hall was built in 1948 and rebuilt in 1990. (fn. 16)
MANOR
In 1066 Alward held Stawell and in 1086 Godescal was tenant of Glastonbury abbey. (fn. 17) The manor was said to be held of the abbot in 1507 as of Westonzoyland manor, (fn. 18) and in 1604 to be held of Sir Edward Dyer as of the same manor. (fn. 19)
In 1189 Geoffrey of Stawell, identified with Geoffrey of Coveston or Cothelstone, did homage to the abbot for a fee of five hides which he had held 'anciently'. Geoffrey still held it c. 1198 but was succeeded by Henry of Stawell before 1252, (fn. 20) by (Sir) Geoffrey of Stawell by 1264-5, (fn. 21) and by others of the same name. (fn. 22) Sir Geoffrey, son of Sir Geoffrey, succeeded in 1340 and died in 1361. (fn. 23) (Sir) Matthew Stawell, son of the last, died in 1376 (fn. 24) and was followed by his son (Sir) Thomas Stawell. (fn. 25) Thomas died in 1439 and was succeeded by his grandson, Robert, (fn. 26) and Robert on his death in 1506 by his grandson also Robert. The last died in 1508 and was followed by his son John. (fn. 27) John Stawell died in 1541, leaving his grandson (Sir) John a minor. (fn. 28) Sir John Stawell died in 1603, his son of the same name and title in 1604, (fn. 29) and his grandson, also Sir John Stawell, in 1662. (fn. 30)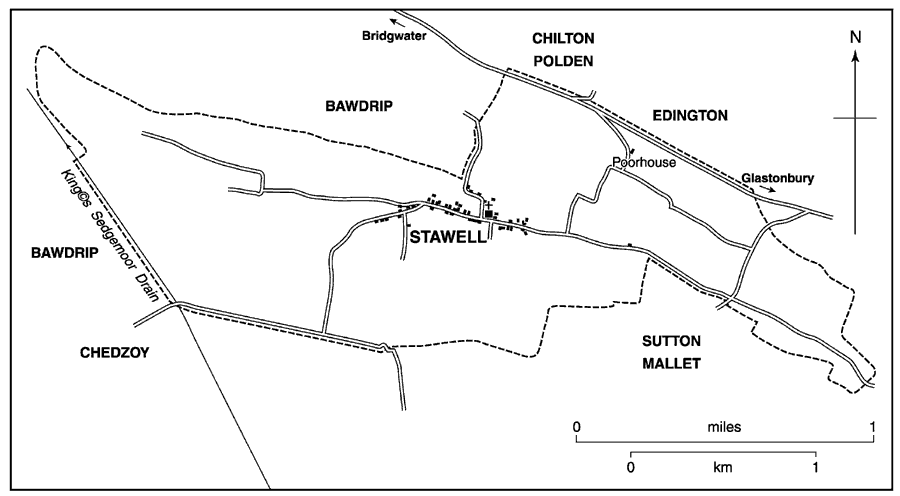 The manor passed in succession to George (d. 1669) and Ralph (cr. Baron Stawell of Somerton 1683, d. 1689) and to Ralph's son John, Baron Stawell. (fn. 31) The last was heavily in debt and the manor was sold soon after his death in 1692 to a Mr. Stringer. (fn. 32) The Stringer family appear to have been owners in 1733 and 1747, (fn. 33) and a Mr. Stringer sold it to Mrs. Hart or Hort, (fn. 34) who was in possession by 1767 and until 1781. (fn. 35) She sold to Mr. Muggleworth of Bristol, owner in 1782, and he in 1782-3 to Henry Gooding or Gooden of London. (fn. 36) In 1798 the estate passed to Gooding's tenant James Dawbin. (fn. 37) No further reference to the manor has been found.
Old Manor House and Manor Farm may have been so named when occupied by tenants of the manor estate or owners of the largest property in the parish.
In 1306 Adam of Ford was licensed to grant land in Stawell and Sutton Mallet to support his chapel at Ford. (fn. 38) The estate passed to the Crown in 1548 and was sold to William Lacy. (fn. 39) Athelney abbey received rents from the chapelry in 1535 (fn. 40) which in 1545 were in lay hands. (fn. 41)
ECONOMIC HISTORY
AGRICULTURE
In 1086 the estate gelded for 2½ hides and had land for as many teams, but only 2 teams were recorded. The demesne holding of 2 hides and a virgate had 1 team, worked with 3 serfs. Three bordars with 1 team had a virgate. There were 20 a. of meadow and stock comprised 5 riding horses, 5 beasts, and 200 sheep. The value of the holding had risen from 5s. to 40s. since 1066. (fn. 42)
Excavation of linear features north of the chapel indicates that from the later 12th century onwards grain, peas, and beans were cultivated and processed within the tithing. (fn. 43) In the mid 14th century at least 29 tenants held land there, and the estate included a holding each in Catcott and Glastonbury. (fn. 44) In the early 17th century four free tenants were summoned to the manor court, including Francis Popham, John Brent, and Sir Robert Strode. (fn. 45) The Strodes and their successor, Sir John Oglander, retained their holding until the later 18th century. (fn. 46) In 1621 there were 28 customary holdings, five of them occupied by members of the Godfrey family. (fn. 47) A Walter Godfrey had been a prominent resident in 1497, (fn. 48) Richard Godfrey, an errant miller in 1535-6, (fn. 49) and in 1621 Robert Godfrey occupied the capital messuage and one sixth of the demesne. Farms then varied in size between the two tenements held by Andrew Pyne and Edith Shute together of just over 90 a., that of Andrew Godfrey of 82 a., Walter Godfrey of 80 a. and the windmill, and of six others of 40 a. and more. Seven of the tenants appear to have shared the 'farm' of Littleton, (fn. 50) later simply called the Farm, (fn. 51) which had fallen into the lord's hands in 1604. (fn. 52)
In 1531-2 the wheat tithes payable to the Glastonbury almoner were let for £8 and rents of the almoner's land amounted to 64s. 8d. (fn. 53) By 1626 arable was found in three common fields, west, south, and east. (fn. 54) The tithes of the chapelry, worth £42 in the later 17th century, were then more valuable than any in the whole of Moorlinch parish. (fn. 55)
By 1840 there were eight principal holdings in the chapelry, six of them measuring between 100 a. and nearly 150 a. Four of them were farmed by members of the Dawbin family. By that date about a third of the chapelry was under arable, somewhat under two thirds under grassland and orchard. Woodland occupied nearly 16 a., but field names suggest that formerly there had been wood on the northern side of Pendon Hill. (fn. 56)
By 1851 three substantial farms had been created, of which two measured c. 280 a. and employed between them 23 labourers. The third measured 153 a. and employed 6 labourers. The largest, that of Robert Hole of the Manor House, had increased to 293 a. by 1861 and to 340 a. by 1871. Hole himself in 1861 was described as both farmer and agricultural implement agent. By 1871 there were three other farms of over 100 a. (fn. 57) By 1881 there were five principal farms, four of them measuring between 100 a. and 150 a. (fn. 58) By 1905 arable land measured 165 a. and grass 546 a. (fn. 59) By 1923 one of the farms, based at Stawell House, had become a fruit farm, which covered 23 a. in 1998. (fn. 60) In 1980 there were ten farms. (fn. 61) In 1998 the balance of arable and grassland had changed little from a century earlier, but several of the farmhouses had become private dwellings with their buildings and yards converted to or occupied by houses.
MILLS
There was a mill by 1327, (fn. 62) either the windmill mentioned between 1345 and 1348 (fn. 63) or the watermill recorded in 1361. (fn. 64) A miller was accused of taking excessive toll in 1364-5, 1418, and 1535-6. (fn. 65) Two windmills were recorded in 1621, (fn. 66) and two millers were named in the following year for taking too much toll. (fn. 67) Five years later the old mill moot in the east field was mentioned. (fn. 68) Stawell mill, a windmill on Cock Hill, was recorded c. 1660 (fn. 69) and 1726. (fn. 70)
TRADES AND CRAFTS
Two shops were in business in the 1860s and 1870s and one continued until after 1980. An apple shop had been opened by 1980 and was in business in 1998.
A smith and a carpenter were at work in the later 19th century, the former surviving until just after the First World War. (fn. 71) A shoe repairer and a chimney sweep were in business in 1947. In 1980 residents without transport depended on buses and on four travelling shops. (fn. 72)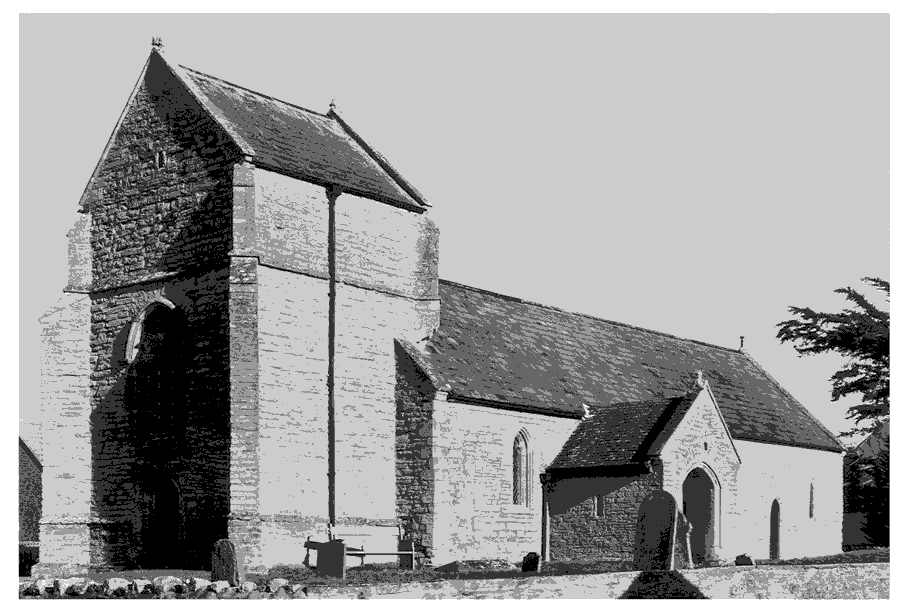 LOCAL GOVERNMENT
In 1274 Glastonbury abbey claimed the right to take strays in Stawell, presumably as part of its estate of Dundon super Polden. (fn. 73)
Court rolls for the manor survive for September 1603 and for March and October 1632 and were concerned with tenancy changes, building repairs, and drainage. A hayward reported strays. (fn. 74)
In 1670 there were two chapel wardens and an overseer. (fn. 75) The tithing had a poorhouse on the Cock Hill. (fn. 76) It was subsequently extended and divided for private occupation. (fn. 77)
CHURCH
ORIGINS AND ENDOWMENT
There was a chapel by 1270 when the lord of the manor received permission from the abbot of Glastonbury to have his grandson baptised there and not at the mother church of Moorlinch. (fn. 78) Curates appointed by the vicar of Moorlinch served Stawell and Sutton Mallet together in the later 16th and the 17th century, (fn. 79) and in the early and mid 19th century. (fn. 80) The chapel continued to be part of Moorlinch parish and from 1981 was part of the benefice of Middlezoy, Othery, and Moorlynch. (fn. 81) In 1796 there was 1 a. of glebe and the vicar of Moorlinch received 2d. an acre in lieu of tithe hay from parishioners, 1s. an acre from land let to outdwellers, and all other vicarage tithes. (fn. 82) Before 1840 moduses were payable on cows, heifers, calves, and lambs and in that year a rent charge of £60 was awarded to the vicar of Moorlinch. (fn. 83)
There was a house for the curate in 1586. (fn. 84)
CHURCH LIFE
Services were held irregularly in 1575 and 1600, (fn. 85) on alternate Sundays in 1815, but usually every Sunday in 1827 while Sutton Mallet church was being rebuilt, (fn. 86) and every Sunday by 1839. (fn. 87) By 1873 services with sermon were held every Sunday and communion was celebrated every six weeks. (fn. 88)
CHURCH FABRIC
The church, dedicated to St. Francis from the 1960s but earlier with no recorded dedication, probably originated as a building with undifferentiated chancel and nave in the 13th century. The arcade of a north aisle, of c. 1300, embedded in the north nave wall, bears evidence of reassembly, possibly in face of actual or threatened collapse; the upper part of the 15th-century tower was rebuilt as a short gabled stage in 1610, (fn. 89) and perhaps at the same time the southwest corner of the nave was carried slightly westward to buttress the tower. Some of the windows were renewed in the 14th century. A pulpit 'very antique and tumbling to pieces' and a reading desk of 1635 were still in place in the 1780s; a west gallery, evidently built later, was recommended for removal in 1848. (fn. 90) A general restoration was undertaken in 1874 (fn. 91) during which the seats, furnishings, and nave roof were introduced.
There is one bell, of 1770 by Thomas Bayley. (fn. 92) The plate includes a cover of 1573-4 by 'I. P.' and a cup of 1661 by 'R. S.'. (fn. 93) The registers begin in 1675, (fn. 94) but there are entries in Moorlinch registers between 1653 and 1909. (fn. 95)
NONCONFORMITY
The house of Thomas Granger, licensed for worship in 1695, may have been at Stawell. (fn. 96) Ebenezer chapel (fn. 97) was built in 1861 by Congregationalists and was, with the chapels at Chilton Polden and Puriton, under the care of the pastor at Knowle in Bawdrip. (fn. 98) It was closed c. 1982. (fn. 99)
EDUCATION
In 1833 there was a day school for 22 children taught at their parents' expense, (fn. 100) and in 1847 a Sunday school for 17 children. (fn. 101) A day school had been opened by 1861 and continued until 1866 or later. (fn. 102) A new school, in memory of George Templer Graham, was built in 1872 and by 1875 was affiliated to the National Society. (fn. 103) It had an average attendance of 41 in 1883, 50 in 1889, and 41 in 1903. (fn. 104) From 1911 it became a county school and from 1950 took juniors and infants only, the seniors having been transferred to Westonzoyland Secondary Modern school. It closed in 1972. (fn. 105)