Pages 25-34
A History of the County of Somerset: Volume 8, the Poldens and the Levels. Originally published by Victoria County History, London, 2004.
This free content was digitised by double rekeying. All rights reserved.
TOPOGRAPHY
CATCOTT
The parish and former chapelry of Catcott, like its neighbours Edington and Chilton Polden, stretches roughly northwards across the Brue valley in a narrow band from the Polden ridge. (fn. 1) It was formerly part of the ancient parish of Moorlinch and includes the compact village of Catcott, on the lower slope of the ridge, and part of the hamlet of Burtle 4 km. across the moor to the north. On Catcott Heath an area of 27.5 ha. of 'mixed fen', botanically the richest site on the peat moors and of importance to ornithologists and entomologists, has been designated a site of Special Scientific Interest. (fn. 2)
The parish was 7 km. in length and 1.4 km. at its widest; a detached area of 250 a. on King's Sedgemoor, to the south of Moorlinch parish, was added after inclosure in 1800. (fn. 3) In 1842 the parish measured 1,993 a. (fn. 4) In 1933 the King's Sedgemoor area was transferred to Moorlinch. (fn. 5) In 1981 the creation of the civil parish of Burtle and the transfer of that part of the parish south of the Glastonbury-Bridgwater road to Moorlinch and Stawell reduced Catcott civil parish to 422 ha. (1,043 a.). (fn. 6)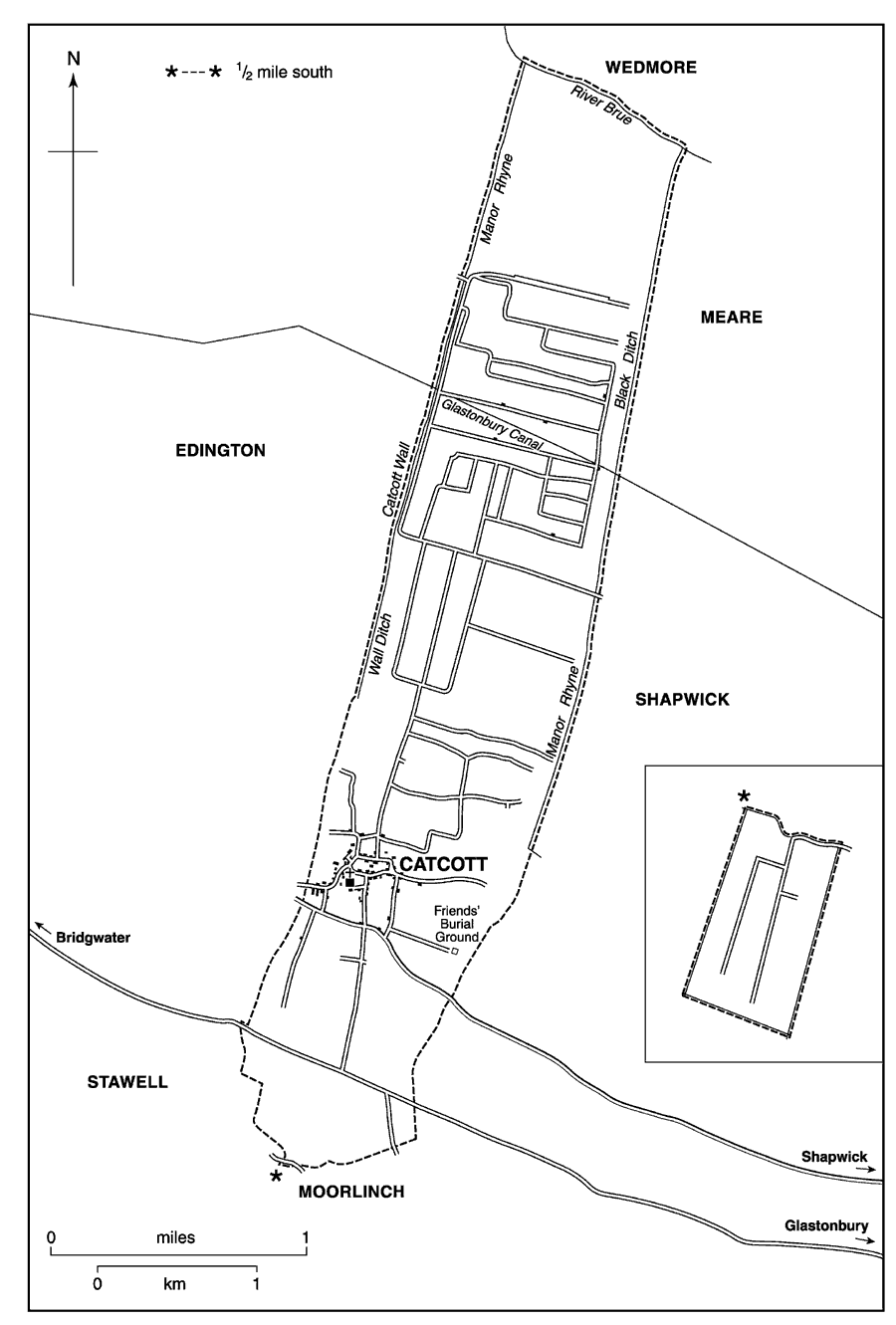 The parish lies on the northern slope of the Polden ridge, falling from nearly 98 m. on Billicombe Hill over Keuper Marl followed by clay and limestone to 23 m. at the northern edge of the village. There a narrow band of alluvium may represent hill wash or a former watercourse. Beyond is peat marsh at 3 m., into which the sand and gravel of the Burtle Beds intrudes from the west. The clay was described in the later 18th century as rather cold and wet. (fn. 7) Stone was extracted for paving in the 18th century, presumably from the quarry north-west of the village. (fn. 8)
Boundaries to east and west are largely man-made watercourses and earth banks: Catcott Wall or the great wall and Manor Rhyne mark the limit with Edington on the west; Mill Brook, another Manor Rhyne, and Black Ditch the division from Shapwick to the east. (fn. 9) In the earlier 14th century the White Ditch divided Catcott from Shapwick. (fn. 10) A new cut was made between the two c. 1651. (fn. 11) The northern boundary is the river Brue, the southern until 1981 a roughly triangular area south of the Glastonbury-Bridgwater road including parts of Socombe and Billicombe hills. (fn. 12)
COMMUNICATIONS
The village settlement is an irregular grid apparently formed around three east-west routes which follow the contours of the lower slopes of the Polden scarp. The most southerly, known as the Broadway from Catcott westwards, was diverted to the south in its course to Shapwick along a second route named Lippets Way. A second route eastwards was in use in the 1780s but had been abandoned by 1822. (fn. 13) The name Katherine Cross, evidently marking an intersection, was mentioned in 1613 but has not been identified. (fn. 14) The ridge route, possibly Roman in origin, was turnpiked by the Bridgwater trust in 1759. (fn. 15) The only route north from the village ends at Catcott Burtle, where further progress is either east or west.
The Glastonbury canal, constructed between 1829 and 1833, crossed the parish between Catcott village and Catcott Burtle. It was closed in 1853 and was replaced by a railway built along its northern bank. (fn. 16) That railway, opened in 1854 and operated by the Somerset and Dorset Railway, closed in 1966. (fn. 17)
POPULATION
About 1550 there were said to be 30 households in Catcott chapelry with 7 score people. (fn. 18) In 1563 there were said to be 32 households, (fn. 19) and c. 1785 67 houses, including 8 in Catcott Burtle, with c. 360 inhabitants. (fn. 20) In 1801 the population was 391. It had nearly doubled by 1851 but thereafter fell nearly every decade until 1961. Boundary changes in 1981 masked growth during the 1970s, and the total in 1991 was 476. (fn. 21)
SETTLEMENT AND BUILDINGS
Mesolithic flints and prehistoric pottery have been found both east and north of the village, and a Romano-British burial and associated pottery have been found on the edge of the present settlement at Townsend. Catcott village is built around an irregular grid, probably created by three existing east-west routes. There is some indication of shrinkage of settlement both to the west of the village and immediately south of the church. (fn. 22) Open arable fields lay around Catcott village to the north, east, and west until the earlier 18th century. (fn. 23) The hamlet of Catcott Burtle, in the moors to the north, was created following inclosure of the area in 1799. (fn. 24) In the mid 19th century there were two scattered settlements between Catcott village and Catcott Burtle on Broad Drove and Catcott Heath. (fn. 25)
The older surviving houses are mostly on the west side of the village and include Dial House, dating from the late 15th century, Old House, Barton Farm, and Tarry House of the later 16th or the earlier 17th century, and Manor House from the 17th century. Orchard House, on the east side of the village, incorporates the top of a 13th-century window, probably removed from the church. Among the farmhouses, Hill Farm is of the 18th century and Langlands Farm of c. 1820. (fn. 26)
SOCIAL LIFE
A maypole in church and 'cushion' dancing with minstrels were practised in the earlier 17th century. (fn. 27) A revel was held at Catcott before the First World War. (fn. 28) The West Polden Friendly Society, registered in 1839, included members from Catcott. (fn. 29)
Nine ale sellers were in beach of the assize in 1280, nine in 1311, and six brewers were operating illegally in 1418. (fn. 30) Two ale sellers and a tapster were reported in 1536. (fn. 31) A victualler was in business in 1620 and licensed tipplers in 1630 and in the 18th century suggest the existence of a single inn. (fn. 32) By 1842 there were three, the King William in Catcott village, and the Globe and the Burtle inn at Burtle. (fn. 33) The King William and the Globe were joined by a beer retailer by 1861, and by 1871 there were six inns in business. (fn. 34) One of the six may have been the later New Inn, said to have been open by 1869, which closed in 1921. (fn. 35) Both the Royal Oak in the centre of Catcott village and the Crown in Moor Lane had opened by 1875. (fn. 36) In 1881 the First and Last was named at Burtle. (fn. 37) After 1921 there were six licensed premises at least until 1939, the Royal Oak having been rebuilt and become the Royal Hotel by 1910. (fn. 38) In 1998 there remained the King William and the Crown in Catcott and the Olde Burtle Inn at Burtle.
Fifteen people were fined for their support of Cornish rebels in 1497. (fn. 39) In 1685 an attack was made on a house in Catcott by some of the duke of Monmouth's supporters; (fn. 40) one man from the village was accused of complicity in the rebellion. (fn. 41)
MANOR AND OTHER ESTATES
CATCOTT MANOR
In 1086 Roger de Courcelles held 5 hides at Catcott, which were recorded with Glastonbury abbey's Shapwick estate. (fn. 42) The land continued to be held of Glastonbury as 1 fee presumably until the Dissolution. (fn. 43) In 1630 it was said to be held of Edington manor. (fn. 44)
Giffard Whiting held the fee c. 1198, (fn. 45) but by the early 1260s a mesne tenancy had been created and the fee was divided between two sisters, Mary wife of Jocelin de Bathusia or Bause, and Isabel, wife of David Basset. (fn. 46) By 1284 Mary had been succeeded by Thomas de Bause, (fn. 47) and in 1303 both Thomas and Matthew de Bause were recorded as owners. (fn. 48) By 1337 they had been followed by Thomas, son of Thomas Trivet. (fn. 49) Thomas's heirs in 1405 were John Verney, Robert Orchard, John Pokeswell, John Wiveliscombe, and Christine Clopton, descendants of his three daughters. (fn. 50) Robert Orchard (d. 1413), John Pokeswell, and Christine Clopton (d. 1412) all had small holdings in Catcott in the early 15th century, (fn. 51) and John Verney continued his family holding until 1549 or later. (fn. 52)
Anselm Basset, son of Isabel Whiting and David Basset, was granted the ½ fee by his mother and stepfather in 1262-3. (fn. 53) Anselm was followed by John Basset, who held it in 1284-5 and 1305. (fn. 54) By 1344 the fee had passed to the heirs of Sir Walter of Romsey, and in 1348 Sir Walter of Romsey did homage for ½ fee. (fn. 55) Sir Walter died in 1403 and was followed by his grandson Thomas. (fn. 56) Thomas was still holding the fee in 1405, (fn. 57) but no further reference to it has been found.
Roger Whiting (fl. 1242-3) (fn. 58) was the terre tenant of Catcott when the fee was divided between Mary and Isabel Whiting, (fn. 59) and by 1262-3 he had been followed by Thomas Whiting. (fn. 60) By 1284-5 Laurence of Catcott was the tenant, (fn. 61) and by 1316 John of Catcott, (fn. 62) also known as John Whiting, was in possession. He was still alive in 1346. (fn. 63) By 1362 the family, in the person of Alice of Catcott, seems to have acquired a fraction of the Trivet fee, (fn. 64) and in 1372 both Alice and Walter of Catcott were described as lords. (fn. 65) In 1403 Walter Catcott was tenant of the Romsey fee. (fn. 66) Walter died in 1405 when his heir was his daughter Alice, wife of William Hampton. (fn. 67) Philip Hampton had an interest in the former Trivet fee in 1412, (fn. 68) and in 1429 Philip and his wife Alice settled what was called Catcott manor on Elizabeth, evidently Alice's daughter, and on her husband William Viel. (fn. 69) Philip was the ancestor, possibly great-grandfather, (fn. 70) of Lucy (d. 1504) and Joan (d. 1506), coheiresses of the Hampton family. (fn. 71) Joan's heir was her son (Sir) Thomas Newton, although her surviving husband Sir Edmund Gorges held the manor by curtesy until his own death in 1511. (fn. 72)
Sir Thomas Newton died in 1519 and his son, also Thomas, in 1521 when the manor passed to (Sir) John Newton, Sir Thomas's brother. (fn. 73) Sir John (d. 1568) was followed in succession by his son Henry (d. 1599), by his grandson Sir Theodore (d. 1630), and by his greatgrandson (Sir) John, (fn. 74) the last of whom was created a baronet in 1660 and died without issue in 1661. (fn. 75)
Thereafter the manor seems to have been divided between Ann and Elizabeth, wives of John Palmer and William Townsend. (fn. 76) Ann's share seems to have passed in 1666 to Sir Thomas Brydges, and to have been united with the other share in or before 1712. (fn. 77) The immediate ownership of Elizabeth's share is not clear but from c. 1712 it descended like Huntspill de la Hayes in the Brydges family. (fn. 78) It was bought from Henry Brydges (d. 1771), duke of Chandos, by Sir John (later Baron) Henniker (d. 1803), the duke's brother-in-law, (fn. 79) and passed to his son John Henniker-Major, Baron Henniker (d. 1821), who settled it in 1804 on two of his three sons. (fn. 80) By 1822 the manor had passed to Sir Frederick Henniker Bt. (d. 1825), son of the third son, Sir Brydges Trecothic Henniker, Bt. (d. 1816). (fn. 81) Sir Frederick was succeeded in turn by his brothers Sir Augustus (d. 1849) and Aldborough (d. 1880), and by Aldborough's son John Granville Henniker, who died in 1914. The last was followed by his son Robert John Aldborough Henniker (later Bt.), (fn. 82) who broke up the estate in 1918-19 and sold the lordship in 1919 to the Revd. Dr. Frederick William Bussell. Lordship then comprised income from stocking the droves on the moor less the cost of maintaining bridges and drains. (fn. 83) In 1941 Bussell offered the lordship as a gift to the parochial church council, but the council declined and no further reference to it has been found. (fn. 84)
OTHER ESTATES
In 1262 the rectorial tithes formerly belonging to Moorlinch rectory were acquired by Glastonbury abbey and until the Dissolution were assigned to the abbey almoner. (fn. 85) Thereafter they were leased by the Crown under the title of Shapwick rectory or Shapwick and Moorlinch manor. (fn. 86) In 1784 Catcott tithes were settled on Elizabeth, daughter of Thomas Strangways and wife of William Gould. She died in 1839. (fn. 87) The Hon. H. B. T. Strangways (d. 1920), grandson of Elizabeth, was lay rector in 1902, and his niece Miss Helen Vialls Strangways was so described in 1939. (fn. 88) In 1760 the tithes were let for £31, and in 1842 were commuted for £100. (fn. 89)
Both Buckland and Burtle priories had land in Catcott which was sold after the Dissolution. (fn. 90) The Burtle land was owned by Sir John Portman on his death in 1612 and then passed to his son Sir Henry. (fn. 91) The Portman family continued as owners until 1827. (fn. 92)
ECONOMIC HISTORY
AGRICULTURE
Catcott was assessed at five hides in 1086 when it was recorded as part of Shapwick. (fn. 93) No distinction was noted between demesne and tenant holdings. The destruction of a dyke c. 1242 may suggest some opposition to drainage. (fn. 94) In the 13th and the 14th century land seems to have been held by outsiders, (fn. 95) and in 1327 its taxpayers were apparently more substantial than those of Cossington and Chilton Polden. (fn. 96) In 1531-2 the grain crop was entirely dredge corn. (fn. 97) Land in the tithing continued to be held as part of larger estates in the 15th and the 16th century. (fn. 98) The Tynte estate in Catcott in the early 17th century included small farms entirely confined to the parish, such as that of Thomas Tilley which measured only 14 a. and comprised a house, strawhouse, orchard, and barton, 2 small plots of grassland, 2½ a. of turbary, and the rest in 8 plots of arable, most of it scattered in the common fields. There was also common turbary and 15 beast leazes on the moors. (fn. 99) The moors themselves were defined in 1638 as 241 a. of meadow described as in Catcott and Shapwick and 1,232 a. in Catcott Moor in the tenure of Lady Newton. (fn. 100)
In 1638 a local resident was licensed to be a badger of wheat, (fn. 101) perhaps a reflection of the prominence of the crop there. Among the leading farmers in the mid 17th century was Thomas Durston (fn. 102) whose descendants still occupied freeholds in the 1850s. (fn. 103) The principal holding, known by 1781 as the Farm, was then leased to the Digby family, who were succeeded in 1826 by the Revd. John Dampier. Members of the Melliar family were also substantial tenants. (fn. 104)
The conversion of arable to grassland following piecemeal inclosure of the open fields resulted in a fall in the value of tithes between 1674 and 1760. (fn. 105) The land was said in the 1780s to have been 'tolerably fruitful' and to have produced good wheat and beans despite indifferent farming methods. (fn. 106) Inclosure of the remaining open fields, as well as inclosure of the earlier parish allotment on King's Sedgemoor, was effected in 1799. (fn. 107) In 1842 it was divided between 437 a. of arable and 1,556 a. of grassland. Most belonged to the Henniker family and comprised the later Manor farm and one other substantial holding and nineteen small units measuring between 20 a. and 55 a. The next largest estate, that of Anne Field of Edington, measured 144 a. (fn. 108) There were still 11 small holdings in 1861, but by that date Manor farm had increased in size and Kirkgate and Longlands farms were also named. (fn. 109) By 1871 the occupier of Manor farm held 500 a. (fn. 110) By 1875 Crift and Westbrook had been added to the named farms, (fn. 111) an indication of a return to smaller farming units. (fn. 112) By 1886 Poplar, Cedar, and Beech farms were named, (fn. 113) and by 1894 Steels and Barton. (fn. 114) By 1897 a cow keeper and 2 calf dealers were working with the 16 farmers, of whom 4 were based at Catcott Burtle. (fn. 115) By 1905 arable had contracted to 110 a., while grassland totalled 1,809 a. (fn. 116) The Henniker estate was broken up in 1918-19. (fn. 117) The number of farmers had fallen to 9 by 1935. (fn. 118)
TURBARY
By the early 17th century the right to cut turf was included in leases of land in the manor, one specifying a close of turbary measuring 2½ a. and common of turbary in Catcott Land moor and Catcott Burtle moor. (fn. 119) Some 500 a. of pasture and turbary were in 1630 described as lately inclosed, and was known thereafter until the mid 19th century as the Five Hundred Acres. (fn. 120) The whole moor was later said to cover 1,231 a. (fn. 121) In 1721 one small area was known as 'white' turbary. (fn. 122) In the later 18th century the turbary was let in units of one acre, (fn. 123) and the inclosure of King's Sedgemoor in 1799 gave 20 a. of turbary to the poor, although by 1825 it had been 'much abused' by 'improper cutting'. (fn. 124) The field name Grenton Delvings surviving in 1842 indicates the rights established by Greinton parish. (fn. 125) In 1851 a dealer in turf and a turf labourer mark the beginning of commercial activity. (fn. 126) Ten years later there were 5 turf merchants and 5 turf labourers, (fn. 127) in 1871 there were 4 merchants and 2 cutters, (fn. 128) and in 1875 13 dealers, one of whom also kept a shop and two were also farmers. (fn. 129) Six years later there were 16 dealers based in Catcott village, a merchant in Catcott Drove, and 41 employees divided between slitters, cutters, workers, and labourers. (fn. 130) In 1891 2 men described themselves as turf merchants, 3 as dealers; (fn. 131) in 1897 7 were dealers. (fn. 132) The number of dealers had declined to one by 1939, (fn. 133) but in 1947 four families were involved in the trade (fn. 134) and permission to dig was given in just over 41 a. in the 1960s. (fn. 135)
MILL
In 1364-5, 1418, 1535-6, and 1622 millers were accused of taking too much toll, (fn. 136) though the type of mill they operated is not known. In 1675 there was a windmill on Billicombe Hill, on the south-western edge of the parish. (fn. 137) It was no longer standing in 1842. (fn. 138) The field name Millham on the eastern end of the Nidon ridge may indicate a water mill rather than a windmill. (fn. 139)
TRADES AND CRAFTS
A weaver was resident in 1327. (fn. 140) In 1851 there was a wide range of occupations in Catcott and Burtle, including eight butchers, six dressmakers, a stay maker, and a straw bonnet maker. (fn. 141) By 1866 there were four shops, including one at Catcott Burtle, (fn. 142) and by 1872 eight shops. (fn. 143) There were only three shops by 1881 and craftsmen had become fewer, but consistently in business from 1861 were carriers offering regular links with Bridgwater. In 1906 three carriers advertised journeys there on four days each week. From 1910 a fly proprietor was in business, by 1931 a motor car proprietor. (fn. 144) By 1947 there were two shops and a builder employing six people. (fn. 145) In 1979 there were a general shop and post office, a hairdresser, and a garage. (fn. 146)
LOCAL GOVERNMENT
Catcott was regarded as a tithing in the Middle Ages, (fn. 147) but no evidence survives for manorial jurisdiction. In 1670 there were two chapel wardens and a collector for the poor. (fn. 148) By 1837, the date of the earliest surviving accounts, a vestry, meeting in the church but usually chaired by one of the farmers, appointed two wardens, two overseers, two highway surveyors, two collectors of taxes, a hayward and pound keeper, and after 1836 a poor-law guardian. From 1842 five unpaid constables were appointed each year and one of the overseers was paid and also became assessor and collector of taxes. In 1841 the vestry awarded bounties for killing sparrows and in 1848 bought a horse for a pauper so that he could maintain his family elsewhere, both sums coming from the waywardens' accounts. In 1847 the vestry led objections to paying rates to repair Moorlinch church bells. (fn. 149) Catcott became part of Bridgwater poor-law union in 1836, part of Bridgwater rural district in 1894, and part of Sedgemoor district in 1974. (fn. 150) In 1848 and again in 1853 the vestry consented to the sale of three poorhouses. (fn. 151)
CHURCH
ORIGINS, PATRONAGE, AND ENDOWMENT
The church was referred to in 1377 when it was described as a chantry chapel; (fn. 152) in 1427 it was held with the manor. (fn. 153) The inhabitants claimed in the early 1550s that it had been founded two hundred years earlier and the chaplaincy three hundred years earlier. (fn. 154) It was still regarded as a chantry chapel or a free chapel in the earlier 16th century. (fn. 155) It was re-established as a chapel of ease within Moorlinch parish in 1554. (fn. 156) Thereafter it was regarded as a donative chaplaincy. In 1903 the living was endowed as a perpetual curacy, (fn. 157) but was not apparently officially separated from Moorlinch until 1924. (fn. 158) From 1903 until 1974 it was held with Burtle but thereafter was joined with Edington and Chilton Polden, and in 1982 the three became a united parish called West Poldens with the bishop of Bath and Wells as patron. (fn. 159)
In 1550, as a former chantry, the chapel and land were sold by the Crown to William Moryce and Edward Isaake, and by Moryce in 1551 to William Coke. Coke proceeded to demolish the building, but in 1554 he was ordered to rebuild. This he did in 1556- 7. (fn. 160) Thereafter chaplains were evidently appointed by successive lords of the manor until 1924 when F. W. Bussell, who had purchased the advowson with the lordship in 1919, transferred it to the bishop of Bath and Wells, (fn. 161) who thereafter appointed to the benefice of which Catcott formed a part.
In 1535 the chaplain had glebe worth 13s. 4d. and small tithes and offerings worth 66s. 8d. (fn. 162) The glebe comprised a house and 24 a. (fn. 163) The inhabitants later claimed that the chapel had originally been endowed by the lord of the manor with a house and 24 a. of land, and by the vicar of Moorlinch with altarage and small tithes. (fn. 164) The tithes and glebe passed to the Crown and in 1550 were sold. (fn. 165) They were temporarily returned during litigation but in 1582 were granted away again. (fn. 166) Thereafter the living was unendowed, but by the earlier 19th century the curate received a salary of £50 paid by the patron. (fn. 167)
CHURCH LIFE
The original endowment was said to have been for the support of a resident chaplain to say mass on holy days and to offer all other sacraments. He was not to bury the dead. (fn. 168) Chaplains, usually styled curates but lacking a residence in Catcott, held other cures from the later 16th century, including William Hatton who in 1600 was serving Chilton Polden and Edington. (fn. 169) In the 1780s there were c. 40 communicants. (fn. 170) John Brice (d. 1832), resident rector of Aisholt and absentee rector of Greinton, held the cure in 1815 and 1827 and the single Sunday services were conducted by his curate who lived at Greinton. (fn. 171) There was a resident curate in 1840 but not in 1843. A single service was held each Sunday, and communion was celebrated four times a year. (fn. 172) The curate in 1875 lived in Weston super Mare, and from 1878 the vicar of East Huntspill served the cure. (fn. 173) From 1903 it was held by the vicar of Burtle. (fn. 174)
CHURCH FABRIC
The chapel or church, by 1885 (fn. 175) dedicated to St. Peter, comprises an undivided chancel and nave, south porch, west tower, and north pew, part of which is a vestry. Most of the fabric seems to be of the 13th century: the chancel has a plain priest's door and one NW. lancet; the lower part of the tower has a double-chamfered arch to the nave, and a double lancet within a monolothic surround on the west face. The font is also of the 13th century, its circular bowl on a base with attached shafts. The top stage of the tower is of the 15th or the 16th century with diagonal buttresses added at that time.
The chancel seems to have been lengthened in the 14th century and has two-light traceried N. and S. windows. The work of 1556-7 (fn. 176) seems to have involved the repair of the chancel, which was given a new, wagon-type roof with large bosses, three of which have Tudor roses. Most work, possibly including the rebuilding of the nave which has straight-headed Perpendicular-style windows, was carried out in the 17th century. The nave was refitted with plain benches, some of which still have withdrawable extensions, and with altar rails and a font cover. The walls were painted with black letter script and motifs within decorative borders. The two pews mentioned c. 1785 (fn. 177) have gone. The west gallery, with a front of splat balusters, a ceiling on moulded beams within the tower, and three windows, two inserted north and south within the roof to light the gallery, and one cross-window, with shutter hinges, at the south-west end of the nave were probably added at the end of the 18th century. The church was described in 1912 as 'very poor' and 'utterly unworthy'. (fn. 178) W. D. Caroe cut down the pulpit in 1928, bleached it and the clerk's desk, and made a screen to the vestry. (fn. 179) Commandment boards were added in the 18th century but were removed to their present positions in nave and tower in the second half of the 19th when the east window (probably blocked) was revealed and a new one inserted. After c. 1870 (fn. 180) a new nave roof was added above the level of the previous one, the original wagon shape being recreated using iron rods spanning between new timber trusses, with an infilling of granular plaster. The private pew was added probably in the early 19th century but was reported out of repair in 1839. (fn. 181) The Royal Arms are dated 1792.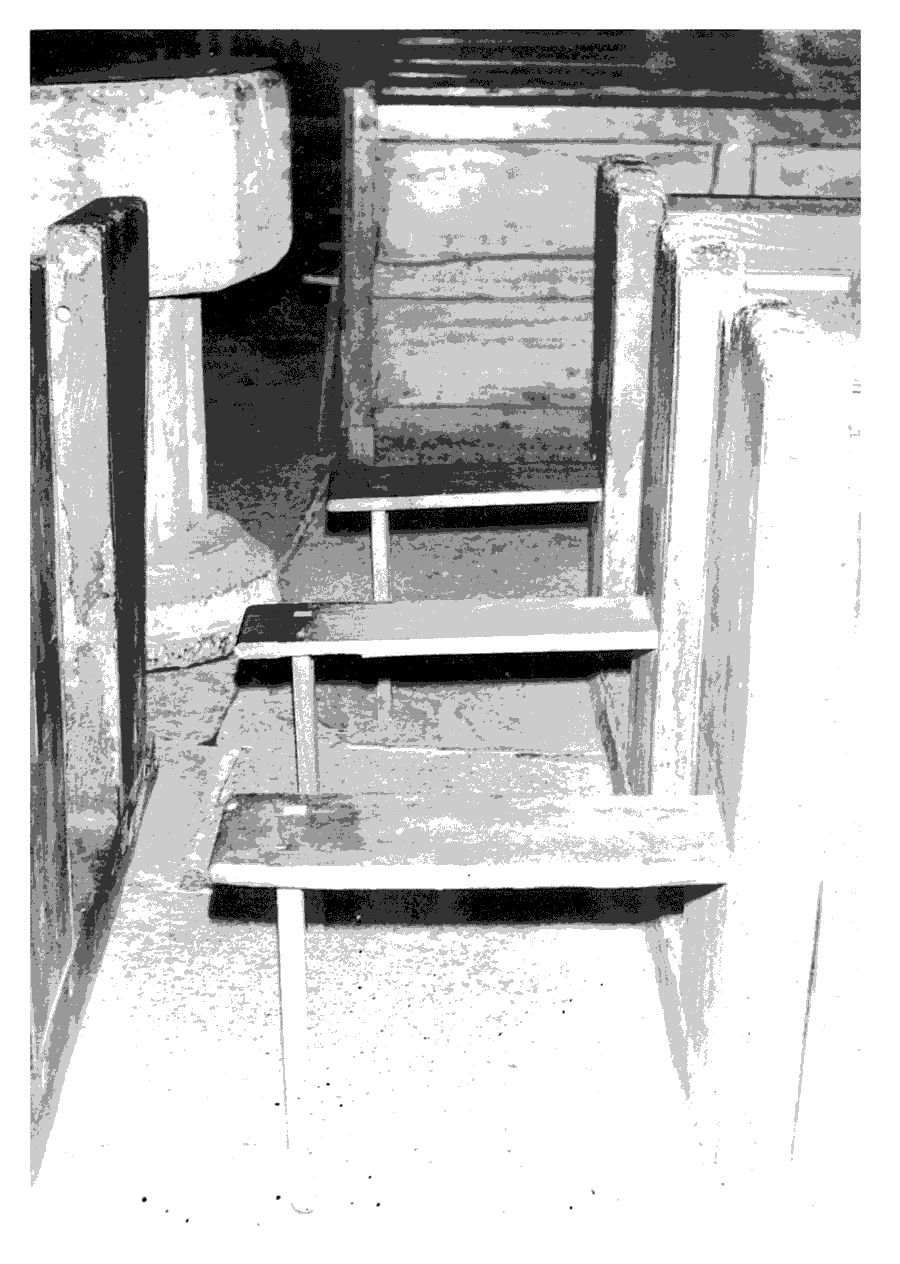 There are two bells, the older of 1716 probably by Edward Bilbie, the other a modern 'ting tang'. (fn. 182) The plate includes a cup and cover of 1635 by 'D.G.' and a pewter flagon of 1732. (fn. 183) There are also three painted wooden candles and holders and a desk cloth dated 1668. (fn. 184) The registers of baptisms and burials begin in 1691 and of marriages in 1733. (fn. 185)
NONCONFORMITY
A burial ground for Quakers was established in 1659 on the boundary with Shapwick on the east side of the parish. (fn. 186) At least one Quaker from the village was outspoken against the Conventicle Act. (fn. 187)
In 1796 a house in Catcott village was licensed, evidently for Methodists. (fn. 188) Services ceased in 1813 but were revived in 1816. (fn. 189) Other houses were licensed for unspecified Protestants in 1817 and 1819. (fn. 190) A chapel was built for Wesleyans in 1826 in Lippets Way east of the junction with Scots Lane and in 1837 there were 16 members. (fn. 191) It was replaced in 1876 or 1877 by a building at the junction of Hector Lane and Steels Lane. (fn. 192) In 1960 there were evening services every Sunday and a morning service once a month. (fn. 193) Sunday services continued until 1971 and thereafter a monthly service was held on Friday evenings in private homes. (fn. 194) The chapel was subsequently demolished.
Ebenezer Primitive Methodist chapel at Burtle was registered in 1859. (fn. 195) It seems to have closed in the 1930s and to have been sold in 1942. (fn. 196) The former Wesleyan chapel in Lippets Way was used by Primitive Methodists by 1885 (fn. 197) and was converted into a dwelling c. 1925. (fn. 198)
EDUCATION
In 1819 there were two dame schools teaching c. 60 children and a Sunday school for c. 20 children, chiefly attended by dissenters. (fn. 199) A day school was founded in 1827 and another by 1833 when the first had 13 children and the second 37, educated at their parents' expense. A Sunday school opened in 1826 had 91 children in 1833 and was supported by voluntary contributions. (fn. 200) In 1839 there were two Church day schools, one at Catcott Burtle, with a total of 43 children, and a Wesleyan day school for 60, held in a private house. The Wesleyan Sunday school, held in the chapel, had 110 children and the Church Sunday school 62 children. (fn. 201)
A National school was built in 1842, which in 1846 was described as 'good'. (fn. 202) In 1847 46 children attended on weekdays and Sundays and 91 children on Sundays only. A dame school then had 30 day pupils. (fn. 203) Another school was built in 1854 (fn. 204) and the two schools, one described as formerly free and then parochial, continued until 1875 or later. (fn. 205) By 1883 the National school had an average attendance of 57 (fn. 206) and in 1903 of 75. (fn. 207) The school, which accepted county status in 1922, (fn. 208) took juniors and infants only from 1950 when seniors went to Westonzoyland. By 1958 there were 24 children on roll but thereafter the school grew and in 1970 merged with that at Edington, Catcott having all juniors and Edington infants. By 1972, when the school at Stawell closed, there were 167 on the books on the two sites. In 1973 the school at Edington was closed and all pupils were brought to the Catcott site. In 1976 there were 209 pupils at Catcott school; (fn. 209) in 1997 there were 206. (fn. 210)
In 1879 a National school opened at Catcott Burtle which in 1889 had an average attendance of 38. It closed in 1894 and the children were transferred to Edington Burtle. (fn. 211)
CHARITIES FOR THE POOR
Capt. Thomas Durston by will of 1686 gave land in Catcott in trust for the poor descendants of his grandfather, also Thomas Durston, and in default for the poor of Catcott. In 1786 the income was £30, and in 1825 £125, the recipients in 1825 including John Durston, the parish clerk of Catcott. (fn. 212) The charity continues to be administered for the benefit of poor descendants.
By will dated 1726 Mary Godfrey of Chilton Polden gave a house and land in Catcott, the income to be given to poor widows and others not on relief. From 1814 it was administered by the wardens and overseers in place of previous trustees. In 1825 six or seven people received c. £26. (fn. 213) In 1995 the income was given to poor windows and other poor people in the village. (fn. 214)