Pages 34-42
A History of the County of Somerset: Volume 8, the Poldens and the Levels. Originally published by Victoria County History, London, 2004.
This free content was digitised by double rekeying. All rights reserved.
TOPOGRAPHY
CHILTON POLDEN
The parish and former chapelry of Chilton Polden, like its neighbours Catcott and Edington, is a long, narrow, rectangular area which stretches northwards from the Polden ridge across the moorland of the Brue valley. (fn. 1) Until the 19th century it was part of the ancient parish of Moorlinch, (fn. 2) and its name is thought to derive from its position on limestone and from the hill on which part of the parish lies. The form Chelton upon Poledowne is found in 1664. (fn. 3) An origin as a transhumance settlement has also been suggested. (fn. 4) The principal settlement is the compact village of Chilton on the northern slope of the Poldens, with the scattered hamlet of Chilton Burtle which developed after inclosure of the moors from 1801 (fn. 5) in the north, and roadside cottages on Cock Hill on the southern boundary. (fn. 6)
The parish stretched roughly northwards from the Polden ridge for 5.4 km. and was 1.3 km. at its widest. In 1839 it measured 1,701 a. which included a detached allotment of 208 a. on King's Sedgemoor, south of Moorlinch parish, added in 1800. (fn. 7) The Sedgemoor allotment was transferred to Stawell in 1933, and in 1981 the parish measured 667 ha. (1,648 a.). (fn. 8) In 1981 Burtle ecclesiastical parish also became a civil parish. Thereafter Chilton Polden civil parish measured 467 ha. (1,152 a.). (fn. 9)
From the Polden ridge in the south, which reaches 56 m., the land falls over cold and heavy clay (fn. 10) with limestone to 17 m. immediately north of Chilton village. There follows a shallow valley and then the western end of a ridge named Nidons which reaches the 15-m. contour. Thereafter the land falls beyond Moor Gate to 3-4m. on the alluvium and peat and the western edge of the sandy Burtle Beds. (fn. 11) The boundaries with Cossington on the east and Edington on the west are largely watercourses. Among them is the Chilton Landshire Rhyne between Chilton and Edington, which was named after its southern continuation, the landshare, mentioned c. 1400. (fn. 12) The northern boundary is a natural watercourse, known by 1886 as the Outer Furlong Rhyne, (fn. 13) perhaps an earlier course of the Brue.
COMMUNICATIONS
The principal road in the centre of the parish is the Broadway which links Shapwick with Cossington and runs through the centre of the village. The road along the Polden ridge marks the southern boundary and is on or near the Roman route between Ilchester and Combwich. (fn. 14) It was turnpiked by the Bridgwater trust in 1759. (fn. 15) The only north-south route through the entire parish snakes across the moor to Chilton Burtle and Mark.
The Glastonbury canal was constructed through the northern part of the parish. It was begun in 1829, opened in 1833, and closed in 1853 when it was replaced by a railway built along its northern bank. (fn. 16) That railway, opened in 1854 and operated by the Somerset and Dorset Railway, was closed in 1966. A branch from Edington station to Bridgwater via Cossington curved through the parish to within 0.75 km. of the village. It was opened in 1890, was closed to passengers in 1952, and to goods in 1954. (fn. 17)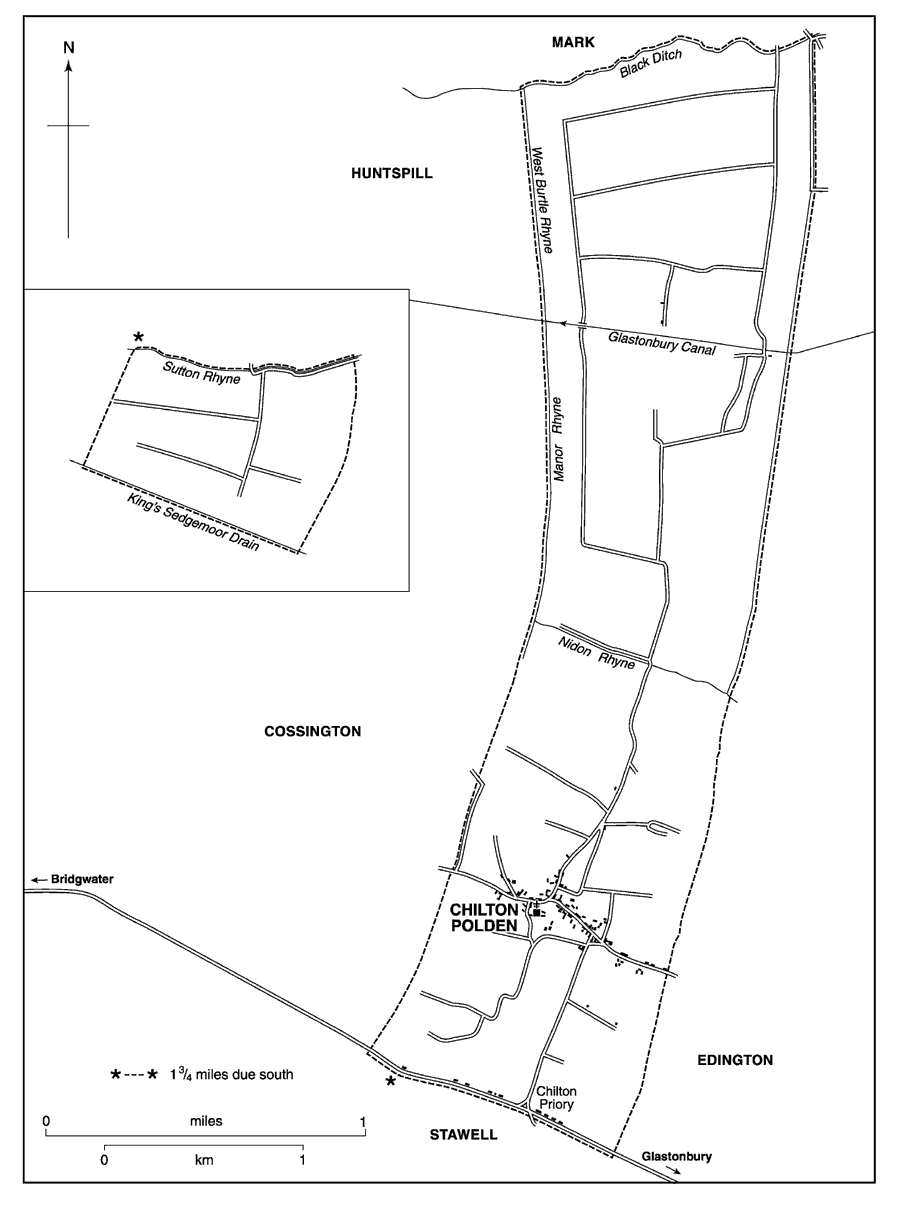 POPULATION
There were 23 households in Chilton in 1563. (fn. 18) In 1801 the population was 310; it rose almost every decade, reaching 544 in 1851, but by 1901 had fallen to 360. Slight increases in the next two decades were followed by a fall to 346 in 1931, a rise to 439 by 1951, and to 610 by 1971. Boundary changes reduced the figure to 596 in 1981 and there followed a fall within the new boundaries to 579 in 1991. (fn. 19)
SETTLEMENT AND BUILDINGS
Neolithic wooden trackways and pottery have been found in the moor in the northern part of the parish, but flints and Bronze Age artefacts discovered in the turbaries may have been from Chilton, Edington, or elsewhere. A small Iron-Age and Romano-British settlement has been located east of the village, and in the moor to the north hundreds of coin moulds and clusters of Roman salt-making mounds have been found. The Bridgwater-Glastonbury road is assumed to be close to a Roman road from Ilchester to Combwich. (fn. 20)
Chilton Polden village is a compact settlement principally along the Broadway, its centre around a shallow valley down which a stream flows north beside the road to the moors. By 1839 cottages and gardens occupied the roadside waste on the north side of the road across the Polden ridge. By that date only scattered hovels had been built on the moors. There were open arable fields, at least on the north-west and south of the village, until the inclosure of 1800, though arable had been reduced from the later 17th century. (fn. 21) Field names suggest a park in part of the shallow valley to the north-east and woodland on the Polden ridge in the south-western corner of the parish. (fn. 22)
Several of the substantial houses in the village date from c. 1800, notably Barkers, later Roseville, the Towers, and Tower House, (fn. 23) which from 1832 to c. 1839 was the home of William Stradling. (fn. 24) The tower or grotto in the grounds is said to have been built by Stradling and incorporates 15th-century fragments. (fn. 25) Earlier survivals include Webbs in Broadway, which is of medieval origin, Torina, West House Lodge, Sealeys Farmhouse, and no. 1 Goose Lane of the 16th and the 17th century and later. In the later 17th century, apart from the manor house, there were at least two other substantial dwellings in the village, West House and Combe House. (fn. 26) West House was evidently rebuilt in 1858. (fn. 27) Other 19th-century private residences include Chilton House and Longlands House. Pound Close House was recorded in 1872, and Fern Cottage in 1902. (fn. 28)
Chilton Priory was built c. 1839 by the antiquarian William Stradling (d. 1859). There his collection of artefacts, most discovered nearby, was displayed as a museum. (fn. 29) The house originally comprised a tower and north wing and may have been the work of William Halliday, carver of Chilton. (fn. 30) The building was extended eastwards in the mid and later 19th century and incorporates architectural fragments from many local sources. A medieval porch from Somerton forms a garden feature. (fn. 31)
SOCIAL LIFE
Football and quoits were played in the churchyard in 1618. (fn. 32) The West Polden Friendly Society, involving members from Chilton, Catcott, Edington, and their neighbours, was registered in 1839. (fn. 33) It is said to have been dissolved in 1849 but was still in existence in 1906. (fn. 34) Thirteen men were listed as rebels supporting the duke of Monmouth in 1685. Among them was George Moore, tenant of the rectory estate in Chilton. (fn. 35)
In 1280 13 ale sellers were declared to be in breach of the assize (fn. 36) and in 1311 4 sellers were similarly accused. (fn. 37) A brewer and a tapster were recorded in 1418, (fn. 38) ale sellers, victuallers, and tipplers in 1537, 1620, 1622, 1630, 1674, 1732, and 1746. (fn. 39) There was an unnamed beerhouse in 1846 (fn. 40) and two public houses by 1851, (fn. 41) probably the White Hart, recorded in 1861, and the New inn, on Cock Hill, recorded in 1866. (fn. 42) The White Hart remained in business in 1998; the New inn was renamed the Toby in 1937. (fn. 43)
MANOR AND OTHER ESTATES
CHILTON MANOR
Chilton was recorded with Glastonbury abbey's Shapwick estate and in 1086 was held by Roger de Courcelles. (fn. 44) By the later 13th century it formed part of the fee held of the abbey by Cecily Beauchamp (d. 1320), (fn. 45) and may thus have been part of the socalled manor of Dundon super Polden which the Malets had held in the mid 12th century. (fn. 46) The estate continued to be held of the Beauchamps and of their successors as owners of Compton Dundon manor until 1616 or later. (fn. 47)
Richard of Chilton or Chauton held Chilton of the Beauchamps in 1284-5 and Walter of Chauton in 1316. (fn. 48) Walter was still in possession in 1343 but by 1361 had been followed by John of Chauton. (fn. 49) By 1404 Simon Michell and John Hugyn were described as joint lords, (fn. 50) and the Michell share seems to have descended like East Chilton manor in Durleigh (fn. 51) to Walter Michell (d. 1487) and from him successively to his sons William, John (d. 1492), and Thomas (d. 1503). Thomas's son Thomas died in 1539, his grandson Richard in 1563, and Richard's sons Tristram in 1574 and Sir Bartholomew in 1616. (fn. 52) In 1616 the estate seems to have passed to the Hockmore family and in 1664 was conveyed to the Revd. Hugh Halswell. (fn. 53) It descended in the Halswell and Tynte families like Goathurst manor, (fn. 54) passing on the death of Hugh in 1672 to his grandson (Sir) Halswell Tynte, Bt. (d. 1702), and to Sir Halswell's son Sir John Tynte (d. 1710). Sir John was followed by his sons Sir Halswell (d. 1730), the Revd. Sir John (d. 1740), and Sir Charles (d. 1785), and the last by his granddaughter Jane Hassell, wife of John Johnson. Jane and John took the name Kemeys-Tynte, (fn. 55) and on Jane's death in 1825 the manor passed to her son Charles Kemeys KemeysTynte (d. 1860). Charles John Kemeys-Tynte (d. 1882), son of the last, was followed by his son Charles Kemeys Kemeys-Tynte, and he in 1891 by his son Halswell Milborne Kemeys-Tynte (d. 1899). Chilton Polden was held in 1910 by Charles Theodore Halswell KemeysTynte, son of the last, in whose favour the abeyance of the barony of Wharton was terminated in 1916. (fn. 56)
In 1676 the capital messuage was occupied by the Harvey family. (fn. 57)
John Hugyn, joint lord of the manor in 1404, (fn. 58) was probably the father of John and the grandfather of John and Henry Higon, the last of whom held Chilton by knight service in 1467-8 and as a free tenement in 1475. (fn. 59) He was probably the same Henry who died in possession of half Chilton manor in 1505 when his heirs were his daughter Dorothy, wife of John Fry, and his grandson Thomas Wodshawe, son of his second daughter Grace. (fn. 60) William Fry was described as lord of Chilton in 1564, (fn. 61) and his son William (d. 1608) was in possession in 1591 or 1592. (fn. 62) William was followed by his son Nicholas (d. 1632) and Nicholas by his son William (d. 1672). William's grandson John Fry (d. 1716) was succeeded by John's son Robert (d. 1726). Robert's daughter Elizabeth (1711-33) married John King (fn. 63) (d. 1740), later 2nd Baron King of Ockham, who acquired the manor under his marriage settlement. (fn. 64) Lord King was succeeded in turn by his brothers Peter (d. 1754), William (d. 1767), and Thomas, who in 1775 held what was called Chelton manor. (fn. 65) Thomas was followed by his son Peter (d. 1793) and his grandson, also Peter (d. 1833). William, son of the last, created earl of Lovelace in 1838, sold the estate, then comprising just over 400 a., in 1843, when it was broken up. (fn. 66) No mention of the lordship was then made.
TITHES
In 1262 the rectorial tithes of Chilton, formerly part of Moorlinch rectory, passed to Glastonbury abbey, to whose almoner they belonged until the Dissolution. (fn. 67) Thereafter they were leased by the Crown as Shapwick rectory or Shapwick and Moorlinch manor. (fn. 68) In 1784 Chilton tithes were settled, with those of Catcott, Edington, and Moorlinch, on Elizabeth Gould (née Strangways) (d. 1839). (fn. 69) They were let in 1531-2 for £7 a year, in 1675-7 for £34 a year, and in 1786 for £60, (fn. 70) and were commuted for £80 in 1839. (fn. 71)
ECONOMIC HISTORY
AGRICULTURE
Chilton was a five-hide unit which was recorded as part of Glastonbury abbey's Shapwick estate in 1086, (fn. 72) although no description of demesne and tenant land was noted. The moor land in the north of the parish was obviously of prime significance in the Middle Ages but reference to it survives only from 1404. (fn. 73) In 1638 the moor measured nearly 943 a. (fn. 74) but parts, formerly a stock mead, had already been inclosed. (fn. 75) By 1664 the four largest holdings measured between 40 a. and 103 a. and the land was variously described as arable, pasture, heath, meadow, meadow or pasture, and heath or pasture. The proportions of arable to grassland are impossible to determine, but at least 40 a. of pasture had been inclosed out of the moor. The access route to the moor known as Chilton Drove was a source of grazing, and the largest tenant holding was that of William King. (fn. 76) In 1638 the vicarage tithes were payable on specified grassland including some new closes which had formerly been a stock mead. Among the titheable products were honey and nuts. (fn. 77)
In 1671 the rents of 52 separate holdings in the manor amounted to £14 7s. 11d., a few charged also with heriots of best beasts or goods. Members of the King family and Widow Tilley were then the most prominent tenants. (fn. 78) Grain and beans were grown on the drier parts of the moor, and the appearance of Westhouse, Combhouse, and Nock (fn. 79) suggests the creation of small farmsteads outside the village. By 1689 one of the two large farms, comprising 88 a., included 24 a. of arable in small strips in the west and south fields, 22 a. of heath, and a close of meadow or pasture which had formerly been arable. (fn. 80)
By 1708-9 the Chilton estate of the Tyntes included land in Moorlinch, but the three largest tenant holdings, of between 70 a. and 80 a., were in Chilton. The whole measured 479 a. (fn. 81) The same estate in 1786 was divided between 57 tenancies with a total rental value of £14 11s. One of the largest farms carried an entry fine of over £221. (fn. 82) At about the same time and certainly before the inclosure of the heath to the north, rectorial tithe was payable on 296 a. of common arable, planted with wheat or beans or left fallow, but including 25 a. of potatoes. (fn. 83)
In the 1780s husbandry was described as bad and the farms as 'middling'. (fn. 84) The remaining open arable amounting to 400 a. was inclosed under an Award of 1800. (fn. 85) A lease of 1810 included a penalty of £50 an acre for ploughing up grassland and declared that no more than half the arable should be put down to corn and that no more than two white crops should be sown in succession. (fn. 86) By 1839 there were ten principal farms measuring between 67 a. and 143 a. (fn. 87) and a hay dealer and a drover lived in the parish. (fn. 88) In 1851 there were 13 farmers holding between 50 a. and 200 a., a hay dealer, a dairyman, and a shepherd. (fn. 89) By 1861 there were two farms of 300 a. and 250 a. and 18 other inhabitants describing themselves as farmers. (fn. 90) By 1871 two farms measured c. 350 a. and six people were involved with dairying, (fn. 91) and in 1875 four of the 18 farmers were also turf dealers. (fn. 92) Several farmers continued to describe themselves as dairymen in the 1890s (fn. 93) and in 1905 two thirds of the parish was under grass. (fn. 94) In the 1920s one farmer produced cheese and ice cream, (fn. 95) and by 1935 one was concentrating on poultry. (fn. 96)
TURBARY
Common turbary on Chilton moor was part of a holding based in Cossington in 1508 and part of Cossington farm in 1634. (fn. 97) Over 30 a. of turbary belonged to Chilton manor in 1664, some of it described as in Middle Turbary, and other areas called heath were probably former diggings. (fn. 98) The lord of Sutton Mallet manor let 6 a. of diggings called Plain Heath and 8 a. of turbary in the parish in 1713, (fn. 99) and similar areas of turbary continued to be let by the lords of Chilton in the 18th century. (fn. 100) There were four turf merchants in business in 1851, (fn. 101) and a peat dealer, a peat cutter, and a peat merchant all lived on Cock Hill in 1891. (fn. 102) A turf dealer was in business in the parish in 1939. (fn. 103)
MILL
In 1364 a mill was reported as not working, but in the following year the miller was charged with taking too much toll. (fn. 104) In 1535-6 a similar charge was made. (fn. 105) A mill was still in operation in 1622. (fn. 106)
TRADES
In the earlier 19th century the village was home to two apothecaries and in the later to a clock and watch maker and a carver. (fn. 107) In 1851 there were three shops and craftsmen including six shoemakers, four carpenters, and four tailors. (fn. 108) In 1861 there were ten shoemakers and five tailors among the usual range of village occupations, together with a surgeon and an accountant. (fn. 109) By the early 1870s the village had several gentry residents, a doctor, a registrar of births, marriages, and deaths, and a continuing wide range of craftsmen including a wheelwright who also made agricultural machinery and washing machines. (fn. 110) There were still two shops until after 1910; by 1923 a motor car proprietor was in business and by 1927 a cycle repairer; by 1931 tea rooms had been opened. (fn. 111) There were four shops in 1947; a builder then employed ten people, a baker three, and a butcher two. Three shops and an undertaker were in business in 1950 and in 1979 there were still three shops and a garage. (fn. 112) In 1998 there was a shop with post office and a monumental mason in the village and a restaurant on Cock Hill.
LOCAL GOVERNMENT
Glastonbury abbey claimed to take strays in the tithing of Chilton as part of its lordship of Shapwick, disputing the claims of Richard of Chilton as lord in 1265-6. (fn. 113) The tithing was ordered to repair the archery butts in 1536 and 1622. (fn. 114)
Thomas King, Baron King, held a court baron for his manor of Chilton in 1775. (fn. 115) No court records have been found for the other manor of Chilton, but suit of court was referred to in leases until 1797, (fn. 116) and land in Chapel Allerton, Woolavington, and Huntspill belonging to the Kemeys-Tynte family was administered as part of Chilton manor. (fn. 117)
In 1635 two chapel wardens and a constable were mentioned, in 1661 a collector of the poor rate or overseer of the poor, in 1686 two waywardens; accounts were signed by up to twelve people, often including the curate. (fn. 118) In 1693 the vestry agreed that the offices of warden and overseer should be combined and that they should be held in rotation. (fn. 119) A much smaller group of ratepayers signed accounts in the earlier 19th century, continued to nominate both wardens, and only from 1879 was chaired by the incumbent. (fn. 120)
From 1730 the overseers occasionally paid for medical attention for paupers, from 1735 lent out spinning equipment, and in 1765 bought a horse for a poor labourer. In 1746 a pauper's house rent was paid provided three others were taken in, and in the following year a cottage was acquired from its occupier in return for payment of his rent. In 1809 the overseers had a poorhouse by the chapel yard which was then enlarged. (fn. 121) In 1839 they owned a parish house on the south side of the chapel yard and a poorhouse, including a Sunday school room, on its west side. (fn. 122) The poorhouse was probably demolished soon afterwards. (fn. 123) Chilton became part of Bridgwater poor-law union in 1836, of Bridgwater rural district in 1894, and of Sedgemoor district in 1974. (fn. 124)
At inclosure in 1800 the vestry was awarded 34 leases in Chilton Drove, which it administered through a hayward until 1854 or later. (fn. 125)
CHURCH
ORIGINS, PATRONAGE, AND ENDOWMENT
The fabric of the building which preceded the present church was thought to have dated from the 13th century, (fn. 126) although the first reference to a chaplain was in 1468. (fn. 127) The chapel was served by curates appointed and paid by the vicar of Moorlinch (fn. 128) until a perpetual curacy was created in 1828, (fn. 129) sometimes thereafter held with Edington. (fn. 130) In 1842 the curacies of Chilton and Edington were united, (fn. 131) and in 1863 Chilton and Edington were constituted independent ecclesiastical parishes. (fn. 132) The living continued to be held with Edington, and in 1974 was joined with Catcott. In 1982 the three became a united parish called West Poldens. (fn. 133) The ecclesiastical parish of Burtle was formed in 1856 from the northern parts of Chilton Polden and Edington. (fn. 134)
The patronage of Chilton Polden was retained by the vicar of Moorlinch until 1888 when it was transferred to the bishop of Bath and Wells. (fn. 135) The bishop continues as patron of the united benefice. (fn. 136)
In 1638 the vicar of Moorlinch had 5 a. of meadow in Chilton, and received some tithes in kind, and compositions from other land and moduses for stock there. (fn. 137) In 1838 there were nearly 5 a. of land and a rent charge of £78 4s. was awarded to the vicar of Moorlinch in lieu of vicarial tithes. (fn. 138)
From 1828 the curate of Chilton and Edington had an income of £19 (fn. 139) and Chilton was later said to be worth £14. (fn. 140) The tithe rent charge was assigned to the living and the curacy was further augmented in 1875 by grant of Mrs. Luttrell, Lady Waldegrave, and Miss Field. A further augmentation was made in 1909. (fn. 141)
In 1638 the villagers of Chilton shared with Edington the maintenance of a house for the curate in Edington which belonged to Moorlinch vicarage. (fn. 142) Probably from 1828 a house in Chilton was occupied by the incumbents of Chilton and Edington, said to have been paid for largely by people from Edington, but c. 1886 claimed for the vicar of Moorlinch. (fn. 143) It stood south-east of the church at the eastern end of Church Lane and in 1998 was known as Old Vicarage. It was replaced in 1891 by a house to the south in Priory Road, designed by J. Wallis and known in 1998 as Priory House, which was the benefice house until 1987. (fn. 144)
CHURCH LIFE
The chapel lacked service books and the figures of the rood in 1557, and services were said in 1586 to have been irregular. (fn. 145) In 1815 Richard Luscombe was resident stipendiary curate of Moorlinch and served it and its four chapels including Chilton, taking services at Chilton every other Sunday. (fn. 146) Luscombe became vicar of Moorlinch in 1818 and services were slightly more frequent at Chilton in 1827. (fn. 147) Services were held once on Sundays in 1840 and communion at least three times a year. (fn. 148) By 1843 communion was celebrated eight times a year (fn. 149) and by 1912 every Sunday. (fn. 150) A house, evidently the former church house, was part of the manor estate in 1664. (fn. 151)
CHURCH FABRIC
The church of St. Edward, dedicated to St. John the Baptist in 1763, (fn. 152) comprises a chancel with north organ chamber, nave with north aisle, north vestry, and south porch, and a western bellcot, the result of rebuilding and extension in 1889 to the designs of E. Henry Edwards of Bristol. Only the 14th-century chancel arch, the piscina, the font, and part of the wall plate were retained. The earlier building, which was probably of the 13th century, had comprised a chancel and nave, with a south porch in the centre of the nave south wall. A north transept was added in 1829 to designs of J. W. Wainwright. Before rebuilding there had been 13th-century windows on the north side of the nave and the chancel had been refenestrated in the 14th century. The early 15th-century roofs had moulded timbers with angel supporters. There was a gallery for an organ at the west end of the nave and another for Sunday-school children in the transept. The font had stood in the centre of the nave. (fn. 153)
There are two bells, one of the 17th century. (fn. 154) The plate includes a cup and cover, possibly of the 18th century, and a salver given in 1776, perhaps by William Tweedie. (fn. 155) Records of births, baptisms, marriages, and burials of Chilton people were recorded from 1716 in registers at Chilton (fn. 156) and from 1694 in registers at Moorlinch. (fn. 157) Chilton church was licensed for marriages by consent of the vicar of Moorlinch in 1863. (fn. 158)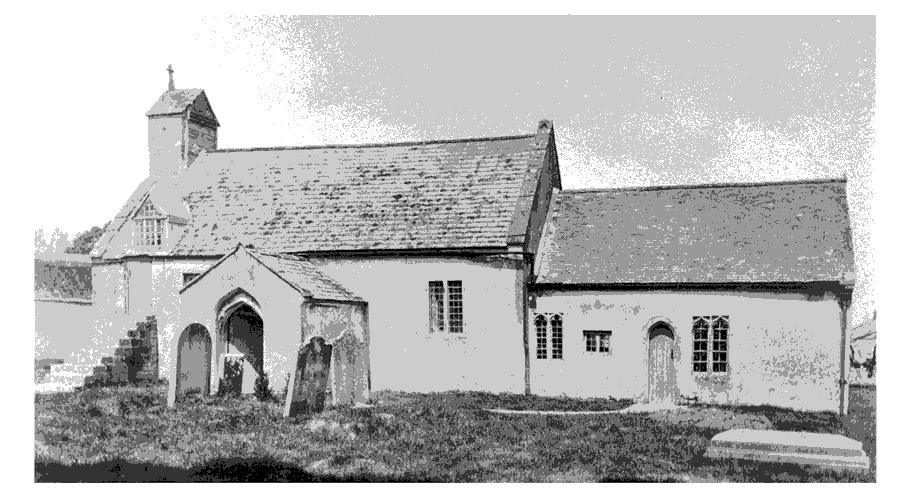 NONCONFORMITY
There was a small group of Quakers in the parish in 1673 and 1679-80. (fn. 159) Sion Congregational chapel was built in 1840 and a porch was added in 1887. From 1850 it was united with the chapel at Knowle. (fn. 160) There was a resident minister in 1902 (fn. 161) but the chapel was sold in 1939. (fn. 162)
In 1860 a house was registered for worship for Primitive Methodists. The cause had ceased by 1895. (fn. 163)
EDUCATION
There was a schoolmaster in the village in 1827, (fn. 164) and in 1829 a gallery was included in the new north transept of the church for children of the Sunday school. (fn. 165) In 1833 there was only a day school where 20 children were taught at their parents' expense. (fn. 166) In 1838 a commercial school was opened for boys and girls aged from 9 to 17 and in 1839 had 30 pupils, some of whom boarded. There were also in 1839 a dame school with 13 children and a Sunday school for 41 children. (fn. 167) In 1840 a schoolroom was built in the churchyard when the former schoolroom and poorhouses were demolished. (fn. 168) In 1847 the school had 47 children while two weekday dame schools had 42 children. (fn. 169) One day school continued in the 1860s. (fn. 170) Chilton Polden and Edington National school was opened in Edington 1875. (fn. 171)
CHARITIES FOR THE POOR
Edward Champion (d. 1680) gave £20, the interest to be given to 10 poor. The capital was distributed by overseers or wardens at least until 1825. (fn. 172) Jane Hole (d. 1793) by will gave £100 to the vicar of Moorlinch to be invested for the poor of Chilton. Forty-one people received small sums regularly until 1878 or later. The charity ceased in 1998. (fn. 173) William Vale by deed of 1878 gave the rent of two beast leases for the benefit of the poor of Chilton excluding that part of the parish in Burtle ecclesiastical district. The charity, worth £3 a year in 1891, was still in existence in 1923. (fn. 174)