Pages 42-50
A History of the County of Somerset: Volume 8, the Poldens and the Levels. Originally published by Victoria County History, London, 2004.
This free content was digitised by double rekeying. All rights reserved.
COSSINGTON
TOPOGRAPHY
Cossington is a compact village on the north side of the Poldens, formerly surrounded by open fields which remained substantially intact until the earlier 19th century. The ancient parish stretched northwards from the western end of the Polden ridge, 7 km. NE. of Bridgwater. (fn. 1) It is roughly rectangular in shape, nearly 4 km. from north to south and averaging 1.3 km. from east to west, except in the south where it widens to nearly 2 km. A detached irregular area on King's Sedgemoor, south of the Polden ridge and beginning some 2.5 km. due south of the parish church, was added as an allotment under inclosure in 1807. (fn. 2) The eastern boundary of the ancient parish, shared with Chilton Polden and curving gently northwards from the Polden ridge, follows hedge boundaries, a lane named Landshire Lane, and Manor rhyne to a point just north of the line of the Huntspill River. Just inside Manor rhyne is the parallel Wall ditch, divided from the rhyne by an earth bank, probably that raised in 1752. (fn. 3) The ditch, which takes the water from Cousney rhyne, probably marked the beginning of the drainage of the moor in the parish in the earlier 13th century. (fn. 4) The northern boundary with Woolavington was the Withy rhyne or Withy Pill rhyne, a watercourse which disappeared in Cossington when the South Drain and the Cut were dug in the early 19th century, both becoming part of the Glastonbury canal from 1829. (fn. 5) The course of the canal was obliterated by the construction of the Huntspill River in 1940. (fn. 6) The western boundary with Woolavington, in the south following hedges, is marked further north by the course of a stream which rises in the village but which has been straightened and named successively Sheepwash rhyne and Newlands rhyne. Meadow in Newland was named in 1247. (fn. 7) The southern boundary follows the Polden ridge road. (fn. 8) In 1839 the parish measured 1,375 a. which included the allotment of c. 144 a. on King's Sedgemoor. (fn. 9) That allotment was transferred to the newly-created civil parish of Stawell in 1933, (fn. 10) and the area of Cossington in 1991 was 515 ha. (1,286 a.). (fn. 11)
The Polden ridge which formed the southern boundary of the ancient parish slopes gradually from east to west from 175 m. to 100 m. From the ridge the land falls to the village around the 30 m. contour and beyond it more gently to below the 3 m. contour towards the Huntspill River and Gold Corner. The steeper slope is, however, punctuated by a narrow valley below the 30 m. contour, formed by watercourses which now flow largely underground to a lake in the grounds of a house called the Grove. The ridge is of clay with outcrops of limestone; the valley to the north is alluvium. (fn. 12) In the 18th century the soil was described as wet and heavy. (fn. 13)
COMMUNICATIONS
The main road in the parish follows the southern boundary and is thought to be of Roman origin, linking Ilchester with the ports at Crandon Bridge and Combwich. (fn. 14) Two or three other possible east-west routes further north, all on land above normal flooding and in parts still in use leading either to Chilton Polden or Woolavington, may have had Roman or earlier origins. The ridge road was turnpiked by the Bridgwater trust in 1759. (fn. 15)
In 1890 the Bridgwater Railway Co. opened a single line to link the Somerset and Dorset line at Edington with Bridgwater. The line curved to the north of the village and a station was built. The line was closed for passengers in 1952 and for freight in 1954. (fn. 16)
POPULATION
In the 17th century there were said to be 26 households in the parish and in the 1780s c. 33 houses. (fn. 17) In 1801 the population was 237. It rose each decade to a total of 280 in 1831, fell to 248 by 1841 and after 1861 fell gradually to 200 in 1921. From that date it rose from 229 in 1931 to 294 in 1951, 411 in 1961, 500 in 1971, and to a peak of 534 in 1981. In 1991 the total was 533. (fn. 18)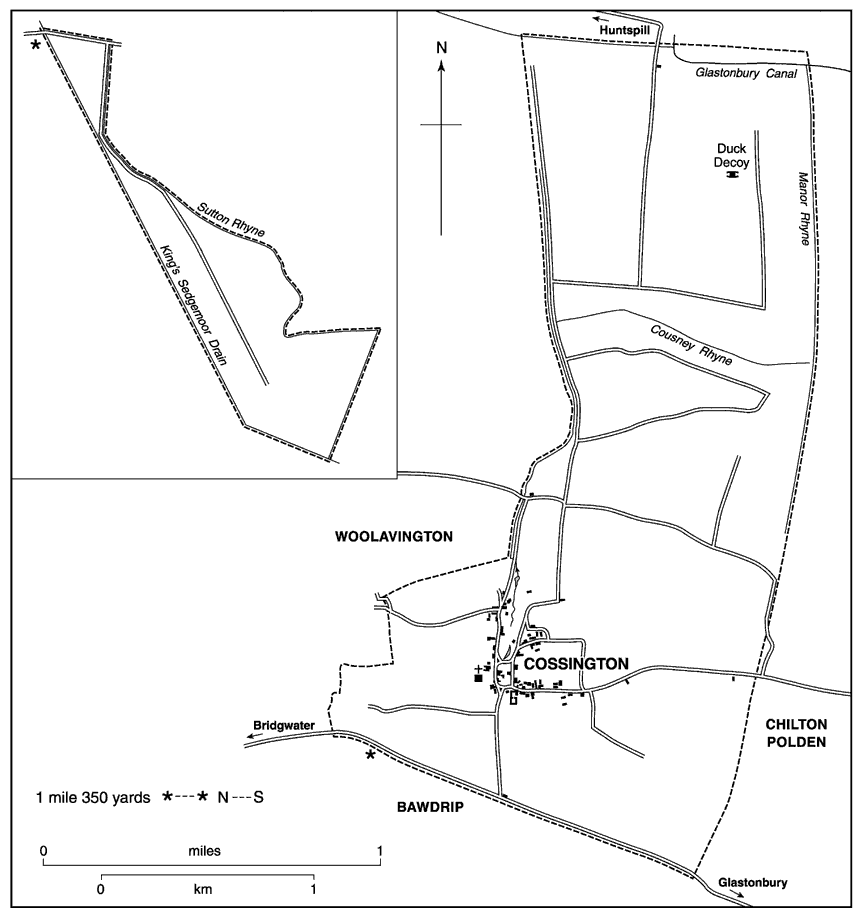 SETTLEMENT AND BUILDINGS
The original settlement seems to have been on both sides of the valley which runs northwards to the moors. Church and manor house stand on its west side, and a number of farmhouses on the east and north-east in Walnut Lane, Bell Lane, Farm Lane, and Millmoot Lane date from the later 16th and the earlier 17th century including Old Dairy House and Millmoot Farm. Cossington Park, on the south-eastern edge of the village, originated in the later 16th century. The 19th-century owners of the Grove, essentially a late 17th-century brick house, laid out the valley below the Manor House with extensive ornamental grounds. Hill View by the green, south-east of the church, is of the 17th or the early 18th century. Little was added to the village in the 19th century although Great Tree Farm was given a new front range and new farm buildings and Old Forge in Bell Lane and Launder Cottage in Walnut Lane were rebuilt on old sites. Later in the 19th century building spread northwards, in part influenced by the railway. (fn. 19) By 1861 there were seven substantial private residences in the village including Cossington Manor, Cossington House, later Cossington Grange, and the Grove. (fn. 20) Local authority houses were built north-west of the village beside the railway, and in the 1960s and 1970s a company based in the village built dwellings along both sides of the road towards Chilton Polden.
A small decoy pond with four pipes, on the moor in the north-east quarter of the parish, had been constructed by 1831 on the Broderip estate. It was probably still in use in 1885. (fn. 21)
SOCIAL LIFE
Two people selling ale illegally were reported in 1311, 1418, and 1535. (fn. 22) In 1630 there was a tippler in the parish whose successor in 1648 was trading without a licence. (fn. 23) The Cossington inn, at the east end of the village, was in business by 1861 and in that year there was also a beer retailer. (fn. 24) By 1935 the licensee was offering teas. (fn. 25) It was known as the Red Tile in 2001.
In 1803 the Polden Hill regiment of volunteer infantry held its first parade in the parish (fn. 26) and the officers attended a celebration of the communion in the parish church. (fn. 27)
MANOR AND OTHER ESTATES
COSSINGTON MANOR
Cossington was probably part of the ancient Polden estate of Glastonbury abbey. (fn. 28) Before 1066 it was held of the abbey by Alwin Pike and in 1086 by Walter of Douai. (fn. 29) The abbey retained an interest as chief lord until 1508 or later, (fn. 30) and in 1571 and 1615 the manor was said to be held of the Crown in right of the former monastery. (fn. 31)
Ansketill of Cossington held a fee in the earlier 12th century which seems to have included Cossington and his unnamed grandson held it in 1166. (fn. 32) In 1189 Adam of Cossington did homage to the abbot for three hides there as part of his fee, (fn. 33) and was in possession at least between 1197 and 1212. (fn. 34) He may have been succeeded by Geoffrey of Cossington, whose ownership was challenged in 1203 by Warin de Morcelles. (fn. 35) Robert de Morcells took up his father's cause against Geoffrey's successor, Jordan Ridel, in 1224, claiming descent from an ancestor, Roulfus, who had alledgedly received it from Henry I. (fn. 36) The dispute was settled in Jordan's favour in 1227. (fn. 37) By 1242-3 Jordan had been succeeded by his son, also Jordan. (fn. 38) In 1254 Jordan was said to have granted the estate in fee to Robert Brent, (fn. 39) and Robert, according to the abbey's own record, held it of the abbot of Glastonbury in succession to Geoffrey of Cossington and Robert Ridel. (fn. 40) In 1284-5 Robert held it of Jordan Ridel. (fn. 41) Robert was returned as holding the fee directly of the abbot in 1303, (fn. 42) but in 1311-12 Jordan Ridel's son Sir William created a mesne tenancy by granting Robert's service to Baldwin Malet. (fn. 43) Baldwin did homage to the abbot of Glastonbury in 1337 and 1342, and his son John similarly in 1343. (fn. 44) Another Baldwin held the mesne lordship in the 1430s, (fn. 45) but no further trace has been found.
Robert Brent, to whom the fee was said to have been granted in 1254, (fn. 46) was said to have descended either from Odo of Brent, claimed as the lord of Cossington at the time of the Conquest (fn. 47) or from Sauvinus de Turre, hereditary porter of Glastonbury under Abbot Henry of Blois (abbot, 1126-71). (fn. 48) Robert was the first of five of the same name who held the estate successively. (fn. 49) The last Robert was succeeded in 1346 (fn. 50) by his son John (d. by 1373) (fn. 51) and he by his grandson, also John Brent (d. c. 1413). (fn. 52) The second was followed by his son Robert, who died in 1421 when the manor was settled on John Trethek and his wife Joan, Robert's sister. (fn. 53) Joan's half brother John Brent established his right to the estate in 1431-2 but in 1434 allowed Trethek to retain his life interest. (fn. 54) Trethek last presented to the rectory in 1445. (fn. 55) In 1449 John Brent conveyed the manor and other lands to trustees, who until 1468 presented to the living. (fn. 56) John Brent's son Robert presented from 1486 and died in 1508. (fn. 57) He was followed by his son John (d. 1524), by John's son William (d. 1536), and by William's son Richard. (fn. 58) Richard died in 1570 leaving a daughter Anne, wife of Thomas Paulet. (fn. 59)
Thomas, second son of William Paulet, marquess of Winchester, died in 1586 leaving by Anne a daughter Elizabeth, wife of Giles Hoby. (fn. 60) At some date between 1589 and 1597 the manor was bought by Anne's distant cousin John Brent. (fn. 61) John died in 1614 and his son and namesake in 1692. (fn. 62) The last was childless and the manor passed to his cousin John Hodges (d. 1696), to John's widow Elizabeth, and in 1703 by sale to Robert West. (fn. 63) Robert died c. 1739 and was succeeded by his daughter Sarah. She left the manor on her death in 1756 to her cousin Edmund Hoskins. (fn. 64) Edmund was still in possession in 1764 but had died by 1772 when his widow Martha devised the residue of her estate to her brother Edward Gresham. (fn. 65) Edward's devisee, Sir John Gresham, Bt. (d. 1801), had acquired it by 1772 and sold it in 1776 to Benjamin Allen. (fn. 66) Allen died in 1791 heavily in debt to the Crown, and the manor was bought in the following year by George Templer. (fn. 67) In 1806 George sold half the manor to Edmund Broderip of Wells and the other half to Benjamin Greenhill in trust for the marriage of Greenhill's daughter Grace with Broderip's son Edmund. (fn. 68)
The elder Edmund died in 1828 and his son in 1847. The younger Edmund was succeeded by his son and heir Edmund Greenhill Broderip. He died in 1895 and was followed by his son Edmund, who died in 1918. Edmund Francis Broderip, elder son of the last, put the manor and 1,085 a. up for sale in 1919, (fn. 69) but sale was not achieved until 1925-6 when the manor and some of the land passed to James Cox Macro Allen Wilson. (fn. 70) James Wilson died in 1948. (fn. 71) No further reference to lordship has been found.
The capital messuage was known in 1634 as Court Place. (fn. 72) John Hodges (d. 1696) left it and adjacent land to his nephew Sherrington Hodges. (fn. 73) By 1704 it seems to have reverted to Elizabeth Hodges, widow of John, since it had been part of her jointure, and she held it until 1712. In 1713 it was occupied by a Mr. Smart. (fn. 74) Mrs. Smart was in occupation in 1767 (fn. 75) and by 1771 the estate comprised c. 89 a. In 1773 it was sold by John Smart to Nathaniel George Petre. Petre sold it in 1775 to John Tucker, an attorney, (fn. 76) who was in possession until 1789 and was succeeded by Henry Paul. George Templer acquired it in 1803 (fn. 77) with c. 150 a. and on his death in 1819 it passed to his son, the Revd. George Henry Templer. In 1828 Templer sold it to Edmund Broderip. (fn. 78)
Cossington Manor, the replacement for Court Place, was described as a good house c. 1785. (fn. 79) It is a twostoreyed house on an irregular plan, with a small 17thcentury core extended to the north-east c. 1750 and to the north-west c. 1810. A large southern stuccoed block was built in the 1830s in the cottage orné style of the architect Richard Carver, who was then working in the neighbourhood.
OTHER ESTATES
Burtle priory in Edington owned a small amount of land in the parish which was leased by the Crown to Richard Holbroke in 1540, was sold to James and John Bisse in 1553, and was held by Sir John Portman at his death in 1612. (fn. 80) The land remained in the Portman family until 1826 when it was sold by Edward Berkeley Portman to Edmund Broderip. (fn. 81)
The Graham family in the person of Sarah Graham had by 1839 acquired an estate of over 150 a. which included a house, later enlarged and named Cossington Grange, and a smaller house also later enlarged and named Cossington Park. Both lay on the south-eastern side of the village. Cossington Park was originally of three-roomed plan of the 16th century or earlier with cross passage and cruck trusses, to which were added a north wing in the 17th century and a western range in 1901. (fn. 82) Cossington Grange was originally a plain classical house built by 1822 and probably c. 1806. It is of squared lias with a slate roof, of five bays and two storeys, and faces south. By 1840 a court to the north was bounded on the north by a stable block of brick with stone dressings. In 1863 a double-pile wing in an eclectic 16th-century style was added on the west and included a three-and-a-half storey south tower comprising a nursery suite and a billiard room. A recessed porch in Adam style may have been added to the oldest part of the house in the later 19th century. South-west extensions were made after the Grange became offices for a construction company, and other buildings, including houses, have been erected within the curtilage from the 1950s. (fn. 83)
ECONOMIC HISTORY
AGRICULTURE
In 1086 the estate was assessed at 3 hides; there was land for 6 ploughteams. The demesne farm of 1 hide was worked with 1 team and 4 serfs; 9 villeins and 9 bordars had 5 teams. There were 10 a. of meadow and 2 a. of underwood. The demesne stock comprised a cob, 6 cattle, 26 pigs, and 26 sheep, an indication of unrecorded grassland and woodland. The value of the estate had remained stable since the Conquest. (fn. 84) By 1247 new meadow land had been created by ditching, probably the Mucheldich later represented by the Cousney rhyne. (fn. 85) In the early 13th century a fallow field was protected by a dyke, signifying both a bank and a ditch, and was accessible only in spring and summer on foot. (fn. 86) Arable was normally greater in extent than grassland on tenant holdings in the Middle Ages. (fn. 87)
Freeholds, often held with neighbouring manors, were a characteristic feature of landholding in the parish. In the later Middle Ages there were fourteen free tenants, including John Gilbert, John Verney, and William Ayshford who held land in Woolavington and elsewhere. (fn. 88) Some of those tenancies survived until the 19th century. (fn. 89)
In 1535 the grain and hay tithes of the parish produced £10 11s. 9d. as compared with 10s. for the tithe of wool and lambs. (fn. 90) Hemp seems to have been grown before the end of the 15th century (fn. 91) and the goods of William Welles, a local farmer, in 1545 show him to have kept cattle and one or two horses. (fn. 92)
Thomas Paulet, lord 1570-86, consolidated and inclosed some of the west field, but communal farming continued to be practised, the north field in 1606 being fallow, the east field under wheat, and the south and west fields under Lent corn. Paulet also, with the consent of the freeholders, inclosed Cossington moor, allotting an acre for each beast leaze claimed. Other parts of the moor, described as Cossington Outmoor and Cote moor and measuring some 800 a., remained commonable in the early 17th century, producing grass, hay, and reeds. (fn. 93) A survey of Cossington meadow in 1638 assessed its size as just over 500 a. (fn. 94)
In 1641 almost all the land was still in the possession of the lord of the manor: John Brent was assessed for £11 in tax on land and ten others for £1 each; those who paid more were assessed on their goods. (fn. 95) By 1781 the two principal rate payers were Charles Hobbs, both rector and landowner, and John Tucker, occupier of manor lands including Cossington farm with a total of 107 a. (fn. 96)
Both owners and tenants benefited from inclosure of moors, in 1782 receiving allotments of c. 86 a. beyond the northern boundary of the parish and in 1795 some 145 a. in King's Sedgemoor. (fn. 97) The manor estate seems to have been shared between eight tenants whose holdings were beginning to be consolidated. Three were over 100 a.; one was still subject to payment of a heriot of two fat capons. (fn. 98) By 1831 the estate which had been gradually acquired by the Broderip family from 1806 (fn. 99) amounted to 864 a., but it was still farmed by eight tenants of whom five had over 100 a. Thomas Hobbs, the only other substantial landowner as well as rector, had 232 a. (fn. 100) From 1835 Edmund Broderip also leased the rectory land, (fn. 101) and by 1838 through mortgage and direct purchase had absorbed the lands of the duke of Buckingham and of the Portman and Hales families. He had also consolidated his holdings by exchanging land with the rector in 1814. (fn. 102)
Among the crops in 1806 were vetches and beans. (fn. 103) One of the tenant farmers on the Broderip estate in the earlier 19th century also grew beans, produced large quantities of cheese, and established a flock of sheep with lambs bought at Yeovil and Sherborne (Dors.). (fn. 104) Edmund Broderip himself planted at least one orchard in 1809; his son at his death in 1847 left a cider press and much equipment as well as a small flock of sheep and over 100 pigs. (fn. 105) The estate included 50 a. of plantations, and manorial rights included moduses on cows, heifers, and calves throughout the parish and a modus for tithe hay from 150 a. of meadow. (fn. 106) Between 1807 and 1839 some of the arable strips in the open fields had been consolidated and a few had been planted as orchards. Arable, however, covered only 255 a. as compared with 1,000 a. of meadow and pasture and 36 a. of orchards. (fn. 107) There were still a few clear traces of strips in 1885. (fn. 108)
By 1839 Cossington was divided between nine farmers, one living outside the parish. Seven holdings measured over 100 a. (fn. 109) By 1851 there were seven farms, two measuring over 200 a., and by 1861 Manor or Court farm was of 300 a. (fn. 110) By 1881 there were six principal holdings, of which four were of 200 a. or more. (fn. 111) By 1906 there were five farms and a dairy, the last held by John Stradling who by 1910 had taken Millmoot farm (fn. 112) and whose family still occupied the farm in 2001. There were seven named farms in 1939, only four of which measured more than 150 a. At the same date the village was home to a smallholder and a cattle dealer. (fn. 113) In 2001 there were four farms, one concentrating on arable, one on beef cattle, and two on dairying. (fn. 114)
TURBARY
Attached to at least one farm in 1484 was a small area of reed bed and a turbary. (fn. 115) By 1634 some reed and withy beds had been converted to meadow, (fn. 116) but by the end of the 18th century four farms between them had turbary rights in Edington dating from 1602 or earlier, (fn. 117) and the manor house estate in 1771 had similar rights in the parish itself and in Chilton Polden. (fn. 118) Digging within the parish is found only in the 1730s when one piece of land was subject to cutting only once during the term of the lease and thereafter was to be levelled and planted with willows; another nearby had no limitation provided that a broad baulk was preserved on the side against Cossington wall. (fn. 119) Digging turf was the main employment for the poor by c. 1790, (fn. 120) and a piece of turbary or heath ground in Cossington and Chilton Polden was mentioned in 1804. (fn. 121)
MILL
In 1364-5 and 1418 the miller was accused of taking too much toll. (fn. 122) A windmill had been built by 1502 but only its mound was mentioned in 1602. (fn. 123) Fields named Millmoot north-east of the village (fn. 124) may indicate its site. A windmill stood south-west of the parish church in the later 17th century. (fn. 125)
TRADES AND CRAFTS
Evidence of salt working in the Brue valley in the later Roman period has been found within the northern boundary of the parish. (fn. 126) Quarries were mentioned in the early 17th century. (fn. 127) A quarry was filled in 1712; another was apparently still in use in 1839. (fn. 128) A limekiln was mentioned in 1728. (fn. 129) 'Great quantities' of 'fine' blue and white lias were quarried in the 1780s both for buildings and for roads. (fn. 130) In the mid 19th century the laundresses, dressmakers, staymakers, and milliners who found employment in the village were at least in part a reflection of the prominence of gentry there; during the same period there were the usual craftsmen and tradesmen. (fn. 131) A post office had been opened by 1872, and two shops including a grocer's by 1883. (fn. 132) A grocery and post office, in business in the 1930s, was still open in 1997. (fn. 133)
The Cossington Meat Supply had been established by 1939, in premises which had formerly been the village smithy, under the name R. M. Smith Brothers. (fn. 134) The company became building developers after the Second World War and acquired Cossington Grange as headquarters. The business was later acquired by Beazer Homes of Bath and subsequently by Persimmons of York. (fn. 135) In 2001 the company left the village. Small business units, the firm of Wyvern Aquatics, and a veterinary centre were trading in Cossington lane in 2001, partly on the former site of a garden centre.
LOCAL GOVERNMENT
In the 14th century Cossington was a single tithing, (fn. 136) later linked with Durborough in Stogursey, (fn. 137) and later still with Holford. (fn. 138) In 1622 the tithing reported to the hundred court that its butts were in decay. (fn. 139)
No records of a manor court have been found but suit to it was mentioned in a lease of 1755. (fn. 140) One of the tenants on the estate of Thomas Hobbs, the rector, in 1802 was to build a pound. (fn. 141)
A constable was mentioned in 1608. (fn. 142) By the earlier 18th century two churchwardens and two overseers administered the parish. Waywardens were named from 1706 and a vestry from 1745. The overseers, whose income was from rents from the route to the moors called Common Drove as well as from rates, were responsible both for paupers and for public works. They paid rents, supplied clothing, food, fuel, and medicines, and sent two patients to Bath and two boys to school. Paupers were badged from 1735 and a surgeon was occasionally employed to care for the poor from 1745. In 1801 potatoes and 'other necessaries' were bought in. The overseers also regularly ditched one piece of meadow, maintained two rhynes and clyces, a flood wall, bridges, and gates, cleaned the horse pool, and accounted on behalf of the waywardens for repair of parish roads. (fn. 143) The waywardens kept separate accounts from 1769. (fn. 144) In 1721 the overseers repaired the stocks. A house for paupers was first rented in 1743 and was subsequently known as the poorhouse. (fn. 145) The building, occupied in 1839 by six families, stood on the north side of Middle Road, on the site occupied by the present village hall. (fn. 146) Probably the same property, extended for four families, was leased by three men, evidently on behalf of the parish, from 1846. (fn. 147) By 1831 gardens for the poor had been provided by the lord of the manor in one of the arable fields. (fn. 148) In 1836 the parish became part of the Bridgwater poor-law union, in 1894 of Bridgwater rural district, and in 1974 of Sedgemoor district. (fn. 149)
CHURCH
A rector of Cossington was mentioned in 1225 (fn. 150) and the living was a sole benefice until 1976 when it was linked with Woolavington. In 1987 it became part of a single benefice with Woolavington and Bawdrip. (fn. 151)
PATRONAGE AND ENDOWMENT
The patronage of the living descended with the lordship of the manor until after 1675, although the Crown presented in 1586 after the deprivation of John Durston and the parliamentary commissioners in 1651. (fn. 152) In 1604 John Portman was given the nomination of the next incumbent after a dispute in which Hugh Portman had intruded a rector. (fn. 153) Thomas Smith of Cossington was patron in 1700 and his namesake presented in 1758 and 1771. James Selleck and others in 1742 and John and Joan Jeanes in 1756 seem to have presented by grant of Smith. (fn. 154) Charles Hobbs, rector 1771-1801, succeeded to the patronage on Smith's death in 1772. (fn. 155) His heir was his only surviving son Thomas, whom the bishop of Bath and Wells presented to the living by lapse in suc cession to his father in 1801. (fn. 156) Thomas Hobbs was both rector and patron until his death in 1833 and his executors presented in 1834. (fn. 157) The Broderip family, lords of the manor, presented from 1844 (fn. 158) until 1929 when Edmund Francis Broderip conveyed the patronage to James Cox Macro Allen Wilson (d. 1948). From James's widow Ethel Mary it passed to Mrs. Petronella May Kathleen Church, and in 1954 Mrs. Church conveyed it to John Arthur Church. (fn. 159) J. A. Church was one of the patrons of the benefice in 1997, presenting on the second turn in three. (fn. 160)
In 1291 the church was valued at £6 13s. 4d. (fn. 161) In 1535 the net value was £13 9s. 10d., (fn. 162) c. 1670 it was assessed at £30, (fn. 163) and c. 1830 at £254 net. (fn. 164) Tithes in 1535 were worth £11 15s. 9d. (fn. 165) and in 1839 were commuted for £222. (fn. 166) Glebe land was worth £2 6s. 8d. in 1535 (fn. 167) and in 1571 comprised 52 a. (fn. 168) There were 55 a. in 1839. (fn. 169) Just over 63 a. were sold in 1920. (fn. 170)
In 1571 the rectory house comprised a hall with two chambers over, a detached kitchen with a chamber over, a barn, and a stall. (fn. 171) It was regarded as unsuitable for the rector in the earlier 19th century (fn. 172) and was from 1835 leased with tithes and glebe to the lord of the manor. (fn. 173) The curate occupied the manor house. (fn. 174) In 1860 the rectory house was exchanged for the house on its eastern boundary. (fn. 175) That was sold in 1980 (fn. 176) and became known as the Old Rectory. The rectory house before 1860, now known as Church Farmhouse, has a two-roomed plan with central passage probably of the late 17th century, with a rear wing and outshuts of the 18th century. (fn. 177) The Old Rectory is a late 16th- or 17th century two-storeyed, three-bayed stone house with attics, extended eastwards by two wide bays probably in the earlier 19th century, the whole concealed by a mid 19th-century rendered facade, related in its cottage orné style to the Manor House. A north-east wing and rear extension under a catslide roof were added after 1840.
CHURCH LIFE
Richard Malet, the rector, was declared insane in 1322 but remained in office with coadjutors until 1329. (fn. 178) His successor, a relative of the patron, held the living for two years but received only subdeacon's orders. (fn. 179) Bartholomew Blithman was deprived for absence in 1561, and from then until 1575 rectors were often absent. (fn. 180) A second rector was deprived in 1586, probably because of debt, (fn. 181) and by 1590 until 1604 there was a dispute involving two men both claiming to be rector. (fn. 182) Charles Hobbs, rector 1771-1801, was chaplain to Earl Poulett and held Shapwick and Ashcott from 1791 until 1801. His son Thomas, rector 1801-33, was chaplain to the marquess of Headfort, vicar of Shapwick 1801-6, and from 1821 rector of Templeton (Devon). (fn. 183) Thereafter rectors were resident.
In the early 18th century many strangers were married in the church. (fn. 184) In the 1780s there were c. 15 communicants. (fn. 185) In 1815 the resident rector took a single service each Sunday, by 1827 there were two services, and by 1849 a sermon was preached each Sunday, either morning or afternoon. By 1840 communion was celebrated 'at least' three times a year, (fn. 186) and by 1843 six times a year. (fn. 187) J. S. Broderip, who served as curate in 1838 and 1839, was appointed rector by his father in 1844 and remained so until his death in 1866. (fn. 188) He married Frances, a daughter of the poet Thomas Hood, herself with her brother Tom a writer of books for children. (fn. 189)
By 1545 there was a brotherhood attached to the church. (fn. 190) Land supporting a light, mentioned in 1548, was sold in 1549. (fn. 191) There was a parish house by 1758 until 1771 or later. (fn. 192)
CHURCH FABRIC
The church of the Blessed Virgin Mary was so dedicated by 1505 and is of blue lias rubble. (fn. 193) It has all the appearance of being a feature in the manor house garden and is separated from the house only by a gravel path. It has a chancel, an aisleless nave of two bays with south porch, and a west tower. The chancel is of the 13th century and has a foiled tomb recess and original rere-arches to the two two-light south windows. The nave may have had a south-eastern transeptal chapel. The south porch was added in the late 14th century. There was a roodloft and the entrances to the rood stair survive. In the 15th century the east window and some nave windows were replaced and the plain two-stage west tower with diagonal buttresses, tower stair, and west door was added. A prospective chapel mentioned in a will of 1530 was probably never built. (fn. 194) A canopied pulpit and other furniture were installed in 1718 and a west gallery was added in 1771. (fn. 195) The interior was refurnished in 1900 at the expense of the lord of the manor, (fn. 196) but he successfully opposed the proposal for a vestry north of the chancel on the grounds that it would invade his privacy. (fn. 197)
The recess in the chancel evidently once contained a recumbent female figure, the remains of which were removed to the churchyard in 1900. There is a brass to John Brent (d. 1524) and his wife, and a fragment of heraldic glass in the south-west nave window commemorating their marriage. A pre-Reformation altar slab is used as paving in the chancel. (fn. 198) The Perpendicular font appears to be of the 17th century.
There are six bells of which the fourth is medieval from the Bristol foundry, and the fifth of 1604, probably by William Purdue. (fn. 199) The plate includes a cup and cover of 1573 by 'I.P.' and a cup and paten of 1704. (fn. 200) The registers begin in 1675 but those of marriages are incomplete. (fn. 201)
NONCONFORMITY
In 1605 Elizabeth Brent, wife of the lord of the manor, and two others were said to be popish recusants. She was still accused in 1629 while members of her family and others absented themselves from church. (fn. 202) Thomas Martin was recorded as a papist there in 1680. (fn. 203) John Suger, a resident of the parish, attended a Quaker quarterly meeting in 1694, (fn. 204) and a house was licensed for nonconformist worship in 1699. (fn. 205) From 1806 a house was used by Baptists, who received a licence to use another house in 1850. (fn. 206)
EDUCATION
The overseers sent pauper children for schooling in 1707 and 1730, presumably in the parish. (fn. 207) In 1819 there were two small schools. (fn. 208) By 1825 there was a day school with 22 children and a Sunday school with 29 children, both associated with the church. (fn. 209) In 1833 two day schools had 32 children between them, 8 of whom were supported by subscriptions, the rest by their parents. A Sunday school in that year had 13 children taught free. (fn. 210) One day school and the Sunday school continued in 1847 but with lower numbers. (fn. 211) A schoolroom, evidently part of a cottage, was in use in 1840 and was described as good in 1846. (fn. 212) Rebuilding, said to have been done in 1870 by the lord of the manor, probably involved alteration of the former cottage to make a two-storeyed teacher's house with a schoolroom and an entrance lobby, all in Perpendicular style with traceried windows. (fn. 213) In 1903 there were 40 children on the books. (fn. 214) Numbers continued to fall, and in 1920 the school was taken over by the county council. Seniors were no longer taken from 1926. By the mid 1950s numbers had returned to the level of the beginning of the century and continued to grow as neighbouring village schools closed. In 1992 there were 80 pupils and in 1998 89. (fn. 215)
CHARITIES FOR THE POOR
Mary Brent by will dated 1701 and proved 1703 and 1705, gave £250 to the poor of the parish. (fn. 216) From the later 18th century the income of c. £12 was regularly distributed to those not regularly receiving relief and known as second poor, and by 1825 was invested in a local turnpike trust. (fn. 217) The income of £28 was still distributed in 1995. (fn. 218)
The interest on a gift of £25 by Joseph Jeanes was between 1733 and 1751 distributed with the rents of Common Drove to poor people. (fn. 219) By 1786 £5 had been invested by an unknown donor with the overseers which produced 6s. for the poor. (fn. 220) No further trace of the bequest has been found.