Pages 50-63
A History of the County of Somerset: Volume 8, the Poldens and the Levels. Originally published by Victoria County History, London, 2004.
This free content was digitised by double rekeying. All rights reserved.
EDINGTON
TOPOGRAPHY
The parish and former chapelry of Edington (fn. 1) is a long, narrow, rectangular area which stretches roughly northwards from the Polden ridge across the moorland of the Brue valley. It was part of the ancient parish of Moorlinch, (fn. 2) and is thought by some to be the site of King Alfred's victory over the Danes in 878, (fn. 3) a theory which has not received general acceptance. The parish includes the compact village of Edington on the lower slope of the Polden ridge, a few houses on Cock Hill along the north side of the Glastonbury-Bridgwater road on the top of the ridge 1.5 km. to the south, and that part of the scattered settlement of Burtle known as Edington Burtle or West Burtle (fn. 4) on the moors 3.5 km. to the north. Chapel Hill Farm at Burtle is the probable site of the hermitage and later priory of Sprawlesmead or Burtle, founded in the later 12th century. (fn. 5) The whole ancient chapelry was just over 1 km. wide and 6.5 km. long. In 1814 a detached area to the south of the Polden ridge was added in respect of common rights on King's Sedgemoor. (fn. 6) In 1839 the parish measured 2,036 a. (fn. 7) The civil parish remained coterminous with the ancient ecclesiastical parish until 1933 when the land on King's Sedgemoor was transferred to Moorlinch. (fn. 8) In 1981 Edington civil parish was reduced in area by the creation of the civil parish of Burtle and the transfer of small areas in the north to Wedmore and in the south to Stawell. (fn. 9)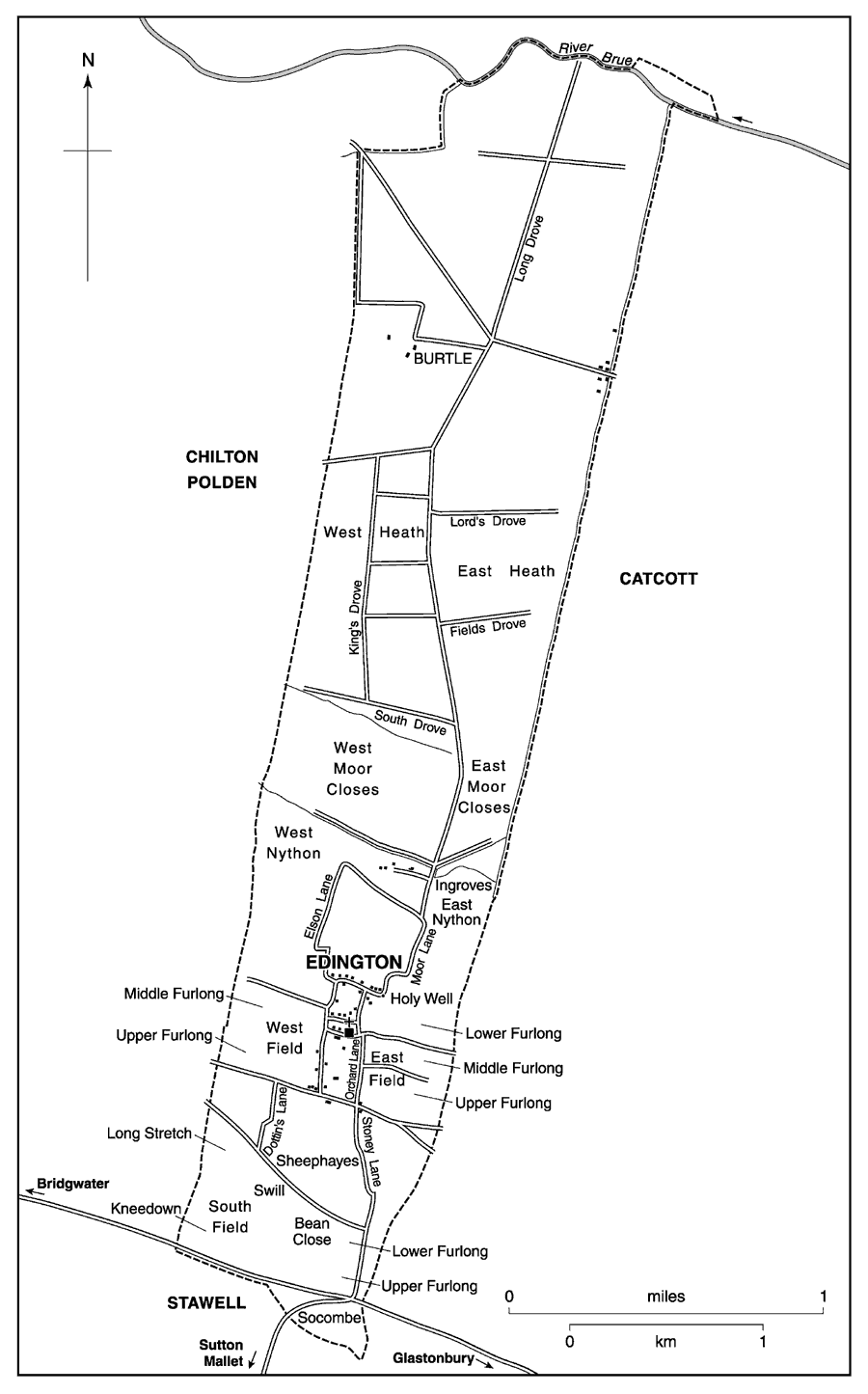 The boundaries of the chapelry were largely manmade and coincided with the manorial estate. By the mid 13th century that with Chilton Polden to the west was marked for much of its length by ditches and a bank called the Landshare, (fn. 10) described in 1424 as a wall. (fn. 11) In the later 16th century the boundary was the Landshare Ditch, and later the Chilton Landshire Rhyne. The boundary with Catcott to the east was also a wall, (fn. 12) known in 1731 as the great wall (fn. 13) and later Catcott Wall. It followed a natural watercourse which flowed into New Ditch, so named in 1457, (fn. 14) and ran beside Catcott Wall and along Manor Rhyne into the Brue. In the north the boundary is less regular but follows in part the present course of the river Brue, in the late 16th century described as a former ancient watercourse. (fn. 15) The southern boundary on the Polden ridge was also irregular, forming a triangle of common land beyond the Bridgwater-Glastonbury road on Socombe Hill. (fn. 16)
The southern third of the parish, on the Polden slope, is largely of clay with limestone, falling from a height of 98 m. on Socombe Hill to 15 m. at the northern end of Edington village, and still further to form a shallow valley behind the slightly higher Nidons ridge. White and blue lias with fossils was quarried in the later 18th century, (fn. 17) and is followed in succession by blue clay (fn. 18) and by a narrow band of alluvium which may mark a former watercourse. Beyond it lies the peat moor, much around the 3-m. contour, until the slightly higher shelly sands and gravels of Burtle Beds. (fn. 19)
COMMUNICATIONS
The Polden ridge is followed by the Bridgwater- Glastonbury road whose course is assumed (fn. 20) to follow more or less precisely a Roman road from Ilchester to the port at Crandon Bridge. It was turnpiked by the Bridgwater trust in 1759. (fn. 21) Another significant east-west road, known as the Broadway, was mentioned in the early 13th century. (fn. 22) It runs almost the whole length of the Poldens, roughly 1 km. to the north of the ridge, and forms the southern boundary of the settlement of Edington. Two routes led north to the cultivable land called Nidons, one mentioned in the mid 13th century, perhaps a second known by 1364 as Elishamesway. (fn. 23) Other routes were known in the mid 13th century as the Drove and Greenway. (fn. 24) A single road by the early 19th century linked Edington village with Burtle and the moors to the north; two formerly led south to the ridge, one, reduced in Edington to a footpath, led directly to Sutton Mallet and the Sedgemoor allotment. (fn. 25)
The Glastonbury canal was built through the northern part of the parish between Edington and Burtle. It was begun in 1829, opened in 1833, and closed in 1853 and was replaced by a railway built along its northern bank. (fn. 26) The railway was opened in 1854, and a station named Edington Road, 0.5km. south-west of Burtle church, was opened in 1856. The line was operated by the Somerset and Dorset Joint Railway. In 1890 a line was opened from the station, renamed Edington Junction, to Bridgwater. The Bridgwater line closed to passengers in 1952 and to goods in 1954 and Edington Junction was renamed Edington Burtle in 1953. The remaining track was closed in 1966. (fn. 27)
POPULATION
There were 25 households in Edington in 1563. (fn. 28) The population rose from 284 in 1801 to 428 in 1841, fell to 378 in the next decade, but totalled 459 in 1871, 435 in 1881, and 482 in 1891. Between 1911 and 1931 it fell by nearly a quarter, but between 1951 and 1971 rose from 397 to 524. The creation of the civil parish of Burtle reduced Edington to 332 in 1981 and to 338 in 1991. (fn. 29)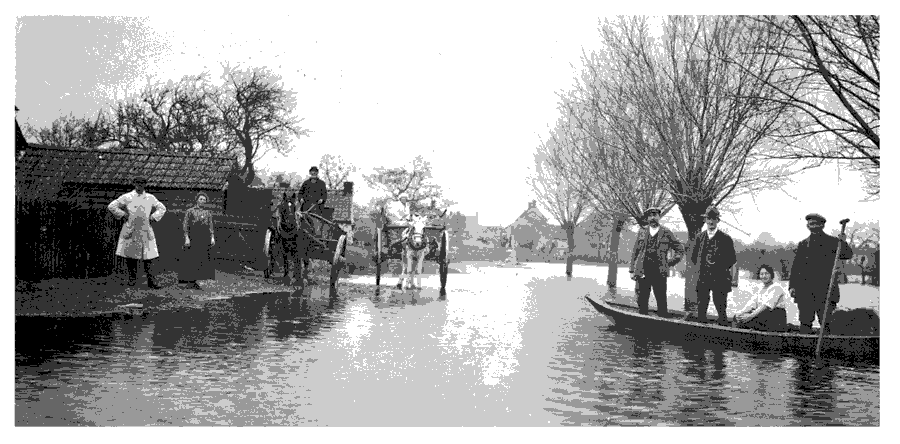 SETTLEMENT AND BUILDINGS
Mesolithic flints, Bronze Age metal objects, and Roman coin moulds were frequently found during turf-digging in the 19th century in the northern half of the parish. Linear ditches and banks have been recognised across the moor, and several briquetage mounds point to Roman salt working. Pottery dating from the Late Neolithic to Middle Bronze Age and from the 12th century onwards has been found in the village and an extensive Roman settlement lies north-east of the church. (fn. 30)
The regular layout of Edington village may be the result less of deliberate planning as of the use of already existing routes which ran along the northern edge of the Polden ridge, but the east-west Chandlers Lane, on an established east-west route at the northern end of the grid of lanes, with narrow strips of land running north behind the houses, bears all the hallmarks of a medieval planned development. (fn. 31) Around Edington village lay three open fields, the east field mentioned in the late 13th century. (fn. 32) Burtle island was inhabited solely by a priory from the end of the 12th century. (fn. 33) Roadside settlement at Cock Hill may have begun with the chapel of St. Thomas of Canterbury and the home of a hermit, first recorded in 1241. (fn. 34)
Houses in the village suggest prosperity in the later 18th and the earlier 19th century, but there are latemedieval survivals at Townend Cottage and Chandlers Cottage and of the 16th century at Rock House. (fn. 35) Edington House and Edington Manor were the product of the long leases granted to substantial tenants. (fn. 36) Pyne's Farm, named after tenants there by 1641, may date from c. 1700; (fn. 37) and Burnt House Farm, its predecessor burnt in 1664, (fn. 38) is also of the early 18th century with additions in the later 18th and 1885. Hill House and Holywell House also date from the 18th century and Great House from the early 19th. A few large detached houses were built in the 1970s. (fn. 39)
Edington House, held by the Melliars and later by the Fields, lies close to the road on a long narrow plot and is built of local lias with brick chimneys. Its irregular L-plan is made up of four distinct parts, all two-storeyed with attics and cellars but of different heights and with different floor levels. Originally the roofs were covered with clay tiles.
The main part is a rectangular block with a high basement which has two rooms of moderate size on each floor flanking a central staircase hall; there is a vaulted cellar beneath. Its south facade, faced in regularly coursed lias, has simple classical details: the outer bays are pedimented and defined by rusticated quoins in a composition comparable to that, say, of the facade of The Old Pump Room, Glastonbury, of c. 1754. The brick end chimneystacks have flues separated by open arches. The south-east room retains mid18th-century panelling and chimneypiece and the staircase with vase balusters is original. There was presumably service and other accommodation to the north or west.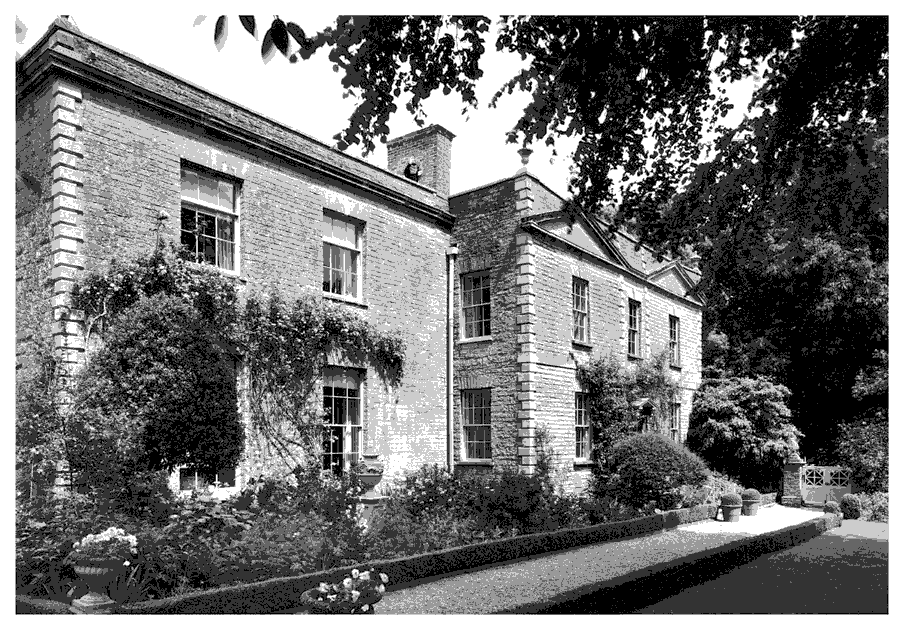 The present north-east wing is almost entirely of c. 1810, the date on the leadwork of the doorhood, (fn. 40) but may incorporate at the south end the remains of a 17th-century house with a substantial west chimneystack. Its east front of three irregular bays, faced with alternating wide and narrow courses of dressed stone and with a central doorway and iron casements with leaded panes, is comparable with early 19th-century facades in the locality. Some reset panelling in this wing looks c. 1700. About 1820-30 a three-bay wing was attached to the west side of the main block to provide a drawing room with handsome decoration above a large basement kitchen, and two bedrooms on the first floor. A light-well between the two parts was roofed as a toplit lobby. By 1839 (fn. 41) two blocks enclosed the north and west sides of a courtyard west of the house, but before 1886 (fn. 42) the arrangement had been altered. Service rooms had been built along the west side of the north wing and other ranges lay at right angles to the north-west and south-west.
The peculiarities of the plan result from the remodelling of the centre of the house in the earlier 19th century to improve communication between the four parts. A doorway was created between the north-east wing and the south staircase hall, and a pantry and cupboards, back-to-back, were cut out of the north side of the south-west room. A staircase linking the south block and west wing with the upper floors of all the parts was built in a curve round the main chimneystack of the north-east wing. Because of the changes the main staircase now leads only to the first-floor east room of the south block. About 1960 (fn. 43) the wall between the west ground-floor room of the main block and the staircase hall was partly removed to form a living-hall. Urns and an eagle have been added to the south parapet since c. 1960 and windows have been added to the west side of the south-west range. A classical doorhood has replaced what appears to have been a porch, built between 1839 and 1886. (fn. 44) A classical summer house south-west of the house seems to have been there by 1886. (fn. 45) It incorporates circular stone window surrounds, perhaps from a 17th-century house. An arched seat, which looks 19th-century, may have formed part of a structure at the north end of the pleasure gardens in 1886. (fn. 46) Since c. 1960 it has been attached to the west end of the house. Former coach house and stables stand nearby, on the opposite side of the road.
SOCIAL LIFE
Six people were in breach of the assize of ale in 1280 and four in 1311; seven were fined in 1364, and five in 1418. (fn. 47) An alehouse was mentioned in 1618 (fn. 48) and victuallers and tipplers in Edington were mentioned in 1620, 1622, 1630, and 1732, and in Burtle in 1778. (fn. 49) The Burtle House or Burtle inn was named from 1782 until 1823. (fn. 50) That name was revived for a former farmhouse in Catcott by 1919, (fn. 51) which in 1998 was known as the Old Burtle inn. The Railway hotel or inn had been established by 1861 and by 1998 was known as the Tom Mogg inn, the name of a guard on the former railway. (fn. 52) A sulphurous spring was known as the Holy Well in 1791; (fn. 53) its surroundings were restored in 1937. (fn. 54)
The West Polden Friendly Society, registered in 1839, included members from Edington. (fn. 55) The Burtle Revels were held in the late summer at the beginning of the 20th century, the Druids had an annual march there, and a Harvest Home was held. (fn. 56)
A hall was built in 1926 by the newly formed branch of the Womens' Institute and was extended in 1934. The present village hall, now sharing a site with a doctors' surgery, was opened in 1979 and was subsequently extended. (fn. 57)
MANOR AND OTHER ESTATES
In 1086 Roger de Courcelles held 5 hides at Edington which formed part of the abbey of Glastonbury's estate of Shapwick. (fn. 58) In the 14th century the abbey regarded Edington as part of its so-called manor of Dundon super Polden, a group of fees which were held in 1166 of Robert Malet by Hubert de Sancta Susanna and which were held by William Malet (d. c. 1216). Those fees passed on his death through his daughters to Hugh de Vivonia and Robert de Musgrove, and subsequently to Hugh's heir William de Forz. William did homage in 1255 and died in 1259. (fn. 59) William's heir was his daughter Cecily, wife of John de Beauchamp (d. 1283). (fn. 60) The heirs of Forz were named as overlords in 1303 and 1346, (fn. 61) and the queen, who had the guardianship of the heir of Margaret Beauchamp, widow of John Beauchamp (d. 1343), was named in 1362. (fn. 62) The Beauchamp family interest has not been traced further.
The Malet family of Enmore seems to have established a mesne tenancy which descended with Enmore manor. (fn. 63) In 1284-5 the estate was held by John Malet (fn. 64) and in 1386 was held of Sir Baldwin Malet as of his manor of Sutton Mallet with no reference to an overlord. (fn. 65) It was similarly held in 1395, (fn. 66) in 1423 of Baldwin's widow by knight service, (fn. 67) and in 1472 of John Fitzjames the elder and Joan, widow of Hugh Malet, by unknown service of Sutton Mallet manor. (fn. 68) No further trace of the mesne tenancy has been found.
EDINGTON MANOR
William son of Geoffrey of Edington was the terre tenant of a knight's fee at Edington in 1199, (fn. 69) but between 1208 and 1212 the fee seems to have been held by Roger of Flanders, perhaps in right of his wife Clarice. (fn. 70) William was followed by his son Robert, known as Robert son of William or Robert of Edington, who was still in possession in 1253. (fn. 71) His successor by 1281 was John son of Geoffrey, (fn. 72) who by 1290 had been followed by his son William. (fn. 73) William son of John was in possession in 1316. (fn. 74) By 1331 Gilbert or Gibon of Edington, perhaps William's son, had been succeeded by his second son, also Gilbert (d. 1361), whose estate was first called Edington manor. (fn. 75) Gilbert was followed by his younger brother Thomas. (fn. 76) Thomas's claim was unsuccessfully disputed by his eldest brother Oliver of Edington. (fn. 77) Thomas sold the estate to John Devereux in or before 1371, and Devereux in 1375 to Sir Thomas Fichet. (fn. 78)
Fichet died in 1386, his widow Ricarda, holder of two-thirds of the manor, in 1390, and his only son, also Thomas, under age in 1395. (fn. 79) The heir was Isabel, Fitchet's daughter and wife of Robert Hill. (fn. 80) Hill outlived his wife and died in 1423 when his heir was his son John. (fn. 81) John Hill died in 1434 (fn. 82) and his widow Cecily, later wife of Sir Thomas Keriell, held the manor in dower until her death in 1472. (fn. 83) She was followed by her granddaughter Genevieve (d. 1480), wife of Sir William Say. (fn. 84) Say occupied the manor until his death in 1529 when the entire Hill estate was divided between the descendants of Elizabeth, daughter of John Hill (d. 1434). John Waldegrave received half and William Clopton, Ellen Babington, and Thomas Hussey shared the other half. (fn. 85) Before his death in 1543 Waldegrave had acquired Ellen Babington's share; (fn. 86) the remaining two shares were bought by Edward Waldegrave (d. 1561), John Waldegrave's son and heir. (fn. 87)
The manor then descended with Spaxton in the Waldegrave family, (fn. 88) earls Waldegrave from 1729, until the death of George Edward, the 7th earl, in 1846. It then passed to his widow Frances, known despite later marriages as Countess Waldegrave, who sold parts of the estate in 1864 and 1867. (fn. 89) On her death in 1879 the manor passed to her husband Chichester ParkinsonFortescue, Baron Carlingford, who died in 1898. (fn. 90) By 1902 lordship was owned by H. B. T. Strangways (d. 1920) of Shapwick and descended successively to his daughter Sophia (d. 1932) and to her cousin Helen Sophia Vialls, later Vialls-Strangways (d. 1949). (fn. 91)
The capital messuage, known as the Farm or Edington Farm, had been let with a substantial holding by 1647 and from 1766 was occupied by Richard Field. (fn. 92) The house was demolished c. 1960, and in 1998 the site was a small industrial estate.
OTHER ESTATES
In 1540 the site of the dissolved priory of Burtle or Sprawlesmead and its land in Moorlinch, Catcott, Huntspill, and Cossington were leased to Richard Holbroke. (fn. 93) The estate was sold in 1553 to James and John Bisse and by John Bisse to Sir William Portman. Portman died in 1557 and was succeeded by his son Henry. (fn. 94) The estate continued in the Portman family until 1821 or later. (fn. 95)
A substantial tenant holding was formed by the Revd. John Jeremy, curate and later vicar of Moorlinch, (fn. 96) who through his marriage to Mary Jeanes née Rocke came by his death in 1818 to hold an estate based on Edington Manor and including Burnt House farm. That estate was bought from the Waldegraves by Jeremy's daughter Louisa in 1864 and 1867 and passed on the death of her sister Mary in 1873 to her niece Margaret Luttrell who married her cousin Capt. John Luttrell. Mrs. Luttrell was succeeded on her death in 1926 by her son Alexander (d. 1957), and on the death of his widow Florence in 1961 the house was sold. Edington Manor was built by John Jeremy between 1794 and his death in 1818 and was extended in 1824 by the addition of a second floor in the rear to the designs of Richard Carver. (fn. 97)
In 1262 the rectorial tithes of Edington, formerly belonging to Moorlinch rectory, passed to Glastonbury abbey, to whose almoner they were assigned until the Dissolution. (fn. 98) They were thereafter leased by the Crown as part of a holding called Shapwick rectory and later Shapwick and Moorlinch manor. (fn. 99) From 1784 until her death in 1839 Edington tithes were owned by Elizabeth, née Strangways, wife of William Gould. (fn. 100) In 1531-2 they were let for £5 13s. 4d., in 1675-8 for £25, and in 1786 for £35. (fn. 101) In 1839 the tithes were commuted for £90. (fn. 102) In the later 13th century Shapwick parsonage barn was in Edington (fn. 103) and a barn, perhaps the parsonage barn, survived in 1794, (fn. 104) but had become a cottage by 1839. (fn. 105)
ECONOMIC HISTORY
AGRICULTURE
An estate of five hides was recorded in 1086 with Shapwick, (fn. 106) but was not further described. Drainage at Burtle had begun by the later 12th century, and by the mid 13th field names suggest the formation of small areas of both meadow and arable land encroaching on the southern edge of the moor. (fn. 107) A fishery at Burtle and the 'island' of Telham were at the same time part of the endowment of Burtle priory, uncertainty over Telham becoming the cause of later disputes between the lords of Edington and Wedmore over grazing rights. (fn. 108) By the mid 14th century at least one freeholding of 60 a. seems to have been established (fn. 109) and a number of outside estates had lands in Edington. (fn. 110) In the earlier 15th century the moor attracted fowlers and illegal grazing; in 1427 the lord received cash for agistment of three flocks totalling 216 ewes. (fn. 111)
The total receipts of the manor in 1439-40 amounted to £18 10s. of which £14 6s. 3d. came from rents and most of the rest from sales of turf, geese, and grazing on the moor. (fn. 112) By 1477 the demesne farm was let and the total income was reduced in 1477-8 to £15 13s. 4d. and in 1493-4 to £147s. (fn. 113) During the same period small sums were received in various years from a fishery, a swannery, and the chace of the moor. (fn. 114)
By 1638 the moorland, totalling just under 1,350 a., was almost equally divided between meadow and turfmoor in the south and common in the north. (fn. 115) From 1651 successive tenants leased the drift of the chace on the common, holding rights to waifs and strays and charging tolls on vehicles; in return the river Brue had to be cleaned and scoured. (fn. 116) Inclosure of the east and west common arable fields had begun by the 1670s. (fn. 117)
The Melliar family were prominent tenants by the 1640s (fn. 118) holding the capital messuage and a substantial farm from 1647 until the 1730s, although most if not all was sublet. (fn. 119) About 1710 the Waldegrave estate comprised the capital messuage and some 190 a. of land including 26 a. of common and turbary, and seven other farms of between 20 a. and 54 a. and totalling c. 475 a. Freeholders included prominent landowners such as Harry Brydges, the Hales family, and Sir Philip Sydenham. Tenancies were then for 99 years. In 1694 quit rents for the year totalled just under £15 but fines amounted to £244. (fn. 120)
By 1752, when the capital messuage and farm were let to James Waldegrave, brother of the lord, most of its 158 a. lay in the south of the parish, nearly all in closes, although there were a further 26 a. of which a few were in the three surviving open fields. An earlier lease of the holding had been for ten years at £63 a year, but Waldegrave and Richard Field, his successor in 1766, held for 99 years. A heriot of two best beasts was demanded. (fn. 121) Richard Field's dwelling, the later Edington House, was in his own possession by 1770. (fn. 122)
Richard Field's cattle strayed from Burtle into Mark Moor, across the northern parish boundary, in a mutual arrangement with the lord there known locally as a 'rangell'. By 1770, when the division of Edington Common was in contemplation, thirteen freeholdings shared 540 a. Three were tenants of Sir Thomas Hales, two of William Portman, and one of the duke of Chandos. Richard Field had 51 a. Tenants of the Waldegrave estate shared 549 a. of which Richard Field had 206 a. in respect of the former capital messuage, then known as the Farm, and 54 a. from a holding called Jeanes. A share of 63 a. was assigned to the Revd. John Jeremy in respect of Burnt House farm. (fn. 123) In 1794 the total Waldegrave estate was said to be 699 a., of which Richard Field held 255 a. (fn. 124) In 1839 Earl Waldegrave owned 878 a., (fn. 125) in 1855 his widow had 909 a. (fn. 126)
About 1785 agriculture was thought to be 'badly carried on' on the wet, heavy clay; no barley or turnips were grown but beans and wheat were said to be good. (fn. 127) About 350 a. were inclosed under an Act of 1814, removing the last traces of open arable fields, and common rights on the Polden ridge and King's Sedgemoor. (fn. 128) By 1839 arable had been reduced to 313 a. Three farms had been established around Burtle, namely Burtle farm, Burtle Hill farm, and Chapel Hill farm. (fn. 129) By 1851 there were eight farms measuring between 130 a. and 286 a. and five others of 50 a. and over. (fn. 130) Burtle Hill farm with 269 a. was the largest unit on the Waldegrave estate in 1855, (fn. 131) but by 1861 Edington farm measured 325 a. and there were five other farms with over 100 a. Five people were then employed in dairies. (fn. 132) In 1871 there were still eight principal farms and several smaller ones (fn. 133) and in 1881 seven with 100 a. or more. (fn. 134) The total remained c. 20 well into the 20th century. (fn. 135)
By 1905 arable had been cut by a third and grassland covered 1,965 a., (fn. 136) and by 1906, reflecting the importance of dairying in the parish and neighbourhood, the Western Dairies Co. established a wholesale business at Burtle. (fn. 137) By 1914 it had become the Cream Dairy Co., but closed between 1919 and 1923. (fn. 138) Dairying declined in the later 20th century and the last dairy herd in Edington village was sold in 1997. (fn. 139)
Two poultry farmers were in business by 1935, and in 1936 the owner of one founded a cooperative egg packing station known as Suprema. (fn. 140) The business employed c. 12 people in 1947 (fn. 141) and in 1952 processed 27 million eggs as well as poultry. It closed in 1969. (fn. 142)
TURBARY
The right to dig turf in Edington moor, vested in the manor, was subject to grant by the lord. Thus in the later 13th century one grant was of 8 waggon-loads of turf a year with right to sell, another the amount 5 men might dig in 2 days, another free licence to dig without apparent limit. (fn. 143) Common turbary was included in land transactions in the 14th and 15th centuries, (fn. 144) but measures against too much digging were taken c. 1400 although licence might still be granted for sale away from the manor. (fn. 145) The lord's gross income from turbary in the 15th century varied between more than £5 and a few shillings. (fn. 146)
Tenants of Wedmore manor evidently had turfcutting rights in Edington in the 16th and 17th centuries. (fn. 147) In the earlier 18th century common turbary was attached to most tenant holdings on the Waldegrave manor; (fn. 148) sales beyond the manor were still limited by licence: Cossington parish had increased its right to dig for one day a year by 1602 to ten days by 1789 for the benefit of its poor. (fn. 149) In 1839 areas of peat digging or 'delvings' had evidently in the past been assigned to Cossington, Stawell, and Woolavington. (fn. 150)
From 1651 the Waldegrave estate leased out the right to levy tolls on turf carts crossing Edington moor from Catcott to Mark and Huntspill. (fn. 151) By 1671 the rent was 15s., in 1737 13s. 4d. (fn. 152) The 'ancient' charge was 1d. for each waggon and ½d. for each cart and was known as the benefit of carriages. (fn. 153)
By 1839 at least 85 a. were producing turf (fn. 154) and by 1842 a turf merchant was in business. (fn. 155) In 1851 a turf cutter and a turf merchant lived in the parish, but by 1861 there were 10 turf merchants or dealers, (fn. 156) and extensive digging took place at Burtle in the 1860s. (fn. 157) In 1871 there were 5 merchants or dealers and 11 cutters, 2 merchants evidently selling peat on Cock Hill. (fn. 158) Business gradually declined thereafter and there were 3 dealers in 1891 (fn. 159) and a single dealer in 1902 and 1914. (fn. 160) Some digging was carried on in 1998 in an area of 45 a. where planning permission had been given in 1962-3. (fn. 161)
MILLS
Mills were mentioned in the earlier 13th century and there was a windmill called Henlee, evidently on Socombe Hill in the south-east of the parish, in 1281. (fn. 162) A mill was referred to in 1293 (fn. 163) but in 1364- 5 it was not grinding. (fn. 164) A former mill mound was leased in 1403 as the site for a new windmill, (fn. 165) and it was in operation by 1418. (fn. 166) It seems to have been abandoned in the 1460s. (fn. 167) A mill mound, known as a moot or batch, on Socombe or Cock Hill was mentioned in 1592 and 1773. (fn. 168)
FAIR
By 1670 the profits of a fair on Cock Hill, part of the Waldegrave manor of Edington, were let for 6d. but no rent was paid from 1675. (fn. 169) The fair, held on 29 December, the feast of St. Thomas of Canterbury whose chapel had stood there, was evidently transferred to Bridgwater in or before 1683. (fn. 170)
TRADES
A weaver was in business c. 1260. (fn. 171) Thomas Plaice of Edington, disowned by fellow Quakers in 1685, was known as a trader in wool and serge, a grocer, and a draper. (fn. 172) There was a shop in Edington village in 1828 and 1843. (fn. 173) There were probably three shops in 1851 and a tallow chandler was also in business. (fn. 174) A brick and tile maker was working in Burtle for a few years in the early 1860s, (fn. 175) and by 1872 there were two shops in Burtle and three in Edington. (fn. 176) By 1894 there was only one shop in each village. (fn. 177) Refreshment rooms had opened at Cock Hill by 1927. (fn. 178) In 1979 there were three shops in Edington and one in Burtle. (fn. 179)
EDINGTON
Agricultural machinery was sold in Edington before 1957 when Somerset Milking Parlours was established, manufacturing dairying equipment and employing as many as 75 people. (fn. 180) The business transferred to the former Suprema premises after 1969 and the original site, part of it formerly occupied by the buildings of Edington farm, had become by 1998 separate industrial units dealing in agricultural machinery, joinery, and reclamation of building materials. Somerset Milking Parlours closed in 1985 and its premises were occupied in 2000 by craftsmen in leather, metal, and wood and by a vehicle training business.
LOCAL GOVERNMENT
Glastonbury abbey claimed right to strays in the moor in the 13th century, (fn. 181) a right which had passed to the lord of the manor by the 15th. (fn. 182) In the 15th century the lord paid for release from suit both to the hundred court of Whitley and to the manor court of Sutton Mallet. (fn. 183) In 1731 the 'tithingmanship' oversaw annual work for the maintenance of the great wall, the boundary with Catcott. (fn. 184)
Manor courts were first mentioned in 1341 (fn. 185) and rolls survive for 1424, 1426-7, and 1457 when courts were held twice a year. (fn. 186) An extract survives from a court in 1540-1. (fn. 187) By the later 16th century courts were held either in April or October; rolls survive intermittently for the period 1579-1604 and books for sessions described as courts baron and occasionally as courts of survey, normally held in February, for 1808-38 and 1849-53. In the 16th and the 17th century business concerned mainly repair of buildings, drainage, and the control of turf digging, and in the 19th century the use of timber. A hayward seems to have been the only regular manorial officer. In 1601 two men were associated with the reeve in organising the chace of the moor. (fn. 188) In 1783 the tenant of Edington Farm, the capital messuage, was obliged to offer entertainment to the lord and his tenants, (fn. 189) presumably at the time of court sessions. Food for the parish perambulation was then provided by the Waldegraves. (fn. 190) From 1651 until 1824 or later profits from the chace, from strays, and from a close called Wards, together later known as Wards and Reeveship, were let to a succession of tenants. (fn. 191) The manor pound was repaired in 1745-6 and was mentioned in 1824. (fn. 192)
In the later 17th and the 18th century one or two chapel wardens, one or two overseers of the poor, and a constable were nominated by a group of up to ten people, described from 1746 as a vestry. Overseers served in rotation and raised cash for weekly pay, house rent, nursing, and food for the poor. The number of wardens and overseers continued to vary in the early 19th century. Rates were augmented from 1688 until 1694 by money paid by the trustees of John Somerset, in 1695 and 1698 by a bequest from Robert Melliar, (fn. 193) and from 1817 by rent for grazing the droves and lanes by grant of the Waldegrave estate. (fn. 194) From 1824 the overseers rented a cottage, turbary, and a plot from the Waldegrave estate for the benefit of the poor. (fn. 195) Surveyors of highways accounted from 1776. (fn. 196) Early in the 18th century the overseers were maintaining gates to the moors, bridges, and ditches. From 1786 the vestry paid vermin bounties and from 1842 nominated constables. The incumbent was rarely present at vestry meetings.
By c. 1700 part of a group of dwellings known as Rotten Row was rented by the overseers from the Waldegrave manor for poorhouses. (fn. 197) Additions were made in 1781 and 1784, and in 1846 ten dwellings, which had been let from 1837, were put up for sale. (fn. 198) The houses, north of the church, (fn. 199) were in 1998 private dwellings known as the Square. Edington became part of Bridgwater poor-law union in 1836, part of Bridgwater rural district in 1894, and part of Sedgemoor district in 1974. (fn. 200)
CHURCHES
EDINGTON CHURCH
Origins, Patronage, and Endowment
The font in Edington church indicates a foundation by the earlier 12th century but the earliest written reference to a chapel is in 1209. (fn. 201) The chapelry was dependent on Moorlinch (fn. 202) and was served by chaplains or curates appointed by the vicar of Moorlinch until 1888. (fn. 203) In 1828 the living became a perpetual curacy held with Chilton Polden, (fn. 204) and in 1842 the benefices were united. (fn. 205) The ecclesiastical parish of Burtle was formed in 1856 from the northern parts of Edington and Chilton Polden ecclesiastical parishes. (fn. 206) Edington chapelry made payments towards the maintenance of Moorlinch church until 1853, although there was resistance in 1846-7. (fn. 207) In 1863 Edington and Chilton became independent parishes. (fn. 208) The living of Edington, the patronage of which was transferred from the vicar of Moorlinch to the bishop of Bath and Wells, (fn. 209) continued to be held with Chilton and from 1974 was also joined with Catcott. In 1982 the three became a united parish called West Poldens in the patronage of the bishop. (fn. 210)
In 1835 the living of Edington and Chilton together was said to be worth £19. (fn. 211) In the 1860s Edington alone was worth £27 and was augmented in the 1880s by local subscriptions and Queen Anne's Bounty. (fn. 212)
By 1796 the vicar of Moorlinch received a composition from Edington of 2d. an acre in lieu of tithe hay, and 1s. an acre from outdwellers. (fn. 213) In 1839 a rent charge of £111 5s. was awarded to the vicar of Moorlinch in lieu of the Edington hay modus on 332 a. and also in lieu of moduses on cows, heifers, colts, and lambs. (fn. 214)
In 1209 the chapel was endowed by Sir Robert of Edington with a messuage and a croft. (fn. 215) About 1600 the inhabitants agreed to pay rent to the lord of the manor for a house for the curate, the people of Chilton sharing the cost of repairs with those of Edington. There were also 1½ a. of land, rented from the lord and subsequently taken back by him c. 1630, and the chapel yard. (fn. 216) Glebe measured just over 25 a. in 1839. (fn. 217)
A small house was recorded c. 1780 (fn. 218) and 1839, when it was let. (fn. 219) It was no longer a benefice house in the 1880s when it was remembered as a building where the parson slept but did not live, and was known as the Hermitage. (fn. 220) It stood in Holy Well Road. (fn. 221) Dr. Simeon Elwell, perpetual curate by 1886, lived at the Great House in the village in 1888. (fn. 222) From 1891 until 1987 incumbents lived at Chilton. (fn. 223) In 1987 a house known as Kyle in Holy Well Road, Edington, built in the 1950s, was bought as a vicarage house. (fn. 224)
Church Life
The chapel was described as ruinous in 1554, and in 1586 there was no curate. (fn. 225) The curate in 1600 served another cure and did not reside. (fn. 226) In 1815 the vicar of Moorlinch, John Jeremy, lived in Edington Manor but left the duty to his curate, who lived at Moorlinch and served Edington on alternate Sundays. (fn. 227) By 1827 there was a service every Sunday, and by 1839 a resident curate who preached each week and celebrated communion at least three times a year. By 1843 communion was celebrated at least eight times a year. (fn. 228)
Church Fabric
The church, dedicated to St. Michael in 1209 (fn. 229) and to St. George by 1763, (fn. 230) comprises a chancel with north vestry, a nave with a small north transept, a south porch, and a western bellcote. Before complete rebuilding by Edwin Down in 1878-9 (fn. 231) the building had comprised a chancel, and a nave with large north aisle, south porch, and western bellcote. (fn. 232) The nave had 15th-century external features. (fn. 233) By 1777 a western singing gallery approached by an outside stair on the south had been added (fn. 234) and the north aisle and second gallery in 1834, also designed by Down. (fn. 235) About 1785 the pulpit was painted blue. (fn. 236) An organ was installed, without faculty, in 1851. (fn. 237) The large, early 12th-century font, with cable mouldings and scallops, and memorials to the Field and Jeremy families survive from the earlier building.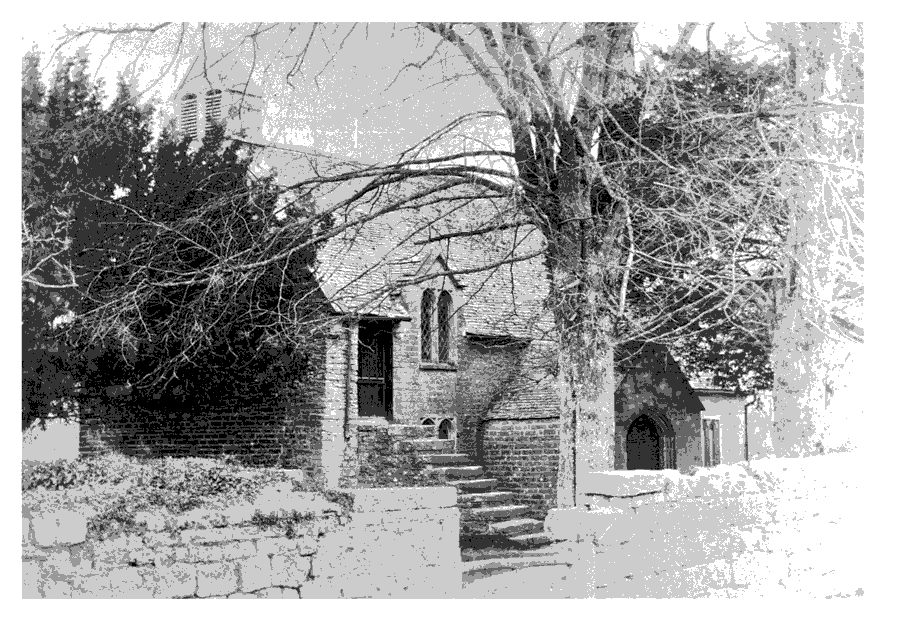 There are two modern bells. (fn. 238) The plate includes a cup and paten of 1719-20 by 'D. A.' and a plate of 1799 by 'R. C.' (fn. 239) The registers begin in 1552 (fn. 240) and there are also Edington entries in the registers of Moorlinch from 1653. (fn. 241)
CHAPEL
The chapel of St. Thomas on Polden was mentioned in 1241 and 1505, with a recluse living nearby on both occasions. (fn. 242) The building stood in 1592 on Cock Hill near the south-west corner of Edington chapelry. (fn. 243)
BURTLE CHURCH
In 1838 Miss Ann Ruscombe Field (d. 1864) gave money for a church to be built in the part of Burtle in Edington parish. (fn. 244) Its parish was created from Edington and Chilton Polden in 1856, (fn. 245) and the living was a single benefice from its foundation until 1903 when it was joined with Catcott. (fn. 246) In 1974 it became part of a new benefice of Shapwick with Ashcott. (fn. 247)
The patronage of the living descended from Ann Ruscombe Field to Gabriel Stone Poole and from him c. 1875 to his son Arthur Ruscombe Poole. It remained in the Poole family until 1946 when G. S. Poole transferred it to the bishop of Bath and Wells, who after 1974 presented every second turn to the benefice then created. (fn. 248)
A vicarage house was built in 1894, remained in use until 1974, and was sold in 1976. (fn. 249) In 1997 it was occupied by Edington school.
Church Fabric
The church of St. Philip stands on a slight knoll and is visible from a great distance. It is of Squared lias and was built in 1838-9 to designs by Richard Carver. (fn. 250) It is a Gothic box: windows with simple Decorated-style tracery, north and south porches, a west bell-turret with a short stone spire, and a chancel. Above the west doorway a Gothic window opening contains a re-used large four-light mullioned and transomed window of domestic character; arch and window are blocked. The internal arrangement is pre-Tractarian with simple Gothic fittings, including a west gallery reached from the west door, matching pulpit (cut down to single-decker), and small font. The barrel-vaulted chancel was probably reordered in the second half of the 19th century and the Tables of the Law have been moved to the south wall.
There is one bell. The plate was given by Miss A. R. Field in 1839. (fn. 251) The registers of baptisms begin in 1839, of burials in 1841, and of marriages in 1856. (fn. 252)
NONCONFORMITY
A Quaker from the parish, arrested at an unknown Meeting, was imprisoned until his death in 1665. (fn. 253) A conventicle reported in 1675 was evidently associated with a group of Quakers resident in the parish until 1686 or later. (fn. 254)
In 1825 a house at Burtle was licensed, probably for Methodists; (fn. 255) a Wesleyan Methodist chapel there had 14 members in 1840. (fn. 256) In 1871 a Primitive Methodist preacher was living in Edington Burtle and was evidently preaching there. (fn. 257)
An assembly of Open Brethren was established in Edington village, first in a tent and later in a cottage which in 1901 was converted to a gospel hall. (fn. 258) In 1905 the hall was registered for worship. (fn. 259) It is said to have been rebuilt in 1914 and c. 2000 had 32 regular attenders. (fn. 260) It is known as Edington Chapel.
EDUCATION
In 1772 a building for a Sunday school was put up to the west of Edington church, comprising a single room at one end and an open gallery above offices at the other. (fn. 261) In 1819 a Sunday school for c. 40 children, supported by subscriptions, and a day school for c. 20 infants were both probably held there. (fn. 262) A schoolmaster was living in the village in 1825. (fn. 263) Day and Sunday schools continued in 1833 with c. 60 attending daily at their parents' expense and 50 on Sunday when teaching was supported by charitable contributions. (fn. 264) In 1839 30 children attended daily and 63 on Sundays. (fn. 265) In 1847 there was a weekday dame school with 36 children and a church Sunday school for 51 children. (fn. 266) The day school continued in the 1860s (fn. 267) but in 1875 was replaced by a National school on the eastern edge of Chilton Polden village but locally in Edington parish for children from both parishes. A new classroom and clock tower were added in 1902, the gift of Mrs Margaret Luttrell. It was originally known as Edington and Chilton Polden school, but later simply as Edington school. (fn. 268) From 1895 until 1925 evening classes were held (fn. 269) and the school was financed by school pence and government grant. (fn. 270) In 1903 average attendance was 79. (fn. 271) In 1935 there were 61 children on the register. From 1950 seniors attended Westonzoyland Secondary Modern school and by 1955 numbers had fallen to 37. (fn. 272) In 1970 juniors were transferred to Catcott and infants from both schools were taught at Edington. In 1973 the infants were transferred to Catcott and the school was closed. (fn. 273)
In 1839-40 Miss Anne Ruscombe Field built and supported a Sunday school at Burtle in association with the church. By 1861 it had also become a day school with a small endowment. A classroom was added in 1893. (fn. 274) In 1867 the master was said to be competent, the Sunday school well attended except during turfdigging and then largely by infants whose mothers worked. The vicar held a night school to which men travelled by boat in winter. (fn. 275) Average attendance at the day school in 1903 was 71 and in 1905 80, but thereafter numbers fluctuated at a lower level. By 1955 it was a voluntary aided junior school with 40 on the books, but by 1972, when it closed, there were 15 pupils. (fn. 276) Subsequently the premises were occupied by Edington school. (fn. 277)
A private school was held at Great House in 1891 (fn. 278) and a kindergarten was established in the village c. 1950. (fn. 279)
Edington school, Burtle, an independent co-educational day and boarding school for dyslexic children, was founded in 1974 in the former village school at Burtle. In 2000 it operated as part of Edington and Shapwick School, occupying premises including the former day school, the former vicarage house, and two other houses. It took pupils under the age of 13 years. (fn. 280)
King Alfred school, at Edington Manor, was an independent boarding- and day-school for boys. It opened in 1963 and a chapel dedicated to St. Francis of Assisi was created in a former cider house. The school closed in 1988. (fn. 281)
CHARITIES FOR THE POOR
Mary Clarke by will proved 1856 gave the residue of her estate to the incumbent, the interest to be given on Easter Mondays to honest, industrious, and deserving poor. (fn. 282) The charity ceased in 1996. (fn. 283) Anne Ruscombe Field (d. 1864) gave the interest on £344 6s. 1d. for sheets and flannel for the deserving poor, to be distributed at the schoolroom on 9 September, her birthday, each year. (fn. 284) The charity was wound up in 1996. (fn. 285) By deed of 1874 William Vale gave the income from a piece of land for the benefit of the poor of Edington but excluding residents of the ecclesiastical district of Burtle. In 1995 the income of the charity was £203. (fn. 286) In 1891 a cottage hospital and dispensary was set up in memory of Capt. J. A. F. Luttrell, R.N. (d. 1889), formerly of Edington Manor. A building, designed by A. B. Cottam, was erected in Dolling's lane, on the slope of the Poldens south of the village. (fn. 287) District nurses lived and held clinics in part of the building from 1938 but in 1981 it was sold for use as a private house. (fn. 288) Since 1954 the charity, renamed the J. A. F. Luttrell Memorial charity, has offered relief to residents of Edington or neighbourhood in need, hardship, or distress. (fn. 289)