Pages 120-142
A History of the County of Somerset: Volume 9, Glastonbury and Street. Originally published by Victoria County History, London, 2006.
This free content was digitised by double rekeying. All rights reserved.
MEARE
The ancient parish of Meare, in the 7th century Ferramere, (fn. 1) takes its name from the former mere in the broad and shallow valley of the river Brue 5 km. north-west of Glastonbury. The parish was irregular in shape and measured roughly 6 km. from north to south and 8 km. from east to west at its widest point. Settlement comprised Meare, Oxenpill, and Stileway in the centre, Westhay to the west, Godney to the north-east, and Marchey farm in the north. (fn. 2)
Most of the boundaries follow watercourses, locally known as rhynes, drains, or ditches, some entirely man-made, some more or less modified. To the north-east are a ditch known in 1517 as la Rydde and a channel of the Sheppey river known as the Ashenrhyne. (fn. 3) The river Brue may have anciently flowed to the north and east of the parish. (fn. 4) To the south are Ham Wall rhyne and the South Drain; to the west are Black Ditch, the canalised river Brue, and Bounds Ditch, the last dug c. 1327 and its course marked with stone crosses; (fn. 5) and to the north, Old Rhyne. Rhynes mark the modern boundary between Meare and Godney. (fn. 6) The ancient parish of Meare was said to measure 7,981 a. (fn. 7) By order of 1884 Marchey was transferred to Wookey parish (fn. 8) and between 1882 and 1885 part of West Backwear was transferred from Glastonbury, the common boundary following the Great Withy rhyne and drove. (fn. 9) In 1904 Godney, an ecclesiastical parish since 1869, became a civil parish. (fn. 10) In 1991 the civil parishes of Godney and Meare measured 1,303 ha. (3,220 a.) and 2,046 ha. (5,056 a.). (fn. 11)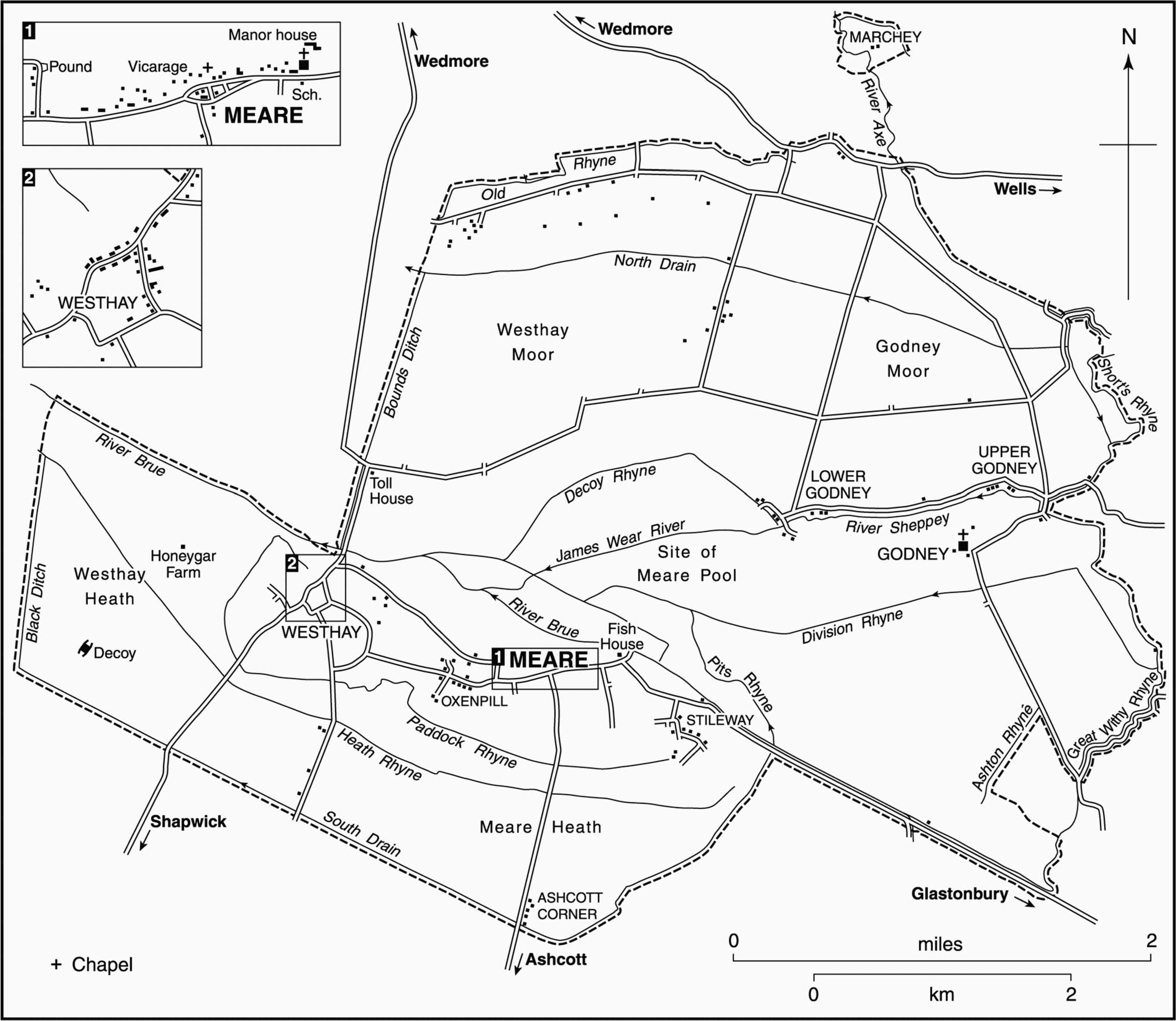 The ancient parish comprised largely a wide band of alluvium formed by the river Brue flanked on the north by the peat of Westhay and Godney moors, and Heath moor in the south. In the centre, south of the Brue, is a low ridge of Lower Lias clay, rising to 10.5 m. (35 ft.). To the north-east is a smaller ridge of Keuper marl. Medieval settlement was on those two ridges. Detached Marchey island, anciently Martinsey, (fn. 12) in a bend of the river Axe in the moors between Wookey and Wedmore, and Barrow Hill in the north-east of the parish (39 m. (129 ft.)) are also composed of Keuper marl but the Mudgley fault throws up an outcrop of blue lias at Barrow Hill. There are small Burtle beds in the west of the parish. (fn. 13)
Water management dominated much of the history of Meare, and the mere or Meare pool was prominent enough to give its name to the parish. (fn. 14) The mere was a natural basin, but must have increased in size significantly if the general flow of water through the parish had, perhaps until the later 12th century, been to the north through the Panborough Gap. The diversion of the Sheppey, the Hartlake, and the Brue, until the 16th century or later known as the Yoo, (fn. 15) westwards into the mere must have been followed either by the deliberate cutting of the artificial channel westwards, or by the natural erosion in the same direction at times of flood. (fn. 16) In the earlier 16th century the mere was variously described as measuring between four and five miles in circumference. (fn. 17) Its drainage was a long process probably beginning before the end of the 16th century; (fn. 18) it was described as a pond in 1607, (fn. 19) and progressed in the 1630s under William Freke, perhaps when the Sheppey and Hartlake rivers were embanked. Rent was no longer paid for the mere after 1641, but further works c. 1653 still found the area frequently waterlogged, and part may have remained under water until shortly before 1712. (fn. 20)
In the south of the parish a watercourse known c. 1600 as the New Yewe (fn. 21) may have been the precursor of the South Drain, dug c. 1804 along the southern boundary to drain the southern part of the Brue valley, (fn. 22) while the North Drain allowed an improvement in the flow across Godney and Westhay moors. (fn. 23) In Heath moor, Paddock, Heath, and Ham Wall rhynes may follow pre-inclosure watercourses, but most of the hundreds of ditches are the product of drainage works of the early 19th century. (fn. 24)
Communications
Transport by boat was evidently the most feasible method of travel in and around the parish in the Middle Ages and later, and bridges on the river Sheppey in the early 14th century had to be high enough for boats to pass. (fn. 25)
The road to Glastonbury, the earliest principal land route from the parish, seems to have followed the Brue south-east and then south until it crossed the river over Madelode bridge on the site of the present Cradle Bridge. (fn. 26) A pedestrian route, making use of two iron chains across the Brue, was in use before the Dissolution. The chains were replaced by a wooden bridge in 1598 and a timber trunk in the early 17th century. Further replacements, variously named Tanners Weir, Thomas Ware, and Coldharbour, were followed by a stone arched bridge in 1784. (fn. 27) Posts along the course of the road were ordered in 1630 to distinguish it from the river in times of flood, (fn. 28) and the route remained the only one in use in winter until the early 19th century. (fn. 29)
Meare village street was referred to as a causeway in the 18th century and there were stepping stones south of Westhay. (fn. 30) After 1784 a public road was laid out into Westhay moor, crossing the Brue at Westhay bridge built in 1767 and rebuilt in 1829 and c. 1901, and many private droves crossed the North Drain on wooden or stone bridges, some rebuilt in the 1880s. (fn. 31) The public road at Westhay was turnpiked from Shapwick to Wedmore by the Wedmore trust under an Act of 1827 and a straighter route cut south-westwards from the village. A tollhouse was built north of Westhay. Later in the century New or Burtle road was made from the Shapwick road to Catcott Burtle. (fn. 32) The Ashcott road or Heathway was turnpiked under an Act of 1826 as part of the High Ham and Ashcott turnpike. (fn. 33) The WellsHighbridge turnpike road skirts Barrow Hill in the extreme north of the parish. (fn. 34)
Population
The protestation return was signed by 125 men, including the vicar, in 1641. (fn. 35) The population rose sharply from 727 in 1801 to 972 in 1811 and, despite some emigration, (fn. 36) continued to rise to a peak of 1,640 in 1861. After 1871 it fell from 1,631 to 1,409 in 1881 and then more gradually to 1,308 in 1901. During the 20th century the population was fairly stable, falling slightly after the Second World War to 1,191 in 1951. It rose from 1,261 in 1981 to 1,392 in 1991, the rise since 1981 due to new housing at Meare (1,220). The population at Godney had fallen. (fn. 37)
Settlement And Buildings
The earliest evidence of human activity in the parish are the Upper Palaeolithic and Mesolithic flints found in the east of the parish and Mesolithic flints found on the Burtle beds of the north-west, near the later Honeygar farm. Wooden trackways dating from the Neolithic period and the Iron Age have been found in the peat moors, radiating from the central ridge in all directions: north and south to higher land, westward to Burtle beds. Among the trackways are those known as the Sweet Track and the Abbot's Way; associated with them were found longbows and bronze weapons. Settlements described as lake villages and occupied in the Iron Age and into the early Romano-British period have been found on the north side of the ridge at Meare and at two sites on the eastern boundary. The former, divided into two distinct settlements and comprising 50–60 dwelling sites, is thought to have stood on raised bog and to have been occupied seasonally. The Glastonbury lake village was occupied by two distinct and successive groups, the first c. 150 B.C. and 60 B.C., the second up to c. 50 A.D. when the site was probably abandoned because of rising water. The second site on the boundary was represented by piled remains. Artefacts found during peat working throughout the parish bear witness to continuous and concentrated use of the moors. (fn. 38)
Meare, Godney, Marchey, and Westhay were ancient settlements, on 'island' sites rising out of the surrounding swamps and pools and, according to traditions recorded at Glastonbury after the Conquest, part of the earliest stratum of the abbey's endowment. (fn. 39) At least two of the settlements, those of Meare itself, in the middle of the parish near the pool, and Godney well to the east, have Anglo-Saxon place names. (fn. 40) The northern detached island of Marchey and Westhay, west of Meare and part of the same island, both enter the record by the 12th century. (fn. 41) Stileway, formerly Styveley, may have been created in the early 14th century as the moor at the end of the ridge was drained. (fn. 42) Oxenpill (fn. 43) immediately west of Meare, and Honeygar, west of Westhay, were also mentioned in the early 14th century. (fn. 44)
Meare, which according to Glastonbury tradition was in existence by the 7th century, and had a chapel by the 10th, was believed in the 11th century to be the discovery site of the supposed remains of St. Benignus, perhaps a local holy man. (fn. 45) The abbey made a significant impact on the village, establishing from the 13th century at latest a group of important buildings, including a fine manor house, a lavish and most unusual fish house, and a reconstructed parish church. They provided the monks with a retreat for leisure activities such as fishing and fowling. (fn. 46) The medieval settlement extended from the manor house and church in the east to the site of the later hospital in the west. Until the 20th century, houses lay on the north side of the street looking south over open fields. The street has been pushed south by a second row of houses built in front of them. The two rows of houses are divided by Church path. (fn. 47) The larger houses, apart from the manor house, date from the 19th century and include Manor Farm between Meare and Oxenpill. Oxenpill Farm, further west, dates from the 17th century. (fn. 48) By 1946 local authority houses had been built at the west end of Meare, south of the main street. (fn. 49)
The oldest surviving building in Oxenpill was the farmhouse. This small settlement was very close to Meare and in the later 20th century it was encircled by new streets and houses built to the south and west of the main village on former arable and orchard. Oxenpill was linked to Westhay by the Homeway, along which small cottages were built in the early 19th century. At Westhay itself Cross Farmhouse dates from the 16th century (fn. 50) and Cross Cottage from the 17th century. The village expanded with the laying out of the road and bridge in 1767 (fn. 51) and many houses, mostly of lias with some brick, date from the late 18th century. Most 20th-century building has been infilling creating a small nucleated village around the junction of several roads.
Medieval settlement at Godney was probably confined to the island and as late as 1516 the only resident occupier was the farmer of the demesne. (fn. 52) Two landless cottages were recorded in 1631. (fn. 53) By the later 18th century there were 5 houses at Upper Godney and 2 farms and 18 new cottages at Lower Godney, (fn. 54) both stretching beside the causewayed road running parallel with the river Sheppey. Lower Godney Manor Farmhouse dates from the early 18th century and one other house dates from the 18th century, the rest are early 19th-century or later and are mainly of rubble under tile roofs. Local authority houses were built west of Lower Godney in the 1970s. (fn. 55) In the late 20th century two houses of oak, one circular, were built by the river at Upper Godney. A small park was laid out south of Westhay village but part had been converted to meadow and arable by 1344. (fn. 56) The site of a nature reserve on Westhay moor and an area of flooded peat workings and fen in Westhay Heath were designated Sites of Special Scientific Interest in 1985 and 1990 respectively. (fn. 57)
Social Life
There were two friendly societies: the Old Club established in 1793 with a feast on Whit Monday, and the Meare Friendly and Benefit society, founded in 1843 with a feast the Monday after Whit week. The latter society had 90 members in 1863. (fn. 58) The Meare Flugelhorn Band was established in 1864 and played at local events and held concerts and parades. (fn. 59) A revel was held on the second Monday after Whit Monday in the late 18th century (fn. 60) and the Westhay revel, a fancy dress pageant with decorated carts, was held during the early 20th century. (fn. 61) In 1947 there was a football club shared with Ashcott (fn. 62) and there were weekly cinema showings in Meare village. A branch library opened in the 1930s had been replaced by a mobile service by 1981. (fn. 63)
MANORS AND OTHER ESTATES
Meare Manor
Ferramere, variously the name of an estate, marsh, or island, appears in several spurious Glastonbury charters from the 7th century. (fn. 64) By 1066 Meare was an island attached to Glastonbury manor (fn. 65) but by 1189 it was a separate manor belonging to Glastonbury abbey. (fn. 66) The bishops of Bath and Wells tried to appropriate Meare in the late 12th and early 13th century but the abbey recovered the manor c. 1219 (fn. 67) and retained it until the Dissolution. (fn. 68)
The manor was held by the Crown until 1547 when it was granted to Edward Seymour, duke of Somerset (d. 1552). (fn. 69) It was briefly resumed by the Crown in 1550. (fn. 70) Seymour's son Edward, later earl of Hertford, successfully claimed some of his late father's lands and was confirmed in possession of Meare in 1582. (fn. 71) In 1602 the manor was settled on the earl (d. 1621) and his third wife Frances, later duchess of Richmond and Lennox (d. 1639). (fn. 72) William Seymour, duke of Somerset (d. 1660), grandson and heir of Edward, gave his three daughters Frances (d. 1681), Mary (d. 1673), and Jane (d. 1679) an interest in the manor, possibly in 1653. (fn. 73) In 1677 Frances, then countess of Southampton, and Jane, then Viscountess Dungarvan, with Mary's surviving trustee Thomas Gape, seem to have shared ownership, but by 1688 their niece Elizabeth (d. 1697), countess of Ailesbury, had a quarter share. (fn. 74) Ten years later the heirs of Mary, Jane, and Elizabeth, namely Charles Finch, earl of Winchilsea, Charles Boyle, Baron Clifford, and Robert Bruce, Elizabeth's second son, conveyed their interests to Gabriel Odingsells and Ladd Hayles, (fn. 75) and in 1703 Robert Darcy, earl of Holderness, heir of Frances, sold his quarter share to John Godwin of Street, trustee for Odingsells and Hayles. (fn. 76) Godwin claimed that he and John West had already in 1697 bought a quarter from the earl of Winchilsea. (fn. 77)
Godwin sold off parcels of land and in 1731 his heirs and devisees sold an estate in Meare and Glastonbury, including the former mere, to Sir Abraham Elton, Bt. In 1759 Sir Abraham sold the estate to James Kennedy and by 1791 it was held by Edward Brown (d. 1808). Brown's daughter Mary, by her will of 1822, devised the estate to executors and it was divided amongst her cousins. It was in multiple ownership in 1832. (fn. 78) The West family retained an estate in Meare until 1842 or later, including a small parcel of manorial demesne. (fn. 79)
The Seymour family retained possession of the capital messuage and adjoining land through the reversionary lease granted in 1653 by William Seymour, then marquis of Hertford, to his brother Francis, Baron Seymour (d. 1664). The property had been leased for three lives from 1607 to James Kyrton of West Camel, of which one life remained, and it had been sublet to Robert Freke. (fn. 80) Lord Seymour's grandchildren Francis (d. 1678) and Charles Seymour (d. 1748), successively dukes of Somerset, received rent (fn. 81) and in 1729 Hugh Percy, duke of Northumberland, presumably in right of his wife Elizabeth Seymour, Baroness Percy, only child of Charles Seymour's son Algernon (d. 1750), duke of Somerset, sold an estate variously described as the manor or the capital messuage and lands of the manor, to Peter Taylor. (fn. 82)
Taylor died in 1777 and was followed by his son (Sir) Charles (cr. Bt. 1828, d. 1857) (fn. 83) and by Charles's daughter Emily (d. 1884), wife of William Brougham, Baron Brougham and Vaux (d. 1886). Their son Henry (d. 1927), the third baron, was followed by his grandson Victor, who sold the estate in 1931. (fn. 84)
Manorial Buildings
The capital messuage, now known as Manor Farmhouse but formerly Meare Farm, survives in fragmentary form north-east of the church. In the late 13th century, it had a hall and south chamber, (fn. 85) but the earliest fabric dates from the first half of the 14th century. (fn. 86) A chapel, cellar, and chambers for the clerks and monks, some of which were built by Abbot Adam of Sodbury (1323–44), were recorded in 1344, together with a fortified courtyard. (fn. 87) Chambers were added by Abbot Bere shortly before c. 1516 when the house was described as beautiful and ample. (fn. 88) In c. 1540 the accommodation included a hall, which was described as ancient, having its own partlead, part-tiled roof. To its right were four chambers for servants, and to its left a staircase giving access to four chambers over the first four, one of which was as long and as wide as the hall and had adjoining a chapel with two bells. There were three other chambers with good views and a fair walk with prospects of six miles round. A kitchen was mentioned c. 1300. (fn. 89) In c. 1540 one stood at the nether end of the hall, flanked by buttery, pantry, and ewery. Over it were two chambers, one measuring 47 ft. by 25 ft. and also with good views. In the 1540s the house was surrounded with a new stone wall, and had two gardens with fruit and herbs and three orchards containing four large fishponds. The site was over 4½ a. (fn. 90) A dovecot was rebuilt in 1258 (fn. 91) and a barn was built in the mid 14th century. (fn. 92)
The chief remnant is an L-plan, two-storeyed building, mainly of coursed lias rubble, partly rendered and with freestone dressings. (fn. 93) Built as a grand medieval chamber block of a complex probably approached from the north, it was converted into a house after the Dissolution, and has been modified since, including in the 19th century when it was given a slated roof, hipped to the south. The two ranges of the chamber block are their original length, each having a window or evidence of a window in the north and east gable walls. Stone farm buildings extending from the middle of the west side stand on the site of the hall. The chamber block had a suite of sophisticated accommodation on the first floor: in the west range was a great chamber, with a private chamber south of it, and in the narrower south range a chapel, which has 14th-century wall paintings of repetitive rosettes. (fn. 94) On the floor below were, in the north range, a cellar and a large heated south room, probably a parlour that interconnected with the unheated space below the chapel. The great chamber was exceptionally fine, with windows of two traceried lights with cusped rere-arches and perhaps a roof related in style to similar work at Glastonbury abbey. (fn. 95) The south chamber fireplace has an unusual half-hexagonal stone hood. (fn. 96) Some windows have been cut down and others, including the three, pointed south windows of the chapel, have been blocked. A 19th-century courtyard wall, there by 1853 and retaining some medieval fabric, (fn. 97) may represent the boundary of the fortified courtyard mentioned in 1344. (fn. 98)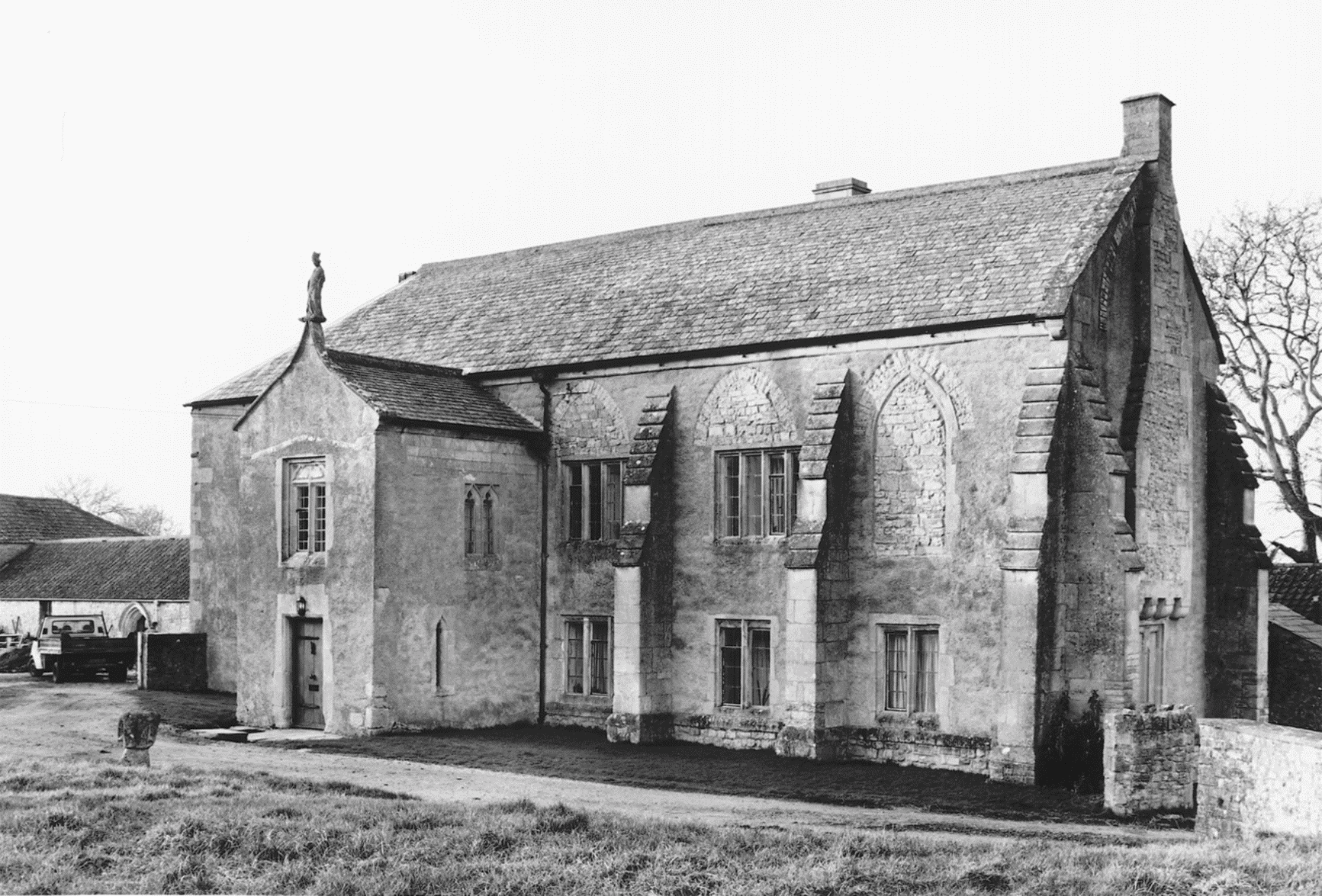 The chapel was subdivided into chambers and new mullioned windows were made at the west end c. 1500, work possibly connected with Abbot Bere; a fireplace of the same period survives in a passageway. The building was converted to a farmhouse in the 17th century, when a two-storeyed porch was added and one or two additional mullioned windows were inserted and some earlier openings modified. In the early 18th century there was still a vaulted room decorated with arms, said to be those of Joseph of Arimathea and King Arthur, which was then identified with the chapel. (fn. 99) Worked medieval masonry has been reused in the porch, a moulded doorway of c. 1500 as the south entrance to the west range of farm buildings, and a 14th-century one in a west outbuilding. Farm buildings, including a dovecot standing in 1704, (fn. 100) were replaced after 1837 (fn. 101) by the present ones.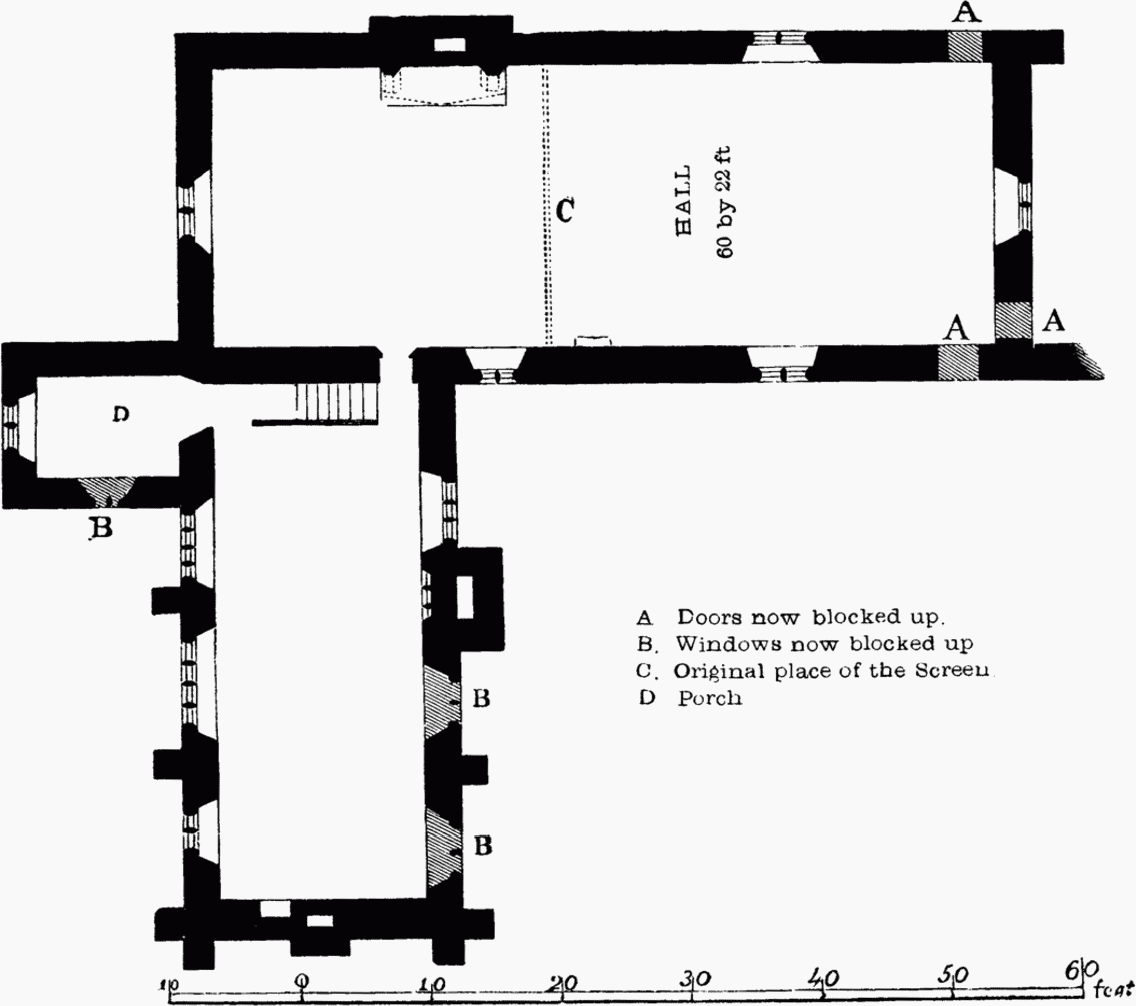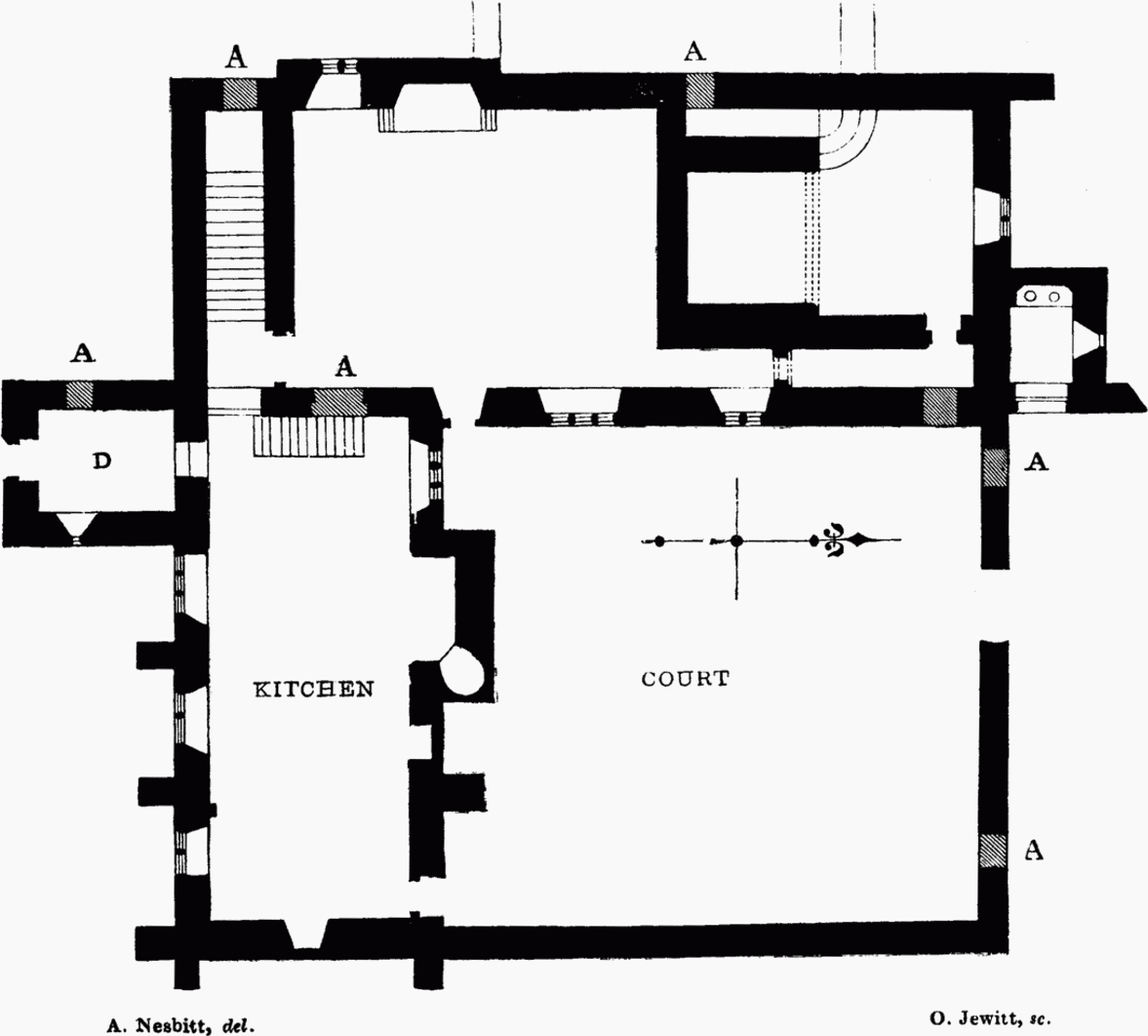 Lordship in the 18th and 19th Centuries
The lordship was said to have been sold with 1 a. of land in 1698 by Odingsells and Hayles to Thomas Poole who in 1714 sold it to Edmund Bower. In 1725 Bower's daughters Ann, wife of William Swadlin, and Jane, wife of Joseph Horler, inherited and in 1740 Swadlin purchased the Horler share. The whole was sold in 1759 to John Roach who in 1760 sold to Thomas Moore of Bristol. (fn. 102) The manor was also said to have been owned by Richard Freke early in the 18th century (fn. 103) and to have passed to his nephew John Shuckborough (d. 1739). John How, who married Shuckborough's daughter Mary, held half of the manor in 1745. (fn. 104) How, of Stratford le Bow (Essex), was in possession until 1782 (fn. 105) or later and by 1791 had been succeeded by Shuckborough How. (fn. 106) In 1812 the latter acquired what was described as half the manor from James Rocke of Bristol who had himself bought it from the trustees of Thomas Moore, (fn. 107) and in 1821 what was called the manor from Charles Brown. (fn. 108) Shuckborough How died in 1831 and was followed in succession by his widow (fn. 109) and by their son John Shuckborough How, owner in 1867. (fn. 110) The last claim to lordship was made in 1887 by Dr. John Cornwall, probably on the strength of his ownership of Shugborough Manor House, later Meare Manor House. (fn. 111)
Godney Manor
The manor of Godney was held with Meare but had emerged as a separate manor by the mid 13th century. (fn. 112) It was said to have been in the possession of the prior of Glastonbury who had given it to the abbot before 1275. (fn. 113) It passed to the Crown in 1539 and in 1552 it was leased to Robert Cuffe and his wife Joan. The reversion was acquired by Sir Robert Peckham who, with his wife and parents, sold it in 1560 to Thomas Coleshill of London. (fn. 114) In 1601 Mary, wife of Jasper Leeke, and Susan, wife of Edward Stanhope, daughters of Thomas Coleshill, each conveyed half Godney manor to Edward Seymour, earl of Hertford, but may have retained a life interest. (fn. 115) It descended with Meare manor until 1675 when the mortgagees released the manor to a trustee, Thomas Gape, who divided and sold the estate. (fn. 116) However, this may have been only one share as lords Clifford and Holderness retained their interests in Godney until 1697. The interests were acquired by Gabriel Odingsells and Ladd Hayles who dismembered the estate and sold the lordship with remaining lands to James Thristle in 1697. (fn. 117) In 1701 Thristle sold the lordship to William Evans but took a lease back for two years. (fn. 118) Robert, earl of Holderness, one of the heirs of the earl of Hertford, sold a quarter of the manor in 1703, under an agreement of 1697 made while he was a minor, to Odingsells and Hayles. They had been selling lands in Godney since 1697 to several persons including John Godwin who held the quarter lordship as their trustee until he released it to William Evans in 1705. (fn. 119)
By 1715 Mary, William's widow, held the manor and in 1726 was holding jointly with her son William (fl. 1734) under the terms of the will of William the elder. (fn. 120) The younger William died in 1738 and his widow Sarah released her interest in 1772 to William's sister and heir Elizabeth Evans. (fn. 121) Before 1791 Edward Brown had purchased Elizabeth's estate and the lordship. (fn. 122) The manor was said to have been dismembered and lordship was not recorded again. (fn. 123)
In 1725 Robert Hicks settled Godney manor in trust for his daughters Elizabeth and Mary. Elizabeth married George Somerville and Mary married Charles Yate (d. 1739). Mary's son John Yate by will dated 1754 directed his mother (d. c. 1777) to hold the estate in trust for Elizabeth. In 1793 Elizabeth (d. 1817) released the manor to William Somerville. Following the death of William's widow Jane in 1830 the manor passed under the terms of William's will to his nephew James Somerville Fownes. (fn. 124) Fownes took the surname Somerville. The family sold the estate between 1832 and 1842. Their lordship was not recognised in 1791 although William Somerville claimed it in 1799. (fn. 125)
Buildings
A court and dovecot were recorded in the mid 13th century. (fn. 126) A house and cowshed in 1516 and a capital messuage mentioned in 1564 were probably at Godney Farm. (fn. 127) In 1675 the farm was sold in trust to the Elliott family, tenants since 1657, together with the chapel site. The family in the person of Anthony Elliott was still in possession in 1731. (fn. 128) By 1766, and possibly much earlier, the farm had passed to the Davis family, (fn. 129) and Peter (d. 1777) was succeeded by his kinsman Peter Sherston (d. 1820). Peter's son, also Peter (d. 1834), was followed by his son John (d. 1897) but in 1879 the estate, known as Godney farm and covering 200 a., was divided. Part known as Church farm remained unsold until 1916 following the death of John's son Charles Davis Sherston. (fn. 130)
Rectory
The rectory, appropriated to Glastonbury in 1332 (fn. 131) and charged with a vicarage in 1351, (fn. 132) was said to have belonged to the warden of the anniversary of Abbot Walter Monington (d. 1375). (fn. 133) It was retained by the Crown and let during the 16th century to tenants including Edward Wadham who was resident in the 1580s. (fn. 134) The tithes of fishing, swans, and turves were let separately until 1641. (fn. 135) By 1627 the rectory had been granted to the Strode family, who used it to endow their almshouses and school in Shepton Mallet. (fn. 136) In 1842 the rectory consisted of allotments in Westhay moor and tithes which were commuted for a rent charge of £82 5s. (fn. 137)
A 'fair house' adjoining the churchyard in the 16th century may have been the rectory house. It had five chambers and a chapel. (fn. 138) It was occupied in the later 16th century but was one of the parsonage houses said to be in decay in 1618 (fn. 139) and not recorded again.
Westhay
In 1189 William of Westhay, probably son of Hugh, held Westhay of the abbot of Glastonbury by knight service for a honey rent. (fn. 140) It came into the hands of Thomas de Berg whose widow Eve released her right to one third to Simon de Berg. (fn. 141) By 1235 Simon had been succeeded by his son John who in that year added to the estate. (fn. 142) Shortly afterwards Westhay was resumed by the abbot, becoming part of Meare manor. (fn. 143)
ECONOMIC HISTORY
For most of its history Meare consisted of a series of small settled and cultivated islands surrounded by vast tracts of moor which were exploited for fishing, fowling, reed cutting, turf digging, and summer grazing but were often under water.
Agriculture
Early Middle Ages
In 1086 Meare was described as an island within Glastonbury manor and had a demesne estate of 60 a. of arable, 6 a. of meadow, 6 a. of woodland, and 2 arpents (fn. 144) of vineyard. (fn. 145) There were 1 ploughteam, 1 riding horse, 13 cattle, and 4 pigs. No farming tenants were mentioned. (fn. 146)
In the early 12th century livestock comprised 8 oxen and 1 draught horse and land was rented for 10s. 6d. (fn. 147) In 1189 the demesne produced 'good' corn and was stocked with 8 oxen, 1 draught horse, 5 cows, and 12 pigs. Tenant farms were very small, held in return for general field and carrying works, the obligation to dig in the vineyard, and the payment of gavel rents and church scot hens. A few tenants held small plots of demesne. Two tenants owed no works. In the fields 46 a. were under corn. (fn. 148) In 1198 the demesne was said to be farmed for 40s. (fn. 149)
By the mid 13th century the cultivable land had been increased in area, presumably because of systematic drainage. The Meare manor demesne, some described as old, measured over 151 a. of arable and 100 a. of meadow of which 24 a. was named Newmead and a further 8½ a. was described as new. (fn. 150) Godney demesne comprised over 45 a. of arable in two fields, c. 58 a. in three meadows, again mostly new, and pasture for 80 animals on the moors in winter and over 300 draught animals in summer. (fn. 151) A new ditched assart and new meadow adjoining Godney moor were mentioned in 1276. (fn. 152)
The grain produced on the Meare demesne was taken directly to Glastonbury for threshing and storage; beans were planted when flooding had ruined the winter grain. Probably before 1258 a dairy had been established at a former tenant farmstead (fn. 153) and in that year a dairyman produced 102 cheeses and 18 measures of butter from a herd of 20 cows. There were then 49 other cattle including 10 heifers and 2 bulls. (fn. 154) In one year in the late 13th century the dairy produced 247 cheeses and over 4 stone of butter. (fn. 155)
By the mid 13th century 22 tenants, the same number as in 1189, still with one exception held 3 a. or a little more, the one exception being John Simon, occupier of 30 a. of arable and meadow, for which he paid the medar at Glastonbury a sester of honey. Most performed services in the arable fields and meadows, sometimes in return for food or produce; and most were obliged to act as ploughman or harrower, to maintain the fisheries, cut firewood, take multure to Street mill, and to carry the abbot to Brent or back to Glastonbury. With the men of Clewer and Panborough they were required to dig the vineyard. (fn. 156)
Pressure on land is reflected in disputes between neighbours over boundaries and the use of the moors, particularly in the north of the parish with the dean of Wells as lord of Wedmore and the bishop of Bath and Wells as lord of Wookey. Claims to pasture were conceded in 1241 by the abbot but not unlicensed felling of timber nor removal of sedge for fuel. (fn. 157) The bishop's piggery in Godney moor was illegally destroyed in the 1270s and again in 1315. (fn. 158) An attempt to establish the northern boundary with Wookey in 1283 had to be renewed in 1326. (fn. 159) A similar agreement for the boundary with Wedmore was finally achieved in 1327. (fn. 160)
Late Middle Ages
During the early 14th century an additional dairy was established at Westhay and total production was c. 650 cheeses and 17 stone of butter from more than 50 cows. In 1306 a herd of 61 goats, some from Baltonsborough, was settled in Godney where geese were also kept. The goats were later driven to Meare and had 41 kids in 1313. Wheat, barley, oats, and beans were grown on both manors and two grades of malt were produced at Meare. The dovecot supplied 146 squabs for the abbey in 1301 and 377 in 1313. The garden produced apples for cider. Reed was harvested for sale and for thatching, and withies on the demesne were cut. Tenants took on small plots of drained moor and paid increased rent for them and for reed beds. (fn. 161)
By 1344 there were 220 a. of demesne arable including c. 40 a. from Westhay park on which wheat and dredge were grown, later absorbed into the west field. Part of the park was also used for meadow and dairy pasture. Goats were no longer kept but there were c. 140 cattle, 10 geese, 10 peacocks, and 7 horses and foals. The vineyard appears to have been cleared, possibly within the previous ten years, for conversion to orchard. (fn. 162) A flock of 80 sheep was received in 1353 from Glastonbury. (fn. 163) There was an increase in chevage payers from 42 in 1299 to 78 in 1348. (fn. 164)
In 1355 the demesne farm at Meare comprised only 140 a. of arable in the east and west fields, including 2 a. from the waste, a considerable reduction since 1344, over 113 a. of meadow, and 32 a. of pasture including the former vineyard. Eight acres of ancient meadow had been broken for arable and further land assarted. There was over 134 a. of moor. Tenancies had increased fourfold since the mid 13th century, partly by division of ancient tenements and partly by taking overland from moors and wastes. Many tenants had reed beds at the edge of the mere. There were at least 20 plots described as building land including eight at Stileway, where rights of way were established for carrying food and fuel. (fn. 165)
Sixteenth to Eighteenth Centuries
By 1516 the demesne farm at Meare comprised 9½ a. around the house; the rest of the demesne had apparently been let to tenants. Arable remained in open fields but much heath had been inclosed. Heath moor measured 3,300 a. Tenant holdings, reduced from over 80 in 1355 to 54, were held on consolidated rents. Seven, mainly at Westhay, measured over 40 a. Eleven tenants were described as neifs, (fn. 166) among them Henry Pryde, holder of over 65 a., the largest single unit. Godney manor was apparently divided into parcels of land between 2 a. and 12 a., some encroaching on Godney moor. Thomas Wylcocks, farmer of the manor, held several parcels totalling over 180 a. Palmers waste on the banks of the mere measured 50 a. and comprised rough pasture with alder, reeds, and rushes. (fn. 167)
On the eve of the Dissolution the abbey received an income of over £60 from Meare, mostly in rent, over £42 from Godney which was farmed, £20 for the rectory, and 4s. from the vicar. (fn. 168) A survey of both manors shortly after the Dissolution recorded common at Heath moor 5 miles in circumference and at Godney moor 6 miles. The king had the right to drive both moors although the dean of Wells had common rights in the latter and the tenants of Shapwick had rights in the former. There were 30 men fit for the king's service and 15 neifs at Meare and 23 fit men and one neif at Godney. (fn. 169) Inclosure of the mere and plots of waste continued in the earlier 17th century, although a flax crop on the former was spoiled by flooding c. 1638. (fn. 170) In 1638 moorland at Godney measured 1,470 a. and meadow 1,720 a. The moor at Westhay covered 1,616 a. with 238 a. of new grounds and meadows adjoining. (fn. 171) By 1640 the earl of Hertford had inclosed 200 a. in Godney moor, but most still remained open and in 1656 a tenant had to drive the moor, taking stock to the preying field. (fn. 172) Following the break up of the manors in the later 17th century the only large holding appears to have been Meare farm measuring 100 a. in 1652, (fn. 173) which was let for a rack rent of £133 a year in the 1690s. (fn. 174) Holdings appear to have remained small during the 18th century. (fn. 175) Most farms were based in or near the settlements but a few had grown up on the inclosed moors including Backwear farm (57 a. in Meare and Wells) by 1813. (fn. 176) In 1842 there were at least five holdings over 100 a. but several hundred small units. (fn. 177)
Dairying had presumably continued to be of importance since the Middle Ages. One man in the 1740s rented land and six cows on settling in the parish and a year later had nine beasts of his own and held more land. (fn. 178) Meare cheese was said to be much admired in the late 18th century and was sent to London where it was sold as Double Gloucester. (fn. 179) Butter was also made and oxen fattened. There was some arable producing wheat and beans using dung only. (fn. 180) Much land suffered from flooding although hay could be made in dry years, possibly using raised mounds for stacks. (fn. 181)
After much dispute and litigation over rights, Westhay Moor (1,693 a.) and Godney Moor (1,290 a.) were inclosed in 1783 and 1791 under Acts of 1778 and 1788 respectively. Rights in Westhay Moor were allowed to 56 old auster tenants at Meare and to 93 in Wedmore. The rights of 57 ancient tenements in Godney and neighbouring areas to common on Godney Moor were recognised. (fn. 182) The turbary of Heath moor in the south of the parish (1,201 a.) was inclosed by consent in 1814. (fn. 183) Before inclosure thousands of geese were kept for their feathers and the plant called sweet gale was used to make candles and yellow dye as well as for fodder for goats and horses. Following inclosure the land was improved by ditching and dressing. Although some turf was cut and hay made on Godney moor, most was let for cattle grazing to people from surrounding parishes in the 1790s. (fn. 184) Inclosure enabled extensive drainage to be carried out and watercourses improved through imposition of a rate. (fn. 185)
Nineteenth and Twentieth Centuries
In 1801 there were 40 a. of wheat, 40 a. of beans, and 6 a. of peas in the parish, the crops being the most prolific in living memory, (fn. 186) and good crops of wheat and beans continued to be grown into the 1830s together with cider apples. The parish was, however, chiefly pasture land for cows, oxen, and sheep. About 1,000 cows were kept, producing cheese whose price equalled Cheddar. (fn. 187) In 1842 there was only 135 a. of arable to 7,706 a. of grass and moduses were due on livestock. (fn. 188)
In 1851 there were 8 recorded farms of between 50 a. and 100 a. and 8 over 100 a. at Meare employing 20 labourers, and 8 farms under 50 a., 5 between 50 a. and 100 a., and 9 over 100 a. at Godney employing 43 labourers. Many farms, even larger ones, were worked without outside labour. (fn. 189) There was little change in farm size at Godney but by 1871 there were more farms over 100 a. at Meare. Several dairies were recorded and in 1881 one dairywoman had 65 a. and employed seven people. Potato growers and dealers were recorded in 1871 and 1881. (fn. 190) Amongst the largest farms in 1881 were Honeygar (216 a.) and neighbouring Newhouse dairy farm (214 a.), part of the Westhay estate built up by the Phippen family between 1812 and 1832 and reorganized into two farms by the Poole family from the 1860s. (fn. 191) There had been a slight increase in arable by 1905 to 133 a. in Meare and 82 a. in Godney. Grassland covered 4,023 a. and 2,518 a. respectively. (fn. 192)
Although many holdings had been enlarged by the early 20th century, mainly by acquiring scattered fields, those holdings on sale were broken up again. (fn. 193) There were only seven farms over 150 a. in 1939. (fn. 194) Most were dairy farms and had cheese rooms or cowstalls. In 1913 Great House, Meare, a dairy since the 19th century, had a first-floor cheese room, a dairy and furnace house, stalls for 34 cows, bull and calf houses, and three piggeries. Batch farm, Godney, with c. 100 a. and stalls for 38 cows, was thought suitable for a large dairy business and a dairy farm at Upper Godney in 1919 had a refrigerating shed, engine house, two cheese rooms, and two new piggeries. (fn. 195) Meare Manor farm was sold as a dairy farm in 1931 with a large cheese room, stables for several horses, and stalls for 32 cows. (fn. 196) There was a great deal of poverty and some houses at Meare were described as poor hovels in 1932. (fn. 197)
Woodland
Only 6 a. of woodland was recorded in 1086 (fn. 198) but that total probably did not include trees on the moors. By the 13th century there was woodland, mainly alder, in the moors and 80 trees were said to have been uprooted at Godney moor in 1241. (fn. 199) By the 1250s an alder wood called Stokeham at Godney covered 107 a., of which 11 a. was cut and sold each year. (fn. 200) By 1355 there was a wood at Westhay probably providing pannage for pigs. (fn. 201) In 1516 4 a. at Westhay and 7 a. called the Grove produced oak and ash. There was also an alder wood and a 3-a. wood called Cellarer's. Willows grew near the mere. (fn. 202) At Godney the area around the chapel was wooded (fn. 203) and Godney wood to the south covered 102 a., producing oak and alder. Three alder woods in the moor covered 66 a. and had been sold on a 10-year rotation. Some tenants at Godney also had oak, elm, alder, and willow although on one holding the timber of 7½ a. was reserved to the lord and the tenants only had underwood. There were alders at Palmers waste. (fn. 204)
A detailed survey of the woodland c. 1540 records Westhay wood (4 a.) as having 46 oak and 19 scrub ash. Stileway wood, later Grove (15 a.), (fn. 205) containing 16-year oak, besides scrub oak and ash, and Backwear wood, probably near the boundary with Glastonbury, with 80 a. of 18-year and 30 a. of 5-year oak and alder besides 312 great building oaks and 12 ash. There was also woodland in the moor comprising 13 a. of 4-year and 3 a. of 10-year alder and 88 timber oaks. Additionally there were 22 hedgerow oaks and 203 elms on the manor. The woodland in Godney moor (over 14 a.) and Broadoak (33 a.) included both timber and scrub oak, alder of which 12 a. had been felled a few years earlier, and willow. Four of the woods alone were worth over £62. (fn. 206)
Part of Godney wood may have been felled in the mid 16th century although great trees stood near the chapel in 1564. (fn. 207) Palmers waste may have been cleared about the same time. (fn. 208) Backwear wood had been divided, and probably cleared, by 1693. (fn. 209) Some areas of woodland, probably alder, survived on Westhay moor in 1780 (fn. 210) and only a small amount of coppice elm, oak, and birch was recorded. (fn. 211)
In the early 19th century fir plantations were said to have thrived on the peat and some oak survived at Westhay (fn. 212) where an oak plantation was established at Honeygar farm before 1862. (fn. 213) Most trees were planted as hedgerows between ranks or strips of turbary. (fn. 214) Shelter timber appears to have been important on the moors and in the 1890s a tenant had to pay for damages for cutting such timber even though he claimed the withies and alder he cut were not timber. (fn. 215) Only 10 a. of wood was recorded at Meare in 1905 and none in Godney (fn. 216) but in the later 20th century scrub woodland grew up in areas of abandoned turbary on Westhay moor in the north and on Heath moor in the south where blocks of trees are protected from destruction. In contrast Godney moor has mainly pollarded willows. (fn. 217)
Fishery
Three fisheries paid 20d. and ten fishermen were recorded in 1086 (fn. 218) and there were two fisheries in 1189 worth 30d. if farmed and another at Marchey which owed 7,000 eels to the Glastonbury abbey cellarer. (fn. 219) Weirs at Godney and Marchey were mentioned in disputes at the beginning of the 13th century between the abbey and the bishop of Bath, (fn. 220) but the enlargement of the mere earlier (fn. 221) vastly increased both fish, and eventually, wildfowl. The abbey cellarer was responsible for the fishery and in the mid 13th century tenants were required to fish the mere in Lent and to carry the produce to the abbey kitchen. One tenant had to carry fish every day during Lent and once a week for the rest of the year. (fn. 222) The mere fishery was worth 100s. a year, four weirs, including Swere and another at Godney, were worth 142s. 4d., and a fishery perhaps near Panborough was let for a further 2s 6d. (fn. 223) The fishery at Godney was said in 1275 to have long been in the hands of the abbey cook. (fn. 224) In one year in the late 13th century the Meare fishery produced 224 sticks of eels, 30 great eels, 55 pike, 200 bream taken by villeins, and c. 120 white fish. (fn. 225) Tenants were regularly presented for illegal fishing and in 1345 a boat was confiscated and men were presented for building a fish trap in a watercourse. (fn. 226) Four boats were kept on the demesne in 1313, (fn. 227) two of which were described as small fishing boats. Three weirs were regularly let out from 1313 but in the 1340s the rent of one had been halved. (fn. 228) The building of weirs and dykes in watercourses remained a source of friction. (fn. 229) After a dispute with the dean of Wells it was agreed in 1327 that three named weirs, Hachwere, Bordenewere, and Pariswere, belonged to the abbot and that he had sole fishing rights in the mere and in the watercourse flowing from it to Lichelake. (fn. 230) By 1355 those weirs were worth £6 and the mere, measuring one league by half a league, was still worth £5 a year. However, the many acres of reed taken from the mere indicate that it was reducing in size (fn. 231) and by 1516 it was only one mile by three quarters of a mile and the fishery was said to be for the recreation of the abbot and monks. Four weirs were recorded in 1516 but were much reduced in value. There was also the James Weir fishery in Godney manor, bordering the mere. (fn. 232) The abbey cook seems to have been responsible for the mere by 1530 when he paid the stipends of the chief fisherman, his two fellows, and a boy, and bought a great net with cords and a large number of float nets. (fn. 233)
There were at least 13 boats in Meare c. 1500. (fn. 234) During the later 16th century four fisheries and the mere were let out with nets and boats, but rent for those ceased to be paid in 1641 since the mere had been drained. (fn. 235) Rent for an unspecified fishery was paid between 1690 and 1702. (fn. 236) In the late 18th century eels and fish were plentiful in the Brue. (fn. 237)
Fish House
The fishermen's house was recorded in 1344, (fn. 238) and may have been recently built. It was held by the abbey, presumably as a store for preserved fish and accommodation for fishermen. It was probably the house surrounded by orchards c. 1540 and described as 'pretty' with a hall, parlour, and chamber. Close by in the wall of the rectory orchard was a 'pretty house for fishermen to drink in' and an old thatched boat house. (fn. 239) After the Dissolution it was let out with the mere and was probably converted to agricultural use, although described as the fishing house in 1653. (fn. 240) Parker in 1853 said it was 32 ft. by 16 ft., two-storeyed with three rooms on the ground floor, one of which had an oven, and two rooms upstairs reached by an external staircase. It was thatched and the roof had archbraces and windbraces like the apparently contemporary roof in the parish church but with no decoration. (fn. 241) It fell into ruin and was restored by the Somerset Archaeological and Natural History Society before 1866. (fn. 242) It was later used as a corn store and burnt c. 1883 by labourers. Although the walls were repaired by the Glastonbury Antiquarian Society in 1893 it remained roofless for many years before being given to the National Trust, which re-roofed it shortly before 1926. It was later scheduled as an ancient monument. (fn. 243)
Fowling
In 1313 there were twelve breeding swans and three yearlings, presumably on the mere, and 20 cygnets were hatched of which 17 survived. (fn. 244) The swans were recorded in 1332 but not thereafter (fn. 245) until 1531 when there was a stipendiary keeper of the almoner of Glastonbury's swans. (fn. 246) In c. 1540 there were 90 swans on the manor of which 80 were described as old. Their total value was 9s. 6d. (fn. 247) They were let out with the fisheries in 1544. (fn. 248) Swans, suitably marked, belonging to Dunster castle were kept at the mere in the 16th and the earlier 17th century. (fn. 249)
There were herons at Westhay and Meare in 1516. (fn. 250) About 1540 herons and pheasants were recorded in Stileway and Westhay woods. The herons were said to be 'like to increase if they be looked to'. (fn. 251)
Ducks were caught by means of decoys from the later 17th century. A decoy on Meare farm, evidently part of the former mere, had been created by 1685 and a decoy man was its tenant the following year. (fn. 252) It was still in use in 1740 (fn. 253) and gave its name to a rhyne, but had been abandoned by 1842. (fn. 254) Like a probable second decoy nearby, it was formed with six pipes. (fn. 255) A similar decoy south-east of Godney dates from the 18th century but had also been abandoned by 1842. (fn. 256) A four-pipe decoy south-west of Westhay survived in 1862 but had been abandoned by the 1880s and was destroyed by peat cutting. (fn. 257)
Turf digging
Peat or turf was a valued resource. The dean of Wells was accused of taking turf illegally from Heath moor in the south of the parish in the early 13th century (fn. 258) and in 1241 the abbot of Glastonbury denied the claims of a number of people to take fuel. (fn. 259) Later in the century tenants of Meare manor had to provide men for breaking the heath on 30 September. (fn. 260) In 1345 84 men and women were paid to bring turf with 15 carts to the cellar under the chapel at Meare for one and a half days, (fn. 261) but the abbey does not seem to have regarded peat as having a commercial value and it is not accounted for nor recorded in surveys. Turf cutting appears to have been first regulated in 1530 when it was permitted only within closes on Heath moor and not within 20 feet of the inclosure banks. (fn. 262) By the later 16th century turves were subject to tithe (fn. 263) and by the early 18th century they were being supplied to the poor. (fn. 264) A cottage at Westhay had a turfhouse in 1746. (fn. 265) Following inclosure of the moors peat digging became widespread in pits that could be cut again after resting twenty years. (fn. 266)
By 1842 many allotments in Westhay and Godney moors had been divided and some of the small plots had cottages on them. Heath moor in the south had been allotted in long narrow strips called ranks but those had been subdivided. Many plots were owner occupied. (fn. 267) By the 1860s one allotment was divided between c. 15 turf cutters in plots of ¼ a. to 2 a. let at up to 30s. a year. Peat was cut to a depth of two or three feet and left to dry until May or June in beehive-shaped mounds called ruckles, a practice that changed little for over a century. The peat was said to rise a foot in four years after which another two or three feet would be dug. Already concern was being expressed about the damage done by the digging and how best the land could be levelled. (fn. 268)
Many people combined digging with other work but by 1871 men were describing themselves as turf cutters, hauliers, and merchants and whole families were employed. (fn. 269) Westhay peat was said to be full of cotton grass and difficult to cut as the blocks fell apart. It was usually mixed with peat from elsewhere. (fn. 270) By the 1880s, however, peat was being made into firelighters and bedding for horses. Although the first peat factory had been established by 1891, 23 independent turf merchants were in business. (fn. 271) As late as the 1930s peat was still being carried by horse and cart although a network of tramways was laid to serve the factories and granulated peat was taken all over the country by rail. In 1919 over 4,500 tons went from Shapwick station in the south-west of the parish. (fn. 272) By the 1940s the Eclipse Peat Company owned a large amount of land in the peat moors although some was let out. (fn. 273) The peat industry was said to employ the majority of men in Meare in 1947. (fn. 274) In the 1960s most peat workings and unworked areas with planning permission for cutting were owned by the Eclipse Peat Company of Ashcott (644 a.), E. J. Godwin Ltd. of Meare (57 a.), and about 40 private individuals (253 a.), including a local farmer, the landlady of a public house, and a man from Taunton who each had over 10 a., but half the plots were of 3 a. or less. (fn. 275) In 1981 three peat factories, a peat processing company, and a peat machinery works provided employment but by the late 1990s the industry had been reduced and one large factory had closed. (fn. 276)
Mills
There was a windmill on Meare manor in 1332 which by 1344 was let to farm. (fn. 277) Mill and mill house were recorded in 1516, 1539, and 1621 but not thereafter. (fn. 278) The mill stood in Mill field south of Meare village. (fn. 279)
Craft And Industry
Agriculture and peat-digging were the main sources of employment in the earlier 19th century. In 1831 only 37 families were employed in trade or crafts. (fn. 280) A basketmaker and a cooper were recorded in 1841 (fn. 281) and by 1861 several people were employed on the railway. (fn. 282) In the early 20th century there was a sawmill at Westhay and c. 1940 a battery factory which had moved out of London; the sawmill employed 8 people and the factory 16 in 1947. Many people, especially women, then worked in the shoe factories in Street and Glastonbury. (fn. 283) At Godney six people were employed by the Upper Brue Drainage Board. (fn. 284) By 1981 a paint spray workshop and a sheepskin factory provided some employment. (fn. 285)
Retail Trades And Services
There were at least five shops in 1841. (fn. 286) In 1881 the shopkeeper at Meare stores was a grocer, draper, and general warehouseman. There were two other grocers and a post office in the village, a shop at Oxenpill, and a grocer at Westhay. (fn. 287) Five general shops were in business in 1947, together with a butcher, an ironmonger, two newsagents, and a cycle repairer. (fn. 288) At Godney there was a general shop, a cycle shop, and a cycle repairer. (fn. 289) By 1981 there were only two shops, two having closed within the previous ten years, and two garages in Meare and no professional services. The grocer's shop at Westhay had closed within the previous ten years and the post office was also a shop, as it was at Godney. There was a garage at Westhay. (fn. 290) In 1997 the post office in each of the three villages was also a general store and there was a second shop at Meare.
Public Houses
As many as 13 people a year were presented in the early 14th century for illegally selling ale. (fn. 291) Two tapsters were fined in 1557 and a tippler was licensed in 1630. (fn. 292) An inn was in existence in the 17th century (fn. 293) and during the 18th and early 19th centuries there were one or two licensed premises in Meare and one in Godney. (fn. 294) The inn at Godney may have been the Rising Sun, Lower Godney, recorded under that name from 1871, (fn. 295) and known in 1997 as the Sheppey. The White Hart, also at Lower Godney, was recorded in 1871. (fn. 296) The Ring of Bells in Meare village, probably the former church house, was recorded by name in 1813 (fn. 297) and closed after 1947. (fn. 298) The building, now Ferlingmere House, adjoins the churchyard and dates from the 15th or 16th centuries but was considerably rebuilt in the 17th century and remodelled in the 20th in 17th-century style. (fn. 299)
There were several beerhouses at Meare in the mid 19th century but only the New Inn at Oxenpill, open by 1861 and renamed the Countryman in the late 20th century, and the Railway, open by 1866 near Ashcott station, remained in business in 1997. The Crown, at the east end of the 'island' in the main street, was described as well conducted in 1905, although patronised by a 'rough class', with three drinking rooms and seven bedrooms, but renewal of its licence was refused. (fn. 300) The Grape Vine at the east end of the village and named in 1881 closed after 1949, another beerhouse was open in 1871 and 1881, and the Turnbridge was only recorded in 1881. (fn. 301) At Westhay the Bird in Hand, built in 1853 (fn. 302) and a beerhouse by 1871, acquired a spirits licence in 1947 and remained open in 1997. (fn. 303) The New Inn, Westhay, was open between 1871 and 1883. The same family appears to have held the New Inn, Panborough, Wedmore, whose buildings lay in Meare parish, from 1891 to 1906. (fn. 304)
LOCAL GOVERNMENT AND WELFARE
Meare was a single parish and tithing until 1904. (fn. 305) Court rolls for Meare manor survive in part from the 1260s to the 1540s. (fn. 306) Courts were held twice a year in the 13th century and three times from the early 14th. (fn. 307) They were usually called halimotes although courts simply called curiae were kept in the 14th century and others called tourns were sometimes combined with the halimote. (fn. 308) Business was primarily agricultural but the court was also concerned with tenants' pleas and offences notably illegal fishing and breaches of the assize of ale. (fn. 309) From 1340 separate curiae were kept for Godney manor and court rolls survive for the years 1340 and 1347. Extracts from records of a halimote survive for 1527–31 and 1545 and there is a complete court roll for 1544. (fn. 310) References to copies of court rolls and suit of court suggest that courts for both manors continued to be held in the 16th and 17th centuries. (fn. 311) Courts had ceased to be held by the late 18th century. (fn. 312)
During the early 18th century there were complaints that both churchwardens and overseers of the poor overspent. The poor were provided with cash, clothing, medical treatment, and turves. The overseers were also responsible for maintaining watercourses and bridges and in 1774 for repairing and furnishing the schoolroom. By 1748 a vestry was inspecting the parish accounts and determining extraordinary expenditure by both wardens and overseers. (fn. 313) The highway surveyors sold road earth to help meet the cost of maintenance in the early 19th century. They also prosecuted carpenters and others who obstructed the roads with building materials and dung. (fn. 314) Dyke reeves, four in 1839, were in charge of the rhynes and gave notice to cut reeds or repair banks during the 18th and 19th centuries. (fn. 315) There was a police constable in Meare village by 1861. (fn. 316) The parish council first met in 1894 and was concerned with water and electricity supplies and the provision of a burial ground. (fn. 317)
A vestry met annually at Godney from 1869, concerned with ecclesiastical matters and parish accounts which included providing boundary stones. (fn. 318) The civil parish of Godney was set up in 1904 at the request of the ratepayers of Godney. (fn. 319) From 1904 Godney formed part of Wells rural district which was absorbed into Mendip district in 1974. (fn. 320)
Poor Relief
In 1751 the overseers were allowed to rent a garden for the poor and in 1758 to buy a spinning turn. In 1759 the goods of a deceased pauper were distributed amongst other paupers. (fn. 321) Bread was sold to 113 people in 43 households c. 1799. (fn. 322) By 1807 a salaried overseer had been appointed and the parish paid for drawing up rates and accounts. (fn. 323) The poor not in receipt of parish relief had rights of turf cutting but in 1823 they were forbidden to build cottages on the turbary lands. (fn. 324) Emigration was encouraged but in 1849 the district auditor disallowed such payments by the parish. (fn. 325)
A poorhouse was repaired in 1717 and thatched in 1720. (fn. 326) It was maintained by the churchwardens in 1819 and it may have been one of the five parish tenements demolished c. 1840 to widen the road between Meare and Westhay. (fn. 327)
Meare formed part of the Wells poor-law union from 1836 and from 1894 was part of Wells rural district which was absorbed into Mendip district in 1974. (fn. 328)
Hospital
Meare Manor Hospital opened in 1953 in the mid 19th-century Tudor-style Manor House probably built by John Shuckborough How. (fn. 329) It was used for chronic sick women as an annexe to Mendip Hospital, Wells. In 1955 it was proposed to increase the number of beds from 36 to 56 and a mortuary chapel was completed. In 1956 a nurses' home was built alongside the hospital. (fn. 330) By the late 1960s there were only 26 beds and one resident member of staff. (fn. 331) The hospital closed in 1992.
Charity
The NYMM trust to relieve persons in need was set up in 1993 to benefit, amongst others, residents of Godney. (fn. 332)
CHURCHES
Origins
A spurious charter of King Edgar, dated 971 and recorded by William of Malmesbury in the 12th century, alludes to chapels on the islands of Meare, Godney, and Marchey. These capellae were expressly distinguished from the ancient parish churches (ecclesiae parochiales) and their dependencies but like them were under the special jurisdiction of the abbot of Glastonbury and outside the control of the bishop. (fn. 333) That at Meare presumably became the parish church of St. Mary. According to an account of the Twelve Hides interpolated into William of Malmesbury's history of Glastonbury, Godney chapel was dedicated to Holy Trinity and Marchey to St. Martin. (fn. 334) A chapel was still recorded at Godney in the 16th century. (fn. 335) Nothing further is known of that at Marchey.
Cult Of St Benignus
It seems that by the 11th century an Anglo-Saxon called Beonna, perhaps a holy man, was buried at Meare. By 1091 he had been identified with St. Benignus, an alleged follower of Patrick, and his remains translated to Glastonbury abbey. According to William of Malmesbury, there was a chapel at a remote spot in Meare which was believed to be the site of his hermitage and beside which there was a tree venerated as springing from his staff when he planted it there. (fn. 336) Benignus later became one of the patron saints of the parish church. (fn. 337)
St Mary's, Meare
Endowment
The living, hitherto a rectory, was appropriated in 1332 (fn. 338) and a vicarage was ordained in 1351. (fn. 339) The benefice remained a sole vicarage until 1985 when it became part of the Abbey Five benefice with Glastonbury, Godney, and West Pennard. (fn. 340)
The advowson was returned to Glastonbury c. 1219 by the bishop who may have taken possession of it with the manor in the late 12th or early 13th century. (fn. 341) It remained in the possession of the abbey until the Dissolution when it passed to the Crown. (fn. 342) Thereafter it descended with the rectory and by 1627 was in the hands of the Strode family. Frances (fl. 1758), great granddaughter of Edward Strode and wife of Joseph Coombe, devised it to William Purlewent and Joseph Brown. Brown (d. 1790) left it to Purlewent and others in trust for sale and in 1825 Brown's representatives sold their alternate turn to Bartholomew Wake, M.D., although the purchase did not take effect until 1831, Purlewent holding the other turn. (fn. 343) Shortly before 1824 it was let to William Phelps who presented his father. (fn. 344) By 1862 half the advowson was in the hands of the incumbent. (fn. 345) In 1866 the whole was said to be in the gift of William Phelps and in 1883 and 1897 of John Kekewich. (fn. 346) By 1902 it was held by Mrs. Helen Drew who in 1924 transferred it to the bishop, patron of the united benefice in 1997. (fn. 347)
The church was valued at £4 6s. 8d. in 1291. (fn. 348) In 1535 the vicarage was assessed at £13 2s. 8d. net (fn. 349) but shortly after the Dissolution it was valued at £20 a year, its reputed value c. 1670. (fn. 350) By 1701 it was worth £33 6s. 10d. net. (fn. 351) In 1825 the living was augmented with £1,000, of which £450 was used to improve the vicarage house and the rest to buy the recently built house adjoining and land. (fn. 352) By the 1830s the average net income of the living was £228. (fn. 353)
From 1351 the vicar received all tithes of two tenements at Panborough and Marchey, the tithe of three meadows, and all the small tithes, except those of the abbey demesne. He was charged with providing bread, wine, incense, tapers, and other lights, washing linen, binding books, and repairing ornaments. (fn. 354) In 1535 the vicar's tithes were worth £12 6s. 8d. (fn. 355) They were commuted for £92 5s. 6d. in 1842. (fn. 356)
In 1351 the vicar was given all the rectorial demesne and common rights. (fn. 357) In 1516 he held over 2½ a. of manor waste (fn. 358) and in 1535 the vicarage demesne was worth 20s. (fn. 359) There were over 21 a. of glebe in 1621 of which 2 a. were around the house, 7 a. in closes, and the rest in the arable fields. (fn. 360) Later measured at 19 a., the glebe was increased by 27 a. of pasture and 42 a. of turbary in lieu of the tithes of Westhay moor and by purchases in 1828 and 1832 to over 93 a., but the vicar appears to have sold his turbary and pasture before 1842. (fn. 361)
The rector's house was assigned to the vicar in 1351 (fn. 362) and was a thatched building with a hall and parlour east of the entry with two rooms and a study above, and a kitchen with room above on the west. (fn. 363) By 1815 the house was considered too small (fn. 364) and in 1826 a two-storey block containing two parlours either side of the entrance was added to the front of the house. By 1831 the rest of the house appears to have been rebuilt or altered with sashes to match the new block. (fn. 365) The house went out of use in the 1970s and is now a private residence. In the 1990s the assistant curate had a house on the opposite side of the road known as the Parsonage. (fn. 366)
Pastoral Care and Parish Life
John the chaplain may have served the parish in 1189. (fn. 367) Robert Bull the rector was accused of brewing and selling ale against the assize in 1307. (fn. 368) Walter de Glandon, the last rector, was an acolyte when appointed c. 1330, received licence to study in 1330 and 1331, and refused to pay more than two thirds of his assessed tax. (fn. 369) William Russell, vicar from 1465, was attacked in the churchyard by a parishioner who set a dog on him. The vicar defended himself with the key of the church door. (fn. 370) George Calvert, vicar 1601–28, was accused of failing to follow the form of common prayer or hold weekday service, taking up to five hours over morning service, preaching very long afternoon sermons, and refusing to touch a child at baptism. (fn. 371) Robert Fletcher, vicar 1644–93, was a member of the Wells Presbyterian classis. (fn. 372) Robert Purcell was accused of neglecting his duty in 1769 when the parish had only a monthly service and none at all at Christmas and Easter. (fn. 373) There were c. 20 communicants c. 1780. (fn. 374)
In 1815 Sunday services were held alternately morning and evening but neither vicar nor curate was resident. The curate was William Phelps (1776–1856), resident at Wells, vicar of Bicknoller, antiquarian, and author of a history of Somerset. He became vicar in 1824. (fn. 375) By 1827 there were two services on alternate Sundays and Phelps was resident until the benefice was sequestrated for debt in 1841. (fn. 376) By the 1840s there were two services every Sunday with up to six celebrations of communion each year. (fn. 377) On Census Sunday 1851 morning service was attended by 162 adults and 50 Sunday schoolchildren and 221 adults were present in the afternoon. (fn. 378) Communion was celebrated weekly by 1873 (fn. 379) and by 1931 there were four Sunday services, reduced in the later 20th century to two. (fn. 380) In 1912 the school at Westhay was used as a mission room on Sunday afternoons. (fn. 381)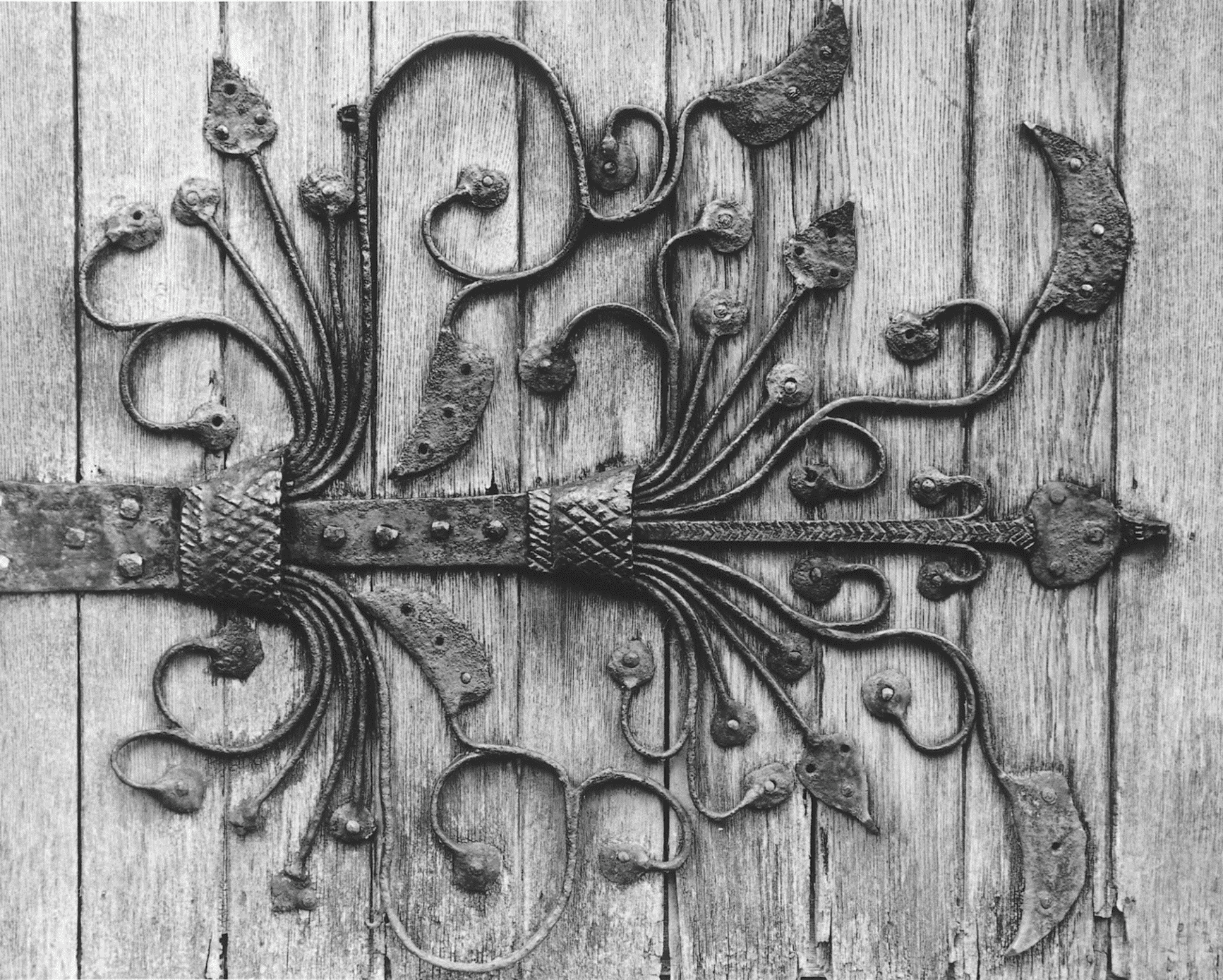 A church house was built before 1516 on manor waste near the churchyard. (fn. 382) In 1718 its oven was mended. (fn. 383) It was last recorded in 1758 and was probably the later Ring of Bells. (fn. 384) St. Mary's church room was built in 1906 on land south of the village street. (fn. 385)
Church Building
The parish church of St. Mary was consecrated in 1323 in the name of the Blessed Virgin Mary, All Saints, and especially St. Benignus, presumably after the building of the nave, chancel, and embattled west tower. (fn. 386) The chancel roof, which has archbraces and cusped windbraces, and perhaps the chancel windows, were the work of Abbot Monington (1342–75). (fn. 387) The initials of Abbot Selwood (1456–92) which appear on the parapet of the east end of the south aisle, the arms of Abbot Bere (1493–1524), and the so-called arms of Joseph of Arimathea on the south side of the chancel arch indicate substantial work. It included the rebuilding of the chancel arch, the addition of aisles, and the construction of a clerestorey and beamed nave ceiling on angel corbels (since renewed), one corbel apparently inscribed with the name of a craftsmen, John Jacman. (fn. 388) The exceptional ironwork with flowing foliage on the south door may be later 15th century. (fn. 389) There is a squint from the north aisle and the rood stair survives. In 1859 there were still traces of the boarded tympanum above the rood screen. (fn. 390) The stone pulpit also dates from the later 15th century. Medieval glass depicting scenes from the life of Christ, figures of St. Clement and St. Christopher, and representations of two sacraments survived into the 19th century (fn. 391) and a few fragments remain. The stand for an alms box is medieval.
Some embellishment was done in the 18th century and the earlier 19th. The six bells were all recast by Thomas Bilbie; four dated between 1707 and 1746 and two are undated. (fn. 392) A singing gallery had been built by 1743. (fn. 393) The chandelier, by Thomas Pyke of Bridgwater, was installed in 1777. (fn. 394) By the later 18th century there was a painted altarpiece depicting the descent from the cross, the singing gallery was painted with David and his harp, and above it on a tympanum were various religious and allegorical figures beneath the cross surrounded by celestial choirs. The church walls were painted with scriptural subjects and texts. (fn. 395) In 1820 private galleries were built over both aisles. The singing gallery was probably rebuilt in 1842. The vestry was added to the north side of the chancel in 1823. (fn. 396) A font, described as Norman, (fn. 397) was replaced before 1839 by one in Perpendicular style. (fn. 398) By 1840 the church was whitewashed and the pillars painted drab. (fn. 399)
Some restoration was carried out in 1870 after earlier 'unseemly and wretched improvements' had replaced nave and south aisle roofs. (fn. 400) The church plate dates from 1870. (fn. 401) Further restoration in 1896–8 by Edmund Buckle included the removal of the galleries. (fn. 402) The registers date from 1559 but there are several gaps in the 17th and early 18th centuries. (fn. 403)
The late-medieval cross stood in the street at the south-east corner of the churchyard with two rows of steps before 1787. (fn. 404) It appeared to have four steps c. 1843. (fn. 405) It was rebuilt in 1844 and placed across the street beside the school. (fn. 406) It was re-erected in the churchyard as a jubilee memorial in 1887. (fn. 407)
Holy Trinity Godney
Origins and Endowment
A chapel dedicated to the Holy Trinity was recorded at Godney in the 12th century, when it was clearly believed to be part of the abbey's earliest possessions. (fn. 408) It next enters the record in 1516 as a chapel still dedicated to the Trinity and dependent upon Meare. (fn. 409) Regarded as belonging to Godney manor after the Dissolution, the chapel was sold with Godney farm, and by 1675 had been abandoned. (fn. 410) A perpetual curacy was established with a new chapel at or near the earlier sites by Peter Davis in the early 18th century. (fn. 411) In 1869 it became a district chapelry and, c. 1870 after the appointment of a new incumbent at Meare, a vicarage. (fn. 412) Godney remained a sole benefice until 1972 when it was united with Glastonbury St. John. (fn. 413) Since 1985 it has formed part of the Abbey Five benefice with Glastonbury, Meare, and West Pennard. (fn. 414) Patronage was held by trustees until 1960 or later and then by the bishop. (fn. 415)
Peter Davis is said to have left a £2 rent charge to repair the chapel. The curacy was augmented by Queen Anne's Bounty in 1740, 1752, 1770, 1787, and 1804. (fn. 416) The living was valued at c. 80 guineas in 1815 (fn. 417) and the average net income in the 1830s was £55. (fn. 418) With the establishment of the vicarage, various benefactions and grants were received between 1870 and 1883 producing a stipend of c. £250 in 1930. (fn. 419)
Two fields near the church were bought for glebe in 1754 and 1780 and 6 a. in Somerton by 1807. By 1900 the glebe was let for £47 a year. Between 1903 and 1910 or later there were also two fields in Glastonbury but they appear to have been sold in 1919 leaving 23½ a. (fn. 420) In 1871 John Davis Sherston gave land east of the church for a vicarage and met part of the building costs. (fn. 421) It was sold c. 1951. (fn. 422)
Pastoral Care and Parish Life
John Bowen, perpetual curate 1778–1836, became unable to serve through ill health and before 1815 moved to Bath. Godney was served by William Phelps until 1827 or later. (fn. 423) Services had been held fortnightly from the late 18th century and weekly by 1839. (fn. 424) By 1851 there was a Sunday school and a service attended by 68 adults on Census Sunday. (fn. 425) In 1873 there were two Sunday services and communion was celebrated six times a year. (fn. 426) By 1900 Sunday services had increased to three with regular communion services although few if any communicants. (fn. 427) The Revd. W. Whaits, vicar 1926–30, introduced an extra catechism service for children and sung mass and his successor Harold Hughes held rogation ceremonies in the village. Harvest home services and festivities were also held. (fn. 428) During the 1940s services were gradually reduced from four to one with monthly communion. (fn. 429) The church closed c. 1998.
Church Building
A new chapel, built by Peter Davis in 1737, was said to have been constructed either from the old or from an adjoining farm building. (fn. 430) It was a simple rectangular building furnished with plain forms, its east end decorated with carvings of the Agnus Dei and an eagle or pelican. (fn. 431) Some medieval stained glass, including the arms of Bath and Wells diocese and of Glastonbury abbey, was placed in the two windows. (fn. 432)
The chapel was rebuilt in 1839 to designs by George Manners. It was of lias and slate in Neo-Norman style, a rectangular building with a south porch and west gable bellcot, and a vestry in the chancel position. It was furnished with a reading desk and pulpit either side of the communion table, and there was a west gallery. (fn. 433) Late 16th-century heraldic glass from a demolished house at Lillington (Dors.) and the medieval glass from the old building were installed in the new church. (fn. 434) In 1903 an apsidal chancel to the designs of Edmund Buckle replaced the eastern vestry; the church was given open pews and a vestry was constructed at the west end. (fn. 435)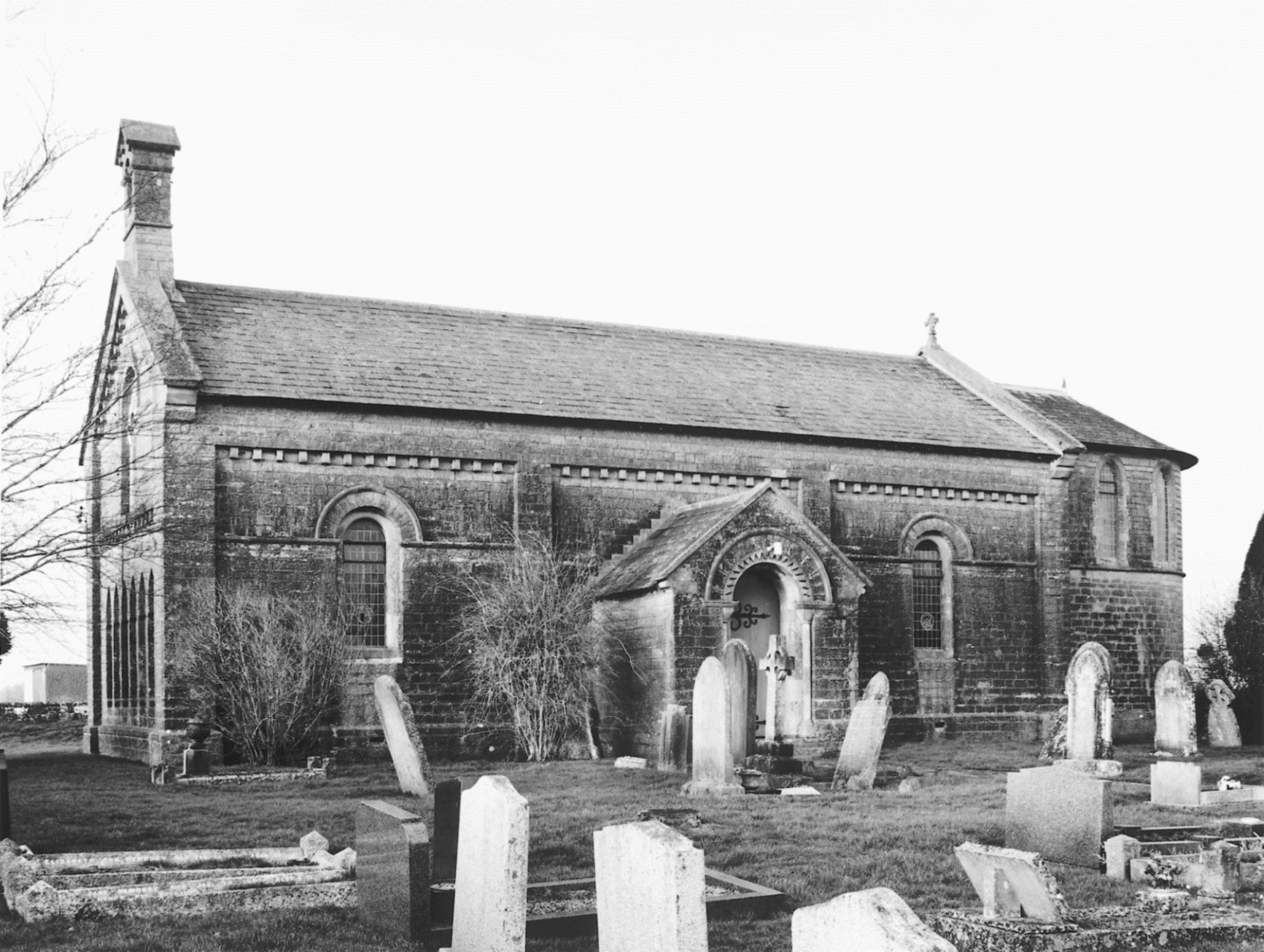 The plate comprises a silver chalice and paten inscribed 'Godney', said to have been given in 1737, and a flagon bought in 1884. (fn. 436) The registers date from 1741 but are incomplete before the 1830s. Many Godney entries, however, are in the Meare registers from 1738. (fn. 437)
NONCONFORMITY
There were Quakers in the parish in the late 17th century, (fn. 438) but no other trace of nonconformity until the early 19th century when houses were licensed for worship in Meare in 1816 and 1826, in Godney in 1824, 1829, and 1835, two of them for Particular Baptists, and in Westhay in 1828. (fn. 439)
Independents
One of the earlier licenses is said to have been for Congregationalists. (fn. 440) In 1826 part of a garden was bought for an Independent meeting house which was probably that licensed in the following year. (fn. 441) The building, for 200, had 36 Sunday schoolchildren attending in the morning and 34 at the afternoon service on Census Sunday 1851. In addition 36 adults attended the afternoon and 50 the evening service. (fn. 442) It closed and reopened in 1853 and was registered for marriages in 1860. In 1861 land to the south-east was acquired and another chapel built. In 1866 it was described as new and handsome and was registered for marriages in 1868. (fn. 443) There was a resident minister from 1881 until 1894. (fn. 444) It continued as Congregational until, following a break with the Congregational Union, the chapel became an Independent Evangelical church c. 1978 and remained open in 1997. (fn. 445) It is a red brick building with a central porch on stone columns with foliated capitals.
Baptists
A chapel appears to have been built for Particular Baptists at Godney by 1842. (fn. 446) Godney Baptist chapel was said to have been opened in 1853 and remained open in 1881 but probably closed shortly thereafter. (fn. 447) A General Baptist chapel for 70 on the corner of Chapel Lane at Oxenpill was registered in 1874. It was served from Street by 1884 but had closed by 1896. (fn. 448) A house at Godney was licensed for an unspecified congregation in 1829. (fn. 449)
Methodists
In 1836 a Wesleyan minister requested a licence for a house, probably that licensed in 1844. (fn. 450) Primitive Method ists registered a chapel at Westhay in 1860. (fn. 451) The chapel, west of the village on the Shapwick road, had 13 members in 1934 and there were services on Sunday evenings and one weekday. Services ceased in 1945 and by 1949 the chapel had closed. The building was maintained until 1956 when the trustees asked for it to be sold. (fn. 452) It had been disposed of by 1964. (fn. 453)
Other
The Brotherhood of the Son registered a private house in Meare for worship in 1954. (fn. 454)
EDUCATION
Unlicensed schoolmasters were recorded in 1618 and 1631. (fn. 455) In 1683 a man taught an English school. (fn. 456) In 1731 John Cannon agreed to teach children reading, writing, and accounts for one year at their parents' expense. (fn. 457) A 'school loft' indicates a schoolroom which occurs between the 1750s and 1781. (fn. 458) A cottage given for the use of the poor in 1801 may have been used as a school and in 1819 a day school with 30 children and a Sunday school with 45 were supported by voluntary contributions. (fn. 459) By c. 1825 the day school had 179 pupils and there was a day school at Godney with 35 pupils. (fn. 460) In 1833 a Sunday school was attended by 20 children and seven day schools, four established between 1823 and 1833, taught 122 children at their parents' expense. (fn. 461) In 1839 the sexton kept a school for 10 to 30 boys in a 'miserable manner' and the vicar was having difficulty raising funds even for a Sunday school. There was an Independent Sunday school. (fn. 462) A new schoolroom was built by subscription in 1840 on the roadside verge opposite the church. (fn. 463)
By 1847 two schools were affiliated to the National Society, at Meare for 87 children on weekdays and on Sundays and at Godney for 37 children on Sundays only. (fn. 464) The Meare school was endowed with land in 1854 and on its ceasing to be a church school the endowment was diverted to a Religious Knowledge fund. (fn. 465) The school was transferred to the Meare School Board formed in 1874 and in 1878 money was raised to expand the school and build a teacher's house. A separate infant school was established in 1880 for 66 children in a building said to have been erected in 1876. (fn. 466) By 1888 the girls had been transferred to the infant school. (fn. 467) In 1903 there were 70 boys, 57 girls, and 67 infants on the registers with 7 teachers. Sunday and evening schools were held. (fn. 468) In the same year the board transferred its schools to the county council. (fn. 469) In 1925 the school had 141 children on the books, falling to 107 in 1945. Numbers rose to 147 in 1955 but the seniors were removed in 1958. There were 95 children on the books in 1965 rising to 119 in 1991. (fn. 470) Although new classrooms have been erected on the site both the National and Board school buildings survive.
The Meare School Board built a school at Upper Godney in 1876 for 60 children with a house for the teacher. (fn. 471) In 1891 the mistress was permitted to act as postmistress and have a letter box in the school wall. (fn. 472) In 1903 there were 44 children on the register and a Sunday school was held. (fn. 473) There were 56 children on the books in 1930 although attendance was poor and the school had many problems. Numbers fell from 41 in 1935 to 23 in 1945 and the school was closed in 1947. (fn. 474) The children transferred to Coxley and Wells. (fn. 475)
In 1890 a National school for girls was built at Westhay. In 1903 there were 67 girls and infants with two teachers. (fn. 476) In 1904 the evening continuation class had 11 pupils aged between 12 and 23. (fn. 477) Average attendance at the day school fell from 56 in 1905 to 32 in 1925. By 1929 there were 43 children on the books and attendance was good. Although boys transferred to Meare at 8 the school was overcrowded. Besides the usual subjects the girls learned country dancing and folk singing. In 1945 there were 35 girls and infant boys on the register but the school closed the following year. (fn. 478) The school, of red brick, became a village hall. (fn. 479)
A small boarding school with four children was recorded in 1851 and two private day schools were in existence in 1866, one begun before 1861. (fn. 480) In 1875 the old Independent chapel was conveyed to a benefactor for conversion to a school, recorded in 1881. (fn. 481)