Pages 142-154
A History of the County of Somerset: Volume 9, Glastonbury and Street. Originally published by Victoria County History, London, 2006.
This free content was digitised by double rekeying. All rights reserved.
WEST PENNARD
The chapelry and later parish of West Pennard (fn. 1) was during the Middle Ages that part of the parish, liberty, and manor of Glastonbury outside the enclosure gate (extra hagietam) which gave its name to the hamlet of Havyatt there. (fn. 2) It lies between Glastonbury Tor on the west and the equally dominant Pennard Hill on the east, and stretches north into former marshland and moor called Hearty. There was until the later 19th century no nucleated village in the parish but rather a series of hamlets, most strung along the east-west road between Glastonbury and Pilton or on the lower slopes of Pennard Hill.
The parish measures 4.4 km. from east to west and 4 km. from north to south at its widest points. The northern boundary is marked by the Whitelake and Hartlake rivers and parts of the western and southern boundaries by watercourses. (fn. 3) Before the Conquest the northern boundary was described as 'along the marsh out of the Brue' in a perambulation which did not define the western limit. (fn. 4) One small length of that western limit is marked by the earthwork known as Ponter's Ball. (fn. 5) The 13th-century bounds of East Street manor, which probably shared the western boundary, included a ditch and a pool named after otters. (fn. 6) The parish measured 3,051 a. in 1840 and from 1884 was 3,063 a. after a detached field was transferred from Glastonbury. (fn. 7)
Pennard Hill is a ridge of silt and clay which rises steeply to a plateau which undulates between 115 m. (375 ft.) and 120 m. (400 ft.) and was the site of the arable fields of West Pennard manor. Below the scarps, where the settlements lie, is more clay with limestone, which give way in the south-west to the low-lying alluvium of Kennard moor (9 m.) and in the north-west to alluvium and peat on Hearty moor (7 m.). (fn. 8) Marl was dug on the lower slopes of the hill and stone quarried at its eastern edge in the Middle Ages. (fn. 9)
Communications
The most important route through the parish is the 'great road going to Pilton' from Glastonbury, which was so described c. 1235. (fn. 10) It runs from Havyatt north-eastwards to a stream rising on Stickleball Hill which is a substantial tributary of the Whitelake river. Its maintenance was the responsibility in the early Middle Ages of a manorial tenant, a pontarius, whose other duty was to keep the stone bridge at its eastern end. (fn. 11) That bridge, actually in Pilton parish and the precursor of the modern Steanbow bridge, is assumed to have been of Saxon date. (fn. 12) The Pilton road was adopted by the Shepton trust in 1780. (fn. 13) The north-eastern section of the road was realigned after the abandonment of the railway. Two market roads ran through the parish until the mid 18th century. The first, from Bruton to Glastonbury, followed the lower slopes of Pennard Hill, passed West Pennard church, and evidently continued through East Street and Norwood Park to Glastonbury Tor. The second, from West Bradley to Wells, adopted a similar route to West Pennard church and continued to Steanbow bridge. (fn. 14) Roads follow or mark parts of the eastern and southern boundaries of the parish; that which passes Higher Woodland Farm formerly ran north-west to Havyatt along what by 1840 was a series of narrow fields called Middle Green. (fn. 15) Lanes on Pennard Hill include Cottles lane, so named by 1531 and recalling the Cotele family, (fn. 16) and Castle lane from the Castell close mentioned in 1532. (fn. 17)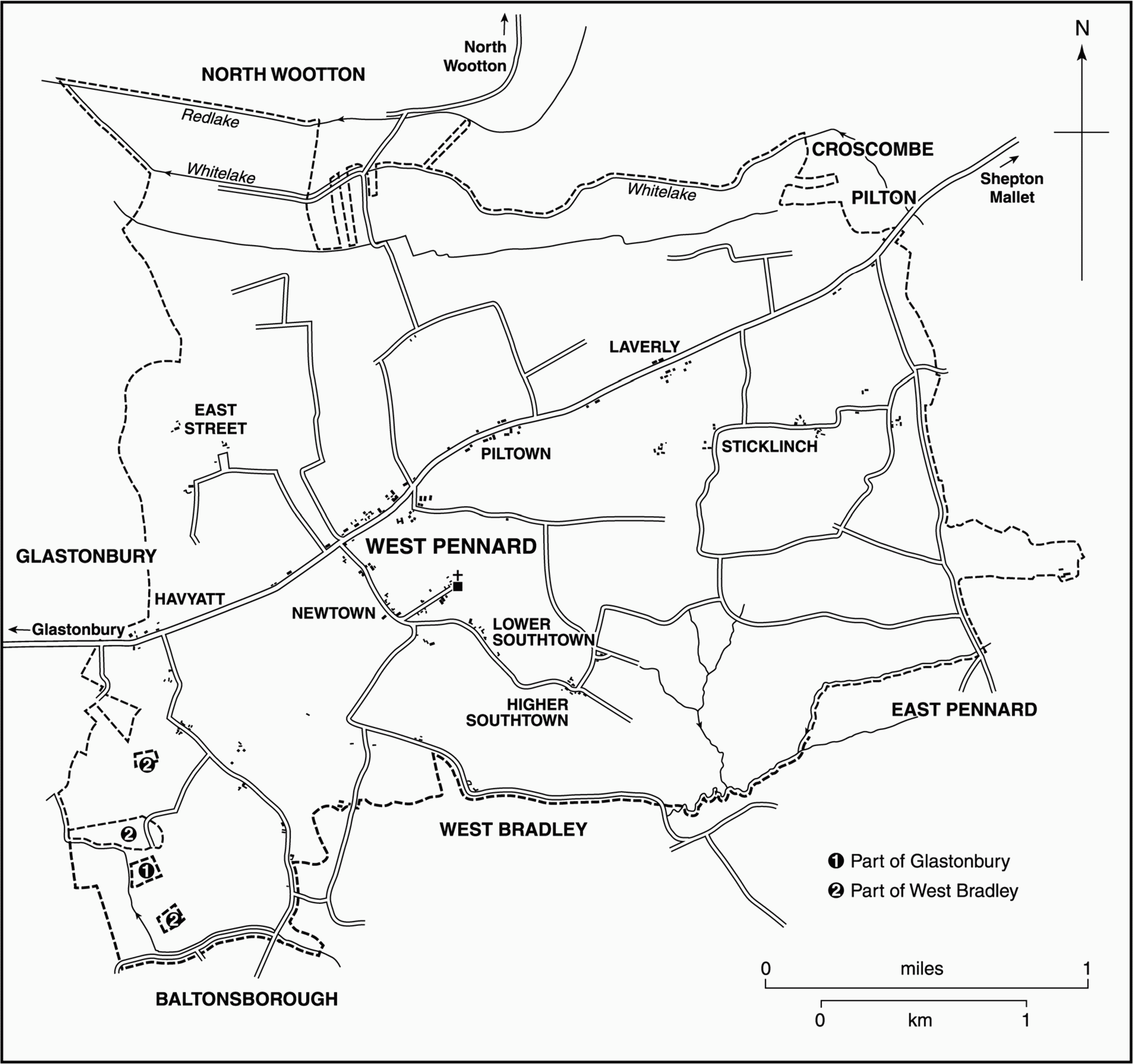 Early bridges like Steanbow indicate the importance of routes across waterways. Another stone bridge was built in Charlmoor, and a bridge outside Havyatt was repaired in 1274–5. (fn. 18) The stone Charlmoor bridge was mentioned in 1530, Washing bridge, perhaps over the Bradley brook, in 1531, and Redebrigge in 1532. (fn. 19) Whitelake bridge, built in 1702, was said to be the first stone wagon bridge there. (fn. 20)
In the 1230s a watercourse now represented by the canalised Hartlake river and its tributary the Whitelake river was a regular route for heavy goods including wine from Pilton to Glastonbury. The eastern limit of the route was at la Bowe, (fn. 21) perhaps the earlier Old Pill, (fn. 22) where the Whitelake river is joined at a wide bend by a stream from Westholme and at a point where the parish boundary follows a track from the hamlet of Steanbow.
The Somerset and Dorset railway was opened through the parish in 1862. A station near Steanbow served as a depot for goods and cattle. (fn. 23) The goods yard was closed in 1963 and the whole line in 1966. (fn. 24) The former goods shed is a private dwelling.
Population
The population fell by a half on Glastonbury manor between 1348 and 1367. (fn. 25) Chevage was levied on 27 boys in West Pennard and East Street tithings in 1404, on 23 in 1408, 35 in 1449, and 13 in 1488. (fn. 26) There were at least 64 houses on West Pennard manor in 1606, (fn. 27) 67 were rated for Hearth Tax in 1664–5, (fn. 28) and there were 72 in the whole chapelry in the same century. (fn. 29) About 1785 there were c. 97 houses. (fn. 30) In 1801 the population was 727, and over the next three decades it rose to 920. Between 1831 and 1891 it fluctuated, often quite markedly, but after 1891 declined steadily until after 1931, rose to 634 in 1951, fell over the next twenty years, and thereafter increased, reaching 592 in 1991. (fn. 31)
Settlement
The parish is dominated by the steep and partly wooded western end of Pennard Hill, on the lower slopes of which are the hamlets of Sticklinch, Laverly, Piltown, Newtown, and Higher and Lower Southtown. The hamlets of East Street and Woodland Street are on the edges of moorland further west. The settlement pattern of the parish is thus dispersed, and was clearly so in the later 12th century: Newtown may be identified with the nova placea referred to in 1189 (fn. 32) and with the Niwton of the late 13th century. (fn. 33) Piltown is Pilla of 1189, Pyle of 1300, and Pile of 1311. (fn. 34) Sticklinch was also an occupied site by 1189, (fn. 35) East Street in 1256, (fn. 36) Laverly in 1307, (fn. 37) Southtown in 1488, (fn. 38) and Woodlands in 1515. (fn. 39)
In the later 18th century the largest concentration of houses, totalling 40, was described as at Newtown and Laverly, a roadside settlement which presumably included the intervening Piltown and stretched for more than a mile along the Glastonbury-Pilton road. Sticklinch and Higher and Lower Southtown, settlements respectively to the north and south of the slopes of Pennard Hill, then each comprised some dozen dwellings, and there were some houses described as 'straggling about the church'. (fn. 40) That last settlement was named Church Street in 1710, and the church stands on the highest ground at its eastern end. (fn. 41) It probably represents an extension of the manorial centre which in 1606 included the site of the former capital messuage north-east of the church and the site of the church house in the churchyard. (fn. 42) In the later 20th century most new houses have been built between the Glastonbury road at Newtown and the church.
There were arable furlongs and cultures on Pennard Hill belonging to West Pennard manor by the mid 13th century (fn. 43) which by 1515 were arranged as east and west fields. (fn. 44) Small-scale inclosure had begun in the early 16th century, but most took place, presumably through private agreement, between 1801 and 1840. (fn. 45) East Street had north and south fields close to the hamlet, which had been largely inclosed by 1616. (fn. 46) Hearty moor and Charlmoor to the north and north-east of the parish were drained and inclosed from the mid 13th century. (fn. 47)
Buildings
In 1606 the buildings belonging to West Pennard manor were recorded in some detail. The largest, associated with a 100-a. unit of former demesne, was described as the 'great mansion or capital messuage'. Of the tenants' houses the largest was of 14 bays, though that may have incorporated a barn since the only other building recorded on the holding was a 6-bay stall. It was followed in size by two houses each of 8 bays, two of 7, four of 6, and six of 5 bays. Most of the houses, a total of 46, were of 3 or 4 bays and one of the 4-bay dwellings was described as a cottage. (fn. 48) Sixty-seven houses were recorded in 1664–5 of which two had 6 hearths, one had 5, five had 4, eight had 3, and the rest 1 or 2. (fn. 49)
At least five medieval houses still survive in part, probably the earliest Old Farmhouse, East Street, which has true crucks similar to those in Bridge Farm, Baltonsborough, which date from the mid 14th century. (fn. 50) Significant alterations and additions were made to several houses in the later 16th and the earlier 17th centuries including upper floors in Higher Southtown Farm, remodelling at Pennard Farm (datestone 1640), and a new wing at Manor Farmhouse, Coxbridge. The Cottage, Higher Southtown, is a timber framed building of the early 17th century. At least four surviving houses date from the mid or late 17th century including Sticklinch Manor and the Apple Tree inn. (fn. 51) The house of a yeoman at Newtown in 1678 comprised porch, hall, parlour, two butteries, and kitchen on the ground floor and five chambers over including a cheese chamber. (fn. 52) There was significant rebuilding of farm houses in the early 19th century.
So, for example, Sticklinch Manor began as a mid to late 17th-century stone house of which only the thick south and west walls, the latter incorporating a large stack, survive. It probably had a two-roomed plan with a timber-framed partition. In the 18th century a rear two-storeyed wing was added, and in the 1820s or 1830s it was refenestrated with cast-iron windows (since replaced) under brick segmental heads. During the same period the body of the house was raised from one-and-half to two full storeys with attics, and given a symmetrical three-bay west façade with sash windows. A utilitarian, single-storeyed building attached to the north-west angle was made into a summerhouse with Gothic windows and doorway.
West Pennard House, the former vicarage house called Old Vicarage, Woodland House, and The Elms are examples of a change in the social structure of the parish. The first two stand south-west of the church, Old Vicarage a plain classical villa with hipped roof of c. 1840, West Pennard House a late 19th-century Gothic building of good quality.
Social Life
A victualler was licensed in 1674 and three in 1695. (fn. 53) Two were in business in 1733, four in 1744, five in 1753, and one in 1769. (fn. 54) The King's Arms was named between 1766 and 1789, (fn. 55) the New Inn, Pennard Arms, or Pennard inn from 1802. (fn. 56) The latter seems to have become exclusively a farmhouse between 1875 and 1881. (fn. 57) The Steanbow inn was in business in 1851 but between 1881 and 1891 changed its name to the Railway inn. (fn. 58) The Lion, later the Red Lion, had opened by 1861. (fn. 59) Both were in business in 1998, the first known again as the Lion, the second as the Apple Tree after the closure of the railway.
There was an alehouse at Coxbridge in 1851 and a cider house at Newtown in 1871. (fn. 60)
In 1736 a revel was held on 26 July and, after the change of calendar, on the first Sunday in August. It evidently continued as a fair until the 20th century. (fn. 61)
The West Pennard Friendly Society was founded in 1802, was last enrolled in 1857, and ceased in 1870. It met on the last Monday in May. (fn. 62) The Ten Years Benefit and Friendly Society was founded in 1846 and met on 30 May. (fn. 63) The village hall opened in 1937. (fn. 64)
MANOR AND OTHER ESTATES
West Pennard Manor
West Pennard was evidently part of Glastonbury manor at the time of Domesday but may have been a separate estate which in the later 7th century formed part of the earliest endowment of Glastonbury abbey. (fn. 65) It was called West Pennard manor in 1152 when Robert Cotele, one of the hereditary servants of the abbey, was induced to surrender his freehold hide there to the abbot; his son Hamon held it in fee of the abbot in 1189. (fn. 66) A second tenant, William of Sticklinch, also held a fee in 1189. (fn. 67) The failure of both to continue their lines left the abbot in sole possession until 1539.
After the Dissolution the manor, separated from Glastonbury manor, was granted in 1547 to Edward Seymour, duke of Somerset. (fn. 68) It reverted to the Crown after Seymour's execution and from 1553 to 1628 was leased to successive members of the Rogers family, namely to Sir Edward Rogers (d. 1567), (fn. 69) to Sir Edward's son Sir George (d. 1582), to Sir George's son Edward (d. 1627), (fn. 70) and to Edward's son Francis. (fn. 71)
The Crown lessees of the manor paid a fee-farm or chief rent, (fn. 72) which by 1666 had been sold to Henry Barker of Chiswick (Mdx.). In 1669 Barker held courts as if he owned the lordship, (fn. 73) and he was still in occupation in 1693. (fn. 74) The fee-farm rent remained a separate possession and was paid to Edward Montagu, earl of Sandwich (d. 1916), (fn. 75) whose father John William Montagu (d. 1884) had been described as lord of the manor in 1861. (fn. 76) George Charles Montagu, earl of Sandwich, was lord in 1939. (fn. 77)
While the manor was still held by lessees the Crown in 1610 granted the lordship to Henry, Prince of Wales, and after his death in 1612 it passed to his brother Charles. (fn. 78) In 1628, after the death of the Crown lessee, the lordship was sold to Thomas Howard, earl of Berkshire (d. 1669). (fn. 79) Howard, heavily in debt, immediately tried to dispose of the property with the help of Sir Robert Phelips and in 1631 mortgaged it to Sir Dudley North and others. (fn. 80) Successive assignments were ended by the sale in 1655 to Henry Haughton (d. 1672). (fn. 81) That estate was devised by Haughton to Henry Marriott and passed from Marriott in 1690 to John Grimstead (d. 1693). John's son, also John (d. 1714), was succeeded by his sister Jane, wife successively of John Jeanes and Robert Hill, and she by her daughter Christian Hill (d. 1807), wife of James Moore. On Christian's death the estate was divided: Anne, one of her two daughters, married Richard Slade and was succeeded by her husband's nephew Matthew Moss (d. 1823) and Matthew by his son also Matthew, who was regarded as lord of the manor in 1836. (fn. 82) In the early 20th century T. and W. Roach were said to be lords. (fn. 83)
The other half of Christian Hill's estate passed to her daughter Mary (d. 1807), wife of Richard Paget (d. 1803). Their son John sold it soon after 1807 to William Jenkins, whose only child Marianne married Edward Francis Colston. (fn. 84) Colston died in 1847 and his widow in 1865. Their son Edward (d. 1864) was followed by his son Charles Edward Hungerford Murray Colston, who still owned the estate in 1906. (fn. 85)
In 1606 the lessee of the manor held a plot 'where the capital messuage of the manor formerly was' and also the site of a dovecot, (fn. 86) evidently north-east of the church adjoining Cottle lane. (fn. 87)
East Street Manor
In 1189 William son of Walter held an estate of Glastonbury abbey in fee in which he was succeeded by William of East Street, Roger of East Street, and in 1256 by Cecily and Lucy of East Street. (fn. 88) William of East Street is mentioned in the later 13th century (fn. 89) and 1325, (fn. 90) and Roger of East Street in 1327. (fn. 91) In 1340 the abbot of Glastonbury appropriated the estate from Roger's widow Lucy, though she, Thomas of Paris, and Roger's brother Walter retained life interests. (fn. 92) The administration of the estate by the abbey seems to have remained separate from the surrounding holdings until the Dissolution. (fn. 93)
In 1547 Edward Seymour, duke of Somerset, was granted East Street manor. (fn. 94) It was regranted to him in 1550 but after his attainder it passed in 1553 to John Dudley, duke of Northumberland. (fn. 95) It reverted to the Crown on Northumberland's attainder later in 1553. In 1585–6 it was sold to Anne Staresmore and William Colmer (fn. 96) and in 1586 to Anthony Harvey, possibly Anne's husband. (fn. 97) Anthony, who was lord in 1589, was followed successively by Amias (lord in 1591 and 1595) and Anthony Harvey (lord by 1604 and until 1617), and by Edward Wykes and his wife Jane, who bought the manor in 1617–18. (fn. 98) In 1626–7 Wykes sold the manor to John Sheppard. (fn. 99) In 1633 possession passed to William Hassell (d. 1680) and his wife Joan. (fn. 100) William was succeeded by his son John, whose estate was partitioned in 1682 between his two daughters and their husbands. (fn. 101) The partition was agreed in 1691 and the estate passed to trustees on behalf of John Browne and his wife Joan or Joanna, one of the heirs, and John Blinman formerly husband of Anne, the other heir. (fn. 102) John had died by 1708 and in 1716 Richard Bartlett was in possession of the Browne share which descended to John Bartlett, presumably his son, who held it in 1750. (fn. 103) Blinman's share passed on his death in 1713 successively to his brother Captain Francis Blinman (d. 1718) and his sister Joan. In 1737 she gave it to her nephew William Binford, who by will of 1764 left it, after the death of his wife, to Henry Sweeting. In 1782 Sweeting granted it to his son, also Henry, in fee, and in 1788 the younger Henry conveyed it to John Acland by way of indemnity. The estate then comprised Pennard farm and an allotment on Kennard moor. (fn. 104)
The hall and oxshed of the capital messuage were reported in decay in 1530 and their repair was ordered. (fn. 105) The capital messuage was mentioned in 1682 and 1691 and as part of the share of John Blinman and his wife Anne. (fn. 106)
Other Estates
By the mid 14th century the Glastonbury abbey offices of sacrist, chamberlain, almoner, and refectorer were endowed with small amounts of land and some rent in the parish. (fn. 107) By 1515 the keeper of the anniverary of Abbot Monington also had a small holding there (fn. 108) and by 1539–40 rents had been re-assigned for the benefit of the pittancer, the kitchener, and the almoner. (fn. 109) One of the three tenant holdings charged from the 12th century with the responsibility of finding a horse for the abbot (fn. 110) was retained as a separate holding under the Crown in 1544 and 1547. (fn. 111) The college of vicars choral at Wells held a small estate from 1453–4 until the 19th century. (fn. 112)
ECONOMIC HISTORY
Agriculture
West Pennard was part of the holding of 12 hides at Glastonbury recorded in 1086 (fn. 113) and was administered throughout the Middle Ages as part of Glastonbury manor. (fn. 114) Economic activity can only with certainty be assigned to West Pennard when it took place either extra hagietam, that is beyond Havyatt, (fn. 115) or at identifiable places there such as East Street or Sticklinch.
In 1189 there were 41 holdings, mostly of virgates, half-virgates, or ferlings whose tenants paid rents, customary gifts, or labour services, the latter consisting of work at haymaking or grain harvest and in digging and harvesting at the abbey vineyard. The largest holding was that of Hamon Cotele, a tenant in fee, who held 3 virgates at Sticklinch; his service was described as to be present upon summons with the monks, with a horse at the abbot's cost. William son of Walter's holding at East Street included 3 messuages and ½ hide. Four hereditary servants also held there in return for their particular services. (fn. 116) A field named Cotells was known in the 16th century as having been reserved for the abbot's horses. (fn. 117) Similarly, William of Sticklinch held a virgate as a tenant in fee in return for a cash payment and the duty of travelling on horseback with the monks. (fn. 118)
Hereditary landholding in return for special services gradually ceased in the earlier 13th century though c. 1230 Adam the usher continued to serve for his life, Robert de Colerne and his successor still provided a horse to take the abbot to Cornwall, and William pontarius performed no agricultural duties for his half-ferdell because of his eponymous service. At least one other hereditary holding was returned to the abbot. (fn. 119)
Tenants in the earlier 13th century paid small sums in cash in the form of gavel and larder rents, Peter's Pence, and sometimes church scot. (fn. 120) By the 1270s some vineyard service had been commuted (fn. 121) and by the 1280s substantial cash rents were paid for assarts and inclosures on the moors. (fn. 122) Chevage was being levied by 1307. (fn. 123) In 1392–3 consolidated rents amounted to over £42 but arrears from the previous year totalled well over £18. (fn. 124) In 1460–1 the total income with arrears and other issues was well over £53. (fn. 125) In 1539–40 rents assigned to the monastic officials amounted to over £33. (fn. 126)
By the 1260s overstocking seems to have been common on grasslands (fn. 127) and presumably provided the incentive to assart and inclose the moors. (fn. 128) In the early 14th century there were probably twice as many oxen as dairy cows or sheep; (fn. 129) in 1362–3 East Street produced over 33 qr. of wheat and 13 qr. of oats for the abbey granger; (fn. 130) in 1448 John Champion owned a flock of 200 sheep. (fn. 131)
In 1515 the two manors of East Street and West Pennard between them comprised c. 850 a. of arable land and c. 700 a. of inclosed grassland. East Street manor totalled c. 250 a. and was divided between six resident tenants, the largest holding the capital messuage and 62 a., and 15 outsiders, at least ten from West Pennard, holding mostly small pieces of arable in the two open fields. West Pennard manor was shared between 4 virgaters, 8 half-virgaters, 3 triferdellers (holders of three ferdells), 24 ferdellers, and 2 half-ferdellers. In practice holdings did not equate to legal status: virgate farms varied between 58 a. and 98 a., half-virgate farms between 33 a. and 86 a., triferdells between 58 a. and 76 a., and ferdells between 18 a. and 41 a. The West Pennard farmers cultivated the land on Pennard Hill in two large open fields, east and west. A small amount of grassland was described as newly inclosed; most lay on the low ground to the north-west and west of Pennard Hill; other grassland, described as overland, was let in small parcels to people largely from North Wootton and East Pennard. (fn. 132) By c. 1530 at least one farm had increased in size: John Rogers had added nearly 30 a. to his father's holding. (fn. 133)
Nine of the tenants in 1515 were described as neifs, the most substantial Thomas Stone, a triferdeller, with 67 a. (fn. 134) In 1532 ten people were manumitted including William, son of John Stone, (fn. 135) in 1576 a family of seven, and in 1578 two others. (fn. 136)
By 1606 West Pennard manor was worth over £200 in rent. There were nearly 100 customary holdings, each also paying three pecks of wheat, and seven of them 5d. in lieu of cocks and hens. Two of the customary holdings measured c. 100 a., three more over 75 a., five between 50 a. and 75 a., and twenty were 25 a. or more. One of the freeholders, Edward Bridges, held 100 a. of former demesne; several families, including the Fryes, the Grimsteads, the Champions, and the Sheppards, occupied several holdings, the Fryes having over 270 a. All had access to varying amounts of common grazing, some described as for all affers in the moors, some restricted to grazing in the two common fields only, some having rights in neighbouring parishes such as in Baltonsborough, in West Bradley, in Wootton mead in North Wootton, or in Baltonsborough's North wood. Farm buildings attached to each holding indicate mixed farming; some small holdings were entirely grassland. Arable was still predominantly in open fields: some 850 a. in Easter and Westerdown and five other areas. Small pieces of former common meadow and arable had recently been inclosed. (fn. 137) In 1609 the demesne produced over £119 although it was valued in that year at just over £98. (fn. 138)
In 1618 East Street manor comprised four farms ranging in size between 44 a. and 26 a. and a further 40 a. in various tenures, possibly former demesne. (fn. 139) What appears to be the former demesne estate measured 52 a. in 1627 and was divided between 14 tenants who shared the largely inclosed former arable fields. (fn. 140) A yeoman farmer of Newtown died in 1678 leaving 4 oxen, 4 cows, and 3 horses and a house which included a cheese chamber. (fn. 141)
By the mid 1760s the largest estate was that of Richard Slade of Wells and his son of the same name; by the 1790s Richard Paget of Chilcompton occupied most land. (fn. 142) Early in the next century large purchases were made by Matthew Moss and by the 1830s by Edward Colston. (fn. 143) By 1840 Colston owned 798 a. divided between five farms (fn. 144) and in 1847 William Colston had 1,525 a. (fn. 145) William's successor C. E. H. A. Colston, of Roundway Park (Wilts.), was the principal landowner in 1894. (fn. 146)
In 1775 there were 40 farmers paying tithe, four of them holding between 50 a. and 60 a. In that year tithes were paid on just over 140 a. of arable crops, half of wheat and most of the rest beans and peas; and on 505 cows and calves and 383 sheep and lambs. (fn. 147) The arable was described as 'middling' and 'badly managed.' (fn. 148) In 1801 there were said to be 565 a. of arable. Wheat (220 a.) was the largest crop, followed by barley (160 a.), which suited the land better than wheat and was 'much sought after'. Potatoes, which had increased 'surprisingly' in the past ten years, were planted in 140 a. Turnips (12 a.) were seldom sown after wheat because the arable was still in common fields. (fn. 149) By 1840 those common fields had been inclosed, presumably by private agreement. The titheable arable then amounted to just over 221 a. as compared with 2,494 a. of meadow and pasture, (fn. 150) and a principal product was cheese such as that presented to Queen Victoria in 1840. (fn. 151) Throughout the 19th and the earlier 20th century there were about forty farms and small holdings, a dozen of which measured between 100 a. and just over 200 a., and dairying and cheesemaking continued of importance. By 1871 Frederick Hayes was in business as a cheese factor, (fn. 152) a business he combined with a substantial farm based at The Elms by 1881, (fn. 153) so that by 1897 he was considered one of the principal landowners in the parish. (fn. 154) Presumably among Hayes' main suppliers were the Norrises, producers of Cheddar and Caerphilly cheese from 1899 or earlier, who between June and September 1921 made a total of 560 cheeses. (fn. 155) Arable had been reduced to 78 a. by 1905 (fn. 156) but by 1939 the number of farms was still c. 40. (fn. 157) That total had been significantly reduced by the end of the 20th century.
Moors
Hearty 'island', on the northern edge of the parish, was c. 1135 distinguished for its 'meadows and very rich pasture' and its alder grove. (fn. 158) It was different from Hearty moor and Charlmoor to the south, where reclamation had not then begun, but assarts there, (fn. 159) described as new meadows in 1275, (fn. 160) brought rents of £3 18s. 6d. in 1281–2. In that same year a further 6 a. there were inclosed for pasture and for an access way. (fn. 161) Rents remained unchanged in 1306 but by 1312 they had been consolidated with those of the rest of the estate. (fn. 162)
Ditching at La New Yeo and Coxbridge c. 1303 indicates improvement works on the edge of Kennard moor to the south-west (fn. 163) and inclosure continued at the same time on Hearty moor. In 1326–7 plots mostly of 1 a.–2 a. were held by 77 tenants who paid a total rent of £4 1s., but the rest of the moor, measuring 240 a., was considered worthless since its alder grew too thick. (fn. 164) In 1347 the abbey 'appropriated' Hearty moor, regranting rights of turbary and grazing to tenants in fee only (fn. 165) and evidently established a dairy there. (fn. 166) By 1515 Littlemore provided 25 a. of common meadow for all tenants: by that same date well over 300 a. of grassland described as common meadow on the moors was divided between tenants of former demesne on Hearty moor and Charlmoor. (fn. 167) By 1603–5 some 173 a. of Hearty moor was occupied by 32 tenants of West Pennard manor, some of it described as 'newly-increased' grounds, in units measuring between 2 a. and 23 a. (fn. 168) In 1638 the common moors of the parish were subsumed in the two large areas shared with Glastonbury alone in the north of the parish and with Glastonbury, Edgarley, West Bradley, and Baltonsborough in the south-west. (fn. 169)
Woodland
Most of the woodland in the parish was on Pennard Hill, where early clearance was necessary for the creation of arable fields. Alders on Hearty 'island' were described c. 1135 as 'splendid and ample' (fn. 170) and were used for fuel, fencing, and building. (fn. 171) They grew so thickly in the 1320s that a chace there was impossible. (fn. 172) Timber was still being cut there in the mid 14th century. (fn. 173) Small groves of oak, ash, and occasionally elm grew to the north of Pennard Hill around Steanbow and Sticklinch in the early 16th century, and a 'common combe' of oak and underwood was assigned to tenants in common for repairs to doors and paths. (fn. 174) About 1540 East Street manor had 400 elms in hedgerows as well as an unnamed wood. (fn. 175) Most of the woodland was reserved to the Crown and was unrecorded in 1606. (fn. 176) In the 1780s the parish was said to be 'full' of fine elms and some good oak (fn. 177) and there were just over 34 a. of woodland in 1840. (fn. 178) There were over 21 a. in 1905 (fn. 179) and the amount was probably little changed at the end of the 20th century.
Mills
The field-name Millfurlong on Pennard Hill in 1515 (fn. 180) indicates that a windmill had stood there for some time. Its rent had been assigned to the monastic kitchener by 1529–30, (fn. 181) but in 1539–40 it was described as totally in decay. (fn. 182) It had evidently been rebuilt by 1606 when it stood on Wester Down. (fn. 183) It was still in operation in 1713. (fn. 184)
A water mill evidently adjoined the house, its site unknown, which had become the capital messuage of West Pennard manor by 1606. (fn. 185) A corn mill was being worked near West Pennard railway station by 1886 and until after 1897. (fn. 186)
Fair
In 1861 there was a fair on the first Monday in August. By 1872 it was described as a cattle fair and was held on the last Monday in July. (fn. 187) It may have ceased soon after 1902. (fn. 188)
Trades And Occupations
A sergemaker was mentioned in 1683 and a woolcomber in 1762. (fn. 189) The scattered nature of settlement in the parish encouraged more than the usual number of shops in the middle years of the 19th century, and commercial and professional people such as cattle and pig dealers, an auctioneer, and a land surveyor used the parish as their base of operations in the wide sweep of rich farming country between Glastonbury and Shepton Mallet. (fn. 190) Cheese, poultry, and cider dealing were evidently significant at the turn of the 20th century (fn. 191) and cider continued to be sold until the 1930s. (fn. 192) The GlastonburyPilton road, its business increased by the arrival of the railway, (fn. 193) was convenient in the 1930s for motor haulage and engineering businesses and brought trade for a cycle agency, a fried fish dealer, and lodgings and refreshment rooms for tourists. The presence of branches of a bank and of the county library suggests considerable agricultural and commercial prosperity and local political influence. (fn. 194) By 1947 two shops were still in business as well as the garages, and people were said to have made gloves at home. One shop and the garages survived in 1980. (fn. 195)
LOCAL GOVERNMENT
By 1189 West Pennard was that part of Glastonbury manor described as extra hagietam. (fn. 196) By 1311 its western part had become known as East Street tithing, and by 1340 the rest was known as West Pennard tithing. (fn. 197) Both tithings met with the Glastonbury halimote court and reported to the Glastonbury law hundred.
Halimote courts for extra hagietam or West Pennard and East Street were held four times a year, twice a year at the same time and place as the Glastonbury halimotes, and were occasionally supplemented by 'courts' with no obvious difference in business. Records survive intermittently from 1262 to 1536. (fn. 198) Officers regularly serving throughout Glastonbury manor were a hayward, a woodward, a bedel, a moorward, and a warrener. In 1315 a new tenant was excused service as a wickman and there are occasional references to inspectors of carcases and surveyors of watercourses. (fn. 199) Halimotes were concerned with strays, trespass, building repairs, and the control of neifs.
Suit of court to West Pennard manor was claimed from a tenant in 1669. (fn. 200)
Churchwardens, chosen in rotation according to holdings by the mid 18th century, repaired stocks (in 1695 and 1717), the whipping post (in 1717), and parish bridges as well as having responsibility for the church fabric. They generally administered parish affairs through a parish meeting, by 1736 called a vestry. (fn. 201) Two waywardens were elected by the mid 17th century. (fn. 202)
Early support for the poor came from a weekly collection from the leading farmers which was made from 1580 until 1596 or later. Two collectors and two disbursers operated each year, holding in stock any surplus not paid out. (fn. 203) Overseers of the poor were at work by 1626. (fn. 204) By 1659 they were elected (fn. 205) but by 1776 two were appointed from three parish nominees, evidently by the magistrates. (fn. 206) By 1766 they were paying house rents, providing lodgings, and giving clothing, blankets, fuel, and tools. Paupers were inoculated from 1770. (fn. 207) The overseers also administered the combined charity funds for the second poor paid to them by the wardens. (fn. 208)
In 1626 the overseers petitioned the lord of the manor for licence to build a cottage for a poor man on waste near Coxbridge which would revert to the parish. (fn. 209) A parish house was repaired by the wardens in 1697, probably the poor house in the churchyard mentioned in 1710, 1730, and 1766. (fn. 210) There was more than one house by 1772, and by 1825 there were several together, (fn. 211) which were subsequently transferred to the poor-law guardians and were sold by them in 1851 for conversion to a school. (fn. 212) The parish became part of Wells poor-law union in 1836, of Wells rural district in 1894, and of Mendip district in 1974. (fn. 213)
CHURCH
West Pennard was a chapelry of St. John's, Glastonbury, and was first mentioned c. 1200 when the revenues of both were appropriated to the abbey sacristy. (fn. 214) A dispute between the people of the chapelry and Abbot Nicholas Frome (d. 1455) over the repair of the chancel of the chapel resulted in the seizure of several tenements and the accumulation of debt by 1490. (fn. 215) The dispute was settled in 1528 by the archbishop of Canterbury, who acknowledged Pennard's dependent status but made the inhabitants of the chapelry responsible for the fabric of the chancel as well as of the rest of the chapel. (fn. 216) The chapelry was served by curates in the 16th century and later. (fn. 217) In the 1780s it was served for the vicar of St. John's, Glastonbury, by the vicar of Pilton. (fn. 218) Thomas Parfitt, vicar of St. John's 1812–47, continued to serve West Pennard until 1850 when a resident minister was appointed. (fn. 219) From 1954 the living was held with West Bradley and Lottisham in plurality, and from 1965 as a united benefice. From 1981 it was a curacy-in-charge held by the vicar of St. John's, Glastonbury, and from 1985 until 2001 was part of the team ministry known as the Abbey Five. (fn. 220)
Endowment
In 1539–40 the chaplain was being paid £6 13s. 4d. by the farmer of the rectory estate of West Pennard and West Bradley. (fn. 221) In 1614 the curate was said to have been paid 'time out of mind' £13 6s. 8d. from Glastonbury rectory estate. (fn. 222) A parliamentary grant made in 1824 and further endowments from Queen Anne's Bounty and the trustees of Mr. Marshall and Mrs. Pyncombe in 1829 produced in 1831 a gross income of £104 for a perpetual curacy, then held by the vicar of St. John's, Glastonbury. (fn. 223) In 1851 glebe produced £8, tithes £24, and unspecified land £57. (fn. 224) There were further augmentations in 1853 and 1873, (fn. 225) and in 1902 the gross value was £288 comprising a tithe rent charge of £24, glebe worth £42, and a grant of £222 from the Ecclesiastical Commissioners. (fn. 226) In 1907 the glebe comprised just over 2 a. in West Pennard, 17 a. in Meare, and 5 a. in Glastonbury. (fn. 227)
A house, withheld from the minister in 1586, (fn. 228) had been returned by 1614 and was then occupied by permission of the bishop, the owner of the rectory, and of the farmers of the rectory. (fn. 229) The house was several times voluntarily repaired by the parish in the later 17th century but in 1736 it was 'almost down'. (fn. 230) A house rented by the clergyman from 1849 was later bought by the family of another incumbent, T. P. Nunn, and on his death in 1901 was given to the parish. (fn. 231) The vicarage house was sold in 1982. (fn. 232)
Church Life
In 1548 there was an endowed light in the church. (fn. 233) In the later 16th century irregularities in the parish included wardens failing to provide a tabernacle and hanging pyx in 1557, a curate not wearing a surplice in 1568, and farmers or the owner of the rectory estate not paying for quarterly sermons. (fn. 234) By the later 18th century there were 'generally upwards of' 30 communicants. (fn. 235) In 1815 Thomas Parfitt served St. John's, Glastonbury, and its ancient chapels of St. Benignus's and West Pennard, and at Pennard preached and said prayers once each Sunday and celebrated communion four times a year. (fn. 236) By 1849 the resident clergyman held two Sunday services, each with sermon. (fn. 237) On Census Sunday 1851 attendances were 30 in the morning and 200 in the afternoon. (fn. 238) By 1873 communion was celebrated every Sunday. (fn. 239) A cottage at Steanbow was used in 1902 as a mission room. (fn. 240)
There was a church house in 1515. (fn. 241) In 1616 two houses stood on the edge of the churchyard, one the church house, the other the 'Marie' house. (fn. 242) The church house, thatched and with an upper chamber and loft occupied by the parish school, was regularly repaired by the parish in the 17th and 18th centuries (fn. 243) but may by the mid 18th century have been housing paupers. (fn. 244) It was last named in 1825, (fn. 245) was perhaps the vestry room in 1840, (fn. 246) and may have been incorporated in the school in 1854. (fn. 247)
Church Building
The chapel, later church, of St. Nicholas, so dedicated by 1210, (fn. 248) stands in a prominent position on the slope of Pennard Hill, its tall Perpendicular west tower commanding the steep approach from Church Street. The tower (with later short leaded spire), nave with aisles and south porch, and chancel were built of lias rubble and freestone in phases between c. 1420 and c. 1520. The earliest part is the south aisle, including the two central bays of the arcade, which has piers with simple moulded capitals and a plain panelled roof. The chancel may have been built then. The north aisle, narrower than the south and with a four-bay arcade, the clerestory, and the south porch were added in the early 16th century, when the chancel was rebuilt and the south aisle was rebuilt at the east end with a very wide bay. The south-east window was enlarged accordingly. The early 16th-century work is of high quality, especially the parapet of open quatrefoils and tablet flowers over the nave and chancel, the barrel-vaulted nave roof, and the panelled north aisle and chancel roofs. The former rood screen, which bears the insignia of Henry VIII and Katherine of Aragon, has been cut down and moved into the chancel arch. A fragment of the unrestored dado survives ex situ. The entrance to the rood stair, with original door, is now a passage which has been cut between the chancel and south aisle. A tomb recess may have been removed because of this (see the re-sited arch head in the south chancel wall). Finally the west tower was added. The west face and part of the south face are ashlar-faced, the former decorated with ogee niches and a band of angels. The lowest stage is vaulted internally. When the tower was built the north arcade respond was altered and a west bay, necessarily narrow, was added to the south arcade.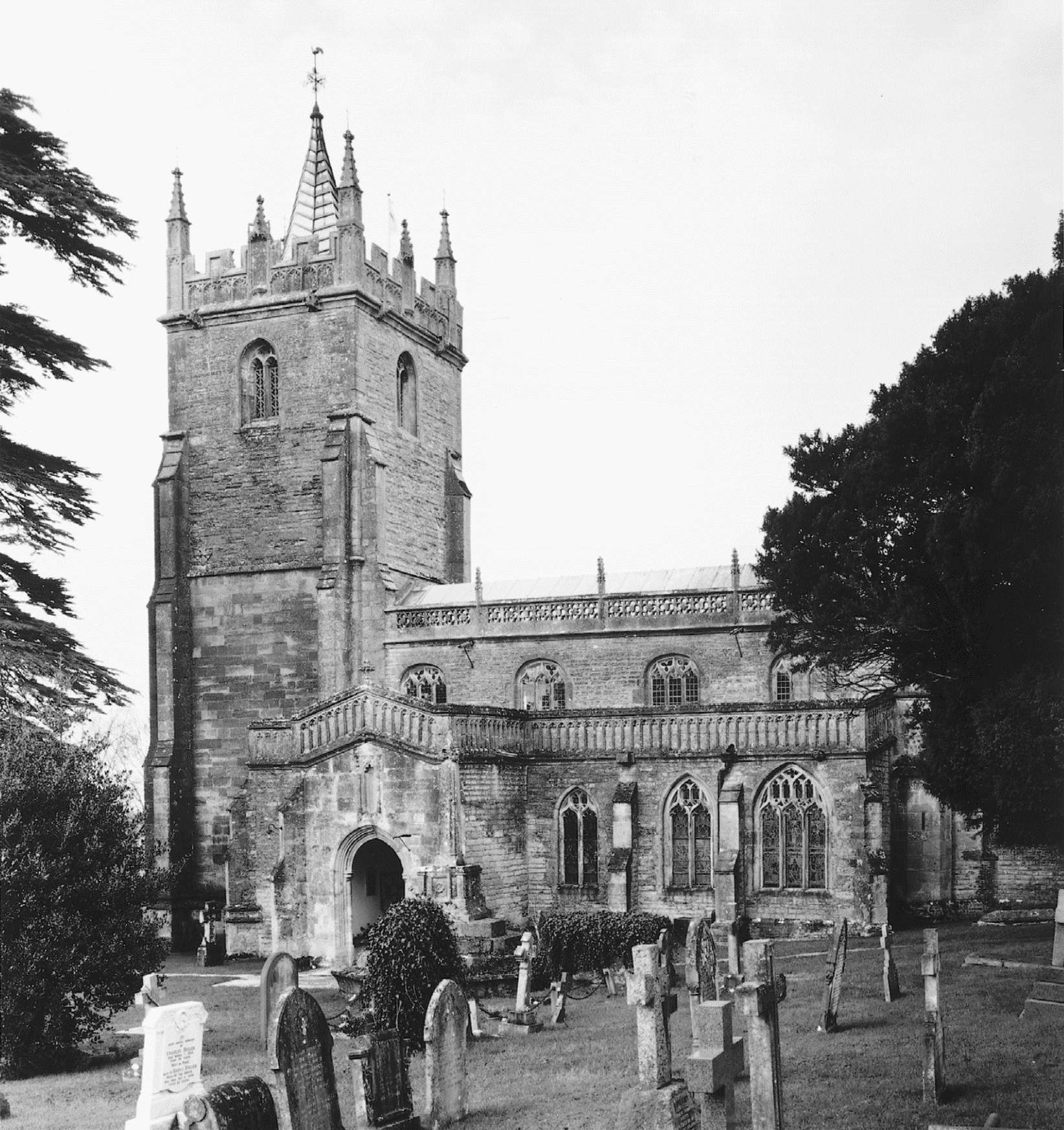 The 14th-century church included a Lady Chapel which had its own chaplain in 1377. (fn. 249) West and south doors are contemporary with the building. Most of the glass is of the mid 19th century, some by Mena of Paris. (fn. 250) There was a wainscotted singers' gallery in the 18th century. (fn. 251) The church was 'thoroughly' repaired and reseated in 1852–3 by J. C. Buckler. (fn. 252) The south face of the tower was adapted for use as a fives wall before 1749. (fn. 253) The cross in the churchyard bears traces of the initials of Abbot Richard Bere (abbot 1493–1525), its plinth carrying finely carved emblems of the Crucifixion. (fn. 254)
There are six bells, four of the early 17th century by Robert Wiseman, Robert Purdue, and an unknown maker, one of 1674 by Thomas Purdue, and a treble added in 1879 by Llewellin and James. (fn. 255) The plate includes a domestic cup and tankard of the early 17th century given in 1719 and a paten of 1711 by 'B.A.' (fn. 256) The registers begin in 1538 and are complete. (fn. 257)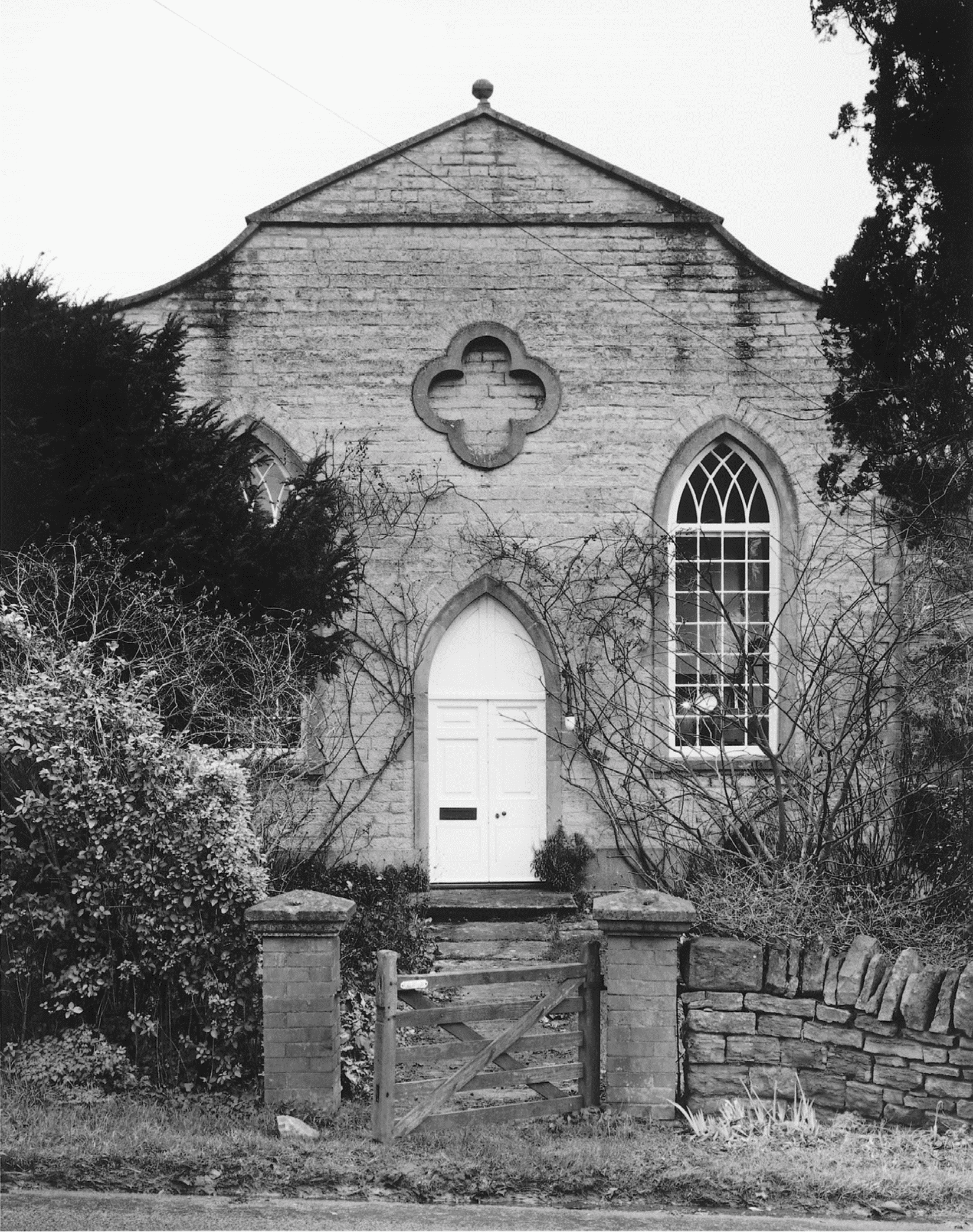 NONCONFORMITY
Conventicles were reported in 1673. (fn. 258) A house was licensed for worship in 1691 and a second house in 1789, the latter adjoining the King's Arms inn. (fn. 259) Wesleyan Methodists built a chapel in 1803. A new one, at Piltown, was licensed in 1847. On Census Sunday 1851 there were 60 adults and 20 children at the morning service and 100 adults and 10 children in the evening. (fn. 260) The chapel was closed in 1964 (fn. 261) and in 1998 was a private dwelling. Bible Christians built a chapel in 1810, (fn. 262) but several licences granted for the use of private houses for worship in 1817, 1825, 1830, and 1849–50 may also have been connected with the same cause. (fn. 263) A new chapel in Newtown named Bethel was opened in 1851. Attendance on Census Sunday 1851 was 41 in the afternoon and 47 in the evening. (fn. 264) The chapel closed between 1891 and 1896 (fn. 265) but was reopened in 1903 and continued in use until after 1931. (fn. 266)
The Moravian schoolroom was registered for worship in 1860 and there was a resident minister until 1872. (fn. 267) Registration of the room was cancelled in 1876. (fn. 268)
EDUCATION
In 1673 a master was licensed to conduct an English school in the parish (fn. 269) and a schoolroom, evidently above the church house, was referred to between 1709 and 1736. (fn. 270) About ten boys were taught to read and write in a free school founded under the will of James Slade dated 1728. (fn. 271) By 1825 the income was paid out of Woodland farm to the master of a boarding school in the parish who taught reading, writing, and arithmetic. (fn. 272) A school, which in 1833 had 40 children, retained the endowment for the 10 boys; the rest of the children were taught at their parents' expense. (fn. 273) In 1839 the school took children of up to 15 years. (fn. 274) In 1851 and 1854 two sites behind the churchyard, the first perhaps containing the former church house, the second five cottages used as poor houses, were conveyed to the vicar and churchwardens for a National school. (fn. 275) In 1903 there were 92 children on the books. The Slade charity provided some endowment, but the pay of three of the four teachers had recently been almost halved. (fn. 276) The number of pupils fell until c. 1950, (fn. 277) the loss of seniors from 1931 being compensated for by the closure of the Wesleyan school in the parish. (fn. 278) From the 1950s, when it adopted voluntary controlled status, the school began to grow with the closure of neighbouring schools. In 1996 there were 212 children on register. (fn. 279) The Slade charity ceased in 1991. (fn. 280)
In 1819 a Sunday school with c. 50 children was affiliated with the diocesan school in Wells. (fn. 281) In 1833 it had 114 children and was supported by voluntary contributions. (fn. 282) In 1839 it had 100 pupils and seven teachers of whom two were paid. (fn. 283) In 1847 it still had 100 children. (fn. 284)
Dissenters opened a Sunday school in 1832 which in the following year had 30 children. (fn. 285) There were 20 children in the Wesleyan Sunday school in 1839. (fn. 286) In 1860 a day school was opened at the Moravian Mission (fn. 287) for the better class of children excluded from the parish school for attending the Moravian Sunday school. Later it took 40 or more poor children, but was forced to close for financial reasons in 1872. (fn. 288) By 1861 there was a school at Pennard Green. (fn. 289)
In 1878 a day school was opened at Piltown by Wesleyans Methodists. In 1903 there were 108 pupils with an underpaid staff of two. (fn. 290) In 1905 average attendance was 40. By 1931 it had fallen to 19 and the school then closed. (fn. 291)
A private school was held at Cumberland House in 1881. (fn. 292)
CHARITIES FOR THE POOR
A rent charge of 20s. on land in Baltonsborough given under the will of Robert Coward dated 1576 was paid to individuals between 1663 and 1718 and the income from other gifts seems to have been paid to the account of the overseers by the churchwardens at the beginning of the 18th century. (fn. 293) In 1786 charities with capital totalling £30 10s. and dating from 1658 were mostly in the hands of the churchwardens and overseers. In 1818 the capital was increased by the sale of a house and land, (fn. 294) and by 1836 the capital amounted to c. £260. (fn. 295) By 1820, however, the income had been consolidated and was administered as a separate fund for the second poor by the overseers, who paid out in response to petitions from those in need. (fn. 296) No such charities survive.
By will of 1844 James Burgess Whiting devised an annual sum of £10 to 'the most deserving poor', the sum to be increased by a gift of land on the death of his sister. (fn. 297) No further trace of the charity has been found. By will proved 1893 Lucy Ann, Marquise de Salvo, devised £1,000, the interest to be given on 10 January each year to the poor. In 1995 the charity was administered by the vicar of Glastonbury; it ceased to be registered in 2000 because the funds had been spent. (fn. 298)