Pages 14-20
A History of the County of Stafford: Volume 17, Offlow Hundred (Part). Originally published by Victoria County History, London, 1976.
This free content was digitised by double rekeying. All rights reserved.
MANORS.
In 1086 William fitz Ansculf, lord of Dudley, held three hides in BROMWICH; before the Conquest the land had been held by Brictuin. (fn. 1) The overlordship descended with the Dudley barony until the death without issue of John, Lord Somery, in 1322. (fn. 2) The barony was divided between his sisters in 1323, one knight's fee in West Bromwich being assigned to his younger sister Joan Botetourt. (fn. 3) The overlordship then descended with Weoley Castle in Northfield (Worcs.) until at least 1560, when it was held by Thomas Jervoise. (fn. 4) Gervase Paynel, lord of Dudley, confirmed the foundation of Sandwell priory by his under-tenant in West Bromwich c. 1190, (fn. 5) and it was as overlord of West Bromwich that Edward, Lord Dudley, consented to Cardinal Wolsey's dissolution of the priory in 1525. (fn. 6) It was presumably in error that the overlordship was said in 1432 to belong to the Sutton or Dudley family, (fn. 7) to whom the other half of the Dudley barony had passed in 1323. (fn. 8)
The three hides were held of William fitz Ansculf in 1086 by Ralph. (fn. 9) About 1140 Bromwich was in the hands of Guy de Offini, (fn. 10) who was still alive c. 1155. (fn. 11) In 1166 his son William held it. (fn. 12) Although there is evidence that he was alive in 1213, (fn. 13) his son Richard had succeeded him by 1212. (fn. 14) Richard died in 1222 (fn. 15) and was succeeded by his brother William, (fn. 16) who himself died in 1224 with a son Richard, a minor, as his heir. (fn. 17) Still a minor in 1230, Richard was of age by 1242 (fn. 18) but was dead by 1255, and possibly by 1248. (fn. 19) Bromwich was divided between his two daughters, Sarah, the wife of Walter Devereux, and Margaret, by 1275 the wife of Richard de Marnham of Bromwich. (fn. 20)
By 1293 Sarah's half share had passed to her son Walter Devereux, who held it as ½ knight's fee. (fn. 21) Walter was still alive in 1304, (fn. 22) but in 1322 and 1323 the ½ fee was held by Stephen Devereux, (fn. 23) who was still alive in 1336. (fn. 24) In 1356 this half of the manor was in the hands of William Devereux, and it may subsequently have passed to a John Devereux. (fn. 25) In 1381 it was apparently held by Roger Basset, and it later passed to the Vernon family of Nether Haddon (Derb.). (fn. 26) Sir William Vernon held it at his death in 1467, and it then passed to his widow Margaret for life. (fn. 27) She was still alive in 1470, (fn. 28) but on her death the moiety passed to their son Sir Henry Vernon (d. 1515). (fn. 29) Sir Henry's sixth son, Sir John Vernon of Sudbury (Derb.), enjoyed a life interest in the moiety, and on his death in 1545 it passed to his nephew Sir George Vernon. (fn. 30) In 1560 Sir George sold his half of the manor to John Nall. (fn. 31) By 1566 it had been acquired by the Skeffington family of Fisherwick (in St. Michael's, Lichfield), who had owned other property in West Bromwich since 1520; it formed part of the marriage settlement of John Skeffington and his wife Alice in 1566. (fn. 32) In 1585 John included his share of the manor in the marriage settlement of his son William. (fn. 33) The subsequent history of this moiety of the manor is not known, but the rights belonging to it may have been lost as a result of William Skeffington's sales of land in West Bromwich in the late 1590s. (fn. 34)
The other half of the manor remained in the Marnham family until c. 1420. Richard de Marnham died between 1294 and 1296; his wife Margaret was still alive in 1298. (fn. 35) Their son Richard was holding this half share of the manor as ½ knight's fee in 1322 and 1323, (fn. 36) but he was dead by 1324. (fn. 37) A John de Marnham heads the tax roll for West Bromwich in 1327. (fn. 38) By 1329, however, William son of Richard de Marnham was lord of the moiety. (fn. 39) Still living in 1339, (fn. 40) he was dead by 1347 with a son John, a minor, as his heir. (fn. 41) John was still alive in 1397 (fn. 42) but was dead by c. 1420. (fn. 43)
John's heirs were Nicholl Thorley, grandson of his sister Margery, and William Freeman, son of his sister Isabel. About 1420 they were disputing the moiety, (fn. 44) but in 1424 William Freeman settled it on his daughter Alice, widow of William Frebody of Dudley. (fn. 45) Freeman was dead by 1426, (fn. 46) and the next year Alice made a settlement of what was described as the manor of West Bromwich. (fn. 47) Her son William Frebody held the manor at his death in 1437 and was succeeded by his son William, who was then aged ten (fn. 48) and was still living in 1502. (fn. 49) By 1515 the manor was held by the younger William's granddaughter Cecily, the daughter of his son Richard; she was the wife of John Stanley. (fn. 50)
Cecily died at West Bromwich in 1552 and was succeeded by her son Francis Stanley. (fn. 51) He died in 1558 leaving a son George as his heir. George was a minor, and in 1560 the overlord, Thomas Jervoise, granted his wardship and marriage to John Littleton. (fn. 52) George made a settlement of the manor in 1572, (fn. 53) but Francis Stanley's widow Winifred held it in 1574. (fn. 54) She was still holding the manor court in 1580 (fn. 55) and died in 1586 or 1587. (fn. 56) She was succeeded by her son Walter, who died in 1615. (fn. 57) His son William mortgaged the manor in 1622 to his cousin, Richard Shelton (knighted 1625), and Sir William Hewitt. (fn. 58)
In 1626 Sir Richard Shelton bought the manor with 1,599 a. (fn. 59) Sir Richard, a member of a prominent family of Birmingham merchants, was solicitorgeneral from 1625 until forced to resign in 1634. According to Clarendon he was dismissed because he was 'an old, useless, illiterate person'; more recently, however, it has been suggested that he may have made himself unacceptable to the government by expressing doubts about the legality of levying Ship Money in peacetime. He retired to West Bromwich where he died in 1647. (fn. 60) He left the manor to his sister Alice Lowe for life and then to his nephew John Shelton; it was conveyed to John by Alice and her husband Humphrey Lowe in 1648. (fn. 61) John died in 1665 and was succeeded by his son John, a minor, whose inheritance is said to have been wasted by his stepfather Dr. Walter Needham, the physician and anatomist. (fn. 62) John not only mortgaged the manor from 1681 but also sold several properties in West Bromwich in the early 18th century, and in 1713 the manor and estate were put up for sale under a Chancery decree. (fn. 63) John died in 1714, and his son Joseph inherited his embarrassments. (fn. 64) In 1715 the Sheltons were 'in very desperate circumstances and then absconding'; all or most of the demesne lands were 'neither set, mowed, nor grazed that year, but the product thereof rolled upon the ground'. (fn. 65) At a public meeting in 1716 it was resolved that the land-tax collectors and the parish officers should take legal advice how to collect the tax and rates due from Bromwich Hall and its demesne lands. (fn. 66) In 1720 the manor, with 1,596 a., was sold to Sir Samuel Clarke, a London merchant. (fn. 67)
Sir Samuel, who took an immediate interest in his new estate, (fn. 68) died in 1733. (fn. 69) He was succeeded by his son Samuel, whose wife, Mary Jervoise, was a descendant of the Jervoises who had held the overlordship in the 16th century. (fn. 70) Their son Jervoise succeeded on Samuel's death in 1767. (fn. 71) In 1777 he added Jervoise to the family name in compliance with the will of his maternal grandfather, Thomas Jervoise. (fn. 72) Jervoise Clarke Jervoise died in 1808 with his son Thomas as his heir. (fn. 73) The 3rd earl of Dartmouth was vainly trying to secure a lease of the manor at that time. (fn. 74) Thomas died mad in 1809, (fn. 75) and from 1822 or 1823 his property was sold under a Chancery order of 1819. The manorial rights with property worth some £580 a year were bought by the 4th earl of Dartmouth in 1823, and the manor then descended with Sandwell. (fn. 76)
There was a manor-house at West Bromwich by the early 1220s. (fn. 77) The oldest part of the present building, however, is the hall, which is thought to date from c. 1300, a time when the Marnhams had a house in West Bromwich. (fn. 78) It has two full bays and a short entry bay, marked by a spere truss, at the south end. (fn. 79) Presumably it originally extended further at each end to provide both service and private rooms, but they would have been removed in the earlier 15th century when the present cross wings were built. In the late 15th century a chapel, first referred to in 1552, (fn. 80) was added at the east end of the north cross wing. The west wall of the hall was rebuilt when the oriel was added at its north end in the 16th century, and the detached kitchen block to the south-west of the service wing is of about the same date. About 1600 a two-storeyed gatehouse range was built to the east of the hall and the service wing was extended to join it. The house occurs as Bromwich Hall in 1605, (fn. 81) and John Shelton was assessed for tax on 16 hearths there in 1666. (fn. 82)

On buying the hall in 1720 Sir Samuel Clarke immediately set about stocking the gardens with fruit, including grapes, nectarines, peaches, and figs. (fn. 83) Additions and alterations were made to the hall during the 18th century, (fn. 84) and in the 1790s it consisted 'of a large pile of irregular half-timbered building, black and white, and surrounded with numerous out-houses and lofty walls'. (fn. 85) In 1823 the hall, with a farm-house and 206 a., was sold to James Smith of the near-by Hall Green House. He died in 1829, and in 1845 the hall and 232 a. in West Bromwich were owned by his trustees. (fn. 86) In 1829 the hall was occupied by George Cooper, (fn. 87) but by 1836 three families were living there, including that of the assistant curate at All Saints'. (fn. 88) By the early 1880s the building had been converted into a number of tenements. (fn. 89) In 1950 the property, by then derelict, was bought by the corporation. After much controversy restoration was begun in 1957, and the additions of the 18th and 19th centuries were removed. In 1961 the building was opened as a restaurant by Ansells Brewery Ltd., the tenants of the corporation. (fn. 90)
The enclosing moat is probably contemporary with the hall. Most of it was filled in c. 1700, but the section in front of the gatehouse had been filled in earlier to make a forecourt.
SANDWELL presumably formed part of West Bromwich manor until William son of Guy de Offini founded a Benedictine priory c. 1190 on the site of a hermitage near the spring from which the area takes its name. The endowment included all the land around the hermitage, apparently a substantial block of property in the east of the parish adjacent to the Handsworth boundary. William also gave the priory some of his villein tenants in West Bromwich with their lands, rents, suits, and services. (fn. 91) The monks exercised a manorial jurisdiction over the estate. (fn. 92)
Sandwell priory was suppressed in 1525, and its property was granted to Cardinal Wolsey's college at Oxford; in 1530 on Wolsey's fall the property reverted to the Crown. (fn. 93) In 1531 the Crown conveyed to Dame Lucy Clifford various properties including what was called the manor of Sandwell. The grant was made in exchange for her share of a pension given by the Crown in 1339 to Sir Thomas de Bradeston in fee. Lucy's share of the pension had been settled on her at her first marriage to Sir John Cutte (d. 1528) of Horham Hall in Thaxted (Essex), by her aunt Elizabeth, Lady Scrope of Upsall, a daughter and heir of Isabel, marchioness of Montagu. Lucy died in 1557 and Sandwell passed to her grandson John Cutte. (fn. 94) In 1569 he sold the manor and lands formerly belonging to Sandwell priory to Robert Whorwood, a London mercer and a younger son of John Whorwood of Compton in Kinver. (fn. 95) Sandwell then descended in that branch of the Whorwood family, passing in 1590 to Robert's son William (knighted 1604), in 1614 to his grandson Thomas (knighted 1624), and in 1634 to his greatgrandson Brome. (fn. 96) Brome's property was sequestrated by the Parliamentarians because of his royalist sympathies. In 1648, however, he compounded for his lands, stating that the annual value of the Sandwell estate, including property in Handsworth and Barr, was £330 'before these times'. (fn. 97) He died in 1684 leaving no legitimate son, and Sandwell passed to his nephew Thomas Brome Whorwood. (fn. 98) Thomas mortgaged the estate several times between 1685 and 1697 for increasingly large sums (fn. 99) and finally in 1701 sold it to William, Baron Dartmouth (created earl of Dartmouth in 1711). (fn. 100) Sandwell remained with the Dartmouths, and in 1823 the 4th earl (d. 1853) became lord of West Bromwich manor also; (fn. 101) in 1845 he owned 2,012 a. in West Bromwich. (fn. 102) He moved to Patshull in 1853, (fn. 103) and in the later 19th century the southwestern part of Sandwell Park was developed as a residential area. (fn. 104) The corporation bought 1,367 a. from the 7th earl in 1947 mainly in order to preserve Sandwell as open country, (fn. 105) and in 1968 the 9th earl owned no land in West Bromwich. (fn. 106)
The priory was ruinous at the time of its dissolution. (fn. 107) The 'priory house', however, was occupied successively by Humphrey Justice, Roger Green, and William Wyrley; Wyrley, farmer of the rectory by the dissolution, ceased to hold both house and rectory c. 1567. (fn. 108) Robert Whorwood lived at the house after acquiring the manor in 1569 and died at Sandwell in 1590. (fn. 109) His son William lived there, describing his house as Sandwell Hall in 1611. (fn. 110) After his death in 1614 the family normally lived at Holton (Oxon.), (fn. 111) but Brome Whorwood was evidently living at Sandwell in 1654 while he was sheriff. (fn. 112) He seems to have let the hall to Henry Freeth by 1659; Freeth was taxable on seven hearths in West Bromwich in 1666. (fn. 113) In 1697 Thomas Brome Whorwood gave Freeth a 21-year lease of part of the hall but reserved the house 'from the kitchen upwards', the garden adjoining the great parlour, the court before the house, two new stables adjoining the great barn, and housing in any of the barns for coach or coaches; he also reserved the right to build additions to the hall. (fn. 114) When Freeth died in May 1705 (fn. 115) he was occupying the 'dwelling house', the 'dayhouse', the 'little dayhouse', and three chambers over the 'house', pantry, and entry; the cellars, pantry, brew-house, malt-rooms, cheese chamber, and cockloft; and the coach-house with the chamber over it. (fn. 116) In July two brothers were tenants at the hall, but by August the elder had left. (fn. 117)
Meanwhile Dartmouth had purchased Sandwell and decided to make it his Staffordshire seat. In 1703 William Smith of Tettenhall, the leading master-builder in the West Midlands, was engaged to 'mend the old house'. (fn. 118) The work, however, apparently turned into a thorough rebuilding. Smith's first contract, upon which he was working in 1704, included the reflooring and reroofing of part of the existing house as well as some new work. (fn. 119) Subsequently the remainder of the old building was pulled down, and in July 1705 the foundations of a new building were laid, evidently on the site of the old one. (fn. 120) It was then estimated that the work contracted for would take another five years. (fn. 121) Work was still in progress in the summer of 1708, by which time Smith had been paid over £1,750. (fn. 122) It was probably completed in or shortly after 1711: in May of that year all the offices were said to be finished and the foundations laid for the stables. (fn. 123)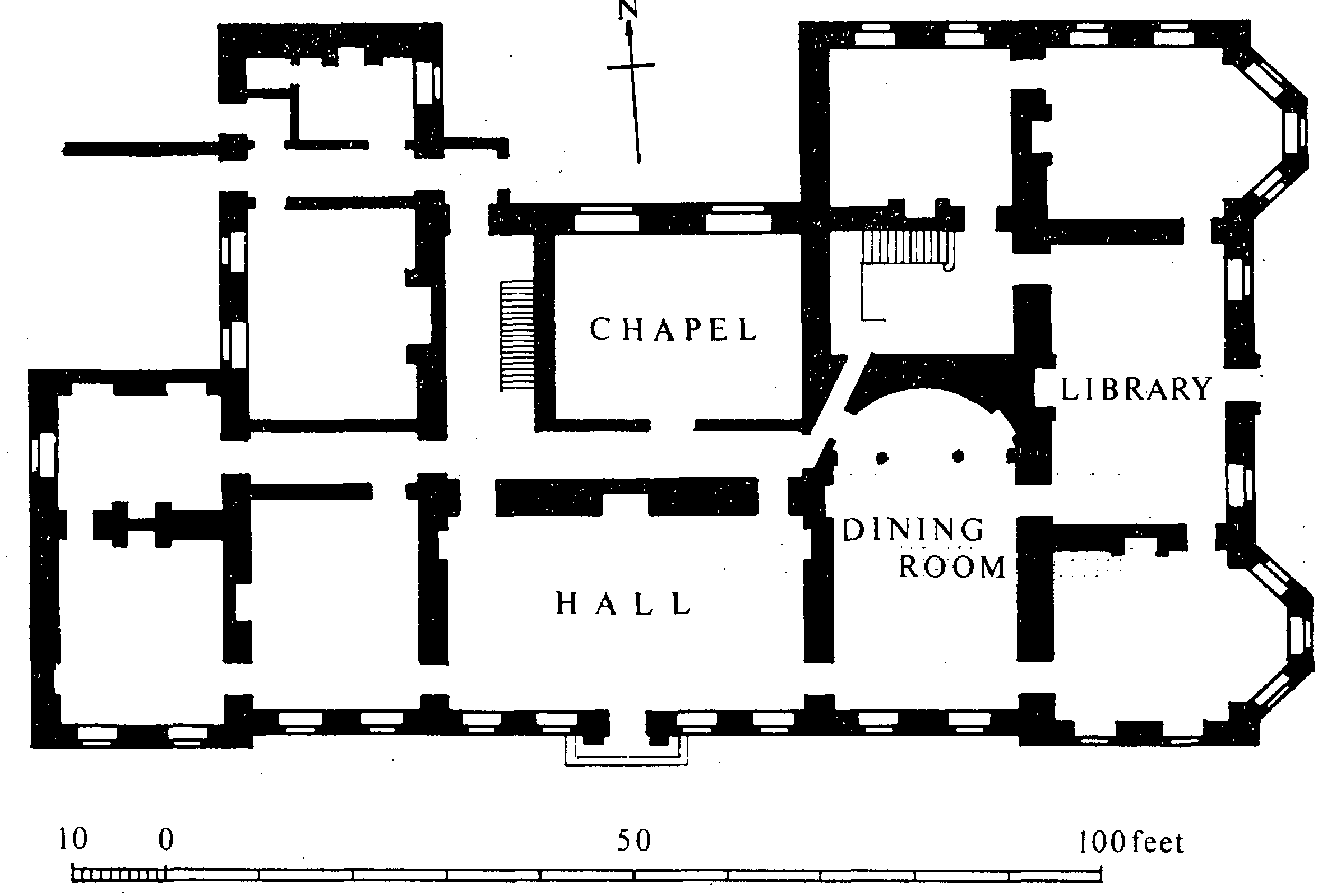 The result of Smith's work was a new brick-built hall which he evidently designed himself. (fn. 124) There were, however, some survivals from earlier periods. Fragments of the priory buildings remained 'in the back part and offices'; part of a two-storeyed 14thcentury building was discovered in 1928. (fn. 125) A plan of c. 1770 (fn. 126) suggests that Smith's work may in part have followed the layout of the earlier house, which probably had three ranges surrounding a court open to the north; that arrangement presumably dated from the late 16th century. It seems that Smith rebuilt the east wing and extended it to include two parallel ranges of rooms. The new central range was also two rooms deep and contained the hall and chapel. The west wing followed the line of the earlier building, with an extension at the south-west corner. In the earlier 18th century the house had at least 66 rooms. (fn. 127) Views dating from the late 18th century show symmetrical fronts on the south and east. There were two full storeys and an attic floor lit by dormer windows behind a balustrade. On the south-west, south-east, and north-east corners there were three-storeyed towers with hipped roofs. Twostoreyed window bays, facing east and surmounted by balustrades, projected from the two eastern towers. (fn. 128) The upper storeys of all three towers had probably been added in the mid 18th century; it seems that Smith's south front had twin gables. (fn. 129) By the end of the century the house had been 'neatly stuccoed white'. (fn. 130) The spring of Sandwell was close to the south front. (fn. 131)
Sandwell was the favourite residence of the 2nd earl of Dartmouth (succeeded 1750, d. 1801). A park was laid out probably in the mid 18th century, and Dartmouth's 'cultivated lawns' were praised in verse in 1767. In 1769 Lady Dartmouth had a menagerie there; it included specimens of North American fauna sent by Dartmouth's well-wishers after the repeal of the Stamp Act in 1766. In 1798 five turkeys were stolen from it. (fn. 132) By the beginning of the 19th century the park was well timbered, especially with oaks, and there were pools to the north of the hall; 'a lofty park wall and rich phalanx of plantations on rising ground to the south' ensured seclusion from the 'manufacturing country'. (fn. 133) Such seclusion was valued: in 1806 Lord Dartmouth's agent bought some land near Sandwell at a high price in order to prevent building on it. (fn. 134)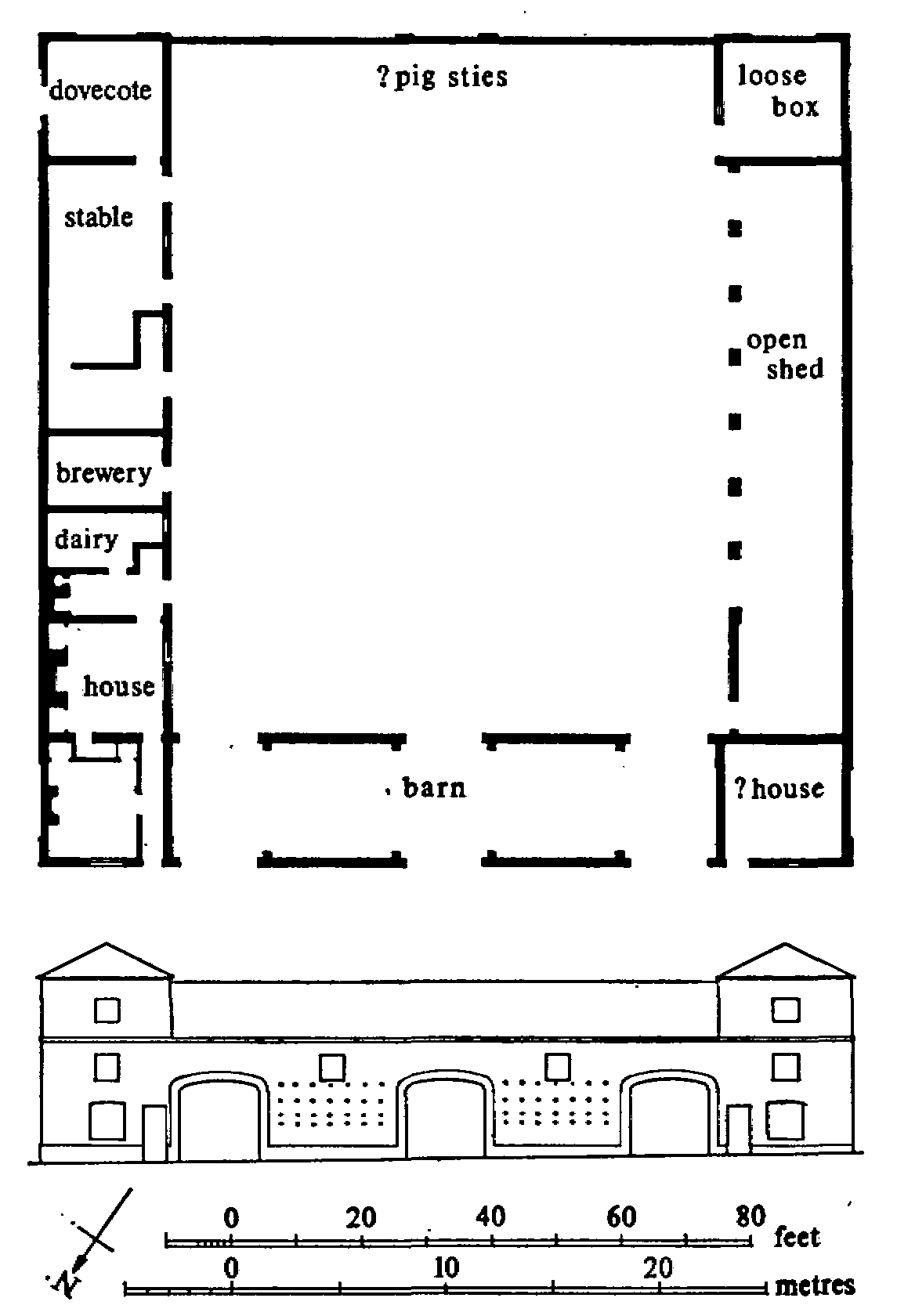 The hall was 'very much improved' c. 1805, (fn. 135) and by 1821 a portico had been added. (fn. 136) Yet when Lord Hatherton visited Sandwell in 1845 he found it 'a dull house in a very dull situation'; his room, indeed the whole house, was 'very dignified and dingy'. (fn. 137) In 1830 the 4th earl of Dartmouth was said to be planning 'a new mansion on a more elevated site'. (fn. 138) The house was in fact extended on the west side c. 1840. (fn. 139) Dartmouth, however, lived for some time at his Yorkshire seat, Woodsome Hall in Almondbury (Yorks. W.R.), and in 1848 he bought Patshull Hall on the Shropshire border. His heir, Viscount Lewisham, went to live there. Lord Dartmouth's own move to Patshull in 1853 may have been due in part to the deficiencies of Sandwell Hall, but the main cause was probably the rapid industrial development of West Bromwich; also his wife had died in 1849. (fn. 140)
After Dartmouth left, the hall was let for a time to G. F. Muntz, the metal manufacturer and political reformer. (fn. 141) Muntz, however, soon moved to Umberslade Hall in Tanworth (Warws.), (fn. 142) and Sandwell Hall then stood empty until 1857 when the 5th earl (d. 1891) gave it for use during his lifetime as an Anglican educational institution. (fn. 143) It was a lunatic asylum from 1897 to 1906, then a school for mental defectives, (fn. 144) and in the 1920s a boys' Borstal. (fn. 145) It was finally left empty and was demolished in 1928. (fn. 146) A fragment of the medieval building was then uncovered and left standing, (fn. 147) but little of it now remains.
Sandwell Park Farm, about a third of a mile north-west of the site of the hall on the opposite side of the former lake, (fn. 148) is an 18th-century rectangular planned farm of red brick. The symmetrical elevations with their corner towers are reminiscent of Sandwell Hall. The accommodation, which besides the disused farm-house includes a large barn, stables, a granary, and a long open shed, presumably for carts, suggests that the buildings were designed to serve a largely arable farm. There are additional cart-sheds on the west and kitchen gardens to the east.