Pages 202-209
A History of the County of Stafford: Volume 7, Leek and the Moorlands. Originally published by Victoria County History, London, 1996.
This free content was digitised by double rekeying. All rights reserved.
LONGSDON
Longsdon was formerly a township in Leek parish 2,708 a. (1,096 ha.) in area and later part of a civil parish which included Endon and Stanley until 1894. That year Longsdon became a separate civil parish. (fn. 1) The area is mostly pasture, but there is suburban housing in the east along the road to Leek. The boundary followed in part the river Churnet and Endon and Horton brooks on the east, south, and west respectively. A boundary change in 1934 transferred 580 a. in the east to Leek urban district and so reduced Longsdon civil parish to its present 2,128 a. (861 ha.). (fn. 2) This article deals with the former township.
The land lies at c. 450 ft. (137 m.) beside Endon brook and c. 490 ft. (149 m.) beside the Churnet and Horton brook. It rises towards the north, reaching 779 ft. (237 m.) at Little Longsdon on top of the long hill (dun) from which Longsdon takes its name. At its south end the hill forms a ridge called Ladderedge by the earlier 16th century. (fn. 3) The underlying rock is sandstone of the Millstone Grit series. It is overlain by Boulder Clay, and there is alluvium along Endon brook. The soil is fine loam, except for an area of coarse loam in the south-east corner of the township at Wall Grange. (fn. 4)
Twenty-eight people in Longsdon were assessed for hearth tax in 1666. (fn. 5) The population was 350 in 1821, rising to 428 by 1851. (fn. 6) From 530 in 1901 it rose to 650 in 1911, 715 in 1921, and 903 in 1931. The population of the reduced civil parish was 691 in 1951, 639 in 1961, 588 in 1971, 581 in 1981, and 565 in 1991. (fn. 7)
Two farmhouses, Great Longsdon and Little Longsdon, on top of Longsdon hill are probably successors of a settlement called Over Longsdon in 1278. (fn. 8) Harracles Hall, an 18th-century house at the north end of the hill, stands on a site occupied probably by the later 13th century. The name incorporates words meaning hoar (har) and land added to an estate (ecels). (fn. 9) Rowley Gate Farm south of Harracles probably stands on or near land called 'Throwleyate' in 1515. The present house is mainly of the later 17th century and has a porch with a doorhead bearing the name Anne Hulme and the date 1686, now illegible. (fn. 10) Lyme House, under the brow of the hill west of Rowley Gate Farm, was possibly an inhabited site by 1414 when John of Lyme had a house in Longsdon. There was certainly a house there by 1515. (fn. 11) Bradshaw Farm to the south stands on a site occupied probably by the later 14th century. (fn. 12) Longsdon pool on the hill east of Bradshaw Farm may have been created in the later 16th century when a stream was diverted from 'Lyme well' to power Harracles mill on the Horton side of the boundary. (fn. 13) The pool certainly existed by 1775. (fn. 14)
A settlement called Nether Longsdon in 1278 and Dunwood in the early 17th century lay on the west side of Longsdon hill, south of Bradshaw Farm. (fn. 15) The oldest surviving house there is Dunwood House Farm, which has a brick front with the date 1678 and the initials BE, presumably those of Benjamin Endon (d. 1699). (fn. 16) Dunwood Farm is of the 18th century, and Dunwood House of the mid 19th century. On a promontory to the south-east stands Stonelowe Hall, a mainly 17th-century house on a site occupied probably by the early 13th century. (fn. 17)
The road south from Dunwood hamlet forks at Taylor's Green, mentioned in 1482. (fn. 18) The western branch runs to the Leek road past Upper Dales, formerly a cottage but rebuilt in the mid 1980s as a house in 17th-century style. (fn. 19) The name is presumably taken from the Dale family, which had a house in the area in the early 18th century. (fn. 20) Another Dunwood House, to the south-west, was called New House in 1736. (fn. 21) It was rebuilt in the mid 19th century, possibly for Thomas Crompton, who lived there in 1861. (fn. 22) Trees Farm at the junction with the Leek road is of the early 19th century. The eastern road from Taylor's Green meets the Leek road at Bryan's Hay, where there was a cottage in 1611. (fn. 23) A farmhouse there is partly of the 17th century. From Bryan's Hay the Leek road formerly ran south-east to Bank End, where there is another 17th-century farmhouse. Dunwood Lodge Farm on the north side of the Leek road west of Bryan's Hay is of the 18th century. It was bought in 1870 by Thomas Hulme of Bank House in Endon, who built Dunwood Hall next to the farmhouse in 1871. Designed by Robert Scrivener of Hanley, Dunwood Hall retains its original features, including a central hall paved with Minton tiles. (fn. 24)
There was an estate by the early 13th century at Wall on the township's eastern boundary. It was then owned by Trentham priory, which established a grange there. (fn. 25) Wall probably takes its name from the Old English word for a well or spring. (fn. 26) A spring, called Coena's well in the 1870s, (fn. 27) still feeds a pool between the river and the Caldon canal, south-west of Wall Grange Farm. A meadow there was called Signe Walles in 1627. The name 'signe' may be a corruption of St. Agnes or St. Ann: in 1849 the well was called St. Ann's, Senus, or Sinners Well. (fn. 28)
In the south part of the township Endon brook is crossed at Denford, recorded in 1341 as Derneford. (fn. 29) The word means a hidden or secret ford, presumably in contrast to a more open or accessible ford nearby. (fn. 30) There was a bridge at Denford by 1529. (fn. 31) Keghton ford, mentioned in 1438, may have been to the east where Horse bridge existed by 1603. (fn. 32) The Ladderedge area to the north was settled after the common waste there was inclosed in 1815. The New inn at the junction of the Leek road and Denford Road had been opened by 1817, (fn. 33) and the Wheel inn to the north-east at the junction with Sutherland Road was opened c. 1850 as the Waterworks inn. (fn. 34) There are late 19th-century houses at the north end of Sutherland Road, which had by then become the main centre of Longsdon. By 1888 there was a post office, probably near the later St. Chad's church, its site in 1898. It was moved to its present site opposite the Wheel inn at the north end of Sutherland Road, probably when St. Chad's was built in 1905. (fn. 35) Houses and bungalows at the south end of Sutherland Road were built in the 1920s and 1930s. (fn. 36)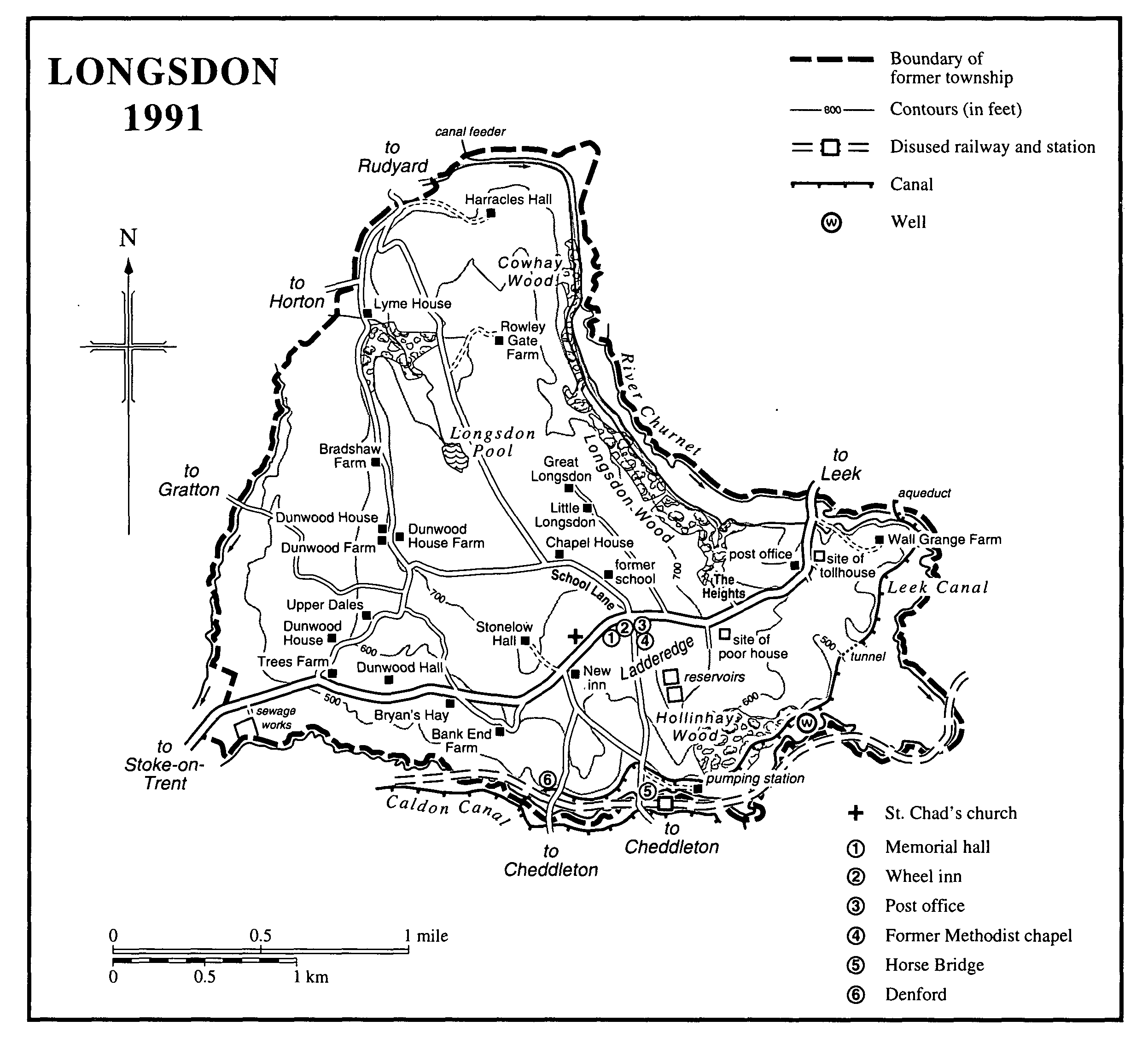 East of Longsdon village houses were built along the main road and in side roads from the 1920s, (fn. 37) and a post office for the area was opened in the 1930s. (fn. 38) An estate of 24 detached houses called the Heights was built in the late 1980s on the site of a brickworks.
The road between Newcastle-under-Lyme and Leek crossed the Churnet by a bridge at Wall, apparently first built in or soon after 1244. The road was turnpiked in 1765. (fn. 39) A tollgate was erected that year near the Longsdon end of the bridge; it had been removed by 1816 when a tollhouse there was sold. (fn. 40) The road was disturnpiked in 1879. (fn. 41) Two cast-iron mileposts of 1879 survive on the road, one near Dunwood Hall and the other 2 miles to the east. The present line of the road east of Bryan's Hay, bypassing the former route via Bank End, was constructed in the 1930s. (fn. 42)
A branch canal to Leek was opened from the Caldon canal west of Denford in 1801. It also linked the canal with a feeder from Rudyard Lake, in Horton. The Longsdon stretch of the branch was abandoned in 1961, with the main canal, but was reopened for leisure boats in 1974. (fn. 43) It was closed in 1980 for repairs to a tunnel south of Wall Grange Farm and reopened in 1985. (fn. 44)
A railway opened in 1867 from Stoke-uponTrent to the Churnet Valley line at Leekbrook south of Leek ran through the south side of Longsdon. A station called Wall Grange (later Wall Grange and Longsdon), just over the boundary in Cheddleton, was opened in or shortly before 1876 and closed in 1956. The railway continued in use as a mineral line until 1989. (fn. 45)
The Staffordshire Potteries Water Works Co. built a pumping station in 1849 at the south end of Ladderedge. The station pumped water from springs to a reservoir on the east side of Sutherland Road. (fn. 46) A second reservoir was built to the north as a replacement in 1963. The pumping station was closed in the 1980s, after new boreholes had been dug to supply water direct to the reservoir. (fn. 47)
Longsdon had a mains water supply from the later 1950s. (fn. 48) A sewage works in the west end of the parish initially served Endon. (fn. 49) Sewers for the Ladderedge area of Longsdon were laid in 1937. (fn. 50) A mains electricity supply was introduced from Leek in 1930. (fn. 51)
A lodge of the United Ancient Order of Druids met at the New inn from 1846. It still met there in 1876, when it had 103 members. (fn. 52) Longsdon Memorial Hall, on the Leek road west of the Wheel inn, is dated 1920. A Women's Institute was formed in 1926. (fn. 53) Longsdon Amateur Dramatic Society was established in 1945. (fn. 54)
MANORS AND OTHER ESTATES.
In the early 13th century LONGSDON was held with Rushton and Ipstones of the earl of Chester by Nicholas de Verdun. (fn. 55) The overlordship passed to the Crown with the earldom of Chester in 1237. (fn. 56)
In 1242-3 Nicholas's daughter and heir Rose (d. 1248), widow of Theobald Butler, held Longsdon with Rushton and half of Ipstones by service of providing a knight for the garrison of Chester castle for 40 days. (fn. 57) Rose's son and heir John de Verdun held Longsdon in 1274, and as Over Longsdon it was recorded as part of the lordship of the Verduns and their successors until 1409. (fn. 58)
James de Audley held Longsdon in 1252. (fn. 59) The estate was by then in two parts, (fn. 60) called Over Longsdon and Nether Longsdon in 1278 and described as manors in 1316. (fn. 61) Over Longsdon at least descended with the Audleys' manor of Horton until 1400, (fn. 62) but the descent thereafter is not known. Over Longsdon probably centred on Great Longsdon and Little Longsdon farmhouses, and Nether Longsdon on Dunwood hamlet.
A house at Great Longsdon was owned by John Bateman in 1666, when it was assessed for tax on six hearths. (fn. 63) Bateman, who was still alive in 1680, was succeeded at Longsdon by his daughter Mary, wife of the Revd. Richard Jackson: their son, another Revd. Richard Jackson (d. 1782), devised the estate to Trinity College, Cambridge, to endow what came to be called the Jacksonian Professorship in Natural Philosophy. (fn. 64) The college sold the farm in 1919 to the tenant, John Knight. (fn. 65) In 1946 it was bought by William Heath (d. 1978), whose son Charles and his wife Elizabeth were the owners in 1991. (fn. 66) The farmhouse is mainly of the 19th century.
Little Longsdon was owned in 1816 by William Sneyd. (fn. 67) It was bought in 1851 by John Davenport of Westwood Hall, in Leek and Lowe, whose son George sold it in 1868 as part of the Westwood estate to John Robinson. (fn. 68) In the mid 1950s the Critchlow family bought the farm, and Mr. Harold Critchlow owned it in 1991. (fn. 69) The farmhouse is partly of the 17th century.
By the early 13th century Trentham priory owned an estate at Wall which was later known as WALL GRANGE. It had presumably been granted to the priory by one of the earls of Chester, who were patrons of the priory: (fn. 70) in the early 13th century Ranulph, earl of Chester, freed the priory from the service of a foot soldier (or possibly a messenger) which it owed him for its land at Wall. (fn. 71) The estate was enlarged in 1275 when Henry de Audley gave it Threapwood and land called Ametshaw (fn. 72) and in 1312 when William of Cocknage gave the priory a half virgate at Wall. (fn. 73) In 1293 the prior claimed to hold a manor court at Wall, and in 1339 Wall was described as a manor. (fn. 74) A grange was established, the name Wall Grange being in use by 1510 and possibly by 1439. (fn. 75)
Trentham priory was dissolved in 1537, and in 1538 Wall Grange was included in the grant of the priory's estates to Charles, duke of Suffolk. He sold them soon afterwards to Sir Thomas Pope, who in 1540 sold them to James Leveson of Wolverhampton. (fn. 76) Wall Grange then descended in the Leveson, later Leveson-Gower, family (fn. 77) until 1911 when it was sold to the tenant, Robert Bennison. (fn. 78) The owner in 1991 was Mr. S. G. Clowes.
By the late 15th century the estate was evidently leased to members of the local gentry, some of whom lived there. Hugh Egerton, apparently the lessee in 1484, was presumably the Hugh Egerton (d. 1505) who built his principal house at Wrinehill, in Madeley. (fn. 79) William Egerton seems to have been the lessee in 1509-10. (fn. 80) The tenant in 1537 was Lawrence Savage, younger son of Sir John Savage, lord of Rushton Spencer, and husband of Mary Egerton of Wall Grange, perhaps William's daughter. (fn. 81) Lawrence was living at Wall Grange in 1556, when Sir Richard Leveson granted Sir Ralph Egerton of Wrinehill and William Egerton of Fanton a 40-year lease from 1558. (fn. 82) Sir Ralph (d. 1596) was Hugh Egerton's great-grandson, and William was descended from the Egertons of Wrinehill. (fn. 83) William was living at Wall Grange in the later 1560s and died there, apparently in 1570. (fn. 84) His son Thomas in 1571 settled the lease on his son Timothy and Timothy's intended wife Margaret Aston. (fn. 85) Timothy, alive in 1578, died without issue, and by 1584 the estate was held by Margaret's second husband Edward (from 1603 Sir Edward) Tyrrel. (fn. 86) The lease was evidently renewed, and after Tyrrel's death in 1606 (fn. 87) the estate passed first to Timothy Egerton's cousin, Thomas Egerton of Adstock (Bucks.), and then to Thomas's son Timothy. In 1620 Timothy held 460 a. at Wall. (fn. 88) He died in 1628 and was presumably succeeded by his son Thomas, who was apparently living at Wall in 1638. Thomas died unmarried, probably in the 1640s, and his heir was his cousin, another Thomas Egerton. In 1649 the lessee was a Mrs. Egerton, presumably a widow. (fn. 89) The estate was later sequestrated, and in 1654 it was held by a parliamentarian, Col. Edward Downes, who was still living there in 1666. (fn. 90)
William Jolliffe of Leek acquired the lease in 1668 and was succeeded in 1669 by his son Thomas (d. 1693). (fn. 91) The lessee in 1694 was Simon Debank (d. 1701), followed by his widow Mary (d. 1709) and their son John (d. 1750). John's successor at Wall Grange was a younger son Simon, who remained the lessee until 1758. (fn. 92) He was replaced that year by Thomas Royles (or Royle), who died in 1790 and was succeeded by Vernon Royle (d. 1824). (fn. 93) Later lessees were Henry West (1825-55) and another Henry West, presumably his son (1859-91). (fn. 94)
The house at Wall Grange assessed for tax on eleven hearths in 1666 comprised a central range with cross wings. (fn. 95) The present house was built c. 1715 by John Debank. (fn. 96) Of ashlar, it has a double-pile plan, and the west front of five bays has tall windows.
An estate centred on BRADSHAW FARM existed by 1371 when Roger of Bradshaw issued a charter at Bradshaw. (fn. 97) By 1473 William Bradshaw held the estate, which passed to William Rode, possibly c. 1490 when Bradshaw granted Rode land in Rushton James. (fn. 98) Rode died c. 1517 and was succeeded at Bradshaw by his son John. (fn. 99) John, still alive in 1581, had been succeeded by 1586 by his son William, and William was succeeded in 1616 by his nephew John Rode. (fn. 100) John died in 1669, and the estate passed to his son Thomas (d. 1683), to Thomas's son John (d. 1698), to John's son James (d. by 1759), and to James's daughter Hannah. (fn. 101) Hannah, later the wife of John Davenport of Ball Haye, in Tittesworth, died childless in 1808. One third of the Bradshaw estate passed to William, Hannah, and Frances Astley, the children of Hannah Davenport's half-sister; one third to a servant, Susannah Mellor, for life, and then to her daughter Elizabeth Jones, Hannah's god-daughter; and the remaining third to John Davenport's great-nephew, John Davenport Rhodes Hulme, Hannah's godson. (fn. 102) By 1857 the farmhouse and 71 a. were owned by a Mr. Astley. (fn. 103) In 1991 the farm was owned by Mr. J. W. Heath. The present farmhouse is mainly of the late 18th century, but part of a 17th-century house survives on the west side, where there is a doorhead with the date 1623 and the initials of John Rode and his wife Mary.
An estate called HARRACLES was evidently held by Henry de Audley (d. 1276), lord of Horton: his widow Lucy held it as dower in 1279. (fn. 104) In the earlier 1470s Harracles was held by John Shaw, whose daughter Margaret, wife of John Wedgwood of Blackwood, in Horton, had succeeded by 1477. Margaret was still alive in 1490 and John in 1494; their heir was their son Richard. (fn. 105) He had died probably by 1526, leaving a son John, who was still alive in 1546. (fn. 106) John was succeeded apparently by 1556 by his son John, who died at Blackwood in 1572. (fn. 107) In 1559 John settled Harracles on his son, another John, a London draper who had been joint lord of Horton manor since 1554. (fn. 108) The younger John, who was living at Harracles by 1572, was succeeded in 1589 by his son John (d. 1658). The younger John's heir was his grandson William Wedgwood, who was succeeded in 1677 by his son John. (fn. 109) John died in 1757, leaving three daughters as his heirs, of whom Susannah, widow of John Fenton, survived until 1790. The estate then passed to Sir Brooke Boothby, Bt., the son of John's great-niece, Phoebe Hollins (d. 1788), and her husband Sir Brooke Boothby, Bt. (fn. 110) In 1791 Boothby sold what was by then called Harracles Hall farm to Thomas Mills, a Leek solicitor. (fn. 111) Mills was succeeded in 1802 by his son, another Thomas (d. 1821). (fn. 112) His heir at Harracles was Catherine Mills, his great-niece, who in 1821 married John Cave-Browne. In 1827 they sold the hall and 232 a. to John Davenport of Westwood Hall, in Leek and Lowe. (fn. 113) In 1868 his grandson George Davenport sold Harracles as part of the Westwood estate to John Robinson. (fn. 114) Harracles was again sold, probably in the early 20th century, to the Woolliscroft family, tenants by the early 19th century (fn. 115) and still the owners in 1991.
In 1666 William Wedgwood was assessed for tax on seven hearths at Harracles. (fn. 116) The present Harracles Hall, built in the early 18th century, is of brick with stone dressings. The north front of seven bays has a central pediment containing the Wedgwood family's arms, rusticated end pilasters, and a doorcase surmounted by a broken segmental pediment. (fn. 117) There are remains of walled gardens to the north and south, and extensive stone farm buildings survive to the west.
An estate centred on STONELOWE HALL probably existed in the early 13th century, when there is mention of Randle of Stanlowe. (fn. 118) In 1327 and 1333 William of Stanlowe headed lists of those assessed for tax in Endon and Longsdon, and he was alive in 1338. (fn. 119) The owner of the estate in 1434 was apparently Richard Sherard, (fn. 120) probably the ancestor of Richard Sherratt, who owned Stonelowe in the earlier 16th century. Sherratt's heir was his daugher John, the wife of Richard Bulkeley. (fn. 121) Thomas Bulkeley was living at Stonelowe in 1556 and his son Arthur in 1600. (fn. 122) Arthur's heir was his son John, who was succeeded in 1666 by his son Thomas (d. 1675). (fn. 123) Thomas's heir was his son John, who died in 1697. (fn. 124) John was succeeded by Thomas Bulkeley (d. 1736), and his heir may have been James Bulkeley (d. 1761). (fn. 125) In 1816 Henry Bulkeley owned an 89-a. farm at Stonelowe. (fn. 126) The owner in 1866 was probably Editha Pigot. (fn. 127) Dennis Fernyhough and his sister Gladys Fernyhough bought the 96-a. farm in 1952 and were still the owners in 1991. (fn. 128) The house, assessed for tax on five hearths in 1666 (fn. 129) and now called Stonelow Hall, is mainly of the 17th century. The façade, which includes mock crenellations, is probably the result of the restoration undertaken in 1866 by Editha Pigot, whose name is on the dated pediment over the main door.
ECONOMIC HISTORY.
Agriculture.
Trentham priory's estate at Wall included arable and meadow in the early 13th century: in 1257 four named fields and two named meadows there were said to be long established. In the 1250s the priory was apparently bringing more land at Wall into cultivation, and in 1291 it had 1 carucate of land there. (fn. 130)
The priory claimed that its land at Wall was tithe-free, and in 1257 Dieulacres abbey, the owner of the tithes of Longsdon as rector of Leek, agreed not to take small tithes or tithes of young animals there. The exemption, however, was restricted to land newly brought into cultivation, and Dieulacres insisted on still taking tithes from established arable and meadow. (fn. 131) The abbey evidently had a tithe barn on Longsdon moor. In 1560 the Crown granted the rectory to Sir Ralph Bagnall, who in 1562 sold the Longsdon tithes and tithe barn to John Wedgwood of Harracles. (fn. 132) The barn possibly stood at Little Longsdon, where there was a late 16th-century barn which incorporated re-used medieval cruck trusses and had been recased in stone. It was demolished in 1984. (fn. 133)
The common waste on Longsdon hill was inclosed in 1815 under an Act of 1808. It was then in two parts, Longsdon moor covering 310 a. and Ladderedge common 280 a. (fn. 134) Soon afterwards the land at Ladderedge, having been limed, was producing grain and turnips. (fn. 135)
Of the 547.4 ha. of farmland returned for the civil parish in 1988, grassland covered 492.7 ha. and there were 16.2 ha. of rough grazing. The farming was predominantly dairy and sheep, with 804 head of cattle and 555 sheep and lambs. Cereal and horticultural crops were grown on 10.6 ha. Of the 24 farms returned, 22 were under 50 ha. in size and two were between 50 and 99 ha. (fn. 136)
Woodland.
A wood called Dunwood in 1275 was worth 20s. a year in 1278. It was again mentioned in 1313, together with a wood at Harracles. (fn. 137) Threapwood, added to Trentham priory's estate at Wall in 1275, means disputed wood, presumably a reference to a conflict over ownership or pasture rights. (fn. 138) Hollinhay wood on the south-eastern slope of Ladderedge common covered 50 a. in the early 18th century, when there was also woodland called Soyle wood along the Churnet in the south-east corner of the township. (fn. 139) The woodland returned for the civil parish in 1988 covered 21.7 ha. (fn. 140)
Chase and warren.
In the early 13th century the earl of Chester had a chase at Hollinhay, in the area of the later Hollinhay wood. Its fence was maintained by men from estates in the earl's fee of Leek. (fn. 141) The area was presumably included in a grant of free warren in 1252 to James de Audley as lord of Longsdon. (fn. 142) In 1251 Trentham priory was granted free warren at Wall, where in the early 18th century there were closes around Wall Grange Farm whose names indicate the existence of a former rabbit warren. (fn. 143)
Mill.
There was a mill at Longsdon in 1325. (fn. 144) Its site is unknown.
Industry.
Timothy Cooke of Leek was presented in 1604 for carrying away stone from Ladderedge and similarly Thomas Brindley of Leek in 1638. (fn. 145) Brindley may have been related to Lawrence Brundley, recorded as a mason in Longsdon in 1659 and as a stone worker at his death in 1664. (fn. 146) There were several quarries in the early 19th century, notably at Ladderedge, where one was still worked in the late 1890s. (fn. 147)
There were brick kilns at Ladderedge in the early 19th century, some of them evidently on the east side of the common where by 1832 there was a cluster of houses called Brick Bank. (fn. 148) John Alcock and his son John worked as brickmakers there in 1834, and the younger John was making bricks in 1841 with two other members of his family, Peter and Thomas Alcock. Richard and Thomas Hargreaves also worked as brickmakers at Ladderedge in 1841. (fn. 149) William and Solomon Alcock built a brickworks there shortly before 1863, presumably on the site of the works recorded at Brick Bank in the late 1870s. (fn. 150) William and his son John still worked as brickmakers at Longsdon in 1881. The Brick Bank works survived in 1898 but was apparently superseded soon afterwards by a larger works, in existence by 1892, just over the Cheddleton boundary south of Horse Bridge. (fn. 151)
Limekilns recorded at Denford in 1816 were probably worked by the Caldon Lime Co. The kilns were no longer worked in the late 1890s. (fn. 152)
Local Government.
Longsdon had its own court in 1278. (fn. 153) By 1351, however, Longsdon was subject to the Audleys' court at Horton and sent a frankpledge to the twiceyearly view there. (fn. 154) It was still part of Horton manor in 1795. (fn. 155)
In 1293 the prior of Trentham claimed to hold a court at Wall. (fn. 156) Although no records survive, the claim was probably justified: no matters relating to Wall occur in the records of either Horton or Leek manor court in the Middle Ages. Wall Grange, however, was in Horton constablewick in the later 17th century. (fn. 157)
The township was part of the Endon quarter of Leek parish, and in the 1660s its poor were relieved jointly with those of Endon and Stanley by the quarter's overseer. (fn. 158) The poor were still relieved jointly in 1834, but separate assessments for each township were made by 1750. (fn. 159) The township became part of Leek poor-law union in 1837. (fn. 160)
The township was responsible for its own roads by 1726. (fn. 161)
CHURCH.
People from Longsdon attended the church built at Endon c. 1720, and the township was added to Endon parish in 1865. (fn. 162) A mission church dedicated to St. James and used also as a school was opened from Endon in 1871. (fn. 163) It stood in School Lane at the south end of Longsdon hill on a site given by John Robinson of Westwood Hall, in Leek and Lowe; Dorothy Crompton of Dunwood House gave £500 as an endowment. The parishioners subscribed £10 a year to defray the cost of Sunday evening services. (fn. 164) The mission was transferred to the new parish of All Saints', Leek, in 1889. (fn. 165) In 1899 Robinson gave land off the Leek road for a burial ground and redeemed the mortgage on a house which had been bought for a curate. In 1901 he gave land adjoining the burial ground as the site for a new church, which was opened in 1905. At the same time the house was enlarged and a parish room added to it. The provision of church, burial ground, house, and parish room was described as 'one of the most complete gifts that the diocese of Lichfield has ever known'. (fn. 166) A parish was created in 1906. (fn. 167) The patronage of the vicarage was vested in John Robinson's three sons, with reversion to the bishop after the last of them had died. The bishop first exercised the patronage in 1938. (fn. 168)
The church of ST. CHAD, of rough ashlar and designed in a 14th-century style by Gerald Horsley, (fn. 169) consists of a chancel with a north vestry and an organ chamber, a nave of three bays, a north aisle, a baptistery under a west tower, and a south porch. The tower has a broach spire. The fittings are in the Arts and Crafts style and include metal chancel gates and foliated brackets on the organ case. Altar coverings include three frontals, one of them designed by Horsley and all worked by the wife of the first vicar, S. P. Warren. (fn. 170) The west window has stained glass in memory of members of the Warren family, made in 1986 by John Hardman Studios of Birmingham.
NONCONFORMITY.
In 1695 a house at Dunwood was registered for protestant worship, possibly by Presbyterians, who were then strong in Leek. The house was owned by Thomas Bulkeley, probably the man of that name who was heir to the Stonelowe Hall estate. (fn. 171)
John Whittaker (or Whittakers) of Rowley Gate Farm was recorded as a Quaker in 1704. He may have been the man of that name who lived at Gratton, in Horton, in 1685. Whittaker's house at Rowley Gate was registered for worship by Quakers in 1713. (fn. 172)
A house at Ladderedge was used in 1821 for preaching by Wesleyan Methodists, and by 1825 a society had been formed there. (fn. 173) In 1851 a chapel was opened in School Lane on the site occupied by Chapel House in 1991. (fn. 174) The chapel was replaced in 1887 by a larger one at the north end of Sutherland Road. (fn. 175) That chapel was closed in or shortly before 1980 and converted into a private house.
Hugh Bourne, the founder of Primitive Methodism, registered a house for worship at Denford in 1806, when still a Wesleyan. He later registered three houses in Longsdon as a Primitive Methodist: Joseph Corbishley's at Taylor's Green in 1815, Joseph Armett's at Dunwood in 1817, and John Alcock's at Ladderedge in 1818. (fn. 176) A Sunday service was held by Primitive Methodists at Dunwood in 1874. The meeting place is not known, and the service was no longer held by 1879. (fn. 177)
EDUCATION.
There was a schoolhouse at Dunwood c. 1807. (fn. 178) In 1841 a schoolmistress lived at Dunwood and a schoolmaster near Great or Little Longsdon. In 1861 a schoolmistress lived at Ladderedge, as did another in 1871. (fn. 179) The Anglican mission church opened in School Lane in 1871 was also used as a day school, and there were c. 40 children on the books in 1876. A master's house was built next to the school in 1882. (fn. 180) Enlarged in 1884, 1890, and 1893, the school-church was used solely as a school after the opening of St. Chad's church in 1905. (fn. 181)
The decision in 1930 that Longsdon Church of England school, then an all-age school with 80 children on its books, should become a junior school took effect in 1939, the senior children being transferred to Endon. (fn. 182) Longsdon school took controlled status, apparently in 1954, as St. James C. E. (Controlled) primary school. It was closed in 1981. (fn. 183)
CHARITY FOR THE POOR.
By will proved 1899 Joseph Corbishley gave the interest on £50 for distribution to poor people living at Ladderedge. In 1972 the income was being allowed to accumulate. (fn. 184)