Pages 210-216
A History of the County of Stafford: Volume 7, Leek and the Moorlands. Originally published by Victoria County History, London, 1996.
This free content was digitised by double rekeying. All rights reserved.
ONECOTE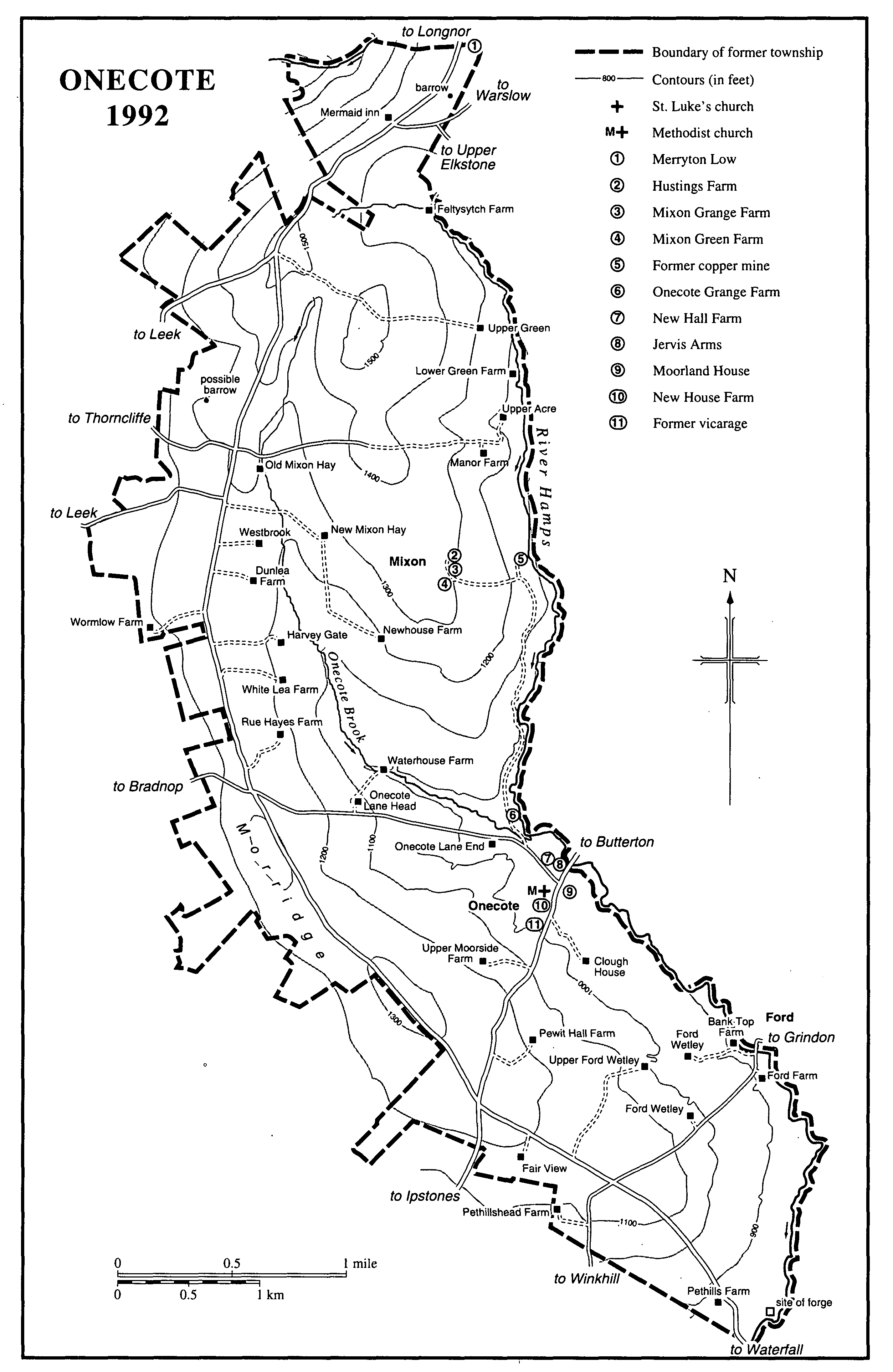 Onecote was formerly a township in Leek parish and later a civil parish 4,936 a. (1,998 ha.) in area. (fn. 1) It is pasture and shares with Bradnop the south end of Morridge, formerly an extensive area of waste. A small village stands on the east side of the township where the Ipstones-Butterton road crosses the river Hamps. The township's boundary followed the Hamps on the east and was marked in the north-east corner by a barrow called Merryton Low, a name meaning in Old English a barrow (hlaw) by a boundary lane (gemaere lone). (fn. 2) The irregular western boundary with Bradnop and Tittesworth townships probably reflected the division of pasture rights on Morridge. Boundary changes in 1934 transferred 880 a., mostly on the west side of the road running along the top of Morridge, to neighbouring civil parishes: 433 a. to Tittesworth, 417 a. to Bradnop, and 30 a. to Heathylee. At the same time 57 a. of Bradnop were added to Onecote in the south. The resulting area of Onecote civil parish was 4,114 a. (1,665 ha.). (fn. 3) This article deals with the former township.
The land lies at 804 ft. (245 m.) at the southern tip of the township, and Onecote village to the north stands at 920 ft. (280 m.). On top of Morridge south-west of the village the land lies at 1,224 ft. (373 m.), rising to 1,604 ft. (489 m.) on the northern boundary at Merryton Low. The underlying rock is mostly sandstone of the Millstone Grit series, with an area of Carboniferous Limestone rising to 1,356 ft. (413 m.) at Mixon north of Onecote village. The land is drained by Onecote brook, which joins the Hamps north of Onecote village. The soil on Morridge is clay and loam with some peat; at Mixon and around Onecote village it is more permeable. (fn. 4)
The population of Onecote township in 1811 was 464, rising to 585 by 1821. It was 456 in 1831, 438 in 1851, 392 in 1871, and 401 in 1891. Thereafter it fell steadily and was 389 in 1901, 364 in 1911, 337 in 1921, and 332 in 1931. The population of the reduced civil parish was 301 in 1951, 229 in 1961, 214 in 1971, 203 in 1981, and 247 in 1991. (fn. 5)
There is a Bronze Age barrow at Merryton Low, another a short distance to the south, and possibly one on the north-west side of the township. (fn. 6) There may have been a barrow on the western boundary near Wormlow Farm, whose name apparently incorporates the Old English word hlaw. (fn. 7)
The name Onecote, recorded in 1199, means a remote cottage. (fn. 8) The original settlement was possibly at the confluence of the Hamps and Onecote brook, where Croxden abbey had a grange apparently by 1223. (fn. 9) Mixon, a name recorded in 1197 and meaning a midden or dung hill, was originally a settlement at the north end of the Onecote brook valley, where by 1237 Hulton abbey had a grange on or near the site of Old Mixon Hay. (fn. 10) The valley includes Dunlea Farm, on a site occupied by 1510 and probably standing on land called Duncowleye in 1405, (fn. 11) White Lea Farm, on a site occupied by the late 1530s, (fn. 12) Waterhouse Farm, dated 1639 but replacing a house recorded in 1609, (fn. 13) and Rue Hayes Farm, which is partly of the 17th century. Farmhouses at Harvey Gate and Westbrook are of the 19th century but stand on sites occupied by 1710. (fn. 14)
Onecote village grew up where a road from Bradnop over Morridge met a road between Ipstones and Butterton near the Hamps. Moorland House on a site there occupied by 1634 is probably of the later 17th century. By the later 18th century it was an inn, called the Dog and Partridge by 1850, and it remained an inn until c. 1930. (fn. 15) Another inn, called the Sneyd Arms in 1818, possibly stood on the site of the present Jervis Arms, a name used by 1834 and probably a reference to the Jervis family of Darlaston Hall, in Stone, which owned land in Onecote township. (fn. 16) New Hall Farm on the north-west side of the village is of the later 19th century but evidently replaced an earlier house: some outbuildings date from the late 18th or early 19th century. There was a village post office by 1888. (fn. 17)
By the 17th century there were houses on the Bradnop road north-west of Onecote village. A cottage south of Onecote Grange Farm is dated 1677, and Onecote Lane End Farm existed probably by 1641 and certainly by 1690. (fn. 18) Onecote Lane Head further west was so called by 1670. (fn. 19) New House Farm on the Ipstones road south of the village is dated 1680, and Clough House to the south-east stands on a site occupied by 1663. (fn. 20) Farmhouses at Upper Moorside and Pewit Hall are probably of the early 19th century.
A settlement at Ford on the Grindon side of the Hamps south-east of Onecote village spread into Onecote township. A bridge there made of wood and straw was recorded in 1621. (fn. 21) Bank Top Farm is of the late 16th or early 17th century. Its ground floor has two main rooms divided by a plank wall which has carved designs on alternate planks. The original fireplace, beneath a smoke hood, was in the southern room. Ford Farm is of the 18th century. A house of the late 19th century called Ford Wetley probably stands on a site occupied by 1666. (fn. 22) Two nearby farmhouses, one also called Ford Wetley and the other Upper Ford Wetley, are probably of the 18th century.
Land called Pethills at the south end of the township was recorded in 1251, and there was a house there by 1539. (fn. 23) The present Pethills Farm is dated 1799. Outbuildings dated 1793 and 1799 on the opposite side of the road belonged to a house in existence there by 1775 but not longer standing in the late 1870s. (fn. 24) Fair View, near the southern boundary east of the Ipstones road and so called in 1873, (fn. 25) was the home in 1901 of Ralph de Tunstall Sneyd (d. 1947); he built the low, crenellated wall around the house as protection against expected enemy attack during the First World War. A poet, philosopher, and Arthurian enthusiast, Sneyd converted a stable block into a sanctuary which included Buddhist artefacts. (fn. 26)
The valley of the Hamps north of Onecote village was probably the last part of the township to be settled. Lower Green Farm, dated 1773, stands on a site occupied by 1650, when the house was called the Green or Threewall Green. (fn. 27) The site of Upper Acre was occupied by 1775. (fn. 28) Manor Farm (so called in 1913 but formerly known as Lower Acre) (fn. 29) is dated 1826 and Upper Green 1830. Feltysytch Farm to the north is also probably of the earlier 19th century. Mixon hamlet on the east side of the Mixon spur existed by 1775 and was occupied chiefly by copper miners in the earlier 19th century. (fn. 30)
Blakemere House on Morridge at the north end of the township existed by 1638 and possibly stands on the site of a house recorded as at Blakemere in 1348. (fn. 31) In the 18th century a packhorse way ran past the house. Rebuilt on a nearby site in the earlier 19th century, the house was an inn by 1851. (fn. 32) It was known by 1863 as the Mermaid, a name derived from a legend that a mermaid inhabited the nearby pool which lies to the north in Heathylee, in Alstonefield parish. (fn. 33)
A highway on Morridge mentioned in 1413 was probably the road which runs the length of the township and which may have originated as a prehistoric ridgeway. (fn. 34) A bridge mentioned in 1619 took the Ipstones-Butterton road over the Hamps. (fn. 35) The road was turnpiked in 1769 as part of a route from Cheadle to Buxton (Derb.), and a tollgate was set up in Onecote village in the earlier 1770s. (fn. 36) A two-arched stone bridge built over the Hamps in 1777 was replaced by the present single-arched bridge probably in 1831. (fn. 37) The road was disturnpiked in 1878. (fn. 38)
A lodge of the Grand United Order of Oddfellows was established in 1866, meeting at the Dog and Partridge. It still existed in 1992. (fn. 39) In 1925 the vicar, the Revd. Henry Johnson, built and furnished a room in the village, primarily for church use but also for social activities. It still existed in 1949. (fn. 40) A Women's Institute was formed in 1985. (fn. 41)
Staffordshire Gliding Club, established in 1962, moved from its original base at Meir airfield in Stoke-on-Trent to a site in Onecote south of the Mermaid inn in 1973. The rough ground, the poor weather conditions, and the proximity of commercial airways forced the club to move in 1992 to the former Seighford airfield near Stafford. (fn. 42)
A dispute in the 1840s between members of the Cook family of Onecote Lane End Farm provided Charles Dickens with ammunition for his attack on the workings of Chancery in Bleak House (1852–3). Thomas Cook (d. 1816) bequeathed £300 to his second son, Joseph, to be paid after the death of Thomas's wife Mary. She died in 1836, and in 1844 Joseph began a Chancery suit to obtain his money. Four years later the case had made virtually no progress and costs of £800 or £900 had been incurred. William Challinor, a Leek solicitor who was involved in the case, published the details (but not the names of the parties) in a pamphlet urging Chancery reform. He sent a copy of the pamphlet to Dickens when the first instalment of Bleak House appeared, and the details, little altered, occur as the case of Gridley in chapter xv of the novel. (fn. 43)
MANOR AND OTHER ESTATES.
Land at MIXON was part of an estate granted by John Lestrange to his cousin Margery (or Margaret) Lestrange and her husband Thomas Noel in 1197. (fn. 44) The grant appears to have ignored the claim of Adam of Gratton that he had inherited a carucate at Mixon from his father Ranulph, and in 1203 Adam sued Margery and Thomas for the land, then described as 15 bovates. He was evidently unsuccessful, and his son Ralph still claimed it in 1275. (fn. 45) In 1218 Margery and her second husband, Thomas of Whitchurch, granted what were styled the manors of Bradnop and Mixon to Henry de Audley, and in 1223 he gave them to the abbey which he had founded at Hulton. (fn. 46) The abbey had established a grange at Mixon by 1237, (fn. 47) on or near the site of Old Mixon Hay, where there is a small farmhouse of the 18th century or earlier.
Hulton abbey was dissolved in 1538, and Mixon was presumably included in the Crown's grant of Bradnop manor in 1546 to Edward Agarde, a London speculator, and in Agarde's grant of the manor in 1547 to Sir Edward Aston of Tixall. (fn. 48) In 1610 Sir Walter Aston sold land called Mixon Hay on either side of Onecote brook to William (later Sir William) Bowyer of Knypersley, in Biddulph. (fn. 49) Sir William died in 1641, and in 1644 his son John sold Mixon Hay to William Jolliffe of Leek. (fn. 50) Jolliffe died in 1669, and the land at Mixon passed to his daughter Elizabeth, widow of Edward Ashe, a London draper. In 1677 she charged the land with a rent to support the almshouses which she had founded in Leek. (fn. 51) In 1710 a 300-a. farm at Mixon Hay (later Old Mixon Hay), together with farms at Westbrook and Harvey Gate and probably others in that area, were owned by Elizabeth's grandson William Ashe, a London merchant. (fn. 52) William was succeeded in 1742 by his daughter Bridget. She died unmarried in 1776, and her estate was divided between William Pierce Ashe A'Court and Charles Penruddock. (fn. 53) Both moieties were sold in 1808 to a syndicate, (fn. 54) which broke up the estate, selling the largest part, 200 a., in 1821 to Sir Thomas Constable, Bt. (fn. 55) In 1843 Constable's son, also Sir Thomas, sold the land to the Revd. John Sneyd, from 1851 lord of Bradnop manor. (fn. 56)
Sneyd already owned 465 a. in Onecote, comprising Upper Acre and Manor farms (158 a. and 183 a.) and Feltysytch farm (124 a.), and in 1851 he inherited Onecote Grange farm from his father William. (fn. 57) John died in 1873, and his Onecote estate, then 879 a., was put up for sale. (fn. 58) Land at Mixon amounting to 243 a. was bought by John Philips of Heybridge, in Checkley, (fn. 59) who built New Mixon Hay farmhouse in 1879. (fn. 60)
Croxden abbey had an estate at Onecote apparently by 1223. The grange of Onecote then mentioned in the bounds of Henry de Audley's charter endowing Hulton abbey with land at Mixon was evidently not Hulton's; (fn. 61) Croxden certainly owned land in Onecote in 1251, and it had a grange there by 1291. (fn. 62) Croxden abbey was dissolved in 1538, and in 1543 the Crown granted its Onecote estate to Sir Edward Aston of Tixall. Aston acquired Bradnop manor in 1547, and what became ONECOTE GRANGE FARM, 210 a. in 1839, descended with the manor until 1873 when it was offered for sale. (fn. 63) The owner from the earlier 1930s was George Critchlow. He was succeeded in 1990 by his daughter Janet, wife of John Stone. (fn. 64) The present farmhouse is dated 1884 and was built for William Finney, presumably the owner. (fn. 65) It stands on the site of an earlier house, (fn. 66) which was probably of the later 17th century and was of two storeys with end stacks and gabled attic dormers. (fn. 67) A date stone of 1654 on an outbuilding possibly comes from a still earlier house.
A 90–a. estate which Croxden abbey acquired from Hulton abbey c. 1330 may have been centred on WHITE LEA FARM: in the late 1530s Croxden had two houses at Whitelee. (fn. 68) The land was included in the Crown's grant of Croxden's Onecote estate to Sir Edward Aston in 1543. (fn. 69) The present house is dated 1786.
ECONOMIC HISTORY.
Agriculture.
In 1237, after a dispute between Hulton abbey and Dieulacres abbey over pasture rights on Morridge, Dieulacres confirmed Hulton's possession of Mixon, along with a sheepfold around which Hulton was allowed to inclose 240 a. Half of that land was to be brought into cultivation within three years, and tithe from it was to be paid to Dieulacres, as rector of Leek, even if Hulton did not in fact cultivate the land. Tithe was also due from the other half, but only if Hulton decided to cultivate it. Dieulacres reserved the right to pasture its cattle on the entire 240 a. once any corn or hay had been removed. (fn. 70) When the agreement was renewed in 1252, presumably after a further dispute, Hulton was required to give Dieulacres a yearly goodwill offering of ½ mark for as long as the 240 a. remained inclosed. (fn. 71) There was a large herd of cattle at Mixon in the earlier 1260s, when the sheriff illegally took 40 head and drove them to Chartley castle, in Stowe. (fn. 72) In 1291 Hulton's grange at Mixon consisted of 1 carucate. At the same date Croxden abbey's grange at Onecote, together with a grange at Caldon, consisted of 3 carucates. (fn. 73)
A complaint made in 1373 related to damage done to pasture and crops in a 'spacious field' at Onecote adjoining Morridge. (fn. 74) Much of the extensive waste of Morridge, however, remained common until 1769. (fn. 75)
Of the 1,315.7 ha. of farmland returned for the civil parish in 1988, grassland covered 1,258.8 ha. and there were 51.2 ha. of rough grazing. The farming was dairy and sheep, with 1,634 head of cattle and 3,775 sheep and lambs. Of the 43 farms returned, 37 were under 50 ha. in size, 5 were between 50 and 99 ha., and 1 was between 100 and 199 ha. (fn. 76)
Mills.
Hulton abbey's grange at Mixon included a mill in 1291. (fn. 77) A mill at Onecote in 1743 probably stood on Onecote brook near Onecote Grange Farm, where there was a mill in 1775. (fn. 78) By the later 1870s the mill stood to the east on the river Hamps. It was disused by 1898. (fn. 79)
Industry.
A 'stonegetter' was living at Mixon in 1639, and when John Bowyer sold Mixon Hay to William Jolliffe in 1644 the sale included stone and other mines. (fn. 80) Limekilns mentioned in the Morridge area in 1683 and 1701 were presumably at Mixon, where the underlying rock is limestone. (fn. 81) In the early 1770s the limestone was used to build walls along parts of the turnpike road through Onecote. It was probably as a favour to the manorial lord, John Sneyd, that in 1774 the trustees of the turnpike road decided to charge him a reduced toll when his men used the road to carry lime between Onecote village and the Leek-Ashbourne road at Bottom House, in Ipstones. (fn. 82) Limestone was still quarried at Mixon Hay and elsewhere in the township in the early 19th century, and a limekiln east of Westbrook farmhouse was apparently still in use in the late 1870s. (fn. 83)
In 1718 Walter, Lord Aston, the lord of the manor, granted six gentlemen a 21-year lease to exploit a deposit of lead ore which had been found in the manor, probably at Mixon. Aston was to receive either 1/8 of the ore or 10s. 6d. per ton. Within the first three years of the lease the contractors were also allowed to dig for copper ore and coal. (fn. 84) In 1730 Ann Bosvile, who held land at Mixon possibly as a mortgagee, licensed Robert Bill of Stone and Thomas Gilbert of Cotton, in Alton, to dig for lead or copper ore at Mixon for a term of 21 years. She was to receive 1/7 of all the ore, or its value in money, month by month. To insure that she received her share and that the mines were worked properly, the contractors had to employ someone of her choosing to oversee operations. (fn. 85) In 1771 Bridget Ashe licensed Hugh Serjeant of Wetley Rocks, in Cheddleton, to dig for lead and copper ore on her land at Mixon Hay for a term of 21 years, giving her 1/9 of the ore every three months. Mining was to stop if her share of the ore each year was not worth at least 10 guineas more than the money which she had paid to her tenants to recompense them for damage done to their land. (fn. 86)
John Sneyd, the owner of land at Mixon as part of his purchase of Bradnop manor in 1770, evidently had a mine at Mixon by 1775: that year mining equipment was borrowed from the nearby copper mine at Ecton, in Wetton, for use at 'Snead's mine'. (fn. 87) In 1780 there was a copper mine east of Mixon Grange Farm. Still productive in 1817, it was closed c. 1824. Attempts to resume profitable exploitation were made by Sneyd's sons in the later 1820s and early 1830s, but without success. Mining equipment at Mixon was offered for sale in 1834, although ore was apparently still being extracted in 1841. Nine copper miners were then living at Mixon, with another near Onecote village. There were 10 at Mixon in 1851, even though production had probably stopped by then; possibly they travelled to work at Ecton. (fn. 88) A company called Mixon Great Consols Copper Mine Co. was established in 1853 to resume digging at Mixon; it failed in 1858.
A kiln at Onecote mill in 1743 was evidently used for smelting iron: the millowner, Ralph Hall, had 77 bars of iron worth £26. (fn. 89) By 1758 George Critchlow, a whitesmith, had built a forge near the river Hamps east of Pethills Farm: he made a weathercock for Leek church that year. He died in 1780, and the forge was continued by his son, also George (d. 1782). (fn. 90) Worked by Francis Gosling in 1793, it apparently no longer existed by 1820. (fn. 91)
LOCAL GOVERNMENT.
Onecote was probably a tithing in Bradnop manor in the Middle Ages. (fn. 92) It was part of the Bradnop quarter of Leek parish, and by the 1660s its poor were relieved by the quarter's overseer. (fn. 93) The township had its own overseer by 1743, and in 1766 he was a signatory to an agreement to open a workhouse in Ipstones. (fn. 94) The township became part of Leek poor-law union in 1837. (fn. 95)
CHURCH.
There was a chapel at Onecote by 1524. (fn. 96) In 1553 it had a chapelwarden, and the church goods included a bell in a steeple, a sacring bell, and a silver chalice and paten. In 1604 the chapel was stated to be in Grindon parish, and it probably stood near Onecote Old Hall on the Grindon side of the boundary north of Onecote village: land there was called Chapel Yard in the early 20th century. (fn. 97) In 1604 the chapel was served by Ralph Salt, described as no preacher and a lewd young man who 'out of all good order wears a feather in his hat'. Thomas Miles was appointed minister by the committee for plundered ministers in 1648 with a grant of £20 a year from the sequestrated rectory of Ellastone. (fn. 98) Nothing further is known about the chapel.
The present church in Onecote village was built in the earlier 1750s, the cost being met by subscription. (fn. 99) The chapelry, which covered Onecote and Bradnop townships, became a parish in 1862 with the vicar of Leek as patron, (fn. 100) and the perpetual curacy was styled a vicarage from 1868. (fn. 101) The church retained its own vicar until 1976 and was later served by the vicar of Ipstones as a priest-in-charge. The benefice was united with that of Ipstones in 1983, but the parishes remained separate. The patronage was vested jointly in the bishop of Lichfield as patron of Ipstones and the team rector of Leek. (fn. 102)
Queen Anne's Bounty endowed the living with four grants of £200 in 1783, 1784, 1789, and 1797. It made a further grant of £1,400 in 1824. (fn. 103) The living was worth £99 a year c. 1830, (fn. 104) and the endowments comprised the churchyard (4 a.), a smallholding called Ten Acres south-west of Ford Wetley (18 a.), Pethillshead farm (17 a.), a farm at Moorside (10 a.), and land called Chapel field (7 or 8 a.). By 1845 the endowment also included 27 a. at Pill Will in the north-west part of the township. (fn. 105) In 1862 Queen Anne's Bounty gave £200 to meet a benefaction of £200 raised by subscription and a grant of £200 from the Lichfield Diocesan Church Extension Society. (fn. 106) There was glebe of 82 a. in 1887, with an estimated rental of £90 10s. (fn. 107) In 1899 the Bounty gave £360 to meet a benefaction of £600, comprising £300 from diocesan societies, £200 from subscriptions, and a donation of £100. (fn. 108)
In 1830 the incumbent apparently served Onecote himself though he lived at Butterton, of which he was also curate. In 1831, however, he employed an assistant curate at Onecote with a salary of £35. (fn. 109) In 1851 the assistant, Harling Richardson, lived at Golden Farm in Bradnop village, and he continued to live there after he became the incumbent in 1859. (fn. 110) A house was built in Onecote village for the newly appointed incumbent in 1864, the cost being met by the vicar of Leek. (fn. 111) When the benefice was united with that of Ipstones in 1983, the vicarage house at Ipstones was designated the place of residence. The house at Onecote was sold and converted in 1984 into a home for the elderly. (fn. 112)
There was one Sunday service in 1830, and Communion was celebrated four times a year. (fn. 113) In 1851 the average Sunday attendance was 20 when the service was held in the morning and 70 when it was held in the evening. (fn. 114)
The church of ST. LUKE, which is built of ashlar, was originally a single cell building with a wooden bellcot. In 1837 it was given a chancel, probably reusing a Venetian window from the original east end, a south-west porch, and a west tower. (fn. 115) Also in 1837 a west gallery replaced one on the north side. (fn. 116) The organ in the west gallery dates from 1904. (fn. 117) The box pews were removed during a restoration in 1906–7, the panelling being used to make the present benches. (fn. 118)
The furnishings include royal arms of 1754 and a commandments board of 1755; both hang on the west wall. There is a single undated bell. (fn. 119)
The registers date from 1755. (fn. 120)
Burials took place from 1782. (fn. 121) Small additions to the churchyard were made in 1897 and 1979. (fn. 122)
NONCONFORMITY.
John Forde of Onecote, a blacksmith, and his wife were recorded as papists in 1706. (fn. 123)
In 1815 Hugh Bourne, the founder of Primitive Methodism, registered a room in Onecote for preaching, and a Primitive Methodist chapel was opened in the village in 1822. (fn. 124) On Census Sunday 1851 there was an evening congregation of 54. (fn. 125) A porch was added in 1934, and the chapel was enlarged in 1955. (fn. 126) It was known as Onecote Methodist church in 1992. Primitive Methodists also held services at Mixon from 1863 until 1904. (fn. 127)
By 1823 there was a Wesleyan Methodist society in Onecote. The room registered there for worship by protestant dissenters in 1826 was probably for that society, and in 1829 a Wesleyan service was held at Onecote every Sunday. (fn. 128) The society still existed in 1843 but apparently not in 1844. (fn. 129)
EDUCATION.
A Wesleyan Methodist Sunday school was established in Onecote in 1827, and it had 25 boys and 23 girls in the earlier 1830s. (fn. 130) In 1839 it was said that few parents could afford to pay for their children's education, and it was proposed to raise £10 or £12 a year by subscription to hire a master who would teach 10 or 12 poor children free. (fn. 131) A school seems to have been opened, but in 1861 what was called Onecote school house was occupied by a labourer. (fn. 132) The only teacher recorded in the township in 1851 was the woman tollgate keeper, who presumably ran a dame school, (fn. 133) but there was a Primitive Methodist Sunday school which had an attendance of 18 pupils on Census Sunday that year. (fn. 134)
A National school was built in 1872, and there were 46 children on its books in 1875. (fn. 135) A school board was formed voluntarily in 1878. (fn. 136) A teacher's house was built in 1880. (fn. 137) Until 1909 a few children from Butterton and Grindon attended the school, but when those parishes refused to contribute towards the cost of an extension, the school was restricted to children from Onecote. (fn. 138)
The decision in 1930 that Onecote council school, then an all-age school with 47 children on its books, should become a junior school took effect in the earlier 1940s, the senior children being transferred chiefly to Leek. (fn. 139) As Onecote county primary school it was closed in 1984, and most of the children were transferred to Leek. (fn. 140) In 1992 the school building was used as a village hall.
CHARITIES FOR THE POOR.
In 1788 Joan Adsetts of Mayfield left the interest on £30 to poor widows in Onecote, and in 1794 the money was used to buy 1½ a. near Ford. The income was £1 in 1839, when it was distributed at Christmas among five widows. (fn. 141) The poor of Onecote shared with those of Bradnop in the charity of John Stanley, established by will of 1693. In 1928 the two charities were amalgamated, and a distribution was still made in 1976. (fn. 142)