Pages 229-232
A History of the County of Stafford: Volume 7, Leek and the Moorlands. Originally published by Victoria County History, London, 1996.
This free content was digitised by double rekeying. All rights reserved.
STANLEY
Stanley was formerly a township in Leek parish 441 a. (178 ha.) in area (fn. 1) and later part of a civil parish which included Endon and Longsdon until 1894. That year a new civil parish called Endon and Stanley was formed, excluding Longsdon. (fn. 2) There is a small village on the west side of the township. The boundary with Endon on the north and east sides follows streams. (fn. 3) The boundary with Bagnall, in Stokeupon-Trent, on the west also follows a stream, which was dammed in 1786 to form a canal reservoir called Stanley Pool. (fn. 4)
Most of the land lies between 500 and 600 ft. (152 and 182 m.). The underlying rock is sandstone of the Millstone Grit series. It is overlain by Boulder Clay, except in the west part of the township where there is alluvium. The soil is fine loam. (fn. 5)
Seven people in Stanley were assessed for hearth tax in 1666. (fn. 6) The population was 113 in 1821, 122 in 1841, and 108 in 1851. (fn. 7)
The Stanley family, recorded in the late 12th century, (fn. 8) probably took their name from an existing settlement. The name means a clearing in stony ground (fn. 9) and is probably a reference to the site of the present village. The oldest house there is Lower House Farm, of c. 1700 and probably on the site of the medieval manor house. The village grew up in the 19th century in connexion with flint mills. Rows of cottages were built in the 1860s, probably for mill workers, and one row contained a beerhouse called the Travellers Rest, a name still used in 1991 for an inn there. Two larger houses, Tudor House opposite the Travellers Rest and Spilsbury House at the west end of the village, were also built in the 1860s. (fn. 10) A post office was opened in the earlier 1880s. (fn. 11) Several detached and semidetached houses were built in parts of the village between the two World Wars and from the 1960s.
Clough House on the township's eastern boundary was so called by 1602, (fn. 12) and there were houses in that area at the Acres by 1700, (fn. 13) Stanley Head by 1743, (fn. 14) and Newhouse by 1751. (fn. 15) From the early 1960s Stanley Head was let as a children's outdoor education centre to Stoke-on-Trent city council, which bought it in 1967. On the reorganization of local government in 1974 ownership was transferred to Staffordshire county council, which still ran the centre in 1991. (fn. 16)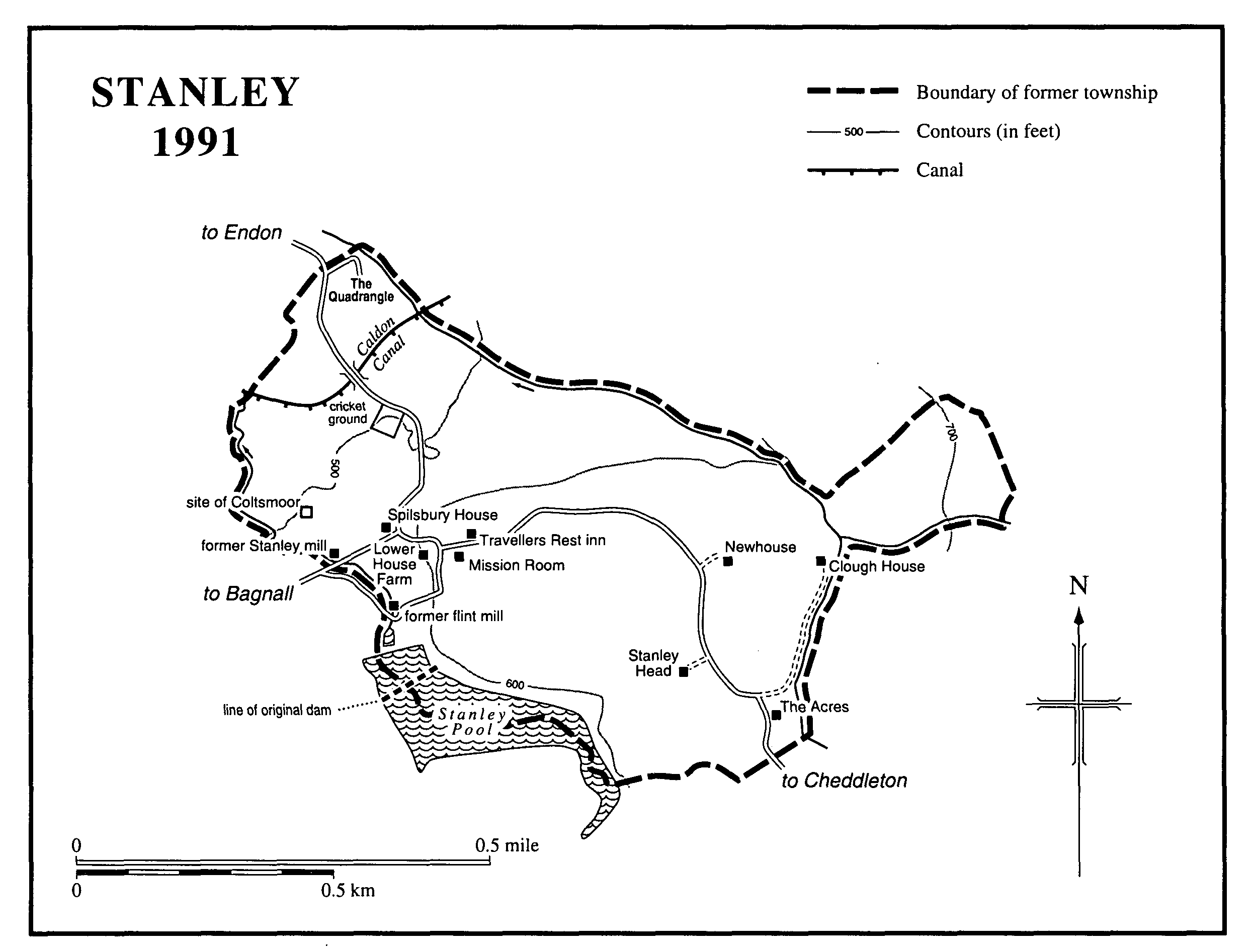 By 1750 there was a house called Coltsmoor at Stanley Moss, low-lying ground in the northwest part of the township. The house still existed c. 1830. (fn. 17) Houses of the 1930s on the east side of the Endon road north of Stanley village are an extension of the residential development in Endon. An estate of 26 council houses there called the Quadrangle was built in the early 1950s.
Stanley Pool was constructed in 1786 as an 8-a. reservoir for the Caldon canal, which was opened through Stanley probably in 1778. (fn. 18) It was enlarged to 33 a. in 1840, when a new dam was built to the north. (fn. 19) Still a reservoir in 1991, it was also used for sailing and fishing.
MANOR.
There was presumably an estate at STANLEY in the late 12th century when there was mention of Adam of Stanley. (fn. 20) There was certainly an estate there c. 1200 when Adam de Audley, lord of Horton, gave Stanley to Adam of Stanley's son William. In 1272 the estate was held by Walter of Stanley, alive in 1282 but dead by 1285. His heir was his son William, who was succeeded probably in the early 1320s by his son John (d. c. 1330). John's heir was his son William, the forester of Wirral forest (Ches.). In 1359 the estate was styled a manor. (fn. 21) William was succeeded in 1360 by his son, another William (d. 1398). His heir was his son William, knighted c. 1400, who took part in the rebellion of Henry Percy in 1403 but was later pardoned. Sir William was succeeded in 1428 by his grandson William Stanley (d. 1466). William's son and heir, another William, knighted c. 1484, died in 1512 and was succeeded by his son William, knighted in 1513. (fn. 22) That Sir William, alive in 1528-9, was succeeded by his son William (d. 1546). William's heir was his brother Roland, knighted in 1553. (fn. 23) Sir Roland was succeeded in 1613 by his great-grandson William Stanley, and William in 1644 or 1645 by his son William. In 1652 William leased the manor, probably as part of an arrangement which led to its sale to Thomas Fernihaugh in 1660. (fn. 24)
Fernihaugh was living at Stanley in 1666 but no longer by 1688, when his house there was bought by John Shaw, rector of Swettenham (Ches.). (fn. 25) Shaw was succeeded in 1715 by his son Richard, an Anglican clergyman who died unmarried in or shortly before 1754. In 1760, in accordance with Richard's wishes, the house, then known as Lower House, and 70 a. were settled on trustees to endow a charity for the poor of the township. The estate had been sold by 1963. (fn. 26) The present Lower House Farm is of c. 1700 and has an outbuilding dated 1776.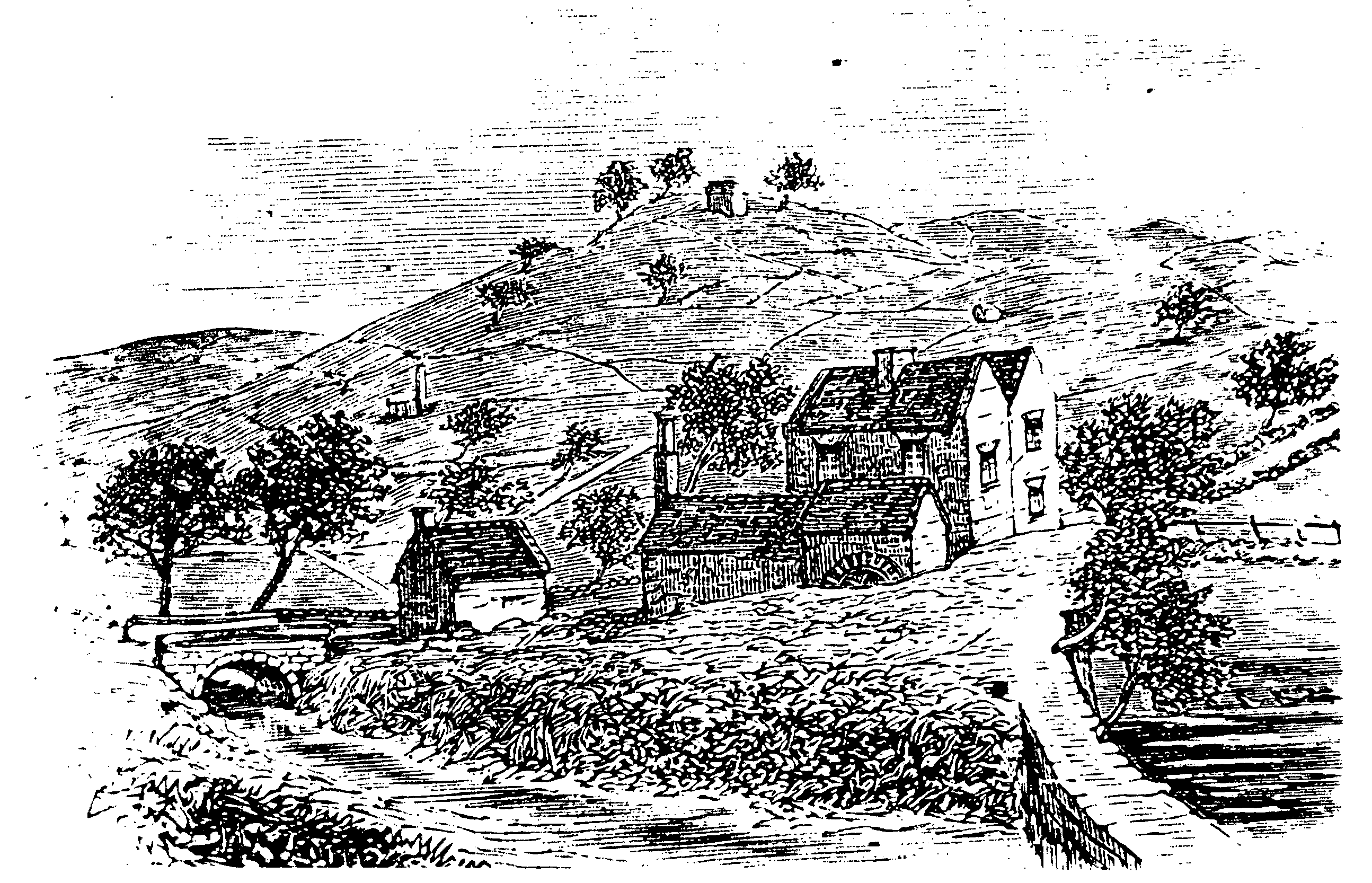 ECONOMIC HISTORY.
There was a mill in Stanley in the earlier 16th and in the later 17th century. (fn. 27) It probably stood on the stream on west side of the village, north of the Bagnall road, where there was a corn mill in 1816. (fn. 28) In 1865 that mill was both a corn mill and a flint mill. (fn. 29) Stanley mill was rebuilt in 1887 as Hercules mills by Harrison & Son, who used it for grinding potters' materials, notably black manganese, until its closure c. 1970. In 1991 the mill and associated buildings were occupied by small commercial enterprises, including a stone-cutting business, Corinthian Stone Ltd., established in 1990. (fn. 30)
A flint mill was built upstream from the corn mill, probably in the late 1770s. (fn. 31) Powered later by Stanley Pool, it still existed as a flint mill in 1835, but its site was submerged when the reservoir was extended in 1840. In 1835 there was another mill, worked as a flint, glaze, and colour mill, between the corn mill and the flint mill. (fn. 32) Still a flint mill in the late 1870s, it had been turned into a gelatine works by the late 1890s. The works was disused by the early 1920s, and the building was converted into a house. (fn. 33)
LOCAL GOVERNMENT.
Stanley was subject to the Audleys' court at Horton, sending a frankpledge to the twice-yearly view by 1351. (fn. 34) It was still part of Horton manor in 1795. (fn. 35) Stocks in Stanley were mentioned in 1722 and 1731. (fn. 36)
The township was part of the Endon quarter of Leek parish, and in the 1660s its poor were relieved jointly with those of Endon and Longsdon by the quarter's overseer. (fn. 37) The poor were still relieved jointly in 1834, but separate assessments for each township were made by 1750. (fn. 38) Stanley became part of Leek poor-law union in 1837. (fn. 39)
CHURCH.
Stanley was part of Endon chapelry and later of Endon parish. By 1851 an evening service or lecture was occasionally held at Stanley, where a mission room was opened in the village in 1868. (fn. 40) The room was known as St. Agnes's mission by 1872. (fn. 41) Services were still held there in 1991.
NONCONFORMITY.
Mary Dunnell, a Methodist preacher, took a service at Stanley in 1810. A society was formed for which the Primitive Methodists took responsibility, the Wesleyans having refused to accept it. It had been disbanded by 1814. (fn. 42)
EDUCATION.
There was a dame school at Stanley in the earlier 1820s, and some children from Stanley were supported with charity money to attend school at Endon. (fn. 43)
CHARITY FOR THE POOR.
In 1760 the 70-a. estate centred on Lower House Farm was settled on trustees in accordance with the wishes of the late owner, the Revd. Richard Shaw. The trustees, after repairing the farm buildings, were to use the profit for the benefit of poor householders in Stanley not in receipt of parish relief and in apprenticing poor children from Stanley. The income was £36 in the later 1780s. In the earlier 1820s, when the income was £73 10s., a weekly dole of 11s. 6d. was divided among four poor people and £13 10s. was used to support an apprentice. The trustees also paid £10 or £11 to the schoolmaster at Endon for teaching poor children from Stanley. (fn. 44) The estate had been sold by 1963 and the money invested. In 1994 a distribution of £78 was made to four needy people, together with £60 in Christmas gifts. (fn. 45)