Pages 232-239
A History of the County of Stafford: Volume 7, Leek and the Moorlands. Originally published by Victoria County History, London, 1996.
This free content was digitised by double rekeying. All rights reserved.
TITTESWORTH
Tittesworth was formerly a township in Leek parish and later a civil parish. (fn. 1) The area was originally 1,659 a. (671 ha.). That was reduced by the transfer of a 9-a. detached portion at Blackshaw Moor north-east of the township to Leekfrith under the Divided Parishes Act, 1882, although at the same time a 1-a. detached portion of Leek and Lowe at Blackshaw Moor was added to Tittesworth. (fn. 2) In 1894 much of the south-west part of the township was transferred to Leek urban district, and the part of Blackshaw Moor which was a detached part of Leek and Lowe was added to Tittesworth; the area of Tittesworth was reduced to 1,514 a. (613 ha.). (fn. 3) In 1934 a detached portion of Bradnop, 53 a. in area and including part of Thorncliffe village, was added to Tittesworth, along with 433 a. from Onecote; at the same time 146 a. at Haregate in the south-west part of Tittesworth were transferred to Leek urban district. As a result of the changes the area of the civil parish was increased to 1,854 a. (750 ha.). (fn. 4) The present article covers the former township together with the added parts of Blackshaw Moor and Thorncliffe. For certain topics the more recent history of the parts of Tittesworth added to Leek urban district is treated in the article on Leek and Lowe.
The boundary of the township followed the river Churnet on the west and a tributary, Ball Haye brook, on the south-west. Cartledge brook, recorded as Easing brook in 1223, (fn. 5) formed the south-east boundary. The irregular boundary with Onecote on the east was probably the result of the division of pasture rights on Morridge. A tributary of the Churnet forms the north-east boundary of the part of Blackshaw Moor added in 1894. Tittesworth brook, a tributary of the Churnet, runs west through the middle of the former township. The ground reaches 1,298 ft. (395 m.) on Morridge on the eastern boundary, while what was formerly the south-west corner of the township lies at 515 ft. (160 m.) by the Churnet. The underlying rock is sandstone of the Millstone Grit series, and it is overlain by Boulder Clay at Blackshaw Moor and south of Thorncliffe. The soil is mostly fine loam over clay. (fn. 6)
In 1542 there were 10 tenants holding 10 houses in Tittesworth, two in Thorncliffe holding two houses, and two in Easing holding three houses. (fn. 7) Twenty-nine people in Tittesworth township were assessed for hearth tax in 1666. (fn. 8) In 1801 the population of the township was 274. It rose from 288 in 1821 to 447 in 1831 with the development of Ball Haye Green in the south-west part of the township as a suburb of Leek. The continued growth of that area accounts for the increase of the township's population to 606 in 1851, 1,227 in 1861, and 1,524 in 1891. (fn. 9) By 1901, after the boundary changes of 1894, the population of Tittesworth had shrunk to 121, including 9 people in the added part of Blackshaw Moor. It was 96 in 1911, 120 in 1921, and 157 in 1931. In 1951, after the addition of the Thorncliffe part of Bradnop and the establishment of a Polish resettlement camp at Blackshaw Moor, the population was 957. It was 444 in 1961, 333 in 1971, 298 in 1981, and 281 in 1991. (fn. 10) The Bradnop portion of Thorncliffe had a population of 46 in 1841, which had declined to 27 by 1891. (fn. 11)
The place-name Tittesworth is an Old English compound of a personal name, thought to be Tet, and the word for an enclosed settlement. (fn. 12) A local family took its name from the place by the beginning of the 13th century. (fn. 13) By the latter part of the century there were two main settlements, Upper Tittesworth mentioned in the 1250s and Lower Tittesworth mentioned in 1292. (fn. 14) In 1353 Upper Tittesworth lay on the north side of Tittesworth brook and extended from Thorncliffe on the east to the Churnet on the west; to the north-east a ditch separated its fields from 'the moor of Tittesworth', presumably Blackshaw Moor. (fn. 15) The farmhouse called Upper Tittesworth by the mid 19th century (fn. 16) dates from c. 1700. Lower Tittesworth lay to the north-west, with its fields adjoining those of Upper Tittesworth in 1353. (fn. 17) By the 1770s Lower Tittesworth was the name of a house with 180 a. attached. (fn. 18) It had been renamed Troutsdale Farm by 1859 (fn. 19) and was rebuilt in the later 20th century.
Thorncliffe was an inhabited area by the 1230s. (fn. 20) It was at first spelled as 'Thorntileg' or variants, an Old English name meaning a clearing amid thorn trees. (fn. 21) By the end of the 16th century the present name was in use, (fn. 22) presumably reflecting the situation of the village on the south side of a deep ravine formed by Tittesworth brook and known in 1353 as 'le coppedlowesclogh'. (fn. 23) Ley Fields on the Morridge road north-east of the village is a house of 17th-century date. Underbank off the Blackshaw Moor road dates from the late 18th century but has an outbuilding which is probably of the 17th century. The building occupied as the Red Lion inn carries the date 1787; it was known as the Reform inn by 1851 and was renamed c. 1860. (fn. 24) A Primitive Methodist chapel was built in 1839. (fn. 25) A school was started in 1884, and an Anglican school-chapel was opened in 1887. (fn. 26)
Easing south of Thorncliffe was evidently inhabited by the early 1230s when there was a family of that name. (fn. 27) A house and land at Easing belonging to the family was mentioned in 1291. (fn. 28) Easing Farm, rebuilt evidently in 1910 after a fire, retains a doorway probably of the 17th century (fn. 29) and may be the successor of the house in Tittesworth where Thomas Mountford was assessed for tax on two hearths in 1666. (fn. 30) The Ashes, formerly known as Easing, (fn. 31) has a doorhead carrying the initials ID:ED and a date which is probably 1642; John Dale was living at Easing in 1642 and was assessed for tax on three hearths in Tittesworth township in 1666. (fn. 32) Easing Moor Farm and Ankers Lane Farm existed by 1841, (fn. 33) and Easing Villa, offered for sale in 1867 with 16 a., was then described as newly erected. (fn. 34)
By the late 16th century there was settlement to the west on the edge of Leek moor near the southern boundary. Pool House stood there by 1596 and was described as at Leek Moorside in 1648. It was known variously as Leek Moorside and Pool House in the late 17th century, as the Edge in the 18th century, and as Leek Moorside again by 1821. (fn. 35) The present house appears to date from the 17th century. Edge-end further to the west was formerly timber framed but was remodelled in stone in the 17th century, with later additions in stone and brick.
The south-west part of the township remained rural until the 19th century. By 1246 Dieulacres abbey had established a grange at Fowker, later Fowlchurch. There was a farm at Haregate by the Dissolution and another at Ball Haye by 1565. (fn. 36) Horsecroft Gate, inhabited by 1639, (fn. 37) was presumably in the area of Horsecroft Farm, a 19th-century building on earlier foundations. Rose Bank farm, in existence in the earlier 18th century, was presumably south-west of Ball Haye in the area of Rose Bank Street, in existence by 1851. (fn. 38) By the later 1730s the area south of Ball Haye was the home of the Nall family; it was known as the Hole, presumably because of its position by Ball Haye brook with the ground rising steeply on either side of the brook. (fn. 39) By 1775 there was settlement on the north side of the Buxton road in the area of what was known by the early 19th century as Youngs Road; both the road and a building at the end of it survived until the Abbottsville housing estate was laid out in the earlier 1920s. (fn. 40) Hare Hayes farm east of Ball Haye evidently existed by 1811; the house was also known as Ball Haye Cottage in 1838. (fn. 41) The present road from Leek town to Haregate via the area known as Ball Haye Green by 1820 was set out when the waste was enclosed in 1811, (fn. 42) but it is not known whether there was an earlier road. Another road was set out in 1811 running from the Buxton road to Ball Haye Green and was then known as Ball Haye Road; it was called Novi Lane by 1854. (fn. 43) In 1811 Abbotts Road (then known as Abbots Road and later as Abbotts Lane) running from the Buxton road to Novi Lane was described as an ancient highway. Formerly it had probably continued north to Haregate, as it was made to do with the building of Queen's Drive after 1948. (fn. 44) From the 1820s the area developed as a suburb of Leek. Its core was at Ball Haye Green where the Leek Building Society erected 42 houses between 1824 and 1829. A number of houses were built in Park Road in the south-west corner in the mid 1850s. The Ball Haye Green suburb was further extended in the 20th century by the building of housing estates. (fn. 45)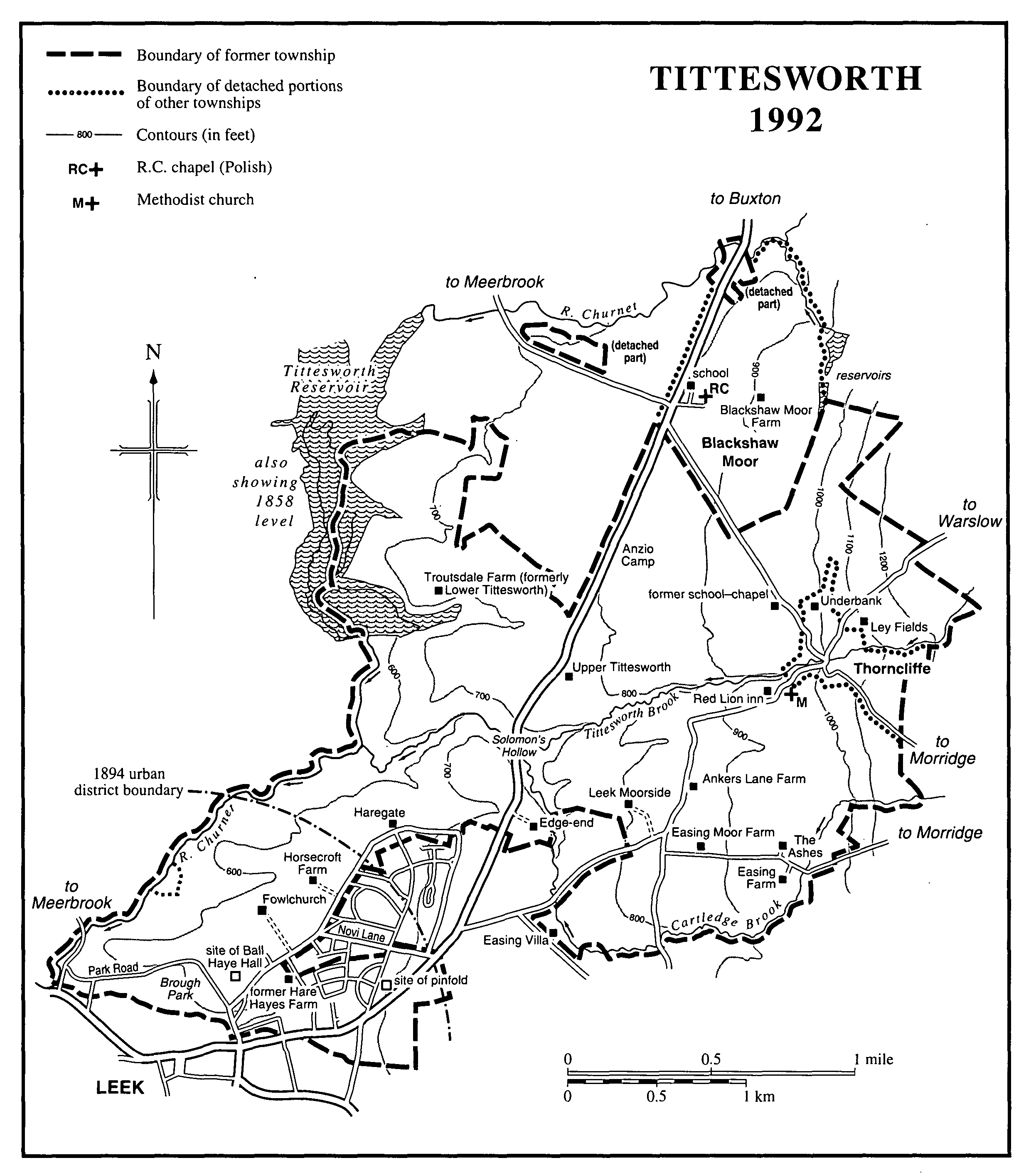 In the 1250s there was mention of the moor between Scarpschaw and Blakeshaw. (fn. 46) Blackshaw Moor was an inhabited area by the 1640s. A pauper family was living at Blackshaw Moorside in 1640. (fn. 47) Richard Plant and his family were described as of Blackshaw Moor in 1644, and the Plants may have been settled there in the 16th century, three farms in Tittesworth being held by three members of the family in 1542. (fn. 48) The moor, which extended west into Leekfrith, was inclosed in 1811. There was probably a track running north-west across the moor from Thorncliffe before inclosure, but the present road between Thorncliffe and the Leek-Buxton road dates from the inclosure. (fn. 49) Blackshaw Moor farm existed by 1841. (fn. 50) A transit camp for anti-aircraft battalions from the United States of America was opened on the east side of the Buxton road in 1943. (fn. 51) In 1946 it was taken over by Polish troops from Italy, and other Polish troops arrived later. The camp continued as a Polish civilian settlement until 1964 when those remaining there were rehoused on a new estate ½ mile to the north. (fn. 52) The camp site was cleared in the early 1980s, and in 1983 Anzio Camp was opened there as a training camp for use by the regular army, territorials, and scouts. (fn. 53)
There was mention in 1353 of 'Stokkenbrugg' on Tittesworth brook, (fn. 54) perhaps a bridge carrying a road from Leek to Upper Tittesworth. The Leek-Buxton road, turnpiked in 1765, runs through the area. Before then the route from Leek to Buxton ran further west through Leekfrith, and it appears that all or most of the route through Tittesworth was a new road laid out by the turnpike trustees in 1765 and 1766. (fn. 55) It included a bridge over the brook in Edge End Hollow (later Solomon's Hollow). (fn. 56) In the 18th century a packhorse way ran over Blackshaw Moor, crossing the north-east boundary stream by a stone bridge. (fn. 57)
In 1858 the Staffordshire Potteries Water Works Co. (later the Staffordshire Potteries Water Board) dammed the Churnet in the north-west part of the township to create the 51-a. Tittesworth reservoir. In 1959 work was begun on an extension which increased the area to 189 a. and the capacity from 222 million gallons to 1,417 million. The work also included the provision of plant for treating effluent from the dyeworks at Upper Hulme, in Leekfrith. The enlarged reservoir was inaugurated by Princess Margaret in 1962. (fn. 58)
In 1802 Tittesworth was included in the area covered by the Leek association for the prosecution of felons. (fn. 59)
ESTATES.
In 1565 Sir Ralph Bagnall, lord of Leek manor, granted a house called BALL HAYE with appurtenances in Leek and Lowe and in Tittesworth to Henry Davenport, who was already in possession. (fn. 60) Henry was succeeded in 1584 by his son Ralph, who was followed by his son Henry in 1597. Henry died in 1680 aged 93 and was succeeded by his grandson John Davenport. John was succeeded in 1726 by his son Henry, who was followed by his son John in 1753. John was succeeded in 1780 by his son, another John, who died childless in 1786. His heir was his nephew James, son of his sister Sarah and James Hulme of Tittesworth, born in 1772. (fn. 61)
John left half the income from the estate to his widow Hannah for life and a quarter to Lucy, daughter of Isaac Cope, a Leek surgeon and one of John's trustees. The remaining quarter was for the education of James, the heir, who had to assume his uncle's name and arms. (fn. 62) Hannah Davenport died in 1808. (fn. 63) In 1811 James granted Lucy Cope a rent charge of £75 a year for life as her share. (fn. 64) He seems to have continued to use the surname Hulme.
James rebuilt the house and in 1807 bought more land. (fn. 65) He was at Ball Haye in 1811, but for much of his life he lived elsewhere. (fn. 66) In 1818 Ball Haye and 80 a. were advertised for letting, and in 1819 James mortgaged the estate. (fn. 67) He died in 1848. (fn. 68)
In 1814 a Chancery suit was begun against James and his wife Elizabeth on behalf of six of her children by her first husband. James was even imprisoned for a time in 1828 for disobeying an order of the court. That year a settlement was reached vesting the estate in trustees who had power to sell it. (fn. 69) It was unsuccessfully offered for sale in 1830 and 1840. (fn. 70) By 1851 the two families were again involved in Chancery proceedings, and new trustees were appointed in 1852. In 1853 they sold the house and 43 a. to Joshua and John Brough, James's nephews, John Birch, and Richard Hammersley. (fn. 71) Birch died in 1857, and Hammersley conveyed his quarter share to the Broughs in 1862. In 1873 John Brough conveyed his share to William Spooner Brough, Joshua's son, who in 1880 bought the Birch share. On his father's death in 1885 he succeeded to the remaining share. (fn. 72)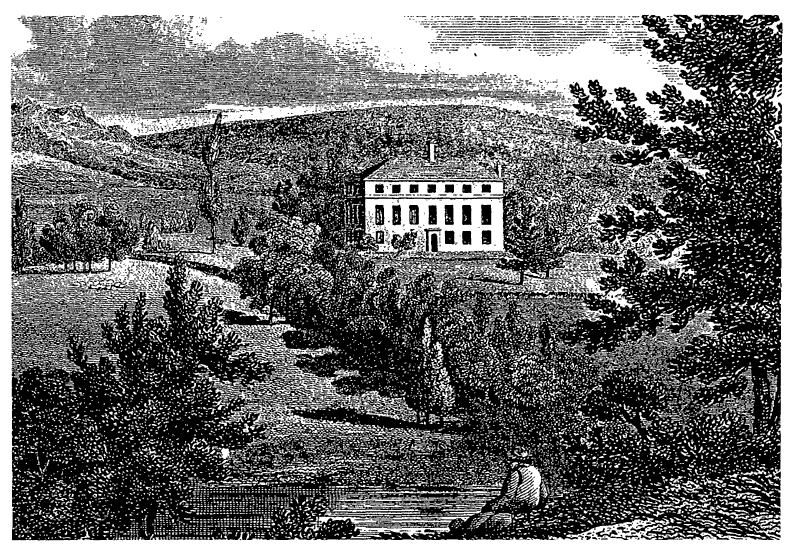 Meanwhile the house, which became known as Ball Haye Hall, was let. Work had to be carried out in the later 1850s to make it habitable. (fn. 73) Some of the rooms were occupied from 1854 to 1870 by successive tenants of the adjoining Ball Haye farm, and another part was let from 1860 to 1863 to Joseph Sykes, who kept a school there. (fn. 74) A. E. Worthington of Portland Mills took a lease of the hall in 1870. He died in 1873, and his widow continued at the hall for a few years. (fn. 75) In 1880 it was unoccupied, but Worthington's son Ernest was there in 1881. (fn. 76) John Hall, a partner in the firm of J. and J. Brough, Nicholson & Co., took a lease in 1882 and remained at the hall until his death in 1930. (fn. 77)
W. S. Brough died unmarried in 1917, and the estate passed to his nephew, H. H. Brindley. (fn. 78) In 1931 Brindley sold the hall and 27 a. to the trustees of the Leek Memorial Cottage Hospital, whose plans for a new hospital in the grounds of the hall were suspended on the outbreak of the Second World War. From 1946 the trustees allowed the hall to be used as a Polish club. (fn. 79) It was later converted into flats. It finally became derelict and was demolished in 1972. (fn. 80)
In 1666 Henry Davenport was assessed for tax on three hearths. (fn. 81) The house as rebuilt by James Hulme was a three-storeyed brick building faced with stone. The entrance front was of seven bays and had a hood porch on steps. (fn. 82) The stone is said to have been taken from the bed of Back brook at Upper Hulme, in Leekfrith. (fn. 83) James Hulme also laid out a lawn, plantations, and pleasure grounds and created a large fish pool. (fn. 84)
By 1246 Dieulacres abbey had established a grange at FOWLCHURCH, then called Fowker. (fn. 85) In 1552 what was called Fowchers grange was granted by the Crown to Sir Ralph Bagnall with most of the abbey's property. (fn. 86) His son Sir Henry sold it in 1597 to John Rothwell, a Leek mercer. (fn. 87) On Rothwell's death in 1623 the grange passed to his great-nephew John Hulme, son of John Hulme of New Grange in Leekfrith. (fn. 88) The younger John Hulme died in 1636, and in 1648 his executors sold what was called Fouchers House to the tenant, Thomas Washington, (fn. 89) whose family appear to have lived there at least since the beginning of the 16th century. (fn. 90) Thomas died in 1661, leaving half the Fowlchurch estate to his wife Margery and half, with the reversion of Margery's share, to their daughter Ellen, wife of William Stonhewer (or Stonyer). (fn. 91) Margery was presumably the Widow Washington who was assessed for tax on two hearths in Tittesworth in 1666; she died in 1686. (fn. 92) In 1694 Ellen Stonhewer, then a widow, was living at what was called Fowkers or Fowker Grange, and she died in 1699, with her son Thomas apparently her heir. (fn. 93) The name Fowchurch was coming into use by the later 1630s, and Foulchurch was used in 1677. (fn. 94)
By 1749 Fowlchurch was owned by Joshua Stonhewer of Leek, who died that year leaving it to his grandson William Stonhewer Hall. (fn. 95) William died in 1772. (fn. 96) The estate passed to his wife Catherine, but by 1791 it was owned by his nephew, also W. S. Hall. It was bought in 1799 by William Challinor, of Pickwood in Leek and Lowe, another estate left by Joshua Stonhewer to his grandson in 1749. (fn. 97) Challinor died in 1800 with his son William as his heir. In 1835 the 35-a. farm was sold to John Brough, who conveyed it to his son Joshua in 1843. Fowlchurch then descended with the Ball Haye estate, and Joshua's son William lived there in the later 1870s. (fn. 98) In 1918 it was sold to the tenant, T. H. Sillito, from whom it was bought in 1969 by Leek urban district council. It passed in 1974 to Staffordshire Moorlands district council. The house was sold to the tenants, Mr. and Mrs. J. H. Hine, in 1989.
The house appears to date from c. 1700, but the front was remodelled in 1849. (fn. 99)
A house in Tittesworth called the HAREGATE and land belonging to it were owned by Dieulacres abbey and passed to Sir Ralph Bagnall in 1552. (fn. 100) In 1565 he sold the estate to Thomas Wardle. (fn. 101) Wardle was living there in 1594, but his son John had succeeded him by 1616. (fn. 102) In 1620 John sold Haregate to Ralph Bayly of Bradnop, but Widow Wardle, probably John's wife Elizabeth, was living there at the time of her death in 1634. (fn. 103) By 1657 Ralph had been succeeded by Thomas Bayly of Bradnop, evidently his son, who sold Haregate in 1679 to Samuel Bromley of Mixon Hay, in Onecote. (fn. 104) Samuel was still living at Mixon Hay in 1701 but had moved to Haregate by 1713. (fn. 105)
In 1720 he sold Haregate to Joshua Toft, a Leek button merchant who was living there by 1724. (fn. 106) Haregate was also the home of his elder brother John, a Quaker like Joshua. (fn. 107) Some of Prince Charles Edward's troops were given a meal at Haregate in 1745, having first been made to leave their arms outside, and John Toft was given a receipt for hay and oats for the horses. (fn. 108) On Joshua's death in 1769 Haregate passed to his daughter Mary, widow of Charles Chorley. (fn. 109) She died in 1821, evidently at Haregate. (fn. 110) The estate was divided among her two surviving sons, Edwood Chorley of Doncaster (Yorks. W.R.) and Toft Chorley of Leek, and two of her grandchildren, Joshua Chorley of Manchester and Sarah Rawlinson of Haregate. In 1821 Joshua Chorley conveyed his share to his uncle Toft. (fn. 111) Haregate, however, had evidently passed to Joshua by the time of his death in 1837, when he was living there. His heir was his brother Edwood, a Manchester merchant, who was living at Haregate in 1851 and died childless in 1853. (fn. 112) Toft's heir was evidently his sister Elizabeth, wife of Tobias Atkinson. She died a widow in 1867, and her heir was her daughter Susannah, wife of Frank Atkinson Argles. (fn. 113)
In 1861 and 1871 Haregate was occupied by a farm bailiff, but Argles lived there on occasion in the 1870s. (fn. 114) Thereafter the house was let. In 1880 and 1881 it was occupied by W. E. Challinor. (fn. 115) Ernest Worthington moved to Haregate from Ball Haye Hall in the early 1880s and remained there until his death in 1896. (fn. 116) Frank Argles died in 1885 and his widow in 1895, and their son Thomas was living at Haregate by 1900. (fn. 117) He moved to his estate in Westmorland c. 1916, but it was his custom to spend a week or two at Haregate every summer. He died in 1923, and Haregate passed to his first cousin, R. M. Argles. (fn. 118) In 1948 the house and 78 a. were acquired by Leek urban district council. The house was converted into three dwellings, and a council estate was laid out on the land. (fn. 119)
The main range of the house dates from the 17th century or earlier. (fn. 120) Built of ashlar, it consists of one storey with attics. A parlour block of red brick was added at the east end in the 18th century. Of two storeys with attics, it was remodelled in the 19th century but retains some original interiors. At the back of the main range is a low two-storeyed service wing of the 18th and early 19th century. A group of red-brick farm buildings stands to the west of the house.
ECONOMIC HISTORY.
Tittesworth was part of Leek manor, and in the mid 13th century the services owed by tenants there to the abbot of Dieulacres as lord of Leek manor included ploughing, reaping, and payment of a rent of chickens. (fn. 121) At the Dissolution all 15 farms in Tittesworth, Thorncliffe, and Easing were held by rent, two capons worth 6d., one day's ploughing worth 3d., and one day's reaping worth 3d. (fn. 122) Tenants appear to have owed suit of mill at Hulme mill at Upper Hulme, in Leekfrith. (fn. 123)
The abbey's grange at Fowlchurch, established by 1246, (fn. 124) consisted in 1291 of 2 carucates and meadow. (fn. 125) At the end of the Middle Ages the grange was used for cattle farming. There were 18 cows there in 1490, 15 with a bull in 1501, 17 with a bull in 1502, and 13 in 1508. (fn. 126)
Each of the vills of Upper and Lower Tittesworth had its own fields in the mid 14th century. (fn. 127) Those of Upper Tittesworth may have survived into the 18th century: in 1728 a farm at Thorncliffe included a field called Town field and parcels in the Middle field and the Lower field. (fn. 128) Oats were grown at Fowlchurch in the mid 16th century. (fn. 129) In 1868 the land at Thorncliffe was used mainly for pasture, but a few oats were grown. (fn. 130)
There was a tithe barn at Fowlchurch grange at the Dissolution. (fn. 131)
In 1811 the remaining common waste was inclosed under an Act of 1805. (fn. 132)
Of the 621.6 ha. of farmland returned for the civil parish in 1988, grassland covered 541.4 ha. and there were 55 a. of rough grazing. The farming was dairy and sheep, with 903 head of cattle and 1,677 sheep and lambs. There were also 1,100 pigs, with one farm devoted to pigs and poultry. Of the 16 farms returned, 12 were under 50 ha. in size, 3 were between 50 and 99 ha., and 1 was between 100 and 199 ha. Woodland covered 20.6 ha. (fn. 133)
In 1563 and 1565 the Haregate estate included an iron forge by the Churnet. (fn. 134) Quarrying on the same estate was indicated by land there in 1821 called Quarry Plantation. (fn. 135) In 1823 there was mention of Tittesworth stone quarry, which was perhaps the quarry near the Buxton road southeast of Haregate in the late 1890s. (fn. 136) There was quarrying at Edge-end farm in 1749 and at Thorncliffe in 1860 and 1885, probably on the east side of the road to Blackshaw Moor. (fn. 137)
LOCAL GOVERNMENT.
By the earlier 14th century Tittesworth was a tithing of Leek manor and sent a frankpledge to the twice-yearly view. It was still regarded as a part of the manor in 1827. (fn. 138)
The township was part of the Leekfrith quarter of Leek parish, and in the 1660s its poor were relieved by the quarter's overseer. From 1713 it had its own overseer of the poor, with the office rotating among 14 tenements. (fn. 139) It became part of Leek poor-law union in 1837. (fn. 140) By the early 1870s a Tittesworth vestry was meeting at the Red Lion in Thorncliffe. On the occasion of the election of an assistant overseer in 1872 the attendance was so large that the meeting had to be held in the Primitive Methodist chapel. (fn. 141)
There was a pinfold in Abbotts Road in the south-west part of the township by 1857. (fn. 142) The Leek improvement commissioners agreed to its removal in 1872 and accepted an offer of £5 for the materials in 1873. (fn. 143)
CHURCH.
A school-chapel dedicated to THE GOOD SHEPHERD was opened in 1887 on the Blackshaw Moor road north-west of Thorncliffe. It was served from St. Luke's church in Leek, Tittesworth having become part of St. Luke's parish on its formation in 1845. A building of local stone, the chapel was designed by J. G. Smith of Leek and consisted of a chancel, a nave, a west bellcot with a bell, and a wooden porch at the west end. The site was given by Susannah Argles in fulfilment of the wishes of her husband F. A. Argles (d. 1885). The cost of nearly £600 was met by subscriptions, grants from church societies, and gifts of furnishings. Mrs. Argles gave £100 and the churchyard gates, and her son Thomas gave the bell. Local farmers provided team work. Although the school was closed in 1968, the chapel continued in use until 1984. It had been converted into a house by 1992. (fn. 144)
ROMAN CATHOLICISM.
A hut on the Polish camp established at Blackshaw Moor in 1946 was used as a Roman Catholic chapel, and there was a resident chaplain. The Poles were rehoused on a new estate to the north in 1964, and a former bath house there was converted into a chapel. The chaplain was also the Polish chaplain for the whole North Staffordshire area, and in 1974 his base was moved to the Polish centre at Longton. The chaplain continued to celebrate mass at the Blackshaw Moor chapel on Sundays and holy days until 1993 when the chapel was closed because of the decreasing size of the congregation. Instead the chaplain began celebrating a Polish mass at St. Mary's Roman Catholic church in Leek. (fn. 145)
PROTESTANT NONCONFORMITY.
There was a Wesleyan Methodist class at Thorncliffe by 1827. Sunday services were held every fortnight in 1829 but had ceased by 1832. (fn. 146) A small Primitive Methodist chapel and Sunday school was built there in 1839. (fn. 147) On Census Sunday 1851 there was an afternoon congregation of 21, with 21 Sunday school children. (fn. 148) The chapel is now Thorncliffe Methodist chapel.
EDUCATION.
A public elementary school was started at Thorncliffe in 1884. At first it was held in the Primitive Methodist chapel, but the vicar of St. Luke's in Leek had the right to give religious instruction. (fn. 149) The chapel was declared unfit for a school by the Education Department, and by 1885 the teacher, Mrs. Burnett, was holding the school in her cottage as a temporary measure pending the building of a school-chapel at Thorncliffe. (fn. 150) She had given up the school by the beginning of 1886, and a building was found on a farm. (fn. 151) A school-chapel was opened in 1887. (fn. 152) It was decided in 1930 that Thorncliffe Church of England school, then an all-age school with 40 children on its books, should become a junior school, the senior children being transferred to Leek; the decision had taken effect by 1948. (fn. 153) The school was replaced in 1969 by Blackshaw Moor Church of England (Controlled) primary school, which became a first school in 1981. (fn. 154)
A nursery school was run for the Polish community settled at Blackshaw Moor after the Second World War. It was closed when the Poles were rehoused in 1964. (fn. 155)
CHARITIES FOR THE POOR.
None known expressly for the township.