Pages 173-174
A History of the County of Stafford: Volume 9, Burton-Upon-Trent. Originally published by Victoria County History, London, 2003.
This free content was digitised by double rekeying. All rights reserved.
Established church
Services were held in Branston from 1844 in a schoolchurch, converted from a stable and cowshed and licensed at the request of the newly-appointed incumbent of Christ Church, in Burton. (fn. 7) It stood to the south of the present church, on a site now occupied by the vicarage house. There was an evening congregation of 28 adults on Census Sunday 1851, besides Sunday school children. By 1853 a grant from the Church Pastoral Aid Society together with subscriptions provided funds for two Sunday services, one taken by a curate from Christ Church and the other by a curate from St. Modwen's, in Burton. Having secured grants from the Lichfield Diocesan Church Building Society, the Incorporated Church Building Society, and John Hardy of Dunstall Hall, in Tatenhill, the incumbent of Christ Church arranged for the Derby architect Henry Stevens to design a church to be dedicated to St. John. Subsequently the marquess of Anglesey offered money and a site, but the scheme was abandoned, apparently because insufficient additional money was raised locally.
In 1863 a committee was formed to supervise the erection of a new school-church, which was opened in 1864 on the south side of Main Street. (fn. 8) It was replaced in 1870 by the present church on the same site, paid for by voluntary subscriptions and dedicated to St. Saviour. It served a district chapelry for Branston township within Christ Church ecclesiastical parish. (fn. 9) After part of Branston was added to Burton borough in 1878 St. Matthew's mission church in St. Matthew's Street was opened from St. Saviour's in 1886. In 1889 it was transferred to the newly-created Burton parish of All Saints'. (fn. 10)
The patronage of St. Saviour's church was originally vested in a body of local trustees but was transferred in 1895 to the Simeon's Trustees. (fn. 11)
From 1994 the vicar was also priest-in-charge of the united benefice of Dunstall with Rangemore and Tatenhill, and in 1997 he became vicar of a new benefice called Branston with Tatenhill, although the two parishes remain separate. The bishop of Lichfield and Simeon's Trustees were named as joint patrons, and Branston was made the incumbent's place of residence. (fn. 12)
A vicarage house was built east of the church in 1871. It was replaced in 1985 by a new house south of the church, and the former house became a restaurant. (fn. 13) In 1878 a Sunday school and reading room was built opposite the church by B. H. Buxton of Branston House (formerly Branston Hall) and was vested in the parishioners as trustees. (fn. 14) It was replaced in the late 1970s by a building used as a village hall.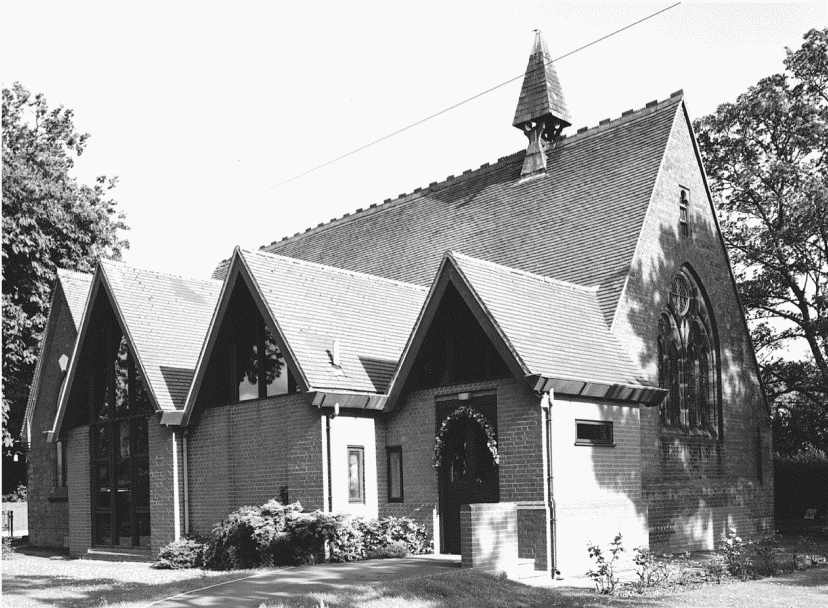 Church Building
St. Saviour's church, built of red brick, was originally a single-celled building with a west bell-turret. A north-east vestry and organ chamber and a northwest porch were added in 1891, (fn. 1) and a stone reredos was later installed in memory of the first vicar, John Bramell (1871-97). (fn. 2) The porch was rebuilt in 1981, when a meeting room with cross-gabled windows was inserted along the exterior north wall between the porch and the vestry. (fn. 3) Stained glass from St. James's church, Derby, was placed in the east window in 1993. (fn. 4) There was a small burial ground beside the church, and in 1914 a 1 -a. site in Clays Lane was consecrated as an additional ground. (fn. 5)