Pages 194-195
A History of the County of Stafford: Volume 9, Burton-Upon-Trent. Originally published by Victoria County History, London, 2003.
This free content was digitised by double rekeying. All rights reserved.
Established church
A church, paid for by subscription, was opened at the corner of Church Road and Hillfield Lane in 1838 under the auspices of the vicar of Holy Trinity in Burton, who was anxious to counter recent progress made by nonconformists. (fn. 10) Consecrated in 1842 as a chapel of ease in Holy Trinity parish and dedicated to St. Mary, (fn. 11) the church had a morning congregation of 72 on Census Sunday 1851, besides Sunday school children, and an evening one of 150. (fn. 12) It remained in use until replaced by the present church in 1897.
A separate ecclesiastical district was created for both Stretton and the Wetmore area of Horninglow township in 1873. (fn. 13) In 1969 the Wetmore area, covering the north end of Wetmore Road, was transferred to the newly-formed parish of Burton-on-Trent. (fn. 14)
The patronage of the living, which was a vicarage, was vested in trustees, who included the marquess of Anglesey and the vicar of Holy Trinity. (fn. 15) It was transferred in 1897 to John Gretton, the benefactor of the new church built that year. (fn. 16) In 1999 Baroness Gretton was the patron of what since 1969 has been styled the benefice of Stretton-with-Claymills. (fn. 17)
In 1872 the incumbent's income was only £70, and there was no house. (fn. 18) A vicarage house was built on the north side of the church in 1874, and to meet that benefaction the Ecclesiastical Commissioners made a grant of £50 a year. (fn. 19) The commissioners made further grants in 1895, 1902, and 1903, and Queen Anne's Bounty also made grants to meet a benefaction from John Gretton. By 1910 the living was worth £340 a year. (fn. 20) The vicarage house was demolished and a smaller one built on part of the site in the 1970s.
The parish hall east of the church was built c. 1960. (fn. 21)
Church Buildings
The 1838 church of St. Mary was a single-celled building of four bays designed by Henry Stevens of Derby. Standing south of the present church, its altar now marked by a cross in the churchyard, the first church was described prior to its demolition in 1897 as 'a miserable barn-like structure devoid of all architectural features'. (fn. 1) A three-decker pulpit stood on the north side of the altar and the font in front of it; there were galleries on both sides of the nave. By 1859, and probably earlier, a royal coat of arms hung over the altar, around which panels with text formed a reredos. (fn. 2)
The 1897 church was wholly paid for by John Gretton (d. 1899) of Bladon House in Winshill, a native of Stretton and a director of the Burton brewers Bass, Ratcliff, and Gretton. (fn. 3) Also dedicated to St. Mary, it was designed by J. T. Micklethwaite of Westminster on an aisled, cruciform plan with a massive crossing tower. (fn. 4) Built externally of Stanton stone and internally of Runcorn stone, it has a short chancel, a four-bayed nave, and north and south aisles, each with a porch at the west end. There is a chapel at the east end of the south aisle and two vestries along the north side of the chancel, one of them used in 1999 as a parish office and the other as a meeting room. The nave arcades and chancel arch are chamfered with moulded capitals on polygonal piers, and the nave and chancel ceilings have painted wooden panels. The church retains most of its original decorations and fittings: wooden rood screen and choir stalls carved in a mixed Arts and Crafts- Perpendicular style by J. E. Knox of Kennington; chancel floor inlaid with black and white marble; stone side-chapel arch carved by Robert Bridgeman of Lichfield; octagonal font of Frosterley marble with elaborate wooden canopy, also carved by Knox; stained glass by Sir William Richmond in the east window of the chancel and in the south window of the side chapel; and altar fittings by William Morris. Most of the early 20th-century memorial windows in the aisles come from the Whitefriars studio in London. A bell was taken from the 1838 church for use as a call bell, and a further three bells installed in 1897 were recast as six in 1960. (fn. 5)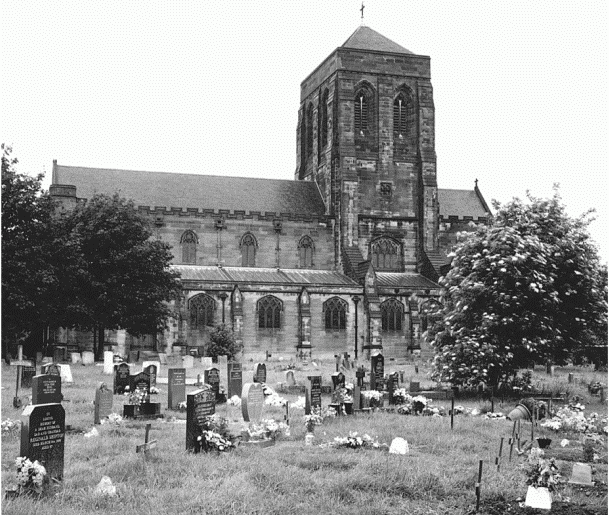 The original plate comprised a silver paten given by the Thornewill family of Dove Cliff Hall and a silver chalice given by the parents of the vicar of Holy Trinity, in Burton. (fn. 6)
The burial ground was enlarged in 1877, 1893, and 1934. (fn. 7)