Pages 53-84
A History of the County of Stafford: Volume 9, Burton-Upon-Trent. Originally published by Victoria County History, London, 2003.
This free content was digitised by double rekeying. All rights reserved.
AGRICULTURE
In 1086 there was land at Burton for 2 ploughteams in demesne, and a further 2 ploughteams were worked by 9 villani. There were 16 a. of meadow, and woodland measured 1/2 league in both length and breadth. The value of the manor had increased from £3 in 1066 to £3 10s. in 1086. (fn. 9) The outlying townships in the parish were separately valued.
In the early 12th century the abbey had two demesne ploughteams and some livestock, notably pigs and three 'Spanish' asses. (fn. 10) There was also a horse stud with 70 mares and foals, possibly a survival (or revival) of one established after Wulfric Spot bequeathed 116 horses to his monastic foundation there a century earlier. (fn. 11) Half the tenanted land in the early 12th century was held by villeins who owed fixed labour services and half by rent-payers. (fn. 12) Two granges were later created at Shobnall and Bond End, and they survived as farms until the 19th century. (fn. 13)
The rich meadow and pasture land provided good grazing for sheep, and butchers may have brought in flocks in order to fatten them. A shepherd was working in Burton by 1325, and in 1531 the lessee of the Bond End grange (called Kitchener's Barns) was required to give the shepherd of Burton 1/2 qr. of rye for guarding his sheep. (fn. 14) Use of land for grazing sheep presumably gave rise to the name Shipley meadow, recorded as 'Shepeley' in 1550. (fn. 15)
Less information survives about crops. Wheat, oats, and rye were grown in 1307, suggesting a four-course rotation system, (fn. 16) and in 1415 corn, barley, peas and oats were being grown at Shobnall. (fn. 17)
Meadow and Pasture
Islands in the river Trent were predominantly meadow and pasture, although at times parts were converted to arable. The largest island was Burton meadow (204 a.), north of Burton bridge. Recorded as 'barley ford island' (bere fordes holme) in 1012, (fn. 18) when it was presumably at least partly arable, the island included at its north end meadow called Sidehalh (later Sidelow), an Old English name meaning 'wide river meadow'. (fn. 19) In the 13th century the meadow was fenced off and used by the abbey for grazing its oxen. (fn. 20) Although crops were being grown there in the early 14th century, Sidehalh was evidently valued chiefly for its hay. In 1546 residual labour services owed by tenants in Horninglow and Stretton included carrying hay from the meadow, and although it was held by a lessee he seems not to have taken the first cutting, which at least in 1585 was reserved to the lord of the manor. (fn. 1) Adjacent land to the south, used as a rabbit warren in the Middle Ages, was evidently common pasture in the early 18th century, but it was ploughed up in 1738. (fn. 2) Stoney holme on the south-west side of the island was so called in 1286 when it was meadow. Crops were being grown there in 1383; it possibly continued in use as arable and was being inclosed in the mid 18th century. (fn. 3)
There were several smaller islands south of Burton meadow, some of which later coalesced into single blocks of land: the 12-a. Broad holme, immediately south of Burton meadow, first recorded in 1367; (fn. 4) the 16-a. Andresey; the 12-a. Ox hay, so named by 1546; (fn. 5) and the 6 1/2-a. Horse holme on the Stapenhill side of the river. (fn. 6) All were being farmed out to lessees in the late 16th century. (fn. 7)
What became the block of land now known as Regatta Fields south of Ox hay formerly comprised islands on either side of the Fleet channel. The channel separated the two parts of Fleet green (22 a.), so called by 1397; (fn. 8) a further 12 a. adjoining the east side of the upper part of Fleet green was known as Shipley meadow by 1544. (fn. 9a) To the south what was called Over meadow by the mid 16th century stretched into Branston township. It comprised 72 a. in the mid 18th century, when it was still held in small parcels. (fn. 10a)
The Hay, a 14-a. stretch of meadow on the west bank of the river, parallel to High Street, was so called by 1322. (fn. 11a) It had been assigned in the late 12th century to the abbey kitchener as pasture for his cows, and was held by lessees after the Dissolution. (fn. 12a) By the end of the 18th century the Hay was apparently no longer being rented and was probably used by townspeople as a recreation ground, as it certainly was in the early 19th century. (fn. 13a) It was presumably because of the damage done to the grass that cows were no longer pastured there, even in 1852 when they were 'famished'. (fn. 14a) In the 1870s a swimming baths was built at the north end of the Hay and a brewery maltings at the south end. (fn. 15a)
Further small areas of meadow and pasture alongside watercourses were recorded in the late 16th century: (fn. 16a) notably, Wallsitches at the north end of Hawkins Lane; Guildables on the south side of Horninglow Street across the line of the present Guild Street; Moor Mill Dam meadow along Branston brook on the west side of town; Goose moor beyond the west end of New Street; and New Close on the north side of Shobnall Road beyond the borough boundary.
Arable
The arable for Burton and Burton Extra lay mostly on the south and south-west sides of the town. At least three unnamed fields were recorded in the late 12th century, but it is uncertain whether they were open or not. (fn. 17a) Some of the land may have lain in a field called 'Brode rudding', mentioned in the mid 13th century and presumably identifiable as the later Broadway field straddling the Branston road on the south side of the town. (fn. 18a) There was evidently open-field land in Moor Mill flat, recorded in 1307 and lying on the west side of Branston brook north of the later railway station, (fn. 19a) and to the south in Cross flat, recorded in 1324. (fn. 20a) In 1384 selions were recorded in what was called 'the field of Burton' on the boundary with Branston south-west of Cross flat. (fn. 21) There was also open-field arable for Burton people on the Winshill side of the river, where three flats were recorded in 1307 evidently stretching from the end of Burton bridge. (fn. 22) Most of Moor Mill flat and the Winshill land had been inclosed by the 1540s, (fn. 23) and the only later references to openfield land in Burton were to selions in Broadway field in 1617 and 1624. (fn. 24)
Common Rights
The lack of available land on which burgesses could pasture their animals was already a problem in the earlier 14th century: in 1329 the manor court ordered the bailiff to impound the burgesses' animals on pasture outside the borough. (fn. 1a) In the earlier 15th century both burgesses and the tenants in Burton Extra were aggrieved by the inclosure of land by the abbey at the south end of the town, and in an award of 1454 they were allowed access to the closes between Michaelmas (29 September) and Candlemas (2 February), as long as they were unsown. (fn. 2a)
In 1598 the townspeople and tenants of Burton Extra shared all-year rights of common in Fleet green, Goose moor, and New Close, and also in parts of Horninglow Great Moor. (fn. 3a) Townspeople also had seasonal rights in various meadows, pastures, and closes up to the eve of Candlemas, the start date differing at different places, according to when the grass was first cut: Midsummer eve (23 June) at the Hay and in part of Over meadow; Lammas (1 August) in Guildables, Wallsitches, and part of Coneygrey on Burton meadow; and Michaelmas in Ox hay and closes on the south-west side of the town. Elsewhere in Burton meadow and Over meadow, and in Moor Mill Dam meadow and other smaller places, townspeople had access (again up to Candlemas eve) as soon as the hay was carried away, and in arable closes as soon as the corn was carried away until sowing again took place. Besides rights in their own arable closes, Burton Extra tenants enjoyed seasonal rights in most of the meadows and pastures in Burton itself, although from Midsummer (rather than Lammas) in the Coneygrey, Guildables, and Wallsitches.
Also in 1598, townspeople enjoyed 'reacke commons', probably rights of cutting grass or reeds, (fn. 4a) 'at the open time' along the banks of the Trent and river Dove as far as Monks bridge in Stretton, and then along watercourses through Rolleston, Anslow, and Branston back to the Trent again. They also had common rights in woodland in Branston and Horninglow townships, except at pannage time (between Michaelmas and Martinmas).
Disputes over Commons A dispute over common rights between the townspeople and the tenants of Burton Extra was settled initially by an agreement of 1609. (fn. 5a) The argument was revived in 1622 when the tenants of Burton Extra petitioned Lord Paget, complaining of the 'demeaning minds and wills' of the borough freeholders who had overburdened the commonable lands in Burton Extra and so denied them access to their own land. A settlement reached in 1623 upheld the 1609 agreement and stressed that the same rights of common should be given to every landholder 'not respecting the substance or ability of any owner or the sumptuous building thereof'. Every tenant of a commonable holding was to agree to a stint determined annually by 6 wardens: 4 representing the borough (of whom 2 were to be freeholders and 2 tenants of Lord Paget) and 2 Burton Extra. The wardens, who were to brand all animals (in practice, cattle and horses) on the commons and keep a record of those owned by each man, received 2d. for the first branding of each beast and 1d. for branding newly bought or exchanged animals; the money so collected was to be used for the pitch needed for the branding, and to employ poor men to walk the commons daily and identify trespassers. Unmarked beasts that had been impounded were to be released on the payment of 1d., albeit requested 'upon neighbourly entreaty'. Only butchers were allowed to pasture sheep, and then no more than 12 on the Hay and Fleet green between Midsummer and Candlemas, unless a flood forced them to be moved to other land. Moreover, only tenants who had no beasts at all were allowed to keep geese, and then only two old geese and a gander; goslings could be kept until Christmas but not beyond. The agreement confirmed the appointment of the manorial herdsman and swineherd, ordering that the latter was to restrict swine to fallow land and not allow them on Goose moor or other waste ground.
Inclosure The open fields and parts of the common meadows were inclosed piecemeal, presumably in the 17th and early 18th centuries; in 1622, for example, Lord Paget gave permission for Burton Extra tenants to inclose their land, provided that the resultant closes were not too small. (fn. 6a) A proposal of 1694 to inclose the remaining commons was approved by most townsmen and had the support of Lord Paget: some of the land would have been set aside to help finance Paget's scheme to make the Trent navigable. In the event the plan was not implemented. (fn. 7a) By the earlier 18th century townspeople no longer pastured beasts on arable land in Burton Extra, most of which was evidently inclosed by that time: it was then noted that 'all this part of the county inclose their open arable fields when they please'. There was opposition, however, to the attempted inclosure of other commonable land. (fn. 8a)
New Close in Burton Extra was assigned in 1771 to the feoffees of the town lands for public purposes. (fn. 9b) The conveyance was made under an inclosure Act which was otherwise confined to Branston, Horninglow, and Stretton. (fn. 10b)
Common land in Burton and Burton Extra, notably meadow and pasture on Burton meadow and the Hay and totalling 283 a., was inclosed in 1823 under an Act of 1812. (fn. 1b) The Act empowered the commissioners to sell land (nearly 62 a.) for the benefit of the poor to compensate for their loss of common rights in the Lammas meadows, that is meadows that were common only from Lammas time (1 August). (fn. 2b) The meadows themselves were retained by their landowners, chiefly the marquess of Anglesey, on payment of monetary compensation to trustees of the poor; Wyggeston Hospital alone was exempted from having to pay.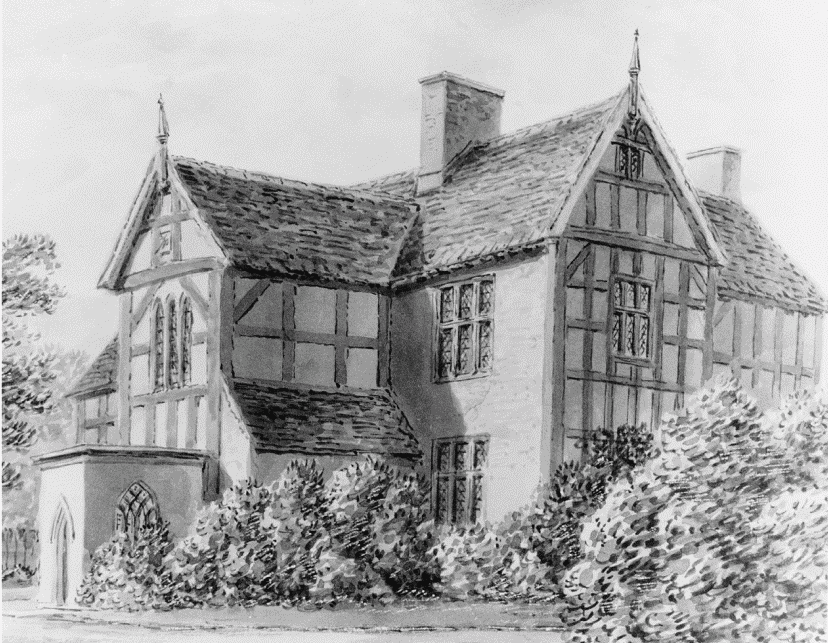 Farms
Shobnall Grange In the early 13th century Burton abbey began to convert tenanted land at Shobnall into demesne, possibly in order to acquire arable that was not subject to flooding. (fn. 3b) By 1307 it had established a grange there, (fn. 4b) and in the 1340s Abbot Robert de Brykhull built a dovecot, as well as a 'great barn'. (fn. 5b) After the Dissolution Shobnall was let in 1542 by the Crown to Walter Hendle (or Henley), solicitor to the Court of Augmentations, and the farm covered 228 a. in 1550. (fn. 6b) John Blount, the owner of Nether Hall, was the lessee by 1544. He was succeeded by his son Edward, who held the farm until the 1590s when he left Burton. (fn. 7b) In the early 17th century it was held by Daniel Ridgley and in the 1640s by Ferrers Ridgley (d. 1645). (fn. 8b) The lessee in 1669 was Solomon Clarke, a clothier, who died in 1682 and was succeeded at Shobnall by John Orme, his son-in-law. (fn. 9c) The land was halved in 1719 when some meadow and arable land were let separately, and the original farm comprised only 110 a. in 1846. (fn. 10c) The separated land was evidently used to create Grange farm, which included a farmhouse on the west side of Wellington Street by 1853. (fn. 11b) That farm survived until the 1870s when it was developed for housing. (fn. 12b)
The house at Shobnall, described as a mansion house in 1585, was recorded after 1604 as containing 4 bays; other buildings included an oxhouse and stable of 6 bays and a barn of 7 bays. (fn. 13b) The house had apparently been demolished by the late 1750s, when only the farm buildings remained; a farmhouse recorded in 1796 may have been newly built or have incorporated part of the earlier building. (fn. 14b)
Bond End Farm In the late 12th century the abbey kitchener was granted land at Bond End, and by the earlier 13th century he had a grange there on the south side of Pinfold Lane; it was known as Kitchener's Barns by 1329. (fn. 15b) It comprised arable, meadow, a dovecot, and a pool in 1531, when it was let to Henry Watson and his son John. The rent included a fat lamb to be delivered on the eve of Corpus Christi and eaten in the abbey on the feast day at a dinner to which Henry and John and their wives were invited. (fn. 1c) When John died in 1556 or 1557 the farm passed to his son Hugh, and in 1585 it was held by Robert Watson. (fn. 2c) It remained in the Watson family until the death in 1663 of Henry Watson, whose son Henry, a doctor, discontinued the lease. (fn. 3c) Known as Bond End Great farm by the 1730s, it was later tenanted by the Ordish family (fn. 4c) and was run by William Ordish in 1818 and James Ordish in 1834; James died in 1845 and was succeeded by his nephew, also James. (fn. 5c) The farm, which comprised 220 a. in 1852, was worked by the younger James until the later 1860s when the land was taken for housing development, James Street and Ordish Street being laid out over the site. (fn. 6c)
Damaged during the Civil War but later rebuilt, apparently by Henry Watson in 1649, the farmhouse in the earlier 19th century was timber-framed, comprising two storeys with attics. The plan was probably cross-shaped, with a stack at the junction of the ranges and another at the end of one wing, which may itself have been the remains of a late medieval open hall. A Gothick porch was added, presumably in the early 19th century. (fn. 7c)
Nurseries and Allotments
A garden nursery worked by William Smith from at least 1790 was probably on the south side of New Street, where he had 1 a. in 1835. The stock in 1798 included fruit trees, shrubs, and greenhouse plants. (fn. 8c) A nursery of 1 1/2 a. on the south side of Cat (later Station) Street was worked in 1834 by William Appleby, who was one of six gardeners and seedsmen working in the town in 1851. (fn. 9d)
Allotments in Burton, Burton Extra, Horninglow, and Stapenhill were let by the marquess of Anglesey as potato grounds from 1835. (fn. 10d) William Appleby, who abandoned his garden nursery in the 1850s and opened the Devonshire Arms public house on the site, held 1/2 a. of potato ground in 1860, when townsmen complained that he sublet it to people with high wages thereby disadvantaging poor labouring men with large families and low wages. (fn. 11c) In 1890 Burton corporation agreed to lease 6 a. in Horninglow from Wyggeston Hospital to provide allotments, presumably establishing the basis for the Wyggeston Estate Allotment Society which existed by 1908. (fn. 12c) Allotments were established by railway and brewery companies for their workmen, and in 1909 a total of 123 a. was let throughout the county borough. (fn. 13c) Allotments in Blackpool Street continued to be owned by Allied Breweries in 1971. (fn. 14c)
Agricultural Societies
The Burton and Stapenhill Farmers' Prize Society was established in 1841, with prizes of between £1 and £10 to be awarded for the best examples of crops and livestock; it also promoted farm improvements. (fn. 15c) At its first cattle show in September 1841, however, competition was limited to the tenants of its president, the marquess of Anglesey. Hopes that the society would be expanded were not fulfilled, and it was apparently wound up in 1845. (fn. 16b)
The Burton Farmers' Club, also established in 1841, held monthly meetings at the Three Queens Hotel in Bridge Street. (fn. 17b) It had over 100 members by 1851, but nothing further is known about it. (fn. 18b) An association for mutual assurance against loss by death of cattle was established in 1843 and existed until at least 1863. (fn. 19b)
ESTATE ADMINISTRATION
Labour Services
When Burton abbey surveyed its estates in the early 12th century, there were three main categories of tenants: (fn. 20b) villani, who held their land 'for work' (ad opus), meaning that they owed labour services; censarii (rent-payers), who held for rent (ad malam) with reduced or specialised services; and cotseti (cottagers), who probably paid small rents in return for working for the abbey as craftsmen or servants.
The villani were typically half-virgaters whose fixed labour services usually comprised 2-days' work a week, carting, and seasonal duties. A few also owed more honourable services, characteristic of predecessors who had enjoyed a freer status in the pre-Conquest period. At Winshill the successor of one of the sokemen settled there after 1066 held his land as a riding man, an office of Anglo-Saxon origin which normally involved escort duty and message-carrying, (fn. 1d) and in the late 13th and earlier 14th century a tenant at Horninglow was required to accompany novice monks when they went to the bishop for ordination. (fn. 2d) By the late 13th century the villeins (by then styled neifs) had been brought further into villeinage and merchet and chevage fines were being imposed, (fn. 3d) but they were no longer obliged to do week-work. (fn. 4d)
By the Dissolution customary labour services had almost disappeared, although tenants in Horninglow and possibly in Stretton were supposed in 1546 to plough two days a year and do some carting, even though they held by copyhold tenure. (fn. 5d) As late as 1597 tenants in all parts of the manor owed money for commuted services. (fn. 6d)
Manorial Officers
Reeves The task of collecting produce and rents from tenants and supervising labour services was at first undertaken by reeves. They occur in the early 12th century holding land in Branston, Stapenhill, Stretton, Wetmore, and Winshill, and they presumably officiated at those places. (fn. 7d) A reeve of Burton occurs in the 1150s. (fn. 8d) By the late 13th century the office was a mark of villeinage, (fn. 9e) each community electing its own reeve, at least in the earlier 14th century. (fn. 10e) The reeve for Shobnall was recorded in 1326, and his office still existed in 1394. (fn. 11d)
Bailiffs In the later Middle Ages reeves were replaced by a salaried bailiff for the whole manor: one was mentioned in 1468. (fn. 12d) When Sir William Paget acquired the manor in 1546, he appointed a bailiff for both the manor and the borough, along with two underbailiffs for the outlying villages. (fn. 13d) By the early 1570s there were two joint bailiffs, an arrangement still followed in the 1640s. (fn. 14d)
At the start of the 18th century there was only a single bailiff, John Hixon, who was succeeded in office in 1714 by his son Thomas. (fn. 15d) On Thomas's death in 1738, (fn. 16c) William Wyatt became bailiff and he held office until 1771, except for a period between the mid 1740s and the earlier 1750s when Henry Hayne was bailiff. Wyatt, who like both Hixons lived at Sinai park, in Branston, was a land surveyor and was responsible for mapping Burton and other places in the manor between 1757 and 1760. (fn. 17c) He resigned as bailiff in 1771 and was succeeded by his son Samuel, (fn. 18c) who held office only until 1774 when he was replaced by William Priest, who remained in post until at least 1781. (fn. 19c) By 1790 the agent was Joseph Perks, replaced in 1812 by Charles Hodson (d. 1834). (fn. 20c) His successor was Thomas Landor, who like Hodson lived at the Manor in Burton, where he died in 1864. (fn. 21a) He was replaced by John Darling, whose duties as agent gradually diminished during the rest of the century. (fn. 22a)
Haywards and Pinners A hayward (inclusarius) was recorded for Bond End in 1333 and one for Burton in 1390 and 1398. The manor court in 1398 assigned the Burton hayward 1d. for every three lots of animals he impounded. (fn. 23a) There were probably haywards for the other parts of the manor: an officer in Winshill styled the common warden of animals was recorded in 1397. (fn. 24a) By the earlier 17th century the officer was called a pinner; he was then paid £1 a year by the town masters, and when last recored in 1788 he received £1 5s. (fn. 25)
There was presumably a pinfold in Pinfold Lane (so called by 1545) at the south end of the town. There was still a pinfold in the Bond End area in 1776, possibly on the same site. (fn. 26) By the early 17th century there was also a pinfold in Horninglow Street. Rebuilt in 1781, it stood in 1837 on the north side of the street, east of Hawkins Lane. (fn. 27) It still existed in 1852. (fn. 28)
Herdsman and Swineherd There was a common herdsman by 1550. (fn. 29) In 1574 the herdsman and a swineherd guarded cattle and pigs which were led out each morning and returned each afternoon by an officer called the common servant. Measures then taken to prevent over grazing banned sheep from the commons between Lady Day (25 March) and Lammas (1 August), and stipulated that when grazing was allowed no butcher should keep more than 12 sheep; also, no more than three horses, mares, or colts per person were to be pastured. (fn. 1e) For their duties the masters of the Burton town lands paid the herdsman 6s. 8d. a year, the swineherd 4s., and an officer called the moor keeper 10s. (fn. 2e) A swineherd, at least, was still employed in 1714, when the town masters gave Patrick the swineherd 1s. for a horn. (fn. 3e)
Estate Management
In the absence of financial accounts it is uncertain how the abbey managed its estates. The granges in the outlying parts of the manor were sometimes let, (fn. 4e) but Shobnall seems to have been still worked directly in the later 15th and earlier 16th century. (fn. 5e) Kitchener's Barns, however, was let in 1531. (fn. 6e)
As soon as he acquired the manor in 1546, Sir William Paget ordered an enquiry, which produced a draft rental and measurements of the former monastic buildings. (fn. 7e) A detailed manorial survey was completed by Edmund Twynyho in January 1550. (fn. 8e) The manor was again surveyed in 1579, although only part of the report survives. (fn. 9f) In 1585 the Crown made a survey following the flight of Thomas, Lord Paget, (fn. 10f) and Burton was again surveyed when it was restored to Thomas's son in 1597. (fn. 11e) A survey made in 1656 no longer survives. (fn. 12e)
Copyhold tenure gave way to leasehold during the second half of the 17th century, and by the late 1680s leases for lives with moderate rents but high entry fines were characteristic. In 1749 it was noted that there were no longer any customary or copyhold tenures in the manor. (fn. 13e) Leases for lives were the normal means of conveyance on the estate until 1864 when leases for 60 or 99 years were introduced, evidently in response to the need for building plots in the developing parts of the town. (fn. 14e)
WOODLAND
The 'wood of Burton', where a fowling glade (volatum) was mentioned in the late 13th century, lay in the Shobnall area. (fn. 15e) It was possibly controlled in the early 12th century by a tenant called 'Wardebois', probably the French word for woodward, (fn. 16d) and foresters certainly overviewed the cutting of timber there in the 13th century. (fn. 17d) The woodland disappeared as Shobnall grange was developed, and by the 14th century the main area of woodland for the manor was Outwood, in Horninglow. (fn. 18d)
FISHERIES
Medieval River Fisheries
Salmon were paid as rent for land in Winshill and Wetmore in the later 12th century, and by the early 14th century there were several fishermen and women living at Burton. (fn. 19d) In the 1220s Abbot Richard granted John son of Ralph of Stapenhill fishing rights in a stretch of the river Trent between Horse holme and the ford near the upper mills on the west bank of the river in Burton Extra. John was permitted to fish with traps and nets in mid-stream along part of the river; the abbot retained the mid-stream fishing along the rest of the stretch. John was further allowed to fish with traps and nets beyond the ford towards the mill pool, but only so far as he could wade. (fn. 20d) The same stretch of water was presumably that in which the daughters of Richard of Stapenhill claimed to hold fishing rights in 1349. (fn. 21b)
The fishing of the stretch of river alongside Drakelow (Derb.) was disputed in the later 15th century by Sir John Gresley, lord of Drakelow. By an award arbitrated in 1467 by George, duke of Clarence, Gresley and the abbot were permitted to fish with nets from both sides of the river from a boundary at Walton-onTrent (Derb.) as far as an island called 'Gosholme', and also with nets in mid-stream. Gresley, however, was not allowed to fish with nets or traps in the water around 'Gosholme'. (fn. 22b) In the early 15th century the fish in the Trent at Burton included tench and bream (fn. 23b) and in the late 16th century pike, perch, roach, and chub. (fn. 24b)
Other Medieval Fisheries
There were fisheries in the Middle Ages in the pools at both the Winshill and the upper mills. (fn. 25a) The tenant of the upper mills in the early 12th century was not allowed to keep fish caught there. (fn. 26a) A similar restric tion was imposed in the earlier 1340s on the tenants of a fulling mill adjacent to the Winshill mills, and it was further stipulated that fulling was to stop at night when 'valeyson' (the capture of eels) occurred at the corn mills. (fn. 1f) The season for catching eels, known as 'quill time' by 1529, was noted in the early 17th century as being between the Assumption (15 August) and the Nativity of the Virgin Mary (8 September). (fn. 2f) When the abbey let both the upper mills and the mills at Winshill in 1414, it permitted the fishery of the bays of the former but retained that of the latter, as it still did in 1529. (fn. 3f)
By the late 12th century there was a fishpond in Shobnall, probably the pool for the mill on Siward moor. In the late 16th century it held carp. (fn. 4f) There was a fishpond at Kitchener's Barns in Bond End by 1531. (fn. 5f) Fish were probably also kept in the pools within the abbey precinct during the Middle Ages. (fn. 6f)
Post-Medieval Fisheries
When Sir William Paget acquired the manor in 1546, fishing rights were let in four separate stretches of the river: from Robin Hood's ford at Branston to Penkeholm in Drakelow, from Drakelow to the upper mills, from the upper mills to the Winshill mills (including the Fleet channel, known as 'le depe draught', beside the former monastic precinct), and in the west arm of the river at Wetmore. (fn. 7f) In 1627 the fishing rights between the upper mills and the Winshill mills were let jointly with the fishing of the west arm, a practice which continued in 1766. (fn. 8f) The stretches of river upstream from the upper mills, however, were still being let separately in 1781. (fn. 9g) The marquess of Anglesey still owned the river fishery in 1913, but the rights were later acquired by Burton corporation and certain breweries. (fn. 10g)
In a lease of 1676 Lord Paget reserved the right to resume the river fishery in order to preserve the stock, but in 1733 it was alleged that there was hardly a fish in the water as a result of poaching. (fn. 11f) It was further alleged in 1782 that fish were being destroyed by the 'unwarrantable' use of the floodgates by the Burton Boat Company as lessees of the fishery between the mills. The fish then included perch, chub, gudgeon, eels, lampreys, and salmon. (fn. 12f) In the 1840s the manorial bailiff paid for the repair of nets and fishing boats, and provided a night watch to deter poaching. (fn. 13f) With increasing river pollution, however, fish stocks disappeared and did not return until the later 20th century, when fishing became recreational.
In 1593 fishing rights at the upper and lower fulling mills were granted to the lessee of both mills except during 'quill time', when fishing was reserved to William Paget. (fn. 14f) By 1623 the fishery at the Winshill corn mills apparently benefitted from a 'heck' or grating which prevented fish swimming further up or downstream. (fn. 15f) A nearby fishhouse, built possibly by 1585, was presumably used for salting and storing fish, but by 1676 it too had been converted to a fulling mill. (fn. 16e) By the earlier 18th century poaching probably reduced the yield of the pools to the annual draught of eels. (fn. 17e) In 1859 the eel trap at the Winshill corn mills was removed and a new one placed near Burton bridge. (fn. 18e) Eels were still caught in some numbers in the trap at the Upper mills farm in 1896. (fn. 19e)
SWANNERY AND DOVECOTS
Burton college employed a swanherd in 1544. (fn. 20e) In the mid 1550s the swans were managed by a lessee, but by the 1560s the manor again employed an officer to guard them, at a salary of 10s. a year. (fn. 21c) The swannery was evidently on the Trent: in 1596 the lessee of the Stapenhill ferry was ordered to ensure that no bushes or reeds were cut down where the swans nested. (fn. 22c) A swanherd was still paid 10s. by the manor in the 1790s to mark the swans, and marking continued until at least 1849. (fn. 23c)
In the early 14th century a dovecot was built in the Pound Yard, on the north side of the abbey church. A dovecot recorded in 1585 was probably on the same site. (fn. 24c) There was a dovecot at Kitchener's Barns in 1531, (fn. 25b) and one at Shobnall Farm in the 1630s was repaired in 1770. (fn. 26b) Nether Hall, on the east side of Anderstaff Lane, possessed a dovecot in 1715. (fn. 27a)
RABBIT WARRENS
The abbey's rabbit warren recorded in 1309 was probably near the north end of Burton meadow, where it certainly was in the mid 16th century. (fn. 1g) 'Connyngry house', recorded there in the later 1550s, was evidently a warrener's lodge, and a warrener was then paid 20s. a year. (fn. 2g) The warren was last recorded in 1598. (fn. 3g) In 1550 there was also a rabbit warren in upper meadow in Burton Extra; it was last recorded in 1591. (fn. 4g)
HUNTING AND FOWLING
Eadric the forester (or the rider), who held land at Stretton and Wetmore in the early 12th century, was probably responsible for protecting game in the manor; he may have been the man of the same name who also held land at Abbots Bromley. (fn. 5g) Hunting services were owed by tenants at Branston, Stapenhill, and Winshill at the same date, and a man named Earnwig the hunter held a house in Burton for an unspecified service, presumably related to hunting. (fn. 6g) In 1155 Henry II, apparently in confirmation of a charter of Henry I, granted the abbot free warren throughout Burton manor, prohibiting the hunting of hare without the abbot's licence. (fn. 7g) Three hunters held houses in the borough in the early 14th century, (fn. 8g) and the care of the puppies of hunting dogs was one of the services then imposed on villeins in Burton manor. (fn. 9h) By the later Middle Ages deer were restricted to Sinai park in Branston. (fn. 10h)
Fowling rights were granted to the lessee of the west arm of the Trent in 1544. (fn. 11g) The first recorded appointment of a gamekeeper for the manors of Burton and Burton Extra was in 1674, in accordance with an Act for the better preservation of game, but the office may have lapsed. Gamekeepers for the manor of Burton, however, were appointed from 1772. (fn. 12g) The marquess of Anglesey shot game on his estate at Burton in 1836, but in 1842 he surrendered the gaming rights to his tenants. (fn. 13g)
MILLS
Winshill Mills
In 1086 Burton abbey had a mill on the Winshill side of the river Trent; no mill was mentioned in the Domesday Book entry for Burton, and the one at Winshill evidently served the whole manor. (fn. 14g) By the early 15th century a weir controlled the water supply to what were then called the lower mills (in contrast to the upper mills in Burton Extra). When the abbey let the mills in 1414 it agreed to rebuild them within two years, and by 1455 there were three mills on the site under one roof. (fn. 15g) Known as Burton mills in 1529, they were let that year to Robert Tone, in succession to his father Henry, and in 1546 they were worked by Robert's son Henry (d. 1568 or 1569). (fn. 16f) By the late 1580s they were worked by Henry's son Robert, and a toll of 1/16 was being charged. (fn. 17f) Robert died in 1621 and when Lord Paget renewed the lease in 1623 in favour of Robert's eldest son Henry, a clothier, the mills comprised two under one roof and a third standing separately. (fn. 18f) The mills were rebuilt by the manor in 1701-2 and were then managed directly until 1745. (fn. 19f) In the 1730s, when used to grind and also sift flour, they were noted as employing 'a great number of men and horses'. (fn. 20f)
In 1745 the mills were let, along with a malt mill in the town centre, to Henry Hayne, also lessee of the Trent navigation. (fn. 21d) Although Hayne was evidently concerned to control the mills because of his desire to maintain the flow of water in the river, he also rebuilt and improved them. (fn. 22d) The lease was renewed in 1763 in favour of Hayne's successors as lessees of the Trent navigation and was renegotiated in 1784, when the lessees included Henry Evans, a brewer and manager of the mills from at least 1777. (fn. 23d) The mills were worked in 1793 by Evans and Joseph Wilson, and in 1834 by Wilson's sons Joseph and Benjamin. Still worked by Joseph Wilson & Co. in 1884, they were sold in 1887 or 1888 to Thomas Greensmith, (fn. 24d) who built a steam-powered mill in 1889 and installed turbines in 1906. A mill powered solely by electricity was added in 1937. (fn. 1h) The mills remained in the ownership of the Greensmith family in 1977, as one of the few remaining corn mills in the country making some use of water power. (fn. 2h) Milling ceased in the early 1990s. (fn. 3h) The surviving buildings include a 2-storeyed structure dated 1715 but possibly incorporating earlier stonework.
Other Water Mills
Besides the Winshill mills the abbey had two mills in Burton Extra in the early 12th century. The lessee was bound to grind wheat and malt from the demesne free of charge, and he also had to surrender the mills with new stones. (fn. 4h) Situated on an island near the west bank of the Trent opposite Stapenhill, they were known as the upper (or over) mills by the mid 14th century. (fn. 5h) There was only a single corn mill in 1414, and it was evidently disused by the mid 16th century when a fulling mill was built on the site. (fn. 6h)
The 'mill of the bridge' and the 'other little mill' recorded in the Winshill section of the early 12thcentury survey of the abbey's estates probably stood beside Burton bridge at its east end. They may have been the two mills 'under the bridge' mentioned in the 1190s. (fn. 7h)
A mill assigned to the abbey kitchener by Abbot Nicholas (1187-97) stood on Siward moor west of the town, and meadow there called Moor Mill Dam suggests that it was worked by a stream. It was last recorded in 1247. (fn. 8h)
Mills that were used for fulling cloth are treated elsewhere in this section. (fn. 9i)
Milling Rights
In 1529 the abbey allowed Robert Tone, the lessee of the corn mills at Winshill, to work two horse mills for grinding malt. They stood on Tone's land, evidently at his house in the town, but in the early 1560s one mill was moved to a site near the parish church. (fn. 10i) It was alleged in the early 1760s that manorial rents were low because tenants were obliged to grind their malt at the malt mill, and it was dismantled to justify an increase. (fn. 11h)
The lord of the manor's monopoly over milling was challenged in 1554, when at least four private hand mills were set up, (fn. 12h) and in the late 1580s, after the forfeiture of the manor following Lord Paget's conviction for treason, the tenants took corn and malt to mills in neighbouring manors. (fn. 13h) Infringements continued throughout the 17th and earlier 18th century, and in 1765 the manorial bailiff was obliged to set up a hand mill in a shop under the town hall for the use of nearby tenants. (fn. 14h)
Windmill
A windmill built apparently in 1811 west of the later railway station was described as new in 1849, presumably having been rebuilt. (fn. 15h) Steam-powered by 1854, the mill was replaced in 1891 by a new structure, (fn. 16g) known as Station mill, which was worked in 1913 by T. C. Greensmith & Co., the owners of the corn mills at Winshill. (fn. 17g)
Steam Mill
A steam-powered mill on the north side of Pinfold Lane (later Park Street) was operated in 1818 as a corn mill by the Union Mill Co. (fn. 18g) It was run in 1826 by William Kynnersley but by 1843, following his bankruptcy, it had become a cement factory. (fn. 19g) Reconverted to a corn mill between 1854 and 1856, it continued in use until at least 1868. (fn. 20g)
RETAILING
Markets
Market Rights The grant of a market every Thursday was made to the abbey by King John in 1200, when he also authorised an extension of the borough. The grant probably confirmed an existing arrangement. (fn. 21e) An unofficial market was held on Sundays possibly by 1309 and certainly by 1380, but it was proscribed in 1384 because it drew traders away from a rival market held on Mondays at Tutbury. (fn. 22e) In 1609 James I granted a Monday market, presumably at the request of Lord Paget, who complained that Burton's markets and fairs had been neglected in the 1590s when the manor was in royal hands. Nothing further is known about it, however, and it may not have been instituted. (fn. 1i)
The market rights were let (possibly from 1853) to the Burton improvement commissioners, who in 1876 purchased the rights, the market place, and the market hall from the marquess of Anglesey. (fn. 2i) Bye-laws of 1886 permitted markets on most weekdays, but the majority of people attended on Thursday and Saturday. (fn. 3i) Traders' enrolments with the local co-operative society were blamed in 1902 for the markets' decline, but daily retail markets continued to be held in 1927. (fn. 4i) In 2000 markets were held on Thursday, Friday, and Saturday.
Market Place The market place stretched westwards from the abbey church and was first recorded in the later 13th century. (fn. 5i) The start of trading was presumably announced by a bell: a bellhouse mentioned in the early 14th century evidently stood in the market place and was either one of the towers of the abbey church or a free-standing building. (fn. 6i) A watch tower (le garettes) built by Abbot John of Ibstock (1347-66) and still in existence in 1432 evidently allowed officials to control the market. (fn. 7i) In 1574 a bell was rung at 12 noon on market days by the bellman, (fn. 8i) and the manorial bailiff then acted as the clerk of the market. (fn. 9j)
Selds (small shops or booths) were put up in the market place in the later 13th century, and in 1446 there were also 'fleshboards', presumably a row of stalls for butchers. (fn. 10j) A covered market cross was built in the 15th century, and its roof was repaired in 1654. (fn. 11i) The cross still stood in 1737 but had been demolished by 1755. (fn. 12i)
Market Halls A hall built in the market place in the late 15th century was the meeting place of the manor court but it also had shops on the ground floor: in 1550 there were 20 shops occupied by retailers who paid rent, probably in lieu of the market toll. (fn. 13i) Stalls were set up in the hall chamber in 1712, and they probably remained in use until the hall was demolished in 1770. (fn. 14i) The basement of the new town hall built in 1772 also contained shops in the late 18th century. (fn. 15i)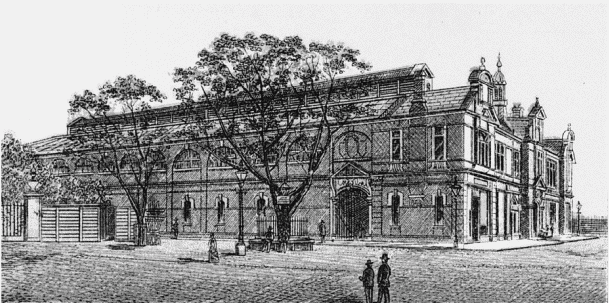 The hall was demolished in 1883 and was replaced by a purpose-built market hall on a site to the southeast in the former monastic precinct. Designed in a Renaissance style by Dixon and Moxon of Barnsley, it was built of red brick with stone dressings and at the council's request the entrance front was provided with a panel sculpted by a John Roddis of Birmingham and depicting the grant of the market charter by King John to Abbot William Melburne. (fn. 16h) Poultry, game, and fish continued to be sold from open stalls, but in 1925 a fish market was fitted out at the east end of the market hall, probably in the space where fruit and vegetables had been sold until a separate market for them was set up in 1923 in a former brewery in Bank Square. (fn. 17h) The remaining open-air market stalls were probably removed under a scheme of 1929 to improve the market place, which included the present shopping arcade designed by Alderman Thomas Jenkins and opened in the early 1930s. (fn. 18h)
Cattle Market A separate cattle market, apparently established by 1836, was held monthly in 1857, on Mondays in Lichfield Street. (fn. 19h) The market drew complaints from residents and in 1863 the improvement commissioners moved it to a timber yard in Abbey Street, where it was still being held in 1871. (fn. 20h) It was presumably superseded in 1873 or 1874, when a private company started to hold fortnightly cattle sales in Derby Street. (fn. 21f) There were three private cattle markets by 1884, including one in Derby Road, which remained the only one in 1913 when run by the Lichfield auctioneers, Winterton & Sons. (fn. 1j) Cattle sales were still held weekly on Mondays in 1927. (fn. 2j)
Fairs
A fair granted to the abbey in 1200 was held on the eve, day, and morrow of the feast of St. Modwen (4-6 July). (fn. 3j) After the change of calendar in 1752, it was held on Old St. Modwen's day (16 July), and survived until at least 1824 when it was described as 'of no note'. (fn. 4j) There was a second fair by 1255, held in the mid 15th century on Ascension day. It was still held in 1891, but probably lapsed shortly afterwards. (fn. 5j)
In 1468 a third fair was granted on the eve, day, and morrow of St. Luke (17-19 October). (fn. 6j) Held after 1752 on Old St. Luke's day (29 October), it was later known incorrectly as St. Modwen's fair, possibly because it had become the town's principal fair. It was mainly for cheese by 1794, with horses (and probably cattle) being sold on the five preceeding days. By the mid 19th century the sales took place in Horninglow Street and Bridge Street. (fn. 7j) The fair lasted nine days in 1873, still ending on 29 October, but it was reduced to two days in 1876 (fn. 8j) and was abolished in 1924. (fn. 9k)
A fourth fair granted in 1609 on Lady Day continued after 1752 as a cattle fair on Old Lady Day (5 April). (fn. 10k) In 1771 a fifth fair, for cattle and horses, was established at Candlemas (2 February). (fn. 11j) Both fairs survived in 1891. (fn. 12j) Finally, a cheese fair was being held on the first Tuesday in September by the earlier 1820s, but it evidently lapsed between 1841 and 1846. (fn. 13j)
The fairs were 'walked' by at least 1610, and the custom of parading the town on fair days continued until 1842. (fn. 14j) In 1889 the fairs were still held in the main streets in spite of efforts in 1886 to have the cattle and horse fairs removed to the Derby Street cattle market. (fn. 15j) The Candlemas and Old Lady Day fairs, however, probably lapsed in the 1890s because weekly cattle markets made them unnecessary.
A statute fair for the hiring of servants was held on the Monday after Michaelmas by 1824. (fn. 16i) It was criticized in 1889 as 'a human flesh market' and again in 1892 for encouraging drunkenness and immorality. (fn. 17i) Attempts to abolish it failed and it continued as a hiring fair in 1926, (fn. 18i) albeit with reduced business following the opening of a labour exchange in 1910. (fn. 19i) It survived in 2000 as a pleasure fair held on the first Monday and Tuesday in October.
Co-operative Societies
The Burton-on-Trent Industrial Co-operative Society was formed in 1862 with premises in Guild Street, but it had apparently failed by 1868. (fn. 20i) The Burton-uponTrent Working Men's Co-operative Society was established in 1872 in Park Street, and by 1876 it had a grocery shop in Waterloo Street. (fn. 21g) There was only one branch in 1880 and the society evidently failed soon afterwards. (fn. 22f) The Burton-upon-Trent Co-operative Society was formed in 1890, with a shop in Byrkley Street, and new premises, designed by R. Stevenson, were opened there in 1900. By 1892 the society had branches in Broadway Street and Thornley Street, and one in Stapenhill; a further 17 branches (not all of them in the town) had been opened by 1913. The society merged with the Derby Co-operative Society in 1970, and a department store was opened that year in High Street. (fn. 23e)
Shopping Centres
The Bargates shopping centre was opened in 1964 on the east side of High Street at its north end, and was later renamed the Riverside shopping centre. (fn. 24e) Burton shopping centre at the corner of New Street and High Street was opened in two stages in 1970 and 1974. (fn. 25c) It contains a bronze statue of a cooper sculpted by James Butler, unveiled in 1977. (fn. 1k) The Worthington Walk shopping centre was opened in 1986 on the west side of High Street, on the site of a Worthington brewery bottling plant. The centre was refurbished in 1999, when its name was changed to Burton Place. (fn. 2k) In 1990 the Octagon shopping centre was opened on a site between New Street and Lichfield Street, formerly occupied by an engineering works. (fn. 3k)
A Sainsbury supermarket was opened in part of the Burton shopping centre in 1970; it was replaced by a new store built at the north end of Union Street in 1997. (fn. 4k) A branch of Tesco at the west end of St. Peter's Bridge was opened in 1995. (fn. 5k)
BREWING
Early History
One of Burton abbey's tenants at Wetmore in the early 12th century was Frawin the brewer (bracedorius), and he may have been responsible for brewing ale for the abbey. Moreover, making malt was one of the labour services imposed on other tenants at the same date. (fn. 6k) Ale was presumably the staple produce until the 15th century, when the introduction of hops into the brewing process in England enabled the production of beer, with its longer-lasting quality. Beer may have been purchased at Burton in the 1470s, but even if it was marketed there it is uncertain that it was brewed there too. (fn. 7k) The earliest evidence for hops at Burton is not until the mid 1550s, when some were brought from London. (fn. 8k) Twenty years later hops were evidently being grown locally: a hopyard on the south side of Cat Street and a new one in the former monastic precinct were mentioned in 1579. (fn. 9l)
The large number (46) of alehouse keepers licensed at Burton in 1604 may indicate that locally-brewed ale and beer had more than a domestic market. (fn. 10l) Although the 'Hull ale' which Samuel Pepys drank in London in 1660 may have been brewed at Burton, it is not until the early 18th century that there is evidence for the availability of Burton ale in London: a song in praise of Burton ale in a collection of 1709 opened with the lines 'Give us noble Ale, of the right Burton pale, and let it be sparkling and clear'; (fn. 11k) and in an issue of The Spectator in 1712 the essayist Joseph Addison recounted a visit to Vauxhall Gardens where a walk was concluded with a glass of Burton ale. (fn. 12k)
The renown of Burton beer is derived partly from the qualities of the local water, which is very hard and contains relatively high concentrations of magnesium and calcium sulphates as a result of percolating through gypsum-bearing rocks to the north and west of the town. (fn. 13k) The properties of Burton water encourage fermentation, and enable brewers to use a greater quantity of hops than is usual in brewing without adversely affecting the flavour of their beer. Until the great expansion of brewing in the 19th century, sufficient water was extracted from wells sunk into the valley gravels. From the later 1850s, however, water from deeper levels was obtained by artesian borings. (fn. 14k)
The Eighteenth Century
Brewing expanded after the Trent was made navigable in the second decade of the 18th century and so provided the cheap water-transport necessary for the exploitation of distant markets, particularly in Russia. The lessee of the navigation, George Hayne, was already carrying ale for that purpose by 1712. (fn. 15k) Indeed, the earliest commercial breweries were established in High Street and Horninglow Street specifically in order to be near the river.
Burton ale was being sold by the bottle in London by 1738, and some Burton innkeepers were brewing ale for the London market by the late 1740s. (fn. 16j) The attraction was the superior quality of Burton malt, which the Staffordshire antiquary, Richard Wilkes, claimed in the 1730s was 'much esteemed for its paleness'; the malt, indeed, was 'a standard to try all other by'. Wilkes also noted that Burton ale was then being exported to Prussia and Scandinavia. (fn. 17j) A number of small breweries were established to take advantage of the Baltic market, and several brewers also traded in iron and timber from that region. This pattern continued until the collapse of the Baltic trade in 1807, following the Napoleonic blockade. A number of the smaller breweries were then taken over by the larger, more established concerns, which survived as producers for the domestic market until the 1820s when they began to brew pale ale for the India market and so entered into a particularly successful period of business.
Most of the brewers were freeholders, who were able to use hand mills to make malt at their own houses, in contrast to the tenants of Burton manor who were obliged to use the manorial mills, either the water mills at Winshill or the malt mill in the market place, and pay a toll. By the time that obligation was lifted in the early 1760s, however, none of the brewers who brewed for sale was a tenant. (fn. 1l) Because it was important to control the temperature of the brew and prevent it becoming too warm, brewing took place only between autumn and spring, and some maltsters used the summer months to pursue another trade: at least two maltsters in the 1750s also worked as brickmakers. (fn. 2l) In 1757 Burton had at least six 'common brewers', a term used for men who brewed for the retail trade and not simply for consumption on their premises, and beer was then said to be the chief manufacture of the town. (fn. 3l) By the earlier 1780s there were 13 breweries: (fn. 4l)
William Bass
Joseph Clay
Thomas Dicken
Henry Evans
John Greaves
Hill and Sherratts
Charles Leeson
Thomas Morecroft
James Musgrave
Samuel and William Sketchley
John Walker Wilson
Benjamin Wilson
William Worthington
Benjamin Printon is reputed to have been Burton's first common brewer. (fn. 5l) Possibly originating from near London, he may have started in business when he married in Burton in 1708, and he later had a brewhouse in Horninglow Street near Burton bridge. After his death in 1729, (fn. 6l) Printon's brewery was taken over by John Musgrave, whose son William expanded the business in the later 18th century, opening malthouses in Anderstaff Lane. In the 1780s the brewery was run by William's son James, who in the 1790s at least ran it in association with William Bass. (fn. 7l) After James's death in 1803, the brewery was bought by John Greaves, whose father, also John, had established a brewery also in Horninglow Street in 1774. (fn. 8l)
Another early common brewer was William Hill, who at his death in 1742 had a brewhouse in New Street. (fn. 9m) It was continued by his wife Mary, who in 1745 acquired another brewhouse and a malthouse in High Street; she may have been the Mary Statham who kept the Old Crown in High Street in 1749 and brewed for the London and Continental market. (fn. 10m) William's son Thomas was due to inherit the New Street brewery after his mother's death, and by the 1780s he was evidently in partnership with the Sherratt brothers, William and John, with a brewery in the Bond End area. (fn. 11l)
The most outstanding example of innkeeper-brewers was the Wilson family, which originated as the keepers of the Blue Stoops on the east side of High Street. Kept by John Walker (d. 1721), the inn was acquired in 1743 by his son-in-law, Benjamin Wilson. Wilson, who was also in trade as a ropemaker, greatly extended the brewing operations at the inn, and in 1768 acquired the adjoining premises. (fn. 12l) By then described solely as a common brewer, Benjamin retired in 1773 in favour of his son John Walker Wilson. (fn. 13l) Rather than continue his father's brewery, John set up on his own account as a brewer at a newly-built brewhouse elsewhere in High Street (fn. 14l) and in 1774 he sold the Blue Stoops to his brothers William and Benjamin. There were then two large brewhouses in operation, with a third about to be commissioned. (fn. 15l) In 1778 William sold his half-share in the brewery to Benjamin, (fn. 16k) who cautiously built up the business and became the town's leading brewer. (fn. 17k) The key to his success as a brewer was the purchase of good quality barley and hops, and also the careful production of malt, for which he used his own malthouses, hiring others only on short-term leases when demand was high. Wilson also bought ale from rival brewers. His own High Street brewery, therefore, remained compact, although in 1790 he bought a brewery on the north side of Horninglow Street from Samuel and William Sketchley. (fn. 18j) Brewing was the core of Wilson's business, but he also traded generally as a merchant, using the contacts made in exporting beer to Russia, his main market. It was presumably the collapse of that market that caused Wilson to retire, aged only 56, in 1807, selling out to his nephew, Samuel Allsopp. (fn. 19j) Wilson died in 1812. (fn. 20j)
The brewing interests of John Walker Wilson were more local than his brother's, although he too exported to the Baltic and traded as a general merchant. He remained a brewer until 1790, when he sold his High Street brewery, which was centred on the Old Crown inn, to Henry Evans. (fn. 1m)
Henry Evans was unusual among Burton's 18thcentury brewers, being the son of a wealthy Derby merchant. In 1754 his father had bought him property on the west side of High Street, where he soon erected two malthouses and a brewery. His extensive business interests, which included the navigation of the Trent, enabled him to buy an estate at Cauldwell (Derb.), where he died in 1805. (fn. 2m) In 1791 Evans settled the Wilson brewery on his daughter, Martha, and her husband William Worthington, who subsequently acquired Evans's own High Street brewery. (fn. 3m)
Also prominent among the common brewers in the second half of the 18th century was Samuel Sketchley, a Nottingham publican who was working as a brewer in Burton from 1741, if his brewery can be identified as the newly-built one advertised for sale that year; he was certainly active in Burton by 1752, with a brewery in Horninglow Street. (fn. 4m) Sketchley's export trade to the Baltic was considerable, and a brick warehouse built in 1758 at the north end of High Street was presumably used for storage. (fn. 5m) After Samuel's death in 1775, (fn. 6m) his sons Samuel and William continued the business as partners, but by the later 1780s both men had moved to Newark (Notts.), and in 1790 they sold the Horninglow Street brewery to Benjamin Wilson.
Two common brewers listed in the earlier 1780s had established their breweries in the 1750s: Joseph Clay, a Derby maltster, in 1751 in the premises of the former Lamb inn on the south side of Horninglow Street, and Charles Leeson in 1753 also on the south side of Horninglow Street. (fn. 7m) Leeson died in 1794 and his son, another Charles, in 1800, as did Clay, (fn. 8m) and later in 1800 Clay's son, also Joseph, acquired the Leeson brewery. (fn. 9n) The younger Joseph Clay subsequently opened one of the first banks in Burton and delegated the management of his brewery to a maltster, Thomas Salt, who later worked it as part of his own brewery in High Street.
Only two of the 18th-century brewers founded businesses which continued into the 19th century, William Bass and William Worthington. William Worthington the elder, a cooper who had come to live in Burton in 1744, bought a brewhouse in 1760 on the east side of High Street. (fn. 10n) In 1791 his sons William and Thomas married Martha and Sarah Evans, the daughters of the brewer Henry Evans, and Evans settled the brewery which he had recently purchased from John Walker Wilson on William and Martha. (fn. 11m) The elder William died in 1800, and his brewery was continued by the younger William, who in 1819 bought Evans's own brewery from his son, John Evans. (fn. 12m)
William Bass, who with his brother John had built up a carrier's business at Hinckley (Leics.), settled in Burton probably in 1756, following his marriage that year. (fn. 13m) He continued to work as a carrier, and did not turn to brewing until 1777, when he bought what had originally been the Every family's town house on the east side of High Street, together with a brewery and malthouse on adjoining land. His output was mostly for the domestic market, although in 1784 he started to export ale directly to Russia on his own account. After William's death in 1787, (fn. 14m) the brewery was continued jointly by his sons Michael and William until 1795, when Michael gained sole control. In a desire to expand the business, Michael had formed a partnership in or shortly before 1791 with the brewer James Musgrave, and in 1796 he was joined as a quarterpartner by John Ratcliff, then a traveller for the firm. The partnership with Musgrave was dissolved in 1797, requiring the construction of a new brewhouse on the High Street premises.
Earlier Nineteenth Century
Although the Baltic market was not completely destroyed by the Napoleonic blockade, it came to an end in the mid 1820s as the Baltic countries acquired their own breweries and imposed high tariffs on English imports. (fn. 15m) Burton brewers, therefore, had to develop other markets, especially in London and South Lancashire, and further afield in North America and Australia: in 1822 the Wilson-Allsopp brewery advertised for sale a quantity of 'rich pale and fine-flavoured Ale, of uncommon strength' which it was unable to export to Russia. Also in 1822 Samuel Allsopp's head brewer succeeded in reproducing a bitter, sparkling ale which London brewers had been for some time exporting to India. The qualities of the local water made the pale ale brewed in Burton especially suited to longdistance transport, and other local brewers followed suit, with the result that by 1832 the Allsopp and Bass breweries dominated the exports to India. Burton pale ale also became popular in the home market.
It was not until the opening of the railway line through Burton in 1839, however, that local brewers were able to embark on a period of rapid expansion that resulted in Burton's pre-eminence as a brewing town. The number of brewing firms increased from 5 in 1818 to 9 by 1834 and to 16 by 1851. (fn. 1n) No longer involved in trading in other commodities, as had been the case in the 18th century, the leading brewers (Bass and Ratcliff, and Samuel Allsopp and Sons) became specialists, investing in improved brewing techniques and increasing efficiency.
For the most part the breweries which survived from the late 18th century remained in the same ownership. Michael Bass died in 1827, and his eldest son Michael Thomas took control. The partnership with John Ratcliff was renewed in 1830, and after John's death in 1835 a new partnership was created with John's son Samuel (assigned a 3/16th share of the profits) and John Gretton (a 2/16th share). Samuel Ratcliff concentrated on the firm's finances, while Gretton managed the malting and brewing processes. (fn. 2n) Also in 1835 Samuel Allsopp settled his estate on his sons Charles and Henry, who continued the brewery as Allsopp and Sons after Samuel's death in 1838. (fn. 3n) After Thomas Salt's death in 1813, his brewery was managed chiefly by his son Thomas Fosbrooke Salt, under the name Salt and Co.; (fn. 4n) and William Worthington's son, also William, took control of the family brewery after his father's death in 1825. (fn. 5n)
Other firms underwent changes in management. (fn. 6n) John Greaves went bankrupt in 1815, (fn. 7n) and by the 1830s his Horninglow Street brewery was run by Johnathan Mason and Mason's son-in-law Robert Gilbertson. John Sherratt's partnership with Thomas Hill was dissolved in 1820, and after Sherratt's death in 1822 (fn. 8n) his Abbey Street brewery was taken over by Lewis Meakin. Hill's son, Charles, later opened his own brewery in Lichfield Street near the Bond End canal.
Of the new breweries that were established before 1851, most were small and short-lived. Two exceptions were a brewery set back off the north side of Horninglow Street, occupied in 1837 by Messrs. 'Saunders', possibly a partnership including Samuel Sanders, the builder of the town's first gas works in 1835, (fn. 9o) and the Burton Brewery Co. founded in High Street apparently in 1842 by Henry and Thomas Wilders. (fn. 10o)
Later Nineteenth Century
From the 1850s there was a dramatic increase in production: the output of barrels trebled in each of the three decades up to 1880, and by 1888 average production in Burton was more than twice that in London, which in 1851 had been nearly three times as much as Burton's. Indeed, several London firms, as well as others, opened their own breweries in Burton, so that by the late 1880s there were just over 30 in the town. The rate of growth then began to slacken and by 1900 the number had declined to 21, chiefly because of problems in raising sufficient capital to extend brewing premises and construct private railway lines and to employ the qualified chemists and engineers who became necessary as the brewing process became more scientific. (fn. 11n)
The first brewery to appoint a chemist was Allsopp and Sons, which in 1845 engaged a German, Dr. Henry Bottinger, and Bass and Co. followed suit in 1850. The original intention had been partly to provide evidence for the pure quality of Burton ale, but research was increasingly aimed towards inventing processes that would enable brewing to take place throughout the year, rather than seasonally. (fn. 12n) One of the most significant developments in this regard was the adoption of the 'Burton Union' system of fermentation, developed (from a patent taken out by a Warrington brewer) by Bass & Co. apparently as early as 1840. Whereas previously beer had been allowed to ferment in trade casks, the 'union' system comprised a set or 'union' of inter-connected casks from which the yeast escaped through pipes into a trough. (fn. 13n) Despite year-long brewing, malting remained a seasonal occupation and the shortage of local workers led to the employment from the 1860s, principally by Bass, Ratcliff, and Gretton, of migrant workers from Norfolk and Suffolk. Called 'Norkies', the men normally arrived in Burton during the second half of September and stayed until May, and as many as 256 were employed by Bass alone in 1896- 7. The arrangement continued until the early 1930s, when the Depression curtailed the amount of work available. (fn. 14n)
Following the government restriction in 1869 on the issue of licences for public houses, Burton breweries had to secure home sales by purchasing 'tied houses', notably in North Staffordshire, South Lancashire, and Wales. (fn. 1o) Breweries were also keen to protect their products from counterfeits: the Bass red triangle trade mark, in use since the 1840s, was apparently the first mark to be registered under an Act of 1875, (fn. 2o) and it was featured on two bottles in Edouard Manet's painting A bar at the Folies-Bergère (1881)
Described in 1879 as 'a mercantile Colossus', Bass, Ratcliff, and Gretton was then the premier ale brewery in the United Kingdom, and its annual output in the mid 1870s was a third of the total production of all the Burton breweries put together. (fn. 3o)
Employment at leading Burton breweries (fn. 4o)
Men and boys employed
1861
1888
Bass
1167
2760
Allsopp
889
1750
Burton Brewery Co.
297
350
Worthington
191
470
Salt
194
400
Ind Coope
50
450
Mann, Crossman & Paulin
365
Truman, Hanbury & Buxton
200
Total for all breweries
3086
8215
The Bass, Ratcliff, and Gretton partnership of 1835 was extended to include Charles Lyon c. 1840 and Joseph Spender Clay in 1854. Lyon withdrew in 1859, and Samuel Ratcliff died in 1861. A new partnership established in 1863 brought the sons of the original partners into the firm, which became a private limited company in 1880 and a public one in 1888, Michael Thomas Bass having died in 1884. (fn. 5o) As output increased extensions were made to the south of the original brewery (called the Old Brewery) on the east side of High Street. They included the surviving 120-ft. water tower dated 1866. Land (called the Middle Yard) on the west side of High Street running up to Guild Street was acquired mostly in 1842 and 1851, and the 'New Brewery' was built there in 1852. (fn. 6o) It was renamed the Middle Brewery after what was also called the New Brewery was built in 1863 on the south side of Station Street. (fn. 7o) Meanwhile, three malthouses were bought in Anderstaff Lane in 1845, and new malthouses were built on the Station Street and Middle Yard sites in 1859 and 1862. (fn. 8o) Between 1872 and 1875 a group of seven further malthouses was built on the south side of Shobnall Road; an eighth was added in 1891. (fn. 9p)
Henry Allsopp continued to run his father's High Street brewery as Allsopp and Sons, although with declining personal influence, until his retirement in 1882, and the firm became a public limited company in 1887. (fn. 10p) In 1859 it too built a new brewery near the railway station, and added a prestigious office block in 1864. (fn. 11o)
The other established breweries remained moderate in size. In 1842 William Worthington went into partnership with Thomas Robinson, who remained a partner until 1864 when he went into business on his own account, opening a brewery in Station Street. (fn. 12o) After Worthington died in 1871, his sons continued what was then called Worthington & Co., and the firm became a public limited company in 1889. (fn. 13o) Thomas Fosbrooke Salt entered into partnership with Henry Wardle in 1853, and after Salt's death in 1864 Wardle married his daughter. Wardle died in 1892, and the firm became a public limited company in the following year. (fn. 14o)
Several breweries with headquarters outside Burton opened breweries in the town, in the hope of sharing in Bass's success. The earliest was Ind Coope & Co. of Romford (Essex), which built a brewery on the north side of Station Street in 1856, adding offices in 1864. (fn. 15n) Messrs. Charrington of Mile End Road in London acquired Lewis Meakin's brewery in Abbey Street in 1872, and in 1873 the firm opened a new brewery on the north side of Queen Street; (fn. 16l) Albion brewery on the south side of Shobnall Road was opened in 1874 by Mann, Crossman, & Paulin Ltd.; (fn. 17l) and in 1873 Truman, Hanbury, Buxton & Co. of London acquired a brewery beside the railway line east of Derby Street, which they rebuilt in 1876 as the Black Eagle brewery. (fn. 18k) Also in 1876 the Warrington-based firm of Peter Walker built a brewery in Shobnall Road, replacing it in 1883 by one in Clarence Street. (fn. 19k) Finally, Thomas Sykes of Liverpool built the Trent brewery in 1881 in what became Anglesey Road. The firm went into liquidation in 1896, and the brewery was taken over in 1898 by Everard & Co., a Leicester-based firm which had gained a foothold in Burton in 1892 when it acquired the Bridge brewery on Burton meadow from Henry Boddington & Co. of Manchester. (fn. 1p)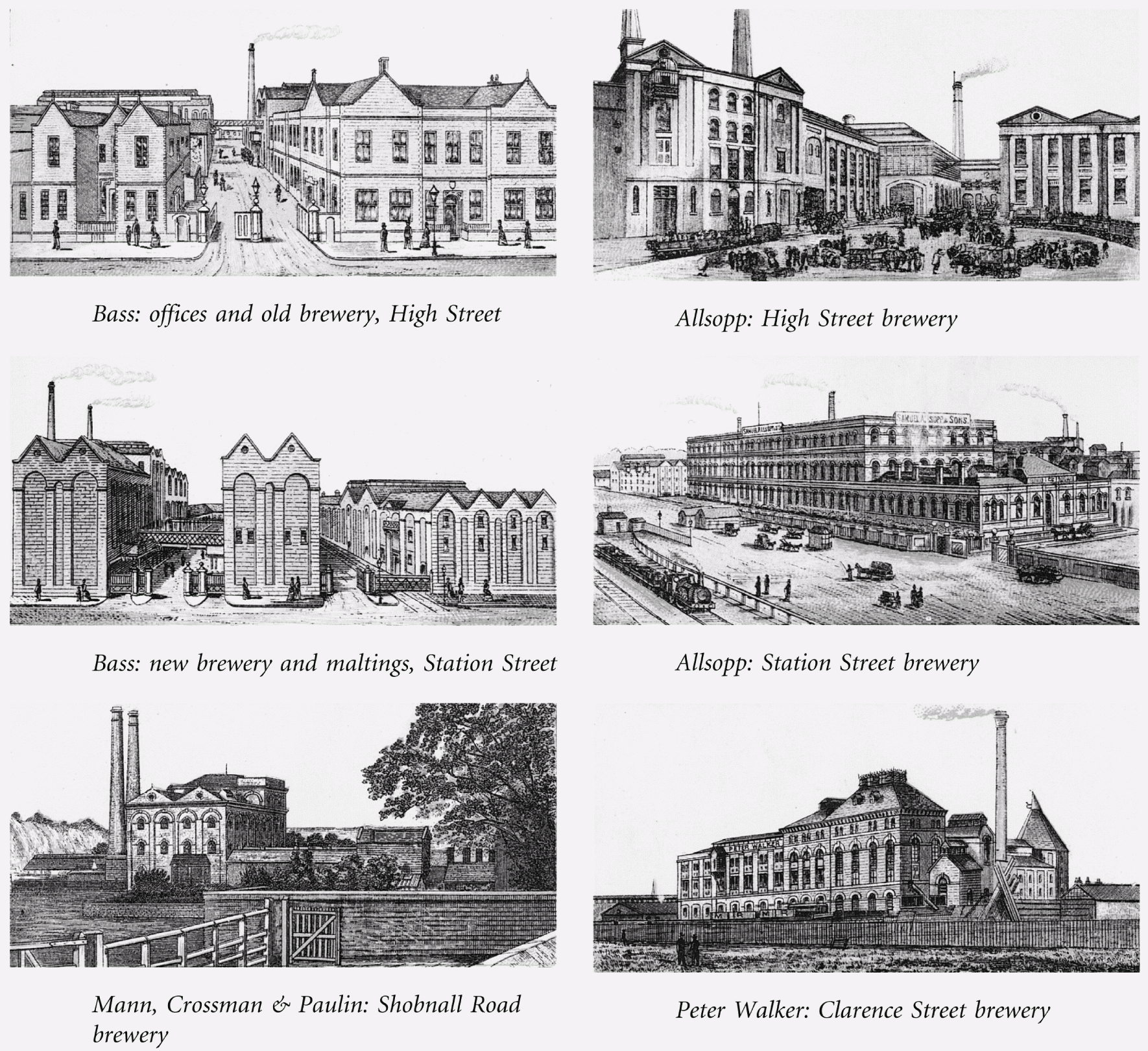 A number of small, local breweries were also established, notably by James Eadie in Cross Street in 1854, (fn. 2p) and by Sydney Evershed after he took over the Angel inn in Bank Square also in 1854. (fn. 3p)
Brewery Buildings
As brewing became the town's principal industry, so breweries and malthouses predominated in the townscape, especially as many were clustered in the historic core of the town. (fn. 4p) The smaller brewing companies tended to have breweries that were tall and on a square plan, such as Everard's brewery in Anglesey Road with its pyramidal roof. The larger companies, however, required greater floor area for the fermenting and conditioning processes and their breweries had length as well as height, presenting a long, low profile, such as the Allsopp and Bass breweries in Station Street. A notable characteristic of the larger breweries was the recessed arcading which broke up what would otherwise have been forbidding façades.
Arcading was also used in the malthouses, with their gabled kiln roofs with top vents designed to draw up heat through the building. Some malthouses were attached to breweries, but others occupied cheaper land away from the town centre, such as those in Shobnall Road. Brick was the chief building material for both breweries and malthouses, with considerable use of cast-iron for interior structures.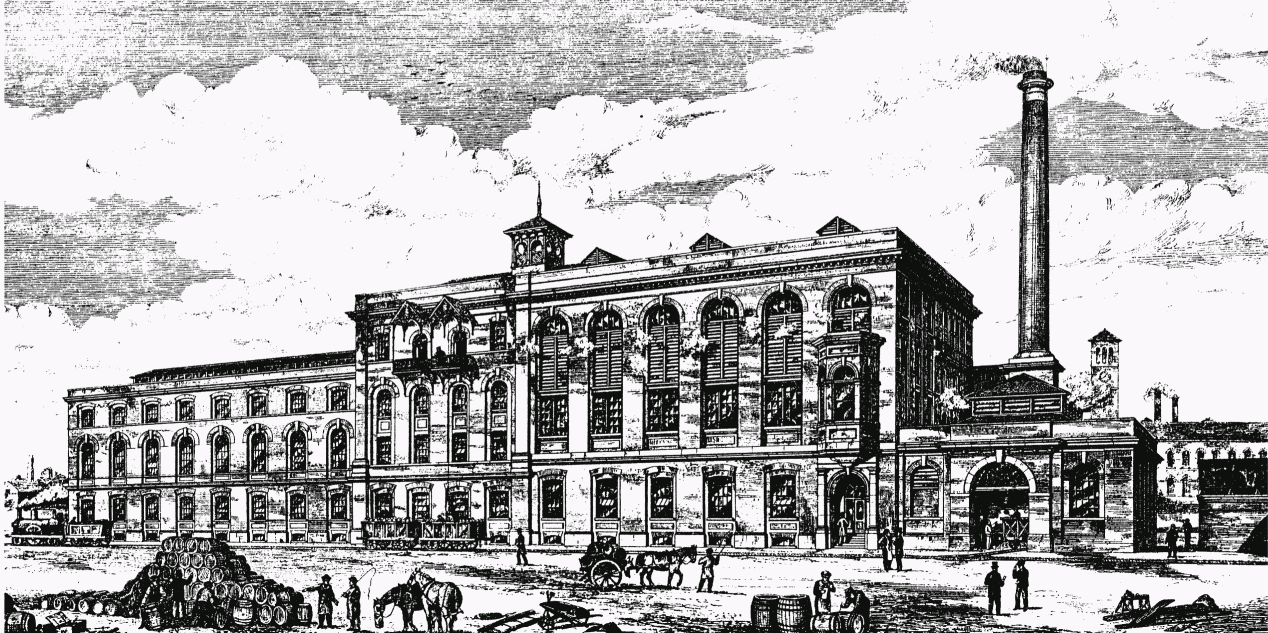 In contrast to the main plant some brewery offices were stuccoed, such as that of 1856 built for Ind Coope in Station Road with its rusticated ground floor and the impressive Italianate offices built in 1864 further west along the street for Allsopp and Sons. Those built by Bass in the 1880s in High Street are externally restrained and in Tudor style to harmonize with the adjoining Bass Town House, but inside they are more demonstrative with a high quality marble staircase which has limestone capitals with naturalistic carving.
Many breweries and malthouses were demolished in the 1960s and 1970s and even later, their sites used chiefly for shopping centres and carparks. Little attempt was made to find alternative uses for redundant buildings, although the joiners' shop in the Bass Middle Brewery was converted into a brewing museum and part of the Bass New Brewery became an arts centre.
Twentieth Century
With the decline in beer consumption in the early 20th century, most of the Burton brewing firms either closed down or amalgamated, so that their number fell from 20 in 1900 to 17 in 1912, 13 in 1924, and 8 in 1928. (fn. 1q) The ones which survived beyond the Second World War, however, managed to adapt to new patterns of consumer interests, especically the demand for lighter beers. Considerable sums were spent in modernising plant, with the result that many of the 19th-century buildings, especially malthouses and cooperages, became obsolete and were later demolished or converted either to commercial or recreational use. The breweries also abandoned their private railways and the tracks were dismantled.
The first amalgamation took place as early as 1898, when the Horninglow-based firm of John Marston and Sons Ltd. merged with John Thompson and Sons Ltd. of Horninglow Street and took over Albion brewery in Shobnall Road. A further amalgamation with Evershed's brewery in 1905 created the firm of Marston, Thompson, and Evershed Ltd., which continued at Albion brewery until 1999 when it was taken over by Dudley and Wolverhampton Brewery plc. (fn. 2q)
Burton Brewery Co. went into receivership in 1907 and was bought in 1915 by Worthington and Co., (fn. 3q) which itself was taken over by Bass, Ratcliff, and Gretton in 1927, although Worthington brand beers continued to be brewed at the High Street brewery. (fn. 4q) Bass also acquired the Walker brewery in Shobnall Road in 1923 and the Salt brewery in 1927, together with James Eadie Ltd. in 1933; all the brewery premises were closed down. (fn. 5p) Ind Coope went into receivership in 1909 and Allsopp and Sons in 1913. The former, however, was re-registered in 1912, and in 1934 it merged with Allsopp to form Ind Coope & Allsopp Ltd., using the Allsopp brewery in High Street. Meanwhile, the two Walker breweries were closed down in 1923 and 1925 and the Charrington brewery in 1925. (fn. 6p) Of the other non-Burton based breweries, Truman, Hanbury, Buxton & Co.'s Black Eagle brewery in Derby Street was closed in 1971 and then demolished, (fn. 7p) and Everard's closed their Trent brewery (renamed Tiger brewery in 1970) in 1985. (fn. 8p)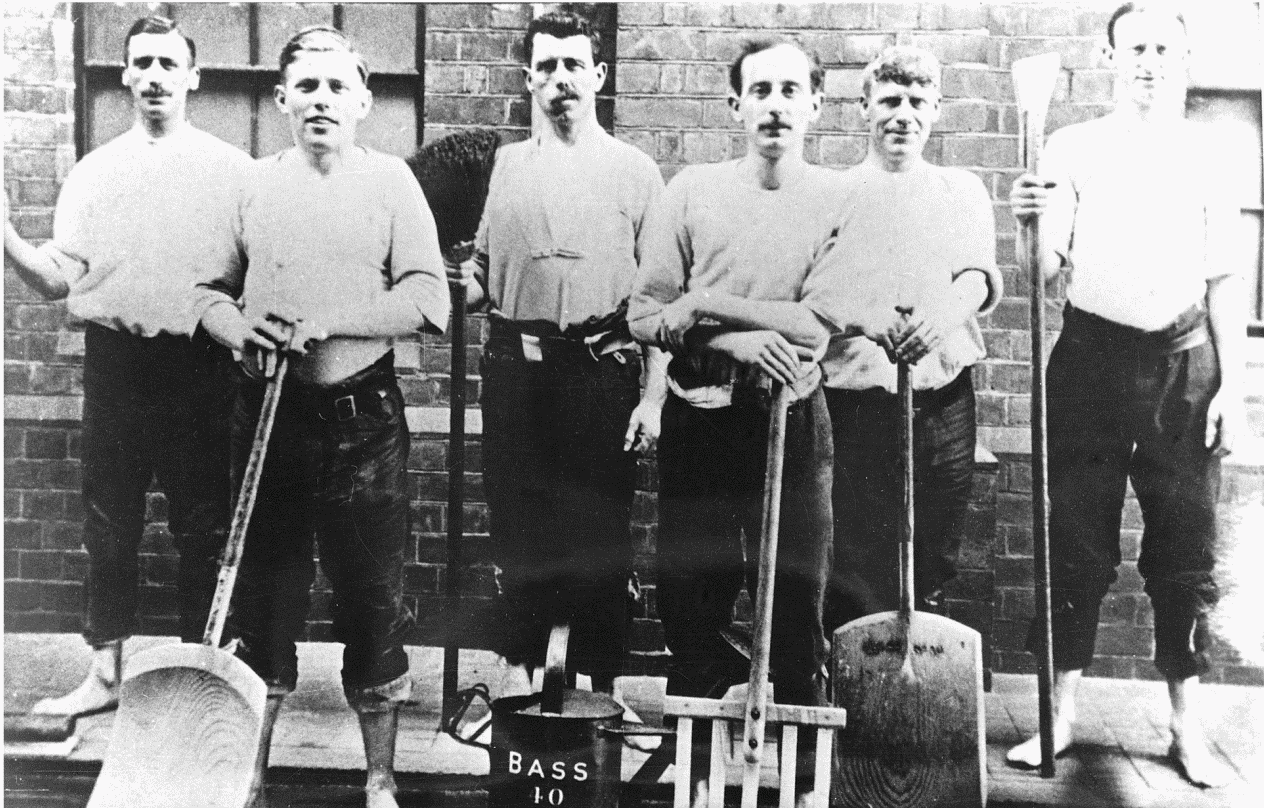 A further spate of amalgamations took place with non-Burton breweries in the 1960s. Bass merged with Mitchells and Butlers in 1961 and with Charrington in 1967, (fn. 1r) and Ind Coope merged in 1971 with three other brewers to form Allied Breweries. (fn. 2r) Allied Breweries later sold their Station Street brewery to CarlsbergTetley, which in turn sold it in 1997 to Bass plc, the successor to Bass Charrington plc. In 2000 Bass decided to concentrate on its hotel and leisure interests, and it sold its brewing arm at Burton (Bass Brewers Ltd.) to the Belgian conglomerate, Interbrew. (fn. 3r) In contrast, the independent Burton Bridge brewery was established in Bridge Street in 1982 by Geoffrey Mumford and Bruce Wilkinson, formerly managers at Ind Coope's brewery in Romford. Occupying a former inn, the brewery produces a range of beers which are sold on the premises and at other outlets. (fn. 4r)
The principal changes to brewery premises were the installation of a chilled ale plant at the Bass Middle Brewery in the mid 1950s, after which brewing itself was discontinued there. (fn. 5q) A kegging plant was added in 1964. The Worthington brewery on the west side of High Street was closed in 1965, along with its malthouses on the east side of the street near the river. Bass closed Old Brewery on the east side of High Street in 1969, after the commissioning in 1968 of a new brewery in Station Street; the Old Brewery was demolished in 1971, apart from the water tower and the offices on the street front. Part of the cleared site was used for a new office block, of red brick with a glazed lower floor and some Italianate styling in the upper storeys. Changes in the malting process resulted in alterations to the Bass malthouses at Shobnall and their replacement in 1980 by the present Tower maltings.
Cooperages
Coopers are first recorded in Burton in the earlier 18th century, (fn. 6q) and even though the large breweries set up their own cooperages in the 19th century there remained a number of independent craftsmen. They formed their own benefit society in 1853 and were especially well-organised as a labour force in the brewing industry. (fn. 7q)
There was a works for seasoning timber according to Ryan's patent on the north side of Station Street in the later 1830s. It probably treated the wood needed for making beer casks. (fn. 8q)
Ancillary Trades
In 1902 General Forage and Grains Drying Co. Ltd. opened a works in Lichfield Street to convert waste grain from breweries into cattle feed. The factory was closed in 1906, probably as a result of complaints about the smell. (fn. 1s) Another grain-drying factory, J. F. Lever & Co. Ltd. of Albion Mills in Horninglow Street, had been opened by 1906 and was still in operation in 1940. (fn. 2s)
In 1902 the Marmite Food Extract Co. Ltd. of London converted a disused malthouse in Cross Street for the manufacture of its brand yeast extract from spent yeast from breweries. (fn. 3s) In 1953 the works was replaced by one in Wellington Road, which was itself extended in 1968 when the manufacture of Bovril beef extract was transferred to Burton from London. Later part of the Bestfoods UK Ltd. group, the factory still produced Marmite and Bovril in 2000, together with other food products, especially sauces. (fn. 4s)
Aerated Water
In 1867 George Henson established the Midland sodawater works in Horninglow Street. The business, which moved to Parker Street c. 1876, produced non-alcoholic drinks including table water, ginger ale, and ginger beer. It also bottled beers before the breweries acquired their own bottling plants. (fn. 5r) An aerated-water factory established by John Burrows in Derby Road by at least 1884 became a bottling plant only in the 1920s. (fn. 6r)
CLOTHWORKING
Wool
A dyer and a weaver were recorded at Burton in the early 13th century, (fn. 7r) and dyers and combers (presumably woolcombers) were recorded in the early 14th century. (fn. 8r) William Prudhomme, one of the merchants of the staple whose cargo of wool was lost at sea en route for Calais in c. 1413 and 1424, may have operated from Burton: a merchant of the same name was appointed as a trustee to collect money for Burton bridge in 1441. (fn. 9q)
Fulling Mills A newly-built fulling mill was given to the abbey by a monk, Robert of Stapenhill, in the earlier 1340s; it lay on an island in the river Trent adjacent to the corn mills at Winshill. (fn. 10q) Access from the east bank of the river was presumably by a bridge, whose upkeep was one of the conditions imposed when the mill was leased in 1535 to a fuller, Richard Low (or Lowe). (fn. 11p) In 1554 the lease was renewed in favour of Agnes Lowe, presumably Richard's widow, and her sons William and Richard. (fn. 12p) The lessees in 1562 were Roger and Thomas Lowe (possibly the nephews of the elder Richard Lowe) and John Lowe (son of William Lowe). (fn. 13p) By the 1590s the mill was known as the Nether walk mill. (fn. 14p)
In the later 16th century two more fulling mills were built on an island in the river Trent in Burton Extra township, on the site of the disused corn mill known as the Over mill. The first fulling mill was built in 1555 or 1556 by Henry Tone, the lessee of the Winshill corn mills, and his father-in-law, William Caldwall, a clotheir; it was let in 1560 to Caldwall and his stepson John Clerk. (fn. 15o) The second fulling mill, together with a mill house, was built on an adjoining site by a Coventry millwright in 1574 and was let the same year to Richard Clarke, a shearman. (fn. 16m) In 1580 the two mills were let jointly, and in 1593 a millwright named Robert Cochet (otherwise Gascoigne) of Shipley, in Heanor (Derb.), agreed to hold them along with the Nether walk mill. (fn. 17m) After Cochet's death the lease of the mills was inherited by his son, also Robert, who worked them until 1610 when all three mills were let to Thomas Lowe, a clothworker. (fn. 18l)
A fourth fulling mill which existed in 1676, having been converted from a fishhouse, almost certainly stood on an island in Burton township at the end of the weir which stretched south from the Winshill mills. (fn. 19l)
Early Clothiers The scale of clothworking is revealed by a dispute in the earlier 1580s, when John Clerk claimed that he had been ejected from his Trent-side dyehouse and that as a result 300 people had been put out of work. (fn. 20k) One of the lessees of the Over fulling mill in 1560, Clerk (d. 1585) was described as both a clothier and a wool merchant, and he was evidently an entrepreneur who organised several stages of production. (fn. 21h) Other members of the Clerk (or Clark) family who were clothiers included Henry (fl. 1602), (fn. 22g) Robert (fl. 1625), (fn. 1t) Joy (fl. 1652), (fn. 2t) and William (fl. 1657). (fn. 3t) In 1666 Solomon Clarke of Shobnall, a clothier and apparently the lessee of the Over fulling mills, had a house in the town assessed on 8 hearths; he died in 1682. (fn. 4t)
The Caldwall family also continued to be involved in clothworking. William Caldwall, who had a dyehouse in Burton and took a lease of the Over fulling mill in 1560, died in 1582. (fn. 5s) On his death his brother Richard, a London physician, established a loan charity intended to assist William's son, also William, and to relieve clothworkers in Burton. (fn. 6s)
The kind of finished cloth produced at Burton in the 16th century was probably suitable only for the local market. About 1580 the clothier John Clerk provided 8 1/2 yds. of 'marble' cloth at 6s. a yard for the parish priest and clerk at Burton, (fn. 7s) and the kersey which is found among household goods in the 1580s and 1590s was probably worked by local weavers. (fn. 8s) When Burton kersey, so called, was stolen at Eccleshall in 1604, its value was given as 4s. a yard. (fn. 9r)
Later Decline Sir Simon Degge, writing in the later 17th century, noted that before the Civil War kersey from Burton was held 'in great esteem', but that the clothing trade suffered because of the war. (fn. 10r) Although all the fulling mills were repaired at some expense by the manor in the late 1690s and were then let without the lessee having to pay an entry fine, (fn. 11q) their use was probably already in decline as a result of the increasing popularity of types of cloth that did not need to be fulled. By 1721 the mill at the end of weir running south from the Winshill corn mills had been converted into a forge, (fn. 12q) and by the later 1750s one of the two Over mills had been converted into a house, the second mill there having presumably fallen into disuse. (fn. 13q) Only the Nether fulling mill at Winshill remained in use, being worked by two fullers, John Gibson father and son, from 1735 until at least 1770. (fn. 14q) That mill was apparently also being used to wash leather at some time in the earlier 18th century. (fn. 15p) In 1762 it was noted that Burton's fame for producing strong woollen cloth was 'quite lost'. (fn. 16n)
Worsted and Other Cloths From the end of the 17th century lighter, worsted woollen fabrics such as tammy and jersey were being produced in Burton. Ralph Astle worked as a weaver and jersey comber by 1693, (fn. 17n) and in 1755 Benjamin Astle had a tammy manufactory in High Street, which was managed after his death in 1761 by his sons Benjamin and John. It employed at least 20 men in 1793 and remained in use until John's death in 1808. (fn. 18m) John Bott conducted 'extensive business' at a tammy manufactory in Anderstaff Lane from at least 1770 until 1785, having by then moved to Tutbury. (fn. 19m) Knitted cloth and hosiery were also being made in the 1730s, when there were at least three framework knitters in the town. (fn. 20l) Some tammies and woollen cloths were still made in Burton in 1818, when there were three wool staplers in New Street. (fn. 21i)
Dyers Samuel Adams, a dyer mentioned in 1709, possibly had a dyehouse next to Burton bridge where one was worked by his son Henry in 1733. (fn. 22h) It probably remained in use in 1834. (fn. 23f) There were two other dyehouses in 1711, one in Anderstaff Lane and the other in Cat Street; the former was still in use in 1827. (fn. 24f)
Cotton
Mills In 1780 Robert Peel, a cotton manufacturer, transferred some of his operations to Burton following riots in 1779 at his Lancashire mills and built a cotton mill on the site of the Nether fulling mill at Winshill. (fn. 25d) Four storeys high and eight bays long, the shell of the building remained standing in 2000. (fn. 26c) In 1781 or 1782 Peel built a second cotton mill at the site of an abandoned fulling mill on the west bank of the river in Burton Extra, near the present Upper Mills Farm, (fn. 27b) and between 1782 and 1784 he built a third cotton mill on the south side of the Bond End canal at the point where it joined the Fleet channel. (fn. 1u) The Bond End mill was at first powered by a cut taken from the west side of the river near the Branston boundary, but in 1792 a steam engine was installed. (fn. 2u) A second building at the Bond End site, erected in 1790, may have been a separate mill. (fn. 3u) Finally, between 1813 and 1834, the forge mill at the end of the weir running south from the Winshill corn mills was converted into a fourth cotton mill. (fn. 4u)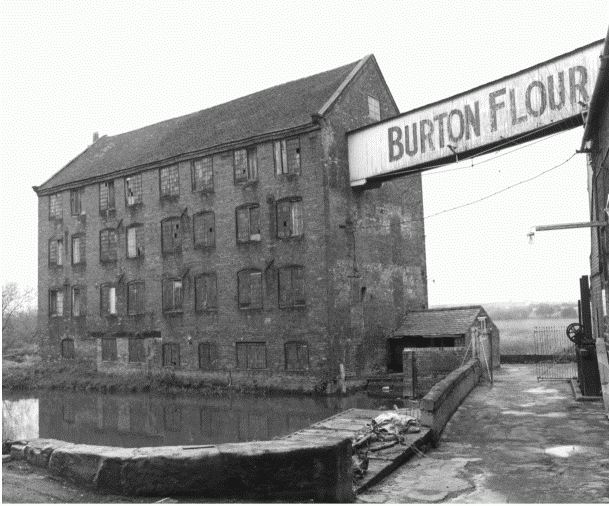 Peel Family Business The partners in the Burton cotton works were Robert Peel, three of his sons (William, Lawrence, and Robert John), and William Yates. When Robert retired in 1790 or 1791 his nephew John took charge. (fn. 5t) After John's death in 1816, (fn. 6t) the mills were run by Joseph Peel (d. 1821) (fn. 7t) and by 1834 by John's eldest son, Robert John, who was assisted by his cousin John. (fn. 8t) The mills were used primarily for spinning cotton, but in 1804 John Peel was described as a calico printer, and by 1834 the mills were being used for both spinning and power-loom weaving. (fn. 9s) They were said in 1794 to employ several hundred people, many of them evidently women, (fn. 10s) and of the 425 people employed in 1838 nearly 100 were children. (fn. 11r)
Closure of Mills and Later Uses The Peel family ceased to work the mills in 1841, allegedly following the discovery that Lord Paget intended to impose a heavy fine for the renewal of their leases; (fn. 12r) Robert John Peel, however, remained in Burton until his death in 1857. (fn. 13r) The cotton mill on the west bank of the river in Burton Extra was at first let to Burton screw manufacturers, but it later became a flint mill. (fn. 14r) The Bond End mill buildings, partly used in 1849 as brewery stores, were demolished in the early 1880s, when the corporation opened a central waste disposal depot on the site. (fn. 15q)
The two mills at either end of the Winshill weir were taken over by William Cooke, a smallwares manufacturer from Measham (Derb.), who built himself a villa on the Newton road in Winshill. In 1846 he employed over 250 people in making smallwares (cotton tape, binding, and braid). (fn. 16o) Cooke sold the mills in 1847, that next to the corn mills to a partnership called Small, Taverner, and Sharp and that at the south end of the weir to Jonathan Haythorn. (fn. 17o) The latter, called Trent mills in 1854, became a flint mill in the later 1850s. (fn. 18n) The former was continued as a tape mill, John Taverner being the only partner remaining by 1880. Between 1900 and 1904 his son, also John, moved the manufactory to Shobnall Street, where it later traded as John Taverner & Sons Ltd. (fn. 19n)
Lace
A lace mill which stood in Bond Street in 1900 was presumably opened by Boden & Co., lace manufacturers, the occupiers by 1904. The firm, which employed local women to repair damaged curtains and netting brought from Nottingham, was still in business in the later 1930s but probably closed the mill during the Second World War. The tall, brick mill building, however, remained standing in 2000. (fn. 1v)
Felt
Two feltmakers and a hatmaker were recorded in Burton in 1632 and at least 15 feltmakers were working there in the later 17th century. (fn. 2v) Premises in New Street occupied from at least 1709 by Francis Astle (d. 1735 or 1736), a feltmaker, were described in 1735 as providing room for 24 men. (fn. 3v) What was probably the same workshop was let in 1762 to a hatter named Thomas Cooper; his brother Godfrey, also a hatter, leased premises in High Street at the same time. (fn. 4v) The same or another Thomas Cooper was in trade as a hatter in 1794, and the business survived until at least the early 1840s. (fn. 5u) By 1783 William Denston was making hats in Horninglow Street, and after his death in 1802, the trade was carried on by another William Denston, probably his son, until at least 1818. (fn. 6u)
Port Family Hat Manufactories The most prominent hatmakers, however, were members of the Port family, who were evidently responsible for developing a London market for Burton felt and hats by the 1760s. (fn. 7u) John Port, recorded as a feltmaker in 1693 and 1725, was probably the first of his family to be involved in the trade; he died probably in 1732. (fn. 8u) Francis Port (d. 1723) left his feltmaking tools to his son Francis, (fn. 9t) and by 1745 Philip and Robert Port, possibly father and son, were in partnership as feltmakers. (fn. 10t) Philip died in 1764, leaving his property on the corner of Lichfield Street and Bond Lane to his grandson Philip Port, (fn. 11s) who ran it as a hat manufactory in 1805. (fn. 12s) Philip died in 1808 and his son Robert continued the business at least until the early 1820s. (fn. 13s)
By 1784 another hat manufactory was run by John Port, who in 1797 occupied a new shop and warehouse at the south-east corner of the former monastic precinct, known as the Soho by 1823. (fn. 14s) John evidently secured a contract to supply hats to the army and navy, and in 1794 his business was said to account for the 'very considerable' manufacture of hats in Burton. (fn. 15r) John died in 1802, and the manufactory was continued by his son, also John. (fn. 16p) The younger John was recorded in 1818 as a military cap manufacturer together with his son, another John, who had succeeded his father by 1823 and was still making army caps in 1834. (fn. 17p) John died in 1837 and although the Soho works may still have been in use in 1841 hatmaking declined: by 1851 only two hat manufacturers remained in Burton. (fn. 18o)
METALWORKING
In the early 12th century a goldsmith was required to work for the abbey without payment, although he was provided with food; he also held land in Stapenhill. (fn. 19o) Goldsmiths were recorded again in Burton only in 1325 and 1419. (fn. 20n)
There were at least nine smiths in Burton in the early 14th century, one of them described as a nail smith. (fn. 21j) Thomas Ward, a nailer recorded in the early 1570s, was presumably the ironmonger of the same name who had a shop under the town hall in the 1580s. His widow had iron goods there and in a shop at her home in 1594. (fn. 22i) Another nailer was recorded in 1652. (fn. 23g) Domestic nailmaking continued during the 18th century and flourished in the early 19th century, (fn. 24g) presumably because of the availability of rods from an iron works in New Street. (fn. 25e) There were five nail shops in 1835 and also in 1851, but nailmaking in the town had ended by 1861. (fn. 26d)
18th-Century Iron Industry Burton developed its own small-scale iron industry in the early 18th century, following the opening of the Trent navigation which enabled the import of bar iron from Russia and Scandinavia into the town. (fn. 1w) A forge for hammering and plating iron was established c. 1720 by Thomas Seal, a Burton ironmonger, in a disused fulling mill at the end of the weir running south from the Winshill corn mills. Seal continued to work it until his bankruptcy in 1732. (fn. 2w) The remainder of the lease was taken over by Sampson Lloyd, a Birmingham ironmaster, who at first apparently worked the forge for boring gun barrells and making thimbles; after a new lease was acquired in 1746, the forge reverted to hammering and plating iron. (fn. 3w) Operations expanded after a further lease was negotiated in 1762 in favour of Sampson and his son, another Sampson. At the same time an adequate water supply to the forge was ensured by the younger Sampson, who as part of a syndicate acquired leases of both the Trent navigation and the corn mills at Winshill. The syndicate included the screw manufacturer William Wyatt, who as the agent for Burton manor was able to arrange a steady supply of timber and cordwood for making the charcoal needed at the forge. (fn. 4w) A steam engine was installed to replace water power in the 1780s or early 1790s. (fn. 5v) Despite national changes in the manner of ironworking in the late 18th century, the Lloyd family continued to work the forge at Burton until c. 1810, but in 1813 it was sub-let to John Peel, who subsequently converted it into a cotton mill. (fn. 6v)
Screw Manufacture In 1760 the brothers Job Wyatt of Tatenhill and William Wyatt of Burton patented a machine for making wood screws and opened a manufactory in High Street, which in 1762 was run by William's son-in-law (also called William Wyatt). (fn. 7v) The threading machine was presumably at first worked by hand, but possibly by 1772 a corn mill at Tatenhill had been converted for that purpose. (fn. 8v) The younger William Wyatt continued to operate the High Street and Tatenhill works until he retired on the grounds of ill health in 1779. (fn. 9u) Both works were probably acquired by William Shorthose, who had been Wyatt's apprentice in the early 1760s and who may have already established his own screw works in Burton: certainly, by 1781 Shorthose and his partners had established a screw manufactory in Pinfold Lane. (fn. 10u)
The Burton manufactory employed 30 people in the late 1790s. It made blank screws from iron provided by local forges, while the screw thread was ground at a works acquired in the mid 1780s at Hartshorne (Derb.), as well as at the Tatenhill mill. (fn. 11t) Shorthose died in 1809, (fn. 12t) but the business was continued by the other partners and their successors, and in 1841 William Wood and Henry Port employed 21 screwforgers and 6 patten-ring makers. (fn. 13t) In 1842 they leased the disused cotton mill on the west bank of the Trent in Burton Extra, probably for conversion to a screw manufactory, but by 1844 they were bankrupt. (fn. 14t) The Pinfold Lane premises were possibly still being used for screw-making in 1846, but by 1851 work had apparently ceased at the site. (fn. 15s)
Thornewill & Warham Ltd Thomas Thornewill of Burton was recorded as an edge tool maker in 1747 and by 1751 he had established a spade manufactory in New Street. (fn. 16q) In 1755 he leased a corn mill at Stretton for conversion to a forge in order to supply the Burton manufactory with iron. (fn. 17q) Thomas died in 1786 and his brother Francis, who was involved with the manufactory from at least 1760, died in 1807. (fn. 18p) In response both to the decline in the foreign market for hardware goods during the Napoleonic war and to the growing demand for cast-iron products, Francis's sons John (d. 1836) and Francis (d. 1846) converted the New Street works into a foundry and extended the site in order to open engine shops. (fn. 19p) The younger Francis's son Robert was described in 1846 as an iron and brass founder and steam-engine maker, and after he went into partnership with John Warham, a South Shields engineer, in 1849, the business was increasingly directed towards the manufacture of engines and locomotives for collieries and breweries. (fn. 20n) In 1851, when the works employed 100 men and boys, it was described as the only considerable manufactory in the town apart from the breweries. (fn. 21k) Robert was succeeded in 1858 (fn. 22j) by his son, also Robert, who purchased Warham's share of the business after the latter's death in 1886. (fn. 1x) By then the firm had developed a considerable overseas market for engines, and had started to supply ironwork to local breweries. A limited company from 1907, Thornewill & Warham Ltd. went into voluntary liquidation in 1919, but was replaced by a successor firm of the same name which was bought in 1929 by S. Briggs & Co. of Burton.
Briggs & Co The firm which became S. Briggs & Co. originated in a business founded by Thomas Bindley, a coppersmith with works in High Street by 1860. (fn. 2x) Bindley went into partnership with his son-in-law Samuel Briggs c. 1870, and the two men established a copper works in Station Street for the manufacture of brewing equipment. (fn. 3x) Bindley had died by 1888, when Briggs continued the Station Street works as S. Briggs & Co. (fn. 4x) In 1900 a new works was opened in a disused brewery in Moor Street, and in 1912 the company purchased the engineering firm of Buxton & Thornley, manufacturers of brewing equipment at works in Waterloo Street since at least 1868. (fn. 5w) Samuel Briggs died in 1928, and under his son William the firm expanded, absorbing in 1929 both Thornewill & Warham Ltd. and T. R. Shercliff & Co. Ltd., a firm of brewers' engineers founded by Joseph Homer by 1876. (fn. 6w) The largest metalwork and engineering business in the town, Briggs & Co. retained the Moor Street works until 1956 and the former Thornewill & Warham works in New Street until 1988, when it moved to the former Trent Works of Robert Morton & Co. on the east side of Derby Street. As Briggs of Burton plc it remained in business there in 2000, still producing equipment for the brewing industry.
Other 19th-Century Firms Britannia foundry in Horninglow Street was established by Philip Halbard and Joseph Wright in 1850. The site was sold to Allsopp's brewery in 1860 and a new foundry built in Byrkley Street. (fn. 7w) The business was failing by 1870, and the foundry had evidently been closed by 1879. (fn. 8w)
Many of the engineering firms which proliferated in the town from the later 19th century supplied equipment to the brewing industry: (fn. 9v) Robert Morton & Co., a firm of brewers' engineers which had moved to Burton from Stockton-on-Tees (Co. Durham) by the later 1870s and set up Trent Works in Derby Street, advertised the sale of complete breweries in 1900. (fn. 10v) Electrical engineering, however, became increasingly important after the Second World War, and in 1960 there were three firms making insulators. (fn. 11u) Despite the decline of brewing in Burton itself in the 1990s, local engineering firms still benefit from the traditional connection with breweries and allied trades and included in 2000 Shobwood Engineering (Burton) Ltd., which manufactured processing plants for brewers and food producers at a works in Anglesey Road.
The 20th Century The Ryknield Engine Co. Ltd. opened a factory in Shobnall Road in 1903 to produce steam engines for cars to a design by Ernest Baguley, then an engineer with the Stafford firm of W. G. Bagnall Ltd. (fn. 12u) Known as the Ryknield Motor Car Co. Ltd. from 1904, the company folded in 1910 but was reformed in 1911 as Baguley Cars Ltd. which until 1920 made the Salmon motor car at a works in Lichfield Street. In 1912 Baguley separately established Baguley Engineers Ltd. on the Shobnall Road site for the manufacture of locomotives and railcars, mainly for brewery companies but also for the British and French governments during the First World War. A victim of the Depression, the Shobnall Road works was closed in 1931, but in 1932 a new company, E. E. Baguley Ltd., established a works in Clarence Street (later extended to Uxbridge Street), again to make locomotive engines, at first petrol and then diesel. The firm remained in business in 2000, as Baguley Engineers Ltd. with premises in Derby Road. (fn. 13u)
A factory to produce enamelled steel tiles was opened by Stocal Enamelled Tile & Iron Co. Ltd. in Dallow Road in 1913 or 1914; by 1919 it specialised in making enamel advertising signs. (fn. 14u) The firm, which became Stocal Enamels Ltd. in 1925, employed over 300 people in the late 1930s. It was still in business in 1952 but had been closed by 1957, when the site was taken over by Renold Chains Ltd.
Renold Chains Ltd., described in 1956 as the world's largest precision chain manufacturer, opened a branch factory at the corner of Dallow Lane and Horninglow Street in 1957. It employed nearly 500 people by the later 1970s, and was still in business at the site in 2000. (fn. 15t)
Conder Structures (formerly Conder Midlands) Ltd. built a factory in Branston Road in 1955. Described in 1970 as the country's largest independent manufacturer of steel building structures, the firm opened its present factory at the south end of Wellington Road in 1964. (fn. 1y)
ALABASTER CARVING
From the 12th and 13th centuries there is evidence for the extraction of alabaster near Burton at Hanbury and Tutbury, where there were gypsum mines, (fn. 2y) but the earliest evidence for alabaster carving in the town itself may be the two painters recorded there in 1317. (fn. 3y) Other painters are found in the late 14th and early 15th centuries, (fn. 4y) and they may have painted alabaster: in 1439 William Howeton was described as both a painter and a carver. (fn. 5x) Alabasterers probably concentrated on making altar images: Nicholas Michelson and Robert Bounde were recorded as image makers respectively in 1401 and 1424, (fn. 6x) and in 1462 an image of the Virgin Mary was bought for a church in Coventry from a Burton painter called Couper. (fn. 7x) By the 1480s, when the alabastermen Robert Bocher (or Bochur) and Gilbert Twyst (or Twysse) claimed payment for images from several monastic houses, (fn. 8x) Burton had apparently superseded Nottingham as the centre of the English alabaster carving and works which are commonly described as of 'the Nottingham school' may well have been made in Burton. When the antiquary John Leland visited Burton, probably in the 1540s, he commented on the 'many marbelers working in alabaster'. (fn. 9w)
Alabaster tombs produced in Burton by the early 16th century were of good quality and enjoyed a wide market. In 1508 or 1510 Henry Harpur and William Moorecock of Burton were paid £10 for the tomb of Henry Foljamb at Chesterfield (Derb.). Other work attributed to them includes tombs at Cubley (Derb.), the Babbinton monument at Ashover (Derb.), and the tomb of Sir William Mathew at Llandaff (Glam.). (fn. 10w) Burton tombs of the early 16th century are characterized by bedesmen or friar weepers placed on the tomb chest or against the feet of the effigy; in the postReformation period, these figures were often of children.
Margery Walker of Burton (d. 1546) was owed money at her death for supplying alabaster panels; she also had a shop at Bristol, and it is possible that she sold Burton work overseas. Her son-in-law, the alabasterer Richard Parker, was working in Horninglow Street in the early 1530s and had a widespread clientele: tombs attributed to him include those of the 1st earl of Rutland at Bottesford (Leics.), Sir Thomas Bromley at Wroxeter (Salop.), and Sir John Vernon at Clifton Campville. Parker's workshop did not survive his death in 1570, but alabaster working was continued by another Burton family, the Royleys. (fn. 11v)
The Richard Royley who was apparently producing incised slabs in the 1540s at a workshop in Horninglow Street may have been the predecessor of the Richard Royley (otherwise Cartwright) who was a Burton tombmaker in the 1580s. The tombs produced by the latter Richard, together with his son Gabriel, were of relatively poor qualtiy, but still commanded a wide market: they included those of George and John Shirley (c. 1585) at Breedon-on-the-Hill (Leics.), Thomas Fermor (d. 1580) at Somerton (Oxon.), Sir Humphrey Bradbourne (d. 1581) at Ashbourne (Derb.), and Sir John Salisbury at Whitchurch (Salop.). Richard died probably in 1589, and Gabriel continued the workshop for a few years, before he himself died in 1605. (fn. 12v)
Garrett Hollemans, a Dutch carver, apparently arrived in England in the 1580s and settled in Burton, where he died probably in the late 1590s. His son Joseph (or Jasper) trained in London but was also working in Burton by 1599, when he made tombs for Sir John Spencer I (d. 1586) and II (d. 1599) and Lord Spencer (erected 1599) at Great Brington (Northants.). Other work attributed to him includes the tomb of Sir William Spencer (d. 1609) at Yarnton (Oxon.), and those of Sir George Fermor (d. 1612) and his wife (d. 1628) at Easton Neston (Northants.). (fn. 13v) It is likely that Joseph also worked in stone: the stone monument to the Staffordshire antiquary Sampson Erdeswick, erected at Sandon in 1601, is attributed to him. (fn. 14v) Joseph was still working in Burton in 1612, and his business was evidently carried on by his son, another Garrett (or Gerrard), who was recorded as a tombmaker in Burton in 1634 and was apparently still working there in 1656. (fn. 15u) Small workshops continued to carve alabaster in the mid 17th century but Burton had declined as an important centre for monuments by 1675. (fn. 1z)
OTHER INDUSTRIES
Leather Working
There were at least two tanners and possibly two barkhouses in the town in the early 14th century. (fn. 2z) The William Blount recorded as a tanner in 1479 was possibly related to the Blounts who built Nether Hall in the 15th century. (fn. 3z) Among several tanners and glovers recorded in the late 16th century was John Stafford, who had gloves and purses in his shop at his death in 1589. (fn. 4z) Two leather searchers mentioned in 1577 apparently exercised office in the borough; in 1640 two were chosen at the Burton Extra manor court. (fn. 5y)
In the earlier 18th century the fulling mill near the Winshill corn mills was being used to wash leather, (fn. 6y) and tanning was described by a visitor to the town in 1751 as 'a great trade'. (fn. 7y) There were several tanyards in Horninglow Street in the early 18th century. (fn. 8y) One on the east side of High Street in 1722 was probably that let in 1770 to Elizabeth Wilders. Her son William evidently ran it by 1784. (fn. 9x) After William's death in 1813, (fn. 10x) the business was continued first by his widow Elizabeth and then in the early 1820s by his sons William and Thomas. (fn. 11w) In the 1840s the Wilders family became brewers and the site was incorporated into the premises of the Burton Brewery Co. (fn. 12w)
A tanyard south of the railway station in Mosley Street was run in 1848 by Robert Spencer Elliott, listed in 1851 as one of three tanners and curriers in Burton. (fn. 13w) After Robert's death in 1860 the yard was run by his son, also Robert Spencer Elliot. (fn. 14w) The business remained in Mosley Street in 1900, but by 1913 the premises were being used as a toy factory. (fn. 15v)
In 1924 Eatoughs Ltd. moved their shoe factory in Branston to Allsopp and Sons' former brewery on the east side of High Street. The factory was closed in 1977. (fn. 16r)
Rope Making
Although a roper was recorded in Burton in the early 14th century, there is no evidence of further ropemaking until the late 1570s. (fn. 17r) Richard Shipley began ropemaking c. 1629 and two ropemakers are recorded in the town in the later 17th century. (fn. 18q)
A ropewalk used by Benjamin Wilson, also a brewer, in the 1740s was almost certainly on the west side of Anderstaff Lane. (fn. 19q) Benjamin (d. 1800) retired in 1773 but ropemaking was possibly continued by his sons William and Benjamin, also brewers. In 1794 the site was sold to William Leedham, a flaxdresser. (fn. 20o) Leedham converted the rope shops into houses but may have continued to use the ropewalk, and after his death in 1815 the site was bought by his son Barnabas Leedham, a ropemaker. (fn. 21l) Barnabas also had a shop in Horninglow Street, and he presumably either used the ropewalk in Anderstaff Lane himself or let it to one of the three ropers recorded there in 1818. (fn. 22k) After Barnabas's death between 1828 and 1834 the trade was carried on by his son Francis, who continued to work the Anderstaff Lane site until his bankruptcy in 1837. (fn. 23h) The ropewalk still existed in 1861. (fn. 24h)
In the 1830s a ropewalk on the north side of Pinfold Lane was worked by Joseph Lowe. Although Lowe had an address in Fleet Street by 1854, he probably used the ropewalk in Pinfold Lane until his death in 1872. (fn. 25f) George Wright, recorded as a rope and sack manufacturer in Victoria Crescent in 1880, had a ropewalk nearby on the south side of Hunter Street. (fn. 26e) His business was last recorded in 1916. (fn. 27c)
Timber
After the river Trent became navigable in the 1710s Burton became a distribution centre for imported timber, and by at least 1744 a regular trade had been established with the Baltic, importing wood and exporting beer. (fn. 1aa) By the end of the century locallyfelled timber was also transported from Burton by canal. By then brewers such as the Wilsons, the Clays, and the Worthingtons imported timber both for sale and for making casks, (fn. 2aa) but the combination of timberdealing and brewing declined after 1806 with the disappearance of the Baltic market for Burton beer. (fn. 3aa)
By 1784 John Wilson, a brewer and raff merchant, had a timber yard on the west side of Lichfield Street at a wharf beside the Bond End canal. (fn. 4aa) The yard was presumably worked by Wilson until his death in 1797, and was untenanted in 1805. (fn. 5z) By 1818, however, it was probably the yard managed by Charles Perks and Thomas Clark, timber merchants and stoneware dealers, whose partnership may have continued until Clark's death in 1833. (fn. 6z) Perks remained in trade with his son, and by 1837 the yard had been extended to take in land on the east side of Lichfield Street. (fn. 7z) In the 1860s or 1870s the firm acquired a timber yard further east alongside the Fleet channel, where it remained in 1913 as Charles Perks & Sons Ltd. (fn. 8z) In 1921 the yard was bought by the Midland Joinery Works Ltd., still in business in 2000. (fn. 9y)
By 1834 either Thomas Clark (d. 1833) or his son, another Thomas Clark, had opened a timber yard on the west bank of the Fleet channel. Still at that site in 1857, the firm had apparently ceased working by 1860 and the yard was later taken over by the Perks family. (fn. 10y)
A timber yard on the north side of Horninglow Street beside Branston brook was established by Silvester Hodgkins after 1828; it was sold in 1843 and by the late 1840s had become the site of the Britannia foundry. (fn. 11x)
A number of smaller yards with sawmills were established in the town in the later 19th century, including that on the east side of Shobnall Street worked in 1882 by John Kind. (fn. 12x) Moved to the west side of the street by 1920, the yard was still run by J. B. Kind Ltd. in 2000, when the chief products were wooden pallets and packing cases. (fn. 13x) A mill on Hawkins Lane was owned in 1913 by William Mason, possibly a relation of Henry Mason who had been a carpenter employing 33 men and boys in 1861. (fn. 14x) It was still at that site in 1952, but was later moved to Wetmore Road where W. H. Mason & Son Ltd. was in the business of wood turning and engraving in 2000. (fn. 15w)
Stone Working
Masons When Burton town hall was rebuilt in the early 1770s, its architect James Wyatt employed his brother Joseph (d. 1785) as the stonemason. (fn. 16s) In the 19th and 20th centuries monumental masons produced memorials in both stone and alabaster for the local market. James Brunt had a stoneyard in Horninglow Street by 1834 until the late 1840s, (fn. 17s) as did James Parker also from the earlier 1830s; Parker's family entered partnership with another mason, Frederick Stamp, in the 1880s, and the firm continued in business at a yard in Dallow Street until at least 1928. (fn. 18r) Richard Kershaw opened a stonemason's yard in Princess Street in the mid 1870s; the family firm survived in Edward Street until at least the late 1950s. (fn. 19r)
Cement and Plaster Works In 1841 William Newton was working as a cement manufacturer in Burton, and by at least 1843 he had taken over the steam-powered corn mill in Pinfold Lane (later Park Street). (fn. 20p) By 1846 he was in partnership with John Clark Staton, who worked a gypsum mine in Fauld, in Hanbury. (fn. 21m) The men were still in business in Park Street in 1854, and possibly in 1857, but had moved to Shobnall Road by 1860. (fn. 22l) Staton had died by 1870, but the firm was continued as J. C. Staton & Co. by William Staton and Henry Newton (son and nephew respectively of the original partners). (fn. 23i) Henry Newton took complete control of the firm in the later 1880s, and in 1891 he took a lease of the former cotton mill at Tutbury and converted it to a cement works. (fn. 24i) The Shobnall Road business was retained for local trade, probably until the late 1890s, when it became a depot only, all cement milling having been transferred to Tutbury. (fn. 1ab) Between 1913 and 1916 the Shobnall works was taken over by Frederick Jones & Co. Ltd., paving-slab manufacturers in Lichfield Street, and that company was still at Shobnall Road in 1940. (fn. 2ab)
Flint Grinding
In 1858 the former cotton mill south of the Winshill corn mills was being used by Thomas Cooper to grind flint. (fn. 3ab) When Cooper died in 1864 or 1865 the mill evidently stopped working, but it was restarted in 1870 by Thomas Green, an earthernware manufacturer of Donisthorpe (Leics.), who continued to work it until at least 1913. (fn. 4ab) The building thereafter fell into disrepair, and only its foundations survive.
The former cotton mill on the west bank of the river Trent in Burton Extra was also converted, apparently in 1856, to grind flint, and in the 1860s it too may have been worked by Thomas Cooper. (fn. 5aa) In 1870 it was let with Cooper's flint mill downstream to Thomas Green, but in 1885 the mill building and the adjoining land was let to the Bass brewing firm, which established Upper Mills farm there. (fn. 6aa)
Fairground Machinery
George Orton, a coach builder who opened a carriage works in Princess Street in 1875, began to specialise in waggons for pleasure fairs. (fn. 7aa) From 1892 he was supplied with carved decorative figures, including wooden horses, by Thomas Spooner, who worked in a yard behind his father's public house, the Swan, at the Winshill end of Burton bridge. Spooner married Orton's daughter in the later 1890s, and in 1900 he moved his works to a site at the south end of Burton meadow. From 1911 Orton and Spooner began to build fairground roundabouts at new premises in Victoria Crescent, and after Orton's death in 1924 the two businesses were formally united as George Orton Sons and Spooner Ltd. Spooner died in 1939. The firm discontinued making fairground equipment in the early 1950s, but remained in business making industrial mechanisms.
Printing
Thomas Wayte was printing at his bookshop in High Street by 1814. (fn. 8aa) In 1835 or 1836 he gave the business up to William Wesley, who was still working in 1854 but no longer by 1860. (fn. 9z) George Scott also worked as a printer from his High Street bookshop by 1818; the business was taken over in the early 1830s and had ceased by 1834. (fn. 10z)
William Darley established a printing firm in High Street in 1827. After his death in 1862 it was carried on by his son Richard, who specialised in printing labels for beer bottles. The firm, which was run by Richard's son William from at least 1911 until 1948, remained in High Street until the early 1960s when it was moved to its present site in Wellington Road. (fn. 11y) In 1970 W. B. Darley Ltd. was described as the largest producer of bottle labels in the country. (fn. 12y)
Edmund Adams was a printer and bookseller in Bridge Street by 1841. He was still there in 1846 but by 1849 had moved to High Street. (fn. 13y) By 1851 the Bridge Street works were occupied by Robert Bellamy, who began publishing the Burton Weekly News there in 1856. Bellamy was succeeded in the late 1870s by his son and nephew, who subsequently divided the business, the son retaining the Bridge Street works and the nephew (George Bellamy) opening a printing works in Station Street. (fn. 14y) By 1888 the Bridge Street business had apparently closed, but George remained at Station Street until at least 1892, then moving to Union Street, where the firm was still in business in 1940. (fn. 15x)
Joseph Tresise founded a printing firm in 1859, with offices in Bank Square by 1860 when he started to publish a weekly newspaper, the Burton Chronicle. (fn. 16t) By 1863 the business had moved to Station Street, where it started in 1880 to issue a daily paper, the Burton and Derby Gazette. After Joseph's death in 1893 the business was continued by his sons Joseph and Charles, and after Charles's death in 1932 by Charles's son Horace in partnership with John Churchman. In 1950 the firm returned to Bank Square but when that area was redeveloped in the late 1960s it moved, as Tresises Printers Ltd., to its present works at the north end of Branston Road.
PROFESSIONS
Banks
A bank established at Burton in the mid 1780s by Joseph Wilkes of Measham (Derb.), one of the lessees of the Trent navigation, probably closed after Joseph's death in 1805. Thomas and William Pycroft of Overseal (Leics.) were also recorded as Burton bankers in 1794. (fn. 1ac) Another bank, in existence by at least 1790, was founded by John Wilson, formerly a brewer, and Daniel Dalrymple, an attorney. Wilson apparently withdrew from the partnership in 1792, but the bank lasted until Dalrymple's death in 1805. (fn. 2ac)
Blurton's bank, in existence by 1805, was founded by Robert Blurton of Woodford, together with John Webb of Barton-under-Needwood, John Holland of Burton Blount (Derb.), and Robert Cooper of Burton. Cooper was probably responsible for running the bank, which in 1812 stood at the corner of High Street and Bank Square. (fn. 3ac) It was run as Blurton, Webb, Peel, and Co. by 1837 following Robert John Peel's entry into the partnership. (fn. 4ac)
By 1818 Joseph Clay, a brewer, and his son Henry had established a bank in their house at the corner of Horninglow Street and High Street. (fn. 5ab) Joseph died in 1824 and the bank was carried on by Henry until 1839, when it was amalgamated with Blurton's bank. (fn. 6ab)
The new bank formed in 1839 was known as the Burton, Uttoxeter, and Stafford Union Bank until 1843, when it became the Burton, Uttoxeter, and Ashbourne Union Bank. At first it used Blurton's bank premises, but in 1854 it opened a new building further north in High Street. (fn. 7ab)
National Banks In 1899 the Union Bank was taken over by Lloyds Bank, which had opened a branch elsewhere in High Street in 1876. (fn. 8ab) Lloyds TSB continued to occupy the former Union bank building in 2000.
Other national banks opened branches in the town in the late 19th and early 20th centuries. The National Provincial Bank opened one branch in High Street in 1877, as did Parr's Bank (from 1923 the Westminster Bank) in 1899. Following the merger of those two banks in 1968, business was consolidated at the former National Provincial branch, still open in 2000. (fn. 9aa) The London City and Midland Bank had a branch in Station Street by 1900 and as the Midland Bank it opened new premises in High Street in 1924. (fn. 10aa) Barclay's Bank also opened a branch in High Street in 1924, and Martin's Bank opened one at the east end of Station Street in 1956. After those two banks merged in 1969, the High Street branch was closed, but Barclay's continued trading at the Station Street branch in 2000. (fn. 11z)
Savings Bank A savings bank was opened on the east side of High Street in 1818. (fn. 12z) It was possibly moved when re-established in 1842, and was run from the town hall in 1844. By 1848 it was in Horninglow Street and by 1860 in High Street. (fn. 13z) It closed in 1861 when a post office savings bank opened in the town. (fn. 14z)
Lawyers Daniel Watson, born at Burton in 1617, attended Gray's Inn from 1637 and was practising as a lawyer in the town by 1649. The owner of Nether Hall by 1656 and one of Burton's wealthiest residents in 1666, Daniel established a legal firm which, after his death in 1683, was carried on jointly by his son, also Daniel, and his son-in-law Isaac Hawkins. (fn. 15y) Isaac, who had been working in Burton since at least 1699, remained in the town until his death in 1713. (fn. 16u) He worked with his cousin William Hawkins (d. 1725), whose son Isaac continued the practice. The younger Isaac, first recorded as an attorney in Burton by 1730, became one of the lessees of the Trent navigation in 1762 and was described in 1796 as 'opulent'. (fn. 17t) A charitable benefactor, he died in 1800, leaving money which was later used to build Holy Trinity church in Horninglow Street. (fn. 18s)
Isaac Hawkins retired as early as 1764, and the practice was taken over by the partnership of Abraham Hoskins and John Fowler. (fn. 1ad) After Fowler retired in 1802 and Hoskins died in 1804, the practice was carried on by Fowler's son, also John, who was knighted in 1815. (fn. 2ad) In 1833 the younger John entered into a partnership with John Richardson, (fn. 3ad) who after the former's death in 1839 continued the practice alone until 1855 when he entered partnership with William Small. Richardson retired in 1876, and in 1892 Small was joined by James Talbot. Although Talbot left the practice in 1906, it retained his name and continued as Talbot & Co. in 2000 with premises in High Street. (fn. 4ad)
Daniel Dalrymple was working as an attorney in Burton by 1772 and had entered into a partnership with William Osborne by 1794. (fn. 5ac) After Dalrymple's death in 1805, Osborne apparently continued the practice alone until the late 1820s when he was in a partnership with James Drewry in High Street. (fn. 6ac) Osborne evidently retired before 1834 but the practice was carried on until at least 1846 by Drewry, (fn. 7ac) who had probably retired by 1851 when he was living in Newton Solney (Derb.). (fn. 8ac)
Medical Practitioners
Physicians and Surgeons A physician (medicus) named William recorded in the late 12th century was possibly a member of the abbot's household. (fn. 9ab) William Erkall of Burton was described as a leech in 1453, and in 1491 a surgeon named William Bate was allegedly tried for witchcraft at Burton. (fn. 10ab) Jerome Horobin (d. 1611) may have enjoyed a wide reputation for surgery: he apparently treated one patient from Worcestershire and one from Yorkshire at his house in Burton in the mid 1580s. (fn. 11aa)
Robert Cotton (d. 1689) practised as a surgeon in Burton by 1667, as did William Cotton, probably his son, until at least 1710. (fn. 12aa) Joseph Bridges was described as a doctor of medicine at his death in 1698, and a surgeon named Francis Bridges, possibly his son, was paid by Burton vestry for dressing a leg in 1709. (fn. 13aa) Christopher Ley, recorded as a surgeon in 1744, was also working as an apothecary by the mid 1750s; on his death in 1779 his shop in Cat Street passed to his son William. (fn. 14aa)
In 1783 there were three surgeons in Burton, including Rupert Chawner (d. 1836). Rupert moved to Tutbury in the early 19th century but had returned to Burton by 1818 where he continued to practise as both a surgeon and a physician in 1829. (fn. 15z) John Spender (d. 1820), another of the 1783 surgeons, worked in High Street and was in partnership with his son, also John, by 1818. (fn. 16v) The younger John, one of the authors of a pamphlet opposing inoculation, had become a physician by 1827 and continued to practise until at least 1846. (fn. 17u) In 1818 there were 5 surgeons in the town, in addition to the Spenders, and in 1834 there were 11. (fn. 18t) The 1834 surgeons included Robert Belcher (d. 1894), whose sons Robert (d. 1872) and Paul (d. 1890) were appointed in 1869 as two of the surgeons at the newlyopened Burton infirmary. (fn. 19s) Paul Belcher became Burton's first medical officer of health in 1874. (fn. 20q)
Dentists The first person in England to have a tooth removed with the benefit of nitrous oxide was Henry Turton, a Burton engineer. The tooth was removed in the later 1850s by a Derby dentist, but whether at Burton or Derby is unknown. (fn. 21n) George Dicken, a surgeon-dentist of Derby, held a weekly dental surgery in a house in the market place at Burton in 1860, but his practice was apparently short-lived. (fn. 22m) John Crapper and Joseph Brierley were treating dental patients in Burton by 1863, at the shop of a High Street chemist; Brierley continued working in the town until at least 1892. (fn. 23j) James Sadler had a dental surgery in the market place by 1872 and Bernard Sadler, presumably his son, became the first qualified dentist in Burton in 1897; in 1900 he was appointed to run the new department of dentistry at Burton infirmary. (fn. 24j)
Nurses and midwives are treated elsewhere in this article. (fn. 25g)