Pages 102-107
A History of the County of Surrey: Volume 4. Originally published by Victoria County History, London, 1912.
This free content was digitised by double rekeying. All rights reserved.
TOOTING GRAVENEY
Totinge (x cent.); Totinges (xi cent.); Totynge Grauenel (xiii cent.); Toting Gravenee (xiv cent.); Lytle Totynge (xvi cent.); Tooting Graveney or Lower Tooting (xviii cent.).
The area of the civil parish of Tooting Graveney is about 565 acres. (fn. 1) In the 18th century the land was chiefly arable, (fn. 2) and a considerable proportion of the inhabitants were engaged in agriculture in 1831. Since that time the parish has been entirely transformed from a village into a London suburb. It now forms a ward of the Metropolitan borough of Wandsworth. No arable land now remains and there are only 21 acres of permanent grass. The soil is London clay and the gravel and sand of the river deposits. The average altitude is about 100 ft. above the ordnance datum. In 1870 an attempt was made by Mr. Thompson, then lord of the manor, to inclose part of the common, but his action was found to be illegal. (fn. 3) The common of Tooting Graveney, adjoining Tooting Bec Common in Streatham, lies at the north-eastern extremity of the parish, and in the south stands Hill House, the manor-house of 1802, (fn. 4) which afterwards became a Roman Catholic college, and is now used as a workhouse. Nearer the centre are the church of St. Nicholas and the rectory. The main road from Merton enters Tooting Graveney on the south and runs north into Streatham. Tooting Junction, a station on the joint line of the London and South-Western and London, Brighton and South Coast railways, is in the south-east corner of the parish, within the boundaries of which a small part of the line here runs. To the north of the station Lower Tooting bridge crosses the little stream of the Graveney as it flows into Mitcham. It is worth noting that this stream is named from the parish, not vice versa.
A school was built by subscription in 1790 as a charity school and maintained in the same way. (fn. 5) In 1833 it was placed under the National Society, and in 1874 under the School Board. In 1875 it was retransferred to the National Society, and the original building is now used as the Sunday school.
The original infants' school was founded by deed in 1855, and, after transference to the School Board in 1875, repurchased by the parish for a church room.
Queen Elizabeth is said to have visited Sir Henry Maynard at Tooting Graveney in 1600, when the avenue of trees on the common was planted in her honour. (fn. 6) It was in her reign that a dispute arose between the parishioners here and their neighbours of Streatham, who carried away gravel illegally from the common of Tooting Graveney. (fn. 7)
Among place-names found are Le Frierne Close, Maningates, le Howe (xvi cent.); Georges Meade, Vicar's Busshes How (xvii cent.); Great and Little Dimocks, Beggory Common Mead, Hither and Further Sugger Lands, Great and Little Bushy Downe and Reach Field (xviii cent.).
MANOR
About the year 675 seven hides of land in Tooting and Streatham are said to have been granted to the abbey of Chertsey by its founders Frithwald Subregulus of Surrey and Erkenwald Bishop of London. (fn. 8) The authenticity of the charter embodying this gift is doubtful, (fn. 9) but the fact of some such grant seems to be established by later records. Land in Tooting and Streatham is mentioned in the confirmation charter of King Athelstan in 933, (fn. 10) and in 1062 Edward the Confessor included 7 hides 'at Tooting with Streatham' in his enumeration of the benefactions of Frithwald and Erkenwald. (fn. 11) In the Domesday Survey, however, this early Chertsey manor appears as an estate which had been assessed for 6 hides in the reign of Edward the Confessor, (fn. 12) whilst another hide in the parish which Osward had held of that king with liberty to seek what lord he chose had come since the Conquest under the abbot's overlordship. (fn. 13) His successors were confirmed in the possession of Tooting and Streatham by Pope Eugenius III in 1149 (fn. 14) and by Pope Alexander III in 1175. (fn. 15) By the following century the name of Streatham had dropped out from the description of the manor, which was then declared to consist of a knight's fee in Tooting. (fn. 16) Some claim to it advanced on behalf of the Archbishop of Canterbury was quashed in 1229, when it was found to be of the fee of the Abbot of Chertsey. (fn. 17) His overlordship continued till 1428, (fn. 18) the service by which the manor was held having been reduced in 1314 to half a knight's fee (fn. 19); in 1393 and 1416 it appears as the payment of a rose on St. John the Baptist's Day, (fn. 20) and it had apparently lapsed before 1500, when the jurors were unable to make any statement concerning its tenure. (fn. 21) The first sub-tenant of this manor whose name has been preserved was Hamon the Sheriff, who held all the Chertsey Abbey lands in Tooting in 1086. (fn. 22) His lands came afterwards to the family of Gravenel, from whom the parish took its later name of Tooting Graveney. (fn. 23) In the 12th century a Hamon de Gravenel owned the church, and was probably also lord of the manor, (fn. 24) and the knight's fee which Richard de Gravenel held of the Abbot of Chertsey in 1212 (fn. 25) can hardly have been other than the manor of Tooting, which seventeen years later was found on inquiry to have descended to him from his ancestors under the same tenure. (fn. 26) Richard seems to have forfeited his estates in or before 1215, when the land which he had owned in Tooting was bestowed by King John on Briton the cross-bowman. (fn. 27) Briton's tenure was not of long duration. Alice Richard's widow held his lands in dower before 1229 (fn. 28) and the unnamed heirs of Richard Gravenel were returned as tenants of his Tooting manor in the reign of Henry III. (fn. 29) It seems to have descended to John Gravenel, (fn. 30) the son possibly of Richard and Alice, who was living in 1252. The custody of John's lands in Tooting Graveney with the exception of his widow's dower was granted until the majority of his heirs by the Abbot of Chertsey to Bartholomew de Castello, and duly restored by him to the abbot in 1272. (fn. 31)
The next lord of whom there is record, Thomas Ludlow, held Tooting Graveney in 1287 and probably earlier, (fn. 32) whether by marriage with a daughter of John Gravenel or as tenant of Chertsey Abbey on the extinction of the Surrey branch of this family does not appear. He was then or afterwards the husband of Joan daughter of the last Baron Marmion. (fn. 33) At his death in or before 1314 Thomas was declared to be lord of the manor of Tooting Graveney, then with the rest of his lands in the temporary possession of his creditor William de Trente. (fn. 34) One-third held in dower by his widow until her death in or before 1340 (fn. 35) had been taken into the king's hands about 1321 on account of her marriage without licence to Henry Hillary. (fn. 36) The rest of the manor was held by a younger Thomas Ludlow, son and heir of Thomas and Joan, who in 1330 (fn. 37) made a settlement on himself and his wife Katharine. (fn. 38) From 1336, when the second Thomas died like his father involved in debt, (fn. 39) Tooting Graveney was held by Katharine until her death in 1393. (fn. 40) Her heir was her daughter Margaret Ludlow, widow of Sir John Dymoke, champion of England at the coronation of Richard II by virtue of his wife's descent from the last Baron Marmion, (fn. 41) and described as lord of the manor of Tooting in 1372. (fn. 42) When Margaret died at an advanced age in 1414, her Lincolnshire estates descended to her son and heir Thomas, then sixty years old, (fn. 43) who had represented her at two successive coronations, (fn. 44) but no record survives to show whether she was still in possession of her Surrey inheritance. Within two years of her death another John Dymoke, possibly her younger son, died seised of the manor of Tooting Graveney, of which he had made a settlement a few months before. (fn. 45) His son and heir of the same name, (fn. 46) found in 1428 to be holding the knight's fee in Tooting Graveney which John Draycote and John Dymoke once owned, (fn. 47) may have been the grandfather of Andrew Dymoke, jun., who was lord of the manor when he died in 1500, leaving a son and heir Thomas, then aged three. (fn. 48) William Dymoke is said to have owned Tooting Graveney in the reigns of Edward VI, Mary and Elizabeth. (fn. 49)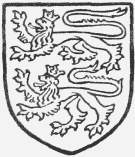 The manor must have then reverted to the Dymokes of Scrivelsby, for Robert Dymoke, son of Sir Edward Dymoke of Scrivelsby, who died in that year, held his first court here in 1566. (fn. 50) His son Sir Edward Dymoke, champion of England and lineal representative of Margaret Dymoke, (fn. 51) sold it in 1593 to James Harrington, (fn. 52) by whom two years later it was conveyed to Sir Henry Maynard, (fn. 53) Lord Burghley's secretary. (fn. 54) Sir Henry died in 1610, (fn. 55) and fourteen years later Tooting Graveney was held by his sons Sir William Maynard, bart., John and Charles Maynard. (fn. 56) It was probably settled on Sir John Maynard, the second brother, for in 1652 he joined with James in conveying it, probably as part of a marriage settlement, to John Rushout, (fn. 57) whose daughter Katherine married Sir John's son John. Sir John the elder died in 1658 and Sir John the younger in 1665, leaving only a daughter Mary, who evidently married William Adams, for in 1682 Mary and William Adams and Sir James Rushout, bart., son of John Rushout, conveyed Tooting Graveney to Sir Francis Pemberton, chief justice of the Common Pleas. (fn. 58) He was apparently acting as trustee for the Whichcote family, into which he had married, (fn. 59) since Sir Paul Whichcote, bart., his brotherin-law, was in possession with his wife Jane in 1689, (fn. 60) and a few years later they were empowered by a Private Act of Parliament to make leases for ninetynine years of their manor of Tooting Graveney. (fn. 61)
Sir Paul and his son Francis suffered a recovery of the manor in 1713, (fn. 62) and sold it in the following year to Sir James Bateman, Lord Mayor of London in 1717, by whom it was entailed on his son and heir James. (fn. 63) In 1725 another Private Act empowered James Bateman to sell his Surrey estates, (fn. 64) and Tooting Graveney was bought by Percival Lewis the next year. (fn. 65) It is said to have descended through his son and heir Edward to his grandson another Percival Lewis, whose estate here was sold by auction in 1767 to Morgan Rice, (fn. 66) High Sheriff of Surrey in 1776. (fn. 67) On his death in 1795 Tooting Graveney came to his son John and afterwards to John Morgan Rice, (fn. 68) and was sold by the Rice family in 1802 to Thomas Platt. (fn. 69) From him it is said to have passed to Charles son of Sir Charles Pole, who sold it to Henry Baring. (fn. 70) The next purchaser was Mr. Rees Goring Thomas, who was succeeded by a son of the same name, who sold Tooting Graveney in 1861 to Mr. William James Thompson. (fn. 71) He was still lord in 1870, (fn. 72) but afterwards transferred his manorial rights to the Metropolitan Board of Works. (fn. 73)
A grant of free warren in Tooting was made to Bartholomew de Castello in 1285. (fn. 74) This liberty was claimed by Thomas Ludlow in his manor of Tooting Graveney and also view of frankpledge (fn. 75); the latter, which possibly originated in an early and general grant to the abbey of Chertsey, (fn. 76) is mentioned amongst the Tooting Graveney liberties as late as 1726. (fn. 77) A capital messuage which was amongst the appurtenances of the manor in the 14th century (fn. 78) was possibly on the site of the capital messuage known in 1802 as Hill House. (fn. 79) There was one dovecote here in 1314, (fn. 80) two are mentioned in 1652 (fn. 81) and one in 1726. (fn. 82)
In 1331 Thomas Markward of King's Sutton obtained licence to alienate to the Prior and friars of the Holy Cross by the Tower of London a messuage and 13 acres in Tooting, (fn. 83) and three messuages here were alienated to the same house by William Roce five years later. (fn. 84) The priory of Merton had a small property in Tooting in 1535. (fn. 85)
CHURCHES
The church of ST. NICHOLAS consists of chancel and north organ chamber, 1873–5, south vestry, north and south transepts, 1889; all these are built of red brick and form part of a scheme of reconstruction in the Decorated style. The nave, west tower and porches of light brick were built in 1832–3 in the Gothic style of the period. In the vestry is an old print of the church which preceded this one on the same site, showing a chancel, nave, south aisle, west porch and north round tower with a louvred belfry and octagonal spire.
In the south transept there is a mural tablet with inset brass to Elizabeth Fitzwilliam, 1582, and her husband, 1597. On the north wall of the nave is a tablet to Sir John Hepdon, 1670; and in the porch, above the west door of the nave, is a large marble mural monument to Dame Bateman, 1710. In front of the west gallery are the royal arms of Great Britain of the Hanoverian line to 1802.
There is only one bell by M. B., 1705.
The plate consists of silver-gilt cup and cover paten, 1669; a silver bowl, 1672; and several modern pieces. The registers begin in 1555, transcribed in 1603. The church also has a beadle's staff on which are the royal arms, 1801–37.
The registers are in seven books: (i) baptisms and burials 1555 to 1782, marriages 1555 to 1753; (ii) and (iii) baptisms 1783 to 1812; (iv) and (v) burials 1783 to 1812; (vi) and (vii) marriages 1754 to 1812.
The ecclesiastical district of ALL SAINTS was formed from the parish of Tooting Graveney in 1903, funds for the erection of the church and provision of a vicarage having been bequeathed about two years previously by the widow of Lord Charles William Brudenell-Bruce. (fn. 86)
The church in Franciscan Road is a large and wellbuilt structure of stock brick and stone, with red tile roofs, in the style of the 14th century, erected in 1906. It has a chancel of three bays with narrow aisles, a Lady chapel to the east of the chancel, north tower off the westernmost bay of the chancel aisle, south transept containing the organ opposite, nave of four bays, and north and south aisles, each in the form of four deep transepts separated one from another by arcades of two bays, and having gabled ends. The arcades have greystone pillars and whitestone arches. Above is a clearstory, the window ledges of which are connected by a passage-way in the thickness of the wall, as are also those of the aisles. The Lady chapel, which has an altar with a triptych, is divided from the chancel by an arcade of three bays, the middle bay being hidden by a tall green and gold reredos of Renaissance design and containing a painting of the Crucifixion. The organ case and chancel furniture are of a similar design and colour. The pulpit is of green and white marble, and the font of grey Purbeck marble with a tall green and gold wood cover.
The nave and chancel have wood-boarded vaulted ceilings; the aisle transepts barrel vaults, also in wood; and the Lady chapel a flat wood ceiling. At the west end are a narthex and porches. The aisle walls are panelled in oak. Open iron screens span the side arches of the chancel. On the west wall is a marble mural monument with a bust to Charles William Brudenell-Bruce.
At the time of the Revolution Tooting is said to have been the residence of Daniel Defoe, according to tradition the first person to form the Nonconformists of this neighbourhood into a regular congregation. (fn. 87) The present Congregational chapel represents the Presbyterian congregation to which Joshua Oldfield, a well-known divine, is believed to have preached in 1688. (fn. 88) In 1715 a Presbyterian meeting existed. (fn. 89) Dr. Henry Miles, F.R.S., was minister from 1731 to 1763. In 1766 a new chapel was built, and Dr. Samuel Wilton was probably the first Independent minister in that year. (fn. 90)
There are also Primitive Methodist and Baptist chapels at Tooting Graveney, besides a meeting-place belonging to the Salvation Army.
ADVOWSONS
The first mention of the church of St. Nicholas seems to be that of 1086, when a church with 4 acres of meadow belonged to the manor held by Hamon the Sheriff of the Abbot of Chertsey. (fn. 91) It was afterwards granted by Hamon de Gravenel with all the tithes of his demesne lands to the priory of St. Mary Overy in Southwark, a gift confirmed by Richard Bishop of Winchester between 1174 and 1189, (fn. 92) and the church of Tooting, valued in 1291 at £2, (fn. 93) was included at a later date in a list of the benefices belonging to that house. (fn. 94) There was a vicarage here after 1291 and before 1366, (fn. 95) but there is no record of its endowment. (fn. 96) Presentations continued to be made to the vicarage from 1366, (fn. 97) and in 1528 Hugh Hudson, the incumbent, was called vicar. (fn. 98) In 1535, however, he was described as rector, (fn. 99) and no later mention of the vicarage occurs. After the surrender of the priory of St Mary Overy in 1539 (fn. 100) the advowson seems to have remained with the Crown until 1551, when Edward VI granted it to Edward Fiennes Lord Clinton and Say. (fn. 101) From him it passed, it is said by sale, (fn. 102) to Sir Richard Sackville, who owned it at his death in 1566. (fn. 103) Richard Earl of Dorset, grandson of Sir Richard's son and heir Thomas, (fn. 104) who had been created Earl of Dorset in 1604, was patron when he died in 1624, leaving no son. (fn. 105) His title and estates then descended to his younger brother Edward, (fn. 106) to whom the advowson belonged until his death in 1652. (fn. 107) From Richard, Edward's son and heir, who presented in 1662, (fn. 108) it seems to have passed to John Keat and Henry Eyton, patrons, possibly as trustees, two years later, (fn. 109) but the presentation of 1683 was made by Charles afterwards Lord Berkeley, (fn. 110) who must have bought it from Charles Earl of Dorset, son of Richard, his wife's nephew by marriage. (fn. 111) Sir William Turner presented pro hac vice in 1686. (fn. 112) It is said that the Earl of Berkeley or his son sold the advowson to Sir John Bateman, (fn. 113) whose son James was patron in 1720. (fn. 114) Six years later it was conveyed with the manor to Percival Lewis. (fn. 115) Maria Lethullier, widow, presented in 1730, (fn. 116) but a settlement made in 1747 for the purpose of cutting off the entail between James Bateman, his daughter Ann and her husband Samuel Dashwood, Percival Lewis and others shows that the Batemans retained their interest in the living. (fn. 117) Percival Lewis sold it to the Rev. Nicholas Brady, from whose son-in-law Dr. Henry Allen, instituted here in 1769, it was bought by the Rev. G. F. Barlow. (fn. 118) The next purchaser, Peter Broadley, patron from 1801 to 1812, (fn. 119) was succeeded before 1817 by R. Burrows and F. Greggs, (fn. 120) possibly trustees for the Broadley family, since Robert Broadley and his wife Ann transferred their interest in the advowson of Tooting Graveney to William Wilson in 1820, (fn. 121) and a Peter Broadley was patron in 1822. (fn. 122) From F. B.Wilson, who presented in 1829, (fn. 123) the advowson of Tooting Graveney probably passed to the Rev. R. Greaves, in whose possession it was from 1836 until 1853. (fn. 124) The Rev. R. W. Greaves was patron and incumbent in 1854, and retained the patronage until 1870. (fn. 125) From 1871 to 1875 the advowson was in the possession of the Rev. John Congreve, then rector. (fn. 126) The next patron, Mr. W. S. Flack, was succeeded in 1880 by the Rev. E. H. Morton, patron until 1906, since which date the advowson has been in the hands of trustees. (fn. 127)
In 1337 Lucy and Alice Sampson held a messuage of the parish church of Tooting. (fn. 128) The living of the new church of All Saints is in the gift of the Bishop of Southwark.
CHARITIES
The following charities are under the administration of the rector and churchwardens, namely:—
Sir John Maynard—as recorded on a benefaction table in the church—gave £1 to eight poor parishioners, viz. 2s. 6d. each on Easter Sunday.
It is also recorded that Sir James Bateman, kt., gave £100 for binding out apprentice poor children. These charities are now represented by £304 18s. 4d. consols, producing £7 12s. 6d. a year, of which £1 is applied as above at Easter and the balance in apprenticing.
John Avarn for poor, by will proved in the P.C.C. 1809, trust fund, £335 13s. 6d. consols, for bread.
Rev. John Ravenhill for poor, will proved in the P.C.C. 27 February 1833, trust fund, £60 consols.
John Rogers, by his will, 1778, left £200 for four housekeepers, and Mrs. Martha Chivers (who was the widow of John Rogers), by her will, 1789, left £200 for the same purpose. These legacies, together with a legacy of £50 by will of William Powell, 1823, for repairs of vault and monument, are now represented by £650 consols.
Thomas Bridges, by will proved at London 3 June 1868, bequeathed £1,000 consols for the poor.
Mary Harford Hoggart by deed, 1869, gave £100, now represented by £106 19s. 1d. consols, the dividends to be distributed among poor residents of sixty-five years of age and upwards, members of the Church of England, with a preference to such as had been born and baptized in the parish; the charity to be called 'Charles Lancelot Hoggart's gift.'
Stephenson Clarke, by deed, 1889, gave £200 London, Chatham and Dover 4½ per cent. Arbitration Stock for aged poor of not less than sixty years of age in memory of his late sister, Maria Jane Clarke, irrespective of their religious opinions.
Stephenson Clarke, above mentioned, by his will proved at London 9 June 1891, also bequeathed £1,000, now represented by £730 London and Blackwall railway stock and £12 7s. 6d. consols, the income—subject to keeping in order and planting that portion of the churchyard in which his grave was situated—to be distributed amongst deserving poor people of the parish without regard to their religious opinions.
The several sums of stock are held by the official trustees, the dividends upon the consols amounting to £61 14s. 4d. and from the railway stocks to £41 17s. a year.
About £20 a year is expended upon the churchyard and about a dozen pensions of 3s. per month are given in respect of Stephenson Clarke's charities, and the income of the remaining charities is applied in the relief of the poor, mainly in the distribution of tickets for groceries, an apprentice being selected under Sir James Bateman's charity.
This parish is also entitled under Henry Smith's charity to two one hundred and thirtieth parts of the dividends on £4,767 consols, representing the Bexhill Estate branch and of an annual payment of £100 from the Longley Manor Estate branch. The amount actually received varies in amount from £3 11s. to £3 15s. a year, which is applied by the churchwardens and overseers in the distribution of articles in kind.
In 1712 Isaac Brand by will charged his mansionhouse with £3 a year for the poor at Easter. The annuity is paid out of property in Defoe Road and applied with Henry Smith's charity.
In 1713 Thomas Man by his will charged his messuages in the Market Place, Kingston-on-Thames, with six chaldrons of sea coals for twelve poor of the parish of Tooting. The coals of the value of £8 or £9 a year are distributed among twentyfour poor.
Educational Charities.
—The following charities are regulated by a scheme of the Charity Commissioners, namely, the charities of John Avarn, will proved in the P.C.C., 1809; William Powell, will proved in the P.C.C., 1823; Rev. John Ravenhill, will proved in the P.C.C., 1833, and Elizabeth Collett, deed, 1839. In respect thereof the official trustees hold £891 3s. 4d. West Ham Corporation Three per Cent. Stock and £897 0s. 11d. Western Australian Government Three per Cent. Stock, producing together £53 12s. 10d. yearly; £174 14s. 9d. consols and £142 5s. 2d. consols, producing together £7 18s. 5d. yearly. The official trustees also hold a sum of £818 9s. 1d. consols on an investment account to replace a sum of £794 8s. consols sold out in 1896 for the erection of a hall. This account now (1911) amounts to £1,228 7s. 8d. consols. The available income is applied in prizes for infants and for scholarships at schools for secondary education.
Nonconformist charities comprise the following charities, namely:—
1. The charity of Elizabeth Wilmot, will proved in the P.C.C., 1740, consisting of a rent-charge of £10 issuing out of property in Defoe Road.
2. The Meeting House, known as Tooting Independent Chapel, in the High Street, comprised in deed 16 February 1766.
3. The Defoe Memorial Manse in the Charlmont and Selincourt Roads, regulated by schemes of High Court of Justice, 1893, and of Charity Commissioners, 1894, occupied by the minister.
4. The charities of Benjamin Bond, deed 1743, Emma Miles, deed 1763, John Bond, deed 1794.
By the scheme, 1894, above referred to, the trustees were authorized to apply a sum of £900 to be raised by the sale of a sufficient portion of £1,336 12s. 5d. consols belonging to these charities, in discharging certain liabilities to which the manse was subject and in defraying the cost of repairs, &c. In the result a sum of £246 12s. 8d. consols was transferred to the official trustees, the annual dividends, amounting to £6 3s. 4d., to be remitted to the trustees, and £200 consols on an investment account to replace a sum of £203 14s. consols sold out for repairs.
The official trustees also hold a sum of £100 consols, given at some date prior to 1839 by a person named Leach By a scheme of the Charity Commissioners, 4 April 1871, the annual dividends of £2 10s. are made applicable for the benefit of poor members of the Congregational church in the High Street.
The Lady Charles Bruce's Tooting charity, founded by the will of the Right Hon. Augusta Georgiana Sophia Brudenell-Bruce, proved at London 29 April 1901, is regulated by a scheme of the High Court of Justice (Chancery Division), 11 June 1909. The testatrix directed that the residue of her property should be devoted to charitable objects for the purpose of perpetuating the memory of her late husband and be applied in purchasing a site and erection of a church, &c., in any part of the county of London and towards the endowment of the minister or perpetual curate thereof.
Several sums of government stock and railway securities of the value of £30,000, or thereabouts, have been transferred to the official trustees, producing together in annual dividends £838 18s., which is applied in salaries of the curates of All Saints' and in the upkeep, &c., of the church, Bruce Hall, and two cottages called 'Blankney' and 'Savernake.'
A sum of £1,000 consols is also in course of being provided as an 'Extraordinary Repairs Fund.'