Pages 229-234
A History of the County of Surrey: Volume 4. Originally published by Victoria County History, London, 1912.
This free content was digitised by double rekeying. All rights reserved.
MITCHAM
Miceham (viii cent.); Michelham (xi cent.); Micheham, Micham (until xviii cent.).
The parish of Mitcham is now practically a suburb of London. Its shape is regular, but the inhabited parts are very straggling owing to the commons. These are now all under public control. The average level is low, rarely rising above 90 ft. The parish contains 2,916 acres, 22 of these being water, 646 arable land, 523 permanent grass and 5 woods. (fn. 1) No Inclosure Act is known, but Rocque's map of 1762 marks the common fields east of Upper Mitcham and north of the common. The soil is a rich black mould with gravel subsoil. The physic gardens, as they were called, were the chief industry and feature of Mitcham up to sixty years ago. Roses, camomile, white poppies, liquorice, peppermint, angelica and lavender made the place beautiful in the time of their flowering. The rose and lavender cultivation has ceased and the others are much diminished. There were numerous mills on the Wandle, some of which still continue. The manufacture of snuff and calico printing were former industries of the parish.
The iron tramway from Wandsworth to Croydon ran through Mitcham, on the line now used for the Brighton Company's line to Croydon from Wimbledon, opened in 1855. Several branches of this company's lines now pass through the parish in different directions. Mitcham station and Mitcham Junction station are within it. The line through Mitcham Junction to Sutton was opened in 1868.
Mitcham Green is famous as one of the great centres of cricket in its earlier days, and good matches are still played there. Several of the distinguished Surrey players were Mitcham men. Tom Richardson was the last of great fame. A fair is held at Mitcham every year from 12 to 14 August.
The main direction of the old village is north-east and south-west along the main road from London to Sutton. There are two distinct parts of it, Upper Mitcham and Lower Mitcham. On the east it is bounded by the common, which stretches away on that side to Croydon and on the north to Streatham, while at the southern extremity of the settlement the Sutton road crosses the Wandle, where, on the east side of the bridge, the old mill still remains. Both Upper and Lower Mitcham have greens, the green of Lower Mitcham being divided by the road into Lower Green East and Lower Green West. The present Ravensbury Park, partly in Mitcham and partly in Morden, used to be called Mitcham Grove. It was bought by Lord Clive and presented by him to Alexander Wedderburn (Lord Loughborough) in acknowledgement of his defence of Lord Clive before the House of Commons. Wedderburn sold it to Mr. Henry Hoare. It is now the seat of Mrs. George Gibb. Gorringe Park used to be called Biggin Grove, and was occupied by Mr. John Manship in 1789 when lord of the manor of Tamworth and Biggin. It is now the seat of Mr. P. C. T. Lipshytz. Baron House (more correctly Barron House), on the left-hand side of the road leading from Mitcham station, now the seat of Mr. J. Boobbyer, belonged to a Mr. Barron, after whom it is called. Mitcham Hall, on the opposite side of the road, a large 18th-century house with extensive grounds, now the seat of Mr. Sidney Gedge, belonged in the 18th century to a Mr. Andrew French. Cranmers, which stands opposite Canons, is the seat of Mr. J. E. Peat. It is a house of the late 18th century, named from the Cranmer family, who owned the manor and claimed descent from Thomas Cranmer, son of the archbishop, who was restored in blood in 1563, his father having been attainted before he was burned. The alleged residence of the archbishop at Mitcham is not supported by evidence.
Mitcham had, however, several distinguished residents. Sir Walter Raleigh had a house here, probably the jointure of his wife Elizabeth Throckmorton, whose family had succeeded the Carews of Beddington (q.v.), owners of the manor of Mitcham. He sold it for £2,500 when setting out on his last Guiana expedition. The house traditionally known as Raleigh House stood at the corner of Whitford Lane on the road from London. It was used as a boys' school, but is now pulled down. Sir Julius Caesar, Master of the Rolls, resided at Mitcham, and entertained Queen Elizabeth in 1598. This house, which stood near Upper Mitcham Green on the right-hand side of St. Mark's Road, is also pulled down. Dr. Donne had a house in Whitford Lane. (fn. 2)
Eagle House stands back on the west side of the road to Tooting, in the grounds belonging to the Holborn Union, who now use the building as a children's convalescent home. The house was erected early in the 18th century—the date 1705 on the rainwater heads no doubt giving the exact year of its erection—and is a brick building two stories high standing on a basement and having attics in the roof. It is symmetrically designed both in plan and elevation, though against its north and south elevations modern additions have been built, while an ugly iron escape stair, also a stone stair inclosed within brick walls, have been erected on the west front. The walls are of stock brick with gauged brick dressings to the windows and quoins, while at the wall head is a wooden modillioned cornice. The centre part of the east front projects slightly in front of the general wall face and finishes in a triangular pediment. The roof, which is of purple slates, is hipped and finishes in a lead flat surrounded by a wooden balustrade. It is reached from the top floor by an octagonal staircase rising through the roof in a wooden turret of the same form, surmounted by a small lead dome. Over the front doorway is a coved hood supported by carved brackets and approached from the garden by a flight of stone steps having a wrought-iron balustrade. Practically all the rooms in the three upper floors are panelled with painted deal panelling and many have still their 18th-century grates. There are two staircases, both having turned balusters, the main one stopping on the first floor, but the secondary staircase continues up to the top floor. On the rain-water heads, besides the date 1705, are the initials P.F.M., which have also been worked into a monogram in the upper part of the wrought-iron entrance gates. The railings on either side of the gate stand on dwarf brick walls, at the ends of which are brick piers crowned with cornices and each surmounted by an eagle holding a rabbit in its talons.
Many of the old cottages are entirely of timber construction, the quartering being externally covered with weather-boarding and the roofs tiled, while others are built partly of brick and partly of timber. On the west side of the Sutton road, towards the south end of the settlement, is a row of 18th-century red brick cottages, two stories high, with tile roofs, wooden cornices and hood of the same material to their doorways supported on carved brackets.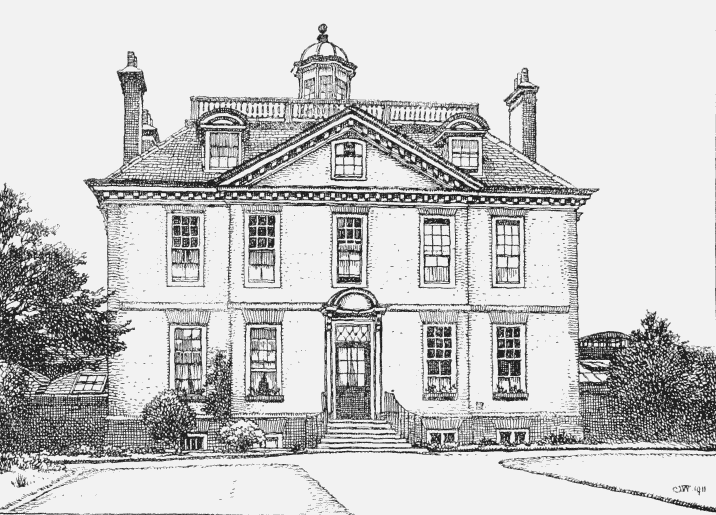 The oldest house in the parish is Vine Cottage, a small brick building—externally washed over with a yellow wash—with a tile roof, standing at the northwest corner of Lower Green West. It is two stories high, with attics in the roof, and has the angles emphasized by brick quoins of slight projection. The 'King's Head,' which stands at the west corner of Lower Green East, is an 18th-century red brick building with tiled roof, considerably restored.
The Conservative Club is a fine red brick building, three stories high, with a dentil cornice and a Doric porch with a hood supported on brackets.
A Church Sunday school was built at Mitcham in 1788 and turned into a National school in 1812. A Sunday school was built in 1819, was enlarged in 1842 by the Congregationalists and further enlarged as a British day school in 1857. Singlegate school was built for infants in 1874, enlarged in 1897 and 1907, and a boys' school was added in 1906. A girls' school was also added in 1897 and enlarged in 1907. Lower Mitcham school was built in 1897; St. Mark's Road school was built for girls in 1884 and enlarged for boys in 1896; Lonesome mixed school was built in 1903 and the Roman Catholic school in 1867.
There is also a school attached to the Holborn Union in this parish.
MANORS
The earliest mention of Mitcham is in the alleged charter of 727, which is a confirmation of the grant by which Erkenwald gave lands at Mitcham to Chertsey Abbey. (fn. 3) Later there is a grant of land at Merton, near Wimbledon, and Mitcham from Edgar to Earls Alphen and Elswith. (fn. 4)
In 1086 the canons of Rayeux held of the Bishop of Bayeux 5 hides in Mitcham which in the time of King Edward had been held by Brictric of the king, and also 2½ hides which two homagers had held of the king. Another hide which Brictric had mortgaged was held in 1086 by Otbert. (fn. 5) The canons also held part of Witford in Mitcham of the bishop. It is probable that the tenure of the canons did not outlast the disgrace and forfeiture of the bishop in 1088. Several grants of land at Mitcham were made by Henry I, (fn. 6) and it is not improbable that some of their estates formed the manor described below, which before the end of the 13th century had come into the possession of the priory of St. Mary Overy.
The lands of the priory of St. Mary Overy in Mitcham, known as the manor of MITCHAM CANONS, seem to have been held as a quarter of a knight's fee of the honour of Clare. (fn. 7) In 1291 the lands of the priory were taxed at £1. (fn. 8) At the Dissolution St. Mary Overy held 6 acres of wood at 12d. an acre, 7s. rent and the rectory of Mitcham, worth £16. (fn. 9) In 1545 Henry VIII sold the manor of Mitcham, described as lately belonging to St. Mary Overy and demised together with Buckwood (comprising 7 acres) to Thomas Fremonds, to Nicholas Spackman and Christopher Harbottell, citizen and haberdasher of London. (fn. 10) Licence was given to Spackman and Harbottell in 1550 to alienate to Sir John Gresham, (fn. 11) who again received licence the next year to alienate to Spackman and Harbottell. (fn. 12) They re-alienated to Laurence Warren, (fn. 13) who conveyed the manor to Nicholas Burton. (fn. 14)
In 1589 Richard Burton died seised of the manor of Mitcham, leaving a son Henry. (fn. 15) In 1619 (fn. 16) Henry Burton sold it to Nicholas Carew. (fn. 17) Sir Francis Carew conveyed it to Thomas Hamond, (fn. 18) who sold the manor in 1656 to Robert Cranmer, (fn. 19) in whose family it has remained ever since. (fn. 20) Robert Cranmer died in 1665, and it descended in direct succession to his son John, who died in 1705; to James son of John, who died in 1752; to James son of James, who died in 1801, and to the latter's daughter Esther Maria, who married Captain Richard Dixon, of the 85th regiment. Under James Cranmer's will Captain Dixon assumed the name and arms of Cranmer. Amongst other children they had Emily Cranmer, who married William Simpson of Lichfield. Simpson's eldest son William married Winifred daughter of Sir Edward Martyn, whose son Mr. William F. J. Simpson is the present lord of the manor. (fn. 21) There are no Court Rolls extant. Disputes between the manors of Biggin, Ravensbury and Mitcham as to rights over the common ended in the waste being regarded as one common. Mr. Simpson granted his manorial rights to the conservators of the common. The tenants of the manor still have grazing rights.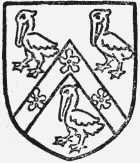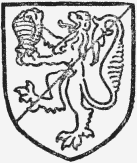 The old manor, now the seat of Mr. J. O. Lewis, is an 18th-century two-story mansion of red brick with a tile roof. The entrance doorway is of the Doric order.
The present manor-house, called the Canons, occupied by Mr. J. H. Glass, is a large Georgian house two stories high with a basement and attics. The walls are stuccoed externally and have at the caves level a modillioned cornice; the roofs are tiled. In the garden at the back of the building is a small stone garden-house, square in plan and covered with a hipped tile roof.
The land in Mitcham belonging to the priory of Merton, known afterwards by the name of the manor of BIGGIN and TAMWORTH, was valued in 1291 at £1 5s., (fn. 22) and seems to have partly consisted of a quarter or one fifth of a knight's lee held of the Earls of Gloucester. (fn. 23) In 1243 Laurence son of William granted 20s. rent in Mitcham to Robert, Prior of Merton, (fn. 24) and in 1248 Amysius de Wauton conveyed a carucate of land to the same prior. (fn. 25) A grant of free warren in the Mitcham estate was made to the prior in 1252. (fn. 26) Baldwin de Lisle gave a moiety of a mill to Eustace the prior in 1260, (fn. 27) and in 1393 Adam Titsey was allowed to give lands to Merton. (fn. 28)
At the Dissolution Biggin is set out as yielding £11 1s. 7d. in rent, the perquisites of court in Mitcham being worth 7s. to the priory. Henry VIII in 1544 granted it under the name of the manors of Biggin and Tamworth to Robert Wilford, together with land called Mareslonde in Mitcham. (fn. 29) Wilford's widow Joan married Lord Mordaunt, (fn. 30) who held his court as life-tenant in his wife's interest in 1567. Wilford left two daughters—Anne the wife of Henry Whitney, and Joan, who married Robert Apreece. In 1564 (fn. 31) Henry Whitney and Anne conveyed their moiety to John Reynolds on trust and in 1595 (fn. 32) gave one George Smythe a right of free fishery. In 1583 Robert Apreece, his wife and son sold their moiety to Henry Whitney, probably son of Henry Whitney and Anne Wilford (described as a servant to Sir Thomas Bromley, the chancellor). (fn. 33) In 1603 (fn. 34) Henry and Ann Whitney, Ann Whitney, widow, and John and Thomas Whitney sold the manor to Sir John Carryll. The manor extended into Tooting Graveney and Streatham and comprised 640 acres, including 200 of wood.
In 1609 the manor belonged to John Lord Hunsdon, (fn. 35) whose son in 1614 (fn. 36) conveyed it to Sir Nicholas Carew alias Throckmorton. In 1633 (fn. 37) Carew conveyed it on trust to Sir Thomas Crymes and Robert Wolrich. (fn. 38) He was succeeded by his son Francis Carew. Sir Francis in 1649 (fn. 39) settled the estate on Edward Thurland of Reigate, who devised it to his son Edward. Edward Thurland the younger devised it, subject to his widow's life interest, to his three nieces Elizabeth, Ann (afterwards the wife of Philip Brooke) and Isabella Bowes, (fn. 40) who all three joined in a conveyance to John Manship in January 1744–5. (fn. 41) John Manship died in 1749, leaving the estate to his son of the same name, who in 1804 (fn. 42) sold it to James Moore, who developed the plantations of medicinal herbs in the parish. James Moore had a son James Bridger, who inherited the lands and business of distilling essential oils and left it to his children. The lands were sold and the business has failed. The manorial rights, after passing through the hands of Messrs. Paine & Brettell, solicitors, of Chertsey, were recently sold to the Prince's Golf Club. The common rights are under the same arrangement as those of Ravensbury. There are a very few copyholds still left. (fn. 43) Almost all the manor of Tamworth has been parcelled out as a building estate. It lies beyond the railway bridge off the Croydon road.
The manor of RAVENSBURY or RASEBURY (Ersboury, xiv cent.) was held of the lords of Ashtead Manor. As Ashtead, like Mitcham and Witford, was held by the canons of Bayeux of the bishop in 1086, it is possible that here too we have part of the canons' holding, granted with Ashtead to the Mara family. At the beginning of the 13th century William de Mara or de la Mare appears as lord of Ravensbury. (fn. 44) In 1283 the manor was held by John de la Mare and his wife Parnel, who in that year received a grant of free warren in their demesne land. (fn. 45) William de la Mare died seised of Ravensbury in 1314, which he held for his life of his daughter Florence by rendering for Florence a pair of gilt spurs or 6d. to Peter de Montfort, lord of Ashtead. (fn. 46) Florence married Philip de Orreby and in 1321 conveyed two parts of a messuage, a mill, a carucate and 55 acres of land, 30 of meadow, 10 of pasture and 100s. rent in Mitcham and Morden to William de Herle for life. (fn. 47) By 1328 Florence had been apparently remarried to Nicholas le Fraunceys, for in that year a settlement was made on Nicholas and his wife Florence of 9 messuages, 3 tofts, 2 carucates and 56 acres of land, 46 acres of meadow and 60s. rent which William de Herle held for life. (fn. 48) In 1338 Nicholas and Florence quitclaimed all right in the same lands to William de Herle, (fn. 49) who in 1347 conveyed Ravensbury to Henry de Strete, citizen and vintner of London, to hold for life, with remainder to Thomas de Strete of London, son of Katherine of the Temple. (fn. 50) In 1377–8 James de Strete conveyed the manor to trustees to himself for life and remainder to John Lord Nevill of Raby, kt., and his heirs. (fn. 51) The latter in 1381–2 sold it to Sir Robert de Plesyngton. (fn. 52)
Sir John Burghersh acquired the manor by sale from Plesyngton in 1382, (fn. 53) and died seised of it in 1392 (when it was said to be held of Baldwin Frevile as of his manor of Ashtead), leaving two daughters, Margaret the wife of Sir John Grenville and Matilda, co-heiresses. (fn. 54) He also held a parcel of land called Allmannesland of the Prior of Christchurch as of his manor of Vauxhall by 6s. a year for all services. The manor was worth £10 a year and the land 20s. Margaret Grenville married secondly John Arundel of Bidford, who at his death in 1424 held in right of Margaret all this same property, the heir being John Arundel the son. (fn. 55) It comprised 672 acres of arable land worth 4d. an acre, 68 acres of meadow worth 12d., 48s. rent, the whole manor being worth £17. The manor went ultimately to the family of the other daughter Matilda. She married Thomas Chaucer, son of the poet, it is believed; their daughter Alice married William de la Pole Duke of Suffolk, whose grandson was John de la Pole Earl of Lincoln, among whose possessions the manor was included at his death and forfeiture in 1487. In the same year the manor was granted to Simon Digby in tail-male, (fn. 56) and appears to have been alienated to the Carews shortly afterwards. (fn. 57) In 1584 Lord Howard of Effingham brought an action against Sir Francis Carew for a messuage, two water mills and 30 acres called the 'Marrish' in Mitcham in the tenure of Bartholomew Clerk, which Lord Howard claimed were held of the manor of Reigate, and which Sir Francis said formed part of his manor of Ravensbury. (fn. 58) It subsequently descended as Beddington in the Carew family and their heirs. Mr. Frank M. M. H. Carew was the last member of the family who owned it. Mr. Cox bought it from him after 1907. A great portion of the manor has been recently sold as a building estate, and the manorial rights have been sold to the Prince's Golf Club, with a power of purchase to the Conservators of the Common after a certain term of years at the original price. There are still one or two copyholds unenfranchised. (fn. 59)
A holding of William Fitz Ansculf in 1086, which was assessed at 2 hides and a virgate and comprised a moiety of a mill, appears to have descended with the manor of Ravensbury. John de la Mare at his death held land 'outside the manor' of the lord of Barnack (co. Northampton), who was the successor of William Fitz Ansculf, (fn. 60) and in 1428 John Burghersh was assessed for a knight's fee in Mitcham which William de la Mare formerly held of the fee of Barnack. (fn. 61)
At the time of the Domesday Survey, besides the holding of the canons of Bayeux called Witford, a holding at WITFORD or WICKFORD was among the possessions of William Fitz Ansculf, lord of the manor of Dudley, and was in the tenure of William the Chamberlain. (fn. 62) It was assessed for one hide. From the Testa de Nevill it appears that Alexander de Wickford held a fee in Mitcham of the honour of Dudley, (fn. 63) and in 1218–19 he conveyed one-third of a knight's fee to Henry Cresby and his wife Alice. (fn. 64) Later William Mareys enfeoffed Arnold de Wickford of a messuage in Mitcham and 17 acres of land. (fn. 65) In 1349 another William Mareys granted lands and tenements in Mitcham, Wickford, Wandsworth and Carshalton for twenty-five years to Henry de Strete (fn. 66) (see Ravensbury), who had previously purchased land of him, (fn. 67) and in 1361 he conveyed a capital messuage, two water mills and moorland in Wickford to the vicars of Mitcham and Morden. (fn. 68) This grant may have been in trust for Merton Priory, for in 1380 the prior was holding the manor of Wickford. (fn. 69) There seems to be no further trace of it under this name, but at the Dissolution the prior received £3 1s. 8d. as the farm of land called Maresland (fn. 70) (sc. Mareys' land). This was granted by Henry VIII with Biggin and Tamworth (q.v.), and may be the land called the 'Marrish,' comprising a messuage, two water mills and 30 acres of land which was disputed between Lord Howard and Sir Francis Carew (see Ravensbury).
The original name survives in Whitford Lane. Lower Mitcham Green seems to have once been called Whitford Green, for a title deed of one of the old houses on the Green describes it as 'on Whitford Green, now commonly called Mitcham Green.'
In 1624 (fn. 71) Sir John Leigh was granted the manor of LODGE in East and West Cheam and Mitcham, pending its sequestration for the recusancy of Bartholomew Fromond, who retained his third part. The capital messuage was called Hall Place and lay in Mitcham. It was sold by Sir Francis Leigh to Gabriel Colstone in 1627.
The present house is situated to the south-west of the green on the road to the church. It bears over the door the date 1707 and the initials W.W. (for one of the Worsfold family), but alterations were made in 1867 and 1877, and the house is now modernized. At right angles to the house on the west side is a stone archway of about 1400, formerly the doorway into a building, with a small window over it. Inside the house was a so-called chapel, which had an open timber roof. It was used for a horsemill by J. T. Worsfold, a maltster, who owned the house in 1729. It may have been a chapel or a hall. Henry Strete had a licence for a chapel in his house at Mitcham in 1349, (fn. 72) and there is also a local tradition that the room at Hall Place was used for service when the church had been burnt by lightning in 1637. But, conversely, its use then may have originated the idea that it was a chapel. The garden beyond the old gateway mentioned above is now called Chapel Orchard. Mr. T. Cato Worsfold, who now lives at the house, is a descendant of the owner in the 18th century.
In 1428 the Prior of Christchurch held 2 hides (of which I hide contained one-fifth of a knight's fee) in Mitcham, which are described as having once been in the king's hands and as having been held by Edward, former Prince of Wales (fn. 73) (see Vauxhall). In 1476 Sir Richard Illingworth died holding a capital messuage in Mitcham of the Prior of Christchurch, service unknown, leaving a son and heir Richard. It comprised a parcel of land called Allmannesland, formerly in the tenure of Sir John Burghersh (see above), held of the prior as of his manor of Vauxhall. (fn. 74) Another Sir Richard Illingworth died in 1512 seised of lands and tenements in Mitcham, leaving a son and heir William. (fn. 75) In 1572 a Ralph Illingworth, esq., was buried in the north aisle of the church. The estate is said to have carried with it rights in the north aisle of the church.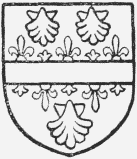 A messuage and 18 acres of land in this parish were held by the serjeanty of receiving and keeping distraints made by the king's bailiff in Mitcham, of providing a house in which to keep prisoners attached by the sheriff and taking them to the castle of Guildford, by paying 5s. yearly to the sheriff's aid, and by doing suit at Wallington Hundred court every three weeks. Margery the widow of William le Bule was holding this land in 1318, when she received licence to grant it to John de Bockyng. (fn. 76) In 1332 Thomas de Sutton received licence to enfeoff Thomas Godard, (fn. 77) and in 1349 William Fige died seised of it, leaving a son and heir William. (fn. 78) The land is probably that known as Figg's Marsh, i.e. boundary.
CHURCHES
The church of ST. PETER AND ST. PAUL consists of a chancel with a north aisle, a south-east vestry to the west of which is a tower, a nave in five bays, north and south aisles, and a baptistery at the west end of the nave with vestibules on either side out of which rise staircases to galleries over the aisles. The church was practically entirely rebuilt in 1821, but from the masonry inside the tower below the level of the bell chamber the old tower appears to have been incorporated in the new building. At what date the old tower was erected it is impossible to say, as it has been robbed of all its original detail and the walls have been cemented externally.
The present church is erected in the Perpendicular style prevalent in the early 19th century. The walls are cemented over, both inside and out, with sham jointing incised on the surface in imitation of ashlar masonry. The nave arcades are tall and slender, with pointed arches carried on clustered shafts having moulded capitals and bases. All the ceilings are vaulted with plaster vaults and have moulded ribs which intersect in an elaborate design.
On the north wall of the baptistery is a marble monument to Sir Ambrose Cowley, kt., and his wife Mary daughter of Charles Owen, esq. Sir Ambrose died 7 October 1713, aged fifty-four, and his wife in the sixty-third year of her age in 1727.
There is a peal of eight bells, all by Thomas Mears, 1820.
The plate consists of a silver paten of 1678, inscribed on the foot 'Mitcham,' two silver flagons of 1729, both inscribed 'This Piece of Plate was Given to the Church of Mitcham in Surrey by the Will of Mrs. Dorothy Card deced. One of the Daughters of Mr. William Toll late of this Parish.' On both the flagons are engraved the arms of the donor. A silver plate of 1752 inscribed 'Mitcham Parish in Surrey 1753'; two silver plates of 1802, both inscribed 'I. Hellier & T. Bennett Mitcham Surrey 1803'; two silver cups of 1848, both inscribed 'The Gift of William Wilson Esq. of Wandle Grove Mitcham 1848'; and a silver paten of 1874 similar in design to the paten of 1678. There is also a large brass alms-basin.
The registers previous to 1813 are in eleven volumes: (i) all entries from 1563 to 1640, no entries between 1640 and 1649, a few odd entries between 1649 and 1670, all 1670 to 1678; (ii) baptisms and burials 1653 to 1670, marriages 1651 to 1669; (iii) baptisms 1679 to 1734, burials 1678 to 1734, marriages 1679 to 1733; (iv) marriages and burials 1704 to 1737, baptisms 1704 to 1739; (v) baptisms and burials 1735 to 1778, marriages 1734 to 1752; (vi) marriages 1754 to 1788; (vii) marriages 1788 to 1812; (viii) baptisms 1779 to 1807; (ix) burials 1779 to 1807; (x) baptisms 1808 to 1812; (xi) burials 1808 to 1812.
CHRIST CHURCH, Singlegate, consists of a chancel, north organ chamber, south vestry, nave in four bays, north aisle, north-west tower and spire, the bottom stage of which is used as an entrance vestibule, and a south porch.
The parish was formed in 1875, and the church dates from 1872. The style is 'early English' Gothic, and the materials are stock brick with stone dressings to the windows and doorways.
The open-timber roofs are slated, and the spire is shingled.
The church of ST. MARK, Upper Mitcham, consists of a chancel, north transept containing vestry and organ chamber, south chapel, nave, north and south aisles, west baptistery, and north porch.
The nave and aisles were erected in 1899; the chancel, north transept and south chapel were added in 1910. The style is approximately that of the 13th century, and the materials are red brick with stone dressings and tiled timber roofs.
The parish was formed in 1905.
ST. BARNABAS mission church is at Gorringe Park.
The present Roman Catholic church of St. Peter and St. Paul was opened in 1889.
Mitcham and Cheam in the 16th century were Roman Catholic centres (see Cheam). In 1587 (fn. 79) complaints were made against seminary priests at Sir Thomas Tresham's house at Mitcham. (fn. 80) In 1589 John Leeds, one of the recusants on bail, applied for leave to go to Mitcham to dispose of his affairs, and Mistress Rutland (of a family that for some three generations was settled here) was security for him. The Talbots of Mitcham were prominent recusants in 1586. John Talbot of Mitcham was among the recusants who paid a yearly composition for their estates, and the Fromonds of Cheam, the holders of Hall Place, Mitcham, appear in the same list. (fn. 81)
There are Baptist, Congregational, Primitive Methodist and two United Methodist chapels in the parish.
ADVOWSON
The advowson of Mitcham Church was granted by Bartholomew de Lisle, who had property in Mitcham, as appurtenant to his manor of South Lambeth (q.v.), to the Prior of St. Mary Overy in 1259, (fn. 82) and has followed the descent of the manor of Mitcham Canons until the present day. The date of the appropriation of the church is not known. In 1535 the vicarage was worth £10 13s. 2d., out of which the priory was entitled to a pension of 2s. and Christchurch to 8d., the net value being £10 0s. 9d. (fn. 83)
The rectory was sold in 1646 by Edmund Carew, fourth son of Sir Nicholas, on whom it had been settled, to Richard Surman, who conveyed it in 1659 to John Swift and John Morris in trust for Robert Cranmer. (fn. 84) John Cranmer son of Robert alienated the tithes of corn to Peter Batt. (fn. 85) In 1716 the tithes were in the possession of William Tyson and his wife Jane, who in that year conveyed them to Peter Hambly and John Mosden. (fn. 86)
CHARITIES
The almshouses on the Green were built by Mrs. and Miss Tate in 1829 for twelve women over fifty years of age, and were especially intended for domestic servants. Mr. Thomas Plummer left £4 a year in 1639 for bread. Mrs. Ellen Fisher of Hammersmith left £200 to be invested in land for twenty-four poor housekeepers in 1709. Mrs. Oxtoby left £2 12s. a year for a bread charity in 1792.
Smith's charity is distributed as in other Surrey parishes.