Pages 246-250
A History of the County of Surrey: Volume 4. Originally published by Victoria County History, London, 1912.
This free content was digitised by double rekeying. All rights reserved.
WOODMANSTERNE
Odemerestor (xi cent.); Wudemareschorn (xii cent.); Wudmannesthorne (xiii cent.); Wodemansterne, Wodemansthorne (xiv cent.).
Woodmansterne is a small parish, lying high upon the Chalk Downs. It measures some 2½ miles from north to south, and a mile from east to west, and contains 1,591 acres. The village stands on a narrow patch of clay superimposed upon the chalk, but the character of the place is that of a down parish. The highest part of it, between the village and the Banstead boundary, is 500 ft. or more above the sea; the neighbourhood of the church is well over 400 ft. Only on the south-east the ground slopes rapidly down to Chipstead Bottom and its continuation Smitham Bottom, which is now a dry depression in the chalk. There seem to be no streams; water is reached by deep wells, and on the clay near the church water stands in the Mere pond. Many neolithic tools have been found in the neighbourhood by Messrs. Johnson and Wright, also an axe-head and flint flakes, whilst certain depressions which exist may be hut circles. (fn. 1)
The parish was once mainly sheepwalk; the name is retained in two reputed rights of way, and in Sheep Farm (pronounced Ship Farm, and so spelt on the ordnance map). There is no Inclosure Act on record, but undoubtedly a great deal of open down has been inclosed.
The village is situated upon high ground about 4½ miles south-west of Croydon and 1 mile east of Banstead. The main portion of the village lies upon the road leading from the latter place to Coulsdon. The church stands on the south-east of the village, and adjoining the churchyard on the east is the manor-house, a two-storied 18th-century building of red brick with a slate roof. The old rectoryhouse stands on the west side of the road, a short distance beyond the manor-house. The front is of 18th-century date, though portions of the house appear to be earlier. Opposite the church a road runs northward to Carshalton down the hill-side. On the east side of this road are some half-timber cottages in poor condition. Beyond these there is little of interest in the village.
About three-quarters of a mile north of the church is the Oaks or Lambert's Oaks, so called from the ancient family of Lambert settled in Woodmansterne and the neighbourhood as early as the 14th century. It is a large 18th-century house of red brick in the castellated style. Jeffrey Lambert, eldest son of John Lambert (seventh of the name, who died in 1533), ancestor of the Lamberts of Banstead (q.v.), left his Woodmansterne estate to his fourth son Roger, who served in the Low Countries under the Earl of Leicester. He died in 1617. His great-grandson Roger Lambert, a Royalist, who became impoverished in the Civil War, sold the estate in 1661 to Jeffrey Lambert of Banstead, his second cousin once removed. In 1759 the Earl of Derby acquired the lease then held by his son-in-law Sir John Burgoyne, the general who surrendered at Saratoga. His grandson, the next earl, bought the estate in 1788 from William Lambert, great-great-grandson of Jeffrey. He used the house as a hunting and racing box, and the famous sweepstakes whence the Derby and the Oaks originated were founded there. In 1834 the estate was sold to Sir Charles Grey and afterwards to Mr. Smith. It is now the property of the heirs of the late Mr. Harry B. James. (fn. 2) The house, which stands in a park, seems to have been rebuilt in the 18th or possibly the 17th century. Additions were made to it by Lord Derby in 1771.
Shortes Place was another estate of the Lambert family in Woodmansterne. Early in the 14th century Adam a Lye held land called 'Shorteslond' which he conveyed to Henry de la Colcharde and Robert de la Colcharde, and they to Reginald le Forester. It was purchased from Forester by Adam de St. Alban, and his son John de St. Alban sold it in 1370 to Robert Coces or Cotes. It remained in this family until 1513, when John son of Richard Cotes sold the estate to John Lambert. (fn. 3) As Royalists the Lamberts became much impoverished, and Roger, the then owner, sold Shortes to Jeffrey Lambert of Burgh in Banstead. In the beginning of the 19th century William Lambert, a judge in the Indian Civil Service (son of William Lambert who sold the Oaks), pulled down the old house called Shortes Place, which was situated in a small park opposite the church, and sold the property to John Lambert of Garratt's Hall, Banstead. (fn. 4) Constable the painter often visited Woodmansterne as a guest of Mr. Lambert, whose portrait he painted. The smithy at the Oaks is shown as the place where he painted his celebrated White Horse. Fairlawn House, formerly Farnehill (on the edge of Farnehill or Fairlawn Down), is the property of Col. F. A. H. Lambert, F.S.A., J.P. Dickens spent much of his time here when the property was leased by the Lamberts to his publisher, Mr. Chapman.
The village, owing to its high situation and distance from railways, remains quite rural, as does most of the parish. Only towards Smitham Bottom the houses which have grown up so numerously near Purley station have spread up the hill into part of Woodmansterne parish. Woodmansterne school was founded in 1842.
MANOR
The manor of WOODMANSTERNE which before the Conquest was held of King Edward by Azor was one of the manors acquired by Richard de Tonbridge, lord of Clare, who held it at the time of the Domesday Survey. (fn. 5) The overlordship descended with the Clares. (fn. 6) In 1314 Gilbert de Clare, Earl of Hertford and Gloucester, was killed at the battle of Bannockburn; he left no issue, and his estates were divided among his three sisters, while his earldoms reverted to the Crown. (fn. 7) Woodmansterne fell to the share of Eleanor, the eldest sister, who married Hugh le Despenser (fn. 8); their eldest son Hugh (fn. 9) died childless and was succeeded by his brother's son Edward le Despenser, who was overlord of the manor at his death in 1375. (fn. 10) Edward's son and heir Thomas was created Earl of Gloucester by Richard II; he was attainted and his honours forfeited under Henry IV, but his property seems to have passed to his daughter Isabel, who became the second wife of Richard Beauchamp, fifth Earl of Warwick; she was overlord of the manor at her death in 1439. (fn. 11) Henry, their only son, died in 1445 and his estates devolved on his sister Anne, wife of Richard Nevill, who became Earl of Warwick in his wife's right He was killed at Barnet fighting against Edward IV and his possessions escheated to the Crown. (fn. 12)
At an early date the Clares subinfeudated the manor. By a charter of the latter part of the reign of Henry II we find Gilbert son of William de Pudendane holding land in Woodmansterne which he had inherited from Godfrey de Delce, (fn. 13) the first sub-tenant of whom we have record. Gilbert was probably the tenant who in 1205 held a knight's fee in Woodmansterne, which he claimed to be holding of the honour of Clare. (fn. 14) His right appears to have been contested by William Malet, (fn. 15) whose father Gilbert Malet is mentioned as holding land in Woodmansterne at the same time as Gilbert de Pudendane. (fn. 16) William Malet must have been in possession of the manor about 1230, for in a charter of 1230–40 he granted to the Hospital of St. Thomas the Martyr in Southwark a rent of 40s. for the services of a chaplain to pray for the souls of his family; the rent was to be drawn from the proceeds of a mill at Hakburgh, and if that should prove insufficient he provided that it should be charged on his manor of Woodmansterne. (fn. 17) William's daughter Mabel married Hugh de Vivonia, (fn. 18) who was seised of the manor. (fn. 19) and their second son William de Fortibus (fn. 20) or le Fort succeeded, and in 1252–3 received a grant of free warren, (fn. 21) which was confirmed to him in 1268–9. (fn. 22) He married Matilda daughter of William de Ferrers Earl of Derby and widow of William de Kyme, (fn. 23) who through her mother was descended from the house of Clare. He died between 1268 and 1278 and left four daughters. Of these Mabel married Fulk de Archiac and inherited two thirds of Woodmansterne Manor, one third being allotted to Matilda as part of her dower with reversion to the heirs of Mabel. (fn. 24)
In 1278–9 Fulk de Archiac claimed as belonging to his manor of Woodmansterne from time immemorial view of frankpledge, assize of bread and ale and tumbrel and the right of free warren granted by Henry III. (fn. 25) Fulk died before 1304, and at the inquisition taken at his death it was found that he held Woodmansterne by right of his wife, then deceased, by service of one knight's fee. His son Adomar, then aged twenty-five, (fn. 26) had some difficulty in establishing his claim to his father's estate, as he had been born beyond sea and the truth as to his age could not be ascertained, but the king finally accepted his homage. (fn. 27) He died about 1314, and was succeeded by his brother Fulk (fn. 28); but his aunt Cecilia de Beauchamp, one of the daughters of Matilda de Kyme, claimed the manor and obtained a writ of entry, dated 4 August 1314. The Sheriff of Surrey, a friend of Fulk's, altered the date to the 14th, and during the ten days thus gained Fulk conveyed the manor to Sir William Inge, (fn. 29) who obtained a grant of free warren for himself and his heirs, (fn. 30) and he is returned as holding the manor in the inquisition on the Earl of Gloucester (which is dated two months after the latter's death). (fn. 31) It may be that William Inge died childless. Cecilia de Beauchamp certainly succeeded ultimately in obtaining possession, for she died seised in 1321, leaving a son and heir John, aged forty. (fn. 32) He had been summoned to Parliament in 1299 as Lord Beauchamp de Somerset and died in 1336. (fn. 33) His grandson John, who died without issue in 1361, (fn. 34) left two heirs, viz. Cecilia de Beauchamp, his sister, and John Meriet, son of his sister Eleanor, who was then under age and in the custody of the king. The descent of Meriet's portion will be traced hereafter.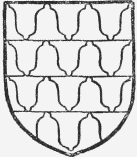 Cecilia, who married first Sir Roger Seymour and secondly Richard Turberville, had one third of the manor as her share. (fn. 35) This she conveyed in 1375 under the name of 'all her lands and tenements in Woodmansterne and Nutfield' to Richard Freeman and others, (fn. 36) who enfeoffed Nicholas Carew. (fn. 37) Carew already had lands in Woodmansterne (fn. 38) and had in 1373 received a grant of free warren in his demesne lands there (fn. 39) In August 1390 he died seised of one third of the manor and a messuage called 'Le Hoo' which he held of Sir William Brian, kt., who was lord of the remaining two thirds of the manor. (fn. 40)
Carew was succeeded by his son Nicholas, who on his death in 1432 left his share (one third) in trust for Mercy Ford, daughter of his son Thomas deceased, (fn. 41) and her heirs, with remainder to her sister Joan wife of William Sander and contingent remainder to his son Nicholas and his heirs. (fn. 42) It appears that Mercy, second wife of Nicholas Carew, sen., held this portion of the manor for her life, for in 1440 Nicholas Carew, jun., quitclaimed to Mercy, who was his father's wife, all right in one third part of the manor of Woodmansterne and other lands and tenements formerly belonging to his father. (fn. 43) Towards the end of the 16th century this part of the manor was in the possession of the Skinner family. James Skinner settled it on his great-nephew John and Alice Poyntz his wife. (fn. 44) John died childless in 1584, and his sisters with Richard Elyot his nephew were his heirs. (fn. 45) His purparty of the manor fell to Richard Elyot, who died seised in 1608, (fn. 46) and his son and heir, another Richard, sold it the next year to John Huntley. (fn. 47) He conveyed it in 1615 to Marlyon Rithe of Chipstead, (fn. 48) who through his wife was already possessed of another third (see below). His son Christopher succeeded him and in 1635 settled the property on his son Marlyon on the occasion of his marriage with Mary Short. (fn. 49) On the death of his wife in 1647 Marlyon Rithe joined with his father in conveying part of the estate to Abel Collyer, and the remainder to Roger Lambert of Woodmansterne. In 1661 his kinsman Jeffrey Lambert of Burgh in Banstead acquired Shortes Place and the Oaks, Woodmansterne, from Roger, and in 1679 he bought the share which had descended to Benjamin Collyer son of Abel. This part of the manor became merged in the rest of the Lambert property. (fn. 50)
In 1365 on the division of the manor John Meriet, nephew of John de Beauchamp, inherited two thirds (fn. 51); this portion he appears to have conveyed to Guy Brian, chevalier, whose son William was holding it as the manor in 1391. (fn. 52) William died childless; his heirs were his nieces, of whom one was Elizabeth wife of Sir Robert Lovell. (fn. 53) In 1424 John Iwardby and another, trustees of Elizabeth and Robert, quitclaimed to John Burgh de Waleton and Katherine his wife all right in the lands, tenements, &c., in Woodmansterne which had belonged to William Brian deceased. (fn. 54) In 1434–5 John Burgh released to Richard Calcok of Chipstead his two parts of the manor. (fn. 55) Richard had two daughters. Eleanor the elder was disinherited on her marriage with John Pope, a bondsman to the Duke of Norfolk, and Joan the younger, wife of John Skinner, became sole heir. (fn. 56) Their son Richard (fn. 57) had three children : William, who died childless in 1499, (fn. 58) and Elizabeth and Agnes, co-heirs. (fn. 59) Agnes was holding in 1506, (fn. 60) but she appears to have released her right, for John Scott, sen., her sister's husband, held the manor in 1513–14 (fn. 61) and was holding it at his death in 1532. (fn. 62) Richard Scott, son of John Scott, jun., succeeded to this moiety on his father's death in 1558. (fn. 63) Richard conveyed his purparty to Henry Iden, (fn. 64) who in 1562 sold it to Robert Harris, (fn. 65) a master in Chancery. Robert Harris had two daughters, co-heirs (fn. 66) : Martha married Marlyon Rithe, who thus became possessed of two thirds of the manor, (fn. 67) and the other moiety descended to Katherine, the second daughter of Robert Harris and wife of Anthony Paynter of Gillingham. (fn. 68) In 1653 their son William conveyed it to Sir Edmund Bowyer of Camberwell. (fn. 69) Sir Edmund held a court there in 1655, (fn. 70) and this moiety of the manor remained in the Bowyer family, although descending not always in the direct line, (fn. 71) until 1718, when Edmund Bowyer died seised, having settled his estate in trust for his sister Frances for her life, with remainder to his niece Martha (fn. 72) wife of Joseph Windham, who had taken the name of Ashe. She and her husband held a court in 1743, and at her death the estate passed to her daughter and heir Mary wife of John Windham of Wawne, co. York, who took the name of Bowyer. They held a court in 1752. Their son Joseph died without issue in 1810, when his sister Anne became sole heir; her husband, Sir William Smijth of Hill Hall, co. Essex, died in 1823. Sir Thomas, their second son and heir, held a court in 1827 and died in 1833. Sir John, his brother, held a court in 1835. He also died without issue and a younger brother, Joseph Smijth Windham, succeeded. He left a son and heir, William George Smijth Windham. The manorhouse is now owned by Mr. A. Bryans, who bought it from the executors of the late Mr. H. A. Wedd. (fn. 73)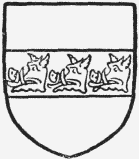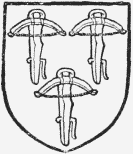 CHURCH
The church of ST. PETER, entirely rebuilt in the year 1876, consists of a chancel, south transept, nave, south aisle, vestry at the north-west of the nave and a wooden bell turret at the west end.
The walls are faced with flint and the roofs are tiled. The design is in the style of the middle of the 13th century. At the east end of the south wall of the chancel is a 14th-century piscina from the former church, with a trefoiled ogee head. The circular basin appears to be modern. In the vestry window is a small piece of 16th-century glass, probably Flemish, containing a figure of St. Paul within a foliated semicircular arch supported by baluster columns. Some portions of the diapered ground of this window may be of the 15th century. There are a few similar pieces in the west window of the nave. In the vestry is a fine Jacobean corner cupboard with a figure of Samson on the panel of the door. A table and two chairs here are probably of mid-17th-century date. The two chairs in the chancel belong to the same period. The font of the former church is now in a carpenter's shed adjoining the old rectory. It is much mutilated, but is apparently modern.
No monuments of any interest now survive.
There are two bells inscribed as follows : (1) 'Bryanus Eldridge me Fecit 1661'; (2) 'Roger Eastland Churchwarden James Bagley Fecit 1717.'
The plate consists of six pieces : silver chalice of 1711; silver paten of the same date; plated flagon; plated credence plate; a larger plate, also plated; silver alms-dish of 1847.
The registers previous to 1812 are in six volumes : (i) baptisms 1568 to 1730, burials 1566 to 1710, marriages 1568 to 1705; (ii) baptisms and burials 1730 to 1784, marriages 1731 to 1751; (iii) baptisms and burials 1784 to 1796, marriages 1785 to 1800; (iv) baptisms 1797 to 1812; (v) burials 1797 to 1812; (vi) marriages 1758 to 1782 and 1802 to 1810.
ADVOWSON
A church situated on the land of Richard de Clare is mentioned in the Domesday Survey. (fn. 74) It was granted to the convent of St. Mary Overy in Southwark by Nigel de Mowbray in the reign of Henry I. (fn. 75) They probably gave the benefice to some ecclesiastic in consideration of an annual pension, for a parson is mentioned in 1298 (fn. 76) and again in 1340, (fn. 77) and among the receipts of the convent mentioned in the Valor Ecclesiasticus is a pension of 20s. from the rector of Woodmansterne. (fn. 78)
At the dissolution of Southwark Priory in 1539 the advowson passed to the Crown, where it still remains. (fn. 79) In 1586 and 1587 Robert Harris, who at that time owned two thirds of the manor, (fn. 80) presented, probably under a grant from the queen. (fn. 81)
CHARITIES
Smith's charity is distributed as in other Surrey parishes.
1662. Sarah Huntley left £100 for the poor.
1837. Miss Jane Lambert left £333 for the poor.
1873. Mrs. Rose Mildred left £710 to provide coals for the poor, the rector and churchwardens being made trustees.