Pages 270-274
A History of the County of Surrey: Volume 4. Originally published by Victoria County History, London, 1912.
This free content was digitised by double rekeying. All rights reserved.
CHELSHAM
Celesham and Chelesham (xi cent.); Chellesham (xiii cent.).
Chelsham lies 5 miles south-west of Croydon, on the borders of Kent, and to the east of Warlingham, with which it is parochially united. It is roughly triangular, the southern base 3 miles long, the north-western side 3½ miles, the eastern 2½ miles, and contains 3,357 acres. The soil is clay, with flints and gravels on the top of the chalk. Water is generally obtainable only by deep wells and dew ponds. The parish lies high and commands views for a long distance, but though in parts well wooded it is generally somewhat barren and featureless in the nearer landscape. It is purely agricultural save for the gravel diggings about Worms Heath. It is traversed by the main road from Croydon to Westerham.
There is no separate Inclosure Act, nor record of common fields, but Warlingham Common, inclosed in 1866, extended into Chelsham. Worms Heath is still uninclosed, and so singularly barren that it is not likely to be inclosed. There is open roadside waste at Bull Green.
Worms Heath is studded and surrounded by circular depressions, which are supposed to be hut circles and pit-dwellings. The surface has been very much dug into at various times. On the south-west of the road from Warlingham to Westerham, which crosses it, are diggings for gravel, still used; north-east of the road are very numerous deep depressions, with ridges and hills between them formed by throwing out the soil. The bottom of these pits is covered with peaty earth to the depth of several inches, showing that they are not quite recent, but the ascription of a British camp to the place by the ordnance map is quite unwarranted by any visible remains. Besides these, however, at the eastern side of the heath, beyond a little pine wood south-west of the road, and to the north of the heath, and in a copse called Birchen Shaw beside it, are very numerous depressions, varying from 10 ft. to 30 ft. in diameter, which are possibly pit-dwellings (in some cases apparently with hearths beside them), although a systematic exploration of their contents would be desirable before pronouncing definitely upon them. Close to the highest point of the ground called Nore Hill, on the south side of the heath, is a circular pond lined with puddled clay, which is said always to hold water. Similar depressions are found in some other parts of Chelsham and Warlingham—on Bull Green, for instance. Digging for gravel or for the breccia or plum-pudding stone, which is found below the surface, might be suggested as a reason for the depressions, but their number, comparative shallowness, and the small size of most of them may be argued against this solution. Such excavation would have been continued over a larger area from one centre, and taken deeper, as in the pits first mentioned, north-west of the road.
In Henley Wood, a quarter of a mile north of the heath, is a very considerable entrenchment of an irregular shape, the east side quite 300 yards long, the north-west 200 yards, the west and south sides about 120 yards. It is inclosed by a bank and ditch. On the west the bank is doubled in part, and on the north-west is an opening with banks flanking it for some distance inside. Opposite this entrance there is a horse-shoe-shaped inclosure, near the south-east extremity of which is a well of masonry. The Croydon Natural History Society has now begun to excavate. So far trenches through the banks have yielded a very little pottery, date not specified, and a very few flint flakes. The well has been opened for 60 ft., and mediaeval pottery has been found in it. Pending the completion of the work, it may be said that the remains, apart from the well, are possibly prehistoric, and of a date agreeing with the hut circles in the neighbourhood. Manning and Bray (fn. 1) record the local tradition that the place was called Lockshire's Moat, after a supposed Sir John Lockshire, who had a house there. That the well is not earlier than the Romans, and very likely much later, is certain. But it is not impossible that a mediaeval house may have been built within a much more ancient inclosure, as was perhaps the case at Lagham. In Holt Wood, not half a mile distant in a straight line, opposite Ledgers Park, is a somewhat similar inclosure of irregular and angular shape with cross banks inside it. The banks are not so high as those in Henley Wood, and the ditch outside is scarcely discernible. Inside is a square pond, with a mound at one corner of it resembling a barrow, with a depression on the top as if it had been opened at some time. Outside this, too, are a few circular depressions, and from one corner of the inclosure runs a bank, which may have been continuous with another which partly bounds Farley parish. About Warlingham and Chelsham flint implements and flakes are not uncommon, and, on the whole, it seems likely that a Neolithic population have left their traces here.
Chelsham still remains a secluded parish. There is no village, only a few scattered cottages and houses. The access to railway stations is not very easy, and has prevented the growth of houses which has occurred in the neighbouring parish of Warlingham. Ledgers Park is the seat of Mr. H. A. Daniell; Chelsham Lodge of Miss Cunliffe. Chelsham Place is now a farm-house. Messrs. Elmes & Son have nurseries at Langhurst.
Most of the children attend the County Council school at Warlingham. A National school was founded at Fairchildes in 1850 by Mr. G. R. Smith. It was endowed by Mr. Thomas Kelley in 1855 with £200, and in 1874 by the Rev. E. F. Beynon with £500.
The Croydon Asylum for lunatics was built in 1902 on the borders of the parish at a cost of £200,000.
MANORS
In Domesday Book there are two entries regarding Chelsham, in both instances the overlord being Richard de Tonbridge, lord of Clare, and the tenant Robert de Watevile. It is doubtful whether these represent the manors of Chelsham Watevile and Chelsham Court, (fn. 2) which are found as two distinct manors in the 13th century, or whether one is the manor of Chelsham and the other that of Warlingham, which is not mentioned by name in the Survey. It is more probable, however, that they are the two Chelsham Manors, and that Warlingham is represented by the nameless manor held by Robert de Watevile mentioned in the Domesday Survey just before the second Chelsham. (fn. 3) In this case the manor of CHELSHAM WATEVILE is the one first mentioned in Domesday. The overlordship remained in the Clare family until the death of Gilbert de Clare Earl of Gloucester without issue in 1314. (fn. 4) On the division of his estates among his three sisters this manor fell to Eleanor wife of Hugh le Despenser, (fn. 5) and it then probably descended through the Despensers, (fn. 6) Beauchamps and Nevills to Anne wife of Richard Duke of Gloucester, afterwards Richard III.
In 1086 Robert de Watevile was tenant under Richard de Clare, his family giving their name to this manor. It remained with the Wateviles until about 1284, when John de Watevile granted it to Walter de Godstone (fn. 7) and Joan his wife, reserving a rent of £20. (fn. 8) Walter died before 1322, as Joan was holding it alone at that date. (fn. 9) It next passed to Henry Godstone, who was holding it in 1329. (fn. 10) The manor was in the hands of Thomas Godstone in 1428. (fn. 11) A rental of that date records that a court baron was held here every three weeks and that the manors of Chelsham Court and Titsey paid annual rents of 4s. and 6s. respectively to Chelsham Watevile with suits of court, reliefs and heriots, and that Bardolf's Court paid yearly a bushel of grain called Park Corn. (fn. 12) The manor descended to Robert son of John Godstone of Rainham, co. Essex, and he in 1440 (fn. 13) sold it to Thomas Basset and Isabel his wife. Some land in Chelsham remained, however, in the hands of the Godstones, as some years later John Godstone brought a suit to recover land which his brother Thomas had made over to John Symond for the purpose of the payment of the legacies made in his will. (fn. 14) The manor passed to Thomas Chaloner and Margaret his wife, possibly daughter of Richard Basset, and they in 1455 sold it to Sir Thomas Cook, kt., (fn. 15) draper, and afterwards alderman, of London, who, being in need of money, mortgaged the manor to Robert Harding, citizen and goldsmith of London. (fn. 16) He repaid a part of the money, but the greater part remaining unpaid, Robert Harding entered into possession. In 1499 Robert leased it to William Palmer of Chelsham for five years, together with a tenement called Welles and a croft called Gyldenhyll with the 'game of conyes' thereto belonging and all suits of court, excepting, however, the woods, underwoods, and all the chambers and parlours at the north end of the hall of the tenement called Welles, the stable, orchard, 'the easement of the kitchen, the garden and all other sporting places there at such times and whenever the said Robert, his executors, servants, guests and assigns shall thither resort.' (fn. 17) William, Robert's son, was the next owner, and he held a court here on 13 December 1530. (fn. 18) This William Harding, described as a merchant of London, died in 1549, (fn. 19) and by his will left the manor of Chelsham Watevile to his daughter Helen, who became the wife of Richard Knivett. In 1561 Helen, then a widow, settled the same on herself for life, with remainder to Richard Onslow, husband of her sister Catherine, for twenty-one years, and then to her son Henry Knivett. (fn. 20) No further mention is found of the manor, and it is probable that it was sold somewhat later to the Uvedales, who held the other manor in Chelsham, and that the two became united. (fn. 21)
CHELSHAM COURT
CHELSHAM COURT, the second manor of Chesham mentioned in the Domesday Survey, (fn. 22) was apparently subinfeudated by the Wateviles or their successors at an early date. (fn. 23) In 1306 Reginald de Chelsham and Dionisia his wife were holding the manor (fn. 24); they made a settlement in 1309, granting the reversion after their deaths to John de Ifield. (fn. 25) A grant of free warren in the demesne lands of Chelsham was made to John de Ifield in 1317. (fn. 26) The manor passed to Andrew Peverel, who married Katherine daughter of John de Ifield. (fn. 27) In 1428 John Uvedale was holding it. (fn. 28) When it came into the possession of the Uvedales is uncertain; this family held land in Chelsham as early as 1322. (fn. 29) Sir William Uvedale, kt., died seised of the manor in January 1524–5. (fn. 30) He was succeeded by his son William, who, dying in 1528, (fn. 31) bequeathed Chelsham and other manors to his eldest son Arthur, charged with annuities of £20 each to his younger sons John, William, Richard and Francis. (fn. 32) Richard Uvedale, one of these younger sons, described as of Chilling, co. Hants, and Chelsham Court, co. Surrey, was implicated in the Dudley conspiracy in Mary's reign. (fn. 33) In 1563 William Uvedale, Arthur's son, brought a suit against his uncle William, the only survivor of Arthur's brothers, accusing him of usurping the rents of the manor. (fn. 34) This William, Arthur's son, died in 1569 (fn. 35) seised of the manor of Chelsham, which he had settled on himself in 1563 (fn. 36) subject to an annuity of £80 payable to his said uncle William Uvedale of Hymley out of this and other manors. His son William succeeded him and died in January 1615–16, (fn. 37) having conveyed the manor in 1608 to Sir Robert Carye and Sir Richard Norton (fn. 38) in trust for his wife Mary for life, and after her death to his son William. In 1651 Sir William Uvedale, the son, conveyed the manor of Chelsham, alias Chelsham Court, (fn. 39) to Sir Edward Banister, kt., to pay his debts after his death, and Sir Edward, in conjunction with Sir William's daughters and heirs, sold it in 1668 (fn. 40) to Mathew Johnson and Leonard Snow, probably on behalf of Harman Atwood (fn. 41) of Sanderstead. It remained in the Atwood family, (fn. 42) who made Sanderstead their principal seat, and then on the failure of heirs male passed at the marriage of Susanna Atwood to the Wigsell family. The present owner is Mr. Esmé Francis Wigsell Arkwright. (fn. 43)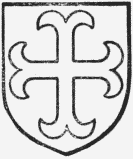 CHELSHAM LE HOLT or ROWHOLT.
—Early in the 13th century John de Imworth (fn. 44) granted half a carucate of land to the priory of Tonbridge. After John's death his daughters and heirs, Maud wife of Bartholomew son of Bartholomew, and Mary wife of Hugh son of Oliver, confirmed their father's gift to the priory in 1243–4, (fn. 45) and the property of this house in Chelsham was assessed at 5s. in 1291. (fn. 46) The priory was suppressed by Cardinal Wolsey under a bull of Pope Clement VII dated September 1524 (fn. 47) for the endowment of his foundation of Cardinal College in Oxford, (fn. 48) and this manor was granted to him by the king in January 1526. (fn. 49) He assigned it to the college the same year. (fn. 50) On the fall of Wolsey the manor again passed into the king's hands, and in 1531 was granted in exchange for other lands to the priory of Sheen. (fn. 51) The priory surrendered in 1539. The manor was at this time in the tenure of William Hardyng, who paid a rent of 13s. 4d. and a red rose. (fn. 52) The same year this rent was granted by the king to John Gresham, (fn. 53) and in 1545 the manor of Rowholt was sold to Gresham, now Sir John Gresham, kt., of London. (fn. 54) On his death in 1556 (fn. 55) it passed to his wife Katherine and their son William, Beatrice widow of the latter holding it in 1604. (fn. 56) By a deed dated 9 January 1598 she had settled it after her death on her daughter Cicely, wife of Sir Henry Woodhouse, for life, with remainder to Cicely's son Gresham Woodhouse. (fn. 57) Later the estate was sold in parcels to various people, about 120 acres being now part of Chelsham Court Farm. (fn. 58) The house formerly known as Rowholt is now called Ledgers Park. The present house is not old, but close to it are the remains of a moat round the site of an older house.
In this parish is an estate called FAIRCHILDES. In 1322 William le Newe and Alice his wife granted to John Fairchild of Chelsham 1½ acres of land abutting on the highway leading to Fickleshole Water. (fn. 59) In 1361 John Fairchild granted land near Fickleshole to one John atte Welle. (fn. 60) In the 17th century the estate belonged to the family of Leigh of Addington, Edward Leigh, gent., dying seised of it in 1639. (fn. 61) It was then known as Fairchild alias Blackborne. The old house was pulled down after 1770. The present owner is Mr. Arthur Stewart Daniell, J.P. The house stands in a park.
In 1351 Denise widow of Robert Bednestede held land at FICKLESHOLE in this parish, (fn. 62) and several grants of land at the same place are extant. (fn. 63) In 1357 Nicholas atte Well granted a messuage called Janyneshows near 'the road leading by way of the mansion called Fickeleshole' to John son of John atte Well. (fn. 64) Richard Hayward (for whom see under Godstone and Tandridge) died seised of a messuage or farm called Fickeshole in 1607. This messuage, according to Manning and Bray, was the manor-house of Chelsham Watevile. (fn. 65) Richard Hayward's property in Chelsham descended with his other lands to the Bickerstaffes. (fn. 66)
BEDNESTEDE is mentioned in a rental of Titsey taken on 19 November 1401. (fn. 67) The farm, now called Beddlested, is at present owned by Mr. Charles Leveson-Gower of Titsey Place.
CHURCH
The church of ST. LEONARD stands in a solitary position on a steeply rising knoll at a height above most of the surrounding country. The churchyard contains on its eastern side a fine yew of great age and other trees of some size to the west and north of the church. There are also a few old table-top tombs and headstones.
In plan the church consists of nave 45 ft. by 21 ft., chancel 20 ft. 6 in. by 17 ft. 6 in., (fn. 68) western tower 8 ft. square, a modern porch on the south of the nave and vestries on the north of the chancel. Field flints, with dressings of firestone (a little Caen inside), and in modern times Bath stone, form the materials. It is a pleasing little building, nicely proportioned, but has suffered by a 'restoration' in 1871, when a shingled spire, pierced stone parapet and buttresses were added to the simple tower, variegated tiles were put upon the roofs, the porch and much of the external stonework of windows and quoins were renewed in Bath stone, a chancel arch of unsuitable design built where none had existed before, and the interior generally modernized, the roofs and fittings being renewed. In spite of all this many interesting features remain. (fn. 69)
There are slight traces of an earlier church, belonging to the close of the 12th century, in the south wall of the chancel, where a curious angle-shaft of a destroyed wall arcade or part of a range of sedilia (recorded to have been destroyed in the 18th century) remains in position. This has quirked beads of oddly flattened section on either side of the shaft, and a capital with square abacus and stiff-leaf foliage. The base is new and it is probable that the floor here has been raised. A noteworthy feature in the chancel walls and in the south wall of the nave is the exceptional thickness (3 ft. 6 in.). This may be due to the absence originally of buttresses and to the wide span of the nave. In the middle of the 13th century the chancel seems to have been largely reconstructed; its south wall was rebuilt thinner, and three lancets with wide apertures and narrow splays took the place of the smaller original windows. At the same time, or slightly later, a two-light window having lancets with a dividing mullion and a circle over within a moulded hood was added to the west of the three lancets, a singularly beautiful piscina was inserted in the southern part of the east wall, (fn. 70) and a shaft, with capital of trefoil foliage and richly moulded abacus, was set up for an image or to carry the altar beam in the north-east angle. (fn. 71) There is nothing to show the character of the 12th-century east window; the present window is modern and imitates late 13th or early 14th-century windows in the nave. (fn. 72)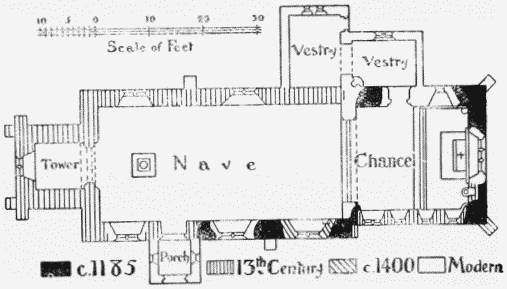 Between 1290 and 1310 the church was probably lengthened westward, the north wall of the nave rebuilt and several excellent traceried windows inserted, of which two remain on the north side; the tower was also built, its arch and the ground story window being clear proofs of the date. The tower arch has chamfered orders and characteristic capitals or imposts. The tiny lancet openings in the upper stories, at first sight seemingly earlier, are simple country work of c. 1300. The window in the western part of the south wall is apparently a modern copy, but may replace an old feature. The design of the original tracery of the easternmost window on the north is specially noteworthy. It has two ogee-trefoiled lights with a quatrefoiled circle over, within an acutely pointed arch, round which is a hood moulding of late 'scroll' section. The intentional distortion in the ogee trefoils, the unusual section of the wide mullion and the rounded angle of the inclosing arch are peculiar features. This window has broad internal splays and a pointed segmental rear arch, and is altogether one of the best examples of its period in Surrey. (fn. 73) The south door has a broad-pointed arch doubly chamfered and a hood moulding of curiously thin section. Eastward of this in the south wall of the nave are two good windows of two lights, c. 1400, with super-tracery under a square head. The easternmost of these is ancient, but the other was inserted in 1871; below it on the inside is a piscina with cinquefoiled pointed head, which may be somewhat earlier than the window. (fn. 74)
The font is a good example of mid-13th-century date. It has a plain square bowl of Bethersden marble, blue-grey in colour, the sides not vertical but inclining outwards as they go up, the lower part moulded and having engaged capitals worked in it for the four-angle shafts. The shafts, which are modern, stand upon a moulded marble base.
Prior to 1871 one of the most valuable examples of a late parclose screen of about 1530 existed in the south-eastern angle of the nave. It seems to have inclosed the small chantry chapel, of which the piscina remains in the wall. It consisted of a close-boarded lower part, perhaps 3 ft. or 4 ft. high, and upper part of open balustrading and tracery 3 ft. 10½ in. high, and above this a frieze or cornice, of which the only record is that it contained heads in bas-relief within roundels. The cornice and lower part have vanished, but the balustrade and pierced tracery have been set up as a sort of dwarf chancel screen, with a modern cornice and plinth about 4 ft. 6 in. high. A pair of doors remain, each of two bays divided by a baluster, and retaining their original H-scroll hinges, and there are five bays on either side of the doors. There is a distinctly Flemish look about the details, but the work may have been executed in England under the influence of foreign workmen. Even in its mutilated state this screen may be ranked with the 12th-century balustrade at Compton as one of the two most interesting pieces of mediaeval screen-work in Surrey. (fn. 75)
The pulpit and other fittings are modern; a copy of the screen has been set up as a reredos.
There is one bell, of late 14th or early 15th-century date, 34½ in. in diameter, inscribed in Lombardic capitals 'Sit Nomen Domini Benedictvm,' with initial + and fleur de lis stops between the words. Another, smaller, bearing the letters R.W. R.C., was mysteriously stolen in 1834, and neither it nor the thieves were ever traced.
The only piece of plate older than the 19th century is a silver cup of 1733.
The registers date from 1669.
ADVOWSON
The church of St. Leonard has long been a chapel of Warlingham Church. William de Watevile granted both to the priory of Bermondsey in 1158. (fn. 76) In 1250 in a suit between the Prior of Bermondsey and Geoffrey de Titsey as to whether Chelsham was a chapelry of Warlingham or Warlingham of Chelsham, judgement was given that the mother church of Warlingham had existed long before the church of Chelsham, which had been built by one Gregory, parson of Warlingham, on account of the distance of Chelsham from that parish, and that therefore Chelsham was a chapelry of Warlingham. (fn. 77) In spite of this, however, the licence to appropriate granted in 1315 by the king speaks of the church of Chelsham and chapel of Warlingham, and there is some likelihood of there having been a church at both places in 1086, in which case Gregory perhaps rebuilt a ruined church at Chelsham. For the advowson and rectory see Warlingham.
CHARITIES
In 1874 Mr. Beynon left £1,000 for the poor of Chelsham.
Smith's charity is distributed as in other Surrey parishes.