Pages 330-334
A History of the County of Surrey: Volume 4. Originally published by Victoria County History, London, 1912.
This free content was digitised by double rekeying. All rights reserved.
TITSEY
Ticesie (xi cent.); Tichesey and Tycheseye (xiii and xiv cent.); Tytsay (xv cent.).
Titsey is a small parish 21 miles south of London, on the eastern border of Surrey. It measures 2½ miles from north-west to south-east and rather over a mile the other way. It contains 1,988 acres. The northern part of the parish is on the Chalk Downs, which at Botley Hill and Coldharbour Green are from 850 ft. to 881 ft. above the sea. The southern face of the chalk is steep and commands fine views across the Weald. The site of the original village was on the narrow strip of Upper Green Sand where Titsey Place stands, and the parish reaches southwards over the Gault, here wider than in some parts of Surrey. The road along the edge of the chalk from Woldingham to Tatsfield, past Coldharbour Green, and the Croydon and Westerham road pass through the parish. The ancient track called the Pilgrims' Way runs at the base of the chalk. The name seems here to be old; a farm called Pilgrims' Lodge is close to the road.
Neolithic flints and a green-stone neolithic hammer have been found in Titsey. The most notable relic of antiquity is the Roman villa, apparently converted into a fulling mill (fn. 1); fuller's earth is found in most of the places on the Upper Green Sand in eastern Surrey. The greater number of the objects found in excavation were transferred on loan, in 1910–11, to the Surrey Archaeological Society's Museum at Guildford. From an erroneous statement of Aubrey's, often repeated, a camp has been supposed to exist on Botley Hill. The statement probably refers to the entrenchment in Henley Wood or to the excavations on Worms Heath, both in Chelsham. The alternative name Battle Hill for Botley Hill is a corruption. A John de Botteley had land in the neighbourhood in 1263, (fn. 2) and William Bottlegh in 1385. (fn. 3)
The parish of Titsey is entirely agricultural. No inclosure award has been made for it. The manorhouse stands near the site of the old church, and the old rectory stood close by. This was burnt down about 1840, and the present rectory was built at some distance from here in 1842. (fn. 4) Near the manor-house was a mill turned by a stream which rises near the house and flows in a considerable volume to the Medway, also a malt-house and several cottages. These were probably removed by Sir John Gresham when he built the new house. The largest group of houses, scarcely to be called a village, stands near the new church. When Brayley wrote he mentioned a school at Titsey, founded and supported by Mr. William Leveson-Gower. This was apparently Limpsfield school, which the Titsey children attend.
There are some 17th-century cottages on the south side of Chevonny Road and opposite the church is a brick and flint cottage in the gable of which is 'E L 1673.'
MANORS
The first mention of TITSEY is found in 962, when Byrhtric and his wife Ælfswithe by their last will bequeathed 'Tydiceseg' to Wulfsige. (fn. 5) In the time of King Edward the Confessor (fn. 6) it was held by Goltovi and in 1086 (fn. 7) by Hamon the Sheriff. From the latter it descended to his niece Mabel, who married Robert the illegitimate son of Henry I, later created Earl of Gloucester. (fn. 8) The manor thus formed part of the honour of Gloucester. The Earls of Gloucester subinfeudated at an early date to two tenants, both of whom held by the service of two knights' fees. (fn. 9) Early in the 13th century one of the tenants was Hamon de Valoines, who in 1237 leased the manor to John de Gatesden for seven years at a rent of £46 of silver. (fn. 10) Hamon appears to have been succeeded in the possession of these two fees by Thomas de Valoines, Hugh de Nevill having the custody of them during the latter's minority. (fn. 11) Apparently about the middle of the 13th century the manor was held by John de Valoines, probably son of Thomas, who conveyed it to Richard de Clare Earl of Gloucester, subject to his wife's dower. (fn. 12) Gilbert de Clare, son of Richard, died in 1295 seised of the manor of Titsey. (fn. 13) In the inquisition on the younger Gilbert de Clare, taken after his death in 1314, the extent is given as a capital messuage, 100 acres of arable land, 4½' acres of meadow, 40 acres of pasture, 20 acres of wood and 41s. 2¼d. rent; the manor was charged with a yearly payment of 10 marks to Basilia widow of Hamon in recompense of the third which belonged to her as dower. (fn. 14) On the division of lands among Gilbert's heirs Titsey was allotted to Margaret wife of Hugh de Audley and descended through her to the Earls of Stafford and Buckingham, (fn. 15) with whom it remained until the attainder of Henry Duke of Buckingham in 1483, when it passed into the king's hands. (fn. 16) After Henry's death his widow Katherine daughter of Earl Rivers married Jasper Duke of Bedford, (fn. 17) and in 1485 the king granted the manor of Titsey and other lands to her for life in recompense for lordships and lands left her by the will of the Duke of Bedford. (fn. 18) On the attainder of Edward Duke of Buckingham in 1521 it was returned (fn. 19) that Titsey had long been of the inheritance of Sir William Uvedale and his ancestors and that the duke had only a rent out of the manor, so that it appears that the Uvedales, the holders of the other manor (see below), had, justly or unjustly, acquired the land of the Dukes of Buckingham and had added them to their own manor of Titsey. The above-mentioned rent was granted by Henry VIII to John Bourchier Lord Berners in 1528 and was confirmed in 1532. (fn. 20)
The other part of the original manor of Titsey was held probably as early as the 12th century by the family called Titsey. In 1189–90 mention is found of a Geoffrey de Titsey in Tandridge Hundred (fn. 21) and both John and Geoffrey held two knights' fees there early in the 13th century. (fn. 22) Later the manor was in the possession of Thomas de Titsey, the last male representative of the family, who held it of Joan Countess of Gloucester and Hertford by two knights' fees and suit every three weeks at her court of Camberwell. (fn. 23) There was a capital messuage in the manor, which, together with a garden, was worth 13s. 4d. and the pleas of court were worth 2s. a year. (fn. 24) Thomas, who died before 25 July 1297, had three sisters, Margaret wife of John de Malevyle, Alice wife of Gilbert Etton, and Elizabeth wife of John de Horne. (fn. 25) Presumably his sisters Margaret and Elizabeth predeceased him, as on his death in 1297 John de Malevyle, Roger de Horne and Alice Etton (fn. 26) were his heirs. In Hilary term of the same year Eustace de Malevyle conveyed a messuage, 149 acres of land and 47s. rent in Titsey to Gilbert Etton and Alice his wife for their lives. (fn. 27) Eustace appears to have been a minor at this date, as in 1302 a grant of the lands late John de Malevyle's in Titsey was made on payment of 20 marks to Geoffrey de Lee during the minority of John's heir. (fn. 28) In 1305 Gilbert and Alice Etton, together with Eustace de Malevyle, made over two parts of a third of the manor and advowson of Titsey to John Uvedale, who married Isabel daughter of Gilbert and Alice Etton, and by the same deed a third part of the third of the manor was conveyed to the said John by John Westwyk and Margery his wife (next of kin to Alice) and Eustace, the latter portion, however, not to be entered into by John Uvedale until the death of Elizabeth wife of John Horton and evidently widow of Thomas de Titsey, who held it in dower of the heritage of Margery Westwyk. (fn. 29)
John de Uvedale thus acquired two-thirds of the manor and in 1304 he received a grant of free warren (fn. 30) in his demesne lands of Titsey and Bedlested. (fn. 31) At the death of Earl Gilbert in 1314 (fn. 32) he is mentioned in the inquisition as holding the manor together with John de Horne. In 1311 a complaint was made by Katherine de Malevyle that Sir John de Horne and others had assaulted and maimed her at Titsey, and justices were appointed to hear the matter. (fn. 33) In 1318 John Uvedale settled lands in Titsey and the advowson of that church on himself and his wife Isabel and their heirs (fn. 34); he died before 6 April 1322 holding the manor, then worth £10 a year, leaving a son and heir Peter, aged twenty-six. (fn. 35) Isabel survived her husband and in 1334 paid a relief of 75s. for her parents Gilbert and Alice Etton for the third part of the manor of Titsey. (fn. 36) In 1340 her second son John Uvedale released to her (fn. 37) all his right to the lands in Titsey which she held for life. She probably outlived her two elder sons Peter and John, as neither appears ever to have held Titsey. In 1347, at the death of Hugh de Audley Earl of Gloucester, Sir Thomas Uvedale, Andrew Peverel, Stephen Malevyle and Roger de Stalkynden (Stannyngdene) were holding two fees in Titsey and Camberwell. (fn. 38) Three years earlier Sir Thomas was in Gascony on the king's service, (fn. 39) and during a great part of his life he was employed in France in the conduct of State affairs. (fn. 40) In 1350 Elias Goddard and his wife Alice released a sixth part of Titsey Manor (which possibly represents a co-heiress's share of John de Horne's third), with the advowson of the church, to him, (fn. 41) and in 1364 John de Rydinghersh made over to him all his lands in Titsey which Sir Thomas held for life by grant of John's father John de Rydinghersh. (fn. 42)
Sir Thomas died in 1367 and by his will desired his wife to complete the building of the parish church, and expressed a wish to be buried there in the middle of the chapel of St. James. (fn. 43) He had been married four times and had settled Titsey on his fourth wife Benedicta, who in 1370 released to his son and heir John all her lands elsewhere on condition she might retain Titsey unmolested. (fn. 44) In 1398 John, together with William Creswyck, appears as holding two knights' fees in Titsey (fn. 45) of the Earl of Stafford. John married the daughter of Sir John de Scures and died before 1417, in which year John Stalkynden released to John Uvedale all his right in the manor of Titsey which Sir Thomas Uvedale and Margaret his wife, the grandparents, and John Uvedale, the father of the said John, had by the gift of Roger Stalkynden, John's father. (fn. 46) He was holding two and a half knights' fees in Titsey in 1428. (fn. 47) His brother William, who died in 1449, (fn. 48) was described as of Titsey in 1434. (fn. 49) Sir Thomas Uvedale son of John was the next owner of Titsey; he married Elizabeth daughter of Sir Henry Norbury, kt., and widow of William Sidney, (fn. 50) and in 1473 settled the manor of Titsey on her for life. She died in 1488, (fn. 51) and William, then aged thirtythree, son of Sir Thomas by a former wife, became possessed of the manor. He had married Anne Sidney daughter of William Sidney and of his stepmother Elizabeth, (fn. 52) and was distinguished both as a soldier and a courtier. (fn. 53) He died on 2 January 1524–5 and was succeeded by his son William, (fn. 54) who, however, did not long enjoy possession, as he died in 1528, leaving by his wife Dorothy daughter of Thomas Troyes three daughters and five sons. (fn. 55) The fourth son William became involved in Sir Henry Dudley's plot, was found guilty of high treason and executed at Tyburn on 28 April 1556. (fn. 56) The eldest son Arthur, who was twenty-four years old at his father's death, (fn. 57) married Agnes daughter of Edmund Hazlewood, and had by her a son William, who married Helen daughter of Sir John Gresham. (fn. 58) His property was much reduced, as his manors, including that of Titsey, were charged by his father with an annuity of £20 each to his four younger brothers. (fn. 59) In 1534 he sold the manor of Titsey with the advowson of the church to Sir John Gresham. (fn. 60) The date of his death is uncertain, but he probably died in the latter part of 1537. (fn. 61) Sir John Gresham, the purchaser of Titsey, was a descendant of an ancient Norfolk family, and at his death in 1556 was succeeded by his eldest son William, who by his will (fn. 62) bequeathed Titsey to his wife Beatrice for life, with remainder to his younger son Thomas in tail-male. William died on 20 June 1579, (fn. 63) his widow surviving him twenty-six years. (fn. 64) Thomas in 1587 married Mary daughter of John Lennard (fn. 65) and was knighted on 23 July 1603. (fn. 66) He died on 4 July 1630, (fn. 67) having by a deed dated 15 December 1612 settled (fn. 68) the manor and advowson of Titsey on his son John and his wife Elizabeth, in tail, with contingent remainders to his younger sons Edward and Thomas. Sir John, knighted 1 February 1616–17, (fn. 69) died without issue in 1643 and was succeeded by his brother Edward, then aged fifty. (fn. 70) Edward married twice, and by his second wife, Mary daughter of Edward Campion of Putney, (fn. 71) had a son Marmaduke, who, coming into possession of Titsey on his father's death in 1647, (fn. 72) represented East Grinstead and Blechingley in Parliament and was created a baronet on 31 July 1660. (fn. 73) He married in 1647 Alice daughter of Richard Corbet, Bishop of Norwich, (fn. 74) and died in 1696, leaving Titsey to his eldest son Edward in tailmale, with remainder to his younger sons Charles and William. (fn. 75) Sir Edward married Elizabeth daughter of Andrew Henley, and leaving only one daughter Elizabeth, who died unmarried, he, on his death in 1709, was succeeded by his brother Charles. (fn. 76) Sir Charles married Mary daughter of William Godfrey, M.D., of Ongar, (fn. 77) and had eight children by her. He died on 1 April 1718. Titsey descended (fn. 78) to his eldest son Sir Marmaduke, and he in 1738 conveyed the manor with free fishing, court leet, court baron, view of frankpledge and the advowson of the church to John Godfrey, (fn. 79) whom he appointed, together with Mr. Mompesson, executor of his will dated 4 June 1741. (fn. 80) In 1724 Gresham married at the Fleet, London, Anne daughter of William Hoskins of Barrow Green, Oxted. (fn. 81) He died in January 1741–2 and was succeeded by his eldest son Charles, who was lost in the East India ship Mumford in 1750. (fn. 82) As he was under age and unmarried at the time of his death the manor came into possession of his brother Sir John, who in 1765 married Henrietta Maria daughter of Sir Kenrick Clayton of Marden. Sir John pulled down the old manor-house of Titsey in 1775 (fn. 83) and built the one now standing on the same site, and also removed the church, which adjoined the house, to its present position across the road. (fn. 84) He died 20 September 1801, and left Titsey to his wife for life with remainder to his daughter Catherine Maria. (fn. 85) Lady Gresham died in 1804, (fn. 86) and in the same year her daughter married William Leveson-Gower at St. George's, Hanover Square, (fn. 87) by which marriage Titsey came into the possession of that family. William died in 1851, (fn. 88) leaving a son William, who married Emily daughter of Sir F. H. Doyle, and at his death in 1860 was succeeded by his son Mr. Granville William Gresham Leveson-Gower, (fn. 89) the well-known archaeologist, who excavated the Roman villa in the grounds of Titsey, and who wrote accounts of the families of Uvedale and Gresham. He married Sophia daughter of Chandos first Lord Leigh, (fn. 90) and on his death in 1895 the manor came into the hands of his son Mr. Granville Charles Gresham Leveson-Gower, the present owner.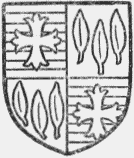 Titsey Place is beautifully placed in a park on the slopes of the Upper Green Sand, sheltered on the north by the Chalk Downs. The house, built by Sir John Gresham between 1770 and 1780, was considerably altered in 1831–2 and the diningroom wing was added in 1856. Over the chimneypiece in the entrance hall are four carved oak panels with the Gresham motto, probably of rather a later date than 1578, and in the sideboard is a shield with the initials 'w.g.' (William Gresham, who died in 1579) with his crest on an esquire's helmet. (fn. 91) One bedroom is also fitted up with oak panelling with a carved mantelpiece of 16th or 17th-century date. In the house are portraits of Sir Thomas Gresham, the founder of the Royal Exchange, and of William Gresham of Titsey, his first cousin, both by Cornelius Kettel. In the house are kept a silver-gilt betrothal ring of the 15th century, found in the garden in 1738, and a man's wedding ring of the 16th century.
The earliest mention of CHEVELERS is found in a rental of Titsey in 1401, when John atte Berne paid 5s. a year for a messuage, 10 acres and one piece of land under the Grove with the Hawe at Chevelers. (fn. 92) Later it was called the manor of Chevelers, and was in the possession of Sir William Uvedale at his death in 1528. (fn. 93) He left to each of his four younger sons £20 a year, payable partly out of this manor. In 1610 the Sir William Uvedale of that date conveyed the manor of Chevelers alias Chifflers, together with free warren in Titsey and elsewhere, to William Leigh on the payment of £140 (fn. 94); but this may have been a mortgage, as in 1623 an indenture regarding this manor was made between Sir William Uvedale and Sir Thomas Gresham. (fn. 95) It is now known as Cheverells Farm and is in the tenure of Mr. James McBey.
In 1331 Sir William Henley, kt., granted his lands and tenements in Titsey on the hills called Longdowne and Geraldsdowne, with a grove called Geralds Grove and 7 acres of land in Pychardesfeld, and 4s. yearly rent issuing out of land there called Bernersland belonging to John de Bottelegh, to Sir John de Ifield, kt., and Margery his wife and her issue, with remainder to John son of John Wakehurst and his issue. (fn. 96)
CHURCH
The modern church of ST. JAMES takes the place of a church built (fn. 97) in 1775–6 when the original building, which stood in the grounds of Titsey Place, was pulled down. It was built in 1861 from the design of J. L. Pearson, R.A., and consists of a chancel, memorial chapel, vestry, nave, south tower and south porch. The materials are Limpsfield sandstone with Bath stone dressings, and the interior is banded with Bath stone and Godstone green firestone, while the chancel arch and windows and the vaulting of the chapel have shafts of Devonshire and Galway marble.
The tower has a shingled spire. Under the chancel arch are some 14th-century encaustic tiles taken from the floor of the original church. There are also some 13th and 14th-century fragments of masonry from the old building in the Leveson-Gower chapel. On either side of the chancel is a 13th-century tomb-slab with a foliated cross. That on the south has also a star in one corner.
On a slab under the east window of the Leveson-Gower chapel is a brass to 'Wyllm' Gresham, 1579, son and heir of Sir John Gresham, and to Beatrice Gybbone his wife, by whom he had children, James, William, Thomas and John, Mary Elizabeth and 'Sysselley.' The date is scratched on the brass and is later than the inscription, above which are the kneeling figures of the man and his wife with their children, and in the four corners are shields of Gresham and a fesse dancetty between six eagles' heads razed. In the nave are the indents of a man, his wife and children (boys and girls), shields and inscriptions.
On the north wall of the nave, opposite the south entrance doorway, is a large mural monument to Sir John Gresham, who died 26 May 1643, aged fiftysix, and his wife Elizabeth eldest daughter of Sir Thomas Bishopp of Parham, Sussex, kt. and bart., who died 5 June 1664, as recorded on a slab close by.
In the north chapel are several recent monuments to members of the Leveson-Gower family.
The three bells are by Gillett Bland & Co. of Croydon; the tenor and second were cast in 1882, but the treble, although recast at the same time, still bears its old inscription, 'R.I. R.K. J.T. J.P. 1640 BE,' and was no doubt cast originally by Bryan Eldridge.
The plate consists of a silver chalice and cover paten of 1569, a silver flagon of 1674 inscribed 'Domina Alicia Gresham Eccl: de Titsey D.D. Jan. 14, 1678. Sanguinis una tui relevet me guttula Jesu,' above which are the arms of Gresham impaling Corbet; and a silver paten which was given by the Rev. Antony Crowdy, M.A., rector of the parish in 1867. There is also a small pewter coffin chalice which was dug up in the old churchyard in 1872 and which probably dates from the 13th century.
The registers previous to 1812 are in three volumes: (1) baptisms 1579 to 1730, marriages 1581 to 1731, burials 1586 to 1731; (2) baptisms and burials 1731 to 1812, marriages 1735 to 1749; (3) marriages 1754 to 1811.
ADVOWSON
The advowson of the church appears to have been claimed by the owners of both manors. In 1237 Hamon de Valoines granted it with his manor to John de Gatesden for a term of seven years. (fn. 98) After Thomas de Titsey's death in 1297, when his three sisters and their heirs held the manor, the presentations seem to have been made by each in turn, John de Malevyle presenting in 1323. (fn. 99) After the death of Gilbert de Clare in 1314 numerous presentations were made by the Crown and afterwards revoked, (fn. 100) and in 1322 an order was made that the advowson of Titsey should not be further meddled with and that the issues were to be restored, as they were held of others than the king, having been granted to John Uvedale, (fn. 101) and henceforth the advowson went with the manor. In 1804 the inhabitants of Titsey made a composition with the rector to pay £200 a year in lieu of all manner of tithes belonging to the rectory. (fn. 102)
CHARITIES
William Peters of Oxted in 1834 left £200 for bread, fuel, clothing, &c., to be given to the poor at Christmas.
In 1775 the parish bought some land at Warlingham, the rent of which was used for the poor and is still applied in relief of the rates.
Smith's charity is distributed as in other Surrey parishes.