Pages 126-147
A History of the County of Sussex: Volume 5 Part 1, Arundel Rape: South-Western Part, Including Arundel. Originally published by Victoria County History, London, 1997.
This free content was digitised by double rekeying. All rights reserved.
CLIMPING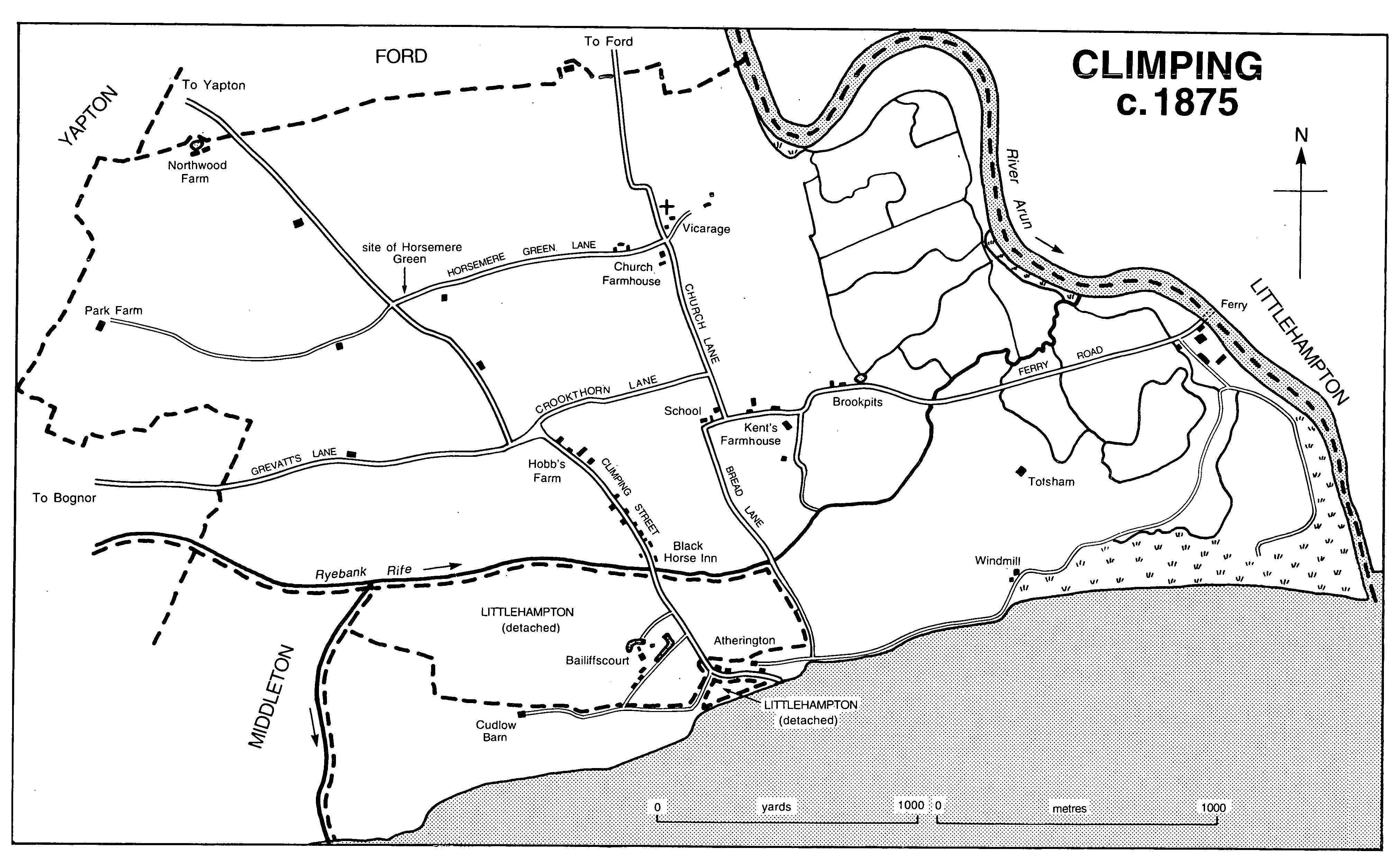 The parish of Climping, which includes the former parishes of Cudlow and Ilsham, lies along the coast on the west bank of the river Arun. (fn. 1) Of Cudlow only the north-western and north-eastern corners remained in 1991, the rest having been lost to the sea; (fn. 2) the north-eastern part is represented by Littlehampton golf course and West Beach, while within the north-western part a barn called Cudlow barn existed until 1984. (fn. 3) Ilsham, sometimes wrongly said also to have been destroyed by the sea, (fn. 4) in fact occupied an east-west strip across the centre of the present parish including the sites of Hobb's Farm, the school, and Brookpits Manor. (fn. 5) The area of Climping parish expanded as longshore drift caused the mouth of the river Arun to be deflected eastwards. Construction of a new estuary under an Act of 1733 (fn. 6) left part of the land beyond the river, (fn. 7) but the boundary between Climping and Littlehampton was not adjusted until 1840. (fn. 8)
The ancient parish had 1,838 a. c. 1875, and was enlarged in 1880 by the addition of two detached parts of Littlehampton (172 a.), the larger of which contained Bailiffscourt house. (fn. 9) The link with Littlehampton was tenurial, both the Bailiffscourt otherwise Atherington estate and Littlehampton manor belonging in the Middle Ages to Sées abbey (Orne); (fn. 10) but it may not have been established until the 14th century, since though Bailiffscourt was apparently the 2 yardlands in Littlehampton mentioned separately as belonging to Sees in 1341 (fn. 11) it was claimed to lie in Climping in 1310. (fn. 12) The uncertainty continued. (fn. 13) One or more occupiers of the Bailiffscourt estate in the 16th century wished to be buried at Littlehampton, (fn. 14) where two children of Walter Edmunds were interred c. 1590 (fn. 15) and two sons of later lessees baptized in the 1670s. (fn. 16) About 1592, however, Edmunds was presented for non-attendance at Littlehampton church and was disputing his assessment to the church rate. (fn. 17) By the mid 17th century the north transept of Climping church was attached to the Bailiffscourt estate, whose inhabitants used it during services. (fn. 18) Payment of the Littlehampton church rate was again refused in 1686, (fn. 19) and in 1679 the occupier of the farm declined to serve as churchwarden for Littlehampton or to attend church there; it was claimed on his behalf that inhabitants of Bailiffscourt were then invariably buried at Climping and had only rarely served parish offices at Littlehampton, whereas they had often performed highway repair duty in Climping, one man also serving as Avisford hundred constable. (fn. 20)
The parish increased in size, evidently through land reclamation, to 2,016 a., including inland water, in 1901 and 2,021 a. in 1921. (fn. 21) In 1933 the south-eastern corner (227 a.) was transferred to Littlehampton. (fn. 22) In 1971 Climping thus had 1,794 a. (726 ha.). (fn. 23) The northern portion of the parish, including Ford prison and the southern part of Ford airfield, was transferred to Ford in 1985. (fn. 24)
The present article deals generally with the ancient parish including Cudlow and Ilsham, and with the two detached parts of Littlehampton; after c. 1825, however, the date of opening of a chain ferry across the Arun, the south-eastern portion was more closely connected with Littlehampton, and most aspects of its later history are therefore reserved for treatment elsewhere. (fn. 25)
The western boundary of Cudlow parish c. 1310 was marked by a 'great ditch' ending in a pool called Elmeringpool, i.e. Elmer pool; (fn. 26) in 1991 that line remained the Climping-Middleton boundary. One section of the Ryebank rife, which drains the southern part of the parish, was claimed in 1310 as the boundary between Cudlow and Ilsham; (fn. 27) what was apparently the same section continued until 1880 to divide Climping from the outlier of Littlehampton containing Bailiffscourt. (fn. 28) Since both the 'great ditch' of c. 1310 and the Ryebank rife, also called 'the great ditch' in 1606 (fn. 29) and 'the rife or broad ditch' in 1838, (fn. 30) seem to be artificial, they may be pre-medieval estate boundaries.
Landscape history.
The western part of the ancient parish, including the settlements of Climping, Ilsham, and Atherington, (fn. 31) lies on brickearth, of which Climping windmill occupies an outlier further east. The rest of the eastern part lies on alluvium, and once belonged to the wide estuary of the river Arun. Since the alluvium between Atherington and the brickearth outlier to the east can only have been brought by the river, the main channel of the river is likely once to have run there and to have been deflected eastwards later. (fn. 32)
The landscape history of the south-eastern corner of the ancient parish is not clear, for two reasons. First, the chronology of the eastward deflection of the lower course of the river Arun is uncertain, the notion of a long lagoon south of the present coastline, sheltered by a spit running from Selsey to a point off Worthing, (fn. 33) not being convincing. Secondly, references to incursions by the sea and to sea defences on Atherington manor may sometimes be actually to the river estuary, since the expression 'sea wall' (murus marinus or maritimus) used there was also employed at Ford, Climping, and Ilsham manor, (fn. 34) which fronted only the river.
In the north-eastern part of the parish reclamation from the estuary was apparently going on by the 13th century, when the rectory estate included land east of the village (villa) of Climping bounded on three sides by ditches. (fn. 35) By the mid 16th century there were defences in that area against the river. (fn. 36) Further south some marshland had been reclaimed by the early 16th century on Atherington manor, where a defensive wall, presumably meaning an earth bank, was mentioned in 1511; (fn. 37) it may have followed the line of the surviving track running north-east from Climping mill which existed by 1606. (fn. 38) By 1540 there were at least 110 a. of demesne marshland pasture at Atherington. (fn. 39) The river defences continued to be kept up in the early 18th century; by 1731 Christ's Hospital as landowner had constructed groynes alongside its lands in the north-east, though because of the hindrance to navigation the Littlehampton harbour commissioners ordered them to be abandoned in 1761. (fn. 40) Land between the various defences and the river was saltmarsh pasture, known as slipes, (fn. 41) which in 1792 were flooded at every spring tide. (fn. 42)
The parish of Cudlow, at least in its eastern portion, may represent the early medieval expansion of settlement over reclaimed land in the lower part of the Arun estuary: the manor does not appear in Domesday Book, and the church seems to have originated as a chapelry of Climping. (fn. 43) The port which existed there in the 13th and 14th centuries has not been located, but in the 16th century the estuary was said to have two 'havens', Littlehampton and Cudlow, the second of which may have lain in the putative former channel of the river west of Climping mill. (fn. 44)
By the 1360s the lord's income from agistment in the Cudlow demesne brooks had been reduced by flooding, (fn. 45) which together with erosion continued later to such a degree as to render the living by 1511 a sinecure. (fn. 46) By the late 15th century Atherington manor was suffering a decrease in rent income through the incursions of the sea, (fn. 47) and in the early 17th strips in the common fields along the coast there were being gradually eaten away. (fn. 48) Erosion continued at Atherington in the 18th century, the close called Shortsmare next to the hamlet being reduced from 21 a. in 1606 to 12 a. by 1751 and 9 a. by 1772. (fn. 49) A considerable part of the coast was said in 1774 to be swept away each year. (fn. 50) The west end of the parish was then apparently the weakest part; despite the building of 12 timber groynes at West Cudlow in the 1770s and 80s the sea was 'daily making fresh encroachments' there c. 1790, when the cost of maintaining the defences was greater than the income from the land. (fn. 51)
Erosion continued in the 19th century. (fn. 52) There were groynes on the coast at five places in the western and central parts of the parish in 1843, (fn. 53) and further groynes were constructed there before 1900, (fn. 54) which according to one observer had done great damage to the shore east of them. (fn. 55) The defences themselves were badly damaged in a gale in 1875, (fn. 56) and c. 1897 Christ's Hospital acquired the south-west corner of the parish as the only way of protecting its adjacent lands. (fn. 57) In 1901 the hospital took a 21-year lease from the Crown of the foreshore of that part of the parish, (fn. 58) the sewers commissioners being responsible in 1914 for the rest. (fn. 59) New groynes were constructed c. 1906. (fn. 60) Sea defence at that period was said to be a heavy expense on owners of neighbouring land. (fn. 61) In 1991, however, the coast in the centre of the parish was protected by a concrete wall.
The eastward deflection of the mouth of the Arun by 1587 had created a small spit, (fn. 62) which grew larger during the 17th century (fn. 63) until it was cut by the creation of the present estuary under an Act of 1733. (fn. 64) By the mid 17th century the duke of Norfolk was maintaining timber defences both at Cudlow and at Littlehampton to protect the mouth of the river. (fn. 65) An embankment roughly parallel with the river existed by c. 1736, (fn. 66) and by 1772 a westwards extension had been created at its southern end. (fn. 67) The embankment was reconstructed on a different alignment after 1778, (fn. 68) perhaps before 1785, when a later duke leased to William Bolton land outside the 'sea wall' which Bolton had made at his own expense. (fn. 69) It survived as an important landscape feature in 1991. The present embankment beside the river itself throughout the parish was apparently heightened under an Act of 1793. (fn. 70)
Meanwhile along the coast in the south-eastern corner of the parish a line of low dunes had been formed, perhaps by the later 17th century (fn. 71) and certainly by 1768. (fn. 72) The land north of them, known as East Cudlow farm, (fn. 73) was largely slipe and sand in 1778, (fn. 74) and remained swampy in 1830. (fn. 75) Its later history is reserved for treatment elsewhere. (fn. 76)
Part of the river bank was breached in a storm in 1913; (fn. 77) flooding since then has been less severe, but in 1960 affected the area around the Bognor Regis to Littlehampton road in the centre of the parish. (fn. 78)
A feature of the parish in the mid 19th century was its ponds: between four and six at each of the centres of settlement, besides others in the fields. (fn. 79) Stakers pond or pool mentioned in 1606 (fn. 80) was perhaps one of the ponds at Atherington hamlet, the land beside which was registered as common land in 1979. (fn. 81) The flat, open landscape was felt in the 1930s to retain 'a stillness that reminds one of the Emilian plains near Ravenna'. (fn. 82) Despite much development, something of that atmosphere survived on the remoter parts of Ford airfield in 1990. Climping's coastline then remained largely undeveloped and was subject to National Trust covenants; (fn. 83) the beach was a popular goal for summer day visitors from London and elsewhere. (fn. 84)
The parish seems generally to have had little woodland, and the woods on the two estates called Climping which supported 40 swine in 1086 may have been in the Weald. (fn. 85) The wood at Atherington on the boundary with Middleton mentioned c. 1310 (fn. 86) was probably the same as Southwood depicted in 1606, (fn. 87) but in 1378 there was only enough underwood on Atherington manor for fencing. (fn. 88) Southwood and two other closes within or beside Bailiffscourt park were described in 1606 as thorny pasture. (fn. 89) There were 16 a. of woods in Climping and the detached portion of Littlehampton at Bailiffscourt in the 1840s. (fn. 90) The amount was greatly increased in the 1920s and 30s by Lord Moyne, of Bailiffscourt, who planted belts of fully grown trees all over the southern half of the parish, including a wide one along the Middleton boundary. (fn. 91) Many of the trees were destroyed in the great storm of 1987. (fn. 92)
The park in Climping belonging to Ford, Climping, and Ilsham manor and the successive parks at Bailiffscourt are described below. (fn. 93) There may also have been a park at Cudlow, where free warren was granted or confirmed to the earl of Arundel in 1617. (fn. 94)
Settlement.
Settlement in the parish has always apparently been scattered. Only a handful of dwellings, including Church Farmhouse and the former vicarage house, remained in 1990 near the church, but earthworks in two closes to south-east and east, yielding finds of medieval and Romano-British date, indicate the existence there of other house sites. (fn. 95) A cross may have stood nearby in 1540. (fn. 96) There were c. 6 houses in 1778. (fn. 97) In 1843 three or four flanked a lane along the south-east side of the churchyard. (fn. 98)
Other sites of medieval settlement were at Cudlow and Ilsham. Cudlow, which may represent secondary settlement, (fn. 99) lay beyond the present coastline south or south-east of Atherington; (fn. 100) since the second element of its name indicates rising ground, (fn. 101) it probably occupied a southwards extension of the brickearth outlier at Climping mill. (fn. 102) The reduction of its tax assessment by nearly half in 1450 was probably due to the inroads of the sea, (fn. 103) and dwellings were apparently being abandoned in the 1460s. (fn. 104) Only two men were listed in Cudlow tithing in the muster roll of 1539. (fn. 105) The last record of an inhabitant is of 1620. (fn. 106)
The settlement called Ilsham (fn. 107) seems to have lain between the present school and Brookpits Manor, to judge from the location of field names including the word Ilsham in 1843. (fn. 108) The place called Stroodland, (fn. 109) which apparently indicates marshy land overgrown with brushwood, (fn. 110) lay at its western end, at the north end of the present village street of Climping. (fn. 111) A cross at Ilsham called the king's cross was mentioned in 1533. (fn. 112) The place name was used at least until the mid 17th century, (fn. 113) Ilsham even sometimes anachronistically being described as a parish. (fn. 114)
There were 10 or 12 houses at Ilsham in 1778 (fn. 115) and 8 or 10 in 1843, (fn. 116) some of which survived in 1991. North-east of the school until 1930, when it was destroyed by fire, stood a large late 16th- or early 17th-century timber-framed house with a continuous jetty. (fn. 117) Brookpits Manor, (fn. 118) which is not related to any manorial estate, is of two storeys with attics; it has a square plan and is built of knapped flint with red brick dressings and brick mullioned windows. The south front has a central projecting brick porch of two storeys, and the east and west fronts have gables. Original panelling and fittings survive, including brick fireplaces with four-centred arches; one on the first floor has the date 1656 moulded in plaster above it, probably indicating the date of building. By 1914 the house was divided into two cottages, (fn. 119) as it remained until extensive restoration as a single dwelling between 1972 and 1974. (fn. 120)
At the centre of Kent's Farmhouse, south-west of Brookpits, is a long late 17th-century range of flint rubble with brick dressings; it has a large chimneystack at its north-western end, and possibly faced south-east. Additions were made to north-west and south-east in the 18th century, possibly replacing an earlier wing, and in 1731 Edward Kent's farmhouse, evidently the same building, had a hall, parlour, chambers, garrets, and offices. (fn. 121) In the early 19th century the south-eastern extension was rebuilt to provide a new main front of four bays facing north-east, and c. 1880 a large one-storeyed room was added on the north side by the tenant George Constable. At that period the building was let as a gentleman's house, (fn. 122) ornamental grounds being laid out by the 1870s. (fn. 123) Kent's Dairy Cottages nearby was originally a timber-framed building, the rear wall of which survives within the present house. Much of the timber framing was later replaced by rubble with brick dressings, and the house was extended southwards in the 17th century. A barn to the south was brought to its present site by Lord Moyne. (fn. 124)
It is not clear whether there was settlement at Atherington in the Middle Ages apart from the house of the bailiff of Sées abbey, later known as Bailiffscourt; if there was, it was perhaps removed by the creation of the park in or before the early 17th century. (fn. 125) At that date there were c. 12 houses at the site of the present hamlet 300 yd. (270 metres) south-east of Bailiffscourt house. The settlement was then called a village (villa), (fn. 126) and in 1751 was known as Atherington street. (fn. 127) Some houses had been destroyed by the sea before 1772. (fn. 128) In 1778 there were only c. 8 dwellings (fn. 129) and by 1843, after further erosion, four or five. (fn. 130) Nos. 1 and 2 Atherington Cottages are an early 18th-century building with a later western extension. The disused farm buildings nearby, in poor condition in 1990, include one with stone quoins and windows in medieval style created as a pastiche by Lord Moyne in the 1930s. (fn. 131)
By 1606 there were also apparently houses in the present village street to the north (fn. 132) which, as the chief road in the parish leading to the sea, later became the main centre of settlement. By the later 18th century it had the largest concentration of dwellings in the parish, c. 15 or more. (fn. 133) By 1825 it was known as Climping street, (fn. 134) and in the 20th century the settlement came to be called Climping village. Buildings there are of various dates between the 18th and 20th centuries, materials including red brick, flint, and beach pebbles, with some rendering. Some houses on the west side of the road were evidently built as encroachments on the roadway. (fn. 135)
Another focus of later settlement was Horsemere green in the north, where cottages were beginning to encroach by 1608. (fn. 136) Most buildings in that area in 1996, however, were 20th-century, including an estate of large houses built c. 1990.
Christ's Hospital built at least seven pairs of labourers' cottages in the later 19th century, some at existing centres of settlement and others elsewhere. (fn. 137) Other estate cottages were built in the 1930s by Lord Moyne, (fn. 138) for instance in Climping village street.
New building was expected to follow the opening of Littlehampton bridge in 1908. (fn. 139) Land in the southern half of the parish was offered for sale for development in 1914 and later, (fn. 140) and a light railway from Ford to the west end of the bridge was projected in 1920. (fn. 141) In 1924 a syndicate was proposing to develop the parish as a residential seaside resort, (fn. 142) and when c. 1925 the proprietor of Tortington Park school built Poole Place near the Middleton boundary for her pupils' swimming expeditions, it was apparently in expectation that the area would be developed like neighbouring Middleton. (fn. 143) However, as a result of Lord Moyne's purchase of the Bailiffscourt estate in 1927 the southern part of the parish was preserved from building as the largest open area of coast between Bognor Regis and Brighton, known in 1996 as the Climping gap.
There were residential caravans north of the road leading to Littlehampton in 1993. In 1991 the continuing fragmentation of settlement, with the variety of land use, gave the parish a disjointed impression. (fn. 144) Many houses were then used by outsiders as second homes, as had already been the case in 1974. (fn. 145)
Ten people were taxed at Atherington, 11 at Cudlow, and 12 at Ilsham, in 1327, and 16 at Cudlow in 1332. (fn. 146) Figures for Climping tithing were then evidently included in totals for Ford, as in 1524. (fn. 147) The protestation of 1642 was signed by 63 adult males, (fn. 148) 98 adults were enumerated in the parish in 1676, (fn. 149) and there were 20 families in 1724; (fn. 150) in each case Bailiffscourt was presumably excluded, as part of Littlehampton. The ancient parish, excluding Bailiffscourt, had 197 inhabitants in 1801, the number rising to 279 in 1841 and, after a fall, to 331 in 1861. The population in 1881 including Bailiffscourt was 270; after falling to 219 in 1901 it rose steadily during the 20th century, despite the transfer of part of the parish to Littlehampton in 1933. The doubling of numbers in the reduced area of the parish between 1931 and 1951 was partly due to the increase of personnel on the enlarged airfield. In 1971 the population was 963, and in 1991 that of the reduced area of the parish was 516. (fn. 151)
Communications.
The main approach to Climping by land before the 19th century was from Barnham and Yapton, (fn. 152) the road, recorded from the early 13th century, extending apparently by way of the present Climping village street to Cudlow. (fn. 153) The Climping-Ford road, later called Ford Lane, (fn. 154) was mentioned from 1608, (fn. 155) and provided a route to Arundel before the late 18th century and again from c. 1846. (fn. 156) There was no direct route to Middleton apart from the beach before the 19th century, (fn. 157) but a road from Felpham to Madehurst was said to run through Park farm in the north-west corner of the parish in 1564. (fn. 158)
Bread Lane, not recorded before the 19th century (fn. 159) and only a track in 1991, ran south from the site of the school, beside the field called the Bread, (fn. 160) to the coast. The section of the Bognor Regis to Littlehampton road in the centre of the parish was called Crookthorn Lane by 1843. (fn. 161) A road to Totsham, i.e. Climping, mill mentioned at an unknown date in the Middle Ages (fn. 162) may have been the same as both Mill Street recorded in 1490 (fn. 163) and Mill Lane which led to the coast in 1780. (fn. 164) Stroud Lane recorded in 1558 may be a mistake for Stroodland. (fn. 165)
A timber bridge said in 1417 to have crossed the river Arun between Littlehampton and Atherington (fn. 166) is not otherwise recorded. The ferry at Littlehampton mentioned from the later 13th century (fn. 167) evidently plied to Climping, and was reached by a road that ran north-east from Climping mill by 1606. (fn. 168) The ferry was for foot passengers only in 1824 (fn. 169) and perhaps earlier, since in 1788 a Yapton resident rode home from Littlehampton via Arundel. (fn. 170)
The river could also be forded near its mouth. The ford was said to be only rarely usable in 1679, (fn. 171) but in the early 19th century the shingle bar outside the piers of Littlehampton harbour provided a passage for wagons and carriages several hours a day, though it could be treacherous; it was used, among others, by the millers of Climping, Littlehampton, and Rustington. (fn. 172)
A chain ferry across the Arun was set up under an Act of 1824, with a tollgate on the Climping side of the river. (fn. 173) The straight road called Ferry Road was made to give access to it, and a new road, later known as West Ground Lane or Grevatt's Lane, was provided at the same time at the west end of the parish to link Climping with Felpham and Bognor. (fn. 174) The ferry was replaced in 1908 by a swing bridge, of which the vicar of Climping was a chief promoter; (fn. 175) about the same date the two roads cut c. 1824 were acquired by Littlehampton urban district council. (fn. 176) On both occasions the owner or owners of Bailiffscourt farm were granted exemption from tolls, in 1905 in return for conveying land required. (fn. 177) A short section of the Bognor Regis to Littlehampton road east of Church Lane was bypassed c. 1934. (fn. 178)
The Climping-Yapton road was closed between 1942 and 1959 with the enlargement of Ford airfield. (fn. 179) The swing bridge over the Arun was replaced in the early 1970s by a pedestrian bridge of high section, a fixed road bridge with a new access road being built 700 yd. (640 metres) upstream.
In 1992 buses passed through the parish between Portsmouth, Bognor Regis, and Chichester, and Worthing and Brighton.
There was an unlicensed alehouse in 1625. (fn. 180) The Black Horse in Climping village street was recorded from 1843 (fn. 181) and perhaps by 1814. (fn. 182)
In the later 19th century and earlier 20th the school was opened one or two evenings a week in winter as a reading room for men attending church, newspapers, games, and free cocoa being provided. (fn. 183) Men's clubs were mentioned in 1890 (fn. 184) and there was a Climping social club in 1922. (fn. 185) A village hall near Brookpits Manor was used in the 1920s, (fn. 186) and a new one was built c. 1936 on a site beside the Bognor Regis to Littlehampton road given by Lord Moyne; (fn. 187) the playing field behind it, where cricket, football, and stoolball were played in 1993, was given by the Bailiffscourt estate in 1953. (fn. 188) A church hall north of the church was opened in 1991.
The buildings on the part of Ford airfield that lies within the ancient parish (fn. 189) were put up soon after the Air Ministry re-acquired the original site in 1937 and extended it to the roads on the south and east. After transfer to the Admiralty in 1939 the airfield was commissioned as H.M.S. Peregrine, but for most of the Second World War it served as an R.A.F. night fighter station. By 1945 it had returned to Admiralty control, and in 1947 six squadrons there were concerned with training, trials, and co-operation with ships of the home fleet. (fn. 190) Between 1948 and 1951 the runways were extended and relaid in concrete, but the navy left in 1959. From c. 1964 to 1971 most of the site was leased to Miles Aviation and Transport (R. & D.) Ltd., which among other things built replicas of historic aircraft for the film industry. Despite fears in the 1970s and 80s that flying would continue on the airfield, (fn. 191) by 1996 it had long ceased.
Part of the airfield buildings in Climping were used for Ford open prison, founded in 1960, which straddles the Climping-Ford road. The 184 prisoners there in 1961 provided extra agricultural labour at peak periods on local farms. (fn. 192) By 1975, when the prison covered c. 100 a., there were over 500 inmates and 82 staff. About 80 a. were then cultivated by the prisoners, especially with trees and shrubs; there was also a light industrial workshop, and some inmates went to work in local towns. (fn. 193) A new entrance range, a chapel, and other buildings were put up on the east side of the road in the late 1980s. (fn. 194)
Water and electricity were brought to the parish before 1938 by Lord Moyne, (fn. 195) but there was no gas supply before c. 1990. (fn. 196) The Bailiffscourt estate cottages also had main drainage in the 1930s. (fn. 197) There was a sewage works east of Climping village street in 1977. (fn. 198)
MANORS AND OTHER ESTATES.
CLIMPING was a member of Ford, (fn. 199) which belonged in the Middle Ages to the Bohun family and between 1702 and 1914 to Christ's Hospital. By 1520 the manor was known as Ford, Climping, and Ilsham. (fn. 200) It included the northern portion of Climping ancient parish, represented in the 18th century largely by Church, Northwood, and Kent's farms. (fn. 201)
Christ's Hospital by 1914 had added other farms, (fn. 202) so that most of the parish, except for the south-east corner, then belonged to it. (fn. 203) Church and Kent's farms were sold to the Dennis Estates Ltd. of Lincolnshire in 1914, (fn. 204) and Northwood farm was bought then or soon afterwards by John Langmead (d. 1950). (fn. 205) In 1929 Church farm passed to Thomas Edward Dennis (d. 1940), whose executors sold it in 1941, when it had 154 a., to the tenant W. H. May. After his death in 1982 his nephew K. H. May sold most of the land (118 a.) in 1984 to West Sussex county council. (fn. 206) Northwood farm, of 435 a. in Climping and other parishes, belonged in 1991 to the descendants of John Langmead. (fn. 207)
Church Farmhouse, the presumed manor house, was said in 1753 to have been newly fronted with brick c. 15 years earlier. (fn. 208) It was apparently completely rebuilt shortly before 1783, (fn. 209) and is a tall L-shaped house standing high above the road. An east porch existed in the early 20th century (fn. 210) but was later removed. About 1964 the house was divided and internally remodelled. (fn. 211) A late 18th-century staircase remained in 1991.
PARK FARM in the north-west represents the medieval park attached to Ford, Climping, and Ilsham manor, which despite being in Climping parish was always called Ford park. (fn. 212) John de Bohun was confirmed in free warren in Ford shortly before 1279, (fn. 213) and a park had been created by 1297. (fn. 214) In 1540 it contained 80 a., (fn. 215) but the acreage was given as 100 a. from 1608. (fn. 216) In the 16th century and early 17th it was leased for periods of 21 years, (fn. 217) and it seems to have been disparked between 1592 and 1608. (fn. 218) The land descended with the manor until some time between 1625 and 1646, when it was sold by Sir Henry Garway to Thomas Bridger. (fn. 219) Thomas's sister and heir Margaret Dench was succeeded by her son Ambrose, whose son and namesake conveyed the farm in 1686 to Henry and Grace Hall. (fn. 220) Thereafter it perhaps descended with first Middleton manor and then a moiety of that manor (fn. 221) until 1803 when a member of the Coote family had it. (fn. 222) In 1821 it was settled on Joseph, Ruth, and Richard Coote. (fn. 223) The same or another Joseph had it in 1843, (fn. 224) and Mary Coote, widow, sold it in 1861 to Christ's Hospital. (fn. 225) It later belonged to the Langmead family. (fn. 226)
Jordan of Ilsham and others held a fee presumably at ILSHAM in 1166. (fn. 227) In the later 12th century what was perhaps the same land was divided in two, one moiety being added to Ford manor, of which it was later described as a member. (fn. 228) The other moiety, hereafter referred to as Ilsham manor, passed to Reynold Aguillon, who at his death shortly before 1233 held it of the bishop of Chichester. (fn. 229) The overlordship of what was presumably the same estate remained with the bishop until 1486 (fn. 230) or later, fencing service being owed at Aldingbourne park. (fn. 231)
Reynold's son Thomas had died without issue probably by 1236 (fn. 232) and certainly by c. 1255. At the latter date the greater part of Ilsham was in four portions belonging to his sisters Cecily, wife of Peter of Gatesden, Godehude, wife of Ralph St. Owen, Alice, wife of Robert Haket, and Mary, wife of William Covert. (fn. 233) An alternative name for the manor from the 17th century was FOURPARTNERS. (fn. 234) Each share comprised a house and 60-80 a., (fn. 235) sometimes described as a hide. (fn. 236)
Cecily of Gatesden after her husband's death 1257 × 1279 (fn. 237) granted her share in or before 1286 to the Knights Hospitaller, (fn. 238) with whom it descended until the Dissolution. In 1546 the lands were granted by the Crown to John Edmunds otherwise Baldwin and his son and namesake; (fn. 239) by 1571 they were known as the manor of ILSHAM ST. JOHN. Between that date and 1688 the estate descended with the demesnes of Yapton manor. (fn. 240) Robert Edmunds was dealing with it in 1710, (fn. 241) but after his death without issue it again descended with the Yapton manor demesnes until 1800. (fn. 242) Before 1819 George White Thomas exchanged a little over half the demesne, described as Stroodland and Ilsham manor farm, for land in Yapton. Other parts of the estate belonged at the last named date to a J. Cutfield, presumably a relative of William Cutfield of Bailiffscourt, and to the only daughter of John Boniface, then a minor. The demesne as a whole was then said to contain 236 a. (fn. 243) In 1843 it was 210 a., of which 159 a. belonged to John Boniface and the rest to Mary Boniface and others; it then included what were later Brookpits and Hobb's farms. (fn. 244) Those farms were sold to Christ's Hospital shortly before 1860, (fn. 245) and passed to the Dennis Estates Ltd. in 1914. (fn. 246)
Ralph St. Owen's share of Ilsham manor descended with Clapham until the mid 16th century. (fn. 247) It may be the house and 60 a. of land in Climping which John Standen held at his death in 1612 of Ilsham St. John, (fn. 248) and of which Thomas Standen, presumably his son, died seised in 1639. (fn. 249) If so, it was perhaps absorbed into the Ilsham St. John demesne, since it is not heard of again.
The other two chief shares of Ilsham manor were known as ILSHAM HAKET and ILSHAM PECCHE or PECCHY. (fn. 250) Robert Haket was succeeded at an unknown date by John Haket (fl. 1337-47), (fn. 251) and a hide at Ilsham formerly John's was conveyed to the earl of Arundel before 1379, (fn. 252) perhaps in 1359-60. (fn. 253) William Covert had been succeeded by his son Roger before 1279, (fn. 254) and the same or another Roger held the Covert land in 1286 (fn. 255) and c. 1300. (fn. 256) The share of Robert of Estdean (fl. 1311-20) (fn. 257) may be the same. At an unknown date it belonged to John Pecche, (fn. 258) but by 1380 it had apparently also passed to the earl of Arundel. (fn. 259) About 1414 Thomas FitzAlan, earl of Arundel (d. 1415), granted Ilsham Haket and perhaps also Ilsham Pecche, subject to dower, to Holy Trinity hospital, Arundel; (fn. 260) the hospital had both in 1486 (fn. 261) and retained them until the Dissolution. (fn. 262)
In 1546 the hospital's lands in Ilsham were granted by the Crown to Sir Richard Lee, who granted them in the same year to John and Edward Staker in trust for Edward's son John. (fn. 263) In the early 17th century the lands were held successively by John Staker (d. 1612), another John, probably his son (fl. 1629; d. 1636), and the latter's son John (fn. 264) (d. 1637), whose sister and heir was Jane. (fn. 265) They were presumably afterwards absorbed into Ilsham St. John manor.
ATHERINGTON manor may originate in the moiety of Climping which earl Roger gave to Sées abbey (Orne) after c. 1082; (fn. 266) since it was used by the abbey as a residence for the bailiff of its English lands, (fn. 267) it was later alternatively called BAILIFFSCOURT. In the mid 14th century the bailiff was the abbey's attorney general or proctor in England. (fn. 268) Atherington was described as a manor from 1352. (fn. 269) The manor house, park, and part of the demesne occupied the larger of the two detached parts of Littlehampton parish, but the tenants' lands lay in Climping parish. (fn. 270) The estate was enlarged in the mid 13th century and later, (fn. 271) and seems to be the 2 yardlands in Littlehampton mentioned separately as held by Sées in 1341. (fn. 272) After the early 15th century it was held, with the rest of the abbey's English property, by Syon abbey (Mdx.). (fn. 273)
At the Dissolution Atherington passed to the Crown. (fn. 274) Between c. 1532, (fn. 275) perhaps earlier, (fn. 276) and 1621 or later it was leased to members of the Baldwin otherwise Edmunds family. (fn. 277) Marshland belonging to the manor was let in parcels to various people, (fn. 278) but by 1606 all the leases had apparently passed to Walter Edmunds. (fn. 279) In 1599 the manor was granted by the Crown to Sir John Spencer, (fn. 280) and from 1600 it descended with Priory farm in Tortington (fn. 281) until 1633, when Spencer Compton, earl of Northampton, conveyed it to Sir William Morley (d. 1658 or 1659). William's son and heir John (d. 1659) was succeeded by his brother Edward (fn. 282) (d. 1667), whose brother Sir William (fn. 283) was lord c. 1690 (fn. 284) and died in 1701. (fn. 285) A lease for three lives of the manor house and demesne was granted in 1631 to Sir John Chapman. (fn. 286) He was living at Bailiffscourt in the mid 17th century (fn. 287) and was succeeded before 1664, perhaps before 1651, by his son Abraham. (fn. 288)
By 1704 Atherington had passed to the Revd. William Barcroft (d. 1712), (fn. 289) whose son and namesake was dealing with it in 1721, was lord c. 1735, and died in 1758. (fn. 290) The younger William's heir Thomas Townson sold the manor in the following year to Thomas Boniface (d. 1763), whose son and heir John (fn. 291) still apparently owned it in 1819. (fn. 292) The demesne was again separated from the manor during the later 18th century, (fn. 293) and the later history of the manor is not recorded. Before 1796 Laurence Eliot had sold the demesne to John Cutfield, (fn. 294) presumably a descendant of the Joseph Cutfield who had leased Bailiffscourt in 1751. (fn. 295) At John's death in 1796 (fn. 296) it passed to his nephew William Cutfield (fn. 297) (d. 1842). (fn. 298) In 1803 the estate had 367 a. (fn. 299) William's sister and heir Charlotte (fn. 300) died in 1863, (fn. 301) and by 1865 the lands, then 340 a., had been bought by Christ's Hospital. (fn. 302) The hospital sold them in 1914 to the Dennis Estates Ltd. (fn. 303)
In 1927 the Bailiffscourt estate, c. 750 a., was bought by Walter Guinness, created in 1932 Lord Moyne, and during the 17 years until his death in 1944 (fn. 304) the parish was dominated, as it had never been before, by a single generally resident landowner. The estate had grown to c. 1,000 a. by 1974 when Moyne's daughter Grania and her husband Oswald Phipps, marquess of Normanby, sold it to the Post Office staff superannuation fund. (fn. 305) In 1982 the fund sold the land to the tenants. (fn. 306) John Baird, former tenant of Bailiffscourt farm, c. 800 a., resold his land before 1988 to the Wolverhampton borough council pension fund, becoming their tenant instead. (fn. 307)
There was a manor house at Atherington, with a dovecot and two gardens, in 1378; (fn. 308) by c. 1532 it was called Bailiffscourt. (fn. 309) In 1606 the building was said to be old and covered with Horsham slates; (fn. 310) it was then L-shaped, the main range facing east with a chapel lying east-west at its southern end. (fn. 311) The chapel, (fn. 312) which survived in 1991, is of flint with stone dressings. It incorporates stonework of the later 11th century or earlier 12th, (fn. 313) but is essentially of the later 13th century, with side lancets and a three-light east window of cusped lancets. There are moulded arches to the window splays inside with carved foliage capitals, and a restored double piscina. It seems likely, in view of the presence of windows on the north side of the building, that it was originally freestanding.
The house was remodelled, apparently in the 18th century, with a five-bayed entrance front in classical style, the south wall of the chapel being cased in brick. (fn. 314) In 1914 Bailiffscourt was of stone and brick with a slate roof (fn. 315) and retained much medieval stonework, especially in its north wall. (fn. 316) Rooms listed in 1729 at what may be the house included kitchen, parlour, various chambers, and office buildings, while mention, also apparently there, in the previous year of a chapel chamber (fn. 317) perhaps indicates that the chapel was already used for servants' sleeping accommodation, as later; (fn. 318) by the late 19th century, however, it had become a dairy and cellar. (fn. 319) In 1865 there were three sitting rooms and four bedrooms in the house (fn. 320) and by 1914 eight bedrooms and attics, (fn. 321) presumably as a result of repairs carried out by Christ's Hospital in 1876. (fn. 322) In the later 19th century and earlier 20th Bailiffscourt was sometimes let as a gentleman's residence. (fn. 323)
A roughly rectangular moat surrounded the house and its outbuildings; (fn. 324) the north-western section was dry in 1901 (fn. 325) but the south-eastern section held water in 1992. The house itself occupied the western part of the enclosure; other buildings which stood within the eastern part (fn. 326) were largely removed in the mid 19th century. (fn. 327) An octagonal flint and red brick dovecot which remained in 1992 apparently dates from 1816. (fn. 328) New outbuildings outside the moat to the south were built between c. 1840 and c. 1875 and enlarged between 1896 and 1910. (fn. 329)
After his purchase of the estate in 1927 Lord Moyne set about an imaginative re-creation of the medieval character of the site. (fn. 330) The old house was demolished except for the chapel, which was carefully restored, and a new house in 15th-century style was built to the southwest, beyond the medieval moat, to the designs of Amyas Phillips, a Hitchin antique dealer. The result has been described as an 'astonishing mirage', (fn. 331) and is one of the most remarkable creations of its period.
The new house has four irregular ranges of stone round a small courtyard. Part of the materials was found on site, part was original masonry brought from elsewhere, and the rest was new work imitated from medieval examples and 'weathered' to appear old. (fn. 332) The large entrance archway, contrasting dramatically with a wall in which windows are few and small, came from Holditch Court in Thorncombe (Dors.), (fn. 333) and the new stone is matching honey-coloured Somerset limestone, setting off the Caen stone re-used from the original building. (fn. 334) The roof is of Horsham slate. Inside, the building incorporates fittings from other buildings in Somerset, Hertfordshire, and Essex. The rooms were decorated with panelling and tapestries, the furniture being partly genuine antiques and partly fake medieval pieces, even cutlery being designed in medieval style. At least one early guest found the attempt to recreate medieval living conditions ludicrous, the rooms small, badly lit, and uncomfortable, and the guest rooms suggesting nothing so much as 'the cell of a rather "pansy" monk'. (fn. 335)
The so-called guest house, also of stone but thatched, which lies detached to the west, is reached by an underground passage. To the north-east various buildings brought from elsewhere were erected, notably a brick and timber gatehouse incorporating both a late medieval building from Loxwood in Wisborough Green and a 17th-century house from Old Basing (Hants), and a one-storeyed timber-framed and thatched cottage from Bignor which was converted to contain the electricity plant. A new thatched garage was built nearby. The sprawling layout of the site combines with the picturesque asymmetry of the buildings to give an illusion of size; the inspiration was presumably the loose layout of buildings as shown on Norden's map of 1606, (fn. 336) but the effect is that of an 'open-air' museum of vernacular architecture.
After the Second World War the house was let with all its contents and run as a 'medieval' hotel. (fn. 337) After changing hands it remained a hotel in 1994. (fn. 338)
Sées abbey was granted free warren on its demesne at Atherington in 1272. (fn. 339) There was a park, whose site is indicated by the field names the Plain and perhaps the Parrock north-west of Bailiffscourt house in 1606. (fn. 340) A rabbit warren of 13 a. lay north of the house at the same date, (fn. 341) but had perhaps ceased to exist by 1664. (fn. 342)
Between 1927 and 1932 Lord and Lady Moyne created a new park at Bailiffscourt, extending northwards as far as the Ryebank rife and along the coast in both directions, westwards almost as far as the parish boundary. About 1,500 grown trees, mostly oak and ash, were transported then and later from Slindon, Madehurst, and Arundel to form belts of woodland both within the park and elsewhere on the estate. (fn. 343) A new drive to the house was laid out from the north-west, crossing the moat through the re-erected gatehouse. (fn. 344) A five-mile route round the estate was known as Lady Moyne's walk. (fn. 345)
The manor of CUDLOW was held of the honor of Arundel, (fn. 346) except that at the division of the d'Aubigny inheritance dower was assigned in 1244 to Isabel d'Aubigny, countess of Arundel. (fn. 347) In the early 15th century 40 days' castle guard were said once to have been owed. (fn. 348)
Master Alexander the Secular held two fees in Cudlow and Treyford in 1242-3, (fn. 349) and Robert de Vilers held Cudlow in 1244. (fn. 350) Geoffrey de Fresteng evidently had the manor in 1257, (fn. 351) apparently in succession to Humphrey de Fresteng; (fn. 352) in 1265 or earlier he granted it to Luke de Vienne (fn. 353) (fl. 1275). In 1279-80 the same or another Geoffrey added a grant of 133 a. of marshland. (fn. 354) Luke or his namesake still had the manor in 1300, (fn. 355) but had been succeeded before 1312 by Peter de Vienne (fl. 1316). (fn. 356) Another Luke de Vienne had it between 1325 (fn. 357) and 1343 or 1344, (fn. 358) but had died by 1349-50 when his son John conveyed it, subject to his mother Lettice's life interest, to Richard FitzAlan, earl of Arundel (d. 1376). Lettice and her husband William Cambray (fn. 359) had made over their estate to the earl by 1356. (fn. 360) At earl Richard's death Cudlow passed to his younger son Sir John d'Arundel, Lord Arundel (d. 1379), who was succeeded in the direct line by John (d. 1390), and John, Lord Maltravers (succ. as earl of Arundel, 1415; d. 1421). (fn. 361) Thereafter the manor descended with the rape. (fn. 362)
By the early 17th century the surviving land of the manor was in two separate parts. (fn. 363) In 1790 John Boniface bought from the duke of Norfolk West Cudlow farm (72 a.), (fn. 364) i.e. the south-west corner of the parish. John or a namesake owned 277 a. in that area in 1803 (fn. 365) and 249 a. in 1843. (fn. 366) About 1897, when the land was called Atherington farm, it was bought by Christ's Hospital, (fn. 367) passing in 1914 to the Dennis Estates Ltd. (fn. 368) East Cudlow farm, i.e. the southeast corner of the parish, remained in the dukes' possession in the 19th century and early 20th. (fn. 369) Much of that land in 1863 was shingle. (fn. 370) In 1938 it was sold by Duke Bernard (d. 1975) to Walter Guinness, Lord Moyne, (fn. 371) thereafter descending with the Bailiffscourt estate until 1982, when it was bought by Littlehampton golf club, the tenants. (fn. 372)
A manor house with dovecot was mentioned at Cudlow in 1380. (fn. 373)
In 1248 Alménêches abbey (Orne) acquired Climping RECTORY, (fn. 374) which was later administered by the abbey's English priory of Lyminster. (fn. 375) The estate, as that of an alien priory, passed in the 15th century to Eton college. (fn. 376) In 1248 it comprised the great tithes of what was then Climping parish, a pension of £5, and land. (fn. 377) The pension is not heard of again but the land, then described as 9 a. in the field called 'Horgesleye' at Stroodland in Ilsham, (fn. 378) was apparently represented by one of the two parcels which still belonged to the estate in the 20th century: (fn. 379) 5 a. east of Climping village street and 3 a. north of Horsemere green. (fn. 380) The rectory was valued at £20 in 1291. There were a house and a barn at Stroodland in 1324-5; (fn. 381) the house or its successor survived in 1763 (fn. 382) but had gone by 1774. (fn. 383)
The rectory estate was in hand in the mid and later 14th century (fn. 384) but was otherwise apparently always leased. (fn. 385) John, later Sir John, Chapman, was lessee between 1616 and 1647, and Abraham Chapman between 1649 and 1651; (fn. 386) members of the Boniface family had the lease between 1763 and 1849. (fn. 387)
After the parishes of Ilsham and Cudlow were amalgamated with Climping in the 15th and 16th centuries, part of the endowment of each benefice was added to Climping rectory. In 1763 the rectory had the great tithes of the medieval Climping parish, of part of the former Ilsham parish, and of the western part of what had been Cudlow parish; in all three places lands called 'holibreads' were, however, exempt. (fn. 388) In addition, the great tithes of the lands of Bailiffscourt farm in Littlehampton detached belonged to the rectory by the mid 17th century. (fn. 389) At the commutation of tithes in the 1840s Eton college received rents charge of £403 for its tithes in Climping and £56 for those at Bailiffscourt. (fn. 390)
Tortington priory had lands in Ilsham and Cudlow in 1535. (fn. 391)
ECONOMIC HISTORY.
Agriculture.
The north part of the parish lay within Ford, Climping, and Ilsham manor, of which the demesne was let in the 16th and early 17th centuries. (fn. 392)
The open fields of the manor in Climping adjoined those in Ford, (fn. 393) and included Inland or the Inlands, (fn. 394) West field, (fn. 395) and the Town field, (fn. 396) perhaps the same as the 'field of Horgesleye' mentioned in 1248. (fn. 397) West field was inclosed by agreement in 1541 (fn. 398) and the others perhaps about the same time, since most later references to land in the fields are to closes rather than strips. (fn. 399)
Common pasture was mentioned at Climping in 1228 (fn. 400) and a common on the Climping portion of Ford, Climping, and Ilsham manor in 1541. (fn. 401) Both references seem likely to be to Horsemere green, recorded from 1608. (fn. 402) The green was inclosed before 1843, (fn. 403) except for two small pieces on either side of Horsemere Green Lane which were registered as common land in 1971. (fn. 404)
Brookland in the parish on Ford, Climping, and Ilsham manor was partly common and partly several. Climping mead was divided into small parcels in 1608. (fn. 405) Demesne meadow was recorded in 1086 (fn. 406) and presumably grew by reclamation from the Arun estuary. In the mid 16th century marshland pasture there was leased in portions, sometimes separately from the demesne farm. By 1564 one holding lying apparently in both Climping and Ford, of which part had been inned recently, totalled over 100 a. (fn. 407) In 1608 c. 220 a. of marshland in the two parishes were let as a single holding to Sir Edward Caryll and Sir John Morley. (fn. 408)
There were 52 villani and 48 cottars in all on the two estates called Climping in 1086. (fn. 409) Later medieval tenants of Ford, Climping, and Ilsham manor within the parish were not separately listed from those in Ford. (fn. 410) In 1540 some copyholders in Climping held whole or half yardlands. (fn. 411) Only one freeholder remained in 1608, but there were then many copyholders. Twelve at Climping itself had between 10 and 34 a. each, mostly for three lives, a typical holding consisting of arable, inclosed pasture, and meadow in Climping mead. On the Ilsham section of the manor at the same date eight copyholders held between 19 a. and 50 a. or more with similar ingredients. (fn. 412) Encroachments from the waste were also copyholds. (fn. 413) Copyholds could be sublet by the 16th century. (fn. 414) After the 17th century the tenants' lands were gradually engrossed into the demesne farms. (fn. 415)
Across the central east-west strip of the parish the fields of Ilsham manor included 'Prestestrodlond', (fn. 416) Hampstead or Littlehampstead, (fn. 417) the Bread, (fn. 418) which lay east of the present Climping village street, (fn. 419) and Westover. (fn. 420) Parts at least seem to have been inclosed by the early 17th century. (fn. 421) There was common pasture for cattle in the 14th century, (fn. 422) and 'Prestebroke' mentioned in 1540 may have been at Ilsham, (fn. 423) where North mead and South mead were ordered to be separated by rails in the same year. (fn. 424) Demesne meadow and pasture were recorded between the 13th and 15th centuries. (fn. 425)
The demesne on at least two of the divisions of Ilsham manor was let in the early 15th century. (fn. 426) The manor perhaps never had many tenants. (fn. 427)
Arable on Atherington manor in the south part of the parish also lay in open fields, which in 1606 were West field west of the hamlet (23 a.), and various fields and furlongs to south-east, east, and north-east: Mill field (68 a.), divided into six furlongs including Tatsham or Totsham furlong; Mead field (54 a.), divided into five furlongs; Sheepland field (12 a.); and Wintercroft (10 a.) with its associated Buckherne furlong (11 a.). (fn. 428) Mill field in the 14th and 15th centuries was known as Eastfield; (fn. 429) Wintercroft was also mentioned in the 14th century. (fn. 430) In 1606 land in the fields and furlongs was held in pieces of up to 5 a. Sheepland field was then being eaten away by the sea (fn. 431) and had perhaps once been much larger. The fields at Atherington were inclosed before 1772. (fn. 432)
There was common pasture for cattle at Atherington in the 14th century, (fn. 433) presumably including the Shortsmare, described as Lammas land in 1606. (fn. 434) At the same date Atherington mead northeast of Atherington hamlet had 19 a. in pieces of between ¼ a. and 3 a.; (fn. 435) it was inclosed at an unknown date. Demesne meadow was recorded in the 14th century (fn. 436) and was extended, as presumably on Ford, Climping, and Ilsham manor, by reclamation from the river. (fn. 437) In the mid 16th century it was let in portions, sometimes separately from the demesne farm. There were 111 a. of marshland at Atherington in 1540, c. 130 a. in 1558, (fn. 438) and c. 145 a. in 1606, when it was all held with the demesne farm; (fn. 439) in the 17th or early 18th century the land was known as Bailiffscourt marshes. (fn. 440) Closes of marshland pasture at Atherington were amalgamated from the 17th century. (fn. 441)
The Atherington demesne was managed by the bailiff of Sées abbey (Orne) in 1378 (fn. 442) and presumably generally earlier, but was let in the 15th and early 16th centuries. (fn. 443) In 1606 the farm, of 400 a., was held under leases for 21 or 30 years; (fn. 444) in 1660 it was of similar size. (fn. 445) There were both free and bond tenants between the 14th and 16th centuries, (fn. 446) and labour services were still performed on the abbey's demesne, apparently including that in Climping, in 1342. (fn. 447) In 1606 only two freeholders remained, but nine copyholders then had up to 50 a. each, typically including open-field arable, inclosed pasture, and rights in Atherington mead. (fn. 448) Some land held of Atherington lay in Ilsham. (fn. 449) Encroachments from the waste, as on Ford, Climping, and Ilsham manor, were copyholds. (fn. 450) Copyholds could be sublet by the 16th century (fn. 451) and were heriotable. (fn. 452) From the 17th century the tenants' lands were gradually engrossed into the demesne farms; (fn. 453) only a few copyholds and one freehold survived in the early 18th century, to disappear after 1758. (fn. 454)
Open fields on Cudlow manor included East and West Broadmare; Southfield, Eastfield, and probably Northfield; East garston and presumably West garston and South garston; South street and presumably West street; Westrude and presumably Northrude; and Horsecroft. (fn. 455) Since none have been located and there is no evidence of inclosure, all may have been lost to the sea. There was common pasture for cattle in the 14th century (fn. 456) and for sheep in the 15th. (fn. 457) Demesne meadow is recorded in the 14th and 15th centuries; (fn. 458) it may have been relatively poor, since the manor also had 10 a. of meadow at Arundel in 1279-80. There were at least 133 a. of marshland on the demesne farm at the same date, (fn. 459) and c. 225 a. of meadow and pasture in 1421, (fn. 460) much of which was presumably also lost to the sea.
The Cudlow demesne farm was in hand in the 1360s, when there was a sheepfold and income was received from the sale of corn, cider, and stock, and from agistment. (fn. 461) It had over 200 a. in 1380, (fn. 462) and was claimed to have over 500 a. in 1421. (fn. 463) In the mid 15th century it was leased, (fn. 464) as its gradually shrinking acreage continued to be later, (fn. 465) sometimes after the later 16th century in two portions known as East and West Cudlow. (fn. 466) There were both free and bond tenants on the manor in the 14th and 15th centuries. (fn. 467)
The four manors of the combined parish were originally self-contained entities; in the early 17th century only one man held of both Ford, Climping, and Ilsham manor and Atherington manor. (fn. 468) The rectory estate was leased generally for periods of 10 or 21 years between the 16th century and the 19th, (fn. 469) and Tortington priory's land at Ilsham was held by freehold tenants in the early 16th century. (fn. 470)
During the 18th century the demesne farms of the parish increased in size through the engrossing of small freeholds and copyholds. (fn. 471) On the Christ's Hospital estate in the north and centre there were three chief farms. Northwood farm, perhaps succeeding the grange of the lords of Ford, Climping, and Ilsham on the Ford-Climping boundary recorded in 1310 (fn. 472) and the copyholds called Northwood in the 17th century, (fn. 473) had 189 a. in 1711. Kent's farm was then about the same size, and Church farm had 293 a. in Climping and Ford in 1759; by 1799 those two farms had grown respectively to 250 a. and 338 a. (fn. 474) Bailiffscourt farm had 375 a., including 196 a. of brookland, in 1772. (fn. 475) Other farms in the 18th century were Cudlow, which had 160 a. in 1778, (fn. 476) and Brookpit, of 63 a. in 1760. (fn. 477) Leases on all the farms mentioned were of between 11 and 21 years.
Owners and Occupiers of The Chief Farms, 1843

| | | | |
| --- | --- | --- | --- |
| | | | |
| Owner | Occupier | Farm | Acreage in parish |
| John Boniface | in hand | Hobb's | 213 |
| " | " | West Cudlow | 249 |
| Mary Boniface | Thomas Boniface | [west end of parish] | 47 |
| Christ's Hospital | George Boniface | [on Ford boundary] | 60 |
| " | John Boniface | Lindfield's barn | 72 |
| " | Thomas Boniface | Kent's | 223 |
| " | Richard Coote | Church | 330 |
| " | Charles White | Northwood | 137 |
| Joseph Coote | Richard Coote | Park | 73 |
| Charlotte Cutfield | Joseph Coote | East Cudlow | 135 |
| " | " | Bailiffscourt | 177 |
| Duke of Norfolk | John Boniface | part of East Cudlow | 45 |
(Sources: W.S.R.O., TD/W 33, 78; above, manors.)
Arable farming dominated in the parish in the Middle Ages. The two estates called Climping in 1086 each had the large number of seven tenants' ploughs, (fn. 478) and in 1341 the ninth of sheaves was valued at five times that of fleeces and lambs at Cudlow, nearly ten times at Ilsham, and fifteen times at Climping. Other crops grown in 1340 were hemp, flax, and apples, pigs and geese as well as cattle being kept. (fn. 479) There were sheep on Cudlow manor in the 14th and 15th centuries. (fn. 480) In the 17th and 18th centuries mixed farming was practised. Crops then widely grown were wheat, barley, oats, peas, beans, tares, and vetches, with hemp in the 17th century and clover seed in the early 18th. One farmer c. 1633 may have worked a three-course rotation of wheat, barley with vetches, and fallow, and another in 1644 a four-course rotation of wheat, barley, peas with tares, and fallow. Cattle, sheep, and pigs were generally kept. A farmer at Ilsham in 1710 had at least 168 sheep and 59 cattle, and another in 1728 a flock of 312 sheep. Some farmers also had land elsewhere: at Eastergate in 1614 and at Flansham in Felpham in 1729. (fn. 481) In 1774 twice as much wheat as barley was grown but there was apparently little meadow. (fn. 482) The Christ's Hospital farms were said to be in a good system of husbandry in 1794. (fn. 483)
During the 19th and early 20th centuries the parish was divided into large farms, mostly rented. The Christ's Hospital estate was in excellent condition in 1832, with established tenants, (fn. 484) notably the Cootes, who had been at Church farm since 1759, and the Bonifaces, who had had Kent's farm since 1799. (fn. 485) In 1843 the two families dominated the parish (see Table). Leases on the Christ's Hospital estate in the period were of between 10 and 14 years. The Cootes and Bonifaces were still the chief farmers in the 1860s and 70s, (fn. 486) but from 1881 they were gradually replaced by the Langmead family, immigrants from Devon. William Langmead (d. 1919) first farmed at Bailiffscourt, and later at Kent's, Brookpit, and Atherington farms; his sons John (d. 1950) and Walter (d. 1971) divided those farms between them, John later adding Northwood farm. (fn. 487)
Returns for the parish in the years 1801 and 1803 listed 180-90 cattle, up to c. 1,000 sheep, and over 200 pigs. (fn. 488) At that period, however, arable was the chief type of farming practised. All but c. 300 a. was said to be arable in 1819, though a third of the parish lay on relatively poor soil. (fn. 489) In 1843 there were 1,034 a. of arable, and 562 a. of meadow and pasture chiefly in the east, including 426 a. of brookland; the brookland, described as very good, was used chiefly for fattening sheep and cattle. (fn. 490) Marshland closes continued to be amalgamated during the 19th century. (fn. 491) In 1847 the Christ's Hospital farms, though considered inferior to those at Ford, were well cultivated under a five-course rotation. (fn. 492) By 1876 many fences had been removed to create very large closes, for instance that of 78 a. which represented the whole of the former Park farm. (fn. 493) Some land was underdrained in the mid 19th century. Stock raising had become more important by 1865 (fn. 494) and the number of shepherds listed rose from four in 1861 to nine in 1881. (fn. 495) In the early 20th century sheep were brought for fattening from West Dean north of Chichester. (fn. 496) In 1914 the Langmead farms were specially noted: Kent's with Hobb's for its Southdown flock, and Atherington with Bailiffscourt for sheep, cattle, and prize-winning crops. (fn. 497) The Atherington flock was later moved to Northwood farm. (fn. 498)
The bigger farms employed large numbers of labourers in the 19th and early 20th centuries. There were 47 in all in the parish in 1831. (fn. 499) In 1861 Church farm had 16 men and boys. (fn. 500) The parish was well supplied with provident societies from c. 1850: a coal club, and later a provident fund and a clothing club. (fn. 501) As a result the vicar was able to claim in 1893 that his parishioners were relatively well off: there was overtime work throughout the summer, most of the old people had savings, thrift was generally practised, and there was no begging. (fn. 502) Most parishioners remained agricultural labourers in 1923. (fn. 503)
The parish continued to be dominated by large farms after the sale of the Christ's Hospital estate in the early 20th century. Church and Bailiffscourt farms were in hand in the 1920s and 30s, (fn. 504) when Church farm was claimed to have some of the most fertile land in southern England. (fn. 505) Bailiffscourt farm in the 1970s and 80s had 800-860 a., the tenant in 1979 and later also farming at Oving near Chichester; (fn. 506) in 1991 the land was worked from buildings at various places in the parish. Northwood farm in 1991 had 435 a. mostly in Climping but, the farmhouse having been sold, was then farmed from Yapton. In the 1950s it had a Friesian dairy herd (fn. 507) and pigs were raised on Bailiffscourt farm c. 1980, (fn. 508) but by c. 1990 farming in the parish was again chiefly arable, crops including potatoes, oilseed rape, and linseed. (fn. 509) In addition market gardening was practised from the 1950s, chiefly south of Horsemere Green Lane. (fn. 510) One holding which flourished between 1960 and 1990 grew cucumbers under glass with a staff of eight. (fn. 511) Between 1978 (fn. 512) and 1990 there was also a mushroom farm belonging to Linfields of Thakeham. Daffodils were grown commercially in 1986. (fn. 513)
Mills.
There was a windmill on the Hospitallers' estate at Ilsham in 1338 (fn. 514) and a mill on Cudlow manor at the same period. (fn. 515) A windmill on Atherington manor is mentioned from 1378. (fn. 516) In 1485 and later it was called Totsham mill and by 1780 alternatively Climping mill. (fn. 517) The present octagonal, weatherboarded building of 1799 is an early example of a smock mill. (fn. 518) In the 19th century it was kept by members of the Barnard family. A steam engine had been added to supplement wind power by 1895, but the mill ceased to be used soon afterwards. (fn. 519) By 1914 it had become two cottages, (fn. 520) and in the 1920s it was converted into a single dwelling with the addition of dummy sails. (fn. 521) The top storey was removed in 1962. From c. 1959 the mill and adjacent buildings were used as a school. (fn. 522)
Other trades and industries.
Surnames between the late 13th century and early 15th suggesting trades included Salter, (fn. 523) Isemonger, i.e. ironmonger, and Tailor. (fn. 524) At various times between the 16th century and the 18th there were butchers, brewers, (fn. 525) smiths, (fn. 526) a carpenter, (fn. 527) and perhaps a tanner. (fn. 528)
The sea provided varied employment. The surname Mariner was apparently recorded at Atherington in 1296 and Shipwright at Cudlow in the early 14th century. (fn. 529) Ten coastguards for defence against the French were established c. 1295 at Cudlow, (fn. 530) which in 1342 sent a ship for the fleet sailing to Brittany, putting it on a par with Seaford and Pevensey. (fn. 531) Tithes were paid on saltwater fish in Ilsham parish in 1341, and on both saltwater and freshwater fish in Climping; (fn. 532) fish were also landed at Cudlow in 1385, (fn. 533) and eels were caught at Elmer pool on the Cudlow-Middleton boundary in 1457. (fn. 534) The vicar still apparently received tithe herrings in 1664. (fn. 535)
One parishioner at least owned a boat in the 16th century. (fn. 536) Seamen were recorded at various times in the 17th, when there were often as many as three; (fn. 537) in 1803, however, no boats were listed in the parish, and two years earlier no parishioner was willing to serve as boatman or bargeman in case of invasion. (fn. 538) The open coastline and lack of roads made Climping an obvious place for smuggling in the 18th and early 19th centuries. A riding officer had been appointed to combat it by 1730, (fn. 539) and one was drowned, possibly nefariously, in the pond opposite his house in 1802. (fn. 540) One purpose of the new roads and ferry of c. 1824 was the suppression of smuggling. (fn. 541) Much oral evidence of the activity in the past was available c. 1900. (fn. 542)
In the early 19th century one in 11 to 15 families in work was supported chiefly by nonagricultural occupations. (fn. 543) Thomas Boniface of Kent's farm was a land surveyor and valuer as well as farmer in 1836. (fn. 544) Between the mid 19th century and the earlier 20th there were from time to time shopkeepers, (fn. 545) carpenters, smiths, (fn. 546) and thatchers. One of the smithies lay south of the church. (fn. 547) There were a shoemaker in 1845, a dairyman in 1852, a fishhawker in 1898, (fn. 548) and a garage in 1930. Bricks were made north of Horsemere Green Lane in the 1920s. (fn. 549)
Bailiffscourt house has been a hotel since the late 1940s, (fn. 550) and there were riding stables in the parish from the same period. (fn. 551) The holiday industry was also represented by a camping site in 1977; (fn. 552) there were two leisure caravan parks in Horsemere Green Lane in 1993, (fn. 553) besides other accommodation for visitors there and elsewhere. In 1991 two shops on Bailiffscourt farm sold farm produce.
On the southern part of the former Ford airfield, between Horsemere Green Lane and Ford prison, the Rudford industrial estate was set up after 1969 and greatly expanded in the 1980s. (fn. 554) In 1991 there were 80-90 businesses there, some occupying converted hangars and others in small purpose-built units; besides manufacturing firms, especially in engineering, there were representatives of service and transport-related industries. (fn. 555) Another part of the former airfield within the parish was used as a Sunday market, first in the 1970s and again from 1988; (fn. 556) in 1991 there were c. 200 stalls. (fn. 557)
LOCAL GOVERNMENT.
Manorial government on the Climping portion of Ford, Climping, and Ilsham manor is discussed below. (fn. 558) A reeve of Climping was mentioned c. 1310. (fn. 559)
There are court rolls or draft court rolls for Atherington manor for the years 1342, (fn. 560) 1490-3, 1499, (fn. 561) 1547-50, (fn. 562) 1594-9, (fn. 563) and 1686-1758. (fn. 564) That for 1342 also includes entries relating to Sées abbey's lands in Littlehampton, Lyminster, and Eastergate. Only two courts a year were held by 1510, (fn. 565) and later in the 16th century sometimes only one. (fn. 566) Only six courts in all were held after 1686, the last in 1732, business being transacted out of court from 1692. Besides conveyancing the court dealt with the management of the demesne in 1342, the repair of houses, fences, roads, and ditches, stray beasts, (fn. 567) and one case of wreck. (fn. 568) A beadle was mentioned in the 15th and 16th centuries. (fn. 569) Two 'curemen', perhaps haywards, were elected in the 16th century. (fn. 570) A chief pledge served for both Atherington and Eastergate in 1536 (fn. 571) and there was a tithingman c. 1822. (fn. 572)
On Cudlow manor three courts a year were held by a bailiff in 1367-8. (fn. 573) There are draft court rolls for the years 1457-65, when besides dealing with conveyances the court regulated common pasture, oversaw the repair of tenements, and appointed curemen. (fn. 574) Other officers were a headborough in 1275 (fn. 575) and a chief pledge in 1536. (fn. 576) Right of wreck was successfully claimed in 1279. (fn. 577)
There is no evidence for separate parochial government at Ilsham or Cudlow. At least two churchwardens served Climping in 1534 (fn. 578) and apparently usually two between 1548 and 1690. From 1691 to 1872 there was only one, but after 1878 two again. (fn. 579) In the later 16th century churchwardens often served two- or three-year terms. (fn. 580) There was a single collector for the poor in 1642, (fn. 581) and two overseers in the 18th and 19th centuries. (fn. 582) A surveyor of highways was recorded in the later 19th century. (fn. 583)
A poor rate was levied in 1571 (fn. 584) and a church rate in the 1620s. (fn. 585) Methods of poor relief used in the 18th century and early 19th included weekly pay, the payment of rent, boarding out, and the provision of clothing, fuel, and medical care. (fn. 586) A parish poorhouse existed in 1780 next to Climping mill, (fn. 587) and was succeeded by another in Horsemere Green Lane (fn. 588) which by 1871 had been converted into cottages. (fn. 589) It was demolished after 1986. (fn. 590) In 1826 thirty-seven parishioners were receiving permanent relief and 16 casual relief. (fn. 591) One or more persons received money to emigrate in 1835. (fn. 592)
The parish was added to East Preston united parishes (later union, afterwards rural district) in 1799. (fn. 593) From 1853 until their transfer to Climping in 1880 the two detached parts of Littlehampton within the parish belonged, perhaps by an oversight, to Littlehampton local health district. (fn. 594) Climping was transferred to Chichester rural district in 1933, (fn. 595) and from 1974 was in Arun district.
Manorial pounds were mentioned on the Climping part of Ford, Climping, and Ilsham manor (fn. 596) and on Atherington manor (fn. 597) in the 16th century, but the structure which survived in 1996 on the east side of Climping village street had latterly been parochial. (fn. 598)
CHURCHES.
Climping.
There was a church at Climping by the 1080s, (fn. 599) which in 1248 was appropriated to Almeneches abbey (Orne), a vicarage being ordained at the same date. (fn. 600) The vicarage, enlarged by parts of the amalgamated rectories of Ilsham and Cudlow, was briefly united with Ford rectory in 1656, (fn. 601) and since 1985 has formed part of the united benefice of Climping and Yapton with Ford, the parishes remaining distinct. (fn. 602)
Before 1248 the advowson of the church belonged to Almeneches abbey. (fn. 603) After that date, though the abbey retained the right of presentation to the vicarage, candidates were to be nominated by the bishop, (fn. 604) presumably as a way of preventing the appointment of foreigners. The Crown presented because of the war with France on three occasions between 1371 and 1415; (fn. 605) Lyminster priory, however, was said to hold the advowson of the earl of Arundel in 1391 (fn. 606) and presented between 1402 and 1411. In 1427 Queen Joan (d. 1437), widow of Henry IV, presented as owner of the priory estates, and the advowson evidently passed with those estates to Eton college, since in 1466 it was exercised by St. George's college, Windsor, to which Eton's estates temporarily belonged. (fn. 607) Between 1501 and 1833 Eton presented incumbents, except in 1596 and 1648 when the Crown presented. (fn. 608) Since the bishop seems regularly to have exercised his right of nomination, however, (fn. 609) the advowson was in effect his. (fn. 610) No mention was made of Eton when in 1852 the bishop transferred the advowson to the bishop of Oxford; the latter exchanged it in 1855 with the Crown. (fn. 611) Thereafter it was exercised by the Lord Chancellor. After 1985 two presentations in three to the united benefice were to be made by the bishop and the third by the Lord Chancellor. (fn. 612)
At its ordination in 1248 the vicarage was endowed with a house, arable and meadow, offerings, and the small tithes of what was then Climping parish. (fn. 613) In 1291 it was valued at £5 6s. 8d.; (fn. 614) the figure was still under £8 in 1496 (fn. 615) but by 1535 had risen to £9 11s. net, presumably because of added income from the former rectory of Ilsham. (fn. 616)
In the early 17th century (fn. 617) there were c. 35 a. of glebe scattered round the parish, of which 4 a. were meadow. Some land in the central part represented former glebe of Ilsham parish, notably the plot opposite the present Kent's Farmhouse where Ilsham church had stood. (fn. 618) In addition, besides the vicarial tithes of the medieval Climping parish, the vicar had tithe hay from the Ilsham manor demesne; a third of tithe corn from Ilsham manor and from Stroodland in Ilsham, except for 5 a. belonging to Climping rectory; a third of the small tithes of West Cudlow; (fn. 619) and tithes of numerous small parcels of land called 'holibreads', (fn. 620) which in 1819 totalled c. 10 a. (fn. 621) Most of the remaining tithes of the former Cudlow parish were enjoyed in the early 17th century and later by the vicars of Arundel. (fn. 622)
Further elements in the endowment in 1664 were the tithe of herrings, Good Friday eggs from c. 30 named parishioners, and £3 in lieu of the tithe of herbage on c. 80 a. of marshland belonging to Bailiffscourt farm. (fn. 623) The glebe was calculated as 44 a. in 1724 (fn. 624) and was 41 a. in the 19th century. (fn. 625) In 1656 and 1724 the living was worth £65 or £70 a year, (fn. 626) and c. 1830 on average £221 net. (fn. 627) In 1843 the vicarage endowment remained essentially the same as in the early 17th century, (fn. 628) though Bailiffscourt by that date had ceased to pay small tithes either to the vicar of Climping or to the incumbent of Littlehampton. (fn. 629) In 1840-1 the vicar received 14s. 6d. rent charge in lieu of the tithes of one holibread at Bailiffscourt, and in 1843 he received £224 for vicarial tithes in Climping. (fn. 630)
The vicarage house in the mid 17th century had a hall, parlour, study, several chambers, and offices; (fn. 631) its site was apparently the same as that of the later vicarage house south of the church, (fn. 632) of which the rear part is a small building of c. 1800 or earlier with a central chimneystack. It was rebuilt and enlarged c. 1833 with a threebayed cement-rendered Gothick faç;ade. (fn. 633) It was sold c. 1987. (fn. 634)
In the late 12th century or early 13th Ralph, archdeacon of Hereford, held Climping church from Almeneches abbey for 4 marks a year, maintaining two nuns there. (fn. 635) The only other rector known before the appropriation of the church to Almeneches in 1248 was John of Arundel, chancellor of Chichester cathedral (fl. 1220-48). (fn. 636)
The vicar resided in 1440 (fn. 637) and in 1563. (fn. 638) Richard Strong, vicar 1566-87, was a licensed preacher and resided in 1579, (fn. 639) but in 1586 the rector of Ford was serving the cure. (fn. 640) Church ales were held in 1573. (fn. 641) The Puritan Henry Pelter or Pitter, vicar 1587-96, was presented for baptizing without the sign of the cross in 1590 and afterwards excommunicated, the living being sequestrated for several years before his deprivation. His successor resided between 1596 and 1598 at least and was a preacher.
Between the 17th century and the mid 19th (fn. 642) many incumbents held other livings as well, most often Ford. Assistant curates served in the 1610s and sometimes in the 18th century; (fn. 643) Christopher Tillier, vicar 1715-46, held Goring and Patching, and by 1733 was living in Arundel where he was buried. (fn. 644) In 1724 a curate took Sunday services and celebrated communion three times a year for between 12 and 20 parishioners. (fn. 645) John Mansergh, vicar 1788-1833, generally served after 1813 but had several curates (fn. 646) and in 1818 was himself curate of Middleton. (fn. 647) His successor Owen Marden (d. 1869) lived from c. 1838 on his other benefice in Hove, (fn. 648) curates (fn. 649) occupying the vicarage house which he had rebuilt, (fn. 650) among them David Evans who was also rector of Ford. (fn. 651) In 1851 morning service was held on alternate Sundays at Climping and Ford, with an average congregation at Climping of 140 including 20 Sunday schoolchildren. (fn. 652) Church music in the mid 19th century was provided by a small band. (fn. 653)
Under W. H. Jenkins (1869-88) parish life was transformed, with an increase in the frequency of communion from quarterly to monthly, (fn. 654) the restoration of the church, (fn. 655) the foundation of the National school, (fn. 656) and the institution or maintenance of benefit clubs. (fn. 657)
Bailiffscourt remained part of Littlehampton ecclesiastical parish until the mid 20th century; (fn. 658) evening services were held at the private chapel there in summer in 1952 for the benefit of older parishioners of Climping who could not walk to the church. (fn. 659) In the 1980s the moderate 'Prayer book' liturgy used at Climping attracted many non-parishioners to the church, especially from the 'Anglo-Catholic' parish of Felpham with Middleton. (fn. 660)
The church of ST. MARY, so called by 1524, (fn. 661) is partly of ashlar and partly of rubble, in some places plastered; it consists of chancel, nave with transepts, south tower outside the south transept used as a vestry, and south aisle with south porch. (fn. 662)
The tower, of the later 12th century, is of massive construction, much of it in fine-jointed Caen stone, and perhaps once served as a lookout in defence of the Arun estuary. Its richly ornamented west doorway, badly weathered below, has a trefoiled head under a semicircular arch with deeply cut chevron and dogtooth ornament, flanked by columns formed of chevrons. On the second stage of each of the three outer faces of the tower is a lancet window with a continuous chevron surround set in a broad shallow pilaster. There is a south-west staircase turret and the parapet is corbelled. The church to which the tower was originally attached seems likely to have been cruciform, since parts of what would have been its transept survive: masonry on the outer east wall which is continuous with that of the tower, the low archway between it and the tower, and the line of its roof on the wall above that archway.
The rest of the church is mid 13th-century, wide, lofty, and of remarkably unified design; it may have been built by John Climping, bishop of Chichester 1253-62. (fn. 663) Internally, the chancel and transepts have a continuous string course at sill height except on the south wall of the south transept, and the east wall of the chancel has a three-bayed arcade with stiff-leaf capitals to the columns; it is not clear why its three lancets are of different widths. The north transept has a surviving image bracket on its east wall above what was presumably an altar, and may have been the Lady chapel. (fn. 664) Remains of a west porch were depicted in 1782; (fn. 665) it had possibly already become ruinous when a south porch with bargeboarded gable was built, perhaps in the 17th century. (fn. 666)
In the late 16th century and early 17th sheep were hired out by the parish officers for breeding as a source of income, presumably for church repair. (fn. 667) By the mid 17th century the north transept belonged to the Bailiffscourt estate and was known as Bailiffscourt chancel; when Sir John Chapman, lessee of the estate, failed to maintain it the parishioners pulled up the pews there and sold them to pay for repairs. (fn. 668) The transept still belonged to Bailiffscourt in the 19th century, when members of the Cutfield family paid for repairs and were buried there; (fn. 669) Christ's Hospital seems to have recognized a duty to repair it in 1874, (fn. 670) but in 1936 no obligation was said to exist. (fn. 671) The chancel, already in a bad state in 1571, (fn. 672) was described in 1776 as ruinous, very filthy, and damp for lack of air; (fn. 673) by 1804 its roof had been replaced at a lower pitch. (fn. 674)
In 1872 the damp, draughts, and decayed seating of the church were clear hindrances to worship. (fn. 675) The building was restored in 1874-5 to the designs of G. M. Hills, at the instigation of the Revd. W. H. Jenkins, and with contributions from Eton college as lay rector and Christ's Hospital, both grudgingly given. The chancel roof was raised to its former pitch, the upper part of the tower was rebuilt, the west wall was renewed, keeping the original doorway, windows, and stone coping, and the south porch was rebuilt. (fn. 676) Eton college was still responsible for chancel repair in 1937. (fn. 677)
Surviving medieval fittings include the 13thcentury chest, richly decorated with a trefoilheaded arcade and rosettes, the 15th-century octagonal font, and the late 14th-century stone pulpit, originally attached to the south-west pier of the crossing (fn. 678) but moved and altered in 1874-5. Many medieval seats remained in 1842, (fn. 679) but in 1992 there were only some panelled bench ends and rails of the early 15th century, incorporated into the late 19th-century pews. The lower portion of the chancel screen survived ex situ in 1854, when there were also parclose screens to each transept. All three screens were destroyed in 1870. (fn. 680)
Among fittings installed after 1874 are seven framed fresco paintings by Heywood Hardy in the north transept, dating from the 1920s and incorporating local scenes and figures in modern dress. (fn. 681)
The plate includes a silver paten of 1661 with an apparently contemporary silver communion cup. (fn. 682) There were at least two bells in 1542 (fn. 683) and four in 1724 and 1776. (fn. 684) The two that remained in 1987 were dated 1636 and 1654, both made by Bryan Eldridge the younger; a third, also of 1654, was scrapped in 1874. (fn. 685) The registers begin in 1678. (fn. 686)
In the churchyard are many monuments to members of the Coote family, and the tomb of Lord and Lady Moyne, whose ashes were originally buried in the chapel at Bailiffscourt. (fn. 687)
Ilsham.
There was a church at Ilsham by c. 1220. (fn. 688) The last known rector was appointed in 1416. (fn. 689) The date of demolition of the church is not known, but was perhaps before the early 16th century when Ilsham was described as in Climping parish. (fn. 690)
Reynold Aguillon owned the advowson c. 1220 (fn. 691) and it seems to have passed with Ilsham manor, being generally exercised in turn by the descendants or successors of his four daughters; (fn. 692) the bishop, however, presented in 1407. (fn. 693)
The priest serving the church c. 1220 had glebe, small tithes, and offerings, besides a third of the corn tithes of the parish, the other two thirds being settled at that date on Tortington priory. (fn. 694) The priory's interest had become a portion worth 13s. 4d. by 1291, (fn. 695) and in 1341 the glebe was 12 a. (fn. 696) In 1291 the income of the living was too low to be taxed, and in 1372 the rector was excommunicated for failing to pay the subsidy because of poverty. (fn. 697) After the extinction of Ilsham as a parish part of its endowment was added to that of Climping, (fn. 698) but Tortington priory's portion, represented by two thirds of the corn tithes from part of the Ilsham St. John manor demesne, descended with Trynebarn rectory in Yapton in the 17th and 18th centuries, passing from Sir George Thomas, Bt., apparently before 1805, to John Boniface of Ford. (fn. 699)
The site of the church was a close called Chapel garden on the east side of what in the 17th century was known as Ilsham street, opposite the modern Kent's Farmhouse. (fn. 700)
Cudlow.
Apparently before 1257 Humphrey de Fresteng, who seems to have been lord of the manor, agreed with the dean and chapter of Chichester cathedral to nominate a chaplain for Cudlow whom they would present together to the bishop; a house and land including marshland were settled on him then or later, and in 1257 he was described as a rector, though his church was called a chapel. (fn. 701) A pension of 14s. in lieu of tithes was paid to the dean and chapter thereafter. (fn. 702) The living was valued at £5 6s. 8d. in 1291. (fn. 703) Perhaps by then, and certainly by 1307, it included some tithes, but the rector's claim in 1307 to the tithes of another 18 yardlands, comprising 288 a., was disputed by Alménêches abbey as rector of Climping. The abbey won the case, (fn. 704) and two years later was able to insist that the consecration of Cudlow church and churchyard at that date should in no way prejudice Climping church. (fn. 705)
Rectors continued to take the disputed tithes illegally, (fn. 706) however, until in 1318 a detailed division of the tithes arising from Cudlow parish was made, (fn. 707) which was amended by a judgement of 1346. (fn. 708) The rector's glebe was 11 a. in 1341. (fn. 709) The parish's status seems to have continued in dispute, since the church was regularly described in the 14th and 15th centuries as the 'church or chapel' of Cudlow. (fn. 710) The last incumbent was appointed in 1546 and in 1550 Cudlow was described as within Climping parish. By 1591 Cudlow was said to have been annexed to Arundel vicarage, (fn. 711) presumably because Arundel borough and Cudlow manor had then long been in the same lordship.
Incumbents were presented jointly by the lord of the manor and the dean and chapter of Chichester in 1300 and 1325 (fn. 712) but not apparently afterwards. The advowson thereafter descended with the manor, (fn. 713) but John Holand, duke of Exeter, presented for a turn in 1399 and the bishop in 1511. (fn. 714)
The depredations of the sea after the mid 14th century reduced the income of the living, (fn. 715) which was worth less than £8 in 1485 (fn. 716) and £1 8s. 5d. net in 1535. (fn. 717) It was presumably on that account that the rector seems often to have been non-resident after 1428. (fn. 718) After the amalgamation of the parish with Climping its endowment was split between the rector of Climping, the vicar, and the vicar of Arundel. (fn. 719)
The church of ST. GILES (fn. 720) seems to have stood south of Climping mill; it survived in part in 1698. (fn. 721)
NONCONFORMITY.
One Baptist family was recorded in 1724. (fn. 722) There were two nonconformists in 1898. (fn. 723)
EDUCATION.
A school was held in Climping in 1808 (fn. 724) and there were two, with 27 children, in 1818. (fn. 725) A small fund for teaching children was mentioned in 1831. (fn. 726) A parish school supported by a rate had 40 boys and girls in 1833; (fn. 727) it was perhaps the same as the dame school held in a cottage near Kent's Farmhouse in the 1850s, which had between 22 and c. 50 pupils. (fn. 728) By 1869 the school had moved to a cottage at Atherington. (fn. 729)
A National school and master's house were built in 1871 on glebe land roughly in the centre of the parish (fn. 730) at the instigation of the Revd. W. H. Jenkins; Christ's Hospital, which had refused earlier requests for help towards school building, was persuaded to contribute. (fn. 731) The building was later enlarged. Average attendance was 30 in 1871, (fn. 732) rising to 44 in 1884-5 (fn. 733) and 68 in 1906, (fn. 734) and remaining between 40 and 60 thereafter until 1938. (fn. 735) In the late 19th century and early 20th Eton college as lay rector gave an annual subscription. (fn. 736) Only a few of the 82 pupils on the roll in 1991 were from Climping, the rest coming from a wide hinterland including Yapton, Middletonon-Sea, and Littlehampton. (fn. 737)
Evening classes during winter were held in 1869 in a building in the village (fn. 738) and from 1871 at the school or the vicarage; (fn. 739) average attendance was 18 in 1890. (fn. 740) In 1903 technical subjects were taught. (fn. 741) Older pupils went to school in Littlehampton in the early 20th century and in various places in 1993. (fn. 742)
CHARITIES FOR THE POOR.
None known.