Pages 148-160
A History of the County of Sussex: Volume 5 Part 1, Arundel Rape: South-Western Part, Including Arundel. Originally published by Victoria County History, London, 1997.
This free content was digitised by double rekeying. All rights reserved.
EASTERGATE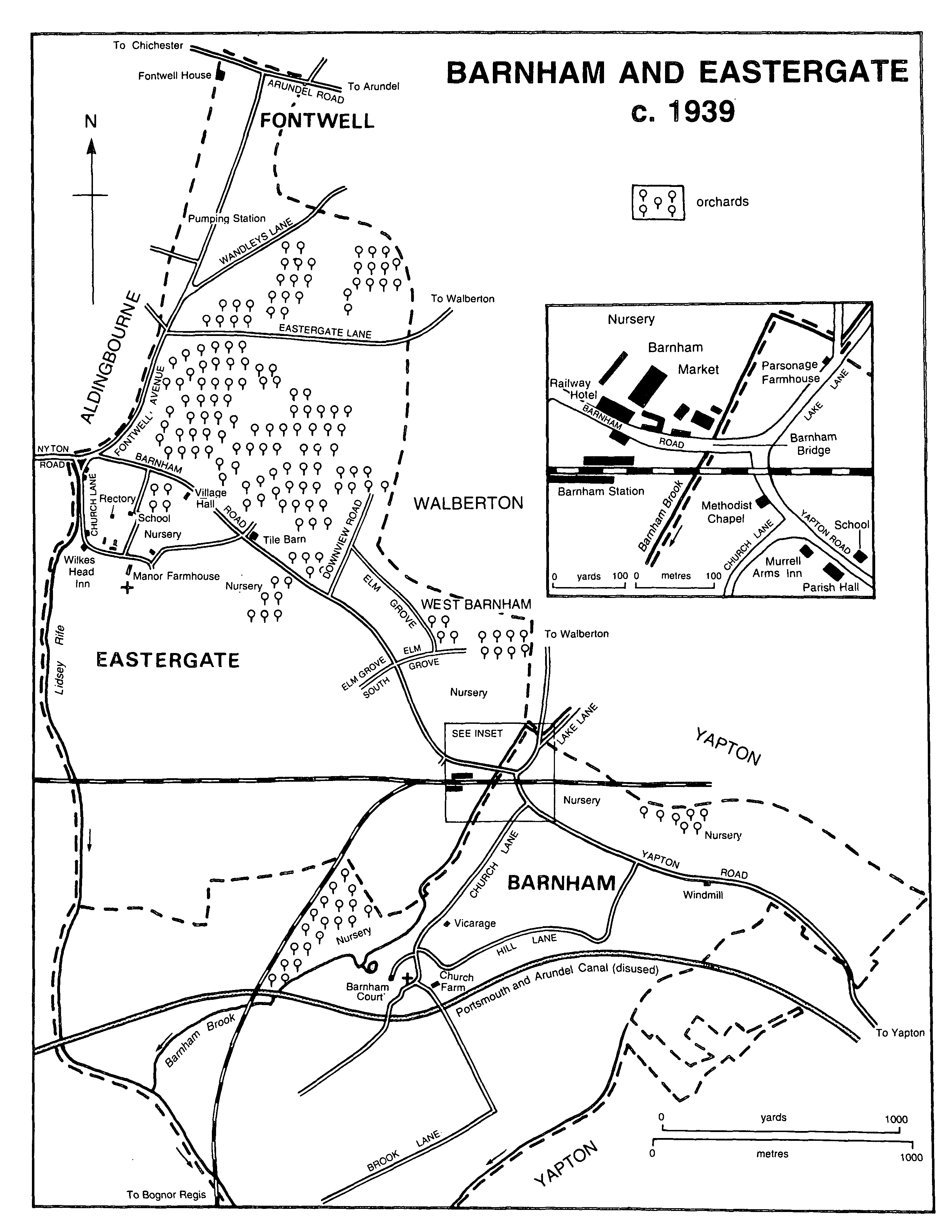 The parish of Eastergate, (fn. 1) which lies on the coastal plain north-east of Bognor Regis, includes Barnham railway station and most of the built-up area described as Barnham in 1993; the site of the 19th- and 20th-century Barnham market also lay within it. The ancient parish had 918 a. (372 ha.); (fn. 2) a small area was transferred to Barnham in 1985. (fn. 3) In the Middle Ages both parish and manor were generally called Gate or Gates, but the modern name was in use by the 15th century. (fn. 4) The present article deals with the parish as constituted before 1985.
In the south-west and south-east the boundary runs along streams, and in the west and north it partly follows the modern Church Lane, Fontwell Avenue, and Arundel Road. The outline of boundaries suggests that Eastergate and Barnham, perhaps with Yapton too, may once have formed a single administrative area.
The southern part of the parish lies on brickearth and the northern part, including the site of the modern village, on valley gravel; there is alluvium in the valleys of the Barnham brook and Lidsey rife in the south-east and south-west, and a little London clay east and north-east of Barnham station; (fn. 5) severe flooding was experienced in the latter area in the later 20th century. (fn. 6) A spring in the northern tip of the parish gave its name to the modern settlement of Fontwell. (fn. 7) As in other coastal-plain parishes there were several ponds in Eastergate in 1845. (fn. 8)
Woodland on the manor yielded five swine in 1086, (fn. 9) but in 1558-9 there were only 12 a. of woods, mostly oak; pasture closes then mentioned which included the elements 'wood' or 'rede' were presumably assarts from woodland. (fn. 10) Oak, ash, and elm grew in Eastergate in the 18th century, (fn. 11) and in 1845 there were 6 a. of woods. (fn. 12) The less fertile north end of the parish remained open heathland until 1779. (fn. 13) In the late 19th and 20th centuries much land was orchards or market gardens; (fn. 14) in 1993 other chief uses were housing and paddocks for horses.
Settlement.
There is evidence for Roman occupation, including possibly a villa site, near the church; the south wall of the chancel incorporates Roman brick. Settlement seems to have continued in the same area in the Middle Ages. (fn. 15) Several pre-20th-century buildings are grouped north and north-west of the church, including Manor Farmhouse and its outbuildings. (fn. 16) The Old House is 17th-century, timber-framed, with a moulded brick string course on part of the exterior. One gable wall was replaced in brick in the late 17th century and the other rebuilt in flint and brick in the late 18th century or early 19th. (fn. 17) Eastergate House further east is late 18th- or early 19th-century, with a three-bayed front of flint with brick dressings.
Another group of older houses (fn. 18) stands ¼ mile (400 metres) to the north, at the junction of Church Lane, Fontwell Avenue, and Nyton and Barnham roads. Flint House was apparently a timber-framed building of late medieval origin and had a three-roomed plan with a large chimneystack on the north lateral wall of the main room. During the 17th century and early 18th the outer walls were largely rebuilt in flint and brick and the roof was replaced. In the mid 18th century a wing was added to the north containing principal rooms and a staircase. Malthouse cottages nearby were originally a single house of the early 17th century; its timber framing was largely replaced by flint and brick in the late 17th and 18th centuries, and there are moulded brick mullions and hoodmoulds on the front. The building was converted to cottages c. 1800. The island site of Shelley House and its adjacent shop at the top of Church Lane, apparently settled by 1596, (fn. 19) presumably represents encroachment on waste land. Shelley House, and the White House to the east of it, are externally 18th-century, of rubble, brick, and flint, partly rendered or painted.
The two settlements remained separate in 1845, when there were c. 20 houses there in all, including the new rectory, besides others nearby in Aldingbourne parish forming part of the same group. (fn. 20) The area between Barnham Road and the church was further developed with houses and bungalows in the 20th century, part of the rectory grounds being built over, and a market garden and poultry farm being replaced with streets c. 1983. (fn. 21) In 1993 the church could be approached only through the farmyard of Manor farm, which almost had the character of a village green. (fn. 22) The junction of Nyton and Barnham roads with Fontwell Avenue retained two open grass islands in the early 20th century; one had a prominent tree, (fn. 23) and the village war memorial incorporating a stone lion was constructed on the other c. 1920. (fn. 24) Road widening had removed part of the grass by 1993.
Several houses were built from the 16th century or earlier on roadside waste along Barnham road. (fn. 25) One immediately east of its junction with the modern Fontwell Avenue is probably timberframed and is faced with flint and brick; it bears a datestone of the 1690s. Buildings opposite the site of the railway station included an inn, the predecessor of the Railway, later Barnham, hotel. (fn. 26)
There were said to be many new cottages in 1867, (fn. 27) but the opening of Barnham station was not immediately followed by building nearby. (fn. 28) A terrace of brick houses east of the Barnham hotel which belonged c. 1910 to the London, Brighton, and South Coast Railway (fn. 29) had presumably been built by the company: it was apparently the 'railway cottages' mentioned in 1886. (fn. 30)
The market gardener E. J. Marshall had apparently begun to put up houses on what he called the Barnham Park estate in 1896, (fn. 31) but the development of the area first known as Barnham Junction (fn. 32) and later as West Barnham (fn. 33) followed immediately on the purchase by the Marshall family of virtually the whole northern half of the parish from the ecclesiastical commissioners in or shortly before 1899. The land was let for 35 years in 1900 to a company called West Barnham Estate (fn. 34) and by 1901 building had begun, the land already increasing greatly in value. (fn. 35) By 1910 much of Barnham Road, Elm Grove, and Elm Grove South had been developed, while Downview Road had been marked out for building and two houses erected there. The spacious layout of the estate, with large detached houses, shrubberies, and roadside trees and verges, (fn. 36) has been compared with London suburbs like Wimbledon, (fn. 37) Ealing, and Dulwich. (fn. 38) Smaller houses were also put up; some were for nursery workers, (fn. 39) but six at the west end of Elm Grove may have been built by the coal merchant Harry Knight. (fn. 40)
By 1950 the roads named were almost fully developed. (fn. 41) Most of Elm Grove remained private in 1992. There were then more recently built houses among the earlier ones, some of the latter having been converted to flats or nursing homes.
New houses were put up at the end of Elm Grove South by 1965, (fn. 42) and between that date and the late 1970s the former Station nursery north of the Barnham hotel was developed as Orchard Way and adjacent roads, with a mixture of houses and bungalows, including some terraces; (fn. 43) on the eastern fringe were council houses.
The immediate surroundings of the station were said in 1972 to have an 'impermanent', 'makeshift' character; (fn. 44) that was less marked 20 years later, when the recently built shopping centre provided a focus, though the former station yard on the south side of Barnham Road remained ramshackle.
A few buildings had been put up at the south end of Eastergate common by 1778, including what was later the poorhouse in Fontwell Avenue. (fn. 45) There seems to have been no settlement in the north end of the parish until the 19th century. (fn. 46) Fontwell House is a small 19th-century building of square plan with a three-bayed east front. It was perhaps altered c. 1910 by the resident owner A. J. Day, and a large 'luncheon room' was added on the south side in 1923-4 to serve the new racecourse opened at that time; it has a Corinthian colonnade brought from Richmond (Surr.). Stonework from elsewhere, including Arundel castle, was also used in the grounds, for instance in gate piers, in balustrading, and in a circular summerhouse. (fn. 47) A small building west of Fontwell House was converted as a post office at the same period using medieval moulded stonework; (fn. 48) it survived in 1995. A few houses had been built in the angle between Fontwell Avenue and Wandleys Lane by 1910; more houses and bungalows were put up later in the 20th century, both there, along Wandleys Lane itself, and in Eastergate Lane; (fn. 49) in Eastergate Lane is a terrace of nursery workers' cottages.
Twenty-eight tenants of Eastergate manor, perhaps including some in Madehurst, were recorded in 1086 (fn. 50) and 15 taxpayers were assessed in the vill in 1327. (fn. 51) Thirty-seven adult males signed the protestation in 1642 (fn. 52) and 60 adults were listed in 1676. (fn. 53) In 1724 there were 17 families. (fn. 54) The population in 1801 was 163 and it remained about the same, apart from an unexplained increase in the 1830s, until 1881. It then rose continuously, with especially large increases in the 1900s and 1960s, to 606 in 1911, 943 in 1951, 2,115 in 1971, and 3,018 in 1991. (fn. 55)
Communications.
The Roman road from Chichester to Brighton seems to have run through the north part of the parish, (fn. 56) and was succeeded by the modern Chichester-Arundel road which formed part of the northern boundary before widening and reconstruction in the 1980s. The parish is bisected by the road from Chichester to Cudlow in Climping recorded from the early 13th century. (fn. 57) Barnham bridge, by which it crossed the Barnham brook on the boundary with Barnham, is discussed above. (fn. 58) The alignment of the road east of Barnham station was altered when the railway embankment was constructed c. 1846. (fn. 59)
A road to Walberton, apparently using the lower part of Fontwell Avenue, was mentioned in 1229, (fn. 60) and the road to Slindon recorded in 1304 (fn. 61) was evidently the same. The continuation of the Walberton road, the modern Eastergate Lane, was Stotham Lane in 1596. (fn. 62) In 1724 the line of the modern Wandleys Lane formed part of a suggested route between Pagham and Arundel. (fn. 63) Fontwell Avenue and Wandleys Lane were given their modern straight courses at the inclosure of Eastergate common in 1779. (fn. 64) The trees flanking the northern part of the former road were planted between 1896 and 1910. (fn. 65) The 'new lane' and 'the park way street' mentioned in 1596 (fn. 66) have not been located.
There was a carrier in 1851. (fn. 67) Carriers plied to Chichester in 1886 (fn. 68) and to Bognor Regis and Brighton as well in 1934. (fn. 69) Cabs could be hired at the Railway inn from 1874 or earlier, (fn. 70) and there was a taxi office at Barnham station in 1992. Motor buses from Bognor to Slindon passed through the parish by 1924 (fn. 71) and buses from Chichester to Littlehampton by 1927. (fn. 72) In 1965 the former service continued but the latter went only to Yapton. (fn. 73) In 1992 there were regular buses to Bognor Regis and Yapton and less frequent ones to Chichester, Arundel, and elsewhere.
The Shoreham-Chichester railway was opened through the parish in 1846, with a station at Woodgate in Aldingbourne south of Westergate. (fn. 74) At the opening of the Bognor branch line, as a single track, in 1864, a junction station called Barnham was opened in the south-east corner of Eastergate parish. (fn. 75) Through trains from London to Bognor began running in 1903 (fn. 76) and in 1911 the track was doubled. (fn. 77) Refreshment rooms were opened on the station by 1895 and a newsagent's by 1909; (fn. 78) both remained in 1993. A new station building was put up before 1938, (fn. 79) when the lines were electrified. (fn. 80) The goods station closed in 1964. (fn. 81) In 1996, besides frequent services to London, Brighton, Bognor Regis, Littlehampton, Portsmouth, and Bournemouth, there were occasional trains to Reading (Berks.) and to South Wales via Bristol.
A public house was mentioned in 1606, (fn. 82) an inn in 1686, (fn. 83) and a victualler from 1799. (fn. 84) It is not clear if any can be connected with the Wilkes Head in the village recorded from 1845, (fn. 85) the reason for whose name is uncertain. The City Arms inn on Barnham Road in the south-east corner of the parish, recorded between 1809 and 1817, (fn. 86) was later called the Barnham Bridge inn (fn. 87) and between 1845 and 1862 the Knights of Malta; further changes of name made it the Railway inn by 1866, the Railway hotel by 1895, (fn. 88) and the Barnham hotel by 1965. (fn. 89) A three-bayed building apparently of the 18th century or earlier 19th (fn. 90) was replaced c. 1907 (fn. 91) by the present, much larger, one. In 1861 a bowling alley adjoined it (fn. 92) and in 1874 and later the publican was also a cab proprietor and coal merchant. (fn. 93) The hotel was a popular venue for wedding receptions, dinners, and dances in 1965 (fn. 94) and accommodated fortnightly auctions in 1992. (fn. 95)
Social and cultural activities.
In 1623 the vestry agreed that a maypole which had previously been in use should be turned into a ladder for church purposes. (fn. 96) A Rogationtide procession, to which occupiers of land brought cakes, was held at the same period. (fn. 97)
A village hall in Barnham Road was opened in 1908; it was provided by A. J. Day of Fontwell House and others, and with two rifle ranges was to serve also as a training centre for the territorial army. The main room is decorated with scenes from Sussex history by the painter Byam Shaw. (fn. 98) It was in frequent use in 1993 by local groups including the Eastergate players. The market room of Barnham market also accommodated club meetings and dances in the early 20th century. (fn. 99)
Cricket was played on a field south of Wandleys Lane in or before 1845. (fn. 100) The recreation ground near the junction of Barnham Road and Fontwell Avenue was presented to the parish by William Collins in the early 20th century; (fn. 101) in 1992 both cricket and football were played there. An Eastergate football club and a Barnham and Eastergate cricket club based in Eastergate had existed by 1910. (fn. 102) In 1992 there were also clubs for badminton, stoolball, bowls, and table tennis. Fontwell racecourse, straddling the boundary with Aldingbourne, was opened in 1924, and has an oval hurdle course and a figure-of-eight steeplechase course. (fn. 103) Fourteen fixtures a year were held in 1974, besides other social events. (fn. 104)
The Bognor Water Co. in 1895 constructed a well and pumping station off Fontwell Avenue in the north end of the parish; the village was supplied by 1909 (fn. 105) and the vicinity of Barnham station by 1912. The Bognor Gas Co. provided gas to the latter area by the same date (fn. 106) and more generally by 1938. (fn. 107) Electricity was laid on in the 1930s by Chichester corporation (fn. 108) and street lighting by the same body in 1946. (fn. 109) Main drainage was installed c. 1974. (fn. 110)
The 'Clubmen' movement of 1645 had a following in Eastergate. (fn. 111) Barracks south-east of the village, presumably of the Napoleonic period, were commemorated from 1845 by addresses and a field name. (fn. 112)
The composer John Ireland often stayed in the parish in the early 20th century, and named a hymn tune after it. (fn. 113)
MANOR.
The manor of GATE, later EASTERGATE, which occupied most of the area of the parish in 1861, (fn. 114) was held in 1066 by King Harold and in 1086 by Sées abbey (Orne) of earl Roger, who had given it to them in free alms shortly before. (fn. 115) In 1415 it was transferred with the rest of the Sées estates to Syon abbey (Mdx.). (fn. 116) After the Dissolution it was retained by the Crown (fn. 117) until granted in 1560 to Richard Baker and Sir Richard Sackville. (fn. 118) Sackville in 1564-5 exchanged it with the dean and chapter of Chichester, (fn. 119) which thereafter had it until the mid 19th century. Between the mid 16th century and the later 18th the demesnes were leased to members of the related Rose, Sheldon, and Dolben families; (fn. 120) their successors in 1845 were two members of the Bine family. (fn. 121)
In 1860 the manor was made over to the ecclesiastical commissioners, (fn. 122) who in 1865 reallotted 404 a. as part of the endowment of Chichester cathedral. (fn. 123) That land remained in the hands of the church commissioners, successors to the ecclesiastical commissioners, in 1993. (fn. 124) Much of the land was held in 1861 by two tenants, Thomas Wisden with 349 a., mostly leasehold, and James Hamilton, marquess of Abercorn, with 267 a. leasehold and copyhold; in addition the marquess owned 87 a. outside the manor. (fn. 125) In or shortly before 1899 the ecclesiastical commissioners sold land including most of the northern half of the parish to the marketgardening firm of S. S. Marshall Ltd., which in 1900 leased 470 a. for 35 years to a development company called West Barnham Estate. After a large area had been developed for housing that company was wound up in 1930. (fn. 126)
A manor house on Eastergate manor with a dovecot and garden was recorded in 1379; (fn. 127) in 1534 a chapel was alluded to (fn. 128) and in 1558-9 the building had a Horsham stone roof. (fn. 129) The present Manor Farmhouse is a large and massive timberframed building of the mid or late 16th century, which has a central range with rooms on two floors and long north and south wings making a U-plan with the open side to the west; the north wing contained the kitchen and the south wing the living accommodation. There is close studding on the west face of the building, and the infilling of the timber frame includes brick and flint. The south and west walls contain ashlar blocks presumably either from the previous building or from the church. There are remains of original painted decoration on beams in one room of the south wing. A fireplace in the same wing has a moulded lintel. The staircase is 18th-century.
Extensive farm buildings to the north and west include a granary on staddle stones and a large barn with a 16th-century roof and 16th-century diapered brickwork in its east wall; it may be the barn roofed with stone mentioned in 1558-9. (fn. 130)
Free warren was claimed at Eastergate in the late 13th century, (fn. 131) but no park is known.
ECONOMIC HISTORY.
Agriculture.
The chief open fields and furlongs of the parish in the Middle Ages (fn. 132) were Southfield south of Barnham road, (fn. 133) Northfield between Barnham road and Fontwell Avenue, (fn. 134) the Broomes, (fn. 135) the Staines, (fn. 136) and Stotham (fn. 137) south of Eastergate Lane, and the Rough rakes north of the later railway station. (fn. 138) Others were Adderush, also in the east, (fn. 139) Garston, south of Barnham Road, (fn. 140) and 'Elesstumble'. (fn. 141) Mention of a stile in Northfield in 1304 (fn. 142) indicates partial inclosure by that date, and in the 1460s and 70s tenants of the manor were ordered to repair fences in and between several of the fields. (fn. 143) Stotham was apparently being inclosed in 1506, when the tenants' pasture rights on the stubble there were exchanged for rights elsewhere. (fn. 144) In 1510, however, the recent inclosure of a rood in 'Elstombyll' was ordered to be undone; (fn. 145) pasture rights for sheep in the remaining fields were redefined in 1521; (fn. 146) and a term for arable fields (campis seminal') was still in use in 1543. (fn. 147) Inclosure seems likely to have been complete by 1596, when much of the area of the fields was in small pasture closes; (fn. 148) there is no later indication of communal agricultural practices.
The north end of the parish supplied common heathland. (fn. 149) The manor demesne farm in 1378-9 had 16 cow leazes and 200 sheep leazes. (fn. 150) In the 17th century each tenant of a yardland claimed 20 sheep leazes on what was by then called Eastergate common and the farmer of the demesne 60; by 1649 part of the common had been inclosed and added to the demesne farm. (fn. 151) That the remaining area was not adequate to the tenants' needs is indicated by a presentment at the manor court for overstocking sheep in 1671 and by general restrictions on pasturing cattle and horses and on taking bracken in the 18th century. (fn. 152) The tenants' claim to dig marl there was disputed at the later period. (fn. 153) The common was inclosed by private agreement in 1779; of the 102 a. which it then comprised 9 tenants received allotments of between 4 a. and 19 a. and 8 others smaller amounts, the total number of plots being 33, mostly small. (fn. 154)
The demesne farm had 221 a. of several pasture in 1558-9. (fn. 155) In 1778 Manor Farmhouse was adjoined by pasture closes to south, south-west, and south-east. (fn. 156)
There were 4 a. of meadow on the demesne farm in 1086, (fn. 157) 6 a. in 1378-9, (fn. 158) and 21 a. in 1558-9. (fn. 159) No common meadow is known.
The demesne farm had 206 a. in 1378-9, (fn. 160) 330 a. in 1558-9, (fn. 161) and 262 a. in 1649. (fn. 162) It was leased from the early 15th century; (fn. 163) in the mid 16th leases were for 21 or 30 years but between 1595 and the mid 19th century for three lives. (fn. 164)
The 18 villani and 10 cottars listed on the manor in 1086 (fn. 165) are presumably represented by the free tenants and neifs mentioned in the 14th century (fn. 166) and the freeholders and copyholders recorded from the later 15th. (fn. 167) About 40 persons owed suit to the manor court c. 1406. (fn. 168) Eight freeholders including the rector were listed in 1473 and 1639. (fn. 169) Three freeholds in 1473 consisted of one yardland each, a yardland in 1558-9 being 20 a.; the two which lay in Madehurst were presumably former manorial outliers. The number of copyholders fluctuated between 15 and 22 in the period 1473-1596 (fn. 170) but by 1639 had fallen to 10. Many copyholds were single or half yardlands in 1473, and by the later 16th century amalgamation had produced one holding of two and a half yardlands (50 a.); others then ranged in size from 5 a. to 27 a. and there were also four copyhold cottages. (fn. 171) Copyholds were generally held for three lives from the later 16th century; (fn. 172) they could be sublet by 1515 (fn. 173) and mortgaged by 1667. (fn. 174)
By 1779 there were only 17 tenants in all. (fn. 175) Some manorial tenancies were converted to leaseholds in the 17th and 18th centuries, (fn. 176) and in 1861 of 748 a. held of the manor 188 a. were copyhold for lives and 561 a. leasehold, mostly also for lives. (fn. 177) From the mid 17th century members of the Boniface family were prominent among the tenants, (fn. 178) but in 1861 most of the manor land was held by James Hamilton, marquess of Abercorn (267 a.), or Thomas Wisden (349 a.). (fn. 179)
In the mid 16th century pastoral farming was apparently dominant, the demesne farm having 221 a. of pasture, including former woodland, to 76 a. of arable. (fn. 180) In the 17th and 18th centuries (fn. 181) cattle, sheep, pigs, and geese were widely kept; from the later 17th century several flocks of over 100 sheep were mentioned, including two of over 300 in 1679 and 1713. Crops grown in the same period were wheat, clearly the most important, barley, (fn. 182) oats, peas, tares, vetches, and hemp. (fn. 183) Grasses were introduced by 1728 and turnips by 1770.
Large farms in the 17th and 18th centuries were those of John Spicer (1679), with at least 175 a. of crops, Richard Treagoose (1728), with at least 116 a., and John Boniface (1770), with at least 200 a. (fn. 184)
By the 1840s arable land (790 a.) was far more important than meadow and pasture (85 a.). (fn. 185) The two largest holdings at that date were centred on Manor Farmhouse (361 a.) and Eastergate House to the north-west (240 a.), the others being much smaller; only Manor farm and a holding of 40 a. worked from Tile barn on Barnham Road were single blocks of land, other holdings being widely scattered. (fn. 186) Between the 1840s and c. 1875 many closes were amalgamated into larger ones, evidently for arable; the largest had 80 a. (fn. 187) In 1861, however, the marquess of Abercorn's land (354 a.), including Wanley's farm (107 a.), was described as a desirable stock farm, (fn. 188) and the acreage under grass increased to 194 a. in 1875 and 287 a. in 1909. (fn. 189) A shepherd was mentioned in 1881. (fn. 190)
In the early 20th century the largest farms were Manor farm (350 a.), what was apparently Tile Barn farm (143 a.), and Wanley's farm in the north (127 a.), (fn. 191) and in 1909 there were also 13 holdings under 50 a. in area. (fn. 192) A poultry farm existed in 1913, and by 1938 there were four. (fn. 193) One remained east of Fontwell Avenue in 1991; (fn. 194) another north of Church Lane, which was also a small market garden, had closed before c. 1983. (fn. 195) Over 500 cattle were kept in 1985, chiefly for meat. (fn. 196) By 1995 the only sizeable holding was Manor farm (350 a.), a mixed dairy and arable holding which was farmed with another holding at Tangmere near Chichester. (fn. 197) Forty-nine people were employed in agriculture and market gardening in 1985. (fn. 198)
Market gardening.
There were 8 a. of orchards in and around the village c. 1875. (fn. 199) Market gardening and fruit growing on a large scale, however, began after the arrival in the area of the Marshall family c. 1880. (fn. 200) By 1896 what was later called Station nursery, (fn. 201) belonging to Barnham Nurseries Ltd., had been laid out north of the site of Barnham market in Barnham Road. (fn. 202) It had grown to 13 a. by 1913 (fn. 203) and grew further by 1950, when there were glasshouses. (fn. 204)
By 1910 there were also market gardens and glasshouses further west, covering much of the land between Station nursery and Eastergate village. South of Barnham Road (fn. 205) lay the Brooks nursery of John Poupart and the nursery of J. H. Robinson, both growing fruit. (fn. 206) Robinson sold his business to his brother-inlaw Jack Langmead in 1952. (fn. 207) Another market garden occupied land in the village itself north of the church and manor house. (fn. 208) North of Barnham Road some orchards existed by 1910 in the angle of Fontwell Avenue and Eastergate Lane and north of Wandleys Lane. (fn. 209) By 1950 virtually the whole area between Fontwell Avenue, Wandleys Lane, and Barnham Road was orchards and glasshouses. (fn. 210)
Fruit farming flourished greatly by 1903, supplying the London markets, and by 1913 there were seven firms including those mentioned. (fn. 211) In 1909 there were 29 a. under orchards, mostly for apples, and 15 a. growing small fruit. (fn. 212) By 1920 peaches were being supplied to large country houses and ocean liners. (fn. 213) A market gardener in Elm Grove pioneered the production of cultivated mushrooms in West Sussex in the early 20th century, and there were two mushroom growers in 1934. By 1913 the firm of Phipps and Ireland traded in a wide variety of plants and flowers including alpines and rockery plants, (fn. 214) while another business experimented with forcing outdoor daffodils and growing chrysanthemums commercially. (fn. 215) One market gardener offered himself as a gardening instructor, presumably for laying out larger gardens, by 1909. (fn. 216)
Barnham Nurseries' Station nursery was closed between 1955 (fn. 217) and 1965 and was later built over. The market-garden site in the village also succumbed to housing development in the early 1980s. (fn. 218) In 1985, however, there were still 41 ha. (101 a.) of horticultural crops, notably apples, (fn. 219) while one holding in 1982 had previously grown chiefly salad vegetables. (fn. 220) Much of the land between the built-up areas of Eastergate and West Barnham remained market gardens and glasshouses in 1993, producing fruit and flowers. (fn. 221)
Fair and markets.
A fair was held in the 1790s, (fn. 222) presumably on the close called Ten acre fair field on the east side of Fontwell Avenue recorded in 1845. (fn. 223)
In 1882 W. R. Winter of North Bersted began fortnightly Monday auction sales of fatstock alongside Barnham station; by 1885 the frequency was weekly. From 1901 Stride and Son of Chichester were owners of what became known as Barnham market despite being in Eastergate parish. (fn. 224) By 1896 an additional site had been acquired north of the Railway hotel in Barnham Road; during the next 14 years it expanded greatly, (fn. 225) while the original site ceased to be used. (fn. 226) On the new site a large cattle shed was built, and there were pens for sheep, pigs, and poultry. (fn. 227) There was a corn exchange by 1903. (fn. 228)
An important Christmas fatstock show was held in the early 20th century, at first followed by a dinner at the Railway hotel, and there were special sales, notably for lambs, at Easter and Whitsun. (fn. 229)
By 1929 the market had become one of the three or four most important in Sussex; as a fat cattle market it rivalled Lewes, while the trade in sheep was also important. Trade had increased considerably since before 1914, and numbers of stock passing through in a recent typical year were 4,330 cattle, chiefly fat, 3,690 calves, 30,000 sheep and lambs, chiefly fat, and 8,500 pigs, also chiefly fat. The chief customers were butchers from the area between Portsmouth and Eastbourne, others from London and Birmingham occasionally attending to buy pigs. About 20,000 head of poultry a year were sold at the same period, besides eggs, in both cases largely for the coastal towns, while small quantities of fruit and vegetables were dealt with both wholesale and retail. The corn exchange did little business in 1929, but horse sales were then held annually in spring. (fn. 230)
By 1945 business had greatly declined, partly because of rail transport's replacement by lorries; the market's hinterland was then apparently only a few miles in radius, small produce mostly being sold. (fn. 231) Stride and Son, who also owned Chichester market, therefore closed Barnham market in 1949, later holding the one at Chichester weekly instead of fortnightly. (fn. 232)
From 1953 the market-gardening firm of Langmead, Robinson and Co. occupied the site, using the former butter market as offices, the area behind it for retailing fruit, vegetables, and flowers, and the former cattle market for wholesaling. (fn. 233) By 1956 the corn merchants Alfred Cortis Ltd. had moved there, (fn. 234) and the freehold of the site passed in the following year to a trading society begun by Sussex Associated Farmers Ltd. (fn. 235) By 1970 it belonged to the wholesalers Nurdin and Peacock, who replaced the cattle shed with a large 'cash and carry' warehouse. (fn. 236)
A market was held illegally on Fontwell racecourse carpark on Sundays between 1975 and 1977 (fn. 237) and was revived legally on Fridays in 1991. (fn. 238)
Other trades and industries.
Trades mentioned in Eastergate before 1800 included those of smith, (fn. 239) brewer, (fn. 240) butcher, (fn. 241) mariner, tinker, (fn. 242) wheelwright, (fn. 243) and tailor. (fn. 244) A tanner was recorded in the mid 16th century, (fn. 245) and a fellmonger in 1662 dealt in wool and various sorts of hides. (fn. 246) The house and workshop surrounded by roads on all sides in 1596 (fn. 247) presumably occupied the island site at the junction of Church Lane and Nyton Road where a grocer's shop flourished from 1845 (fn. 248) or earlier. An excise officer was mentioned in 1770. (fn. 249)
In the early 19th century the trades of butcher, baker, brewer, carpenter, wheelwright, shoemaker, grocer, and draper were represented. A grocer in the early 1850s dealt in corn and coal. There was a music master in 1819. (fn. 250) One family out of five or six in work was supported chiefly by activities other than agriculture in 1811 and in 1831. (fn. 251) In 1851 there were also a gardener, a basket maker, and two bricklayers. (fn. 252)
The grocer's business at the junction of Church Lane and Nyton Road belonged for many years in the 19th and 20th centuries to the Collins family. Between the 1870s and 90s William Collins was also butcher, baker, dairyman, and draper, and kept the post office. In 1878 he farmed land himself, and in 1886 he sold boots and shoes, glass and earthenware. (fn. 253)
After 1864 some parishioners worked on the railway, in 1881 at least six. (fn. 254) Barnham station also served for the distribution of heavy goods. The landlord of the Railway inn, later hotel, dealt in coal from 1874 or earlier, (fn. 255) and there was a 'coal wharf' in the station yard by 1886. (fn. 256) A firm of builders' merchants had arrived by 1922. (fn. 257) Coal and fuel were still distributed in 1992.
Barnham market, itself owing its existence to the railway, brought ancillary businesses. There was a milk contractor near the station in 1895 and a corn merchant and a horse dealer by 1899. (fn. 258) By 1895 the Arundel ironmonger Alfred Pain ran an agency for agricultural implements in the station approach. (fn. 259) The corn merchant Alfred Cortis had premises in the station yard by 1907, at first also dealing in coal. (fn. 260) By 1956 the firm of Alfred Cortis Ltd. had taken over much of the former market buildings, selling inter alia grain, seeds, fertilizers, and animal feed. (fn. 261) One branch bank had come to Eastergate by 1905, by 1907 there were two, and by 1913 three, all open on market day only; by 1915 they were open on Fridays as well. (fn. 262)
Other trades recorded in the later 19th century were those of dressmaker, firewood dealer, (fn. 263) and harness maker. (fn. 264) There was a laundry by 1887. (fn. 265) No smith is recorded at that period, but besides the smithy in Barnham there were two others just beyond the parish boundary at Westergate in Aldingbourne. (fn. 266) In the early 20th century there were a florist, a cycle agent, a saddler, (fn. 267) and a firm of engineers. (fn. 268) Several retail businesses settled near the station from the early 20th century. (fn. 269)
There was a brickfield of unknown location in the mid 19th century. (fn. 270) A brickyard was opened in Elm Grove South to serve the development of West Barnham for building after c. 1900; (fn. 271) clay continued to be dug there until 1950. (fn. 272) The firm of West and Dart was responsible for much of that development between c. 1905 and 1910; (fn. 273) W. H. Dart later continued by himself as builder and contractor, plumber, painter, and house decorator. (fn. 274) Another builder and decorator, who was also a hot water and sanitary engineer, had premises at Fontwell. (fn. 275) Further builders were recorded in the 1930s (fn. 276) and estate agents from the earlier 20th century; (fn. 277) there was an architect in the parish in 1903. (fn. 278)
Two larger businesses which began near Barnham station expanded far beyond the parish. James L. Penfold (fn. 279) set up as an engineer by 1905 in opposition to his family's firm at Arundel. From premises east of the market (fn. 280) he at first sold and serviced farm machinery and undertook contract threshing, but the agricultural connexion was gradually relinquished as the firm diversified into haulage, dealing in builders' supplies, and sand and gravel quarrying in Eastergate, Slindon, Eartham, Washington, and the Midhurst area. In the 1930s the business was divided into the Barnham Transport Co. Ltd. and Penfolds Builders Merchants Ltd.; the Penfold Metallising Co. was formed in 1947 and Penfolds Ready Mixed Concrete Ltd. in the 1950s. In 1960 there were a depot at West Worthing and wharves at Littlehampton, Shoreham, and Newhaven, and in 1965 one company within the group operated four ships dredging marine gravel in the Solent. Nearly 150 people were employed in all in 1960 and c. 250 in 1965. The business's connexion with Eastergate ceased after 1967. (fn. 281)
Gerald Toynbee after 1918 formed a haulage company called by 1927 F. & G. Toynbee. (fn. 282) It later diversified into general civil engineering contracting, and by 1963 was a large organization undertaking construction throughout southern England, including house building, road building, and drainage works. A plant hire subsidiary company was formed in 1962. (fn. 283) The firm left the parish in 1971. (fn. 284)
The market-gardening business of J. H. Robinson, later Langmead, Robinson and Co., besides the retail shop mentioned above later included a haulage business. (fn. 285)
S. S. Marshall of Barnham Nurseries Ltd. also practised as a solicitor in 1905. Two physicians and surgeons were recorded in 1909 and dentists from 1927. There were two insurance agents in 1934. (fn. 286)
In 1965 the population of West Barnham was largely retired; some people travelled daily to work in London and other towns, but most workers were employed locally. (fn. 287) By 1992, with the growth of population, the 'dormitory' function of the parish had greatly developed.
The railway station in 1976 had a staff of 41. (fn. 288) By 1977 there was an engineering works on Barnham Road between West Barnham and Eastergate village and another in the angle between Fontwell Avenue and Wandleys Lane. (fn. 289) By 1992 both sites had become small industrial estates (fn. 290) with six or seven firms at each. The site formerly occupied by Penfold's and Toynbee's businesses at the same date accommodated several firms particularly representing the leisure industry.
A new shopping centre was built in Barnham Road on former nursery land c. 1983. (fn. 291) In 1992 it had 13 businesses including a supermarket and an Indian restaurant, and together with other shops in Barnham Road provided a wide variety of retail goods. Besides the grocer's and post office at the corner of Church Lane and Nyton Road mentioned above, there were then also a shop nearby selling game, fish, and smoked foods, (fn. 292) and a general store in Fontwell Avenue.
In 1992 there were three banks, two firms of solicitors, and a firm of accountants in the parish, besides two medical practices, two dentists, a vet, and a 'natural health' clinic. At the same date there were two or three riding establishments along and to the east of Fontwell Avenue, and a caravan park beside Wandleys Lane. (fn. 293)
In addition to the builder's business at Fontwell in the north end of the parish mentioned above, a post office was opened there in the early 20th century, moving to the part of Fontwell in Walberton parish in 1968. (fn. 294)
LOCAL GOVERNMENT.
There are court rolls for Eastergate manor for the years 1341-2, (fn. 295) various years between 1462 and 1535, (fn. 296) and the years 1543, 1548, 1550, (fn. 297) 1617-19, (fn. 298) and 1660- 1874; (fn. 299) a view of frankpledge was held between 1543 and 1550 and a sheriff's tourn in 1548, but otherwise the records are of the court baron. In the late 15th century courts were held up to three times a year, in the 16th and 17th centuries often twice yearly in spring and autumn, and between the late 17th and early 19th usually only once a year. After the late 17th century there was sometimes no business, and from 1762 much business was conducted out of court. From 1810 courts were held less regularly, the last in 1855. The place of holding the court in the mid 17th century and presumably at other dates was the hall of Manor Farmhouse. (fn. 300)
In the 1340s, when the court's jurisdiction covered Sées abbey's lands in Littlehampton and Atherington in Climping as well as Eastergate, a plea of trespass was heard on at least one occasion. Between the 15th century and the 18th, besides land transactions, the court dealt with the management of the common fields and wastes (fn. 301) and the repair of houses, (fn. 302) hedges, and ditches. (fn. 303) Between 1486 and 1519 it elected two 'curemen', (fn. 304) and in 1618 the reeve. (fn. 305) The view of frankpledge in the 1540s held the assize of bread and of ale, inspected leather, saw to road repairs, and elected the headborough; a case of assault was heard in 1548. Other officers mentioned were a beadle in the 15th century, (fn. 306) and a bailiff between the later 15th and 18th centuries, (fn. 307) who in 1535 also served on Syon abbey's manors of Atherington in Climping and Ecclesden in Angmering. (fn. 308) The office of reeve had existed by 1229, (fn. 309) and in the 1610s was filled by rotation among the tenants of houses in the village street. The headborough in 1536 also represented Atherington. (fn. 310) A tithingman still served in 1822. (fn. 311)
There were apparently always two churchwardens in the period 1548-1662 and from 1883, but from 1664 to 1882 there was usually only one. (fn. 312) In 1579 the office rotated by holdings. (fn. 313)
Some poor children at least were apprenticed in 1644, (fn. 314) and a parish poorhouse existed in the early 19th century in the angle between Fontwell Avenue and Eastergate Lane; (fn. 315) by 1845 it was let as cottages (fn. 316) and it was later demolished.
The parish joined Westhampnett union, later rural district, in 1835; from 1933 it was in Chichester rural district (fn. 317) and from 1974 in Arun district.
CHURCH.
There was a church in 1086, (fn. 318) which by 1087 belonged to Sées abbey (Orne). (fn. 319) It remained a rectory. From 1983 it was held with Barnham by a single priest in charge, (fn. 320) and in 1985 Aldingbourne, Barnham, and Eastergate became one benefice, the parishes remaining distinct. In 1992 the three parishes were united as the parish of Aldingbourne, Barnham, and Eastergate. (fn. 321)
The advowson descended with the manor, (fn. 322) remaining, however, with the dean and chapter of Chichester after 1860. (fn. 323) The Crown exercised it between 1348 and 1421 because of the war with France, (fn. 324) George Benyon and Henry Blaxton each presented for a turn in the later 16th century, and William Cawley the regicide and Richard Boughton together in 1657. (fn. 325) After 1985 the patronage of the united living belonged jointly to the dean and chapter and the bishop. (fn. 326)
The living was worth £10 in 1291 (fn. 327) and £8 or less in 1440; it remained impoverished in 1513 (fn. 328) and was valued at £6 14s. 8d. in 1535. (fn. 329) By 1473 the rector paid £1 yearly to the lady of the manor, (fn. 330) the Crown maintaining the right to the payment after the manor was granted away in 1560. (fn. 331) Rent was also paid to the manor for glebe in 1473 and later. (fn. 332)
A rectory house of unknown site was mentioned in 1473; (fn. 333) in 1635 it had 7 rooms. (fn. 334) It may no longer have been used in 1724, (fn. 335) and in 1758 had been so much out of repair for many years as not to be habitable. (fn. 336) It had been demolished by c. 1830. (fn. 337) A new house was built in Church Lane in the early 1840s; (fn. 338) it is partly of flint and partly rendered, in Tudor style. It was enlarged in 1882-3 (fn. 339) but was replaced in 1976 by a building in Barnham Road nearer the centre of population. (fn. 340)
Between the mid 16th century and the 19th the rector had glebe estimated at between 10 and 20 a. (fn. 341) and all the tithes of the parish. (fn. 342) Between the 16th century and the 18th he also had common rights for 20 sheep. (fn. 343) The glebe was widely scattered in 1615 (fn. 344) and later; (fn. 345) part was sold to redeem land tax in 1803 (fn. 346) and two outlying plots were exchanged for other land in 1848. (fn. 347)
The real value of the living was said to be £50 in 1649 (fn. 348) and £52 in 1724. (fn. 349) By c. 1830 it was on average £308 net. (fn. 350) At the commutation of tithes in 1845 the rector received a rent charge of £370. (fn. 351)
The rector resided apparently in 1440 (fn. 352) and certainly in 1563. (fn. 353) Assistant curates were apparently recorded in the mid 16th century. (fn. 354) Between that date and the early 19th century incumbents often held other benefices, usually also in the West Sussex coastal plain, (fn. 355) and as dean and chapter appointees they sometimes served as prebendary (fn. 356) or vicar choral of Chichester cathedral. (fn. 357)
The rector in 1579 was failing to supply the sermons required, either himself or through others, and to instruct children in the catechism, (fn. 358) and a successor in 1622 was presented for omission of services; (fn. 359) in the following year two parishioners were letting out seats in the church for money. (fn. 360) Augustine Payne, instituted 1631, was ejected in the 1650s in favour of a 'preacher of the gospel' but restored in 1660. (fn. 361)
In 1724 a service with sermon was held each Sunday and communion celebrated three times a year with c. 6 communicants. (fn. 362) The then rector Thomas Wellings (d. 1736) was buried on his other cure of Aldingbourne, where he had presumably lived. (fn. 363) Between the mid 18th century and the mid 19th, for lack of a suitable house, his successors perhaps always resided outside the parish, (fn. 364) and in 1758 the incumbent was said not to perform services himself more often than every two months. (fn. 365)
Between 1798 and 1849 successive rectors were residentiary canons at Chichester, one serving also as precentor, and had other livings besides. (fn. 366) During that period the church was served by assistant curates or the clergy of neighbouring parishes; (fn. 367) the curate in 1838 was not resident either, (fn. 368) but in 1845 the rector lived in the new rectory house. (fn. 369) Two Sunday services were held from c. 1832 (fn. 370) and communion five times a year by 1844, monthly by 1884, and twice monthly by 1898. (fn. 371) On Census Sunday 1851 morning service was attended by 95 besides Sunday schoolchildren and afternoon service by 130. (fn. 372) A barrel organ had been installed by 1841. (fn. 373)
The church's position near the western edge of the parish led some parishioners to use Barnham church at the end of the 19th century, while residents of Westergate in Aldingbourne attended at Eastergate. (fn. 374) At the same period the existence of a Salvation Army barracks at Westergate was claimed to foster 'a very irreligious irreverent feeling' among many young parishioners. (fn. 375)
The church in 1993 could be approached only through the farmyard of Manor farm; the granary belonging to the farm was used for church purposes from the 1970s. (fn. 376) There were both Sunday and weekday services in 1995.
The church of ST. GEORGE (fn. 377) consists of chancel and nave with north vestry and west bellcot. The walls are mostly pebbledashed over rubble and an exposed part of the south wall of the chancel is of Roman brick laid in herringbone pattern. The bellcot is shingled.
The chancel is late 11th- or early 12th-century, one original window surviving in the north wall. (fn. 378) The nave is probably of similar date though with no features earlier than the blocked 14th-century north doorway. There are two much restored 13th-century windows in the south wall of the chancel, and the east window is 14th-century. There are 15th-century windows in the south wall of the nave, and the west window and doorway date from 1534 when money was left to enlarge the church at the west end by 12 ft. (3.7 metres) and to construct a new three-light window. (fn. 379) The crown-post nave roof is also 16th-century, and the chancel roof is probably 17th-century.
In 1776 the nave was in good repair though the chancel was 'very ruinous'. (fn. 380) A west gallery for the schoolchildren had been inserted by 1856. (fn. 381) The chancel was conservatively restored in 1876-7, the roof being raised. (fn. 382) In 1883 the nave was restored and reseated, the gallery presumably removed, and the bellcot re-erected at the west end; a vestry was also built (fn. 383) but was replaced by new vestries c. 1925. (fn. 384)
There were remains of 11th-century architectural and figure painting on the north wall of the chancel in 1907, (fn. 385) and a window in the south wall of the nave has armorial stained glass datable c. 1360 with the FitzAlan arms. (fn. 386) Some medieval benches with poppy heads survived in 1776, (fn. 387) but by 1847 the church was 'full of hideous high pews' (fn. 388) later replaced. The communion rails are 18th-century and there are two early 19th-century Gothic priests' stalls. The east window commemorates Lord Kitchener (d. 1916). (fn. 389)
The single bell of 1737 is by Joshua Kipling of Portsmouth. (fn. 390) There are a silver communion cup probably of 1568 and a silver paten of 1798. (fn. 391) The registers begin in 1564. (fn. 392)
ROMAN CATHOLICISM.
The dean and chapter of Chichester's lessee William Rose and two other parishioners were indicted for recusancy between 1605 and 1615 (fn. 393) and single recusants on three dates between 1669 and 1767. (fn. 394) The church of Blessed (later St.) Philip Howard next to the present St. Philip Howard R.C. school was registered for worship in 1970; (fn. 395) it was served at first from Slindon but by 1992 had replaced the church there as the parish church. (fn. 396)
PROTESTANT NONCONFORMITY.
There were five Dissenters in 1676. (fn. 397) In 1903 some parishioners attended Salvation Army services at Westergate in Aldingbourne. (fn. 398) Methodist services were held at the market room of Barnham market in the parish from 1923, but later moved to Barnham. (fn. 399)
EDUCATION.
An unlicensed teacher was recorded in 1600, (fn. 400) and in 1758 there was a school in which the catechism was taught; (fn. 401) it may have been the same school which was supported by the rector and assistant curate in 1818, when there were 12 pupils. (fn. 402)
Eastergate National school was started in 1829 and in 1833 was attended by 15 boys and 18 girls. (fn. 403) A new building was built on part of the glebe between 1838 and 1845; (fn. 404) of one storey, it was similar in style and materials to the contemporary rectory house nearby. About 1845 there were 98 children on the books from Eastergate, Aldingbourne, and Barnham. (fn. 405) The school continued to serve Aldingbourne until at least 1865 (fn. 406) and Barnham until 1906. (fn. 407) In 1855 it was supported by school pence and subscriptions, the shortfall being made up by the rector, (fn. 408) and in 1859 it had 46 pupils. (fn. 409)
After several years' suspension (fn. 410) the school was reopened as Eastergate and Barnham C.E. school in 1873. (fn. 411) Average attendance was 43 in 1875-6 (fn. 412) and 75 in 1905-6; (fn. 413) in 1880 there was a lending library. (fn. 414) After the opening of Barnham council school average attendance fell to 55 in 1921-2 and 51 in 1937-8. (fn. 415) The school was later called Eastergate C.E. (controlled) primary school. A new building near the Wilkes Head inn, the first completely open-plan design in West Sussex, was opened in 1970, (fn. 416) the old building becoming first a school of arts and dancing (fn. 417) and later a private house. (fn. 418) There were 114 children on the roll in 1993. (fn. 419)
A private school or 'seminary' existed in the parish between 1855 and 1862. (fn. 420)
An evening school for older children was held occasionally in the 1860s, (fn. 421) and c. 1880 there was another. (fn. 422) From 1958 the parish was served by Westergate secondary modern school, (fn. 423) but in the following year the Blessed (later St.) Philip Howard R.C. secondary school was opened, originally for senior Roman Catholic boys and girls from the Catholic parishes of Chichester, Arundel, Slindon, Bognor Regis, and Littlehampton; (fn. 424) the choice of site was evidently due to easy rail communication, since neither Barnham nor Eastergate had a notable Catholic tradition. The buildings were later extended. In 1982, when the intake was comprehensive, there were 750 on the roll, mostly Catholics; the school was then also used for adult education classes. (fn. 425) In 1993 the roll numbered 659. (fn. 426)
CHARITIES FOR THE POOR.
None known.