Pages 160-182
A History of the County of Sussex: Volume 5 Part 1, Arundel Rape: South-Western Part, Including Arundel. Originally published by Victoria County History, London, 1997.
This free content was digitised by double rekeying. All rights reserved.
FELPHAM
The former parish of Felpham, (fn. 1) which included the hamlets of Flansham and Ancton and which has been noted since the 18th century as a seaside resort, lies on the south coast east of Bognor Regis and within sight of the South Downs. In 1881 the ancient parish had 1,883 a. (fn. 2) A small portion of Bersted civil parish (19 a.) was added in 1913. (fn. 3) In 1933 the parish was divided in three, 932 a. in the south-west going to Bognor Regis urban district and civil parish, 449 a. in the north including Flansham to Yapton, and 522 a. in the east including Ancton to Middleton. (fn. 4) A new civil parish of Felpham was created in 1985, excluding Flansham and Ancton and with other differences from the ancient parish. (fn. 5)
The northern and western boundaries of the ancient parish generally followed the Aldingbourne rife and its tributaries the Felpham or Flansham rife (fn. 6) and the Ryebank rife; the lower part of the Aldingbourne rife, called brynes fleot in 680 and 953, at the latter date bounded the Anglo-Saxon estate of Felpham. (fn. 7) Those seem to be early boundaries, whereas the configuration of the eastern boundary with Middleton, which partly follows the modern Middleton and Elmer roads, seems to indicate that Middleton was once part of Felpham. (fn. 8)
The present article deals with the area of the ancient parish, except that the part transferred to Middleton in 1933 is treated with the history of Middleton from c. 1900.
Landscape history.
The ancient parish lay chiefly on brickearth with alluvium along the rifes. (fn. 9) About 60 a. of arable and 40 a. of pasture succumbed to the sea between 1291 and 1341. (fn. 10) The site of that land is unknown, but a small area of alluvium near the east end of the parish presumably once formed part of a larger area now lost, while the offshore ledge nearby may also represent former land. (fn. 11)
To prevent the incursion of the sea into the valley of the Aldingbourne rife defences were constructed near its mouth by the early 15th century. A bridge, called Felpham bridge, had been built by 1405, (fn. 12) presumably occupying the site of the modern bridge at the point where the estuary is narrowest. The sea wall or bank on the archbishop of Canterbury's land to the west of it, mentioned in 1436, (fn. 13) had presumably been built at the same time, and it is likely that there was a similar bank to the east. The two constructions are probably represented by the earthworks which survived in 1992, in Felpham along the north side of Upper Bognor Road, and in Bognor Regis in the grounds of the Chichester Institute of Higher Education. (fn. 14) It is not clear whether the sluice mentioned at the bridge from 1454 (fn. 15) was original to it or had been added later. Flooding during the 15th century damaged the bridge at least twice, (fn. 16) and also devastated the archbishop's fishery at the mouth of the rife; (fn. 17) in 1455 a road near the bridge, presumably on the sea wall, was also submerged. (fn. 18) A commission of walls and ditches for the estuary was formed in 1422 and afterwards renewed. (fn. 19)
The sluice mentioned at Felpham in 1535 was perhaps on the same site as the earlier one, (fn. 20) but much land had been reclaimed to the south by c. 1680 when a lower sluice had been constructed beyond the present coastline; (fn. 21) it was evidently of timber (fn. 22) and had a double exit. (fn. 23)
Four groynes were put up near 'Felpham sluices' before 1721, (fn. 24) but thereafter the coast began to be subject to further erosion, as at Bognor to the west. (fn. 25) New defences near the sluices were constructed by the sewers commissioners for the western part of Sussex in the early 19th century, (fn. 26) while nearby to the east embankments and groynes had been put up by 1828 at the expense of landowners. (fn. 27) Parts of the sewers commissioners' groynes were destroyed by heavy seas in 1838; (fn. 28) a new sluice and other works were constructed in the same year and further groynes, after more damage, c. 1857. (fn. 29)
In 1866 the timber sea wall at the mouth of the Aldingbourne rife was badly damaged by storms and a concrete wall was built further inland to replace it. After that too had been damaged in the following winter a third wall with new sluices was constructed still further inland on the present coastline. (fn. 30) The coast is reckoned to have receded c. 230 yd. (207 metres) in the west part of the parish between 1778 and c. 1875, (fn. 31) and 3½ a. on Felpham farm was said c. 1862 to have been recently washed away. (fn. 32) A cottage and land in the south-east corner disappeared between 1824 and c. 1840. (fn. 33)
Responsibility for the upkeep of defences continued to be divided between the sewers commissioners and landowners, notably the duke of Richmond; (fn. 34) and the construction of stronger defences at Bognor, which extended as far as the parish boundary, (fn. 35) seems likely to have added to Felpham's problems. A period of rapid inroads before 1895 destroyed a road near the sluices (fn. 36) and caused the White windmill west of Blake's Road to be abandoned; (fn. 37) by 1898 several groynes were in disrepair. (fn. 38) The sea wall at the Aldingbourne rife was partly renewed c. 1912. (fn. 39) By the 1930s a short stretch of low sea wall with a promenade extended along part of the coast at least between the Bognor boundary and Blake's Road, the rest of the coastline of the parish then remaining low cliffs of Upper chalk. (fn. 40) Defences east of Blake's Road were reconstructed by the army after wartime damage, (fn. 41) and a new sea wall and promenade were built between Bognor and Blake's Road in the mid 1950s. (fn. 42) The promenade was extended eastwards towards the Middleton boundary in the 1960s. (fn. 43) The lower course of the Aldingbourne rife was straightened in 1959 during the construction of Butlin's holiday camp in Bognor Regis. (fn. 44) Another new sea wall and promenade were built in the south-west corner of the parish c. 1993, (fn. 45) and rock groynes were constructed off-shore c. 1995.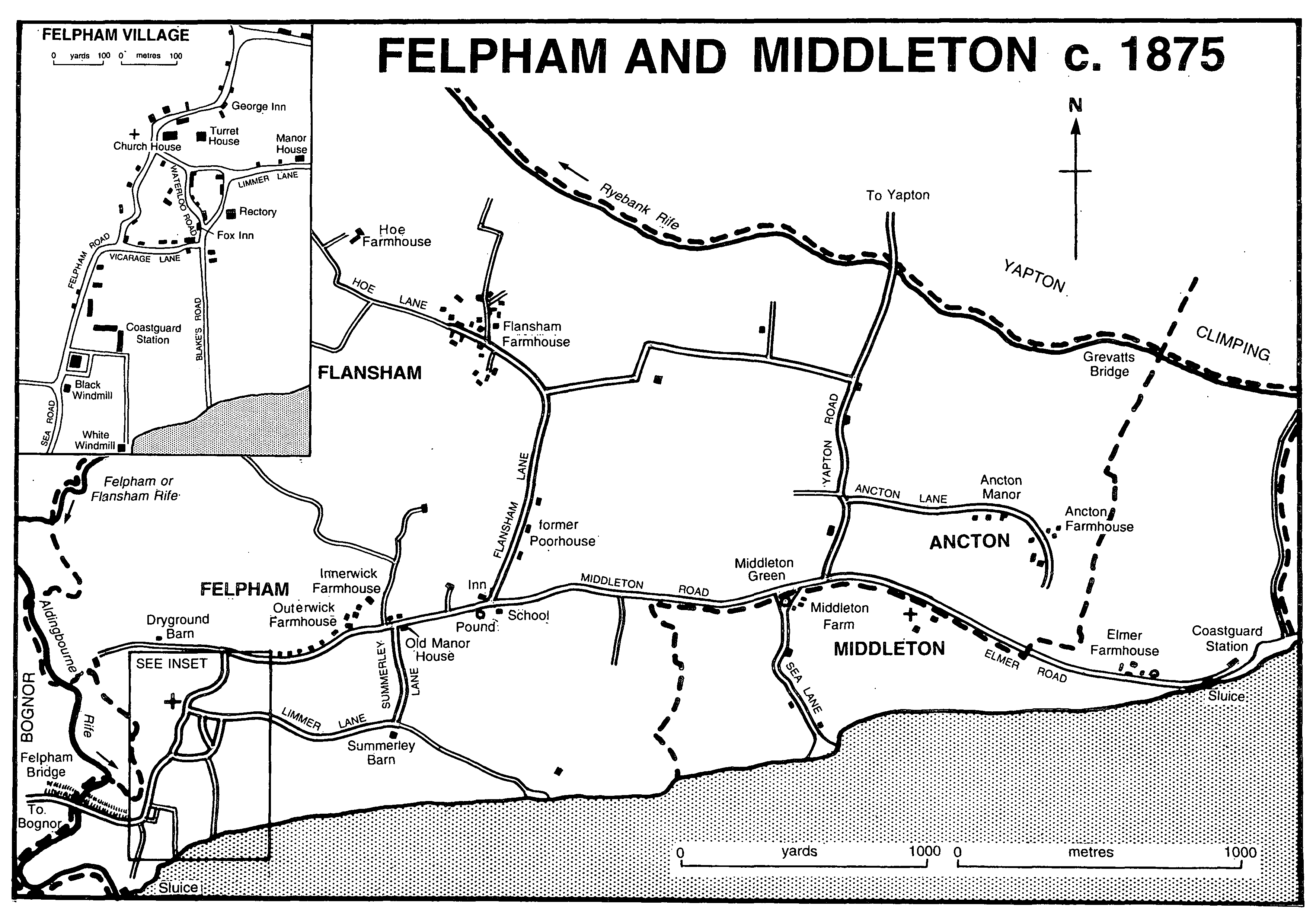 Apart from breaches of the coastline by the sea, the parish has often experienced flooding in the 19th and 20th centuries as a result of heavy rain in the catchment area of its streams. (fn. 46)
Copperas stone was collected from the beach in 1711 (fn. 47) and sea spinach was gathered in 1828. (fn. 48) Eels were caught in the later 19th century or earlier 20th in the Ryebank rife on the Yapton boundary. (fn. 49)
As in other parishes on the coastal plain there were several ponds in the 19th century, for instance along the eastern section of Felpham Way. (fn. 50) Land use in the late 20th century was mixed. The southern part of the ancient parish was built over, and though the broad meadows backed by trees which had formerly separated Felpham from Bognor Regis had given way to Butlin's holiday camp in 1960, (fn. 51) a gap between the two places remained further inland. Much of the north end of the parish was still farmed in 1992, though a large area in the north-west had been converted into a golf course in the 1920s. (fn. 52)
There has never apparently been much woodland in the parish; the woods on the manor yielding 30 swine in 1086 may have been in the Weald. (fn. 53) Despite the grant of free warren at Felpham to Shaftesbury abbey, owner of the manor, in 1293 (fn. 54) no park is ever known to have existed.
Settlement.
Settlement before the 18th century seems to have been chiefly nucleated. Felpham village occupies slightly rising ground (fn. 55) in the extreme south-west corner of the parish close to the Aldingbourne rife. The road through the village had no importance before the 19th century; (fn. 56) hence perhaps the village's hotchpotch street pattern. A 'burnt mound' north-west of the church has revealed Mesolithic and Bronze Age activity, (fn. 57) and there may have been Roman settlement at the west end of Limmer Lane. (fn. 58)
In the late 18th century and early 19th there were 25-30 dwellings, not all aligned to the roads and with much open land between them; (fn. 59) among the larger were Church House, the Old Rectory, Turret House, and the Manor House in Limmer Lane. (fn. 60) With the growth of the resort (fn. 61) there had been some infilling by the 1870s, (fn. 62) including two terraces in Waterloo Road, of which one incorporates a converted farm building faced with beach pebbles. After 1914 a large house, the Forest, later the Gateway school, was built south of the church in grounds of c. 2 a. which included specimen trees. (fn. 63) Until the 20th century the village was separated from the sea by fields, so that houses on its southern edge had uninterrupted coastal views. (fn. 64)
Felpham's rural character, still unspoilt c. 1917, when farms continued to abut the main street, (fn. 65) was gradually eroded during the next 40 years, as the parish shared in Bognor Regis's growth: already by 1930 one visitor considered that the village had become like other outlying parts of that town, (fn. 66) though in 1992 the combination of old buildings, high flint walls, trees, and the picturesque arrangement of roads, retained for it an old-fashioned air. Farm buildings northeast and east of the church were demolished after c. 1920 (fn. 67) and replaced by shops and a garage, while a large flat-roofed block of shops with flats above, more appropriate to a London suburb, was built on a prominent site to the south. (fn. 68) Turret House was demolished in 1961 (fn. 69) and the former Gateway school in or after 1978, (fn. 70) but the Old Rectory and Church House escaped that fate, and were converted respectively into flats for the elderly and offices. (fn. 71) Further houses, shops, and flats, some also for the elderly and some incongruous in architectural style or scale, were built in the same period. (fn. 72) Many residents at that time nevertheless strongly wished to preserve the village's separateness from Bognor. (fn. 73)
Building materials used in older buildings in the village, as elsewhere in the parish, include timber-framing, brick, flint, sometimes squared and sometimes as cobbles, 'Bognor rock' sandstone rubble, and thatch.
The oldest surviving secular building in the village is Pear Tree cottage in Vicarage Lane, an early 16th-century timber-framed house of three bays with a queen-post roof and internal smokehood. A lean-to was afterwards added on the north side, and apparently in the late 16th century or early 17th the house was largely encased in walls of rubble. Two gables were added on the south front in the late 19th or early 20th century. Two demolished buildings northeast and south of the church were also probably 16th- or 17th-century: both apparently had a hall range and parlour cross wing, and the former also a one-storeyed east service end. (fn. 74)
Blake's cottage in Blake's Road is apparently 17th-century with later alterations. Other 17thcentury buildings, all in Felpham Road, are Lavenham cottage, at right angles to the road, Lavender cottage, and probably the timberframed house called the Barn next to the George inn. (fn. 75) The main range of the timber-framed Fox inn, burnt down in 1946, seems to have been 17th-century to judge from the window shapes, chimneystack, and lobby entrance; its taller cross wing was perhaps slightly later and contained a bay window apparently inserted in the 18th century. (fn. 76) The early 19th-century Church cottage in Felpham Road has a 'Gothick' window in the rear wall to light the staircase; the porch of bulbous and uneven flint columns is apparently an addition.
The hamlet of Flansham in the north part of the parish also occupies slightly rising ground, together with Hoe Farmhouse to the northwest; (fn. 77) the nearness of brookland suggests that the second element of the name is 'meadow' (hamm) rather than 'settlement' (ham), as also perhaps at Felpham. (fn. 78) A late Bronze Age 'founder's hoard' from Hoe Lane possibly indicates occupation (fn. 79) and there is evidence for Roman settlement. (fn. 80) About 1844 there were 12 dwellings loosely scattered around a junction of three lanes (fn. 81) and in 1898 two farms and 14 cottages. (fn. 82) Several new houses and bungalows, some large, were built after c. 1910, chiefly at the west end. (fn. 83) Though the hamlet's nearness to the Bognor- London road was stressed when Flansham farm was advertised for sale in 1837, (fn. 84) by the mid 20th century it was notable for its seclusion and rural aspect despite close proximity to the edge of Bognor's built-up area. Elms grew so thickly in the 1940s as to render part of Hoe Lane virtually a tunnel in summer. (fn. 85) Two working farms remained in the hamlet in 1992, though some outbuildings had been converted by then to residential use or offices. (fn. 86)
Four older houses survive at Flansham. At Flansham Farmhouse the chimneystack and part of a wall from a late 16th- or early 17th-century house remain. In the 18th century, perhaps c. 1764, the date on an adjacent farm building, they were incorporated in a mansard-roofed range running north-south. A second range with a new front was built on the east side in the early 19th century and later extended northwards. At Bonhams a 17th-century house, of which part of the roof remains, was remodelled with walls of knapped flint and brick in the early 18th century, perhaps in 1727, the date inscribed on the east front. The building was extended south and west in the 20th century. Flansham Manor and North Manor were formerly a single house, of which the older southern part retains a cross-passage plan that may be 17th-century. In the 19th century two rear wings were added and the roof of the older range was reconstructed. The interior was remodelled in the early 20th century, when a timber-framed addition was made on the north side using old materials. (fn. 87) Chessels is an 18thcentury L-shaped house in the angle of which substantial half-timbered additions were made soon after 1900. (fn. 88)
Ancton hamlet lies close to the Middleton boundary in the east part of the ancient parish. There were only four or five dwellings in the mid 19th century besides two or three houses built on roadside waste in Yapton Road to the west. (fn. 89) The 20th-century history of settlement at Ancton is treated below. (fn. 90)
The Ancton House hotel, formerly Ancton Farmhouse, was built in the 17th century to a T-shaped plan, the rear wing having one storey with attics; the tall west cross wing was refronted and remodelled in the early 19th century. Ancton Manor was originally a 17th-century house of three-roomed plan; the central and eastern rooms were probably originally timber-framed and the western room was built or rebuilt in flint with brick dressings in 1677. The eastern section was reconstructed in the same materials in 1751. (fn. 91) The whole house was refenestrated in the 19th century, and probably at the same period a staircase was cut through the large 17th-century chimneystack in the centre.
Innerwick and Outerwick, evidently outlying demesne farms of Felpham manor lying between Felpham and Flansham, (fn. 92) were the nucleus of Wick tithing recorded from 1543, (fn. 93) which in 1803 included the lower part of Flansham Lane. (fn. 94) Roman pottery found near Outerwick Farmhouse may indicate earlier settlement in the area, (fn. 95) and there was a Romano-British farmstead east of Flansham Lane. (fn. 96) The smithy recorded at Wick in 1624 (fn. 97) perhaps occupied the site of the later one in Felpham Way east of Summerley Lane, (fn. 98) and in 1778 there was a cluster of houses near the crossroads formed by those two roads and the modern Firs Avenue. Other houses then existed in Felpham Way to east and west. (fn. 99) About 1844 there was a virtually continuous line of houses along the north side only of Felpham Way between the north end of Felpham Road and Outerwick Farmhouse, besides c. 16 dwellings east of Outerwick and in Flansham Lane; (fn. 100) some in both areas had evidently been built on roadside waste. (fn. 101) During the 19th century the junction of Felpham Way, Flansham Lane, and Middleton Road became a focus for the surrounding nucleated settlements in Felpham and Middleton parishes, with the presence of the school, a public house, a pound, and the parish poorhouse. (fn. 102)
Innerwick Farmhouse has a three-bayed, twostoreyed, 18th-century front perhaps built in 1734, the date inscribed over the door; the floor heights and fenestration were afterwards altered. Another bay was later added to the east and in the 19th century the house was extended at the back. It was a hotel c. 1953. (fn. 103) A barn apparently of the 17th century or earlier stood south-west of it in the 1950s (fn. 104) but had gone by 1988. The stuccoed Outerwick Farmhouse on Felpham Way was built c. 1800 and has two storeys with an attic and an elegant doorcase. In poor condition, it was gutted by fire in 1992. (fn. 105) Older houses further west in Felpham Way include the 18thcentury Bentinck House of painted red brick, and the grander Wyke House and Richmond House, a single building of the late 18th century or early 19th consisting of a central portion and two recessed wings.
The number of houses in the parish rose from 74 in 1801 to 119 in 1861 and 208 in 1901, with particularly large increases in the 1860s and 80s, (fn. 106) largely absorbed within the existing areas of settlement. The history of late 19th- and 20th-century development, on the other hand, is of the gradual spread of houses through the south and central parts of the parish, joining Felpham to Middleton on the east and almost to Bognor on the west, while leaving isolated the hamlets of Flansham and Ancton to the north and north-east. The rapidity of development was often commented on in the 1920s (fn. 107) and was matched by large increases in population in the 1920s and 30s. (fn. 108) Development was by individual estates, sometimes private, which often did not connect with their neighbours; their picturesque layout, with trees and grass verges (fn. 109) that in Limmer Lane formed banks above road level, gave the southern part of the parish the appearance of a 'garden city by the sea'. (fn. 110) Several estates remained private in 1992.
Land between the coastguard station south of the village and the sea was offered for sale, as the Felpham Mill building estate, in 1884. The streets east of Sea Road had already been laid out, (fn. 111) and during the next 25 years (fn. 112) they were built up piecemeal with a mixture of chiefly small brick or rendered terraced and semidetached houses, many of which were let as apartments in summer. (fn. 113) In Canning Road houses were built only on the north side, one terrace having a continuous balcony of seaside character. Directly in front of the sea and along the west side of Sea Road a group of cheaper houses were put up in the 1910s, standing on stilts to avoid flooding; some incorporated railway carriages, and they had outdoor staircases, decorated verandas, and roof gardens. (fn. 114) The area was separate from the village in the 1910s and 20s, when it was known as 'Felpham by the sea'. (fn. 115)
East and north-east of the coastguard station the 'Felpham building estate' was marked out for housing by 1904, but development seems not to have begun before c. 1910, when Admiralty Road had houses on its north side. (fn. 116) There were at least 34 houses in Blake's Road and streets to the east by 1927; (fn. 117) the area, described c. 1922 as a garden estate, (fn. 118) was largely built up by 1934 and fully by 1940. (fn. 119)
West of Felpham village, in what until 1913 was part of Bersted parish, the lower part of Links Avenue was built up by the farmer E. F. Sait c. 1909-12. (fn. 120) By 1934 land to the north, formerly part of Bognor golf course, had also been laid out chiefly with detached houses and bungalows. (fn. 121)
After the First World War building development spread along the coast to the east. There were at least four houses on the Felpham Beach estate south of Limmer Lane in 1918 (fn. 122) and many by 1927. (fn. 123) The Summerley estate further east was laid out after c. 1922; (fn. 124) it was called the chief estate in the parish in 1927 (fn. 125) and has always retained its exclusivity. (fn. 126) Big houses were also built along Limmer Lane itself and in streets to the north. (fn. 127) On the Beach estate the streets adopted a rectangular pattern around an oblong green. The western part of the Summerley estate also had straight roads, but the later portion to north and east was on a more picturesque plan with curving roads and a patch of woodland in Crossbush Road. (fn. 128) Manor Close north of Limmer Lane has large houses picturesquely arranged around a roughly oval space. By 1934 the area described was largely built up and by 1940 wholly so, except for the eastern part of the Summerley estate which was not finished until after 1945. (fn. 129) The remaining land south of Felpham Way and Middleton Road, except for that reserved for recreation, was developed for building in the 1960s and 70s with a mixture of houses and bungalows. (fn. 130)
North of the Felpham-Littlehampton road, meanwhile, building had begun around Innerwick Farmhouse c. 1923. (fn. 131) There were houses in Firs Avenue, Newbarn Lane, and Outerwyke Road by 1927, and more were built in the same area before 1940. On the Roundle estate to the east some houses had been built by 1932 and further roads, including Roundle Square with a central open lawn, marked out, most of the area being built up by 1940. Downview Road further west, leading to the new golf course, was laid out by 1934, when some large houses had been built, others following before 1940. (fn. 132) By 1957 there had been further development both east and west of Downview Road, and by 1980 virtually the whole area between the school playing fields on the west and Flansham Lane on the east had been built up with a mixture of detached and semidetached houses and bungalows with some terraced houses. (fn. 133)
East of Flansham Lane the Hurstwood private estate was developed during the 1930s. (fn. 134) East and north of it Bognor Regis urban district council in 1963 bought 200 a. to be sold off for residential development as needed. (fn. 135) The large 'Flansham Park' estate was built there in the 1970s with a mixture of terraced, detached, and semidetached houses, and detached and semidetached bungalows. (fn. 136)
Council houses were built in the 1920s and 30s in Felpham Way and Flansham Lane by Westhampnett rural district council (fn. 137) and Bognor Regis urban district council; in 1939 the latter had 39. (fn. 138)
Besides blocks of flats built in Felpham village (fn. 139) three were put up near the sea after the Second World War: one at the south end of Sea Road and two on the promenade further east.
Some of the 67 tenants of Felpham manor recorded in 1086 presumably lived in other parishes. (fn. 140) Thirty-nine persons were assessed to the subsidy in Felpham tithing in 1296, 29 in 1327, 35 in 1332, (fn. 141) and 73 in 1525. (fn. 142) In 1642 the protestation was signed by 89 adult males, (fn. 143) and 142 adults were enumerated in 1676. (fn. 144) There were 50 families in 1724. (fn. 145) From 306 in 1801 the population rose fast to 536 in 1811, perhaps because of the growth of the seaside resort. By 1901 it had reached 744, with an increase of over a quarter in the 1880s, and by 1911 it was 920. Increases of 75 per cent in the 1910s and 20s were put down mainly to summer visitors and residential development respectively. The population in 1931 was 2,827, of whom 2,359 lived in the part of the parish later included in Bognor Regis, 121 in that later included in Yapton, and 347 in that later included in Middleton. (fn. 146) In 1991 the new civil parish created in 1985 had 8,896 inhabitants. (fn. 147)
Roads.
The chief road access to Felpham before the 19th century was from Yapton. (fn. 148) Felpham bridge over the Aldingbourne rife existed by 1405, when after its destruction by flooding contributors to the cost of its repair were granted indulgences. (fn. 149) The rebuilt bridge suffered further damage later in the 15th century. (fn. 150) In 1807 Arundel and Chichester rapes were to share the expense of building a new bridge, (fn. 151) but at its repair in 1850, presumably after flooding, half the cost was paid by the sewers commissioners. (fn. 152) In 1878 the bridge had three arches and was of brick; it was replaced in 1924 by a wider bridge faced with stone, (fn. 153) which was itself replaced in 1993. (fn. 154)
The older roads of the parish linking the various settlements (fn. 155) were the eastern part of Felpham Way, Flansham Lane, Yapton Road, (fn. 156) and Elmer and Middleton roads. Limmer Lane, called Summer's Lane in the earlier 19th century, (fn. 157) perhaps from a surname recorded in the mid 16th, (fn. 158) seems to have led to land afterwards lost to the sea (fn. 159) and perhaps continued to the former Middleton village. In 1992 its eastern section, on the Summerley estate, was a private road.
In the mid 19th century the main BognorLondon road, which was also the Littlehampton road, ran through Felpham village and along Felpham Way and Flansham Lane; Limmer and Summerley lanes seem to have provided an alternative route in 1883. (fn. 160) Sea Road and Blake's Road were laid out in 1840 under the inclosure Act of 1826. (fn. 161) With Felpham's rapid growth in the 20th century traffic through the village became very busy (fn. 162) until a bypass, the western part of Felpham Way, was opened in 1938. (fn. 163) The Bognor Regis to Littlehampton road east of Flansham was straightened at two points before 1966. (fn. 164)
A carrier is recorded between 1814 and 1915; in the early 20th century he plied to Chichester three times a week. There were fly and cab proprietors in the earlier 20th century. (fn. 165) A daily bus service to Bognor began in 1899; (fn. 166) by c. 1922 there were frequent services to Littlehampton, Worthing, Brighton, Chichester, and Portsmouth. (fn. 167) In 1992 Midhurst and Haslemere (Surr.) could also be reached.
Felpham as a seaside resort.
Until the mid 18th century Felpham's economy was based on agriculture and maritime activities. After that date it developed a new character as a holiday resort. The poet William Hayley enjoyed sea bathing there as a child in the 1750s, (fn. 168) and in 1770 he and others from Chichester visited Felpham for 'a little party of pleasure'. (fn. 169) There were bathing machines by 1781; (fn. 170) in newspaper advertisements placed between that date and 1799 of houses to let for the season the village, 'at once rural and marine', was extolled as also having a dry and healthy soil, opportunities for sailing, and a 'genteel' clientele. (fn. 171) It was perhaps because of Felpham's evident success as a resort, albeit small, that Sir Richard Hotham chose nearby Bognor c. 1785 for his much larger projected undertaking of the same kind. (fn. 172)
Hayley bought a furnished cottage at Felpham in 1791 to continue his association with the sea and moved to the village permanently in 1800. (fn. 173) The duke of Richmond's sister-in-law, the sculptress Anne Seymour Damer, also visited the place in 1791 and other aristocratic patrons followed, many visiting Hayley. (fn. 174) Besides the attractions already indicated, there were great houses nearby to see, while boats could be hired for excursions to the Owers lightship or Selsey Bill. (fn. 175) In the early 19th century, in contrast to the grander style represented by Bognor's hotel, subscription room, library, and other visitors' facilities, (fn. 176) Felpham remained quiet and informal, while also taking the overflow of Bognor's visitors at busy times. There were several lodging houses in 1807, when in accommodation, views, and situation Felpham was reckoned far superior to South Bersted. (fn. 177)
In the mid 19th century other moneyed or retired people moved into the parish to live permanently, (fn. 178) together with at least one artist. (fn. 179) Nineteen parishioners besides clergy were listed as private residents in 1887, 30 in 1895, and 47 in 1899. (fn. 180) As a seaside resort Felpham retained its lack of formality in 1868 when bathing without machines was allowed there, one secluded place being reserved for women. (fn. 181) The resort function developed further thereafter. Two lodging houses were mentioned in 1878 and numbers later increased, (fn. 182) though letting lodgings was considered a precarious living in 1898. (fn. 183) Fifteen lodging or apartment houses were listed in 1895, 22 in 1899, and 40 in 1905. (fn. 184) In 1913 more than half were in Sea Road and streets to the east of it. (fn. 185)
From the early 20th century Felpham maintained its dual character of a seaside resort and a place for permanent residence. Both functions were enhanced by its relative seclusion, the mild, sunny, and healthy climate, the nearness of Bognor with its services and entertainments, and easy access from London. Besides the longstanding activities of bathing, fishing, and boating developed new ones like tennis and golf, and c. 1922 daily 'charabanc' excursions were on offer. Felpham also retained its lack of conventionality in contrast to larger resorts; unlike at Bognor there were no rules or bylaws about access to the sea, and at least one boarding house c. 1922 allowed 'bathing from house'. (fn. 186) Bathing huts could also be hired on part of the front. (fn. 187) About 1930 Felpham was described as the family resort par excellence. (fn. 188)
Alongside and gradually in place of apartment houses, holiday homes were built for permanent or occasional occupation or for letting. (fn. 189)
A hotel had been said to be a great need in 1884, (fn. 190) but none seems to have been built before the 1920s, when there were two: the Beachcroft on the front south of the village and the Southdowns in Felpham Way. By 1934 there were two others in Felpham Way and Flansham Lane. (fn. 191) There were several hotels and guest houses in the 1950s and 60s, when many houses were also let furnished; (fn. 192) in 1992, however, there were few guest houses and only two hotels in the modern parish. (fn. 193) Beach huts at Blake's Road were managed by Bognor Regis urban district council in 1970, when they could be hired daily, weekly, or by the year. (fn. 194) Houses by the sea east of Blake's Road retained private access to the beach until the construction of a promenade along that stretch of coast in the 1960s. (fn. 195)
Social and cultural activities.
The annual meeting of a Felpham club or friendly society was celebrated in 1816 with a procession and singing. (fn. 196) A regatta and athletic sports were held in 1891. (fn. 197) A cricket club is said to have been founded in 1886, at first using a field on the Bognor side of the Aldingbourne rife. (fn. 198) By 1945 there was a pitch west of Flansham Lane. (fn. 199) Other sports facilities were provided for residents and visitors from the early 20th century. The 9-hole links of the Bognor golf club opened in 1906 lay partly in Felpham after the boundary change of 1913, but were replaced in 1922 by an 18-hole course in the north-west corner of the parish, where existing trees, bushes, and ditches were complemented by new landscaping including the planting of evergreens and flowering shrubs. (fn. 200) The club had 600 playing members in 1978. (fn. 201) Tennis courts existed by c. 1914 in Blake's Road, (fn. 202) where a tennis club was founded before c. 1922 (fn. 203) and there was also a putting green in 1928. (fn. 204) Further tennis courts were laid down on the Felpham Beach and Summerley estates, the former surviving in 1992. (fn. 205) Boating remained popular in the 1920s, when boats could be hired and fishing tackle obtained on the sea front. (fn. 206) A boating club which flourished c. 1925 (fn. 207) was succeeded in 1958 by the Felpham sailing club, which had c. 100 members, including many from Bognor, in 1969 and 400 in 1973, when a club house was opened east of Blake's Road. (fn. 208) Sand yachting and horse riding could also be enjoyed in 1928. (fn. 209) A sports club was mentioned in 1922, (fn. 210) when a football club also existed. (fn. 211)
After the incorporation of the west part of the ancient parish into Bognor Regis in 1933, the urban district council c. 1935 bought land for recreation south of Felpham Way, (fn. 212) where King George's field was opened before 1940. Other sports and recreation grounds in the parish include one by Flansham Lane recorded by the same date. (fn. 213) The Arun leisure centre, built jointly by Arun district and West Sussex county councils and managed by the former, was opened at the then Felpham comprehensive school in 1978; (fn. 214) in 1992 sports played included squash, basketball, badminton, indoor cricket, and American football. A swimming pool was built there c. 1995. In 1992 the district council also owned Old Rectory gardens (2 a.) in Felpham village, which had been conveyed to Bognor Regis urban district council as an open space in 1959. (fn. 215)
An outbuilding of the Fox inn was used as a parish room by 1901 (fn. 216) and in 1914 there was also a club room at the George. (fn. 217) A church hall was opened in 1924 in Limmer Lane (fn. 218) but in the 1990s was replaced by a community hall nearer the church. Felpham memorial village hall was opened in 1955; (fn. 219) a voluntary library run there from 1960 was replaced by a county council mobile library service in 1965. (fn. 220) After 1978 the Arun leisure centre offered other meeting places, including a hall to seat 900. (fn. 221)
A residents' association was founded as an early environmental pressure group in 1927 and survived in 1979. (fn. 222) Other early clubs were an amateur dramatic society, the Falcheham players, started in 1930 (fn. 223) and still in existence in 1992, and a folk dance club formed in 1933 which had 79 members in 1953. (fn. 224) A cottage gardeners', later horticultural, society for Felpham and Middleton existed by 1922 and survived in 1994. (fn. 225) The Felpham conservation society, founded in 1980, (fn. 226) had 600 members in 1985. (fn. 227)
There were two retailers of wine or ale in 1543, (fn. 228) one alehouse in 1605, and several in 1613. (fn. 229) A victualler was recorded in 1706. (fn. 230) Of the two chief inns of the village the Fox existed by 1799 (fn. 231) and was rebuilt after virtual destruction by fire in 1946, (fn. 232) while the George existed, as the George and Dragon, by 1832. (fn. 233) There was one other inn there in the mid 19th century (fn. 234) and there were two in 1992. The Brewer's Arms in Felpham Way near the junction with Middleton Road also existed by 1839; the landlord carried on a wheelwright's business between that date and 1851, when he also farmed 53 a. (fn. 235) The inn was replaced by the Southdowns hotel, a roadhouse, in 1924. (fn. 236)
Two coastal beacons had been erected southeast of the church by 1587 in connexion with defence against the Spanish Armada. (fn. 237)
An official post to Felpham was set up in 1809. (fn. 238)
The Bognor Water Co. was empowered to supply the parish in 1875; (fn. 239) some water was still obtained from wells in 1908, (fn. 240) but by c. 1922 the company was supplying part at least of the parish. (fn. 241) There was a main sewer running to the sea by 1883 (fn. 242) and by 1899 three sewage outfalls, one at Felpham sluice, which also served Bognor, and two further east; many properties in Felpham village, however, then remained without proper drainage. (fn. 243) In 1910 a new scheme for the drainage of Bognor and Felpham planned jointly by Bognor urban district council and Westhampnett rural district council was the subject of local opposition, (fn. 244) as was a later one of 1928. (fn. 245) In 1925 most properties in the parish were still drained by cesspits. (fn. 246) The outfall at Felpham sluice remained Bognor's chief means of sewage disposal until a new outfall was opened west of the town centre in 1972. (fn. 247)
The Bognor Gas Light and Coke Co. was empowered to supply the parish with gas in 1871 (fn. 248) and gas street lighting was introduced to the village street in 1923. (fn. 249) By 1929 the village was also supplied with electricity, (fn. 250) which had reached Flansham hamlet by 1938. (fn. 251)
A health centre for Felpham and Middleton was opened at the southern end of Flansham Park in 1979. (fn. 252)
The poet William Hayley (fn. 253) (d. 1820) built himself a house, the Turret, in Felpham village and moved there permanently in 1800. The two-storeyed building, later known as Turret House, had a lofty turret of square plan over the entrance which carried a circular lookout giving fine coastal views. The upper floor of the threebayed east front housed a library decorated with busts and pictures. The garden included a covered way for riding exercise. (fn. 254) Battlements were added and the building otherwise considerably altered later in the 19th century, and by 1951 the house had been converted into flats. It was demolished in 1961. (fn. 255)
Resident in the parish at the same time as Hayley was the Revd. Cyril Jackson, former dean of Christ Church, Oxford (d. 1819), and tutor to the Prince Regent, who leased the Old Rectory from 1807 or earlier; despite the proximity of their houses, however, the two men did not associate. (fn. 256)
It was at Hayley's instigation that William Blake spent the years 1800-3 in a cottage close to the Old Rectory, writing, engraving, and painting portraits chiefly of poets for Hayley's library. Though he left Felpham in disillusion Blake was at first happy there, describing it as 'the sweetest spot on earth', 'a dwelling for immortals', and the villagers as 'polite and modest', the men 'the mildest of the human race'. (fn. 257)
The Glaswegian artist and printer James Guthrie moved his Pear Tree press to Flansham in 1907 and lived and worked there until his death in 1952. He was visited by his friend the poet Edward Thomas, (fn. 258) and in the 1920s by the novelist Evelyn Waugh who proposed himself as his apprentice. (fn. 259) Another Edwardian resident of Flansham was the actress Mrs. Lewis Waller (Florence West) (d. 1912), who lived at Chessels house, holding theatrical house parties attended by, among others, Aubrey Beardsley and Mr. and Mrs. Beerbohm Tree. (fn. 260)
A Roman Catholic children's home existed in Limmer Lane in the 1880s. (fn. 261) Other contemporary institutions were a convalescent home for young women in 1895, a home for convalescent children between c. 1910 and 1938, and a nursing home in the 1920s and 30s. (fn. 262) In 1992 there were several residential care and nursing homes in the modern parish.
MANOR AND OTHER ESTATES.
King Alfred (d. 899) devised an estate at FELPHAM to Osferth, a relative, (fn. 263) and in 953 King Eadred granted what may have been the same, described as 30 hides, to his mother Eadgifu. From the bounds listed the latter was clearly at least as large as the area of the ancient parish. (fn. 264) By 1066 Felpham had passed to Shaftesbury abbey (Dors.), (fn. 265) with which it remained until the Dissolution; (fn. 266) in 1244 it was apparently two fees. (fn. 267) Land held by Shaftesbury in the later Middle Ages in Egdean, Fittleworth, and Kirdford represents Wealden outliers of the Anglo-Saxon estate, (fn. 268) but by that period the main part of the manor seems to have been coterminous with Felpham ancient parish. (fn. 269) The reduction in hidation between 1066 and 1086 may be due to the creation of Elmer manor. (fn. 270) In 1086 Felpham had six haws in Chichester. (fn. 271)
In 1574 the Crown granted the manor to Robert Dudley, earl of Leicester; (fn. 272) he sold it in 1584 to (Sir) Henry Goring of Burton (d. 1594), who was succeeded in the direct line by Sir William (fn. 273) (d. 1601-2) and Sir Henry (d. 1626). (fn. 274) The manor house and demesne were excepted from the Crown grant of 1574 (fn. 275) but also belonged to the Gorings by 1614; they were sold in 1620 and the manor itself in 1623 to pay the second Sir Henry's debts; the purchaser was Nicholas Thompson (fn. 276) (d. 1628), (fn. 277) whose widow Mary was dealing with the manor in 1630. (fn. 278) In 1631, however, Felpham was in the hands of his two daughters and coheirs Elizabeth, wife of John Boys, and Catherine, (fn. 279) by 1635 the wife of Robert Anderson. (fn. 280) In 1640 the estate was divided between them, the manor itself, with what were later Innerwick and Outerwick farms and other demesne land, going to Robert and Catherine, and the rest of the demesne in Felpham and Flansham to John and Elizabeth. (fn. 281)
Robert Anderson (fl. 1635; d. 1686 × 1688) was succeeded by a namesake (fl. 1697), who was succeeded before 1702 by (Sir) Richard Anderson. (fn. 282) He in 1704 sold the manor to Francis Doyley (fn. 283) (d. in or after 1711). Francis's son and namesake (fl. 1723-4), was succeeded before 1730 by his son Thomas. (fn. 284) At Thomas's death in 1770 the manor passed to his son Matthias, (fn. 285) who in 1801 sold it to William Pellett. He and his wife Charlotte sold Felpham in 1821 to John Heather Hussey and William Titchenor, mercers and drapers of Chichester. (fn. 286) Hussey died in 1827 and was succeeded by his son William, (fn. 287) probably the William Heather Hussey who died c. 1862. (fn. 288) In 1849 the estate included Hoe farm at Flansham and what was called Manor Farmhouse in Felpham Way. By that date William Titchenor had died, (fn. 289) his heirs being his daughters Maria, Elizabeth, and Frances. (fn. 290) About 1866 Elizabeth and Frances, with Mary Ann Hussey, evidently William's widow, sold the manor to Charles Thomas Marshall, (fn. 291) who conveyed it in 1870 to James Wilson, (fn. 292) a civil engineer. (fn. 293) Wilson was still lord in 1881. (fn. 294) The lordship was later said to belong to W. M. Chinnery (in 1887), Mrs. Auld (1895), James Gibson (1899-1905), and Mrs. J. W. Clayton (1913-38). (fn. 295) Manor Farmhouse with 54 a. had meanwhile been exchanged by C. T. Marshall c. 1867 to the duke of Richmond. (fn. 296)
Elizabeth Thompson's share of the Felpham estate was conveyed by her husband John Boys in 1666 to Roger Sparkes, (fn. 297) then vicar of Felpham (d. 1679), (fn. 298) from whom it descended in the Sparkes family, apparently through Robert (d. 1698), (fn. 299) Thomas (fl. 1703-20), and Thomas's son Robert (d. 1742 or 1743), (fn. 300) who devised lands in Felpham to his son, also Thomas. (fn. 301) Another Robert Sparkes (perhaps fl. 1792) was one of the chief landowners of the parish in 1819. Robert was succeeded, as tenants in common, by his sons Charles and Francis, (fn. 302) who in 1824 had 230 a. in Felpham. (fn. 303) In 1827 they conveyed that land to the duke of Richmond, (fn. 304) and it afterwards descended with the other estates of the dukedom. (fn. 305)
In the mid 19th century the former Sparkes farm was known as Felpham farm. (fn. 306) The reunited demesne farm was sold in 1911 to the tenant Robert Sadler, (fn. 307) part passing in 1922 to Summerley Estates Ltd. (fn. 308)
A manor house, evidently once the residence of Shaftesbury abbey's bailiff, was mentioned from 1530. (fn. 309) Its site is unknown, but three buildings were later associated with the manor.
Church House, which descended with the Boys share of the estate, (fn. 310) occupies a typical position for a manor house close to the church. It is a three-bayed, two-storeyed building of the early or mid 18th century with a front of red and grey brick and a contemporary staircase. (fn. 311) In the 1880s and 90s it was a farmhouse. (fn. 312) The building was saved from demolition in 1966 (fn. 313) and was remodelled internally for office use in 1988.
The Old Manor House in Felpham Way belonged to the Anderson share of the estate (fn. 314) and was called Manor Farmhouse in 1849. (fn. 315) The main range of the present building is probably 18th-century, with a rendered west front and a later rear extension. In the 1930s it was a hotel (fn. 316) and in 1988 it was remodelled as a nursing home. (fn. 317)
The Manor House in Limmer Lane owes its name to the fact that successive owners of the manor lived there from 1871; an earlier title was Felpham House. (fn. 318) Of the later 18th century, (fn. 319) it has a rendered front of five narrow bays and three storeys above a high basement. The interior was extensively refitted in the early 19th century, and later in the century tall bay windows were added to the south front and extensions put up to east and west. (fn. 320) Large cellars included the kitchens and servants' hall. The grounds in 1883 covered 2¼ a., (fn. 321) most of which remained garden in 1988.
INNERWICK FARM (fn. 322) was retained by (Sir) Richard Anderson at his sale of the manor in 1704 and sold by him to Richard Gibbs in 1714. (fn. 323) Gibbs (d. 1720) was succeeded in turn by his son John (d. 1760) and John's son Richard, (fn. 324) from whom the farm passed by 1798 to his mortgagee William Cosens. (fn. 325) Meanwhile OUTERWICK FARM (183 a.) (fn. 326) had been sold in 1791 by Matthias Doyley to Sir Richard Hotham of Bognor, after whose death in 1799 it was acquired by William Cosens. At William's death in 1811 his estate in Felpham was divided between his sons Thomas and Edmund, Thomas receiving Innerwick farm (175 a.) and Edmund Outerwick (134 a.). At Thomas's death in 1864 Innerwick was sold to John Kent, former racehorse trainer to the duke of Richmond, (fn. 327) passing also by sale in 1894 to F. J. Neale (fn. 328) and in 1919 to P. A. Norman. (fn. 329) Outerwick was sold by Edmund Cosens in 1832 to William Allin of Arundel (fl. c. 1844), (fn. 330) whose daughter and heir Eliza married Henry Hounsom; c. 1910 it belonged to Henry's son William A. Hounsom (fn. 331) (d. 1934). (fn. 332) Between 1899 or earlier and 1912 or later it was let to F. J. Neale. (fn. 333) Much of the land of both estates was afterwards built over, but part remained open space in 1992 as a golf course and school playing fields.
Land at Flansham which members of the Wyatt family bought from Robert Dudley, earl of Leicester, 1574 × 1584 (fn. 334) became the nucleus of the modern FLANSHAM FARM. In 1722 Richard Wyatt conveyed 150 a. at Flansham to his son William, (fn. 335) presumably the William who died in 1757. (fn. 336) Apparently in 1790 the family's estate at Flansham was sold to William Dyer (fn. 337) (fl. 1808), (fn. 338) who conveyed it in 1823 to George Amoore. (fn. 339) Amoore acquired other former Wyatt land at Flansham from Richard Hasler in 1825 (fn. 340) and in 1840 sold the whole estate, of c. 400 a., (fn. 341) to Thomas Sanctuary of Rusper (d. 1876). (fn. 342) In 1878 it was enlarged through the purchase by Thomas's son the Ven. Thomas Sanctuary from the heirs of Charles Duke (d. 1860) of Chessels and Chapel farms, (fn. 343) which had earlier belonged to the Bridger family. (fn. 344) The land comprised c. 500 a. in 1879. (fn. 345) By 1882 it had passed to C. S. Leslie of Slindon, descending with the Slindon House estate (fn. 346) until in 1908 part (242 a.) was sold to John Langmead (d. 1950). From him that part descended in the direct line to Jack (d. 1978) and Donald Langmead (fl. 1988). (fn. 347)
An estate at Ancton called Leagores (142 a.), the nucleus of the modern ANCTON FARM, was conveyed to Joseph Coote in 1822. (fn. 348) Joseph owned 150 a. at Ancton c. 1844, (fn. 349) which after his death in that year passed to Thomas Coote, who had 149 a. at Ancton in 1858. (fn. 350) In 1876 Thomas conveyed the land to (Sir) Frederick Dixon-Hartland, after which it descended with Middleton farm. (fn. 351) Another estate at Ancton, farmed from the modern Ancton House hotel, (fn. 352) was bought in 1832 from the Bridger family by Richard Coote; (fn. 353) c. 1844 it had 174 a. (fn. 354) After 1852 it too descended with Middleton farm. (fn. 355)
The RECTORY estate apparently enjoyed all the tithes of the parish before the Dissolution; (fn. 356) in 1341 there were besides a house, fixed rents worth 3s., 8a. of land, and some meadow and pasture. (fn. 357) The site of the house is likely to have been the same as later; (fn. 358) from 1615 there were 6-8 a. of rectorial glebe lying chiefly east of it. (fn. 359) In 1351 the estate was managed by a bailiff (fn. 360) but from 1521 it seems usually to have been let; (fn. 361) between the 17th century and the mid 19th leases were for three lives. (fn. 362) In the late 18th century and early 19th the lease was held by members of the Steele family. (fn. 363)
At the commutation of tithes in 1843-4 the rector received £720 2s. tithe rent charge; (fn. 364) in 1854 that passed to the ecclesiastical commissioners, (fn. 365) who in 1865 assigned it as part of the endowment of Chichester cathedral. (fn. 366) By 1849 the rectory house was let to the vicar, (fn. 367) and from 1861 both it and the 8 a. of glebe were vested in him and his successors. (fn. 368)
The long north-south range of the house called the Old Rectory is 17th-century. A taller block with a two-storeyed bay, providing a new entrance and parlour, was added to the south end by the lessee Thomas Steele (d. 1775), (fn. 369) the old building becoming the service wing. There is an 18th-century staircase, not in situ. A cross wing was added at the north end, probably in the 19th century. The south front was extended westwards after the early 19th century (fn. 370) and a colonnade was added to it in the early 20th, (fn. 371) when part of the building was used for church purposes. (fn. 372) New stables and a coach house were built in 1874. (fn. 373) In 1926 the house was bought by F. G. Penny, M.P., created in 1937 Lord Marchwood (d. 1955), whose son and heir Peter sold it in 1958, (fn. 374) the interior later being remodelled into 11 flats for old people. (fn. 375) At about the same time the exterior was covered in pebbledash.
Tortington priory had 10 a. in Felpham at the Dissolution. (fn. 376)
A farm of 80-90 a. at Flansham, with other land and pasture rights, was conveyed in 1624 as part of the founding endowment of Thompson's hospital or almshouse in Petworth. It was later called the Hospital farm. (fn. 377) In 1921, when it was 56 a. in area, it was sold by the governors of the almshouse to West Sussex county council. (fn. 378)
ECONOMIC HISTORY.
Agriculture.
The Anglo-Saxon estate called Felpham in 953 had detached land in Egdean or Fittleworth, Kirdford, and Petworth which included both houses and common woodland pasture. (fn. 379) Agricultural statistics given for Felpham in Domesday Book seem also to relate to a much larger area than the parish, (fn. 380) and the manor still had holdings in Egdean and Fittleworth in 1500. (fn. 381) In 1341 the ninth of sheaves was worth nine times as much as those of fleeces and lambs together, indicating predominantly arable farming. Flax, hemp, and apples were grown at that date and cattle and pigs kept, while the rectory estate as well as the manor had tenants. (fn. 382) Medieval farms, besides those in the nucleated settlements of Felpham, Flansham, and Ancton, possibly included the outlying demesne holdings of Innerwick and Outerwick, (fn. 383) and Hoe farm north-west of Flansham. (fn. 384)
Open-field arable is recorded from the 16th century near both Felpham village and Flansham hamlet; (fn. 385) it presumably existed earlier as well. At Felpham in the early 19th century Mill, Owlee, Water lane, and Little common fields formed an arc between the south and north-east sides of the village. (fn. 386) Punch Gaston common field lay west of Flansham hamlet from the early 17th century, (fn. 387) and Wish common field in 1772 was near Flansham brooks. (fn. 388) The Hoe and West and North gastons recorded at Flansham in 1638 (fn. 389) and the Dagmare in the 18th century (fn. 390) were apparently other open fields. Only Punch Gaston, of 7 a., remained open there in the earlier 19th century. Woodhill common field, which at the same date lay between Flansham and Outerwick Farmhouse, (fn. 391) was perhaps the Wick or Wick common field of 1656. Though land in the latter field was sometimes held with land in the Felpham fields, (fn. 392) land in the Flansham fields seems never to have been. No open fields are recorded at Ancton. By 1662 all openfield holdings held of the manor except one of 7 a. had been engrossed or enfranchised. (fn. 393)
Apart from Mill brook in the south-west corner of the parish by Felpham bridge, common brookland lay chiefly in the north and northwest along the Ryebank and Felpham rifes, where there were 213 a. in all in 1840; (fn. 394) the two areas were sometimes known respectively as Felpham (fn. 395) and Flansham brooks. (fn. 396) There was also common pasture at Wick, of unknown location. (fn. 397) A holding of 34 a. at Flansham in 1638 had pasture rights for 6 cattle, 2 horses, and 15 sheep, (fn. 398) and on another of 52 a. in 1819 the comparable figures were 3, 3, and 18. (fn. 399) Leazes in the brooks were often held with land in the open fields, but there was the same distinction between those at Felpham and those at Flansham. (fn. 400) Some common brookland was used as meadow, (fn. 401) subject apparently to annual division. (fn. 402)
In 1540 five freeholders on Felpham manor had holdings of up to 3 yardlands, while more than 50 copyholders had c. 60 tenements between them, some small and others of up to 6 yardlands; none of the land mentioned lay outside the parish. (fn. 403) One copyhold at least was held for three lives in 1548, (fn. 404) as was common practice later; (fn. 405) copyholds could be sublet in the 1540s. The demesne was then leased, (fn. 406) as like other monastic demesnes it had been before, (fn. 407) and as it continued to be later in the 16th century. (fn. 408) Tortington priory had copyhold land in Felpham in 1537, (fn. 409) but no other estate outside the parish is ever recorded as having land within it.
During the earl of Leicester's ownership of Felpham 1574-84 much land held of the manor was sold or converted to leasehold, becoming the kernels of later farms, for instance the unnamed holdings of 60 or 80 a. at Ancton in the 17th century. (fn. 410) In 1640 there were at least seven farms on the demesne. (fn. 411) Only a few small freeholds and copyholds remained at that period and by the late 18th century there were only one or two. (fn. 412) Farms generally grew in size between the 17th century and the early 19th; already in 1667 one holding based at Flansham and including a lease of the rectory estate had over 300 a. (fn. 413) Outerwick farm in 1791 had 183 a. (fn. 414) and Charles and Francis Sparkes' farm in 1824 had 230 a. in the parish besides 77 a. in South Bersted. (fn. 415) Closes on the two last named holdings, on Archdeacon Webber's farm in 1834, (fn. 416) and on Manor farm, Felpham Way, c. 1850, (fn. 417) were very scattered, indicating their origin under openfield agriculture.
Mixed farming was practised in the parish between the 16th and 18th centuries. Sheep, cattle, poultry, and pigs were kept, and crops grown were wheat, barley, oats, peas and beans, vetches, and tares with some woad and hemp. A flock of 160 sheep was recorded at one of the Wick farms in 1623, one of 600 besides 110 cattle at Flansham and elsewhere in 1667, and others of between 52 and 131 sheep at other dates; (fn. 418) the importance of sheep is indicated by the existence of sheepwashes east of Flansham hamlet and near the Yapton boundary at Bilsham. (fn. 419) Parishioners often farmed land in neighbouring parishes as well as in Felpham during the period. (fn. 420) Some seeds were being grown by the 1730s, and turnips were mentioned on one farm in 1779. (fn. 421)
In the early 19th century twice as much wheat as barley seems to have been grown, with lesser quantities of oats and peas; (fn. 422) 117 cattle including draught oxen were listed in 1803, 516 sheep, and the large number of 295 pigs. (fn. 423) A three- or four-course rotation is apparently indicated on one farm in 1804, (fn. 424) and a six-course rotation, apparently of wheat, turnips, barley, seeds, wheat, and beans with tares, was widely used in 1844. (fn. 425) The open fields and common brooks of the parish were inclosed in 1840 under an Act of 1826. At Felpham village the duke of Richmond received 59 a. and five other landowners between 1 and 20 a. each. At Flansham George Amoore received 131 a., the lords of Felpham manor 25 a., Thompson's hospital, Petworth, at least 19 a., and four other landowners between 3 and 22 a. each. (fn. 426) Other kinds of agricultural improvement were being practised in 1828, (fn. 427) and in 1835 most of the parish was said to be in a high state of cultivation. (fn. 428)
About 1844 the two largest holdings were Flansham farm (401 a.), comprising most of the north-west quarter, and Thomas Cosens' farm which included land at Felpham village and at Wick (358 a.); (fn. 429) in 1851 they had 17 and 12 labourers respectively. (fn. 430) There were six other holdings of between 80 a. and 175 a. c. 1844. (fn. 431) Ancton farm was held in 1852 with Middleton farm, making c. 400 a. in all, (fn. 432) while Felpham farm, based at Church House in Felpham village, was held with Barnham manor demesne farm as a combined holding of 389 a. c. 1862 (fn. 433) and 600 a. in 1881. (fn. 434) Flansham farm had 512 a. in 1871 and Innerwick farm 522 a. in 1881. (fn. 435) Most land was rented between the mid 19th century and earlier 20th (fn. 436) and there were said to be no resident landowners in 1867 and 1881. (fn. 437) Leases of between 5 and 21 years are recorded between the 1850s and 80s. (fn. 438) By c. 1910 no farm within the area of the modern parish was more than 250 a. in area. (fn. 439)
Felpham participated in the 'Swing' riots of 1830, when a group of 100-150 labourers, later growing to a crowd of 500, forced Thomas Cosens to offer to raise agricultural wages; (fn. 440) the introduction of the new Poor Law in 1835 was similarly greeted by a rising. (fn. 441) In 1878, on the other hand, work was said to be plentiful and wages reasonable. (fn. 442) The predominance of arable in the period 1800-75 (fn. 443) no longer obtained by the early 20th century: instead of the 856 a. of corn crops, chiefly wheat, and 313 a. of green crops, mostly turnips and swedes, returned in 1875, there was then apparently a smaller total acreage, including a much higher proportion of oats; the corresponding totals for grassland were 463 a. in 1875 and 696 a. in 1909. (fn. 444) Many closes were amalgamated between 1844 and c. 1875. (fn. 445) There were three shepherds in 1871. (fn. 446)
Beginning in the late 19th century agricultural land in the south part of the parish succumbed gradually to building development. The chief farmer in the 1920s was P. A. Norman, who besides using his own land at Innerwick farm leased Outerwick and Drygrounds farms. (fn. 447) By the 1980s much of that land too had been built over or converted to other uses, notably school playing fields and a golf course. Dairying and poultry farming were practised in the 1920s and 30s (fn. 448) and two dairy herds and a poultry farm remained at Flansham in 1992, (fn. 449) but by 1995 little dairying was practised. (fn. 450) Chessels farm at Flansham was managed in the 1940s and later with a downland farm at Madehurst. (fn. 451)
Orchards and market gardens were an alternative land use in the 20th century. Six acres of orchards had been returned in 1875 and there were 2½ a. in the ancient parish, including Ancton, in 1909. (fn. 452) A fruit grower was mentioned c. 1910 (fn. 453) and market gardeners and nurserymen from c. 1900, (fn. 454) notably north of the village (fn. 455) and between Flansham and Ancton. (fn. 456) Only one market garden remained in the modern parish in 1992, on the east side of Flansham Lane. There were allotments north of the church by 1912, which by 1928 were managed by the parish council. (fn. 457)
Mills.
There were two mills in the parish in 1341. (fn. 458) One was possibly the predecessor of the windmill recorded on Felpham manor in the 16th century, (fn. 459) which since it was said to be in the south-west part of the parish in 1593 (fn. 460) may have occupied the slight elevation at the corner of Felpham and Upper Bognor roads where later stood what was called the Black windmill. (fn. 461) Millers are known by name from the 16th century. (fn. 462) The Black windmill was the only mill recorded in the parish in the 17th and 18th centuries. (fn. 463) The very tall smock mill called the White windmill, on the sea front west of Blake's Road, was built c. 1800 (fn. 464) but was abandoned because of sea erosion and demolished in 1879. (fn. 465) It was presumably Bognor's rising population during the 19th century which made two mills viable. About 1844 they were worked together. (fn. 466) The Black windmill had also ceased to be used by 1896. (fn. 467)
Other trades and industries.
Felpham's high assessment to tax in Avisford hundred in 1334 (fn. 468) indicates the presence of other non-agricultural employment. Apart from possibly a chapman at that period (fn. 469) and a tailor in 1428, (fn. 470) however, occupations for which there is medieval evidence were all associated with the sea. A manorial fishery is recorded in 1086 (fn. 471) but not later; in the 14th and 15th centuries, however, there was a 'fishery of Felpham' belonging to the archbishop of Canterbury's estate beyond the Aldingbourne rife; it was devastated by the sea in 1426. (fn. 472) Fish tithes were paid to the rector in 1341. (fn. 473) Several ships or boats were recorded as belonging to Felpham in the 15th and 16th centuries. (fn. 474) The estuary of the Aldingbourne rife may have offered a harbour, (fn. 475) but in 1587 the only good landing places between Pagham and Littlehampton were on the beach, including one in the east part of the parish and only there around high tide. (fn. 476) Most Felpham vessels were in the coastal trade, but one in 1439 plied to the Low Countries; most seem to have been under 50 tons but there were two larger ones in 1572. It was presumably maritime activity which caused the presence in the parish of four aliens, all servants, in 1525. (fn. 477) For customs purposes Felpham lay within Chichester port. (fn. 478)
Various fishermen were recorded in the 17th and 18th centuries, (fn. 479) and other parishioners besides a victualler in 1706 (fn. 480) probably owned fishing tackle for their own use. Several parishioners were described as seamen in the 17th century, sometimes four at the same date. (fn. 481) In 1801 five boats were listed, but no-one was then willing to serve as a boatman in the event of invasion. (fn. 482)
Four unmounted coastguards had been established at Felpham c. 1295, as one of only three such places in the rape. (fn. 483) Riding officers for Felpham were appointed from 1699, (fn. 484) and in the 1810s and 20s a coastguard officer, two preventive officers, and many boatmen, presumably stationed at Bognor, were recorded. (fn. 485) A coastguard station was built c. 1861 midway between Felpham village and the sea, comprising a detached officer's house, a watch house, and two rows of red and yellow brick cottages; the boathouse was east of the modern Blake's Road. (fn. 486) In 1887, after the closure of the coastguard station in Bognor, it was described as Bognor coastguard station. (fn. 487) There were 46 inmates in all in 1871. (fn. 488) The station was closed in the early 1920s, (fn. 489) and soon afterwards three large houses were built between the rows of cottages, and a parade of shops in the garden of the officer's house along Felpham Road. (fn. 490)
Most other non-agricultural occupations recorded between the 16th and late 18th centuries were those typical of a small village: (fn. 491) baker, brewer, (fn. 492) butcher, (fn. 493) wheelwright, weaver, tailor, (fn. 494) shoemaker, (fn. 495) carpenter, (fn. 496) and blacksmith. (fn. 497) Mercers were mentioned from the later 17th century. (fn. 498) Most tradesmen presumably lived in the village, but brewers and a butcher were recorded in Ancton and Wick tithings in the 1540s (fn. 499) and a smithy was said to lie at Wick in 1624. (fn. 500) A butcher of Felpham in 1652 leased a shop and stalls in Arundel high street from the corporation. (fn. 501)
In the early 19th century the parish had a very high proportion of tradesmen: more than one in four of those in work in 1831 and as many as one in two in 1811. (fn. 502) During the 19th and 20th centuries (fn. 503) the number and variety of trades increased in step with Felpham's growth as both a seaside resort and a place for residence or retirement. There was usually at least one grocer or shopkeeper in that period. (fn. 504) Less usual trades in the mid 19th century were those of cabinet maker, (fn. 505) maltster, laundress, (fn. 506) marine store dealer, (fn. 507) sea defence contractor, (fn. 508) and drawing master, while other specialized occupations mentioned later, with dates of first occurrence, were those of florist (1895), greengrocer (1899), stationer (1903), fishmonger (1915), tobacconist, newsagent (1922), and hairdresser (1927). There was a chemist by c. 1922 (fn. 509) and two in 1934, a firm of electrical engineers in 1930, and in the 1930s music sellers, two wine merchants, a landscape gardener, a wireless engineer, a chimney sweep, an upholsterer, and a watchmaker, besides a toy shop. A coal merchant was recorded in the village from 1839; (fn. 510) there were two in 1927, one of whom was also a wood merchant and haulage contractor. (fn. 511)
Though most tradesmen's premises were in the village in the 19th and 20th centuries, there were two general stores in the Sea Road area in 1910 (fn. 512) and another in Flansham Lane by 1927. (fn. 513) In 1992 the village together with the southern end of Felpham Road retained a wide range of general shops besides more specialized businesses including those of travel agent, antique dealer, jeweller, picture framer, and dealer in business machines, together with a pet shop, a betting shop, and a video film hire business. Other shops in Felpham Way and in Flansham and Summerley lanes then served nearby residential areas. There was also a beach shop on the sea front. In Flansham Lane a former builder's premises (fn. 514) were occupied by a firm of heating engineers and another of interior designers.
By 1791 Sir Richard Hotham had started a lime kiln at the seaward end of Limmer Lane to serve his building operations in Bognor. (fn. 515) Early 19th-century construction in both Felpham and Bognor presumably gave employment to the bricklayer, masons, and glaziers recorded between 1800 and the 1830s. (fn. 516) There was perhaps a brickyard on the south side of Limmer Lane in 1844. (fn. 517) In 1862 one builder was listed, but the increased rate of development in the early 20th century brought three firms by 1922, five besides a builders' merchants by 1927, and eight by 1938. (fn. 518) Brickfields were worked for short periods in the early 20th century in the area of the modern parish and at Flansham. (fn. 519) A house agency at the village post office was mentioned c. 1922, (fn. 520) and there were three estate agents by 1927, besides estate development companies, and as many as six in 1938, three of whom were also builders. In 1992 there were six in the area of the ancient parish excluding Ancton.
The increasing number of moneyed residents provided work for jobbing gardeners from 1887 or earlier, (fn. 521) while the expansion of the seaside resort from the later 19th century, besides giving rise to the lodging houses, guest houses, and hotels mentioned elsewhere, (fn. 522) brought cafés and refreshment rooms, of which there were six in 1934 including one on the esplanade. In 1992 there were several restaurants in the area of the ancient parish excluding Ancton, besides two premises selling 'take-away' food. Souvenir 'Felpham arms' china could be bought in the village c. 1922. (fn. 523)
A wheelwright continued in business until 1905 or later; (fn. 524) until c. 1900 there were two blacksmiths, one in the village and one in Felpham Way to the east, the latter surviving until the 1930s. (fn. 525) With the growth of motor transport two garages had appeared by 1934, both beside what was then still a main route into Bognor Regis. The premises of the Felpham Motor Works south-west of the village, built c. 1920, could accommodate 30 cars, some in lock-up garages, and the firm also dealt in cycles. (fn. 526) Three garages remained in 1992.
The professional men who resided in the 19th century (fn. 527) were presumably non-practising, and at that date Felpham evidently depended on Bognor for professional services, as to a great extent it still did in 1992. There was a vet in 1905, a physician and surgeon by 1927, and a solicitor and a chiropodist by 1934, while an optician attended in 1938. Three branch banks were opened in the early 1930s (fn. 528) and remained in 1992. There were then also in the parish two dentists and a solicitor.
Fishing continued in a small way in the 19th and 20th centuries. Two fishermen were mentioned, besides other mariners, in the 1810s, (fn. 529) there were four in 1841, (fn. 530) and two lived in the Sea Road area in 1905, (fn. 531) when they were presumably included in statistics of fishing at Bognor, catching mixed fish including herrings and shellfish. (fn. 532) In 1982 both full- and part-time fishermen operated from the sea front east of Sea Road. (fn. 533)
Riding stables existed in the village between the 1930s (fn. 534) and 1992.
Many residents in 1996 were retired, and many others worked elsewhere, especially in Chichester.
LOCAL GOVERNMENT.
Shaftesbury abbey (Dors.) seems likely by virtue of its status to have had leet jurisdiction on Felpham manor, which enjoyed it in the mid 16th century (fn. 535) and apparently in the early 17th. (fn. 536) Right of wreck belonged to the lord of the rape in 1209-10 (fn. 537) but in 1630 was claimed, apparently with success, by the lady of the manor. (fn. 538) The abbey had a prison at Felpham in 1248. (fn. 539)
There are court rolls or draft court rolls for the view of frankpledge and court baron for various years between 1543 and 1550 (fn. 540) and for the court alone for the period 1662-1881. (fn. 541) Not more than two sessions a year took place in the 1540s, the view in 1543 being followed by a sheriff's tourn. After 1662 courts were held usually once or twice in a decade, the last in 1827; business was treated out of court by 1662. A plea of land and a case of assault were heard in 1543. In the 1540s the view held the assize of bread and of ale, and dealt with stray beasts and the maintenance of streams; the court, besides regulating tenancies, managed the common land and saw to the repair of roads and fences. After 1662 nearly all business was conveyancing, but a house was ordered to be repaired in 1730 (fn. 542) and a piece of the waste was licensed for inclosure in 1881. (fn. 543)
Manor officers were a bailiff in 1535 and 1730, (fn. 544) chief pledges for the tithings of Felpham, Ancton, and Wick in the 1540s, (fn. 545) and a tithingman c. 1822. (fn. 546) A manor pound was mentioned in 1547. (fn. 547)
Two churchwardens were recorded for many years between 1548 and 1694; there was almost always one only from 1695 to 1850 but afterwards there were usually two. (fn. 548) A single overseer served in 1642 (fn. 549) and two in 1826. (fn. 550) A rate for church repair was levied in 1623. (fn. 551)
Before Felpham joined the Yapton Gilbert union in the 1780s there was a parish poorhouse in Flansham Lane; afterwards it was rented out by the parish as two cottages (fn. 552) and it survived in 1992. Other methods of poor relief employed between 1790 and 1835 included boarding out, apprenticing, the provision of clothing and medical care, and the payment of weekly doles either in lieu of or to supplement wages. (fn. 553) Parish work in a gravel pit was said to be organized, not very effectively, in 1835. (fn. 554) Ninety-two parishioners were receiving permanent relief in 1826 and 68 casual relief. (fn. 555) In 1835, evidently in anticipation of the stricter conditions laid down by the 1834 Poor Law Amendment Act, 43 parishioners joined the Petworth emigration scheme to Canada at the joint expense of the parish and of local landowners. Ten parishioners were still receiving out relief in 1836. (fn. 556)
The parish formed part of Westhampnett union, later rural district, after 1835. (fn. 557) The development for building of its south-west corner in the late 19th century and early 20th brought suggestions for partial incorporation into Bognor urban district in 1903, (fn. 558) for the adoption by the parish of the Lighting and Watching Act, 1833, in 1913-14 and 1922, and for the creation of an urban district of either Felpham or Felpham and Middleton in the mid 1920s. (fn. 559) In the event the ancient parish was abolished as a unit in 1933, part going to Bognor Regis and the rest being divided between Middleton and Yapton. A new civil parish was created in 1985. (fn. 560)
A parish pound was recorded behind the modern Southdowns hotel c. 1844; (fn. 561) by the 1870s it had moved to the south side of Felpham Way. (fn. 562) There was another pound at the north end of Felpham Road in the 1930s. (fn. 563)
CHURCH.
There was a church in 1086, which evidently belonged with the manor to Shaftesbury abbey (Dors.). (fn. 564) Despite the grant of a licence in 1344 (fn. 565) the abbey never appropriated the benefice, though it continued until the Dissolution to appoint rectors, (fn. 566) the living later becoming a sinecure. (fn. 567) A vicarage was ordained by 1386. (fn. 568) It was briefly united with Middleton rectory in 1657. (fn. 569) In the later 19th century union was often advocated again, (fn. 570) and the two benefices were united in 1906, the parishes remaining distinct. The parishes too were united in 1976, when a benefice of Felpham with Middleton was created of which the incumbent was called rector. (fn. 571)
The advowson of the vicarage belonged from 1401 or earlier until the mid 19th century to the rector. Two, possibly three, laymen who presented in the later 16th century and earlier 17th were apparently lessees of the rectory estate. (fn. 572) Since 1871 the dean and chapter of Chichester have presented to Felpham and later Felpham with Middleton. (fn. 573)
The vicar seems to have received a stipend from the rector before the 16th century, since no endowment is known at that period. (fn. 574) In 1535 the vicarage was valued at £9 10s. 7d. net, (fn. 575) but in 1579 Felpham and Middleton together were said to be worth well under £5. (fn. 576) In the early 17th century there was a vicarage house with two garden plots standing south of the church; the vicar then received all the small tithes including those of hemp, as later. (fn. 577) In 1646, when the living was worth £25 a year, an extra £50 was ordered to be paid from the profits of the rectory. (fn. 578) Later valuations were £34 in 1724, (fn. 579) £36 10s. 6d. in 1809, (fn. 580) and c. £166 c. 1830. (fn. 581)
The vicarage house was said in 1662 to have fallen down many years before, (fn. 582) and a replacement was bought before 1687 by the rector and the lord of the manor with contributions from others; it stood north-east of the church and then had a parlour, three chambers, and a study, besides service rooms. (fn. 583) In 1724, when some ceilings and parts of the roof and walls were in bad repair, there was also ½ a. of glebe, (fn. 584) presumably the close south of the church recorded in 1843. (fn. 585) The building was described as unfit for residence c. 1830 (fn. 586) and was later demolished, the vicar in 1843 leasing a house in Limmer Lane. At the commutation of tithes at that date a tithe rent charge of £200 12s. was awarded him. (fn. 587)
From 1849 or earlier the vicar leased the Old Rectory house, (fn. 588) and in 1861 the ecclesiastical commissioners settled it on the living together with 8 a. nearby, (fn. 589) afterwards giving an augmentation of £114 a year from 1867. (fn. 590) In 1923 a new house for the incumbent in neo-Georgian style was completed on part of the glebe in Limmer Lane to the designs of Adams, Holden, and Pearson. (fn. 591)
The spiritual needs of the northern part of the parish were catered for from the mid 14th century or earlier by a chapel of ease at Flansham. (fn. 592) By 1547 it had fallen into ruins (fn. 593) and in 1640 it was apparently used as a barn, (fn. 594) said in 1901 to have been only recently pulled down; foundations then remaining behind Chapel House at the north end of the hamlet indicated a rectangular building similar in scale to Bilsham chapel in Yapton. (fn. 595) No chapel is ever recorded at Ancton, whose inhabitants may often have attended Middleton church in the Middle Ages as certainly happened later. (fn. 596)
The vicar in 1529 may also have held Barnham. There was apparently an assistant curate in the 1530s, when a brotherhood of St. Christopher was also recorded. (fn. 597) Julian Browning, vicar 1556-82, was resident in 1563 and 1579, on the second occasion being described as a preacher; throughout his period of tenure he held Middleton as well. (fn. 598) At least two early 17th-century incumbents were also licensed to preach (fn. 599) though the second, William Hill, was inhibited in 1635 through suspicion of Nonconformity, having told three parishioners from the pulpit he was certain they would be damned. (fn. 600) John Goldwire, minister from 1657, was ejected after the Restoration; (fn. 601) his orthodox successor held other benefices including Middleton and in 1662 did not always reside. (fn. 602)
In 1724 a service with sermon was held each Sunday by the assistant curate, holy communion being celebrated three times a year with 30-40 communicants. (fn. 603) The then vicar may, therefore, have been non-resident, like his predecessor, who was described in his will as of North Mundham. (fn. 604) Four other curates are recorded during the 18th century, (fn. 605) one of whom was rector of Middleton, (fn. 606) and at least two other vicars at that period did not reside though one was said in 1742 to officiate himself. (fn. 607) In 1795 the church often accommodated visitors to Bognor who could not find seats in South Bersted church. (fn. 608)
J. B. Beed, vicar 1805-47, generally served the cure himself (fn. 609) but had assistant curates at various dates. (fn. 610) Between the early 19th century and 1868 or later morning and afternoon services were held on successive Sundays alternately with Middleton, (fn. 611) though there were two Sunday services in 1838 when Middleton church was not in use. At the latter date communion was celebrated at least five times a year; (fn. 612) by 1865 the frequency was monthly and by 1884 weekly. (fn. 613) Congregations on Census Sunday 1851 were 220 in the morning and 250 in the afternoon, on each occasion with 30 Sunday schoolchildren besides. (fn. 614) In the mid 19th century men and women sat separately in church, and musicians, some playing instruments, at the west end. (fn. 615)
In the 1870s and 80s successive vicars served part of the year as canon residentiary of Chichester cathedral; (fn. 616) one of them, Edward Tufnell (d. 1896), had previously been bishop of Brisbane (Australia). (fn. 617) The assistant curate lived at Richmond House, Felpham Way, in 1895. (fn. 618) Weekday cottage services were held at Flansham in winter in 1898, when there were also daily services in the church. (fn. 619)
Felpham's Anglo-Catholic tradition, still marked in 1992, began under Donald Manners, vicar 1934-74, who introduced a weekly sung and a daily said eucharist, the first Anglican midnight mass in the area, and reservation of the sacrament in 1937. (fn. 620)
The church of ST. MARY (fn. 621) is faced chiefly with flint and some 'Bognor rock' sandstone and consists of chancel, aisled nave with south porch and north vestry, and west tower also with north vestry.
The nave was apparently built in the 11th or 12th century and the aisles added in the 13th; the north aisle arcade, which is the earlier, was cut through the north wall of the existing building, but the south wall was rebuilt. The north wall has 14th-century clerestory windows. The elegant chancel, long in proportion to the nave, is early 14th-century (fn. 622) and the battlemented tower, with some chequerwork decoration, is 15th-century. The altar at the east end of the north aisle was apparently the Lady altar mentioned in 1534, and that in the south aisle perhaps belonged to the brotherhood of St. Christopher recorded in the 1530s. (fn. 623) A bequest to the 'town lights' of Felpham, Flansham, and Ancton in 1547 (fn. 624) may indicate that each tithing of the parish had its own altar. A rood was mentioned in 1535. (fn. 625) Rails or a screen still separated chancel and nave in 1776. (fn. 626)
The porch mentioned in 1636 (fn. 627) had perhaps been built recently since the present structure, which was restored or rebuilt c. 1800 and in the 20th century, includes 16th- or 17th-century timber work. (fn. 628) In 1622 both church and chancel were said to be 'very dark and foul'. (fn. 629) The chancel ceiling, windows, and walls were still in poor repair in 1776, when there was a wooden partition behind the communion table, the space between it and the east wall being filled with rubbish. (fn. 630) A south gallery had been built in the nave by 1784 (fn. 631) and was perhaps rebuilt in 1818, (fn. 632) but in 1814 accommodation in the church was said to be limited (fn. 633) and in 1828 the interior was felt to lack the clean and neat appearance of South Bersted church. (fn. 634) In 1845, when the south gallery partly obscured the tower arch, there was also a modern arch of wood in front of the chancel arch and a modern ceiling below the nave roof. (fn. 635)
Extensive repairs were carried out c. 1851 (fn. 636) and the tower and the nave roof were restored in 1884. Apparently during the same period most of the chancel window tracery was renewed and its roof replaced. The tower vestry was built in 1899, (fn. 637) when the north aisle wall was apparently refaced, and the choir vestry beside the north aisle in 1939. (fn. 638)
The much restored Sussex marble font is late 12th-century; it has a shallow square bowl decorated with blank Romanesque arcading in flat strips and rests on five pillars. (fn. 639) Its original base lies in the churchyard opposite the south door. The chest is 13th-century, similar to that at Climping but plainer; another medieval chest survived in 1845. (fn. 640) At the latter date there were still many medieval open benches, their ends decorated with plain poppyheads; (fn. 641) they had mostly been replaced by 1851 (fn. 642) but one piece survived in the tower gallery in 1992. (fn. 643) A medieval stone altar slab, which had perhaps been used as paving in the porch in 1857, (fn. 644) also remained in 1992 behind the modern altar, (fn. 645) but the altar cloth mentioned in 1845, of velvet embroidered with cloth of gold and made from a medieval cope, (fn. 646) had disappeared.
Box pews were built in the church in the later 18th century; (fn. 647) one particularly large example near the chancel arch, enclosed entirely on three sides and on the top except for a square hole to admit light, obscured the chancel and darkened the pulpit in 1776, when it was compared to a cabin in a Dutch passage boat. (fn. 648)
There were four bells in 1724: (fn. 649) one, which survived in 1992, probably of the early 15th century and three dated between 1599 and 1627, one of them made by Bryan Eldridge and one by Henry and Roger Tapsell. The other five bells in place in 1992 were of 1883. (fn. 650) The pre-19th-century plate includes a silver-gilt paten cover dated 1580 with a presumably contemporary tazza-shaped cup, and a silver paten of 1724. (fn. 651) There are carved royal arms on the north nave wall. A monument in the chancel and a table tomb in the churchyard commemorate Arthur Gore, earl of Arran (d. 1837), and his wife, residents of Bognor. (fn. 652) The registers begin in 1554. (fn. 653)
NONCONFORMITY.
One woman was presented for recusancy in 1626 (fn. 654) and there was one reputed papist in 1781. (fn. 655) In the 19th century some coastguard men and their families were Roman Catholics. (fn. 656) In 1934 the former school building in Middleton Road near the junction with Flansham Lane was opened as a chapel, dedicated to St. Peregrine, of the Catholic parish of Bognor Regis. It was extended in 1936 (fn. 657) and remained in use in 1992.
One Dissenter was listed in 1676 (fn. 658) and none in 1724. (fn. 659) In 1898 most of the nine or ten Nonconformist families of the parish went to church in Bognor but there was also a corrugated iron mission room in Flansham Lane used by Dependants, services being conducted allegedly by either visiting preachers or the local carrier. (fn. 660) Dependant services were still held on Wednesdays in the 1930s. (fn. 661)
A Methodist Sunday school was started in 1909 in Sea Road, and from 1932 Methodists hired the Dependant chapel for Sunday evening services of what was known as Felpham gospel mission, with an initial average attendance of 16. (fn. 662) A red brick Methodist church hall was opened in Felpham Way in 1939 for services and other purposes, seating 200; after 1963 the building was used exclusively for worship (fn. 663) and it was enlarged in the 1980s. (fn. 664) A resident minister was appointed in 1962 to serve Westergate and Barnham as well as Felpham. (fn. 665) In 1967 there were 95 church members (fn. 666) and in 1988 c. 150. (fn. 667)
In 1952 part of a building in the grounds of Turret House in Felpham village was registered for worship by Christians not otherwise designated; services were simple and Evangelical and the premises also accommodated a biblical museum. (fn. 668) A Kingdom Hall of Jehovah's Witnesses had been opened by 1988 in Flansham Lane.
EDUCATION.
A schoolmaster was licensed to teach English in 1579 (fn. 669) and another to teach reading and writing in 1584. (fn. 670)
There was a girls' school at Felpham by 1818, whose site is unknown. Boys then went to school in South Bersted, (fn. 671) but a boys' National school was opened in 1831 near the junction of Flansham Lane and Middleton Road; (fn. 672) the position was evidently chosen as central among the various settlements in Felpham and Middleton parishes, since pupils from Middleton had apparently attended school in Felpham in 1818 (fn. 673) and continued to do so later. (fn. 674) There were 30 girls in 1818 and in 1833, and 40 boys at the latter date. The mistress in 1818 received a salary. Finance was then provided by subscriptions and an annual charity sermon, but in 1833 by subscriptions and donations only. (fn. 675)
In 1846-7 the school was known as Felpham and Middleton school, (fn. 676) though later nomenclature varied. (fn. 677) Average attendance was 22 boys and 28 girls in 1855 (fn. 678) and 60 including infants c. 1872. School pence were also received at that period, (fn. 679) but a government grant is not recorded before 1874. (fn. 680)
A proposal by the vicar to move the school nearer to Felpham village in the early 1870s was prevented by opposition from the rector of Middleton, and instead a new building of red brick was put up on the old site, incorporating the west wall of the old one-storeyed building. In 1888, however, a new school was opened in Felpham Way north of the village, the then incumbent, Bishop Tufnell, defraying the cost and the duke of Richmond giving the site. The old school was later used as a house, (fn. 681) before being sold to the Roman Catholic church. (fn. 682) Average attendance in the period 1893-1922 fluctuated between 95 and 117; by 1932 it had risen to 144 and in 1938 it was 178. (fn. 683)
In 1957 new school buildings were opened on a site off Middleton Road close to the original one to house a separate junior department, the infant department also moving there some years later. Both were called in 1957 Felpham C.E. schools and from 1979 Bishop Tufnell C.E. schools. (fn. 684) The building of 1888 was afterwards converted first to an arts centre (fn. 685) and then to retirement homes. In 1992 there were 308 infants and 252 juniors on the roll. (fn. 686)
Downview county primary school in the west part of the parish was opened in 1976. (fn. 687) There were 224 on the roll in 1991. (fn. 688)
An evening school was held by the vicar and his daughters in the winter of 1878 with satisfactory results; it continued in 1882 but had lapsed by 1884. (fn. 689) Older children from Felpham went to school in Bognor after c. 1938, (fn. 690) but a comprehensive school called at first Felpham comprehensive school and from 1987 Felpham community college was opened in 1974. (fn. 691) It had 808 pupils in 1978 and 1,300 in 1985, (fn. 692) and there were 898 on the roll in 1991. (fn. 693)
Two private schools with 8 boys and 15 girls flourished in 1833. (fn. 694) There was a 'seminary' or 'ladies' school' in the 1850s, (fn. 695) and a preparatory school with 6-9 pupils occupied the Manor House in Limmer Lane in 1861 and Richmond Villa, Felpham Way, in 1871. (fn. 696) In the 20th century there were other private schools, (fn. 697) notably the Gateway mixed preparatory school in Felpham village (fl. 1950-78) which at its closure had 185 pupils. (fn. 698)
Adult education classes were held at Felpham community college in 1992.
CHARITIES FOR THE POOR.
A pair of war memorial cottages for occupation by poor people were built by subscription in Flansham Lane in 1920. (fn. 699)