Page 65
A History of the County of Sussex: Volume 6 Part 1, Bramber Rape (Southern Part). Originally published by Victoria County History, London, 1980.
This free content was digitised by double rekeying. All rights reserved.
WORTHING AND ASSOCIATED PARISHES
Worthing, a municipal borough from 1890 to 1974, the second largest town in Sussex, and one of the principal seaside resorts in England and Wales, lies on the south coast roughly mid-way between the estuaries of the rivers Arun and Adur. The town is known nationally for its large number of elderly residents, and as the centre of what was formerly one of the chief market-gardening districts in the country.
The modern borough, since 1974 the district, of Worthing comprises five former parishes and parts of two more. The hamlet of Worthing lay in Broadwater parish, which in 1875 contained 2,735 a. including Worthing. (fn. 1) When an improvement commission for the growing town was established in 1803, (fn. 2) it was given jurisdiction over the southern part of Broadwater parish, the northern boundary of the area being defined by the Teville stream and field boundaries. (fn. 3) That area roughly corresponded to the area of the manor, and perhaps also to the area of the medieval chapelry, of Worthing. In 1871 Worthing township contained 584 a., (fn. 4) increased to 979 a. in 1875, the new northern boundary being drawn just south of Broadwater village. (fn. 5) At its incorporation in 1890 Worthing absorbed Heene civil parish to the west, of 426 a., making a total of 1,425 a., the extra 20 a. presumably being accounted for by land reclamation. In 1902 parts of Broadwater and West Tarring parishes were added to it to make 2,639 a., and in 1929 Durrington parish, of 2,453 a., including most of the residue of Broadwater and West Tarring parishes, and Goring parish, of 2,135 a., were added, nearly trebling the area, which thereafter was 7,227 a. In 1933 the borough was further enlarged by portions of Findon and Sompting parishes, of 379 a. and 419 a. respectively, to make 8,025 a. In 1971 the area was given as 8,060 a. (3,262 ha.), the increase being again presumably made up by reclamation. (fn. 6)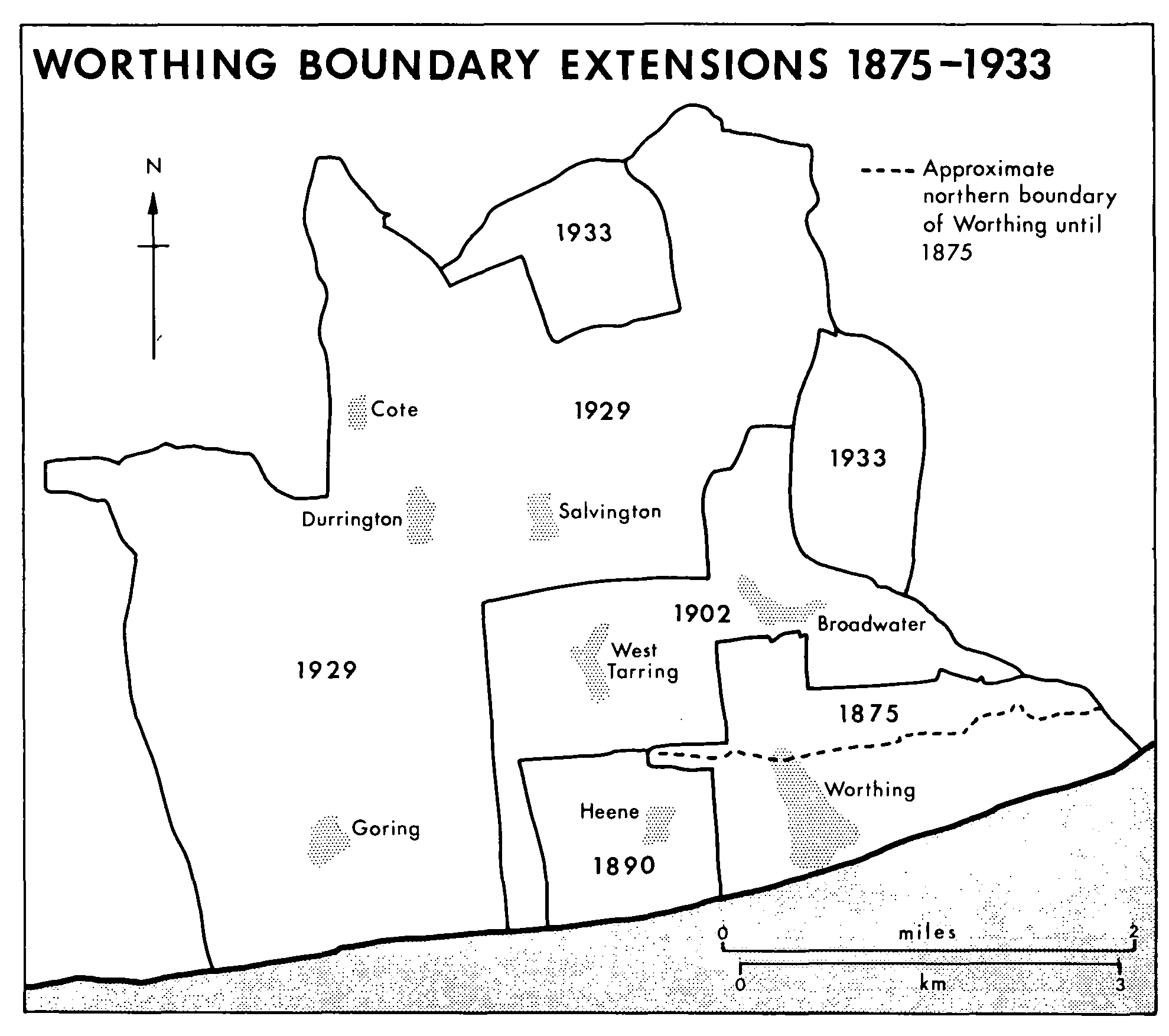 The present account begins by treating the history of Broadwater, excluding Worthing hamlet, up to c. 1900; then the histories of the civil parishes of Durrington and Heene are treated severally, up to the same date. The history of West Tarring before c. 1900 is treated below, under Tarring hundred. The history of Worthing hamlet and town follows that of Heene, and includes the 20thcentury history of the four parishes mentioned. Goring parish, which lay in Arundel rape historically, is reserved for treatment elsewhere, except for its modern history as part of Worthing borough, which is included here, together with the modern history of the parts of Findon and Sompting transferred to Worthing in 1933.