Pages 185-188
A History of the County of Sussex: Volume 6 Part 3, Bramber Rape (North-Eastern Part) Including Crawley New Town. Originally published by Victoria County History, London, 1987.
This free content was digitised by double rekeying. All rights reserved.
CHURCH.
There was apparently a church by 1232, when William the chaplain of Cowfold witnessed a charter. (fn. 1) At the end of the 13th century Cowfold rectory formed a portion of the prebend of Henfield, (fn. 2) so Cowfold church is likely to have been founded as a daughter church of Henfield. A vicarage had been endowed by 1291 (fn. 3) and was in the gift of the prebendaries of Henfield, (fn. 4) the Crown presenting a vicar, apparently because the prebend was vacant, in 1344. (fn. 5) Bishop Sherburne, in appropriating the prebend to the see of Chichester between 1519 (fn. 6) and 1531, united the rectory with the vicarage of Cowfold, reserving to the bishop a pension of £4 6s. 8d. and the advowson of what continued usually to be called the vicarage. (fn. 7) Incumbents were sometimes styled rector and vicar (fn. 8) or simply rector. (fn. 9) The Crown in 1551 presented a vicar who was apparently not inducted, and in 1552 two men made a joint presentation under the bishop's grant of a turn (fn. 10) in 1543. (fn. 11) On a vacancy of the see in 1560 the Crown again presented, and in 1692 and 1728 the archbishop presented by demise of the bishop, from whom in 1852 the patronage was transferred to the bishop of London, (fn. 12) the patron in 1984.
The vicarage was taxed at £6 13s. 4d. a year in 1291, (fn. 13) and then or soon after the vicar had 15 a. of arable and various small tithes. (fn. 14) In 1535 the vicarage was said to be worth £10 6s. 3½d. net a year, evidently including the recently acquired share of the rectory, (fn. 15) and in 1635 the vicar had 30 a. of glebe in a compact piece. (fn. 16) Including the great tithes the vicarage was worth £450 net a year c. 1830. (fn. 17) The tithes, great and small, were commuted for £587 a year in 1839, when there were 34 a. of glebe. (fn. 18) The vicarage house stood back from the later Station Road on the north side, (fn. 19) on the site which it had occupied in 1635; (fn. 20) it was rebuilt on a larger scale in 1878. (fn. 21) In 1904 a new house was built 150 yd. north-east, and the old one, given the name Hampsteel and a driveway to the Horsham road, (fn. 22) was later demolished to make way for a housing estate of the 1950s and 1960s. The vicarage of 1904 also became a private house when a new vicarage, also on the Horsham road, was built in 1980. (fn. 23)
The living was exploited by chopchurches between 1401 and 1414: within that period there were seven successive vicars. (fn. 24) A salaried chantry chaplain was recorded in 1419. (fn. 25) A fund called St. Margaret's money and managed by St. Margaret's wardens in the 1470s may refer to the same chantry; in the same period there were several endowed lights. (fn. 26) John Gratwicke was said in 1548 to have founded a chantry in Cowfold church, endowing it with 35¼ a. called Peacocks and Northfields, worth nearly 30s. a year net, and there was a yearly obit from 1541 of 13s. 4d.; (fn. 27) no other chantry was then recorded. Roger Covert, licensed in 1536 to hold another benefice with Cowfold, (fn. 28) was evidently resident in 1541, but in 1557, (fn. 29) 1563, (fn. 30) and 1582 the parish was served by curates. (fn. 31) Robert Scott, vicar 1603-9, (fn. 32) was the king's embalmer and a pluralist who served Cowfold through a curate in 1603. (fn. 33) Roger Andrewes, 1609-22, later master of Jesus College, Cambridge, was also a pluralist and an absentee, (fn. 34) but Thomas Hudson, vicar from 1622, was resident. (fn. 35) He had been sequestrated by 1647, (fn. 36) and by 1649 George Vinter was serving the parish. Vinter was appointed to the living in 1652 and retained it until 1691, acquiring a reputation for apostasy and living in his last years on his other benefice, Rotherfield. (fn. 37) In his time the parishioners showed a disregard for the parish church which seems to have arisen not from dissent alone. (fn. 38) Curates were recorded from 1675 to 1692, including one who served for at least 11 years, and from 1755 to 1801, though Charles Ashburnham, vicar 1755-1800, was resident some of the time. (fn. 39) Richard Constable, 1801-39, and W. B. Otter, 1839-76, archdeacon of Lewes, were both resident and between them provided a long period of stability. (fn. 40) In 1851 Otter claimed average congregations of 300 at both morning and afternoon services and that 500 people, in addition to the Sunday school, attended church each Sunday. (fn. 41)
The church of ST. PETER, so called in the mid 15th century, (fn. 42) is built of rubble and coursed ashlar and has a chancel with south chapel, nave with south aisle and north porch, and west tower. The chancel, with double-splayed lancets on the north side and the remains of a piscina on the south, was built in the 13th century. (fn. 43) The shape of the long and narrow nave and traces of north windows apparently similar to those of the chancel suggest that it was built at the same time. The porch, with a crown-post roof, and the tower were added in the 15th century. The south aisle was the object of bequests in 1531, when it was yet to be begun, and 1548, when it was called new; (fn. 44) evidently in the same period the nave was given new north windows and the south chapel was added. Repairs to the church were made 1637-41. (fn. 45) A thorough restoration of 1877 (fn. 46) included rebuilding the chancel arch; the arch nevertheless retains on its south-west face a damaged niche for an altar or statue of St. Mary, (fn. 47) before which there was a light in 1474. (fn. 48) The roofs were renewed in 1928. (fn. 49)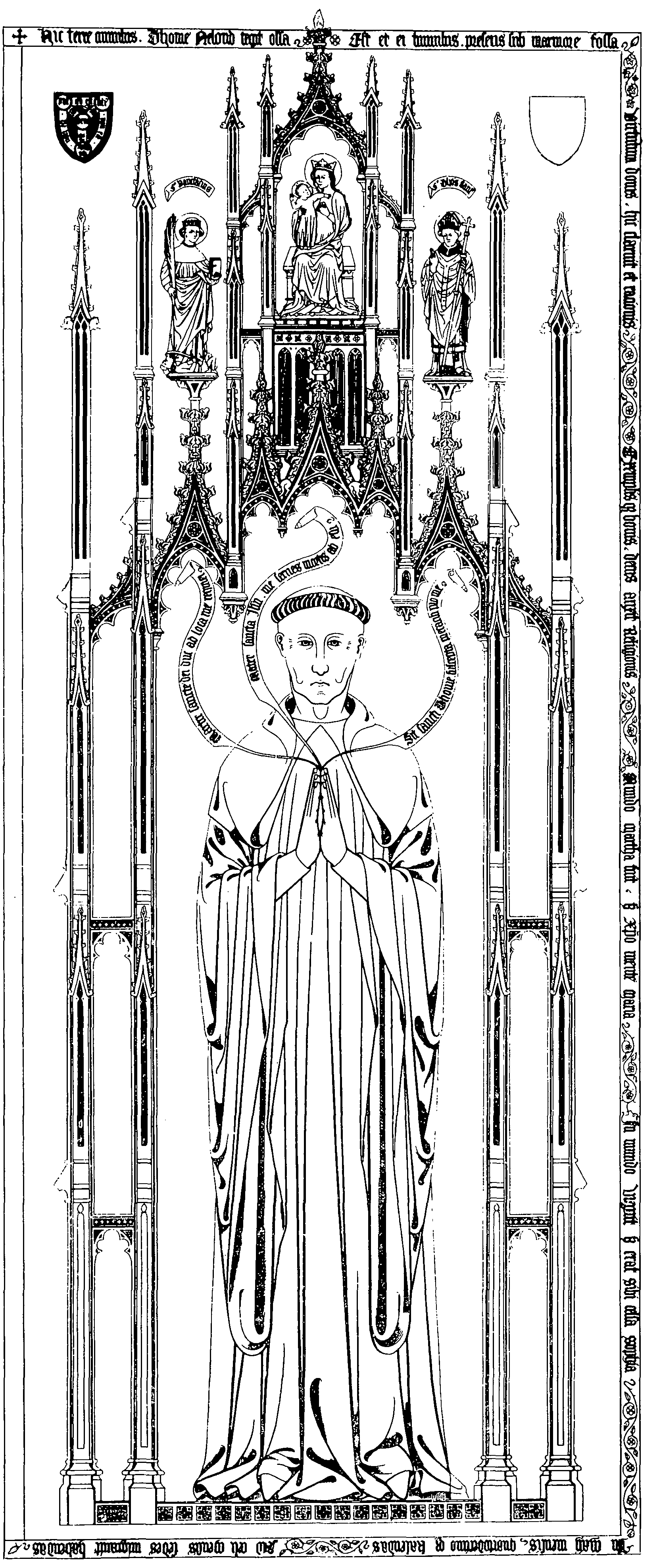 The glass includes a crucifixion of the 14th or 15th century, in one of the lancets, and a window by C. E. Kempe of 1894 in the aisle. The panelled font was paid for in 1481-2, (fn. 50) but has been much recut. The effigy in brass for Thomas Nelond (d. c. 1430), prior of Lewes, is the largest and most elaborate in Sussex and the most notable feature of Cowfold church; why it was moved there is unknown. (fn. 51) The mid 16th-century tomb of John Beard had gone from the church by 1835. (fn. 52) There were evidently three bells in the mid 15th century (fn. 53) and there were four in 1724, (fn. 54) presumably including the two of 1629 and one of 1634, all by Brian Eldridge, that were among the five bells in 1864. (fn. 55) The five were recast and a sixth was added in 1906. (fn. 56) The plate includes a flagon and two almsdishes of 1726 and a communion cup and paten of 1741. (fn. 57) The registers begin in 1558 and are virtually complete except for gaps 1634-5 and 1643-8; a parochial registrar had custody of them 1653-8. (fn. 58)
The churchyard is enclosed with a wooden fence known as the church marks from the deeply incised names of farms recording each landholder's obligation to maintain a given section. The division of responsibility is well instanced at Cowfold, (fn. 59) where a list of 1682 names owners, estates, and the footage of fencing allotted to them. (fn. 60) The lychgate to the churchyard was built in 1930. (fn. 61) A new burial ground was consecrated in 1894. (fn. 62)