Pages 100-114
A History of the County of Warwick: Volume 4, Hemlingford Hundred. Originally published by Victoria County History, London, 1947.
This free content was digitised by double rekeying. All rights reserved.
KINGSBURY
Acreage: 8,070.
Population: 1911, 3,831; 1921, 4,263; 1931, 3,923.
Kingsbury is an extensive parish lying mostly to the east of the river Tame, with Bodymoor Heath (inclosed in 1856) and Hemlingford Green, the ancient meeting-place of the hundred, on the west of it. The Birmingham and Derby section of the L.M.S. railway runs north and south through the parish, roughly parallel with the river, with a station south of the village, and north of it a branch serving Baddesley Colliery. The country is undulating, rising from about 220 ft. in the south-west to 400 ft. on the east, and is open, the only considerable stretch of woodland being in the centre of the parish.
The village of Kingsbury is built mainly on the right bank of the river, in the northern angle formed by a small stream that here joins the Tame, and along the road from Coventry to Tamworth; but the parish includes several other villages and hamlets. The village of Dosthill lies at the north-west extremity of the parish, on the Staffordshire border, with the hamlet of Whateley to the south-east of it, (fn. 1) and in this district there are several collieries and brickfields. Holt Hall, (fn. 2) now a farm, is near Whateley. The hamlet of Cliff, which is to the south of Dosthill, now includes Slateley, (fn. 3) which in the 15th century was described as a hamlet. (fn. 4) Drakenage Farm, a moated site, is south-east of Kingsbury station, and Halloughton lies on the southern edge of the parish. Flanders Hall lies between Halloughton and Hurley, which is a straggling village 2 miles east of Kingsbury Church with a modern church of the Resurrection, built in 1861, and a Methodist chapel. Hipsley Farm lies about 2/3 mile beyond Hurley Hall to the north-east, Kimberley Hall about a mile to the east of Hurley village, and Foul End to the south-west. Coton Hall (fn. 5) stands on the right bank of the river near the extreme south-west of the parish.
Kingsbury Hall, now a farm-house, stands northwest of the church on the edge of a natural steep declivity east of the river Tame. It consists of a house of the 15th or early 16th century and, south-east of it, two ranges of a 14th-century curtain wall, about 5½ ft. thick and 20 ft. high, built of good coursed squared masonry. At the south-east angle where the two lengths meet is a semi-octagonal tower, about 8 ft. wide across the inner mouth; the inner wall that closed the mouth, the floors, and the roof have disappeared. Adjoining its west side is a quarter-octagonal turret containing a garde-robe entered from the (former) courtyard by a pointed doorway and having a segmental-pointed vault. From this angle the wall runs westward about 70 ft. and has no features except internal corbels for the roof of a former building, now replaced by a modern cartshed. At the west end are the broken remains of a similar garde-robe; its west edge is gapped and shows a pointed arch that supported the riser, the sump, and a 2-ft. drain that runs out southwards to the (former) moat. The wall was probably continued westwards to the edge of the bluff, but no remains exist beyond this point above ground. From the south-east tower the wall turns northwards, about 30 ft., to the main gateway, where it is canted slightly to the west. The gateway has a 10-ft. chamfered and pointed archway on square jambs and has probably been rebuilt. Vertical broken surfaces outside flanking the arch indicate that there was formerly a gatehouse about 25 ft. wide against it. The wall continues north of the gateway about 52 ft. and owing to the lower ground-level outside shows a battering basement. The remains of a pond here are probably part of the moat. A scarp south of the south stretch is probably artificial, and the road between it and the churchyard sloping down westwards towards the river was also part of the moat or ditch. All other traces of the moat to the north and east are lost.
The old parts of the house consist of three ranges or wings. (a) a range running east and west about 78 ft. long by 27 ft.; (b) a shorter parallel range adjoining the north side of it, about 40 ft. long and the same width, and projecting 10 ft. beyond its west end; and (c) a short wing east of the last, projecting about 18 ft. from the north side of the long range and about 30 ft. wide. The whole dates from c. 1500, excepting the west end of the short north range (b) which was rebuilt late in the 16th century. There are many later repairs and alterations, chiefly in brickwork, and adjoining the north side at the west end is a late-18th-century wing. There appears to have been another ancient range extending southwards from the east end of the long range (a). The existing south-east angle is broken where the former east wall of the vanished range met it, and the 21-in. west wall of a farm-building which runs southward from this point has ancient square masonry in its lower part which was probably part of its east wall.
(a) The long south range is built mostly of grey stone rubble, but the gabled west end and part of the adjacent south wall are of 18th-century red brick with contemporary windows. The gabled east end had a porch about 14 ft. wide against it (now replaced by a modern outbuilding) and a middle doorway to the first floor, now altered to an 18th-century window: the windows which flanked the porch and lighted the first floor were tall narrow openings with square heads and labels. The southern has been converted into a doorway and has steps up to it; the northern is blocked; below it was a small light to the ground floor, the chamfered plinth being lifted over it; it is blocked by a small buttress. Below the upper sills was a moulded string-course. The second floor has an original fourlight window with a transom and label.
The long south side is a mixture of various stone rubbles, with windows of the 18th or 19th centuries, but there are remains of two original stone windows in the west half of the wall. The east part, which was covered by the former south range, has now a projecting chimney-stack of 16th-century stone with 17th-century brickwork above. It has a Tudor moulded stone fire-place to the first floor inside. West of the fire-place is an earlier pointed doorway which opened into the former range; it is blocked outside. The original chamber containing these features was a hall 45 ft. long entered from the former east porch. It is now divided into two rooms but retains the ribbed flat ceiling. The rooms below it have some heavy chamfered beams and joists. It is probable that the west end, now 8th-century brickwork, extended a further 10 ft. originally, to be flush with the end of the north range (b).
The short north wing (c) is gabled and has on the east side a doorway, with steps up to it, that opens into an ancient 5-ft. oak staircase from the first to the second floor (attics), and closed off from the rest of the interior. The original window to the second floor in the gable-head is like that in the east gable; west of it at the shoulder of the gable is another two-light smaller window. These windows have many masons' marks on the stonework, a letter G.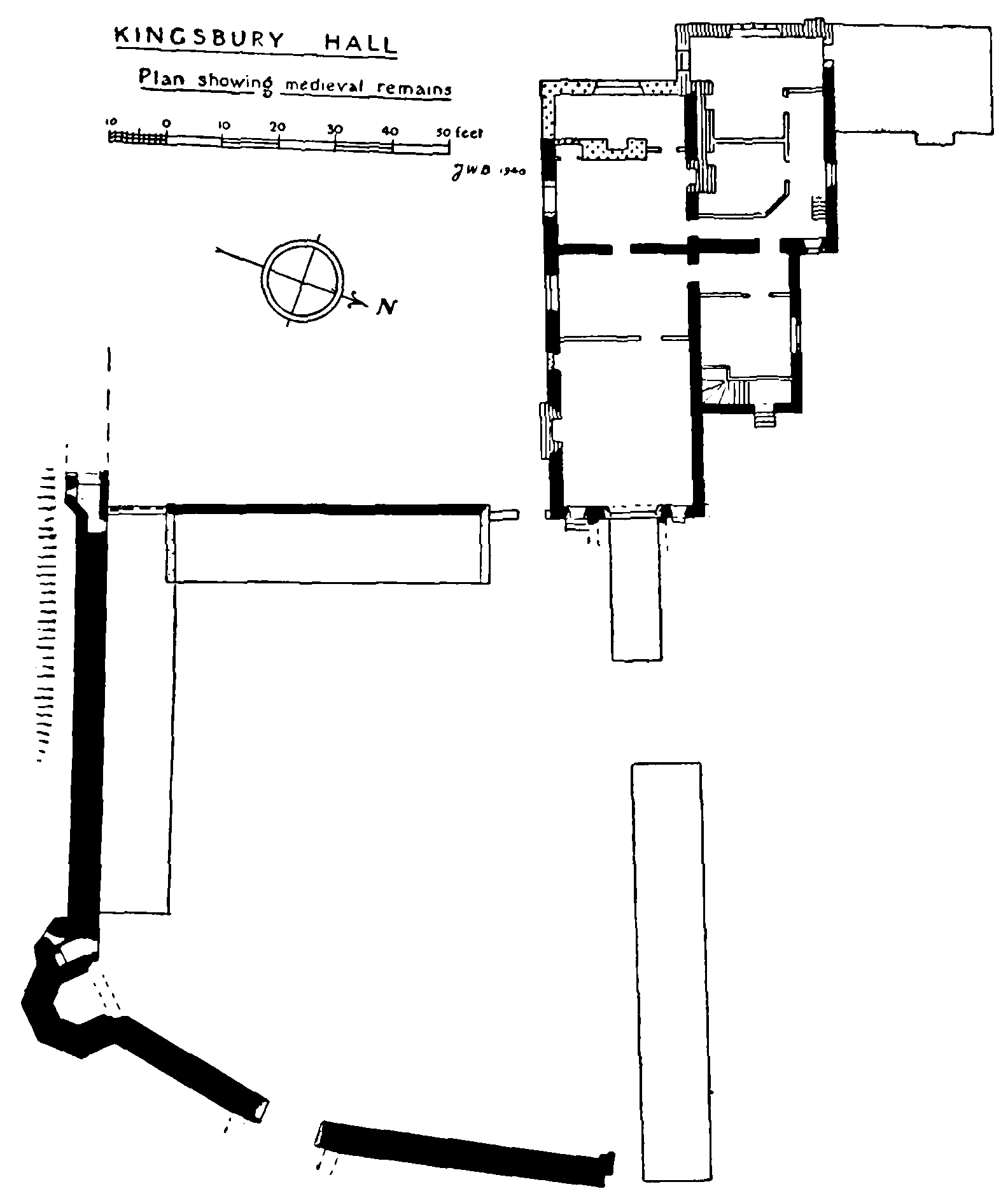 The north side of the north range (b) is of red and grey rubble with much brick repair and has remains of ancient windows, now altered or blocked, on the first floor. The west end is of Elizabethan red sandstone ashlar and had a curvilinear gable-head that has now lost most of its original contour. The 10-ft. length of south side is of similar masonry and had a groundfloor doorway, now blocked. The ground floor of the range had a large chamber of full length now divided into kitchen and other offices. It had a wide fire-place, and the ceiling is divided into four bays with heavy chamfered beams and joists. The first floor was probably also one chamber, but is now divided into two rooms, corridors, and modern staircase. The western chamber has an Elizabethan stone fire-place. The eastern has been fitted with a curious cage-like oak partition to allow of outer corridors to east and south. The lower part of it is panelled, the upper part with open bars to admit light and air, as it is otherwise cut off from both by the corridors: it appears to be of the late 17th century.
The attics (second floor), approached only by the stair in the north wing, are three chambers or galleries in the roof spaces occupying the full length of eachin the roof spaces occupying the full length of each part, and having cemented floors. At intervals are trusses formed by tie-beams, side-posts supporting the principal rafters, and collar-beams. The side walls in line with the side-posts are studded, and at the tops of them are moulded plates or cornices, of differing contours, of c. 1500. The rafters and collar-beams are plastered. Behind the side-walls are stop-chamfered purlins with straight wind-braces. In the south side of the north range (b) is a stone fire-place with a brick relieving arch.
The roofs are tiled and the chimney-stacks have plain brick shafts.
Few of the buildings in the village show signs of age.
The School House (now the master's residence) east of the church and vicarage, and facing south, is an interesting late-17th-century house of two stories and attics with walls of red brick having stone pilasters at the angles, stone plinth, and string-courses and moulded eaves-cornice. The middle doorway has a moulded stone architrave and entablature with a curved pediment; over it is a projecting stone panel with a sun-dial: it has a pulvinated frieze below the eavescornice. The windows have flat arches with keyblocks. The rooms are plain, and the staircase at the back is original. A shop at the north end of the village has some 17th-century timber-framing in the upper story of the north front.
Below (west of) the church is a foot-bridge across the River Tame, repaired in 1760, the upper part rebuilt 1892. It is of brick on stone piers.
The road-bridge by Hemlingford Mill south of the village was built by public subscription in 1783, on medieval lines. It is of local yellow sandstone in five bays with round arches and cut-waters on the east and west faces of the four piers. The parapets of the middle piers are inscribed with the names of donors: William Bond, Kingsbury Hall; Henry Cooper, Kingsbury; William Harrison, Drakenidge; Richard Astley, Halleton; William Brown, Slatley; Richard Worthington, New House.
Flanders Hall is a complete late-17th-century house of H-shaped plan, with red-brick walls and stone angle-dressings. The doorway in the middle of the west front has a moulded stone architrave and entablature. The tall and narrow windows are of brick.
At Foul End are several old cottages. Orchard Cottage is mostly of red brick but has a little 17th-century stonework and timber-framing. The opentimbered ceilings have heavy chamfered beams. Another north of it has rough-casted walls and a 17th-century central chimney-stack with three detached square shafts. New House Farm, east of the latter, also has some 17th-century framing and central chimney-stack.
The manor-house, Foul End, ¼ mile south-east of the last group, is a much altered building of late-16th-century origin. The walls are mostly of 18th-century brick, and a west wing has some cream-coloured sandstone of the 17th-century, but some timber-framing remains in the south cross-wing and in the gable-heads. The central chimney-stack has a wide fire-place and the ceilings are heavily timbered.
At Brook End, about ¼ mile farther east, is a cottage of 17th-century square framing; another is of red and grey stone rubble with a central chimney-stack of thin bricks. By it is a timber-framed barn.
Hurley Hamlet has three or four old buildings. There was once a chapel here, but its site is now lost. The middle of three conjoined cottages on the south side of Knowle Hill has a 16th- or 17th-century front of yellow stone rubble with red stone quoins. 'Old East House', facing the Atherstone road, has walls of brick with cemented stone dressings. The lower story of the east front is of the late 17th century and has a stone doorway with a moulded architrave and entablature with a pulvinated frieze. The windows are of two lights with moulded jambs, mullions, and transoms; the upper windows have been altered to brick with flat arches and have wooden frames. The central chimney-stack is panelled. Adjoining the house are lower outbuildings of stone and timber-framing.
A farm-house close by, south of the Atherstone road, is of 18th-century brickwork, but bordering the road are early-17th-century farm-buildings of timber-framing, partly with herring-bone brick infilling. A house opposite (north of) it is of 18th- or 19th-century brick, but has a 17th-century central chimney-stack. A barn east of it has some 17th-century timber-framing. A cottage farther north is also of 17th-century framing on stone foundations.
Hurley Hall is a tall three-storied red-brick house of c. 1720. The middle entrance of the south front has fluted stone pilasters carrying a curved pediment. The windows are tall and narrow with segmental arches, key-stones, and sash-frames; those over the doorway are flanked by pilasters of alternate brick and stone courses. Several of the rooms are lined with tall bolection-moulded panels and many of these contain paintings, mostly of Classical subjects and at least one Biblical subject—that of the brethren of Joseph with his 'coat of many colours'.
Holt Hall dates from about the end of the 16th century, but externally there is little sign of age. The most remarkable feature is its early-17th-century staircase. The original plan of the house appears to have been rectangular, but it may have been of half-H shape, the filling-in between the back wings done later. Later wings were added at the back and west end, and a modern one to the east. The south front, with three gables, is all cemented and the back is faced with brick. The middle front room is lined with early-17th-century panelling. The kitchen in the east wing has a 9-ft. fire-place. The ceilings have chamfered beams. The staircase (with a small dairy next it) comes between the two wings on the north side. Whether it is indigenous or imported is not certain, but on the ceiling is a square panel carved with shallow ornament and enclosing an oval wreath about a painted shield of arms charged with Grosvenor of Sutton Coldfield (fn. 6) impaling checky or and azure; (fn. 7) crest, a talbot or collared gules. The newels are 7 in. square and have moulded and panelled heads on which are carved varying upsitting figures. 1, the lowest is a talbot; 2, a lion; 3, a unicorn; 4, a griffin; 5, a popinjay (or an eagle?); 6, a fox. Several of the original tails have been replaced by flat iron tails. The stair (fn. 8) is of well type with three flights of six steps up to the first floor, and the balustrade is of one panel to each flight and two on the upper floor, each panel pierced with scrolled strap ornament, some with lion-mask centres. The strings into which the steps are housed are also carved with foliage and grotesque figures: 1 (the lowest), a dog with tail of foliage, followed by a heron; 2, a lion with a fish tail, followed by an owl wearing a brimmed hat with a feather and holding a small halberd; 3, a unicorn with foliated and scaly long tail; 4, a griffin with a foliated tail; 5, a fox with long scrolled tail with a bird on its back, followed by a kind of eagle also with a foliage-tail.
Whateley Hall, about ½ mile farther north, is a farm-house of the same period but much altered. The main block is rectangular, facing south; its walls are timber-framed, but nearly all hidden by rough-cast or cement. The east room has a 10-ft. fire-place and the ceiling beams are stop-chamfered. About 1620 a wing was added at the west end of the north side, making the plan L-shaped. It is of brick with stone dressings and windows. In the angle is a small stair-hall of the same date. The stair has a pierced balustrade of scrolled foliage ornament, probably by the same craftsman who made the Holt Hall stair. North-west of the house is a large timber-framed barn.
About 200 yards south of it is a long outbuilding (barn?) with a stone gabled west wall and 17th-century timber-framed side walls. It is now converted into a cottage. South of that another house, mostly of 18th-century brick, shows remains of earlier timber-framing.
Dosthill has a modern church and a former chapel of the 12th century; the latter is now used as a parish room. It is about 29¼ ft. long by 15½ ft. wide with walls of grey-yellow squared masonry with wide joints, largely cemented. The east wall was rebuilt and the length probably reduced to widen the roadway east of it. Old masonry was re-used in it, including a 6½-ft. round-headed archway of two square orders, possibly the opening to a former apse: the lower half of it is blocked, the upper part made into a window. In the eastern half of each side wall is an original 10-in. round-headed light, both cemented outside and with plastered splays and splayed rear-arches. The south doorway, 4 ft. wide, has jambs and round head of two square orders, the outer cemented, and a plain hood-mould; the rear-arch is three-centred. The pair of battened doors are probably of the 18th century. The north doorway, 3 ft. wide, is also round-headed with a hood-mould, and of one square order. In the west wall is another original round-headed window, but its internal splays have been widened unequally. Both gable heads are of brick. Both side walls have straight joints against the east wall.
The church west of the chapel was built in 1870 of local yellow sandstone in the 13th-century style. It consists of a chancel, nave, and a small tower south of the chancel with a spire.
Church House Farm, east of the church and chapel, is of 17th-century origin but has been much altered. It has an original central chimney-stack and wide fireplace. Behind the house are two barns, one of the 17th century. The other is medieval (14th or 15th century) and has three 16-ft. bays with four trusses formed by pairs of crucks from ground to ridge with notches for the former cross-ties.
Two cottages near by show remains of 17th-century timber-framing.
New House Farm, ¾ mile north-east of Kingsbury Church, has two parallel ranges, one of which is of plastered timber-framing and has a cemented central chimney of the 17th century.
At Bodymoor Heath is a reconditioned cottage with some 17th-century framing.
There was a mill, worth 9s. 4d., at Kingsbury in 1086, (fn. 9) and another at Dosthill, worth 32d. (fn. 10) Of the latter no more is known, but in about 1170 Robert fitz Walter and Amabel his wife gave the mill of Kingsbury to the nuns of Polesworth Abbey, (fn. 11) and the grant was confirmed by Amabel's sister Alice and her husband Simon de Harecourt. (fn. 12) The same Alice, as Alice de Kinesbire daughter of Osbert de Arderne, gave to the nuns the mill of Kingsbury and the mill of Hurley, (fn. 13) and her nephew John de Bracebridge made a similar grant, (fn. 14) including 'the island which is beside the millpond'. This occurs as the island called Smelteresholme in 1249, when John's son Ralph confirmed to the nuns two mills in Kingsbury and one in Hurley. (fn. 15) John's son John, however, when he died in 1315 owned a mill, (fn. 16) which remained attached to the manor. (fn. 17) The abbey mill, then called 'Elynford' (i.e. Hemlingford) Mill, was in 1535 leased to John Mason for 66s. 8d. (fn. 18) and after the Dissolution was granted, in 1553, to Thomas Reve and George Cotton (fn. 19) and by them conveyed to Thomas Lysle of Moxhull. (fn. 20) His son John in 1586 sold the mill to Sir Francis Willoughby, (fn. 21) lord of the manor. The two mills were probably amalgamated later, and at the present time there is one mill on the river just below Hemlingford Bridge.
MANORS
In the time of King Edward the Confessor, Countess Godiva held KINGSBURY as 6 hides, but by 1086 it was held at farm of King William, with the rest of her lands, by Nicholas, (fn. 22) subsequently passing, like Coventry, to the Earls of Chester. (fn. 23) Ranulph Blundeville, 4th earl, was lord of one knight's fee in Kingsbury in 1206, (fn. 24) and after his death in 1232 (fn. 25) the overlordship passed to Hugh d'Aubigny, Earl of Arundel, son of Ralph's second sister and coheiress. (fn. 26) At Hugh's death in 1243 (fn. 27) it was assigned in dower to his widow, Isabel, (fn. 28) but formed part of the inheritance of Cecily, second of Hugh's four sisters and coheiresses and wife of Roger de Mohaut, (fn. 29) whose son, Robert, held it at his death in 1275. (fn. 30) His elder son Roger died in 1296 (fn. 31) and his younger son, Robert, in 1329, leaving as heir his nephew Robert son of his sister Isabel and William de Morley. (fn. 32) In 1335 Robert, by exchange, conveyed his rights in Kingsbury to Queen Isabelle, with successive remainders to her second son John of Eltham, Earl of Cornwall, and his heirs, and Edward III and his heirs. (fn. 33) John of Eltham having died in 1336 without issue, the king in 1337 created Edward, Earl of Chester, his eldest son, Duke of Cornwall (fn. 34) and annexed this overlordship of Kingsbury with Cheylesmore to which it was attached, to the Duchy. (fn. 35) For a time they followed the descent of the rest of the Duchy lands, being frequently merged in the Crown. (fn. 36) In 1400 Kingsbury was held of the manor of Cheylesmore (fn. 37) though 'of others than the king', (fn. 38) but in 1435 it was held of the Earl of Warwick. (fn. 39)
In 1206 Thomas de Arden or Arderne claimed that his father, Henry, son of Siward son of Turchil, had held this knight's fee in Kingsbury in the time of Henry I. (fn. 40) He was unable to maintain this claim against John de Kinesbire otherwise Bracebridge, who was also a descendant of Turchil but through his second wife Leveruna, whose land it was, and from whom it descended to her son Osbert and grandson Osbert and then to his three daughters in turn, the third being Amice, John's mother, (fn. 41) wife of Peter de Bracebridge. (fn. 42) In 1208 Thomas quitclaimed all his rights in this knight's fee to John de Bracebridge, (fn. 43) who in 1217 or 1218 was succeeded by his brother William, (fn. 44) who was holding the manor of Kingsbury in 1231. (fn. 45) He had been succeeded by his son Ralph by 1249 (fn. 46) and he by his son John by 1252. (fn. 47) John took the side of Simon de Montfort against the king, was captured at Northampton in 1265, and kept in the prison of Hugh de Turberville. (fn. 48) His manor of Kingsbury was given in October 1265 to Roger de Clifford. (fn. 49) In March 1269, however, Robert de Tybetot was given the right of free warren in his demesne lands in Kingsbury, (fn. 50) and in November of that year John de Bracebridge conveyed the manor to Robert de Tybetot and Eva his wife for their lives. (fn. 51) John was described as holding the fee in 1275, (fn. 52) though Robert was still holding the manor in 1286, (fn. 53) and it was warranted in 1294 to Robert and Eva his wife by John son of John de Bracebrigg. (fn. 54) Eva, Robert's widow, appears to have been holding it in 1298, (fn. 55) but John de Bracebridge, son and heir to the last John, (fn. 56) had regained possession by September 1301, when he was granted free warren in his demesne lands there. (fn. 57) He died in 1315, leaving a young son John, (fn. 58) who was apparently in the wardship of his overlord, Robert de Mohaut. (fn. 59) John was still holding Kingsbury in 1335. (fn. 60) In 1337 2/3 of 2/3 of the manor were settled on Ralph de Bracebridge and his wife Beatrice and his heirs, by William de Bracebridge. (fn. 61) A John de Bracebridge is mentioned in connexion with Kingsbury in 1357, (fn. 62) and a Sir Ralph died seised of the manor in 1395. (fn. 63) He left a widow Joan, who had been jointly enfeoffed of the manor, and a son John, a minor, who died soon after. (fn. 64) Joan held Kingsbury till her death in 1400, and Ralph, her son, (fn. 65) until his death in 1435, when he was succeeded by a young son Richard. (fn. 66) Richard died in November 1501 leaving a son John, (fn. 67) who died in 1516 and was succeeded by his grandson, Thomas, (fn. 68) who in 1534 settled 40 marks rent from Kingsbury on his son and heir apparent, William, on his marriage with Anne daughter of Julian Nethermylle. (fn. 69) William died in April 1560, leaving a son and two daughters. (fn. 70) Meanwhile in 1550 the father, Thomas Bracebridge, had settled the reversion of the manor on Thomas, his eldest son by his second wife Joyce, with remainder to her other sons. (fn. 71) At the same time he made provision for Joyce's other sons. On John, the second son, he settled a messuage in Kingsbury known as The Holt with land pertaining. (fn. 72) John appears to have conveyed this in 1569 to his younger brother Antycle by word of mouth, but Antycle was having difficulty by 1571 in maintaining his claim. (fn. 73) John later died a felon's death (fn. 74) and his elder brother was in 1580 described as Thomas Bracebridge of The Holt. (fn. 75)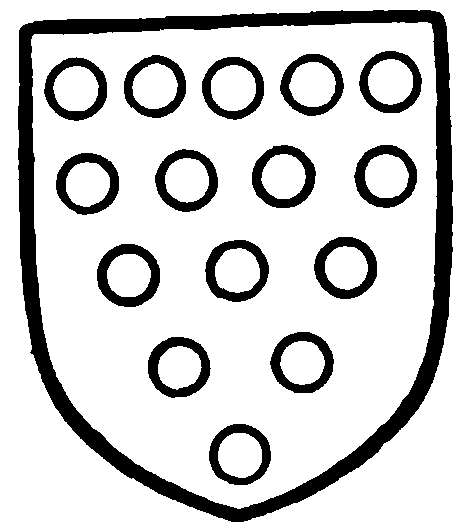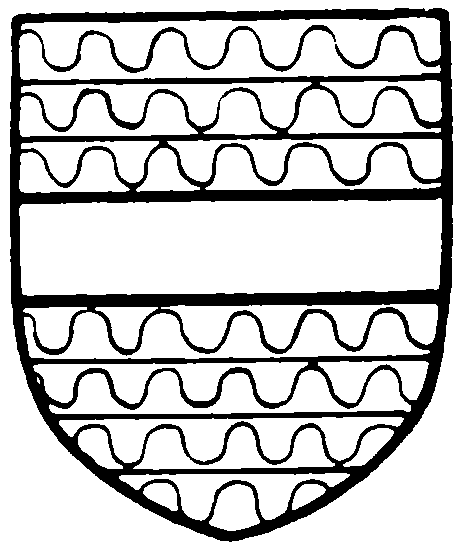 On Antycle, third son of Joyce, the elder Thomas settled the messuage called The Cliffe together with Slateleyfield, (fn. 76) but this returned eventually to Thomas the younger. (fn. 77)
Thomas Bracebridge the elder died in 1569 (fn. 78) and his son Thomas sold the lordship of the manor, with certain lands, to Sir Francis Willoughby in 1585. (fn. 79) By Sir Francis it was settled on his daughter Bridget and her husband Sir Percival Willoughby, (fn. 80) from whom it descended with the manor of Hurley (see below) in the family of Lord Middleton.
In 1559 Thomas Bracebridge the elder leased the manor-house of Kingsbury from 2 February 1560 for 3 years, and the park, (fn. 81) from 25 March 1561 to 2 February 1564, to Sir Ambrose Cave, Chancellor of the Duchy of Lancaster. (fn. 82) In July 1560 he made a fresh lease for 21 years to Sir Ambrose, (fn. 83) and, after certain legal complications, (fn. 84) Thomas the younger in 1564 extended the lease for 300 years, (fn. 85) at a rent of £42 4s. 3d. (fn. 86)
Sir Ambrose Cave died in 1568, holding of the queen, as of her manor of Cheylesmore, the capital messuage and site of the manor of Kingsbury, which passed to his only child, Margaret wife of Henry Knollys, (fn. 87) esquire of the body to Queen Elizabeth. (fn. 88) Henry Knollys died in 1583, (fn. 89) and his wife in 1602, (fn. 90) leaving two daughters, Elizabeth later wife of Henry Willoughby of Risley (co. Derby), and Lettice, later wife of Sir William Paget, afterwards 5th Lord Paget of Beaudesert (co. Staffs.). (fn. 91)
Elizabeth was dead by 1621 and Sir Henry Willoughby died in 1649, (fn. 92) when their rights in the manor of Kingsbury descended to Anne, their third, but only surviving daughter. (fn. 93) From Anne this 'manor' passed to Willoughby Aston, her son by her second husband Sir Thomas Aston of Aston, co. Cheshire, (fn. 94) and continued to descend in this family, with the Hundred of Hemlingford (q.v.). (fn. 95) It thus came to the Hon. and Rev. Henry Hervey Aston (5th son of John, Earl of Bristol), who had married Catherine sister and heiress of Sir Thomas Aston and had taken the name of Aston; and his grandson Col. Henry Hervey Aston was holding it in 1786. (fn. 96) His widow Harriet held it in 1800, (fn. 97) but probably sold it soon afterwards to the first Sir Robert Peel, whose son (d. 2 July 1850) or grandson, another Sir Robert, was described as lord of the manor of Kingsbury in 1850, (fn. 98) as was the fourth Sir Robert in 1900. (fn. 99) The manorial rights, if any existed, appear now to have lapsed.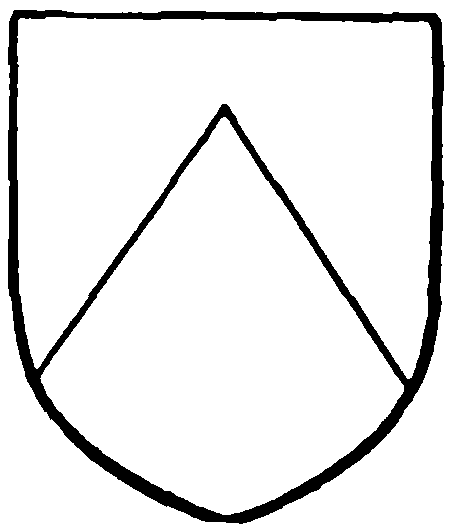 Lettice, the other daughter of Margaret Knollys, in 1643, when the dowager Lady Paget, suffered a recovery of her 'manor' of Kingsbury. (fn. 100) She died in 1655 (fn. 101) and her son, William, Lord Paget, with his wife Frances, appears to have alienated this 'manor' in 1657, (fn. 102) since Richard Beardsley and his wife Elizabeth and George Beardsley were holding a manor of Kingsbury in 1666. (fn. 103) In 1702 George Beardsley senior and Sarah his wife and George Beardsley junior were dealing with it. (fn. 104) Richard Beardsley and Sarah his wife in 1724 made a conveyance to Samuel and Abel Smyth. (fn. 105) Nothing further is heard of this so-called manor.
The rent of £42 4s. 3d. fixed in 1564 in the final lease to Sir Ambrose Cave, and payable to Thomas Bracebridge the younger and Alice his wife, (fn. 106) was charged on the actual site and demesnes of the manor. (fn. 107) On the division of the estate when Elizabeth Knollys married, the site, park, demesnes, and premises charged with this rent were allotted to her as her purparty. (fn. 108) Thomas Bracebridge vested this rent in trustees, in 1584 (fn. 109) and 1587, (fn. 110) and in 1622 there was litigation between various sons and grandchildren concerning their shares. (fn. 111) In 1775 this rent was conveyed by Abraham Bracebridge, senior, (fn. 112) and Mary his wife, and Abraham Bracebridge junior, to Sir Robert Burdett. (fn. 113)
Two virgates of land in WHATELEY held of William de Bracebridge had been granted to the priory of Studley by William de Holney, who in 1236 released the convent from suit of court at Kingsbury and scutage. (fn. 114) After the suppression of the priory, the manor or lordship of Whateley was tenanted by Eleanor Butler at least between 1544 and 1553. (fn. 115) It was sold in July 1544 by the Crown to John Beaumont, (fn. 116) who in September alienated it to Nicholas Wylson and his wife Eleanor. (fn. 117) They in 1553 sold it to Thomas Overton alias Orton (fn. 118) who died in 1590, holding it of the queen as 1/40 knight's fee, and leaving a son Nicholas, then aged 50 and more. (fn. 119) These lands lay in the 'nether' as opposed to the Hurley side, of Kingsbury. (fn. 120) Nicholas Orton settled the manor in 1604 on himself and his wife Jane with remainder to his son Thomas and Dorothy daughter of Thomas Reeve, on their marriage. (fn. 121) Jane was still alive when Nicholas died in 1607. (fn. 122)
Sir George Chetwynd was holding a manor of 'Wheatley' in 1824. (fn. 123) This may possibly have some connexion with lands in Whateley in which dower was claimed against five tenants in 1273 by Scolastica widow of Robert de Grendon. (fn. 124)
DOSTHILL
DOSTHILL has been identified with the 2 hides in 'Dercelai' held in pledge in 1086 by Robert de Olgi of Turchil and which Untain had held in the time of King Edward. (fn. 125) Hugh son of Richard appears to have held a knight's fee here in about 1135 of the Earl of Warwick, but by. 1166 this was in the hands of this earl's successor, (fn. 126) William de Newburgh, whose descendants held the overlordship here until at least 1401. (fn. 127) A mesne lordship is believed to have been held by Albreda Marmion from whom it passed to her son William de Camville. (fn. 128) Elizabeth, heir of Gerard de Camville, held Dosthill as ½ knight's fee in 1315 (fn. 129) and her grandson, Sir John Burdet, in 1401. (fn. 130)
By 1414, however, both the Warwick and Burdet lordships appear to have come to an end and Dosthill was subsequently held of the Lords Hastings or the Greys of Ruthin, descendants of the Countess of Pembroke, along with Mancetter (q.v.), with which it had been for some time joined (see below). (fn. 131)
Dosthill is presumed to have been granted by Hugh son of Richard to Robert son of Thurstan, (fn. 132) whose son Robert de la Launde gave a mill here to Richard son of Ralph on his marriage with Amice sister of Robert. (fn. 133) Agnes widow of Ralph son of Ralph was claiming dower here from Walter son of Ralph in 1209. (fn. 134) James de la Lande was holding part of a fee here in 1235–6 (fn. 135) and enfeoffed Robert de Grendon of ½ knight's fee here in 1247. (fn. 136)
By 1256 Dosthill, here first called a manor, was held in dower by Joan de Berkele of the inheritance of Robert de Grendon as ½ knight's fee. (fn. 137) This service of ½ knight was granted by Robert de Grendon to Robert de Wycheford for a rent of a pair of gilt spurs at Easter and for foreign service. (fn. 138) Wycheford straightway conveyed this service to Walter de Manecestre and Erneburga his wife and her issue, in default of whom the manor should revert to Wycheford. (fn. 139)
In 1320 Guy de Mancestre settled Dosthill on himself and his wife Cecily (fn. 140) and died in 1366 leaving as coheirs a daughter Margaret, a grandson Geoffrey de Brokholes son of Juliana his second daughter, and another grandson, William Prylly son of his third daughter Lucy. (fn. 141) From this time Dosthill followed the complicated descent of Mancetter (q.v.), sometimes being described as a manor, sometimes as part of the manor of Mancetter.
The share of Margaret was eventually subdivided between the descendants of her three granddaughters, and by 1625 two of these shares (ninths of the manor) were held by the family of Comberford and the other by that of Glover.
The Brokholes share came to Sir Thomas Holte, who in 1544 sold to Thomas Ludford and Robert Greene. Greene's portion can be traced down to the family of Okeover; the Ludfords apparently still held their part in 1640.
The Prilly share passed to the family of Feilding and was sold by Basil Feilding in 1623 to Alice, Duchess Dudley, and was settled by her for charitable purposes. (fn. 142)
In 1688 Sir William Holcroft and Sara his wife and Thomas Lee, esq., and Alice his wife were dealing with a manor of Dosthill, (fn. 143) apparently held in right of the wives; and in 1692 Sir Thomas Lee, bart., and Alice (fn. 144) conveyed it to Thomas Guy. (fn. 145) William Boycott held the manor between 1734 and 1763, (fn. 146) and his daughter Catherine seems to have sold a moiety of the manor in 1789, (fn. 147) probably to Charles Floyer, who was lord in 1794. (fn. 148) In 1802 Thomas Floyer Wickes, and other members of the Wickes family, conveyed the manor to John Tomlinson. (fn. 149)
Another so-called manor of Dosthill was sold by Sir Verney Cave, bart., and others to Edward Wolferstan in 1733, (fn. 150) and by Edward Wolferstan, junior, in 1759 to Edward Ball. (fn. 151) This may be the manor of which Edward Dickenson was said to be lord in 1802, (fn. 152) and which was evidently represented by Dosthill House, the seat of W. Dickenson in 1830. (fn. 153)
What connexion, if any, these later 'manors' had with the earlier manor does not appear.
Early in the 13th century DRAKENAGE was held by Hugh de Queilly (or Culy), who gave one virgate there to one Gilbert father of Florence, and she gave it to Robert, who assigned it to his brother William de Bracebridge. (fn. 154) Hugh's daughter Emma, then wife of Gilbert Croc, was lady of the manor in 1231. (fn. 155) By her first husband, Hugh de Manecestre, Emma had a son Hugh, (fn. 156) who was granted free warren in his demesne lands in Drakenage in 1251. (fn. 157) Sir John de Manecestre, his grandson, maintained this claim in 1285, (fn. 158) and in 1288 assigned the manor to Osbert de Bereford and William his brother for their lives. (fn. 159) In 1291 Sir John was found to be holding 1/5 knight's fee of Robert Marmion, as part of one knight's fee in Nether Whitacre (q.v.) and Drakenage held by Robert of Philip Marmion. (fn. 160) The overlordship descended with the lords of Tamworth Castle at least until 1609. (fn. 161) The lords of Nether Whitacre retained their rights of intermediate lordship, also, until at least 1622. (fn. 162)
On the death of William de Bereford in 1326 Drakenage returned to Guy de Mancestre, John's son and heir. (fn. 163) Guy subsequently conveyed the manor to Sir Robert de Herle, who died without issue and from whom it passed to his nephew, Sir Ralph de Hastings, (fn. 164) of Burton Hastings in Knightlow Hundred. He died in 1397. (fn. 165) His eldest son Ralph was beheaded in 1405 for conspiracy, (fn. 166) but the second son Richard regained possession of the forfeited lands in 1409 or 1410 (fn. 167) and died seised of the manor of Drakenage in 1436. (fn. 168) His brother and heir Leonard died in 1455. (fn. 169) Sir Leonard's son, Sir William, was created Lord Hastings in 1461 (fn. 170) and died in 1484, when he was succeeded by his son Edward, Lord Hastings. (fn. 171)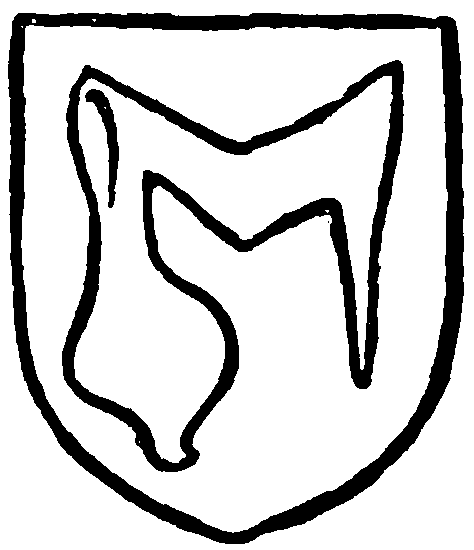 In January 1536 William Hastings of Small, co. Notts., leased Drakenage farm, then in the occupation of John Hartell, to Robert Parott and Joan his wife, for ten lives. (fn. 172)
In 1571 a manor of Drakenage was conveyed, along with Nether Whitacre (q.v.), by John Cheyney, Henry his son and heir, and Agnes wife of Henry to Edmund Scarnynge. (fn. 173) Drakenage Farm, described as a former freehold pertaining to the lordships of Nether Whitacre and Halloughton, was owned in 1609 by Edward Devereux. (fn. 174) At the death in 1622 of Sir Edward, this was described as a capital messuage or farm, held of Edward, Lord Brabazon, of his manor of Nether Whitacre, and passed to Sir Walter Devereux son of Sir Edward. (fn. 175)
In 1233 Halloughton formed part of ⅓ knight's fee here and in Coleshill, of which ⅓ was given to Elisant widow of Osbert de Clinton in dower, having previously been held by Osbert's mother Margery. (fn. 176) It passed, subsequently, to Robert Marmion, lord of Nether Whitacre (q.v.), (fn. 177) and in 1571, as the manor of HALLOUGHTON, was conveyed with Nether Whitacre and Drakenage (q.v.) by John, Henry, and Agnes Cheyney to Edmund Scarnynge. (fn. 178)
Ralph atte Broke of Halloughton and Mary his wife occur in 1410. (fn. 179) John Brooks of Halloughton had suffered sequestration of tenements in Kingsbury before 1649, for recusancy. (fn. 180) Nicholas Brookes, described as of Halloughton, died in 1680. (fn. 181) In 1771 a manor of Halloughton was conveyed by Thomas Brooke and Elizabeth his wife to Thomas Greenway, (fn. 182) who appears as lord between 1771 and 1795, (fn. 183) and in 1808 Elizabeth Greenway, widow, Kelynge Greenway, and others, conveyed it to John Dynely, (fn. 184) possibly in trust, since K. Greenway was holding land in Kingsbury in 1850. (fn. 185)
Land in Hurley was given by Godfrey son of the Lady Ingrid de Hurnlee in about 1180 to John de Bracebrugge, and confirmed by William son of Godfrey. (fn. 186) John de Bracebridge in 1207 successfully maintained his claim to his free tenement there against Robert de Bracebridge. (fn. 187) In 1231, in return for the same amount of land in Noseley, co. Leics., 3½ virgates in Hurley was settled by William de Hartiwell on William de Bracebridge and his wife Amice and her heirs. (fn. 188) In 1251 Amice is said to have received a so-called manor of HURLEY in dower. (fn. 189)
Hurley next is heard of in 1428 as part of ½ knight's fee held by the heir of Ralph Bracebridge, (fn. 190) and in 1435 the hamlet of Hurley passed from another Ralph Bracebridge to his son Richard, along with the manor of Kingsbury (fn. 191) (q.v.). As the manor of Hurley it was conveyed in 1585 to Francis Willoughby (fn. 192) and descended with Kingsbury and Middleton (q.v.) (fn. 193) forming part of what was described in 1730 as the Hurley side of the manor of Kingsbury, held by Lord Middleton, (fn. 194) whose descendant in 1850 was holding it as the manor of Hurley. (fn. 195) The manor-house and farm belonged in 1936 to Sir Henry Charles Holder, J.P. (fn. 196)
Meanwhile land at Hurley, consisting of 100 acres of pasture and 20 acres of wood and called 'Plomptons thyng', appears to have belonged originally to the father of three sons: Richard Plompton, who died without issue, Roger Plompton, who left two daughters Joyce and Philippa, who each died without issue, and William Plompton of Hurley, whose descendants eventually claimed this land. (fn. 197) Nicholas Waldiff, his greatgrandson, (fn. 198) was his representative in 1478, (fn. 199) and it is presumably from him that there descended the John Waldiff who died seised of a manor of HURLEY in 1540. (fn. 200) His heir was his niece Joan Nightingale, who married Thomas Willington. (fn. 201) In 1599 the manor was conveyed to John Willington and John Nethermill by Thomas and Hugh Willington and Alice and her husband William Watkyns. (fn. 202) In 1694 it was held by William Willington, (fn. 203) whose heirs were still holding it in 1730. (fn. 204)
Lands called Flaunders, later included in the Hurley side of the 'constablery of Kingsbury', (fn. 205) are said to have taken their name from the surname assumed by descendants of Hugh, a younger brother of William de Odingsells, whose ancestors came from Flanders. (fn. 206)
John de Flaundres, the last of the line, (fn. 207) died before the end of September 1434, when his widow, Margaret, settled his possessions on herself for life, (fn. 208) apparently with reversion, in the case of Flanders, to Eleanor wife of Sampson Erdswike, one of his three daughters. (fn. 209) Eleanor's grandson, John Hardwick, made a settlement of the manor of FLANDERS in 1459 (fn. 210) on his marriage with Elizabeth daughter of Henry Boteler of Coventry. (fn. 211) He died in 1512, when the manor was divided among his five daughters by his second wife, Anne Langham, on whom it had been settled in 1509. (fn. 212) It was held of the manor of Kingsbury (q.v.). (fn. 213) In 1560 these 'certain grounds called Flaunders' were said to be freehold tenements, held of the manor of Kingsbury by rent of 5s., 1 Ib. pepper, 1 Ib. cummin, and 8 broad arrows, 4 barbed and 4 unbarbed. (fn. 214)
John Hardwick's widow was presumably dead by 1537 when the manor of Flanders was divided between two of her daughters, namely Anne and her husband George Wynter, and Joyce and her husband Michael Purefoy. (fn. 215) Michael and Joyce were dealing with the manor in 1558, (fn. 216) and again in 1566, along with William their son and his wife Katherine. (fn. 217) A moiety of the manor was settled in 1577 on William Purefoy alone. (fn. 218) For a short time this portion of Flanders descended in the Purefoy family with the manor of Caldecote (q.v.), (fn. 219) but in 1633 it was conveyed by Eleanor Purefoy, widow, William her son and his wife Jane to John Wightwick. (fn. 220) In 1642 it was conveyed by John and his wife Bridget to their son Thomas and his wife Katherine (fn. 221) daughter of Sir Robert Fisher of Great Packington. John Knightley alias Wightwick held it in 1703 (fn. 222) and conveyed it in 1706 to Edward Willes, senior. (fn. 223) What may have been this part of the manor was conveyed in 1741 by Francis Whyle, clerk, to Thomas Hunt. (fn. 224)
George Wynter and Anne conveyed their half of the manor in 1551 to Edward Wynter and his wife Katherine, (fn. 225) who were still holding it in 1560. (fn. 226) Edward Wynter made a settlement of his manor, by this time known as WINTERS FLANDERS, in 1581, on the marriage of Mary, one of his daughters, with Edward Baskervyle of Shulton, co. Leics. (fn. 227) Edward, and his son, another Edward Baskervyle, were engaged in litigation over this manor in 1610 after they had agreed to sell it. (fn. 228)
In 1328 William de Stoke granted to Henry Barkeby the younger and Alice his wife, for their lives, ⅓ of a croft called 'Yppesle' in Hurley. (fn. 229) Already in 1323 they had been given all the lands of Henry de Barkeby, senior, in Hurley. (fn. 230) It was presumably this younger Henry who in 1357 settled his lands in Hurley in tail male on his sons Henry, Ralph, Nicholas, and John. (fn. 231)
There are grounds for assuming (fn. 232) that these lands came into the hands of William Lucas, described in 1436 as 'of the lordship of Hurley', (fn. 233) and descended to a John Lucas, whose son John in 1527 conveyed them to William Astell of Nuneaton. (fn. 234) He had been succeeded by 1560 by John Astell, (fn. 235) who in that year was holding Ipsley Hall as a freehold tenant of the lordship of Kingsbury. (fn. 236) John Astell and Frideswide his wife, with four trustees, in 1566 conveyed what was henceforth known as the manor of IPSLEY HALL to Edward Williams and Ellis Broughton, (fn. 237) servants of Sir Ambrose Cave of Kingsbury, to whom they conveyed it in February 1568. (fn. 238) It then descended with the site of the manor of Kingsbury (q.v.), (fn. 239) and was settled in 1602 by Margaret Knollys on herself for life with remainder to her daughter Elizabeth, (fn. 240) to whose descendants, the Astons, it eventually passed, (fn. 241) being held by Henry Hervey Aston in 1786. (fn. 242)
Sir Ambrose Cave leased Ipsley Hall in March 1568 to Ellis Broughton for 72 years, (fn. 243) and Broughton subsequently leased it to John Astell. (fn. 244) In 1580 Henry Knollys, then lord of Kingsbury, renewed the lease for 21 years (fn. 245) and John Astell continued as tenant under Margaret Knollys after her husband's death, (fn. 246) but was presumably dead in 1591 when Ambrose Astell, his eldest son, unsuccessfully laid claim to the premises. (fn. 247) William Bratt was tenant from at least 1707 to 1730. (fn. 248)
A manor of IPSLEY was held in 1700, along with the manor of Edgbaston (q.v.), by Mary and Bridget, daughters of Sir John Gage, 4th bart., by his first wife Mary, heiress of the Middlemores of Edgbaston. (fn. 249) Mary was the wife of Sir John Shelley (fn. 250) and Bridget of Thomas Belasyse, Viscount Fauconberg. (fn. 251) The manor was conveyed, along with Olton in Solihull (q.v.), in 1717 by Mary Shelley and her second husband George Mathew, (fn. 252) Bridget and Lord Fauconberg and others, to Harry and Charles Gough. (fn. 253) Elizabeth Gough, widow, held the manor in 1774. (fn. 254)
Lands lying in the east of Kingsbury parish were held in Henry III's time by Walter de Plompton, his 'charter' being a Danish battle-axe which hung in the hall of the capital messuage until this was seized and destroyed, in the time of Edward III, by Sir John Bracebridge, lord of Kingsbury, (fn. 255) with which these lands appear subsequently, for a time, to have descended.
Ralph de Bracebridge is said to have been enfeoffed of the manor of PLUMPTON in 1377 jointly with his wife Joan. (fn. 256) He died in 1395 and Joan held it (fn. 257) until 1400, when her son Ralph succeeded her. (fn. 258) In 1411 Sir Ralph conveyed to Robert Waterton the reversion (after the death of Richard de Coventry of Over Whitacre) of 100 acres of land, 40 acres of wood, and 40 acres of moor in Plumpton called Plumton Fields. (fn. 259) Sir Ralph in 1418 conveyed 40 acres of land, 15 acres of meadow, and 10 acres of wood in Kingsbury to Roger Horton, (fn. 260) who, in 1423 died holding of the king as 1/20 knight's fee one close and a wood, called Plumpton Fields, 4 virgates in all, which formerly were called the manor of Plumpton. (fn. 261) His son and heir William being aged 18 years (fn. 262) the lands returned to the king's hands, but they were still there in 1435, when they were given into the keeping of William Waldeff and Thomas Wylcock for 10 years. (fn. 263) William Horton sought to regain possession in 1439, having long been of age. (fn. 264) He was apparently successful, since another William Horton was holding a manor of Plumtons in the second quarter of the 16th century, when his brother-in-law, George Byrches, was seeking remedy against him for his fraudulent lease to one Anneys Hardy of this manor which he had already leased to Byrches for his life. (fn. 265) In an assessment made at the end of the 16th century 'Over Plumtons' and 'Nether Plumtons' were both included in the Hurley side of the 'constablery' of Kingsbury, (fn. 266) but it is uncertain which represents this manor and which, if either, the Plumpton lands in Hurley (q.v.). A farm-house still stood in the early 18th century, all that remained of a former manor of Plumpton. (fn. 267)
CHURCH
The parish church of ST. PETER AND ST. PAUL consists of a chancel, former north vestry, north chapel, nave, north and south aisles, south porch, and west tower. It stands on high ground west of the village. The walls are of local stone.
There was probably an aisleless nave with a square chancel; the remains of one window survive in the chancel. About the middle of the 12th century north and south aisles were added, the southern being the first. The north aisle, if not both, may have been altered in the 13th century, and near the end of the same century the west tower was added. The greatest changes were made very early in the 14th century, when the chancel was doubled in length, the Bracebridge chapel built north of it, and both the nave-aisles were widened to their present limits. Late in the 14th century larger windows were inserted in the south wall of the chancel, resulting in the rebuilding of the whole wall above the plinth, and about the same time the north vestry was added. Early in the 15th century the south doorway of the aisle was altered and furnished with a timber-framed porch: the side walls of the porch were replaced with masonry a century or more later.
The 14th-century aisles had lower roofs than now, their lines being indicated in the end walls, and may have continued the slopes of the nave-roof. The walls of the aisles and the Bracebridge chapel were heightened early in the 16th century and new flat roofs were constructed. At the same time a range of upper windows was inserted in the north aisle, the south-east window was heightened, and the 12th-century arcades were altered to two 18½-ft. bays instead of the two or three narrower original bays. The chamfered pointed heads were rebuilt, with the re-use of many 13th-century small voussoirs in the eastern bays. (fn. 268)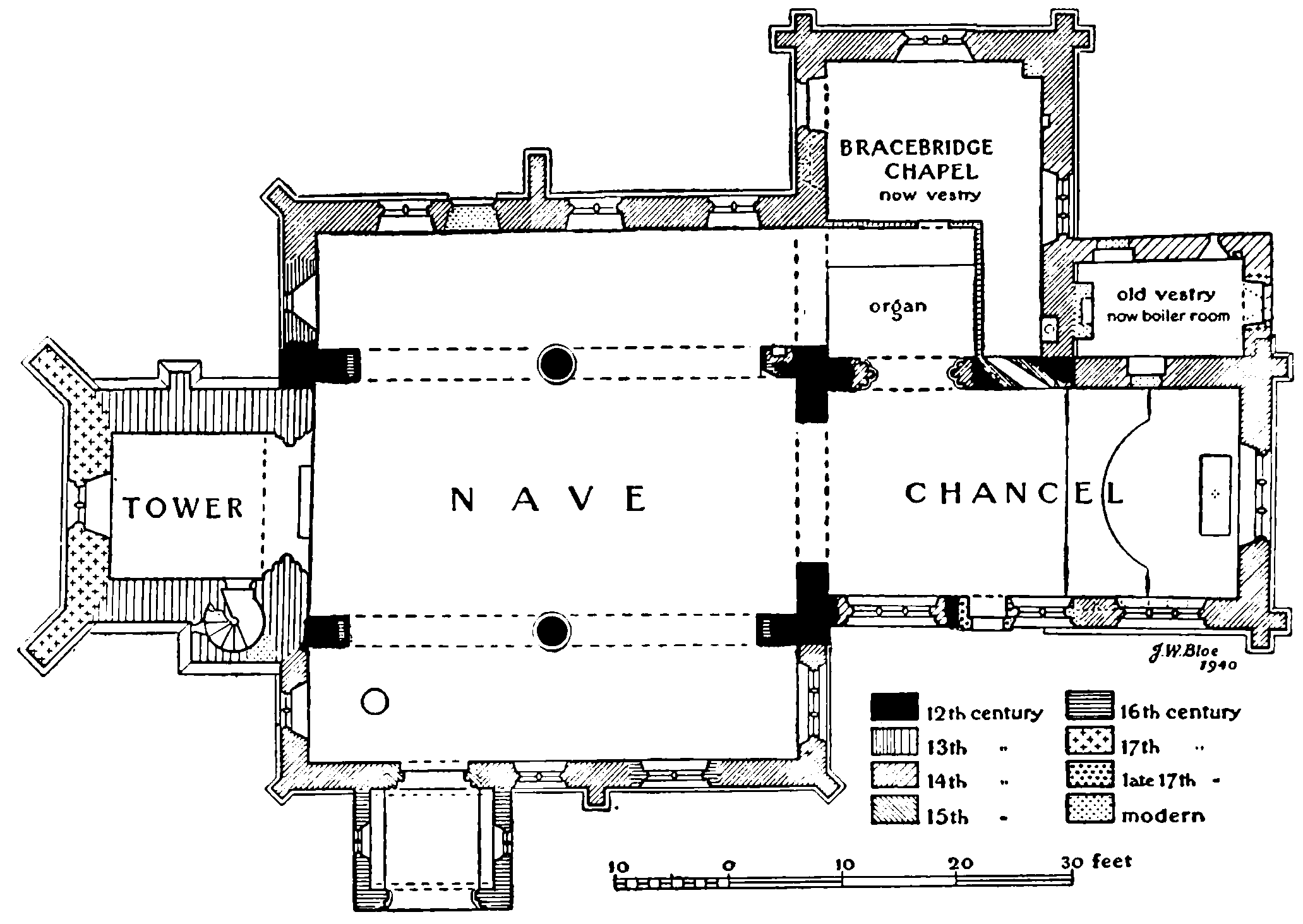 In 1610 the west wall of the tower was entirely rebuilt and the top stage—the bell-chamber—was added.
The clearstory to the nave is of uncertain date, but it is evidently a late addition. About the middle of the 17th century a good deal of repair was needed and the nave and Bracebridge chapel were given new roofs. It was probably then that the clearstory was raised. (fn. 269)
The Bracebridge Chapel afterwards became a school-room, (fn. 270) the arches to the chancel and aisle and the squint to the chancel being blocked up. (They were opened out again in 1882–6.) The fine effigies of the Bracebridges in the chapel suffered considerable damage during this school period.
In 1821–2 the floor-levels of the nave and aisles were raised and paved with Wilmcote stone, while new seats were put in.
A gallery built in the west end in 1820 was removed in 1886. (fn. 271) In 1887 the 12th-century chancel arch was altered to its present pointed form. The old vestry was made to serve as the boiler-room in 1890. Repairs were done in 1928 to the tower, and in 1938 the south porch was restored, when the early-15th-century roof was discovered above a plastered ceiling and opened out.
The chancel has an early-14th-century east window of three cinquefoiled pointed lights and foiled intersecting tracery in a two-centred head: the external hood-mould has defaced head-stops. The jambs and mullions are hollow-moulded and badly weatherworn: the internal splays are of rubble with dressed angles. The wall is of grey sandstone rubble, the plinth is chamfered, and the gable-head has an old plain coping; at the angles are square ashlar buttresses. About midway in the north wall is a rough vertical seam showing the 14th-century lengthening of the 12th-century chancel. In the west half is the early14th-century archway to the north chapel. The responds have triple shafts, the middle filleted, with moulded capitals: the head is two-centred and of two chamfered orders of small voussoirs. The responds are mutilated for a former screen on the chancel side. Above the east respond are the remains of a 12th-century window walled up; they are the angles of its east splay and two voussoirs of its rear-arch. East of the archway is a rectangular squint cut askew from the chapel towards the High Altar. The doorway in the east half to the former vestry is blocked and mutilated but shows the tip of a chamfered pointed arch.
The south side has three windows: the first and third are each of three trefoiled ogee-headed lights and foiled vertical and leaf tracery in a two-centred head with a segmental-pointed chamfered rear-arch. The external hood-moulds have head-stops of Edward III and Queen Philippa fashion. The jambs and mullions are chamfered, the splays are of large courses of rough ashlar. The middle, of two lights and similar tracery, is modern. Between this and the western window is a late-17th-century square-headed doorway. Below the eastern window is an early-14th-century piscina with moulded jambs and pointed cinquefoiled head with soffit-cusps. The hollow of the moulding is carved with ball-flowers joined by wavy stalks; the hood-mould also has ball-flowers and defaced head-stops. The sill has an octofoiled basin and above is a credenceshelf. Next west are three sedilia with chamfered jambs and moulded trefoiled heads and hood-moulds with head-stops.
The roof is of trussed rafter type with plastered soffit. There is one main truss of the 17th century with a king-post and struts.
The chancel arch has a modern pointed head, on 12th-century square responds of roughly tooled ashlar.
The Bracebridge Chapel to the north is now used as a vestry. The south-west part is partitioned off with thin walls of brick to enclose the organ. The east window and that in the north wall are small replicas of the east window of the chancel; the west window is of two trefoiled lights and a trefoil in a two-centred head. At the north end of the west wall is a coeval pointed doorway, the jambs and pointed head having a filleted edge roll-mould and a hood-mould with defaced head-stops. The archway to the north aisle is of two chamfered orders, the outer dying on the side walls, the inner carried on corbel-capitals carved with grotesque human faces and foliage. The walling, of roughly coursed rubble, the plinth, and the pairs of angle buttresses are like those of the chancel, but there is more elaboration at the top, which is of early-16th-century alteration. The north wall has a low-pitched gable with a parapet projecting on a hollow-chamfered string-course in which are carvings of human and beast heads. Part of the parapet was destroyed for the gablehead of the later roof. The side parapets are similar, with carved heads and spouts.
The early-16th-century low-pitched roof was replaced with a mid-17th-century high-pitched roof which has timber-framed gable-ends—the northern plastered—and a middle truss with a tie-beam, kingpost, collar-beam, and struts to the principal rafters. On each slope are two purlins, the upper strengthened with straight wind-braces.
In the south end of the east wall is the original piscina with a cinquefoiled pointed head and hood-mould, octofoiled basin and credence shelf. The hood-mould and the wall surface above it are damaged, as though there was once a later chimney-shaft built against it. Higher and just north of it is a moulded image-bracket with two blank shields carved on the face. To the north of the window is an image-niche between panelled side pilasters and with a trefoiled ogee head; the canopy work has been destroyed.
The old vestry is now used as a boiler-room and has lost its floor. Its two walls of grey stone rubble are built against the north buttress of the chancel and east wall of the chapel: at the angle are ashlar dressings. In the east wall is a square-headed doorway of brick, made in 1890: over it are the remains of a single-light window with a red stone lintel inside. In the north wall is a trefoiled single light with plastered splays and wood lintel, and farther west was a doorway, now walled up and with its dressings removed. In the 12-in. space between the window and east wall inside is a tiny rectangular niche 6½ in. wide; in the sill is a 4¼-in. bowl, 5½ in. deep, without an outlet, presumably for some ritual purpose. The lean-to roof is modern.
The nave has north and south arcades of two 18½-ft. bays and of 12th-century origin. Each has a middle round pillar; the southern has a plain scalloped square capital and grooved and chamfered abacus. In the northern the vertical faces above the scallops are treated with panels containing scroll ornament in relief and the abacus has a chamfer and small bead-mould. The responds are square with slightly varying abaci, of which the north-western has some hatch-ornament. The arches, probably of the early 16th century, are two-centred and of two chamfered orders: most of the voussoirs are large, showing some masons' marks, but in the east bays are many re-used small stones of the 13th century.
The original angles of the nave are seen to the south-east and north-west outside.
The clearstory has two plain square-headed windows on each side, of the 16th or 17th century. The walls are of red sandstone, but have 17th-century brick eaves courses. The roof has a flat plastered ceiling; the timbers above have trusses consisting of tiebeam, king-post with struts to principal rafters, and queen-posts, also strutted. It is covered with tiles.
The north aisle has two tiers of windows in the north wall. The lower three windows are each of two plain square-headed lights with shouldered lintels inside; they are probably the 14th-century openings altered in the 16th or 17th century. The two upper windows are of the early 16th century, perhaps altered later. The eastern is of three lights, the middle ellipticalheaded and the side lights pointed, below an elliptical main head with a hood-mould. The second is of three elliptical-headed lights under a square main head. The north doorway, with chamfered jambs and pointed head, is blocked with brickwork. In the south half of the west wall is a 13th-century lancet window with plastered splays and segmental-pointed rear-arch.
The lower parts of the north and west walls are of 14th-century small rubble; above they are of large squared stones and have embattled parapets. The west wall shows the slope of the former lower roof.
The flat roof is of the early 16th century. It is divided into four main bays by moulded tie-beams which have on the soffits applied central bosses carved as conventional foliage and one Tudor rose. The bays have similarly moulded but lighter intermediate beams and purlins. The rafters are also moulded. In the south wall, east of the arcade, is a 14th-century piscina with ogee head; it has a quatrefoil basin.
The south aisle has an east window of three lights and intersecting tracery like that of the chancel, but all modern. The jambs have ovolo-moulded angles. In the south wall are two windows; the eastern is a tall one of two four-centred lights under a four-centred head with an external hood-mould; the mullion is of wood cemented; the hood-mould has perished head-stops. The second window, set higher in the wall, is probably original; it is of two pointed lights with a plain spandrel in a two-centred head with a plain hood-mould having return stops. The south doorway is probably of the early 15th century and has moulded jambs and a round arch with an external hood-mould. The west window is like the second south window; it has a flat lintel inside. The walling is similar to that of the north aisle showing the original roof slopes in both end-walls and later heightening of the Tudor period. The embattled parapets have been restored; the plinth is moulded. At the angles of both aisles are diagonal buttresses, with one intermediate buttress.
The west tower is of four stages. The north, east, and south walls are of the late 13th century and built of ashlar of small square stones with wide joints. The splayed and chamfered plinth has a half-round top member. On the north side is an original square buttress and near the aisle wall is a large corbel, for what purpose is not evident. On the south side against the aisle wall is the projecting stair turret with a circular vice. The entrance to it in the south wall has a shouldered lintel. As the tower floor has been raised the opening is now only 3½ ft. high. There appears to have been a later doorway outside, now walled up. The archway from the nave is two-centred and of three chamfered orders; the innermost has moulded capitals. The outermost west order dies on the north side wall, but is continued down on the south. The west wall, rebuilt in 1610 with the addition of the bellchamber, is built of coursed yellow ashlar and has diagonal buttresses up to the parapet string-course. The plinth is moulded and chamfered. The wall is covered with many inscriptions, names or initials of churchwardens and others, with the date 1610 repeated at least nine times. Another records the restoration of 1928, when many of the stones were faced with cement. The west window is of two trefoiled lights and a small quatrefoil in a four-centred head with a hood-mould: it was much restored in 1928. The second stage has a quatrefoiled square-headed light and at the top of it a modern two-light window. The top stage (bell-chamber) has windows, each of two four-centred lights under a four-centred head with a hood-mould. Below the western is a panel with a defaced shield of arms. The parapet is embattled; above the angles are square pinnacles that had crocketed finials, now altered or reduced.
The south porch is built of red sandstone. The arched entrance is of two orders, much defaced and much scored by sharpening of knives or weapons. The gable-head shows an original cambered tie-beam outside, but is otherwise restored with old timbers from elsewhere. The side walls have windows of two trefoiled ogee-headed lights under a square head. The masonry is probably of the early 16th century, but the roof is a century older. It has two moulded tie-beams with highly curved cambers and carrying pairs of sloping struts. The side purlins are each supported by two bays of cinquefoiled arched wind-braces. The masons' joints at the ends of the tie-beams indicate the former posts of the original timber-framed side walls.
In the east window of the chapel is a tiny fragment of heraldic glass of the 14th century: it is of five quarters; the first is not definite and may be Bracebridge (vairy a fesse gules); 2, apparently barry argent and azure; 3, azure a pierced cinquefoil argent; 4, gules, seven voided lozenges (Ferrers of Groby); 5, (impaled coat?) or a sleeve gules (Hastings).
The font is of the 14th century. It has a twelvesided bowl with a moulded lower edge. The stem is hexagonal; three of its sides are treated with a trefoiled panel and varying tracery; the other three are carved with blank shields represented as hanging from hooks: the base is stepped.
In the Bracebridge Chapel are two effigies of knights, (fn. 272) now badly damaged. The older is 7 ft. long and of the late 13th century; it is dressed in mail armour and a long surcoat: the head rests on cushions which are supported by (damaged) winged angels. The features are quite worn away. The bottom part is broken off across the legs: at the feet is a lion, and on the left side a shield. The other is of the early 14th century and of alabaster: it wears chain mail, a gypon, and a bawdric, but most of the head and the legs are missing, also the shield which was on the right side.
There is also a tapering slab in the face of which at the head is a quatrefoil sinking, containing in relief the bust of a long-haired man holding between his hands on his breast an object which may have been a heart (representing a heart burial) or a chalice.
The five bells were recast in 1849 by Taylor of Loughborough.
The registers date from 1538, and there are churchwardens' accounts from 1630.
At the vicarage are a few small fragments of a demolished 15th-century oak screen, too few to allow of restoration.
ADVOWSON
The church of Kingsbury was given by the first Osbert de Arden to the nuns of the priory of Markyate, otherwise Holy Trinity 'in Bosco', co. Beds., and confirmed to them by his son Osbert. (fn. 273) Robert son of Walter and his wife Amabel daughter of the younger Osbert subsequently presented to the church but later reconfirmed the rights of the priory, as did also Amabel's two sisters and their husbands, Alice and Simon de Harecurt and Amice and Peter de Bracebridge. (fn. 274) When, therefore, in 1214, John de Bracebridge claimed to present as heir of Robert son of Walter and Amabel, his claim was disallowed. (fn. 275)
The rectory of Kingsbury 'was divided into two halves during the time of Robert and Amabel, who presented to both of them. (fn. 276) After the right of presentation had returned to the nuns, at some time between 1188 and 1198, one half of the church was conferred by them on Roger de Coleshull, who paid them 20s. a year. (fn. 277) It was presumably this half that was assessed as a rectory at £10 in 1291, while the other half, already appropriated to the priory, was valued at £8 13s. 4d. (fn. 278) This second moiety was appropriated in 1388. (fn. 279) A vicarage was ordained in 1397 (fn. 280) and was valued in 1535 at £8 9s. 10d. (fn. 281)
After the surrender of the priory, following the Act of 1536, (fn. 282) the advowson remained with the Crown, (fn. 283) and the Lord Chancellor still held it in 1859. (fn. 284) The Rev. F. Garrett was patron in 1870, (fn. 285) and the Rev. Henry Webb Garrett was patron when he was instituted to the living in 1875. On his death in 1890 the next presentation was made by Mr. Percival Boxall. (fn. 286) Later patrons were the trustees of P. Boxall in 1900, (fn. 287) H. C. Holder in 1915, (fn. 288) and J. C. Holder in 1920. (fn. 289) By 1936 the patronage had come into the hands of the Bishop of Birmingham (fn. 290) who still holds it. (fn. 291)
The RECTORY was leased by the nuns of Markyate in 1453 for 7 years to Dame Jane widow of Sir William Mountfort, and other persons. (fn. 292) In 1534 the prioress leased it to Richard Woodshall for 31 years. (fn. 293) Soon afterwards the priory was dissolved and the rectory presumably remained with the Crown (fn. 294) till 1561 when it was leased to Sir Ambrose Cave for 30 years. (fn. 295) Margaret Knollys, his heiress, surrendered to the Crown all her late father's rights in the rectory, and in 1583 received a new lease for 21 years. (fn. 296) Already by 1580, at least (fn. 297) the rectory was sub-let, the parsonage-house itself being in the occupation of yet another tenant, William Cooke, who paid part of his rent (i.e. 6s. 8d.) to the holder of the rectory and the rest to the sub-lessors. (fn. 298) Sir Thomas Cokayn or Coken had been the lessor in 1580, (fn. 299) and John Waterhouse probably earlier. (fn. 300) In 1596 Margaret Knollys leased it to Nicholas Orton of Whateley and Thomas Harrise and Richard Hayes of Hurley for 3 years. (fn. 301) William Cooke was still tenant of the parsonage-house. (fn. 302)
The queen in 1590 granted the reversion of the rectory, for 21 years, to Henry Laneman, Yeoman of the Guard. (fn. 303) Another holder was Robert Walthewe, who appears to have been followed by Richard Broughton, who died seised of it in 1633. (fn. 304) He was succeeded by his nephew, Thomas Broughton of Broughton, co. Staffs., (fn. 305) who died in 1648, (fn. 306) and whose son, Sir Brian Broughton held the rectory at least until 1672. (fn. 307)
A ruined Lady Chapel in DOSTHILL with 7 acres of land there were conveyed by the Crown in 1589 to Charles Bagehott and Bartholomew Yardeley of London. (fn. 308) The present church was built in 1872 on land given by the then vicar and patron of the living of Kingsbury, while the present church of HURLEY was built in 1861. (fn. 309) There is a mission church at Wood End. (fn. 310)
CHANTRY
William Bracebridge in 1230 gave to Ralph his son all his land in Kimberley with remainder to Ralph's wife Eva in dower. (fn. 311) In an old chapel, which was dedicated to St. Edmund, the chantry of KIMBERLEY was founded, possibly by John Bracebridge, who presented a chantry priest in 1311. (fn. 312) The patronage descended in the Bracebridge family. (fn. 313) Between 1476 and 1479 the chantry was transferred to the chapel of Hurley and was subsequently known as the chantry of HURLEY. (fn. 314) Its endowments were increased in 1479 by gifts of land in Clift and Hurley made by the executors of Thomas Waldyve, whereby masses were endowed for the souls of William Waldyve and Sybil his wife and Thomas Waldyve. (fn. 315) The chantry was valued in 1535 at 106s. 8d. (fn. 316) In 1549 the dissolved chantry of Hurley was sold to Thomas Fyssher and Thomas Dabrigecourte. (fn. 317) Nicholas Freculton acquired some rights in it, to fall to him in 1564, and leased his expectations in these, in 1551, to John and Anne Harbyd, for 40 years from 1564. (fn. 318) In 1558 Anne and her then husband William Symonds of Nuneaton devised their interest in part of the late chantry, namely a capital messuage called Kimberley Hall, from March 1564, to Anthony Grene. (fn. 319) In 1572 William son of Nicholas Freculton sold the hall to Anthony Grene, (fn. 320) who in 1587 settled it on his son William on his marriage with Anne daughter of the late Andrew Brooke. (fn. 321) William Greene and Anne conveyed it in 1599 to Margaret Knollys of Kingsbury (q.v.), (fn. 322) with which manor it descended until at least 1730. (fn. 323) Kimberley Hall is now a farm and in 1934 was in the occupation of Mr. Francis William Summers. (fn. 324)
The chapel and yard called Hurley Chapel were sold to Anthony Grene by William Freculton in 1572, (fn. 325) and by Anthony Grene to John Bracebridge of Hurley in June 1597, at which date the tenement was described as a cottage. (fn. 326) A month later Bracebridge sold the cottage called Chapel House to Margaret Knollys. (fn. 327) Hurley Chapel House, with other tenements in Hurley, was held of the Prince of Wales as of the manor of Cheylesmore as 1/50; knight's fee by Robert Michell at his death in 1613. (fn. 328) His heir was his son Thomas. (fn. 329)
CHARITIES
Philip Stanyers and others gave bequests amounting to £360 which in 1834 was invested on mortgage, the interest being distributed to the poor of Kingsbury. The endowment is now represented by stock producing £80 (approx.) annually in dividends.
Ann Willington by will gave £50 to the poor of Kingsbury. The legacy was invested in the purchase of 5¾ acres of land at Edge Hill, Kingsbury, let at an annual rent of £9 10s.
The above charities are now regulated by a Scheme of the Charity Commissioners of 11 May 1909. The Scheme appoints a body of eight trustees and provides for the income to be applied in making payments under various heads for the benefit of the poor of Kingsbury.