Pages 251-255
A History of the County of Warwick: Volume 4, Hemlingford Hundred. Originally published by Victoria County History, London, 1947.
This free content was digitised by double rekeying. All rights reserved.
NETHER WHITACRE
Acreage: 1,995.
Population: 1911, 606; 1921, 726; 1931, 748.
This parish, 2 miles in width from east to west and 1½ miles in depth, is separated on the south from Shustoke by the old course of the Bourne River, part of which is now covered by the Shustoke Reservoir. The western boundary is mainly formed by the River Tame.
From Whitacre Station, just over the south-western boundary of the parish in Shustoke, the Birmingham-Derby line of the L.M.S. Railway runs due north through the parish; a branch line to Nuneaton runs close to the southern boundary. The parish is covered with a network of lanes, in one complex of which, slightly north of the centre, lies the village with the church.
An Inclosure Act affecting 400 acres in this parish was passed in 1825. (fn. 1)
Whitacre Hall, ¾ mile north-east of the church, is an L-shaped house facing south, of which the south block was rebuilt in the 18th century: the back wing is probably of the 17th century and has very heavy chamfered ceiling-beams. The walls are rough-casted. The chief interest is the large square moated area, which is of medieval origin and was evidently constructed for defensive purposes. The moat is stonelined on the inner faces, and at each angle except the north-eastern is a square shell-tower of red sandstone with open sides towards the internal area. Each wall, including the two short sides overlooking the length of the moat, is pierced by a loop. Spanning the south arm on solid foundations (not arched) is a small Elizabethan gate house, large enough to admit a small vehicle, built of red brick and having an outer curvilinear gable-head. The entrance, in a square recess on the outer face, is round-headed and has the original nail-studded gate hung with plain strap-hinges. In it is a wicket door hung with large ornamental winghinges, nearly of cock's head type, one original and one copy. The inner gable-head is of timber-framing with a moulded cambered bressummer or tie-beam facially carved with running foliage. The framing has two quatrefoils in squares and other patterns, a fleur de lis, acorns, and a rose-sprig, with plaster infilling. The side-walls have upper and lower loops overlooking the moat and have moulded wall-plates. Outside the moat are timber-framed farm-buildings.
The village about the church is scattered and contains several old buildings. A farm-house north-east of the church is of H-shaped plan facing north. The main block and the western gabled cross-wing are of timber-framing of c. 1600. The south end of the wing has a jettied upper story with a moulded bressummer and a slightly projecting gable-head with a dentilled tie-beam.
The other wing is mostly of modern brick. A small building behind is of pigeon-house size and has north and south gables of old timber-framing.
The Dog Inn farther east, mostly of brick, shows some old timber-framing, and a farm-house east of it is of mid-17th-century framing. A cottage at the crossroads, west of the church, with an attached smithy, a former inn now a cottage, and two other cottages farther west are of mid-17th-century framing.
Hoggrell's End, a hamlet about ¾ mile south-west of the church, has five or six ancient buildings, two or three of more than average interest. 'The Dingle', a farm-house, is chiefly of brick but shows some 17th-century timber-framing and there is a timber-framed barn east of it. Mount Cottage, on the east side of the road at the right angle bend, is of mid-16th-century date and may have been part of a larger building, now largely replaced by later wings (separate tenements). This part is of two stories, the upper partly in the roof, with walls of close-set studding, of which only a little is left in the lower. The north gable-head has herring-bone framing in square panels. The plain central chimney-shaft is of thin bricks, and there is an 8-ft. fire-place, towards the south room, that once had a projecting oven west of it. This room has an open-timbered ceiling with chamfered beam and joists, and east of the fire-place an ancient door. The low windows to the upper story have been blocked and higher dormers substituted. The tie-beam between the rooms is peculiar in that part of it is lifted in the solid to form an arch over a dwarf doorway. The purlins have straight wind-braces. The east wing has some 17th-century framing in its north wall, the others being rough-casted. The south wing is of modern brickwork.
A cottage and a farm-house to the west show 17th-century timber-framing. The first is said to have an ancient stone staircase.
'The Old House', farther west, is a renovated and enlarged house dated 1593. It was of T-shaped plan, the head facing south being the main block, but a modern north wing makes the plan H-shaped facing west, the former kitchen being converted to the middle entrance-hall. The east and west ends of the south wing have jettied upper stories with moulded bressummers on brackets, and projecting gable-heads. The upper stories have panels with herring-bone studding and the west gable-head has geometrical patterns with curved braces. Most of the west patterning is outlined with modern boards, but much of the original work is visible inside. The south side, of close-set studding in the upper part, is rough-casted outside. The western (larger) room has a moulded ceiling-beam and in the central chimneystack is a stone fire-place with moulded jambs and four-centred head, carved panelled frieze and moulded shelf with three projections. The seven frieze carvings are: middle a bird, next on either side a leopard (heads towards middle), the next outer a trefoil, and outermost a device perhaps a capital I. The east room has an open-timbered ceiling and north of it is a staircase of solid oak balks. The upper rooms have chamfered beams and the roof trusses have heavy principals and cambered collar-beams. Two old battened doors have original moulded wooden grips, &c.
A farm-house east of Hoggrell's End, facing west, is mostly rebuilt with brickwork, but shows some 17th-century framing in the north and south gable-heads with curve-cambered tie-beams.
Farther east a farm-house, now tenements known as Hayfields Cottages, is built of timber-framing of c. 1600. It is of rectangular plan, but the easternmost bay is a gabled cross-wing and has on the north front a tie-beam curve-cambered to form an arch with the curved braces that support it. A projecting chimneystack on the east side is of red sandstone and has two diagonal shafts of thin bricks. In front of the main block is a small gabled porch dated 1663. The building is said to have been reconditioned but has old ceiling-beams, &c.
At Botts Green, ¾ mile east-south-east of the church, is a large farm-house which is one of the best local examples of timber-framing. It has a modern date 1593 on the porch and has framing bearing some resemblance to that of the 'Old House' of that date at Hoggrell's End, but some of the internal details suggest an earlier origin. It is a long building (c. 72 ft.), including a cross-wing of c. 17 ft. that projects 4½ ft. in front at the north end. The southern part (c. 45 ft.) is treated symmetrically and has a middle porch-wing. The upper story of the main wall is (or was) of herring-bone framing, but north of the porch the whole wall from the ground has been replaced with 18th-century brickwork and painted with false timbering. North of this and south of the porch, the original timbers survive above modern one-story pentices. The porch is built of local cream sandstone; the entrance has moulded jambs and a depressed arch in a square head with a fluted frieze and cornice. On either side of the entrance is a small pilaster with a foliage and fleur de lis finial. Above these and also at the angles of the porch are short corbel-pilasters, over which the cornice breaks forward. The side-walls of the porch are pierced by small square ornamental lights: the southern may be medieval and has tracery forming a quatrefoil. The northern, on the same motif but differently treated, is of the date of the porch. The ceiling has a moulded beam. The heavy battened door, divided by ribs into vertical panels, has original strap-hinges and knocker-handle with an ornamental plate. Above the stonework is a cove of plaster to a jettied upper story on the three faces. This has a moulded bressummer and is similarly treated with herring-bone work. The front has a four-light window with a projecting moulded frame, mullions, transom, and sill on carved brackets. Below the window the wall face has a large fleur de lis in raised woodwork with plastered infilling. The gable-head also projects on a stop-moulded bressummer with curved brackets and has quatrefoil patterns in square panels.
The north wing has a stone plinth and close-set studding to the lower story, with straight braces at the angle-posts; the jettied upper story and gable-head resemble those of the porch. Both lower stories have four-light projecting windows like that over the porch: the brackets below the upper have moulded pendant-ends. Below this window is a wide timber sunk-carved with another but cruder fleur de lis, and there is another in the gable-head, below a modern window. The north side and east end have close-set studding (9-in. studs, 7-in. spaces) to the lower story and herring-bone to the upper, and the east projecting gable-head also has herring-bone work. Blocked windows appear in both walls. The east side has a small porch (opposite the west porch) of two stories, the lower of brick but having a moulded oak-framed entrance with a door nearly resembling the western. The upper story has herring-bone work in the front and gable-head; the south side and its gable-head are of modern brick.
The entrances open into a cross-passage between the backs of two wide fire-places, under a round stone arch. The southern fire-place is plain (in the kitchen), the northern is of stone with moulded jambs and four-centred head, now mostly hidden by a modern fire-place. Over it is exposed the frieze, which has shallow pilasters, carved with fleurs de lis above fluting, and a moulded shelf that breaks forward over each pilaster. Above the shelf the wall has a carved treble rose. This room, probably the house-place, has a stop-moulded ceiling-beam like those at Moat Farm, Shustoke. The south kitchen has an original beam with large chamfers and moulded stops. The small room north of the house-place, with the lean-to in front, has a plain ceiling but may have been part of the house-place originally, or it may have contained the original staircase. The present stair is in the modern east annexe. The north wing, now the dairy, was a more important room and has similar stop-moulded cross-beams, and exposed stopchamfered joists. Part of the upper story has widely chamfered beams, one on moulded brackets, and a stone fire-place has an arched head. The roof over the north wing has straight wind-braces to the purlins. The fire-places in this wing are modernized, but the plain shaft over is of 17th-century bricks. The shafts over the other pair are modern.
Close south-east of the house is a two-storied square building that may have been a pigeon-house. The lower story is of stone rubble that appears to be medieval and has a four-centred south doorway. In the north wall is a window blocked with 17th-century brickwork; and over it is carved a rose in relief. The upper story is of herring-bone timber-work resembling the house and has projecting east and west gable-heads on square bressummers. A later doorway is cut in the east wall, with steps leading up to it. The lower story has a heavy stop-chamfered ceiling-beam and the roof has straight wind-braces to the purlins.
The forecourt has a gateway with stone posts that have moulded capitals and ball-heads.
MANOR
At the time of the Domesday Survey 3½ hides in all were accounted for under the name of Whitacre. Of these, Turchil held 2 hides less 1 virgate, including woodland 1 league long and ½ league broad, and his tenant was Eduin. (fn. 2) Two Ulvrics had held it in the time of King Edward. (fn. 3) Another 3 virgates were held by Robert de Veci in 1086, (fn. 4) and Ailric had formerly held it. (fn. 5) There are grounds for assuming that these two holdings, 2½ hides in all, formed what afterwards became the manor of NETHER WHITACRE, (fn. 6) and that they passed into the possession of Robert Marmion. (fn. 7)
Robert Marmion enfeoffed William son of Ralph of 1 knight's fee between 1135 and 1166, (fn. 8) and this may be identified with the knight's fee held of another Robert Marmion in 1235–6 by Ralph son of Ralph, said to have been William's son. (fn. 9) The over-lordship descended with the Marmions and their heirs, lords of Tamworth Castle, at least down to 1387. (fn. 10)
Ralph son of Ralph was apparently succeeded by his son Nicholas son of Ralph. (fn. 11) Nicholas died before 1262, and a few days before his death, settled on Margery daughter of Geoffrey de Appleby on her marriage with his son and heir Giles, 10 virgates of land in Nether Whitacre. (fn. 12) Giles left a daughter and heiress Isabel, who became a ward of Philip Marmion and by him was given in marriage to Robert Marmion. (fn. 13) She was dead by 1292. (fn. 14) Robert had a house in Whitacre in 1286, (fn. 15) and was holding a fee there in 1291 (fn. 16) and 1295. (fn. 17) He was still lord of this fee in 1316. (fn. 18)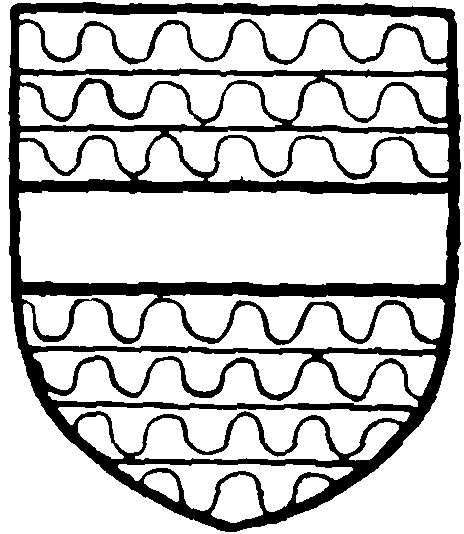 Robert Marmion is said to have leased this manor, with others (fn. 19) for his lifetime to Ralph Basset of Drayton. (fn. 20) There was a conveyance of Nether Whitacre to Ralph Basset in 1320 by Eustace of Hardeshull and Amice his wife, (fn. 21) who is believed to have been Robert Marmion's heiress. (fn. 22) In 1329 Amice, then the widow of John de Whitacre, is said to have passed away her right in half the manor to Ralph Basset, (fn. 23) who in 1340 assigned £20 a year from land there to chaplains in the church of St. John the Baptist at Drayton. (fn. 24) The rest he conveyed a few months later to William de Clinton, Earl of Huntingdon, (fn. 25) who before the end of 1344 had given this half of Nether Whitacre, except the £20 rent there, to Maxstoke Priory. (fn. 26) This may be identical with the demesne lands and rents in Nether Whitacre that descended with the manor of Shustoke (q.v.), being returned to William de Clinton in 1346. (fn. 27) At his death in 1353 he had in Nether Whitacre ½ messuage, a carucate of land, 6 acres of wood, 4 acres of meadow, and 10s. rent, held of Sir Baldwin Frivyll by knight's service. (fn. 28) His heir was his nephew John, Lord Clinton, (fn. 29) who at his own death in 1397 was said to be holding half the manor of Nether Whitacre, except the inclosed park, formerly part of the said half-manor, of the heirs of Sir John de Pecche, (fn. 30) again by some confusion with Over Whitacre in the matter of the over-lordship. The subsequent history of this half-manor is uncertain, but it may have passed into the hands of the Bermingham family through Elizabeth, John's widow, who had previously been the wife of Sir John de Bermingham. (fn. 31)
Meanwhile in 1330 Richard de Wytakere, son of Simon, settled a moiety of the manor of Nether Whitacre on himself and his wife Amabel and their heirs. (fn. 32) In 1364 ⅓ of ½ of the manor was leased to Fulk de Birmyngeham by John Waryn of Burton-Stather, co. Lincs., and Hulma his wife, for her lifetime at an annual rent of £12. (fn. 33) Fulk was father of Thomas de Birmingham, whose wife Isabel is said to have been daughter of John de Whitacre (heir of Richard son of Simon) and of Amice daughter of Sir Robert Marmion and Isabel. (fn. 34) Thomas left a daughter Elizabeth, who married Thomas de la Roche, and left two daughters and co-heiresses, Ellen wife of Edmund Ferrers of Chartley, and Elizabeth wife of George Longevile. (fn. 35) Sir Edmund Ferrers died in 1435 holding half the manor in right of his wife. (fn. 36) In 1439, a year before her death, Ellen and her second husband Sir Philip Chetewynd conveyed the moiety to John Ferrers, brother of William, Lord Ferrers, for a settlement on three of her sons. (fn. 37) John Ferrers conveyed it in 1443 to trustees, (fn. 38) and in 1445, after the death of Sir Philip Chetewynd, it was conveyed to Ellen's son Sir William Ferrers and his wife Elizabeth. (fn. 39) Sir William died in 1450, leaving a daughter Anne, aged about 12 years but already married to Walter Devereux. (fn. 40) Elizabeth continued to hold the ½ manor and conveyed it to feoffees in 1455. (fn. 41) She was succeeded after her death in 1471 by her young grandson John Devereux, Lord Ferrers, (fn. 42) whose son Walter Devereux, Lord Ferrers and afterwards Viscount Hereford, conveyed to trustees what was described as the manor of Whitacre, in 1512. (fn. 43) He died in 1558, after which time his widow Margaret was tenant for life of the manor. (fn. 44) Her husband's grandson Walter, Viscount Hereford, in 1571 conveyed the reversion after her death to Edmund Scarnynge. (fn. 45)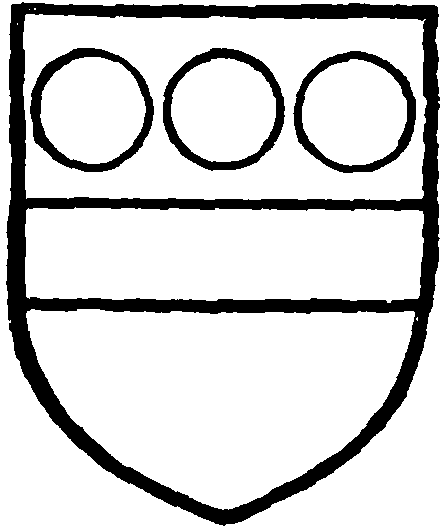 George Longueville was holding a moiety of the manor in 1436. (fn. 46) He had a son Richard who was a minor in 1423. (fn. 47) In 1541 this moiety was conveyed, apparently to trustees, by Sir John Longueville, and Arthur and Richard Longueville, (fn. 48) and in the following year the reversion, after the death of Sir John, was granted to John Cheyney of Chesham Waterside, co. Bucks., (fn. 49) the son of Anne daughter and heiress of Sir John Longueville and wife of Drew Cheyney. (fn. 50) In 1571 John Cheyney, with Henry his son and Henry's wife Agnes, conveyed this moiety (described as the 'manor' of Nether Whitacre) to Edmund Scarnynge, (fn. 51) who earlier in the year had acquired the reversion of the other half (see above). In 1576 Scarnynge and his wife Eleanor conveyed the manor to Henry Cheyney, (fn. 52) who is said to have conveyed it in the following year to John Purefey. (fn. 53) In 1589 John and Isabel Purefey conveyed the manor to Laurence Washington and George Villars, (fn. 54) and in 1592 George Villars and Mary his wife sold it to Edward Brabazon. (fn. 55) Edward, since 1616 Baron Brabazon of Ardee, died in 1625, (fn. 56) and was succeeded by his son William, Lord Brabazon and, after 1627, Earl of Meath, (fn. 57) who sold the manor in 1631 to Sir John and Sir Robert King and Sir John's heirs. (fn. 58) Sir Robert King, of Boyle, co. Roscommon, married Sophia, widow of Viscount Wimbledon, and died in 1657. (fn. 59) In 1681 Sophia, Viscountess Wimbledon, with Sir Thomas Barnardiston and Elizabeth, her son-in-law and daughter, and Frances Ellis, widow, her stepdaughter, conveyed the manor to Humphrey Jennens (fn. 60) of Erdington Hall, co. Warw., who devised it to his eldest son Charles Jennens of Gopsall, co. Leics., who was holding it in about 1730 (fn. 61) and from whom it passed presumably in 1747 with the Gopsall estate to his only surviving son Charles, (fn. 62) who was holding it in 1764. (fn. 63) He died in 1773, (fn. 64) leaving a sister Elizabeth whose daughter married Assheton Curzon, Lord Curzon of Penn, and brought the Jennens estates into this family. (fn. 65) Their grandson Richard William Penn Curzon owned Nether Whitacre in 1818 (fn. 66) and, as Earl Howe, was still holding it in 1850. (fn. 67) All manorial rights now appear to have lapsed.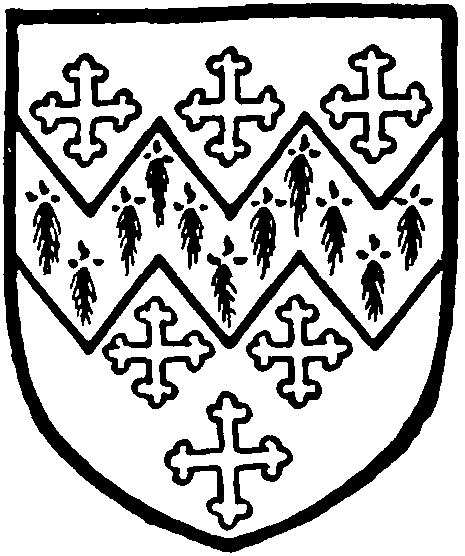 The two halves of the manor together with the residence called Whitacre Hall were leased in 1542 or 1543 for a term of 42 years to John Starkey. (fn. 68) John Purefey claimed that the remainder of the lease had been sold to him by Starkey in 1569. (fn. 69)
The right of free warren in his demesne lands in Whitacre was granted, in 1257, to William de Waure, (fn. 70) lord of Waver Merston (q.v.). He was later found to be holding ½ carucate of land in Whitacre, with a park worth 20s. and rents worth 18s., of the fee of Mowbray. (fn. 71) His grandson, (fn. 72) another William, together with his wife Alice, daughter of Robert Louet of Newton, conveyed a manor of Whitacre with others to Robert de Waure for life, with reversion to themselves. (fn. 73) Nothing further is heard of it.
A virgate of land in Nether Whitacre was given by Robert Marmion to Aubrey, abbess of Polesworth. (fn. 74) After the Dissolution, lands late of the monastery of Polesworth were sold by the Crown in 1546 to George Rythe and Thomas Grantham of Lincoln's Inn. (fn. 75) They were then in the tenure of John Smythe. (fn. 76)
A close called Canwall More in Nether Whitacre was held by Canwell Priory, co. Staffs., though by whom it was originally granted does not appear. (fn. 77) The lands of the priory here were given in 1526 to Wolsey (fn. 78) and were used to endow his college at Ipswich. (fn. 79) They were tenanted in 1526 by William Edwards. (fn. 80) In 1532 this property was granted by the Crown to trustees to the use of St. George's Chapel, Windsor. (fn. 81)
CHURCH
The parish church of ST. GILES consists of a chancel with a north vestry and organ-chamber, nave, south porch, and west tower.
The tower dates from the 16th century—the first half or middle—but the remainder of the building has no ancient features except the jambs of the east window and the rubble walling, which may be 14th-century work. The building was restored in 1870: this seems to have included the rebuilding of the south wall of the nave and the complete renovation of the windows and doorways of the nave and chancel, and new roofs and furniture. The resetting of a number of carved stones in the tower walls, most of them apparently of the 14th century, may perhaps indicate an earlier tower.
All the windows and other details are modern unless otherwise described.
The chancel (about 19 ft. by 15 ft.) has an east window of three trefoiled lights and tracery: the jambs of one chamfer are ancient, probably 14th century. In the north wall is an archway to the organ-chamber and vestry and east of it a recess with a credence shelf. On the south side is a window of two trefoiled ogee-headed lights and a quatrefoil. The walls are of medieval red rubblework with heavy angle-dressings at the east angles.
The pointed chancel arch is entirely modern.
The nave (49 ft. by 22 ft.) has four north and three south windows of two trefoiled lights and varying tracery. The pointed south doorway is of two chamfered orders. Just west of the third north window is a straight joint marking the jamb of a former north doorway. The north wall is of ancient rubble, but the south wall and porch are of modern coursed yellow stone.
The gabled roofs are modern.
The vestry and organ chamber has a two-light traceried east window, a north window of one light, and a west window that was like it but is now reduced for a monument to Charles Jennens, 1773, who was a benefactor to the church.
The 16th-century west tower (about 10 ft. square) is built of red sandstone ashlar and is divided into two stages, the lower a tall one, by a moulded string-course. It has a plinth of two courses, the upper moulded, and a plain parapet. At the west angles are diagonal buttresses of four stages with moulded offsets to each of the stages and at the east are north and south square buttresses. In the south-west angle is a stair-vice (not projecting) with a four-centred doorway in the inner splayed angle. The 16th-century arch to the nave has responds of two chamfered orders, the inner with a plain moulded capital. The neck-mould is continued in the outer order, which is stopped out to square immediately above it. The two-centred head is of two chamfered orders, both stopped out to square at the springing.
The old west window is set very much to the north of the middle of the wall because of the stair-vice: it is of two plain pointed lights and spandrel in a four-centred head with a hood-mould and a three-centred rear arch. In the south wall is a modern four-centred doorway; it has wide inner splays, which may indicate an earlier doorway or an altered window.
The second story has a small round window—probably a later piercing—just below the string-course on the south side, and a loop-light to the vice. The bell-chamber has two-light windows like the lower west window. There are about a dozen reset carved stones in the tower walls; these include beast-heads or grotesques (perhaps gargoyles) in the middle of the intermediate string-course on each face, a number of human-head corbels, mostly defaced, one of them a woman's head with a 14th-century head-dress, and a half-hexagonal base of a niche carved with a priest's or monk's head and shoulders. Also a small trefoiled ogee head of a light now reglazed for the vice.
The font and other fittings and furniture are modern.
In the quatrefoil of the south chancel-window is a 14th-century white and yellow angel with green wings, holding a censer. The infilling is of ruby glass.
There are three bells: (fn. 82) the second by Newcome of Leicester 1612, the other two by Thomas Hedderley of Nottingham 1783 and 1785.
The registers of baptisms and burials begin in 1539 but are defective and out of chronological order; entries of marriages begin in 1564. (fn. 83)
ADVOWSON
Already by 1280 the chapel of Nether Whitacre was appropriated to Markyate Priory. (fn. 84) The advowson then descended with that of Over Whitacre (q.v.), at least until 1545, when both were granted to Thomas Marrow. (fn. 85)
In 1631 the Earl of Meath conveyed the advowson of Nether Whitacre to Sir John and Sir Robert King along with the manor, with which it subsequently descended. Charlotte, Lady Howe, presented in 1804, (fn. 86) and Earl Howe is the present patron. (fn. 87)
The RECTORY followed the descent of the advowson at least until 1545. (fn. 88) In 1580, however, Sir John Throckmorton died holding it of the queen as of the manor of East Greenwich. (fn. 89) It passed to the Crown on the attainder of his son, Sir Francis Throckmorton, in 1584 and was afterwards held by John Cowper and William Kente. (fn. 90) On 15 November 1589 the queen granted the rectory to Sir Edward Stanley, (fn. 91) but in 1594 it was conveyed by Ambrose and John Cowper to Edward Brabazon, (fn. 92) after which time it again descended with the advowson until 1681. (fn. 93)
CHARITIES
John Broughton gave 12s. for ever to be paid out of a house and land in this parish known as Plumpton Suit, to be distributed among the poor on Easter Monday. The charge is now paid by the owner of Holt Hall and distributed to widows and old people.
John Birch gave 20s. to be paid yearly out of land called Fruitful or Woodstill lying near Little Sutton, to be given to the poor on Christmas Day, one moiety in bread and the other in books for the use of poor children. The charge was redeemed in 1902 for a sum of £40 2½ per cent. Annuities producing 20s. annually, which are now distributed to widows and old couples.
Thomas Biddle by will dated 28 June 1869 gave to the churchwardens and overseers of Nether Whitacre a field containing 3 acres known as Apple Tree Field, to distribute the rent among the poor of the parish. The charity is now regulated by a Scheme of the Charity Commissioners of 22 November 1907. The property is let in allotments at an annual rent of about £7.