Pages 256-258
A History of the County of Warwick: Volume 4, Hemlingford Hundred. Originally published by Victoria County History, London, 1947.
This free content was digitised by double rekeying. All rights reserved.
OVER WHITACRE
Acreage: 1,414.
Population: 1911, 334; 1921, 350; 1931, 372.
This small parish is bounded on the south and west by the Bourne River and on the east mainly by two small streams which run respectively north and south from the neighbourhood of Monwood Lea Farm, where a height of 490 ft. is attained. The church of St. Leonard, in the west of the parish, ½ mile east of Shustoke station, stands on a hill, at a height of 400 ft., commanding a fine view across the Bourne a hundred feet below.
An Inclosure Act, affecting 140 acres, was passed in 1819. (fn. 1)
The parish contains few buildings of interest. There is no village except at Furnace End. The Bull's Head Inn is partly of stone rubble, probably of the 17th century, and has ancient ceiling-beams, &c.; the lower room of the 18th-century north wing is lined with good panelling of the period. Next west is the Mill of red sandstone and brick; the mill-race is said to date from monastic times, but the house is not of great age.
In the fields, 3/8 mile north-north-east of the church, is a thatched cottage of 17th-century timber-framing. South-east of the road to Ansley, and south of Monwood Lea Farm, stands an isolated late-16th-century chimney-stack of red sandstone with two square shafts of brick with V-shaped pilasters. An arched stone fire-place to each floor survives. Not a trace of the remainder of the house is visible, and it must have been destroyed a long time ago.
At the Ashes, about a mile north-west of the church, is a farm-house with a central chimney-stack with three square shafts with V-shaped pilasters; the walls are rough-casted. At Botts Green, south of Botts Green Hall, is a 17th-century building, now tenements, which may have been a school or like institution originally. The main block has a gabled cross wing at its north end which shows an angle story-post and some framing in the gable-head, but is now mostly faced with cement. The remainder, including the narrower north extension, is built of red sandstone ashlar with a moulded plinth and at the south end a coped half-gable. The lower windows are mullioned; one has old oak mullions. There is also a small derelict stone outbuilding. Opposite is a 17th-century timber-framed cottage.
MANOR
At the time of the Domesday Survey half a hide in 'Witacre' was held by Hugh (de Grandmesnil), and of him by Walter; Baldwin had held it. (fn. 2) Another half-hide was held by the Count of Meulan. (fn. 3) This was waste, and had been held by Levenot in King Edward's time. It seems reasonable to assume that this hide formed what was afterwards known as the manor of OVER WHITACRE. (fn. 4)
Hugh de Grandmesnil's half-hide may have followed the descent of the rest of his lands, passing to his son Ives, who mortgaged them in about 1102 to Robert de Beaumont, Count of Meulan, afterwards Earl of Leicester, by whom they were retained after Ives had died on Crusade, (fn. 5) but there is no trace of any later Leicester overlordship. The Count of Meulan's holding in Whitacre may subsequently have passed with his other Domesday lands, soon after 1086, to his younger brother Henry de Newburgh, Earl of Warwick. (fn. 6) The earliest trace of any direct connexion between the Earls of Warwick and this manor is found in 1235–6 when 1/10; knight's fee in Whitacre was held of the earl (fn. 7) presumably by the Simon de Witacre who was holding it in 1242. (fn. 8) By 1276, and possibly earlier, (fn. 9) an intermediate tenant of what was then described as ½ knight's fee, forming the manor of Over Whitacre, was William de Arden, who died in that year leaving as his next heir a brother Richard, who was an idiot. (fn. 10) This mesne lordship then passed to the descendants of Hawise, sister of Hugh father of William and Richard de Arden, (fn. 11) being held in 1316 of Guy de Beauchamp; Earl of Warwick, by John Pecche. (fn. 12) Another John Pecche was holding what was described as ¼ fee in 1401 of Thomas de Beauchamp (fn. 13) and this ¼ fee was granted in dower to Thomas's widow Margaret in 1403 (fn. 14) and in 1407, after her death, to her son Richard, the next earl. (fn. 15) There is no further information concerning the overlordship or the mesne lordship of this part of the manor.
Robert Marmion, lord of Tamworth, also had rights of overlordship in this manor of Whitacre and some time before 1135 had enfeoffed Simon de Witacre of ½ fee which he was still holding in 1166 (fn. 16) and which another Simon held in 1235–6. (fn. 17) This ½ fee continued to be held of the lords of Tamworth until at least 1388. (fn. 18)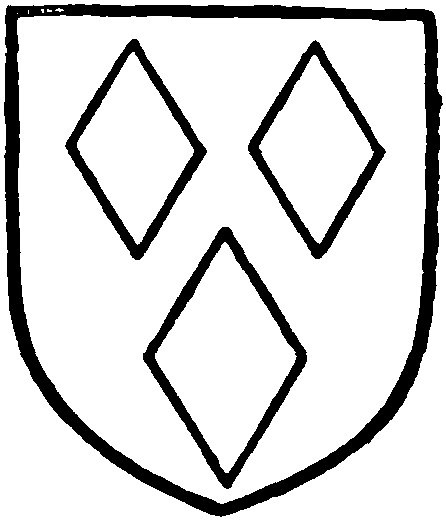 The first Simon de Whitacre is said to have been succeeded by Alan and he by Simon, who took his surname from Barcheston (fn. 19) in Kineton Hundred. Jordan de Witacre would appear to have held Whitacre in 1203, (fn. 20) however, and in 1221 Over Whitacre was distinguished as Jordan's Whitacre. (fn. 21) In 1224 Simon de Barcheston enfeoffed Simon son of Jordan in ½ fee in Whitacre, to be held of himself and his heirs. (fn. 22) In 1238 it was agreed that Simon and his heirs should do suit and service of ½ fee at Tamworth Castle on behalf of Simon de Barcheston and his heirs. (fn. 23) Meanwhile, Simon de Witacre had been holding 1/10; fee in Whitacre of the Earl of Warwick in 1235 (fn. 24) and 1242, (fn. 25) and the two holdings were evidently united by 1256, when a Simon de Whitacre received a grant of free warren in his demesne lands in the manor of Whitacre, and also in the manors of Elmdon and Freasley, (fn. 26) which fees had always been connected respectively with the Warwick (fn. 27) and Marmion (fn. 28) portions of Whitacre.
Richard de Whitacre had succeeded by 1276 (fn. 29) and it was presumably this same Richard who was living in 1291 (fn. 30) and 1295 (fn. 31) and on whom and his heir Richard in 1310 the manor, with Elmdon and Freasley, was settled by Edmund de Whitacre, apparently his elder brother. (fn. 32) It was evidently the son Richard who was described in 1316 as lord of Whitacre with members. (fn. 33) A Richard son of Simon of Whitacre is mentioned in 1348 (fn. 34) and the late Richard or the heirs of Richard de Whitacre are associated with portions of the manor held of the different overlords in 1388 (fn. 35) and 1428. (fn. 36)
The last Richard de Whitacre left two daughters, Joan and Katherine; Joan married Alan Waldeif of Alspath (q.v.), and with him sued Ralph de Standysshe and Elizabeth his wife (probably widow of Richard) in 1381 for half the manor of Whitacre. (fn. 37) In 1404 Alan was stated to be holding Over Whitaker (fn. 38) jointly with Roger Wastenesse (presumably either widower or son of Katherine) of Thomas Lampet of Essex and Elizabeth his wife (the same Elizabeth), during Elizabeth's lifetime, at a money rent. (fn. 39)
Alan Waldeif was dead by October 1406, (fn. 40) and he and his wife Joan had two daughters and heirs, Ellen who married Richard Walsh of Wanlip, co. Leics., and Margaret who married Thomas Hore of Elmdon. (fn. 41) These two husbands are said to have held the manor jointly in 1431 or 1432. (fn. 42) Thomas Hore's son (fn. 43) Alan left a daughter Katherine, who married John Butler of Solihull, (fn. 44) survived her husband, and dying in 1517 left as heir to the half-manor a son John, then aged 6 years. (fn. 45) John sold his half of the manor in 1542 to Thomas Marowe, (fn. 46) who was still described as joint lord of Over Whitacre in 1556. (fn. 47) In 1560 he conveyed his moiety to John Mylner and Katherine his wife; (fn. 48) but on John's death in 1562 his holding was described merely as tenements and half a messuage in Over Whitacre, the overlordship of which was unknown. (fn. 49) John's heir was his son Samuel, who came of age in 1574 (fn. 50) and died in 1575, when this moiety of a messuage passed to his brother Francis. (fn. 51) He, with his wife Margery, was dealing with land in Over Whitacre in 1594, (fn. 52) and, with Francis Milner the younger, in 1617. (fn. 53) Digby Milner and Anne his wife made a conveyance in 1685 to Simon, Lord Digby. (fn. 54)
The other moiety of the manor appears to have descended from Ellen and Richard Walsh to their son Thomas and from Thomas to his granddaughters Anne, wife of Sir Thomas Pultney of Misterton, co. Leics., and Joan, widow of Sir John Aston, since Joan conveyed her rights here in 1526 to Anne and Sir Thomas. (fn. 55) Sir Thomas was holding half of 12 messuages, 100 acres of land, &c., in Whitacre at his death in 1541. (fn. 56) His grandson Michael Pultney was holding a moiety of the manor in 1556. (fn. 57) In 1573 Gabriel Poultney was dealing with what was described as 'the manor' of Over Whitacre, (fn. 58) but he and his wife Dorothy conveyed a moiety of the manor, in 1585, to William Miller the younger. (fn. 59) Arthur Miller and Jane his wife and Isabel Byard, widow, were dealing with the manor in 1655. (fn. 60) Arthur Miller (a minor) was lord of the manor in 1714; Susannah Miller, widow, in 1756; the Rev. Arthur Miller in 1760 and 1771; and Arthur Gramer Miller between 1787 and 1807. (fn. 61) By 1850 all manorial rights appear to have lapsed, and the land was divided among several owners. (fn. 62)
A water-mill in Over Whitacre was owned in 1690 by Peter Broughton. (fn. 63) Half a mill there was the property of Katherine Butler at her death in 1517, (fn. 64) and a mill was conveyed in 1542 with the half manor to Thomas Marowe. (fn. 65) Half a mill was included in the Pultney half of the manor in 1526, (fn. 66) and Michael Pultney demised 'Pulbagge Myllne' there in 1568 to Thomas Wright of Over Whitacre. (fn. 67) In 1622 Henry Wright and Joan his wife conveyed a water-mill to William Upsham. (fn. 68)
CHURCH
The parish church of ST. LEONARD was built in 1766 and consists of a chancel, nave, and a west tower with a spire, all of red sandstone ashlar.
The east window of the chancel is of three lights with square mullions with moulded capitals and bases: the side lights have flat entablatures, the middle rises higher with a round head with an archivolt and keystone. On the south side is a blank round-headed quasi-window. The walls have a square plinth, plain string-courses level with the sills and imposts, and moulded eaves-courses. The hipped roof is covered with slates.
The nave has three plain round-headed south windows and two on the north side with a middle blank copy of them. The string-courses, &c., are as in the chancel.
The west tower is of three stages, the two lower having string-courses alining with those of the nave. It has a west doorway with a moulded architrave and entablature, flanked by tall voluted-console pilasters. Above it is a half-round lunette divided into three lights. The south side has a bull's-eye window and there is a similar blank on the north. The third stage is more ornately treated. The windows are round-headed with moulded architraves having square block rustications and keystones, and are set in shallow round-headed recesses. At the angles are shallow pilasters with moulded and bracketed capitals and above are pediments similarly moulded. Above the pediments is a short attic stage, with ball finials at the angles. The spire is octagonal, curved out to square at the base, and having a blank half-round lunette or panel in each of the four faces. Higher up are four small oval spire-lights with cornices and pediments.
ADVOWSON
The advowson of the church of Whitacre was given in 1203 by Jordan de Witacre to Christine, prioress of Markyate, co. Beds. (fn. 69) It was confirmed to the priory in 1280 by John de Clinton as the chapel of Over Whitacre. (fn. 70) It was still appropriated to Markyate at the time of Henry VIII's valuation, but no vicarage had been endowed (fn. 71) and the chapel is said to have been served by a stipendiary. (fn. 72)
The priory was dissolved in 1536 (fn. 73) and in 1544 the advowson was sold by the king to Nicholas Bacon, (fn. 74) who sold it back again in 1545. (fn. 75) Immediately the king sold it to Thomas Marowe, (fn. 76) who in 1560 conveyed this free chapel of Over Whitacre to John Mylner and Katherine his wife and their heirs. (fn. 77) From this time it descended with the Milners (see above) (fn. 78) and was conveyed in 1594 by Francis Milner and Margery his wife to John Morton, Elizabeth his wife, and William their son and his heirs. (fn. 79) In 1617 the three Mortons conveyed it to Francis Milner senior and junior and the heirs of Francis junior (fn. 80) and in 1685 it was conveyed by Digby Milner, Anne his wife, Richard Writtle and Katherine his wife to Simon, Lord Digby. (fn. 81)
He or his successor William, Lord Digby, endowed the vicarage with the great tithes. (fn. 82) The advowson then descended in the Digby family with Coleshill (fn. 83) (q.v.) and the present patron is Lt.-Col. Wingfield-Digby. (fn. 84)
The Rectory followed the descent of the advowson, being conveyed to Nicholas Bacon in 1544. At the time of Samuel Milner's death in 1575 the tithes were leased to George Sadler and others. (fn. 85)
CHARITIES
William Lord Digby gave 20s. yearly to buy pious books for the poor of Over Whitacre; the Rev. Morrall gave £40, the interest to be paid for teaching 6 poor children of Over Whitacre; and Anthony Nicholas by will dated 31 September 1727 gave £20, the interest to be distributed to the poor. These sums were invested in the purchase of two pieces of land known as Broadcroft and Floodgate Meadow. The latter was sold in 1864 for £275 and the endowment is now represented by stock producing £7 9s. 8d. annually in dividends and Broad Croft Field let at an annual rent of £9. The charities are administered by the rector and churchwardens, who distribute one half of the net income in money to the poor of the parish, the remainder of the income being applied to educational purposes.
James Du Fresnoy by will dated 24 March 1740 gave £10, the interest, now amounting to about 10s., to be distributed to the poor in bread. Thomas Miller in 1726 gave £10, the interest, now 6s. 2d., to be distributed in bread. Edward Weston by will gave to the churchwardens £130, the interest to be distributed among the poor of the parish. The legacy now produces £3 9s. 8d. annually in dividends. The Charities of Du Fresnoy, Miller, and Weston are administered by the rector and churchwardens, who distribute the income in money to the poor of the parish.
Thomas Devitt gave 10s. yearly out of certain lands in Hurley for preaching a sermon in Over Whitacre Church every Whitsuntide. The charge is regularly paid to the rector.