Pages 225-252
A History of the County of Wiltshire: Volume 10. Originally published by Victoria County History, London, 1975.
This free content was digitised by double rekeying. All rights reserved.
THE BOROUGH OF DEVIZES
Growth of the Town, p. 230. Castle and Lordship to c. 1550, p. 237. Castle Buildings, p. 243. Parks, p. 245. Castle Estate since c. 1550, p. 246. Lesser Estates, p. 249. The Town as a County Centre, p. 251. Trade and Industry, p. 252. Inns, p. 260. Agriculture, p. 263. Markets and Fairs, p. 264. Borough Government, p. 268. Municipal Buildings, p. 277. Seals, Insignia, Records, and Chief Officers, p. 278. Parish Government, p. 279. Public Services, p. 281. The Constituency, p. 284. Churches, p. 285. Roman Catholicism, p. 294. Protestant Nonconformity, p. 294. Social and Cultural Activities, p. 300. Education, p. 301. Charities, p. 307.
Devizes, a borough by prescription, lies almost exactly in the centre of the county. (fn. 1) Deemed a hundred in itself in Richard I's reign, (fn. 2) a part of Cannings hundred in 1280, (fn. 3) and a part of Bishop's Rowborough hundred in 1316, (fn. 4) it has since 1592 been claimed as a liberty within the hundred of Potterne and Cannings. (fn. 5) Speed, however, marked it (1610) (fn. 6) within Swanborough hundred and the boundary of that hundred, as he traced it, was considered to have some authority even in 1839. (fn. 7)
Today the boundaries of the borough enclose an irregular area of 1,420 a. (fn. 8) The town lies on a shelf at the point where an outlier of the Lower Chalk, which forms Roundway Hill, falls gradually to the Upper Greensand plain, and where, below Devizes, that plain yields to the Gault. A small projection from this shelf with steeply sloping sides forms a fitting base for Devizes castle and to the north and west of the castle the town grew up. The old town area contains many wells but there is hardly any running water apart from trickling streams in the old park, one of which, following its southern edge, was known in 1654 as Black Water. (fn. 9) In the 16th century, however, there was a town watering place to the south-east of St. John's church (fn. 10) and in the next century a stream to the north of the castle was said to possess the power of petrifaction. (fn. 11)
Until the early 19th century the borough was made up of the parishes of St. John (643 a.) and St. Mary (34 a.). The first, also called the New Port, comprised what had once been the castle precincts, with the old park stretching away beyond it; the second, also called the Old Port, what had been in the earlier Middle Ages the commercial area northeast of the castle. (fn. 12) In 1614 a part of St. John's parish lay outside the borough. (fn. 13) The extra-burghal area is not defined but it was perhaps the old park. If so, the exclusion did not remain unchallenged for much longer, for in 1646–7 (fn. 14) the borough magistrates successfully asserted their authority over the park, and claimed in 1831 that they had exercised it throughout living memory. (fn. 15)
As the plan on page 226 shows, St. Mary's parish forms an arc bounded at most points by the outer and inner town ditches. The boundary, however, left the inner town ditch in Morris's Lane and turned eastward until it reached the outer town ditch towards the end of Hare and Hounds Street. It seems, too, that to the west of Maryport Street it ran somewhat to the west of the inner ditch. (fn. 16) St. John's parish lies to the south-west of St. Mary's. The boundaries are so plotted in 1759 (fn. 17) but in 1831 the boundary of the borough, and of St. John's parish, is extended on the east by an unexplained beak-shaped excrescence taking in the houses between Hare and Hounds Court (fn. 18) and Southbroom Road. By the Representation of the People Act, 1832, (fn. 19) and the Municipal Corporations Act, 1835, (fn. 20) the areas of the parliamentary and municipal boroughs were respectively extended by the addition of a small part of Rowde parish (mainly Dunkirk) and a part of the chapelry of St. James or Southbroom (in Bishop's Cannings 'ancient' parish). These extensions, designed to make the urban area and the borough coincide, enlarged the borough from 677 a. to 907 a. (fn. 21) In 1894 those parts of Rowde and Southbroom which lay within the borough were made separate civil parishes under the names of Rowde Within and Southbroom or St. James's. At the same time that part of Southbroom which lay outside the borough was formed into a new parish called Roundway. In 1934 11 a. of Potterne parish, 32 a. of Rowde parish, and 442 a. of Roundway parish were added to the borough and in 1956 29 a. more of Roundway parish. (fn. 22) Thus at the present time the borough is made up of the two 'ancient' parishes of Devizes, and parts of the 'ancient' parishes of Bishop's Cannings, Potterne, and Rowde. The history of Potterne and Rowde has already been narrated. (fn. 23) So in the main has that of Bishop's Cannings, including the modern parish of Roundway. (fn. 24) The history, however, of that part of the former chapelry of Southbroom that now lies within the borough is dealt with below as is that of Wick Green, formerly a tithing in that chapelry. (fn. 25)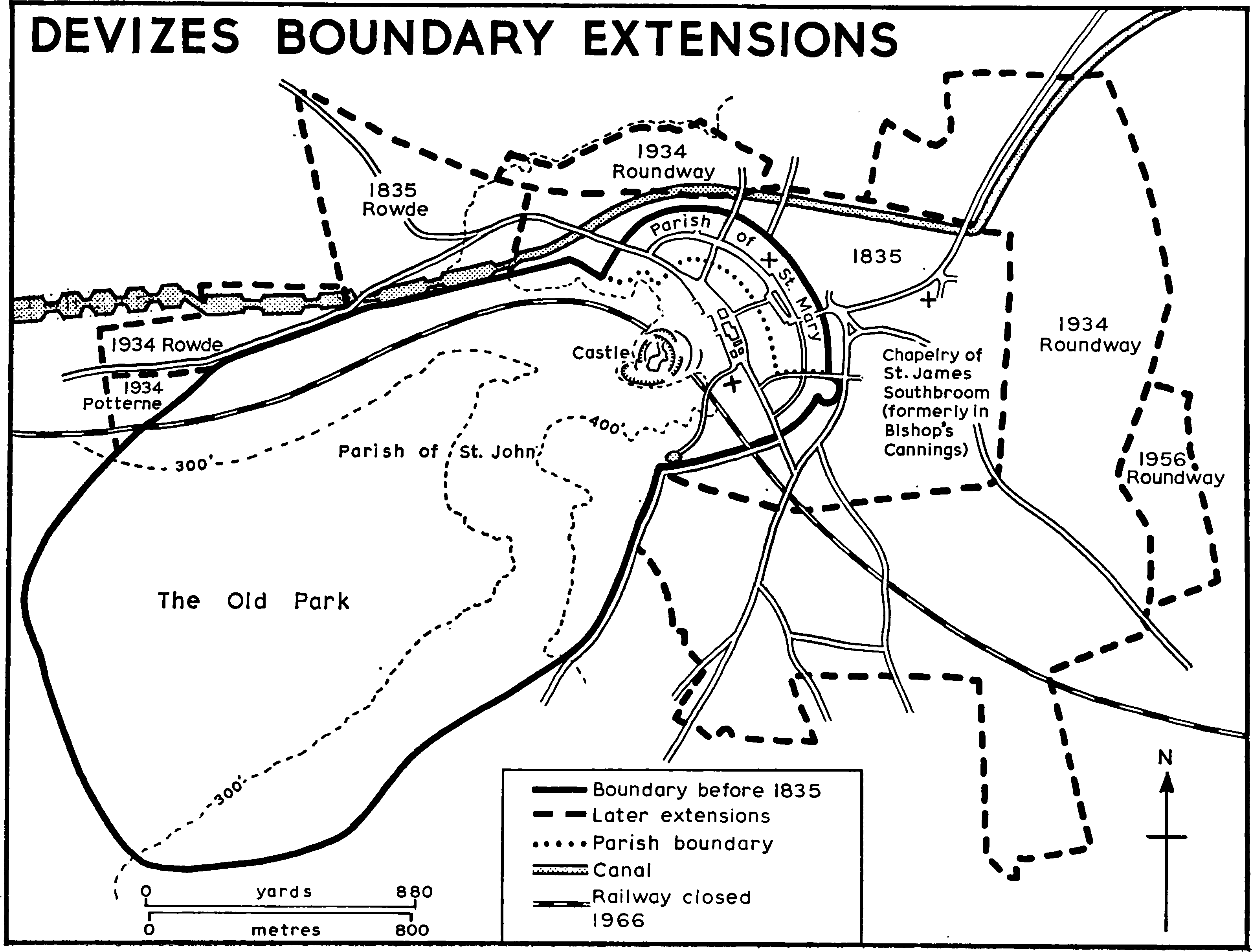 Southbroom, lying on the east of the ancient borough, is first mentioned in 1227. (fn. 26) It was probably then part of a broom-clad area, (fn. 27) which seems still traceable in 1360, when a cottage stood 'super Southbrom'. (fn. 28) Indeed there is nothing to show that a distinguishable settlement ever bore its name. As a chapelry, however, it was distinct from its parent, and was a township (villata) in 1280. (fn. 29) In 1736–7 it was reputed a manor. (fn. 30) Its status as a chapelry was terminated in 1832 when it became a perpetual curacy. (fn. 31) Its most conspicuous characteristic is the Green, no doubt the remnants of the broom-covered tract of earlier times. Destined for inclosure in 1819, it survived that fate and in 1899 was bought by the corporation from the Estcourts, allottees under the award. (fn. 32)
The tithing of Wick lies due south of the old borough. There was a Roman settlement here apparently from the 2nd to the 4th century around the area once occupied by Pans Lane halt. There are also faint indications of another settlement on the green, (fn. 33) and a cemetery on the site of Southbroom junior school. (fn. 34) Wick is first mentioned in 1249 (fn. 35) and is called 'the Weke' in 1542. (fn. 36) 'Netherwike' bears that name in 1593. (fn. 37) In 1736–7 the settlement consisted of Upper Wick and Wick. (fn. 38) In 1759 the former is no longer given any special name. (fn. 39) In 1773 the larger settlement is called Devizes Wick, the prefix being doubtless added to distinguish it from Potterne Wick and Wick in Rowde. (fn. 40) In 1795–6 the hamlet contained between 30 and 33 assessable houses. (fn. 41) The town has gradually encroached upon the tithing, which is now a residential suburb.
The earliest population estimate, that of 1548, is best expressed in comparative terms. Devizes then had fewer communicants than Marlborough and far fewer than St. Edmund's, Salisbury. (fn. 42) In 1696 the roles of Devizes and Marlborough were reversed, many more men subscribing to the Association from the first than from the second. Salisbury, however, was still far ahead of both. (fn. 43) In 1655 the two Devizes parishes were said to contain 485 families. (fn. 44) In 1761 their population was 3,121, of whom 1,767 lived in St. Mary's. (fn. 45) In 1801 their population was 3,547. Southbroom then numbered 1,200. Both totals rose gradually over the next three decades. What the total population was immediately after the boundary changes of 1832–5 cannot be readily determined, but by 1851, when the census takes those changes into account, it was over 6,500. The number fluctuated slightly in the next 80 years, reaching its peak in 1871 and its trough in 1921. It then rose substantially after the boundary changes of 1934, (fn. 46) and in 1971 stood at 9,755. (fn. 47)
The road through Devizes from Marlborough to Trowbridge and thence westwards into Somerset is marked on Ogilby's map of 1675. (fn. 48) It was therefore an ancient and important thoroughfare. That section of it that ran into the town from Shepherd's Shore was turnpiked in 1706–7. So was the Salisbury road from the foot of Etchilhampton Hill near Stert, and the Chippenham road as far as Rowde Ford. (fn. 49) The alternative, southern, road to Salisbury was turnpiked as far as West Lavington in 1750–1 and the Melksham road as far as Seend at the same time. (fn. 50) Thus by the mid 18th century Devizes was approached by good roads on every side. The Improvement Commissioners, set up in 1825, (fn. 51) made them, as they approached the town, better still. (fn. 52)
The Melksham and Chippenham roads, which now part company at the former toll-house at the top of Dunkirk hill have not always done so. Until at least 1759 they diverged at an acute angle at a point now marked by the Bath Road bridge over the canal. The Melksham road ran along the line of the present St. Joseph's Road, or perhaps of the canal, to Prison bridge on the canal. Thence it descended by Caen Hill. The Chippenham road followed the course of the present Bath Road until it reached a point now marked by 'Braeside'. Thence two roads fell steeply to the plain. The easternmost, now called Little Lane, bore off northwards to Iron Peartree farm (in Rowde). To the west of it what is now called Big Lane descended north-westwards in a cutting to join the present Chippenham road near the Ox House. (fn. 53) Big Lane was abandoned presumably by 1773 in favour of the easier descent via Dunkirk. (fn. 54)
Until the road to West Lavington was turnpiked the exits on the south were also somewhat different from what they are today. The present Potterne Road was primarily an approach to the hamlet of Wick which was itself fairly well connected with Crookwood and Urchfont by roads which have now largely lost their old significance. (fn. 55) Beyond Wick the present Potterne Road was 'only a sack and pack road'. (fn. 56) What is now Hillworth Road then as now ran westwards out of Long Street. (fn. 57) It then took a sharp turn southwards and thereupon assumed the name of 'Devizes Sand Way' (1654) or 'The Sands Lane' (1736–7). (fn. 58) This is now Hartmoor Road, (formerly Hartmoor) a name apparently taken from a small settlement in Potterne, recorded in 1424–5. (fn. 59) It runs along the side of the old park, and was in the earlier 20th century no better than a bridle path. In 1654, however, it is clearly marked (fn. 60) and seems even in 1773 to have been nearly as important as the Potterne road. (fn. 61) It led to Whistley (in Potterne) and beyond, and from it other roads gave access to Whistley and Jordon's mills. No doubt when those mills declined the Potterne road took its place. By 1970 Hartmoor Road, as it was then called, had once again been made up.
The exits on the north were more numerous than they are today. In 1736–7 a road of some substance led out of New Park Street to New Park, later Roundway House. (fn. 62) At that time it seems to have ended there, but by 1773 it continued northwards to debouch at Roundway mill. (fn. 63) Although in 1736–7 a road to the east of this one led direct to Roundway, (fn. 64) the straight avenue called Quakers Walk does not seem to have been then made. It existed, however, by 1759. (fn. 65) The stretch of the more westerly road that connected New Park house with the town was later abandoned.
Carriers were sending vans from London to Devizes by 1637, and by 1690 there was a weekly wagon service, which by 1722 had become twice weekly. A 'flying chaise' service for passengers, covering the London-Bath journey in a single day, was advertised in 1749, and by 1762 a coach service of equal speed seems to have been regularly available. By this time there were two direct routes from London to Bath, by Chippenham and by Devizes. The Chippenham route seems at first to have been preferred. (fn. 66)
The Kennet & Avon Canal, work on which began in 1796, (fn. 67) was diverted to the town from its original course through the efforts of the three borough M.P.s. (fn. 68) It had reached Foxhangers (in Rowde) by about 1802 when a horse tramway connecting that place with the town was opened. The stretch to Foxhangers from the west was open for traffic in 1804 and the section from Devizes to Pewsey by 1807. The series of 29 locks from Foxhangers to Devizes was opened in 1810 and with it the whole canal from Bath to Newbury. (fn. 69)
The railway was brought to Devizes in 1857 when a branch was opened to connect the town with the Wilts., Somerset & Weymouth Railway at the point once occupied by Holt station. In 1862 the Berks. & Hants Extension Railway was built to connect it on the east side with Hungerford. (fn. 70) The station was built in 1856. (fn. 71) A halt was opened at Pans Lane in 1929 (fn. 72) in anticipation of the traffic that might have been expected if the new county offices had been built beside the Green. (fn. 73) The station was closed for goods traffic in 1964 and for all purposes in 1966, the halt in 1964. (fn. 74) Both had been demolished by 1970.
The word 'Devizes' is the corruption of a pure Latin word, (fn. 75) a somewhat unusual origin for an English place-name. By 1330 the first syllable was beginning to be dropped and forms such as 'Vises' and 'Vies' remained common for a very long time. The addition of the English definite article was also common. 'The Devise' is found in 1519, (fn. 76) 'the Vyse' by 1480–3. (fn. 77) In 1839 Waylen said that prefixing the article in 'public documents' had 'become totally laid aside, only within a few years'. (fn. 78) Even in 1907, however, it could be said that 'country people' still spoke of 'the Vize'. (fn. 79)
The visits of early kings, their consorts, kin, and prisoners are set out below. (fn. 80) Later sovereigns naturally travelled the Bath road and so could enter the town with ease. Visits by James I are recorded in 1613, (fn. 81) 1618, (fn. 82) and 1624. (fn. 83)
Devizes, with Malmesbury, became in 1642, naturally enough, a centre for the North Wiltshire Militia, (fn. 84) and despite some local Royalist sentiment, including the mayor's (Richard Pierce), slipped readily into Parliamentary hands. This was the more easily achieved since Sir Edward Baynton, a deputy lieutenant who became in October commander-inchief for the county, lived near by at Bromham House. (fn. 85) Warlike stores were brought in from other Wiltshire towns, ordnance was disposed so as to defend the town and its approaches, and perhaps some outworks were thrown up. (fn. 86) No attempt was made to fortify the castle.
In February 1643 the Royalist forces took Cirencester (Glos.) by storm and occupied Malmesbury. Their propinquity demoralized the Devizes garrison which was withdrawn on 20 February by Sir Edward Hungerford, who had succeeded Baynton. The Royalists took control next day. Though Hungerford returned briefly in March the town was from that month to remain in Royalist hands for nearly 2½ years. The garrison was strengthened about 9 July by some of the forces withdrawing from the indecisive battle of Lansdown (Som.), and Sir Ralph Hopton, who, though wounded, assumed command, requisitioned bedcords, as a substitute for match which was in short supply, (fn. 87) and lead from the church roofs. Waller drew up his forces on the east of the town, which he bombarded from the Jump, and his troops even reached 'the very streets'. Their way, however, was barred by barricades and it is doubtful whether they penetrated far. (fn. 88) Certainly the town did not fall and the battle of Roundway Down, fought on 13 July, which resulted in a decisive defeat for Waller, removed every threat for the time being.
During the course of 1644, however, the Parliamentarians strengthened their position in the neighbourhood. They recaptured Malmesbury, and, pressing right up to Devizes, charged the people round about to destroy its earthworks. In the autumn the tables began to be turned. The Royalists planned to rebuild their strength in the west, centring their defences on Bristol and selecting Devizes as an outpost. Col. Charles Lloyd, (fn. 89) knighted soon after, became governor. He was an expert in fortification, and, in the first months of 1645, leaning perhaps on Hopton's aid, made Devizes castle the strongest fortress in the county. In March, while these preparations were in progress, the Prince of Wales (later Charles II) passed through the town to assume his post of 'General of the West' at Bristol. On 14 June, however, the New Model Army was victorious at Naseby and entering Wiltshire two weeks later and capturing Bristol on 11 September, dashed any hope that Lloyd may have cherished. On or about 21 September Cromwell appeared before the castle in person and on 23 September Lloyd capitulated. Although the Royalists made some forays in the ensuing winter, Devizes was permanently lost to them. It was in Devizes that Sir Edward Massey's brigade was disbanded in June 1646.
Lord Feversham's artillery passed through the town on 28 June 1685 and returned there after about ten days. (fn. 90) The Hampshire Militia followed hard upon the cannon (fn. 91) and the Wiltshire Militia entered on 10 July after the Sedgmoor campaign was over. (fn. 92) The story, however, that James II stayed a fortnight in the town after the battle cannot be verified. (fn. 93) George III passed through in 1789 (fn. 94) and Pitt was demonstratively greeted in 1798. (fn. 95) A visit by Queen Charlotte in 1817 was matched by one paid by the Duchess of Kent and her daughter in 1830. (fn. 96) Edward VII, as Prince of Wales, was splendidly received in 1893 when he inspected the Yeomanry. (fn. 97)
From the 18th century some local disturbances are recorded. A riot, connected, it has been thought, with smuggling, occurred in 1765, (fn. 98) another in 1795 was averted by the arrival of the Yeomanry, (fn. 99) and a third of no great proportions a year later. (fn. 100) The last two were provoked by high food prices. A Militia riot in 1810, in which some townsmen and canal workers seemed disposed to participate, was quelled by the Yeomanry. (fn. 101) In 1817 a county meeting convened to congratulate the Prince Regent on his escape from assassination ended in disorder owing to hostility to 'Orator' Hunt who was in the crowd. (fn. 102) In November 1830 many townsmen were enrolled as special constables to withstand the current wave of agrarian sabotage, some Yeomanry units moved into the town, and a fair-sized group of suspects was imprisoned in the gaols. (fn. 103) A Working Men's Association existed in 1839 and for the next decade the town was never without some Chartists. The only disorder, however, occurred in March and April 1839 when two meetings were broken up, the second with violence. (fn. 104)
Devizes was the putative birth-place of Richard of Devizes, the 12th-century chronicler, Philip Stevens (d. c. 1660), botanist, Joseph Alleine (1634–68), Puritan divine, G. D. Bonner (1796–1836), wood engraver, F. E. Anstie (1833–74), physician, and Stephen Reynolds (1881–1919), author and expert on the inshore fishing industry. Thomas Pierce (1622–91), dean of Salisbury, Sir Edward Hannes (d. 1710), physician, and J. N. Tayler (1785–1864), rear-admiral, were the sons of Devizes men and probably natives. For about seven years from 1772 Sir Thomas Lawrence (1769–1830), the painter, lived at the Bear. Other residents were Charles Lucas (1769–1854), miscellaneous writer and divine, Elizabeth O. Benger (1778–1827), poet, novelist, and historian, and John Thurnam (1810– 73), craniologist. The first was assistant curate, apparently from 1816, the second lived in the town only from 1797 to 1800, the third was medical superintendent at the county lunatic asylum from the time of its opening in 1851 until his death. (fn. 105) In 1843 George Eliot stayed with R. H. Brabant, a physician and prominent figure in town life, at his home at Sandcliffe, Northgate Street. Her host is said to have suggested 'Mr. Casaubon' in Middlemarch. (fn. 106)
The many notabilities connected with the castle are referred to below. (fn. 107) An unusually distinguished list of borough M.P.s includes the names of Sir Robert Long (d. 1673), Sir Francis Child the elder (1642–1713), John Methuen (?1650–1706), Henry Addington, later Viscount Sidmouth (1757–1844), Sir Philip C. H. Durham (1763–1845), Montagu Gore (1800–64), T. H. S. Sotheron Estcourt (1801– 76), and James Bucknall Estcourt (1802–55). (fn. 108)
Since the time of James Davis (d. 1755), a Welsh physician resident in the borough, Devizes has been the nursing-mother of antiquaries. Davis's antiquarian interests seem to have been serious, but his only published work, the anonymous Origines Divisianae (1754), was at least in part a satire upon fantastic etymological theories then current. (fn. 109) John Collins (living 1771) was still remembered in 1839 as 'an antiquary in mind, manners, and dress'. (fn. 110) James Waylen (1810–94), the son of a cloth manufacturer, was born in Devizes, and, after spending some years as an engineer and a painter, settled at Etchilhampton in 1842, and later in London. He was the author of Chronicles of the Devizes (1839), the anonymous History, Military and Municipal of . . . Devizes (1859), and other historical works. (fn. 111) His work on Devizes, strongest from the 17th century onwards, has not as yet been superseded. Edward Kite (1832–1930), the son of a small grocer in the Brittox, began writing antiquarian articles in the fifties and published his Monumental Brasses of Wiltshire in 1860. He was for a time assistant secretary of the Wiltshire Archaeological Society, but lost his connexion with it and ceased publishing in the Wiltshire Magazine. He often wrote, however, for Wiltshire Notes and Queries and the Wiltshire Gazette. When he died it was claimed that he 'could have written the history of central Wilts better than anyone of this or the previous generation'. (fn. 112) In 1829 William Cunnington II, nephew of William Cunnington I of Heytesbury, Sir Richard Colt Hoare's coadjutor, moved with his family to Devizes. The son, William Cunnington III (1813–1906), managed his father's business from his father's death in 1846 until his own retirement and departure from Devizes in 1874. He was well known as an amateur geologist, and many of the specimens that he collected have since passed to the Devizes and other museums. His interest in the Wiltshire Archaeological Society was keen and at the age of 82 he published the catalogue of its Stourhead Collection. (fn. 113) His brother Henry (1820–87) was curator of the Devizes museum from 1875 until his death and an excavator of Wiltshire prehistoric monuments. (fn. 114) Henry's son, Benjamin Howard (1861–1950), was born in Devizes, whither he returned in 1883 after a stay in London. He passed the rest of his life in the borough and was curator of the museum from 1888 until his death. He published two volumes of extracts from the borough records, called Some Annals of the Borough of Devizes (1925, 1926), edited other Wiltshire documents, and wrote many articles on Devizes antiquities. (fn. 115) With his wife, Maud Edith Pegge, as senior partner, he excavated several prehistoric sites. (fn. 116) Alfred Cunnington, another of Henry's sons, with his brothers' collaboration, installed perhaps the earliest private telephone connexion in England, linking Southgate House, the Cunnington home, with the wineshop. (fn. 117)
Growth of the Town.
Devizes is a distinguished example of a medieval town whose defences were integral with those of the castle abutting it. Usually such towns are rectangular, but Devizes, like Launceston (Corn.) and Pleshey (Essex), is oval. The castle itself was encompassed by two ditches, an inner one, more or less round, tightly gripping the motte, and an outer one, approximately oval. Beyond these were a middle and an outer ditch. They are here called respectively the inner and outer castle ditches and the inner and outer town ditches.
The castle ditches are treated elsewhere. (fn. 118) The course of the two town ditches has aroused some local speculation. (fn. 119) The inner one originally bounded the outer bailey of the castle. Beside it there was in places a pathway, called Perambulation Walk in 1808 and Procession Walk in 1836. (fn. 120) On the inner side of the outer ditch within the urban area, there is said to have been a bank, formed of soil dug from the ditch and surmounted by a stockade, doubtless the 'town walls' as they were grandiloquently called in 1642. (fn. 121) Beneath the bank was a pathway, (fn. 122) similar to the foregoing, which had been formed by 1724, (fn. 123) if not by 1563. (fn. 124) Some vestiges remained in 1832 when a broad elm-flanked promenade, running between St. Mary's churchyard and Commercial Road, enabled walkers to breathe the 'pure air' from Roundway Hill. (fn. 125) The stretch from Sidmouth Street to Hare and Hounds Court was called Procession Walk in 1779 and 1792. (fn. 126) Further to the south-east it was called Keeper's Walk in 1832. (fn. 127) At the point where the ditch passed through the gasworks it was 7 ft. deep, 25 ft. wide at the top, and 4 ft. wide at the bottom. (fn. 128)
The road pattern implies that the original entrances to the town were from the north and south only. The eastern approach by Sidmouth Street is irregular and narrow and the properties, compared with those on the north-south roads, have little depth. Access to the town was gained by a north gate, mentioned in 1416 (fn. 129) and still in being in 1451. (fn. 130) Of other gates there is no evidence. The region called Southgate is probably named after an entrance to the park, made in 1494–5. (fn. 131)
The narrow space between the outer and inner town ditches was the site of the original urban area, equipped with a market-place. (fn. 132) This was the Old Port, so called by 1305, (fn. 133) and corresponded approximately with St. Mary's parish. The rest of the ancient borough constituted the New Port, first named in 1309, (fn. 134) which coincided with St. John's parish. The New Port presumably did not arise until the castle had ceased to be defensive and in 1561 could still be described as no more than a street. (fn. 135) On the other hand market-places had been established in the New Port by 1378, (fn. 136) so it is clear that by the later 14th century the urban area was no longer limited to St. Mary's parish.
Presumably the roads that now pass through the Market Place and connect the brewery corner with Bridewell Street originally gave access to the outer bailey of the castle only. The town itself was reached by New Park Street on one side and Bridewell Street on the other. The way from the town to the castle was across the inner town ditch, probably spanned by a bridge, (fn. 137) along the line of the Brittox. The word 'brittox', which first occurs c. 1300, has long been assumed to mean a brattice or stockade which flanked the roadway or some part of it. (fn. 138) It seems to have been a street of sorts by 1356, (fn. 139) and to have possessed a shop by 1420. (fn. 140)
Only two or three medieval houses survive to show the then pattern and character of domestic buildings. Nos. 6–8 Monday Market Street, of which no. 8 is called Great Porch, are the greater part of a mid15th-century house with a hall parallel to the street and a cross-wing at its east end. The scale and quality of the timberwork, and in particular the use of moulding and carving in the roof suggest that it was the house of a prosperous inhabitant. No. 4 St. John's Court with part of the adjoining property northwards formed a stone-walled four-bay hall of one storey with attics. It is of late-medieval date. Nos. 23 and 24 St. John's Street was originally one house and formed a timber-framed structure on a stone plinth. In 1954 no. 24 exhibited internal features, since destroyed, which might indicate a late-15th- or early-16th-century house. (fn. 141) Such generalizations as so small a sample permits suggests that, as in other towns of central southern England, the medieval building plots were relatively wide, permitting the use of a standard type of house plan arranged along the street with only ancillary rooms accommodated in rear wings.
Few street names precede the 16th century. The 'Wolstrate' (1289) (fn. 142) and East Street (1378, 1470) (fn. 143) are no longer identifiable. Outside the walls there was from 1207 (fn. 144) to 1309 (fn. 145) a street called 'reawe', the row, probably representing a small urban development on the western edge of the Green. (fn. 146) In the 16th century the situation changes. Northgate Street, named in 1547, (fn. 147) was then probably built up. By the mid century houses of good quality, as their names and (when in being) their architecture, testified, had begun to spring up on both sides of New Park Street. The gardens of those on the north side ran up to the outer town ditch (fn. 148) which perhaps was then partly filled in although some parts of ditch and bank were still visible in 1724. (fn. 149) Couch Lane, branching from New Park Street, is as old as 1547. (fn. 150) It originally led to a cow meadow, 'le cowasche', first named in 1371. (fn. 151) Short Street first occurs in 1586. (fn. 152) Morris's Lane may be as old, for, though not expressly named until 1675–6, (fn. 153) it is probably the 'lane' in which the clothier Henry Morris kept a loom and owned property in 1572. (fn. 154) 'Paynter's Mead Lane' (1567), not strictly identifiable, was in the Old Port and seems to have led out of Northgate Street south-westward. (fn. 155) By the end of the century St. John's Alley had been built and doubtless also many of the houses, including the civic buildings (fn. 156) around the Market Place, in St. John's Street, and on the north-west side of Long Street. When Leland observed (c. 1540) that the 'beauty' of the town was 'all in one strete' (fn. 157) he was probably referring to the highway that under various names ran from the north gate to St. John's church and beyond, although the chain of streets from New Park Street to Bridewell Street is another possibility. By the end of the century the present Market Place, whose name occurs from 1603, (fn. 158) probably began to be used as the chief trading area, while the old market-place was reduced in size by filling up the island site bounded by Monday Market Street and Maryport Street. These, together with High Street, seem to have been prosperous streets in the 16th and early 17th centuries. In the latter century the Market Place also became a good residential quarter; John Kent (fn. 159) had his home there (no. 16, 1619). (fn. 160)
Few new street names appear in the 17th and earlier 18th centuries. Wine Street occurs first in 1632 and it and the Brittox were then undoubted thoroughfares. (fn. 161) North Street (1670) (fn. 162) is probably the same as Northgate Street. At Chapel Corner (1655–6), where Sidmouth and Monday Market Streets connect, there was a horse pool. (fn. 163) The chapel was that of St. John's hospital, (fn. 164) still extant in some form in 1666. (fn. 165)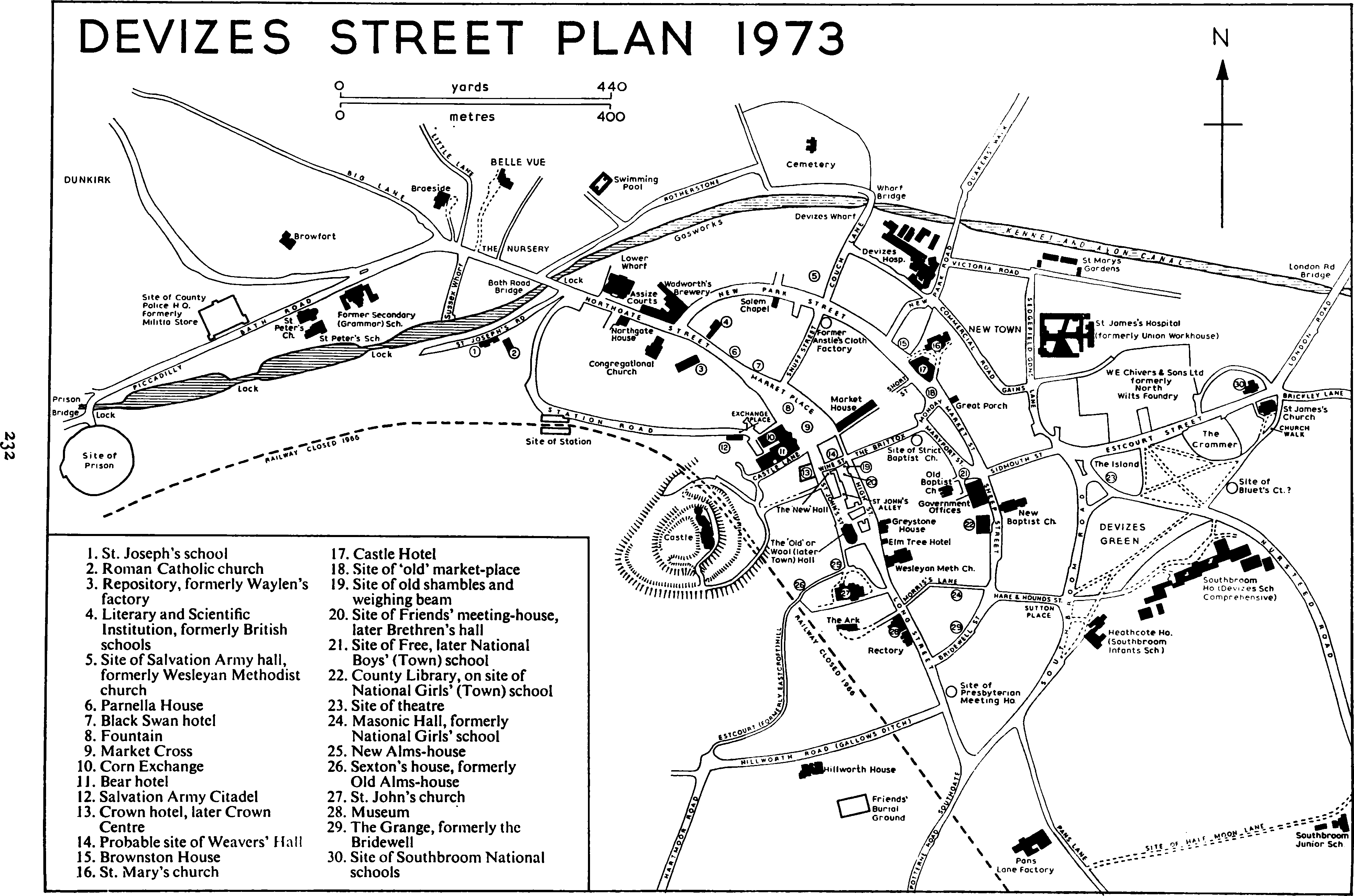 Turning from the central streets we find that by 1647 there were houses from Potterne Road railway bridge to the corner of Hillworth Road, which was then in being; they were mostly on the west side but also on the east where now is none. (fn. 166) The Green had assumed much its present shape, the more northerly part being parcel of Roundway township, the more southerly of Wick. A road ran from Heathcote House to join the Salisbury road and houses skirted the Green on the other side along the line of Southbroom Road from a point opposite Heathcote House to Sidmouth Street. The course of Pans Lane, not so called until 1819, (fn. 167) is marked as Wick Lane. Estcourt Street was then called Bedbury Street from the tithing of that name. Its present name was adopted in 1871. (fn. 168) Just about where the Breach leaves the Potterne road an irregular open space called Ashlers Green (Ashmoor Green in 1773, (fn. 169) Ashman's Green in 1819 (fn. 170) ) lay on either side of that road, which, as has been said, (fn. 171) did not then lead to Potterne. Wick consisted of two small groups of houses, one on the east side of Pans Lane and the other on either side of the present Wick Lane.
Surviving buildings indicate that by the 17th century most of the street frontages within the town were probably complete. The domestic building style of the late 16th and the 17th centuries may be deduced from the thirty or so timber-framed houses, not demonstrably medieval, that still survive. They seem to have had a uniform street elevation with a jettied upper floor, like those on the west side of St. John's Alley, which seems to have been a street of good quality when erected. In the later 17th century rows of contiguous dormers, rising off the eaves and producing a serrated roof-line, appear to have become fashionable. The Elm Tree, though much restored, is so designed. By the same period, too, the concealment of the timber framing behind plaster was probably general. When Stukeley came in 1724 he found the houses 'old' and mostly of timber. Since, however, they were of a good 'model', they struck him as 'tolerable'. (fn. 172) Before this time thatch had begun to be restricted. After 1655 corporation houses when reroofed were ordered to be tiled and not thatched. (fn. 173) St. Mary's feoffees had begun to require this in their leases five years before and continued to do so. They also insisted upon brick chimneys. (fn. 174)
The first town plan, 1737–8, (fn. 175) reveals an oval town, built up from Northgate Street to Southgate. Long, Bridewell ('Bridle'), Sheep, Castle, and St. John's Streets now for the first time appear by name. Maryport Street, often later St. Mary Port Street, (fn. 176) is first named a few years earlier. (fn. 177) Long Street, a name of obscure meaning, (fn. 178) then extended only from what is now Hillworth Road to Morris's Lane. Its continuation was St. John's Street which ran to the present Town Hall. In 1743 some part of that section of the street which lies in St. Mary's parish was called South Gate Street. (fn. 179) What is now St. John's Street is called in 1737–8 Castle Street. High Street is called 'Wine Street' probably in error, and New Park Street 'Back Street', a name which it still seems to have borne in 1843. (fn. 180) It was known by its present name in 1740. (fn. 181) The Chequer is called Half Moon Alley. Down the middle of the present Hartmoor Road runs 'Gallows Ditch', mentioned in 1601 (fn. 182) and presumably the site of the town gallows, traceable from 1596. (fn. 183) From the north-east side of the present Hillworth Road a narrow road, called Nestcot (now Estcourt) Hill, runs in a semicircle to the north end of Hartmoor Road giving access to 'The Mint' and other houses. One of these may be on the site of 'The Ark' which still stood in 1973 and is mentioned by that name in 1783. (fn. 184) The course of Hare and Hounds Street is marked but not named. Known as Kilberry's Row in 1642–3 (fn. 185) it seems to have been regarded as part of Bridewell Street in 1759. (fn. 186) Sidmouth Street is solidly built up on the north and partly so on the south. So is the north side of Estcourt Street, perhaps the 'reawe' of the distant past. Beyond the outer town ditch in Northgate Street there is hardly any building. There was an exit from the Market Place at what is now Castle Lane and a road is marked traversing the course of Commercial Road and Gains Lane. A narrow lane already connects them with New Park Street. These streets are not then named. Outside the town Half Moon Lane, closed as a thoroughfare by 1819 but then still so named, (fn. 187) connects Nursteed Road with Pans Lane which itself connects the eastern part of Wick with Upper Wick. The latter was the equivalent of Southgate. Wick, a larger settlement than Upper Wick, is grouped round a green, the Lower Wick green of 1819, (fn. 188) now represented by the point where Wick and Green Lanes connect.
The next plan, 1759, (fn. 189) shows few changes. The main one is that meanwhile Snuff Street, long so called popularly (fn. 190) but officially entitled New Street until 1965, (fn. 191) had been cut to connect the Market Place with New Park Street. Gallows Ditch has now become the name of Hillworth Road and not a mere kennel in its midst. While what was once Nestcot Hill, but which has come to be called Eastcroft Hill, retains its course, there is now an adit from the south-west corner of St. John's churchyard by steps, which seem to have existed by 1752. (fn. 192) The steps started at Worm Cliff, a declivity first mentioned in 1517. (fn. 193) In 1556 this was declared to be 'the common playing place of the town', and also a common watering place, for there a spring gushed forth. From it a right of way or 'law path' descended into the park. (fn. 194) Long Street now extends throughout its present course. The road running through the Market Place, south-eastwards from Northgate Street, is called Castle Street, still an alternative title in 1821. (fn. 195) The street so called in 1737–8 has adopted its present name of St. John's Street. High Street appears for the first time eo nomine and Wine Street occupies its present position. New Park Street has acquired its present name. Bridewell Street distinctly turns the corner into Hare and Hounds Street. St. John's Alley is called Wine Street Alley. It had formerly been called Back Lane. (fn. 196) Monday Market Street, called Monday's Market Street, Leg of Mutton Street, and Mortimer's Court are named for the first time. The first must, of course, be a much older name, recalling the market in St. Mary's parish granted in 1567. (fn. 197) William Mortimer lived at the corner of the third in 1740. (fn. 198) Budge Row, also called Magpie Alley in 1776–7, (fn. 199) Magpie Alley alone in 1791, (fn. 200) and Hare and Hounds Court by 1885, (fn. 201) leads off Hare and Hounds Street to the south. The pond on the Green is first marked as the Crammer.
The plan of Devizes was significantly changed by the construction from 1750–1 of turnpike roads to West Lavington and to Seend. The first created a direct exit on the south in continuation of Long Street and caused the old routes via Hartmoor and Pans Lane to be abandoned. The second led ultimately though not immediately to the abandonment of Big Lane as the exit towards Chippenham. (fn. 202) On the north side of the new Bath Road a small knot of houses had sprung up by 1773. (fn. 203) By 1749 their site already bore its present name, Piccadilly. (fn. 204)
The change in architectural fashion that occurred at the beginning of the 18th century coincided in Devizes with a rapid rise in the use of brick for external walling. Brick earth was locally plentiful. In many of the larger 18th-century houses brick is associated with quoins, window architraves, and doorways of a fine limestone ashlar. Such stone would have been expensive in Devizes and it is used only occasionally for walling, notably at no. 23 Market Place and Greystone House, High Street, both of which have distinguished main elevations. Judging by style alone, the substantial 18thcentury houses in the town were predominantly built in the first half of the century, mostly in brick, to good designs. During most of the second half less seems to have been built, although there was a revival at the very end. Besides completely new buildings many old timber buildings were faced with vertical plaster fronts, given new sash windows. and had the dormers joined together to make a full attic storey. A notable feature of the earlier-18thcentury houses is the quality of the wood-work and plaster ceilings in some of the larger ones, especially no. 17 Market Place and Greystone House. This is paralleled in contemporary houses in neighbouring villages. The main area of 18th-century building activity was centred on the Market Place, St. John's Street, and Long Street with an extension along the Brittox to Brownston House. The most fashionable part of the town was probably Long Street and the area to the north of the Town Hall.
Apart from nos. 31 and 32 and no. 40 (part of the Museum), all the houses on the west side of Long Street as far north as St. John's churchyard were rebuilt in the 18th or early 19th centuries. They were of substantial size, double-fronted, with large gardens, and in two cases possessed side carriage entrances. The houses on the opposite side, as far north as Bridewell Street, are similar, though only no. 30, the home of the clothier family of Sutton, (fn. 205) has a large garden, and impressive houses, like no. 8 (1737), Joseph Needham's house, (fn. 206) begin again at Morris's Lane and run to the High Street. The intervening stretch on this side, and that from the churchyard to the Town Hall on the other, consists of older houses, altered but not rebuilt. The cramped nature of the sites with the lack of gardens and rear access may explain the failure to rebuild and so provide more sumptuous dwellings. Several houses on the west side of St. John's Street, notably nos. 28, 30, 37–8, and the Police Station, are as impressive as the best houses in Long Street with long five-bay frontages and gardens running down to the outer castle ditch and nos. 31–2 before rebuilding were the home of a prosperous man. (fn. 207) The north-east side of the Market Place continued to attract substantial houses, e.g. the Black Swan (1737), (fn. 208) Parnella House, (fn. 209) and a third house, now demolished, on the site of the Cooperative Furniture Store. (fn. 210) Such houses benefited from long gardens running back to the inner town ditch.
The 18th-century features of houses on the east side of St. John's Street are less impressive than those on the west and cannot then have been so fashionable. Likewise New Park Street, judging from the style of the buildings then erected in it, had become a street of traders and small manufacturers in that century, though Brownston House (fn. 211) is of a better order. Nor was High Street at this time any longer a street of distinction.
In 1795 there were 188 assessed houses in St. John's parish and 139 in St. Mary's. (fn. 212) The next year's assessment gives slightly lower figures but in the same proportion. (fn. 213) In 1821 the enumerated houses in St. John's were about 60 per cent of the total for the then borough. (fn. 214)
The building of the canal, completed at Devizes in 1807–10, (fn. 215) affected the town's appearance in various ways. First it enabled stone to be brought easily from Bath and greatly promoted its use. Secondly it altered the urban landscape. The canal mainly ran through open country, but notwithstanding changed the landscape by causing Prison, (fn. 216) Bath Road (called Nursery in 1885), Wharf, Quakers' Walk (called Park in 1885), (fn. 217) and London Road bridges to be constructed. It must also have broken the continuity of Dumb Post Passage which between 1759 and 1798 ran from New Park Street out into the country. (fn. 218) The first wharf, on a site leased by the corporation and hence called Corporation Wharf, was built in 1809–10 and enlarged later. (fn. 219) It forced the cutting of Wharf Street to give access from New Park Street. Beside the wharf was a bonded warehouse, not closed until 1946. (fn. 220) Other wharves followed from c. 1823 when the canal company began to prosper. (fn. 221) Hazeland's New Wharf, New Park Street, occurs by 1839, (fn. 222) New Wharf (perhaps the same) in 1851, (fn. 223) Maryport Wharf in 1844, (fn. 224) Station Wharf between 1869 and 1873, (fn. 225) and Sussex Wharf between 1878 (fn. 226) and 1894. (fn. 227) Either of the last two might have been the Lower Wharf of 1884 and 1899. (fn. 228) Sussex Wharf, although not named before, must have existed by 1839, (fn. 229) for there was then a group of cottages along the present (1973) lane running south from Bath Road. J. Romain, a builder, moved there c. 1898 (fn. 230) and may have used the present warehouse for storing and the near-by wharf for transporting his materials. T. G. B. Estcourt and two others took the lease of a wharf in 1835. (fn. 231)
Shortly before the canal was opened two small streets were named or rechristened. The Little Brittox, marked in 1737–8 and called Exchequer Alley in 1740, (fn. 232) had acquired its present name by 1791. (fn. 233) The old name, however, was still intelligible in 1825, though the Short Brittox was an alias. (fn. 234) The Chequer, called by another name in 1737–8, (fn. 235) had become the Little Chequer by 1791 (fn. 236) but had acquired its modern name by 1821. (fn. 237)
The Improvement Commissioners of 1825 (fn. 238) did not alter the plan except to secure in 1832 the stopping-up of the northern end of St. John's Alley. (fn. 239) They thus probably secured the preservation of its houses by making the street so inconvenient to live in that it was not worth rebuilding. They arranged in 1826 for Chapel Corner Street (alias Leg of Mutton Street) to be renamed Sidmouth Street (fn. 240) and by ordering in 1835, as statute enjoined, (fn. 241) that street name-plates be erected (fn. 242) helped to stabilize nomenclature. The area at the south end of the Town Hall, vaguely called 'the road round the Town Hall' in 1791, (fn. 243) was known as Church Street in 1830. (fn. 244) That name, however, has not survived. Castle Lane is named by 1835. (fn. 245)
Though they left the plan virtually intact, the commissioners shaved off the corner of Maryport Street and the Brittox (fn. 246) and broadened the Brittox and Wine Street. (fn. 247) They also improved the street surfaces, (fn. 248) and, beginning in 1826, increased the safety and longevity of the houses by prohibiting the renewal of thatched roofs. (fn. 249) Nevertheless, even in 1847 thatch was not uncommon (fn. 250) and not unknown in 1868. (fn. 251) By these and other means Devizes began to be transformed. A resident said that before 1825 it was 'the most dirty and uninviting' town 'that can well be imagined', (fn. 252) and Crabb Robinson, returning after nearly 40 years' absence, remarked upon the 'meanness of the streets'. (fn. 253) By 1839, however, 'handsome modern dwellings' were 'fast displacing' the timber buildings, which had characterized the town about half a century before. (fn. 254) In 1836 there were 1,213 houses. (fn. 255) This is over 300 more than were reported in 1816 (fn. 256) but the smaller figure may refer only to the old borough area.
A significant part in the improvements was played by Joseph Needham Tayler, then Captain R.N., (fn. 257) who, returning home after the wars, dived into the real estate market, apparently to his own ultimate detriment. He built after 1830 (fn. 258) new shops on the south-east side of the Brittox, new houses on the south side of Wine Street and in Long Street, a middle-class terrace in Bath Road, called Trafalgar Place in 1844, (fn. 259) and, at the other end of the town, Southgate House and Villas. (fn. 260) To the same period, though not necessarily to Tayler's personal initiative, can be ascribed Handel House and Albion Terrace (formerly Place), both in Sidmouth Street, Melbourne Place and Farleigh Place, both in Bath Road, Sidmouth Terrace, once part of Southbroom Place and now of Southbroom Road, (fn. 261) and Lansdowne Grove and Terrace in Morris's Lane. Albion, Melbourne, and Farleigh Places, Lansdowne Grove, and Sidmouth Terrace, are first so called in 1844, (fn. 262) Lansdowne Terrace in 1885. (fn. 263) By 1841 both sides of Bath Road from the canal bridge to Little Lane were fringed with houses (fn. 264) forming on the north side the Nursery of brick and stone. There was also a line of small houses, called in 1871 Avon Row (fn. 265) and since 1885 Avon Terrace, (fn. 266) between Bath Road and Rotherstone House. (fn. 267) The Nursery first bears that name in 1839 (fn. 268) and derives it from a nursery garden. (fn. 269) The complex called Belle Vue, north of Bath Road, may well be contemporary with the Bath Road developments. It is first mentioned in 1839, (fn. 270) and, when plotted in 1885, (fn. 271) consisted of Belle Vue House, Villas, and Terrace, with 'The Laurels' in the middle. It was approached by Belle Vue Road.
The arrival of the canal and the development of tobacco manufacture increased the chances of local employment and in the early 19th century many small houses were built. Many were fitted into the courts and gardens behind existing houses; there is a noticeable concentration close to New Park, Sheep, and Bridewell Streets. Consequently those streets must then have ceased to be fashionable, although a substantial new house (no. 28 Bridewell Street) had been built early in the century.
These working-class houses were mostly of brick or timber-framed with panels in-filled with brick and poorly built and serviced. They were usually in short terraces with a common yard but no garden and some had only a small single bedroom above a living room. Victoria Court, Bridewell Street, demolished c. 1970 was an example.
The boundary adjustments of 1832–5 had brought within the town not only Belle Vue and the Bath Road villas but also Dunkirk, with an inn and cottages, probably designed to serve and house the workers at the brick-works. (fn. 272) Dunkirk is first named in 1839 (fn. 273) and at the same time Hare and Hounds Street, known by that name in 1829, (fn. 274) begins to be called South End. (fn. 275) It retained that name in 1885 (fn. 276) but resumed its present one in 1869 and from 1903. (fn. 277) Outside the ancient borough there are also some changes to record. The roadway running from Couch Lane to the east end of St. Mary's church, known as Back Lane from 1792 (fn. 278) to 1835 (fn. 279) was said in 1827 to have been at least in part stopped up. (fn. 280) The Improvement Commissioners investigated the liability for its repair in 1833. (fn. 281) Evidently the road was in some way new made, for in 1839 the carriageway had been raised (fn. 282) and the road officially christened Commercial Road by 1851. (fn. 283) The name Back Lane was, however, still in use in 1867. (fn. 284) Gains Lane, which continues Commercial Road, was first so called c. 1834, (fn. 285) and the lane which joins the two of them to New Park Street begins to be known as New Park Road in 1828. (fn. 286) About 1834 (fn. 287) and still in 1867 (fn. 288) this region is called New Town. By 1831 a road, called from 1871 Church Walk, had been cut between St. James's church and Nursteed Road, and by 1841 there was a mass of small houses round Southgate, so called likewise from 1871. (fn. 289)
As has already become apparent, most of the mid-19th-century residential building for all classes took place in the suburb of Southbroom and along the Bath and Chippenham roads. In the commercial centre older buildings continued to be replaced and shop fronts were inserted in many former houses especially in the Brittox. That street seems to have been largely commercial since the 17th century and many of its shops show successive builds. At various stages during the same century Estcourt Street was rebuilt unpretentiously.
The former railway station was built in 1856 and the Corn Exchange opened in 1857. (fn. 290) Their construction led to the creation of Exchange Place and of Station Road, so named by 1867, (fn. 291) running downhill to the station and up again in a cutting to Bath Road canal bridge. The north-south course of the railway approach was opened before the other, which dates from 1857. (fn. 292) The railway itself somewhat changed the direction of Estcourt Hill which had assumed its present course by 1885. (fn. 293) In 1865 the Roman Catholic church was opened (fn. 294) and the road in which it stood christened St. Joseph's Place (now Road). (fn. 295) The villas which adjoined the church were so placed as to give a good view northwards over the canal. Near contemporaries are the middle-class houses in London Road, e.g. Ormond Villas (recorded from 1867), (fn. 296) which lay upon the canal bank. Estcourt Terrace was built in 1874, (fn. 297) and Rotherstone Buildings, extending Avon Terrace on the east, by 1875. (fn. 298) To them Eastcourt Crescent, of the same character, had been added by 1885. (fn. 299) All these were streets of working-class houses. By 1869 Gallows Ditch, called Gallows Acre Lane in 1831 (fn. 300) and Folly Lane in 1851, (fn. 301) acquired the name Hillworth or Hillworth Road. (fn. 302) At the same time a line of small houses faced the militia stores in Bath Road. (fn. 303) By 1896 three small streets, of which the chief was Avon Road, had been built between the prison and the former bacon factory on the south side of Bath Road. (fn. 304) They covered Park Field, Old Park, which as far back as 1871 the owners had tried to develop for building. (fn. 305) By 1900, however, there were still vacant plots. (fn. 306) By the same time houses along Wick Green Road had also increased in number. (fn. 307) Shortly afterwards some cottages, under the Housing of the Working Classes Act, on the stretch of Commercial Road (then part of Gains Lane) which runs eastwards, (fn. 308) and Victoria Road were constructed. (fn. 309) By 1890 attempts to urbanize the area east of Nursteed Road had begun. (fn. 310) By 1914 Longcroft Road had been created here. It ran along the western part of the present Roseland Avenue and then turned southward. The sale of the residue of the Southbroom estate promoted this development. (fn. 311) A few building plots along London Road and Brickley Lane and taken out of the Spitalcroft estate seem to have been covered c. 1903. (fn. 312) Roughly south of Southbroom House a house called the Breach, connected in 1885 by a short road from Potterne Road, (fn. 313) had been pulled down and Breach Road (later the Breach) built to connect Potterne Road with Pans Lane. In 1899 the Breachfield building estate, named after a field so called in 1819, (fn. 314) was sold in plots by the Estcourt family for development, (fn. 315) but it was a while before it was filled up. Some time after 1895 some timberframed houses 'of poor quality' and some plastered timber houses in Mortimer's Court were pulled down. (fn. 316)
Two amenities date from these years. In 1891 the Market Place was planted with trees (fn. 317) and more were planted in other streets in the next fifteen years. (fn. 318) Secondly in 1898 the Revd. Mills Robbins, of Chobham (Surr.), settled in trust a small plot, since maintained by the corporation, at the point where London Road joins Brickley Lane. (fn. 319)
After the First World War the town grew outwards on the east side of Nursteed Road (fn. 320) and by 1930 nearly 200 new houses had been built within the borough mostly near Brickley Lane. (fn. 321) To a lesser extent new building occurred on and around the site of the prison, demolished c. 1927, (fn. 322) on the opposite side of Bath Road, (fn. 323) in the Breach, and in the Wick and Pans Lane areas. After 1927 Sedgefield Gardens, which had until then been gardens in fact, (fn. 324) began to be built into a street.
After 1945 the town grew further. The Brickley Lane area had been completely filled up by 1967, and shops had appeared in it by 1952. (fn. 325) Hillworth Road was extended in 1951–2 along the course of Gillott's Lane, as it was called in 1839, (fn. 326) and West View Crescent built near by. The break-up of the Old Park (fn. 327) and Broadleas estates on the south of the town led to the creation of new streets, and the grounds of Hartmoor House (called Park Cottage in 1885) (fn. 328) and Moorlands (traceable from 1830 and known as Old Park Cottage before c. 1890) (fn. 329) in the same area were likewise used for housing. On the north-west new housing was provided on the Bellevue estate and beyond it to the east. Victoria Road was extended eastward in 1964–6. From 1965 Wick Farm was developed and by 1970 the fields of Sunnyside Farm (fn. 330) had been covered.
In the town centre slum clearance took place chiefly in New Park Street, (fn. 331) Church Walk, Sheep Street, and the Nursery; 500 technically substandard houses were removed between 1957 and 1973 (fn. 332) to be replaced in Sheep Street by two- and three-storey flats. In 1969 a large car park, with an approach road from the north covering the former Vale's Lane and Read's Court, (fn. 333) was built over the gardens behind the south side of the Brittox and the east side of High Street. (fn. 334)
Castle and Lordship to c. 1550.
At an unknown date a bishop of Salisbury, perhaps Osmund, (fn. 335) built a castle upon certain boundaries (divise), which gave the castle and adjacent town their name. (fn. 336) The fortified area, as a document of 1149 shows, was carved out of the manor of Bishop's Cannings. (fn. 337) Devizes castle is first mentioned in 1106, when Robert of Normandy was imprisoned in it. (fn. 338) He seems to have remained there, perhaps not quite continuously, until 1126. (fn. 339) In 1113 the castle was burnt, as were the Tower of London and the castles at Lincoln and Worcester. (fn. 340) In 1121 Bishop Roger (d. 1139) held an ordination in it, (fn. 341) so the ravages of fire must by then have been at least partly repaired. In or about 1138 Bishop Roger was undertaking extensive works at the castle. (fn. 342) It seems indeed to have been practically rebuilt at this time, and one chronicle even calls Roger its founder (fundatorem). (fn. 343) The strength, magnificence, (fn. 344) and lavish cost (fn. 345) of the fortress and the large area that it covered (fn. 346) impressed Roger's friends and enemies alike, and Henry of Huntingdon, doubtless hyperbolically, asserted that it was the most splendid in Europe. (fn. 347)
The years 1139–41 were probably the most stirring in the town's history. The castle building in which Roger and his nephews Niel, bishop of Ely, and Alexander, bishop of Lincoln, had been recently indulging led Stephen to suspect the intentions of the builders. Accordingly in June 1139 he seized the bishops of Salisbury and Lincoln, and Roger le Poor, the bishop of Salisbury's natural son. The bishop of Ely fled to Devizes and fortified it against the king. Stephen followed with his captives. He imprisoned the bishop of Salisbury in an ox stall in a byre (bostario) and the bishop of Lincoln in a mean hovel, and threatened to hang Roger le Poor before the castle gate unless the castle were handed over. The threat to her son's life moved Maud of Ramsbury (Roger le Poor's mother), who was within, and Bishop Roger himself, and together they prevailed upon the bishop of Ely to surrender. He did so three days from Stephen's arrival (fn. 348) and the castle fell into the king's hands. About the end of October Stephen began to besiege the Bohun fortress at Trowbridge but soon abandoned the siege and returned to London. He left, however, in Devizes castle a party of armed soldiers (succinctissimam ad martios congressus militiam) to conduct future operations against Trowbridge. (fn. 349) About Easter 1140 Robert FitzHubert, a Flemish soldier of Earl Robert of Gloucester, stole away from his lord and seized the castle by night, scaling the walls by means of ladders stretched from the ramparts. Most of the sleeping garrison fell into his hands. A small party, indeed, escaped to an upper tower but were starved out in a few days. Gloucester's son was sent to recover Devizes from FitzHubert but was refused admittance. FitzHubert, however, was himself captured by John le Marshal, keeper of Marlborough castle, and imprisoned there. In August he was taken back to Devizes and hanged by Gloucester. After his execution his companions sold the castle to Hervey of Brittany, the king's son-in-law. Hervey defended the king's interest for some time, but eventually, being hard pressed by the surrounding inhabitants, surrendered it to the Empress. (fn. 350)
In September 1141 the Empress herself, fleeing from Winchester, was taken from Ludgershall to the castle, disguised and bound upon a bier. (fn. 351) She was in Devizes again during Lent and at Whitsun 1142 and the castle was in her hands at her death. (fn. 352) From her it passed to the future Henry II who was holding it in 1152. (fn. 353) In 1157 Archbishop Theobald ratified the existing state of affairs by confirming an exchange between the king and the bishop of Salisbury. (fn. 354) The king took the castle and its appurtenances in fee and gave the bishop in return the manor of Godalming (Surr.). (fn. 355) Thenceforth until the 17th century the castle belonged to the Crown.
A town grew up below the castle walls and by 1141 was called a 'borough'. (fn. 356) To this in course of time town lands were added. Presumably it was the combination of castle, town, and town lands that formed the lordship of Devizes, or 'manor' as it is actually called on eight occasions between 1217 (fn. 357) and 1248. (fn. 358) It is the lordship, rather than the castle alone, whose descent must now be traced.
That lordship formed the centre of a small liberty under the charge of the farmer or keeper of the castle, who often managed at the same time the manor of Rowde and the adjacent forests of Chippenham and Melksham. (fn. 359) Into this liberty, once or twice called a castellary (fn. 360) or honour, (fn. 361) the sheriff could not enter. (fn. 362) It was the constable who had return of writs, (fn. 363) and he alone was responsible for escheat (fn. 364) and wardship (fn. 365) and later for indicting offenders. (fn. 366) Also, no doubt, it was he who commanded the knights, by whom, as shown below, the castle was in early times defended.
The first known constable, Guy de Diva, occurs in 1192 (fn. 367) and 1194–5, (fn. 368) but there is not evidence enough to show what the system of custody then was. In 1195–6 William of Ste. Mere Eglise was farming the estate, (fn. 369) though for the rest of the reign it was managed by the sheriff. (fn. 370) From 1199 Thomas de Sandford was farmer and so remained until July 1216. (fn. 371) Richard de Sandford, presumably his son, handed over the castle to a successor in March 1217. (fn. 372) From 1195–6 the customary farms for Devizes were £30 8s. and for Rowde £18 17s. 5d. (fn. 373) Out of them allowances for custody were made, £20 in 1195–6 and rather more in Sandford's earlier years. (fn. 374) Later the joint farm was reduced, with retrospective effect, to 20 marks for 1199 to Easter 1206 and to £30 thereafter. Above those limits Sandford was to enjoy all profits. (fn. 375) Some time before John's death he seems also to have received a fee of 100 marks for the custody. (fn. 376)
From 1217 until 1234 the custody passed frequently from hand to hand. In this period the keepers were John Marshal, 'Strongbow's' nephew (1217–19), (fn. 377) Philip Daubeny (1219–21), (fn. 378) the legate Pandulf, elect of Norwich (1221), (fn. 379) Simon, abbot of Reading (1221), Alexander de Bassingbourne (1221), (fn. 380) William Brewer (1221–5), (fn. 381) Richard le Poor, bishop of Salisbury (1225–8), (fn. 382) Richard de Gray (June 1228–9), (fn. 383) Gilbert Basset (1229–33), (fn. 384) Ralph de Wilington (1233), (fn. 385) Peter de Rievaux (c. 1233), (fn. 386) Peter de Mauley (1234). (fn. 387) Apart from Marshal, Abbot Simon, Bassingbourne, Brewer, and Rievaux, about whom we are not informed, all these were granted the custody during pleasure. Brewer, Gray, and Basset received fees, Brewer's amounting to £30 or more. (fn. 388) Gray's (fn. 389) and Basset's to £20. (fn. 390) Gray (fn. 391) and Wilington (fn. 392) farmed the estate for £30 and Gray deducted his fee from his farm.
In May 1234 begins the long connexion of John du Plessis, later earl of Warwick, with the castle, which seems to have lasted uninterruptedly until his death. At first the Crown let to him for 10 years (i) the castle and manor and Rowde manor for £25 and (ii) Chippenham forest for £2 10s. (fn. 393) In 1236 the arrangement was temporarily altered, the lands and forests being granted to Walter de Burgh, keeper of the king's manors, and the castle alone committed to du Plessis. (fn. 394) In 1238, however, the manors of Devizes and Rowde were restored to du Plessis during pleasure. (fn. 395) In 1240 they were again let to him for five years, though his fee was continued. (fn. 396) In 1255 this arrangement was changed again. The earl, as he then was, received the castle alone, during pleasure, at a reduced fee; the sheriff was to farm the rest. (fn. 397) In 1261 the sheriff lost the appurtenant lands, no doubt for political reasons, (fn. 398) and those lands were again restored to the earl. (fn. 399)
The troubled years during and after the civil war saw several changes in the custody: Robert de Neville (1263), (fn. 400) Philip Basset, the justiciar (1263– 4), (fn. 401) Hugh le Despenser, also justiciar (1264), (fn. 402) Basset again (1264–71), (fn. 403) and Ellis Rabeyn (1271–2) (fn. 404) held it in rapid succession. At some time before April 1272 Henry III committed the castle to the lord Edward, (fn. 405) and Roger Mortimer (d. 1282), as trustee during the prince's absence in the Holy Land, accounted in 1272–3. (fn. 406) After this interlude John de Havering, constable of Marlborough (1272–5), (fn. 407) and Ralph de Sandwich (1275–?87) were successively keepers. (fn. 408) All these, apart from the lord Edward, about whose tenure nothing is known, received grants during pleasure. Basset was granted increasingly favourable terms owing to the need to munition the castle. He was promised his full expenses (fn. 409) which were eventually secured on lands in Dorset. (fn. 410)
Repeatedly keepers were not in effective charge, for in 1195–6, 1204–5, (fn. 411) 1224, (fn. 412) 1238, (fn. 413) 1239, (fn. 414) and 1275–8 (fn. 415) there were constables or under-constables in addition to the keepers. Apart from these, there is only one other castle officer, if he may be called that, who is mentioned in this period. This was a chaplain, who from 1237 to 1260 received an annual wage. (fn. 416)
The castle-guard of Devizes had originally been entrusted to knights holding fees or fractions of fees in Bratton, Calstone Wellington, Etchilhampton, Keevil, Market and West Lavington, Littleton Pannel, Stert, Bupton (in Clyffe Pypard), 'Cannings', Coate (in Bishop's Cannings), Horton, Hurst (in Worton), Mere, Orchardsleigh (Som.), and Potterne. (fn. 417) Possibly an entire or fractional fee had also lain in Broughton Gifford, but it is not mentioned before 1448. (fn. 418) At Devizes, as so often elsewhere, castle-guard services were not enumerated until they were already in decay. The first surviving list for Devizes was drawn up in 1255 and by that time the services in the last eight places named above, and part of the services in 'Lavington', had been withdrawn for thirty years back.
According to the declarations of 1255 each entire fee owed 40 days' service in wartime. Occasionally there are other definitions. Thus the tenant of the land in Calstone had to appear at the castle accompanied by an armed serjeant. (fn. 419) Late definitions of services arising in Market Lavington (1349) (fn. 420) and Stert (1355) (fn. 421) prescribed the defence of a tower in the castle. It is not known when corporal wartime service ceased, but between 1224 and 1228 a tenant was excused his service on the ground that he was on duty elsewhere, (fn. 422) which suggests that the service was then sometimes still exacted.
In peacetime quit-rents, rated in 1255 at 10s. or £1, were payable on each fee or half-fee. The estimated optimum yield was then 25 marks, but when the withdrawn services have been deducted it can only have been £7 10s. This in fact is the sum which was later customarily collected and which was in fact being collected in 1541–2. (fn. 423) Such rents were still being paid to the Crown in 1609, though their then amount is unknown. (fn. 424) By 1647–8 and again in 1689–90 they were being enjoyed by the borough corporation, (fn. 425) but were lost by 1833. (fn. 426)
One serjeanty belonged to the castle, that of finding an armed serjeant for 40 days in wartime. This inhered in a small estate in Rowde and is traceable from 1249 (fn. 427) to 1288–9. (fn. 428)
By the 13th century, no doubt, reliance was being placed at least as much on hired soldiers as on tenants by castle-guard or serjeants-in-fee and payments to members of a garrison are recorded in 1198–9, (fn. 429) 1221, (fn. 430) and 1233. (fn. 431) Quarrels were made in or sent to the castle in 1215, (fn. 432) 1225, (fn. 433) and 1226, (fn. 434) and corn was purchased in 1191–4 (fn. 435) and 1216. (fn. 436) Evidently the castle was kept in a defensible state throughout the reigns of Richard I and John and the minority of Henry III.
Throughout the 13th century kings and notables constantly stayed in the castle. Between 1204 and 1216 King John visited it at least once in every year but two, (fn. 437) and there in June 1216 he received the countess of Aumale and her children. (fn. 438) Henry III was there at his father's death (fn. 439) with many other boys, (fn. 440) and visited the castle as king in 1217, 1222, and 1224. (fn. 441) The cardinal-legate Otto stayed there in 1238, (fn. 442) Edward I paid six visits between 1278 and 1302, (fn. 443) and at Easter 1282 the King's Bench was there too. (fn. 444) In 1302 the royal children were in the castle for a while. (fn. 445)
The castle was also used as a prison, though never to a great extent. Robert of Normandy's captivity has already been referred to. (fn. 446) Queen Margaret and other hostages were held in custody there in 1174, (fn. 447) Isabel of Angoulême in 1209. (fn. 448) Approvers and others were received in it or removed from it to other places of custody in 1219, (fn. 449) 1221, (fn. 450) and 1242. (fn. 451) The most famous prisoner, however, was Hubert de Burgh who was committed after his arraignment in November 1232. He was guarded by four knights (fn. 452) to whom the keep was handed over as Hubert's prison on the understanding that the king had free access to the rest of the castle. (fn. 453) After a few months the king began to suspect that Gilbert Basset, a neighbouring landowner and former constable, would try to restore Hubert's cause and enlarged the guard in June and July. (fn. 454) These measures were evidently useless and on 28 September Hubert was entrusted to Ralph de Wilington, the constable, and more rigorously restrained. The following night, however, two of Hubert's guards carried him to St. John's church. (fn. 455) They were swiftly restored to the castle and orders were at once reissued for Hubert's rigorous confinement. Hubert's removal from the church had, however, involved the violation of sanctuary and the bishop of Salisbury ordered his restoration. His guards refused and were excommunicated. Hubert was restored to sanctuary and never returned to the castle.
The great strength of the castle made it an obvious safe deposit. On several occasions between 1206 and 1242 both jewels and specie were placed within it. (fn. 456)
By the later 13th century the castle was becoming less and less a fortress and more and more the administrative centre of a territorial complex. This transition can perhaps be dated from 1287 when castle and manor were granted for life to Matthew son of John, knight, at a yearly rent. (fn. 457) Later in that year Rowde and other manors were added, and, by a separate grant, the forests of Melksham and Chippenham. (fn. 458) The wardenship of the forests had usually been linked with the constableship since the days of Thomas de Sandford and the connexion with that office or later with the stewardship was preserved into the 17th century. (fn. 459)
A few months after the initial grant the premises were regranted to Matthew in the name of the king and queen. (fn. 460) This suggests that Edward I had already begun to look upon Devizes as a potential means of support for his consort. In 1290 the king granted Queen Eleanor the rent reserved upon Devizes (fn. 461) and in 1299 when he married Margaret of France as his second wife he assigned Devizes to her as part of her jointure. (fn. 462) The grant of 1299 was presumably a mere expectancy contingent upon Matthew's death, but in 1301 Matthew actually surrendered the castle and its appurtenances and shortly afterwards was recompensed elsewhere. (fn. 463) After this, for a long time to come, the estate more often than not formed part of the jointure of queens consort or dowager.
Margaret held the estate until her death in 1318, except for a few months in 1308 when it was granted to Hugh le Despenser during pleasure. (fn. 464) She was in residence in 1311. (fn. 465) At her death the estate was assigned to Queen Isabel (fn. 466) who held it until her forfeiture in 1324, when it was resumed. (fn. 467) By 1326 it appears to have been again granted away, (fn. 468) but, however that may be, the Crown held it again in 1327 (fn. 469) and in 1330 assigned it, (fn. 470) as part of her jointure, to Queen Philippa, who kept it until her death in 1369.
Matthew son of John and his three successors appointed keepers or constables. One is known by name from Matthew's time, (fn. 471) one from Margaret's, (fn. 472) one from Despenser's, (fn. 473) and three from Isabel's. (fn. 474) In 1330, the year of the grant to Philippa, the practice began of leasing the whole estate, apparently for life, to farmers. Gilbert of Berwick was the first of these (fn. 475) and he remained farmer until at least 1338. (fn. 476) In 1340 he was succeeded by Roger, Lord Beauchamp (d. c. 1379), who farmed all the Devizes complex except Rowde. (fn. 477) After Philippa's death in 1369 he remained in possession, in which in 1344 he had been expressly confirmed by the king, (fn. 478) to whom he paid direct (fn. 479) the farm that he had formerly paid to the queen. In 1372 he granted away the custody of the parks and woodlands belonging to the castle, (fn. 480) and in 1376 his farm was reduced. (fn. 481)
Early in 1380 Beauchamp was succeeded as farmer by Sir Nicholas de Sharnesfield, to whom Rowde was also assigned. (fn. 482) He lasted only until 1381, when the same farm was transferred to John, Lord Lovel. (fn. 483) Next year the king married Anne of Bohemia and the Devizes complex, apparently without Rowde, was granted to her. (fn. 484) Anne kept the estate until her death in 1394 (fn. 485) and before April 1395 it was, with Rowde, granted or confirmed to Lovel, who had farmed it under her. In that April all rent was remitted. (fn. 486) In 1405 the same estate was settled upon Queen Joan of Navarre for life, (fn. 487) subject to Lovel's life interest. Lovel accounted in 1405–6, (fn. 488) and in 1408, the year of Lovel's death, the queen was confirmed in possession. It may be supposed that she retained it until she died in 1437. During the period 1408–15 Edward 'Plantagenet', duke of York, farmed it under the queen, (fn. 489) and in 1423 it was again being farmed to the queen's profit. (fn. 490)
It may be assumed that the castle was still munitioned in 1287, for Sandwich handed over crossbows, baldrics, and quarrels. (fn. 491) In 1307–8 orders were given to fortify and guard the castle with many others throughout the land. (fn. 492) After this there are but few references to munitioning. Beauchamp was indeed suspected of appropriating arms, furniture, artillery, and victuals, (fn. 493) but it is unlikely that the castle was strictly defensible in his time. At any rate the castle was not garrisoned and victualled against the French in 1360, as Old Salisbury and Marlborough were. (fn. 494) On the other hand it was well enough maintained to serve occasionally as a residence or a prison, and efforts to keep it in repair continued until well into the 15th century. (fn. 495) The evidence for such use is somewhat sporadic. In 1294 buildings in the castle were assigned to John Tregoze as a home for his wife while the king was in Gascony—an arrangement paralleled in other castles. (fn. 496) Four Scots prisoners were received in 1296, (fn. 497) two of them remaining for over a year, (fn. 498) the king's children stayed there in 1302, (fn. 499) and between 1307 and 1312 Sir David Lindsey, another Scots prisoner, was honourably confined. (fn. 500) Eleanor la Zouche was imprisoned there c. 1330, (fn. 501) venison trespassers in 1283, (fn. 502) 1288, (fn. 503) 1294, (fn. 504) 1358 (fn. 505) and 1383, (fn. 506) and a suspect felon in 1274. (fn. 507) In 1373 the two sons of Charles de Blois were taken from confinement in the castle but returned thither in 1377. (fn. 508) The last reference to the castle as a prison occurs in 1405. (fn. 509) In 1411–12 the queen was in residence. (fn. 510)
Apart from the constables the only castle officer of any importance seems to have been the porter. The first known incumbent was in office in 1299 (fn. 511) and others occur in the later 14th century (fn. 512) when the porter's only recorded function was rent-collecting. (fn. 513)
The fate of the castle immediately after the death of Joan of Navarre is uncertain. There was in any case no queen consort to whom it could be assigned. Before March 1443, however, it had reached the hands of Humphrey, duke of Gloucester, who had by that time appointed Sir Edmund Hungerford as constable during pleasure. (fn. 514) Humphrey spent Christmas 1446 at Devizes (fn. 515) but he died in 1447 and the castle and lordship, which he had held in tail male, were at once transferred to Margaret of Anjou, whom Henry VI had married two years before. The term was at first unspecified but became a life tenure in 1452. (fn. 516) Hungerford remained undisturbed as constable at least until 1455. (fn. 517)
Margaret was presumably deprived on her attainder in 1459, and in 1461 Edward IV, enlarging a grant that he had made in the previous April, (fn. 518) bestowed the Devizes lordship upon Richard Beauchamp, bishop of Salisbury, for 20 years in fee farm. (fn. 519) The bishop's interest was protected from the operation of the Acts of Resumption of 1461 and 1464, (fn. 520) but he appears to have surrendered by March 1465 when the same bailiwick was bestowed upon Queen Elizabeth in part support of the expenses of her chamber. (fn. 521) In January 1466 the bailiwick was regranted to her by a new patent, (fn. 522) confirmed in Parliament in 1467. (fn. 523) It was she perhaps who appointed Sir Roger Tocotes steward. He was deprived in 1483 for complicity in the duke of Buckingham's rebellion, (fn. 524) but restored in 1485. (fn. 525) Meanwhile Thomas Stafford filled the office. (fn. 526) Elizabeth Woodville kept the estates until deprived of them in 1483–4. (fn. 527) She was reinstated in 1485 (fn. 528) but in March 1486 the estates were granted in dower to Elizabeth of York. (fn. 529) The new queen appointed Richard Beauchamp, Lord St. Amand, to the stewardship in 1492. (fn. 530)
After Elizabeth's death (1503) the estates were kept in hand for some time, until in 1509 they were granted as part of her jointure to Catherine of Aragon, then Princess of Wales. (fn. 531) During the interval stewards were in charge. In 1504 the grant of the stewardship was renewed to St. Amand during pleasure. (fn. 532) In 1508 Anthony St. Amand and Edmund Dudley were appointed stewards for Anthony's life, (fn. 533) and in 1526 Sir Edward Baynton succeeded them. (fn. 534) By 1534 Catherine's jointure had been transferred to Anne Boleyn. (fn. 535) There is no evidence that the castle and lordship ever formed part of Jane Seymour's jointure. In 1540, however, the usual group of estates was bestowed on Anne of Cleves for life. (fn. 536) It was bestowed on Catherine Howard in 1541 (fn. 537) and on Catherine Parr in 1544. (fn. 538) Catherine Parr made Sir William Herbert steward in 1544–5 and the king confirmed the appointment in 1546. (fn. 539) In August 1547 the same group of estates was granted to Lord Seymour of Sudeley, Catherine Parr's husband, to support the dignity of his creation. (fn. 540) He was attainted in 1549 and the Crown resumed possession.
By this time the portership had died away. In 1447–55 Hungerford held it while he was constable, (fn. 541) but presumably he merely took the profits and devolved the work. In 1451 a lesser man is named (fn. 542) and in 1484 the office was granted to a yeoman of the king's chamber. (fn. 543) In 1526 (fn. 544) and 1544–5 (fn. 545) the stewards of the lordship were appointed to the office, which presumably was then a sinecure. It is not heard of afterwards. In his later days the porter acquired the presidency of the court held at the castle gate, which sat once yearly from 1446–7 to c. 1543. (fn. 546) The court's function is not clear, but in 1576–7 the large sum of £5 was collected there as a relief. (fn. 547)
The first known steward had died by March 1463, two others occur in the later 15th century, (fn. 548) and in the next century appointments seem fairly regular. The emergence of a steward emphasizes the fact that the castle was by then of small account, even as a residence, and that what the Crown was granting away was a block of rural and urban property with some rents and perquisites. The cash revenues from 1446–7 to 1508–9 consisted of the rents of burgages, castle-guard rents, rents and farms of pasture and parks, tolls of the borough market, the profits of three courts, amercements of the borough's brewers and bakers, and the agistment and pannage of the forests. (fn. 549) After 1510 the market tolls, the amercements of bakers, and the profits of two of the courts were commuted into a fixed annual sum paid by the borough. (fn. 550) Out of these receipts the fees and wages of divers officers had to be met (fn. 551) and the expenses of maintaining the property.
The jurisdiction of the steward, whether appointed directly by the Crown or by a queen consort, represents the ancient authority of the constable, whose liberty, as has been shown, existed in the early 13th century. (fn. 552) After the charter of 1381 had been granted to the borough it was before him that the townsmen were mustered to arms. (fn. 553) He is found holding a view of frankpledge in 1366, at which a forger was indicted, (fn. 554) and from 1446–7 until 1508–9 he normally held one view and four courts each year. (fn. 555) From 1492–3 to 1507–8 he dealt with the amercement of brewers, who, in the period from 1477–8 to 1483–4 had been justiciable before the mayor. (fn. 556) But the story of this jurisdiction perhaps more properly belongs to that of the liberties of Wiltshire.
Castle Buildings.
The castle lay on the south-west side of the town, on a little hill with steeply sloping sides. (fn. 557) It was originally protected to the north-east and south by four concentric ditches. The outer two have been mentioned already, since, eventually at least, they formed town rather than castle fortifications. (fn. 558) Within these two lay the outer castle ditch. It started in Station Road near Craven House, ran beneath the Corn Exchange and the Bear yard, and cut through the roadway connecting the castle with St. John Street. It came close to the north side of St. John's churchyard and then joined the inner town ditch somewhere on the former railway track. Near the Corn Exchange it was double with steep sides 20 ft. deep. Its course behind the Pelican inn was marked in 1787 and 1832 by a town sewer. Within this ditch lay the inner castle ditch or moat, with almost vertical sides, which, on excavation, was found c. 1860 to be 45 ft. deeper than the exposed portion. (fn. 559) No doubt the outer ward or bailey of the castle lay originally between the inner town ditch and the outer castle ditch. As the town encroached, however, the outer bailey apparently contracted to the area between the outer and inner castle ditches. From the outside world this area was reached by the Brittox (fn. 560) and possibly a continuation of it. The roadway passed through an outer or 'foreign' gate of uncertain location and entered the inner precincts on the north by the inner gate. Inside that gate was a courtyard, called eventually the inner ward, (fn. 561) out of which a postern may have led a little to the south of west. (fn. 562) Somewhere on its course the roadway crossed two bridges, between which in 1380 was a barbican. (fn. 563) One of the bridges, probably that on the west, was a swing- or drawbridge, mentioned in 1248. (fn. 564)
The earthen wall above the inner castle ditch was crowned by a stone curtain, of which some vestiges survive. It was probably this curtain which, having then recently fallen down, was repaired in 1240, (fn. 565) and, with its battlements, was repaired again on the south and east sides with Hazelbury stone in 1379– 81. (fn. 566) Behind this stood the keep or 'great' tower, first mentioned when repaired in 1240. (fn. 567) It is perhaps the same as the 'high' tower, joisted in 1309–10. (fn. 568) Work was done on the 'great' tower in the lower ward in 1411–14 including repairs to the foundations. (fn. 569) This was probably the same as the 'outer keep' which was fitted with a door in 1379– 80. (fn. 570) Other towers or turrets abounded. New turrets were erected in 1240 (fn. 571) and 1251 (fn. 572) and others mended in the former year. The tower called 'Gent' was roofed with Corsham slates in 1309–10, and at the same time the 'Johan' tower was repaired. (fn. 573) The 'Everard' tower is first mentioned in 1385. (fn. 574) In 1610 five 'very high' towers partially survived. (fn. 575)
Adjoining the keep on the west stood an aisled hall of 6 bays, about 70 ft. X 25 ft., the foundations of which were laid bare in the 19th century. (fn. 576) It is first mentioned in 1236–7, (fn. 577) and from time to time until 1379–80, when it was equipped with new boarding. (fn. 578) In 1328 a pentice was attached to it. (fn. 579) Excavations in 1858 showed that various lesser buildings surrounded the hall, and that in the most northerly was a well. It is not now possible to determine their purpose. It is known, however, what some of the domestic buildings were within the castle precincts. The king's 'chamber', mentioned in 1236–7, (fn. 580) had become the 'chambers' by 1248. (fn. 581) A fireplace was put into the queen's chamber in 1256 (fn. 582) and that building is mentioned again in 1309–10. (fn. 583) In the later year we hear of the chamber by the inner bridge, roofed with Corsham slates, the chamber attached to the tower, the tailor's chamber, and the kitchen. (fn. 584) In 1328 the king's chamber occurs, a 'great' chamber (with a cellar beneath) beside it, a wardrobe for the king's and queen's clothes, the nursery, the queen's larder, the great saucery, and a 'cuphous'. (fn. 585) In 1377–81 the kitchen and tailor's chamber are mentioned again, and, for the first time, 'the esquires' chamber', a bakehouse with 2 ovens, a pantry, a separate queen's wardrobe, a stable for 40 horses, a garner, and an aviary. (fn. 586)
A chapel is first mentioned in 1237 (fn. 587) and an 'outer' chapel in 1244, (fn. 588) which implies that by that time there was more than one. Two chapels certainly existed in 1385: (fn. 589) the 'old' one in the outer ward, which by 1287 possessed a bell, (fn. 590) and another in the inner ward, with glazed windows. It is not clear which of these was the 'great' chapel 'within the bailey' which lacked its glass in 1328. (fn. 591) Even as late as 1461 orders were celebrated within the chapel, (fn. 592) and in 1610 Norden noticed traces of both chapels. (fn. 593)
Two lesser buildings deserve mention. A treasury was repaired in 1242 (fn. 594) and in 1287 there was a prison in the outer gate. (fn. 595)
The lack of ancient masonry and imprecision of the records make it very hard to describe the castle's development. It may be said, however, that for almost a century from 1195–6 expenditure on the buildings was very frequent. (fn. 596) Some of this was certainly for current maintenance, but large sums suggesting works of greater magnitude were at certain times laid out. Particular mention may be made of the years 1205–6 and 1215–16. In the first period £35 18s. 8d. was spent, (fn. 597) in the second £81 16s. (fn. 598) Much of the latter sum was devoted to a ditch, and ditchers and a miner were employed. But wages were also paid to 22 carpenters and in that year or the next to masons and hodmen as well. The next period of activity extended from December 1237 to September 1240, when John du Plessis spent over £383 on building. (fn. 599) The work, as has been said, affected the wall and towers. The years 1248–9 were at least as important, for £40 was spent on repairing the swing bridge of the 'donjon' and in reroofing, (fn. 600) and in 1249 expenditure up to £600 was authorized. (fn. 601) Less was spent for a while thereafter, but with the coming of Philip Basset payments rose again and continued to the end of the reign. (fn. 602) In 1280 orders were given for £300 to be divided between the works at Devizes and Odiham (Hants). (fn. 603) A report prepared after the close of Sandwich's constableship described the castle as 'well kept' (fn. 604) and the preceding expenditure would suggest that it was accurate.
After this the castle became decreasingly defensive and probably was not so well maintained. Extensive works were done in 1309–10, (fn. 605) but repairs valued at £260 were again needed in 1328. (fn. 606) Writs of aid for repairs were issued in 1350, (fn. 607) 1364, (fn. 608) and 1371, (fn. 609) but their effect is uncertain. Many repairs were done from 1376 to 1381, (fn. 610) but the institution of an inquiry into their adequacy in 1382 (fn. 611) suggests that they did not reach far enough. Repairs continued in 1384–5, when Hazelbury stone and Corsham slates were used. (fn. 612) Despite this an inquest taken in 1405 after Queen Anne's death found the building so decayed as to be valueless. (fn. 613) Further repairs were accordingly carried out in 1411–14 to equip the castle for use by Joan of Navarre who was in residence in 1411–12. For the purpose stone was again brought from Hazelbury and slates from Corsham. Stone came also from Box and Corsham, tiles from Ludgershall. (fn. 614) This, however, was to be almost the last overhaul. A writ of aid was indeed issued in 1420, (fn. 615) but an inquiry in 1461 showed that parts of the walls of the 'outer' and 'inner' wards were broken, that the kitchen was roofless, and the bridge outside the castle almost completely gone. (fn. 616) It was, however, still habitable, for Bishop Beauchamp, to whom it had then just been granted, dated a letter from it in September of the same year. (fn. 617) Minor repairs took place in 1501–2. (fn. 618)
Leland described the building as 'in ruin'. Part of the towers of the gate of the keep and the chapel in it had been taken away to help to build Bromham House. (fn. 619) If that house was indeed the destination of the materials, then the plundering presumably took place after 1526 when Sir Edward Baynton, its builder, was steward of the castle. (fn. 620) In the castle gate Leland noticed places for six or seven portcullises—an indication of how formidable the defences had been. (fn. 621)
In 1578 the county justices thought they might use the building as a house of correction, (fn. 622) but either the Crown refused consent or the building proved to be too decayed. In 1596 the castle was said to be 'utterly ruinated and decayed', its walls having 'fallen down for the most part'. (fn. 623) Quarter Sessions met in it, however, from 1598 until 1612. (fn. 624) It can hardly have been comfortable, and was presumably abandoned as a court room when the market-house was built in the town in 1615–16. (fn. 625) But, as has been shown, substantial fragments of towers and chapels still stood in 1610, together with the 'large ruined hall' 'within the keep', (fn. 626) and even in 1619 some part of the buildings was fit to house a bishop. (fn. 627)
During the first four years of the Rebellion Devizes was almost continuously in Royalist hands (fn. 628) and the castle may have been used as a barracks, a magazine, a strong point, or all three. The defences are known to have been altered during this period. (fn. 629) The castle, however, is not expressly referred to until Cromwell besieged it in September 1645, planting ten cannon in the Market Place on 21 September and on the two following days bombarding it. On the second day a 'grenado' fell into the keep, which was being used as a powder magazine. This did not ignite the powder but the incident convinced the governor of the vanity of further resistance. He accordingly surrendered on 24 September. (fn. 630) The castle was ordered to be slighted in 1646 (fn. 631) but the work was not finished until 1648. (fn. 632)
The stone of the castle was promptly used for building. Already by 1654 the castle house, constructed from the spoil, (fn. 633) stood at the south-west end of what is now Castle Lane. (fn. 634) Stukeley complained in 1724 that the castle was then 'ignobly mangled, and every day destroyed by people that care not to have a wall standing, though for a fence to their garden'. (fn. 635) George Flower (d. 1729), (fn. 636) who bought a part of the site in 1728, (fn. 637) is said to have been a notable despoiler. (fn. 638) John Strachey (d. 1743), (fn. 639) in an undated letter, said that no stone of the castle remained, although a sketch of his, assigned c. 1700, showed the inner gatehouse. (fn. 640) Two windmills (fn. 641) then stood on the top of the mound which was ascended by an ill-kept spiral walk. The castle yard had become an orchard. The castle house, though still erect, (fn. 642) was already in decay. (fn. 643)
Parks.
A park at Devizes is first mentioned in 1149, (fn. 644) and in 1157 two parks are said to have belonged to the castle. (fn. 645) This imparked area remained a castle appurtenance until at least 1570 (see below), and from the end of the 13th century it and the castle were often expressly passed together in royal grants. (fn. 646) There were probably two parks from very early times, (fn. 647) though draftsmen did not always use the plural.
The parks were the 'old' (fn. 648) or 'great' (fn. 649) park, lying to the south-west of the castle and within St. John's parish, and the 'new' (fn. 650) or 'little' park, (fn. 651) lying north of the town and mainly in Bishop's Cannings parish. The first had been disparked by 1595; (fn. 652) the second was subsequently incorporated into Roundway park, and, from having been the smaller, became the larger by accretion. (fn. 653)
In 1157 both parks were surrounded by a high bank and deep ditch, considerable traces of which still flanked the old one in 1972. (fn. 654) Until at least 1229 the 'park', presumably the old one, was bounded by a stone wall which was then in part removed. (fn. 655) Later there was a paling which was repeatedly repaired up to 1534–5 (fn. 656) and in 1477–8 was heightened on the north side of the castle and spiked to hinder clambering boys. (fn. 657) By 1595 the paling or some part of it had disappeared. (fn. 658)
The old park, if not both parks, naturally sheltered deer. Bucks are referred to in 1256. (fn. 659) In 1460 the herd of deer numbered 20 bucks and 140 rascals. (fn. 660) Deer are last mentioned in 1576. (fn. 661) To tend these and other parkland beasts a keeper lived on the site. His house stood in the middle of the old park and is first referred to under the name of the 'driving lodge' in 1477–8. (fn. 662) About 1543 it comprised 4 chambers, a parlour, a buttery, and a kitchen, and a stable and dairy house stood beside it. (fn. 663) In 1654 'grounds' surrounded it, (fn. 664) perhaps sown with the oaks which still abounded in 1859. (fn. 665) It seems to have been pulled down not long before 1839. (fn. 666) The building or its site was surrounded by a moat, named in 1835, (fn. 667) and represented in 1839 as an oblong area called Moat Mead. It was then fed by a stream passing south-westwards through the park. The moat was not a perfect quadrangle, for there was solid ground, suggesting a causeway, at the north-east corner. (fn. 668) In 1859 it could be described as 'broad and deep'. (fn. 669) When viewed in 1952 it was c. 90 ft. square and partially wet. (fn. 670) In 1480–1 a hedge and ditch were built around the park meadow to protect the beasts' winter feed. (fn. 671) About 1543 the hedge was in decay. (fn. 672) Possibly the present moat originated in the 15th-century ditch. In 1460 the 'park' contained a fishpond, then largely unstocked. (fn. 673)
Out of the ancient park area assarts had begun to be carved by 1275–6. (fn. 674) Some of these, in the old park, clung to the castle mound in 1382, when parcels, already alienated, are referred to as supra or subtus montem. (fn. 675) Assarts in the new park, in Bishop's Cannings, were being called Parklands by 1380, (fn. 676) and the name continues until 1651. (fn. 677)
Between 1304 and 1570 eleven parkers or parkkeepers, though hardly forming an unbroken sequence, are known. (fn. 678) When the castle was in a queen's hands it was she who filled the office, though usually the king confirmed her grant. Otherwise the Crown appointed direct. The first eight keepers were not men of social standing; the last three, however, were the stewards of the lordship—Baynton (1526), (fn. 679) William Herbert (cr. earl of Pembroke 1551, d. 1570) (1544/5–70), and Henry (d. 1601), (fn. 680) his successor in the earldom. (fn. 681) The terms of the appointments, when specified, were for the life of either the grantee or the grantor.
In 1583, long before Pembroke's death, Sir John Danvers was also said to hold the parkership for life. (fn. 682) The duplication is unexplained. Danvers, however, certainly claimed some local interest, for in 1584 he was at issue with the borough over the profits of the fairs and markets. (fn. 683) The earl of Essex (d. 1601) tried unsuccessfully to purchase the estate at the end of the century. (fn. 684) Howbeit by 1595 both parks appear to have belonged outright to Henry, earl of Pembroke. (fn. 685) They descended to his grandson Philip, earl of Pembroke (cr. earl of Montgomery 1605, d. 1650). They were mortgaged by him in 1609 to Peter Vanlore, who soon after foreclosed the mortgage and acquired the castle, and with the castle they descended for several generations. (fn. 686)
Castle Estate Since c. 1550.
William, earl of Pembroke, constable and steward, (fn. 687) died in 1570 and his son Henry (d. 1601) succeeded him. (fn. 688) He was probably the last to hold those offices, for the integrity of the old jointure of the queens consort was already in decay. Rowde was let off on long leases and then sold in 1591; (fn. 689) the borough was let to farm to the burgesses. (fn. 690) The castle, by now of little value, was leased in 1596 to Richard Brackenbury. (fn. 691) In 1611 James I, in pursuance of his policy of alienating small and unprofitable parcels of Crown land, (fn. 692) granted it in fee to Philip Herbert (d. 1650), 1st earl of Montgomery, afterwards also 4th earl of Pembroke. (fn. 693) The estate so conveyed (c. 20 a.) comprised the castle ruins and the meadow and pasture between the ruins and the town. In 1614 the earl in conjunction with other feoffees sold it to Peter Vanlore (knighted 1621), a native of Utrecht, (fn. 694) who also acquired the parks. (fn. 695) He died seised in 1627, (fn. 696) having first settled the castle and the two parks on his daughter Mary, who had married Sir Edward Powell, Bt., with remainder to his right heirs. (fn. 697) In September 1651 Powell induced her, it was alleged under duress, to levy a fine to the use of them both for life with remainder to Thomas Levingston and Anne, Thomas's wife, who was Lady Powell's niece. Lady Powell died childless in October 1651 before the fine could be recorded, but Powell falsely procured its entry. Attempts by Vanlore's granddaughters, the daughters of his son Peter, who predeceased him, to undo the fine proved vain, and in 1656 Chaloner Chute bought the premises from the Levingstons. (fn. 698) In 1660 one of Vanlore's granddaughters, Mary countess of Stirling, was dead, but her son with the two surviving granddaughters again petitioned for the restitution of the property. It was decided that the fine was false but could only be set aside by Act of Parliament (fn. 699) which was passed in 1662. (fn. 700) Chaloner Chute, son of the purchaser of 1656, petitioned against the Bill, (fn. 701) but seems to have received no compensation. The three heirs of Sir Peter the elder thus secured the estate in coparceny, which in 1664 they partitioned. Henry Alexander, earl of Stirling (d. 1690), son of the granddaughter, Mary, and his wife Judith took the castle itself, the new park, two tenements in Bishop's Cannings parish, some pasture and meadow, which was part of the old park, and a section of the castle ditch. Sir Robert Croke, of Chequers (Bucks.), and his wife Susan, a granddaughter, took arable, pasture, and meadow belonging to the old park, including the Bear grounds, and another part of the ditch. Henry Zinzan, or Alexander, of Tilehurst (Berks.), and his wife Jacoba, the second surviving granddaughter, took other such lands in the old park. (fn. 702) Lord Sterling still held lands there in 1682. (fn. 703) It seems likely however, that his family, which failed in the male line in 1739, parted with most of the property to the owners of Roundway in the earlier 18th century, for with Roundway the new park was eventually fused and house and park came to be known as New Park. (fn. 704) Part of the castle site was bought by George Flower in 1728 (fn. 705) but in the end seems to have been acquired by the Wyndham family.
In 1666 the Croke portion was sold to Sir Wadham Wyndham, a justice of the King's Bench, (fn. 706) and descended to his son Wadham (d. 1736), his grandson Henry (d. 1788), and his great-grandson Henry Penruddocke (d. 1819). (fn. 707) This portion seems to have amounted to 295 a. in 1724. (fn. 708) It was stated in 1819 that the Zinzan portion, then 230 a., also passed into the hands of Sir Wadham Wyndham and descended upon a William Wyndham, (fn. 709) probably H. P. Wyndham's second cousin, who was a Wyndham of Dinton. The Croke portion is said to have been sold in 1793, at least in part, to William Salmon, the Devizes attorney, (fn. 710) who seems to have been already an occupier in 1773. (fn. 711) It is not at present clear how James Everard Arundell (d. 1803), father of Lord Arundell of Wardour (d. 1817), was in a position to lease the portion to Charles Penruddocke (d. 1788) in 1773 and 1783 in trust for Anne, the lessor's wife. (fn. 712) Anne was the granddaughter of John Wyndham, of Norrington (Alvediston), Sir Wadham Wyndham's eldest son.
Salmon bought that part of the property which surrounded the mound and this with the adjacent land he converted into pleasure grounds. (fn. 713) He cut the present road connecting St. John's Street with the mound and he or someone else built a new house, which stood isolated in the castle grounds. (fn. 714) In 1809 he transferred the estate to his son William Wroughton Salmon (d. 1855), from whom it passed in 1813 to the younger Salmon's brother-in-law, Thomas Tylee, the banker and brewer.
In 1838 the castle estate, in its shrunken condition, had become the purlieus of the bank in St. John's Street and was in the hands of J. N. Tylee (fn. 715) who sold it to Valentine Leach (d. 1842), a Devizes tradesman. Leach built himself an imposing castellated residence on the site of the southern windmill tower. (fn. 716) On his death his son Robert Valentine (d. 1888) tried to sell the house, (fn. 717) which by then was styled Devizes Castle. The attempt failed, some parts of the estate were sold off, and Leach left the town. The castle was let and the grounds were opened as a pleasaunce to a limited public. About 1860 Leach returned and, for the next 20 years, occupied himself in enlarging the castle and introducing 'Norman constructions' into the grounds. Extensive excavations were carried out in 1858–9 (fn. 718) and it was at that time that the footings of the former hall piers were examined. When Leach died the property was bought at what was then thought to be a bargain price by Sir Charles Rich, Bt. (d. 1913). He altered the house but seems not to have shared Leach's antiquarianism, for in 1903 the earthworks were much overgrown. (fn. 719) On the death of Lady Rich in 1918 the property was purchased by E. C. Reed, whose trustees sold it after his death to R. J. Clappen. In 1951 Mr. H. Brown, a Birmingham builder, bought it from Clappen (fn. 720) and divided it into two lots. One, the 'North Tower', he sold to W. B. Medlam who sold it in 1955 to Mr. E. B. M. Kemp. The other, the 'South Tower', he sold to Mr. T. G. Waugh, from whom it was purchased by R. N. Newsome and Miss Delia G. M. Tudor-Hart in 1956. From them Mrs. I. M. Durand bought it in 1961. (fn. 721)
The irregularly-shaped stone mansion owes much to the two Leaches. Valentine replaced the southern windmill tower by a massive circular one, the principal part of his new residence. The building was designed to suggest an embattled Norman castle by H. E. Goodridge of Bath. (fn. 722) On the east front was a large round-arched entrance with machicolations and a portcullis, and above the tower parapet rose a look-out turret containing a spiral staircase. (fn. 723) The northern windmill tower was preserved and crowned with battlements. R. V. Leach's northward extensions, built piecemeal between about 1860 and 1880, trebled the size of the house. They incorporated the windmill tower of which the original brickwork is still visible. Leach inspired the design but J. A. Randell co-operated with him as architect. (fn. 724) They carried on the 'Norman' theme, but their work, both inside and out, is far more ornate and fanciful than that of Goodridge. At the north end of the house they built an octagonal conservatory, connected to his drawing room by a curved and arcaded 'fernery'. (fn. 725) Various ornamental features in the grounds, notably the so-called St. John's or Bishop's gate, are partly constructed of genuine 12th-century fragments from St. John's church, the west end of which was being rebuilt in 1862–3. (fn. 726) Leach's last work was the entrance lodge, in the form of a Norman gatehouse, on the approach road from St. John's Street. Alterations made to the house by Sir Charles Rich at the end of the century included the replacement of many 'Norman' windows by larger ones of Tudor design. (fn. 727) He also built a billiard room and new stables. In 1971 the mansion was occupied as three dwellings and the gatehouse lodge was being converted into a substantial house.
That part of the Vanlore property which came into the hands of William Wyndham was sold by him to at least two purchasers. John Eldridge (d. 1807), of Abingdon (Berks.), bought the largest share and soon after the purchase built within it a house called Old Park. (fn. 728) A modest dwelling, northwest of Hartmoor, approached by a drive, already existed by 1773, (fn. 729) and may have been incorporated by Eldridge. It had not been there in 1736–7, (fn. 730) although by the mid 17th century a few small dwellings, some of them farm-houses, had begun to dot the area enclosed by ditch and bank. (fn. 731) The house descended to William Eldridge, John's son. (fn. 732)
In 1823 Old Park was owned by A. H. Hardman. (fn. 733) In 1825 it was bought by Alfred Smith (d. 1877) and passed to his son, the Revd. A. C. Smith (d. 1898), antiquary and rector of Yatesbury, who wintered there. (fn. 734) By 1885 Old Park Farm, with farm-land, adjoined. (fn. 735) In 1909, after the death of Smith's relict, (fn. 736) the property with 142 a. of land passed to Sir Reginald Butler, Bt. (d. 1933), (fn. 737) whose family were trying to sell it in 1924. (fn. 738) From 1923 to c. 1937 Sir Beauvoir de Lisle occupied and eventually bought it and from him it passed to Joshua Bower (d. 1951). (fn. 739) On Bower's death the estate was split up. Some of the land fronting Hartmoor was then built upon. (fn. 740) The house itself was sold to the county council to become by 1953 a branch of Roundway Hospital. (fn. 741) It is a large irregularlyshaped two-storeyed building faced with stone ashlar. The western end may date in part from c. 1773 but the house was obviously much extended in the early 19th century. Facing east is an imposing entrance front, its central portion concave on plan; the curved Tuscan portico is flanked by niches and surmounted by a cast-iron balustrade.
The rest of William Wyndham's portion of the park, or some of it, was sold by him to B. W. Anstie. (fn. 742) It comprised three farms. On the west side of the area lies Lower (or Lower Park) farm, first located in 1808 (fn. 743) and first named in 1839, when it was occupied by Jacob Clark. (fn. 744) In 1897 it was still owned by the Ansties and was occupied by C. E. Everett. (fn. 745) By 1901, when it measured 105 a., it had been acquired by Thomas Lavington, an estate agent. (fn. 746) In 1920, when it was occupied by R. H. Jefferies, it was sold to the county council as a small holding. (fn. 747) Sunnyside farm, on the north side of the area close to the Bath road, is first mentioned in 1839, when it was occupied by Joseph New. (fn. 748) In 1876, when it measured 45 a., it belonged to the trustees of Mrs. G. W. Anstie, deceased, whose husband had owned it in 1859. (fn. 749) Presumably it was the agricultural appendage of Anstie's house, Park Dale, erected shortly before 1834 (fn. 750) and in his occupation in 1839. (fn. 751) In 1896 the farm was occupied by Joshua Hampton, dairyman. He bought it, later if not then, for in 1920 it was sold by his executors to J. M. Giles of Melksham. (fn. 752) The purchaser was dead by 1924 and the land was again put on sale. (fn. 753) Between 1965 and 1970 the house and some of the land had been covered by the houses in the western part of Avon Road. (fn. 754) Gillett's farm, standing to the south-west of the castle, in open ground, is first identifiable in 1869 (fn. 755) and first mentioned in 1885. (fn. 756) In 1895, when it measured only 15 a., it was sold by H. C. Lewis at a loss. (fn. 757)
Lesser Estates.
In an urban area so strait and commercial no territorial estate of any size, apart from the castle, could be expected to emerge. Burgages were naturally numerous, as conveyances ranging from 1196 (fn. 758) to 1636 (fn. 759) attest, and are to be found in both the Old Port and the New.
Much work has already been done on the descent of particular urban properties. (fn. 760) It is perhaps sufficient to single out four of these. Brownston House, New Park Street, stands on the site of a house said to have been occupied by a Bayley in 1570, by Christopher Henton in 1613, and by a Filkes later. Thomas Browne substantially rebuilt it in 1720 in brick with stone dressings. It is of seven bays with four storeys and a basement with a three-bay projection. The gate piers are original. Here lived John Garth (d. 1764) and for a time his son Charles (d. 1784), both borough M.P.s and recorders. It came into the hands of the Locke family and Wadham Locke (d. 1835), borough M.P., was born there. Charles Trinder, physician, the Misses Bidwell, who kept a school in it, and the Misses Milman from 1901 until at least 1920 were successive occupiers. (fn. 761)
Hazelands, New Park Street, has been considered to be the town house of the Nicholas family of Roundway from the late 16th to the late 18th century. (fn. 762) In 1780 it was sold by Robert Nicholas (d. 1826) to John Anstie, clothier, and passed on his death in 1830 to the Hazeland family. They sold it in 1887 to John Llewellin (d. 1913) from whom it passed to S. H. Ward (d. 1952). (fn. 763) Greystone House, Long Street, stands on the site of a house occupied in 1603 by Richard Flower. It passed through marriage to the Lockes, who sold it in 1714 to James Sutton (I), who rebuilt it in 1731. (fn. 764) In 1784 it was occupied by Stephen Hillman, tenant of James Sutton (d. 1801), who sold it to Richard Carpenter. (fn. 765) It is ashlar-faced and of three storeys. The Tuscan doorway is surmounted by a window with Ionic columns and a pediment. Within, the staircase, panelling, and plasterwork are notable. Parnella House, no. 23 Market Place, c. 1740–50, ashlarfaced with a rusticated ground floor, is adorned with a statue of Aesculapius and was once the home of William Clare (d. 1829), surgeon. (fn. 766) The statue was renewed in 1960. (fn. 767)
Outside the central area, nos. 2 and 3 Church Walk, Southbroom, have been plausibly identified with 'Bluet's Court', (fn. 768) whose story presumably begins in 1315 when a house and other lands in Wick, Nursteed, Bedborough, and Roundway were conveyed to Ralph Bluet. (fn. 769) By 1447–8 the property, then expressly called 'Bluet's Court', belonged to the Gilbert family. (fn. 770) In 1545, when it was described as three cottages, it was owned by William Page and in 1570 by his son Matthew. (fn. 771) It apparently passed to the Drews and thence descended like Southbroom House to the Watson-Taylors. About 1929 Mrs. Oliphant owned it. Originally the house seems to have fronted the Green. It is timber-framed, and had a central range and two gabled wings. The east wing has been demolished, that on the west has a fireplace and a ceiling with moulded beams of the 17th century.
About 1766 James Maynard (d. 1786) built a villa or 'summer house' to the designs of Thomas Collins Overton (fn. 772) on the north side of the Bath road, very near or upon the site on which Braeside stood in 1971. It passed to his sister Jane (d. 1826) (fn. 773) and by 1831 was being called Brow Cottage. (fn. 774) Thence it descended to Jane's kinsman, the Rev. Joseph Mayo (d. 1859). (fn. 775) In 1829 the Revd. Henry Bayntun of Bromham sold a house in the Bath road, called the Brow or Browfort. (fn. 776) In 1835, then a small squat house of two storeys and three bays, this house was again offered for sale. (fn. 777) It probably passed into Mayo's hands, for on his death the Brow, then woodland, was devised, together with his original home, to his son Joseph. (fn. 778) Mayo is said to have enlarged Brow Cottage, where he lived until 1839. It may be, however, that he actually enlarged not the house alone but the whole estate by an amalgamation. Which house he occupied must be uncertain. Mayo's house, tenanted in his absence by John Hayward, surveyor, was sold c. 1861 by the second Joseph Mayo to William Brown of the firm of Brown and May. Brown, whose initials appear upon the house, rebuilt it at the top of Dunkirk further to the west than the Brow Cottage of 1831. It was acquired c. 1907 by the Revd. P. L. Bayly who still owned it in 1927. (fn. 779) Since 1947 it has been the offices of the Devizes R.D.C. (fn. 780) The adjacent Prospect House was the home of a Mr. Banister in 1828 and a Mr. Crowe in 1959. (fn. 781)
Apart from the Castle and Old Park the only substantial property within the ancient borough bounds was Hillworth House. Hillworth, as a field name, is traceable from 1668. (fn. 782) In 1779 it came into the hands of William Ludlow, (fn. 783) the snuff-maker, who built a house upon it, larger than the present one, and laid out a park of 22 a. (fn. 784) By 1803 it seems to have been called the Folly. (fn. 785) When the estate was sold in 1813 on Ludlow's bankruptcy there was a brick building, then of recent erection, which has been thought to have been a factory. (fn. 786) In 1822 the house was used as a preparatory school. About 1832 Thomas Hall bought and rebuilt it. (fn. 787) When he left the town in 1841, the property was sold to Alexander Meek who altered and extended it. (fn. 788) The estate remained in his descendants' hands until 1923 (fn. 789) when it was bought by a Mrs. Seaton, of Taunton. (fn. 790) In 1945 it was bought by the corporation. The house was then converted into flats and the grounds into a public park. (fn. 791)
The present house, as altered by Meek, has a long stucco front flanked by two Italianate gables. A continuous verandah on the garden side is carried round a central bay window. To the east, facing the road, is a pair of stucco-fronted terrace houses and, still further east, another pair. Both have recessed arcading to the ground floor and were either built or assumed their present form in the earlier 19th century. A summer-house in the garden survives from Ludlow's time.
Beyond the original boundaries but long since within the borough was Southbroom House. This estate had come into the possession of John Trew or Drew, a clothier, reputedly of Devonian origin, by 1501–2. (fn. 792) By c. 1586 it consisted of a house, dovehouse, orchards, and gardens, and had passed to John, the first John's grandson, who died seised in 1614 and was succeeded by his son Robert (d. 1645). The house is said to have been burned by Sir Charles Lloyd early in 1645, (fn. 793) but it was still depicted on a map of 1647. (fn. 794)
Before his death Robert settled Southbroom upon his wife Elizabeth, who remarried and conveyed the dovehouse to John Drew, her son. John died soon after, leaving the dovehouse to Elizabeth, his relict, who c. 1664 married Sir Henry Andrews, of Lathbury, Bt. (fn. 795) The bulk of the property seems to have remained in the main Drew line until it was bought c. 1680 by Sir John Eyles, a London merchant and eventually Lord Mayor, who belonged to a Devizes tradesman's family. (fn. 796) The house then stood further to the north-east than does the present one and was of six bays with a gatehouse front and rear. Southwards stood the dovehouse, and formal gardens lay to the south and west. In the early 18th century a second building lay westward of the western garden. An avenue led southward across the park to end in Southbroom Lane. In the later 17th and earlier 18th centuries what seems to have been a public track led south-westwards across the park to Half Moon Lane. (fn. 797)
A new house was built by Edward Eyles in 1773 with imported Bath labour. (fn. 798) Eyles is said to have pulled down the old one. This cannot have been wholly true, for it was included in the sale of 1812, (fn. 799) but it had gone by 1826. (fn. 800) A fire occurred in the new building in 1779. (fn. 801) The property descended to Edward's daughter who married George Heathcote of London. George's son, Josiah Eyles Heathcote, died in 1811 possessed of the estate which was sold to William Salmon in 1812. The park (22 a.) was by this time encircled by a full-grown plantation, and was adorned by romantic walks. The whole estate, part of which lay outside the present boundary, amounted to about 269 a. William Salmon (d. 1826) seems to have added a maze to the grounds. (fn. 802) He was succeeded in the estate by his son W. W. Salmon, who left the town in 1828. Then or later the property was sold to George Watson-Taylor. One account states that his son, Simon, owned it in 1860, (fn. 803) another that it was owned by Robert Parry Nisbet (d. 1882), who was certainly the occupier by 1841 (fn. 804) and whose crest and that of his wife appeared upon the two lodges, (fn. 805) one of which was demolished in 1968. In 1913 and 1914 R. H. Caird owned the property. He then left the town and sold the house, with its private golf course and rare trees, to Sir Horace McMahon. The residue of the estate was put up for sale shortly afterwards (fn. 806) and much of it has now been built upon. (fn. 807) The county council bought the house and grounds in 1926 and established in them what had become Devizes School by 1971.
The house was altered and extended in the 19th century and in the 20th century for use as part of the school. The original building, dating mainly from 1773, is of Bath stone ashlar and consists of a twostoreyed central block flanked by much lower service wings, also of two storeys. The wings have been considerably altered but retain a few original round-headed openings on the ground floor with some oval windows above. The entrance front of the main block is of seven bays, having a pediment over the three central bays with the arms of Nisbet inserted in the tympanum. The classical portico may also have been added by R. P. Nisbet c. 1861. (fn. 808) On the garden front there is a central bay window rising through both storeys. Internally a few late 18thcentury features survive.
The town contained very little monastic property. Bradenstoke priory held two crofts in 1207, one of them in the 'Reawe'. (fn. 809) The property was valued at 2s. in 1291. (fn. 810) By 1275 Stanley abbey held a burgage, (fn. 811) said to belong to its tannery. (fn. 812) In both cases the property was lost before the Dissolution. In 1540–2 the preceptory of the knights hospitallers at Ansty held four houses, (fn. 813) which were granted to John Zouche in 1546. (fn. 814) One of these is perhaps the tenement of the hospital of St. John of Jerusalem in the New Port, referred to in 1437. (fn. 815) The grant to Zouche was revoked in 1557–8 but confirmed in 1584. The houses seem to have been conveyed in 1795 to the currier, Bristow. (fn. 816) There is no clear evidence that the hospital of St. John the Baptist, Devizes, held any land in the town besides its own site, though it certainly owned some within that part of Bishop's Cannings which has been later brought within the borough. (fn. 817) A tenement of the house of St. John, mentioned in 1433, (fn. 818) may belong to the hospital or to the hospitallers. In 1447 John St. Lo had leave to alienate in mortmain a small amount of land to the chantry of St. Mary Magdalen in Calne church. (fn. 819) Salisbury chapter, who owned the manor of Cannings Canonicorum (in Bishop's Cannings) had a house at Southbroom in 1289. (fn. 820)
The Town as a County Centre.
Although Wilton, the ancient county town, was inevitably the original meeting-place of the county court, (fn. 821) it was already being debated in 1280 whether the court should not rather sit at Devizes or Marlborough. No change was then made, (fn. 822) but centuries later, during the Interregnum, the advocates of Devizes secured a temporary success. In 1655, partly owing to the then favourable temper of the townsmen, Wilton was abandoned for five years in favour of Devizes. Though the sheriffs were responsible for the move, Devizes corporation supported them, and after a return to Wilton in 1660 Devizes tried to restore the status quo. (fn. 823) This attempt failed, but the court was again at Devizes on adjournment in 1676–7 (fn. 824) and in 1695 a fruitless effort was made to transfer the election of knights of the shire to Devizes. (fn. 825) By 1759, (fn. 826) however, if not by 1752 (fn. 827) the court seems to have met regularly at Devizes, (fn. 828) though presumably not for polling. In 1847 the town became the centre of a County Court District. (fn. 829)
From 1383 Devizes was a county quarter sessions town. (fn. 830) It so remained until 1972, when it became a third-tier centre under the Courts Act, 1971. (fn. 831) In 1867 men tried to fix quarter sessions at Devizes and abandon the other three Wiltshire meeting-places. They failed, but later attempts, though no more successful, were aimed at making Devizes the quarter sessions town for north Wiltshire. (fn. 832) Both efforts show the 'metropolitan' standing that Devizes was assuming in county affairs. Nevertheless when the county council was established in 1889 it was Trowbridge and not any quarter sessions town that was chosen as its base and the attempt to transfer the county offices to Devizes, after rebuilding had been resolved upon in 1929, was set at nought. (fn. 833)
In 1578 the Wiltshire justices set a county rate to provide a house of correction. They chose Devizes as its seat, because they hoped to site it in a part of the castle. They failed in this, but by 1579 had built a bridewell there. This remained the only county bridewell until c. 1631. (fn. 834) It almost certainly stood from the outset in Bridewell Street where the Grange is now. (fn. 835) It was damaged by fire in 1619 (fn. 836) and more seriously burnt in 1630. (fn. 837) In 1771 it was refronted in brick. (fn. 838) In 1774, at Howard's first visit, there were two night- and two day-rooms, a yard, a workshop and an infirmary somewhat recently constructed. (fn. 839) The prison was structurally improved in 1784–5 (fn. 840) and it was no doubt the improved structure in which between 1801 and 1806 Nield found six yards, the infirmary as before, a 'small and neat' chapel, and 12 cells. (fn. 841)
After the 'New Bridewell' had been opened (see below) the 'old' bridewell was used mainly for detaining pre-trial suspects. (fn. 842) It was closed in 1836. (fn. 843) By 1882 it was being called the Grange and was used successively thereafter as a day-nursery and a home for old women, with whom for a while the town nurse had her residence. (fn. 844) Much of the old building survives. Bridewell Square beside it may have been an exercise yard.
The 'New Bridewell', so named at first and renamed the 'New Prison' in 1836, (fn. 845) was begun in 1810 (fn. 846) and opened in 1817. (fn. 847) It stood on the north side of the old park and was designed by Richard Ingleman as a two-storeyed polygon, of brick and stone, surrounding a central governor's house. (fn. 848) It thus reflected the panopticon principle. (fn. 849) In the attics of the house were two infirmaries. There was a chapel. Sixteen wards, each with a yard and radially arranged, were planned. (fn. 850) Not all, however, were built; there were ten of each in 1819 (fn. 851) and eleven, one for women, in 1836 (fn. 852) and afterwards. (fn. 853) The women were reckoned to be poorly housed in 1836 (fn. 854) and in 1841–2 new cells were erected for their better accommodation. These probably formed a third storey above five bays of the polygon on the side facing the gate. At demolition there was certainly an extra storey at that point. The women were also given a separate laundry and day-room and a new infirmary at the same time. (fn. 855) A tread-mill was authorized in 1823. (fn. 856) It worked a corn-mill which lay outside the walls. (fn. 857) A schoolroom existed by 1842. (fn. 858) Further alterations, including the addition of ten cells and the enlargement of the chapel, were authorized in 1868. (fn. 859) When Fisherton Anger gaol was closed, Devizes became the only county prison, and, as such, was transferred to the state in 1877. (fn. 860) Between 1912 and 1914 it was used only for prisoners on remand. It was a military detention barracks from 1914 until 1920, when it fell completely out of use, (fn. 861) and then or in 1921 it was closed. (fn. 862) In 1922 it was bought as a building site, (fn. 863) and in 1927 was being demolished. (fn. 864)
Although Salisbury was always the principal Wiltshire assize town, assizes were sometimes held at Devizes. This was so c. 1618 (fn. 865) and in 1642 (fn. 866) and possibly c. 1610. (fn. 867) In 1765 trials were held at Devizes as well as Salisbury. (fn. 868) The Assizes Act, 1833, (fn. 869) which enabled the Crown to appoint new assize towns, provoked a petition to the Privy Council from Devizes and the subscription in 1834 both from the townsmen and the neighbouring gentry for a law courts building. (fn. 870) Accordingly a classical building with an Ionic portico, designed by T. H. Wyatt, was built in Northgate Street in 1835, and site and building sold to the county by the subscribers in the same year. (fn. 871) Thenceforth the summer assize for Wiltshire was held at Devizes until in 1857 the spring assize was substituted. (fn. 872) The last assize was held in October 1971.
Money was also raised in 1834 to provide judges' lodgings. (fn. 873) It is not known how it was spent but c. 1832 the judges stayed at no. 11 Long Street (fn. 874) and at some other time at Handel House, Sidmouth Street. (fn. 875) In 1868 the corporation bought Northgate House (fn. 876) and there from 1869 (fn. 877) the judge resided. It was abandoned by the judge in 1956 and became the borough offices. (fn. 878) Thereafter the judge had no official residence. (fn. 879)
The county militia stores, after resting for a while in the 'old' hall, (fn. 880) were in 1856 accommodated in a purpose-built structure in the Bath road, designed by T. H. Wyatt. (fn. 881) In 1879 a part of this was converted into the headquarters of the county police (fn. 882) and so continued until 1962, when a new building was opened on the west side of the London road. (fn. 883)
Other forms of evidence prove that from the 18th century Devizes regarded herself or was regarded by others as the proper centre of the county. In 1710 the Commissioners of Stamps thought that, being 'in the heart' of Wiltshire, Devizes was a better seat for their chief collector than Salisbury. (fn. 884) In 1832 a Calne resident argued that the county hospital should be established in Devizes rather than remain exclusively in Salisbury. (fn. 885) In 1853, after long debate, the newly-formed Wiltshire Archaeological and Natural History Society chose Devizes as the home for its museum and activities not only because William Cunnington (III), its chief promoter lived there, but because it was 'the geographical centre of the county'. (fn. 886) Whether the headquarters of the Wiltshire Friendly Society, founded in 1828, was placed in Devizes because T. H. S. Sotheron Estcourt set it up (fn. 887) or for geographical reasons may be left an open question. It has there remained in a 'gothic' building facing down Long Street.
County-wide meetings were convened in the town in 1780 to support Burke's 'economical' reform, (fn. 888) in 1794 to support the French war, (fn. 889) in 1813 to consider Catholic emancipation, (fn. 890) in 1718 to congratulate the Regent on escaping assassination, (fn. 891) in 1831 to support Parliamentary reform, (fn. 892) and in 1850 to challenge 'papal aggression'. (fn. 893) Such meetings have reinforced the view, however wrongly held, that the management of the affairs of Wiltshire from what was called in 1660 'the skirt of the shire' (fn. 894) was misconceived.