Pages 105-114
A History of the County of Wiltshire: Volume 13, South-West Wiltshire: Chalke and Dunworth Hundreds. Originally published by Victoria County History, London, 1987.
This free content was digitised by double rekeying. All rights reserved.
CHICKLADE
Chicklade village is 11 km. SSE. of Warminster, 9 km. ENE. of Mere, and 19 km. WNW. of Wilton but separated from all three by downland. (fn. 1) Like its eastern neighbour Berwick St. Leonard, the parish reached from the northern tributary of the Nadder in the south to the watershed of Nadder and Wylye in the north. It consisted of a roughly square northern part from which it put out a tongue southwards. In 1934 the tongue was transferred to Hindon (fn. 2) and the parish reduced from 1,085 a. (439 ha.) to 388 ha. (958 a.). (fn. 3) In 1986 the northernmost part of East Knoyle parish, including part of the former parish of Pertwood, was transferred to Chicklade parish. (fn. 4) This article deals with the parish as it was until 1934.
All the parish is on chalk which is overlain by clay-with-flints at the watershed on Cratt Hill. (fn. 5) The general north-south slope of the land from Cratt Hill, 225 m., to the stream, below 122 m., is interrupted by a deep dry valley, 137–152 m., elsewhere called Chicklade Bottom, which is followed east-west across the middle of the parish by the main London-Exeter road through the village. North of that valley Cratt Hill is between steep tributary dry valleys, but south of it the downs, above 183 m., are gentler. Neither gravel nor alluvium has been left in the valleys now dry or beside the stream. Open fields were in the centre of the parish and in the tongue: the steep northern slopes were permanent pasture until the 19th century. (fn. 6) A small park was made at the west end of the village in the late 18th century. (fn. 7) The clay-with-flints on the broad ridge of the Nadder-Wylye watershed was wooded. The area was called Great Ridge or Chicklade Ridge, (fn. 8) and the woodland sometimes Chicklade Wood, presum ably because Chicklade was the village nearest to it. Woodland on the ridge may have been considered Chicklade land in the 13th century, (fn. 9) but when the boundary between Chicklade and Boyton was drawn, though still on the ridge, it seems to have excluded most of the woodland from Chicklade. (fn. 10) Whereas Chicklade's north and south boundaries follow natural features, the east and west boundaries disregard them and in several places are marked by roads.
The downland road between Amesbury and Mere through Chicklade village, called the London road in 1601 (fn. 11) and 1705, (fn. 12) was turnpiked as part of a London-Exeter road in 1761. (fn. 13) It was designated a trunk road in 1936 (fn. 14) and in 1983 continued to bear much of the traffic between London and south-west England. The other roads across the parish converge on Hindon. The road from Wilton to Hindon and Mere, turnpiked in 1761, disturnpiked in 1870, (fn. 15) crosses the southernmost part. The Hindon—Warminster road formed part of the western parish boundary and passed through the parish over Bockerly Hill: (fn. 16) its use may have declined after the road from East Knoyle to Warminster was turnpiked in 1765 (fn. 17) and it has become a track. In the later 18th century a roughly parallel road east of it linked Chicklade village with Hindon and Warminster. (fn. 18) Its northern part was not made up and is a rough track, but the southern part, called Lyngevers Lane in 1705, (fn. 19) later Lundys Lane, (fn. 20) which ran along part of each side of the southern tongue of the parish, remained a useful local route in 1983. A road leading from the south-east end of Hindon street across the downs towards Wylye and Amesbury crossed the parish and in it the Wilton-Mere road: it joins the London—Exeter road at Chicklade Bottom in Fonthill Bishop. A hollow way south of the village is called Ox Drove. Its name suggests a link with the Ox Drove, possibly part of an ancient trackway, crossing Chilmark, (fn. 21) but the line of its course denies it. Since 1934 it has been the southern parish boundary.
There is evidence of possible settlement on Cratt Hill in the early Iron Age (fn. 22) but there have been few archaeological finds in the parish. Chicklade was so called c. 900. (fn. 23) The village has never been populous or wealthy. In 1377 the number of poll-tax payers, 69, was below average, (fn. 24) and the parish had fewer than 10 householders in 1428. (fn. 25) The taxation assessment of 1576 was low. (fn. 26) There may have been c. 52 adults in 1676, (fn. 27) c. 100 inhabitants in 1783. (fn. 28) The population was at its peak of 150 in 1801. It had declined to 109 by 1841 and risen to 143 by 1861: the decrease to 122 between 1861 and 1871 was ascribed to labouring families moving to Berwick St. Leonard. The population was 97 in 1881, 42 in 1911. It had risen to 76 by 1931 (fn. 29) but fallen to 47 by 1981. (fn. 30)
Chicklade is a nucleated roadside village in a narrow valley. In the later 18th century the larger buildings were on the north side of the road. Chicklade House marked the west end of the village, and 400 m. away Manor Farm marked the east end. The church and rectory house, and north of them a farmstead called Dominick, were in the centre. (fn. 31) In the mid 19th century a large house was built between the rectory house and Manor Farm, (fn. 32) and in the late 19th century Dominick Farm was demolished. (fn. 33) Small farmsteads and cottages were on the south side of the road in the late 18th century. (fn. 34) A small farmhouse, perhaps partly rebuilt in 1818, (fn. 35) is the only one to survive. In 1983 the only other buildings on the south side were the old school and schoolhouse. In the 19th and 20th centuries most new building has been at the west end of the village. (fn. 36) In the mid 19th century Chicklade Farm and Glebe Farm were built respectively north and south of the road west of the eastern Hindon-Warminster road, (fn. 37) and north of them along that road are a few 19th-century cottages and 20th-century houses. Glebe Farm was rebuilt in the later 20th century. Beside the main road and the western parish boundary a garage and two bungalows were built in the mid 20th century. Beside the road and the eastern parish boundary a pair of cottages was built in the late 19th century, and north-east of the village extensive farm buildings called Chicklade Dairy were erected in 1976. (fn. 38) Alehousekeepers were mentioned in the late 16th century (fn. 39) and early 17th (fn. 40) and in the 18th century there was an inn called the Bull. (fn. 41) A petrol station with a restaurant was opened west of the village beside the London—Exeter road in 1972. (fn. 42)
The new town of Hindon was founded near the Chicklade boundary in the early 13th century (fn. 43) but, even in the 19th century, few of its buildings were on Chicklade land. (fn. 44) Southridge House is an Italianate house of the earlier 19th century. In 1983 other buildings on land transferred from Chicklade to Hindon in 1934 were Hindon school, a large late 19th-century brick cottage, and farm buildings mainly of the 20th century beside the road from Hindon to Chicklade Bottom. Hindon vicarage house was built on the land after the transfer.
Manors and other Estates.
An assessment of the land of Chicklade in 1086 may have been included in that of Shaftesbury abbey's Tisbury estate, and the identification of Chicklade with 'Chigelei', held by Edwin in 1066 and 1086, is very doubtful. (fn. 45) The abbey had an estate at Chicklade c. 1100, when it was held of it for the service of 1 knight, (fn. 46) and was overlord in 1242–3. (fn. 47) Although they were not afterwards mentioned expressly, the abbey's rights as overlord were apparently kept and, in the 18th century, the Barons Arundell, who owned estates which had been the abbey's, were paid small rents by landowners in Chicklade. (fn. 48)
The portion of Shaftesbury abbey's Tisbury estate held by Edward of Salisbury in 1086 (fn. 49) seems likely to have been at Chicklade, and the 5 hides held of the abbey by Edward's son Walter (d. 1147) (fn. 50) may have been the same land. In 1166 Walter's son Patrick, earl of Salisbury (d. 1168), apparently held the land (fn. 51) which presumably passed to Patrick's son William, earl of Salisbury (d. 1196). In 1205 it was held by William's son-in-law William Longespée, earl of Salisbury, (fn. 52) but by then it had been subinfeudated. The mesne lordship passed to Longespée's son Sir William (fn. 53) (d. 1250), and presumably to Sir William's son Sir William (d. 1257) whose heir was his daughter Margaret, the wife of Henry de Lacy, earl of Lincoln. It descended with Alton Barnes manor and the earldom of Salisbury: (fn. 54) Richard Neville, earl of Salisbury, was said to be overlord in 1443, (fn. 55) Edward Plantagenet, earl of Warwick and heir to the earldom of Salisbury (d. 1499), (fn. 56) in 1488. (fn. 57)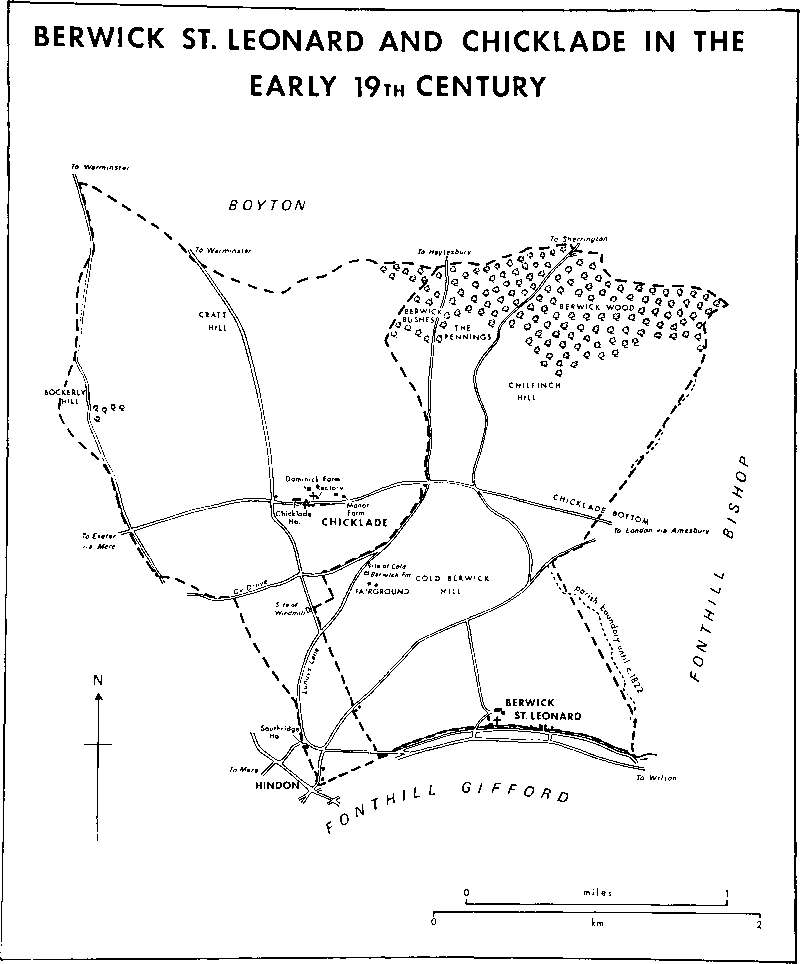 The manor of CHICKLADE was held by a Norman, Hugh de Milleville, from whom it was taken by King John after Normandy was lost in 1204. (fn. 58) In 1210 William Norris was restored to the land, of which he had been disseised, (fn. 59) but in 1213 Robert FitzPain seems to have successfully claimed it. (fn. 60) A Robert FitzPain held it in 1242–3 (fn. 61) and Roger FitzPain held it in 1275. (fn. 62) A Sir Roger FitzPain may have held it in the period 1307–8 when he presented rectors of Chicklade. (fn. 63) The manor passed to Sir John River who in 1328–9 conveyed land in Chicklade to Thomas Berkeley, Lord Berkeley (d. 1361). (fn. 64) Part of the manor was Denise River's, and in 1343 she settled a third of a moiety of it on herself and her daughters Amice and Maud for life. (fn. 65) In 1350 a Sir John River conveyed land in Chicklade held for life by Alice River, possibly the same sixth, to Berkeley. (fn. 66) Apparently the whole manor descended with the Berkeley title. Thomas's son Maurice died holding it in 1368 leaving as heir a son Thomas, Lord Berkeley, (fn. 67) who was of age in 1374 (fn. 68) and held Chicklade in 1380. (fn. 69) That Thomas died in 1417 leaving as heir his daughter Elizabeth, (fn. 70) suo jure Baroness Lisle and Baroness Teyes, wife of Richard Beauchamp, earl of Warwick, (fn. 71) and Warwick was said to have held the manor at his death in 1439. (fn. 72)
In 1389–90 Thomas, Lord Berkeley, gave the manor to his servant Thomas Rigge for life. (fn. 73) Rigge (d. between 1428 (fn. 74) and 1439) (fn. 75) left as heir his daughter Joan (d. 1485), wife of Robert Greyndour (d. 1443) and Sir John Barre. (fn. 76) Either Rigge or his daughter acquired the freehold of the manor, which Joan held in 1443. (fn. 77) The manor seems to have passed from Joan successively to Margaret and Joan, wife of John Pike, the daughters of John Rigge. (fn. 78) In 1545 it apparently belonged to John Pike (fn. 79) (d. by 1550), almost certainly another, whose son William held it in 1550. (fn. 80) William Pike (d. c. 1601) was succeeded by his son William (fn. 81) who c. 1613 sold the manor to Henry Hyde (fn. 82) (d. 1634). Hyde devised it to his son Edward (fn. 83) (cr. earl of Clarendon in 1661, d. 1674). (fn. 84)
Chicklade manor seems to have been divided in the late 17th century and early 18th. A conveyance of 1675, to which William Hughes was a party and in which the premises conveyed were described as Chicklade manor, (fn. 85) may mark the sale to Hughes of much of the land, possibly the demesne, and Hughes held land in Chicklade in 1705. (fn. 86) It seems to have passed at his death in 1705 or 1706 to his cousin Edward Hughes (fn. 87) who, shortly before 1730, apparently sold it to the Revd. John Russ (fn. 88) (d. 1798 or 1799). Russ devised the estate to his executors and from 1812 to John Candy. (fn. 89) In 1837 Candy owned 355 a. in Chicklade. (fn. 90) At his death in 1859 it passed to a Miss Candy, presumably his daughter Hannah, (fn. 91) and was sold c. 1867–8 to Alfred Morrison. (fn. 92) As Manor farm (fn. 93) the land has since passed with the Morrisons' Fonthill House estate and in 1983 belonged to the Hon. J. I. Morrison. (fn. 94) Manor Farm, formerly James Edgell's house, (fn. 95) belonged to Candy in 1837. (fn. 96) It was rebuilt in the 19th century.
A second part of Chicklade manor apparently passed to Edward Hyde's son Henry, earl of Clarendon, (fn. 97) who conveyed it to Thomas Price in 1690. Price (d. c. 1703) devised it to his daughter Elizabeth, wife of Richard Bassett. The Bassetts apparently sold land to Henry Burnett, (fn. 98) possibly as early as 1705 (fn. 99) or as late as 1713. (fn. 100) The Henry Burnett who died in 1756 leaving a widow Elizabeth and daughters Elizabeth and Jane (fn. 101) was presumably the purchaser; the Elizabeth Burnett, a widow, who died holding the farm, 129 a., in 1782 (fn. 102) was presumably his relict. The daughter Elizabeth seems to have married Thomas Hull, (fn. 103) who may have been the Thomas Hull who entered on the land in 1782. (fn. 104) Thomas Hull of Gillingham (Dors.) died holding the land in 1832, having devised it in trust for his daughter Jane Burnett Evans and her daughters Louisa and Elizabeth Evans. (fn. 105) The trustees sold it c. 1870 to Alfred Seymour (fn. 106) who added it to his other land in Chicklade. (fn. 107)
A third part of Chicklade manor, apparently a house and a small farm, (fn. 108) and the advowson of the church (fn. 109) were possibly sold by the Bassetts to Harry Edgell of Standerwick (Som.) before 1735. (fn. 110) Edgell held the estate in 1762 (fn. 111) and the James Edgell who held it in 1773 (fn. 112) may have been the James Edgell (d. 1788) who was possibly a son of Harry Edgell, (fn. 113) but by 1781 the estate, 30 a., had passed to Harry Edgell's grandson Harry Edgell (d. 1846). (fn. 114) By 1837 Edgell had apparently sold the estate: the house, lived in by the rector in the period 1780–6, (fn. 115) had been acquired by John Candy, (fn. 116) and the land by William Daw. (fn. 117) Daw's relict Lydia held the land from 1848 or earlier (fn. 118) until her death in 1852. (fn. 119) It belonged to John Lock from 1855 (fn. 120) or earlier to c. 1870 when it was bought by Richard Grosvenor, marquess of Westminster (d. 1869), or his relict Elizabeth, and it passed with the Grosvenors' other land in Chicklade. (fn. 121) In 1922 it was bought by Frederick White (fl. 1939). (fn. 122) In 1983 part of it belonged to the Hon. J. I. Morrison. (fn. 123)
In 1316 Robert Lof held land in Chicklade. (fn. 124) The estate there settled on John Lyngever and his wife Avice in 1348 (fn. 125) seems likely to have been the same and was later reputed a manor. (fn. 126) Most of LYNGEVERS passed to the Lyngevers' son John (fl. 1376), to John's son Thomas (fl. 1440), and to Thomas's daughter Christine (d. s.p. before 1452), wife of Robert Herdell. (fn. 127) Another part of it was granted by John (fl. 1348) and Avice to their son Peter (fl. 1371) who was succeeded by his daughter Agnes, wife of John Whitlock, and the Whitlocks' two sons called John. (fn. 128) In 1453 Herdell and Thomas's relict Agnes sold to Thomas Tropenell, a great-grandson of John Lyngever (fl. 1348), their life interests in the land. Tropenell also bought the reversion from Christine's uncle and heir John Lyngever in 1453, but had to resist several challenges to his right to the land from Richard Page who claimed earlier grants from Herdell and the Lyngevers. (fn. 129) In 1460 Tropenell bought Peter Lyngever's portion of the estate from the elder of the sibling John Whitlocks. (fn. 130) He was succeeded in 1487 by his son Christopher (fn. 131) (d. 1503) whose heir was his son Thomas, a minor. (fn. 132) Thomas (d. 1547) left as heir a son Giles (fn. 133) who died a minor in 1553. Giles's heirs were his four sisters (fn. 134) to one of whom, Eleanor (d. 1562), wife of Andrew Blackman (d. 1588), his Chicklade estate was allotted. The Blackmans had a daughter Susan, wife of Richard Mompesson (d. 1584): (fn. 135) Lyngevers passed after the death of Blackman and of Susan, in 1590 the wife of Christopher Eyres, (fn. 136) to Richard's brother and heir Drew (fn. 137) (d. c. 1604) whose heir was his son Jasper. About 1620 Jasper conveyed the estate to his brother-in-law William Toope for sale to pay legacies and his father's debts. Toope sold it to Robert Toope, dishonourably according to Mompesson, (fn. 138) and it was bought from Robert by Thomas Mervyn (d. s.p. 1632–3) of Pertwood, (fn. 139) probably the tenant. (fn. 140) It passed to Mervyn's brother George who held it in 1639, (fn. 141) but by 1655 had been acquired by Alexander Dowles. (fn. 142) In 1705 the estate belonged to Henry Dowles (fn. 143) (d. 1739) (fn. 144) whose heir was his daughter Elizabeth (d. 1769), wife of Nathan Wright. (fn. 145) At Wright's death in 1789 (fn. 146) it apparently passed to George Wright who c. 1797 sold it to Thomas Benett (fn. 147) (d. 1797) of Pythouse in Tisbury. Benett's son John sold it to John Farquhar in 1823. (fn. 148) After Farquhar's death in 1826 his estate was disputed for a decade: (fn. 149) his land in Chicklade passed to his nephew James Mortimer who held 131 a. there in 1837. (fn. 150) Henry Seymour (d. 1849) bought the land from Mortimer in 1841 and added it to his estate in East Knoyle. (fn. 151) It passed to his son Alfred from whom Percy Wyndham bought that and Seymour's other land in Chicklade in 1877. (fn. 152) It all passed as part of Wyndham's Clouds estate in East Knoyle to his son George Wyndham (d. 1913) and George's sons P. L. Wyndham (d. 1914) and G. R. C. Wyndham, who in 1919 sold his Chicklade land in two portions. (fn. 153) Arthur Mitchell bought 179 a., including much of what had been the Burnetts', which was part of Pertwood farm. (fn. 154) The land has since passed with that farm by sales from Mitchell to Paul Weldon c. 1939 and in 1945 from Weldon to Col. Scrope Egerton, (fn. 155) the owner in 1983. (fn. 156) The second portion, Chicklade, later Seymour, farm, was bought by R. Halliday (fn. 157) who sold it to Frank Bracher c. 1925. (fn. 158) It belonged to Edward Bracher in 1927 (fn. 159) and 1934. (fn. 160) It was bought c. 1950 from Mervin FitzGerald by John Morrison, Baron Margadale from 1964, whose son, the Hon. J. I. Morrison, owned it in 1983. (fn. 161)
Chicklade House was part of Nathan Wright's estate and was lived in by Wright (fn. 162) and John Benett. (fn. 163) Wright acquired land around it on both sides of the London-Exeter road by exchange at inclosure in 1781 and imparked it. (fn. 164) Benett sold the house and park c. 1811 to Sir Hyde Parker, possibly him who died in 1856. (fn. 165) Before 1837 they had been acquired by William Daw. (fn. 166) They passed with Daw's other land in Chicklade to John Lock (fn. 167) who sold the house with its park of 12 a. to John Halliday in 1885. (fn. 168) Halliday (d. 1915) (fn. 169) bought the rector's glebe, which adjoined the park, (fn. 170) in 1899. (fn. 171) His executors sold the estate in 1927 to Evelyn Seymour, Lord Seymour (from 1931 duke of Somerset), (fn. 172) who sold it c. 1935 to Walter Chamberlain (fn. 173) (d. 1949). Chamberlain's relict owned it until 1972 when it was divided. (fn. 174) Chicklade House is a substantial 18th century house enlarged first to the west in the 19th century and secondly to the east in 1895. (fn. 175) It was divided into three in 1972. (fn. 176)
Possibly in 1316 John Strugge held land in Chicklade (fn. 177) which may later have been William Strugge's. (fn. 178) John Fleet may have held land, possibly the same, in Chicklade in 1341, (fn. 179) and in 1347 acquired land there from William de Baddesley and his wife Maud by exchange. (fn. 180) In 1365 and 1380 Robert Fleet held a small manor at Chicklade. (fn. 181) John Chitterne was party to conveyances of land in Chicklade in 1396 (fn. 182) and 1401 (fn. 183) and may have bought Robert Fleet's land and settled it with other lands on the marriage of his sister Agnes and William Milbourne: (fn. 184) in 1428 the Milbournes' son Richard (d. 1451) (fn. 185) held what had almost certainly been Robert Fleet's land in Chicklade. (fn. 186) It descended from father to son in the Milbourne family with the manor of Upton Knoyle in East Knoyle to Simon (fn. 187) (d. 1464) and Sir Thomas (fn. 188) (d. 1492) who mortgaged it to Thomas Tropenell and was foreclosed after being banished by Richard III. The land was apparently restored by Christopher Tropenell and passed to Sir Thomas's son Henry (fn. 189) (d. 1519) and Henry's son Richard (fn. 190) (d. s.p. 1532). (fn. 191) Afterwards the Milbournes' lands were disputed between Henry's relict Margaret, also the relict of Anthony Ernie and wife of Roger York, William Fauconer, grandson of Sir Thomas's sister Agnes, and Joan Brooke and Margaret Halswell, descendants of John Chitterne's sister Christine. (fn. 192) A Chancery decree of 1538 assigned the Chicklade estate to Margaret York for life with remainder to Fauconer. (fn. 193) Deeds listed, but not recited, c. 1600 suggest that it passed like Upton Knoyle to Margaret York's son-in-law Robert Titherley and that c. 1550 he sold it to Thomas Gawen (d. c. 1558) of Norrington in Alvediston. Gawen settled the estate on his second wife Elizabeth (d. 1591): she and her son Thomas Gawen took the profits until 1599. William son of Thomas Gawen (d. c. 1558) by his first wife died in 1559: in 1600 his son Thomas, claiming that the settlement was for life, tried to regain the land from Elizabeth's and Thomas's daughter Elizabeth Jessop who claimed that the settlement was in tail. (fn. 194) The outcome of the dispute and the subsequent descent of the land is obscure. An estate in Chicklade settled by Thomas Benett on his son Christopher in 1617 seems likely to have been the Gawens'. Christopher died in 1636 leaving a son Thomas as heir but the descent of his Chicklade estate is obscure: his tenant in 1636 was Robert Clare or Dominick (fn. 195) and it seems likely that his estate was the DOMINICK farm belonging to the Randall family in the 18th century. The Revd. Richard Randall (d. 1743), who married Susannah Benett, (fn. 196) may have held it, and in 1766 it was settled on the marriage of his son Richard Randall (d. 1810). That Richard had a son Richard (fn. 197) who held Dominick farm, 177 a. in 1837, (fn. 198) until his death c. 1857. His executors sold it to Alfred Morrison between c. 1861 and c. 1868 (fn. 199) and it has since passed with Manor farm. (fn. 200)
Possibly in 1316 Ellis Cotel held an estate in Chicklade. (fn. 201) It seems to have passed with his manor of Oare in Wilcot to John Palton and his wife Joan and with the manor of Lake in Wilsford, in Underditch hundred. (fn. 202) Sir John Palton held it in 1380, (fn. 203) his son Sir Robert later. It passed c. 1400 from Sir Robert's son Robert to another son Sir William (fn. 204) (d. 1450) whose heir was his daughter Gillian, wife of John Cheyne. (fn. 205) The land was apparently that held by Thomas Rogers (d. before 1479) whose heir was his son William (fl. 1479). (fn. 206) Its later descent has not been traced.
Two 18th-century estates at Chicklade may have originated in the Paltons' estate or in sales of parts of Chicklade manor in the later 17th century or the 18th. In 1705 Thomas and Elias Lucas held land (fn. 207) which remained in the Lucas family. Another Elias Lucas owned the land, c. 60 a., (fn. 208) from 1780 or earlier to c. 1806. Thereafter the owners were apparently William Wilkins (1807), John Wilkins (1808– 11), John Howell (1812), William O'Connor (1819– 21), and James Ames (1822–8). (fn. 209) Between 1845 and 1850 Ames's executors seem to have sold it to James Knight who between c. 1861 and c. 1868 sold it to Richard Grosvenor, marquess of Westminster, whose relict Elizabeth (d. 1891) owned it in 1872. (fn. 210) That and her other land in Chicklade (fn. 211) passed with the Fonthill Abbey estate to her grandson Walter Shaw—Stewart (fn. 212) who sold it in 1921 to J. E. N. Heseltine. (fn. 213) In 1983 part of it belonged to the Hon. J. I. Morrison. (fn. 214) In 1780 Thomas Waters held c. 125 a. in Chicklade. (fn. 215) His estate was acquired, presumably by purchase, c. 1789 by the Revd. John Russ, (fn. 216) with whose other Chicklade land it thereafter passed. (fn. 217)
Economic History.
William Longespée, earl of Salisbury (d. 1226), allowed his tenants at Chitterne to take estovers from his woodland said to be at Chicklade. (fn. 218) The precise location of the woodland is obscure but it was presumably some of that of Great or Chicklade Ridge. (fn. 219) Longespée's relict Ela, countess of Salisbury, founded Lacock abbey in 1229–30 and his son Sir William endowed it with Chitterne manor. The Chicklade woodland was apparently included in the endowment. (fn. 220) The land belonged to the abbey at the Dissolution when 40s. rent was paid for it. (fn. 221) Boundaries to the abbey's land said to be at Chicklade were set c. 1249. Before 1268 there was an assart and the abbess made two inclosures, the second of 20 a. In 1268 the inclosures, and the abbess's right to fell wood and to inclose the land on which it was felled for three years after the felling, were acknowledged by the men of Boyton and Corton in Boyton. In exchange the abbess gave up her right to feed sheep in the wood and the assart, and permitted the men of Boyton and Corton to feed cattle in the felled woodland after three years. In the later 13th century the abbess allowed the rector of 'Obeton', presumably Upton Lovell, to build a piggery on her land. (fn. 222) Since there is no further evidence of inclosure or arable land in the northernmost part of Chicklade parish until the late 18th century, (fn. 223) it is likely that the abbey's land, although it may have been considered Chicklade land in the earlier 13th century, was later part of another parish, perhaps Boyton. (fn. 224) In the 18th century Chicklade parishioners had rights to cut wood, (fn. 225) possibly from Great Ridge, but the parish was sparsely wooded: in 1837 there were 12 a. of wood, 4 a. on Bockerly Hill, 8 a. in the north-east corner, (fn. 226) and in 1983 about twice as much in those places.
Field systems on Cratt Hill and extending into Chicklade from Chilfinch Hill in Berwick St. Leonard are of the Romano-British period or earlier. (fn. 227) There is evidence of sheep-and-corn husbandry practised in common and of unfree tenure at Chicklade in the Middle Ages. Small strips in open fields and pasture shared by bondmen were referred to in 1371: sheep stints, generous at 3–4 for each arable acre, suggest extensive common pasture in the north part of the parish. The common pasture called the Groten was possibly in the south part and for cattle. (fn. 228) In the 17th century the fields were South, renamed Middle before 1677, East, and West, apparently laid out in strips of between ½ a. and 8 a. (fn. 229) In the 18th century there was a cow down, c. 150 a., in the north-east corner, a sheep down, c. 225 a., in the north-west corner, and a farm down, c. 50 a., astride the London—Exeter road and adjoining the western parish boundary, the first two almost certainly, and the third possibly, commonable. Middle field, c. 150 a., was long and narrow, occupying the southern tongue of the parish and extending around the north part of the village. East field, c. 200 a. north-east and south-east of the village, was separated from Bockerly, formerly West, field, c. 200 a. west and north-west of the village, by the Chicklade—Warminster road. The only inclosures were around the village, c. 30 a., near Hindon, c. 3 a., and on Bockerly Hill, c. 27 a. The seven inclosures at Bockerly, shared among four owners, possibly represent an earlier allotment of woodland. (fn. 230)
In 1376 John Lyngever had some nine tenants holding between them over 50 a. in Chicklade, (fn. 231) and in 1601 the same estate seems to have been divided between a demesne farm and several other holdings. (fn. 232) In 1634 Henry Hyde's estate included holdings of 120 a., formerly occupied by William Pike and possibly the largest in the parish, 20 a., and 13 a., all presumably with pasture rights, (fn. 233) and in 1781 both John Russ's and Harry Edgell's estates included small areas of land leased for years on lives. Most estates in Chicklade, however, seem to have been single farms, usually tenanted. When the open fields and common pastures were inclosed by Act in 1781 there were five estates over 100 a., Russ's, 210 a. including 21 a. held on lives, Nathan Wright's, 143 a., Thomas Waters's, 134 a., Richard Randall's, 172 a., and Thomas Hull's, 137 a. The largest of the remaining seven estates was Elias Lucas's, 60 a. The principal allotments were north—south strips of 100– 150 a. north of the London—Exeter road. Russ's and Waters's were the easternmost, leased to the same man and worked from Manor Farm. Richard Randall worked his own holding, that in the centre, from buildings immediately north of the church. The westernmost, Wright's and Hull's, were leased. The allotments south of the road included Lucas's, 59 a., and the glebe, 33 a., but were otherwise of 4–26 a. Each estate included buildings in the village. (fn. 234)
Land use in the south part of the parish was changed little after inclosure, but c. 130 a. of downland pasture in the north were ploughed. In 1837 there were 670 a. of arable and 322 a. of pasture of which 280 a. were downland. (fn. 235) There was more pasture in the late 19th century (fn. 236) and the 1930s. (fn. 237) The part of the parish south of Ox Drove, then in Hindon, was more arable than pasture in 1983. The land north of Ox Drove, since 1934 the whole parish, (fn. 238) was in 1983 about equally divided between arable and pasture.
In the north-east part of the parish Russ's and Waters's holdings were united c. 1789 as Manor farm: (fn. 239) in 1837 they were worked by the owner John Candy who also farmed Randall's or Dominick farm, a total of 500 a. north of Ox Drove. (fn. 240) From the 1860s that land, all part of the Morrisons' Fonthill House estate, (fn. 241) was sometimes in hand, (fn. 242) sometimes leased. (fn. 243) Since the Second World War it has been in hand. A large new dairy was built on a levelled site north-east of the village in 1976. In 1983 most of the arable was in large fields in which cereals were grown. The pasture supported cows and sheep, that to the north mainly sheep. The buildings at Manor Farm were then little used. (fn. 244) The north-west part of the parish was apparently two farms in 1837. (fn. 245) Later it was in single ownership (fn. 246) and 269 a. were in 1876 worked with Pertwood farm. (fn. 247) Between those two dates farm buildings were erected north of the London—Exeter road at the west end of the village. (fn. 248) In 1919 they were the buildings for a separate farm, Chicklade farm, 113 a. The land in the north-west corner of the parish, 179 a. including Bockerly Hill, (fn. 249) has remained part of Pertwood farm and in 1983 was used for arable and dairy farming. (fn. 250) Chicklade, later Seymour, farm was converted from an arable to a dairy farm between 1919 and 1925, (fn. 251) and in 1983 remained a dairy farm. (fn. 252) In the south part of the parish the fields after inclosure were smaller than those in the north. (fn. 253) Some may have been part of farms based in Chicklade, and farm buildings were erected near Hindon between 1837 and 1886. (fn. 254) Other land, however, may have been worked in the 19th and 20th centuries with farms based elsewhere. (fn. 255) In 1983 half was farmed as part of the Hon. J. I. Morrison's Fonthill House estate, (fn. 256) and a small farm was worked from the buildings near Hindon. (fn. 257)
A mill path was mentioned in 1601 (fn. 258) and possibly Millhouse lane in 1705. (fn. 259) There was a windmill house on the west side of the Chicklade—Hindon road in 1773. (fn. 260) It had been demolished by 1837. (fn. 261)
Local Government.
No record of a manor court survives for Chicklade, where there was little customary tenure. (fn. 262) In 1775–6 £19 was spent on the poor, in 1783–5 an average of £30, and 13 adults and 13 children were constantly relieved in 1802–3. (fn. 263) Over £200 a year was spent in the period 1816–18, (fn. 264) and the average of £125 a year in the period 1833–5, at £1 a head of the population, was high for the hundred. In 1835 Chicklade joined Tisbury poorlaw union. (fn. 265) It became part of Salisbury district in 1974. (fn. 266)
Church.
Chicklade church was standing in the 12th century. (fn. 267) From 1899 the rectory was held in plurality with the rectory of Pertwood. (fn. 268) The two rectories and the vicarage of Hindon were united in 1922, when the parishes of Chicklade and Pertwood were also united. (fn. 269) In 1972 Pertwood church was declared redundant (fn. 270) and was sold. (fn. 271) The parish of Hindon was united with the parish of Chicklade and Pertwood in that year, (fn. 272) and the benefice of the new united parish was united with the rectory of East Knoyle in 1976. (fn. 273)
Sir Roger FitzPain, who may have been lord of Chicklade manor, presented rectors in 1307 (fn. 274) and 1308, and Sir John FitzPain presented in 1348, 1349, 1352, and 1365. (fn. 275) By 1380 the advowson had been united with the tenancy in demesne of the manor by Thomas, Lord Berkeley, (fn. 276) who presented in 1388, in 1406, then expressly with Thomas Rigge's assent, (fn. 277) and in 1411. (fn. 278) Rigge presented in 1419 and the advowson passed with Chicklade manor to his daughter Joan. Sir John Barre presented six times in the period 1452–76. Margaret Rigge presented in 1490, John Pike in 1509. He was possibly the John Pike who presented in 1523, but the John Pike whose grantees, Christopher Willoughby and William Wythye, presented in 1525 may have been his successor. William Pike granted a turn to Sir John Zouche whose grantee, Andrew Colthurst, presented in 1581. The advowson passed with the manor to Henry Hyde, who presented in 1617, with part of the manor to Thomas Price, who presented in 1702, and with part of Price's estate to Harry Edgell, who presented in 1735. Edgell's grandson presented four times in the period 1780–97. (fn. 279) By 1817 the advowson had apparently been acquired, presumably by purchase from Edgell, by Thomas Thynne, marquess of Bath. (fn. 280) It passed with the marquessate to Thynne's grandson John Thynne, marquess of Bath (d. 1896), a minor in 1839 when his guardians presented. (fn. 281) From 1922 Lord Bath's son Thomas, marquess of Bath (d. 1946), was entitled to present alternately for the united benefice. (fn. 282) In 1951 that marquess's son Henry, marquess of Bath, transferred his right to the Salisbury diocesan patronage board. (fn. 283) The board gave that right to the Crown by exchange in 1960, (fn. 284) and from then until 1976 the Crown was sole patron. (fn. 285) Since 1976 the Crown and the bishop of Salisbury have been entitled to present alternately. (fn. 286)
From 1453, when he acquired the freehold of a manor in Chicklade, Thomas Tropenell claimed the advowson. (fn. 287) His claim passed with his estate to Eleanor and Andrew Blackman and to Thomas Mervyn, (fn. 288) but there is no record of a presentation by a Tropenell or a successor.
In 1535 the living was worth £11 5s., slightly below average for Chalke deanery. (fn. 289) It was worth £30 in 1705, (fn. 290) £230, a value still below average, c. 1830. (fn. 291) The rector's entitlement to tithes was expressed in the 17th century as all tithes of corn from 200 a. and of the wool of 1,600 sheep. (fn. 292) What was almost certainly the same entitlement was expressed in 1705 and 1783 as all tithes from the whole parish. (fn. 293) The tithes were valued at £205 in 1837 and commuted. (fn. 294) In 1677 and 1705 there were 30 a. of glebe arable with feeding for 8 cows and 80 sheep; in 1705 the rector was also accorded rights to cut and carry wood similar to those of his parishioners. (fn. 295) The land and rights were replaced by 33 a. allotted at inclosure in 1781, and the rector owned 1 a. and farm buildings in the village. (fn. 296) The glebe, which included a small farmhouse in 1864, (fn. 297) was sold in 1899. (fn. 298) The rectory house was dilapidated in 1556. (fn. 299) In the 17th and 18th centuries there was a house of stone and thatch with a ground plan of 47 ft. by 18 ft. and five principal rooms; (fn. 300) it was too small for the rector presented in 1780. That rector lived in the house east of the church which had been James Edgell's in 1773. (fn. 301) The rectory house, immediately south-east of the church, (fn. 302) was in poor repair and not fit for residence in 1832. (fn. 303) It was rebuilt, possibly using some of the old walling, in the late 1830s, (fn. 304) and became the glebe house of the united benefice created in 1922. (fn. 305) It was sold in 1939. (fn. 306)
It was reported in 1553 that there had been no service for six months and no sermon for a year. (fn. 307) Henry Willoughby, rector 1525–81, (fn. 308) was a pluralist. (fn. 309) In 1584 certain chapters were missing from the Bible and neither the Paraphrases of Erasmus nor the first volume of the Book of Homilies was in the church: the rector did not wear the square cap. (fn. 310) From 1617 to 1735 three Luke Simpsons, apparently father, son, and grandson, were successive rectors, all possibly resident and sometimes employing a curate. (fn. 311) The churchwardens excused the lack of a Book of Homilies and of Jewell's Apology in 1662 on the grounds that for many years there had been a preaching minister. (fn. 312) In 1725 the living was sequestrated and a curate provided by the bishop because of the indebtedness of the rector who had apparently left the parish. (fn. 313) Before 1780 there was a single service on Sundays. Benjamin Blatch, rector 1780–6, held a second Sunday service in summer. He administered the sacrament to 10 communicants four times a year, catechized the children, and was prepared to expound to them. His only absences from the parish were for annual seaside holidays. (fn. 314) William Lisle Bowles, rector 1795–7, was a poet and antiquary. (fn. 315) His successor John Still, rector 1797– 1839, was, like him, a non-resident pluralist. (fn. 316) In 1864 the resident rector held two Sunday services with sermons before a congregation averaging 60, and administered the sacrament once every two months to some 20 communicants. (fn. 317)
The 12th-century church, called ALL SAINTS' from 1444 or earlier, (fn. 318) consisted of a chancel and a nave. It was little altered, except for the replacement of most of its windows between the 13th century and the 17th, (fn. 319) and in the early 19th century was in poor repair. (fn. 320) In 1832 it was replaced by a new church designed in plain 12th-century style by J. B. Papworth. (fn. 321) The new church is of ashlar and consists of a combined nave and sanctuary with a western bellcot and porch. The fittings were rearranged in 1878 when a pulpit and two reading desks were removed from the east wall. (fn. 322) In 1894 the west gallery built in 1832 (fn. 323) was removed, tracery in 14th-century style was placed in the windows, a rood screen was erected, and other fittings were altered. (fn. 324)
The parish kept a chalice of 4½ oz. in 1553 when 1 oz. of plate was taken for the king. (fn. 325) There may have been no plate in 1662. (fn. 326) A chalice and a plate were given in 1705, (fn. 327) and a new silver cup was bought in 1823 to replace one stolen. (fn. 328) In 1983 the main items of plate were a chalice and paten hallmarked for 1698, (fn. 329) presumably those given in 1705. In 1553 and 1783 there were two bells. The new church contains a bell cast by Jefferies & Price at Bristol in 1832. (fn. 330) The registers are complete from 1722. (fn. 331)
Nonconformity.
Robert Dominick of Chicklade was a recusant in 1594 (fn. 332) and five refusing to attend church in 1662 may also have been recusants. (fn. 333) There were three absentees in 1668 (fn. 334) and two protestant nonconformists in 1676, (fn. 335) but there is no later evidence of dissent at Chicklade.
Education.
There was a dame school for 10 children in 1818. (fn. 336) Six boys and a girl attended a school for infants in 1833. (fn. 337) A small school in plain Tudor style was built on the south side of the London—Exeter road in 1848, (fn. 338) and a schoolhouse was added apparently in 1867. (fn. 339) The 15–20 pupils in 1859 included some from Pertwood and Boyton. (fn. 340) In 1864 the rector claimed, improbably, that although the boys left at c. 13 the girls stayed at school until 17 or 18. (fn. 341) The building and its fittings were considered inadequate in 1872. Improvements were made in 1877, (fn. 342) but in 1885, when the older children attended Hindon school, the average attendance was 12. (fn. 343) Chicklade school had been closed by 1892 (fn. 344) and has since been a parish room.
Charities for the Poor.
None known.