Pages 114-125
A History of the County of Wiltshire: Volume 13, South-West Wiltshire: Chalke and Dunworth Hundreds. Originally published by Victoria County History, London, 1987.
This free content was digitised by double rekeying. All rights reserved.
CHILMARK
Chilmark is 18 km. west of Salisbury. (fn. 1) It is a rectangular parish on a north and south axis and measures 4.5 km. by 3 km., 1,299 ha. (3,210a.). Its name could suggest that, when the king granted Chilmark in the early 10th century, part, if not all, of its boundary was marked by pegs or poles. (fn. 2) A description of Tisbury's boundaries in the mid 11th century refers to Chilmark, but the mark made by a pole which gave its name to the parish may not have been on its boundary with Tisbury. (fn. 3) The boundary with Teffont Evias is marked by a stream, that with Stockton is on the watershed of the Nadder and the Wylye and coincides with a prehistoric ditch, and that with Fonthill Bishop follows a ridge for a short distance, but the boundary observes relief nowhere else. Stones mark part of the boundary with Teffont Magna. The boundaries enclosed the tithings of Chilmark and Ridge, respectively c. 2,180 a. (882 ha.) and c. 1,030 a. (417 ha.) in 1837. A mill and 5 a. at Upper Chicksgrove were a detached part of the parish and an enclave in Tisbury (fn. 4) until 1885, when they were transferred to East Tisbury. (fn. 5)
The whole parish is in the Nadder valley. It slopes down to its south-east corner whence the boundary stream flows south-eastwards, but the geology and landscape of its north and south parts are different. (fn. 6). The northern edge of a greensand ridge separates the larger northern part, including Chilmark village, with the characteristics of Salisbury Plain, from the rest, including Ridge Hill, which has the characteristics of the Vale of Wardour. North of the greensand ridge chalk outcrops, overlain by clay-with-flints on the watershed in the extreme north, c. 200 m. The land is divided into ridges, over 152 m. on Chilmark down and in two places further south on the border with Fonthill Bishop, by dry valleys radiating from the source of the boundary stream which after wet weather rises in Chilmark village. Gravel is deposited in the main valley, followed by the Street and Hindon Lane, which divides at the north-west end of the lane into northern and western arms. The Upper Greensand ridge is more pronounced in the west part of the parish, where Ridge Hill reaches 189 m., than the east, 137 m., where it is broken by the stream. South of it bands of Gault, used at Ridge for brickmaking, (fn. 7) and Lower Greensand cross the parish. Middle and Lower Purbeck outcrop in the southernmost part of the parish, reaching over 152 m. on the border with Tisbury, where the relief is as broken as in the north. In the south-east corner the boundary stream, below 91 m., has exposed Upper Portland beds, limestone highly valued for building and much quarried and mined. (fn. 8) Building stone from the area, also found in Teffont Evias and Tisbury, (fn. 9) has become known as Chilmark stone. The quarries and mines in Chilmark have since 1936 been used by the R.A.F. for storage. The whole parish is suitable for both arable and pasture. The south part, in which there were open fields and common pastures in the Middle Ages, had nearly all been inclosed and divided into small fields by 1631. Much of the open fields and common downs on the chalk was inclosed later, mostly in the late 18th century and early 19th. (fn. 10) In 1773 there was a racecourse on Ridge down. (fn. 11) The chalkland, an area of sheep runs and large arable fields, has retained its open appearance, different from the south where fields remain smaller and there is much more woodland.
Several main roads cross the north part of the parish east and west. The Roman road thought to link Old Salisbury and Winchester with the Mendip Hills may cross the northernmost tip. (fn. 12) A ridge way, sometimes called the Grovely ridge way, leading from Wilton along the Nadder-Wylye watershed, seems to have followed the boundary ditch and to have crossed the north-west corner, whence it turned north-westwards towards the Roman road. The Ox Drove, possibly part of the ancient Harrow Way along which cattle are thought to have been driven from Somerset to London, crosses the parish to join the Grovely ridge way a little east of the boundary. (fn. 13) The Ox Drove crossing Chicklade may have been part of it, (fn. 14) but when milestones were erected in 1750 a road across the downs of Dinton and Teffont Magna, the Ox Drove through Chilmark to Chicklade Bottom in Fonthill Bishop, and the road through Chicklade village were the components of a main Wilton-Mere road. (fn. 15) In the late 18th century that road, which was 110 ft. wide in Chilmark in the early 19th century, (fn. 16) was possibly surpassed in importance by the lower Wilton—Mere road linking the villages between Barford St. Martin and Hindon and crossing Chilmark a little north of the church. That road was turnpiked in 1761 (fn. 17) with a gate where Hindon Lane joined it, (fn. 18) and disturnpiked in 1870. (fn. 19) In 1761 the Amesbury—Mere road across the downs was also turnpiked. (fn. 20) Its course across Chilmark was roughly that of the Grovely ridge way: (fn. 21) west of Chicklade Bottom the old Wilton—Mere main road became the turnpike road. (fn. 22) From 1936 the Amesbury—Mere road has been part of the main LondonExeter road. (fn. 23) From the 18th century or earlier it was joined outside the parish by Cow Drove leading northwards from Chilmark village. In the south roads have linked Chilmark and Ridge with Tisbury, and Chilmark with Fovant, from 1773 or earlier (fn. 24) but that linking Chilmark and Ridge is the only east—west road. A road diverging from the Chilmark—Fovant road towards Lower Chicksgrove in Tisbury, Sutton Row in Sutton Mandeville, and Ebbesborne Wake went out of use in Chilmark in the mid 19th century. (fn. 25)
Archaeological discoveries of the Bronze Age have been made in the north and south parts of the parish, (fn. 26) and Roman remains were discovered west of Ridge when Fonthill House was built. (fn. 27) Grim's ditch, which marks the parish boundary, is likely to be later than the Roman road with which it is intertwined. North-east of Chilmark village a prehistoric field system of 130 a., near which is a barrow, is partly in Teffont Magna. (fn. 28)
Chilmark may have been a village in the 10th century. (fn. 29) It is on the gravel deposited by the stream which the Street follows, and is nucleated. Mooray and Portash have long been subsidiary settlements south of it. Ridge, first mentioned in the 12th century, (fn. 30) is on the greensand, takes its name from the physical feature on which it stands, and is grouped less closely than Chilmark. There had been settlement beside the lower Wilton—Mere road by 1773, (fn. 31) but further settlement there and settlement in Cow Drove, in isolated farmsteads in the north, at Fonthill House, and near the quarries has been a feature only of the later 19th century and the 20th. (fn. 32) Until the 20th much building in Chilmark and Ridge tithings was with Chilmark stone: bricks made at Ridge were little used in the parish.
The parish was perhaps of below average wealth in the early 14th century, (fn. 33) of above average in the 16th (fn. 34) and 17th. (fn. 35) It had 136 poll-tax payers in 1377. (fn. 36) There were 320 or more inhabitants in 1676, (fn. 37) 406 in 1801, and 418 in 1811 when 315 lived in Chilmark tithing. The population had increased to 593 by 1841, when 425 lived in Chilmark, and to 619 by 1851, when 441 lived in Chilmark. It reached a peak of 698 in 1871, but had quickly declined to 411 by 1901. There were 332 inhabitants in 1931. New housing thereafter led to an increase, to 405 in 1951. (fn. 38) The population was 380 in 1971, 405 in 1981. (fn. 39)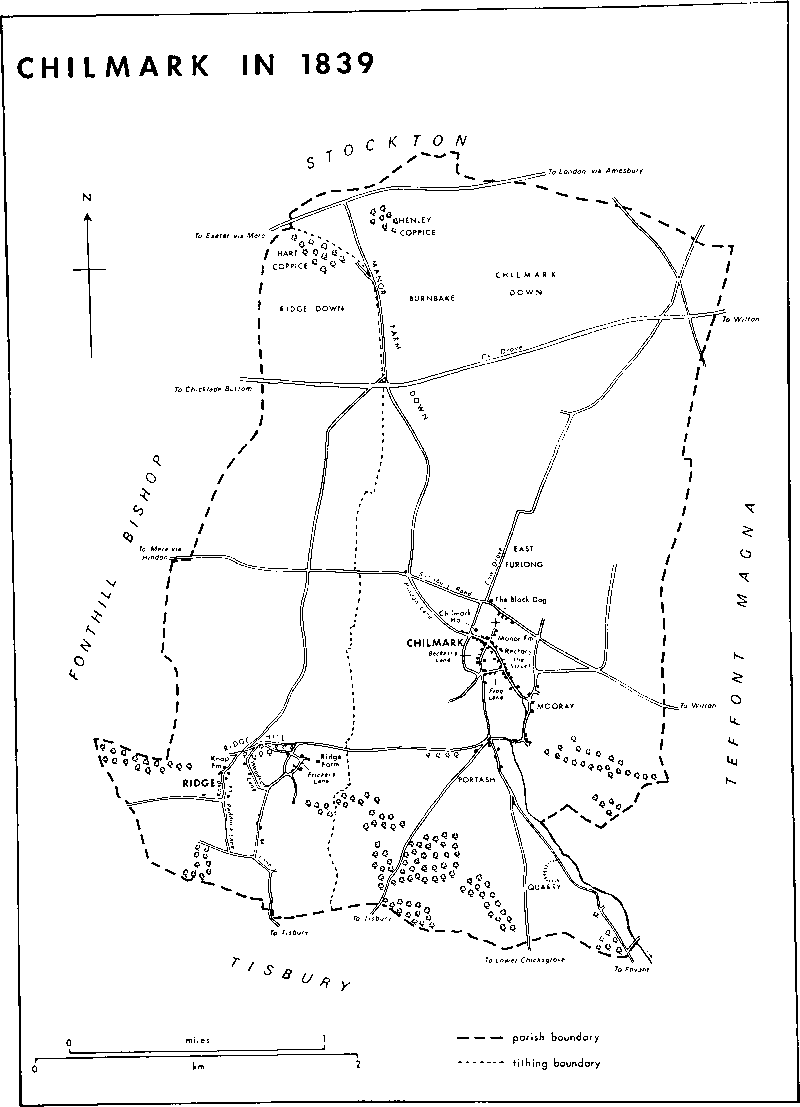 The focus of Chilmark village is the wide part of the Street, sometimes called the Cross, where Barberry and Beckett's Lane make a crossroads with it. (fn. 40) The church is at the north end of Barberry, the old rectory house (fn. 41) is south of it, and the demesne farmhouse of Chilmark manor, Manor Farm, now Chilmark Manor, is on the west side of Barberry at the crossroads. Chilmark Manor has an early 17th century main north and south range, possibly built soon after c. 1614. (fn. 42) At the south end a short east wing was added in the early 18th century, and a matching wing at the north end soon afterwards. A wall and gateway were then made between the wings. The house was much altered in the 20th century. North-west of it a building, possibly a former brewhouse, incorporates a large 16th-century chimney stack. The farm buildings were demolished in the mid 19th century, (fn. 43) presumably c. 1868. (fn. 44) Many of the copyhold farmsteads of the manor stood in the Street, (fn. 45) and several early 18th-century stone farmhouses survive there. Near the south-east end the Malt House is a small stone and thatch house of 17th-century origin, behind which was a malthouse in the early 19th century. (fn. 46) The triangle of the Street, Beckett's Lane, and Frog Lane had presumably been formed by c. 1700 when a group of cottages and small farmhouses, several of which survive, stood at the junction of Beckett's Lane and Frog Lane. On the west side of Beckett's Lane the Dial House is a small 18th-century stone farmhouse much extended in 18th-century vernacular style in the 19th and 20th centuries. Other copyhold farmsteads were at Mooray and Portash. At Mooray are two substantial stone farmhouses, one of the late 17th century and one of the early 18th, both occupied as pairs of cottages in the 20th. At Portash a small early 18th-century farmhouse was extended and modernized in the late 1930s to designs of G. B. Imrie. (fn. 47) Cottages of the 17th and 18th centuries, characteristically of stone and with two storeys, survive in the Street, Barberry, Beckett's Lane, and Frog Lane, and at Portash. A group of about six is on the south side of the Street at its north-west end and others are nearby. At the corner of the Street and Beckett's Lane one of the group was the Red Lion public house in 1757. (fn. 48) The Bridge inn was in the south-east part of the Street in the 19th century. (fn. 49) On the north side of the lower Wilton—Mere road, Salisbury Road, the Black Dog was a public house in the early 18th century. (fn. 50) The present inn is an early 17th-century small stone house with 19th century stone and brick extensions and with farm buildings behind it. On the south side of the road two small houses were built in the 18th century. Chilmark House, a square house of stone having a three-bay principal front with an Ionic porch, was built near the church and Chilmark Manor c. 1830, but most 19th-century building was away from the centre of the village. East, later Cleeves, Farm, a house with extensive farm buildings, was erected soon after 1839. The farm buildings were later added to, and in the later 20th century greatly extended southwards. An associated farmstead and cottages were built in the north-east corner of the parish between 1839 and 1886: (fn. 51) the cottages were rebuilt as a single house in the later 20th century. Manor Farm, a large stone farmhouse in Tudor style, and north of it stone and weatherboarded farm buildings of two storeys around two open-sided yards, and a pair of cottages, were built north-west of the village in 1868; (fn. 52) and a terrace of four stone cottages replaced the turnpike cottage beside Salisbury Road c. 1870. (fn. 53) Farm Bushes Barn was built about then: (fn. 54) there and elsewhere north of Manor Farm large farm buildings have been erected in the 20th century. A brick and stone terrace of four cottages was built at Mooray, apparently between 1861 and 1871, (fn. 55) but while the population fell between 1871 and the Second World War there was very little new building in and around Chilmark village. After 1945 new houses were built in all parts of the village except Mooray and Portash. In 1953, 1955, and 1965 a total of 24 council houses and bungalows was built at Claybush in the south part of the village and at Hops Close and Barn Hill in the west part. (fn. 56) Beside Salisbury Road 20th-century buildings include a new rectory house, now the Vicarage, a few other houses, and a garage and workshops. Park Drive, an estate of 14 private houses, was built north of the road in the 1960s. (fn. 57) In Cow Drove seven large houses were built in the later 1970s and early 1980s, and there are a few other 20th-century houses there. In the centre part of the village c. 20 private houses and bungalows have been built since 1945. Near the quarries south of the village Quarry House was built in the early 20th century. (fn. 58) Since 1936 the R.A.F. has erected many buildings, mostly for administration and to provide services in its underground stores. A new headquarters building was completed in 1939. (fn. 59) Most of the buildings near it are of dark red brick and in a uniform style. The central part of Chilmark village was designated a conservation area in 1973. (fn. 60)
In the later 18th century and early 19th Ridge consisted mainly of 5–10 small farmsteads in a complex network of lanes, (fn. 61) and that was presumably the settlement pattern long before. The houses and buildings of a few survive. (fn. 62) Ridge Farm in Fricker's Lane is a stone farmhouse of the earlier 18th century altered and enlarged in the late 19th: its extensive farm buildings are mostly 19th-century. Knap Farm in Knap Lane is an altered stone house of 18th century origin, south of it in Knap Lane is another 18th-century stone farmhouse, and at the junction of Woods's Lane and Fricker's Lane farm buildings possibly of the 18th century have been converted into a house. A small house of the early 19th century stands at the north end of Woods's Lane. In the mid 19th century, however, the settlement pattern changed. A new Ridge Farm was built between 1839 and c. 1850 beside Salisbury Road, a brick and slate house on the north side and weatherboarded and brick farm buildings on the south. About then subsidiary farm buildings of stone were built north-east of it and by 1886 two pairs of cottages had been built beside the road. (fn. 63) Also in the later 19th century, presumably after 1876, (fn. 64) three short terraces of estate cottages were built in the village of stone rubble with red-brick dressings and gabled dormers. Fonthill House was built west of the village between 1902 and 1904, (fn. 65) and stables with living accommodation were erected around a square courtyard shortly before 1901 and between 1901 and 1926. (fn. 66) Since then only one new house, on Ridge Hill, has been built in the village.
Manor and other Estates.
Athelstan, king 925–39, granted 20 cassatae at Chilmark to his thegn Wulfsige. (fn. 67) The estate passed to Wilton abbey (fn. 68) which held the manor of CHILMARK AND RIDGE from the Conquest (fn. 69) to the Dissolution. (fn. 70) In 1275 it was rated as 2½ knight's fees. (fn. 71) In 1544 the manor was granted to Sir William Herbert, (fn. 72) from 1551 earl of Pembroke. Thereafter it passed with the Pembroke title. (fn. 73) Most of the land was sold in 1918. (fn. 74)
In 1249 a freehold in Chilmark rated as 2 yardlands was conveyed by William of Fernhill to Hugh Druce, (fn. 75) whose son Walter held it before 1287. (fn. 76) Presumably after Walter's death Wilton abbey claimed the land from Hugh Druce of Fernhill, apparently Walter's brother, as an escheat, and granted it to Thomas Beaufoe and his wife Clarice. (fn. 77) The younger Hugh Druce, also called Hugh of Fernhill, gave up his claim in favour of the Beaufoes in 1294 and 1296. (fn. 78) The land may afterwards have belonged to William Beaufoe (fn. 79) and to Richard Beaufoe, from whom it was apparently bought by William of Tilshead in 1325. William had sons John, Robert, and William, (fn. 80) and the land remained in his family until 1364–5 when Thomas Tilshead gave it with other land to Wilton abbey for torches in the abbey church. (fn. 81) Later evidence that the abbey endowed Chilmark rectory with it (fn. 82) is implausible. (fn. 83)
In 1195 Wilton abbey granted a freehold at Ridge, rated as 1 hide and until then possibly its demesne land, to Jollan (Joedlan) of Ridge. (fn. 84) It was acquired in 1241 by John Vernon, a sheriff of Wiltshire, in portions, 2 yardlands from Roger Jollan, 1 yardland from Cecily, relict of Jollan de Aldeford, and 1 yardland from Robert Huscard and his wife Hawise, (fn. 85) presumably all relatives of Jollan of Ridge. The estate descended in the Vernon family. Robert Vernon may have held it c. 1268, (fn. 86) and it may have passed to his son John. (fn. 87) William Vernon may have held it in the early 14th century, (fn. 88) and Richard Vernon almost certainly did in 1364. (fn. 89) A large part of the Vernons' estate passed to members of the Stantor family. That part was apparently acquired by Nicholas Berenger (d. 1382) whose heirs were his daughters Joan and Anstice, both minors in 1382, respectively wives of Peter Stantor and Stephen Bodenham. Joan died in 1386 leaving her sister Anstice as heir; but because she had a daughter Anstice Stantor who died five days before her mother, in that year the king granted to Stantor a moiety of Berenger's lands, possibly including his estate at Ridge. (fn. 90) The land may have passed thus to the Stantors, but Peter Stantor is said to have married Richard Vernon's daughter and heir Isabel, in 1384 betrothed to Robert Latimer, (fn. 91) and their son William married Anstice, daughter of Stephen Bodenham and Anstice Berenger, and it may have passed to them by either of those marriages. William Stantor was succeeded by his son Alexander (d. 1503), Alexander's son Peter, Peter's grandson Thomas Stantor (fl. 1544), and Thomas's son Roger (fn. 92) who sold his estate in Ridge to John Fezzard in 1572. (fn. 93) A John Fezzard, presumably a successor, held the estate in 1635 (fn. 94) and a John Fezzard apparently did so in 1648. (fn. 95) Before 1666 it was divided. The portion then William Turner's (fn. 96) was the largest, 2 yardlands. It was sold c. 1744 by another William Turner to Henry, earl of Pembroke and Montgomery. (fn. 97) Smaller portions belonged to an older and a younger John Moore in 1666. (fn. 98) They descended in the Moore family, many members of which held land in Chilmark and Ridge, (fn. 99) later possibly as one holding. The reversion of the Moores' land, 47 a. and pasture rights, was bought by Henry, earl of Pembroke and Montgomery (d. 1750), and Henry, earl of Pembroke and Montgomery, entered on it at the death of William Moore in 1768. (fn. 100)
Part of Richard Vernon's estate at Ridge was in 1384 held for life by his daughter's guardian Edmund Flory and Flory's wife Ellen, perhaps a relative. (fn. 101) By 1396, when he was licensed to hear mass in an oratory in his house at Ridge, it had possibly been acquired by Thomas Rigge (fn. 102) who held land in Ridge in 1412. (fn. 103) That land descended with Chicklade manor to John Pike (d. before 1550). (fn. 104) John's son John held ¾ yardland in Ridge from 1550, (fn. 105) and it passed to Thomas Pike whose heirs, his daughters Joan and Helen, held it in 1632. (fn. 106) The land was held from 1635 to 1666 by Joan's husband John Furnell, (fn. 107) but may later have been acquired by one of the Moores and subsequently by an earl of Pembroke.
From 1768 nearly the whole parish, apart from the glebe, belonged to the earls of Pembroke and Montgomery. (fn. 108) In 1876 and 1885 a total of c. 520 a. in the south-west part of the parish was given by exchange to Alfred Morrison. (fn. 109) It has since descended with the Morrisons' Fonthill House estate and in 1983 belonged to the Hon. J. I. Morrison. (fn. 110) A new house, Little Ridge, later Fonthill House, was built on the land between 1902 and 1904 to designs of Detmar Blow. (fn. 111) It incorporated at its centre the rebuilt 17th century façade of Berwick St. Leonard manor house. (fn. 112) The house was much enlarged in 1921 when balancing wings in similar 17th-century style were built. (fn. 113) Most of it was demolished in 1972: it was replaced by a smaller house in classical style, designed by Tremwith Willis, built on the foundations of its central block. (fn. 114)
In 1918 Reginald, earl of Pembroke and Montgomery, sold Ridge farm and East, later Cleeves, farm, a total of c. 1,400 a., to the tenant James Flower (fn. 115) (d. 1932). About 1930 Flower sold Cleeves farm to his son Mr. Walter Flower who in 1954 bought Ridge farm from his father's executors. In 1965 Mr. Flower conveyed Ridge farm to his son Mr. J. J. M. Flower, the owner in 1983, and Cleeves farm to his son Mr. W. M. Flower, who sold that farm in 1983–4. (fn. 116)
Manor farm, c. 940 a., was sold in 1919 to J. Wort and G. Way. They sold it in 1934 to J. G. Deedes who in 1949 sold the farm, 862 a., to trustees of the Martineau family which included J. E. Martineau. (fn. 117) In 1974 they sold it to Mr. Philip Kitson, the owner in 1983. (fn. 118)
Chilmark stone quarries and a farm of 69 a. belonged to the earl of Pembroke and Montgomery until bought by the Secretary of State for Air in 1936. (fn. 119) In 1983 the Ministry of Defence owned 94 a. in the south-east corner of the parish. (fn. 120)
Economic History.
In the early 10th century Chilmark was assessed as 20 cassatae (fn. 121) and in 1066 as 20 hides. There was land for 14 ploughteams in 1086. The 15 villani, 12 bordars, and 12 coliberts, with 12 teams, held much more than Wilton abbey held as its demesne which, although assessed as 8 hides, had on it only 2 teams. There were 5 a. of meadow, pasture measuring 1 league by ½ league, and 10 a. covered with bramble and thorns. The estate almost certainly included Ridge. (fn. 122)
Chilmark and Ridge seem to have been distinct for purposes of husbandry in the late 12th century (fn. 123) or earlier. A tenant then held the whole manor or the demesne at fee farm. The demesne, including c. 400 a. of arable and with stock including 164 sheep, had apparently been a sheep-and-corn farm when leased by Wilton abbey. From 1194, when the tenant released it, the demesne was presumably kept in hand. (fn. 124) Later evidence shows it limited to Chilmark: (fn. 125) the hide in Ridge which the abbey granted freely in 1195 may have been its demesne there. (fn. 126) Stock on the demesne in 1225 included 24 oxen and 150 sheep. The land may have been cultivated by the services of the 54 men, presumably tenants of Wilton abbey and of the freeholders in Chilmark and Ridge, who then had a total of 896 sheep. (fn. 127) The rector's sheep may have brought the tenantry flock to 1,000, (fn. 128) and there were 123 beasts of the plough in the parish. Complementary to the extensive sheepand-corn husbandry thus illustrated, there were herds of 60 cows and 85 young cattle. (fn. 129) The record of 1225 is the first of much evidence of flourishing agriculture in the parish.
In the late 13th century demesne pasture for sheep and cattle in Chilmark tithing may have been separate from the common pastures. (fn. 130) By the mid 16th century, when all its land was leasehold or copyhold of the manor, much of the tithing had been inclosed. The south part then contained c. 500 a. of closes, most of between 1 a. and 10 a. although some demesne ones were larger. Bowercliffe, 22 a., Fore down, 18 a., and Pitts and Sheephays, 24 a., were common pastures apparently between the Chilmark—Tisbury and Chilmark-Fovant roads. Open fields, c. 620 a., were in the centre, and downs used in common for sheep and cattle were in the north. The estimate of downland as 500 a. in 1567 seems too low or, more likely, to omit a several demesne down. The demesne, later called Manor farm, 275 a. excluding such a down, was in all parts of the tithing; five copyholds, 20 yardlands, all with land in each of the three main open fields, were mainly in the centre and north; the glebe and 15 copyholds, c. 15 yardlands, some of which included open-field land, all in one of the three main fields, and feeding rights apparently on the northern downs, consisted mainly of inclosures in the south. The copyholds at the west end were distinguished from those at the Bower end: the distinction is more likely to refer to groupings of farmsteads in the village than to relate to the predominant type of land in the holdings. The west end copyholders shared 300 a. of down with the farmer of the demesne, the Bower end tenants 200 a. among themselves. The farmer had exclusive winter pasture in Fore down and the Pitts and Sheephays, but otherwise the southern common pastures were for the copyholders, those of the Bower end having exclusive winter rights in Bowercliffe. There were rights to feed 2,400 sheep and 153 cattle and horses in the tithing: the sheep of the five larger copyholds were stinted at 40 to a yardland, those of such of the 15 smaller copyholds with rights for them at 70 to a yardland. East, West, and North fields, a total of 500 a., were of roughly equal size, and there was a South field of 50 a. A further 70 a. of arable were in 'the lanes', possibly former pastures scattered among the arable furlongs. North field, in which some of the 15 copyholders had all their open-field land but the farmer had none, had earlier been partly inclosed. (fn. 131)
Between 1567 and 1631 c. 135 a. of arable, in a tongue extending due north from the village to the down and separating the open fields east and west of it, were inclosed. The tongue, called East furlong, was presumably divided then into the c. 34 fields there in the earlier 19th century. The allotments replaced the land in North field attached to some of the 15 copyholds. There remained four open fields, still named after the points of the compass, but only the farmer of the demesne had land in South field, 77 a. Manor Farm down, 250 a. in the north-west corner of the tithing, was certainly several in 1631; it is clear from later evidence that the copyholders' down remained c. 500 a. in the north-east corner. By 1631, however, a division between a sheep down and a cow down may have replaced that between the West end and Bower end downs. Stints on those downs and on the southern commons had been reduced to 1,500 sheep and c. 120 cattle and horses. Apart from 81 a. in East field and feeding rights on Cow down and the southern commons, Manor farm, 680 a., was mainly several in the early 17th century. There remained five copyholds with land in the open fields: the 20 yardlands amounted to 391 a., including 68 a. of inclosures. In 1631 the inclosed copyholds amounted to c. 300 a.: half of them had rights to feed sheep in common. (fn. 132)
From c. 1614 (fn. 133) to c. 1802 Manor farm was held by members of the Jesse family as lifeholders. Until 1761 the rent included 66 qr. of grain. (fn. 134) The five open-field copyholds remained nominally intact in the 17th and 18th centuries, but by 1705 some of the inclosed copyholds had been subdivided. Later in the 18th century some farms may have grown as holdings were accumulated, but the number of farms in the tithing was notably reduced only after 1790. Apart from the Pitts east of the Chilmark—Tisbury road, inclosed in 1705 when the farmer was allotted 10 a. and five copyholders a total of 10 a., (fn. 135) the area of commonable land in Chilmark tithing was further notably reduced also only after 1790.
Alterations, apparently extensive and presumably by agreement, were made to the open fields in 1793. All the arable land west of East furlong became a several part of Manor farm, and presumably Manor farm land in the open field east of East furlong was then added to the other farms. At the same time the easternmost part of Chilmark down, possibly more than 100 a., was divided, allotted to those other farms, and converted to arable. (fn. 136) Burnbake, 48 a. of Manor Farm down, (fn. 137) may also have been converted to arable about then. The remaining commonable land, comprising the 46 a. of southern commons and c. 800 a. of arable and down in the north-east part of the tithing, was inclosed under an Act of 1814. The formal award was not made until 1861 but the allotments and many exchanged lands were entered into long before then, (fn. 138) possibly c. 1820.
Henry King occupied Manor farm from c. 1789. (fn. 139) It remained lifehold until c. 1860 (fn. 140) but King presumably worked his other land in Chilmark, held for lives or at rack rent, with the farm which was based at Manor Farm immediately south of the church. (fn. 141) Much formerly copyhold land was held at rack rent in the 1790s and early 19th century. (fn. 142) In 1837 there were only three large farms in the tithing, Manor, a composite farm of 1,500 a., and rack-rent farms of 223 a. and 207 a. with buildings respectively at Mooray and in the Street south-east of its junction with Frog Lane. (fn. 143) As a result of exchanges at inclosure Henry King became tenant of all the northern downs: (fn. 144) c. 1828 he occupied 4,000 a. in various parishes and had flocks of 6,500 Southdowns. (fn. 145) In 1837 the tithing contained 756 a. of meadow and pasture, of which 542 a. were on the northern downs, and 1,246 a. of arable. (fn. 146)
By 1844 the farm of 207 a. had been added to Manor farm, which was held by Frederick King from c. 1832 to c. 1850. (fn. 147) In the mid 19th century the farm shrank when the tenure of its components was converted to rack rent at different times, but it has remained the largest in the tithing. From 1868, when it was c. 1,000 a., it was worked from the new Manor Farm. East farm, which grew as Manor farm shrank, was worked from buildings erected for it soon after 1839, and was 666 a. c. 1865. (fn. 148) James Flower, who held it in the later 19th century and earlier 20th, worked it with Ridge farm. (fn. 149)
In 1909 Manor farm was c. 1,074 a., East, later Cleeves, farm was 658 a., and there were farms of c. 60 a. based at the Black Dog and of 114 a. (fn. 150) based in the village. (fn. 151) Farming in Chilmark in the 20th century has been mixed, with more arable on the northern downs, more pasture in the south. (fn. 152) Between the First and Second World Wars Manor was an arable and dairy farm, and pigs were kept. (fn. 153) Later, and until 1974, it was an arable and sheep farm. (fn. 154) A dairy built at Cleeves Farm c. 1930 was used until c. 1982. (fn. 155) In 1983 Manor and Cleeves, 581 a., (fn. 156) were the only farms based in Chilmark. Manor, 864 a., was an arable and dairy farm with a new dairy at Farm Bushes Barn. (fn. 157) Cleeves was mainly arable but included large buildings used for rearing cattle. (fn. 158) South of the village R.A.F. Chilmark occupied 94 a. which were not used for agriculture. (fn. 159) Other land south of the village was in 1983 part of Place farm, based in Tisbury, and devoted to arable and dairy farming. (fn. 160)
Common husbandry in Ridge tithing, where all the land was in copyholds and two or three small freeholds, was more persistent than in Chilmark. In the Middle Ages there were apparently two open fields. North and South, which by the mid 16th century had each been divided into three. In 1567, the six fields and c. 165 a. of arable in 'the lanes' totalled c. 620 a. Ridge down, 120 a. for sheep north of the open fields, Ridge common, 80 a. for cattle and sheep, hedged in and almost certainly south of the village, and 12 a. of heath for horses and sheep were then common pastures. There were rights to feed 1,447 sheep and 96 horses and cattle on them. Around the village were c. 35 a. of inclosures. The 23½ yardlands were in nine holdings, the largest of which was a copyhold of 5 yardlands comprising 157 a. and feeding rights. Cattle and horses were stinted at 4 to a yardland, sheep at 60. (fn. 161)
Between 1567 and 1631 the 'three fields called South field', c. 125 a. apparently in the south-east corner of the tithing, were inclosed, and the common, apparently in the south-west corner and already inclosed, was divided and allotted. All the land of the tithing south of the ridge was afterwards several. The remaining open fields were rearranged as East, Middle, and West fields, c. 475 a. Stints were reduced to 44 sheep and 1 horse to a yardland. Of the seven copyholds only the smallest, 1 yardland, lacked open-field land in 1631: inclosed land made up between a quarter and a third of each of the others. By then, however, there had been little change in the use of the inclosed land. The type of lands then in the freeholds is not clear. (fn. 162)
There was no further inclosure of land in Ridge until after the Act of 1814. In the 18th century Ridge down, 210 a., could be fed on by 1,045 sheep, and Ridge Hill was common for c. 40 horses. Between the two were East field, c. 130 a., Middle field, c. 184 a., and West field, c. 150 a. South of Ridge Hill the inclosed lands, c. 230 a., were about half arable and half meadow and pasture. The Moores' land was held at rack rent from 1769 but other holdings not until after 1790, (fn. 163) when there were apparently about five farms in the tithing. (fn. 164) In 1837, after the allotment of 725 a. and exchanges at inclosure, (fn. 165) the tithing contained c. 610 a. of arable and c. 345 a. of meadow and pasture of which 210 a. remained downland pasture. There were four farms. Frederick King's of 445 a., with buildings at Knap Farm and at the junction of Fricker's Lane and Woods's Lane, included half the downland and was presumably worked with Manor farm in Chilmark and land elsewhere. James Flower's of 297 a. included the old Ridge Farm and half the downland. All the land of the smaller farms, of 115 a. and 109 a. with buildings respectively immediately west of Flower's and on the west side of Woods's Lane, was south of the ridge. (fn. 166) That of 109 a. was occupied by Flower in 1845. (fn. 167)
In 1855 the larger of the two smaller farms, Ridge Hill, was a compact farm of 129 a. with its land south of its buildings, which were those of the old Ridge Farm and those immediately west of it. (fn. 168) The new Ridge Farm was built between 1839 and c. 1850 for James Flower or for William Flower who worked 756 a. from it c. 1865. (fn. 169) The new Ridge farm has since remained in the Flower family as tenants and owners and until c. 1930 was worked with East, or Cleeves, farm in Chilmark. (fn. 170) James Flower (d. 1932), who worked the farm from 1878, made a reputation for breeding Hampshire Down sheep, (fn. 171) and a pedigree flock was kept on the farm until 1969. In 1983 Ridge farm, 865 a. including 135 a. in the north-east corner of the parish, was primarily arable with some sheep. (fn. 172) In the early 20th century there were three farms on the Morrisons' estate in the south part of the tithing, the largest of which was Tile Kiln farm, 183 a., (fn. 173) based at the old Ridge Farm. That farm, again called Ridge farm, was a mixed holding of c. 300 a. when brought in hand c. 1982. The only other farm based at Ridge after the Second World War was Knap farm, c. 48 a. when brought in hand c. 1950. (fn. 174) In 1914 c. 150 a. of parkland and woodland, mostly around Little Ridge, were in the tithing. (fn. 175) Most survived in 1983. (fn. 176)
In the early 19th century there was a brickyard west of Knap Lane. (fn. 177) Until 1875 or later bricks were made there by members of the Harvey family who from the mid 19th century were also potters and tilemakers. (fn. 178) Yellow clay was used for bricks, blue clay dug from below it was used for pots, tiles, and harder bricks. (fn. 179) The business was continued by other owners until the early 20th century. (fn. 180) There was a lime kiln beside Mill Lane in the later 19th century. (fn. 181)
The parish may have been sparsely wooded in the Middle Ages. In the 16th century estimates of woodland varied from 47 a. (fn. 182) to 85 a. (fn. 183) Most of it, 51 a., was in 1626 leased separately with licence to cut the underwood; (fn. 184) 10 a. were part of Manor farm. (fn. 185) In the 18th century there was more woodland, most on the border with Tisbury between the Tisbury and Lower Chicksgrove roads where there were coppices of 61 a. and 11 a. By 1837 more than half the larger had been converted to arable. There were then 142 a. of woodland, all in the south part of the parish except Hart Coppice, 12 a. on Ridge down, and Henley Coppice, 4 a. on Manor Farm down. Orchards then seem to have been a feature of cultivation around the village. (fn. 186) Most of the woods standing in 1837 have survived, in the early 20th century some 30 a. west and north-east of Ridge were planted with trees, (fn. 187) and in 1983 there were c. 200 a. of woodland in the parish, nearly all in the south part.
Mills.
Wilton abbey's Chilmark estate included a mill in 1086 (fn. 188) and 1262. (fn. 189) In 1327 William of Tilshead owned a water mill, almost certainly that later called Stoford Mill, (fn. 190) which was conveyed with his freehold in Chilmark to Wilton abbey in 1364–5. (fn. 191) Stoford Mill was the only mill in the abbey's Chilmark estate at the Dissolution, (fn. 192) and it remained part of the manor. (fn. 193) It stood on the Nadder at Upper Chicksgrove, (fn. 194) formerly called Stoford, in the detached part of Chilmark transferred to East Tisbury in 1885, (fn. 195) and was a corn mill. It was leased with Manor farm in the 16th century, for most of the 17th century, and until 1730, from when it was leased separately. (fn. 196) In 1867, when it was called Upper Chicksgrove Mill, it was burned down; (fn. 197) it was rebuilt in 1869. (fn. 198) Milling continued apparently until the 1890s (fn. 199) when much of the mill was again destroyed by fire. (fn. 200) The surviving mill house, of red brick, is of the earlier 18th century. A lower stone wing with red-brick dressings was added to the north in the 19th century.
Fair.
The earliest evidence of Chilmark fair is of 1619 when its tolls were leased to the tenant of Manor farm. Horsefair mead was then part of the farm. (fn. 201) In the later 17th century Aubrey referred to a good fair for sheep on St. Margaret's day (fn. 202) (20 July), clothes were traded in the mid 18th century, (fn. 203) and in the early 19th century there were both horse and cheese fairs held on 30 July. (fn. 204) The fair ground was immediately north-west of the church. (fn. 205) The fair was abolished in 1874. (fn. 206)
Stone Quaries.
The Portland stone outcropping in the valley in the south-east corner of the parish was possibly used for packing around the upright stones of Stonehenge, (fn. 207) on an Iron-Age site at Fifield Bavant, (fn. 208) and for building in the Roman period. (fn. 209) The quarries from which Chilmark stone was taken, in Chilmark, Tisbury, and Teffont Evias, (fn. 210) were an important source of building stone in the Middle Ages. The stone was used in Wilton abbey, Old Salisbury cathedral, the new Salisbury cathedral, (fn. 211) and in Wiltshire parish churches. (fn. 212) Later it was used in Longford Castle in Britford, Fonthill Abbey in Fonthill Gifford, (fn. 213) and Westminster Abbey. (fn. 214)
The quarries were part of Chilmark manor and kept in hand by Wilton abbey and the earls of Pembroke until 1613, although the farmer of the demesne was allowed stone for repairs. They were not highly valued in 1613 (fn. 215) and until then had presumably been exploited ad hoc. The lease of 1613 gave the lessee the right to open new quarries, (fn. 216) and speculative quarrying may date from then. In the later 17th century Aubrey was impressed by the size of, or perhaps the activity at, the quarries, (fn. 217) which from 1659 to 1767 were leased with Manor farm. (fn. 218) There were two firms of stonemasons and stonecutters in the mid 18th century, (fn. 219) the head of one of which, William Privett, was lessee of the quarries from 1767. (fn. 220) Privett was employed as a mason at Stourhead in Stourton, at Longford Castle, and at Longleat House in Horningsham. (fn. 221) By the early 19th century, when the quarry ground was nearly full of large pits, (fn. 222) the limit of easy open-cast extraction had perhaps been reached, and there had already been underground mining. (fn. 223) By then transportation by canal had also made stone from elsewhere cheaper than Chilmark stone. (fn. 224) In the 1830s the quarries were little used, (fn. 225) and in 1868 Lord Pembroke bought Chilmark stone for the new Manor Farm partly to help the quarryman, George Lane, to pay arrears of rent owed for the quarries. (fn. 226)
Speculative extraction of stone began again in the late 19th century, mostly by underground mining on the west side of the Chilmark—Fovant road. John and Levi Bowles worked there from c. 1875 and Levi Bowles & Co. continued until c. 1920. In 1907 T. T. Gething, who had been a London agent selling the stone, bought a lease of the quarries. T. T. Gething & Co., later the Chilmark Quarry Co. Ltd., mined stone until the quarries and mines were bought by the Air Department in 1936, and Gething built Quarry House and managed an Alpine nursery garden on the site. (fn. 227) Salisbury Post Office, built in 1905, (fn. 228) is the most recent large building for which Chilmark stone was used. (fn. 229)
From 1936 the R.A.F. has used the quarries and mines to store high explosives and bombs. The R.A.F station at Chilmark is the headquarters of No. 11 Maintenance Unit. Many civilians have sometimes been employed at the station, which included premises at Dinton and elsewhere: of the 610 employed there in 1949 only 243 were officers and airmen. The numbers employed there were later much smaller. (fn. 230) In the late 1930s a narrow gauge railway was made to link the quarries with the main line near Ham Cross Farm in Tisbury, where sheds for transferring materials between wagons were built. The quarries are served by 9 miles of railway, most of it underground where battery-powered locomotives are used. Some of the narrow-gauge rolling stock specially designed for Chilmark c. 1940 remained in use in 1976, but four new diesel locomotives were bought in 1974. (fn. 231) New buildings have been erected on both sides of the Chilmark-Fovant road.
In 1977 the surface quarries in Chilmark and Teffont Evias were part of 35 a. scheduled as of special scientific interest to geologists and biologists. There were 2.5 ha. of underground quarries in 1983 (fn. 232) when stone to restore Salisbury cathedral was being cut under a licence granted for five years by the Ministry of Defence. (fn. 233)
Local Government.
Chilmark and Ridge tithings were represented separately at the sheriff's tourn in the 15th century, (fn. 234) and were separate for other administrative purposes from the 16th century to the 19th. (fn. 235) In the manor courts of the earls of Pembroke held from the 16th century to the 18th the homage of each tithing was distinct. The courts were annual. Each homage presented, usually each by a pair of foremen in the 16th century and each by a single foreman in the 17th. Business was limited: buildings needing repair, deaths of copyholders, and occasionally infringements of tenurial or agrarian custom were reported. In addition the courts licensed subletting of copyholds and witnessed surrenders and admittances. From the late 17th century or earlier additional courts were held specially for particular admittances, often arising from the conveyance of a copyhold. In the 18th century the normal annual court dealt with similar business and more often than before recorded new rules for husbandry: in 1707, for example, the agreement to inclose the Pitts was recorded. (fn. 236)
In 1775–6 £104 was spent on the poor, in 1802–3 £290, all in outdoor relief: 18 adults and 11 children were relieved throughout 1802–3 when the total of 98 relieved occasionally was very high for a parish with no more than c. 410 inhabitants. (fn. 237) Between 1815 and 1835 over £300 a year was sometimes spent, but expenditure was not above average for the hundred. In 1835 the parish joined Tisbury poorlaw union. (fn. 238) It became part of Salisbury district in 1974. (fn. 239)
Church.
There was apparently a church at Chilmark in the 12th century. (fn. 240) There was a rectory in 1297. (fn. 241) In 1976 it was united with the benefice of Tisbury and Swallowcliffe with Ansty as the benefice of Tisbury, and a team ministry was set up with a vicar living in Chilmark. (fn. 242)
The advowson passed with Chilmark manor: every known presentation before the Dissolution was by an abbess of Wilton. (fn. 243) It was not granted with the manor to Sir William Herbert in 1544, and the grantor of the turn in which John Tregonwell presented in that year (fn. 244) may have been Wilton abbey or the Crown. Herbert, then earl of Pembroke, claimed the advowson in 1567, (fn. 245) but in 1577 the Crown presented by lapse: (fn. 246) the nominee was a chaplain of both Elizabeth I and Henry, earl of Pembroke. (fn. 247) An earl of Pembroke first presented in 1593. Thereafter the advowson passed with the earldom. (fn. 248) In 1684, however, the right of Thomas, earl of Pembroke and Montgomery, to present was disputed by William Wake who claimed to have bought a turn with the consent of Philip, earl of Pembroke and Montgomery, and tried to secure the living for his son by having him presented by the Crown. The attempt failed and although in 1686 the Crown did present, following an accusation of simony, the earl's nominee was instituted. (fn. 249) In 1962 Sidney, earl of Pembroke and Montgomery, transferred the advowson to John Morrison (Baron Margadale from 1964). (fn. 250) Since 1976 Lord Margadale has been a member of the patronage board for the benefice of Tisbury. (fn. 251)
Valuations at 20 marks in 1291, (fn. 252) £19 13s. 3d. in 1535, (fn. 253) and £426 c. 1830 (fn. 254) show the rectory to have had an income above average. It was held by lease for £120 a year in 1646. (fn. 255) The rector was entitled to all tithes from nearly the whole parish. In the 16th century 300 sheep on the demesne farm of the manor, and in the 18th they and a few acres of meadow, were tithe free: (fn. 256) small moduses in respect of both were paid in the early 19th. In 1837 the tithes were valued at £479 and commuted. (fn. 257) In 1341 the glebe included 40 a. of arable and pasture rights; (fn. 258) in 1567 it was rated as 2 yardlands and included similar rights; (fn. 259) but in 1588 it consisted of inclosed lands estimated at 42 a. and no pasture right. (fn. 260) Apparently the same land was later reckoned as 31 a. (fn. 261) Rectors made exchanges of land in the 19th century, (fn. 262) a few acres were apparently sold c. 1905, (fn. 263) and 13 a. were sold in 1921. (fn. 264) The remainder, another 13a., was sold in 1938. (fn. 265) The rector had a house in Chilmark in 1341, (fn. 266) presumably on the site south of the church on which the later rectory house stood. The later house has a short east-west central range with two cross wings and may be of 16th-century origin, but the earliest surviving features are early 17th-century. Parts of the house were refitted in the later 17th century and later 18th, but the house was not significantly enlarged until 1814. A new staircase was then made behind the central range and a large wing of red brick, which includes a richly decorated first-floor drawing room, was built behind the east wing. (fn. 267) Alterations in the 20th century have included the conversion of an attached eastern service building into a dining room with a reset medieval window. A large tithe barn south of the church was demolished in 1826: stone from it was used in a garden wall and service buildings, apparently the small stable court built about that time, at the rectory house. (fn. 268) The house was sold in 1938. A new rectory house west of the church was built to designs of Michael Harding & Elgar in 1939. (fn. 269) There was a second house on the glebe in 1588, said to be that usually lived in by the curate (fn. 270) and later called the vicarage house, and another small house in the 18th century. (fn. 271) The vicarage house, a cottage at the corner of Frog Lane and Beckett's Lane, (fn. 272) was sold in 1938. (fn. 273)
Chilmark was a valuable living and both Wilton abbey and the earls of Pembroke often gave it to men of distinction. Many incumbents, including Henry of Netheravon (fn. 274) and John of Stratford (fn. 275) in the 14th century, were canons of Salisbury. John Thornborough, rector 1577–93 (fn. 276) and likewise a canon of Salisbury, became bishop of Limerick in 1593 and was later bishop of Bristol and of Worcester. (fn. 277) Robert Walker, rector from 1610, was a royalist: he was accused of adhering to the Book of Common Prayer, and the rectory was sequestrated in 1646. (fn. 278) His successor was Gabriel Sangar who subscribed to the Concurrent Testimony in 1648 and moved to St. Martin's in the Fields (Mdx.) c. 1650. (fn. 279) In 1674 the churchwardens praised the incumbent, (fn. 280) Thomas Hancock, but in 1681 parishioners petitioned against him for not making clear to them to whom they should pay tithes. (fn. 281) Between 1685 and 1770, except 1701–28, Thomas, William, and Richard Barford were rectors. (fn. 282) Thomas Eyre, rector 1770–1812, was also rector of Fovant and advised Henry, earl of Pembroke and Montgomery, on patronage matters. (fn. 283) In 1783 a curate held services at festivals and twice on Sundays, catechized regularly, and held communion four times a year for c. 14 communicants. (fn. 284) Charles Tower, rector 1843–80, paid a trained nurse for the poor. (fn. 285) Most of the inhabitants attended church on Sundays in 1851, when adults at the two services on Census Sunday totalled 330 and there were more than 100 communicants. (fn. 286) In 1864 the rector held two Sunday services with congregations averaging no more than 85, said morning prayers in the church every day and evening prayers there on Wednesdays and Fridays in Lent, catechized in Lent, and held communion at festivals and other times for an average of 27 communicants. (fn. 287)
The church of ST. MARGARET was so called in the 18th century, (fn. 288) but the dedication may be as old as or older than Chilmark fair which was held on St. Margaret's day in the 17th century. (fn. 289) The church is of rubble ashlar and consists of a chancel with north vestry, a central tower with spire, transepts, and north-east stair turret, and a nave with north aisle and south porch. The positions, in the east part of the nave, of the south doorway and a 12th-century north doorway and, in the west part of the chancel, of two early 13th-century lancet windows (fn. 290) indicate an early church consisting of a short chancel and a short nave. There was a major reconstruction late in the 13th century or early in the 14th. The chancel was extended eastwards, the nave westwards. The tower was built into the east end of the nave and the transepts were built. In the 14th century new windows were placed in the south wall of the old part of the nave and the porch was built. The south doorway was replaced in the 15th century. The spire, possibly on the tower in the mid 16th century, (fn. 291) was in poor repair in the late 17th. (fn. 292) It is said to have been rebuilt c. 1760. (fn. 293) The vestry was built in 1844. (fn. 294) In 1856 the church was extended and greatly restored to designs of T. H. Wyatt: a west gallery and its external staircase were removed, and the stair turret, a larger north transept, and the north aisle with an arcade of four bays were built. The 12th century north doorway was reset in the west wall of the aisle, and much stonework and roofing in other parts of the church were renewed. (fn. 295)
In 1553, when 2 oz. of plate were taken for the king, the parish kept a chalice of 9 oz. It was replaced by a cup dated 1576, and in 1743 a chalice, paten, and flagon were given. An almsdish was given in 1850, (fn. 296) and additional vessels in 1890. (fn. 297) All that plate belonged to the church in 1983. (fn. 298)
There are six bells: (ii) and (iii) were cast at Salisbury in the period 1380–1420. The other two of the four bells in the church in 1553 were replaced by (iv), by Richard or Roger Purdue, 1613, and (v), by John Wallis, 1616. (fn. 299) The four bells were apparently rehung in 1782. (fn. 300) The treble and tenor were cast by John Warner & Sons of London respectively in 1876 and 1877. (fn. 301) The bells were restored and rehung in 1974. (fn. 302)
The registers are complete from 1653. (fn. 303)
Nonconformity.
There were three dissenters in the parish in 1676, (fn. 304) one of whom may have been the dissenter who conformed c. 1683. (fn. 305) There is a tradition that Chilmark quarrymen built a chapel, apparently in Tisbury, in 1726, (fn. 306) but meeting houses for Independents certified in 1799 and 1802 are the only direct evidence of nonconformity in the 18th or 19th century among those working or living in Chilmark tithing. A meeting house at Ridge was certified in 1739, another in 1816, and others in 1850 and 1851. (fn. 307) In 1851 Baptists there held three services on Census Sunday with congregations averaging 37. (fn. 308) Between then and 1864 the Union chapel at Ridge Hill was built for General Baptists. (fn. 309) It is a small stone and red-brick building with dressings of black and grey brick. Services were held in it in 1983.
Education.
There was a small day school in the parish in 1783, (fn. 310) and in 1818 a school, then attended by 35 children, which was said to provide sufficient education for the poor. (fn. 311) The rector built a new school in the period 1824–6 (fn. 312) in the Street. It was later affiliated to the National Society. (fn. 313) The number of pupils recorded in 1833, at 136 (fn. 314) more than a quarter of the population of the parish, (fn. 315) is high enough to suggest error or that some came from elsewhere. In 1859 there were 40–50 children at the school and 30 infants were taught in a cottage. A new classroom and an adjoining teacher's house were built to designs of W. Robson between then and 1862. (fn. 316) In 1864 the boys left the school at 9 or 10, the girls at 11, and Charles Tower, rector 1843–80, had for long held a well attended evening school thrice weekly in winter. (fn. 317) There were 95 pupils and 3 teachers in 1902. (fn. 318) The average attendance fell from 85 in 1912 (fn. 319) to 33 in 1938. (fn. 320) In 1971 the school was enlarged: (fn. 321) there were 15 children on roll in 1983. (fn. 322)
Charities for the Poor.
The Revd. Thomas Wills is said to have given by will in 1731 £6 6s. to poor labourers of Chilmark. In the early 19th century the capital, then yielding 6s. a year, was held by the overseers. (fn. 323) The charity was afterwards lost. George Young (d. 1922) gave the reversion of a cottage at the junction of Beckett's Lane and Frog Lane for the recreation of parishioners. (fn. 324) The cottage was sold for £70 in 1927 and the capital invested. The income was not spent and in 1984 the capital was £158. (fn. 325)