Pages 155-169
A History of the County of Wiltshire: Volume 13, South-West Wiltshire: Chalke and Dunworth Hundreds. Originally published by Victoria County History, London, 1987.
This free content was digitised by double rekeying. All rights reserved.
FONTHILL GIFFORD
Fonthill Gifford, 22 km. west of Salisbury, (fn. 1) was the site of Fonthill Abbey, one of the most remarkable buildings in England in the early 19th century. The parish was reduced from 2,004 a. (811 ha.) to 631 ha. (1,558 a.) in 1934 when the north-west part was transferred to Hindon. (fn. 2) In 1986 small parts of the parish were transferred to Berwick St. Leonard and Fonthill Bishop. (fn. 3) This article deals with the parish as it was until 1934. The epithet in the name Fonthill Gifford, the surname of its 12th-century lords, (fn. 4) distinguishes the parish from its neighbour Fonthill Bishop. In the 15th and 16th centuries the two were called respectively Nether Fonthill and Over Fonthill. (fn. 5)
The northern boundary of Fonthill Gifford, separating it from Berwick St. Leonard, Chicklade, and Hindon, formerly part of East Knoyle, (fn. 6) was marked by a tributary of the Nadder which in the late 20th century was often dry west of Berwick St. Leonard. The same stream marked the north part of the eastern boundary, with Fonthill Bishop and Tisbury, but, possibly before 1539, the boundary was submerged when the stream was dammed to make a lake, which was later enlarged. (fn. 7) West and south-west of the lake the boundary with Tisbury follows a road which may have been on its present course in the 11th century and the 14th. (fn. 8) The western boundary with East Knoyle was marked in its north part by stones, still visible, and further south was marked by a minor road, but, apart from where it follows the contours round Beacon Hill, no prominent feature marks Fonthill Gifford's southern boundary with Tisbury.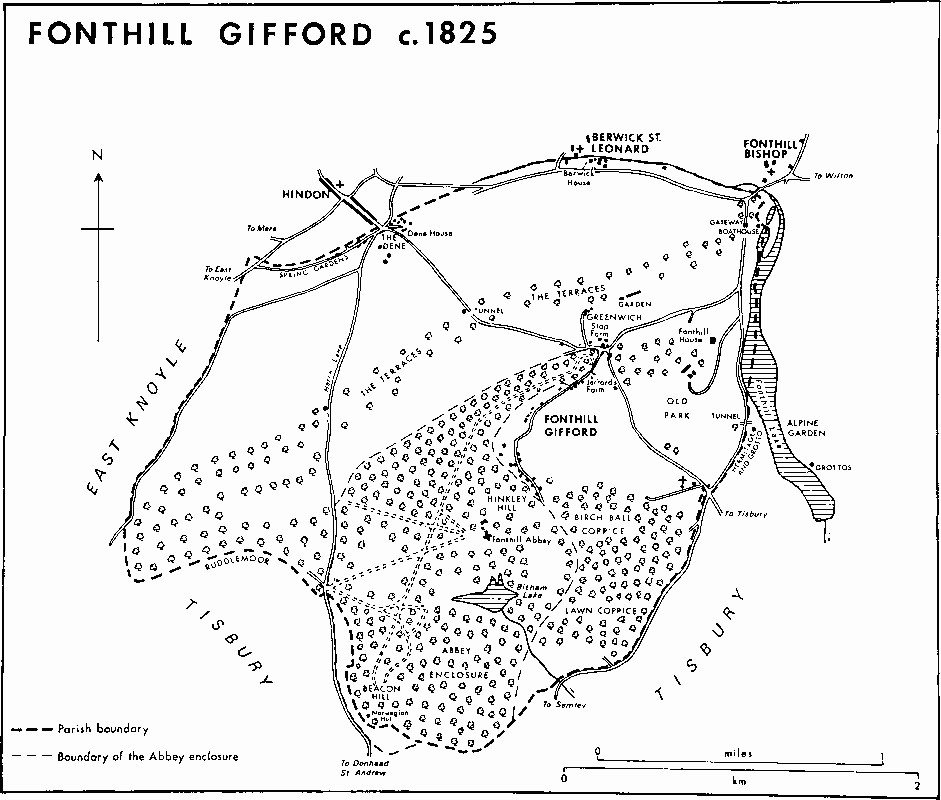 The Upper Greensand ridge between West Knoyle and Barford St. Martin in the north part of the Vale of Wardour crosses Fonthill Gifford from south-west to north-east and is there at its widest. (fn. 9) The greensand outcrops in a square, c. 125 ha., towards the south-west corner of the parish and is characterized by sharp relief. In that corner the circular Beacon Hill, 237 m., is the highest point in the parish and much of the Vale of Wardour. On much lower ground north-east of it Bitham Lake was made before 1639 (fn. 10) by damming a stream which flows south-eastwards to the Nadder. North of that Hinkley Hill, over 213 m., is the site of Fonthill Abbey. Chalk outcrops north-west of the greensand and, although lower, the relief there is almost as sharp: ridges and dry valleys south of Hindon are parallel to the greensand ridge, and the land falls north-eastwards from over 183 m. to 106 m. The ridges running south-west to north-east where the greensand and chalk meet are called the Terraces, but there is no evidence of extensive landscape gardening. Bands of Gault and Lower Greensand outcrop south-east of the Upper Greensand. In the east and south-east parts of the parish limestone outcrops, the land is lower, lying below 107 m. beside the boundary lake and below 137 m. south-east of Bitham Lake, and the relief is gentler. The predominant building material in Fonthill Gifford is local stone, but in Fonthill Gifford, unlike nearby parishes, (fn. 11) the limestone is not known to have been extensively quarried or mined.
In the Middle Ages open fields seem to have been on the lower chalkland to the east, common pastures on the higher chalk to the west. There were common pastures on the greensand, and pasture and arable in closes there and on the limestone. From the 14th century an increasing amount of the parish was imparked. (fn. 12) When the Abbey enclosure was walled c. 1794–6 there were 725 a. (293 ha.) of parkland in the parish, (fn. 13) including nearly all the greensand. The area of woodland was greatly increased in the late 18th century, and in the 19th and 20th pasture was increased at the expense of arable. (fn. 14) Unusually for a south Wiltshire parish a high proportion of the land was woodland and pasture in 1984.
The Wilton—Mere road across the north part of the parish links the villages of Fonthill Bishop, Berwick St. Leonard, and Hindon, lying along the northern boundary of Fonthill Gifford parish, with each other and with other villages on the north side of the Nadder valley. It was turnpiked in 1761, (fn. 15) disturnpiked in 1870. (fn. 16) Before 1761 the road may have been much nearer Berwick St. Leonard village and, with the stream, may have formed part of the boundary with that parish. (fn. 17) The road south from Fonthill Bishop may be the road from Marlborough to Shaftesbury (Dors.) said to have been obstructed by imparking in 1379 (fn. 18) but it has never been a prominent route. In the early 17th century the road was bridged by a gateway of Fonthill House, but it has survived as a public road through the parkland and beside the lake of Fonthill House to link Fonthill Bishop and Semley. Where it marks the parish boundary west of the lake that road is crossed by the Hindon—Tisbury road which was on its present course in the late 18th century, and may have been in the 11th. (fn. 19) A tunnel under the Terraces was made for it in the late 18th century. (fn. 20) Two other roads from Hindon, also surviving from the 18th century or earlier, cross the parish: Hatch Lane leads south to East Hatch in Tisbury, the other leads south-west to East Knoyle. The east-west road north of Fonthill House seems to have been made c. 1800. (fn. 21)
The parish was of below average wealth in the early 14th century. (fn. 22) There were 70 poll-tax payers in 1377. (fn. 23) From the 16th century to the 20th most lords of the manor were wealthy, lived in large houses in the parish, and usually had large households: (fn. 24) otherwise the parish remained poor. (fn. 25) There were 260 conformists and papists in 1676. (fn. 26) In 1801 the population was 493, (fn. 27) at a peak presumably because of employment provided both at Fonthill House and Fonthill Abbey. The former had been largely demolished and most of the building of the latter finished by 1811 (fn. 28) when only 381 people lived in the parish. There were 471 inhabitants in 1821 and the population was above 400 until after 1891. Between 1891 and 1901 it fell from 427 to 357 and between 1911 and 1931 from 357 to 291. A third of the inhabitants were in the part of the parish transferred to Hindon in 1934. Between 1951 and 1981 the population fell from 220 to 160. (fn. 29)
Fonthill Gifford church stood near the stream in the north-east quarter of the parish (fn. 30) where Fonthill House was standing in the 16th century. (fn. 31) There may have been settlement near it in the Middle Ages, but from the mid 17th century, when the rector gave up his house in an exchange with the lord of the manor, (fn. 32) Fonthill House and the church seem to have been the only buildings there. The church was demolished between 1747 and 1749. (fn. 33) The last Fonthill House on the site was largely demolished in 1921. (fn. 34) Buildings associated with the site to survive in 1984 included to the north the early 17th-century gateway spanning the road near Fonthill Bishop, to the north-west the walls and early 19th-century house of an extensive kitchen garden, to the west 19th-century kennels later used as a dairy, and to the south-west a stable yard of the earlier and later 19th century. Since c. 1953 the stables have been used for breeding racehorses, and the winners of three classic races in the period 1975–9 were bred there. (fn. 35) The gateway was transferred to Fonthill Bishop parish in 1986. (fn. 36)
There was a village or hamlet called Stop in the parish in the 13th century. (fn. 37) It almost certainly included the site of the later Stop Farm where the Hindon—Tisbury road crosses a low part of the greensand ridge, and the settlement so called was presumably that in the street leading south-west from that farmstead to follow the contours at the bottom of the ridge. Stop was still so called in the 18th century, (fn. 38) but from 1773 or earlier the settlement in the street was usually called Fonthill Gifford. (fn. 39) In the 20th century the street was called alternatively Fonthill street and Stop street. (fn. 40) At its north-east end the farmhouse called Stop Farm is a house of stone and thatch built in the 17th century and extended in the 18th. Its disused farm buildings include a small granary on staddle stones. A pair of late 18th- or early 19th-century estate cottages is west of it. In the street Jerrard's Farm is a small 18th-century house with 19th- and extensive 20th century farm buildings. The oldest buildings to survive in the street are two pairs of 18th-century thatched cottages and a 17th-century house much altered in the 20th century. A house and two pairs of estate cottages were built in 1857, (fn. 41) and a pair of estate cottages and five pairs of small estate cottages also between 1840 and 1886. (fn. 42) Two pairs of council houses were built in 1953. (fn. 43) At the south-west end of the street is a cottage possibly of the 18th century and a small house possibly of the early 19th century and much extended, but several other buildings north and south of them in the early 19th century were removed before 1886. (fn. 44) In the valley north of Stop Farm a small settlement was called Greenwich in 1773. (fn. 45) The buildings were replaced by three pairs of estate cottages built between 1840 and 1886. (fn. 46)
A new Fonthill Gifford church was built in the period 1747–9 near the parish boundary where the Hindon—Tisbury and Fonthill Bishop to Semley roads cross, and was replaced by a new church built 1864–6. (fn. 47) At the crossroads the Beckford Arms, called the Fonthill inn until the mid 19th century, (fn. 48) is an 18th-century house with 19th-century extensions. South of it is a small 18th-century house of stone and thatch, and east of it are the 19th-century south lodge and gateway of Fonthill House. (fn. 49) Between the inn and the church are an 18th-century cottage and a stone and thatch house of one storey and attics built in 1983.
The fourth group of houses in the parish was at the south-east end of Hindon street, an area called the Dene. In the late 18th century the several houses there (fn. 50) included Dene House, a substantial house of red brick and stone quoins built in the early 18th century, and a lunatic asylum, a stone house of the 18th century, both of which survive. The lunatic asylum, owned by Joseph Frowd Spencer, was open from 1790 or earlier until 1844. (fn. 51) The house was within a walled enclosure with 'cottages' and other buildings used as day rooms and sleeping rooms. (fn. 52) There was no divine service in the asylum but Bibles and prayer books were given out and amusements including cards and singing birds were permitted. (fn. 53) In 1828 there were 23 inmates, 15 men and 8 women, of whom 3 were thought curable. The number of inmates thereafter declined, to 12 by 1834 and 8 by 1840: the remaining 2 lunatics were transferred to Laverstock in 1844. (fn. 54) The settlement at the Dene had spread north-east and south-west by 1840 and a nonconformist chapel had been built. (fn. 55) A few more houses had been built by 1886. (fn. 56) In 1931 the population of the Dene was 89 and in 1934 it was transferred to Hindon. (fn. 57) Since then council and private housing have further expanded the settlement.
Cottages may have been built beside the boundary with Berwick St. Leonard c. 1630 (fn. 58) but none of that period survives. Berwick Farm, adjoining Berwick St. Leonard village, was built between 1817 and 1840. (fn. 59) Its farmhouse, Berwick House, has a redbrick front of five bays and three storeys with a Doric porch. The house was enlarged more than once in the 19th century and was converted into flats in 1949. (fn. 60) Its farm buildings include a range of open sheds contemporary with the house, others contemporary with its first enlargement, and others of the later 20th century. East of them is a pair of early 19th-century estate cottages. Berwick Farm and the cottages were transferred to Berwick St. Leonard parish in 1986. (fn. 61) Other isolated houses in Fonthill Gifford parish include old and new rectory houses and a pair of mid 19th-century estate cottages, all north-west of the church, and lodges of Fonthill Abbey.
Manors and other Estates.
Fonthill Gifford was held by Euing in 1066 and by Berenger Giffard in 1086. Berenger may have been the Berenger Cotel who held the demesne in 1084 or a descendant. (fn. 62) A descendant of Berenger was Robert Giffard (fl. 1135) whose son Gerard (fl. 1172) held Fonthill in 1159. Gerard was succeeded by his son Robert who held the barony of Fonthill Gifford from 1186 or earlier until his death in the period 1202–9. Robert's heir was his brother Andrew, a clerk, (fn. 63) who, apparently on Robert's death, gave up the lands of the barony, retaining until his own death c. 1220 only the obligations due from undertenants. With the king's assent Andrew had by 1209 resigned the lands to Robert Mauduit, William Cumin, William de Fontibus, and Robert de Mandeville, presumably the husbands or descendants of four female coheirs. The eldest, Robert de Mandeville, became overlord. (fn. 64)
The overlordship passed c. 1231 from Robert de Mandeville to his son Geoffrey, (fn. 65) who was overlord in 1242–3. (fn. 66) Geoffrey (d. 1269) was succeeded by his son John (d. 1275) and by John's son John (d. 1313), (fn. 67) one of whom was recorded as overlord in 1275. (fn. 68) The overlordship seems to have descended to Robert Mandeville (d. 1348) (fn. 69) and his son John (d. 1360), (fn. 70) but the reference to a Robert Mandeville as overlord in 1382 (fn. 71) seems anachronistic.
Robert Mauduit's portion of Andrew Giffard's estate was later called FONTHILL GIFFORD manor. Robert (d. by 1243) was succeeded by another Robert Mauduit, possibly his son, who had sons Sir John (d. s.p. 1302) and Sir Robert (d. c. 1288). (fn. 72) Sir Robert held the manor of Sir John (fn. 73) and, while his son John was a minor, his relict Alice had the keeping of it by Sir John's grant. (fn. 74) John was of age and Sir John's heir in 1302, and was knighted in 1306. In 1345 he was granted free warren in his demesne lands at Fonthill. (fn. 75) That Sir John (d. 1347) also held Fernhill manor, (fn. 76) most lands of which seem to have been in Tisbury, (fn. 77) and some of his Fonthill land passed with that manor from his relict Agnes Bradeston (d. 1369) to his grandson Sir William Moleyns and through the Moleyns family to Eleanor Moleyns, wife of Robert Hungerford, Lord Hungerford and Moleyns (d. 1464). (fn. 78) Sir John held the rest of his Fonthill land jointly with John Inge for their lives. (fn. 79) At Inge's death in 1349 it reverted to Sir John's son John (fn. 80) who died in 1355 leaving a relict Joan and as heir a brother Peter. (fn. 81) Joan may have been granted seisin in 1355, (fn. 82) but by 1362, when she unsuccessfully claimed dower, Fonthill Gifford manor was held by Hildebrand Inge, (fn. 83) possibly in the right of Joan Dore, the daughter of his brother John (d. 1353). Joan Dore died holding the manor in 1382 and was succeeded by Hildebrand's son John (fn. 84) (d. between 1412 and 1428). (fn. 85) John was apparently succeeded by Thomas Inge (fl. 1433). (fn. 86) Between 1442 and 1447 Thomas may have sold the manor to Robert Hungerford, Lord Hungerford (d. 1459), as he did land elsewhere. (fn. 87) Hungerford held the land at his death and was succeeded by his son Robert, Lord Hungerford and Moleyns (d. 1464), (fn. 88) who thus reunited both parts of Fonthill Gifford manor. In 1460 Hungerford con veyed to his mother Margaret, from 1462 suo jure Baroness Botreaux, the lands in Fonthill which he had inherited from his father. (fn. 89) In the same year he and his wife Eleanor conveyed the lands held in her right to trustees to help in his ransom from Aquitaine. (fn. 90) After Hungerford's death and after the debt incurred by the ransom had been paid, Eleanor, later wife of Sir Oliver Manningham, tried to recover those lands from the trustees: she was excluded by two of the trustees, one of whom was John Mervyn, who improbably claimed that the lands had been part of an earlier grant to Margaret, Baroness Botreaux, from Robert, Lord Hungerford (d. 1459). (fn. 91) In 1466 Baroness Botreaux apparently held the whole manor, (fn. 92) and in the late 1460s improved her title to it by conveyances from Sir Thomas and Frideswide Hungerford, the son and daughter of Robert and Eleanor. (fn. 93) Apparently in 1472, she sold it to John Mervyn (fn. 94) to whom in 1473 Sir Oliver and Eleanor Manningham gave up their claim. (fn. 95) The manor, which included Fernhill manor and land in Tisbury and elsewhere, (fn. 96) passed at Mervyn's death after 1476 to his son Walter (fn. 97) (d. 1512), who devised it for her widowhood to Elizabeth, relict of his son John. (fn. 98) It passed on Elizabeth's death after 1520 (fn. 99) to that John's son John (knighted in 1547, d. 1566).
William Cumin's portion of Andrew Giffard's estate was later called FONTHILL LA WARRE manor. At his death in 1223 or 1224 William left as heir a daughter Margery, (fn. 100) but she may then have been a minor since his relict Eve, wife of John de Mar, claimed her dower from the overlord. (fn. 101) Margery's husband John de Cauntelo held the land in 1242–3 (fn. 102) and was granted free warren in his demesne in Fonthill in 1257. (fn. 103) Margery herself held the land in 1275. (fn. 104) She was succeeded by her son Sir John de Cauntelo (fn. 105) whose daughter and heir Eleanor was wife of Sir Thomas West (d. 1343). (fn. 106) The Wests' son Sir Thomas (d. 1386) held the manor in 1379 (fn. 107) and 1382 when it was part of an estate including East Hatch and other manors in Tisbury. (fn. 108) His manor in Fonthill Gifford passed to his son Thomas, Lord West (d. 1405). (fn. 109) It was settled from 1408 on that Thomas's younger son Reynold, (fn. 110) from 1416 Lord West and from 1427 Lord la Warre (d. 1450), and thereafter passed from father to son with the la Warre title to Richard (fn. 111) (d. 1476), Thomas (fn. 112) (d. 1525), and Thomas (d. 1554). In 1533 Lord la Warre sold Fonthill La Warre manor with land in Tisbury to John Mervyn (d. 1566). (fn. 113)
An estate held by Matthew de Furnays in the mid 13th century was later called FONTHILL CHARTERHOUSE manor. It was possibly the land held in 1209 by William de Fontibus (fn. 114) and in 1242–3 by his heir. (fn. 115) Matthew's heir held it in 1275, (fn. 116) and c. 1286 Sir Matthew de Furnays sold it to Bartholomew of Mere, (fn. 117) who added to his estate in Fonthill by other purchases about the same time. (fn. 118) Although an alien, Bartholomew, then rector of Fonthill Gifford, was allowed to keep his lay fees in 1297: (fn. 119) he may have been dead by 1299. (fn. 120) Richard of Mere apparently held the land in 1317. In 1344 he settled it on his son John and John's wife Joan, who in 1375 together conveyed it to trustees. In 1382, perhaps after their death, it was conveyed to other trustees (fn. 121) who in 1392 conveyed it to the Carthusian priory of Witham (Som.). (fn. 122) The manor belonged to the priory until the Dissolution. (fn. 123) In 1542, when like other manors in Fonthill Gifford it included land in Tisbury, it was granted to Richard Andrews and Leonard Chamberlain, presumably agents of Sir Thomas Arundell to whom they conveyed it in the same year. (fn. 124) It again passed to the Crown on Arundell's attainder in 1552, (fn. 125) and in 1553 was granted to Sir John Mervyn (d. 1566). (fn. 126)
The land held by Robert de Mandeville in 1209 passed to his son Geoffrey who held it in 1242–3. (fn. 127) No later Mandeville is known to have held it and Geoffrey, who was in debt to Jews, (fn. 128) may have sold it. Ralph de Chalons, who in 1249 held land in Dunworth hundred, (fn. 129) may have acquired it and it was possibly the land in Fonthill Gifford held by Sir Peter Chalons (fl. c. 1290). (fn. 130) Sir Peter's relict Isabel held that land as dower in 1324. His heir was Philip de Vautort who then conveyed his title to the land to John Chalons. John had sons John and Ralph, (fn. 131) but the Ralph Chalons who held the land in 1412 (fn. 132) was presumably of a later generation. By 1428 the land had passed to Sir Robert Chalons. (fn. 133) It was afterwards acquired by a Hungerford, (fn. 134) most likely by Robert, Lord Hungerford (d. 1459). At that Lord Hungerford's death the Chalonses' land apparently passed with part of Fonthill Gifford manor to his son Robert, Lord Hungerford and Moleyns (d. 1464), and afterwards with that part of the manor in turn to Margaret, Baroness Botreaux, and John Mervyn (fl. 1476). (fn. 135)
The estate thus reunited by inheritance and purchase by Sir John Mervyn (d. 1566) was centred on Fonthill Gifford and comprised nearly all the parish and much land in nearby parishes. Immediately on Sir John's death the whole manor passed to his son James, (fn. 136) despite claims by his relict Elizabeth to hold it for life and by his grandsons John, Edmund, and Richard, sons of Edmund Mervyn, to succeed in turn to the parts of it which Sir John had bought. (fn. 137) James (knighted in 1574, d. 1611) settled the estate on himself for life and afterwards on his granddaughter Christine Tuchet and her husband Henry Mervyn, knighted in 1619. (fn. 138) In 1620 Henry sold it to Christine's brother Mervyn Tuchet, earl of Castlehaven, (fn. 139) who was attainted and executed for felony in 1631. (fn. 140) The estate escheated to the Crown and in the same year Lord Castlehaven's son James, earl of Castlehaven, from 1633 Baron Audley, conveyed it to representatives of the Crown including Francis Cottington, Baron Cottington, Chancellor of the Exchequer. Charles I granted it to Cottington in 1632. (fn. 141) In 1640–1 Lord Audley claimed the estate from Cottington in the House of Lords, presumably on the grounds that Cottington held it only as a representative of the Crown, but the house found that Cottington had bought it and denied Audley's claim. (fn. 142) Cottington, who adhered to Charles I and died in exile in 1652, (fn. 143) settled the estate on himself for life and afterwards on Francis (d. 1666) and Charles Cottington, sons of his nephew Francis Cottington (d. 1665), in turn. (fn. 144) The estate was sequestrated in 1645, (fn. 145) and given to the regicide John Bradshaw, president of the Council of State, in 1649. Bradshaw (d. 1659) devised it to his brother Henry. (fn. 146) On Bradshaw's death Francis Cottington, either Lord Cottington's nephew or grandnephew, took the estate by force, and he kept it at the Restoration. (fn. 147) It passed to Charles Cottington (fn. 148) (d. 1697), Charles's son Francis (fn. 149) (d. 1728), created Baron Cottington by the Old Pretender in 1716, and to that Francis's son Francis. In 1745 Francis Cottington sold the estate to William Beckford, (fn. 150) lord mayor of London in 1763 and 1770. (fn. 151) Beckford (d. 1770) was succeeded by his son William, the author of Vathek and builder of Fonthill Abbey. (fn. 152) The son sold the estate in 1823 to John Farquhar, (fn. 153) formerly a gunpowder contractor in India, (fn. 154) who by 1825 had divided it.
The tower of Fonthill Abbey fell on 21 December 1825. (fn. 155) The fall apparently precipitated a decision by Farquhar to sell the whole estate. On 22 December and 27 December he contracted to sell the FONTHILL ABBEY estate, (fn. 156) including nearly all the parish except 240 a. in the east part, (fn. 157) to John Benett whose Pythouse estate in Tisbury adjoined it. (fn. 158) No price was agreed before Farquhar died intestate in 1826. His estate was disputed among his niece Elizabeth Trezevant and nephews James Mortimer and John Farquhar Fraser. Although all three wished to sell to Benett, who entered on some of the land, the terms were not agreed until 1838. (fn. 159) To raise the money to pay for the estate, in that year Benett tried unsuccessfully to sell it. (fn. 160) He mortgaged it, and in 1844 agreed to sell it to Richard Grosvenor, Earl Grosvenor, who completed the purchase after he had succeeded his father as marquess of Westminster in 1845. (fn. 161) At Lord Westminster's death in 1869 the estate passed to his relict Elizabeth (d. 1891), (fn. 162) with remainder to their daughter Octavia. Between 1878 and 1884 Elizabeth sold her life interest to Octavia's husband, Sir Michael ShawStewart, (fn. 163) Bt. (d. 1903). The estate passed to Octavia (d. 1921) and to her son Walter Shaw-Stewart (d. 1934) (fn. 164) who sold Berwick House farm, c. 240 a., to Hugh Morrison in 1928. (fn. 165) The rest of the estate passed to Shaw-Stewart's relict Mary, and at her death in 1943 to his grandson Mr. N. W. Rimington. In 1947 Mr. Rimington sold c. 350 a., including Jerrard's farm, in the south-east to John Morrison, created Baron Margadale in 1964. Mr. Rimington owned c. 1,125 a. in the west part of the parish in 1984. (fn. 166)
Farquhar gave or sold the FONTHILL HOUSE estate, comprising a house, 240 a. in Fonthill Gifford, and land elsewhere, to his nephew George Mortimer (fn. 167) (d. 1832) who in 1829 contracted to sell it to James Morrison (d. 1857). Because of the litigation over Farquhar's estates the sale was not completed until 1838. (fn. 168) The estate descended from father to son in the Morrison family to Alfred (d. 1897), Hugh (d. 1931), and John, (fn. 169) Baron Margadale, all of whom added to it. In 1984 it belonged to Lord Margadale's son the Hon. J. I. Morrison. It then encompassed the north-east part of Fonthill Gifford, c. 800 a., and land in Hindon, Berwick St. Leonard, Chicklade, Fonthill Bishop, Chilmark, Tisbury, and elsewhere, a total of c. 9,000 a. (fn. 170)
Sir John Mervyn (d. 1566) lived at Fonthill Gifford in a house surrounded by a park. (fn. 171) That Fonthill House was damaged by fire in 1624 or 1625. (fn. 172) It was bought by Lord Cottington in 1632 and had been restored by 1637. (fn. 173) A painting of c. 1700 shows Cottington's house, of freestone, to have consisted of a north—south hall range of five bays with east wings: much of Mervyn's house apparently survived as the south part. The hall range was entered at the centre of its east front, there was a gateway in the centre of a wall linking the ends of the wings, and, further east on the line of the entrance and gateway, there was a gatehouse with circular corner turrets. In 1637 a kitchen court, of which one side or more was built by Cottington, adjoined the north side of the house. By then Cottington had also built a stable block, comparable with one at Wilton House designed by Isaac de Caux, and a wall, of squared stone blocks laid dry and with coping, 3 miles long around the park which had presumably already been extended to include the two parks, the old one west and the new one south of the house, referred to in the late 17th century. Cottington may also have built the north gateway, over the road from Fonthill Bishop to Semley, the design of which is closely related to that by Inigo Jones of the royal stables at Newmarket (Suff.). In the late 17th century there was an ornamental canal east of the house. It was crossed by a bridge on the line of the east entrance, gateway, and gatehouse, and was joined to a water garden at its south end. On the top of the hill west of the house a raised summer house or gazebo then stood in another garden. (fn. 174)
Fonthill House was much altered for Francis Cottington c. 1715: (fn. 175) the exterior was presumably then refaced in the classical style which it displayed in 1740. By 1740 the formal gardens around the house, including the canal, had been removed, and the east gatehouse had been replaced by piers surmounted by eagles: all those changes may have been made by that Francis Cottington (d. 1728). (fn. 176) William Beckford further altered the house between 1745 and 1753, making main north and south entrances. The gardens and park were opened up and the lake in the valley east of the house was crossed by a fivearched bridge near its south end. On the higher ground west of the house Beckford built a temple and south-west of that, possibly on the site of the 17th-century summer house or gazebo, a pagoda. (fn. 177) In the period 1747–9 the old parish church near the house was taken down and replaced by one further south with a Tuscan portico on the side facing the park and house. (fn. 178)
Beckford's house was burned down in 1755. A new Fonthill House of local white freestone, on a site apparently a little south of the old house, was begun soon afterwards to designs by a London tradesman called Hoare. (fn. 179) The design was based on that of Houghton Hall (Norf.). The house consisted of a main block and two pavilions and measured 390 ft. from east to west, taking up much of the gap between the hill and the lake. (fn. 180) The shell of the house had been built by 1760. Beckford may not have been satisfied with the design, which was then going out of date: in 1763 Robert Adam prepared plans of a new house for him, but that was not built. The interior fittings of Fonthill House were not finished until long after 1760. (fn. 181) For 30 years the two Beckfords employed architects, painters, and sculptors to work on them. Sir John Soane designed a picture gallery for the attic floor in 1787 (fn. 182) and James Wyatt a ceiling for an Egyptian hall and a chimneypiece. (fn. 183) There were ceiling paintings by Andrea Casali and other chimneypieces designed by J. F. Moon, Thomas Banks, and the elder John Bacon. (fn. 184) By 1773 new stables had been built south-west of the house. Outbuildings then near the site of the 17th-century stables may have been for a kitchen garden: (fn. 185) by 1823 they had been demolished and a new, partly walled, kitchen garden of 8 a. had been made on the north side of a valley north-west of the house. (fn. 186) After 1773 the younger Beckford further developed the park, which by then had been extended eastwards and westwards, presumably between 1773 and 1796. The lake was extended southwards, the water level raised, and the five-arched bridge removed. A vaulted boathouse was built at the north end of the lake and a series of grottos, by Josiah Lane of Tisbury, and a landing stage were built on the east shore where an Alpine garden was made in disused quarries. In one of the grottos an oval basin of ashlar was fed by a small stream flowing to the lake. On high ground near the west shore a grotto and a hermitage were built and near them a rustic tunnel was made under the Fonthill Bishop to Semley road. The ridges along the northern edge of the park were planted with a broad belt of trees and a tunnel was made under the Terraces for the Hindon—Tisbury road. (fn. 187) On Beacon Hill in the south-west corner of the parish a triangular tower was begun before 1770 (fn. 188) but was not finished. In 1790 James Wyatt was commissioned to design a ruin for the same place but that was not started. (fn. 189)
In the 1790s Beckford's interest moved from Fonthill House to Fonthill Abbey. A small part of Fonthill House may have been taken down in 1801, (fn. 190) and in 1807 the main block, quadrants, and east pavilion were demolished. (fn. 191) The west pavilion survived and an entrance porch, possibly designed by Stedman Whitwell, was added to its east front. (fn. 192) Between 1823 and 1828 the pavilion became the home of George Mortimer. By 1828 west service rooms had been added. (fn. 193) After 1829, when James Morrison contracted to buy the house, J. B. Papworth designed alterations and a new south entrance gateway with vermiculated masonry and a small south lodge of stone and thatch. (fn. 194) The house was raised by one storey, perhaps at the same time. It later incorporated an Italianate tower and south service rooms, presumably added when it was altered to designs of T. H. Wyatt and D. Brandon in the period 1846–8. (fn. 195) It was lived in by Alfred Morrison, who further extended it, his relict Mabel, and their son J. A. Morrison (d. 1934). (fn. 196) Most of it was demolished in 1921. (fn. 197) Part of the west service wing survived as a pair of cottages, demolished c. 1975. (fn. 198) In 1921 the name Fonthill House was transferred to Little Ridge, a house built for Hugh Morrison near the eastern edge of the park in Chilmark and replaced by another in 1972. (fn. 199)
As early as 1777 William Beckford intended to build a house in medieval style. (fn. 200) Beckford decided to build his new house on high ground 1.5 km. south-west of Fonthill House and away from public roads, presumably because there he would have the privacy he sought. (fn. 201) In 1794 he began to build a wall around an enclosure of 524 a. The wall is said to have been 12 ft. high and surmounted by metal spikes to keep out the hunt: (fn. 202) much of it survives and none is so high or spiked. In 1796 Beckford commissioned James Wyatt to design a house to be built on Hinkley Hill near the middle of the enclosure. From its beginning the design of Fonthill Abbey was loosely based on one of a Gothic monastery, cruciform with a great central tower surmounting an octagonal chapel, and it was enlarged and altered as building went on. Much had already been built by 1797: in 1798 a short central spire and, east of the octagon, a massive choir with corner turrets 37 m. high were added to the design. In May 1800 part of the tower, which was mostly wood and stucco, or the scaffolding around it and a timber frame above it, collapsed. (fn. 203) By Christmas 1800 the house was sufficiently advanced for a feast in honour of Lord Nelson to be held in it, although the guests, including Nelson, were accommodated at Fonthill House. Despite periods of rapid progress the building of Fonthill Abbey continued for many years. The north wing may not have been started until after 1800 and Beckford moved in, to the south wing, only in 1807. Much of the original building was faulty and rebuilding in stone, some taken from Fonthill House after 1807, was necessary. The tower was rebuilt in 1806 and its interior was being finished in 1808. The great east choir was built between 1812 and 1818. Much space inside the house was taken up by galleries in which Beckford's collections of antiquities and early furniture could be displayed, and the interior decoration included many stained-glass figures of saints and much heraldry illustrating Beckford's claim to have descended from the barons who signed Magna Carta. When William Beckford sold Fonthill Abbey in 1823 it consisted of the central octagon and tower, a western arm in which an entrance hall contained the stair to the principal floor, the eastern arm containing the dining and drawing rooms, and narrow north and south gallery ranges. The north, King Edward's gallery, led directly into a sanctuary and an oratory, the south, St. Michael's gallery, had on its west side a cloister and near its south end the block in which were Beckford's private rooms. (fn. 204)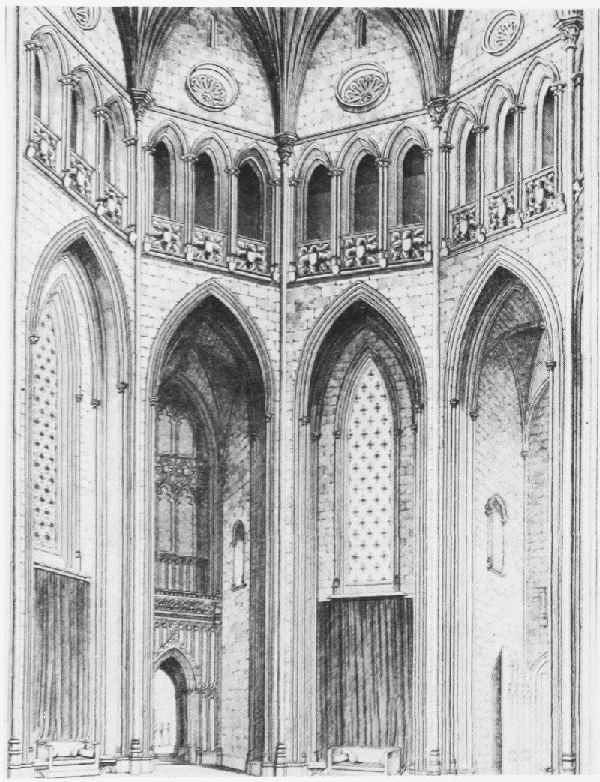 Apart from Fonthill Abbey the only buildings in the enclosure were some north of the house, presumably stables and offices, and a wooden rustic lodge called the Norwegian Hut near the south-west boundary. There were eight gates, at none of which was a lodge. (fn. 205) Outside the enclosure two circular lodges, one near the tunnel on the Hindon—Tisbury road and the other beside Hatch Lane, (fn. 206) may have been for Fonthill Abbey.
Around the house the enclosure was extensively planted with trees through which there were vistas and avenues, and an eastern part was planted with species of American origin. Water from the ornamental Bitham Lake supplied the house. Much more woodland was outside the enclosure, which was linked to the park of Fonthill House by a road through woods called Birch Ball Coppice and Lawn Coppice. (fn. 207)
In 1825 the central tower of Fonthill Abbey collapsed and destroyed the western arm of the house and part of the southern. (fn. 208) The house was not restored. Most of what remained standing was taken down before 1845, probably after 1838. (fn. 209) The rubble was removed c. 1850. (fn. 210) All that survives is the Lancaster tower, the sanctuary, and the oratory, the north end of the north wing, against which a low wing has been built, apparently using masonry from the cloister.
Between 1856 and 1859 a new Fonthill Abbey was built 500 m. south-east of the old for Richard, marquess of Westminster. The house, designed by William Burn, (fn. 211) who had earlier worked for the Grosvenors at Eaton Hall (Ches.), (fn. 212) was in Scottish Baronial style with a turreted three-storeyed main block and a stable court. Tisbury Lodge, south of Fonthill Gifford church, was built in similar style at the entrance to a new main drive, and Lawn Lodge was built south of the new house. Two red-brick and tile lodges in Tudor style north and south of Beacon Hill, one in Tisbury, were built in 1860. Terraced gardens with statuary were laid out south-west of the house and a walled kitchen garden was made 500 m. south-east of it. (fn. 213) The house may have been in poor repair in 1952 and 1953 when plans for alterations were made (fn. 214) and it was demolished in 1955. (fn. 215) The stable court was being converted into a house in 1984.
Economic History.
Agriculture. Fonthill Gifford was an estate of 5 hides in 1066. It had land for 7 ploughteams in 1086. Only 1 hide was then demesne, but it had on it 3 teams and 4 serfs while the 6 villani and 16 bordars had only 4 teams. There were 7 a. of meadow, and pasture ½ league long and 3 furlongs broad. (fn. 216)
Evidence of sheep-and-corn husbandry and open fields and common pastures (fn. 217) shows agriculture at Fonthill Gifford in the Middle Ages to have conformed to the pattern on the Wiltshire chalkland. There was a South field c. 1290, (fn. 218) apparently three open fields c. 1425. (fn. 219) Broad mead was a common meadow, perhaps partly inclosed c. 1290, (fn. 220) and in 1288 there were common pastures for oxen and sheep, presumably extensive. (fn. 221) Common pasture at Stop was mentioned in 1441. (fn. 222) The manors were small. In 1288 Sir Robert Mauduit's included 120 a. of arable, 1½ a. of meadow, woodland, and pasture rights in demesne, and little customary land. (fn. 223) That part of it which passed in the Moleyns family included demesne of 36 a. of arable, 8 a. of meadow, and 6 a. of pasture c. 1425 when tenants held some of its land freely but none customarily. (fn. 224) Fonthill Charterhouse manor was between 100 a. and 150 a. (fn. 225) Much of Fonthill La Warre manor was apparently imparked land in the east part of the parish. (fn. 226) On the other hand, the Chalons family's estate seems to have included no demesne land and to have been in holdings, of which the largest may not have exceeded 40 a., with land in all parts of the parish. In 1467 Margaret, Baroness Botreaux, owned a composite manor: the reunited Fonthill Gifford manor was leased as a single farm for £6 13s. 4d., and the former Chalons estate remained in 22 holdings, most of which seem to have been held customarily, for which the rents totalled £5 9s. 8d. (fn. 227)
Although some imparked land was used for agriculture, especially in the 16th century, from the later 14th century to the late 18th the amount of agricultural land in the parish was periodically reduced as the parkland and woodland were increased. (fn. 228) In the mid 16th century there were c. 10 farms, mostly copyholds, with farmsteads almost certainly at Stop (Fonthill street). Much of their land was inclosed, presumably most of it on the greensand, clay, and limestone in the south. Most included arable in the open fields, (fn. 229) of which there were apparently four. The survival of extensive common pastures is implied, apparently for sheep on the downs in the north-west corner of the parish and for cattle on the greensand. The 'commons and wastes' were divided and inclosed by agreement c. 1577 when 2 a. were allotted for the right to feed each beast. (fn. 230) The inclosed land, of which the lord of the manor was apparently allotted 130 a., was in the south-west part of the parish and later in the Abbey enclosure. (fn. 231) Elsewhere the arable remained open and the pastures for sheep, and almost certainly some for cattle, continued to be used in common. Shortly before 1639, however, three open fields, East, Middle, and West, and the easternmost part of the downland pasture for sheep, were inclosed. One farmer was allotted 11 a. of down to replace the feeding of 100 sheep and immediately ploughed it. Stop heath was inclosed then and another common east of it soon afterwards, but where they lay is obscure. It is likely that some of the land inclosed in the 1630s was also imparked. (fn. 232)
Berwick, later Berwick House, farm existed in 1696. It presumably already had land in the north part of the parish but the site of its buildings before the early 19th century is obscure. In 1706 it was a sheep-and-corn farm with c. 140 a. of arable and some land in Tisbury. (fn. 233) Other land outside the park was in much smaller holdings. (fn. 234) A copyhold of 92 a. and pasture rights based at Stop in 1714 may have been Stop farm. (fn. 235) In the 18th century the remaining open field, between Stop and Berwick St. Leonard, called North field in 1607, (fn. 236) was worked as three fields, (fn. 237) and a tenantry flock fed on the remaining commonable downland. (fn. 238) By 1754, however, 162 a. of the open fields and the down of 130 a. were parts of Berwick farm, 400 a. (fn. 239) Little open-field land was in other farms, (fn. 240) and rights to feed animals in common on fields and downs were eliminated in the period 1787–1818 when William Beckford bought out the owners and copyholders of most other agricultural land in the parish. (fn. 241) In the same period agriculture was restricted to the lands between Fonthill street and the old park, west of Stop Farm, and north of the Terraces: (fn. 242) all of them were several in 1825, (fn. 243) and in 1838 mostly divided between Stop farm, 325 a., and Berwick farm, 336 a. (fn. 244) In 1840 those farms included 375 a. of arable and c. 300 a. of meadow and pasture. There were three holdings of between 15 a. and 60 a. Berwick farm lay in a strip along the northern parish boundary. Most of Stop farm was also an east—west strip, west of the old park and south of Berwick farm, with pastures on the Terraces. A farm of 59 a., Jerrard's, had buildings on the south side of Fonthill street and included most of the agricultural land between the street and the old park. By 1840 c. 21 a. near Hindon had been divided into c. 100 small gardens, called the Spring Gardens, then with nearly 100 tenants (fn. 245) but later with fewer. (fn. 246)
In 1867 Stop, Berwick, and Jerrard's were farms of respectively 427 a., 321 a., and 54 a. (fn. 247) They remained arable and sheep farms, but in the later 19th century dairy farming in the parish increased, and in the early 20th there was less ploughing. (fn. 248) Since 1928 Berwick House farm has been in hand and used for arable, sheep, and dairy farming as part of the Morrisons' Fonthill House estate. In 1984 buildings included some for storing grain. Jerrard's farm and 155 a. of Stop farm have remained tenanted and in 1984 were used with land in East Knoyle for arable and dairy farming. The rest of Stop farm accounted for most of the c. 300 a. of farmland in Fonthill Gifford which were among c. 650 a. of farmland of the Fonthill Abbey estate managed directly by its owner. The Fonthill Gifford land was used for arable and dairy farming in 1984. The buildings at Stop Farm were given up c. 1970 when new buildings, including a dairy, were erected west of it on the Terraces, and a new dairy was built west of Hatch Lane on land then in Hindon. Each dairy was for c. 120 cows. (fn. 249)
In 1086 there was a mill at Fonthill Gifford. (fn. 250) A mill was part of the Chalons family's estate in 1324 (fn. 251) and the windmill from which the rector was entitled to tithes in 1341 was presumably in Fonthill Gifford, (fn. 252) but later mills forming parts of estates with land in Fonthill Gifford may have been in Tisbury. (fn. 253) No site of a corn mill is known in the parish. There was a fuller in the parish in 1379 (fn. 254) and a tanner c. 1550. (fn. 255)
Stone was quarried at Fonthill in the 13th century. (fn. 256) There was a disused quarry in 1639 (fn. 257) and a quarry was referred to in 1714, (fn. 258) but later quarrying for buildings in Fonthill was apparently in Tisbury (fn. 259) and possibly elsewhere.
Parks and woodland. By the 1370s Sir Thomas West (d. 1386) had imparked land in Fonthill Gifford which seems to have included a lake. (fn. 260) It was part of an estate lying mainly in Tisbury (fn. 261) and the lake was presumably that created by damming the tributary of the Nadder. West was accused of having closed the Marlborough—Shaftesbury highway by imparking in 1379. Although it was later found that the road had not been obstructed, (fn. 262) in 1386 his son Thomas, later Lord West, was pardoned for such an obstruction and ordered to make a new road round the north and west sides of the park. (fn. 263) There is no evidence of such a new road and the old one, possibly that linking Fonthill Bishop and Semley which still passed through the park in 1984, may have been opened. The 8 a. of woodland which West received in 1392 in an exchange with the trustees of Witham priory (fn. 264) may have been added to the park.
Sir John Mervyn bought the park in 1533 (fn. 265) and apparently enlarged it soon afterwards. In 1539 he was accused of having drowned the boundary between Fonthill Gifford and Fonthill Bishop, (fn. 266) presumably to enlarge the lake northwards. By 1566 he had around his house a park, in Fonthill Gifford, Fonthill Bishop, and Tisbury, which included the lake, a heronry, woodland, an orchard, a hopyard, a dairy, and pasture for sheep and cattle to provide for his household. (fn. 267) There was a vineyard in 1633. (fn. 268) Between 1632 and 1637 Lord Cottington walled the park: (fn. 269) in it he kept game birds for hawking (fn. 270) and fallow deer, (fn. 271) baited bulls, (fn. 272) and presumably fished. (fn. 273) He possibly imparked more land c. 1639, and Bitham Lake may then have been within an inclosure although farmers kept rights to water animals at it. (fn. 274) In the late 17th century an old park was west of Fonthill House and a new one south of it. (fn. 275) There was no deer in the park in 1715 and the wall, though it had been built high enough, was not in good enough repair to restrain deer. (fn. 276) The lord of Fonthill Bishop challenged Francis Cottington's right to keep swans in Fonthill Bishop in 1722, (fn. 277) presumably to exact payment for swans on the eastern side of the lake. A further 7 a. were added to the park before 1745. (fn. 278)
The parkland which William Beckford bought in 1745 (fn. 279) was all later called the old park. It included c. 250 a. in Fonthill Gifford, most of which were pasture, and c. 60 a. of lake, pasture, and woodland in Tisbury and Fonthill Bishop. In the 19th century it was extended further into Tisbury and Fonthill Bishop (fn. 280) and into the south-west part of Chilmark where the new Fonthill House was built in the period 1902–4. (fn. 281) Deer were kept in the Tisbury portion until the early 20th century, (fn. 282) but the Fonthill Gifford portion was then used for dairy farming. (fn. 283) The dairy near the old Fonthill House went out of use in the mid 20th century. (fn. 284) In 1940 and 1941 a total of 48 a. was used for an army camp and for a few years after 1946 for council housing. (fn. 285) In 1984 the Fonthill Gifford part of the park was used as pasture for sheep and heifers. (fn. 286)
Woodland 4 furlongs long and 2 furlongs broad stood at Fonthill Gifford in 1086. (fn. 287) The greensand, clay, and limestone in the south may have been well wooded. In the early 18th century, when there was also woodland in the park, Whitemead Wood and Bitham Wood, both partly in Tisbury, were leased for a total of £50 a year, and another 216 a. of coppice in Fonthill Gifford and Tisbury were leased; there were a further 30 a. of new woodland at Ruddlemoor, also partly in Tisbury. (fn. 288) In 1773 woodland in the old park lay between Fonthill House and the Hindon—Tisbury road, and much woodland, Birch Ball Coppice and Lawn Coppice, lay southwest of the church. What became the Abbey enclosure was then wooded only in the extreme south. (fn. 289) The enclosure was walled by William Beckford c. 1794–6. (fn. 290) Unlike the old park it was on high ground. It included most of the south-west part of the parish and extended north-eastwards to Stop Farm, a total of 524 a. of which 493 a. were in Fonthill Gifford. (fn. 291) The trees planted over most of it were apparently for ornament. (fn. 292) In 1822 all the old woodland survived, the Abbey enclosure was wooded, and there was woodland west of the enclosure and on the Terraces: (fn. 293) in 1840 the parish contained 828 a. of woodland of which c. 55 a. were in the old park. (fn. 294) An auction of 1,650 trees, mostly oaks, was held in 1841. (fn. 295) Except for part of Lawn Coppice the wooded area has since been little changed. In the later 19th and the 20th centuries the woods have been used for sport and commercial forestry. South of Fonthill Abbey a sawmill, powered by an overshot wheel driven by water from Bitham Lake and incorporating a first-floor carpenter's shop, was built of stone between 1840 and 1867. (fn. 296) It went out of use in the Second World War. An estate woodyard was developed in the west part of the enclosure in the 1970s. The Fonthill Abbey estate included 670 a. of woodland, nearly all in Fonthill Gifford, in 1984. It was used for commercial forestry and directly managed. There was some deer hunting and bird shooting. (fn. 297)
Local Government.
No lord of Fonthill Gifford held view of frankpledge or a court leet. Sir Thomas West (d. 1386) held courts for the manor later called Fonthill La Warre. In 1381–2 they seem to have been very small and their principal business was to protect West's rights over, and income from, the manor: it was reported that his park had been entered unlawfully, that a miller had left his service unlawfully, and that demesne land had been sold for a year. (fn. 298) There is no other record of a manor court or court baron of Fonthill Gifford, where there was little customary tenure or common husbandry. (fn. 299)
In the 18th century there were two overseers of the poor and the office was linked to certain holdings of land. Some paupers were given weekly doles, and other relief was given by buying food, fuel, and clothes and by paying rent and doctors' and undertakers' bills. In 1738 £17 was spent on doles, £10 on other relief, in 1740–1 £27 and c. £20. Six paupers received doles in 1747–8, between six and nine in 1755–6, and c. 14 in 1762–3 when £43 was given to them and £26 was spent on other relief. (fn. 300) Total expenditure reached £88 in 1775–6, £124 c. 1783–4, £184 in 1802–3 when 20 adults were permanently relieved. (fn. 301) Expenditure apparently reached a peak between 1816 and 1818 when over £500 a year was raised by the poor rate. It had fallen to £207 by 1824, (fn. 302) but at c. £387 a year c. 1834 was then above average. The parish joined Tisbury poor-law union in 1835. (fn. 303) It became part of Salisbury district in 1974. (fn. 304)
Church.
Fonthill Gifford church was standing in 1291. (fn. 305) Sir John Mauduit held the advowson of the rectory c. 1290. (fn. 306) In 1299 he presented two candidates, (fn. 307) one of whom was not admitted because he was too young, (fn. 308) and John Mauduit (d. 1347) presented a third. The advowson passed with Fonthill Gifford manor, and in 1320, 1330, and 1342 Sir John Mauduit and John Inge jointly presented. Mauduit alone presented in 1347: (fn. 309) the Crown presented his nominee again in 1355 when the king held his son John's estate. (fn. 310) In 1375 and 1382 the advowson was claimed as part of the estate which became Fonthill Charterhouse manor, (fn. 311) and the bishop collated by lapse in 1389, but afterwards it again passed with Fonthill Gifford manor. John Inge presented four times between 1393 and 1410, Thomas Inge's feoffees presented in 1433, Thomas Inge in 1442, and Robert, Lord Hungerford, in 1458. (fn. 312) The advowson was claimed by successive lords of Fonthill Gifford manor, (fn. 313) but no later patron is known before 1547. While a lease of the rectory estate was disputed between him and Sir John Mervyn, lord of Fonthill Gifford manor, Sir Thomas Arundell, lord of Fonthill Charterhouse manor, presented in that year. (fn. 314) In 1550, however, Mervyn presented, and thereafter the advowson passed with the manor and with the Fonthill Abbey estate. (fn. 315) In 1569, when Mervyn's estate may still have been in dispute, (fn. 316) the Crown presented by lapse. (fn. 317) The Cottingtons, lords of the manor 1632–45 and 1659–1745, were papists, (fn. 318) and none presented. Richard Hill, rector of East Knoyle, presented in 1681, and George Woodroffe and Thomas Heath jointly in 1710, (fn. 319) presumably under leases. In 1749 the patrons, Thomas Beckford, Julines Beckford, and Thomas Smith (fn. 320) may have been trustees of William Beckford (d. 1770). In 1927 Walter Shaw-Stewart transferred the advowson to his son M. S. Shaw-Stewart (d. 1936). (fn. 321) On the younger Shaw-Stewart's death the advowson reverted to his mother Mary Shaw-Stewart, and in 1943 passed to her grandson Mr. N. W. Rimington, the owner in 1984. (fn. 322) Presentations in 1939, (fn. 323) 1960, and 1965 were made by the university of Oxford because the owners of the advowson were Roman Catholics. (fn. 324)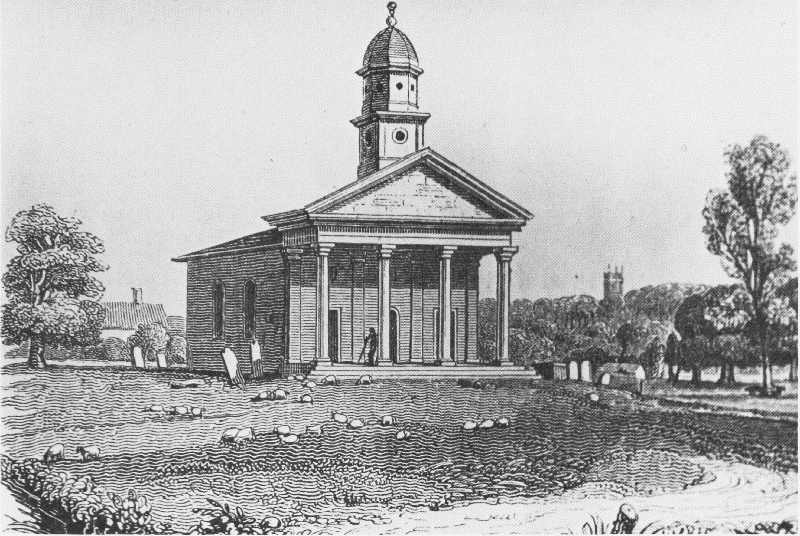 The church was worth 11 marks in 1291, (fn. 325) £14 in 1535, (fn. 326) and £351 c. 1830, (fn. 327) valuations which suggest that it was of average wealth. In 1670 and later the rector was entitled to all tithes from the parish. (fn. 328) They were leased for £60 in 1762. (fn. 329) In 1840 they were valued at £320 and commuted. (fn. 330) The glebe in 1341 consisted of a house, 30 a. in demesne, and land demised for 3s. a year. (fn. 331) There were 34 a. in 1670. To replace estovers in 7 a. of woodland the lord of the manor gave the rector eight loads of wood or £4 a year. (fn. 332) The glebe, 35 a., was sold in 1935. (fn. 333) In 1547 the rectory house was apparently near the church and Fonthill House, (fn. 334) but c. 1642 that house was given in an exchange between the rector and Francis, Baron Cottington, lord of the manor. (fn. 335) The new house was at Stop, (fn. 336) near the north-east end of Fonthill street. (fn. 337) It was said to be unfit for the rector to live in c. 1830, (fn. 338) and a new house north-west of the new church was begun in 1838. (fn. 339) That house had a main block of two storeys with pedimented endgables and a rear service wing. In the late 19th century, when a boarding school was kept in it, (fn. 340) the house was heightened and the rear wing extended. Further enlargements were made in the 20th century. The house was sold in 1935. The village school north of it was then lived in by the rector. (fn. 341) In 1937 it was enlarged, principally by the addition of a second storey, (fn. 342) and was still the rectory house in 1984.
Sometimes in the Middle Ages the church may have been poorly served: Bartholomew of Mere, rector in 1297, was an alien; (fn. 343) John of Bourton, presented in 1299, was licensed to study at Oxford for a year; (fn. 344) the rector was not resident in 1393; (fn. 345) and in 1400 the rector was licensed to be absent for two years. (fn. 346) In 1546 or earlier the rector leased the tithes and glebe on condition that the lessee would pay for a curate to serve the church. Sir John Mervyn and Sir Thomas Arundell each claimed to be the lessee and each appointed a curate. In the course of their dispute both changed locks on the church, a corpse was denied burial, taken to Fonthill Bishop, and returned to Fonthill Gifford, and they fought in the church over the surplice. (fn. 347) There was no pulpit in the church in 1553 and no quarter sermon was delivered. In 1584 the rector, Francis Duckett, was blamed for not catechizing and in 1585 for not preaching enough sermons. (fn. 348) William Mervyn, rector from 1611, was also rector of Boyton. (fn. 349) He supported Charles I and his living at Fonthill was sequestrated after the Civil War. The intruder was Samuel Norrington who subscribed to the Concurrent Testimony in 1648. (fn. 350) In 1652 the rector was another royalist and pluralist, Robert Haysome: (fn. 351) he lived at Fonthill Gifford (fn. 352) and remained rector until 1681. (fn. 353) In 1662 the two Books of Homilies and Jewell's Apology were not in the church, and there was similar neglect in 1668, 1674, (fn. 354) and 1680. (fn. 355) There was a weekly service in 1783 when the rector, Charles Wake, a canon of Westminster, was an absentee and the curate served Fonthill Gifford, Fonthill Bishop, and Berwick St. Leonard. Communion was celebrated four times a year and there were 20–30 communicants. Children were publicly catechized, apparently those of all three parishes together. (fn. 356) John Still, rector 1797–1839, (fn. 357) was also rector of Chicklade, vicar of Inglesham, and a canon of Salisbury. (fn. 358) On Census Sunday in 1851 congregations of respectively 55 and 80 attended morning and afternoon service. (fn. 359) The average congregation at each service had risen to 110 by 1864: the resident rector then celebrated communion seven times a year. (fn. 360) From 1939 the rector also held the living of Berwick St. Leonard with Fonthill Bishop. (fn. 361)
The medieval church, said in 1566 to have been dedicated to ST. NICHOLAS, (fn. 362) stood near Fonthill House. (fn. 363) An aisle built for the Mervyn family was part of it in 1547. (fn. 364) The church was said to be ruinous in 1747. Its demolition was approved then (fn. 365) and a new church, beside the Hindon—Tisbury road at the south end of the park of Fonthill House, was consecrated in 1749. (fn. 366) The church was in classical style, square, and with a square tower surmounted by a domed octagon rising from the centre of the north-west side. A pedimented Tuscan portico extended across the whole north-east front and rose above the level of the roof. (fn. 367) The church was replaced in the period 1864–6 by a church built of ashlar on the same site to designs of T. H. Wyatt and dedicated to the HOLY TRINITY. (fn. 368) The new church is in early-Gothic style and has an apsidal chancel, with north vestry and south tower with a spire, and a nave with north and south transepts.
The Crown took 4 oz. of silver in 1553 and left a chalice of 11½ oz. All older plate was replaced in 1866. (fn. 369) There were two bells in 1553. A new single bell was hung in the church consecrated in 1749 and rehung in the church consecrated in 1866. It was recast in 1918. (fn. 370) Registers of baptisms and burials begin in 1661, of marriages in 1695. (fn. 371) The register of baptisms 1720–48, burials 1723–48, and marriages 1719–48 has been lost. (fn. 372)
Nonconformity.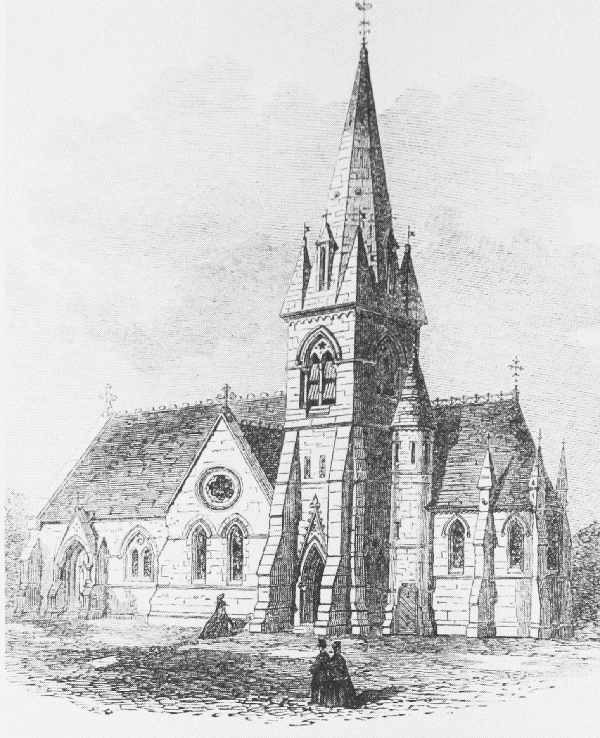 Several lords of Fonthill Gifford manor and owners of the Fonthill Abbey estate have been Roman Catholics, including Mervyn, earl of Castlehaven, Francis, Lord Cottington, and later Cottingtons, lords from 1659 to 1745: (fn. 373) 11 Roman Catholics, including Charles Cottington and his steward, were living at Fonthill Gifford in the period 1662–76. (fn. 374) Charles Cottington received a Benedictine priest there in the 1690s, and there were other resident Benedictines between 1716 and 1721. (fn. 375) There were 26 or 28 papists, including Francis Cottington, in 1706, and 34 in 1767. Two in 1767 were servants of William Beckford, (fn. 376) but most were then manual workers who went to Wardour in Tisbury to hear mass. (fn. 377) Thereafter Roman Catholicism in Fonthill Gifford may have declined, (fn. 378) but the curate's claim in 1783 that there was no papist in the parish seems extravagant. (fn. 379) Between 1927 and 1941 the Shaw-Stewarts, owners of the Fonthill Abbey estate, kept a succession of Roman Catholic chaplains at Fonthill Gifford (fn. 380) and paid for the children of Roman Catholics to be taken to school at Wardour. (fn. 381)
In 1685 Matthew Gattrell of Stop addressed unlawful assemblies of nonconformists. (fn. 382) Between 1786 and 1820 six buildings were licensed for worship by Independents. (fn. 383) A Congregational chapel at the Dene was in use c. 1791, (fn. 384) presumably for dissenters in Hindon. The congregation built a new chapel in the north-east part of the Dene in 1810. It was transferred to Hindon in 1934 and its history has been related with that of Hindon. (fn. 385)
Education.
Two dame schools in Fonthill Gifford were attended by a total of 24 children in 1818, (fn. 386) but a day school had only 10 pupils in 1833 when many Fonthill Gifford children went to school at Tisbury. (fn. 387) A new National school was built beside the road between Stop Farm and the church in 1846, and in 1858, when the older boys attended Hindon school, in Chicklade, there were 20–30 pupils in it. (fn. 388) In 1864 boys left at about 10, girls at about 12. (fn. 389) There were 57 children on roll in 1902–3. (fn. 390) By 1927 average attendance had declined to 29, by 1932 to 17. (fn. 391) The school was closed in 1933. Before then most children living in the Dene may have attended the nearby Hindon school, and those of Roman Catholic parents were taken to school at Wardour. (fn. 392)
In 1833 there was a boarding school at Fonthill Gifford for 63 boys and 33 girls. (fn. 393) In the late 19th century and early 20th a boarding school for the sons of gentlemen was in the rectory house. The boys, some seven each year, left when they were c. 14. (fn. 394)
Charity for the Poor.
No endowed charity for Fonthill Gifford is known. Maria, the relict of William Beckford (d. 1770), and the younger William Beckford gave 2s. a month to each of a total of 12 widows living in Fonthill Gifford, Fonthill Bishop, and Hindon. Payments were voluntary and ceased in 1823. (fn. 395)