Pages 185-195
A History of the County of Wiltshire: Volume 13, South-West Wiltshire: Chalke and Dunworth Hundreds. Originally published by Victoria County History, London, 1987.
This free content was digitised by double rekeying. All rights reserved.
TEFFONT EVIAS
The village of Teffont Evias (fn. 1) is in the Nadder valley 15 km. west of Salisbury. (fn. 2) The parish was in 1934 merged with Teffont Magna parish, until 1922 a chapelry of Dinton, to form Teffont parish. (fn. 3) Teffont Evias parish contained 749 a. (303 ha.) and measured 3 km. by 1.5 km. Its lands were distinguished from those of Teffont Magna and Dinton to the north and north-east before 1086. (fn. 4) The south-western boundary with Chilmark and Tisbury is marked by a tributary of the river Nadder, and the south-eastern boundary by the Nadder itself: both boundaries survive from the 11th century. (fn. 5) The settlement which became the separate villages of Teffont Magna and Teffont Evias was called Teffont in 860 and took its name from its position on the stream, (fn. 6) locally called the Teff, (fn. 7) which rises at Spring Head in Teffont Magna. (fn. 8) By the 13th century the suffix Ewyas, the surname of the 12th-century overlords, later modified to Evias, had been added to distinguish the southern Teffont. The form Teffont Hungerford was used in the early 15th century when the manor belonged to members of the Hungerford family. (fn. 9) From the 16th century to the 18th the parish was occasionally referred to as Nether Teffont (fn. 10) and in the 20th was also called Lower Teffont. (fn. 11)
There are Purbeck outcrops over most of the parish, narrow outcrops of Upper Greensand and Gault on the northern boundary, of Wealden loam on the north-eastern, and of Upper Portland limestone on the western. The Nadder has deposited alluvium along the southern boundary. At 150 m. the land is highest in the north and, at 76 m., lowest in the south-east, and the south-west boundary stream and the Teff across the east part of the parish have both cut valleys which lie north-west and southeast. Most of the land is suitable for arable and pasture. There were presumably commons in the west part of Teffont Evias, open arable fields in the south and west, and water meadows beside the Nadder. The limestone on both sides of the western boundary stream has been quarried from prehistoric times. Settlement in the parish was concentrated beside the Teff. (fn. 12)
In 1773 Carter's Lane led to Lower Chicksgrove in Tisbury. (fn. 13) Before c. 1807 it had been linked to the north with Holt Lane which was extended west and south-west to Teffont quarry. (fn. 14) Carter's Lane fell out of use as a through road in the earlier 20th century and in 1984 it and Holt Lane were farm tracks. Until c. 1816 the Salisbury—Mere turnpike road was north of Dinton and crossed Teffont Magna street near its north end, (fn. 15) but a more southerly and less steep route through Teffont Evias village street also led from Dinton to Teffont Magna and from it a road diverged south-westwards towards Tisbury. (fn. 16) The southern road to Mere became the turnpike road c. 1816 (fn. 17) when, to keep traffic out of Teffont Evias street which was often flooded, (fn. 18) a new road was made along the north-east boundary. That road was disturnpiked in 1870. (fn. 19) It remained part of the Salisbury—Mere road in 1984 when the road diverging from it, taking traffic between Tisbury and Salisbury, was also busy. The line constructed by the Salisbury & Yeovil Railway across the east corner of the parish was opened in 1859, (fn. 20) and in 1984 was part of a main route between London and Exeter.
The land of Teffont Evias was inhabited in the Mesolithic period. (fn. 21) It may also have been occupied in Romano-British times and two burials of that period have been found in the quarry. (fn. 22)
The contribution which Teffont Evias made to the fifteenth of 1334 shows that the township was one of the least prosperous of those assessed in Dunworth hundred. (fn. 23) That only 34 inhabitants were assessed for the poll tax of 1377 shows that it was also one of the least populous. (fn. 24) There were fewer than 10 households in the parish in 1428. (fn. 25) The township remained one of the least populous and of the poorest in Dunworth hundred in the 16th century and earlier 17th. (fn. 26) The population (fn. 27) was 143 in 1801. The fall to 115 by 1811 may have been due to the temporary absence from the village of several families after nine houses near the Rectory were burned down in 1810. (fn. 28) In the century between 1831 and 1931 the population fluctuated, the highest figure, 177, being recorded in 1851, the lowest, 96, in 1901.
In 1589 (fn. 29) Teffont Evias village already formed a street alongside the Teff. The stream was diverted west through the garden of the Rectory, where two small ponds were formed in it, before 1840. (fn. 30) A fishpond made in it south of Teffont Manor before 1818 (fn. 31) was called the Lake c. 1840. (fn. 32) The pond was drained when a new lake was made by damming the stream south of the Dinton—Tisbury road, (fn. 33) possibly c. 1859. (fn. 34) The valley's wooded appearance owes much to planting by J. T. Mayne in the earlier 19th century. (fn. 35)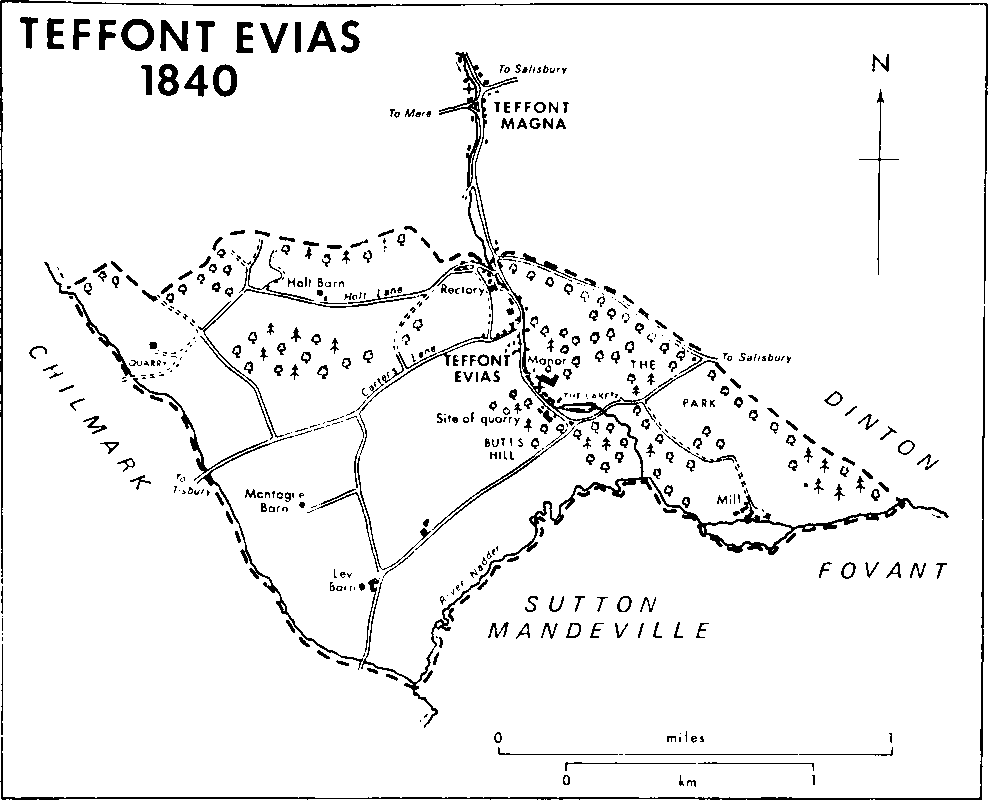 The church and Teffont Manor were built at the south end of the street, most of the other houses at the north end. (fn. 36) That some houses were built to face the street and some at right angles to it may suggest that the north end was closely built up. Apart from the few built in the later 20th century, including four old people's bungalows in Long Meadow, all the houses to survive are of stone rubble from Teffont quarry, and most of those in the street, and several in Carter's Lane and Holt Lane, are of the 17th century and thatched. Teffont Manor in the south and the Rectory, called Bridges in 1984, in the north were built away from the stream against the steep sides of the valley, but all the other houses in the street were built near the stream. Those on the east side were, like the church and the Rectory, approached by narrow stone bridges over the Teff. A house south-west of the junction of the street and Carter's Lane may have been built in 1682 for a tenant farmer called Ralph Montague. (fn. 37) South of it Howards House was built as an east-west range at right angles to the street with a short north wing, perhaps for Augustine Hayter in 1623. (fn. 38) The north wing was enlarged to incorporate a staircase in the later 18th century. In 1837–8 the house was extended further north, an attic floor was built, and a roof with bracketed eaves in the style of a Swiss chalet was constructed for J. T. Mayne. (fn. 39) It was called the Cottage (fn. 40) until 1947. The house was used as a guest house in the 1920s and 1930s and as a hotel from 1972. (fn. 41) Greystones, a farmhouse of three bays and three storeys, was built south of the Rec tory between 1811 and 1840. (fn. 42) With its farm buildings, it may be on the site of the cottages destroyed by fire in 1810. (fn. 43) Dairy buildings north of Carter's Lane were erected at the farmstead c. 1981. (fn. 44) The school built on the east side of the street opposite Carter's Lane was used as a reading room in 1923 and 1962 (fn. 45) and was a house in 1984. A pair of almshouses built in 1884–5 (fn. 46) on the west side of the street at the junction with Carter's Lane were also private houses in 1984. The only building in the street south of the church is a house built in the 18th century; a farmstead south of the church on the west side of the street c. 1807 (fn. 47) stood in 1840 (fn. 48) but not in 1886. (fn. 49) The park created north and east of Teffont Manor before 1840 (fn. 50) accommodated the huts of an American air force camp billeted in Teffont Manor and other houses in the village during the Second World War. (fn. 51) In 1973 the village became part of a conservation area. (fn. 52)
Ley Barn in the south-west part of the parish was standing in 1773. (fn. 53) A farmstead called Ley Farm had developed there by the early 19th century. In 1984 Ley Barn was among its extensive farm buildings. An associated farmstead north-east of Ley Farm was standing c. 1807 (fn. 54) and may then have been newly built. North of Ley Barn another barn, later called Montague Barn, was built before 1773. (fn. 55) It stood in 1923 (fn. 56) but not in 1958. (fn. 57) Holt Barn in the north part of the parish stood in 1811 (fn. 58) and 1840 (fn. 59) but not in 1886. (fn. 60) A Gothic stone and thatch lodge was built c. 1816 in the western angle of the new section of the Salisbury—Mere road and the Dinton-Tisbury road. Stone from the ruinous Teffont Mill in the east corner of the parish was used in a house called Goldens, built for Gerald Keatinge 250 m. north of it c. 1910. (fn. 61) Mill Farm remains on the site of the mill.
Manor.
Land that became TEFFONT EVIAS manor was held in 1086 by Alfred of Marlborough. (fn. 62) Alfred also held an estate in Herefordshire and Teffont was granted, possibly before 1100, to Harold of Ewyas (fl. 1100) and passed to his son Robert of Ewyas (fl. 1147). The overlordship passed like Lydiard Tregoze with the honor of Ewyas to Robert's son, Robert of Ewyas (d. 1198), to that Robert's daughter Sibyl (d. c. 1236), the wife of Robert Tregoze (d. c. 1214), to Robert's and Sibyl's son Robert (d. 1265), (fn. 63) and to that Robert's son John. (fn. 64) After John Tregoze's death in 1300 his daughter Sibyl (d. 1334), the wife of William de Grandison, was allotted the three parts of the fee held under her by Reynold Hussey, and John's grandson John la Warre, from 1307 Lord la Warre, was allotted the fourth part, held by Joyce the forester. (fn. 65)
The portion of the overlordship held by Lord la Warre (d. 1347) passed in turn to his grandson Roger la Warre, Lord la Warre (d. 1370), and greatgrandson John la Warre, Lord la Warre (d. 1398). The la Warre overlordship was not mentioned after 1370. (fn. 66)
William de Grandison (d. 1335) was succeeded in his wife's portion of the overlordship by his sons Sir Peter (fn. 67) (d. 1358) and John, bishop of Exeter (fn. 68) (d. 1369), in turn. In 1366 John conveyed ¾ knight's fee in Teffont to his nephew John, later Sir John, de Montagu (fn. 69) (d. 1390), whose son John (fn. 70) (d. 1400) succeeded to the earldom of Salisbury in 1397. The Grandison portion of the overlordship passed with the earldom, was held by Margaret Pole, countess of Salisbury (d. 1541), and was forfeited to the Crown on her attainder in 1539. (fn. 71)
In 1557 rights of overlordship, represented by a small rent, were granted to Sir Walter Hungerford (d. s.p.m.s. 1596), whose father was lord of the manor until 1540. (fn. 72) Sir Walter's overlordship descended to his half brother Sir Edward Hungerford (fn. 73) (d. s.p. 1607), and to Sir Edward's grandnephew Sir Edward Hungerford (fn. 74) (d. s.p. 1648). It was last mentioned in 1632. (fn. 75)
Robert of Ewyas (fl. 1147) granted 1 knight's fee in Teffont to Godfrey of Ewyas, who held it of him or his son Robert in 1166. (fn. 76) Godfrey was succeeded by his son Alexander, (fn. 77) whose heirs were his daughters Parnel of Ewyas and Philippe, the relict of Robert Chamberlain. (fn. 78) Three quarters of the fee were allotted to Philippe and a quarter to Parnel.
Thomas Kellaway, who had an estate in Teffont Evias in 1242–3 (fn. 79) and 1275, (fn. 80) may have been Philippe's second husband. Philippe, perhaps the daughter of Philippe Chamberlain, and her husband William of Kelsale in 1284 conveyed lands in Teffont Evias to William Paynel, (fn. 81) who in 1285 conveyed them to his brother Thomas Paynel. (fn. 82) Thomas afterwards conveyed the estate to Durford abbey, in Rogate (Suss.), (fn. 83) but it was returned to him in 1293 (fn. 84) and in the same year he conveyed it to Reynold and Eleanor Hussey. (fn. 85) Reynold (d. c. 1306) and Eleanor (fn. 86) (d. c. 1308) were succeeded by their son William, (fn. 87) to whose relict Eleanor Hussey the estate was assigned in 1316. (fn. 88) James Hussey and his wife Anstice held it in 1329 (fn. 89) and a James Hussey, presumably the same, held it in 1335. (fn. 90) Edmund Hussey, the owner in 1353, (fn. 91) in the years 1360–2 settled the reversion on his daughter Joan, who married first John Whyton and secondly Sir Thomas Hungerford. (fn. 92)
Before 1242–3 Parnel of Ewyas conveyed her quarter to Geoffrey Hussey and his wife Cecily. (fn. 93) Geoffrey Hussey, perhaps another, held an estate in Teffont Evias in 1275. (fn. 94) It was presumably that held by Joyce the forester in 1300. (fn. 95) Joyce may have been the Joyce Horton (d. c. 1316) who was succeeded in lands in Teffont Evias by his son Roger Horton. (fn. 96) In 1328 (fn. 97) and 1344 (fn. 98) Francis Horton owned an estate there which had passed by 1353 to his son John Horton, (fn. 99) presumably the John Horton or Francis who in 1376 conveyed it to Oliver of Harnham and his wife Joan. (fn. 100) In 1377–8 Oliver and Joan sold the 114–a. estate to Sir Thomas Hungerford and his wife Joan Hussey. (fn. 101)
In 1385 Sir Thomas Hungerford was granted free warren in the demesne lands of the reunited manor of Teffont Evias. (fn. 102) After his death in 1397 (fn. 103) and Joan's in 1412 the manor passed to their son Walter, (fn. 104) styled Lord Hungerford. (fn. 105) In 1437 Walter settled it on his daughter-in-law Margaret Hungerford, (fn. 106) from 1462 Baroness Botreaux (d. 1478). After the attainder in 1461 of Margaret's son Robert, Lord Hungerford and Moleyns (d. 1464), the manor, probably in mistake for the reversion after Margaret's death, was granted in 1468 to Richard, duke of Gloucester. (fn. 107) He confirmed the manor in 1469 to Margaret for her life. (fn. 108) The reversion was granted to Richard in 1474, (fn. 109) and in 1483, as Richard III, he granted the manor to John Howard, duke of Norfolk (d. 1485). (fn. 110) In 1485 the attainder of 1461 was reversed and Teffont Evias manor was restored to Sir Walter Hungerford (d. 1516), the son of Robert, Lord Hungerford and Moleyns. In 1487 Sir Walter settled the manor on his son Sir Edward (d. c. 1523). (fn. 111) It descended to Sir Edward's son Walter, Lord Hungerford, (fn. 112) to whom it was confirmed in 1535, (fn. 113) but on his attainder and execution in 1540 it was forfeited to the Crown.
In 1545 the Crown granted the manor to Henry Ley (fn. 114) (d. 1574), from whom it descended in turn to his sons William (fn. 115) (d. 1624) and Matthew (fn. 116) (d. 1632). Matthew was succeeded by his nephew Henry Ley, earl of Marlborough (fn. 117) (d. 1638), and Henry by his son James, earl of Marlborough, (fn. 118) a royalist. The manor was sequestered in 1646, returned to the earl in 1649, (fn. 119) and in 1652 sold by him to John Ash (fn. 120) (d. 1659). (fn. 121) Ash was succeeded by his son John, (fn. 122) who was presumably the John Ash who owned the manor in 1685. (fn. 123) In 1687 John Ash, presumably the same, conveyed it to a younger John Ash, (fn. 124) who in 1692 sold it to Christopher Mayne. (fn. 125)
From Christopher Mayne (d. 1701), Teffont Evias descended to his son John (fn. 126) (d. 1726) and John's son John (d. 1785). The second John was succeeded by his cousin Thomas Mayne (d. 1787). (fn. 127) The life interest in the manor of Thomas's son Thomas (d. 1819) was vested in trustees c. 1794 and in 1802 was sold to William Wyndham, from whom it was bought in 1813 by that Thomas's son, John Thomas Mayne. (fn. 128)
After the death of J. T. Mayne in 1843 the manor was held by his relict Sarah (d. 1871) until 1852. It then passed successively to their daughters Emily (d. 1896), from 1859 the wife of William Fane De Salis, Margaret (d. 1905), and Ellen (d. 1907), the wife of Maurice Keatinge. (fn. 129) Ellen's eldest son Richard Keatinge sold the manor c. 1907 to his brothers Maurice Walter (d. 1935) and Gerald (d. 1965) (fn. 130) who sold Ley farm to T. Burrows, the owner in 1922. S. Burrows sold that farm in 1940 to Thatcher Bros., who owned 263 a. in 1984. (fn. 131) Teffont quarries and 18 a. were sold in 1937 by Gerald Keatinge to the Secretary of State for Air and were part of the lands of R.A.F. Chilmark in 1984. (fn. 132) In 1945 Keatinge transferred the rest of his Teffont estate to his son Edgar, later Sir Edgar. In the period 1967–81 Sir Edgar Keatinge conveyed it in portions to his son William who sold Mill Farm and 10 a. c. 1981 (fn. 133) and owned the rest of the estate, c. 458 a., in 1984. (fn. 134)
A manor house which was repaired c. 1490 (fn. 135) and c. 1533 (fn. 136) was presumably that which was ruinous in 1545. (fn. 137) The house in which William Ley lived in 1589 may have stood south of the church. (fn. 138)
Teffont Manor, (fn. 139) called Teffont House in 1825, (fn. 140) was built, perhaps by William Ley in the late 16th century or early 17th, north-east of the church. It comprised a two-storeyed range running north-west and south-east and had a south-west entrance front. The ground floor included a large room near the centre, service rooms, and an entrance passage at the north-west end. All those rooms had low ceilings. The principal rooms on the first floor were much taller. (fn. 141) A range built on the north-east may have originated in the early 17th century as two short cross wings. In the earlier 19th century J. T. Mayne extended the north-east range, built a third storey with low-pitched roofs and embattled parapets on the original house, including the north-east range, and extended the house in an embattled style northeastwards to meet the steep side of the valley, where he constructed a tall circular tower. He renewed most of the windows in a style of the later 16th century, and added mullions and transoms to those of the first floor. He built a wide buttress against the centre of the south-west front, perhaps to conceal an earlier chimney stack, and enclosed in Gothic porches the old doorway north-west of the buttress and a new one south-east of it. The south-east doorway gave access to a new principal staircase. Mayne fitted the interior of the house with reset panelling and door cases of the early 17th century and late 18th. A service court, incorporating a water tower, was built on the north-west side of the house in the later 19th century, possibly by Emily and William Fane De Salis. (fn. 142) After the Second World War the north porch and some of the north-eastern extensions, including a first-floor conservatory, were demolished, and the house was made into three flats to designs by G. B. Imrie. (fn. 143)
Economic History.
In 1066 the estate that became Teffont Evias manor was estimated at 6½ hides. It could support 5 ploughteams in 1086. The 4 demesne hides were worked by 9 servi with 2 ploughteams and may not have been fully cultivated. On the remaining 2½ hides there were 2 ploughteams and 4 villani, 3 bordars, and 1 Frenchman. There were 6 a. each of meadow and pasture. (fn. 144)
The demesne was leased in the 1380s (fn. 145) but not from 1394–5 (fn. 146) or earlier to 1412–13 or later. It was leased again 1415–23, was again in hand 1423–48, and thereafter leased. Sheep-and-corn husbandry was practised on the farm in a three-field system. In the earlier 15th century there were c. 250 a. of demesne arable of which two thirds were sown each year, mainly with wheat and barley. The amount of grain produced rose in the early 15th century. Usually less than a third was reserved for seed. The amount otherwise consumed on the manor varied: a third was used there in 1394–5 and 1423–4, half in 1411–12. What remained was sold. A visit to Teffont Evias by the Hungerford household apparently accounted for the consumption in 1424–5 of more grain than was sold or kept for seed. There were c. 28 a. of demesne meadow. From c. 1392 to the 1440s, apparently including the periods when the demesne was leased, the farm was part of a network of sheep-rearing estates centred on Heytesbury. Wool from the demesne flock, usually 300–400 in the years 1385–1456, was sent to the Hungerfords' woolhouse at Farleigh Hungerford in Norton St. Philip (Som.) in the period 1403–32. There is no evidence of customary services used to cultivate the demesne. Employed on the farm in 1401–2 were 1 steward, 1 shepherd, 2 carters, 1 oxherd, 1 servant ('inhine'), and 1 swineherd, each of whom received a wage and a grain livery. In 1411–12, when 1 bailiff, 1 shepherd, 1 driver, 2 ploughmen, 1 carter, and 1 servant were employed, wages were higher and all the employees, except the ploughman and the driver who ate at the lord's table, still had grain allowances. Extra labour was hired at harvest. The demesne warren was leased for 2s. or more in the period 1419–65 and two fisheries were leased in the years 1423–32.
Between 1384 and 1474 total rents paid for land held customarily fell from c. £11 to c. £4, and some holdings were left vacant for lack of tenants. (fn. 147) In 1463 a holding of ½ yardland was broken up and demised in small parcels. (fn. 148) There were eight copyholders in 1513 (fn. 149) and 1541–2. Apart from 1 yardland, ½ yardland, and the mill, the holdings were in the hands of cottagers. (fn. 150)
It is possible that the three open fields in which the demesne arable lay contained the arable land of the copyholders, and that the demesne and tenant flocks fed together on Teffont common, which included Ley and Holt commons. The tenants of the manor could stint a total of 64 animals of all kinds on the common in 1513. (fn. 151) They also had rights of pasturage in a common meadow and in the open fields. The rector could still pasture 7 rothers, 2 horses, 1 bull, and 60 sheep in the fields and common in the early 17th century. (fn. 152)
The open fields, commons, and meadow had been inclosed and allotted before 1692. In 1692 the demesne farm contained c. 362 a. (fn. 153) and included 38 a. sown with cinquefoil. Another 277 a. were held by 10 tenants: there were holdings of 67 a. and 52 a., three of 30–50 a., and five, including the miller's, of 10 a. or less. Of the copyhold land 153 a. were arable and pasture, 40 a. were dry meadows, 21 a. were water meadows, and 63 a. were sown with cinque foil. (fn. 154)
In 1818 (fn. 155) Teffont Evias manor comprised 15 farms. The three largest, Manor, 155 a., Teffont, 261 a., and Mill, 78 a., were mostly held at rack rent. They included 324 a. of arable, 84 a. of pasture, and 45 a. of meadows, of which 15 a. on Manor and Mill farms were watered. Twelve small farms were held on leases for lives: Larkham's farm, worked from Howards House, (fn. 156) was 28 a., two arable farms were c. 15 a. each, and there were nine holdings each of c. 4 a. The glebe farm was 30 a.
In 1840 (fn. 157) the parish included 343 a. of arable mostly west of the village street, 160 a. of pasture east of it, including 68 a. in the park around Teffont Manor and along the western boundary, and c. 52 a. of water meadows north of the Nadder and east of the western boundary stream. J. T. Mayne farmed 348 a. which included 168 a. of arable, 25 a. of pasture, and 26 a. of water meadows. He also owned a vineyard of 8 a., perhaps that planted in 1665 by John Ash, (fn. 158) on the valley side north and east of Teffont Manor. There were farmsteads at Ley Barn and at the south end of the village street on the west side. A 288–a. farm, which possibly included Larkham's farm, was leased. It was worked from Greystones and had farm buildings at Montague and Holt Barns. It contained 130 a. of arable, 116 a. of pasture which included the park, and 24 a. of water meadows. A mainly arable farm of 20 a., which had a farmhouse north-west of the junction of the village street and Carter's Lane and south of Greystones, was also leased. The 14–a. Mill farm was mainly arable and had only 2 a. of water meadow. The 30–a. glebe farm was entirely arable.
Arable in Teffont Evias declined from c. 350 a. in 1840 to c. 190 a. in 1866 and to 67 a. in 1916. The chief grain crop was wheat in 1866, 1876, and the early 20th century, barley in 1886 and 1896. Land on which root crops and vetches were grown declined from 118 a. in 1886 to 40 a. in 1916. In 1886 grasses, most of which were cut for hay, were grown in rotation over only 35 a., in 1916 over 98 a. Permanent pastures covered 236 a. in 1876 and 377 a. in 1916. A third of the grass from them was cut for hay in that period. In the years 1876–1906 there were always c. 400 sheep in the parish, in 1916 none. A total of 83 pigs was kept in 1876, a total of 19 in 1906. The number of cows increased from 43 in 1866 to c. 200 in 1916. (fn. 159)
In the period 1908–16 the land of Teffont Evias was nearly all in single ownership. Apart from the glebe, it contained three farms, Ley, c. 400 a., Home, c. 70 a., and Mill, c. 40 a. (fn. 160) The glebe farm was sold in portions in 1921. (fn. 161) The lands of the other farms were rearranged c. 1922 and much pasture land was ploughed. Ley farm, 237 a., of which 190 a. were arable, 24 a. were meadows, and 10 a. were pasture, was sold. Home farm, 326 a. of which 235 a. were arable, 27 a. were meadow, 48 a. were pasture, and 16 a. were orchards, (fn. 162) was worked from the house built in 1682 perhaps for Ralph Montague, and was leased, as was Mill farm, until 1946. Home farm was worked by the owner from 1946 to 1966. (fn. 163) The water meadows north of the Nadder were last floated c. 1950. (fn. 164) In 1956 Home farm maintained dairy and beef cattle and included arable land and a market garden. Ley farm, 263 a., was in the south-west part of the parish. It was chiefly a dairy farm but some corn and grasses for seed were also grown. (fn. 165) Home farm was leased again from 1966 when Greystones became its farmhouse and Mill Farm its dairy. When Mill Farm and 10 a. were sold c. 1981 the dairy there was replaced by another on the north side of Carter's Lane. (fn. 166) In 1984 Ley farm was arable and Home a mixed farm.
The 6 a. of woodland in 1086 on what became Teffont Evias manor (fn. 167) may have been Holt Wood, so called in 1413. (fn. 168) The stream through the village may have marked the western boundary of Grovely forest. (fn. 169) Representatives from Teffont Evias attended forest eyres in the mid 13th century. (fn. 170) Holt Copse covered 9 a. in the 16th century and was worth 16s. an acre in 1545. There were then numerous oaks on the common. (fn. 171) Woods covering 50 a., including Edwards Copse on the parish boundary north-east of Teffont Mill, were part of the manor in 1692. (fn. 172) Further woodland in the parish was established in coppices and plantations by J. T. Mayne in the period 1809–18. (fn. 173) In 1818 there were 42 a. of coppices and 31 a. of fir plantations, (fn. 174) in 1840 coppices of 36 a. and plantations of 40 a., in the north and east parts of the parish. Home farm in 1922 included 56 a. of woods and 62 a. of plantations, nearly all the woodland in the parish. (fn. 175) Woodland in the park was replanted c. 1946. (fn. 176) In 1984 the 128 a. of woodland in the former parish (fn. 177) was distributed in a pattern similar to that of 1840.
Mill.
A mill was in 1086 part of what became Teffont Evias manor. (fn. 178) There were on the manor two mills, a grist mill and a fulling mill, in 1579 (fn. 179) and two grist mills in 1692. (fn. 180) They stood over a leat north of the Xadder from which water was taken to flood nearby meadows. (fn. 181) The mills were still part of the manor when they were burned down c. 1904: (fn. 182) their foundations were visible in 1984. The mill house north of the leat incorporates a small early 18th-century building and was extended in the 19th and 20th centuries. A small farm was worked from the mill in the 17th century or earlier (fn. 183) and farm buildings remained on the site in 1984.
Stone quarries.
Portland stone outcropping in the valley marking the boundary between Chilmark and Teffont Evias has long been quarried. Some of the Chilmark stone which was used in the Middle Ages for many buildings in the county may have come from Teffont Evias. (fn. 184) Two quarries, possibly both at Selwyn's Hole in the west corner of the parish, were part of the manor in 1327 (fn. 185) and 1413. (fn. 186) Stone from them was carted to Salisbury in 1401–2. (fn. 187) Although c. 1403 the lord licensed Thomas Haynes to cut stone on the demesne lands, (fn. 188) the amount of quarrying on the manor may have increased only after the demesne was leased in 1415. The number of quarries from which both freestone and stone of lesser quality and for tiles was cut rose from five in 1417–18 (fn. 189) to nine in 1428–9. (fn. 190) Some of the eight quarries in use in the years 1431–1533 (fn. 191) were worked directly for the lord, some were worked only inter mittently, and some were occasionally untenanted. Tiles cut from stone taken from Goldens quarry, which may have been on the Purbeck outcrops in the east corner of the parish, were used c. 1490 to roof part of the manor house and a barn. In the period 1489–1533 the lord may have worked four quarries directly. Another four, of which three including Selwyn's Hole were for freestone and one, Goldens, for other stone, were leased.
No quarry was expressly mentioned in the 16th century. In the later 17th John Aubrey described a freestone quarry as newly discovered. (fn. 192) The manor included c. 1692 a freestone quarry and another from which stone for tiles was cut. (fn. 193) Teffont quarry in the west corner of the parish was worked in the later 18th century and in the 19th. (fn. 194) References in 1813 to the 'caves' and in 1825 to 'subterraneous passages' (fn. 195) suggest underground mining there as well as surface quarrying. Two exhausted quarries, one of which in the east corner of Teffont Evias had been for parish use, were levelled in 1822. (fn. 196) Teffont Evias manor in 1860 included a freestone quarry near the boundary with Chilmark and a quarry on Butts Hill west of the village street. (fn. 197) T. T. Gething & Co., later the Chilmark Quarry Co. Ltd., occupied that near Chilmark, with others in Chilmark, from 1908 or earlier until 1937. (fn. 198) The firm supplied stone c. 1909 for the restoration of paving in Westminster Abbey. (fn. 199) The quarries, which extended underground for 18 a., in 1937 became part of R.A.F. Chilmark's storage depot for bombs and high explosives. They were so used in 1984. In 1977 their surface area was part of 35 a. in Teffont Evias and Chilmark which were classified as of special geological and biological interest. (fn. 200) The Butts Hill quarry remained within the Teffont estate and stone was taken from it occasionally during the Second World War. It closed in 1947. (fn. 201)
Two limekilns south of Carter's Lane and another north-east of Ley Farm were part of the manor in 1860 and later. (fn. 202) They were leased from the owners of the manor and from 1909 to c. 1912 were occupied as tenant by T. T. Gething & Co. (fn. 203) In them waste stone from Butts Hill quarry was fired to produce quicklime. The kilns and the quarry were linked in the later 19th century and earlier 20th by a tramway (fn. 204) over which stone was hauled in trucks drawn by donkeys. (fn. 205) The shells of the two kilns in Carter's Lane survived in 1984.
Local Government.
Manorial courts were held twice yearly, oftener when there was business, from 1395 or earlier to 1544 or later. (fn. 206) At the courts held in the period 1512–36 copyholds were surrendered and new tenants were admitted to them. The homage presented buildings in need of repair, unlicensed undertenancies, infringements of pasture rights, and misuse of common land. The court ordered the stinting of the commons in 1513. (fn. 207) Courts were held occasionally in the later 18th century and earlier 19th to admit new customary tenants. (fn. 208)
In the same period the amount spent on the poor in Teffont Evias was, for the number of its inhabitants, one of the lowest in Dunworth hundred and in the years 1833–5 averaged £34. Only Berwick St. Leonard spent less in the years 1803, 1813–15, and 1821–35. In 1803 the parish gave relief to 15 adults. (fn. 209) In 1818 there were two cottages, (fn. 210) and in the later 19th century and 20th two almshouses, (fn. 211) for the poor's use. Teffont Evias was included in Tisbury poor-law union in 1835. (fn. 212) Teffont parish became part of Salisbury district in 1974. (fn. 213)
Church.
A church may have stood in Teffont Evias in 1100, when Harold of Ewyas granted its tithes to St. Peter's abbey, Gloucester, to endow a cell at Ewyas Harold (Herefs.). Harold's son Robert of Ewyas (fl. 1147) confirmed the gift (fn. 214) but c. 1160 the priory was entitled to only two thirds of the tithes. (fn. 215) Ewyas priory afterwards relinquished the remaining tithes, probably in return for the portion of 13s. 4d. which it took from the church until 1291 or later, and presumably long before 1291 a rector was appointed. (fn. 216)
In 1922 the rectory was united with the new benefice of Teffont Magna, formerly attached as a chapelry to Dinton church, to form the united benefice of Teffont Evias with Teffont Magna. (fn. 217) The united benefice was held in plurality with Dinton from 1952. (fn. 218) In 1979 Teffont Evias with Teffont Magna was united with the benefice of Fovant with Compton Chamberlayne and Sutton Mandeville, Compton Chamberlayne was transferred to a new benefice of Barford St. Martin, Dinton, Baverstock, and Compton Chamberlayne, and the new benefices, together with that of Burcombe, became the Nadder group ministry, which was served by incumbents who lived in Fovant and Barford St. Martin. (fn. 219)
The advowson of Teffont Evias belonged to the lords of the manor in the earlier 13th century and was held by Philippe Chamberlain and her sister Parnel of Ewyas. The right to present was afterwards shared by their respective successors. (fn. 220) In the period 1298–1376 more rectors were presented by members of the Hussey family, to whom Philippe's share passed, than by members of the Horton family, to whom Parnel's passed. Others occasionally presented: in 1332 Joyce Horton did so, perhaps as the grantee of Francis Horton; in 1349 and 1351 Sir Peter de Grandison, the overlord of the Hussey portion of the estate, presented because an unnamed heir to that portion was a minor; and in 1353 Nicholas Mile presented (fn. 221) as John Horton's lessee. (fn. 222) Joan Hussey and her husband Sir Thomas Hungerford bought the Hortons' share of the advowson in 1377–8. (fn. 223) The reunited advowson descended with the manor and the lords presented, except in 1543 when Charles Bulkeley did so by grant of a turn from Sir Walter Hungerford (presumably Lord Hungerford, d. 1540), in 1638 when Nicholas Phipp and his sons Thomas and William did so, and in 1789 when Charles Lucas presented. (fn. 224) In 1908 Richard Keatinge transferred the advowson to his brother Gerald, who immediately settled it on himself and his brother Maurice Walter (d. 1935) as tenants in common. (fn. 225) In 1922 the Keatinges were allotted the first and alternate presentations to the united benefice. (fn. 226) In 1936 Gerald Keatinge settled the presentation on himself and his son Edgar Keatinge, to whom in 1945 he transferred his share. (fn. 227) Edgar Keatinge in 1958 transferred his right to present to the bishop of Salisbury, (fn. 228) the patron of Dinton. (fn. 229) In 1979 the patronage of the benefice of Fovant, Sutton Mandeville, and Teffont Evias with Teffont Magna was vested jointly in the bishop and the Reformation Church Trust. (fn. 230)
The rectory was considered poor in 1428. (fn. 231) The valuation at £8 3s. 3d. yearly in 1535 (fn. 232) and the average gross income of £148 yearly in the period 1829–31 (fn. 233) show that it remained poor. Those sums represented the value of all the tithes of the whole parish and of a glebe farm estimated at 37 a. in the 17th century and early 18th, at 30 a. in the later 18th (fn. 234) and in the 20th. (fn. 235) The rectors leased the tithes and glebe in the period 1545–50. (fn. 236) In 1840 the tithes were valued at £190 and commuted. (fn. 237) The glebe farm was sold in 1921. (fn. 238)
A rectory house was mentioned from the 16th century. (fn. 239) It consisted of an east—west range in 1804. In that year northern outbuildings, which stood in 1984, were erected, the house was extensively repaired, and its east end was rebuilt. (fn. 240) In the years 1841–3 a new north—south house was built. The service rooms in the north-west corner of the old house were incorporated in the north-west corner of the new. The house was designed in a simple Gothic style by W. B. Moffat, had an east entrance front, and was of local stone with dressings of Bath stone. (fn. 241) In the later 19th century the north-west service rooms, and a staircase south of them, were rebuilt. The Rectory was sold in 1939, (fn. 242) and was afterwards called Bridges.
In the earlier 16th century the lords of the manor gave 9s. yearly for a lamp. (fn. 243) That endowment may have been part of the income from a small herd of cows. (fn. 244)
There was no copy of Erasmus's Paraphrases in the church in the period 1550–3. In 1553 a curate assisted the rector and no quarterly sermon was preached. (fn. 245) Henry Ley in 1569 presented his youngest son James Ley, later earl of Marlborough (d. 1629) and the holder of various offices of state, including that of Lord Chief Justice, who was not in holy orders. A curate presumably served the church until James resigned the living in 1576 on his admission to Lincoln's Inn. (fn. 246) John Phipp, instituted in 1639, was a Presbyterian and was ejected in 1662. (fn. 247) The church lacked a Book of Homilies and Jewell's Apology in 1662. (fn. 248) Jonathan Waterman, rector 1724– 68, was also prebendary of Swallowcliffe and vicar of Bishop's Cannings (fn. 249) and employed a curate at Teffont Evias. (fn. 250) James Bedwell, rector 1769 ndash;89, (fn. 251) lived at Odstock where he was the vicar, and employed James Evans as his curate at Teffont. Evans was also the curate at Fovant and was a schoolmaster in Salisbury, where he lived. In 1783 at Teffont Evias he took Sunday afternoon services at which he preached every other week. He was helped by his brother John, curate of Hindon and of Pertwood, who took services and preached at Teffont on Sunday mornings. Services were also held on weekday festivals. Communion was celebrated at Easter, Whitsun, Michaelmas, and Christmas with about 12 communicants. (fn. 252) In the 19th century the rectors seem generally to have been resident. Two, S. B. Ward, rector 1830–66, (fn. 253) and W. R. Andrews, rector 1873–92 (fn. 254) and an amateur geologist, (fn. 255) had long incumbencies. On Census Sunday 1851 morning service was attended by 152 people, afternoon service by 230. (fn. 256) In 1864 Ward described his parishioners as 'well educated, civil, and sober'. He held two Sunday services and preached at the afternoon one. Morning congregations averaged 80, those in the afternoon, attended by people from other parishes, 150. Services were also held on Christmas day and Good Friday. Communion was celebrated at Christmas, Easter, and Whitsun and on Trinity Sunday and was received by about 13 people. (fn. 257)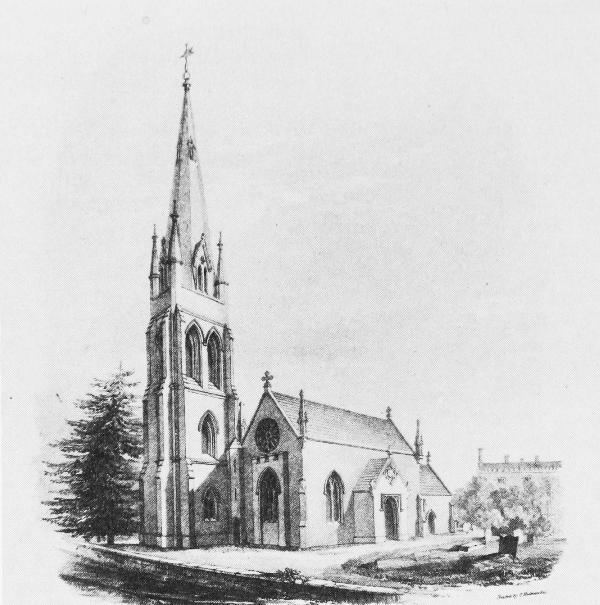 The church was dedicated to ST. MICHAEL AND ALL ANGELS by the bishop of Salisbury in 1965. (fn. 258) No earlier dedication is known. It is of ashlar and in 1804 comprised a chancel with north chapel and a nave with a small west bell turret and a south porch. The chancel and nave were built, perhaps with stone from an earlier church, in the 15th century and were altered later. The chapel was built in the later 16th century. (fn. 259) The north and south chancel walls, most of the chapel, and the south and west nave walls of that church were incorporated in a new one built of local stone between 1824 and 1826 (fn. 260) to designs by Charles Fowler. (fn. 261) The walls of the chancel and nave were heightened, the chancel east wall and the porch were rebuilt, a north aisle with a four-bayed arcade was built in the style of the chapel, and a tower was built at the west end of the aisle. A spire was constructed on the tower between 1830 and 1843. (fn. 262) The roof of the chapel, which was of low pitch and surrounded by a parapet, (fn. 263) was replaced in the later 19th century (fn. 264) by a steeply pitched gabled one, and a vestry was built south of the chancel. The 12th-century font may survive from an earlier church. Fragments of medieval English glass and roundels of 17th-century Flemish glass were reset in the windows between 1951 and 1960. (fn. 265) The chapel contains the tomb of Henry Ley (d. 1574) and his sons William (d. 1624) and Matthew (d. 1632), and a graffito of 1863 of the Angelic Choir by Baron Henri de Triqueti. (fn. 266)
The king's commissioners took 2 oz. of plate in 1553 and left a chalice of 10 oz. for parish use. In 1891 and 1984 the parish had a chalice hallmarked for 1576, a paten hallmarked for 1693, and a tankard hallmarked for 1572 which was used as a flagon. (fn. 267) The tankard was loaned in 1955 to the Victoria and Albert Museum, where it was exhibited in 1984. (fn. 268) There were two bells in the church in 1553, three in 1984. John Wallis cast the second bell in 1611, the treble in 1613. The third bell was cast by John Lott in 1625. (fn. 269) Registrations of burials, baptisms, and marriages survive from, respectively, 1683, 1684, and 1701. (fn. 270)
Nonconformity.
Recusants at Teffont in the later 16th century and earlier 17th (fn. 271) are more likely to have lived in Teffont Magna. After his ejection from the rectory in 1662 John Phipp remained in Teffont Evias and in 1672 his house was a meeting place for Presbyterians. (fn. 272) There was no Roman Catholic or other nonconformist in 1783. (fn. 273) Primitive Methodists certified a meeting house in Teffont Evias in 1846, (fn. 274) but the few dissenters who lived in the parish in 1864 had none. (fn. 275)
Education.
In 1818 an old woman taught 15 children in Teffont Evias. (fn. 276) A school there, said to be a National school, was attended in 1833 by 30 boys and girls whose parents paid 2d. weekly. (fn. 277) It may have been in the cottage in the grounds of Teffont Manor where 30–40 children were taught by a mistress in 1858. (fn. 278) A new school in Gothic style, later called Teffont Manor school, was in 1867 said to have been recently built. It was attended by 31 children on return day 1871, (fn. 279) but was closed when a newly built school was opened in Teffont Magna for the children of both Teffonts in 1876. (fn. 280)
Charities for the Poor.
Thomas Mills, rector 1670–1724, (fn. 281) bequeathed the income from £6 6s. to poor parishioners who did not receive parish relief. A Mrs. Fitz c. 1813 bequeathed £4 4s. to augment the capital, called the Poor's Money, which was £20 in 1867–9, £27 in 1906. The income, 13s. 4d., was paid to the parish coal club in 1906. (fn. 282) In 1942 doles of 2s. each were given to 8 people, to 7 in 1943. The charity income was distributed periodically until 1962, when £2 18s. was spent on coal. The income has since not been spent. (fn. 283)
In 1884–5 Emily and William Fane De Salis built a pair of almshouses of local stone in Gothic style and in 1885 leased them for 99 years to the parish. They gave an endowment of £450 stock in 1891 to maintain the houses and to provide weekly doles for the inmates. In 1906 the two occupants each received 2s. 6d. a week from the income of £15 15s. (fn. 284) The houses were part of the Teffont estate in 1984 and were leased as private dwellings. (fn. 285)