Pages 177-185
A History of the County of Wiltshire: Volume 13, South-West Wiltshire: Chalke and Dunworth Hundreds. Originally published by Victoria County History, London, 1987.
This free content was digitised by double rekeying. All rights reserved.
SWALLOWCLIFFE
Swallowcliffe, (fn. 1) 546 ha. (1,350 a.), is in the Vale of Wardour 11 km. north-east of Shaftesbury (Dors.). (fn. 2) The parish is rectangular and lies northwest and south-east. The southern boundary with Alvediston and Ebbesborne Wake is on the watershed of the Nadder and the Ebble and follows and crosses the ridge way. The western boundary, with Ansty and Tisbury, runs down a spur of White Sheet Hill, follows the Salisbury-Shaftesbury road for a short distance, crosses Choulden Hill, and runs west on the course of an ancient track to Ansty Water and north-east along a tributary of the Nadder. Western and northern boundaries meet at the confluence of that and another tributary which flows north-westwards from Swallowcliffe village. Part of the northern boundary with Tisbury follows the course of another ancient track north of Swallowcliffe Wood. The eastern boundary with Sutton Mandeville follows Hut Lane and the road called Buxbury Hollow and runs up Buxbury Hill to the ridge way. Those boundaries seem to have changed little since they were described in 940. (fn. 3)
Chalk outcrops in the south part of the parish (fn. 4) where Swallowcliffe Down, so called in 1773, (fn. 5) rises steeply to 221 m. in the south-west corner, 203 m. in the south-east. The down was common pasture in the 18th century and later. Greensand outcrops in the centre and over nearly all the north part of the parish, including the eastern slope of Choulden Hill, 165 m., and is thickly wooded on the northern boundary. The open fields were on its broad terrace north and south of the Salisbury-Shaftesbury road. In the north-west corner of the parish the eastern tributary (fn. 5) of the Xadder has exposed clay below the 107–m. contour. Its valley provided common pastures until 1663. (fn. 6) There was a pond at the stream's source in 1773 (fn. 7) and in 1843, (fn. 8) but not in 1886. (fn. 9) Another pond was beside the Salisbury-Shaftesbury road south-east of the village in 1773 (fn. 10) London Pond was so called, and common to the inhabitants of Swallowcliffe, in 1792. (fn. 11) It was drained in the earlier 20th century. (fn. 12)
The ridge way running south-west and north-east across Swallowcliffe Down was part of the main London-Exeter road in the 17th century. (fn. 13) It was turnpiked in 1762. The trust lapsed in 1788 when the present Salisbury-Shaftesbury road, north of it on the greensand terrace, was turnpiked. That road has since been one of the main routes between London and Exeter. It was disturnpiked in 1864. (fn. 14) A road leading from Sutton Mandeville towards Ansty which ran along the northern boundary in the 10th century (fn. 15) survived as a track in 1984. Another possibly ancient road ran to join it from the Salisbury-Shaftesbury road near the boundary with Sutton Mandeville. In 1792 that was called High Cross Lane north of its junction with Common Lane (fn. 16) and was a track called Hacker Lane in 1984. The road which marked part of the eastern boundary in the 10th century or earlier 11th was part of a road from Chilmark by way of Lower Chicksgrove in Tisbury and Sutton Row in Sutton Mandeville to Ebbesborne Wake. (fn. 17) In 1773 another road, a track in 1984, ran east from the Salisbury-Shaftesbury road to join it at Buxbury Hill. (fn. 18)
Swallowcliffe Down may have been inhabited in Mesolithic times. (fn. 19) In the early Iron Age there was a farmstead or village on the down where the boundaries of Swallowcliffe, Ansty, and Alvediston now meet. There were deep storage pits at the settlement, the inhabitants of which were farmers and weavers. (fn. 20)
The parish's assessment for the fifteenth of 1334 was one of the smallest in Dunworth hundred. (fn. 21) Although poor, the parish may have been relatively populous and in 1377 its 93 poll-tax payers represented the fifth highest total in the hundred. (fn. 22) It was one of the least prosperous parishes in the hundred in the 16th century and earlier 17th. (fn. 23) Its population, 217 in 1801, had declined to 186 by 1811, risen to 282 by 1841, declined to 273 by 1851, and risen to 317 by 1861. The occupation of new cottages by people from outside the parish accounted for the increase to 361 by 1871. The population declined steadily in the later 19th century and the 20th to 192 in 1951 (fn. 24) and 1961, had risen to 203 by 1971, and was estimated at 187 in 1981. (fn. 25)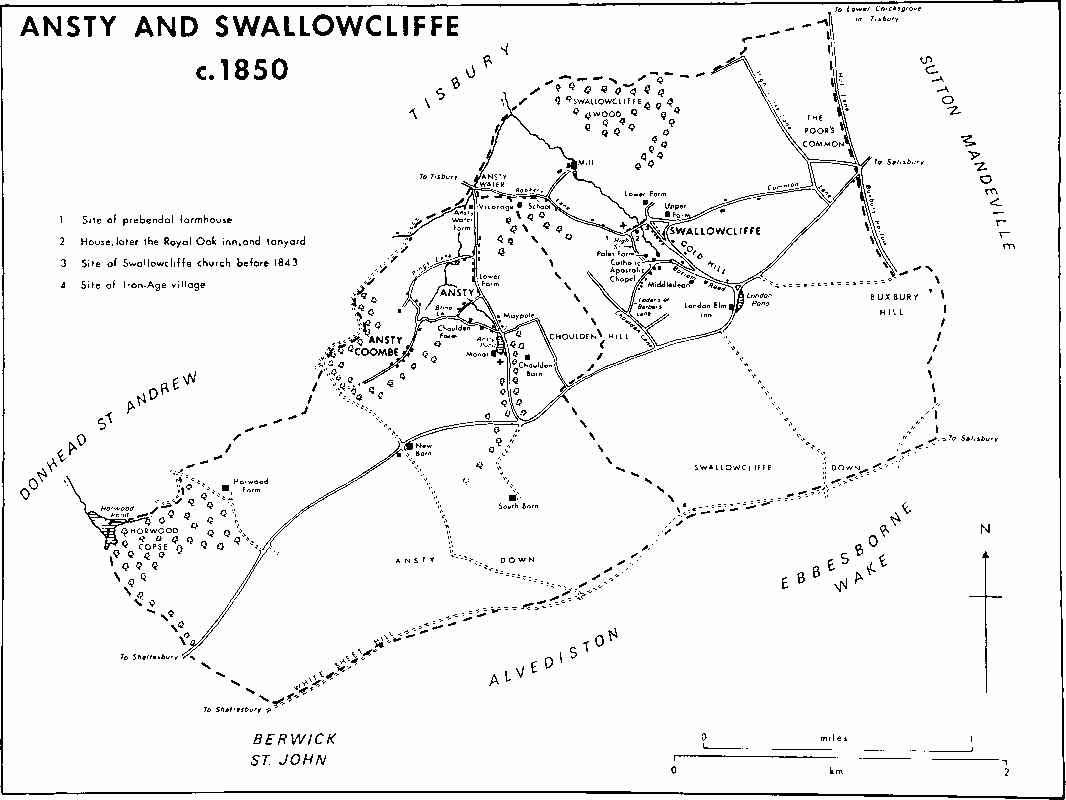 Swallowcliffe takes its name from the escarpment in the south. The form of the name and the site of the village beside a tributary of the Nadder suggest an Anglo-Saxon origin. (fn. 26) The nucleated village grew up in narrow lanes round the church, which stood east of the stream until the 19th century. (fn. 27) Most of the older houses and cottages in the village, and one at the junction of Bottom Road with the SalisburyShaftesbury road, were built of stone with either tiled or thatched roofs in the 18th century and earlier 19th. The east-west lane north of the church was called Common Lane from the 18th century. (fn. 28) The manor house was built beside it in the 17th century and may have replaced an earlier house. (fn. 29) In 1984 it was the oldest building in the parish. Lower Farm was built in the north part of the village in the earlier 18th century as a long range and an early 17th century fireplace was then reset in the southernmost room. The house was given a new roof and new windows in the early 19th century, was afterwards made into three cottages, and became one house again c. 1920. (fn. 30) It was altered, possibly in the early 1960s, by Mrs. P. B. Frere, who renamed it Brooke House. (fn. 31) Farmhouses built in the south part of the village include, in High Street, Alfords, of the earlier 19th century, and Poles Farm, a late 17th-century house of one storey and attics heightened to two storeys in the 18th century, around which in 1984 were the only farm buildings in the village. Middledean, formerly Dean House, stands south-east of the village. It was built on the south side of Bottom Road in the earlier 19th century and its east front was rebuilt in 1863 for G. G. Blandford. (fn. 32) Before 1707 tanyards were beside the stream north and south of Common Lane. (fn. 33) They were among the buildings of an early 18th-century farmhouse west of the stream on the south side of the lane. Between 1852 and 1858 the house became the Royal Oak (fn. 34) and about then was extended eastwards. The few buildings in the parish outside the village in 1773 included, west of it, some houses in Rookery Lane and a mill. (fn. 35) South-east of it, the London Elm inn, built beside the Salisbury-Shaftesbury road as a farmhouse c. 1743, was also an inn before 1757 and until the early 20th century. (fn. 36) A friendly society founded in 1848 met there until its dissolution in 1907. (fn. 37) The building was ruinous in 1984.
The church was rebuilt in 1843 on higher ground north-west of the junction of Common Lane and Rookery Lane. (fn. 38) Most 19th- and 20th-century building has been along Rookery Lane, which has become almost a separate village. The school and Vicarage were built at its western end in the earlier 19th century, (fn. 39) and a village hall was opened c. 1934. (fn. 40) A range of council houses was built on the north side of Rookery Lane in the 1950s between the old and new centres of settlement. The farm buildings at Manor House, and perhaps those at Lower Farm, were replaced between 1843 and 1886 by three new farmsteads outside the village. Those on the south side of Common Lane east of the village were called New Buildings, later Higher Farm. Another farmstead called New Buildings, later Barber's Farm, was built south of the village at the junction of Choulden Lane and the SalisburyShaftesbury road. The third, Stonehill Buildings, south of the Salisbury-Shaftesbury road south-east of the village, (fn. 41) was called Red House Farm after a new farmhouse was built at it c. 1907. (fn. 42)
Manors and other Estates.
In 940 King Edmund gave 9 mansae at Swallowcliffe to his thegn Garulf. (fn. 43) By 1066 that estate had been split into three parts, of which the largest was held by Wilton abbey. (fn. 44) The overlordship of that part or of the whole estate passed from the abbey to the Crown at the Dissolution, was granted in 1544 to Sir William Herbert (cr. earl of Pembroke in 1551), (fn. 45) passed with the Pembroke title, and was last expressly mentioned in 1630. (fn. 46)
Wilton abbey's lands were apparently those held by Robert Giffard (fl. 1135): (fn. 47) it is likely that they passed with Fonthill Gifford and had been partitioned by 1209. (fn. 48) Two or more parts of the Giffards' Swallowcliffe lands were assigned to Robert de Mandeville (d. c. 1231), (fn. 49) and passed to Robert's son Geoffrey (d. 1269), and to Geoffrey's son John de Mandeville, who held the estate, reckoned at ½ knight's fee, in 1275. (fn. 50) In that year John's son John, a minor, succeeded him. (fn. 51)
Three parts of the Giffards' Swallowcliffe estate passed eventually to Sir Thomas West (d. 1343). One part was held of the mesne lord, Robert de Mandeville, by Margery de Ballon. (fn. 52) She was possibly the Margery who was the daughter and heir of William Cumin, a coheir of the Giffard barony, (fn. 53) and who, with her husband John de Cauntelo, had an interest in Swallowcliffe in 1249. (fn. 54) Margery de Cauntelo's estate in Swallowcliffe passed to her son Sir John de Cauntelo, and to Sir John's daughter Eleanor who married Sir Thomas West (d. 1343). (fn. 55)
A second part may have been the land which William son of Gilbert held of Robert de Mandeville. (fn. 56) It may have been the 3 yardlands which Roger Oliver held of John de Mandeville (fn. 57) (d. 1275) (fn. 58) and in which he was succeeded by his son John. (fn. 59) What may have been the same land was held in 1307 by Thomas of Hanbury and his wife Olive, and they held other land in Swallowcliffe in 1314. (fn. 60) In 1338 Olive, then a widow, sold the reversion of her estate to Sir Thomas West (d. 1343). (fn. 61)
A third part, held before 1288 by Sir Robert Mauduit of his brother Sir John Mauduit (d. 1302), had also been part of the Giffards' Swallowcliffe estate. On Sir Robert's death c. 1288 it was assigned to his relict Alice. (fn. 62) Sir Thomas West held it of Sir Robert's son Sir John (d. 1347) in 1343, (fn. 63) and the Mauduit lordship is not mentioned again.
West was granted free warren in his demesne lands at Swallowcliffe in 1339. (fn. 64) At his death in 1343 he held three estates in Swallowcliffe formerly belonging to the Giffards and other land there. (fn. 65) He was succeeded in the manor of SWALLOWCLIFFE by his son Sir Thomas (d. 1386), (fn. 66) and Sir Thomas's son Thomas, Lord West (d. 1405). (fn. 67) The manor was settled from 1408 on Lord West's younger son Reynold, Lord la Warre and Lord West (d. 1450). (fn. 68) From Reynold it passed in the direct male line of the West family with the la Warre and West titles to Richard (d. 1476), (fn. 69) and Thomas (d. 1525). (fn. 70) That Thomas in 1517 settled it on his son Thomas (d. 1554), (fn. 71) who sold it in 1544 to John, later Sir John, Mervyn (d. 1566). (fn. 72) Sir John's son Sir James (d. 1611) was succeeded by his granddaughter Christine Tuchet and her husband Henry, later Sir Henry, Mervyn: (fn. 73) Sir Henry sold the manor to Edward South in 1614. (fn. 74) South was succeeded by his son Walter, in possession in 1663. (fn. 75) Walter settled the manor on the marriage of his son William South (d. 1675) and Mary Coghill, who, as the wife of Peter Courtney, sold it after 1678. (fn. 76) Robert Hyde (d. 1722), owner in 1685, devised the manor partly upon trust for sale and partly upon other trusts, in accordance with which it passed successively to Robert Hyde (d. 1723), Edward Hyde, earl of Clarendon (d. 1723), and Henry Hyde, earl of Clarendon and Rochester (d. 1753), whose son Henry, Viscount Cornbury (d. 1753), received the profits in 1739 and 1741. (fn. 77) The greater part was sold in 1742 to Henry Herbert, earl of Pembroke and Montgomery, (fn. 78) and it descended with the Pembroke title to Reginald, earl of Pembroke and Montgomery, who sold it in 1918 to M. S. Waters. (fn. 79) The executors of Waters in 1947 sold the estate, represented by Red House farm, to C. Featherstone Coles, who sold it in 1954 to J. S. Whittle. It was bought from Whittle in 1958 by Mr. H. R. C. Matthews, the owner in 1984. (fn. 80)
Swallowcliffe Manor, called Place Farm or Upper Farm in the 18th century, (fn. 81) Manor Farm in the later 19th, and Manor House c. 1890, (fn. 82) is built of ashlar and is mostly of two storeys with mullioned and transomed windows and gabled attics. A house on the site, possibly itself T-shaped, may have been rebuilt to a T-shaped plan in two stages in the 17th century, presumably for those members of the South family who lived in Swallowcliffe. (fn. 83) The east-west cross wing, to the west, was rebuilt first in the earlier 17th century on the plan of an earlier one, and the principal north-south range was rebuilt soon afterwards. A small range, which may have contained service rooms, was built at the north-west end of the east-west wing in the 18th century and was extended northwards in the earlier 20th to incorporate possibly 17th-century outbuildings. An entrance hall was built north of the east-west wing between the three ranges in the 20th century. The house was sold separately c. 1907. (fn. 84)
Sir Henry Parker, Bt. (d. 1771), the heir-at-law of Robert Hyde (d. 1722), owned the smaller part of the manor in 1753. (fn. 85) His lands may have been those held in 1780 and until c. 1796 by Henry Gerrard, in 1797 and 1832 by Morgan Blandford, (fn. 86) in 1843 (fn. 87) and 1867 by G. G. Blandford, and in the later 19th century and earlier 20th by J. H. Shorland. (fn. 88) The estate was afterwards broken up. The largest part, represented by Barber's farm, was bought by M. S. Waters. He sold the farmhouse and 55 a. north of the Salisbury-Shaftesbury road and incorporated other land south of it in Red House farm. (fn. 89)
Land which a member of the South family, possibly Giles South (fl. 1484), acquired in Swallowcliffe before 1528 may have been part of the Mandevilles' Swallowcliffe estate. The land, reputed a manor, was in 1528 settled on Elizabeth Codrington, perhaps Giles's relict, her husband Edward Codrington, and her son Thomas Codrington for their lives with remainder to William South, possibly Elizabeth's son by Giles South. (fn. 90) Thomas Codrington was apparently in possession in 1545. (fn. 91) William's son Thomas South held the estate in 1567. (fn. 92) It passed to Thomas's son Thomas, who died holding it in 1606. The land presumably passed to that Thomas's son Edward South, the lord of Swallowcliffe manor. (fn. 93)
Before 1276 the preceptor of Ansty held 1 yardland at Swallowcliffe of John de Mandeville. (fn. 94) The Hospitallers exchanged that estate, 40 a., with Sir Thomas West for land in Ansty in 1338. (fn. 95) It became part of Swallowcliffe manor. The Hospitallers retained a messuage in Swallowcliffe and in 1339–40 exchanged it with Sir Thomas for another there. (fn. 96) At the Dissolution their messuage passed to the Crown. It later belonged to members of the South family (fn. 97) and in 1606 was part of the estate of which Thomas South died seised. (fn. 98)
In 1086 Brictric held 1 hide and 1½ yardland in Swallowcliffe. (fn. 99) That estate was probably acquired by Edward of Salisbury, who assigned it to his daughter Maud when she married Humphrey de Bohun. (fn. 100) It passed like the manor of Wilsford in Swanborough hundred in the Bohun family to Maud's great-grandson Henry (cr. earl of Hereford in 1200, d. 1220), and afterwards descended with the earldom until the death of Humphrey, earl of Hereford and Essex, in 1373. (fn. 101) In 1384 it was assigned to that Humphrey's daughter Mary and her husband Henry, earl of Derby, (fn. 102) later Henry IV, and was last mentioned as part of the honor of Hereford in 1401–2. (fn. 103) Before 1228 Philip of Leigh held the land of the overlord, Humphrey, earl of Hereford. (fn. 104) James of Leigh, who held the land, reckoned at ½ knight's fee, in 1242–3, (fn. 105) may have been his son. (fn. 106) A mesne lordship descended to John of Leigh, who held it in 1343. Before 1343 Sir Thomas West held the lands, then 14 a., of John, (fn. 107) and they became part of his Swallowcliffe estate. (fn. 108)
Walter Barrow and his wife Isabel (d. 1369) held a small estate in Swallowcliffe (fn. 109) of Humphrey, earl of Hereford and Essex, for a fifteenth of ½ knight's fee. Isabel's second husband Sir Hugh Tyrrell (d. 1380) afterwards took the profits. (fn. 110) In 1396 Christine Barrow, relict of Isabel's and Walter's son John, died holding the estate. It passed to her son John Barrow, (fn. 111) who held it in 1412. (fn. 112) The estate descended to Edward Barrow who conveyed it in 1568 to Thomas South. (fn. 113) It was probably the 15 a. called Matchams of which Thomas's son Thomas died seised in 1606, and in which he was presumably succeeded by his son Edward South, the lord of Swallowcliffe manor. (fn. 114)
The estate of 2 hides and 3½ yardlands in Swallowcliffe which villani held of Alward in 1086 (fn. 115) may have been broken up. No part of it has been traced.
In 1335 Sir Thomas West gave land in Swallowcliffe to the hospital of St. John, Wilton, to endow a chantry in Swallowcliffe church. (fn. 116) The hospital owned c. 27 a. and a house in Swallowcliffe in the 19th century and earlier 20th. (fn. 117) Some land was sold c. 1920; the remainder and the house were sold c. 1952. (fn. 118)
The glebe and tithes of Swallowcliffe church were part of the endowment of the canonry of Swallowcliffe founded in the collegiate church of Heytesbury in the later 12th century. (fn. 119) The canonry was taxed at £6 13s. 4d. in 1291. (fn. 120) In 1535 it was worth £8 13s. 4d., (fn. 121) which may have included the value of lands and tithes which belonged to it in Heytesbury. (fn. 122) The glebe in Swallowcliffe was 27 a. or more in the later 12th century, (fn. 123) 31 a. in 1650, (fn. 124) and 46 a. in 1843. (fn. 125) It included a farmhouse before 1600: (fn. 126) a later farmhouse fell down between 1823 and 1853, (fn. 127) and another was burned down c. 1943. (fn. 128) The tithes in Swallowcliffe were valued at £316 in 1843 and commuted. (fn. 129) In 1853 the prebendary of Swallowcliffe transferred his estate to the Ecclesiastical Commissioners, (fn. 130) who sold the 43–a. farm to H. J. Lever in 1892. (fn. 131) The farm changed hands several times in the earlier 20th century and has since been broken up. (fn. 132)
Economic History.
The name Choulden Hill, 'calves' down', suggests that early inhabitants of what became Swallowcliffe were cattle farmers. (fn. 133)
There were three estates in Swallowcliffe in 1086. Wilton abbey's was assessed as 4 hides and 1 yardland in 1066: in 1086 it contained 2 a. of meadow, could support 2 ploughteams, and had on it 1 villanus and 2 bordars. (fn. 134) Alward's, assessed as 2 hides and 3½ yardlands in 1066, was all held by villani and could support 1½ ploughteam. Brictric's, assessed as 1 hide and 1½ yardland, had on it 1 ploughteam and 2 villani. (fn. 135)
Common pasture for cattle lay north of the village: south of it sheep-and-corn husbandry was practised on the greensand terrace north and south of the Salisbury-Shaftesbury road. There were two open fields in the 12th century, (fn. 136) and in the 18th three, West, Middle, and East or Buxbury, south of that road. They contained 406 a. The two farms, Upper and Lower, into which the demesne lands were divided, had 158 a. and 195 a. respectively, and 53 a. were in the leaseholds and copyholds of the manor c. 1739. South of them Swallowcliffe Down, 200 a., was common, and on it 800 sheep could be pastured. The tenant of Upper farm could stint 200 sheep there, the tenant of Lower farm 280. (fn. 137) Neither the prebendary of Swallowcliffe nor the master of St. John's hospital seem to have had rights in the northern pastures, which were used in common until 1663. In that year 459 a. there were inclosed: 342 a. were allotted to the lord of the manor, 85 a. to his leasehold and copyhold tenants, and 20 a. to the poor. (fn. 138) Common husbandry was ended by parliamentary inclosure in 1792, when 625 a. of arable and down south of the village were inclosed: 478 a. were allotted to the lord of Swallowcliffe, and 109 a., 18 a., 16 a., and 4 a. to the four freeholders in the parish. (fn. 139)
In 1380 there were on the demesne 250 sheep, 30 pigs, 20 oxen, 5 cows, 2 bulls, and 3 draught animals. (fn. 140) It was held by lease in 1559. (fn. 141) The demesne, possibly increased in 1614 by Codrington's land and Matchams, had been divided into three farms by c. 1730. (fn. 142) Two, Upper and Lower farms, were held together from 1739, called Lower farm, 605 a., and worked from Place or Upper Farm, later Manor House. They were again divided in 1781. (fn. 143) The absorption of small copyhold and leasehold farms may account for the increase in demesne acreage from c. 600 a. to c. 800 a. between 1739 and 1797. (fn. 144)
In the 18th century among the copyholds of the manor was one of 14 a. on which a house, afterwards the London Elm, was built c. 1743 and which was still a copyhold in 1881. (fn. 145) In 1797, apart from the demesne, 154 a. were held by lease. Most lessees held only a few acres, but there were farms of 27 a. and 67 a. (fn. 146) Farms not part of the manor amounted to 304 a. or more which were held freely: the largest, 160 a., was worked from a farmhouse, demolished before 1886, south of Loder's or Barber's Lane. The others were one of 21 a., which had a farmhouse in the village south of, and tanyards north and south of, Common Lane in the 18th century and earlier 19th, the 27 a. of St. John's hospital, Wilton, including a farmhouse north of Rookery Lane, and the 43 a. of the prebendal farm. (fn. 147)
The lord of the manor ploughed much of the pasture north of the village c. 1663. (fn. 148) There were 13 a. of water meadows on Upper farm and Lower farm c. 1785 but none elsewhere. (fn. 149) Swallowcliffe in 1797 contained 852 a. of arable south, east, and west, and 79 a. of meadow north-west, of the village, and 261 a. of pasture north of Manor House and Lower Farm and on Swallowcliffe Down. (fn. 150) Those acreages were similar in totals and disposition in 1843. (fn. 151)
In the later 18th century and earlier 19th Upper farm, 471 a., was worked from Manor House, and Lower farm, 343 a., from Lower Farm. All four freeholds, and farms of 27 a. and of 67 a., later Poles farm, which were part of the manor, survived in 1843. G. G. Blandford then worked the 160–a. farm as owner and Upper farm and Lower farm, 810 a., as tenant. (fn. 152) Manor farm, worked from Manor House, was 795 a. c. 1863. (fn. 153) Its buildings at Upper Farm, and possibly at Lower Farm, were replaced in the later 19th century by three farmsteads built outside the village. (fn. 154) Besides Manor farm, there were c. 1916 a farm of 150–300 a., perhaps J. H. Shorland's, and two of 50–100 a. (fn. 155)
In the 1880s barley replaced wheat as the chief cereal crop. The acreage over which oats were grown more than doubled from 44 a. to 106 a. in the period 1866–1916: that on which root crops and grasses under rotation were grown, 176 a. and 150 a. respectively in 1866, had declined to 59 a. and 107 a. by 1916. Flocks of over 1,000 sheep were usual in the later 19th century but had declined by the earlier 20th: the numbers of cows kept on the permanent pastures to which much arable was laid down in the later 19th century and earlier 20th trebled from 37 in 1866 to 108 in 1916. (fn. 156) In 1918 a flock of 600 sheep and a herd of 130 cows were kept on Manor farm, 880 a. (fn. 157)
In the 1920s and 1930s the land of Swallowcliffe was occupied by Manor, later Red House, farm, and two smaller farms, Barber's, with a farmhouse on land once part of Lower farm, and Poles. (fn. 158) The land of Barber's farm south of the Salisbury-Shaftesbury road became part of Red House farm in the earlier 20th century. Arable farming was practised on the 935 a. of Red House farm in 1984, and Poles was a small dairy farm. The remnant of Barber's farm occupied c. 55 a., and the charity lands 20 a. Land in the north-east corner of Swallowcliffe was then part of farms based in Sutton Mandeville. (fn. 159)
Woodland within the manor may have been inclosed and hedged by the lord c. 1547. (fn. 160) Hill or Hope Coppice, 26 a., and Broom Close Coppice, 4 a., were in the lord's hand, Hat Wood, 11 a., was part of Upper farm, and Bess's Hill Wood, 1 a., was part of Lower farm c. 1730. (fn. 161) In 1843 woodland covered 59 a. in the north part of Swallowcliffe, of which 45 a. were within the manor and in hand. The south part was treeless. (fn. 162) Swallowcliffe Wood was part of Manor, later Red House, farm in 1918, when it was 50 a., (fn. 163) and in 1984, when it was c. 40 a. (fn. 164) There were plantations round Red House Farm and north of Bottom Road in 1984.
A mill at Swallowcliffe in the later 13th century may have been part of the manor. (fn. 165) A water mill was part of Swallowcliffe manor from 1676 or earlier until the later 19th century. (fn. 166) In 1903 it belonged to H. J. Lever, (fn. 167) but by then may not have been working. (fn. 168) Mill House stands north-east of the stream flowing from Swallowcliffe village. It incorporates the mill buildings and comprises an east—west stone range, the lowest storey of which was built in the 17th century or earlier 18th. The mill presumably had a low head of water. In the 19th century the south side of the mill was embanked and a large mill pond was constructed there, the mill was heightened, and a large eastern range was built, perhaps as a granary.
Sir Thomas West in 1339 was granted a Wednesday market and a yearly fair on 28–9 June at Swallowcliffe. (fn. 169) No later record of either survives.
Local Government.
In 1339 Sir Thomas West was granted liberties in Swallowcliffe including view of frankpledge and assize of bread and of ale, (fn. 170) but inhabitants continued to attend the courts of Dunworth hundred, as they had done in the 13th century, (fn. 171) and the sheriff's tourns. (fn. 172)
In the later 13th century some free and customary tenants in Swallowcliffe owed suit at manor courts held for members of the Mandeville family at Sutton Mandeville. (fn. 173) Certain free tenants in Swallowcliffe still owed suit there in the later 16th century. (fn. 174) In the period 1742–1881 the earls of Pembroke and Montgomery held manorial courts at Swallowcliffe, every few years in the 1740s and 1750s, less frequently in the later 18th century and in the 19th. At those courts officers, including a tithingman and a hayward, were appointed, breaches of manorial customs and deaths of leaseholders and copyholders were presented by the homage, and copyholders were admitted. (fn. 175)
Before 1663 paupers lived in cottages in Swallowcliffe belonging to the prebendary of Swallowcliffe. (fn. 176) In the 18th century and early 19th Swallowcliffe's expenditure on the poor was the fifth or sixth highest among the 11 parishes in Dunworth hundred, and in the period 1814–34 the seventh or eighth highest. Swallowcliffe's highest sums in the 19th century, £306 and £320, were spent in 1817–18, its lowest, £97, in 1827. (fn. 177) An average of £138 yearly in the period 1833–5 was spent on the paupers of Swallowcliffe, which became part of Tisbury poor-law union in 1835. (fn. 178) The parish was included in Salisbury district in 1974. (fn. 179)
Church.
Swallowcliffe church was held in the earlier 12th century by Robert Giffard (fl. 1135), whose tenants Ranulf of Swallowcliffe and Ranulf's son Theobald gave 14 a. in Swallowcliffe to it. Ranulf's tenant Cnut gave another 13 a. or more for maintenance and repair of the building. Gerard Giffard (fl. 1159–72) endowed a chantry in Heytesbury church with the church and its lands. (fn. 180) Heytesbury church was itself a prebend in Salisbury cathedral, (fn. 181) and when, before 1160, four canonries were created in it, the church of Swallowcliffe was taken from the chantry to endow one of them. (fn. 182) The collegiate church of Heytesbury was annexed to the deanery of Salisbury c. 1220, (fn. 183) and from 1222 Swallowcliffe was in the dean's peculiar and free from archidiaconal jurisdiction. (fn. 184) Deans collated to the prebend of Swallowcliffe from 1384 or earlier, (fn. 185) except during the Interregnum, (fn. 186) until the college was dissolved by the Cathedrals Act, 1840. (fn. 187)
A chaplain, presumably appointed by the prebendary of Swallowcliffe, served the church in the later 13th century. (fn. 188) Although the prebendaries are said to have presented perpetual vicars in the 14th century and earlier 15th, (fn. 189) no vicarage was ordained. In 1409 there was no vicar and the cure was served by a deacon appointed by the prebendary. (fn. 190) Although a prebendary served the cure himself in 1634, (fn. 191) from the 16th century to 1804 prebendaries usually appointed curates. (fn. 192) William Easton, curate from 1791 (fn. 193) and prebendary from 1804, (fn. 194) served the cure himself until 1824 or later. (fn. 195) In 1844 the curacy was considered perpetual (fn. 196) and by Act of 1868 it became a vicarage. (fn. 197) Presentations to it were made by the last prebendary of Swallowcliffe, on whose death in 1883 the patronage, under the terms of the Cathedrals Act, 1840, passed to the bishop of Salisbury. (fn. 198) The vicarage was held in plurality with that of Ansty from 1898 and united with it in 1924. (fn. 199) In 1975 Tisbury vicarage was added, the benefice of Tisbury and Swallowcliffe with Ansty was formed, and the three ecclesiastical parishes were united. (fn. 200) Chilmark rectory was added in 1976, the benefice of Tisbury was created, and the incumbent of Tisbury and Swallowcliffe with Ansty became the team rector of the team ministry established to serve it. (fn. 201)
The tithes of Swallowcliffe and the lands there given to the church in the 12th century were leased by the prebendaries of Swallowcliffe who, in the 18th century and earlier 19th, usually paid the £40 rent to their curates. (fn. 202) The Ecclesiastical Commissioners augmented that stipend with £40 yearly in 1844 (fn. 203) and with £118 yearly in 1877. (fn. 204)
The prebendaries may have provided a house for their curates in the 17th century. (fn. 205) There was a Vicarage, so called, north of Rookery Lane in 1797, (fn. 206) but none in the early 19th century. (fn. 207) A stone and tile house was built c. 1837 south of Rookery Lane. (fn. 208) The incumbents lived there (fn. 209) until 1975, when the Vicarage was sold. (fn. 210)
Sir Thomas West in 1333 endowed a chantry in SwallowclifTe church for Thomas of Hanbury and Olive of Hanbury with land at Ansty, an endowment he cancelled in 1338. (fn. 211) In 1335 the land in Swallowcliffe he conveyed to St. John's hospital, Wilton, was to provide a chaplain to say mass daily for himself and others, including Thomas and Olive, in Swallowcliffe church. (fn. 212) The chantry was perhaps in the north transept built in the 14th century. (fn. 213) The chaplain who served it in 1409 (fn. 214) may have been provided by St. John's hospital. The chantry was not afterwards mentioned.
SwallowclifTe church was served irregularly in the later 16th century and earlier 17th and some parishioners did not receive communion. Three men habitually played at skittles during evening prayer c. 1600. The prebendary failed to provide a curate in 1623–4. (fn. 215) In 1634 the curate of Ansty officiated occasionally. (fn. 216) The rector of Sutton Mandeville served the cure in the 1770s and 1780s. (fn. 217) At least two curates, one in the later 17th century, (fn. 218) the other in the earlier 19th, (fn. 219) became prebendaries. T. W. Marshall (d. 1877), curate from 1841, published Notes on the Episcopal Polity of the Holy Catholic Church in 1844, resigned his cure in 1845, and became a Roman Catholic. His numerous publications included works on the Roman Catholic missions and articles in The Tablet. (fn. 220) In the period 1841–77 the curates, from 1868 vicars, of Swallowcliffe served Ansty church. (fn. 221) A congregation of 190 attended morning service at SwallowclifTe on Census Sunday 1851. (fn. 222) In 1864 Sunday services were held alternately in the morning and afternoon and were attended by an average congregation of 130–40. Weekday services were held on Wednesday mornings, except in harvest time, on Christmas and Ascension days, on Ash Wednesday and Good Friday, and during Lent and Holy Week. Com munion received by an average of 30 on ordinary Sundays, 38 at festivals, was celebrated every sixth or seventh Sunday. (fn. 223)
The church of ST. PETER, so called in the 12th century, (fn. 224) stood in Common Lane beside the stream which rises in the village. (fn. 225) It was apparently built of coursed ashlar and consisted of a chancel with north transept, a nave with north and south aisles, and a north-west tower. Only the south aisle extended the length of the nave. The nave piers of the 12th-century church may have survived in the earlier 19th century. In the 14th century the south nave arcade may have been rebuilt on those piers, and the transept, with a three-light north window, was built. In the later 14th century or earlier 15th a west nave window was inserted, and the tower, crenellated and buttressed, was built. Its lower storey formed a porch which was entered through a 12th-century doorway reset in the north wall. A west gallery may have been built in the 17th century when a square three-light window was inserted in the lower west nave wall. (fn. 226) The building was subject to flooding (fn. 227) and in 1843 a new church, which may have incorporated material from the old, was built in 12th-century style to designs by G. G. Scott and W. B. Moffat (fn. 228) on higher ground north of Rookery Lane. It consists of a chancel with south transept, an aisled nave, and a crenellated and buttressed south-west tower with a conical spirelet and south door. The 14th-century stone effigy of a knight, which is perhaps of Sir Thomas West (d. 1343), (fn. 229) who founded the chantry in 1335, was removed from the south-east corner of the nave of the old church (fn. 230) to the porch of the new.
In the 1220s the church lacked certain service books, items of plate, and vestments, and the stem of the chalice needed repair. (fn. 231) In 1553 the king's commissioners took plate weighing 1 oz. and left a chalice of 7½ oz. for parish use. New plate, hallmarked for 1828, was given in 1843. (fn. 232) There were three bells in 1553. The treble was replaced in 1632. In 1843 the bells were moved to the new church: the second was recast, or cast anew, in 1846, and the tenor, which may have been cast in London in the earlier 15th century, was replaced in 1881. (fn. 233) Registrations of baptisms and burials survive, with gaps, from 1737 and of marriages from 1748. (fn. 234)
Nonconformity.
One Roman Catholic in 1767 and three in 1780 attended mass at Wardour (fn. 235) in Tisbury.
The protestant congregation which met at a house in Swallowcliffe certified in 1825 by Joseph Coombs may not have flourished. Two buildings for dissenters were certified in 1837 by James Compton of Fisherton Anger. (fn. 236) One was the Catholic Apostolic or 'Irvingite' church built south-east of Poles Farm. (fn. 237) It was served by a deacon and was closed temporarily in 1851. (fn. 238) A few people attended services there in 1864, (fn. 239) but it was unused in the 1920s, (fn. 240) and afterwards demolished.
Primitive Methodists or Independents met at Swallowcliffe Mill in the period 1859–66. (fn. 241) A nondenominational iron mission hall in Common Lane was opened between 1886 and 1890 and closed between 1920 and 1923. (fn. 242)
Education.
In 1818 a school in Swallowcliffe was attended by c. 20 children. (fn. 243) The parents of 10–15 children paid for them to attend a school there in 1833. (fn. 244) A National school, opened in 1843 (fn. 245) south of Rookery Lane near the boundary with Ansty, (fn. 246) was also attended by children from Ansty and Wardour parishes in the 1850s. In 1858 an 'intelligent and painstaking' master taught 60–70 children in the school, (fn. 247) which was attended by 45 children on return day 1871. (fn. 248) The curate, afterwards vicar, of Swallowcliffe and the schoolmaster held a night school in it in the early 1860s (fn. 249) and in 1875. (fn. 250) Average attendance at the day school in the earlier 20th centurv fluctuated between 34 and 52. (fn. 251) After the school closed in 1973 Swallowcliffe children attended school at Tisbury. (fn. 252)
Charities for the Poor.
The overseers of Swallowcliffe were allotted 20 a. (fn. 253) near the boundary with Sutton Mandeville (fn. 254) for the poor's use when the common pastures in the north part of Swallowcliffe were allotted in 1663. The allotment was leased for £20 yearly in the earlier 19th century, £30 in the later 19th, and £100 in 1970. When the open fields of Swallowcliffe were inclosed in 1792 the poor received 3 a. from which they could take furze for fuel. (fn. 255) Little furze was cut c. 1900 and part of the land was afterwards let in allotments. (fn. 256) Two cottages built on the allotments c. 1813 were let. Before c. 1818 the rents from the lands and cottages were distributed among the unrelieved poor, afterwards among all the poor. In the period 1830–3 payments varying from 12s. 6d. to 6s. 6d. were made to heads of families, according to the size of their households, and to single people. There were 25 payments of 17s. and 8, made either to new recipients, single people, or to those who received poor relief, of 9s. 6d. in 1900. By a Scheme of 1970 the Poor's Land and Fuel Allotment charities were merged as the Almshouse and Relief in Need charity. The cottages became almshouses maintained by the charity income, and any surplus funds were used to help needy people in Swallowcliffe. If there was no suitable beneficiary in Swallowcliffe, people from Ansty and Sutton Mandeville could be considered.