Pages 79-88
A History of the County of Wiltshire: Volume 13, South-West Wiltshire: Chalke and Dunworth Hundreds. Originally published by Victoria County History, London, 1987.
This free content was digitised by double rekeying. All rights reserved.
TOLLARD ROYAL
Tollard Royal village is near the Dorset boundary 23 km. south-west of Salisbury, (fn. 1) and Tollard Royal parish consisted of lands in Wiltshire and Dorset. The Wiltshire lands were those of the village, called simply Tollard until the 16th century. (fn. 2) The Dorset lands were anomalous, embracing islands of other land and with a long south-east peninsula. (fn. 3) They seem likely to have been those of Aiulf the chamberlain, sheriff of Dorset, who in 1086 held some of the land of Tollard and an adjoining estate at Farnham in Dorset. (fn. 4) The lands were part of Tollard manor in the mid 13th century, (fn. 5) and tithes were apparently owed in respect of them to the rectors of Tollard in the mid 14th century. (fn. 6) In the 19th century the Dorset lands measured 851 a., included much of Farnham village, then called Little Farnham, but excluded Farnham church, (fn. 7) which was standing in the 12th century (fn. 8) and was a parish church in the 13th. (fn. 9) They were considered part of Tollard Royal ecclesiastical parish until 1925. (fn. 10) They formed a tithing called Tollard Farnham, (fn. 11) the poor of which were apparently relieved separately from those of Tollard Royal and of Farnham. (fn. 12) A farmstead and hamlet built in the tithing north of Farnham village in the mid 19th century were also called Tollard Farnham. (fn. 13) In 1885 the tithing was merged with the civil parish of Farnham. (fn. 14) In most aspects the history which follows is restricted to the Wiltshire part of Tollard Royal parish.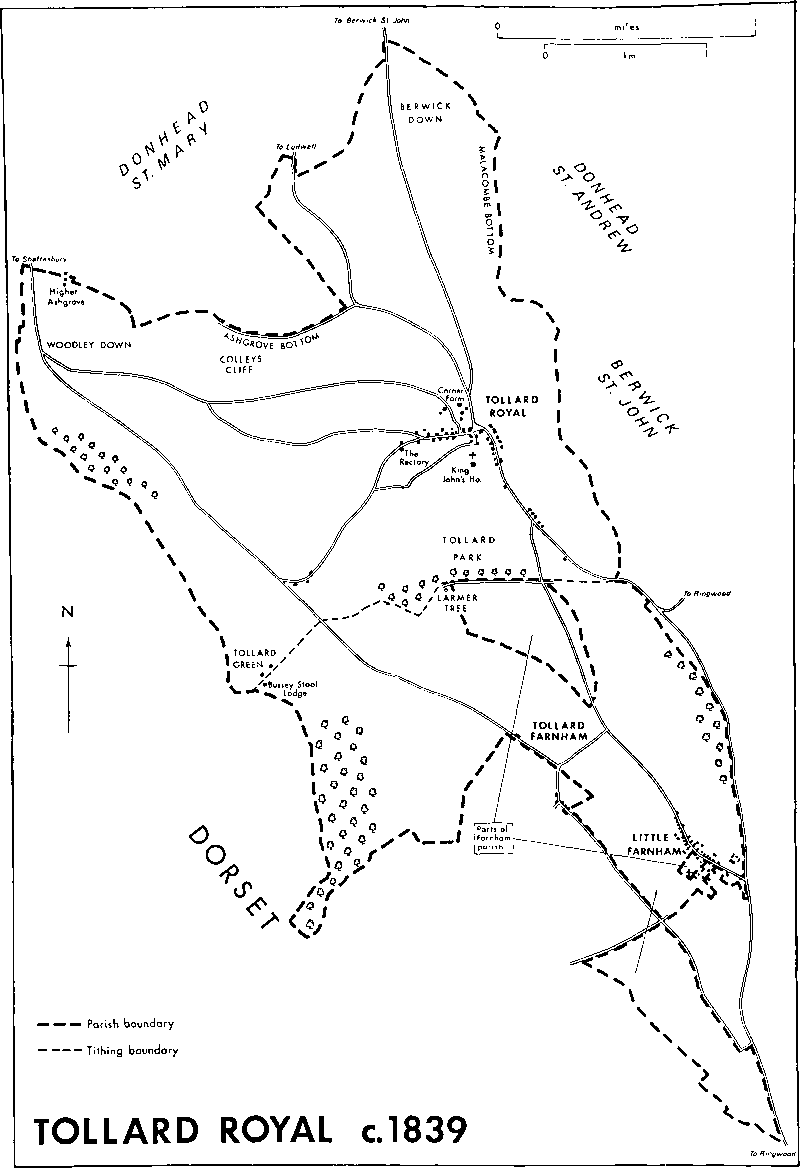 References to landmarks in a late 11th-century survey suggest that the Wiltshire lands of the parish were part of Wilton abbey's Chalke estate in the mid 10th century, by when their southern and western boundaries, the county boundary, had possibly been defined. (fn. 15) Unlike other parishes which were part of the abbey's estate, Tollard Royal, which had been separated from it by 1066, (fn. 16) was not slow to develop as a parish. The suffix 'Royal', justified if King John was, as has been suggested, overlord of part of Tollard manor, was in use from the 16th century. (fn. 17) The Wiltshire lands of the parish, 750 ha. (1,854 a.), measure at most 3.5 km. from north to south and 3 km. from east to west; they form a rectangle from which the north-west quarter has been taken.
The Wiltshire part of Tollard Royal parish is mainly chalk downland, cut by deep dry valleys in the north and east. Its eastern boundary is marked by one such valley, called Malacombe Bottom in the north and Tinkley Bottom in the south, and part of its northern boundary runs along another, Ashgrove Bottom. Heights above 229 m. are reached on Berwick Down in its northernmost part. In its south and west parts the chalk is covered with clay and the land is lower, below 107 m. in the south-east corner, and much flatter. (fn. 18) There is no permanent stream in the present Tollard Royal parish but a pool in the Larmer Grounds was enlarged in the late 19th century, (fn. 19) and another in Tollard Royal village had recently been drained in 1985. (fn. 20) A third forms in Bugden Bottom in wet weather. (fn. 21) The Wiltshire part of the parish was mainly arable south and east of Tollard Royal village in historical times: its northern downs and Tollard Green, in its south-western corner, provided pasture. (fn. 22) That part of the parish was well wooded; in the 19th century and the 20th, as probably earlier, most of the woodland lay near its western, southern, and eastern boundaries. (fn. 23)
In the Middle Ages the claims of the lord of Cranborne Chase to have rights of chase and to exercise forest laws apparently met less resistance in Tollard Royal than in some neighbouring parishes. (fn. 24) The lord of Tollard manor may, however, have contested rights of chase within the park mentioned as part of the manor in 1227 (fn. 25) and 1404–5. (fn. 26) In the 1580s and 1590s the park, south of Tollard Royal village, was fenced and keepers of the chase were excluded from it. Sir Matthew Arundell (d. 1598), lord of Tollard manor, was said to have employed keepers of the chase within Tollard Royal when he was chief ranger of the chase. When dismissed from the rangership, he apparently denied that the Wiltshire part of the parish lay within the chase, forbade the keepers to enter his lands there, and had a lodge, recently built in that part of the parish for the keeper of the Bussey Stool walk of the chase, replaced by another a short distance inside the Dorset part of the parish. (fn. 27) Litigation over rights of the chase within the parish was ended temporarily by a judgement in 1618 in favour of William Cecil, earl of Salisbury, then lord of the chase. (fn. 28) Evidence was given on his behalf that the lord and tenants of Tollard manor were accustomed to hunt deer in the parish only on the day of or a day following the annual court leet and with the permission of the keeper of Bussey Stool walk. (fn. 29) After 1618 a hunt apparently took place annually at the time of the autumn court. (fn. 30) In 1661 the right was claimed to a similar hunt in spring, (fn. 31) but there is no evidence that it was exercised. In 1697, under an inclosure agreement, the right of the lord and tenants to hunt was replaced by an annual gift of two bucks from the lord of the chase. Annual hunts continued, however; the chase hounds and keepers met in Tollard Royal on the day of the manor court and the lord and tenants of the manor were allowed to join the hunt for the two deer. (fn. 32) In 1789, however, George Pitt, Baron Rivers, then lord of the chase, successfully prosecuted those who took part in the hunt for infringing his rights. The hunt may thereafter have been suppressed for a time but was apparently revived in a more limited and orderly form. The custom continued until 1829 (fn. 33) when the chase was disfranchised. The lord of the chase, William Pitt-Rivers, Baron Rivers, then owned much of the land in Tollard Royal and received compensation for loss of his rights over the 348 a. which he did not own. (fn. 34)
The Roman road from Badbury Rings in Shapwick (Dors.) to Bath crosses the parish's northwestern corner. (fn. 35) In the late 18th century, as presumably earlier, and in the 20th century the main road through the parish was that from Shaftesbury via Sixpenny Handley (both Dors.) to Ringwood (Hants). A road which left the Shaftesbury—Ringwood road 500 m. south-east of Tollard Royal church led via Farnham also to Ringwood. (fn. 36) Both were turnpike roads from 1832 to 1877. (fn. 37) In the late 18th century a road diverged from the Shaftesbury—Ringwood road to lead from a point near the parish's western boundary south-east to Farnham; others led from the main road north from Tollard Royal village to Berwick St. John, north-west to Ludwell in Donhead St. Mary, and south-west to Tollard Green. (fn. 38) When, between 1773 and c. 1807, a new rectory house was built, that last road was diverted southwards to leave Tollard Royal village by the church instead of by the new house. (fn. 39) The old northern part of the road became the drive of the house (fn. 40) and was a footpath in 1985. The roads to Berwick St. John and Ludwell were not in public use in 1985.
Evidence of prehistoric activity in the Wiltshire part of the parish includes barrows and ditches on Berwick Down and near the western boundary. Also on Berwick Down is the site of a late Iron-Age farmstead, apparently abandoned at the time of the Roman occupation. It was replaced by another settlement 150 m. further south which was used for several centuries. (fn. 41)
The Wiltshire part of Tollard Royal parish was assessed for taxation at 64s. in 1334 and had 69 polltax payers in 1377, figures low for Chalke hundred but average for the county. (fn. 42) In the 16th century its assessments were also low for the hundred. (fn. 43) In 1801 the population of Tollard Royal, excluding Tollard Farnham, was 238. It had risen to 384 by 1871, had fallen sharply to 280 by 1881, and continued to decline until 1921 when there were 128 inhabitants. Numbers rose slightly in the 1920s and 1930s but fell again later. (fn. 44) In 1981 the population was 94. (fn. 45)
Tollard Royal village lies at the head of Bugden Bottom, where tributary valleys join it from the west and north-west. The focus of the village in 1773 was the pond beside which from between 1773 and c. 1807 there was a crossroads formed by the Shaftesbury—Ringwood road, the road to Berwick St. John, and the new road to Tollard Green. (fn. 46) East of the crossroads the Shaftesbury—Ringwood road turns south-east from the western valley into Bugden Bottom. The new road to Tollard Green leads past the oldest surviving buildings in the village, the church and King John's House, both of 13th century or earlier origin, which stand on high ground south of the crossroads. Other building was in the late 18th century chiefly beside the ShaftesburyRingwood road. Most of the houses were clustered around the pond, but building also extended as a street c. 500 m. west along the road to where the new Rectory was built. (fn. 47) Surviving cottages include some of 17th-century origin but are mainly of the 18th century or the 19th. Most are of brick and rubble, some are thatched. Other buildings, perhaps of 18th century origin, include a brick house called Corner Farm, and the Old Foundry, north of the street. In the earlier 19th century several houses were built c. 500 m. south-east of the crossroads, (fn. 48) and later in the century a nonconformist chapel was built in the street and a school 100 m. west of the church. The Queen's Arms, built and opened c. 1885, was known from 1899 or earlier as the King John hotel. (fn. 49) In the 20th century houses at the southern end of the village were demolished (fn. 50) and there was little new building. Most of the village was designated a conservation area in 1973. (fn. 51)
A house stood on the eastern edge of Tollard Green in 1773; (fn. 52) in the mid 19th century and in the late 20th three houses or cottages stood there. (fn. 53) A barn stood near the parish's northern boundary, east of the Shaftesbury—Ringwood road, in 1773; (fn. 54) a farmstead, known as Higher Ashgrove, was built on or near its site between 1811 and 1839. (fn. 55) Farmsteads, then called Church Farm and Tollard Farm, were built 700 m. respectively south-west and south-east of the church in the mid 19th century. (fn. 56)
Between 1880 and 1885 A. H. L.-F. Pitt-Rivers, the archaeologist and anthropologist, who owned most of the land in the parish, converted c. 20 a. south of Tollard Royal village into pleasure gardens known as the Larmer Grounds. Within the grounds, a little south of the county boundary, stood the Larmer tree, a wych-elm, then dead, near which tradition claims that courts for Tollard manor were held. A temple in classical style and a half-timbered cottage for a caretaker were built in 1880–1. From 1885 the grounds were open to the public daily and without charge. A bandstand, an open-air theatre, a dining hall, and summerhouses in rustic and Indian styles were built later. (fn. 57) A band, formed in 1886 from among workers on Pitt-Rivers's estate, played in the grounds on Sundays in summer. Over 400 people visited the grounds on a Sunday in July 1886; (fn. 58) during 1893 there were 24,143 visitors. Sports and races were held each September to commemorate the annual hunt associated with the manor courts. (fn. 59) A golf course extending east of the grounds into Berwick St. John parish was opened in 1896. (fn. 60) PittRivers (d. 1900) (fn. 61) left an endowment to maintain the grounds but they became less popular after his death. (fn. 62) They were still open in 1932 but had by then been reduced to 10 a. (fn. 63) Some of the buildings had been demolished and a new restaurant built by 1985; the grounds were then principally used as an aviary and were occasionally open to the public.
In 1889 or 1890 King John's House, formerly a farmhouse, was opened to the public by Pitt-Rivers. It housed an exhibition illustrating the history of painting and displays of pottery and needlework. A room in the house was used as a reading room for residents of Tollard Royal. (fn. 64) The house was still open in 1905 (fn. 65) but by 1907 had become a private residence. (fn. 66)
Manor.
Lands in Wiltshire which were later part of TOLLARD manor may have been part of the estate called Chalke granted by King Edwy to Wilton abbey in 955. (fn. 67) If so, they had been granted away by 1066, when five thegns held a total of 5½ hides, Rozo held 2½, and Toli 1 hide in the Wiltshire part of Tollard. In 1086 Aiulf the chamberlain, sheriff of Dorset, held the thegns' land in chief and Rozo's from Edward of Salisbury; William of Eu held Toli's land in chief. (fn. 68) By the mid 13th century, when Tollard manor comprised lands in both Wiltshire and Dorset, it had been divided into moieties (fn. 69) representing either lands derived respectively from the holdings of Aiulf and of William of Eu or, more probably, the division of a manor which had been formed by the amalgamation of Aiulf's lands in Wiltshire with his adjacent holding in Dorset, to which William's lands may have been added.
The overlordship held in 1086 by Edward of Salisbury (fn. 70) presumably passed in turn to his son Walter (d. 1147) and Water's son Patrick, earl of Salisbury (d. 1168), and thereafter with the Salisbury title. (fn. 71) In 1242–3 Ela Longespée, countess of Salisbury, shared the overlordship of the whole manor of Tollard with Richard de Clare, earl of Gloucester and of Hertford, (fn. 72) to whom had descended the overlordship of lands not held from Edward of Salisbury's successors. Thereafter each of the moieties into which the undertenancy had been divided was sometimes said to be held of Ela's successors, sometimes of Richard's, and sometimes of both. After Ela's death in 1261, Maud Longespée, relict of Ela's grandson Sir William Longespée (d. 1257), claimed rights in Tollard as dower; (fn. 73) lands of the manor were held of Maud in 1263. (fn. 74) The rights of the Longespée family in Tollard were perhaps those later held by members of the Montagu and Mortimer families. Estates confiscated on the attainder of John de Montagu, earl of Salisbury (d. 1400), in 1401 and restored to his son Thomas, earl of Salisbury, in 1409 included 1 knight's fee in Tollard. (fn. 75) The dower of Eleanor Mortimer, relict of Roger Mortimer, earl of March and of Ulster (d. 1398), included 1 knight's fee there in 1399, (fn. 76) and in 1410 Roger's son Edmund, earl of March and of Ulster, was overlord of a moiety of Tollard manor. (fn. 77) In the late 12th century the earls of Gloucester may have been overlords of part of the manor. King John was said to be overlord in the right of his wife Isabel, countess of Gloucester, (fn. 78) but no unequivocal record survives of an earl of Gloucester as overlord before 1242–3. The overlordship then held by Richard, earl of Gloucester and of Hertford (d. 1262), (fn. 79) passed with the titles in turn to his son Gilbert (d. 1295) and Gilbert's son Gilbert. After the younger Gilbert's death in 1314 his rights in the manor were presumably assigned to his sister Margaret, wife of Hugh Audley (cr. earl of Gloucester in 1337, d. 1347). (fn. 80) They passed to Hugh's daughter Margaret, wife of Ralph de Stafford, Lord Stafford (cr. earl of Stafford in 1351), and with the Stafford title to Humphrey Stafford, earl of Stafford, who held 1 knight's fee in Tollard in 1428. (fn. 81)
In 1166–7 Richard de Govis held an estate in Tollard, (fn. 82) either the whole manor of Tollard or the moiety of it later called TOLLARD GOVIS. The moiety was held by Roger de Govis in 1223 (fn. 83) and 1227. (fn. 84) Roger Waspail held it in 1242–3, (fn. 85) but it later reverted to members of the Govis family. Brian de Govis, who held it in 1275, (fn. 86) settled it in 1282 on his son Henry. (fn. 87) In 1316 Tollard Govis was held by John de Govis (fl. 1324), Henry's brother or grandson. (fn. 88) Thomas Freemantle or Govis settled the moiety on his son John and John's wife Eleanor in 1348. (fn. 89) Eleanor, later wife of Thomas Bridport and of William Payne (d. 1388), (fn. 90) held it until her death in 1419. It passed to Eleanor Freemantle or Govis, granddaughter of Eleanor and John, who had formerly been wife of John Savage (d. 1410) and was in 1419 wife of Thomas Swanlond. (fn. 91) The moiety was held in 1428 by Robert Savage (fn. 92) (d. by 1449) (fn. 93) and in 1496 by John Savage (fn. 94) (d. 1500), who was succeeded by his brother William (fn. 95) (fl. c. 1520). (fn. 96) It passed, presumably by sale, to Henry Daubeney, Lord Daubeney, who conveyed it in 1535 to his nephew Sir Thomas Arundell. (fn. 97) Sir Thomas was executed and his lands were confiscated in 1552. (fn. 98) In 1554 his moiety of Tollard manor was granted to his relict Margaret, who was to hold it until his debts had been paid, and to their son Matthew (fn. 99) (knighted in 1574). (fn. 100) Sir Matthew later inherited the other moiety of the manor. (fn. 101)
All or part of the moiety of Tollard manor later known as TOLLARD LUCY was held as dower in 1223 and 1227 by Margery, relict of Robert de Lucy. (fn. 102) Robert de Lucy held the moiety in 1242–3 (fn. 103) and 1255. (fn. 104) It was inherited from Herbert de Lucy by his son Robert (d. c. 1262), whose son Robert (fn. 105) or a namesake held it in 1281 (fn. 106) and 1316. (fn. 107) By 1323 Tollard Lucy had passed to John de Lucy (fn. 108) (fl. 1350), (fn. 109) who was succeeded in or before 1376 by Sir William de Lucy (fn. 110) (d. by 1392). (fn. 111) Probably in 1392 it was conveyed to Sir John Roches, (fn. 112) who held it in 1394. (fn. 113) Sir John (d. 1400) (fn. 114) was survived by his wife William (d. 1410) (fn. 115) whose estates were divided in 1411 between their daughter Elizabeth, wife of Sir Walter Beauchamp, and their grandson John Baynton. (fn. 116) Tollard Lucy was apparently assigned to Baynton, who held it in 1428. (fn. 117) After his death in 1465 (fn. 118) it was retained by his relict Catherine, on whose death in 1473 it passed to their son Sir Robert. (fn. 119) In 1475 Sir Robert was attainted (fn. 120) and Tollard Lucy was granted to John Cheyne, (fn. 121) who was attainted in 1483. (fn. 122) The moiety was granted to George Neville in 1485 (fn. 123) but later that year Cheyne's estates were restored. (fn. 124) He became Lord Cheyne in 1487 and died in 1499. (fn. 125) By 1500 Tollard Lucy had passed by sale or inheritance to trustees of Anne, daughter and heir of Edward Trussell and then a minor. (fn. 126) In 1503 the attainder of Sir Robert Baynton was reversed and his estates, presumably including Tollard Lucy, were granted to his son John (fn. 127) (d. 1516). They passed to John's son Sir Edward (fn. 128) (d. 1544), whose relict Isabel, later wife of Sir James Stumpe (d. 1563) and Thomas Stafford, retained Tollard Lucy for life. (fn. 129) The reversion was sold to Sir Thomas Arundell (fn. 130) and passed with Tollard Govis to his son Matthew, who entered on Tollard Lucy on Isabel's death in 1573. (fn. 131)
The reunited manor passed from Sir Matthew Arundell (d. 1598) in turn to his son Thomas (fn. 132) (cr. Baron Arundell of Wardour in 1605, d. 1639), to Thomas's son Thomas, Baron Arundell (d. 1643), and to the younger Thomas's son Henry, Baron Arundell, (fn. 133) from whom, as a royalist, it was sequestrated. In 1653 Henry petitioned to compound for his estates and in 1654 Tollard manor was released to his trustees. (fn. 134) After his death in 1694 the manor passed with the Arundell title from father to son to Thomas (d. 1712), Henry (d. 1726), Henry (d. 1746), Henry (d. 1756), and Henry (d. 1808), who was succeeded by his nephew James Arundell, Baron Arundell. (fn. 135) Probably between 1814 and 1817 c. 500 a. in the Wiltshire part of the parish were sold to Thomas Grove. (fn. 136) The lordship of the manor and the remaining Wiltshire lands of the parish passed on James's death in 1817 to his son James, Baron Arundell, (fn. 137) who sold them c. 1819 to George Pitt, Baron Rivers. (fn. 138) They passed with Berwick St. John manor and the Rivers title from George (d. 1828) in turn to his nephew William Beckford (d. 1831), who took the surname Pitt-Rivers, to William's son George (d. 1866), and to George's son Henry (d. 1867), who was succeeded by his uncle Horace PittRivers, Baron Rivers (d. 1880). (fn. 139) The Tollard Royal estate then passed to A. H. Lane-Fox, who as greatgrandson of George Pitt, Baron Rivers (d. 1803), took the additional surname Pitt-Rivers, by which he was afterwards generally known. After his death in 1900 it passed from father to son to A. E. L.-F. Pitt-Rivers (d. 1927), (fn. 140) G. H. L.-F. Pitt-Rivers (d. 1966), (fn. 141) and Mr. M. A. Pitt-Rivers, the owner in 1985. (fn. 142)
The lands bought by Thomas Grove lay north and north-west of Tollard Royal village and included Corner farm and part of Higher Ashgrove farm. (fn. 143) After Grove's death in 1847 they passed with the Ferne estate in Donhead St. Andrew in turn to his son John (d. 1858), John's son Thomas (cr. a baronet in 1874, d. 1897), and Sir Thomas's son Sir Walter, who sold them c. 1901 to A. H. Charlesworth (d. 1914); and they may have been bought in 1915 by Alfred Douglas-Hamilton, duke of Hamilton and Brandon. (fn. 144) By 1920 they had been bought by R. W. Borley. They passed with Ashcombe farm in Berwick St. John to Borley's son Mr. H. Borley, who still owned c. 100 a. in the northwest part of Tollard Royal parish in 1985. (fn. 145) In 1958 Mr. Borley sold Corner farm, 375 a., to a Mr. Cobley. (fn. 146)
King John's House (fn. 147) was presumably the manor house of either Tollard Govis or Tollard Lucy. The stone central block of the present house was in the mid 13th century a cross wing, north of which stood the hall. The wing was of two storeys, perhaps with one room on each floor; a garderobe chamber projected from its south-west corner. Several medieval windows survive; those on the ground floor are small double-splayed lancets, most of those on the upper floor have two lights and internal seats. (fn. 148) In the 17th century a chimney stack was inserted, dividing each floor into two rooms, a large timberframed cross wing was added at the eastern end, and a stair turret, perhaps replacing a stair which had been in the hall, was built on the north side. Under the direction of A. H. L.-F. Pitt-Rivers the house was extensively restored in the 1880s, some early 19th-century additions were removed, and a singlestorey extension was built north and north-west of the medieval block. (fn. 149) After 1966 a pagoda, of two storeys, was built in the garden. (fn. 150)
Economic History.
In 1066 there were seven or more main holdings in Tollard Royal, most of them small. In 1086 five of the holdings formed an estate of 5½ hides, of which 4 hides were in demesne. A second estate then included demesne of 2 hides and ½ yardland. The larger estate was worked by 2 serfs, 3 villani, and 14 bordars; there were 20 a. of pasture, 4 a. of wood, and a vineyard of 2 arpents. On the smaller estate there were 3 villani and 7 coscets, and both pasture and woodland 2 furlongs long and 1 furlong wide. A third estate was worked in 1086 by coscets and included 5 a. of meadow and 1 furlong of woodland. (fn. 151) Few details survive of the lands of either of the moieties in which Tollard manor passed in the later Middle Ages. In 1281 a holding of 3 carucates, 3 yardlands, and 105 a. of woodland may have been the demesne of Tollard Lucy or of the whole manor; 1 yardland and 30 a. were then held by tenants, presumably customary. (fn. 152) The rectorial glebe comprised 3 yardlands in 1341. (fn. 153)
An East field of Tollard Royal was recorded in 1403. (fn. 154) In the 16th and 17th centuries arable, north, east, and south-east of the village, was divided into West, Middle, and East or Rushmore fields. (fn. 155) In the late 16th century arable in Bugden Bottom was inclosed as part of a demesne farm; (fn. 156) c. 50 a. or more of arable were several in 1659. (fn. 157) An agreement was made in 1697 to inclose more arable (fn. 158) but how much was inclosed is not known. There were some open fields in 1783 (fn. 159) but not in 1814. (fn. 160)
Berwick Down, Woodley Down, and Tollard Green were apparently common pastures in the early 17th century. (fn. 161) In 1610, in exchange for land and pasture rights elsewhere in the Wiltshire part of the parish which were surrendered, 30 a. probably of Woodley Down were inclosed and added to Higher Ashgrove farm, of which the farmhouse and most of the lands lay in Donhead St. Mary. (fn. 162) In 1659 more than 100 a. of pasture in the parish were several. The lord's woods, then c. 140 a. in the Wiltshire and Dorset parts of the parish, were used for grazing by tenants of the manor in some years; in others the lord had several pasture there for cattle. (fn. 163) In 1783 there was common pasture for sheep on Berwick Down, Woodley Down, and Colleys Cliff, and for cattle on Tollard Green. (fn. 164) Berwick Down had been inclosed by 1814, (fn. 165) Woodley Down, 86 a., and Colleys Cliff, 30 a., were inclosed between 1839 and 1880, (fn. 166) and most of Tollard Green, c. 130 a., was ploughed in the 1940s; (fn. 167) part of Tollard Green remained open in 1986. (fn. 168)
In 1659 the largest farms based in Tollard Royal village were leaseholds, of 255 a. with pasture rights for 600 sheep and of 209 a., perhaps also with pasture rights: they may have represented the demesnes of the earlier moieties of Tollard manor. The larger farm included 126 a. in the open fields, 36 a. of several arable, and 20 a. of several pasture. On the smaller there were 125 a. in the open fields, 7 a. of several arable, and 48 a. of several pasture. Both included large areas of meadow, 43 a. and 29 a. respectively; (fn. 169) much of the meadow land may then, as in the 19th century, have been south of the village. (fn. 170) In 1698 there were 12 copyholders in the Wiltshire part of Tollard manor. (fn. 171) Some of their holdings had apparently been merged by 1711 when, in addition to the two larger farms, there were two leaseholds each of c. 100 a. with pasture rights. (fn. 172) In the late 17th century, as in the late 18th, the glebe included c. 50 a. in the open fields, c. 5 a. of meadow, and pasture rights for 140 sheep on the downs and for 5 cows on Tollard Green. (fn. 173)
In 1814 Tollard manor included, in Wiltshire, three farms of 300–400 a., each mainly several and approximately half pasture and half arable. All had pasture rights for cattle on Tollard Green. A fourth farm comprised 85 a. with pasture for 120 sheep on Woodley Down and for cattle on Tollard Green. Some 120 a. were held in small parcels; the tenants had rights for a total of 300 sheep on the down. (fn. 174) By 1838 the four large farms had become three. Corner farm was a compact holding of 375 a. north and north-west of the village. The lands of Lower farm, 382 a., extended north and south beside the eastern boundary of the parish and were worked from a farmstead north of the church in the street. Church farm, 400 a. west and south of Tollard Royal village, was worked from King John's House. From Higher Ashgrove, a new farmstead in the parish's northwestern corner, and from Lower Ashgrove, a farmstead a short distance inside Donhead St. Mary parish, c. 70 a. were worked with lands in Donhead St. Mary. The rectorial glebe, a single farm of 55 a., mainly arable, lay west of the village. There were then c. 700 a. of arable, 850 a. of pasture, 250 a. of wood, and 40 a. of meadow in the Wiltshire part of the parish. (fn. 175)
Perhaps in 1849 and certainly before 1886 the new farmstead for Tollard, formerly Lower, farm was built south-east of the church. (fn. 176) By 1880 Woodley Down had been added to Church, later Tollard Park, farm. (fn. 177) Tollard Park farmhouse was built south-west of the church before 1886. (fn. 178) In the late 19th century and the early 20th Tollard Park farm was divided into two or three smaller holdings; in 1910 it was worked in holdings of 186 a., 122 a., and 59 a. (fn. 179) In the 1930s, however, the lands belonging to the Pitt-Rivers family were again worked as two or three farms. (fn. 180) Tollard Green was added to the farms in the 1940s. (fn. 181) In 1985 Tollard farm and Tollard Park farm were in hand and their lands were worked as a cereal and sheep farm of 855 a. (fn. 182) Tollard Park Farm was converted in 1966 for use as a stud farm. In 1983 there were 50 Arab horses in the study. (fn. 183) By 1910 the lands of Corner farm and those worked from Higher and Lower Ashgrove Farms had been divided into holdings of 115 a., 125 a., and 238 a.; the smallest holding was in hand. (fn. 184) From the 1920s until 1958 the lands were worked with others in neighbouring parishes as part of a large mixed farm. Thereafter some 100 a. in Tollard Royal parish remained part of that farm; (fn. 185) Corner farm, 375 a., chiefly arable, was worked separately. (fn. 186)
Tollard park, south of Tollard Royal village, included c. 50 a., mainly wooded, in the early 17th century. It remained woodland and rough pasture (fn. 187) until the late 19th century when the Larmer Grounds were established in the southern part of the park. (fn. 188) From the early 19th century, and perhaps earlier, much of the woodland belonging to Tollard manor was kept in hand. (fn. 189) There were 160 a. of woodland in Tollard Royal parish in 1910. (fn. 190) By 1985 another 90 a. of wood had been planted near the eastern boundary and in the south-western corner. The woodland was then managed commercially by the owner; beech, ash, Norway spruce, larch, and Douglas fir were grown. (fn. 191)
There may have been a mill in the parish in 1341. (fn. 192)
Local Government.
Suit owed from Tollard Royal to the shire court was said to have been withdrawn in 1255. In 1275 the lords of Tollard Govis and Tollard Lucy refused to allow royal bailiffs to enter Tollard. (fn. 193)
Between 1402 and 1409 courts, called courts leet and manor courts, for Tollard Govis were held on between one and four occasions each year; there is, however, no record of the exercise of leet jurisdiction. The homage presented absentees from the courts, misuse of common pastures, and vacant holdings. Orders were made for the repair of buildings and tenants were admitted. (fn. 194) From the late 16th century courts, described as courts of Tollard and Farnham, were held for Tollard manor. A court leet and a manor court were usually both held in spring and autumn each year between 1524 and 1610; from the 1620s a court leet and a manor court were held in autumn and a manor court in spring. At the court leet a tithingman for Tollard Royal and another for Tollard Farnham were sworn; a jury was also sworn but rarely made presentments. At manor courts the homages of Tollard Royal and Tollard Farnham presented separately matters such as strays, vacant holdings, and buildings in need of repair. Other business before the courts included regulation of common pastures and agreements for inclosure. In the 1650s and 1660s courts leet were renamed views of frankpledge for the hundred or liberty of Lavermere but business before them was unchanged. At the manor courts a single homage then presented; from 1661 presentments included the claim of the lord and tenants of the manor to hunt deer on the day of the autumn court or on a day following. In the 18th century and the early 19th annual courts were held in autumn; the business before them was chiefly tenurial. The last recorded court was in 1841. (fn. 195)
In the 1770s and 1780s the cost of poor relief in the Wiltshire part of the parish was even lower than might have been expected. Spending on the poor had increased from £39 in 1776 to £113 by 1803, when 16 people received permanent and 7 occasional relief, (fn. 196) and to £314 by 1813, when 24 were relieved permanently and 5 occasionally. (fn. 197) Thereafter it fluctuated, reaching £358 in 1818 but falling in the early 1820s and again in the 1830s. (fn. 198) Between 1833 and 1835 an average of £103 was spent yearly on the poor. Tollard Royal, but not Tollard Farnham, became part of Tisbury poor-law union in 1835 (fn. 199) and of Salisbury district in 1974. (fn. 200)
Church.
There was a church at Tollard Royal in 1291. (fn. 201) In addition to Tollard Royal village, it served part of Farnham village, almost certainly by 1341 when part of its income was derived from lands in Dorset. (fn. 202) In 1291 the church was held in medieties by two rectors. (fn. 203) Perhaps from the mid 15th century and certainly from 1496 the medieties were held as one rectory. (fn. 204) They may have been united during the episcopate of Richard Beauchamp, bishop of Salisbury 1450–81 and uncle of Richard Beauchamp, Lord St. Amand (d. 1508). (fn. 205) In 1925 the united benefice of Tollard Royal with Farnham was formed; the parishes remained separate and Tollard Farnham tithing was thereafter considered part of Farnham parish. (fn. 206) The benefice was later served with other Dorset parishes. In 1981 the benefice of Tollard Royal with Farnham, Gussage St. Michael and Gussage All Saints, Ashmore, and Chettle was created, and the Chase group ministry was formed to serve the new benefice and that of (Sixpenny) Handley with Pentridge. (fn. 207)
In 1306 Robert de Lucy, lord of a moiety of Tollard manor, and Adam Codford presented a rector to a mediety; thereafter lords of Tollard Lucy were usually patrons of the mediety. In 1392 and 1400 Edith de Lucy, relict of Sir William de Lucy and in 1400 Lady de More, held the advowson as part of her dower and presented rectors. (fn. 208) On the division of the estates of William, Lady Roches, in 1411 the advowson of the mediety passed to her daughter Elizabeth, (fn. 209) whose husband Sir Walter Beauchamp presented a rector in 1420. (fn. 210) Sir Walter (d. 1430) was succeeded by his son William (d. 1457), whose relict Elizabeth Beauchamp, Baroness St. Amand, presented a rector in 1457. Christopher Waddes was patron in 1469, presumably by a grant from Elizabeth or her son Richard Beauchamp, Lord St. Amand. (fn. 211) From 1324, when John de Govis presented a rector, to 1383, when William Payne presented, the advowson of the other mediety usually passed with the Govis moiety of Tollard manor. (fn. 212) In 1414 Thomas Swanlond, who held the reversion of Tollard Govis in his wife's right, presented a rector. (fn. 213) Alice, relict of Robert Savage, held the advowson, presumably as dower, and presented a rector in 1449. (fn. 214)
After the medieties were united, patronage at every second vacancy was presumably among St. Amand's estates granted to John Baynton in 1511 (fn. 215) and thereafter passed with Tollard Lucy to Sir Matthew Arundell. Patronage at the other vacancies passed with Tollard Govis to Arundell. (fn. 216) Patrons of the alternate turns made grants of the next presentation in their gift; in 1560 William Herbert, earl of Pembroke, presented by grant of Henry Daubeney, Lord Daubeney, (fn. 217) and in 1568 the executors of Robert Woodcock presented by grant of Thomas and Isabel Stafford. (fn. 218) After Isabel's death in 1573 the whole advowson passed with Tollard manor in the Arundell family. (fn. 219) Richard Valeys presented a rector in 1601 by virtue of a grant from Thomas Arundell, later Baron Arundell of Wardour. (fn. 220) Although notable papists, until the mid 17th century the Arundells were unaffected by the Act of 1605 which prohibited those convicted of recusancy from presenting or granting the right to present for a single turn. (fn. 221) In 1610 Thomas, Baron Arundell, presented a rector (fn. 222) and in 1644 George Barker was granted a single turn. (fn. 223) Barker apparently did not present and the advowson, like Tollard manor, was sequestrated after the Civil War. It was presumably restored in 1654 with the manor, (fn. 224) but in 1660 the Crown presented a rector. (fn. 225) John Keene presented in 1666 and Richard Long in 1710; both had presumably received grants of a single turn. Thereafter grants of the advowson were made for years or lives, as allowed by the Act of 1605. Walter Long presented a rector by virtue of such a grant in 1734, Deborah Penton in 1736, and Thomas Hardwick and the Revd. Matthew Maddock in 1770. (fn. 226) Similar grants or assignments of such grants may have been made to Dorothy Frome, Shute Barrington, bishop of Salisbury, the Revd. E. W. R. Andrews, and the Revd. John Honeywood, who presented in 1736, 1788, 1796, and 1798 respectively. (fn. 227) In 1803 Henry, Baron Arundell, sold the advowson, (fn. 228) probably to the Revd. John Austen. In 1823 and 1859 Austen or a namesake was patron. (fn. 229) The Revd. J. H. Austen was patron in 1866; (fn. 230) by 1881 the advowson had passed, presumably by sale, to J. G. Waterfall. (fn. 231) In 1892 it was held by Waterfall's son, the Revd. G. H. Waterfall (fn. 232) (d. 1898), (fn. 233) who devised it to trustees. (fn. 234)
When the united benefice of Tollard Royal with Farnham was formed the Lord Chancellor, patron of Farnham, was given the right to present at the second and the patron of Tollard Royal at the other three of every four vacancies. (fn. 235) The larger share of the advowson was conveyed in 1940 to the Church Association, (fn. 236) later the Church Society Trust. The Lord Chancellor and the Church Society Trust were among patrons of the united benefice formed in 1981. (fn. 237)
In 1291 the income of each mediety of the church was assessed at £4 6s. 8d. and was well below the average for livings in Chalke deanery. (fn. 238) One or both of the rectors then and in 1317 received a pension of 6s. 8d. from the church of Tarrant Gunville (Dors.). (fn. 239) The income received in 1535 by the rector who held both medieties was £16, about average for the deanery; a pension of 6s. 8d. was then paid to the dean and chapter of Salisbury. (fn. 240) The rector's income had risen to c. £470 a year by c. 1830, well above the average. (fn. 241)
Between them the rectors received most if not all tithes from the Wiltshire part of the parish in 1341. A 'portion at Farnham' then due to the rectors (fn. 242) may have comprised tithes from the Dorset part. In 1838 tithes due to the rector from both parts were assessed at £570 and commuted. (fn. 243) The rectors shared 3 yardlands with rights of pasture in 1341. (fn. 244) In 1677 the glebe comprised 56 a. of arable and meadow with pasture rights. (fn. 245) Of c. 80 a. held by the rector in 1889, (fn. 246) 17 a. were sold in 1897, (fn. 247) 30 a. in 1934, and the remainder probably in 1944. (fn. 248) A rectory house, mentioned in 1677, (fn. 249) was replaced by another at the western end of the street after 1773. (fn. 250) The new house may have been built by 1783; the rectory house was then described as of stone and flint with a brick front. (fn. 251) The house was certainly standing c. 1807 (fn. 252) and was sold c. 1954. (fn. 253)
John Dene, rector of a mediety of Tollard Royal, was licensed for a few months in 1412 to hear confessions from and grant absolution to his parishioners in some reserved cases and to choose a suitable priest as his confessor. (fn. 254) In 1560 there was no copy of Erasmus's Paraphrases in the church. (fn. 255) William Thorne, rector 1601–10, (fn. 256) was regius professor of Hebrew at Oxford 1598–1604 and held several other livings in plurality. (fn. 257) His successor Henry Coombe signed the Concurrent Testimony and was said in 1650 to preach 'constantly'. (fn. 258) In 1674 it was reported that there was no Book of Homilies in the church, and that children and servants did not learn the catechism before confirmation. (fn. 259) George Frome, rector 1734–70, was licensed in 1754 to hold another living, in Dorset, in plurality. (fn. 260) In 1783 two services were held at Tollard Royal each Sunday; at the morning service there was a sermon. Services were also held on weekdays before and after the great festivals. Communion was celebrated at Christmas and Easter, on Whit Sunday, and on the Sunday after Michaelmas; at Easter there were c. 50 communicants. (fn. 261) On Census Sunday in 1851 morning service was said to have been attended by 210 people, afternoon service by 260. (fn. 262) In 1864 services were also held on Wednesdays in Lent, daily in Holy Week, and on some other holy days. Communion was celebrated at festivals and monthly; there were usually between 20 and 27 communicants. (fn. 263) From 1976 the united benefice of Tollard Royal with Farnham was held in plurality with that of Gussage St. Michael and Gussage All Saints. (fn. 264)
ST. PETER'S church, so called in 1469 (fn. 265) and later invoking St. Peter in Chains, (fn. 266) has a chancel, a nave with north aisle and south porch, and a west tower. Most of the church is of flint and stone rubble; the tower and dressings are of ashlar. The small size of the nave and chancel suggest that they may have been of earlier origin than their earliest surviving features, several windows, a doorway, and the tower arch, all of which date from the late 13th century or the early 14th. In 1412 £10 was given to build a new bell tower. (fn. 267) In the late 15th century and the early 16th the building was enlarged; the aisle, of three bays, and the porch were added, the nave was heightened, and the tower rebuilt. A gallery, added in 1714, (fn. 268) was probably removed in the 1850s when the building was reroofed, the aisle and arcade were largely rebuilt, the nave walls were lined with lath and plaster, the chancel arch was removed, and the east window was blocked. (fn. 269)
Some 18th-century plate and a small chalice, described as 'very ancient', were held by the church in 1783. (fn. 270) A chalice and a paten given in 1786 and a late 18th-century flagon were held in 1890 and 1985. (fn. 271) In 1553 there were three bells and a sanctus bell. One medieval bell hung in the church in 1927. Another was replaced or recast by William Tosier in 1728, the third was recast in 1882 by Mears & Stainbank. Two more bells by Mears & Stainbank were added in 1889. (fn. 272) Those five bells hung in the church in 1985. (fn. 273)
There are registers of baptisms from 1688, of burials from 1689, and of marriages from 1692. (fn. 274)
Nonconformity.
George Penny, an inhabitant of Tollard Royal or of Farnham, was convicted of recusancy before 1640. (fn. 275) Thomas Lush of Tollard Royal was presented as a popish recusant in 1668 (fn. 276) and was convicted as such in 1673 and 1676. (fn. 277) In 1676, however, there was said to be neither papist nor protestant nonconformist in the parish. (fn. 278)
A house in Tollard Royal was licensed for Methodist meetings in 1773 and 1786. (fn. 279) In 1783 the meetings were held weekly and were addressed by visiting preachers. (fn. 280) A house licensed in 1824 may have been one of two licensed in 1829 for meetings of Wesleyan Methodists. (fn. 281) There was no nonconformist meeting house in the Wiltshire part of the parish in 1851 or 1864. (fn. 282) In 1879 a small brick chapel was built for Primitive Methodists. (fn. 283) It was closed in 1957. (fn. 284)
Education.
A school in Tollard Royal, attended by some 20 children in 1818, (fn. 285) had apparently been closed by 1833. (fn. 286) In 1846 a National school was attended by 40 children. (fn. 287) A new schoolroom and a teacher's house were built c. 1855. (fn. 288) By 1857 the number of pupils had increased to c. 75. (fn. 289) In 1867 and 1871 there was also an infants' school; (fn. 290) it had been closed or merged with the National school by 1875. (fn. 291) Average attendance at the school was said to be 65 in 1885. (fn. 292) It had fallen to 42 by 1910 and to 34 by 1936. (fn. 293) In 1962 the school was closed. (fn. 294) Thereafter children from Tollard Royal attended Ludwell school in Donhead St. Mary parish. (fn. 295)
Charities for the Poor.
None known.