Pages 176-186
A History of the County of Wiltshire: Volume 14, Malmesbury Hundred. Originally published by Victoria County History, London, 1991.
This free content was digitised by double rekeying. All rights reserved.
OAKSEY
Oaksey village (fn. 1) is 9 km. north-east of Malmesbury. (fn. 2) A detached part of the parish, 95 a. lying to the south and almost surrounded by Minety, originated in land allotted to the men of Oaksey to replace pasture rights in Braydon forest. (fn. 3) It was transferred to Minety in 1884 and thereafter Oaksey measured 1,827 a. (739 ha.). (fn. 4)
Oaksey's boundaries follow streams and roads, and may therefore be ancient. They were described in 1591 when they were on their present course. (fn. 5) The whole of the southern boundary follows Swill brook and a tributary of it, the east part of the northern follows Flagham brook, and the eastern follows a straight road between the two brooks. The boundary with Minety to the south-east ceased to be a county boundary when that parish was transferred from Gloucestershire to Wiltshire in 1844, (fn. 6) but the northern and eastern boundaries, with Kemble, Poole Keynes, and Somerford Keynes, became the county boundary in 1896 when those parishes were transferred to Gloucestershire. (fn. 7)
Oaksey lies in the valley of the upper Thames, of which both Flagham brook and Swill brook are tributaries. (fn. 8) Kellaways Clay outcrops in the west and forms an east-west ridge, over 107 m., on which the village stands. North of the ridge limestone and clay of the Forest Marble outcrop, and south of it Cornbrash outcrops. Much land in the west was wooded and much has long been pasture for dairy cattle and parkland. (fn. 9) In the east between Flagham brook and Swill brook gravel and alluvium have been deposited. Although some land there was ploughed in the earlier 19th century (fn. 10) most was and is meadow or pasture. The meadow in the south-east part was watered. (fn. 11) The snake'shead fritillary (fritillaria meleagris) was once abundant in the meadows and had the local name Oaksey lily. (fn. 12) Near Flagham brook gravel was extracted in the 1970s and three lakes were formed. (fn. 13) The highest point in the parish, 110 m., is in the south-west on Flintham Hill, the lowest, 85 m., in the south-east. There are small ponds in many fields throughout the parish.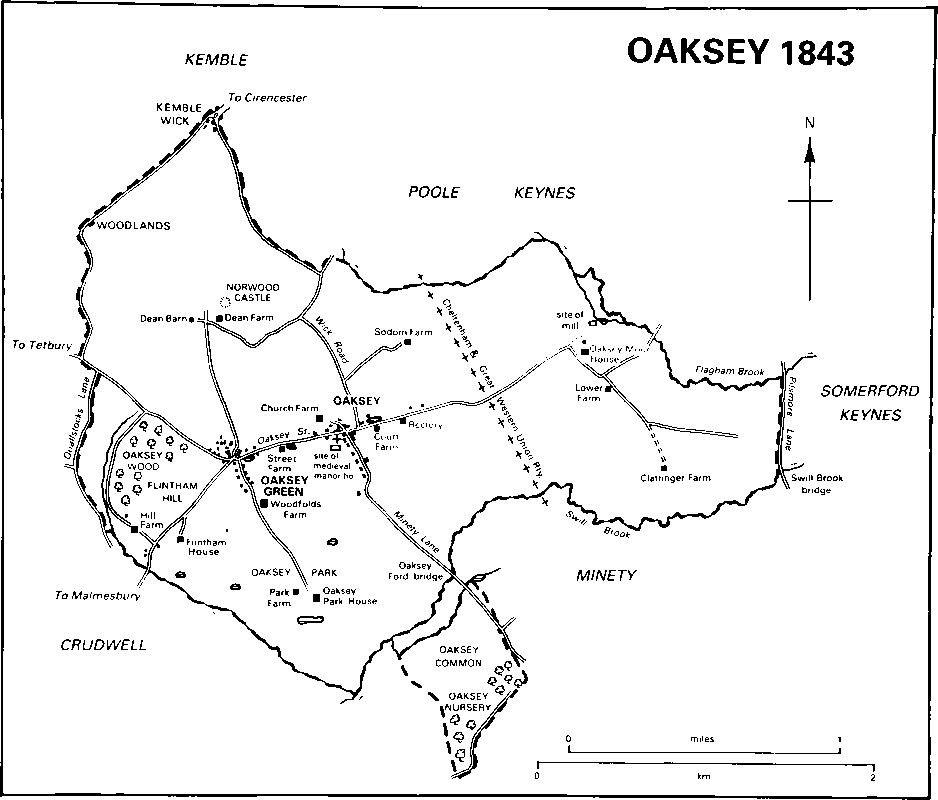 The road from Somerford Keynes to Minety, which forms the eastern boundary, ran on its present course in 1591. It was called Pilsmore Lane in 1810. The Oaksey—Kemble road, Wick Road, was also on its present course where it marked the parish boundary in 1591. East of the church, Minety Lane led southwards: in 1591 it was carried over Swill brook by Oaksey, later Oaksey Ford, bridge. Other lanes on their present courses in 1591 were that which formed the west part of the parish's north boundary and Quallstocks Lane, which declined in use in the earlier 20th century and was a footpath in 1986. (fn. 14) Oaksey Street, so called in 1609, (fn. 15) was part of a road from Somerford Keynes which entered the parish over Stockham bridge in 1591. (fn. 16) It ran along the ridge and at the west end of the village forked into branches leading north-west and south-west. A line constructed across the parish from Swindon to Kemble and Cirencester (Glos.) by the Cheltenham & Great Western Union Railway was opened in 1841 and transferred to the G.W.R. in 1844. The line was part of the main route from London to south and west Wales from 1850 to 1903. The road from Oaksey to Somerford Keynes was carried over the line on Oaksey bridge: a halt south of the bridge was opened in 1929 (fn. 17) and closed in 1964. (fn. 18)
A Bronze-Age axe is the only prehistoric artifact found in the parish. A kiln, possibly RomanoBritish, for making bricks and tiles was found in the detached part of Oaksey now in Minety. (fn. 19) Norwood castle north of Dean Farm is possibly a Norman motte-and-bailey site. (fn. 20) In the early 14th century demesne cultivation and the number of tenant holdings increased, and from 1347 or earlier a large manor house was built in the parish. Presumably as a result the assessment of Oaksey for taxation in 1334 was the highest in Chedglow hundred. In 1377 Oaksey had 86 poll-tax payers, one of the higher numbers in the hundred. Economic decline in the intervening period (fn. 21) may have accounted for Oaksey's low assessment for taxation in 1545, 1576, and the earlier 17th century. (fn. 22) The population of the parish was 363 in 1801, had risen to 614 by 1841 when 46 of the inhabitants were labourers building the railway, and had fallen to 354 by 1901. Between 1901 and 1951 the population fluctuated between 308 and 362. (fn. 23) New housing between 1951 and 1961 led to an increase to 446, but between 1961 and 1981 there was a decrease to 409. (fn. 24)
Oaksey is a street village on a ridge, a form of settlement which suggests that it originated early. Its older buildings are of stone and rubble and many have Cotswold stone roofs. In 1975 part of it was designated a conservation area. (fn. 25)
The church stood in the 12th century on the south side of Oaksey Street. (fn. 26) The large manor house was built south of it. Only the foundations of the house remained c. 1593 (fn. 27) and earthworks in a field marked its site in 1986. Also on the south side of the street a gabled 17th-century cottage west of the church was perhaps the church house which stood in 1609. (fn. 28) West of it a school was built in the mid 19th century, (fn. 29) a village hall was opened in 1921, and land south and east of the school was laid out as playing fields in 1950. (fn. 30) Further west on the south side of the street an 18th-century house has a decorative stone window lintel and other decoration in the manner of a carver's trial pieces, and Johnson's House, formerly Street Farm, is an early 18th-century house much altered c. 1980 (fn. 31) with a derelict farmstead west of it. East of the church on the south side Court Farm incorporates in its north wing, where a doorway dated 1692 has been reset, part of a house of the later 17th century: the house was enlarged and extended southwards between 1843 and 1875. (fn. 32) To the east, the former Rectory is 18th-century. (fn. 33) Of the houses which stood on the north side of the street in 1773, (fn. 34) Tudor House is 17th-century. The main east-west range has a central stack and a symmetrical south entrance front. A short north wing contains a 17th-century staircase, and west of that was a north service wing. The service wing was demolished, new north-west service rooms were built, and the house was extensively restored c. 1970. (fn. 35) Street Villa was built in the period 1872–83 for R. C. Warner as a farmhouse for Street farm. (fn. 36) A farmstead stands west of it. East of it six flats, four for old people and two for young couples, were built in the grounds of the new Rectory in 1978 for the Oaksey Charitable Trust, which Mr. J. R. Assheton established for general charitable purposes in England in 1972. (fn. 37) In a lane leading north from the street the Wheatsheaf was an inn in 1848 (fn. 38) and 1986, and Church Farm, which has extensive farm buildings around it, was rebuilt in 1884 for R. C. Warner. (fn. 39) Four pairs of council houses were built on the east side of Wick Road in 1931 (fn. 40) and in the 1970s and 1980s there was building on both sides of Oaksey Street and of the north end of Minety Lane.
Oaksey Green, where there may have been settlement in the later 12th century, (fn. 41) was a subsidiary settlement at the west end of Oaksey village where the street forked. The fork was called Earl's Corner. Nearly all the houses in the settlement in 1986 appear to be of the 19th and 20th centuries, but several may be on sites of those standing in 1773. (fn. 42) Woodfolds Farm to the south-east may have been built in the 18th century. It has a symmetrical west entrance front with a central doorway, gable chimneys, and a lower south range. The house was altered, restored, and enlarged for Gervas Huxley in the period 1938–41 to designs by Thomas Rayson. (fn. 43) An east service wing was extended c. 1972. (fn. 44) A nonconformist chapel built west of Earl's Corner in the mid 19th century (fn. 45) was a private house in 1986. In the period 1946–65 an estate of 46 council houses called Bendybow and sewage disposal works were constructed south of the street at Oaksey Green. (fn. 46)
In the east Oaksey Moor House was standing in 1773, (fn. 47) A new north-south range of three storeys and five bays was added on the west in the later 18th century. The west entrance front of the new range had a moulded stone cornice and parapet and a stone portico with a pediment and Tuscan columns. The house was demolished in 1966. Little Moor Cottage to the north was built before 1843. (fn. 48) South of the road to Somerford Keynes, Lower Moor Farm was standing in 1773 (fn. 49) and may have been built in the 18th century. It was added to in the 19th century and altered in 1947. (fn. 50) A cottage south-east of it was built c. 1946. (fn. 51) South of Lower Moor Farm, Clattinger Farm has a 17thcentury north—south range in which older beams may be incorporated. A short west wing was built in the later 17th century, and c. 1783 an east wing was built and the north-south range was reroofed. (fn. 52) South of the farmhouse, two ranges of cowsheds, one of which was still open-sided in 1986, may have been built in the 18th century, and possibly gave the farmhouse the name Stall House which it bore in 1773. East of Wick Road, Sodom Farm, so called c. 1959, was called Oaksey Farm in 1773, (fn. 53) Sodoms in 1828, (fn. 54) Sodhams or Lowfield c. 1843, (fn. 55) Lowfield in 1986. It was partly refitted in the early 19th century, and was altered and restored c. 1985.
In the north there had been settlement by 1573 on the manorial waste at Wick Green, called Kemble Wick in 1773. (fn. 56) The north-east part of the settlement was in Kemble parish. Houses of the 17th and 18th centuries stood in the Oaksey portion in 1986. South-west of Kemble Wick settlement had also taken place by 1773 at Woodlands, called Eame Cross in 1591 and also partly in Kemble. (fn. 57) Two 18th-century houses in Oaksey stood there in 1986. South-east of Woodlands, Dean Farm was built to an L-shaped plan for Benjamin Adamson in 1775 east of Dean barn, which stood in 1773 and 1986. The house was enlarged to form a square, given a mansard roof, and partly refitted in the early 19th century. It was altered in 1923. (fn. 58)
In the south-west Hill Farm was built on Flintham Hill in the 17th century. It was L-shaped, with a long range running south-east and north-west and a short north-east wing containing a staircase. Much of the inside of the house was refitted in the 18th century, and a north-west wing was built c. 1934 for Sir Geoffrey Lawrence to designs by E. J. T. Lutyens. (fn. 59) East of Hill Farm all or part of a house of the 18th century or earlier, standing in 1773, (fn. 60) was incorporated into the west part of Flintham House, which had been built there by 1815; (fn. 61) on the east service rooms were built in the later 19th century. In the parkland in the south part of the parish (fn. 62) there was a lodge c. 1591 and from the early 17th century to 1956 a large manor house. (fn. 63) In the 17th century Park Farm was built west of it as a low range running north-west and south-east. A taller south-east block was built in 1761 for Benjamin and Alice Adamson. (fn. 64) Steeplechases were held across its land in the early 20th century. (fn. 65)
Manor and other Estates.
Beorhtric, a thegn, in 1086 held land at OAKSEY which his father had held in 1066. The estate was apparently bought after 1086 by Edward of Salisbury. (fn. 66) Like the manor of Wilsford in Swanborough hundred (fn. 67) it presumably passed to his daughter Maud, wife of Humphrey de Bohun, and to their son Humphrey (fl. 1131 × 1146): (fn. 68) Oaksey church was held by either that Humphrey or his father. (fn. 69) The manor descended to the younger Humphrey's son Humphrey (d. 1181), (fn. 70) whose relict Margaret de Bohun (d. 1201) held it at some time in the period 1189–99 (fn. 71) for life or until her son Henry de Bohun (cr. earl of Hereford 1200, d. 1220) came of age. Henry forfeited his lands in 1217 for supporting the baronial party and Louis of France. The manor was granted to Robert FitzPayn but was restored to Henry in 1217 and after his death was held in dower by his relict Maud de Bohun. (fn. 72) In 1232 she exchanged Oaksey with her son Humphrey de Bohun, earl of Hereford (from 1236 also earl of Essex, d. 1275), and the manor afterwards descended with the earldoms to Humphrey's grandson Humphrey de Bohun (fn. 73) (d. 1298), to that Humphrey's son Humphrey (fn. 74) (d. 1322), and to that Humphrey's son John (fn. 75) (d. 1336). John was succeeded by his brother Humphrey (fn. 76) (d. 1361), and Humphrey by his nephew Humphrey de Bohun, earl of Hereford, Essex, and Northampton (fn. 77) (d. 1373), (fn. 78) whose relict Joan held Oaksey until her death in 1419. (fn. 79) When the Bohun estates were partitioned in 1421 Oaksey was allotted to Henry V, the son of Humphrey's and Joan's daughter Mary, and it was part of the duchy of Lancaster until the early 17th century. It was assigned in 1422 to Catherine, relict of Henry V, and in 1467 to Elizabeth, queen of Edward IV. (fn. 80) Henry VII resumed the manor in 1485. (fn. 81)
In 1347 Humphrey, earl of Hereford, was licensed to crenellate his house in Oaksey. (fn. 82) In the earlier 15th century the house had a hall with an east tower, a solar on the west, eight rooms on the south, and a ninth room and domestic offices on the north. Hall and tower were roofed with lead and other buildings with stone slates. The house included two chapels and a third stood within its precinct. A farmstead stood nearby. (fn. 83) The buildings were often repaired in the 15th century, (fn. 84) but had been demolished by c. 1593. (fn. 85)
The Crown sold the park at Oaksey between 1596 and 1598. In 1598 it was owned by Mary, relict of Sir Thomas Heneage (d. 1595), chancellor of the duchy of Lancaster, and conveyed by her to Henry Nevill, (fn. 86) whose brother-in-law Sir Henry Poole owned it before 1612. In 1614 the Crown sold Oaksey manor to Sir Henry (d. 1632), from whom the reunited estate descended in the direct male line to Sir Nevill Poole (fn. 87) (d. c. 1660) and Sir Edward Poole (d. 1673). All the Pooles represented Wiltshire boroughs in parliament. (fn. 88) Sir Edward was apparently succeeded by his son Nevill Poole, (fn. 89) and Nevill by his son Henry, in possession 1687. (fn. 90) In 1716 Poole sold lands that became Oaksey Moor farm and Lower Moor farm, and in 1720 mortgaged the rest of the manor to Robert Westley (knighted 1744, d. 1745), to whom it passed on Poole's death in 1726. (fn. 91) Westley was succeeded by his son John (d. 1748), who devised the estate to his sister Alice, the wife of Benjamin Adamson (d. 1783). (fn. 92) From Alice, who died before 1773, it passed to her son Robert Adamson, M.P. for Cricklade 1784–5. (fn. 93) It comprised the whole parish except Oaksey Moor farm and Lower Moor farm, and Adamson sold it in portions in 1789–90.
Oaksey park, woodland, and the manor house later called Oaksey Park House, a total of 450 a., were bought in 1790 by James Harris, Baron Malmesbury (cr. earl of Malmesbury 1800, d. 1820). In 1800–1 the earl sold them to Francis Webb, who c. 1789 had bought PARK farm and other land from Adamson (fn. 94) and in 1795 had settled some of those lands on his daughter Frances and her husband Thomas Salisbury (d. 1810). Frances inherited the rest on her father's death in 1814, (fn. 95) and in 1843–4 she owned c. 600 a. in Oaksey parish. (fn. 96) From Frances Salisbury (d. 1862) (fn. 97) the estate passed to her daughters Sophia Salisbury (d. 1882) and Maria Salisbury (d. 1886). (fn. 98) They sold land north of Oaksey Street in 1872. The remainder of the estate (fn. 99) descended to their grandnephew Algernon Burnaby who in 1906 sold it to L. J. Baker (d. 1921). Baker's executors sold Oaksey wood in 1922, and in 1938 the remainder of the estate to A. H. Smith, who sold it in portions. Oaksey Park House and Park farm were bought by the Cotswold Bruderhof, a group of men and women who farmed in common. The Bruderhof sold them in 1941 to the Cirencester Benefit Society and the society in 1954 to Mr. James Woodhouse, (fn. 100) who also bought other land in the parish. In 1986 J. Woodhouse & Co. owned c. 440 a. in it including Park farm and the lands of Sodom farm. (fn. 101)
Before 1591 a lodge in the park was rebuilt for Sir Henry Knyvett, deputy keeper of the park. Oaksey Park House was built as the manor house in the early 17th century, possibly for Sir Henry Poole. (fn. 102) It was called Oaksey House in 1773, (fn. 103) Oaksey Manor in 1938. It had mullioned windows and a north-east entrance front of three storeys with twin gables. Additions, including a two-storeyed segmental entrance porch with a pyramidal roof, were made, apparently in the 18th and 19th centuries. (fn. 104) The house was a hotel in 1955–6, (fn. 105) and demolished in 1956–7. (fn. 106)
OAKSEY MOOR farm and LOWER farm, later Lower Moor farm, were bought in 1716 by John Oatridge (d. 1744), from whom they descended to his son Robert (d. 1754), and to Robert's daughter Anne. She, from 1773 the wife of the Revd. John Lloyd (d. 1807), settled the lands on herself and her husband. In 1808 she sold them to Richard Holtham (d. 1838), (fn. 107) whose successor John Holtham (d. 1887) in 1843–4 owned those two farms and other land, a total of 259 a. (fn. 108) Of that land, Lower Moor farm, c. 120 a., was owned in 1896 by W. W. B. Beach and J. Inskip, (fn. 109) in 1910 by Robert Bolton, (fn. 110) in 1927 by W. B. Wilson, (fn. 111) and from 1947 by M. Everleigh, who in 1960 sold the farm, then 106 a., to Mr. and Mrs. G. F. Raines, the owners in 1986. (fn. 112) Oaksey Moor or Upper Moor farm, then 95 a., and a 65–a. farm formed from its lands and called Little Moor, were owned in the period 1927–49 by F. G. Baker, whose son sold most of the land to D. J. C. Thomas c. 1963. (fn. 113)
CHURCH farm, 77 a., was bought c. 1789 by William Croome, who sold it in 1805 to Leonard Hawkins (d. 1819). Hawkins devised it to his relict Hester (d. 1841), (fn. 114) whose trustees sold the farm, 117 a., in 1843 to E. P. Warner (d. 1883). (fn. 115) Warner's successor was his kinsman R. C. Warner (d. 1930), (fn. 116) and his a kinsman Frank Warner (fn. 117) (d. 1981). (fn. 118) The land, 105 a., passed to Frank Warner's relict Ruth (d. 1983), whose executors owned it in 1986. (fn. 119)
CLATTINGER farm, 131a., was bought c. 1789 by Joseph Pitt. He sold it c. 1807 to William Hewer, whose relict Hannah succeeded him in it c. 1812. From Hannah Hewer the farm passed c. 1823 to Henry Jones, possibly a trustee, and c. 1824 it was owned by John Lucas (d. 1842 or 1843), whose trustees held it in 1843–4 and later. (fn. 120) Thomas Lucas owned the farm in 1910, (fn. 121) Walter Ody 1918–60, and Ody's son Mr. Harold Ody in 1986 when Clattinger farm was 154 a. (fn. 122)
COURT farm, 161 a., was bought in 1790 with Oaksey park by Lord Malmesbury. He sold it in 1800–1 to John Hawkins (fn. 123) (d. 1815), (fn. 124) who was succeeded by Thomas Hawkins (fn. 125) (d. 1848). (fn. 126) J. L. Hawkins owned the farm in 1870–1. (fn. 127) Arthur Rich (d. 1943), the owner in 1889, was succeeded by his nephew (fn. 128) Thomas Rich, from whom W. H. Wilson bought it c. 1952. Mr. Keith Wilson bought it from his father in 1957, added 45 a. to it c. 1962–3, and owned 140 a. in 1986. (fn. 129)
DEAN farm, 283 a., was also bought in 1790 by Lord Malmesbury, (fn. 130) who sold it to John Brooks in 1800–1. Brooks sold the farm in 1806–7 to William Henderson (fn. 131) (d. 1830), who devised it for his son Alfred (d. 1867) and for Alfred's children. (fn. 132) In 1877 Chancery ordered the farm to be sold. William Cole bought it in 1878 and owned it in 1888. (fn. 133) It was owned in 1910 by L. J. Baker (fn. 134) and 1923–31 by W. D. Phipps. (fn. 135) It was bought in 1931 by G. C. Todd (d. 1982), who settled the 270-a. farm on his son Mr. C. Todd and daughter Miss J. Todd, the owners in 1986. (fn. 136)
In 1789 David Miles bought a portion of Oaksey manor and in 1799 owned a farm of 80 a. in the south-west. (fn. 137) Part of the land became HILL farm, 38 a., which was owned in 1832–3 by William Stevens, 1842–4 by Mary Stevens, and in 1870–1 by a Mrs. Stevens, perhaps the same. (fn. 138) The Misses Wilton owned it in 1910 (fn. 139) and sold it in 1919 to Geoffrey Lawrence (knighted 1932, cr. Baron Oaksey 1947, from 1959 Lord Trevethin, d. 1971), who bought Oaksey wood, 40 a., in 1922. His son John, Lord Trevethin and Oaksey, the steeplechase jockey and racing journalist, owned the farm, 120 a., and the wood in 1986. (fn. 140)
Most of STREET farm, 64 a., and SODOM farm, 96 a., were bought from Sophia and Maria Salisbury in 1872 by Robert Warner (d. 1883), and passed to his son R. C. Warner (d. 1930). (fn. 141) Street farm was bought after 1930 by G. C. Todd, who settled the farm, 75 a., on his son Mr. D. C. C. Todd, the owner in 1986. (fn. 142)
Economic History.
In 1086 Oaksey was assessed as 6 hides and could support 6 ploughteams. On the demesne there were 10 servi with 2 ploughteams, and elsewhere 6 villani and 12 coscets had 4 ploughteams. There were 40 a. of meadow and 30 a. of pasture. (fn. 143)
The demesne in 1299 included 300 a. of arable, 80 a. of meadow worth only Is. an acre because the land was poor, several pasture worth £2 6s. 8d., and 6 a. of woodland. (fn. 144) Between 1299 and 1347 the demesne increased in size. In 1336 it included 360 a. of arable, 104 a. of meadow, 50 a. of pasture, and 110 a. of parkland and woodland which included Oaksey park. (fn. 145) In 1347 the demesne was 724 a., more than a third of the parish: it included 416 a. of arable, 107 a. of meadow, 74 a. of pasture, and 127 a. of woodland including the 96-a. park. (fn. 146) From c. 1347 or earlier there was a large house at Oaksey, presumably used by the earls of Hereford and Essex with their household, and the early 14th-century increase in the demesne may be associated with the use of Oaksey by the earls. (fn. 147) The demesne, except the park and woods, was leased from 1412 or earlier. (fn. 148) Afterwards the amount of arable was reduced, to 131 a. c. 1591, which is only partly accounted for by the increase to 180 a. and 129 a. respectively of the demesne pastures and meadows, and some arable may have been granted by copy. From 1438 or earlier until 1575 or later the demesne was leased to groups of tenants, varying from three to nine, who may either have worked the lands co-operatively or may have divided them and worked them with land held customarily. In 1575 the demesne was leased as a whole to a group of five men, who in 1591 were subletting it to 10 copyholders, including three of themselves. (fn. 149) Exceptionally, in the years 1469–78 a single lessee had the whole demesne. (fn. 150) It was apparently leased in the early 17th century. (fn. 151)
The early 14th-century expansion of the demesne was matched by an increase in the number of tenant holdings from 63 in 1299 to 88 in 1347. In 1299 there were 13 free tenants, of whom 4 held I yardland each, 2 held ½ yardland each, and 7 held 5 a. or less each. The customary tenants included 10 yardlanders who each paid 5d. yearly and either worked for the lord throughout the year or paid ½d. a day between 29 September and 24 June; 18 ½-yardlanders paid 2d. each yearly and owed similar services; and 22 cottars paid a total of 18s. 5d. yearly. In 1347 of the 88 holdings, 9 were vacant; 16, of which 9 were held either by grant of the earls of Hereford and Essex or by copy, were considered free; a further 9 were yardlands, apparently of 25 a. each; 21 were½yardlands, and 33 were held by cottars. There were in addition 2¼-yardlanders and 3 tenants who held a few acres each, worked for the lord each Monday, and provided a man for a second day to complete unfinished work. As well as the usual harrowing and haymaking duties, in 1347 a total of 5,702 works was owed, 3,889 winter works, 618 summer works, 961 autumn works, 154 autumn boonworks, and 80 reaping duties. (fn. 152)
A decline in the number of tenant holdings during the 15th century was accompanied by a decline in rents after c. 1425. (fn. 153) The average net return received yearly by the lord also declined in the earlier 15th century but was afterwards steady, £32 in the years 1455–69, £38 in the years 1470–80. (fn. 154) In 1591 only c. 80 a. were held freely. Copyhold land comprised c. 187 a. of inclosed pasture, c. 111 a. of common meadows, and c. 230 a. of arable in the open fields. It was divided among 37 farms of which 10 also included demesne land. Eight were of between 50 a. and 100 a., the remainder of 50 a. or less. (fn. 155)
In the 1570s open arable lay in North, South, Down, and Town fields. South field was south of Oaksey Street and east of the park, and Town field was in the north abutting Poole Keynes. (fn. 156) Some arable was inclosed possibly between 1608 and 1671. (fn. 157) There was common pasture at Wick Green in 1573, (fn. 158) and meadow land in the eastern half of the parish in 1591. (fn. 159)
The tenants enjoyed common rights in woods and coppices in the parish, (fn. 160) and claimed pannage for the whole year in Flisteridge wood in Crudwell. In 1278 their claim was denied for the period 28 September to 11 November by Malmesbury abbey which impounded their pigs at Crudwell. With extreme violence the pigs were recaptured and returned to Flisteridge wood, but the lord of Oaksey shortly afterwards gave up Oaksey's claim to pannage in it for the disputed period. (fn. 161) Although the right to common pasture in Minety Moor and Hawksbrook in Minety from 8 September to 2 February (fn. 162) was extinguished in 1531, (fn. 163) the tenants were still intercommoning in Minety in 1583. (fn. 164) The men of Oaksey also had the right to pasture cattle in Braydon forest and its purlieus. (fn. 165) The forest was inclosed in 1630, (fn. 166) and after dispute those rights were replaced by two separate allotments of c. 100 a. of the purlieus made in 1633 to the lord of Oaksey manor. (fn. 167) One, a triangle c. 5 km. south of Oaksey, was apparently inclosed and not used from Oaksey: it was later sold to the lord of Charlton manor and in Charlton parish. (fn. 168) The second was Oaksey common, the detached land of the parish. (fn. 169) It was used only for horses, bullocks, and dry cattle c. 1674. and was not stinted: (fn. 170) it was inclosed in 1802. (fn. 171)
Oaksey Moor and Lower Moor were farms c. 1716. (fn. 172) Dean farm, 214 a., was probably formed c. 1775. (fn. 173) In addition there were in 1787 Park farm, which had 172 a. in the parish, Court farm, 120 a., Clattinger farm, 131 a., a farm of 124 a. that became Street farm, three farms of c. 70 a. each, and two of less than 50 a. (fn. 174) Dean Farm in 1775 had a cheese store (fn. 175) and in 1800 Church farm was owned by a Cirencester cheese factor. (fn. 176) Woodfolds farm, c. 150 a., was a dairy farm in 1812. (fn. 177) In 1843–4 there were 16 farms in Oaksey of which only Dean, 255 a., and Park, 211 a., were large; Church, Clattinger, Court, Oaksey Moor, Street, and Woodfolds were of 100–160 a.; Sodom had 95 a.; and seven farms, including the glebe, had less than 55 a. All were mainly pasture farms, and the small amount of arable, 240 a., was scattered throughout the parish. (fn. 178)
There were 17–18 farms in the later 19th century. (fn. 179) In 1906, of the 18 farms 2 had over 300 a., 6 had 50–300 a., and 10 had 50 a. or less. In 1926 there were 12 farmers, of whom 7, at Clattinger, Lower Moor, Court, Church, Street, Park, and Dean farms, (fn. 180) had farms of 100–150 a. In 1956, of the 17 farmers, 1 had 500–700 a., 11 had 50–300 a., and 5 had less than 50 a. There were 12 farmers in 1976, of whom 5 had more than 50 ha.
In the later 19th century there remained much less arable than pasture. On a quarter to a third of the arable, fodder crops were grown, and on the remainder corn, chiefly wheat. Grasses grown in rotation increased from 77 a. in 1876 to 219 a. in 1896. On average, 580 cows and 300 pigs were kept in the period 1876–96. In 1876 there were over 1,000 sheep, perhaps an unusually large number: 420 were kept in 1886 and 176 in 1896. The arable acreage was only 71 a. in 1936, but thereafter increased and was 836 a. in 1966. Grasses were grown in rotation on 20 a. in 1936, 338 a. in 1976. The number of cows kept and the proportion of dairy cattle increased after 1906. Over 600 cattle were kept in the earlier 20th century. Although there were as many cattle 1956–76, fewer were dairy cattle. Dairying had declined further by 1986 when there was more arable than grassland.
In 1986 the land was in eight farms, of which Park, an arable farm, and Dean were the largest. (fn. 181) Dean and Street farms, c. 350 a., were worked together, included 180 a. on which corn was grown, and supported a herd of pedigree Guernsey cows and a flock of sheep. (fn. 182) Cattle were fattened on Clattinger farm (fn. 183) and Hill farm was used as grass keep and for grazing horses. (fn. 184) Court farm included 50 a. of arable and supported a herd of cows. (fn. 185) The 35 a. of Lower Moor farm from which gravel was extracted 1974–8 were in three lakes used for commercial trout fishing. (fn. 186)
Of the 266 men living in Oaksey in 1831, only 17 were tradesmen. (fn. 187) In the later 19th century a threshing machine owner lived in the parish, and a business called the Oaksey Direct Meat Supply flourished 1927–35. (fn. 188)
The 96-a. park created in the south part of the parish in the period 1299–1347 was surrounded by a wooden palisade and in 1347 contained 22 a. of pasture and 74 a. of woodland. (fn. 189) It was stocked with c. 100 beasts of the chase in 1419, (fn. 190) with c. 160 deer in 1591, (fn. 191) and may have included a rabbit warren c. 1453. (fn. 192) There was a ruinous lodge in the park in 1427. (fn. 193) In 1423 or earlier until 1595 or later the park was administered by keepers or parkers, of whom several were either senior officials of the duchy of Lancaster (fn. 194) or notable Wiltshire landowners. In the years 1469–81 John Ferris, demesne farmer of Oaksey, was also parker and lessee of the herbage and pannage of the park. (fn. 195) Other parkers included Sir Henry Long (fn. 196) (d. 1556), (fn. 197) and Henry Herbert, earl of Pembroke (d. 1601), whose deputy Sir Henry Knyvett, (fn. 198) also a duchy official, (fn. 199) rebuilt the lodge before 1591. (fn. 200) Other officers included a walker, who in 1587 was accused of aiding and abetting a poacher. (fn. 201) In the 1660s the oaks in the park were accounted the best in Wiltshire. (fn. 202) Before 1787 its lands had become the nucleus of Park farm. (fn. 203)
The woodland was 1 league long and ½ league broad in 1086. (fn. 204) In 1347, besides the woodland in the park, the manor included demesne woods called Northwood, 27 a., and Clattinger, 7 a., and a customary wood called Westwood. (fn. 205) The woods, like the park, were excluded from leases of the demesne. (fn. 206) Clattinger wood was replanted c. 1537, and 16 a. of Westwood c. 1517. Westwood contained several large oaks c. 1543: (fn. 207) it was hedged before 1563. Also before 1563 Clattinger wood was assigned to the customary tenants, and the tenants hedged it. (fn. 208) Westwood, then a demesne wood, was leased in 1566. (fn. 209) Its 112 a. were in coppices in 1568. (fn. 210) More trees may have been planted in the later 16th century, and in 1591 there were 146 a. in Westwood, Northwood, and Clattinger wood, from all of which the copyholders were entitled to take timber for repairs. (fn. 211) Part of Westwood south of Oaksey Street, and all of Clattinger wood, in the east, and Northwood, in the north-west, were grubbed up before 1773, (fn. 212) and the woodland had further decreased by 1787. (fn. 213) Oaksey Nursery, a wood of 20 a., was planted over part of Oaksey common in 1810. (fn. 214) Other woodland, c. 40 a., was in Oaksey wood, perhaps a remnant of Westwood. Dean plantation was grown in the period 1843–75. (fn. 215) In 1986 there were 19 ha. of woodland in the parish. (fn. 216)
There was a mill at Oaksey in 1086. (fn. 217) A water mill was held freely by Robert Capell in 1299, (fn. 218) by Ralph of Shipton in 1347. (fn. 219) It was conveyed by Cecily Friend to John Twinhoe in 1474. (fn. 220) Agnes Flisteridge owned the mill in the period 1558–91, (fn. 221) Andrew Kettleby in 1591, (fn. 222) and Sir Henry Poole in 1632. (fn. 223) The mill, which stood north-east of Oaksey Moor Farm on a leat west of Flagham brook, (fn. 224) was demolished before 1773. (fn. 225) There was a windmill on the manor in 1299 (fn. 226) and 1347. (fn. 227)
Local Government.
In 1255 or earlier the earl of Hereford and of Essex had view of frankpledge within Oaksey manor. (fn. 228) The earl in 1289 also claimed by ancient right assize of bread and of ale, pillory, tumbril, and gallows. (fn. 229) Views were held twice yearly 1299–1538. Courts were held with the views in 1411. (fn. 230) Between 1523 and 1538 views and courts were held on the same day, their proceedings were undifferentiated in the records, and their business included the payment of cert money by the tithingman, the presentment of brewers who had broken the assize, of badly maintained boundaries, roads, and watercourses, and of encroachments on common land, and surrenders of, and admittances to, customary holdings. In 1532 the rector was presented for assault, and tenants were enjoined not to pasture animals in Overdean before 22 October. (fn. 231) Oaksey was called a liberty in the later 16th century. (fn. 232) Although the right to hold courts leet and view of frankpledge was conveyed with the manor in 1614, (fn. 233) none seems to have been held, and in 1700 and later manorial courts were apparently held only when copyhold business required it. (fn. 234)
In 1775–6 the parish spent £66 on its poor, an average of £91 a year 1783–5. It spent £280 in 1802–3 on 132 paupers, of whom 80 were children and 14 were relieved only occasionally. In the years 1813–15 an average of £340 was spent on permanent relief for an average of 34 paupers yearly and on occasional relief for another 33. (fn. 235) Oaksey's average yearly expenditure 1816–34 was generally among the lower in Malmesbury hundred: its maximum was £462 in 1820, its minimum £166 in 1828. (fn. 236) One or more poorhouse was maintained in 1787, 1812, and 1830–1. (fn. 237) The parish was included in Malmesbury poor-law union in 1835 (fn. 238) and in North Wiltshire district in 1974. (fn. 239)
Church.
A church stood at Oaksey in the earlier 12th century. (fn. 240) The living was a rectory which in 1956 was united with the vicarage of Minety. (fn. 241) In 1987 Oaksey and Minety were severed and a new benefice was formed for Oaksey, Crudwell, and Hankerton, and Ashley and Long Newnton (both now Glos.). (fn. 242)
Either Humphrey de Bohun or his son Humphrey (fl. 1131 X 1146) gave the church and tithes of unbroken colts in Oaksey to Monkton Farleigh priory. (fn. 243) The priors presented rectors until the Dissolution. In 1313, apparently because the priory was the dependency of an alien house, the presentation was disputed between the prior, the earl of Hereford and of Essex, and John of Chippenham, and the bishop of Salisbury collated. The king presented in 1349 and 1421, and in 1481 Sir William Orchard presented by the prior's grant. (fn. 244) The Crown presented as patron in 1547, (fn. 245) and its apparent sale of the advowson in 1564 was ineffective. (fn. 246) The lessee of the rectory estate, Henry Chadderton, (fn. 247) presented rectors in 1569 and 1575 and the Crown presented in 1595. (fn. 248) When Oaksey manor was granted to Sir Henry Poole in 1614, the advowson was expressly reserved to the Crown. (fn. 249) In 1640 Kellaway Gridott and William Gridott presented, (fn. 250) whether by grant of a turn or as patrons is unknown.
Sir Edward Poole, lord of the manor, owned the advowson in 1670. (fn. 251) It passed with the manor, (fn. 252) and Benjamin Adamson presented rectors in 1760, 1765, and 1770. (fn. 253) Robert Adamson sold it to Giles Greenaway in 1791. Greenaway immediately sold it to Charles Howard, duke of Norfolk, who sold it to Thomas Ryder in 1802. Ryder (d. 1839) in 1808 presented as rector his son Edward, who succeeded him as patron. From Edward Ryder (d. 1857) the advowson passed to his daughter Adelaide Ryder. In 1857 she sold it to Lady (Harriet) Wetherell Warneford, who sold it in 1859 to J. R. Mullings. It descended like Eastcourt manor in Crudwell to Joseph Mullings, A. R. Mullings, and J. R. Randolph. (fn. 254) In 1921 Randolph transferred the advowson to the bishop of Bristol, who from 1956 was entitled to present alternately, (fn. 255) and from 1987 jointly at three of four turns. (fn. 256)
Before 1291 the prior of Monkton Farleigh gave up his right to the tithes of unbroken colts for a yearly pension of £1. (fn. 257) The pension had been increased to £2 by 1428. (fn. 258) In 1429 the prior instituted proceedings in King's Bench to compel the rector to pay it, (fn. 259) in 1444 required the rector to guarantee payment, (fn. 260) and in the early 16th century caused a rector to be imprisoned for refusing to pay it. (fn. 261) From the Dissolution to 1614 or later the rectors paid the pension to the Crown, (fn. 262) which afterwards granted it at fee-farm. The rector paid £2 to Sir Gerald Corbet, Bt., in 1943 and redeemed the pension in that year. (fn. 263)
The rector took all the tithes and in 1341 had a house, ½ yardland, and 8 a. of meadow. (fn. 264) The rectory was valued at £9 in 1535. (fn. 265) The glebe was increased from c. 15 a. in 1570 (fn. 266) to 23 a. in 1608 and to 26 a. in 1671 after allotments of 3 a. and 4 a. to replace tithes from 38 a. and 37 a. respectively. (fn. 267) The yearly average value of the rectory was £400 1829–31. (fn. 268) The tithes were valued at £406 in 1843 and commuted. The 26 a. of glebe was reduced after 1843 (fn. 269) to c. 20 a., (fn. 270) but whether by alienation or more precise survey is unknown. The rector sold 5 a. in 1937 and the remaining 14 a. in 1941. (fn. 271)
The Rectory was rebuilt in the 18th century as a two-storeyed stone house with a south front of five bays, attics, and a stone-slated roof. It was altered, and east and west additions were built, in the early 19th century. The south elevation became the entrance front in 1869 when, to the designs of J. B. Bridges, a new staircase was built in the former north entrance hall and a central south doorway was made. (fn. 272) The house was sold in 1941 and a house on the north side of Oaksey Street was bought. (fn. 273)
A chantry chapel of St. Mary the Virgin stood near the church in the grounds of the manor house in 1361. (fn. 274) Its endowments in Oaksey included a cottage and land. (fn. 275) The advowson descended with the manor. (fn. 276) A priest who served the chapel in 1419 received 6s. 8d.: the chapel contained three bells, mass vessels, and vestments. (fn. 277) In 1442 its incumbent was called a warden. (fn. 278) The endowments, a house and 2 a., were valued at £2 6s. 8d. in 1535, and the chantry was dissolved in 1546. (fn. 279)
Parishioners of Minety attended Oaksey church in 1304 while their own church was under an interdict. (fn. 280) Roger Bragges was rector of Oaksey twice, 1465–78 and in 1509 or earlier. Robert Gerish, rector 1547–54, was also rector of Crudwell. (fn. 281) His successor was licensed to hold two benefices and in 1556 was admonished to attend to the state of the crucifix in Oaksey church. (fn. 282) John Mason, rector from 1575 to c. 1595, (fn. 283) did not reside 1583–91, (fn. 284) and in 1584 an old man was curate. (fn. 285) A curate assisted the rector in 1650. (fn. 286) Although the church lacked a Book of Homilies in 1662, (fn. 287) the cure seems to have been adequately served in the later 17th century. (fn. 288) Ralph Smith, rector 1770–1808, was curate of Minety before 1783. He lived in Oaksey 1770–81, from 1781 sometimes in Cirencester. In 1783 he served only Oaksey, where he held two Sunday services in summer, a Sunday afternoon service in winter, and weekday services on the principal festivals. He administered the sacrament four times a year to c. 10 communicants. (fn. 289) Edward Ryder (d. 1857), rector 1808–57, was also from 1814 vicar of Wendens Ambo (Essex). (fn. 290) He lived at Oaksey and in 1832 held two Sunday services, at one of which he preached. (fn. 291) In 1850–1 average congregations of 80 and 50 respectively attended morning and afternoon services. (fn. 292) W. J. H. Faithfull (d. 1951), rector 1890–1920, was a lunatic from c. 1917. A commission in 1917 found that he had neglected his duties and a curate served Oaksey until 1920. (fn. 293) The rector of Oaksey was also curate of Minety 1950–6. (fn. 294)
The church of ALLSAINTS, so called in 1763, (fn. 295) is of ashlar and consists of a chancel with south chapel, a clerestoried nave with north porch and south aisle and porch, and a west tower. (fn. 296) The nave walls may survive from the 12th century. In the 13th the chancel was rebuilt, and the tower and a wide south aisle with a three-bayed arcade and south porch were built. The north porch with a statue of the Blessed Virgin Mary above the inner north doorway was erected in the earlier 14th century. In the earlier 15th an embattled clerestory of five bays was built. In the early 16th the aisle was extended to form the south chapel, and was given a new window and an embattled parapet; new windows were made in the north wall of the nave, an embattled third stage was built on the tower, stained glass was placed in some of the windows, and the south nave wall was decorated with paintings including figures of Christ and St. Christopher. (fn. 297) The church was pewed c. 1658. (fn. 298) It had a gallery in 1826 (fn. 299) and two more were erected in 1858. (fn. 300) None survived in 1986. A new east window was inserted in 1862. (fn. 301) A carved fertility figure, possibly of the 12th century, (fn. 302) has been reset in the north wall of the nave east of the porch. The early 16th-century chancel screen, which stands lower than the doorway to the rood loft, may originally have been the screen of the chancel chapel. The church was restored under the direction of P. H. Thomasc. 1934. (fn. 303)
There was a chalice in the church in 1553. In 1986 the parish had an Italian silver chalice and a communion set of plated metal given in 1862. (fn. 304) There were three bells in 1553. The tenor, cast at Worcester, hung in the church until 1773 when a new peal of six, cast by Thomas Rudhall of Gloucester, was hung. (fn. 305) The ring was recast by Taylor of Loughborough (Leics.) in 1960. (fn. 306) The registers are complete from 1670. (fn. 307)
Nonconformity.
Independents certified a room in Oaksey in 1802 and houses in 1821 and 1822. (fn. 308) Methodists certified a house in 1812. (fn. 309) Primitive Methodists from Brinkworth evangelized the village and in 1838 a house was certified. (fn. 310) The group in 1842 built, west of Earl's Corner, a chapel which on Census Sunday in 1851 was attended by congregations of 80, 101, and 86 at morning, afternoon, and evening services respectively. (fn. 311) The chapel was rebuilt in 1874 (fn. 312) and closed c. 1956. (fn. 313)
Education.
There were two small day schools in Oaksey in 1818: (fn. 314) 20 children were taught in them in 1833. (fn. 315) No day school was held in 1846–7. (fn. 316) A school was built in 1854 on the south side of Oaksey Street where 40–50 children were taught in 1858. (fn. 317) On return day in 1871 it was attended by 53 children. (fn. 318) An average of 54 children was taught in 1906–7. Average numbers were steady until 1913–14, fell to 39 in 1921–2, rose inexplicably to 61 in 1926–7, and fell to 37 in 1937–8. (fn. 319) R. C. Warner in 1929 paid for a large open-air classroom south of the school. (fn. 320) The 32 children on roll in 1986 had two teachers. (fn. 321)
Charities for the Poor.
Sir Robert Westley (d. 1745) gave £50, and at other times John Archer gave £20 and others gave £30, for paupers who were not relieved by the parish. By 1834 the income, £3 10s., had not been distributed for many years, although one of the trustees gave money to be distributed each Christmas. In the early 20th century yearly income of £2 10s. was distributed every other year in February to all paupers not relieved by the parish: in 1904 small sums were received by 76 adults and 45 children. (fn. 322) Biennial distributions were made until 1932 or later. (fn. 323) In the 1970s the income was temporarily augmented by an anonymous benefactor and in December 1972 sums of 50P each were given to 15 people. (fn. 324) The £2 yearly income was being allowed to accumulate c. 1986. (fn. 325)
By will proved 1930 R. C. Warner gave money for public purposes in Oaksey. £1,000 stock was vested in Oaksey parish council by a Scheme of 1961. The yearly income was £45 c. 1965, £110 c. 1986. Some of it was given to maintain the church clock and for general parish expenses. (fn. 326)