Pages 75-82
A History of the County of Wiltshire: Volume 14, Malmesbury Hundred. Originally published by Victoria County History, London, 1991.
This free content was digitised by double rekeying. All rights reserved.
DRAYCOT CERNE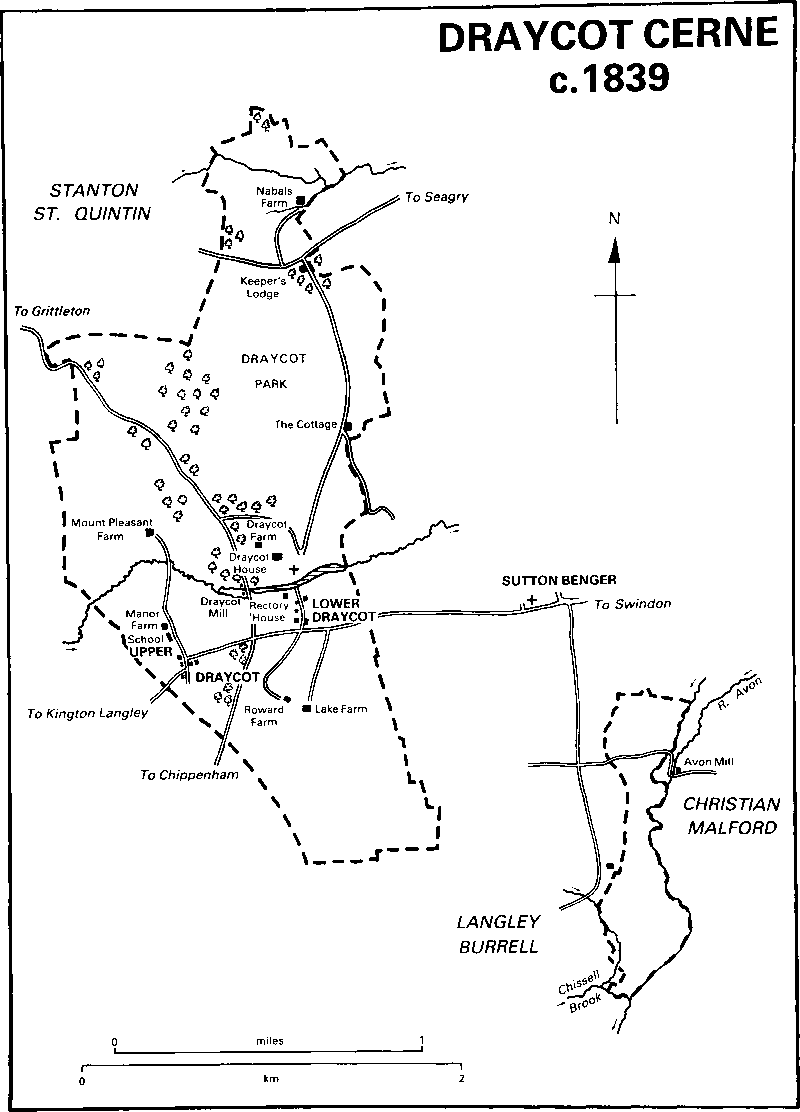 Draycot Cerne (fn. 1) is 5 km. NNE. of Chippenham. (fn. 2) The suffix Cerne is derived from the surname of the lords of the manor in the Middle Ages. (fn. 3) The parish included a detached portion, c. 90 a., between the eastern boundary of Sutton Benger and the west bank of the Bristol Avon, called Draycot Sutton in 1778: (fn. 4) it was transferred to Sutton Benger in 1884. (fn. 5) In the Middle Ages 81 a. of adjoining land to the north may have been among the lands of a hamlet or farmstead called Knabwell: the 81 a., Nabals farm, were extraparochial until 1830 when they were added to Draycot Cerne parish. More of Knabwell's land may have been added to Stanton St. Quintin parish. (fn. 6) The boundary with Stanton St. Quintin was altered slightly in 1882. (fn. 7) The parish of Draycot Cerne, 1,015 a. (411 ha.), was added to Sutton Benger in 1934. The lands of the former parish north of the London and south Wales motorway became part of Seagry parish in 1971. (fn. 8)
A feeder of the Avon on the north-east, and, in the detached portion of the parish, the Avon itself, are the only natural features to have marked Draycot Cerne's boundaries. Its lands were divided from those of Kington Langley to the west before the mid 11th century. (fn. 9) Footpaths mark parts of the former east and west boundaries. Kellaways Clay and Oxford Clay outcrop over most of the former parish. There are outcrops of Cornbrash in the north and west, Kellaways Sand in the north-east, and, beside a stream flowing eastwards to the Avon, one of three to drain the former parish, Forest Marble in the west. (fn. 10) The land is undulating, highest, over 91 m., in the centre and north, lowest, below 61 m., in the flatter south. The Cornbrash favoured arable, but most of the parish was meadow and pasture and, in the centre, was for long parkland. (fn. 11)
The main Swindon—Chippenham road crosses the former parish: in 1727 it was turnpiked from Chippenham to the junction with the road from Draycot Cerne to Grittleton through Stanton St. Quintin, in 1756 from that junction to Christian Malford, and in 1758 to Swindon. After 1727, possibly c. 1756, and certainly before 1773, when there were gates at each end, a new straight section was made south of the junction; west of it parts of the old road, which had several sharp bends, remain as a lane, a bridleway, and a track. The whole road was disturnpiked in the 1870s. (fn. 12) The road between Draycot Cerne and Grittleton was turnpiked in 1756 and disturnpiked in 1875. (fn. 13) The London and south Wales motorway was built across the former parish and opened in 1971. (fn. 14) South of it the road between Draycot Cerne and Stanton St. Quintin was diverted to join the Chippenham—Malmesbury road, and north of it ceased to be a through road. The road which followed the north boundary of Draycot park was called Scotland Hill in 1885. (fn. 15) In the detached part of the parish a road which led from that linking Chippenham, Langley Burrell, and Sutton Benger south-east to Avon Mill in Christian Malford, was diverted to run further east in 1778: (fn. 16) it was a track in 1987. The G.W.R. line from London to Bristol was constructed north-east and south-west across the same part of the parish and was opened in 1841. (fn. 17)
The sum at which Draycot Cerne was assessed for taxation in 1334 was among the lowest in Startley hundred. (fn. 18) There were 63 poll-tax payers in 1377. (fn. 19) Assessments for taxation in the 16th and earlier 17th century, often among the highest in Malmesbury hundred, reflected the wealth of members of the Long family who owned Draycot manor and lived in Draycot House. (fn. 20) The population rose from 141 in 1801 to 181 in 1841, declined to 158 in 1861, a decline attributed to there being no large household at Draycot House, rose in 1871 to 187, fell to 93 in 1921, and was 113 in 1931. (fn. 21) The population of the former parish may have been about the same in 1987.
In 1377 there were two settlements in the parish, and until the later 19th century there were two nucleated groups of houses: Lower Draycot, apparently the larger in 1377 but removed in the 19th century, was between the church and the Swindon—Chippenham road, and west of it Upper Draycot was at a bend on the old course of that road. (fn. 22) Two farmsteads have stood in the south part of the former parish, and in the north part there has been scattered settlement from the 17th century.
Lower Draycot in 1773 andc. 1839 consisted of the rectory house and other houses east and west of the lane between the church and the main road. (fn. 23) An ornamental fishpond was formed in a feeder of the Avon as a feature of gardens laid out c. 1769 south of Draycot House; (fn. 24) in 1773 a bridge carried the lane over the pond, north of which the lane was then the main drive of Draycot House. (fn. 25) In 1808 or earlier and c. 1839 the main drive ran south-east from the Stanton St. Quintin road. Between c. 1839 and 1885 the land between the pond and the Swindon—Chippenham road was taken into the grounds of Draycot House, the rectory house and all the other buildings beside the lane were demolished, and gate piers, a gate, and a lodge were erected on the north side of the main road. (fn. 26) The lane again became the main drive of Draycot House. An avenue of Wellingtonias was planted along it and those on the east stood in 1987. The bridge across the pond was rebuilt in stone c. 1956. (fn. 27) A wall was built on the west and north sides of the park before 1870. (fn. 28) To the west the wall had gone by 1987 when the north part was ruinous. Gothic stone lodges were built on the east side of the Stanton St. Quintin road in 1869 and 1889. (fn. 29) A farmstead called Draycot Park Farm was built between them in the period 1885–99. Scotland Lodge, so called in 1885, (fn. 30) was built on the south side of Scotland Hill before 1773 and rebuilt in Gothic style in 1862. (fn. 31) A house called the Cottage stood in the east part of the park in 1773, and possibly in the 17th century. (fn. 32) A pair of rustic gabled cottages built on its site in 1858 (fn. 33) was one house in 1987.
Upper Draycot is reached by an east—west section of the old Swindon—Chippenham road, called Day's Lane in 1987. In 1773 a few houses were on the south side of that road and others were on the west side of a lane leading north from it. (fn. 34) In the north part of the hamlet Manor Farm was built, possibly in the later 16th century, as an east— west range. A north—south range was built on the north side at the east end in the 17th century, and in the 18th a pedimented doorcase was inserted on the south front and a new staircase was constructed. Stables north-west of the house were built c. 1924 (fn. 35) and large farm buildings north of it in the period 1974–83. (fn. 36) The village school and an adjoining cottage which stood south of Manor Farm were incorporated after 1920 in a large stone house, in 1987 called the Grey House. (fn. 37) Cottages south of the school were replaced by three pairs of stone estate cottages built in Gothic style in the later 19th century. (fn. 38) Houses which stood c. 1839 on the south side of the old main road (fn. 39) were replaced in 1874, 1974, (fn. 40) and c. 1985. (fn. 41) On the north side a parish cemetery with a chapel, built of stone to the designs of J. F. Bentley, was opened c. 1883. (fn. 42)
A mill stood beside the Stanton St. Quintin road until the later 19th century. (fn. 43) Further north, a pair of stone estate cottages was built in 1904, (fn. 44) and two bungalows were built after 1972. (fn. 45) Mount Pleasant Farm, built to the west before 1808 (fn. 46) at Parsonage barn, which stood in 1773, (fn. 47) was demolished between c. 1940 and 1987. (fn. 48) Nabals Farm, north of Scotland Hill, was standing in 1773, (fn. 49) was partly of stone rubble and partly timberframed, and had a thatched roof. (fn. 50) The house was rebuilt, and its farm buildings were renewed, in the later 20th century. (fn. 51)
From the 18th century or earlier, (fn. 52) there have been only two farmsteads, Roward and Lake, in the south part of the parish. The east—west range of Lake Farm was built in the 17th century or earlier: c. 1800 that range was altered and reroofed, and a short wing was added on the east end of the north side. Roward Farm, called Roward House and described as newly built c. 1637, (fn. 53) has a north—south range with stone-mullioned windows. It was enlarged in the 18th century and, westwards, in the earlier 19th when a new south entrance front was also constructed.
Manor and other Estates.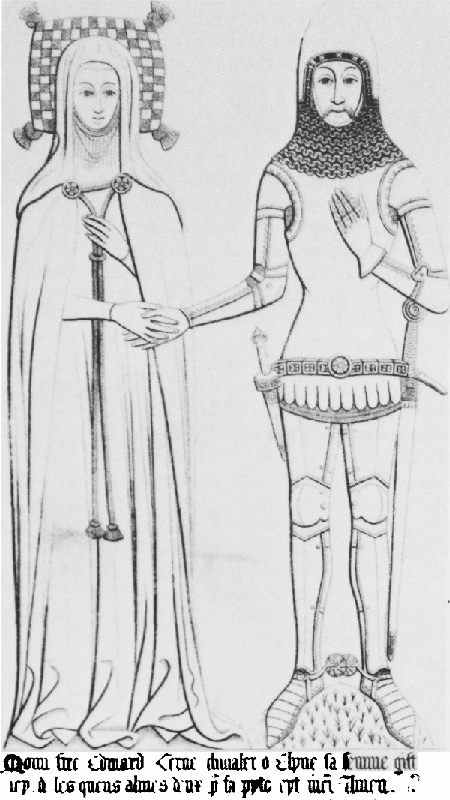 In 1066 Edric held the estate later called DRAYCOT CERNE. Geoffrey the marshal held it in 1084 or earlier and in 1086 by serjeanty. In 1086 the estate included a burgage in Malmesbury. (fn. 54) Geoffrey's heir, either his son or grandson, was Robert de Venoix, (fn. 55) in possession in 1130. (fn. 56) William de Venoix held Draycot in the years 1191–6, (fn. 57) and his heir Robert de Venoix held it in 1197. (fn. 58) Robert held it by serjeanty of marshalcy in the years 1210–12, (fn. 59) and possibly before 1214, certainly before 1220, had been succeeded by his son John. (fn. 60) Members of the St. Germain family unsuccessfully claimed the estate from members of the Venoix family in 1197 and 1220–1. (fn. 61) John de Venoix, presumably another, was succeeded in 1260 by his son John, (fn. 62) whose overlordship was last mentioned in 1275. (fn. 63) The manor was said to be held of the king in chief in 1393. (fn. 64)
In 1228 John de Venoix subinfeudated Draycot to Henry of Cerne. (fn. 65) The manor was held by Geoffrey of Cerne in 1242–3 (fn. 66) and in the years 1250–5 by Geoffrey's son (fn. 67) Philip. From Philip's son Henry of Cerne (d. 1296), who held it in 1275 or earlier, the manor passed in the direct male line to John (fn. 68) (d. 1327), John (fn. 69) (d. 1344), and John (fn. 70) (d. 1346). From the third John, the manor passed to his brother Edward, (fn. 71) later Sir Edward, of Cerne (d. 1393), to Sir Edward's relict Ellen (d. 1418), and to Sir Edward's son Edward (fn. 72) (d. 1419). The manor was held for life by Edward's relict Isabel (fn. 73) (fl. 1438). The reversion was settled in 1438 by John Herring, a descendant of Geoffrey of Cerne, on William Rangebourne (d. 1450) for life with remainder to John Long. (fn. 74)
From John Long (d. 1478), who was of Draycot in 1452, the manor passed from father to son, to Thomas (fn. 75) (knighted 1501, d. 1508), Sir Henry (fn. 76) (d. 1556), Sir Robert (fn. 77) (d. 1581), and Sir Walter (fn. 78) (d. 1610). From Sir Walter, whose disinheritance of his eldest son gave rise to the legend of a ghostly hand preventing the writing of a deed of disinheritance, Draycot passed to his eldest son by his second marriage, Sir Walter Long (fn. 79) (d. 1637). The manor was sequestered in 1645 from that Sir Walter's son James, later Sir James Long, Bt., a royalist, and restored to him in 1649. (fn. 80) From Sir James (d. 1692) the manor, except Draycot House, park, and other lands settled for life on his relict Dorothy (d. 1710), (fn. 81) passed in turn to his grandsons Sir Robert Long, Bt. (d. 1692), Sir Giles Long, Bt. (d. 1697), and Sir James Long, Bt. (d. 1729). The reunited estate descended in the direct male line to that Sir James's son Sir Robert Long, Bt. (d. 1767), Sir James Long, from 1784 Tylney-Long, Bt. (d. 1794), and Sir James Tylney-Long, Bt. (d. 1805). (fn. 82) John Long (d. 1478) and six of his successors as lord of the manor represented Wiltshire constituencies in parliament. (fn. 83)
Catherine Long, the sister of Sir James (d. 1805), inherited Draycot Cerne manor and in 1812 married William Wellesley-Pole, from 1812 PoleTylney-Long-Wellesley, and from 1845 earl of Mornington. She was succeeded in 1825 by her son William Pole-Tylney-Long-Wellesley, from 1845 styled Viscount Wellesley, who became earl of Mornington in 1857. William, earl of Mornington (d. 1863), devised the manor to his cousin Henry Wellesley, Earl Cowley (d. 1884), from whom it passed in the direct male line to William, Earl Cowley (d. 1895), and Henry, Earl Cowley (d. 1919). In 1920 Henry's son Christian, Earl Cowley, (fn. 84) sold Draycot House and park, c. 600 a., to Philip Ashworth. (fn. 85) In 1923 Herbert Dixon (cr. Baron Glentoran 1939, d. 1950) owned them. (fn. 86) Lord Glentoran sold that estate in 1946 to a syndicate of farmers, led by S. W. Maundrell, which sold the land in portions. (fn. 87)
A manor house stood in 1399 when Ellen of Cerne was licensed to employ a chaplain to serve an oratory in it. (fn. 88) The stone house may have been altered or rebuilt for John Long (d. 1478), whose parents' coat of arms was depicted in the oriel window of the hall. (fn. 89) Draycot House, so called in 1695, (fn. 90) was c. 1542 described as a 'fair manor place' and stood in a park. (fn. 91) The Long family lived in the house and its successor from the mid 15th century to the earlier 19th. The appearance in the house of the date 1574 and the coats of arms of Sir Henry Long (d. 1556) and Sir Robert Long (d. 1581) suggest some later 16th-century alterations. The gabled south entrance front was of four bays c. 1670. A two-storeyed porch, built for Sir Walter Long's father-in-law, James Ley, earl of Marlborough (d. 1629), was in the westernmost bay, and, on the ground floor, the oriel window of the hall was in the second bay from the east. (fn. 92)
That house was replaced in 1784 by another built of stone (fn. 93) to plans drawn up in 1769 for Sir James Long. (fn. 94) The new house (fn. 95) had a south-east garden front of 13 bays: the five central bays projected and were of three storeys surmounted by a pediment; the four bays on each side were of two storeys with attics concealed by parapets. The principal rooms were in the north-east part of the house. (fn. 96) The north-east front was also of two storeys with attics and a parapet, and it had a segmental bay of two storeys at each end. Terraces from which steps led down to formal gardens ran the length of both those principal fronts. A north-west wing, added in 1864 to the designs of R. J. Withers, (fn. 97) was of three storeys. The house, except the cellars, was demolished c. 1955. (fn. 98) Stone from it was used to adapt a north—south range of outbuildings as a house, called Draycot House, for Mr. E. J. Bent c. 1956. West of that house a large square stone stable block of c. 1864 (fn. 99) and farm buildings survived in 1987.
Draycot House was bought c. 1950 by Mr. Bent. The largest portion of land, c. 200 a. in Draycot park, was bought before 1955 by J. N. Green, from whom it passed before 1963 to J. R. Pinniger. Mr. Bent bought it from a Mr. Trent in 1973–4 and owned it in 1987. (fn. 100) In 1920 the remainder of Draycot Cerne manor was sold to B. Crundell, who immediately sold it in portions. (fn. 101) Roward farm, 63 a., was sold, possibly c. 1920, to Arthur Newman, (fn. 102) from whom it was bought in 1930 by R. L. Ward. Some of its lands were sold c. 1966 and incorporated in Lake farm. Mr. R. C. Ward owned the remainder in 1987. (fn. 103) Lake farm, 130 a., was bought by Clifford Windell, the owner in 1939. (fn. 104) W. T. Greenhill owned it in 1955, and in 1987 members of the Greenhill family owned the 300-a. farm. (fn. 105) Manor farm, 79 a., was bought, possibly c. 1920, by Sir Hugh Levick, who sold it between 1924 and 1927 to P. E. Hawkins. (fn. 106) In 1986–7 Hawkins's son Mr. P. E. Hawkins sold the farm, then of 128 a., to Mr. Richard Hawker. (fn. 107) Mount Pleasant farm, 93 a., was sold in portions. (fn. 108)
In 1242–3 Ela Longespée, countess of Salisbury, held ½ knight's fee at Knabwell. (fn. 109) The overlordship of NABALS passed with the earldom of Salisbury and was last expressly mentioned in 1349. (fn. 110) In 1382 and 1491 the estate was said, inexplicably, to be held of the abbot of Malmesbury. (fn. 111)
The estate called Nabals was held of the countess of Salisbury in 1242–3 by Amice, relict of William of Knabwell, and by his coheirs. (fn. 112) One heir may have been Eve, wife of Richard of Lea, who in 1250 conveyed 2 yardlands, which became Nabals farm, to Robert de la Mare (fn. 113) (d. 1272). The lands descended in the direct male line to Peter de la Mare (d. 1292), Robert de la Mare (fn. 114) (d. 1308), Peter de la Mare (d. 1349), who was granted free warren in them in 1318, and Sir Robert de la Mare (fn. 115) (d. 1382). (fn. 116) Sir Robert was succeeded by his relict Maud (d. 1405) (fn. 117) and daughter William, the wife of Sir John Roches. From William (d. 1410) (fn. 118) the estate passed to her daughter Elizabeth, the wife of Sir Walter Beauchamp, (fn. 119) to Sir Walter (d. 1430), and to his and Elizabeth's son Sir William (d. 1457), from 1449 Lord St. Amand. (fn. 120) In 1477 Lord St. Amand's relict Elizabeth, wife of Sir Roger Tocotes, conveyed the estate to her son Sir Richard Beauchamp (from 1491 Lord St. Amand, d. 1508), whose estates passed to John Baynton (d. 1516), great-grandson of Elizabeth, wife of Sir Walter Beauchamp. (fn. 121)
Nabals farm afterwards passed, possibly like Charlton Tantum manor, to Sir Henry Long who died holding it in 1556, (fn. 122) and it afterwards descended in the Long family with Draycot Cerne manor. In 1920 Nabals farm, 100 a. in Draycot Cerne, Sutton Benger, and Stanton St. Quintin, was offered for sale as part of the Draycot estate. (fn. 123) It was owned in 1955 by L. Haines, (fn. 124) who in 1979 sold the farm, 50 a., to Mr. G. T. Ridout, the owner in 1987. (fn. 125)
Economic History.
Draycot was a 5-hide estate which in 1086 included demesne, with 4 servi and 2 ploughteams, and had on it 7 villani and 10 coscets with a total of 3 teams. There were 40 a. of meadow, and the pasture was 2 furlongs long and 1 furlong broad. (fn. 126)
From 1257, in return for pasture rights granted to Sutton Benger tenants in the detached portion of Draycot Cerne, each Sutton team at three days' notice ploughed ½ a. in Draycot's open fields. (fn. 127) The demesne of Draycot manor in 1296 included 160 a. of arable, 30 a. of highly valued meadow, and pasture worth 10s. yearly. In 1344 it included 240 a. of arable, of which 66 a. were inclosed and worth 4d. an acre yearly; of the 174 a. in the open fields, 100 a. were worth 2d. an acre and 74 a. were worth 1d. an acre. There were in addition 51 a. of demesne meadow and 40 a. of inclosed demesne pasture. (fn. 128) Besides the demesne and the glebe, in 1250 there were within the manor three small estates and a fourth holding of pasture. (fn. 129) Nabals farm in 1308 included c. 60 a. of arable, 1 a. of meadow, and pasture, (fn. 130) and in 1382 was apparently all pasture. (fn. 131) Customary tenants of the manor paid rents totalling 6s. 8d. in 1296. (fn. 132) Before 1393 Sir Edward of Cerne, without licence, freed four Draycot neifs and their families. (fn. 133)
Common husbandry prevailed in the parish in 1511, (fn. 134) and in the early 17th century Home and South were open fields, (fn. 135) possibly south ot the Swindon—Chippenham road. The main period of inclosure may have been the mid 17th century: the glebe, with only 8 a. of c. 50 a. inclosed in 1632, was entirely several in 1678. (fn. 136)
Roward farm was created c. 1625, probably at an inclosure, as a 19-a. farm. In 1637 it had a new farmhouse and was of 22 a., mostly inclosed from South field. (fn. 137) Lake farm may also have been created at an early 17th-century inclosure. In 1647 it comprised inclosed arable, formerly in Home field, and meadow land and was held by lease for £41 a year. (fn. 138) In 1651 and presumably earlier the demesne was held in portions by leases. (fn. 139) It was in two farms in 1731: Draycot or Home farm was 212 a., of which 143 a. were arable, 37 a. were pasture, and 32 a. were meadows; the second farm, 248 a., included c. 200 a. which were formerly, and were again later, parkland. Lake farm was 115 a. in 1731, another farm, possibly Manor, was 65 a., five farms, including Roward, were of 20–50 a., and there were 10 smallholdings. (fn. 140)
In 1808 Draycot or Home farm, 212 a., had 107 a. of arable, 94 a. of pasture, and 8 a. of meadows; in 1839 it had 216 a. of which 84 a. were arable and the rest pasture; and in 1851 it was an arable and pasture farm of 180 a. It was worked in 1808 and 1851 from Draycot Farm north-west of Draycot House. By 1808 the acreage of Roward farm had doubled to c. 41 a. Its acreage in 1839 was 78 a., and c. 93 a. added from Draycot farm before 1872 again more than doubled Roward farm, which in 1872 also had 13 a. in Kington Langley. Lake farm increased from 131 a. of meadow and pasture in 1808 to 162 a., mostly pasture, in 1839. Between 1851 and 1872 c. 29 a. in Sutton Benger were added to the farm. Manor was a pasture farm of 58 a. in 1808 and of 68 a. in 1839 and 1851. A further 12 a. were added to it before 1872. Nabals farm had 84 a. in 1794 and 1808, 81 a. in 1839 when it was pasture, and 81 a. in 1851 and 1872. (fn. 141)
In the 19th century some land in the parish, 71 a. in 1808, c. 90 a. in 1839, and c. 34 a. in 1851, were in farms based in Sutton Benger. The parish in 1839 contained c. 760 a. of pasture, of which c. 200 a. were in Draycot park, and c. 140 a. of arable were worked in a four-field rotation. (fn. 142) There were 215 a. of arable in 1876, but thereafter arable farming declined and in 1936 no land was ploughed. In 1867 corn, mostly wheat, was grown on half the arable and leguminous and fodder crops on the remainder. After c. 1876 corn crops were usually grown on two thirds. Most of the parish has been meadow and permanent pasture in the 19th and 20th centuries. The acreage on which grasses were grown in rotation, 104 a. in 1876, was 12 a. in 1936. In the same period the proportion of the grassland which was mown increased from a quarter to a third. There were on average c. 200 cows, c. 120 sheep, and c. 60 pigs in the years 1867–1936. (fn. 143)
There were six farms based in the parish c. 1920. Draycot Park farm was nominally of 607 a. but included woodland and parkland, and the parkland was leased in portions to other farmers in the parish. Lake, 130 a., Manor, 79 a., Roward, 63a., and Nabals, 100 a. including land outside the parish, were dairy farms. Only on Mount Pleasant farm, 93 a. including former glebe, was farming mixed. (fn. 144) In 1987 only Manor farm was a dairy farm. The lands of Roward farm were leased for the grazing of beef cattle, on Lake farm beef cattle were reared and corn was grown, Draycot Park was an arable farm, and Nabals was a mixed farm. (fn. 145)
Most men in Draycot Cerne were farm labourers in 1831. (fn. 146) No trade or craft seems to have flourished in the parish. (fn. 147)
Land in the parish had been imparked by c. 1542. (fn. 148) In 1639–40 Draycot park included a lower park and an upper park. (fn. 149) It had been impaled by c. 1680 and remained so in 1769. (fn. 150) In 1731 the c. 200 a. of parkland were used for agriculture, (fn. 151) but were again parkland in 1827 and were grazed by deer in the 19th and early 20th century. (fn. 152) Before 1920 the parkland was leased in portions for grazing. (fn. 153)
In 1086 there was woodland 4 furlongs long and 2 furlongs broad. (fn. 154) Nabals farm included 4 a. of woodland in 1808 and 8 a. in 1920. In 1808 there were only 6 a. of woodland in Draycot park. (fn. 155) Trees, mainly oaks, were planted north of Draycot House in the 19th century and the park contained plantations of c. 55 a. in 1839, of c. 70 a. in 1880, and of 126 a. in 1920. (fn. 156) Much woodland was cut after 1946, and little remained in 1987. (fn. 157)
There was a mill at Draycot in 1086. (fn. 158) In 1296 a water mill could be used only in winter. (fn. 159) Three water mills formed part of Draycot Cerne manor in 1344, (fn. 160) and a mill remained part of the manor until the later 19th century. From the 17th century or earlier there was apparently a single mill, (fn. 161) that on the west side of the Stanton St. Quintin road driven by a tributary of the Avon. It ceased to work apparently between 1868 and 1872 and was demolished before 1885. (fn. 162)
Local Government.
Courts for Draycot Cerne manor were held from 1296 (fn. 163) or earlier to 1848. (fn. 164) The only extant records are for 1511, 1647–50, 1652, and 1758–1848. At a court held in 1511 common husbandry was regulated, and the ringing of pigs and the repair of cottages were ordered. (fn. 165) From 1647 or earlier, although no lord is known to have received a grant of leet jurisdiction, the court was called view of frankpledge with court baron. Between 1647 and 1652 it may have been held only once a year, in spring, to transact a mixture of leet and manorial business: deaths of customary tenants were recorded, customary holdings were surrendered and new tenants were admitted, the repair of roads, ditches, watercourses, and cottages was enjoined, and tithingmen were elected. (fn. 166) Courts with the same title were held twice a year in the period 1758–71, and in the period 1772–1848 once a year in autumn. Early 19th-century courts were marked by the giving of a dinner, probably at Sutton Benger, by the lord of Draycot to the tenants. The only business was the election of tithingmen, and, from 1820, of haywards, and provision for the repair of roads and bridges. (fn. 167)
Vestry meetings, at which overseers of the poor and churchwardens were elected and poor rates were set, were held from the earlier 19th century. (fn. 168) Sums spent on poor relief rose from £89 in 1775–6 to £125 in 1802–3 when 50, a third of the population, received outdoor relief. In each of the years 1813–15 c. £170 was spent on relieving an average of 16 paupers continuously and 6 occasionally. Although Draycot Cerne then spent less than most parishes in Malmesbury hundred, its paupers were relieved comparatively generously. (fn. 169) Average sums of £165 in the years 1816–21, £84 in 1822–4, £93 in 1825–9, £102 in 1830–4, and £114 in 1834–6, were spent. (fn. 170) The parish maintained a poorhouse in the early 1830s (fn. 171) and in 1830 employed a surgeon to attend paupers. In 1831 parishioners agreed to give, for each £20 at which their lands were rated, a day's work to an unemployed labourer. (fn. 172) Draycot Cerne became part of Chippenham poor-law union in 1835, (fn. 173) and, as part of Sutton Benger, part of North Wiltshire district in 1974. (fn. 174) A burial board was formed in 1883 to administer the parish burial ground and chapel opened in that year. (fn. 175)
Church.
A church stood at Draycot Cerne in the later 12th century. (fn. 176) The rectory was united with the vicarage of Seagry in 1939 and severed from it in 1954. (fn. 177)
The church was the subject c. 1170 of rival gifts made by Ralph de St. Germain and Robert de Venoix, possibly him who held the manor in 1130, to Salisbury chapter. Robert claimed to give a pension of 10s. from the church, and Ralph claimed to give the church itself. (fn. 178) Although c. 1180 Salisbury chapter presented Reynold, the nephew of Ralph, as rector, (fn. 179) the right of the Venoix family to present rectors prevailed and in 1228 John de Venoix granted the advowson to Henry of Cerne. (fn. 180) The advowson descended like Draycot Cerne manor, and the lords presented. (fn. 181) The king presented in 1345 because John of Cerne (d. 1346) was a minor, (fn. 182) and Edward of Cerne (d. 1419) presented in 1410 and 1412–13. (fn. 183) The king's presentee in 1452 was evidently not instituted because in the same year John Long presented a rector who was. (fn. 184) By grant of a turn the Revd. Jeremiah Awdry presented in 1850. (fn. 185) The advowson passed with the manor to Christian, Earl Cowley, who transferred it to B. Crundell in 1921. Crundell immediately sold it to the A.M.A. Syndicate Ltd., from whom it was bought in 1923 by Herbert Dixon, later Baron Glentoran. In 1939 Lord Glentoran became entitled to present for the united benefice of Seagry with Draycot Cerne at the second and third of each three turns. In 1947 he transferred the advowson to S. W. Maundrell (d. 1963), whose executors in 1966 transferred it to the bishop of Bristol, the patron in 1987. (fn. 186)
The rectory was worth £7 in 1535, (fn. 187) £50 in 1650. (fn. 188) In the years 1829–31 its average income of £234 made it one of the poorer livings in Malmesbury deanery. (fn. 189)
By 1678 tithes from demesne land had been compounded for £20 a year. (fn. 190) It was presumably for such tithes that the rector received a composition of £146 in 1832. (fn. 191) In 1839 the tithes were valued at £280 and commuted. (fn. 192)
Before 1225 the rector held 1 yardland, possibly given by a member of the Venoix family. (fn. 193) It was confirmed to the rector in 1256. (fn. 194) In the 1550s the glebe included a rectory house which was ruinous. (fn. 195) The glebe measured c. 50 a. in the 17th century (fn. 196) and earlier 19th, (fn. 197) 55 a. in the later 19th. (fn. 198) The rectory house, which in 1839 stood on the west side of the lane south of Draycot House, was demolished when in 1879 the rector gave it with 14 a. north of the Swindon—Chippenham road in exchange for 19 a., on which a new stone rectory house of three storeys and a basement was built, south of the road. (fn. 199) Part of the glebe, 34 a. called Mount Pleasant farm, was sold to William, Earl Cowley, in 1894 when it was added to the Draycot estate. (fn. 200) The 19 a. were sold later. (fn. 201) After 1950 the incumbent lived in Kington Langley Vicarage (fn. 202) and Draycot Cerne Rectory was sold in 1952. (fn. 203)
In 1304 the rector, Henry of Cerne, was licensed to study for two years. (fn. 204) Curates are known to have assisted the rector or to have served the cure in the years 1550–3, 1601–9, 1650, 1675–6, 1725, 1757, and 1848–50. Two or more became rectors. (fn. 205) John Rand, rector from 1631, was sequestered in 1650. (fn. 206) The minister intruded in his place received £12 a year in 1650, Rand's wife £13, and the assistant curate £25. (fn. 207) Rand was restored in 1662, and in that year he complained that a churchwarden prevented him from wearing a surplice and neglected to supply bread and wine for communion. The parish then lacked the Book of Homilies and Jewell's Apology. Because there was no flagon, Rand used a jug or 'vinegar glass' for the consecration of communion wine. (fn. 208) Daniel Fettiplace, rector 1712–35, was also rector of Yatesbury. (fn. 209) Francis West, rector 1779–1800, in 1783 held two services each Sunday and some weekday services. He administered communion at Christmas, Easter, and Whitsun to an average of 20 communicants. West was also rector of Dauntsey, curate of Kellaways, and occasionally did duty at Seagry. (fn. 210) Although the living was a meagre one, the presence of the Long family at Draycot House attracted in the 18th century and early 19th incumbents such as Edward Ernie, later styled Sir Edward Ernie, Bt., rector 1746–60, (fn. 211) and Andrews Windsor, rector 1800–12, a brother of Catherine, Lady Tylney-Long (d. 1823), and son of Other Windsor, earl of Plymouth. (fn. 212) Henry Barry, rector 1812–50, was also rector of Upton Scudamore. (fn. 213) He lived in Draycot Cerne and in 1832 held two services each Sunday and services on holy days. In 1850–1 an average congregation of 15 attended the Sunday services. From 1954 and in 1987 the rectory was held in plurality with the vicarage of Kington Langley. (fn. 214)
The church of ST. JAMES, so called in the later 19th and the 20th century, (fn. 215) was called All Saints' in the later 12th century, (fn. 216) St. Peter's in 1763 and 1915. (fn. 217) It comprises a chancel, a nave with north chapel and south porch, and a west tower. (fn. 218) On the west wall of the chancel the weathering for the chancel roof of the 12th-century church survives, and it suggests that parts of the nave walls are also 12th-century. A small chancel arch which was enlarged in 1848 was possibly of the 12th century or earlier. (fn. 219) The chancel was rebuilt and enlarged in the early 13th century, and, apart from the construction in the 14th century of a canopied tomb recess in the north wall over a 13th-century effigy of a knight, was not altered thereafter. In the early 14th century a south doorway and two north windows, and in the 15th century a south window, were inserted in the nave. In the later 15th century the porch, which has two pairs of three-light openings on the east and west, and the tower were built. The upper stage of the tower was later rebuilt, perhaps in the 17th century. In 1692 a mortuary chapel for members of the Long family was built against the north doorway of the nave. (fn. 220) A west gallery which hid the tower arch c. 1850 had been removed by c. 1863 when a new west window was constructed. The north chapel was rebuilt in 1865. At about the same time the nave and chancel roofs were reconstructed, a new window was inserted in the nave, and the nave was repewed. (fn. 221) Monuments which commemorate members of the Cerne and Long families include, in the chancel, a memorial brass to Sir Edward of Cerne (d. 1393) and his wife Ellen (d. 1418), and the painted altar tomb of Sir Thomas Long (d. 1508). (fn. 222) Traces of wall paintings survived in the chancel in 1585. (fn. 223)
In 1891 the parish had a chalice, paten cover, paten, and flagon of 1702 given by Dame Dorothy Long (d. 1710). (fn. 224) The chalice and paten survived in 1987. (fn. 225) The tower in 1987 contained a bell cast in 1808 by James Wells of Aldbourne. (fn. 226) Registrations of baptisms and burials begin in 1691, of marriages in 1692. (fn. 227)
Nonconformity.
There were Quakers living in Draycot Cerne in the later 17th century and the 18th. (fn. 228) They were described as numerous in 1669 but in 1676 there were only seven. (fn. 229)
Education.
In 1704 Dame Dorothy Long (d. 1710) and Dame Anna Mason gave a yearly income of £5 for a schoolmaster to teach poor children in Draycot Cerne. A school was built, possibly c. 1786 by Sir James Tylney-Long, Bt. (d. 1794). (fn. 230) It was well run in 1808. (fn. 231) A master taught 10 boys there in 1818. Sir James's relict Catherine then supported a girls' school, which may have been held in the same building. (fn. 232) The schools merged and in 1833, besides 10 supported by the charity income, other children were taught. (fn. 233) The two teachers who taught 18 children in 1846–7 (fn. 234) were perhaps the parish clerk and his wife who in 1858 taught c. 20 children. (fn. 235) There were c. 30 pupils in 1868–9 when it was claimed that few boys in the parish were unable to read and write. (fn. 236) The school was closed c. 1903 (fn. 237) and thereafter Draycot children went to school in Sutton Benger and Kington Langley. (fn. 238)
Charities for the Poor.
Dame Dorothy Long (d. 1710) and Dame Anna Mason in 1704 gave a yearly income of £2 for the poor. (fn. 239) In 1782 Martha Angel, Sir James Tylney-Long, Bt., and Charles Long each gave £10 for the poor. In the 1960s the income of the combined charities, c. £2 yearly, was allowed to accumulate and bread was bought for the poor. The income was added to that of Rachel Long's charity in the 1980s.
Dorothy Long and Anna Mason in 1704 gave £5 a year to apprentice poor children from the charity school. In the early 19th century a pupil was apprenticed every three years, and in the early 20th boys were apprenticed to the head carpenter of the Draycot estate. In the later 20th century the income was allowed to accumulate and in 1986 money was given for a student to buy books.
By will proved 1781 Rachel Long gave £3 a year for the poor. That, and £1 yearly of unknown origin, was spent on coal for 29 people in 1832. In 1905 coal bought with the £4 was given to each poor householder in Draycot Cerne at Christmas. The income was allowed to accumulate in the 1960s and 1980s, and coal was occasionally distributed.