Pages 95-104
A History of the County of Wiltshire: Volume 14, Malmesbury Hundred. Originally published by Victoria County History, London, 1991.
This free content was digitised by double rekeying. All rights reserved.
HANKERTON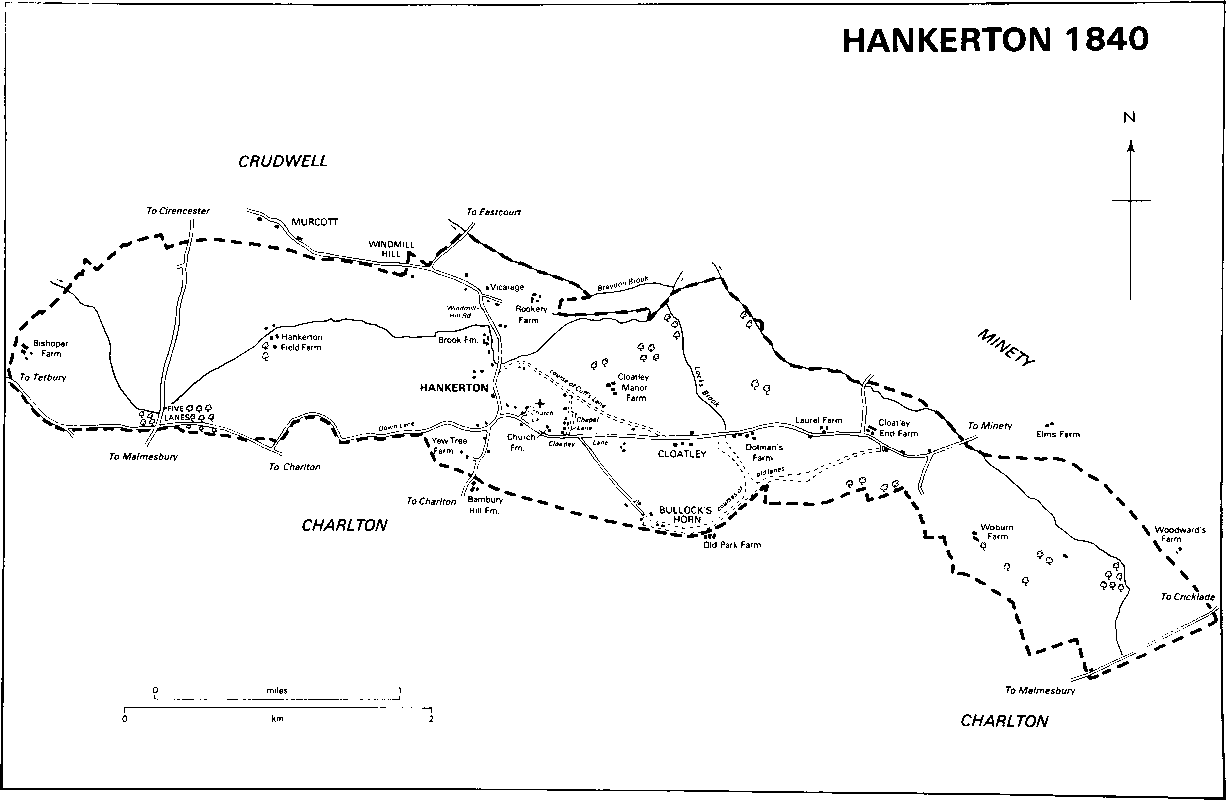 Hankerton church is 5 km. north-east of Malmesbury. (fn. 1) The long and narrow parish, 891 ha. (2,203 a.), runs east-west and contains Hankerton village and the hamlets of Cloatley and Bullock's Horn: in the Middle Ages Moredon may have been another hamlet. (fn. 2) Hankerton manor was part of Malmesbury abbey's Crudwell estate, the church was dependent on Crudwell's, (fn. 3) and Hankerton was probably late in becoming a parish.
To the west, Hankerton's north and south boundaries were fixed early and appear to have been little changed. The northern, with Eastcourt and Murcott, both in Crudwell, may have been on or near its present course in the early Middle Ages when both Eastcourt's and Murcott's followed Braydon, otherwise Swill, brook: (fn. 4) part of Hankerton's later boundary with Crudwell followed Braydon brook and its feeders and, for short distances, roads. The southern, with Charlton, was defined possibly c. 1100 (fn. 5) and was later marked by a road. The western boundary of Braydon forest in 1225 may have been the eastern boundary of Hankerton, as it apparently was of Charlton and Garsdon to the south and of Crudwell to the north. It ran, possibly almost due north, from Swatnage wood in Charlton to Braydon brook following the stream which was called Locks brook in 1225 and 1809. Braydon forest was extended westwards and took in Hankerton village in 1228, was reduced to its 1225 boundaries in 1279, and was reduced further in 1300. (fn. 6) The purlieus of the forest, apparently the land between the boundaries of 1279 and 1300, were open pastures and woods used in common by the lords and tenants of manors near the forest, but particular parts were claimed for, and perambulated by, each manor. (fn. 7) Until the 1540s Hankerton and Cloatley were parts of a single estate (fn. 8) and until c. 1580 parishioners of Hankerton perambulated part of the purlieus claimed for both Hankerton and Cloatley. For most of their length the northern and southern boundaries of that part seem to have been similar to the later boundaries of the parish, but towards the east end they both turned southwards and met at Charlham oak on Shire ditch. (fn. 9) About 1580 the lord of both Hankerton and Charlton, to deprive Cloatley of part of the purlieus, ordered the men of Charlton to perambulate what had formerly been perambulated by the parishioners of Hankerton. To keep it the men of Cloatley perambulated the same part of the purlieus. Probably soon after the dispute was heard in the Exchequer in 1595, (fn. 10) but possibly after the forest and purlieus were inclosed in the 1630s, (fn. 11) both the north and south boundaries of Hankerton were cut off at the Cricklade—Malmesbury road and the triangle to the south, formed by that road, Shire ditch, and a line from Charlham oak to Stonehill wood in Charlton, became Charlton land. (fn. 12) Only minor changes were later made to Hankerton parish boundaries. Those with Crudwell on Windmill Hill and with Charlton along the Cricklade—Malmesbury road were defined at inclosure in 1809, (fn. 13) and in 1882 a small part of Charlton was transferred to Hankerton. (fn. 14)
West of Hankerton village are outcrops of limestone and clay of the Forest Marble and, immediately west of the village, of Cornbrash: the land, over 100 m. in the west, slightly lower nearer the village, is almost flat. East of the village are outcrops of Kellaways Clay and Oxford Clay and, around Bullock's Horn, of Kellaways Sand: the land, c. 110 m. in the east, 90 m. near the village, is almost as flat as in the west. Virtually the whole parish drains to the Thames. Tributaries of Braydon brook flowing from each end of the parish meet in the middle north-east of the village, where they are joined by Locks brook and there are extensive deposits of alluvium. (fn. 15) A stream flowing south to Charlton may have risen in Hankerton parish in the 16th century. (fn. 16) Hankerton's open fields were west of the village, its common pastures were north of the church and on clay south-east of the church. Most of the clay to the east was open pasture until the 1630s and little has ever been ploughed. (fn. 17) In several places west of the village the limestone has been quarried. (fn. 18) To the east John Aubrey thought, apparently mistakenly, that the parish could yield both fuller's earth and saltpetre. (fn. 19)
West of Hankerton village, where the open fields were, there was no road in the parish until the later 18th century (fn. 20) when the road from Cirencester (Glos.) to Malmesbury, turnpiked in 1778 and disturnpiked in 1874, (fn. 21) was made across it. The lanes follow the parish boundaries. From the north end of the village one led to Crudwell: the lane leading from it towards Eastcourt was on its present course in 1773. (fn. 22) From the south end of the village the road called Down Lane in 1585, (fn. 23) in the course of which is a semicircular detour, leads to Tetbury (Glos.). It was crossed by the Cirencester—Malmesbury road at a junction called Five Lanes. The Tetbury road was turnpiked west of Five Lanes in 1798, (fn. 24) east of Five Lanes to its junction with a new road from Charlton in 1808. (fn. 25) Both east and west parts were disturnpiked in 1876. On the grassland east of Hankerton village the Cricklade—Malmesbury road, turnpiked in 1756 and disturnpiked in 1876, (fn. 26) crosses the parish, and the lanes were more numerous. Cloatley Lane, called Locks Brook Road in 1809, led across the former purlieus to Minety and there were offshoots to the south. The lanes were wide and in 1809 the offshoots were inclosed and allotted as farmland. (fn. 27) The road to Bullock's Horn became a footpath in the 20th century, (fn. 28) and in 1988 that hamlet was approached by road only from the south. Where it runs straight across the former common pasture immediately east of the village Cloatley Lane may have been remade at inclosure in 1809.
In 1377 Hankerton had 61 poll-tax payers and Cloatley 33; Moredon, probably a hamlet in the parish, had 20. Those figures show the parish to have been one of the more populous of the hundred. (fn. 29) In 1676 there were 190 adults in the parish. (fn. 30) The population was 286 in 1801. It had risen to 413 by 1831 when 325 lived in Hankerton tithing and 88 in Cloatley, and reached a peak of 417 in 1841 when Hankerton had 340 inhabitants and Cloatley 77. The decrease to 371 in the period 1841–51, when Hankerton's population declined by 62, was attributed to lack of housing and to several families leaving the parish. From 393 in 1861 the population of the parish had fallen to 252 by 1901, between 1901 and 1951 it fell to 217, (fn. 31) and in 1961 reached a low point of 178. In the period 1971–81, when new houses were built, it rose from 194 to 289. (fn. 32)
Hankerton village is almost certainly the oldest settlement in the parish. Its farmsteads and cottages were loosely grouped in lanes around the church. To the west the lane linking Hankerton and Charlton, called Windmill Hill Road in 1809, (fn. 33) forms a village street. North of the church Cuff's Lane ran between the street and Cloatley Lane. The east end of Cuff's Lane was stopped at inclosure in 1809 and the west end has largely gone out of use. In the 19th century Chapel Lane was formed between its middle and Cloatley Lane. (fn. 34) The pre-inclosure pattern of settlement could be clearly seen in 1988. In all parts of the village the older buildings were set back behind what until 1809 were the wide verges of lanes used for pasture in common: they are all of apparently local stone. Beside the village street to the north Brook Farm is a later 18th-century farmhouse with extensive farm buildings, south of it is an 18th-century cottage, and east of it are a small farmhouse much enlarged in the 1980s and a small 18th-century farmhouse. Further south Yew Tree Farm is an early 18th-century farmhouse near which is an early 18th-century cottage. Beside the west part of Cuff's Lane is a farmhouse of the 17th century or earlier, and beside the centre part a 19th-century cottage. North and south of Cloatley Lane are small 18th-century houses, and beside Chapel Lane, near what was the west edge of a common pasture until 1809, two cottages standing in 1809 survive. The north end of the village is possibly the site of Moredon. There Rookery Farm is a late 18th-century farmhouse, west of it Hankerton Priory is the old vicarage house, (fn. 35) and west of that are two cottages, apparently one of the 17th century and one of the 18th. From the mid 19th century to the mid 20th, while the population was declining, there was little new building in the village, and some buildings which were standing in 1840 (fn. 36) were demolished. A school was built in Church Lane and a nonconformist chapel with a small cottage in Chapel Lane. (fn. 37) Some pre–1809 house sites were re-used in the 20th century, but the former verges between the older houses and the roads were the sites of much 20th-century housing. Those at the junction of the village street and Cloatley Lane were used for six council houses in 1948 (fn. 38) and four old people's bungalows in 1962, (fn. 39) and several other houses and bungalows were built beside Cloatley Lane in the later 20th century. Follyfield, an estate of c. 35 houses, was built east of the village street in the early 1970s, (fn. 40) in 1988 five houses were being built on the site of Church Farm, and several other later 20th century houses were in the village. West of the village Bishoper Farm was built c. 1725, (fn. 41) and Hankerton Field Farm, where the farmhouse was rebuilt in the earlier 20th century, was probably built shortly before 1808. (fn. 42) A pair of estate cottages beside the Cirencester—Malmesbury road was built in the early 20th century.
The cottages and small farmsteads of which Cloatley hamlet may have consisted from the 13th century to the mid 16th (fn. 43) may have been beside Cloatley Lane east of its junction with Cuff's Lane, where a hamlet, consisting of only three cottages or houses south of the wide verge, was called Cloatley in 1773. (fn. 44) After the verges were allotted in 1809 (fn. 45) a house was built on the north side of the road. (fn. 46) In 1988 that house, with a commercial garage, a later 20th-century bungalow, and one of the cottages on the south side survived. Cloatley Manor was built on low land east of Hankerton church in the Middle Ages. (fn. 47) After the purlieus were inclosed three new farmsteads were built beside Cloatley Lane east of the hamlet: the farmhouses of Dolman's Farm and Laurel Farm are clearly 17th-century; that of Cloatley End Farm has a late 18th-century front. At the east end of Cloatley Lane a few cottages include one of the early 19th century. At the eastern edge of Hankerton's common, a short distance west of Cloatley hamlet, three cottages stood in 1809. (fn. 48) One, possibly 18th-century, became the nucleus of Common End Farm, a house with later 20th-century extensions and farm buildings. Near the east end of the parish a cottage on inclosures called Woburn had been taken down by 1569. (fn. 49) A house and farm buildings there in 1840 were probably erected in the early 19th century: (fn. 50) none survives. In the early 19th century buildings were also on the site of Purlieus Farm beside the Cricklade—Malmesbury road and divided by the boundary with Charlton: (fn. 51) none of that date survives. An electricity substation was built on the boundary with Charlton in 1970. (fn. 52)
Bullock's Horn was named as a settlement site in the early 18th century, (fn. 53) and several cottages, most built in a wide lane leading east from Hankerton's common, stood there in 1773. (fn. 54) Six cottages and a house were there in 1840. (fn. 55) All four houses there in 1988, much altered, may survive from 1840.
Manors and other Estates.
Before the Conquest Hankerton, which was not mentioned in Domesday Book, is likely to have been part of Malmesbury abbey's Crudwell estate and, lying between the abbey and Crudwell, may, like Crudwell, have been an early endowment. (fn. 56) It is also likely that the 10 cassati at Hankerton given by King Edward to the abbey in an exchange in 901 (fn. 57) were the lands of Cloatley. The abbey held Hankerton and Cloatley until the Dissolution, each as part of its Crudwell estate. (fn. 58)
In 1552 the Crown granted HANKERTON manor, without Cloatley, to John Dudley, duke of Northumberland, in an exchange, (fn. 59) and in 1553 Northumberland sold it to Sir James Stumpe (fn. 60) (d. 1563), the owner of Charlton manor. Hankerton manor descended with Charlton to Stumpe's daughter Elizabeth (d. 1585) and her husband Sir Henry Knyvett (d. 1598), to the Knyvetts' daughter Catherine, wife of Thomas Howard, earl of Suffolk, and in the Howard family and with the earldoms of Suffolk and Berkshire to Michael Howard, earl of Suffolk and of Berkshire from 1941. (fn. 61) In 1840 Thomas, earl of Suffolk and of Berkshire, owned 1,125 a. in the parish. (fn. 62) About 1959 Lord Suffolk sold the eastern part of the manor, Church farm, Common End farm, part of Old Park farm based in Charlton, and Purlieus farm: in 1988 he owned c. 800 a. in the parish. (fn. 63)
In 1542 the Crown granted CLOATLEY manor to William Sharington (fn. 64) who in 1543 sold it to John Warneford (fn. 65) (d. 1558). The manor passed to Warneford's son John (fn. 66) (d. 1620) and to that John's son Thomas (fn. 67) (d. 1639) who settled it in 1627 on the marriage of his son Edmund (fn. 68) (d. 1649). (fn. 69) After Edmund's death the manor was held by his relict Margaret (will proved 1693) and at her death passed to his son Sir Edmund Warneford (d. 1700), who devised it to his son Edmund. In 1706 Edmund Warneford sold the manor to Giles Earle (fn. 70) (d. 1758), lord of the neighbouring manor of Eastcourt. It passed with Eastcourt to Giles's son William (d. 1774), and to William's son Giles who divided Cloatley manor c. 1806. (fn. 71) The manor house, Manor farm, and woodland, a total of 177 a. in 1840, (fn. 72) were bought by Joseph Pitt and remained part of the Eastcourt estate until 1919. They belonged successively to Pitt, J. R. Mullings (d. 1859), Joseph Mullings (d. 1860), A. R. Mullings (from 1877 A. R. Randolph, d. 1885), and J. R. Randolph. (fn. 73) In 1919 Randolph sold them to the tenant A. T. Hislop (d. 1968), who devised them to his brother and sister. In 1986 his sister Dorothy Hislop and the executors of his brother A. C. Hislop (fn. 74) (d. 1986) sold the house and 146 a. to Mr. M. Thornbury, who owned that estate in 1988. (fn. 75) Cloatley Manor consists of an eas-west hall range with, as east and west wings, the two stone cross wings of a substantial medieval house. The west, at the upper end of the hall, has a roof of arch-braced collars with elaborate wind braces below the purlins and may originally have been of one storey. The east, a two-storeyed service wing at the lower end of the hall, has a plainer roof with braced collars. Both wings are probably of 14th-century origin. Between them the long hall range, entered through a two-storeyed south porch, was rebuilt in the late 16th century. Both ground- and first-floor rooms retain some original plaster decoration, and at the north-west corner a wooden newel stair, possibly older than the present hall, gives access to the upper floor of the west wing. The roof of the hall range was renewed in the late 18th or early 19th century. After 1986 the house, which had become dilapidated, was extensively restored. The farm buildings near it include a 17th-century dovecot, a stable of 1706, and a barn of 1707. East and west of the house parts of a moat survive.
The other farms sold by Earle c. 1806 were Woburn, Dolman's, Laurel, and Cloatley End. Woburn farm, 203 a. in 1840, was bought by Christopher Cole; it became the main part of Elms farm based in Minety, and it has remained part of that farm. Jonathan Cole owned it in 1854 (fn. 76) and 1873, (fn. 77) and in 1897 John Cole's trustees owned it. (fn. 78) In 1910 it belonged to Henry Hathaway, (fn. 79) in 1926 to Percy Manners. (fn. 80) In 1947 Elms farm, 160 a., was bought by M. H. Crocker and his wife, and Mrs. Crocker owned it in 1989. In 1968 Purlieus farm, c. 145 a., was bought by the Crockers' son Mr. P. H. Crocker, the owner in 1989. (fn. 81) After c. 1806 Dolman's, Laurel, and Cloatley End farms, a total of c. 310 a., usually descended separately, (fn. 82) but in the early 20th century Murray Shirriff owned all three. (fn. 83)
An estate called MOREDON seems to have originated in a grant of ¼ knight's fee, possibly demesne land, by Malmesbury abbey to William of Crudwell c. 1150. (fn. 84) William of Hankerton apparently held it in 1242–3, (fn. 85) as did John of Hankerton in the later 13th century. (fn. 86) It was possibly the estate conveyed by John Brown to Roger Joliffe or Beaumond in 1365 (fn. 87) and settled by Joliffe or Beaumond in 1367, (fn. 88) and possibly that held by Richard Urdley and his wife Margaret in 1388 and 1394. (fn. 89) The estate later seems to have been divided. An estate called Urdley's passed from Thomas Warneford (d. 1539), a freeholder in Hankerton in 1510, to his son John (d. 1558), (fn. 90) and with Cloatley manor to Sir Edmund Warneford who sold it in 1693 to Thomas, earl of Berkshire (d. 1706). (fn. 91) It belonged to Lord Berkshire's daughter Lady Frances Winchcombe in 1706 (fn. 92) and later to George White. (fn. 93) A second portion was apparently sold by Richard Urdley's descendant Alison or Alice Parfet and her husband Thomas Hasard to John Hibberd in 1440, (fn. 94) and it descended in the Hibberd family. William Hibberd, who held it in 1539, (fn. 95) died holding it in 1560 (fn. 96) and was succeeded by his son John (fl. 1605), who held Moredon in 1590. John's son Edmund (fn. 97) held it in 1606, (fn. 98) but its later descent is uncertain. It may have been the estate, held by John Cooper in 1616, (fn. 99) which on the death of Richard Cooper c. 1627 passed to John Machell (fl. 1644). (fn. 100) George Machell may have held it at his death c. 1684 when it passed to Richard Stacey. (fn. 101) George White held both Moredon and Urdley's in the earlier 18th century. His land descended to his son John (d. c. 1774) and to John's son John, (fn. 102) who in 1793 and 1809 exchanged lands with John, earl of Suffolk and of Berkshire. (fn. 103) John White's estate, ROOKERY farm, 102 a., was held in 1840 by, presumably another, John White, (fn. 104) and in 1868, when land was exchanged with Charles, earl of Suffolk and of Berkshire, by J. M. White. (fn. 105) In 1874 White (fl. 1883) sold the reversion to G. W. White (d. 1892). (fn. 106) In 1910 J. White owned the land, (fn. 107) in 1921 G. W. White sold most of it to Joseph Chivers, (fn. 108) and in 1951 Chivers sold it to Harold Sheppard whose relict, Mrs. A. Webb, owned it in 1988. (fn. 109)
A small estate in Hankerton was acquired by Bradenstoke priory before and in 1232. (fn. 110) Before the Dissolution some of the land was apparently granted freely to St. Bartholomew's hospital, Gloucester. At the Dissolution the priory's land passed to the Crown. (fn. 111) In 1541 it was granted to Sir Thomas Seymour (fn. 112) (cr. Baron Seymour 1547, d. 1549), who was attainted, (fn. 113) and in 1550 to Sir Walter Mildmay. (fn. 114) It was bought soon afterwards by John Warneford (fn. 115) who added it to Cloatley manor. The hospital kept its land, 36 a. in 1840, (fn. 116) until between 1910 and 1926. (fn. 117)
Malmesbury abbey took the corn tithes from the parish from 1222 until the Dissolution (fn. 118) and they were granted by the Crown with Hankerton manor in 1552. (fn. 119) They descended with the manor and belonged to Thomas, earl of Suffolk and of Berkshire, in 1840, when those arising from his own land were deemed merged and those from other lands were valued at £15 and commuted. (fn. 120)
Economic History.
Hankerton and Cloatley were each a part of Crudwell manor in the Middle Ages, but their lands were distinguished; (fn. 121) in a survey of them after the Dissolution the distinction was clarified. (fn. 122) To the west Hankerton's lands included common pastures and large open fields; east of them on the clay Cloatley's, presumably colonized later, apparently included little land used in common. (fn. 123) East of Locks brook and a line from its source to Swatnage wood in Charlton both Hankerton and Cloatley had rights to feed animals in common in the open woodlands and pastures of Braydon forest and its purlieus until the 1630s. (fn. 124)
Hankerton.
In the mid 12th century Malmesbury abbey may have alienated some of its demesne in Hankerton (fn. 125) and in the later Middle Ages it clearly had little there. In the early 16th century the demesne farm was called Hall Court. Other holdings were also small. In the later 13th century and the early 16th c. 30 yardlands were shared among 20–25 customary tenants and a few freeholders. (fn. 126) Isolated references to cultivation at Hankerton in the Middle Ages (fn. 127) suggest that by the mid 16th century the arrangement of open fields, inclosed land, and common pastures and meadows had long been little changed. The arable was in three fields, West, Middle, and Home, all west of the village, and the common pastures east and south of the village were called the Moors. Meadow land called lot mead was in the open fields, presumably most beside the tributary of Braydon brook crossing the parish from the west, and there were other common meadows, presumably beside that tributary and another stream north and north-east of the village. A meadow called New mead northeast of the church was used in common. (fn. 128)
Apparently in the 1570s, soon after Charlton Park was built and part of West field in Charlton was inclosed, (fn. 129) the neighbouring West field in Hankerton was partly or wholly inclosed: (fn. 130) c. 90 a. were inclosed, another 63 a. may have been, closes of c. 5–10 a. were added to copyholds, and some land was converted to pasture. (fn. 131) There was no open West field in 1616. (fn. 132) Exchanges of plots in and inclosures of three common meadows, including New mead, were authorized in 1577, (fn. 133) and most meadow land had been inclosed by 1606. (fn. 134) There had been two other inclosures by the early 17th century: north of the village Moor down or Moredon, c. 100 a., was inclosed and divided into a few closes for the lord of the manor and a freeholder; (fn. 135) south of the village Down Hill was divided into the Down, 10 a., and smaller closes for the copyholders. (fn. 136) There were also small inclosures around the village. (fn. 137) In 1616 a total of 416 a. of arable was in Home field and Middle field: the 35 furlongs had 802 strips. The fields also contained 35 a. of lot mead in small pieces which were cut simultaneously. The arable was shared among 29, the meadow among 24. (fn. 138) The Moors were then 60 a. and Windmill Hill was a smaller common pasture. Inclosures at Hankerton totalled c. 450 a. In the later 16th century and early 17th Hall Court farm was c. 92 a. and a freehold may have been c. 100 a. All the copyholds were smaller: 3 were over 50 a., 4 were between 25 a. and 50 a., and 15 were under 25 a. The Down was part of Bambury Hill farm based in Charlton but all Hankerton's other land was presumably worked from the village. (fn. 139)
Hankerton's part of the purlieus of Braydon forest was presumably inclosed with Charlton's by the lord of the manor, Thomas, earl of Berkshire, in 1631, (fn. 140) and part of it was assigned to Cloatley in 1633. (fn. 141) By an agreement of 1634 the copyholders and freeholders of Hankerton were allotted 120 a. of the purlieus at the east end of the parish as a common and Lord Berkshire kept the rest: Lord Berkshire undertook to build a small house for the overseer of the common but there is no evidence that he did so. The agreement also sanctioned the inclosure of two meadows as demesne and use of the fallow field for meadow land, and excluded tenants of demesne land from the Moors. (fn. 142) In 1635 the copyholders and freeholders were stinted at 1 horse, 2 cattle, and 4 sheep on the new common for each yardland held. (fn. 143)
Small farms and common husbandry persisted at Hankerton until the late 18th century. Husbandry was regulated in the manor court where officers to oversee it were appointed. (fn. 144) A new third arable field was marked out and in 1693 the fields were Home, Mersell (later Quarry), and Murcott, (fn. 145) but piecemeal inclosure apparently continued. (fn. 146) About 1800 the open fields, west of the village, may have been no more than c. 325 a. South-east of the village Home common was c. 70 a., north of the village Lower common was c. 35 a. and Windmill Hill common was c. 5 a., and further east the 120 a. allotted in 1634 were still a common pasture. Over 500 a. of Hankerton land were in closes of which the average size was no more than c. 5 a. (fn. 147) About 1725 Bishoper farm, 169 a., was created with land in Brokenborough and Charlton and 79 a. in closes at the west end of Hankerton. (fn. 148) In the late 18th century it was c. 529 a., including 124 a. in Hankerton, and by then another holding had grown to over 400 a., but there remained a number of small farms. (fn. 149)
As part of the improvement of his whole Wiltshire estate John, earl of Suffolk and of Berkshire, initiated many changes in Hankerton between c. 1790 and c. 1810. Hankerton Field farm was created and, following an exchange of lands between Lord Suffolk and John White in 1793, the three open fields were inclosed by bringing nearly all of each into separate farms. In 1808 Hankerton Field farm, 373 a., included the whole of both Murcott and Quarry fields. (fn. 150) The common pastures were inclosed in 1809 under an Act of 1808. A small allotment was made for every dwelling in the parish but most of the Hankerton commons, including that allotted in 1634, was allotted to Lord Suffolk and leased as farmland. (fn. 151) Brook farm, including most of Home field, was the largest of only a few farms based in the village; Bishoper farm, 355 a. in 1809, then had c. 165 a. in Hankerton. (fn. 152) A further exchange between Lord Suffolk and John White in 1809 left Rookery a compact farm of 102 a. north of the village. (fn. 153) Intending to improve drainage, roads, and buildings on the farms and to promote tillage by providing threshing machines, Lord Suffolk invited farmers from Northumberland and Scotland and found new tenants for about half his Hankerton land in 1809. (fn. 154)
Cloatley. An assart in the purlieus may have been added to Cloatley's lands in the mid 12th century, (fn. 155) but those lands were never extensive. In the later 13th century Malmesbury abbey had 13 tenants at Cloatley, some of whom apparently held very little. One or more held a Monday land. In 1540 the lands of only 2 of c. 10 tenants were referred to as yardlands, and the holdings were clearly very small. (fn. 156) Although there may earlier have been open field there is no evidence of it after 1540, but pasture and woodland adjoining the purlieus were claimed for Cloatley in the later 16th century and were presumably used in common. (fn. 157) Four closes called Woburn, assarted in the purlieus, were part of Cloatley manor in the mid 16th century when they were mostly meadow land. (fn. 158)
After dispute, 120 a. of the purlieus near the east end of the parish were allotted to Cloatley to replace feeding rights in Braydon forest and the purlieus in 1633. They were divided equally between the lord of the manor and the tenantry: the tenants' 60 a. were for use in common. (fn. 159) Much of Cloatley's land may have been in the lord's hand from the mid 16th century, (fn. 160) and later the largest farm was worked from the manor house. (fn. 161) From the 17th century two farmsteads, later called Dolman's and Laurel, stood east of the hamlet, as did a third, Cloatley End, from 1773 or earlier. (fn. 162) Manor farm and the three farms worked from those buildings were the only ones based in Cloatley tithing in the early 19th century. (fn. 163) Each was apparently compact and, from when they were sold c. 1806, (fn. 164) without rights of common pasture. Those rights were apparently sold c. 1806 with the land called Woburn. Under the Act of 1808 the owner of Woburn farm, which was worked with Elms farm based in Minety, was allotted 123 a. in 1809. (fn. 165)
In 1840 there were 1,585 a. of grassland and 514 a. of arable in the parish. The part with the most arable remained that between the Cirencester—Malmesbury road and Hankerton village. To the west Bishoper farm was 407 a., including 170 a. in Hankerton, and Hankerton Field farm was 274 a. Based in the village Brook farm was 219 a. and Church farm 85 a. From Rookery Farm 172 a. in the parish were worked. To the east Manor was a pasture farm of 160 a. leased to the tenant of Bishoper farm; Dolman's farm, 137 a., included buildings at Bullock's Horn; Laurel farm was 89 a.; and Cloatley End farm was 79 a. Much land in the east and south was worked mainly from outside the parish: Elms farm included the old Cloatley common and land and buildings at Woburn, 239 a.; Woodward farm, based in Minety, included 29 a.; Summerhouse farm, based in Charlton, included 59 a. of the former Hankerton common in the purlieus; and two other farms based in Charlton, Old Park and Bambury Hill, included respectively 82 a. and 67 a. of Hankerton land. (fn. 166)
Between 1840 and 1939 arable farming in the parish declined further. There may have been less than 400 a. of arable in 1887 and no more than 200 a. in the 1930s. Cows, other cattle, sheep, and pigs were all kept. (fn. 167) Bishoper, Hankerton Field, and Brook remained the largest farms based in the parish. In 1926 Bishoper was 422 a. of which 171 a. were in Hankerton, Hankerton Field farm was 304 a., and Brook 272 a. Other farms then based in the parish included Manor, 156 a., Rookery, 122 a. and other land in Crudwell, Dolman's, 136 a., Laurel, 90 a., and Cloatley End, 81 a. By 1926 Church farm had shrunk and Common End farm, 49 a. in 1926, had grown; Purlieus farm, 121 a., had been established on the old Hankerton purlieus; and Woburn, 63 a., had become a separate farm. (fn. 168)
After 1939 arable and stock farming both greatly increased. In 1977 there were 710 a. of arable and 901 cattle on farms based in the parish. (fn. 169) In 1988 c. 300 a., all arable, were in hand as part of Lord Suffolk's Charlton Park estate. Of the tenanted farms Bishoper, 458 a., was arable and dairy, Brook, 272 a., was arable. (fn. 170) Rookery, 120 a., was a mainly dairy farm. (fn. 171) East of Hankerton village much grassland was not intensively farmed. Further east the c. 300 a. of Elms farm and Purlieus farm were used with Home farm, Minety, and land in Charlton for dairy farming. A large dairy was built on Purlieus farm in 1969. (fn. 172)
Although Hankerton parish included much land which was within Braydon forest and its purlieus it was not well wooded. In 1840 several small woods totalled 23 a., (fn. 173) and there was little more woodland in 1988.
A windmill stood on or near Windmill Hill in the later 13th century (fn. 174) and later 17th. (fn. 175) Its site, which may have been in Hankerton or Crudwell, is not known.
Few non-agricultural trades have flourished in Hankerton. References to a weaver in 1568, (fn. 176) a clothyard in 1700, (fn. 177) and a wool comber in 1710 (fn. 178) are evidence of a local cloth industry. Bricks were made near Cloatley hamlet in the early 19th century. (fn. 179)
Local Government.
In the Middle Ages Malmesbury abbey's tenants in both Hankerton and Cloatley attended the abbey's courts held at Crudwell. To judge from the fact that they rendered cert money separately Hankerton and Cloatley were then separate tithings, (fn. 180) as they were later. (fn. 181) After the Dissolution the right to hold views of frankpledge and manor courts for Hankerton and Cloatley was granted separately with the respective manors. (fn. 182) For Hankerton, where copyhold tenure and open fields long survived, records exist in abundance; for Cloatley no court record survives.
From the mid 16th century to the mid 17th view of frankpledge with a court of the manor for Hankerton was usually held twice a year: (fn. 183) it may have been annual 1570–6. Leet jurisdiction was exercised throughout the period. In the early part the view proceeded on presentments of the tithingman, affirmed and supplemented by those of a jury, from the 1580s solely on the jurors' presentments. Bakers, tapsters, and butchers were presented; brawlers and players of prohibited games were punished; felony by tenants, including murder in 1571 (fn. 184) and 1629, (fn. 185) was reported; in 1580 three were presented for not having bows and arrows for archery as required by a statute of 1542 which was invoked; (fn. 186) the lack of a rook net, required by statute, was presented in 1570 and 1573, and in 1574 a new rook net was displayed in court; (fn. 187) and an oath of allegiance was occasionally administered. (fn. 188) In 1583 a suspected thief and in 1586 a thief were punished in the stocks, (fn. 189) and in 1626 three men were forbidden to keep greyhounds. (fn. 190) By the 1620s, when a woman was required to find a male deputy, (fn. 191) the office of tithingman apparently rotated among the tenants. Under the jurisdiction of the manor court the homage presented normal business such as the deaths of tenants and dilapidated buildings, and increasingly the courts made orders to regulate the use of the open fields and common pastures and penalized misuse. Overstocking and inadequately maintained gates, boundaries, and watercourses were most frequently presented. A reeve, a hayward who was paid a salary by the tenants, (fn. 192) an agrarian watchman ('agrophilax'), and overseers of the fields were appointed. (fn. 193) Unlicensed undertenants were prohibited and in the 1640s orders made to prevent tenants introducing to the parish any thought likely to need relief. (fn. 194) The courts also heard pleas between tenants, settling some by agreement, some by arbitration, and some by wager of law. (fn. 195)
From the later 17th century to the early 19th the principal business of the courts was to make rules for husbandry. (fn. 196) From the 1670s the court, usually called view of frankpledge with court baron, was annual, and from then its records survive mainly in the form of a warrant from the steward ordering the tithingman or the constable to convene the court, a list of those who ought to attend handed in by the tithingman, and the bill of presentments drawn up by the foreman of the jury. A single body acted as homage and jury and little was done under leet jurisdiction. Old orders governing the use of the open fields and common pastures were repeated or varied and new ones made, officers were appointed to supervise such use, orders to repair boundaries, gates, and watercourses continued to be made, and sometimes a common fund was raised to repair boundaries. (fn. 197) In the later 18th century most presentments were of rules to be observed rather than particular transgressions or nuisances, but they were not stereotyped. In 1799, for example, orders restricted the amount of furze to be cut, turf dug, and geese, cattle, and sheep kept on the commons. (fn. 198) After inclosure in 1809 (fn. 199) fewer orders were made but matters such as nuisances and encroachments on the waste, the feeding of unmarked cattle in the lanes, and the need to repair the common pound continued to be presented. (fn. 200) For much of the period courts baron were also held to witness surrenders of and admittances to copyholds.
By deed of 1554 Thomas Walton, the lessee of Crudwell rectory estate, gave a church house in Hankerton to relieve poverty and repair highways. In 1671 it was being leased for £2 a year, (fn. 201) but its later history is obscure.
The parish spent £67 on poor relief in 1775–6, an average of £119 in the years 1782–5, and £232 in 1802–3 when 27 adults and 36 children were relieved permanently and 17 occasionally. Spending was below average for a parish of its size in 1814–15, when £105 was spent and 18 adults were permanently relieved, (fn. 202) and remained so until the mid 1820s. Over £300 was spent in 1824–5 and between 1828–9 and 1833–4, and over £400 in 1829–30: those sums were above average for such a parish. (fn. 203) Hankerton joined Malmesbury poorlaw union in 1835 (fn. 204) and became part of North Wiltshire district in 1974. (fn. 205)
Church.
Hankerton church was built as a chapel of Crudwell church in or before the early 12th century. By 1222 a vicarage of Hankerton had been ordained. (fn. 206) The vicar had cure of souls but the church remained dependent on Crudwell (fn. 207) until 1445 when a graveyard at Hankerton was licensed. (fn. 208) In 1954 the vicarage was united with the vicarage of Charlton with Brokenborough; in 1987 it instead became part of a new benefice with Ashley, Long Newnton (both now Glos.), Crudwell, and Oaksey. (fn. 209)
Until the Reformation all known presentations of vicars of Hankerton were by rectors of Crudwell: (fn. 210) the rector's right was tested and confirmed in 1379 (fn. 211) and 1410. (fn. 212) Thomas Walton, while lessee of the Crudwell rectory estate, presented in 1552, and in 1600 Robert Beale presented a vicar under the lease to Walton. (fn. 213) In the later 16th century the lord of Hankerton manor, who owned the corn tithes, (fn. 214) claimed the advowson, and in 1590 the right to present at two of every three turns, (fn. 215) but did not present. An incumbent was appointed in 1647, (fn. 216) in 1662 the rector of Crudwell was called vicar of Hankerton, (fn. 217) and c. 1663 the new rector of Crudwell apparently appointed a vicar. (fn. 218) In 1699 the rector of Crudwell presented himself as vicar, (fn. 219) in 1717 the same rector presented his son, (fn. 220) in 1723 the rector of Crudwell was presented as vicar by his mother, (fn. 221) and in 1763, after that vicar's death, the bishop collated by lapse to Hankerton the man who became rector of Crudwell the same year. (fn. 222) The next rector presented himself as vicar of Hankerton in 1785, (fn. 223) as did his own successor in 1839. (fn. 224) That rector presented a vicar of Hankerton in 1855 and 1864. (fn. 225) In 1898, with the bishop's consent, Georgina, the wife of H. K. Adkin, later Knight-Adkin, rector of Crudwell, bought the advowson, and in 1903 presented Adkin to be vicar; in 1910 she again presented. In 1920 she transferred the advowson to the bishop of Bristol, who shared with the Crown the patronage of the united benefice of 1954–87, and with others the patronage after 1987. In 1961 the archbishop of Canterbury presented by lapse. (fn. 226)
The vicarage, worth £8 10s. in 1535, (fn. 227) £45 in 1650, (fn. 228) and £269 c. 1830, was of average wealth for the deanery. (fn. 229) In the later 12th century and earlier 13th the rector of Crudwell may have been entitled to all the tithes of Hankerton. When the corn tithes were appropriated by Malmesbury abbey in 1222 the remaining tithes may already have been an endowment of the vicarage, (fn. 230) as they were later. (fn. 231) By 1582 the tithe from meadow land in the open fields, apart from demesne meadow, had been replaced by a meadow of 1½ a. (fn. 232) The vicar's tithes were valued at £280 in 1840 and commuted. (fn. 233) The rector of Crudwell had 1 yardland of glebe in Hankerton. (fn. 234) From 1410 or earlier the vicar had a house, (fn. 235) and in the 17th century a house and 5 a. (fn. 236) The rector's yardland was transferred to the vicar, presumably in the 18th century, and there were 17 a. of glebe in 1840. (fn. 237) The vicarage house, later called Hankerton Priory, and 6 a. were sold in 1903. (fn. 238) The house has small north and east ranges, each with moulded beams and apparently of the earlier 16th century: c. 1830 a taller block was built in the angle of the two ranges, and in 1903 the house was extended westwards and northwards to designs by H. S. de Bertodano. (fn. 239) A new vicarage house was built in 1905–6, also to designs by de Bertodano: (fn. 240) that house was sold in 1954. (fn. 241)
In the Middle Ages c. 4 a. for an obit and 1 a. for a light in the church were given. (fn. 242) In 1662 there was no surplice, Book of Homilies, or copy of Jewell's Apology in the church. The minister, who used the Elizabethan prayer book before the Restoration, was not licensed to preach: he was probably John Hopkins, vicar from c. 1663. (fn. 243) In the 18th century, when the rector of Crudwell was usually vicar of Hankerton, curates were often employed, and from 1782 to 1785, when he was instituted as vicar, the rector, James Wiggett, was himself curate. (fn. 244) In 1783 he held a Sunday service every week, celebrated communion four times a year, and catechized. (fn. 245) From 1785 to 1855 and from 1903 to 1909 the rector of Crudwell was again vicar. (fn. 246) In 1910 communion was celebrated 64 times and matins were said daily; in 1938 communion was celebrated 31 times, 23 times in 1950. (fn. 247) The church was served by priests-in-charge from 1945 to 1954. (fn. 248)
In 1706 Lady Frances Winchcombe gave a rent charge from land in Hankerton to provide Bibles and prayer books for poor children of Hankerton and other parishes. Hankerton's share, £1 a year, was given to the Sunday school in the 19th century (fn. 249) and spent on books in the early 20th. (fn. 250) From 1979 the charity was administered with the parish's eleemosynary charities. (fn. 251)
The church of HOLY CROSS, so called in 1763, (fn. 252) consists of a chancel, a nave with north aisle and south porch, and a west tower. The tower is of ashlar, the remainder of stone rubble with ashlar dressings. On its outside wall the nave has an early 12th-century animal-head stop on each side of the south doorway, and the whole nave is probably of that date. The aisle and porch were built in the early 13th century, and the chancel arch is early 14th-century. Apart from the triple lancet at the east end of the aisle, all the windows were renewed in the 15th century or early 16th, and the tower bears a date stone for 1531. The chancel was severely dilapidated in 1553 (fn. 253) and, since in 1585 it was said to have been down 30 or more years, (fn. 254) was presumably demolished about then. In the early 19th century the east end of the nave was screened. (fn. 255) A new chancel was built in 1904. (fn. 256) The shouldered south doorway, matching a blocked north doorway, has been given a two-centred head, and building in the angle formed by the tower and aisle removed. Inside the church a wall tablet by Joseph Nollekens was put up in 1775 to commemorate the Earle family, and in the churchyard is the base of a stone cross.
The church had no plate in 1553. A cup with a paten cover, dated 1577, was given later (fn. 257) and belonged to the parish in 1988. (fn. 258) Of the four bells in the church in 1553 three survive. The present tenor is probably of the period 1300–50, the treble was cast by Thomas Jefferies c. 1530–40 and (iii) by Henry Jefferies c. 1540–50, and (ii) was cast in 1613 by a Purdue, probably at Bristol by Roger Purdue. (fn. 259) The registers begin in 1699 and, apart from 1719–21, are complete. (fn. 260)
Nonconformity.
There was dissent in Hankerton in the 1660s and 1670s: (fn. 261) in 1676 a papist and eight protestant nonconformists lived in the parish. (fn. 262) Independent meeting houses were certified in 1775 and 1800, a Calvinistic Methodist meeting house in 1809, and other meeting houses for dissenters in 1831 and 1833. (fn. 263) The Rehoboth chapel for Strict Baptists was built in 1837. (fn. 264) The pastor in the mid 19th century, William Beard, achieved prominence in the sect as the founder of a Strict Baptist chapel in Birmingham in 1854. (fn. 265) On Census Sunday in 1851 his two services at Hankerton were attended by 100 and 120. (fn. 266) Services were held only occasionally c. 1968 (fn. 267) and the chapel was closed in 1971. (fn. 268)
Education.
There was apparently no school in the parish until 1827 when the wife and daughter-in-law of Thomas, earl of Suffolk and of Berkshire, began to pay for 25 children to be taught. The school, attended by 35 in 1833, was presumably in Hankerton tithing. Another school, presumably in Cloatley tithing, may also have been started c. 1827. In 1833 it was attended by 15, of whom 6 were paid for by a daughter of Joseph Pitt, the owner of Manor farm. (fn. 269) A National school was built c. 1850–2 and was well run in 1858 when 40–50 were taught. (fn. 270) Average attendance was 42 in 1876, (fn. 271) 28 in 1902, (fn. 272) 35 in 1906–7, and 18 in 1921–2. The school was closed in 1922 and reopened in 1930. The numbers attending it were again small, (fn. 273) however, and in 1966 it was again closed. (fn. 274)
Charities for the Poor.
By will proved 1748 Mary Panting gave £10 to the second poor of Hankerton parish. That sum was added to £42, the donor of which is unknown, and invested as the Poor's Money. In the late 18th century the income was £1 15s. 6d. and sums of c. 2s. were given away every few years. In the 20th distribution was quinquennial: in 1903 c. 2s. 6d. was given to each of 19 married couples, 6 widows, 3 widowers, and 1 spinster. (fn. 275) In 1924 money was given to 33 families. (fn. 276)
In 1848 Hannah Ludlow gave 5 a. in Hankerton to provide payments each year to six male, married, agricultural labourers over 50 among the second poor of the parish. In 1905 c. £11 was given away. (fn. 277) In 1931 the payments were of £1 16s. 9d. After the Second World War the beneficiaries were reduced to five and the sixth share of the money was paid to a repair fund. (fn. 278) Five parishioners shared £13 in 1960, £60 in 1971. (fn. 279)
By Scheme of 1979 the Poor's Money, Hannah Ludlow's, and Lady Frances Winchcombe's charities were administered jointly to relieve need generally in Hankerton parish. Hannah Ludlow's 5 a. were then being leased for £200 a year and the three charities had £496 stock. (fn. 280) In the late 1980s the income of c. £200 a year was used to help old people. (fn. 281)