Pages 143-153
A History of the County of Wiltshire: Volume 15, Amesbury Hundred, Branch and Dole Hundred. Originally published by Victoria County History, London, 1995.
This free content was digitised by double rekeying. All rights reserved.
NEWTON TONY
Newton Tony (fn. 1) lies in the Bourne valley 13 km. north-east of Salisbury. (fn. 2) The parish, 965 ha. (2,386 a.), is on Wiltshire's border with Hampshire, and the river Bourne winds from north-east to south-west across the middle of it. The suffix Tony is the surname of the lords of the capital manor in the 13th century and early 14th, and was in use in 1332. (fn. 3)
The parish boundary consists mostly of straight lines across downland. A barrow lies on the northern boundary, and roads mark the west part of the northern and the north part of the eastern. Between c. 1817 and c. 1826 a belt of trees was planted along the entire boundary, a distance of c. 7 miles. (fn. 4)
The parish is entirely on Upper Chalk. The Bourne, which is dry for much of the year, meanders across it in a wide valley and has deposited gravel but no alluvium; east and west of it tributaries have deposited gravel in valleys now dry. (fn. 5) The highest land is in the south-east corner at over 170 m. on Tower Hill, which took its name from a folly built on it and was so called in 1817. (fn. 6) West of the river the land reaches 109 m. on the western parish boundary, 110 m. on the northern. The lowest point is at c. 80 m. and, except in the south-east corner, the relief is gentle. The village stands on the gravel, which has also been used for meadow land. There were open fields, evidently on both sides of the river, and rough pastures in the north-west and southeast corners of the parish. (fn. 7) Much land was imparked for Wilbury House in the 18th century and between 1773 and 1817, (fn. 8) and much was planted with trees, in the 19th century. (fn. 9) A racecourse laid out in the south-east corner before 1839 had become disused by 1874. (fn. 10) Also in the south-east corner land was used for military training in the 20th century. (fn. 11)
Portway, the Roman road from Silchester to Old Salisbury, runs through the south-east part of the parish, where it is flanked by V-shaped ditches: (fn. 12) it seems to have remained in use as a local route until the 20th century, (fn. 13) and was a track in 1992. A main road from Oxford to Salisbury via Hungerford (Berks.), important in the 17th century, touched the north-west corner of the parish until, between 1675 and 1773, a new course further west was adopted for it. (fn. 14) A road linking Newton Tony to Cholderton, Allington, and other villages of the Bourne valley was blocked by imparking at Newton Tony in the 18th century and diverted to the western edge of the park. An alternative route was by a road on the east edge of the park and Portway. (fn. 15) In 1835 the Bourne valley road was turnpiked as part of a Swindon—Salisbury road via Marlborough, and a new section across the west part of Newton Tony parish was made; disturnpiked in 1876, (fn. 16) it was still a main road in 1992. In 1871 the Cholderton road on the north-west edge of the park was closed and the north-west and south-east section of the road was extended to join the turnpike road. (fn. 17) A road to Amesbury, from which the road on the western edge of the park diverged, remained on its old course in Newton Tony in 1992 but was closed in Amesbury parish in the mid 20th century. (fn. 18) The eastern route round the park was in places a rough track in 1992, as was the road along the west part of the northern parish boundary which from the early 18th century to the early 19th was important as a link between Cholderton and the old Hungerford road. (fn. 19)
The London—Salisbury railway line, opened by the L. & S.W.R. in 1857, was constructed across the parish along the south-east side of Portway. In 1902 the Amesbury and Military Camp Light Railway was opened between Grateley (Hants) and Amesbury, diverging from the main L. & S.W.R. line in Newton Tony. A station on the Amesbury line was built at the west edge of Newton Tony village. At the junction a short curve to enable trains to run between Amesbury and Salisbury was added in 1904. The branch line was closed to passengers and Newton Tony station completely in 1952; the curve was taken out of use in 1954; the line was closed entirely in 1963 and its track removed in 1965. (fn. 20). The main line remained open in 1992.
Eighteen bowl barrows, most in the south part of the parish, have been recorded, (fn. 21) and east of the village a pit used in the Iron Age has been found. (fn. 22) On high ground north-west of the village a prehistoric field system of 100 a. extends into Cholderton, and on similar ground east of the village another, of 180 a., is near the Hampshire boundary. There is a prehistoric ditch on Tower Hill. (fn. 23)
Although Newton Tony's assessment for taxation in 1332, when it may have had a resident lord, seems high, (fn. 24) it was described as a hamlet in 1401 and had fewer than 10. households in 1428. (fn. 25) Taxation assessments of the 16th century and early 17th suggest that the village was then of average size. (fn. 26) The population was 286 in 1801, 268 in 1831. It had risen to 351 by 1861, fallen to 292 by 1891, and was 407 in 1901 and 306 in 1911: inhabitants in 1901 may have included workmen constructing the branch railway. Between 1951 and 1971 the population increased from 304 to 395 as new houses were built in the village. In 1991 it was 373. (fn. 27)
Until the 20th century much the greater part of Newton Tony village was beside a single street, (fn. 28) in 1992 called High Street, the north part of which was the course of the Bourne valley road blocked in the earlier 18th century. By 1773 the village had also extended north-west along the south side of the road, in 1992 called Beechfield, leading both to Amesbury and, round the west edge of the park, to Cholderton. The river flowed down the middle of the street. (fn. 29) Between 1773 and 1839 two bridges were built at the north end, where a small green was formed, and the river was diverted west of the street at that end. (fn. 30) Further south two footbridges were built between c. 1875 and 1899. Between 1899 and 1923 an iron girder road bridge was built at the junction with the Allington road; (fn. 31) thereafter traffic through the village has used a road on the east bank of the river, but the road on the west bank has also been tarmacadamed to serve buildings there.
The church stands towards the south end of the street and when first built may have been at the southernmost end. The rectory house was presumably near it and was replaced in the later 18th century (fn. 32) by one set back from the street almost behind the church. South of the church, possibly on a new site at what was then the southern end of the village, (fn. 33) Manor Farm was built in the early 19th century, the farmhouse, like the rectory house, set back from the street on the east side, and extensive farm buildings on the west side. The house is of red brick, and a contemporary three-arched brick bridge over the Bourne links it to the farm buildings. Also at the south end of the village on the east side of the street a nonconformist chapel, a school, (fn. 34) and a reading room were built in the 19th century, a village hall in 1920. The reading room was converted for residence c. 1915. (fn. 35)
Three substantial houses were built in the north part of the street. What was Newton Tony manor house until the earlier 18th century stood on the west side. (fn. 36) On the east side the main north—south range of West Farm, which has thick stone walls and possibly had a cross passage, was built in the 16th century or earlier. An east—west cross wing, with a three-bayed roof incorporating arch-braced collars, was built at the south end of that range in the 16th century. The main range was greatly altered in the later 17th century, and in 1985 the house was restored throughout and extended to the east. (fn. 37) On the west side of the street a house of 17th-century origin retains timber framing and a central chimney stack. It was altered and extended in the early or mid 18th century, possibly for Thomas Hayter: (fn. 38) it was an inn, the Malet Arms, from the late 19th century. (fn. 39)
Several small houses of the 17th or 18th century survive in the street. On the west side at the south end a range of houses has walls of moulded cob, some timber framing, and a thatched roof; two cottages with cob walls stand on the south side of the Amesbury and Cholderton road. Other houses on the west side of the street, including one dated 1726 and one 1741, are of flint. South of West Farm on the east side a house of cob, flint, and brick, of two storeys and attics, has labels above the ground-floor windows of the west front and is dated 1690: it was altered and extended in the 20th century. Between the church and Manor Farm a range of cottages, of flint with red-brick dressings, was built in 1857, (fn. 40) but not many other houses were built in the village in the 19th century. In the late 19th century a few cottages in the middle part of the street on the east side were demolished, (fn. 41) and an open space there was a recreation ground in 1992.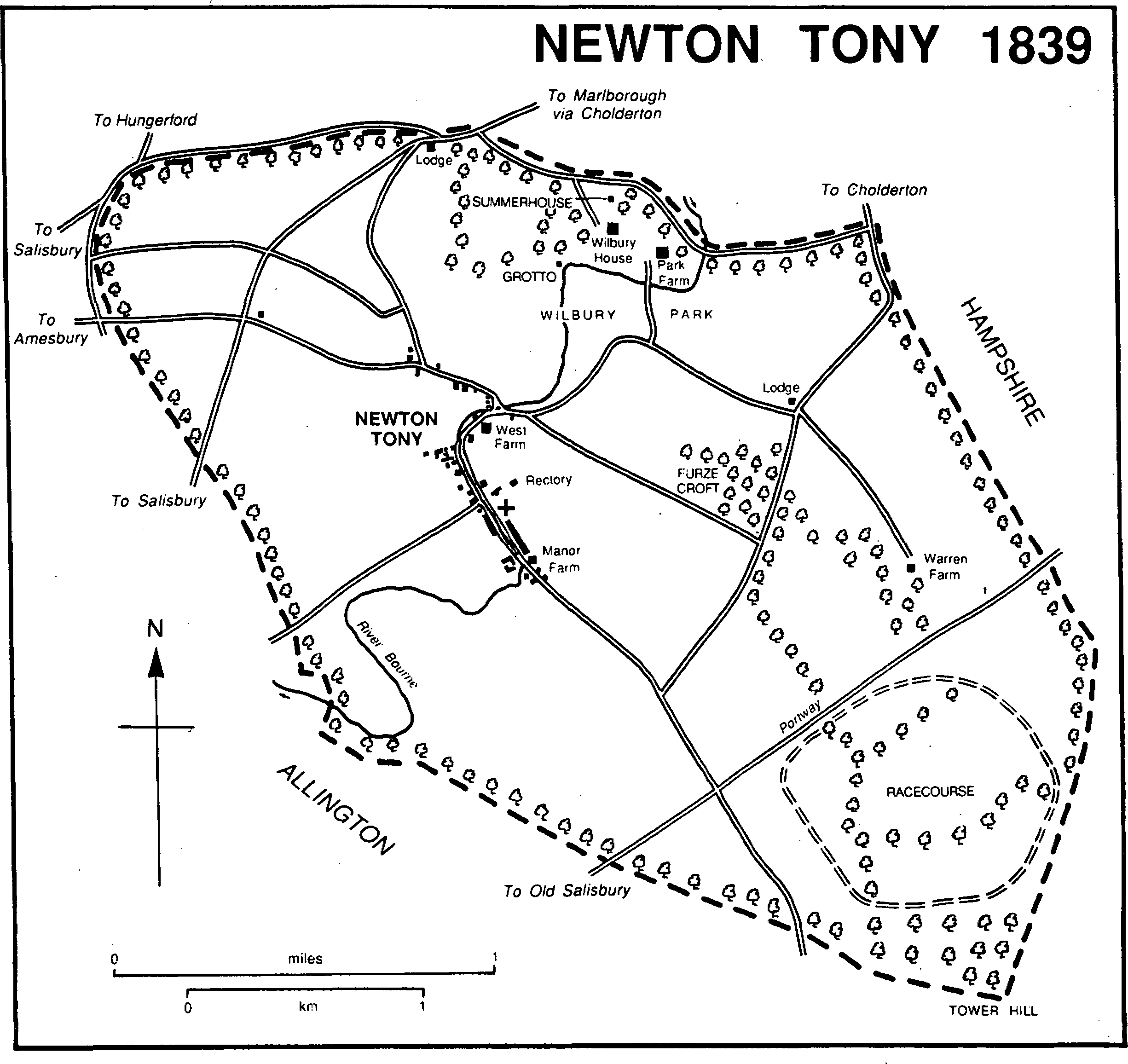 Newton Tony village grew in the 20th century. On the Allington road near High Street a stationmaster's house and a pair of cottages, each of red brick, were built c. 1900. (fn. 42) and St. Just Close, an estate of c. 15 private bungalows, was built between them and High Street c. 1966. (fn. 43) The Croft, a council estate of 8 houses and 10 old people's bungalows, was built west of High Street on the site of the old manor house from c. 1948: (fn. 44) it is approached by a new bridge over the Bourne. There has also been some infilling in High Street, but most 20th-century building has been in Beechfield. On the north side 18 council houses were built between c. 1924 and 1957 and a block of 4 council flats in 1965; on the north side of the Amesbury road 4 old people's bungalows were built in 1958. (fn. 45) On the south side of Beechfield c. 10 private bungalows were built in the 1960s. (fn. 46) On part of the park near the north side a terrace of four red-brick estate cottages was built in 1947. (fn. 47) A cemetery was opened beside the Cholderton road in 1927. (fn. 48)
Outside the village the mansion called Wilbury House was built in the early 18th century. (fn. 49) Four lodges were built on the perimeter of its park, those on the north-west (Salisbury Lodge) and the east between 1817 and 1839, (fn. 50) those on the north-east (Grateley Lodge) and the south (Newton Tony Lodge) between 1900 and 1923. (fn. 51) Newton Tony Lodge, at the entrance to the park from the village, is in classical style. A farmhouse, Park (later Home) Farm, was built, evidently in the earlier 19th century, (fn. 52) a little east of Wilbury House on the site of buildings standing in the later 18th century, (fn. 53) and Warren Farm, near the east edge of the park, was built between 1817 and 1839. (fn. 54) New (later Red) Cottage, a house of red brick and flint, was built in the mid 19th century where, from 1871, a new section of the Cholderton road diverged from an older section; (fn. 55) a similar house, an animal sanctuary in 1992, was built in the early 20th century at the junction of the Amesbury road and the Marlborough-Salisbury road. (fn. 56) A pair of cottages built beside the main railway line and Portway c. 1857 was demolished in the later 20th century. (fn. 57)
An inn called the Swan was open in Newton Tony in 1773 (fn. 58) and was perhaps the meeting place of a friendly society registered in 1817. (fn. 59) There was apparently no inn c. 1822. (fn. 60) In the mid 19th century the Three Horse Shoes was an alehouse in the village, and the Malet Arms was an inn on the south side of what is now Beechfield. (fn. 61) The Malet Arms was perhaps the meeting place of a friendly society formed in 1857. (fn. 62) Between c. 1875 and 1896 the Malet Arms was closed and its name transferred to the Three Horse Shoes, and between 1896 and 1899 that Malet Arms was closed and the name transferred to the inn opened in the house which may have been built for Thomas Hayter. (fn. 63) The Malet Arms remained open in 1992.
Manors and other estates.
In 1086 Alfred of Marlborough held what became NEWTON TONY manor. (fn. 64) A dispute over the manor in the early 13th century suggests that the estate was acquired soon after 1086 by Edward of Salisbury. It may have passed from Edward to his daughter Maud, wife of Humphrey de Bohun, and to Maud's son Humphrey de Bohun, whose son Humphrey held it in 1179; the right to it of that Humphrey's son Henry (cr. earl of Hereford 1200, d. 1220) was challenged in 1212 by Edward's great-great-granddaughter Ela Longespee, countess of Salisbury (d. 1261). (fn. 65) Henry's son Humphrey, earl of Hereford and of Essex (d. 1275), had defeated Ela's claim by 1229. (fn. 66) The manor had been subinfeudated by 1257. (fn. 67) The overlordship passed with the Hereford and Essex titles to Humphrey's grandson Humphrey de Bohun (d. 1298), to that Humphrey's son Humphrey (d. 1322), (fn. 68) and to that Humphrey's sons John (d. s.p. 1336) and Humphrey (d. 1361). (fn. 69) The last Humphrey's heir was his nephew Humphrey de Bohun, earl of Hereford, of Essex, and of Northampton (d. 1373), (fn. 70) to whose daughter Mary, wife of Henry of Lancaster, earl of Derby (from 1399 Henry IV), the overlordship was allotted in 1384. (fn. 71) Thereafter it was part of the duchy of Lancaster. (fn. 72)
In 1257 Roger de Tony (d. 1263 or 1264) held the manor. It descended in the direct line to Ralph de Tony (d. 1295) and Robert de Tony, Lord Tony (d. s.p. 1309). Robert was succeeded by his sister Alice (d. c. 1325), relict of Thomas Leyburn and later wife of Guy de Beauchamp, earl of Warwick (d. 1315), and of William la Zouche, Lord Zouche. (fn. 73) On Zouche's death in 1337 the manor passed to Alice's son Thomas Beauchamp, earl of Warwick (fn. 74) (d. 1369). Thomas granted it for life to his brother John, Lord Beauchamp (d. 1360), (fn. 75) and settled it on his younger son Sir William, who gave it by exchange to Sir Thomas West (d. 1386). Sir Thomas granted it for life to John or Roger New. (fn. 76)
By c. 1401 Newton Tony manor had reverted to Sir Thomas West's son Sir Thomas (Lord West from 1402, d. 1405), who was succeeded in turn by his sons Thomas, Lord West (d. 1416), and Reynold, (fn. 77) Lord la Warre (d. 1450). From Reynold it passed in the direct line to Richard, (fn. 78) Lord la Warre (d. 1476), and Thomas, (fn. 79) Lord la Warre, who sold it in 1489 to a London goldsmith, (Sir) Bartholomew Reed (fn. 80) (d. 1505). Sir Bartholomew's relict Elizabeth held the manor until her death in 1532, and from then the profits were apparently taken for 10 years by the Goldsmiths' company. The profits reverted to Reed's grandnephew John Reed (fn. 81) (d. by 1545). (fn. 82) From John the manor passed to his relict Elizabeth (d. by 1568), who married Henry Reynolds. (fn. 83) John's son John sold it in 1581 to Thomas Crane (fn. 84) (d. 1596). Crane's coheirs were his daughters Elizabeth, wife of David Waterhouse, Sarah, wife of William Brockett, Frances, wife of (Sir) James Bouchier, and Eluzai, wife of John Jones. (fn. 85) In 1599 Eliza beth and Sarah conveyed their shares of the manor to John's father William (d. 1610). Those shares descended to John (fn. 86) (d. 1611), who devised them to Eluzai, (fn. 87) later the wife of Henry Cromwell. From Eluzai (d. 1620) three quarters of the manor descended to her son Francis Jones: (fn. 88) Francis had apparently acquired Frances Bouchier's quarter by 1656, when he sold the manor to Nathaniel Fiennes (fn. 89) (d. 1669). Nathaniel devised it to his wife Frances (d. 1691) for life, and afterwards in trust for sale. (fn. 90) It was bought, possibly soon after 1691, by Sir William Benson, whose title Nathaniel's grandson Nathaniel Fiennes, Viscount Saye and Sele, confirmed in 1709. (fn. 91)
Sir William Benson settled the manor in 1710 on his son William (d. 1754), M.P. for Shaftesbury, an amateur architect and a patron of literature, (fn. 92) who built Wilbury House on it. (fn. 93) William sold it after 1729 to his nephew Henry Hoare (d. 1785), who sold it c. 1739 to Fulk Greville, M.P. for Monmouth. (fn. 94) Greville sold it c. 1783 to Thomas Bradshaw (will proved 1800), whose brother John sold it c. 1803 to Sir Charles Malet, Bt. (fn. 95) The manor, which comprised nearly all the parish in 1839, descended in the direct line from Sir Charles (d. 1815), to Sir Alexander (d. 1886), and to Sir Henry (d. 1904). (fn. 96) It passed to Sir Henry's brother Sir Edward (d. s.p. 1908), to Sir Edward's cousin Sir Edward Malet, Bt. (d. 1909), to that Sir Edward's son Sir Charles (d. 1918), and to Sir Charles's uncle Sir Harry Malet, Bt. (fn. 97) In 1918 the War Department occupied 198 a. south-east of the main railway line, and in 1925 bought that land from Sir Harry; the Ministry of Defence owned the land in 1992. (fn. 98) In 1925 Sir Harry also sold Manor farm, West farm, and Village farm, a total of c. 1,000 a. He sold Wilbury House, Home farm, and Warren farm, a total of c. 764 a., c. 1925 to J. A. St. G. F. Despencer-Robertson, (fn. 99) who sold that land in 1939 to Edward Grenfell, Lord St. Just (d. 1941). Grenfell was succeeded by his son Peter, Lord St. Just (d. 1984), whose relict Maria was the owner in 1992. (fn. 100)
Newton Tony manor house on the west side of High Street (fn. 101) was in the later 17th century the home of the Fiennes family. The traveller and author Celia Fiennes spent much of her girlhood at Newton Tony and was buried there in 1741. (fn. 102) The house presumably became a farmhouse when Wilbury House was built in the early 18th century (fn. 103) and was largely demolished in the early 19th, presumably when Manor Farm was built. (fn. 104) Its kitchen was later the Three Horse Shoes and may have been the malthouse adjoining the west side of the street in 1839; (fn. 105) a cob wall north of that site was associated with the house.
Wilbury House, (fn. 106) so called c. 1739, (fn. 107) was designed c. 1710 as a small classical villa by William Benson, who was inspired by the architecture of Inigo Jones. Although parts of a timber-framed building may have been re-used in it, it is likely that no building preceded it on its site. Aspects of the design echo that of Amesbury Abbey, of which Benson took a 21-year lease in 1708. (fn. 108) Wilbury House, however, was smaller, lacked Amesbury Abbey's tall ground floor, and had its two staircases in different positions from the staircases in Amesbury Abbey. The house, of rendered brick with stone dressings on a rusticated stone basement, comprised a single-storeyed east-west range with attics surmounted by a central cupola, and had long flanking walls extending east and west from the south front. From under a pedimented portico on that front the main entrance to the house was into a principal central room. In the later 18th century, apparently after 1773, (fn. 109) and presumably for Thomas Bradshaw, the north elevation was converted to an entrance front, the attics were heightened to form a second storey, and the cupola was removed. The flanking walls were replaced by short single-storeyed wings with canted south bays. The eastern was used as a Roman Catholic chapel from 1797 to c. 1800. (fn. 110) Alterations made for Sir Charles Malet by 1813 included the extension of the south portico and pediment to the length of the principal room. Later the pediment was removed and three second-storey windows were inserted above the portico. (fn. 111) Fittings and decorations of the earlier 18th century survive inside the house, particularly in the central south room. The original east staircase was replaced in the later 18th century.
A park of c. 175 a. was laid out round the house from c. 1710. It had avenues, vistas, and woodland mainly north and north-west of the house. There were in the park in 1773 an octagonal summerhouse above a grotto north of the house, a grotto beside the Bourne south-west, a temple on a hill south-east, and a formal garden northeast of the house. Outside the park on Tower Hill the ornamental tower called Benson's Folly in 1773 was the focal point of a southern vista; (fn. 112) it may have borne an inscription which, if it did, would have suggested that it incorporated all or part of an ornamental tower built in the park of Edward Seymour, earl of Hertford, at Amesbury in 1600. (fn. 113) The temple and the tower had been demolished by 1817. (fn. 114) Between 1773 and 1817 the park was enlarged to c. 490 a., (fn. 115) and on its perimeter, c. 3¾ miles, a fence of oak palings was erected. (fn. 116) Trees planted in the south and east parts of the park were obscuring the vistas in 1817, and soon afterwards much of the park was again used for agriculture. (fn. 117) New formal gardens were made south of the house in the period 1941–59. (fn. 118)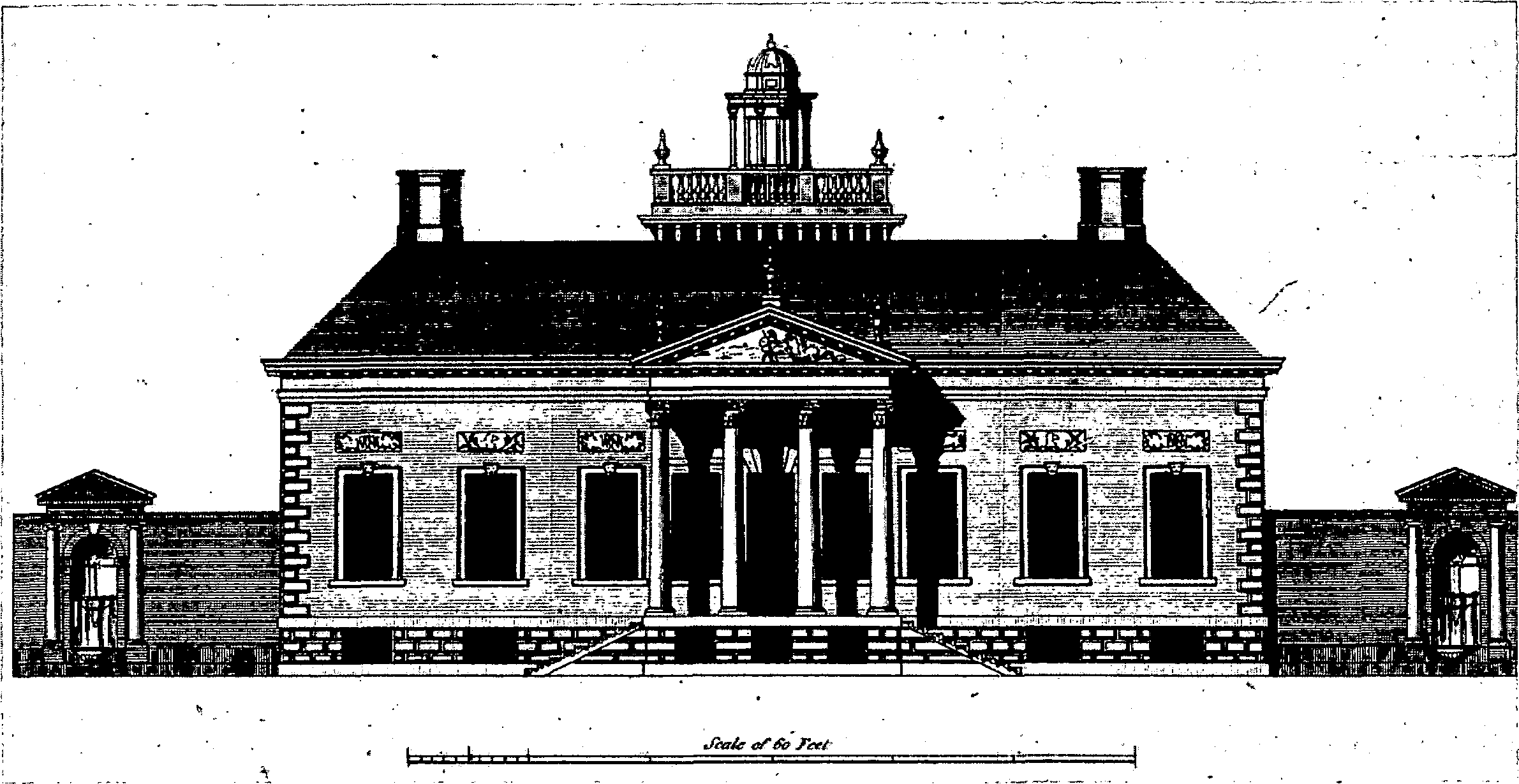 Of Alfred of Marlborough's estate 3 hides held of him in 1086 by Girard (fn. 119) may have included the land which later became the manor called NORRIS'S. From 1242–3 to 1489 the overlords of an estate likely to have been Girard's were those of Newton Tony manor. (fn. 120)
The estate likely to have been Girard's was held in demesne by John de Neville in 1179 (fn. 121) and by another John de Neville in 1242–3. (fn. 122) Agnes Peverel (d. 1257) held 1 yardland of it and held as tenant of Christine of Harsfield 2 further yardlands which may have been part of it. Agnes's lands descended from her son Thomas Peverel (fn. 123) to Henry Peverel (d. 1302) and to Henry's son William. (fn. 124) They were afterwards held by Robert Noble (d. 1361), who held the 2 yardlands of Robert of Wolverton. His heirs were his daughters Joan and Alice; (fn. 125) in 1386 Alice and her husband Roger Champion conveyed the estate to Walter Chippenham and his wife Alice. (fn. 126) John Chippenham held it in 1412. (fn. 127)
The estate was held of Thomas Norris by John Hall (d. c. 1479), (fn. 128) possibly by a temporary tenure; shortly before his death in 1489 Norris sold it to John Mompesson. (fn. 129) On John's death in 1500 Norris's passed to his son William, and on William's c. 1504 it passed to John's grandson John Mompesson (d. 1511). It descended to the younger John's son Edmund (d. 1553), whose heirs, his nephew Gilbert Wells and his sisters Anne wife of William Wayte, Elizabeth wife of Richard Perkins, and Susan Mompesson, sold the manor in 1554 to Richard Mompesson. (fn. 130) From Richard the manor passed to his grandson Thomas Mompesson, (fn. 131) who in 1586 sold it to William Gore (fn. 132) (d. 1587). It descended to Gore's son William (fn. 133) (d. 1598) and grandson William Gore, a minor, (fn. 134) whose trustees sold it in 1605 to (Sir) Laurence Hyde (d. 1642). (fn. 135) In 1609 Hyde sold it to William Jones (d. 1610) and his grandson Gabriel Jones. (fn. 136) Gabriel's son William, in possession c. 1650, (fn. 137) sold the manor in portions.
Parts were sold in 1658 and 1662 to Jonathan Hill (fn. 138) (d. 1670). Hill devised them to his son Augustine, whose brother Alexander was party to a sale of the estate to William Salt in 1679. (fn. 139) Also in 1679 Salt sold the reversion after the death of him and his wife Catherine to William Braxton (fn. 140) (will proved 1688), who devised the estate to his son James. (fn. 141) James's devisee, his mother Elizabeth Braxton, sold it in 1709 to John Judd, (fn. 142) whose daughter Catherine sold it in 1740 to Thomas Hayter (fn. 143) (d. 1779). Hayter added other land in Newton Tony to the estate, which passed to his son William (d. 1795) and grandson F. T. Hayter. (fn. 144) In 1792 F. T. Hayter changed his surname to Egerton, and in 1807 sold his 578 a. in the parish to Sir Charles Malet, Bt.: the land afterwards passed with Newton Tony manor. (fn. 145)
Part of Norris's, 1 yardland, was sold in 1660 by William Jones to Robert Bevis (fn. 146) (d. 1720). Robert's son Thomas (fn. 147) sold it in 1744 to Henry Quaite (fn. 148) (will proved 1751), a London pastry cook, who devised it to his brother William and William's wife Anne for life and afterwards to William's sons William and Henry as tenants in common. (fn. 149) William and Henry each sold the reversion of his moiety, in 1769 and 1770 respectively, (fn. 150) to Thomas Hayter, and on the death of the elder William in 1773 (fn. 151) the estate was merged with Hayter's other estate in the parish.
Thomas Hayter (d. 1779) acquired two other small estates in the parish. Land sold in 1567 by John Day to Philip Poore (fn. 152) descended to Philip Poore (d. 1719). (fn. 153) In 1725 Philip's daughters Mary Poore and Anne Poore sold 1 yardland to William Swanton, (fn. 154) whose mortgagee Thomas Hayter foreclosed him in 1736. (fn. 155) John Smart owned 2 yardlands in 1598 and 1608. (fn. 156) William Smart sold them, possibly in the early 18th century, to Henry Gilbert, who sold them to Hayter in 1740. (fn. 157)
Amesbury abbey may have owned tithes in the parish. The yearly render from the parish of 12 a. of corn and 12 lambs confirmed to Amesbury priory in 1179 (fn. 158) may represent an estate of tithes, and tithes from the parish passed from the priory to the Crown at the Dissolution. (fn. 159) In 1563 they were granted to William Revert and Thomas Bright, (fn. 160) and soon afterwards may have been acquired by the lord of Newton Tony manor. From 1605 or earlier those tithes were represented by the exemption of the manorial demesne from tithes of 20 ridges of wheat, 20 ridges of barley, all oats, and 102 lambs. (fn. 161) Later the demesne was reckoned as 665 a., and 20 ridges were deemed 21 a. (fn. 162)
Economic history.
In 1086 Newton Tony had land for 7 ploughteams and was fully cultivated. There were 2 teams and 6 servi on the demesne, and 10 villani and 9 bordars had 5 teams. There were 3 a. of meadow and 9 square furlongs of pasture. (fn. 163)
Sheep-and-corn husbandry prevailed in the parish. In 1315 the demesne of Newton Tony manor included 220 a. of arable, probably all in the open fields; that 100 a. could be sown each year, and 120 a. were evidently fallow, suggests a two-field system. The demesne had 8 a. of meadow and a several pasture worth 4s. a year. There were on the manor 14 yardlanders and 6½-yardlanders. Their labour service was light: each had to do haymaking and harvest work on the demesne only between 1 August and 29 September on Saturdays which were not feast days. (fn. 164) In 1360 there was clearly a two-field system. The demesne of Newton Tony manor then included 160 a. of arable, 8 a. of meadow, and two several pastures, one for 16 oxen and one for 400 sheep. The meadows were common after haymaking. There were still 6½-yardlanders, but then only 9 yardlanders: (fn. 165) the decrease in the number of yardlanders from 1315 is likely to have been caused by land going out of cultivation and by consolidation of holdings. What became Norris's manor included 59 a. of arable and 6 a. of meadow in 1361. (fn. 166) In 1591 the demesne flock comprised 1,086 sheep and 286 lambs. The shepherd was allowed to pasture with it 30 sheep of his own, including no more than 10 ewes. (fn. 167)
In the 17th century the demesne arable of Newton Tony manor may not have been in the open fields. It may have been mainly east of the village, and its several down for sheep was presumably in the south-east corner of the parish. The open fields, of which there were c. 10, contained much land west of the village, and the downland in the north-west corner of the parish was presumably common for sheep. There were two common pastures for cattle, evidently one north of the village and one south. The commonable land seems to have been shared mainly by the customary tenants of Newton Tony manor, the rector, and the freeholders of a few small estates. Downland of Norris's manor was fenced with thick crab-tree hedges in the mid 17th century and was presumably several. (fn. 168)
The open fields and common pastures were inclosed c. 1710 by private agreement. Demesne downland was burnbaked c. 1712, other downland was ploughed then or later, and the lack of sheep in the parish c. 1712 impoverished the arable. (fn. 169) The amount of agricultural land was reduced by imparking from c. 1710; (fn. 170) the farms may have been reduced in number, (fn. 171) but until the early 19th century all were evidently worked from farmsteads in the village.
Two new farmsteads were built in the early 19th century, Manor in the village street and Warren east of the village. (fn. 172) Park Farm was evidently built about then; (fn. 173) from 1821 or earlier the park was again used for agriculture (fn. 174) and most of it was ploughed. In 1839 there were 1,798 a. of arable in the parish, only 354 a. of grassland. Manor farm was then 696 a., Park 398 a., and Warren 467 a.; West farm, with buildings in the street, was 317 a. In all the farms the average size of the arable fields was c. 20 a., and the land was farmed partly on a four-year and partly on a five-year rotation. Meadow land lay beside the Bourne, and the only extensive areas of pasture were in the park and on the west slopes of Tower Hill. Wheat and barley were the chief cereal crops, and temporary grasses were sown on 500 a., of which c. 220 a. were for hay. There were again large flocks: c. 1,700 sheep, most of them ewes, were kept. (fn. 175) Barley was the main cereal grown in the later 19th century, when the arable acreage declined and more land was sown with temporary grasses mostly for hay. Between c. 1886 and c. 1916 more land became permanent pasture and dairy farming increased, although flocks totalling more than 1,000 sheep were still kept. (fn. 176) There were still four large farms in 1924: Home was 408 a., including 283 a. of arable, Warren 345 a. including 184 a. of arable, Manor 603 a., and West 288 a. A dairy herd was kept on each. On Manor cattle were reared for beef, and on West sheep were kept. Village farm was 107 a., and there was also a farm of 63 a. (fn. 177) The parish was about half arable in the 1930s. (fn. 178) More land was ploughed after 1939. (fn. 179) In the 1960s Manor farm was 670 a. including 36 a. in Allington: it had c. 526 a. of arable, and a flock of breeding ewes, a herd of pigs, and a herd of c. 100 Friesian cows were kept. (fn. 180) In 1992 farming in the parish was predominantly arable. Of the 198 a. in the south-east corner of the parish taken in 1918 for military training, in 1992 c. 75 a. were cultivated for the Chemical and Biological Defence Establishment, based at Porton down in Idmiston, and the rest was woodland. (fn. 181)
There may have been woodland at Furze Croft, 19a., east of the village, but otherwise there was apparently little in the parish until some was planted between c. 1710 and 1773 in the park of Wilbury House. (fn. 182) The planting along the parish boundary c. 1820 greatly increased the woodland, (fn. 183) and between c. 1817 and 1839 plantations were made in the south-east part of the parish, especially on Tower Hill. There were c. 255 a. of woodland in 1839. (fn. 184) A new 48–a. plantation was made north of that on Tower Hill between 1839 and 1877, (fn. 185) and in 1925 there were 289 a. of woodland. (fn. 186) The acreage and disposition were similar in 1992.
In 1086 there was a mill on the estate which became Newton Tony manor, (fn. 187) but its site is unknown.
Local government.
In 1347 view of frankpledge was granted to the lord of Newton Tony manor, a grant confirmed in 1401. (fn. 188) No record of a view survives. A manor court was held in the early 14th century; in the 18th it was evidently held infrequently and only when copyhold business required it. (fn. 189)
The parish spent £98 on the poor in 1775–6, an average of £156 from 1782–3 to 1784–5. In 1790 it acquired a building as a workhouse, but there is no evidence of indoor relief. In 1802–3 all relief was outdoor: about a fifth of the inhabitants of Newton Tony and 15 who were not parishioners received it, 39 adults and children regularly and 30 occasionally. Materials bought for £2 were used by the poor, who earned £12. (fn. 190) Between 1812 and 1815 an average of £390 was spent on occasional relief for a few paupers and on regular relief for c. 20. (fn. 191) The poor of Newton Tony seem to have been generously relieved, and in 1816–21 an average of £296 was spent. Expenditure declined in the 1820s and averaged £148 in the early 1830s, but it remained high for a parish of Newton Tony's size. (fn. 192) The parish became part of Amesbury poor-law union in 1835. (fn. 193) It was included in Salisbury district in 1974. (fn. 194)
Church.
Newton Tony church was standing in the 12th century. In 1179 Amesbury priory held an estate in the parish, evidently of tithes, and received 5s. a year in respect of the graveyard, suggesting that earlier the church had been served by Amesbury abbey and had not had burial rights. There was a graveyard at Newton Tony in 1179, (fn. 195) and a rector was serving the church in 1296. (fn. 196) The rector paid the 5s. a year to the priory's successors in title to the tithes until 1677 or later. (fn. 197) The rectory was included in Bourne Valley benefice in 1973. (fn. 198)
Until the 17th century the advowson descended with Newton Tony manor and most presentations were by the lord or his representative. The king presented in 1296 and 1545, in each case when the lord was his ward; Sir George Paulett presented in 1556, William Blacker and Christopher Harrison jointly in 1568, in each case by grant of a turn. (fn. 199) In 1636 Francis Jones sold the advowson to John Davenant, bishop of Salisbury, (fn. 200) who in 1637 gave it to Queens' College, Cambridge. (fn. 201) Thomas Clarke, a canon of Salisbury, presented in 1660 by grant of a turn from Davenant. Queens' College presented thereafter, (fn. 202) and from 1973 was represented on the patronage board of Bourne Valley benefice. (fn. 203)
The rectory was worth £6 in 1291, (fn. 204) £20 in 1535. (fn. 205) and £130 in 1650. (fn. 206) It was leased for £100 a year in 1699 and for £150 a year in 1701 and 1706. (fn. 207) About 1830 the rector's income, c. £440, was high for a living in Amesbury deanery. (fn. 208) In the Middle Ages all tithes from the parish except Amesbury priory's were due to the rector; (fn. 209) in 1839 the rector's were valued at £433 and commuted. (fn. 210) There was 1 yardland of glebe in 1341, (fn. 211) c. 31 a. with pasture rights in the 17th century and early 18th, (fn. 212) and 42 a. after inclosure c. 1710. (fn. 213) About 18 a. were sold in 1955 and 32 a. remained in 1992. (fn. 214) The parsonage house, mentioned in 1605, (fn. 215) was uninhabitable in 1662. (fn. 216) It was replaced in 1778. (fn. 217) The new house, of two storeys and attics and of red brick on foundations incorporating re-used ashlar and several pieces of medieval carved stonework, has a west entrance front of five bays and a longer south garden front with a canted central bay. An internal 17th-century door was re-used in the service quarters. The house was sold in 1955. (fn. 218)
Elizabeth Reed (d. 1532) by will endowed obits for herself and her husband Sir Bartholomew Reed (d. 1505), lord of Newton Tony manor, and before the Reformation 4d. a year was given for a candle in the church. (fn. 219) In 1301–2 the rector William Cliff, in minor orders, was licensed to study away from the parish. (fn. 220) Roger Bellham, rector from c. 1346, was pardoned in 1350 for disturbing the peace and for inciting others to do likewise. (fn. 221) John Chitterne, rector 1415–19, was a local landowner. (fn. 222) In 1553 a curate assisted the rector. (fn. 223) By 1565 no sermon had been preached for five years, and the parish then lacked the Bible, the Paraphrases of Erasmus, and the Book of Homilies. (fn. 224) The rector in 1584–5 did not wear a surplice, failed to observe holy days, and declined to baptize with the sign of the cross. (fn. 225) In the early 17th century cockfighting was allowed in the church. (fn. 226) Christopher Riley, rector from 1633, observed the Friday fast, denied that Sunday observance was a moral law of God, and considered it more profitable to read the Bible than to listen to sermons. (fn. 227) He was deprived c. 1648. The intruder, John Watts, was a prominent nonconformist: he signed the Concurrent Testimony in 1648 and preached twice on Sundays in 1650. (fn. 228) Riley died in 1660 before he could be restored. His successor, James White, also rector of Boscombe, committed suicide in 1661. (fn. 229) From 1661 until 1955 most rectors were fellows or graduates of Queens' College and several incumbencies, particularly in the 18th and 19th centuries, were long. Joseph Kelsey, rector 1669–1710, was also rector of Fugglestone from 1681, vicar of Highworth from 1705, and archdeacon of Salisbury from 1695. (fn. 230) John Ekins, rector 1776–1808, was also rector of Trowbridge and from 1786 dean of Salisbury. (fn. 231) He resided in 1783, when he held two services each Sunday and preached at the morning one. The sacrament was administered on Christmas day, Easter day, and Whit Sunday to c. 20 communicants. (fn. 232) In the 1790s and the early 19th century curates, including Ekins's son Charles in 1802 and son Robert in 1810, often served the cure. (fn. 233) Hugh Price, rector 1809–53, held two services, at both of which he preached, on each Sunday in 1832. (fn. 234) In 1851, when he was assisted by a curate, morning service on Census Sunday was attended by 89, afternoon service by 114. (fn. 235) Each Sunday in 1864 the rector held two services, each with a sermon; he did likewise on Christmas day and Good Friday, and held services on Ash Wednesday, Ascension day, and, with sermons, on Wednesday evenings in Lent. When communion was celebrated at Christmas, Easter, and Whitsun c. 37 received it; on the first Sunday in alternate months c. 26 did so. (fn. 236) The rectory was held in plurality with that of Cholderton 1953–73. (fn. 237)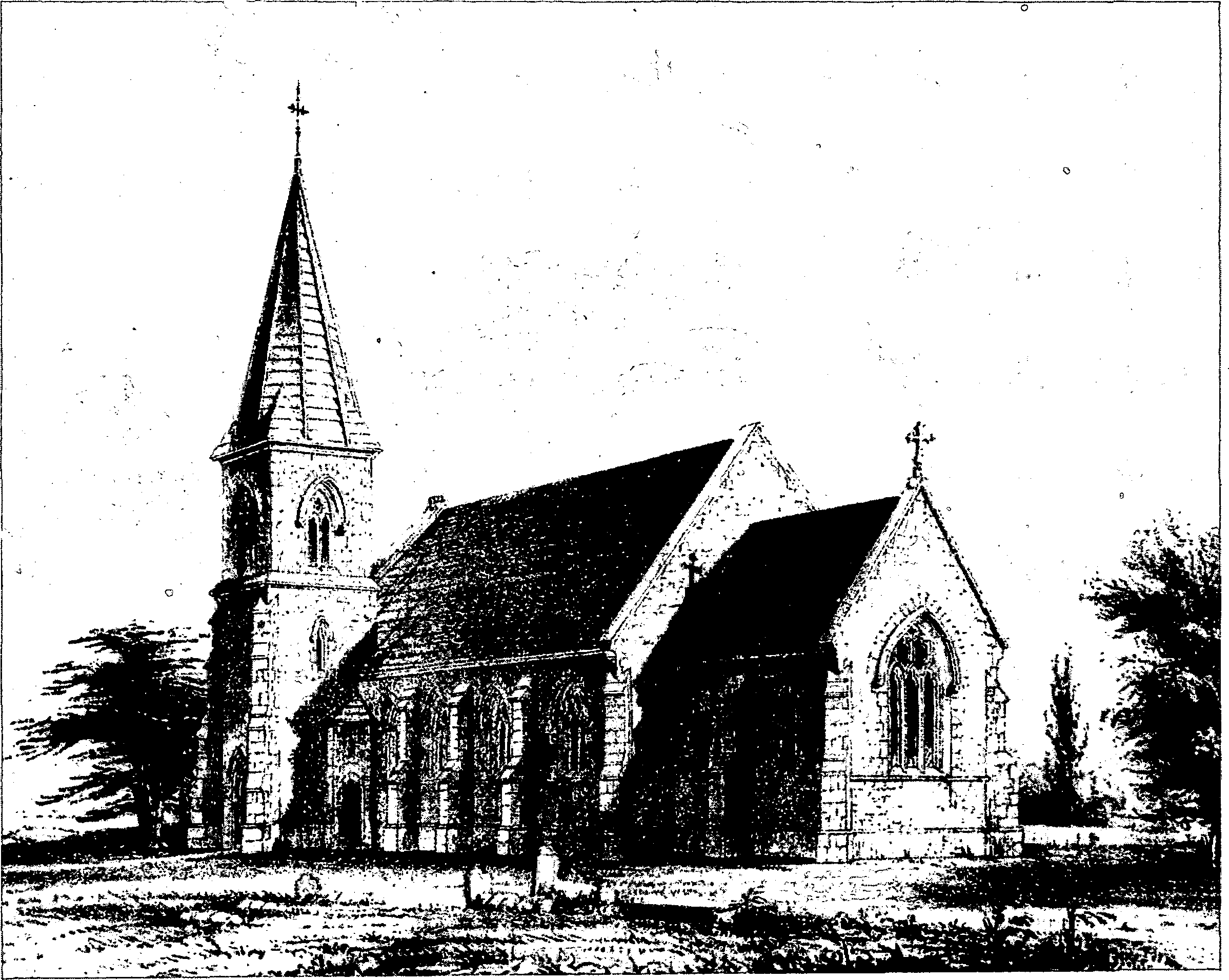 The church was wholly rebuilt in 1844 and dedicated to ST. ANDREW. (fn. 238) The old church, which may have been undedicated, (fn. 239) had a chancel and a nave with south porch and north chapel; the tower which was part of the church in 1662 (fn. 240) may have been the large wooden belfry above the west end of the nave in 1805. The small size of the chancel and the nave suggests that they were built no later than the 12th century. New windows were inserted in the south wall of the nave in the later Middle Ages. The simple porch was possibly 18th century. The chapel was built c. 1803 (fn. 241) and the church was repaired in 1804. (fn. 242) The new church, to designs by T. H. Wyatt and D. Brandon, (fn. 243) is of flint rubble with stone dressings, is in a 14thcentury style, and has a chancel with north vestry and a nave with south-west porch above which is a tower with a spire: the chancel and the nave are undivided.
In 1553 a 9–oz. chalice was left and 2 oz. of plate were taken for the king. There was no silver chalice in 1662. In 1891 and 1992 the parish had a chalice hallmarked for 1659, its paten cover, a paten hallmarked for 1686, and a flagon hallmarked for 1692. (fn. 244) There were four bells in 1553 and 1992. The tenor is a medieval bell cast in Salisbury. The present treble was cast by Robert Wells of Aldbourne in 1792, and the present second and third were cast by C. & G. Mears in 1851. (fn. 245) Registrations of baptisms and burials begin in 1586, those of marriages in 1591: those of baptisms are lacking 1640–5, those of marriages 1641–58. (fn. 246)
Nonconformity.
Thomas Bradshaw, who was lord of Newton Tony manor until c. 1800, in 1797 certified a room in Wilbury House as a Roman Catholic chapel and employed a resident chaplain. (fn. 247)
Presbyterians were encouraged by Nathaniel Fiennes, lord of Newton Tony manor, and his wife Frances, and in 1669 a conventicle met at their house in the village. Several ministers ejected for nonconformity preached to the group: they included Thomas Taylor, ejected from Burbage, George Whitmarsh from Rowner (Hants), and John Crouch from Alderbury. Frances Fiennes employed John Crofts, ejected rector of Mottisfont (Hants), as her chaplain, and in 1672 the house was certified for Presbyterian meetings. (fn. 248) A second group of nonconformists was led c. 1668 by John Girle, (fn. 249) whose house was certified for Congregationalists in 1672. (fn. 250) There were 26 nonconformists at Newton Tony in 1676. (fn. 251) Members of the Girle family remained dissenters in the 1680s. (fn. 252)
In 1816 Primitive Methodists certified a house, (fn. 253) and in 1851 dissenters certified a house at Warren Farm. (fn. 254) A small red-brick chapel was built in High Street for Wesleyan Methodists in 1877. (fn. 255) It was closed in 1981. (fn. 256)
Education.
There was a school in the parish in 1808, (fn. 257) and in 1818 one attended by 22 children. (fn. 258) In 1833 there were three schools with a total of 27 pupils, (fn. 259) in 1846–7 two with 38. (fn. 260) A National school was built in High Street in 1857; 40–50 children, including some from Allington. and Boscombe, were taught at it in 1858. (fn. 261) A separate room for lectures and for an evening school was built in 1858. (fn. 262) On return day in 1871 the school was attended by 70 pupils. (fn. 263) It was enlarged in 1894. (fn. 264) Average attendance was 42 in 1906–7, 69 in 1926–7, 34 in 1938. (fn. 265) At a new school, which replaced the old in 1959, there were 32 children on roll in 1992, including some from other parishes. (fn. 266)
Charity for the poor.
J. N. Peill (d. 1879), rector from 1853, (fn. 267) bequeathed the interest on £50 to be distributed among poor widows on 30 November each year. In 1894–5 four widows shared £1 5s.; there were three beneficiaries in 1901 and 1904, nine in 1911; £2 10s. a year was distributed 1918–31. (fn. 268) About 1988 the income contributed to an old people's Christmas tea. (fn. 269) In 1992 it was £7.50. (fn. 270)