Pages 153-163
A History of the County of Wiltshire: Volume 15, Amesbury Hundred, Branch and Dole Hundred. Originally published by Victoria County History, London, 1995.
This free content was digitised by double rekeying. All rights reserved.
NORTH TIDWORTH
North Tidworth village (fn. 1) is 13.5 km. WNW. of Andover (Hants) on the eastern edge of Salisbury Plain. (fn. 2) It seems that a large estate called Tidworth had been fragmented by 1066 when seven estates were so called: three were in Wiltshire and became North Tidworth parish, four were in Hampshire and became the adjoining South Tidworth parish. (fn. 3) After 1897 both parishes were greatly affected by the army, which built a garrison town across their boundary. (fn. 4) North Tidworth parish, 1,253 ha. (3,096 a.), is rectangular and lies east and west across the valley of the river Bourne. Few prominent features mark its boundaries, which mostly run over downland, but part of the northern is marked by an ancient ditch and crosses the summit of Windmill Hill. The parish was in Chute forest until 1300. (fn. 5)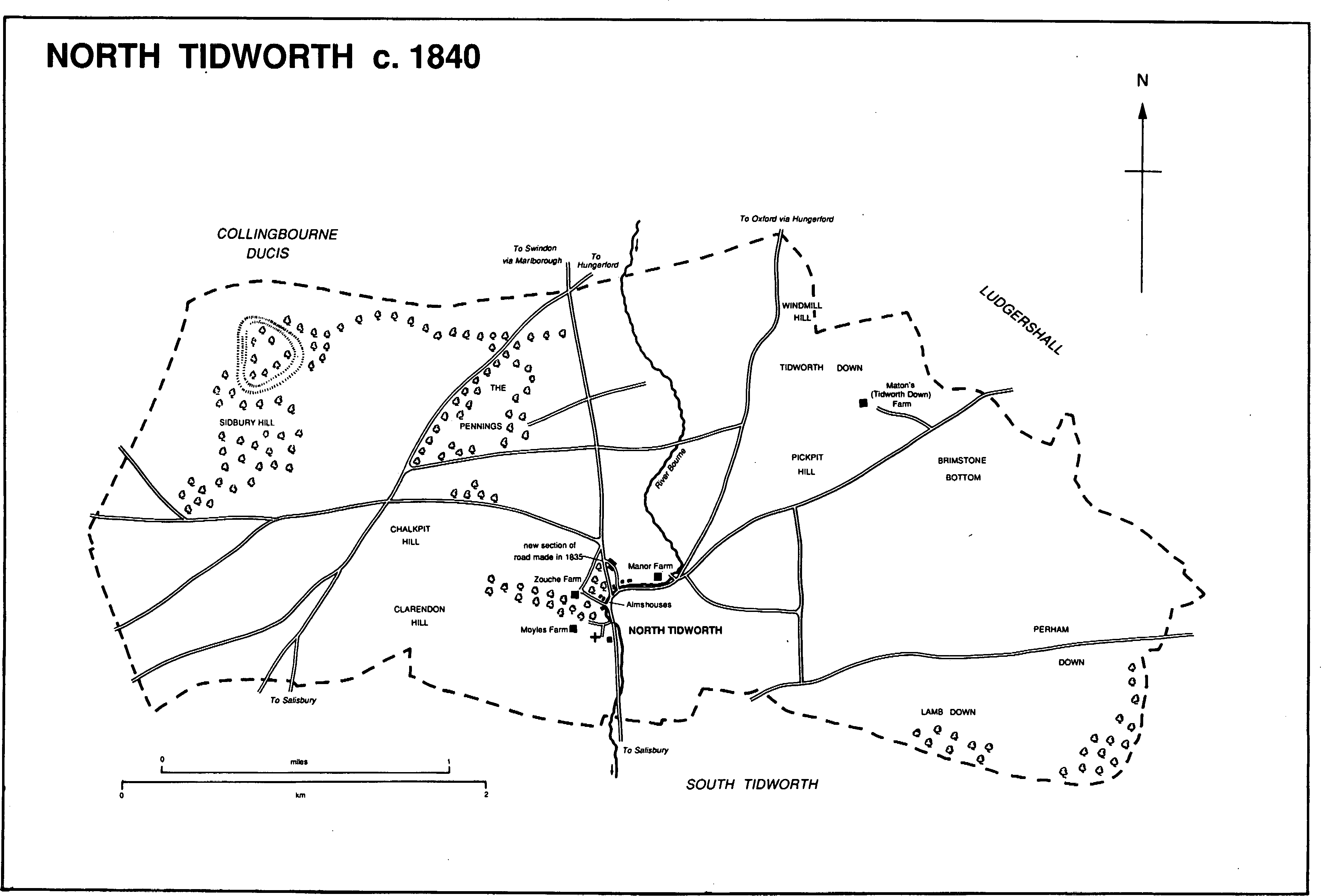 The whole parish is on chalk, overlain by clay-with-flints and clay of the Reading Beds on Sidbury Hill and by a small area of clay-withflints east of the village. The Bourne, which for a century or more has usually been dry, has deposited gravel and, to the north, a small amount of alluvium in its north—south valley across the middle of the parish, and there is also gravel in three east-west dry valleys to the west. The relief is sharper in the west where Sidbury Hill at 224 m. is the highest point in the parish and Clarendon Hill reaches 178 m. To the east Windmill Hill, over 183 m., and Pickpit Hill, 173 m., are on the watershed of the Bourne and the river Anton, and south-east of them on Perham down and Lamb down the relief is gentler. The lowest land is at c. 100 m. in the south-east corner of the parish. (fn. 6) Like many other Wiltshire villages North Tidworth had meadow land beside the river, arable on the lower slopes of the downs nearest the village, and extensive pastures for sheep on the higher and further downs. In the 19th century woodland for coverts was planted on the downs, and in the 20th agriculture was greatly reduced after the army acquired the land for training, barracks, workshops, and housing. (fn. 7)
In the 17th century the main Oxford—Salisbury road via Hungerford (Berks.) ran southwards over Windmill Hill and passed through North Tidworth village, where it turned sharply south. (fn. 8) By the late 18th century a new course had been adopted for the road: it left the old Oxford road north of the parish, crossed the western part of the parish between Sidbury Hill and Clarendon Hill, and bypassed the village. (fn. 9) It was turnpiked between the northern parish boundary and Hungerford in 1772, (fn. 10) and was disturnpiked in 1866. From 1835, however, the north-south road through the village, then the last part of a Swindon—Salisbury road via Marlborough and the villages of the Bourne valley to be turnpiked, was again a main road. (fn. 11) North of the church a new straight section was made. (fn. 12) The road was disturnpiked in 1876, (fn. 13) and in 1990 remained an important north—south route. The road to Salisbury between Sidbury Hill and Clarendon Hill presumably decreased in importance from 1835 and it was among several roads in the west part of the parish closed by the army c. 1900. (fn. 14) In the east part of the parish a road to Ludgershall is apparently on its original course, (fn. 15) but the old Hungerford road, from which it branched, went out of use in the mid 20th century. (fn. 16) The army built a new road between North Tidworth, where it is called Meerut Road, and Bulford in 1909–10, (fn. 17) and military activity has increased the importance of a road leading from Andover to South Tidworth across Perham down and of Somme Road between Brimstone bottom and Perham down.
A railway for the army was built from the Midland & South Western Junction Railway in Ludgershall to a terminus in South Tidworth and opened in 1901. The public used it from 1902 (fn. 18) until it was closed in 1955. (fn. 19)
Prehistoric artefacts have been found in the parish and there are bowl barrows on Sidbury Hill and Pickpit Hill. A prehistoric field system extends into North Tidworth from the west. It was later crossed by parts of the seven ditches which converge on the Iron-Age hill fort covering 17 a. on Sidbury Hill; the ditches may be associated with cattle ranching. A smaller field system is further east. Romano-British remains have been found near Sidbury Hill and on Perham down, and a Pagan-Saxon burial on Perham down. (fn. 20)
North Tidworth was seriously affected by the plague of 1349, (fn. 21) and there is no evidence that any inhabitant paid poll tax in 1377. (fn. 22) There were 140 inhabitants in 1527. (fn. 23) The population rose from 240 in 1801 to 417 in 1841, but had fallen to 241 by 1891 and was 259 in 1901. Thereafter barracks and new housing, mainly for the army, were built and the population was greatly increased, although numbers varied with the amount of military activity. The population was 1,541 in 1911, 1,253 in 1921, 2,771 in 1931, 4,916 in 1951, (fn. 24) and 2,824 in 1961. After more housing was built the population was 7,280 in 1971, 5,813 in 1991 when it was still mainly soldiers and their families. (fn. 25)
North Tidworth was a small village on the gravel beside the Bourne, strung out along the old Oxford—Salisbury road which, with its sharp southward bend, closely followed the river. North of the bend an offshoot of the village lay along the part of the Collingbourne Ducis road which from 1835 has been a back lane. (fn. 26) A bridge over the river was called Church bridge in 1701. (fn. 27) At the south end of the village the church is west of the main road; the rectory house was immediately south-east of the church, a farmstead, demolished in the mid 19th century, immediately west of it. Two other large farmsteads were in the village in the 19th century. Zouche Farm, of which the farmhouse survives as Zouch Manor, was on higher ground north-west of the church and away from the main road; a manor house stood on the site in the 18th century. Manor Farm, on the north side of the road east of the bend, (fn. 28) was rebuilt in the early 20th century and was ruinous in 1990. Few of the cottages in the village before 1900 survive: two stand near the church, several estate cottages, including a trio of brick and flint bearing a plausible date stone for 1890, stand at the old bend of the main road, an 18th-century cottage stands in the back lane, and a 19th-century flint and brick house stands at the junction of the back lane and the new section of road which replaced it in 1835. The village was often flooded in the early 19th century. (fn. 29)
There was a church house in 1566, (fn. 30) new cottages were licensed in 1591, (fn. 31) and almshouses were built in the late 17th century. (fn. 32) A friendly society in the parish in 1805 had an average of 83 members 1813–15. (fn. 33) There was an alehouse in 1587, (fn. 34) the Old Bull was open in the 1820s (fn. 35) but had been replaced by the Ram by 1848, and the Ram was rebuilt c. 1935. (fn. 36) The house of John Mompesson in the village attained national notoriety in the early 1660s for allegedly being haunted by a poltergeist. (fn. 37)
On downland called the Pennings, north-west of the village, there was a barn in 1773, and by 1820 Tidworth Cottage had been built amid woodland on roughly the same site. (fn. 38) Neither building was standing c. 1839. (fn. 39) Tidworth Down Farm was built on the downs between Brimstone bottom and Windmill Hill c. 1800: (fn. 40) it incorporates a red-brick house, extended in the later 19th century, and was called Sweetapple Farm in 1990. A new farmstead at the Pennings, incorporating barns and two cottages, was built in the mid 19th century. (fn. 41)
North Tidworth was transformed after 1897, the year in which nearly all the parish, together with nearly all of South Tidworth parish, was bought by the War Department for military training. (fn. 42) Much land was built on for the garrison attached to the headquarters of the Southern Military Command based at Tidworth House in South Tidworth; most of the barracks were in South Tidworth, most of the houses, for both soldiers and civilians, in North Tidworth. Tented camps were on Windmill Hill and Perham down and at the Pennings in 1899. (fn. 43) In the village Lucknow and Mooltan barracks were built south-west of the church and completed in 1905; they had been extended westwards by 1926. (fn. 44) Zouch Manor and Manor Farm were used as officers' quarters. (fn. 45) Also in the village, east of the church, a Royal Army Ordnance depot was erected, probably during the First World War. (fn. 46) On Perham down a hutted camp (fn. 47) had been built by 1915, new buildings were erected north and south of the Andover road in the 1920s, and brick barracks were built 1933–6. Perham Down barracks were rebuilt 1972–4 and renamed Swinton barracks. South of the Ludgershall road in Brimstone bottom Fowler barracks were built on the west side, and Busigny barracks on the east side, of Somme Road in 1938. (fn. 48) In the village, east of the Ordnance depot, Mathew barracks were built c. 1939, (fn. 49) and north-east of the village, adjoining Fowler barracks, Busigny barracks, and Ludgershall, extensive military workshops were built in 1939 (fn. 50) Mathew barracks and Fowler barracks were demolished in the 1960s and Busigny barracks c. 1976, (fn. 51) but Lucknow, Mooltan, and Swinton barracks remained in use in 1990.
An isolation hospital was built in Brimstone bottom in 1900 (fn. 52) and a military cemetery was opened north of the village in 1904. (fn. 53) As the garrison grew other buildings were erected for sport and recreation: they included a British Legion club and a cinema before 1923 (fn. 54) Later, when there was much new housing, a police station, schools, shops, and health and community centres were built.
In the 20th century the main north—south road through the village has been renamed Pennings Road, and its old southward bend and the road leading east from it have together been called Ludgershall Road. The many houses built in the 20th century are in roughly equal numbers east and west of Pennings Road. The first to be built by the army were those north-west of the church in Nepaul Road dated 1922 and those south-east of the church on the north side of Ordnance Road standing in 1923. (fn. 55) The earliest council houses are apparently 18 in Ludgershall Road built c. 1930 and 8 on the west side of Pennings Road. (fn. 56) Many more houses were built north-west of Nepaul Road, an area called the Zouch estate, especially in the 1960s; in the angle between the Zouch estate and Pennings Road the Gason Hill council estate was built, mainly in the early 1950s (fn. 57) East of Pennings Road much new housing, blocks of flats and small houses, was built for the army in the mid and later 1960s to designs by the Austin Smith, Salmon, and Lord Partnership: c. 90 houses on the Mathew estate, on the site of the Mathew barracks, were sold by the Ministry of Defence to Kennet district council in 1990. (fn. 58) South of Ludgershall Road and adjoining that housing an estate of council houses, including bungalows for old people, was built in the later 1960s. (fn. 59) East of the village, labourers employed on the construction of the garrison soon after 1900 were accommodated in a hutted encampment in Brimstone bottom called Tin Town. It included a hospital, mission hall, school, recreation rooms, and baths. (fn. 60) There are houses of the 1920s or 1930s in Lambdown Terrace off the Andover road, (fn. 61) and a large estate of houses was built by the army south of the road on Perham down from the late 1920s. North of the road smaller estates were built in 1968 and 1977. (fn. 62)
From the 11th century, when Croc the huntsman held estates at North Tidworth and South Tidworth, North Tidworth may have been a centre for sport. (fn. 63) Game, particularly hares and partridges, were abundant in the 17th century, (fn. 64) and in the 19th North Tidworth was part of a large sporting estate. In 1895 coursing meetings were held there. (fn. 65) Cricket was played on Perham down in the 18th century, and from c. 1787 to c. 1797 players from Hambledon (Surr.) and the rest of England met there. (fn. 66) Between c. 1926 and c. 1984 there was a polo ground on Perham down; it was a general sports ground in 1987. (fn. 67) In 1935 Salisbury Plain Race club had a course and stands on Windmill Hill. (fn. 68)
Manors and other estates.
A 4-hide estate that became MOELS or Moyles manor was held in 1066 by Alward and in 1086 by Edward of Salisbury. (fn. 69) It descended in the direct line to Walter of Salisbury (d. 1147), Patrick, earl of Salisbury (d. 1168), and William, earl of Salisbury (d. 1196), (fn. 70) and to William's daughter Ela (d. 1261), wife of William Longespee, earl of Salisbury (d. 1226). From Ela, who took the veil in 1238, the overlordship descended like the overlordship of Shrewton; (fn. 71) it was last mentioned in 1428, when Thomas Montagu, earl of Salisbury, held it. (fn. 72)
Either William, earl of Salisbury (d. 1196), or, more likely, William, earl of Salisbury (d. 1226), granted the manor to William de Moels. (fn. 73) Philip de Moels held it in 1242–3, (fn. 74) and before 1250 granted it to William of Widworthy. Hugh of Widworthy held it in 1263–4, (fn. 75) but later it belonged to Richard of Coombe (d. c. 1293) and his son Richard. (fn. 76) Moels manor was settled in 1313 by the younger Richard on himself and his wife Anstice and passed to his nephew Richard of Coombe (d. c. 1329) and to that Richard's son Sir Richard (d. 1361). (fn. 77) Walter of Coombe held the manor in 1379, his son or nephew Robert of Coombe (d. by 1416) held it in 1409 and c. 1411, and Robert's son John, M.P. for Ludgershall 1436–7, held it in 1428. John was succeeded by his sons Richard (d. by 1460) and John in turn. (fn. 78) The younger John's heir, his daughter Joan, wife of Ralph Bannister (d. 1492), was succeeded by her daughter Joan (fl. 1534), wife of Thomas Dauntsey and later of William Walwyn. On the younger Joan's death the manor passed to Edmund Walwyn, who sold it in 1538 to William Dauntsey (fn. 79) (d. 1543). It passed to William's brother Ambrose (d. 1555) and to Ambrose's son John (d. 1559), who was succeeded in turn by his sons Ambrose (d. 1562) and Sir John. (fn. 80) In 1627 Sir John Dauntsey sold the manor to James Ley, earl of Marlborough (fn. 81) (d. 1629), the owner of an adjacent estate in South Tidworth. (fn. 82) The earl's relict Jane and her husband William Ashburnham sold Moels manor in 1650 to Thomas Smith. (fn. 83) It descended in the direct line to John Smith (d. 1690), John Smith (d. 1723), speaker of the House of Commons and Chancellor of the Exchequer, (fn. 84) and William Smith (d. 1773). William devised it to his nephew Thomas Assheton (d. 1774), who assumed the name Smith. Thomas's son Thomas Assheton Smith (fn. 85) (d. 1828) was succeeded by his son Thomas Assheton Smith (d. 1858), a noted sportsman, (fn. 86) who in 1844 owned nearly all the parish. As part of the Tidworth estate, which also included nearly all of South Tidworth parish, he devised it to his relict Matilda (d. 1859). She devised the estate to her nephew F. S. Stanley who sold it in 1877 to Sir John Kelk, Bt. (fn. 87) (d. 1886). Kelk's son Sir John sold it in 1897 to the War Department. (fn. 88) The Ministry of Defence owned most of the parish in 1990. (fn. 89)
The 5-hide estate that came to be called HUSSEY manor after its 13th-century lords was held in 1066 by Eddulf and in 1086 by Odo, bishop of Bayeux. (fn. 90) It was among the bishop's estates which may have been held by John the marshal (d. 1165) and passed to William Marshal, earl of Pembroke (d. 1219), who held it by serjeanty of marshalcy. The overlordship passed with the marshalcy to William's son William, earl of Pembroke (d. 1231), whose relict Eleanor (d. 1275) and her husband Simon de Montfort, earl of Leicester, held it in 1248. (fn. 91) The overlord in 1290 was the marshal, Roger le Bigod, earl of Norfolk (d. s.p. 1306), (fn. 92) and the marshal was overlord in the 14th century. (fn. 93)
In 1086 another Odo held the estate of Odo, bishop of Bayeux. (fn. 94) It was held in 1218 by Henry Hussey (fn. 95) (d. by 1235) and descended in the direct line to Sir Matthew (d. 1253) and Sir Henry (d. 1290), (fn. 96) who was granted free warren in his demesnes in 1271. (fn. 97) The manor was assigned to Sir Henry's relict Agnes (fl. 1326), and she and her husband Peter de Breuse held it in 1307. (fn. 98) It passed to her son Henry Hussey, Lord Hussey (d. 1332), who was succeeded by his son Henry, (fn. 99) Lord Hussey (d. 1349). That Lord Hussey settled it on his son Richard (fn. 100) (d. s.p. 1361), from whom it passed to his brother Sir Henry (d. 1383). (fn. 101) By 1401 it had apparently been acquired by John Chitterne, a clerk. (fn. 102) In 1239 Maud, granddaughter of Henry Hussey (d. by 1235), successfully claimed 1 carucate against her uncle Sir Matthew Hussey, (fn. 103) and she and her husband William Paynel held the estate in 1269. (fn. 104) Their land in North Tidworth may also have been acquired by John Chitterne in the early 15th century as their manor of Littleton Pannell in West Lavington was. (fn. 105) In 1409 and 1412 feoffees held what was probably the whole Hussey manor, (fn. 106) which evidently passed, like Upton Knoyle manor in East Knoyle and Great Bathampton manor in Steeple Langford, to John Chitterne's sister Agnes, wife of William Milbourne. Hussey manor was held by Agnes's son Richard Milbourne (fn. 107) (d. 1451) and passed in the direct line to Simon (fn. 108) (d. 1464), Sir Thomas (fn. 109) (d. 1492), Henry (fn. 110) (d. 1519), and Richard Milbourne, (fn. 111) who was succeeded by his cousin William Fauconer (fn. 112) (d. 1558). Fauconer's son William (fn. 113) (d. c. 1610) was a recusant and two thirds of his estate were held by the Crown in 1592–3 and 1600. The manor passed to his niece Jane (d. 1615), wife of Francis Eyton, and afterwards to his daughter Anne, wife of Benet Winchcomb. (fn. 114) Anne Winchcomb sold it in 1624 to Sir James Ley, Bt. (fn. 115) (cr. earl of Marlborough 1626), (fn. 116) and from 1627 it descended with Moels manor.
Three hides, from which ZOUCHE manor may have originated, were held by three thegns in 1066. In 1086 Croc held 2 hides and 3 yardlands and Edward of Salisbury held 1 yardland. Croc's 2 hides were held of him by a knight. (fn. 117) Some or all of those lands may have been held by Hugh de Lacy (d. 1186) (fn. 118) and were possibly the estate in North Tidworth held by the king 1187–91. (fn. 119) Later John Bisset (d. 1241) was overlord of Zouche manor. It was held of him by Roger la Zouche who was succeeded by his son Sir Alan (d. 1270). The Zouches subinfeudated the manor in portions: their successors Roger la Zouche (d. 1285), Alan la Zouche, Lord Zouche (d. 1314), and that Alan's daughters Ellen, wife of Sir Nicholas Seymour, and Maud, wife of Sir Robert de Holand, were mesne lords. (fn. 120)
Between 1199 and 1227 Roger la Zouche gave ½ yardland to Maiden Bradley priory. (fn. 121) Sir Alan la Zouche gave the priory rent from a carucate of the manor, (fn. 122) and in 1273 the lessee Sir Nicholas Vaux surrendered the land to the priory, (fn. 123) which held it until the Dissolution. (fn. 124) It was granted in 1536 to Sir Edward Seymour, Viscount Beauchamp (cr. earl of Hertford 1537, duke of Somerset 1547), (fn. 125) was presumably forfeited on his execution and attainder in 1552, and was granted in 1559 to John Cutt and Richard Roberts. (fn. 126) What was probably the same land was sold in 1567 by John Stockman and his wife Dorothy to John Knight, (fn. 127) who sold it in 1579 to John Thornborough. (fn. 128) In 1592 Thornborough sold it to John Pitman, (fn. 129) who owned Zouche manor in 1600. (fn. 130) William Pitman, more likely the elder, owned it in 1621 and, apparently before 1649, sold it to John Bulkeley. In 1662 Bulkeley sold it to Thomas Pierce (fn. 131) (d. 1691), president of Magdalen College, Oxford, and later dean of Salisbury. The manor descended to Thomas's son Robert (d. 1707), rector of North Tidworth, and to Robert's son Thomas, (fn. 132) who sold it in 1724 to Smart Poore (fn. 133) (d. 1747). (fn. 134) Poore's son Edward (d. 1787) devised the manor successively to his nephew Edward Poore (d. s.p. 1803) and Edward Dyke, who assumed the name Poore in 1803. Edward Dyke Poore sold the manor, 930 a., (fn. 135) to Thomas Assheton Smith in 1832, and it became part of Smith's Tidworth estate. (fn. 136)
A house on Zouche manor was built on Tidworth Hill of local stone for Edward, duke of Somerset, 1547–9. (fn. 137) In 1773 Edward Poore had a house, on rising ground north of the church, (fn. 138) which c. 1800 was described as small and secluded. (fn. 139) It was replaced in the early 19th century by Zouch Manor, (fn. 140) a square house with a principal east front, rendered and of three bays with a central door, and with a west service wing of red brick.
Between 1220 and 1238 Roger la Zouche subinfeudated part of the manor to his daughter Laura and her husband Gilbert of Sandford. Laura settled the land on Arabel, wife of Henry of Pembridge, and on Arabel's son Fulk of Pembridge (d. 1296), (fn. 141) who held it in 1282. (fn. 142) Fulk's heirs held it in 1314, and in 1339 another Fulk of Pembridge granted the reversion after the death of the life tenant, Henry of Birmingham, to Robert of Pembridge. (fn. 143)
What may have been the same estate was held in 1412 by Alice Sotwell, (fn. 144) and in 1579, when it was called NORTH TIDWORTH manor, by William Sotwell. (fn. 145) That manor descended to William Sotwell (d. 1639), passed to his daughter Elizabeth, wife of Francis Trenchard and, after 1646, of John Bulkeley, and apparently reverted to his nephew John Sotwell, who sold it to William Pitman and William's son William. The Pitmans sold it in 1654 to John Bulkeley and it was reunited with Zouche manor. (fn. 146)
In the later 13th century Sir Nicholas de Vaux granted 1 yardland, the nucleus of an estate later called TIDWORTH manor and perhaps formerly part of Zouche manor, to John Irish. (fn. 147) The estate was later held by Simon Irish. (fn. 148) In 1423 Richard Etton and his wife Joan, whose inheritance it was, settled it on themselves and on William Ludlow (d. 1478) and his wife Margaret. (fn. 149) From William's son John (d. 1487) (fn. 150) the estate descended, apparently in the direct line, to George Ludlow (d. 1580), Sir Edmund Ludlow (d. 1624), Henry Ludlow (d. 1639), and Edmund Ludlow, (fn. 151) who sold it to William Maton (will proved 1687). It was presumably merged with Maton's other estate in North Tidworth. (fn. 152)
In the mid 12th century one Roland gave to Bradenstoke priory a messuage and 5 a. in North Tidworth which he had acquired from Benet of Angreville, and in the early 13th Gerard of Coombe gave the priory 5½ yardlands formerly his brother Baldwin's. (fn. 153) The estate passed to the Crown at the Dissolution (fn. 154) and was granted in 1540 to John Goddard. (fn. 155) It was possibly the later MATON'S or Tidworth Down farm devised by John Maton (d. 1590) to his son Leonard. (fn. 156) Maton's apparently passed to Leonard's brother Francis (will proved 1663), to Francis's son William (fn. 157) (will proved 1687), and to William's grandson John Maton (fn. 158) (d. 1737), who devised it to his nephew Edmund Brickenden. (fn. 159) Brickenden's daughter and heir Ann (will proved 1788), wife of John Hughes, devised the estate to her cousin John Yaldwin, who sold it in 1793 to Thomas Assheton Smith: it was added to the Tidworth estate. (fn. 160)
Amesbury abbey may have received tithes from lands in North Tidworth held by John the marshal (d. 1165) and Hugh de Lacy (d. 1186), and in 1179 such tithes were confirmed to Amesbury priory. (fn. 161) The priory kept the tithes until the Dissolution. (fn. 162) In 1541 they were granted to Winchester cathedral, (fn. 163) the owner in 1843 when they were valued at £80 and commuted. (fn. 164)
Economic history.
In 1086 North Tidworth had land for 6½ ploughteams and 6½ were there with 3 villani, 8 bordars, 5 servi, and 2 coscets: 6¾ hides were in demesne. The estates had pastures measuring 12, 6, and 2 square furlongs. (fn. 165)
In the Middle Ages the usual sheep-and-corn husbandry of the Wiltshire chalklands apparently prevailed at North Tidworth. It is likely that there were separate groups of open fields on each side of the river, and later evidence suggests that each of the main manors, Moels, Hussey, and Zouche, had its own open fields, (fn. 166) but where the lands of each lay is obscure. There were bondmen on Zouche manor in the period 1199– 1227. (fn. 167)
On the minor part of Zouche manor in 1279 there were 4 yardlands of demesne and 9 yardlands held by customary tenants. In 1296 that estate included 89 a. of arable, 1 a. of meadow, and pasture worth £1 a year. The major part of Hussey manor in 1290 included 210 a. of demesne arable and a several pasture worth 3s. a year; there were eight customary tenants. (fn. 168) In 1332 it included 90 a. of arable and the pasture. The tenants, who paid £5 yearly, may have been more numerous than in 1290. They were all dead in 1349 and their arable, 40 a., was held by the lord. The demesne, 120 a. in 1349, was worked in a three-field system. In 1361 the demesne arable, 160 a., was worth only 1d. an acre, and there were then 2 bond and 3 free tenants. A demesne flock of 300 sheep could be kept on the common pastures in 1349 and 1361. (fn. 169)
By the late 18th century both common husbandry and customary tenure had been eliminated in North Tidworth, and nearly all the land was in four several farms. Zouche, or Great House, farm, 956 a., had 539 a. of arable of which 15 a. were sown with French grass, 33 a. of meadow, and 383 a. of pasture including downland and 50 a. of former lanes; Moyles, 666 a., had 367 a. of pasture, 283 a. of arable, and 16 a. of meadow; Manor, 718 a., had 449 a. of arable, 256 a. of pasture, and 9 a. of meadow, of which c. 5 a. were watered; Maton's, 655 a., had 477 a. of arable, 165 a. of pasture, and 9 a. of meadow, mostly watered. Manor and Maton's included newly ploughed downland, (fn. 170) but all four farms were apparently worked from buildings in the village. About 1800 new buildings were erected outside the village for Maton's, thereafter Tidworth Down farm, and in the mid 19th century buildings were erected at the Pennings for Zouche farm. (fn. 171) On Zouche farm between 1790 and 1839 c. 200 a. were planted with trees, mostly after 1832 when the farm was bought by the sportsman Thomas Assheton Smith, and more land was ploughed. Land on the other farms in 1839 remained much as in 1790. (fn. 172)
Between c. 1839 and 1896 about half the arable was laid to grass: (fn. 173) in 1896 grain was grown on only half the arable, and temporary grasses were sown on much of the former arable. Sheep farming predominated until the late 19th century when dairying began to increase. Farming ceased on about a third of the parish when the War Department bought the land in 1897, and more agricultural land was later taken for housing. In the earlier 20th century there were three large farms: between 1900 and 1906 Manor and Zouche, a total of 1,367 a., were worked together and Tidworth Down, 636 a., separately; (fn. 174) between 1910 and 1939 Manor and Tidworth Down were worked together as a dairy farm and Zouche was worked separately. (fn. 175) After the Second World War the agricultural land was worked from Collingbourne Ducis and was used for mixed farming. (fn. 176) In 1990 nearly all the parish was in use for military training or had been built on. (fn. 177)
North Tidworth had no woodland in 1086, but there was some on Hussey manor in the mid 13th century. (fn. 178) In 1790 Manor farm and Maton farm each had 4 a. of woodland on its downs. (fn. 179) Between 1790 and 1830 c. 50 a., mainly ash, elm, beech, and fir, were planted on Zouche manor. (fn. 180) Other woodland was also planted, probably in the 1830s, and in 1839 there were 207 a. of woods, mainly on Perham down, at the Pennings, and on Sidbury Hill. (fn. 181) About 1900 a total of 175 a. of new woodland was planted, on the south-east slope of Sidbury Hill and on Chalkpit Hill, Clarendon Hill, and Windmill Hill. (fn. 182) All those woodlands, c. 380 a., were standing in 1990.
There was a windmill on the major part of Hussey manor in 1290, (fn. 183) one on Tidworth manor in 1487, (fn. 184) and one on Maton's estate in 1590. (fn. 185) A windmill stood on Windmill Hill in 1773 (fn. 186) but not in the early 19th century. (fn. 187)
A brick kiln on the northern slopes of Sidbury Hill in 1773 was probably in the parish. (fn. 188) Chalk from the downs was quarried c. 1796 and carried by way of Bristol to Birmingham and other manufacturing centres. (fn. 189) In 1831 three quarters of the men in North Tidworth were agricultural labourers and the remaining quarter worked at rural trades and handicrafts. (fn. 190) The increase in population from c. 1900 encouraged some commercial enterprises, such as a creamery depot c. 1912, a photographic studio c. 1911, and a depot for McEwan-Younger Ltd., brewers, c. 1939, (fn. 191) but most business development was centred on Ludgershall. (fn. 192) The Royal Army Ordnance depot in Ordnance Road employed 150 civilians in 1928. A tank workshop was built in 1929; the works were extended in 1938–9 and employed 90 civilians in 1952. (fn. 193) About 1980 c. 80 civilians were employed and the works still maintained armoured vehicles and provided support for the Armoured Vehicle Storage depot at Ludgershall, (fn. 194) part of which was in North Tidworth parish.
Local government.
A court was held for Hussey manor in the late 13th century and the 14th, (fn. 195) and for part of Zouche manor in 1296, the mid 16th century, and 1781. (fn. 196)
From £60 in 1776 and c. £86 a year 1783–5 sums spent on the poor increased greatly, and in the earlier 19th century a twelfth of the inhabitants was relieved generously. In 1802–3 £208 was spent on regular out-relief for 17 people and on occasional relief for 20, and in 1813–15 £338 was thus spent for 28 and 10 respectively. (fn. 197) In 1790 the parish had a cottage for housing paupers, and others could be admitted to Pierce's almshouses. (fn. 198) Although the poor-rates raised 1816–34 were average for Amesbury hundred, it is likely that in North Tidworth a smaller number of paupers was still generously relieved. (fn. 199) The parish became part of Andover union in 1835. (fn. 200) was transferred to Pewsey union in 1879. (fn. 201) and became part of Kennet district in 1974. (fn. 202)
Church.
The church may have been standing in the 12th century, (fn. 203) but the earliest reference to it is of 1291. (fn. 204) In 1972 the rectory and parish were united with those of South Tidworth; North Tidworth church became the parish church, and the new parish is in Salisbury diocese. The united benefice, Tidworth, was united with the rectory of Ludgershall and Faberstown in 1986. (fn. 205)
The advowson apparently passed with the overlordships of Moels manor and Shrewton as part of the earldom of Salisbury, which was forfeited to the king in 1326. From 1327 it may have been held with the honor of Shrewton; the king presented in 1348 and 1354 and Edward, prince of Wales, in 1350 and 1351. Evidently from 1361 and until the death in 1484 of Edward Plantagenet, earl of Salisbury, the advowson again passed with the earldom. The king presented in 1481, because the earl was a minor, and at all vacancies after 1484. (fn. 206) The Crown became patron of Tidworth rectory in 1972, and in 1986 became entitled to present alternately for Tidworth, Ludgershall, and Faberstown. (fn. 207)
The rectory was worth £8 in 1291, (fn. 208) £12 in 1535, (fn. 209) and £115 in 1650. (fn. 210) The living was accounted good in 1707, (fn. 211) and the income of £266 was above average for the benefices in Amesbury deanery c. 1830. (fn. 212) The rector took all tithes from the parish except those from 595 a. In 1843 his tithes were valued at £327 and commuted. (fn. 213) The glebe was 1 yardland in 1341, (fn. 214) 15 a. from the 17th century to the early 20th, and was sold in portions 1901–22. (fn. 215) The rector had a house in 1341. (fn. 216) In 1783 the glebe house had two wainscotted rooms and five bedrooms. (fn. 217) It was sold in 1962 and was later demolished. (fn. 218) A new Rectory was built in St. George's Road. (fn. 219)
There was a chapel on Hussey manor in the early 14th century. (fn. 220) In 1299 the rector, Simon of Walcot, was licensed to study at Oxford for a year provided that he resided on his return: his leave was extended in 1300 on condition that he employed a curate at North Tidworth and gave alms and in 1301 on condition that he resided from mid Lent to Easter. (fn. 221) Thomas Shifford, who resigned the benefice in 1371, was also a canon of Hereford. (fn. 222) In the years 1348–54 and after 1481 some rectors were royal proteges. Andrew Tracy, rector 1531–44, was a minister of a royal chapel, (fn. 223) and John Panke, rector c. 1600, published anti-Catholic works. (fn. 224) John Mompesson, rector 1617–37, seldom preached, (fn. 225) and he employed a curate who was apparently not ordained. (fn. 226) John Graile, rector 1646–54, preached twice on Sundays in 1650, signed the Concurrent Testimony, and defended himself in print against charges of Arminianism. (fn. 227) Prescribed books were lacking in 1668 and 1674, and in the 1660s the parish clerk could neither read, write, nor sing. (fn. 228) Robert Pierce, rector 1680–1707, owned Zouche manor and was described by the bishop as 'a very ill man of a turbulent spirit and loose behaviour that had given him much trouble and uneasiness in the county'. (fn. 229) From the later 17th century to the earlier 19th many rectors were pluralists and either were assisted by, or delegated the cure to, curates. (fn. 230) Thomas Fountaine, 1780–8, who succeeded his father as rector, was vicar of Old Windsor (Berks.) and a royal chaplain. (fn. 231) In 1783 the curate held two Sunday services and preached at one of them. Weekday services were held on Christmas day, fast days, and feast days. (fn. 232) Francis Dyson, rector 1829–58, was also rector of South Tidworth, a canon of Salisbury, and a royal chaplain. (fn. 233) In 1832 and 1850–1 only one service was held on Sundays at North Tidworth, in the morning or evening by alternation with South Tidworth; an average of 250 attended morning services 1850–1. (fn. 234) In 1864 the resident rector held two services every Sunday, in winter and spring in the morning, when he preached, and afternoon, and in summer and autumn in the afternoon, when he preached, and evening, when he lectured. The sacrament was administered at the four great festivals, when c. 30 received it, and on Ascension day and every six weeks, when c. 24 received it. (fn. 235) In 1990 the parish was served by a deacon who assisted the rector and lived in the Rectory. (fn. 236)
The church of HOLY TRINITY, so called in 1763, (fn. 237) is of stone rubble with ashlar dressings and extensive red-brick patching, and consists of a chancel with north organ chamber, a nave with south porch, and a west tower with north vestry. It contains a 12th-century font, but the oldest dateable part of its structure is a 14th-century niche which was reset when the church was rebuilt in the 15th century. The tower had been patched by 1805 (fn. 238) and was repaired again in 1859. (fn. 239) In a restoration of the church in 1882, to plans by J. L. Pearson, a gallery was removed, the chancel and the nave were reroofed, the porch was rebuilt, and the organ chamber was built. The vestry was built in 1912. (fn. 240)
In 1553 the king took 4 oz. of plate and left a chalice of 15 oz. for the parish. A chalice hallmarked for 1576 and a chalice and paten of 1838 belonged to the parish in 1891 and 1990. (fn. 241) There were three bells in 1553. They were replaced by three cast by John Wallis in 1619, to which were added a treble cast by Clement Tosier in 1700 and a tenor cast by James Wells of Aldbourne in 1809: (fn. 242) those five bells hung in the church in 1990. (fn. 243) The registers date from 1700; an older one was burnt in the earlier 18th century. (fn. 244)
Nonconformity.
William Fauconer (d. c. 1610), a recusant who owned Hussey manor, (fn. 245) is unlikely to have lived in North Tidworth. There was no papist or dissenter in 1662 or 1676. (fn. 246) Primitive Methodists certified houses in 1816 and 1818 and Baptists from Ludgershall did so in 1831. (fn. 247) Each group still had a few adherents in the parish in 1864. (fn. 248)
Education.
Children were taught in several small schools in the parish in 1783. (fn. 249) In 1818 a total of 46, of whom 22 were from a neighbouring parish, presumably South Tidworth, was taught in three schools, (fn. 250) but there was only one school in 1833 when 12 were taught in it. (fn. 251) In 1846–7 there were two schools, one with 71 pupils and one with 9, (fn. 252) and in 1859 the 40 older children attended a school opened in South Tidworth in 1856 and 5–10 others were taught in a cottage. (fn. 253) North Tidworth children attended South Tidworth school until Clarendon junior and infants' schools were opened east of the church and of Pennings Road in, respectively, 1962 and 1964. (fn. 254) Zouch junior and infants' schools were opened in 1969 west of the Gason Hill estate and merged in 1985 as Zouch primary school. (fn. 255) In 1990 there were on roll 228 children at Clarendon junior school, 184 at Clarendon infants' school, and 309 at Zouch primary school. (fn. 256)
A mixed secondary school was opened on Tidworth down in 1940 for children from North Tidworth, South Tidworth, and Ludgershall, and became a secondary modern school in 1944. It was reserved for boys when a secondary modern school for girls was opened in Ludgershall in 1965. In 1978 the Ludgershall school became a primary school, and thereafter all the older children attended Castledown comprehensive school housed in the buildings on Tidworth down. (fn. 257) There were 450 children on roll in 1990. (fn. 258)
A school at Tin Town for an average of 83 children was open from 1903 to 1906. (fn. 259) There were classrooms at the barracks on Perham down from 1926 and at Fowler barracks in Brimstone bottom in 1965–6. There was also a school in the parish for the children of Gurkha soldiers in 1965–6. (fn. 260) A private preparatory school was open between 1934 and 1966. (fn. 261)
Charities for the poor.
Elizabeth Willis (d. 1637) bequeathed the income from £5 for distribution to the poor each Good Friday. The charity was lost before 1833. (fn. 262)
In 1656 John Bulkeley gave a rent charge of £1 to the poor. (fn. 263) Firewood was given on St. Andrew's day (30 November) in the early 19th century, but the charity had been discontinued by the late 1860s. It was revived and in 1905 the £1 was distributed by the rector with other money collected for the sick and poor. (fn. 264) In 1933 £4 was distributed among five people. (fn. 265) The £1 was given each year to the same old woman 1965–72. (fn. 266)
In 1689 Thomas Pierce (d. 1691) built four almshouses on the west side of the main road near the church. The almspeople, preferably tenants of Zouche manor, were endowed with £21 a year, 2s. a week each, and could also work. Pierce also bequeathed the income from £20 for repairs. The repair fund was lost before 1833. The almshouses were a range of two-roomed red-brick cottages. By a Scheme of 1901 no new almsperson was to be appointed and each cottage, as it became vacant, was to be sold. The proceeds and the £21 yearly were to be invested and weekly pensions of 3s. to be paid to needy parishioners, preferably employees of the former Zouche manor who received no poor relief. In 1905 only one almsperson remained and three of the cottages were let. From the rents and the £21 the almsperson and two more old people received weekly pensions of 4s. 6d. (fn. 267) The almshouses were sold in 1913: in 1914 and in 1928 £52 was distributed in monthly pensions. (fn. 268) From 1966 to 1976 the yearly income of £35 7s. was given in small pensions to 5–7 widows. (fn. 269)