Pages 164-167
A History of the County of Wiltshire: Volume 15, Amesbury Hundred, Branch and Dole Hundred. Originally published by Victoria County History, London, 1995.
This free content was digitised by double rekeying. All rights reserved.
BRANCH AND DOLE HUNDRED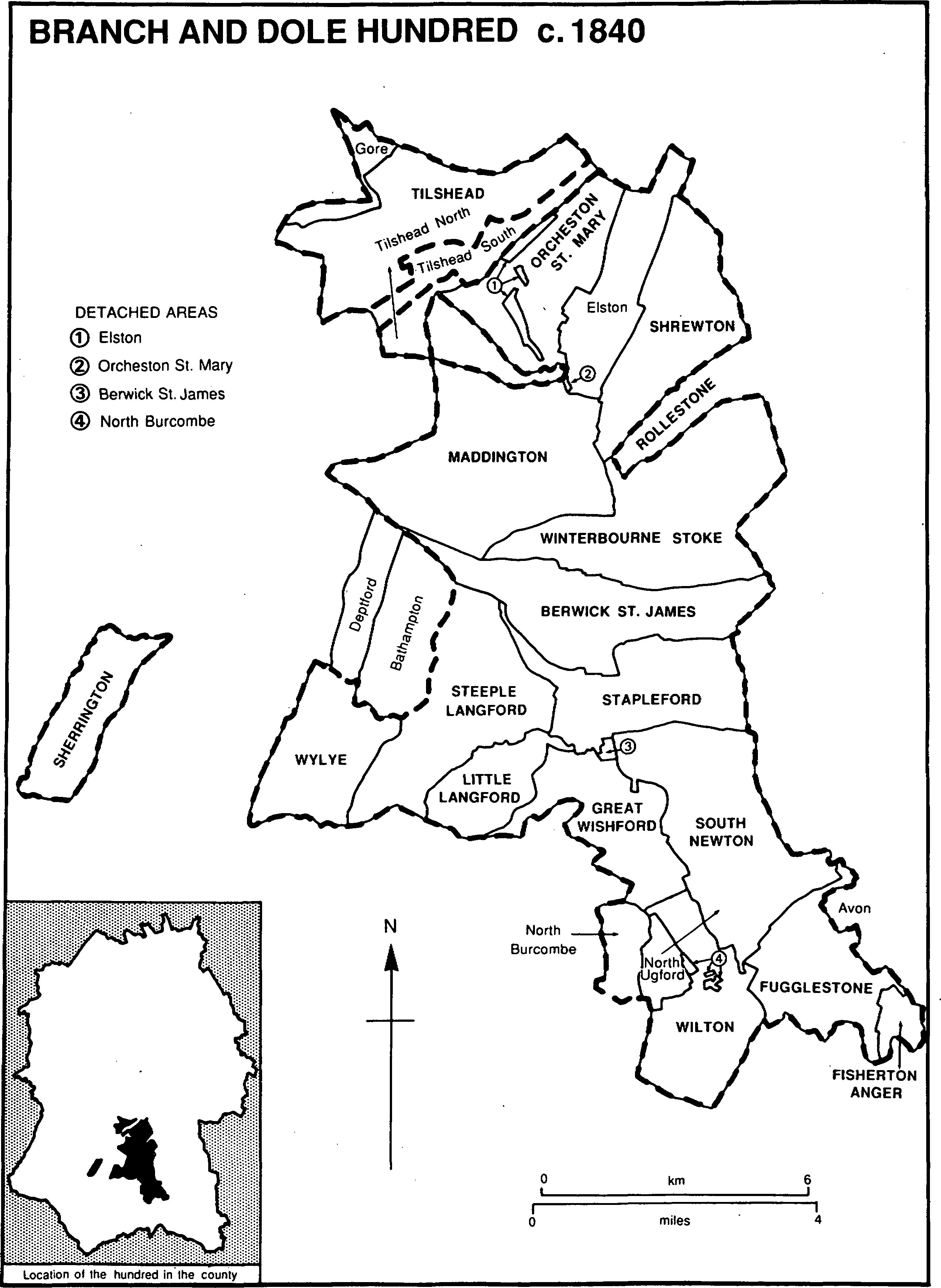 Branch hundred was called Brencesberga hundred in 1084 (fn. 1) and may have taken its name from a barrow at which it met. (fn. 2) In 1084 it included all the lands in Sherrington, Stapleford, and Stockton parishes, some of those in Steeple Langford parish, and possibly all those in Fisherton Anger and Great Wishford parishes; it also included extensive estates of Wilton abbey, probably all the lands in the parishes of Fugglestone, Little Langford, and South Newton, and some of those in Burcombe, Stratford-sub-Castle, Wilton, and Wylye. (fn. 3) Stockton, a possession of St. Swithun's priory, Winchester, was transferred to Elstub hundred, which was also the priory's, before 1249. (fn. 4) Otherwise the composition of Branch hundred in 1332 was what it seems to have been in 1084. It included in Burcombe parish North Burcombe and part of Ditchampton but not South Burcombe and South Ugford which were in Cadworth hundred, in Fugglestone parish Fugglestone, Bemerton, and Quidhampton, in Steeple Langford parish Steeple Langford and Hanging Langford but not Bathampton which was in Heytesbury hundred, in South Newton parish South Newton, Little Wishford, Stoford, Chilhampton, North Ugford, and possibly Burden's Ball, in Wilton parish most of Ditchampton, and in Wylye parish Wylye but not Deptford which was in Heytesbury hundred. Avon in Stratford-sub-Castle was in the hundred in 1332 (fn. 5) but later is more likely to have been considered part of Underditch hundred. (fn. 6) The lands of Branch hundred are north-west of Salisbury in the Nadder and Wylye valleys. At the confluence of the two rivers Wilton borough was not part of the hundred, (fn. 7) but after the Middle Ages was often linked administratively with it. (fn. 8) In 1255 and presumably until, between 1604 and 1839, it ceased to be considered part of Great Wishford parish, the northern half of Grovely forest was part of the hundred. (fn. 9)
By an early grant or by prescription some of Wilton abbey's estates, including all those in the hundred in Burcombe, South Newton, and Wylye parishes, were evidently exempt from the jurisdiction of the hundred, (fn. 10) and in the 12th century exemption was granted to other lords for Stapleford and Great Wishford. Great Wishford's was disputed 1226–7 but established. Exemption for Hanging Langford was claimed in the 13th century and had been established by the 15th. (fn. 11)
Dole hundred was called Dolesfeld hundred in 1084 (fn. 12) and may have taken its name from a field in which it met. (fn. 13) In 1084 it included all the lands in Shrewton and Rollestone parishes and probably all those in Berwick St. James, Maddington, Orcheston St. Mary, and Winterbourne Stoke parishes; it also included Gore, a detached part of Market Lavington parish, and Elston in Orcheston St. George. (fn. 14) Tilshead was a royal borough in 1086: (fn. 15) by the early 12th century most of it, Tilshead North manor, had evidently been added to Dole hundred, of which it was later part; (fn. 16) by the mid 13th the remainder, Tilshead South manor, had been added to Whorwellsdown hundred, which was held by the lord of that manor. (fn. 17) In 1332 Dole hundred comprised the parishes of Berwick St. James (including Asserton), Maddington (including Addestone, Bourton, and Homanton), Orcheston St. Mary, Shrewton (including Netton), Winterbourne Stoke, and probably Rollestone, and Elston, Gore, and Tilshead North. (fn. 18) Rollestone was transferred to Elstub hundred between 1428 and 1524 although it had no known connexion with St. Swithun's priory. (fn. 19) Nearly all the lands of the hundred are in the valley of the river Till, and most of the Till valley was in the hundred.
Maddington manor and Tilshead North manor, held by respectively Amesbury priory and Holy Trinity abbey, Caen (Calvados), was each free from suit of the hundred by grant, (fn. 20) and Shrewton and Winterbourne Stoke may also have been freed from the jurisdiction of the hundred by 1255, when each manor was held with view of frankpledge. (fn. 21) Attempts to reimpose hundredal jurisdiction over Tilshead North in the later 13th century were unsuccessful. (fn. 22) Orcheston St. Mary manor was held with view of frankpledge in the 15th century, (fn. 23) as was Berwick St. James manor in the 16th, when it was in the duchy of Lancaster. (fn. 24)
Branch and Dole hundreds were combined for some purposes from 1236; (fn. 25) the two shared a bailiff with Cawdon hundred in 1249 (fn. 26) and with Dunworth hundred in 1255. (fn. 27) Branch and Dole evidently remained two hundreds in the earlier 14th century, (fn. 28) but were named as one in 1383 (fn. 29) and 1428 (fn. 30) and had been combined by 1439. (fn. 31) The last known reference to Branch or Dole as a separate hundred is of 1487. (fn. 32)
The Crown's ownership of Branch and Dole hundreds and of the combined hundred was largely uninterrupted. Caen abbey may have had rights over the whole of Dole hundred in the early 12th century, (fn. 33) but in the 13th that hundred was the king's. (fn. 34) A tourn for Branch and Dole hundred was held at 'Wirdescliff' in 1439. It was attended by tithings called Tilshead, Orcheston, Elston, Maddington, Addestone, Asserton, Sherrington, Wylye, Steeple Langford, Wishford, Newton, Bemerton, and Burcombe. It is not clear why it was attended by so many tithings for which exemption had been granted or claimed and not by several for which no exemption had been granted or claimed; Gore was the only tithing against which action was taken for not attending. (fn. 35) Later Hanging Langford and Little Langford formed a single tithing. (fn. 36) In 1651 a hundred court, at which actions under 45s. could be tried, was said to meet every three weeks, and a leet court on Lady day and at Michaelmas. The meeting place was said to be in Stapleford at a corner made by a hedge, (fn. 37) possibly 'Wirdescliff'. No detailed record of the courts survives.
In 1255 Branch hundred was valued at £4 6s. 4d. and from Dole hundred the sheriff received £4 as tithing penny and aid. (fn. 38) In 1651 cert money totalling £7 16s. 2d. was paid and fines were said to be worth £20; the duties of steward and bailiff of Branch and Dole hundred were performed by the sheriff and his officers. (fn. 39) The hundred had two constables; (fn. 40) until 1844 a high constable was appointed to collect the county rate in it. (fn. 41)
The histories of most of the parishes in Branch and Dole hundred are given below, but not those of Fisherton Anger parish, given with that of Salisbury, (fn. 42) Fugglestone parish and Ditchampton, given with Wilton borough, (fn. 43) Gore, given with Market Lavington, (fn. 44) and Avon, given with Stratford-sub-Castle, (fn. 45) while those of North Burcombe and Elston are reserved for future volumes relating to Cawdon and Cadworth hundred and Heytesbury hundred. Bathampton and Deptford in Heytesbury hundred and Tilshead South in Whorwellsdown hundred are included below in the histories of their respective parishes.