Pages 168-177
A History of the County of Wiltshire: Volume 15, Amesbury Hundred, Branch and Dole Hundred. Originally published by Victoria County History, London, 1995.
This free content was digitised by double rekeying. All rights reserved.
BERWICK ST. JAMES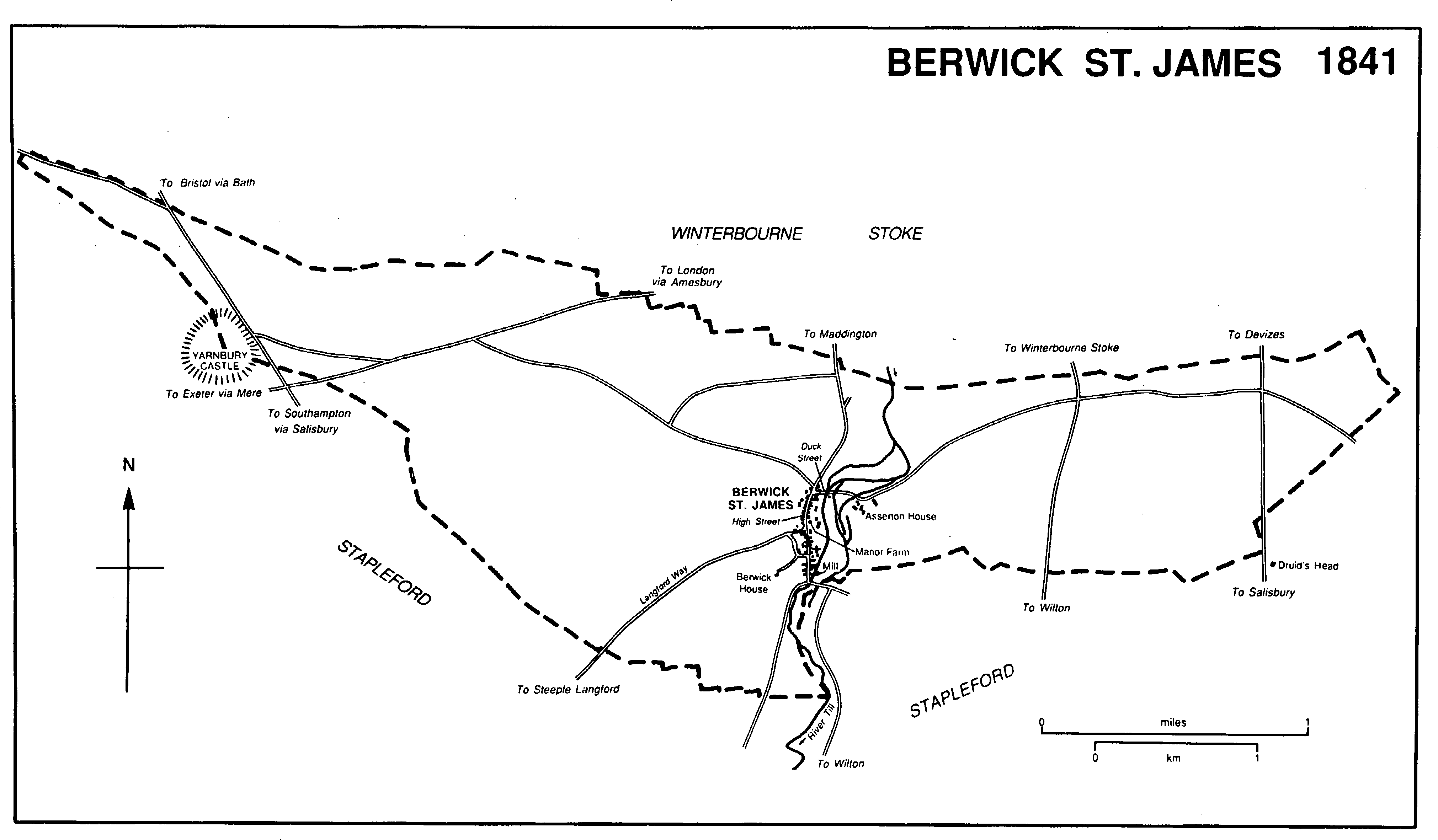 Berwick St. James village is 8 km. WSW. of Amesbury. (fn. 1) It is in an elongated parish, 8.5 km. from east to west, crossed from north to south by the river Till. In the 11th century, when the Till was called the Winterbourne, the estate on the west bank at what was later called Berwick St. James was, like many other estates in the valley, called Winterbourne, but by the late 12th century the village bore its present name and probably had then, as it had later, a parish church. (fn. 2) One of two estates said to be in Winterbourne Stoke in 1086 (fn. 3) was probably that on the east bank said to be in Little Winterbourne in the early and mid 13th century, (fn. 4) Asserton in 1279. (fn. 5) Asserton became part of Berwick St. James parish, and was said to be so in 1609, (fn. 6) but it had its own church in the Middle Ages and a recommendation of 1650 that it be wholly united with Berwick St. James suggests that there was then uncertainty about its affiliation. (fn. 7) The parish also had a detached part, 33½ a., c. 2.5 km. south of Berwick St. James church: (fn. 8) it was transferred to Stapleford in 1884, from when the parish measured 2,497 a. (1,011 ha.). (fn. 9)
Boundary mounds divide the parish from Winterbourne Stoke east of the Till; the parish boundary is marked by two short lengths of a prehistoric ditch in the extreme east and crosses a prehistoric settlement site in the west. Elsewhere few natural or man-made features mark the boundary.
Chalk outcrops over the whole parish. Alluvium and gravel have been deposited beside the Till, and gravel lines two valleys running east towards the Till and now dry. (fn. 10) The lowest point in the parish is where the Till leaves it at c. 64 m. Westwards the downs rise gradually to reach 166 m. at the westernmost corner; eastwards the land rises more steeply, reaches 144 m. on the watershed of the Till and the Christchurch Avon, and declines gently to 112 m. at the parish boundary. From the Middle Ages land use in the parish followed the pattern usual for Wiltshire chalklands: there were meadows beside the Till and in the detached part of the parish, and open fields lay on the downs between the meadow land and the rough pasture at the east and west ends. The parish had little woodland until the 19th century, (fn. 11) in the 13th century the lord of Berwick St. James manor took housebote and haybote from a coppice probably in Grovely forest, (fn. 12) and in 1603 the men of Berwick St. James were accustomed to take wood and ferns from the forest, although their right to do so was denied. (fn. 13) Trees were planted in the parish from the mid 19th century, especially in the east part, (fn. 14) and in 1979 there were c. 200 a. of woodland. (fn. 15)
Langford Way, a road across the downs from Berwick St. James village to Steeple Langford, may have been part of the ancient Harrow way, thought to link Kent and Somerset, (fn. 16) but no part of such a road survives in the east half of the parish. The Southampton—Bristol road via Salisbury and Bath crossed the parish's western tip, became less important in the 18th century, (fn. 17) and was a track in the late 20th. The Devizes— Salisbury road across the east corner of the parish and a downland road between Amesbury and Mere across the west part were turnpiked in 1761, disturnpiked in 1870 and 1871 respectively. (fn. 18) Both remained important in the late 20th century, the Amesbury-Mere road as part of the London—Exeter road, a trunk road from 1958. (fn. 19) The road from Maddington and Shrewton to Wilton followed the Till and passed through Berwick St. James village, where it was on its present course in 1773. Where it crossed the river south of the church a new bridge was built after its predecessor was destroyed in a flood in 1841. Near the northern boundary the road forked: the eastern branch, from Winterbourne Stoke village, was a footpath in the late 20th century. A road on higher ground east of the Till also led between Winterbourne Stoke and Wilton in the 18th century, and it remained open across the parish in 1992. In the 18th century a road diverging from Langford Way linked Berwick St. James village with the Mere and Bath roads, but in the late 20th only parts of it survived as tracks. (fn. 20) A military railway was built north—south across the east end of the parish in 1914–15; it had been dismantled by 1923. (fn. 21)
Yarnbury castle, on the parish boundary at the west corner, is an Iron-Age hill fort occupied until Romano-British times; north of it lies a barrow and south of it there is a site where Romano-British remains were found. Apart from those features, evidence of early ploughing of both the east and west downland, and the boundary ditch, the parish is not rich in prehistoric remains. (fn. 22)
In 1377 Berwick St. James had 80 poll-tax payers, Asserton 27. (fn. 23) The population of the parish was 226 in 1801. It had risen to 294 by 1851 but fell thereafter, to 191 in 1891 and 133 in 1931. It rose again in the mid and later 20th century and was 153 in 1991. (fn. 24)
A benefit society for the parish was founded in 1817. It was to meet weekly and provide relief for any member in need who had contributed for a year. Although it was intended to dissolve the society and to divide its stock between the members after 10 years, (fn. 25) it may have continued until the early 20th century. (fn. 26)
Berwick St. James.
The principal buildings of Berwick St. James stand on alluvium rather than the valley gravel, exceptionally for a south Wiltshire village (fn. 27) and for no evident reason. The Maddington—Wilton road passes through the village and its earliest line is likely to have been east of the church and through the main farmsteads. In 1773, however, it was on its present course west of the church, on the line between the alluvium and gravel, and formed a village street: east of it and near the river were the church, the mill, and, at right angles to the street, the principal farmhouses; on the west side of it and fronting it a line of buildings was on the gravel. (fn. 28) The village street has been given the name High Street; the lane leading to Asserton from the crossroads at the north end has been called Duck Street.
East of High Street two farmyards, a mill, and several houses of 17th-century or earlier origin survived in 1992. North of the church Manor Farm has a back wing of c. 1600, in which a ground-floor room has a six-part ceiling of moulded beams, and a south range built in the early 18th century. South of the church the Dairy House was built in the 17th century as a cottage of two rooms and later much enlarged. Two houses north of Manor Farm, Goodwin House and the Boot inn, are also 17th-century. The Boot, in the angle of High Street and Duck Street, was open in 1848 (fn. 29) and 1992, and much altered in the 1890s. (fn. 30) Also on the east side of High Street a school was built near the church in the mid 19th century. (fn. 31)
In 1992 only one cottage west of High Street was older than c. 1800. Near the street's south end Berwick House, a square house of two storeys and tall attics, was built in the early 19th century. Most buildings fronting the street are cottages of the 19th or 20th century. Three pairs, two rendered and one of banded stone and flint, are estate cottages built in 1874. (fn. 32) North of them a row of estate cottages and a reading room are of c. 1900.
There was little building in the village between c. 1900 and 1945. Thereafter most was near the crossroads at the north end. In North Rise, to the west, four council houses were built in 1949 and two in 1962. (fn. 33) A pair of cottages north of them was built in 1954, (fn. 34) and a few houses and bungalows were built on the east side of the road north of Duck Street. Several houses were also built at the south end of High Street on the west side. West of the village few buildings have been erected on the downs. (fn. 35) Farm buildings near the village beside Langford Way, and others west and north-west of them, are mainly of the mid and later 20th century.
Asserton.
In the Middle Ages Asserton was a hamlet or village (fn. 36) presumably on or near the site of Asserton House, but in 1655 was apparently no more than a single farmstead. (fn. 37) Asserton House was built in the late 17th century: c. 1830 it was altered, a new west block with a principal west front was built, and a single-storeyed east service court was added. Extensive farm buildings stood nearby c. 1841: most were removed and one was replaced by a pair of cottages when a new Asserton Farm was built on downland 750 m. further east between then and 1886. White Lodge, a thatched house in picturesque style, was built 500 m. north-east of Asserton House in the same period. (fn. 38) Beside the parish's northern boundary at the east corner there was a building from 1923 or earlier, (fn. 39) two bungalows had been built by 1958, (fn. 40) and extensive farm buildings and two more bungalows were built c. 1990.
Manors and other estates.
In 1066 Edric held what became BERWICK ST. JAMES manor, and in 1086 Nubold held it of Ernulf of Hesdin. (fn. 41) The manor was later part of the barony of Kempsford (Glos.) and presumably passed with Kempsford before 1096 to Patrick de Chaworth, probably Ernulf's son-inlaw, and after 1133 to Patrick's son Patrick (d. by 1155). (fn. 42) It was held in 1169 by the younger Patrick's son Pain, also called Pain de Mundubleil, (fn. 43) in 1194 by Pain's son Patrick de Chaworth, (fn. 44) in 1219 by that Patrick's son Pain (fn. 45) (fl. 1236), and in 1242–3 by that Pain's son Patrick, (fn. 46) who in 1243 was granted free warren in his demesne at Berwick St. James. (fn. 47) In 1258 the manor was assigned as dower to Patrick's relict Hawise (fn. 48) and by 1275 had passed to his son Pain, (fn. 49) who was succeeded c. 1279 by his brother Patrick (d. by 1283). Patrick's relict Isabel was granted it as dower: the reversion passed to his daughter Maud (fn. 50) (d. c. 1322), who married Henry of Lancaster, earl of Leicester from 1324 and of Lancaster from 1326. (fn. 51) Henry held the manor in 1307; (fn. 52) it passed on his death in 1345 to his and Maud's son Henry, earl of Lancaster (cr. duke of Lancaster 1351), (fn. 53) who granted it for life to Sir Robert de la Mare (fl. 1376). (fn. 54) On Henry's death in 1361 the reversion was assigned to his daughter Maud, wife of William, duke of Bavaria; on her death in 1362 it passed to her sister Blanche, wife of John of Gaunt, earl of Lancaster (cr. duke of Lancaster 1362, d. 1399). (fn. 55) John granted the manor in 1382 to Sir Nicholas Sharnesfield for life. (fn. 56) As part of the duchy of Lancaster it passed with the Crown from the accession of John's son as Henry IV in 1399 to 1591 or later. (fn. 57)
The manor was acquired by Adam Snow, who died in 1618 leaving an elder son William (fn. 58) and a younger son Nicholas. In performance of Adam's nuncupative will William in 1632 conveyed the manor to Nicholas (fn. 59) (d. 1639), whose heir was his son Nicholas. (fn. 60) By 1680 it had passed to William's daughter Catherine and her husband the Revd. James Crawford. (fn. 61) Catherine may have been the Catherine who in 1692 held the manor with her husband the Revd. John Stevens. (fn. 62) It passed to Catherine's and James's daughter Mary (d. 1740), wife of the Revd. Edward Wake and later of William Swainton, (fn. 63) and to Mary's son William Wake, who sold it to James Harris in 1742. (fn. 64) Harris (d. 1780) was succeeded by his son Sir James (cr. Baron Malmesbury 1788, earl of Malmesbury 1800), (fn. 65) who sold the manor in 1815 to Alexander Baring (fn. 66) (cr. Baron Ashburton 1835, d. 1848). In 1841 Lord Ashburton owned 1,603 a. in the parish. With the barony the manor passed to his sons William (d. 1864) and Francis (d. 1868), to Francis's son Alexander (d. 1889), and to Alexander's son Francis, (fn. 67) who sold it in 1896 to E. T. Hooley. In 1898, following Hooley's bankruptcy, Manor farm, c. 1,500 a., was bought by Sir Christopher Furness (cr. Baron Furness 1910, d. 1912); (fn. 68) in 1915 Furness's son Marmaduke, Lord Furness, sold it to Mary, wife of Cecil Chubb (cr. baronet 1919), and in 1919 Mary sold it to the Board of Agriculture and Fisheries. (fn. 69) E. K. Collins bought it in 1921 and sold it in 1945 to Frank Bucknell, whose son Mr. Michael Bucknell owned Manor farm, 612 a., in 1992. (fn. 70) In 1954 Mr. George Street bought 820 a., which he owned as Berwick Hill farm in 1992. (fn. 71)
Before 1127 Patrick de Chaworth may have granted part of Berwick St. James manor, as he did Great Wishford manor, to his son-in-law Henry Daubeney. In 1258 Henry's great-grandson Henry Daubeney held 1 hide and ½ yardland freely of Berwick St. James manor. (fn. 72) That estate, later BONHAM'S, passed to the younger Henry's sons Walter (d. by 1273) and Henry (d. c. 1278) and thereafter usually with a moiety of Great Wishford manor. From Maurice Bonham (d. 1302), a grandnephew of Henry (d. c. 1278), it passed in turn to his sons William (d. by 1316) and Sir John, (fn. 73) and in turn to Sir John's sons Robert (fn. 74) (fl. 1356) and Nicholas (d. 1386). Nicholas devised it to his son John (d. 1411), (fn. 75) and in 1435 it was held by John's nephew Thomas Bonham (d. 1473). It presumably passed to Thomas's son Walter (d. 1476), to Walter's son William (fl. 1514), in turn to William's sons Walter (d. 1527) and Nicholas (d. 1559), and to Nicholas's son John (d. a minor in 1559). John's brother Walter (fn. 76) in 1598 conveyed Bonham's to Sir Richard Grobham (fn. 77) (d. 1629). Thereafter it descended with Great Wishford manor in the Grobham and Howe families to John Howe, Lord Chedworth (d. 1804), (fn. 78) who held 294 a. in Berwick St. James in 1790. (fn. 79) The lands were sold by Chedworth's executors in 1806 or 1807 to James, earl of Malmesbury, and reunited with Berwick St. James manor. (fn. 80)
Until the Dissolution a chantry at Marnhull (Dors.) owned a messuage and 1½ yardland at Berwick St. James. (fn. 81)
ASSERTON manor derived from one of two estates, of 1½ hide and 1 hide, said in 1086 to be in Winterbourne Stoke and then held of Edward of Salisbury by Walter: the smaller estate was held in 1066 by Alwi, possibly as part of an estate of 1½ hide. (fn. 82) Overlordship of the manor passed with Shrewton to Edward's descendants, earls of Salisbury, and from the earlier 13th century to the earlier 15th with the overlordship of Shrewton. (fn. 83) It was held by Thomas Montagu, earl of Salisbury (d. 1428), (fn. 84) but has not been traced further.
Asserton manor was presumably the estate, then said to be in Little Winterbourne, held by Geoffrey of Poulton in 1203 and apparently held previously by his brother William. (fn. 85) In 1242–3 the manor was held by William son of Walter, (fn. 86) probably William Waleran whose son Robert died seised of it in 1273. It was assigned to Robert's relict Maud as dower, may have passed to his nephew Robert Waleran (d. by 1299), an idiot, and in 1299 was held by the Crown for the younger Robert's brother John, also an idiot. (fn. 87) John's mother Isabel was also said to have held the manor at her death in 1284, by what right is not known. John was dead by 1309, and in 1310, when it was called Asserton, the manor was assigned to Joan, wife of (Sir) Alexander de Freville (d. by 1328), her grandniece and a coheir of her and John. (fn. 88) Joan (d. by 1339) conveyed it to Henry Willington (d. 1349) and his wife Isabel (d. after 1349). It passed to the Willingtons' son Sir John (fn. 89) (d. 1384) (fn. 90) and in turn to Sir John's sons Ralph, who died a minor, and John, who died a minor and insane in 1397. (fn. 91) After John's death Asserton manor was assigned to his sister Isabel, wife of William Beaumont. (fn. 92) From Isabel (d. 1424) it descended to her son Sir Thomas Beaumont (fn. 93) (d. 1450) and to Sir Thomas's son William (fn. 94) (d. 1453). It probably passed with Brompton Ralph manor (Som.) to William's brother Philip (d. 1473) and to Philip's halfbrother Thomas Beaumont. (fn. 95) Thomas (d. 1488) was succeeded by his brother Hugh, (fn. 96) who held Asserton manor in 1501. John Basset (later knighted), nephew of Philip Beaumont, also had an interest in the manor in 1501: (fn. 97) he was acknowledged as Hugh's heir and in 1504 the manor was settled on Giles Daubeney, Lord Daubeney (d. 1508), whose son Henry was betrothed to Basset's daughter. (fn. 98) Although no marriage took place Henry, Lord Daubeney (cr. earl of Bridgwater 1538, d. 1548), acquired the manor and in 1547 conveyed it to Edward Seymour, duke of Somerset. (fn. 99) On Somerset's attainder in 1552 (fn. 100) it passed to the Crown. It was granted in 1565 to (Sir) Arthur Basset (d. 1586), grandson of Sir John Basset, and passed to his son Sir Robert (fl. 1626) (fn. 101) and to Sir Robert's son Arthur (d. 1672), whose estates were sequestered in 1646, restored in 1650, and sequestered again and restored in 1654. Arthur was succeeded by his grandson John Basset (d. 1686) and he by his son John (d. 1721). (fn. 102) Another John Basset held the manor in 1736, (fn. 103) and it was sold in 1773, perhaps by trustees of the Basset family, to Henry Biggs (fn. 104) (d. 1800). As Asserton farm, 824 a. in 1841, it passed to Henry's son Harry (d. 1856). (fn. 105) It was offered for sale under Harry's will in 1861, (fn. 106) and in 1864 was bought by E. C. Pinckney (fn. 107) (d. 1899). (fn. 108) It was acquired by Sir Christopher Furness, presumably from Pinckney's executors, was offered for sale by him in 1909, and may have been bought by F. B. Beauchamp. (fn. 109) In 1910 it was part of A. P. Cunliffe's Druid's Lodge estate based in Stapleford. (fn. 110) Cunliffe sold Asserton farm, 518 a., in 1912 (fn. 111) to D. H. S. Awdry (fl. 1915). (fn. 112) It was later reunited with the Druid's Lodge estate, was held by J. V. Rank at his death in 1952, and thereafter passed as part of the estate to the Fenston Trust and in 1989 to Mr. R. A. Hurst, the owner in 1992. (fn. 113)
A manor house of Asserton was standing in the 14th century. (fn. 114)
Berwick St. James church was appropriated in 1406 or 1407 by Mottisfont priory (Hants). (fn. 115) At the Dissolution the RECTORY estate, of land and tithes, passed to the Crown, and in 1536 it was granted to William Sandys, Lord Sandys (fn. 116) (d. 1540). It passed with the title to William's son Thomas (d. 1560), Thomas's grandson William Sandys (d. 1623), and that William's son William (d. s.p. 1629), whose nephew Henry Sandys held it in 1631. Henry was killed in 1644 while fighting in the Royalist cause, and his estates were apparently confiscated. (fn. 117) In 1650 the Rectory belonged to Simon Spatchurst (fn. 118) who sold it to John Duke in 1659. (fn. 119) Duke (d. 1671) settled it in 1662 on his son John, whose son George sold it in 1699 to Thomas Kellow (fn. 120) (d. by 1736). (fn. 121) In 1737 it was bought by Edward Hearst (fn. 122) (d. 1767). Edward was succeeded by his daughter Caroline, who in 1768 married H. P. Wyndham, (fn. 123) and in 1790 the Wyndhams sold the estate. The Berwick St. James part of it, great tithes from, and 48 a. with pasture rights in, that part of the parish, was bought by James, Lord Malmesbury: it passed with Berwick St. James manor to Alexander, Lord Ashburton, who in 1841 merged the tithes on 1,327 a. and was allotted a rent charge of £10 for those on c. 45 a. The Asserton part of the estate, c. 18 a. with pasture rights, the great tithes from 226 a., and half of the great tithes from 407 a., was bought by Henry Biggs in 1790: it passed with Asserton manor to Harry Biggs who in 1841 merged the tithes. (fn. 124)
The abbess of Wilton c. 1191 claimed 15 a. of corn each year from the demesne of Berwick St. James manor for South Newton prebend in the conventual church, (fn. 125) possibly representing an estate of tithes. In 1291 a pension of IOS. was due to the prebendary from the rector, (fn. 126) who may have held the tithes. Later, after the rectory was appropriated, the prebendary may again have taken great tithes from the Berwick St. James part of the parish. Such tithes were owned by Wilton abbey, which appropriated the prebend in 1450, (fn. 127) and with the abbey's other estates were granted in 1544 to Sir William Herbert (fn. 128) (cr. earl of Pembroke 1551) and passed with the earldom. (fn. 129) In 1841 they arose from 203 a., were valued at £50, and were commuted. (fn. 130)
The endowment in Asserton of Asserton chapel, c. 14 a. and tithes from the demesne of Asserton manor, was held by the Crown from c. 1547 (fn. 131) to 1607, when it was granted to Sir Roger Aston and John Grimsditch. (fn. 132) In 1614 Grimsditch sold it to Thomas Atkins, who conveyed it in 1615 to Sir Richard Grobham (d. 1629). (fn. 133) With Bonham's and Great Wishford manor it passed to Sir Richard Howe, Bt. (d. 1730), (fn. 134) who devised the tithes to a school at Great Wishford. (fn. 135) In the early 18th century the tithes were said to be from five twelfths of Asserton manor. (fn. 136) In 1805 the estate consisted of great tithes from Asserton, all those from 200 a. and half those from 407 a. (fn. 137) The school was allotted a rent charge of £72 IOS.when the tithes were commuted in 1841. (fn. 138)
Economic history.
Berwick St. James.
In 1086 the estate, of 1 hide and 2½ yardlands, which became Berwick St. James manor had on it only 1 ploughteam and 2 servi; it had 8 a. of pasture. (fn. 139) Berwick's lands were later extensive, c. 1,650 a. in 1841, (fn. 140) and it is not clear why no more demesne and no customary land was mentioned in 1086.
In 1258 the manor had 96 a. of demesne in a north field, 99 a. in a south field: the two fields were probably open, also containing land of freeholders and customary tenants, and were possibly the only two of Berwick St. James. The downland, on which 300 demesne sheep could be kept, was almost certainly used in common, and there was a common pasture for 80 beasts of which 32 belonged to the demesne. There were also cattle pastures called Kyggersmers and Sterce, used in common for 16 beasts of the demesne and 24 of the freeholds. A total of 1 hide and 1½ yardland was in three freeholds; there were only five customary tenants, each of whom held ½ yardland; four servants on the manor held ¼ yardland each. The demesne was then or formerly cultivated partly by customary works. (fn. 141) Later evidence shows the rector to have held 3 yardlands. (fn. 142)
By 1283 the amount of demesne arable had been increased to 300 a., and the number of customary tenants to 22 and their holdings to 8½ yardlands. The customary tenants also held 'acreland'. It is likely that the increases were the result of new land being brought into cultivation. There were only 124 a. of demesne arable in 1307, when 18 ½-yardlanders held customarily. (fn. 143) In the 15th century the demesne included a several sheep pasture called Worham: the demesne flock numbered 301 in 1435, 418 in 1441, and 260 in 1449. Approximately a third of the flock was sold yearly in the mid 15th century. (fn. 144)
By the early 17th century each of the two open fields had apparently been divided into an inand an out-field, and a separate demesne field may have been created. The demesne had its own downland sheep pasture in the late 16th century, when the common Cow down was on the south part of the downland. (fn. 145) The 8½ customary yardlands were held by 15 tenants in 1591. (fn. 146) Sheep stints were generous, to judge from the Rectory estate, which in the Berwick St. James part of the parish had 48 a. of arable and feeding for 200 sheep in 1609. (fn. 147) In 1591 the lands of the manor were said to be not very fertile but reasonably apt for corn and with reasonably good sheep pasture. There was said to be a shortage of meadow even though the detached part of the parish was meadow and in Berwick St. James manor. There were c. 850 a. of upland pasture. (fn. 148)
In 1735 an agreement was made for watering meadows south of the village. (fn. 149) Other water meadows lay north of the village in 1790. (fn. 150) In 1841 Berwick St. James had c. 30 a. of water meadows, (fn. 151) in 1898 c. 40 a. (fn. 152) Watering of the meadows ceased in the mid 20th century. (fn. 153)
The open fields and much of the downland, a total of c. 1,300 a., were inclosed in 1790 under an Act of 1789. On the 169 a. of downland which remained open eight holdings included rights to graze sheep in a flock for which a single shepherd was appointed; six allottees continued to feed cattle in common on 6 a. of meadow between 12 May and 12 December. (fn. 154) Common grazing of the meadow but not of the downs was apparently still practised in 1841. (fn. 155)
In 1806 Berwick farm, derived from the demesne, comprised 539 a. The farm derived from Bonham's was then of over 300 a. and included 166 a. of arable, 98 a. of pasture, and 8 a. of water meadow; 29 a. of the arable were burnbaked. There were also farms of 230 a. and 220 a., and two totalling c. 70 a. (fn. 156) In 1815 Berwick farm included 106 a. of newly broken arable. (fn. 157) In 1841 all the land was in a single farm, with its principal buildings in the street. More of the downland pasture had been ploughed, and some of the former open fields was pasture. There were 216 a. of old arable, 166 a. of lowland pasture, and c. 100 a. of meadow including the detached part of the parish. (fn. 158) The lands remained in one farm, still worked from the village, in the earlier 20th century. (fn. 159) In 1954 they were divided into Manor farm and Berwick Hill farm, (fn. 160) for both of which farmyards in the street were still used in 1992. Between 1954 and 1992 on Berwick Hill farm, c. 820 a., cereals and peas were grown and a herd of 150 suckler cattle was kept. (fn. 161) In 1992 Manor, 612 a., was a mixed farm on which cereals, peas, and rape were grown and sheep and pigs were kept. (fn. 162) From 1898 or earlier 225 a., the westernmost part of the downland, were in farms based in Steeple Langford. (fn. 163) In the 1950s poultry houses were built west of the village by Geoffrey Sykes, an early exponent of intensive poultry farming. (fn. 164) Much of the business was later transferred to Winterbourne Stoke. (fn. 165)
The mill held freely of Berwick St. James manor in 1258 was possibly the windmill so held in 1307. (fn. 166) There was a water mill at Berwick St. James in 1591 when a complaint was made against the lord of Winterbourne Stoke whose newly built mill, presumably that rebuilt between 1546 and 1574, was said to reduce both the flow of water to Berwick mill and its trade. (fn. 167) In 1773 the mill was on the Till near the bridge at the south end of the street; (fn. 168) the mill house may have been repaired or rebuilt in 1785. (fn. 169) The mill was replaced in the mid 19th century by Bean Mill 100 m. upstream. (fn. 170) Bean Mill is of flint and clunch with red-brick dressings; after 1921, when grinding presumably ceased, its machinery, including a cast-iron undershot wheel, was used to provide electricity for Berwick House and to pump water from a bore hole. (fn. 171)
Asserton.
There was 1 ploughteam at Asserton in 1086. (fn. 172) Asserton later had c. 850 a., (fn. 173) and, as in the case of Berwick St. James, it is not clear why no more cultivated land was mentioned in 1086.
In 1309 Asserton had north and south open fields: they were said to comprise c. 530 a., but later there was less arable and that figure may have been an exaggeration. There was downland used in common for c. 1,000 sheep. Those lands included the demesne of Asserton manor, the holdings of the free and customary tenants of the manor, and glebe of the rector of Berwick St. James. The demesne was said to have 321 a. or 351 a. of arable, pasture rights for 250 sheep, a pasture close of 3 a., and 3 a. of pasture in severalty for part of the year. Customary tenants included 7 yardlanders, each said to hold 24 a. with grazing rights for 65 sheep, 3 ½-yardlanders, each said to hold 12 a. with rights for 32 sheep, and 5 cottagers. The yardlanders had to carry dung, harrow, carry corn to Salisbury, Wilton, and Amesbury, wash and shear sheep, and mow, cut, and carry hay. They were to do five works weekly between 29 August and 29 September and for four weeks in autumn. The ½-yardlanders and cottagers had proportionately smaller obligations. For each beast which the yardlanders and ½-yardlanders fed on the demesne after harvest they were to plough 1 a. The rector had rights for 65 sheep, as did each of two free tenants. The only meadow land of the manor was apparently 9½ a. in Great Wishford. (fn. 174)
In the mid 17th century North field was 107 a., South field 111 a., and a third field was 127 a. on higher ground to the east. South field was in two parts, divided by Little down, 75 a. To the east Great down was 313 a. There were then 9 a. of meadow beside the Till west of North field, (fn. 175) and the first cut of hay from Asserton meadow, 12 a., in Great Wishford belonged to men of Asserton then (fn. 176) and in the early 20th century. (fn. 177) There were also 20 a. of closes of pasture in the mid 17th century. By then the demesne of Asserton had absorbed three or more former copyholds or freeholds. The Rectory estate included c. 18 a. of arable and feeding for 60 sheep, but in 1655 nearly all Asserton's lands were in a single farm and the only farmstead was that on the demesne: two smaller holdings were possibly worked from Berwick St. James village in 1655. (fn. 178) In the 1690s one of the smaller holdings and the lands of the Rectory estate were added to the principal farm, later called Asserton farm. About 1690 the farmer had c. 1,200 sheep. After 1695, however, part of the down was ploughed, and 75 a. of it were sown with corn in 1699. (fn. 179)
In 1805 Asserton farm was 846 a., (fn. 180) and in 1841 it included c. 450 a. of arable, c. 350 a. of pasture, and c. 20 a. of water meadow. Asserton Farm was built on the downs in the mid 19th century, (fn. 181) probably soon after 1864 when E. C. Pinckney bought the land. Pinckney planted much woodland, including 1,000 beech trees a year, principally between Asserton House and Asserton Farm; in the east corner of the parish 63 a. largely bounded by plantations were laid out as a park between 1880 and 1909, presumably before Pinckney's death in 1899. In 1909 the farm included 265 a. of arable, 320 a. of pasture, and 21 a. of water meadow. (fn. 182) In 1912 the farm was only 518 a., (fn. 183) and what was formerly the east part of it was presumably managed with lands in adjacent parishes. In the later 20th century Asserton's land was part of a large farm, extending into several parishes, based at Druid's Head Farm in Stapleford. In 1992 it was used for mixed farming, partly from the extensive new buildings in the parish. (fn. 184)
A water mill was part of Asserton manor in 1309. (fn. 185)
Local government.
Berwick St. James and Asserton were distinct tithings in the 14th and 15th centuries, (fn. 186) but there is no evidence that they were later.
In 1591 Berwick St. James manor was said to be held with waifs, strays, felons' goods, and other liberties. (fn. 187) Records survive of a court and view of frankpledge for the manor held together thrice in 1542 and once in 1543. The tithingman paid cert money and presented strays and breaches of assize. A jury was sworn, found on the tithingman's presentments, and presented breaches of the peace and games played illegally. The homage presented defaulters from the court and misuse of common pastures, and orders were published for common grazing and against unlicensed subletting of tenements. There was little tenurial business. (fn. 188) A court of survey was held in 1591. (fn. 189)
The parish spent £59 on poor relief in 1776, c. £58 in 1785; £260 was spent in 1803, when the poor-rate was about the average for the hundred, and 30 adults and 46 children received relief regularly and 12 people occasionally. (fn. 190) Expenditure rose from £179 in 1816 to a peak of £330 in 1818. In the 1820s it fluctuated: in 1823 it was £116, in 1826 £312. It fell from 1829, and was only £86 in 1834. (fn. 191) The parish became part of Wilton poor-law union in 1836, (fn. 192) and of Salisbury district in 1974. (fn. 193)
Churches.
Berwick St. James church was standing in the mid 12th century. (fn. 194) It was served by a rector until it was appropriated by Mottisfont priory in 1406 or 1407. The appropriation was conditional upon the ordination of a vicarage, (fn. 195) and there was a vicar in 1422. (fn. 196) In 1924 the vicarage was united with that of Stapleford; (fn. 197) in 1992 the united benefice became part of Lower Wylye and Till Valley benefice, served by a rector. (fn. 198)
The advowson of the rectory was held for life by Maud de Cauntelo (fl. 1258), apparently by grant from a lord of Berwick St. James manor. (fn. 199) It was held with the manor by Patrick de Chaworth (d. by 1283), (fn. 200) and as dower by his relict Isabel. (fn. 201) By 1299 it had been acquired by Mottisfont priory, (fn. 202) and the prior presented rectors. In 1311 a presentation by an excommunicate prior was set aside and the bishop of Salisbury collated. (fn. 203) In 1291 the rectory was valued at £10, about the average for a living in Wylye deanery. (fn. 204) The rector was apparently entitled to all tithes from most of the parish (fn. 205) In 1341 the glebe included pasture worth 40s. and 3 yardlands. (fn. 206)
The advowson of the vicarage belonged to Mottisfont priory, and priors presented at all but two vacancies before the Dissolution: in 1468 the abbess of Shaftesbury (Dors.) presented, by what right is not known, and in 1516 John Claymond, executor of James Zouche, presented by grant of a turn. (fn. 207) The advowson passed with the Rectory estate, the Crown granting it in 1536 to William, Lord Sandys. (fn. 208) The bishop presented by lapse in 1566, the king did so in 1612, (fn. 209) and there may have been doubt about who was patron 1644–59. (fn. 210) Between 1671 and 1730 no owner of the advowson presented. Avice Duke presented in 1671, Edward Hearst in 1682 and 1683 probably by grant, the king in 1728 by lapse, and Anthony Kellow in 1730 probably by grant. (fn. 211) With the Rectory estate and Berwick St. James manor the advowson passed to Mary, Lady Chubb. (fn. 212) In 1919 she conveyed it to St. George's chapel, Windsor, patron of the united benefice from 1924 (fn. 213) and entitled to present at every third vacancy from 1992. (fn. 214)
In 1535 the vicar's income, £8 5s. 8d., was well below the average for the deanery. (fn. 215) Although augmentations of £200 from the patron and £300 from Queen Anne's Bounty were received in 1810, (fn. 216) the living remained poor, valued at only £54 c. 1830. (fn. 217) The vicar received a stipend from the owner of the Rectory estate and some small tithes: (fn. 218) in 1841 the tithes were valued at £30 11s. and commuted. The glebe may have comprised only the churchyard and the site of a house until c. 1813 when 14 a. in the parish were bought: (fn. 219) that land was sold in 1922. (fn. 220) The vicarage house, described as unfit for residence c. 1830, (fn. 221) stood on the east side of the village street near the church. (fn. 222) It was let as a labourer's cottage in 1865 (fn. 223) and was demolished in 1900. (fn. 224)
A rent of 20s. was paid for a lamp in the church until the Dissolution. (fn. 225) Roger Powell signed the Concurrent Testimony as minister of Berwick St. James in 1648, (fn. 226) and in 1650 was said to preach twice every Sunday. (fn. 227) In 1680 two parishioners were presented for not receiving communion at Easter: one claimed that he was prevented from doing so by a suit brought against him by the vicar, Anthony Sadler, who was also said to have failed to give due notice of a meeting to elect churchwardens. (fn. 228) From the late 18th century no incumbent is known to have lived in the parish, and it was usual to have only one service there each Sunday. In 1783 the curate who served both Berwick St. James and Stapleford lived in Salisbury; (fn. 229) in 1805 the vicar lived at Fisherton Anger, (fn. 230) between 1817 and 1879 the vicars were also incumbents of and lived at Winterbourne Stoke, and between 1879 and 1924 they were also vicars of and lived at Stapleford. (fn. 231) A morning or afternoon service was held every Sunday in 1783. Communion was celebrated at Christmas, Easter, and Whitsun: there were usually 16 Easter communicants. The curate's custom of catechizing and of preparing children and servants for confirmation (fn. 232) apparently bore fruit in 1787 when there were 51 candidates for confirmation, a very high figure for such a parish. (fn. 233) In 1851 a service on the afternoon of Census Sunday was attended by 164 people. (fn. 234) Services were held each Sunday afternoon in 1864 and there were additional services in Lent and on Christmas day; communion was celebrated at the principal festivals and on one other Sunday with c. 20 communicants. (fn. 235)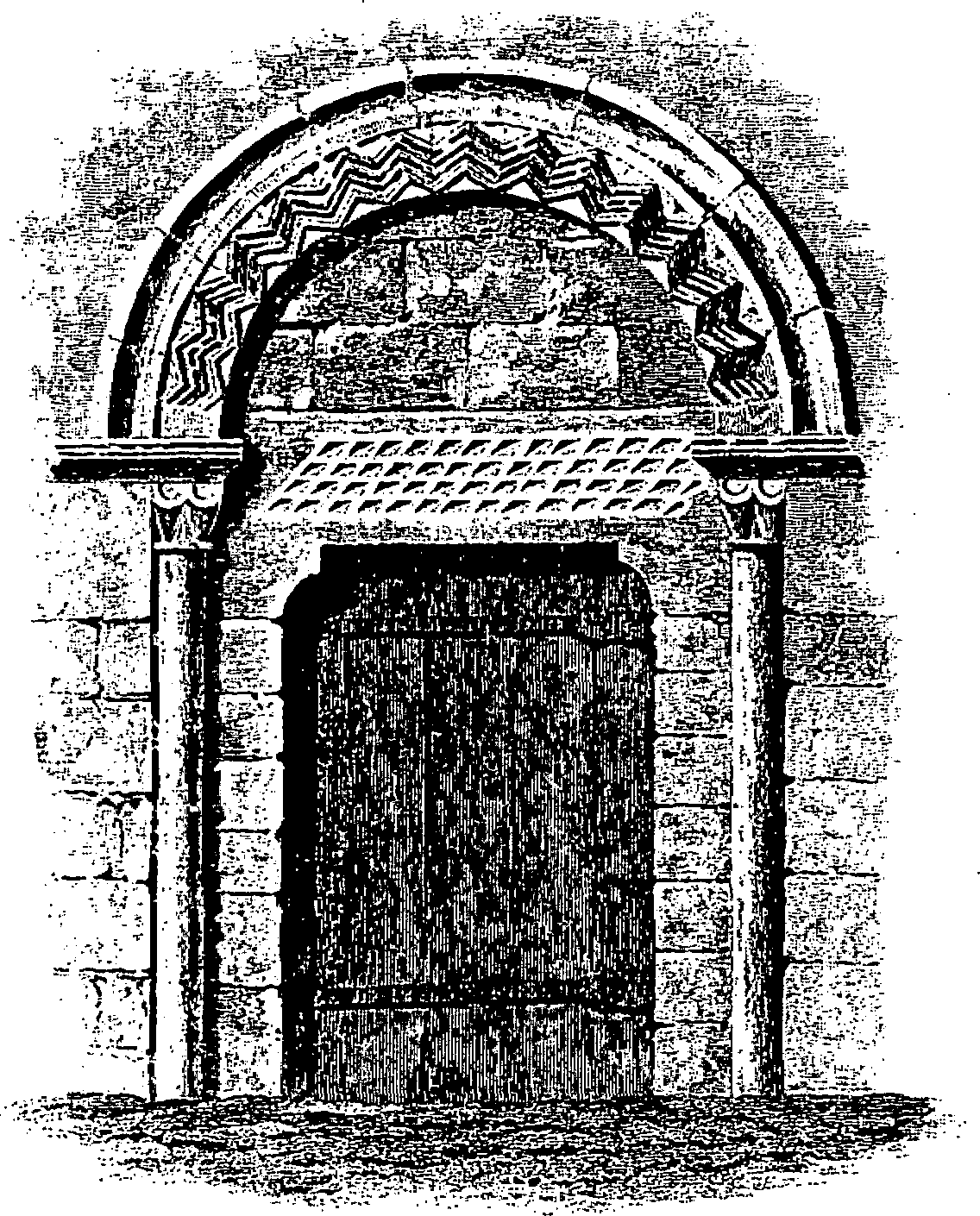 The church of ST. JAMES, apparently so called c. 1191, (fn. 236) is built of flint rubble, chequered flint and freestone, and ashlar. It has a chancel, a clerestoried nave with north and south chapels and north porch, and a west tower. The nave is of the mid 12th century: on the inside the north doorway has an order of chevrons on the arch and a lintel decorated with diaper carving. In the early 13th century a north chapel was built; in the later 13th the chancel was rebuilt, probably longer than before, and a tower was built; in the 14th a new window was made in the west part of the nave's south wall. The north chapel was rebuilt, apparently in the 15th century and probably to incorporate a rood stair at its southeast corner; the porch, clerestory, and south chapel were built probably in the early 16th century. The tower was rebuilt in 1651. (fn. 237) A stone pulpit of the 15th century against the north wall of the nave was entered by a stair from the north chapel: it was moved to the south side of the chancel arch after 1825. (fn. 238)
A chalice of c. 1200 (fn. 239) and a paten of c. 1500 remained in use in the parish until given in 1879 to the British Museum. In 1553 plate weighing 4 oz. was confiscated. A flagon, given in 1739, and a chalice and paten, given in 1879, belonged to the parish in 1992. (fn. 240)
In 1553 there were three bells. One of 1683 and one of 1687, both cast by Clement Tosier, one of 1727 by William Tosier, and one of 1748 by William Cockey hung in the church in 1992: only that of 1748 was usable. A bell of the late 17th century or the early 18th was sold in 1835. (fn. 241)
Registers of burials survive from 1731, of baptisms and of marriages from 1746. (fn. 242)
The church of Little Winterbourne recorded in 1291 (fn. 243) was evidently the chapel of ST. MARY MAGDALENE at Asserton mentioned in 1349 and 1599. (fn. 244) The chapel had a rector in the 13th century, (fn. 245) but from 1299 or earlier it was served by chaplains, who were presented to the bishop for institution. (fn. 246) As a free chapel its endowment was confiscated c. 1547, (fn. 247) and in 1650 it was said to have been long unused. Whether in the Middle Ages it had all the attributes of a parish church is obscure: the recommendation of 1650 that Asserton be united with Berwick St. James suggests that it had some of them. (fn. 248)
The advowson was held with Asserton manor in 1299 (fn. 249) and passed with it to John Willington (d. 1397). Rights of presentation at alternate vacancies were allotted to Willington's coheirs, his sister Isabel Beaumont and nephew John Wroth. Isabel's right was inherited with the manor by her son Sir Thomas Beaumont. (fn. 250) Wroth's was presumably that conveyed to Sir William Poulton and his wife Elizabeth in 1412. (fn. 251) Sir Thomas acquired it, probably by purchase, and held the undivided advowson at his death in 1450. (fn. 252) With Asserton manor it descended to Hugh Beaumont (fl. 1501): it may have continued to pass with the manor but was not mentioned after 1505. (fn. 253) Few owners of the advowson presented chaplains. In 1299 and 1305 the king presented because of the idiocy of John Waleran, (fn. 254) and in 1349 the bishop presented, presumably by lapse. The king again presented in 1399 and 1403; in 1427 the patrons were feoffees of Sir Thomas Beaumont; in 1493 Robert Willoughby, Lord Willoughby de Broke, presented by grant of a turn. (fn. 255)
In 1309 the endowment, valued at £1 6s. 8d., comprised great tithes from the demesne of Asserton manor and from 13 a. of customary land, and small tithes from the whole manor. (fn. 256) Later a lord of Great Wishford manor gave the first cut of 8 a. of Asserton meadow in Great Wishford, and evidently tithes from the meadow, to the chaplains in return for prayers for his ancestors. (fn. 257)
In 1399 and 1403 the chaplain was instituted on an exchange: John Wotton, chaplain from 1399, was also rector of Iwerne Courtney (Dors.) (fn. 258) and in 1402 was licensed to hold another benefice with cure of souls. (fn. 259)
The church was said in 1391 to be a chapel in the manor house of Asserton. (fn. 260) In the mid 16th century it was apparently a separate building (fn. 261) and in 1650 was in ruins. (fn. 262) A silver chalice and a pair of vestments belonging to it were sold c. 1548; it then had a bell. (fn. 263)
Nonconformity.
Three houses in the parish were certified for meetings of nonconformists, two for Baptists, one in 1796 and one in 1816, and one in 1815 for Independents. (fn. 264) In 1864 there were 13 Baptists, but there was no nonconformist place of worship then (fn. 265) or later.
Education.
A dame school in the parish had 25 pupils in 1818. (fn. 266) A school, perhaps the same one, had 50 pupils in 1833 (fn. 267) and was a National school in 1846. (fn. 268) A new schoolroom was built north-west of the church in 1856, and in the 1870s a teacher's house was provided. (fn. 269) In 1871 there were 47 pupils: (fn. 270) average attendance was 24 in 1910, 32 in 1936 (fn. 271) when the school was replaced by a new one in Stapleford parish but near Berwick St. James village and for children of both. (fn. 272) The school, called Berwick St. James school, had six pupils on roll in 1992, when it was closed. (fn. 273)
Charity for the poor.
In 1784 a clergyman named Birch gave £2 2s. for the poor of the parish. The charity gave nothing to the poor from 1817: its income in 1833 was £1. In 1904 the endowment was considered lost. (fn. 274)