Pages 242-252
A History of the County of Wiltshire: Volume 15, Amesbury Hundred, Branch and Dole Hundred. Originally published by Victoria County History, London, 1995.
This free content was digitised by double rekeying. All rights reserved.
SHREWTON
Shrewton (fn. 1) lies on Salisbury Plain 9 km. WNW. of Amesbury. The parish, which also contained the village or hamlet of Netton, in 1800 had 22 a. in three detached parcels surrounded mainly by Winterbourne Stoke parish. (fn. 2) In 1885 the detached lands were transferred to Winterbourne Stoke and a further 2 a. to Rollestone. Thereafter Shrewton parish measured 2,203 a. (892 ha.); it was increased to 7,041 a. (2,849 ha) by the addition of Maddington and Rollestone parishes in 1934. (fn. 3)
The three estates which together made up the old Shrewton parish, taking their name from the river later called the Till, were among many called Winterbourne in 1086. (fn. 4) In the late 12th century the village was apparently called Winterbourne on the Hills (super montes), (fn. 5) although its lands were no higher than those of its neighbours and namesakes, and from the mid 13th century, when the nuns of Lacock acquired its church, it was sometimes called Maiden Winterbourne. (fn. 6) The name Shrewton (sheriff's 'tun'), in use from 1236, commemorates the shrievalties of Edward of Salisbury, who held the three estates in 1086, and his successors as owner and sheriff, and it replaced the name Winterbourne. (fn. 7) The village was sometimes called Shrewton Virgo. (fn. 8)
Shrewton's south-west boundary follows the Till. Its other boundaries, across downland, are mainly straight: that to the west was straightened at inclosure in 1801. (fn. 9) To the east the boundary crosses a low summit on which is a Neolithic camp, (fn. 10) and elsewhere there are minor diversions where it crosses roads.
Chalk outcrops over the whole parish; gravel has been deposited beside the Till and in a dry valley north-east of the church. Near the river the land is below 91 m., on the downs mainly between 107 m. and 131 m.: the highest points, c. 140 m., are in the north and east corners. (fn. 11) As its old name suggests, the Till sometimes fails in summer, and from the 18th century severe winter floods are recorded. (fn. 12) From the Middle Ages the more northerly downs provided pasture, chiefly for sheep, and the lower slopes were ploughed. (fn. 13) The detached portions of the parish were meadow land. (fn. 14) In the nth century one of the three estates was well wooded, (fn. 15) but in the late 18th there was little woodland in the parish. (fn. 16) On scattered sites 25 a. of wood had been planted by c. 1840, (fn. 17) and in the late 20th century there were c. 70 a., mainly firs on the downland. From c. 1900 the northern half of the parish was used for military training and not cultivated. (fn. 18)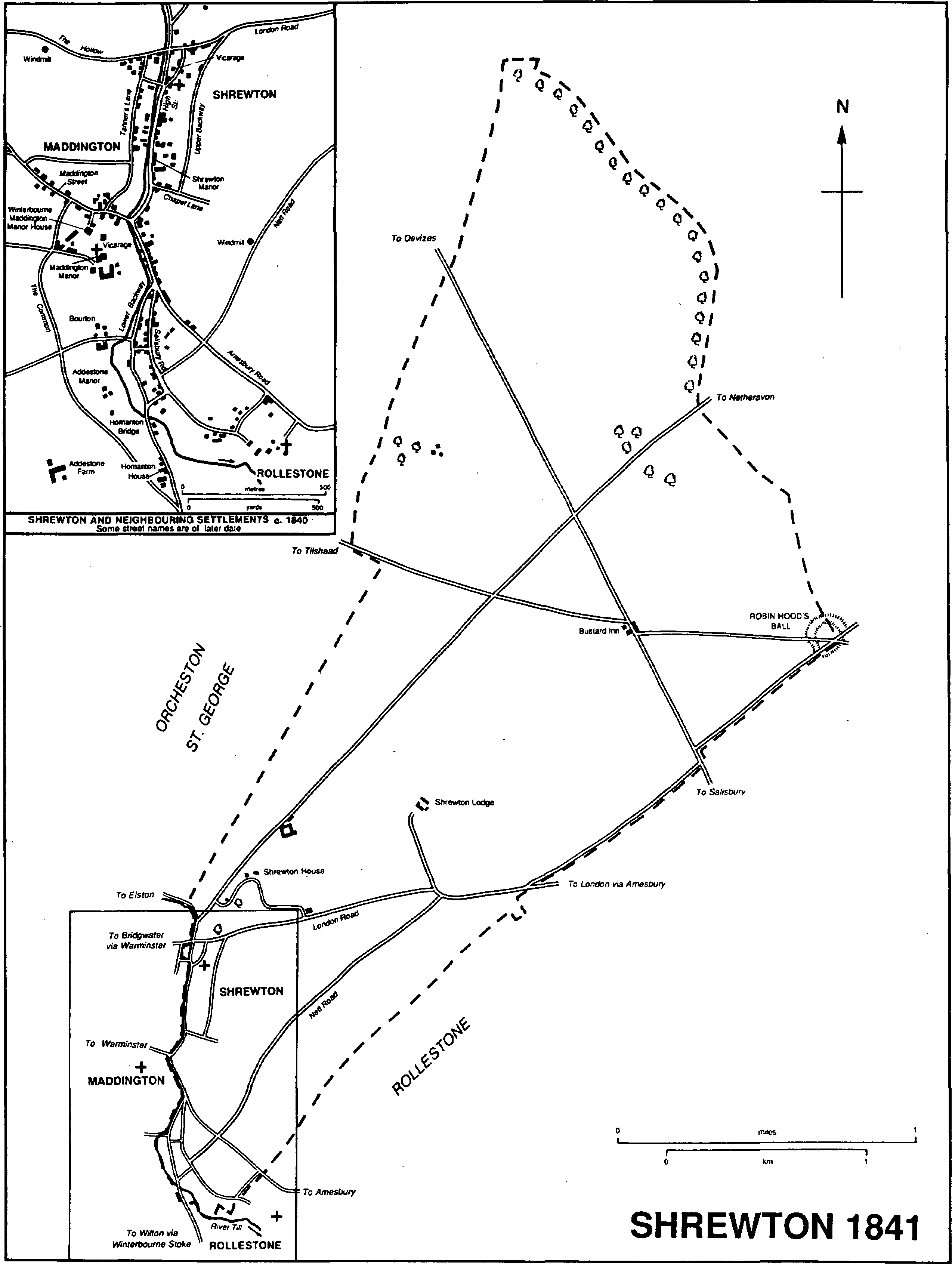 An east—west road across the parish, crossing the Till near the church, was the main road between London and Bridgwater (Som.), via Amesbury and Warminster, in 1675. (fn. 19) It was closed in Amesbury parish probably c. 1761, and soon after then a new Amesbury—Warminster turnpike road was made further south, crossing the Till near Maddington church. West of Shrewton church the earlier road has become a rough track; east of the church it has been tarmacadamed and, as London Road, remains in use. The second Amesbury-Warminster road was disturnpiked in 1871. Where it left the south end of the village it was called Amesbury Road in 1990. A Devizes—Salisbury road across the north part of the parish was turnpiked in 1761 and disturnpiked in 1870. (fn. 20) Two roads, each on the course it followed in 1773, link the old London—Bridgwater road and the turnpike road which superseded it. Across high ground to the east Nett Road was so called in the 1880s. Near the river the other leads from the church to Winterbourne Stoke and Wilton: it crosses the river over Homanton bridge, rebuilt in 1956, and in 1990 was called High Street north of the turnpike road, Lower Backway south of it. From the junction of Lower Backway and Amesbury Road, Salisbury Road leads between them to Rollestone. The north part of Salisbury Road and the south part of Lower Backway were tarmacadamed and in the later 20th century took the Winterbourne Stoke and Wilton traffic. The north part of Lower Backway was then a footpath. In the late 18th century there were various tracks across the plain, (fn. 21) and new roads were made to farmsteads on the downs in the early 19th. (fn. 22) When artillery ranges were opened on the plain c. 1900 the Devizes—Salisbury road was closed north of the Bustard inn and the Amesbury—Warminster road became part of a new Devizes—Salisbury road. (fn. 23) In 1990 a road leading west from the Bustard to Tilshead was also a public road. In 1898 the London & South Western Railway was empowered to build a spur from its line at Grateley (Hants) to Amesbury and Shrewton; it did not build the Shrewton portion. (fn. 24)
Evidence of prehistoric activity within the parish has been found chiefly in the northern half. A Neolithic causewayed camp, Robin Hood's Ball, on the boundary at the east corner may have been the site of earlier occupation. Nearby there are five barrows or their sites, and others lie further west and north-west. In the north a field system extended over 40 a. Pagan Saxon artefacts associated with a burial were found west of Nett Road. (fn. 25)
In 1377 Shrewton had 49 poll-tax payers, Netton 40. (fn. 26) The population of the parish was 269 in 1801: an increase to 399 in 1811 prompted contemporary comment but no explanation. The population continued to increase until 1871 and there was another exceptionally steep rise from 571 to 682 between 1851 and 1861. Between 1871 and 1891 it fell from 757 to 548 but it rose again thereafter, reaching 631 in 1931. The population of the enlarged parish was 1,259 in 1951, (fn. 27) 1,780 in 1991. (fn. 28)
Before 1800 Shrewton village (fn. 29) consisted of buildings around the church and on the east side of High Street. Buildings on the other side of the Till in Maddington made a west side to High Street, at the north end of which some west of the Till were in Shrewton. In 1800 the eastern limit of the plots in High Street was marked by a parallel lane, called Backway or Upper Backway from the 1880s. A large farmstead was north of the church and London Road, the vicarage house was north-west of the church, and Shrewton Manor and two or more farmyards were south of the church in High Street. (fn. 30) After the Amesbury—Warminster road was turnpiked more buildings were erected at and south of its junction with High Street. As a result of that and of later growth, (fn. 31) Shrewton and Maddington villages coalesced. The enlarged settlement, now known only as Shrewton, also embraced Netton and Rollestone. (fn. 32) Apart from the church, the vicarage house, and Shrewton Manor, the original Shrewton part of the settlement contains few buildings of earlier than the 19th century. A lock-up or blindhouse of c. 1700 standing between the turnpike road and the river at the south end of High Street was moved a few metres south in 1974. (fn. 33)
Netton village or hamlet may have stood on the gravel beside lanes east of the Winterbourne Stoke road in the south corner of the parish: c. 15 buildings stood there in 1773 (fn. 34) and the names Nett and Netton survived for fields, downs, and a road in the south and east parts of the parish. (fn. 35) In 1800 there were buildings beside Lower Backway and Salisbury Road. (fn. 36) Two thatched cottages, possibly 17th-century, survive.
The growth of Shrewton as a minor centre of trade and commerce in the 19th century, (fn. 37) and the rapid increase in its population, (fn. 38) were accompanied by the rebuilding of many houses, usually in brick or rendered, and the building of many cottages, some in pairs or short terraces. A terrace of cottages, some with entrances above street level, replaced earlier buildings on the south side of London Road. Between 1800 and 1840 there was building on the north-east side of Amesbury Road, north-west of its junction with Nett Road, and beside Salisbury Road, where a nonconformist chapel was built. Another chapel was built at right angles to High Street in what became Chapel Lane. (fn. 39) A severe flood in January 1841 affected all the villages of the Till valley and apparently caused greatest destruction in Shrewton, although reports of 28 houses destroyed and 300 people left homeless may have included the Maddington part of the village. In 1842 four cottages, paid for by a relief fund subscribed to nationally, were built in Salisbury Road. (fn. 40) A nonconformist chapel and a school were built in High Street in the 1860s, and other new buildings between 1840 and 1886 included a large house called Highfield House, near the south end of High Street, and a group of houses called Chalk Hill around the junction of Nett Road and Amesbury Road. (fn. 41) A road running south from the junction was later called Chalk Hill.
In the 20th century the village doubled in size, and most new building was in the old Shrewton parish. Between 1900 and 1950 cottages, including two trios dated 1911 and 1914, houses, bungalows, and farmsteads were built in Nett Road, and houses, including two pairs with thatched roofs, and bungalows were built on new sites in Salisbury Road and Chalk Hill. Sundial Cottages, a pair of cottages on the north side of London Road, were rebuilt in vernacular style in 1934. (fn. 42) Council houses were built in Chalk Hill, 12 in 1936, (fn. 43) and east of the village in London Road, 12 in 1927 and 6 in 1933. Mainly in the 1950s the local authority built c. 75 houses on rising ground at the north end of the village east of Upper Backway. (fn. 44) Old people's bungalows were built in Parson's Green, c. 30 in the 1960s west of Upper Backway further south, and Hindes Meadow, 16 in the 1980s on the site of the large farmstead north of the church. In addition to infilling, private building in the 1960s, 1970s, and 1980s included Meadway, c. 50 houses south-west of Amesbury Road, Copper Beech Close, 6 houses south-east of Chalk Hill, Highfield Rise, 45 bungalows east of Upper Backway, and 6 houses in Chapel Lane. More bungalows were being built between Highfield Rise and Nett Road in 1990.
In 1800 there was no building within the parish on the downs. The Bustard inn was built beside the Devizes—Salisbury road between 1800 and 1811, (fn. 45) and between 1800 and 1817 Shrewton Lodge, a thatched cottage ornée, was built 1.5 km. north-east of the church. (fn. 46) Shrewton House, set in ornamental grounds north of the village, was built between 1820 and 1840 to replace the farmstead north of the church. The new house, a plain classical villa, has a Doric loggia along the main south front. A lodge was built southwest of it and a farmstead north-east of it. Barns of similar date near the parish's north-western boundary (fn. 47) were demolished in the earlier 20th century, when scattered military buildings were erected north of the Bustard. (fn. 48)
Inns stood beside the three main roads across the parish. The George, in 1840 and 1990 on the south side of London Road near its junction with High Street, was presumably on that site when mentioned in 1607 and 1780. (fn. 49) That and the Sun, mentioned in 1746 (fn. 50) but not by name thereafter, were presumably among the four alehouses in the parish in the 1750s and 1760s. (fn. 51) The Catherine Wheel, mentioned in 1780, (fn. 52) was presumably built soon after 1761 to serve the Amesbury—Warminster turnpike road (fn. 53) and stands at its junction with High Street: friendly societies may have met there and at the George in 1803. (fn. 54) The Royal Oak on the north side of Amesbury Road was open in 1867; (fn. 55) the Wheatsheaf in Salisbury Road, open c. 1886, was apparently closed soon afterwards; (fn. 56) the Plume of Feathers north-west of the church was opened c. 1910. (fn. 57) The Bustard was open c. 1840 (fn. 58) and from the 1860s, (fn. 59) may have been a private house in the 1850s, (fn. 60) and was a temperance hotel in 1900. (fn. 61) It, the George, the Catherine Wheel, the Royal Oak, and the Plume of Feathers were open in 1990.
From 1863 rook hawking on Salisbury Plain was organized from the Bustard; the Old Hawking club, founded in 1864, had its headquarters there until c. 1875 and again from 1903 until 1924. (fn. 62) There was a croquet ground south of Shrewton House c. 1886 (fn. 63) and a polo ground near Shrewton Lodge in 1900. (fn. 64)
The northern half of the parish, c. 1,100 a., was acquired for the army between 1897 and 1902 (fn. 65) and was thereafter the site of artillery ranges used by the (Royal) School of Artillery based at Larkhill in Durrington. A narrowgauge railway in the north corner of the parish was built between 1923 and 1958 to serve the ranges and was dismantled before 1984. (fn. 66) Between 1940 and 1944 land west of the Bustard was used as a military airfield. (fn. 67)
Sir Cecil Chubb, Bt. (1876–1934), who bought Stonehenge in 1915 and gave it to the nation in 1918, was born in Shrewton. (fn. 68)
Manors and other estates.
Estates in Shrewton were held in 1066 by Alric, 13 hides and 3 yardlands, Alward, 3 hides, 1 yardland, and 4 a., and Ulueva, 3 hides. All 20 hides were held in 1086 by Edward of Salisbury, from whom Godfrey held Ulueva's estate and Tetbald held Alward's. (fn. 69) Edward's estates passed in turn to his son Walter (d. 1147), Walter's son Patrick, earl of Salisbury (d. 1168), and with the earldom to Patrick's son William (d. 1196) and William's daughter Ela (d. 1261) and her husband William Longespée, earl of Salisbury (d. 1226). Ela took the veil in 1238, (fn. 70) and in 1242–3 her son William Longespée (d. 1250), styled earl of Salisbury, was overlord of 3 knights' fees in Shrewton. William was succeeded by his son Sir William Longespée (d. 1257), and he by his daughter Margaret, from 1261 countess of Salisbury, (fn. 71) wife of Henry de Lacy, earl of Lincoln (d. 1311). Henry held the overlordship with a small honor of Shrewton. The overlordship and honor passed from him to his daughter Alice, countess of Lincoln and of Salisbury, wife of Thomas, earl of Lancaster (d. 1322). (fn. 72)
The honor may have been granted in 1319 to John de Warenne, earl of Surrey, for life and, under duress, in 1322 may have been granted by John to the elder Hugh le Despenser, earl of Winchester (d. 1326). A life interest was restored in 1327 to John (d. 1347) and his wife Joan (d. 1361), (fn. 73) who in 1348 granted her interest to Edward, prince of Wales. (fn. 74) In 1361 the honor reverted to William de Montagu, earl of Salisbury (fn. 75) (d. 1397), possibly under a grant of 1337 to his father, (fn. 76) and it apparently passed to his son John, earl of Salisbury, who died and was attainted in 1400. In 1409 it was restored to John's son Thomas, earl of Salisbury. (fn. 77) No later reference to the honor has been found.
The overlordship was in 1325 granted by Alice, countess of Lincoln, and her husband Ebles Lestrange to the younger Hugh le Despenser, Lord le Despenser, who forfeited it on his execution in 1326. (fn. 78) It may have been granted in 1337 with the earldom of Salisbury to William de Montagu (d. 1344) and was held with the honor by his son William, earl of Salisbury (d. 1397). (fn. 79) It passed to the younger William's relict Elizabeth, (fn. 80) reverted on her death in 1415 to Thomas, earl of Salisbury, (fn. 81) and thereafter evidently descended with the earldom. (fn. 82)
Alexander Cheverell held 2 knights' fees in Shrewton in 1242–3 (fn. 83) and was succeeded in 1260 by his son Sir John (d. 1281). The estate passed to Sir John's son Sir Alexander (d. by 1310), (fn. 84) to Sir Alexander's daughter Joan, wife of John St. Lo (d. 1313 or 1314), and presumably with Little Cheverell manor in turn to her son Sir John St. Lo (d. after 1372) and Sir John's son Sir John (d. 1375). The younger Sir John's relict Margaret (d. 1412) held the estate with her husband Sir Peter Courtenay (d. 1405) and was succeeded by her grandson William Botreaux, Lord Botreaux (d. 1462), (fn. 85) who held it in 1417. (fn. 86)
John of Kingston held land in Shrewton in 1291, (fn. 87) possibly the 4 yardlands and 14 a. later held by Nicholas Kingston (d. c. 1323) and forfeited by Nicholas's brother John, a rebel. (fn. 88) John may have re-entered the estate in 1326, as he did an estate in Steeple Langford. (fn. 89) It descended to his son Thomas and in 1380 was held by Thomas's son Sir John (fl. 1383). (fn. 90)
SHREWTON manor, perhaps derived from the Cheverells' estate, the Kingstons', or both, was held in 1493 by Thomas Hussey (d. 1503), who was succeeded by his son Henry. (fn. 91) It later belonged to Sir William Brounker (d. 1596), may have belonged to his father Sir Henry Brounker, and in 1596 was sold by his relict Martha and his son Henry in portions. The lordship and demesne lands were bought by Robert Wansborough (d. 1630) (fn. 92) and passed from father to son to Robert (d. 1639), Robert (d. 1675), Robert (d. 1697), Robert (d. 1700), Robert (d. 1704), Robert (d. 1706), Robert (will proved 1715), Robert (fl. 1725), and Robert (d. 1783). (fn. 93) The last Robert's estate was divided between his sons John (d. 1833) and Charles. John's portion was acquired after 1831 (fn. 94) by the Revd. Samuel Heathcote who, having bought other land in Shrewton, owned 860 a. in the parish c. 1840. (fn. 95) Most of Heathcote's estate was sold after his death in 1846. (fn. 96) The lands formerly John Wansborough's were bought as Shrewton Lodge estate, 425 a., by C. R. M. Smith, husband of Heathcote's granddaughter Katherine Heathcote. (fn. 97) Charles Wansborough (d. 1834) devised his estate, including the lordship of Shrewton manor, jointly to his children Charles, Robert, Martha, and Jane. (fn. 98) About 1840 Charles and Robert held 240 a. in Shrewton, (fn. 99) and by will dated 1848 Charles devised the estate for sale. (fn. 100) The lordship, however, passed to his son Charles and grandson Charles Wansborough (fn. 101) (d. 1890). (fn. 102) The land was probably bought c. 1848 by C. R. M. Smith (d. 1882) whose Shrewton Lodge estate, 680 a., was sold in 1883 to H. N. B. Good. (fn. 103) In 1891 the estate was bought by George Kirby. In 1898 Kirby sold 330 a. to the War Department, and the Ministry of Defence owned that land in 1990. (fn. 104) The rest of the estate was sold in 1900, (fn. 105) perhaps to Robert Coombes, the owner in 1910. (fn. 106) By 1921 Coombes's estate had been bought by John Wort, George Way, and J. H. Wort, in business together as Wort & Way, builders. After the firm was dissolved in 1967, (fn. 107) the land belonged to members of the Wort family, from whom the southern portion was bought by Mr. J. C. J. Tarrant, the northern by Mr. E. G. N. Grant, the owners in 1990. (fn. 108)
Shrewton Manor, apparently built for Robert Wansborough (d. 1630) and occupied by Wansboroughs until 1890, (fn. 109) has a long north—south range of flint and stone with a short northern cross wing dated 1602. The wing was extended eastwards in the 18th century and the extension was refitted in the early 19th. Service rooms at the south end of the main range were replaced c. 1900. East of the house was a walled farmyard, (fn. 110) now a garden, in which a timber-framed granary and a flint and stone pigeon house, both possibly 18th-century, survive.
In 1596 Martha and Henry Brounker sold part of Shrewton manor to Thomas Tooker, (fn. 111) who was succeeded in 1607 by his son Charles. (fn. 112) The land was held in 1638 by Thomas Tooker (d. by 1650), in 1656 by John Sainsbury, and in 1662 by John Gilbert (fn. 113) (fl. 1690). (fn. 114) In 1712 a moiety was settled on Charles Gilbert. (fn. 115) Lands bought by Robert Gennings from William Gilbert and from William Maundrell and Thomas Franklin probably comprised both moieties of the estate; Gennings bought other land in Shrewton and at his death in 1739 held 31/8 yardlands, which he devised to his wife Mary and son Robert. (fn. 116) In 1751 the estate was held by John Gennings (fn. 117) (d. 1762), who devised it to Robert Gennings. (fn. 118) One or more of that name held the estate, c. 250 a., until 1829, (fn. 119) when a Robert Gennings was succeeded by his kinsman John Ingram (fn. 120) and Ingram sold it to the Revd. Samuel Heathcote. (fn. 121) Some lands were apparently sold between 1846 and 1850, (fn. 122) probably including 150 a. bought in 1898 by the War Department and owned in 1990 by the Ministry of Defence. (fn. 123) The remainder passed with Rollestone manor. (fn. 124)
Other lands perhaps derived from Shrewton manor were held in 1780 by Elizabeth Colebrooke and in 1785 by Jane Folliott, who in 1800 held c. 290 a. in Shrewton. (fn. 125) As Jane Fussell she sold the lands c. 1818 to Joseph Gilbert. With Gilbert's other Shrewton estate they were sold to Thomas Sheppard. (fn. 126)
By the mid 13th century Bradenstoke priory had acquired piecemeal an estate in Shrewton, later WINTERBOURNE SHREWTON manor. In the later 12th century 1 yardland was granted by Boemund to John son of Stephen and by John to the priory. William, earl of Salisbury (d. 1196), confirmed that grant and between 1168 and 1179 gave 100s. a year from Shrewton to the priory. Also between 1168 and 1179 Nicholas d'Epaignes gave 3 yardlands which he had been granted by the earl, and in the early 13th century Roger Young sold to the priory ½ yardland which he held of Sir Alexander Cheverell. The priory also held in Shrewton 3 yardlands given in 1246 by John Cheney and his wife Margery, 10s. rent received in an exchange with Stanley abbey in 1247, 3 yardlands given in 1256 by Robert le Veel, (fn. 127) 3 yardlands given before 1275 by Richard Langford, who in 1242 held ½ knight's fee there of the earldom of Salisbury, (fn. 128) and 2 yardlands given in 1303 by Nicholas Ingram. (fn. 129) The estate passed to the Crown at the Dissolution and was bought in 1560 by Robert Davye and Henry Dynne, (fn. 130) possibly feoffees for Sir Henry Brounker who held it in 1564 or 1565. (fn. 131) Brounker (d. 1569) was succeeded in turn by his son (Sir) William (fn. 132) (d. 1596), and by Sir William's son Henry. (fn. 133) The manor was sold before Henry's death in 1598, probably in 1596: the lordship may have been bought then with that of Shrewton manor by Robert Wansborough, (fn. 134) and the lands by William Goldisborough who held them at his death in 1608. From Goldisborough the lands descended in the direct line to Robert (d. 1632), Nicholas (d. 1642), Robert (d. 1702), and Robert (d. 1739), whose relict Elizabeth held them until her death in 1765. They apparently passed to her nephew R. G. Cripps (d. 1782), (fn. 135) whose relict Sarah (d. c. 1810) held c. 450 a. in Shrewton in 1800, when she was the wife of William Goddard. (fn. 136) The estate passed to Sarah's nephew Joseph Gilbert, (fn. 137) who with William Gilbert sold it and other lands in Shrewton in 1832 to Thomas Sheppard. (fn. 138) By will proved 1858 Sheppard gave his estate there, c. 800 a., to his son Walter (fl. 1871). In 1876, however, it was sold to perform trusts under the will (fn. 139) and was bought by T. L. Mills (d. 1909). (fn. 140) Mills sold 570 a. to the War Department in 1897, and the Ministry of Defence owned that land in 1990. (fn. 141) In 1919 Mills's executors sold the remaining 230 a. to George Williams (d. 1926), (fn. 142) whose greatgrandchildren J. and E. Grant held c. 270 a. in the old parish of Shrewton in 1990. (fn. 143)
In the later 16th century Rollestone manor included land and pasture rights in Shrewton, (fn. 144) and at inclosure in 1801 an allotment of 143 a. was made to the lord of that manor, Sir Nathaniel Holland, Bt. (fn. 145) (d. 1811). It passed with the manor to his relict Harriett (will proved 1825), to her nephew Robert Brudenell, earl of Cardigan, and by sale in 1827 to the Revd. Samuel Heathcote (d. 1846). With Rollestone c. 210 a. in Shrewton passed to Heathcote's son William in trust for William's children, were divided in 1882 among the children, and, as the subject of a Chancery suit, were sold in 1902. (fn. 146) The War Department bought 54 a., which the Ministry of Defence owned in 1990, (fn. 147) and T. W. Pratt the rest. Pratt's land passed in 1932 to G. R. Smith (d. 1972). (fn. 148) In 1990 part was owned by his relict, Mrs. Janetta Smith, part by Mr. J. C. J. Tarrant, and part by Mr. D. W. Johnson. (fn. 149)
Lacock abbey appropriated Shrewton church under a grant of 1241. In 1242 Ives the merchant and his wife Sibyl gave to the abbey a tenement and rents in Shrewton, and Hugh Burgoyne and his wife Maud gave 20s. rent from Ives's tenement. (fn. 150) The RECTORY estate consisted of tithes and two small closes at the Dissolution, (fn. 151) probably only of tithes in the 17th century. (fn. 152) In 1545 it was granted to John Pope, (fn. 153) perhaps a trustee for John Lambert, to whom he conveyed it in 1546. (fn. 154) Lambert (d. 1553) was succeeded by his son William, (fn. 155) who sold the estate in 1570 to William Partridge (fn. 156) (d. 1578). Partridge was succeeded by his son Robert (fn. 157) (d. 1600), who devised it to his daughters Elizabeth, wife of William Cartwright, and Anne, wife of Edward Masters. (fn. 158) Cartwright and Masters held it in 1650. (fn. 159) In 1655 William Cartwright, Thomas Cartwright, and Thomas's wife Susan held a moiety and between 1663 and 1674 Thomas and Susan sold portions of tithes. (fn. 160) Thomas retained some tithes in 1681, (fn. 161) but they were apparently sold thereafter. By 1657 the Masterses' moiety had passed to their daughter Elizabeth (fn. 162) and it too was later sold in portions. In 1801, when they were exchanged for land, the rectorial tithes of Shrewton were held by 17 owners. (fn. 163)
St. Denis's priory, Southampton, had lands in Shrewton in 1249. (fn. 164) In 1275 St. Denis's held 3 yardlands there, Ivychurch priory held 2 yardlands, and Breamore priory (Hants) 1 yardland. (fn. 165) Breamore had lands in Netton in 1432: (fn. 166) nothing further is known of the holding. After the Dissolution the holdings of Ivychurch, 5 yardlands, and St. Denis's, c. 45 a. and 8s. rent, were granted, in 1562, to Richard Middlecot: (fn. 167) the later history of the land has not been traced. Before 1275 Richard Syfrewast granted to Durford abbey (Suss.) ½ knight's fee in Shrewton, (fn. 168) which he had held of the earldom of Salisbury in 1242–3. (fn. 169) At the Dissolution the abbey held only rents from free tenants in Shrewton. (fn. 170) Edington priory had rights of pasture for 50 sheep in Shrewton held with land in Orcheston St. George at the Dissolution. (fn. 171)
Economic history.
In 1086 Shrewton had land for 12 ploughteams. The three estates had 7 teams and 11 servi on the demesne lands, and there were 17 villani and 15 bordars with 4 or more teams. There were 16 a. of meadow, pasture measuring 13 a., 6 furlongs by 4, and 1 league by ½, and 30 a. of woodland. Of two of the estates the demesne was the greater part. (fn. 172)
Evidence from the 16th century shows Shrewton and Netton to have each had open fields and common downland pasture, but then, as later, each was shared by the lord and tenants of both manors in the parish. (fn. 173) Shrewton's lands probably formed a strip between the Till and the northern corner of the parish, Netton's presumably a similar strip between the Till and the east corner. Each had three open fields: in the 16th and 17th centuries Netton's were called Middle, Middlehurst, and South or the field next to Rollestone, (fn. 174) in the 18th Shrewton's were called Middle, Down, and the field next to Elston. (fn. 175) Shrewton had a cow down (fn. 176) but otherwise the downs were for sheep. There were c. 650 a. of open fields, c. 1,250 a. of downland pasture. (fn. 177) In the earlier 17th century Netton's arable was assessed as 26 yardlands, each of 24 a. with pasture for 40 sheep. (fn. 178) Landholders of Shrewton parish had common rights in the meadows which formed its detached parts (fn. 179) and were entitled to the hay, but not the aftermath, of a meadow in Winterbourne Stoke. (fn. 180)
In 1599 orders were made for the fields and pastures of Shrewton and Netton, which had apparently been mismanaged since the suspension of Shrewton manor court in 1596; how far they reflected earlier practice is not clear. Because sheep had died in recent winters for want of fodder, provisions were made for a common flock of weaker animals and for money to be collected at midsummer to buy hay. Shrewton and Netton each had a common flock: no more than 12 lambs were to be bred for each yardland in Shrewton and no more than 10 for each in Netton. Other rules governed the grazing of cattle and horses and the appointment of a hogherd each for Shrewton and Netton and of a hayward. (fn. 181) In the 1650s there were still separate flocks for Shrewton and Netton. (fn. 182)
There was little inclosure in the parish before 1800. Inclosures in Netton fields were ordered to be removed in 1615 and 1616 (fn. 183) and apparently were not reinstated. In the 1670s part of Netton down, perhaps c. 70 a., was brought into cultivation by burnbaking and divided among those with pasture rights at the rate of 2 a. to the yardland. (fn. 184)
After the two manors in the parish were broken up in the later 16th century, mostly by sale to the tenants, there was little copyhold. No copyholder was mentioned in the orders of 1599 and tenurial business rarely came before the manor court. The orders were subscribed by 23 people, presumably all those occupying lands in the parish. (fn. 185) The largest farms may have been those derived from the demesnes of the two manors. The demesne of Shrewton manor comprised 160 a. and pasture rights in 1596, (fn. 186) and in 1654 the farmer had 190 a. sown and 302 sheep with 105 lambs. In the 1630s, although he sold wool, a larger part of his income was derived from corn. On some fields a three-course rotation of wheat, barley, and fallow was practised, on others there may have been a fourth course of oats. (fn. 187) In the 1660s the principal farm derived from Winterbourne Shrewton manor comprised 224 a. of arable, 10 a. of meadow, and rights of pasture. (fn. 188)
Common husbandry was ended by an award of 1801 under an Act of 1798. Allotments were made of the whole parish, except the village, replacing rights to arable, pasture, meadow, and rectorial tithes. On the arable, to the south-west, fields of 156 a., 99 a., and 75 a. were allotted; otherwise the average size of the new fields was c. 8 a. To the north-east 1,060 a. of downland were allotted in six parcels. About 1840 the parish was still about half arable and half pasture. There were 55 a. of meadow, including the detached 22 a., and 25 a. of wood, chiefly plantation on the downs. Most of the land lay in four farms. A scattered holding of 191 a. was worked from Shrewton Manor, and a farm of 410 a. was worked from buildings immediately north of it. The two others were worked from buildings outside the village, all built after 1800. The larger, 790 a., was worked from the farmstead near Shrewton House and from barns near the north-west boundary of the parish, and a compact farm of 445 a. was worked from Shrewton Lodge. (fn. 189)
The proportion of pasture apparently increased in the later 19th century. In 1886 lands worked from farmsteads in the parish included c. 650 a. of arable; from the 1870s permanent rough pasture apparently replaced sown grasses and clover. In 1876 there were c. 2,500 sheep and lambs and only 20 cattle. Less land was available for agriculture after military training began in the north part of the parish c. 1900: in 1916 only c. 400 a. were arable and only c. 700 sheep were kept. Cattle rearing, however, increased and c. 100 cattle, mainly for beef, were kept in 1916. (fn. 190) Most of the parish was pasture in the 1930s; (fn. 191) in 1990 there was arable and mixed farming in the south-western part, which was worked from farmsteads outside the old parish. (fn. 192)
A glover lived at Shrewton in 1755. (fn. 193) Shrewton's rapid growth in the 19th century was apparently achieved by becoming a minor centre for trade in an area where there were few towns. In 1841 c. 60 people in Shrewton were engaged in c. 30 trades, of which none was unusual for a rural village and none became prominent, but the proportion of tradesmen in the population was much larger than for surrounding villages. Shrewton Laundry at the north end of High Street was open in 1931. (fn. 194) It employed 25 people in 1986. (fn. 195)
Mills.
There was a mill on Godfrey's estate in 1086, (fn. 196) and a mill stood in Shrewton in 1341 (fn. 197) and perhaps 1630. Between 1773 and 1793 a thatched, timber windmill was built north-west of Nett Road. From 1848 it was worked by members of the Maslen family. (fn. 198) It passed out of use between 1867 and 1886, (fn. 199) perhaps in 1877 when James Maslen was declared bankrupt, (fn. 200) and had been demolished by 1899. (fn. 201)
Local government.
Shortly before 1275 honor courts for the earldom of Salisbury, previously held twice yearly at Chitterne, were moved to Shrewton and became three-weekly. (fn. 202) They were apparently held at Shrewton until 1361 (fn. 203) or later. The overlord also had franchisal jurisdiction in Shrewton: in 1255 Sir William Longespée had return of writs and view of frankpledge, and in 1275 Henry, earl of Lincoln, also had pleas of vee de naam and the assize of bread and of ale. (fn. 204) Exemption from such jurisdiction was successfully claimed by Bradenstoke priory under a grant by William Longespée (d. 1250) of quittance from hundred courts and other services. (fn. 205) There is no evidence that the priory held its own court for what became Winterbourne Shrewton manor, but Nicholas Kingston may have done so for his estate before 1323. (fn. 206)
View of frankpledge and a manor court were held for Shrewton manor, Winterbourne Shrewton manor, or both by Sir Henry Brounker in 1567 and (Sir) William Brounker in 1580. (fn. 207) The lordship of both manors may have been bought by Robert Wansborough in 1596, (fn. 208) and he and his heirs held a court and claimed jurisdiction over Winterbourne Shrewton manor. (fn. 209) The claim was disputed by Nicholas Goldisborough, who held the lands of that manor, but in 1639 he accepted it, renounced a claim to hold his own court, agreed to attend the law days of Shrewton manor, and was given the right to keep a third of strays taken in Netton. (fn. 210) No court was held between 1596 and 1599. (fn. 211) Between 1615 and 1691 the view of frankpledge and court baron was recorded for 20 years. It usually met in October and was held yearly between 1630 and 1635, but there was also a spring meeting in 1630. Free tenants were summoned, orders for the use of common pastures were published, and a tithingman was elected. Matters presented by the jury included absence from the court, repairs needed to roads, buildings, and in 1638 the stocks, encroachments on and inclosures of the open fields, and selling ale without licence. (fn. 212)
Spending on poor relief in Shrewton rose from c. £66 in 1775 to £114 in 1785, when regular relief was given to 19 people and occasional payments were made for clothing, to the sick, and to the unemployed. In 1804, when poor rates in the parish were about the average for the hundred, 46 adults and 57 children were regularly relieved at a cost of £273; none, apparently, received occasional relief. (fn. 213) Expenditure rose to a peak of £652 in 1818, fell to £294 in 1823, and was usually between £300 and £400 in the following 12 years. Shrewton became part of Amesbury poor-law union in 1835, (fn. 214) and of Salisbury district in 1974. (fn. 215)
Church.
There was a church at Shrewton in 1236. (fn. 216) In 1241 Lacock abbey was licensed to appropriate it when it became vacant: a vicarage was to be ordained (fn. 217) but no vicar was recorded until 1323. (fn. 218) A proposal of 1650 that Shrewton, Rollestone, and Maddington should form a single parish (fn. 219) was not then implemented, but in 1869 Shrewton and Maddington vicarages were united, (fn. 220) and in 1923 Rollestone rectory was added. (fn. 221) The three ecclesiastical parishes were united in 1970, (fn. 222) and from 1972 the benefice was called Shrewton. (fn. 223)
In 1236 Ela, countess of Salisbury, with the agreement of her son William Longespée gave the advowson of Shrewton rectory to Lacock abbey. (fn. 224) In 1241 the advowson of the vicarage was reserved to the bishop of Salisbury; (fn. 225) the bishop presented at most if not all vacancies of the vicarage and of the united benefice of Shrewton with Maddington. (fn. 226) The bishop could present at two of every three vacancies from 1923 (fn. 227) until the Crown became sole patron by an exchange in 1958. (fn. 228)
A valuation of the church at £8 in 1291 (fn. 229) may have been of the rectory estate; the figure was about the average for a living in Wylye deanery but in 1535 and c. 1830, when he received £7 and c. £200 respectively, (fn. 230) the vicar's income was below the average. In the late 16th century the vicar claimed a pension of 20s. from the rectory estate: it had not then been paid for 20 years (fn. 231) and was apparently not paid thereafter. At its ordination the vicarage was implicitly endowed with all tithes except those from grain, (fn. 232) and vicarial tithes were due from the whole parish in the 16th century, (fn. 233) as in the early 19th. In 1838 they were valued at £219 and commuted. (fn. 234) The vicar had 1 yardland of glebe in 1341, (fn. 235) for which 28 a. were allotted at inclosure in 1801. (fn. 236) In the 1870s Frederick Bennett, then vicar, augmented the glebe; (fn. 237) 27 a., including 3 a. given by Bennett, were sold in 1918. (fn. 238) The rector's principal house was assigned to the vicar in 1241 until another could be provided. (fn. 239) A vicarage house recorded in 1609 (fn. 240) was probably on the site of that built in the 17th century (fn. 241) and sold in 1870. (fn. 242) The house, of three bays, may originally have been timberframed but its walls were later of flint rubble and ashlar. New fittings of the 18th century included some panelling and the house was extended westwards in the 19th century. The vicarage house of the united benefice was at Maddington from 1869 until 1974, when a new house was built in Chapel Lane. (fn. 243)
In 1488 the vicar received a dispensation to hold another living. (fn. 244) Parishioners who owed money to the church in 1553 (fn. 245) may have bought ornaments and furniture made superfluous by the 1552 prayer book; some ornaments had not been recovered by 1556. (fn. 246) In 1585 the vicar did not reside and the curate, who served two churches, did not preach or read a homily every Sunday, or catechize. (fn. 247) Thomas Grange, vicar 1613–61, was expelled and the vicarage sequestrated during the Interregnum: in 1650 the intruder Thomas Worthen was said to preach twice every Sunday. (fn. 248) The church lacked Jewell's Apology and an almschest in 1662. (fn. 249) One service every Sunday, alternately in the morning and afternoon, was held in 1783: there was no weekday service. John Skinner, vicar 1782–1801, was master of Salisbury cathedral choristers' school and did not reside in Shrewton. His curate there in 1783 also served two neighbouring churches, lived at Orcheston St. Mary, and did not have time to catechize. Communion was celebrated at Christmas, Easter, when there were 36 communicants, and Whitsun. (fn. 250) There was still only one service on Sundays in 1832, (fn. 251) but in 1851 on Census Sunday 70 people attended a morning and 200 an afternoon service. (fn. 252) In 1864 there were three services on Sundays, each with a sermon, and services on Wednesdays, Fridays, and holy days. Communion was celebrated monthly and at Christmas, Easter, and Whitsun. (fn. 253) Shrewton and Maddington vicarages were held in plurality from 1854 until 1869, (fn. 254) and from 1938 the incumbent of the united benefice also served Winterbourne Stoke. (fn. 255)
ST. MARY'S church, so called in 1488, (fn. 256) is built of flint and ashlar and has a chancel with north organ chamber and south chapel, an aisled and clerestoried nave with north porch, and a west tower. In the early 13th century the church had a chancel and an aisled nave of two bays. The tower was added in the late 15th century; by then the aisles had been widened. In 1854 the church was restored and enlarged in a generally 16th-century style to designs by T. H. Wyatt. The nave was extended eastwards by one bay, the arcades were restored, the aisles were rebuilt, and the clerestory was added. In a new chancel with organ chamber and chapel the respond of the old chancel arch, the piscina, and a small window, all of the 13th century, were reset. (fn. 257)
Lands or pasture rights given for the upkeep of the church, perhaps by William Goldisborough in 1608, (fn. 258) were replaced at inclosure in 1801 by an allotment of 10 a., which yielded £10–£16 yearly in the 19th century and the early 20th. (fn. 259) The church still held land in 1990. (fn. 260)
In 1553 plate weighing 20 oz., an unusually large amount, was confiscated and a chalice of 12½ oz. was left in the parish. The church has a 17th-century chalice, the cover of which was exchanged for a dish in 1851. An early 19th-century salver was altered to form a paten in 1854, and a new chalice and a new flagon were given in 1855. (fn. 261)
The three bells in the church in 1553 were replaced by three cast by John Wallis in 1619. A fourth, by Clement Tosier, was added in 1717, a fifth, by Abel Rudhall, in 1757, and a sixth, by Mears & Stainbank, in 1928. (fn. 262) Those six bells hung in the church in 1990. (fn. 263)
Registers of baptisms, marriages, and burials survive from 1557. (fn. 264)
Nonconformity.
Two parishioners who refused to pay Easter dues, one in 1662 and one in 1674, (fn. 265) and another, presented for absence from church in 1665, may have been protestant dissenters. (fn. 266) A dissenter was recorded in the parish in 1676, (fn. 267) and a meeting house was certified in 1694 and, for Baptists, in 1697. (fn. 268) By 1783 nonconformity had apparently died out, (fn. 269) but in the 1790s Baptists from Imber began to preach in Shrewton. (fn. 270) Seven Shrewton residents marked or signed a certificate for a meeting house in 1795, (fn. 271) and in 1796–7 a Baptist chapel, described as a mud-walled house in a cottage garden, was built. (fn. 272) It was replaced in 1816 by the Zion chapel, (fn. 273) a plain brick building at the junction of Lower Backway and Salisbury Road. By 1831 a second chapel had been built: (fn. 274) it stood on the north side of what was later Chapel Lane and was evidently called Bethesda. (fn. 275) It had probably been closed by 1851, when it was said that on Census Sunday 300 people attended morning, 250 afternoon, and 350 evening service at the Zion chapel. (fn. 276) A manse was built in Salisbury Road in 1909. (fn. 277) A schismatic group from the Baptist congregation became Wesleyan Methodists (fn. 278) and in 1861 built a brick chapel in High Street. (fn. 279) Both chapels were open in 1990.
Education.
A schoolmaster lived in Shrewton in 1811, (fn. 280) and 25 children attended a school there in 1818. (fn. 281) Another school, opened in 1823, had 18 pupils in 1833. (fn. 282) In 1847 children from Shrewton attended the National school in Maddington. (fn. 283) A building in Shrewton was adapted for use as a National school in 1855; (fn. 284) it was attended by 20–30 boys from Shrewton, Tilshead, and Maddington in 1858, when girls and infants from Shrewton attended Maddington school. (fn. 285) In 1868 a new school and a teacher's house near the south end of High Street, with help from Anne Estcourt's charity, replaced the old Shrewton and Maddington schools. Until 1904 or later the school received £10 yearly from the charity and more for repairs. (fn. 286) It had 95 pupils in 1871, (fn. 287) and average attendance rose from 156 in 1910 to 178 in 1936. (fn. 288) About 1968 additional buildings were erected west of High Street in what had been Maddington parish, and in 1990 there were 140 children on roll. (fn. 289)
A British school, open in 1859, (fn. 290) had c. 80 pupils in 1871, (fn. 291) and was closed in or after 1879. (fn. 292)
Charities for the poor.
By will dated 1704 Anne Estcourt gave a rent charge of £30 from an estate in Long Newnton (now Glos.) and Rollestone to apprentice six boys yearly from those parishes and from the part of Rollestone manor in Shrewton. No payment was made before 1711 when the income, including the arrears which were used to buy land, was divided equally between the three parishes, from each of which two boys were to be apprenticed annually. In 1742 trustees for the Shrewton part of the charity bought 6½ a. there which, with some rectorial tithes, were replaced by an allotment of 5 a. at inclosure in 1801. Shrewton's £10 of the rent charge was unpaid from 1779 to 1806, when the arrears for those years were paid with interest. That money was later invested, and the investment, rent charge, and land yielded £34 10s. in 1833. The income was never absorbed by premiums, there were fewer apprenticeships than intended, and not all beneficiaries were from Rollestone manor: 12 boys were apprenticed between 1748 and 1771, only 1 between 1786 and 1806, and 16 between 1821 and 1833. From 1862 £10 a year was paid to Shrewton school. Under a Scheme of 1867 the trustees continued to provide apprenticeships, helped to pay for the new school, and gave money to maintain the school. (fn. 293) By a Scheme of 1910 the Shrewton and Rollestone charities were merged. Money not used for apprenticeships could thereafter be used to help boys attending Dauntsey's agricultural school or, under a Scheme of 1919, for any training of poor children from the two parishes. (fn. 294) Money was occasionally given to apprentices in the later 20th century, and in 1991 a new Scheme, to allow the income to be used for wider educational purposes, was under consideration. (fn. 295)
The sites of the four cottages built in 1842, after the flood of 1841, were transferred to trustees in 1843, the rents from those and similar cottages in neighbouring parishes to be used for clothing and fuel for the poor. The conveyance was enrolled and rules for distribution of the income of the Shrewton Flood charity were issued in 1863. Shrewton received two sevenths of the income but no distribution there is recorded before 1883 when 98 people each received a pair of sheets. Between 1889 and 1904 sheets were distributed every year; (fn. 296) in the 1920s tickets, each worth 2s. 6d., were distributed. (fn. 297) The cottages, occupied by needy parishioners at very low rents in the mid 20th century, were converted to almshouses by a Scheme of 1984, when the charity's income from rents and investments was £4,500. (fn. 298)