Pages 252-263
A History of the County of Wiltshire: Volume 15, Amesbury Hundred, Branch and Dole Hundred. Originally published by Victoria County History, London, 1995.
This free content was digitised by double rekeying. All rights reserved.
STAPLEFORD
Stapleford village is 11 km. north-west of Salisbury. (fn. 1) The parish is crossed north—south by the river Till, and consists of a rectangle on each side of it; from the smaller, western rectangle a tapering tail of downland extends c. 2 km. north-westwards. On the Till's east bank stand Stapleford village, part of which may have been called Church Street, and Uppington hamlet; on the west bank stand the small villages called Over Street and Serrington. In 1884, 33½ a. south of Stapleford village, until then a detached part of Berwick St. James parish, were transferred to Stapleford parish, thereafter 2,118 a. (857 ha.). (fn. 2)
Most of the parish boundary ignores relief. To the south-west it follows a side stream of the river Wylye. At their confluence and for short distances east and south of it the Till and the main course of the Wylye marked, until 1884, the boundary between Stapleford and the detached part of Berwick St. James. Boundary mounds define the north-western tail of the parish. On the east and on the south at the east end the roads which mark the boundary are ancient. (fn. 3)
Chalk outcrops over the whole parish. Beside the Wylye in the south-west and beside the Till alluvium and valley gravel have been deposited. On the eastern downs gravel has also been deposited at the head of a tributary valley of the Christchurch Avon, and a small area of claywith-flints is in the south-east corner of the parish. (fn. 4) The highest land, 155 m., is at the end of the tail. There are steep slopes on either side of the Till, but to the east there is flat land at c. 140 m. on the watershed of the Till and the Avon. The land is at c. 65 m. beside the Wylye. The parish had extensive meadow land, much of it watered from the 18th century. The open fields were on the chalk nearer to the settlements on either side of the Till, and the eastern and western ends of the parish were pasture. (fn. 5)
The Devizes—Salisbury road along the eastern boundary was turnpiked in 1761, disturnpiked in 1870; (fn. 6) it remained a major road in the late 20th century. Until the 18th century traffic between Southampton and Bristol via Salisbury and Bath used the Devizes road northwards from Salisbury; the Bath road branched from the Devizes road, entered the parish c. 750 m. south-east of the church, crossed the Till at Serrington, ran north-westwards across the west part of the parish, and followed the west boundary of the tail. It became less important from 1761, when other roads to Bath were turnpiked, and on both sides of the Till in Stapleford parish was no more than a rough track in 1992. A road linking the villages of the Till valley and leading south from Maddington and Shrewton to Wilton crossed the Bath road south of the church, and a road leading to Warminster through villages on the north bank of the Wylye diverged from the Bath road at Serrington. In 1761 the Wilton and Warminster roads were turnpiked as part of a main Salisbury—Bath road: that road, disturnpiked in 1870, (fn. 7) became more important in the 20th century and was designated a trunk road in 1946. (fn. 8) The Till valley road, on the east bank of the river and called Uppington Lane north of Stapleford village in 1886 and later, (fn. 9) continued to carry local traffic in 1992. A parallel road west of the Till, part of which was made after 1773, has never been tarmacadamed north of Over Street. Other roads that crossed the parish in 1773 (fn. 10) survived as tracks in 1992: the north part of that parallel to and west of the Devizes road was tarmacadamed; Berwick Lane, linking Berwick St. James and Steeple Langford, crosses the north-western tail and is thought to have been part of the ancient Harrow way running from Kent to Somerset. (fn. 11)
Most evidence of prehistoric activity in the parish has been found on downland in the eastern part. A large saddle quern of the early Iron Age was found in the north-east corner. The South Kite is a quadrilateral earthwork enclosing 22 a., possibly the site of a RomanoBritish settlement, and within it, north-west of it, and in the parish's south-eastern corner, lie barrows. To the west, in the tail, there may be another Romano-British settlement site. A field system covering 450 a. lies across the east part of the boundary with South Newton, and another field system extends across the tail. (fn. 12)
Stapleford may have been more populous in 1377, when it had 89 poll-tax payers, than in 1801, when it had 233 inhabitants. The population had risen to 337 by 1831; it fell from 309 to 260 between 1851 and 1861, a decrease attributed to a reduction of road traffic following the opening of the Salisbury—Warminster section of the G.W.R. in 1856. Numbers continued to fall, with some fluctuations, in the later 19th century and the early 20th. They rose from 215 in 1931 to 267 in 1951 (fn. 13) but had fallen to 212 by 1961. The parish had 252 inhabitants in 1981, 249 in 1991. (fn. 14)
Each of the settlements beside the Till stands on a narrow strip of gravel, and the names of three of them, Stapleford, Uppington (called Uphampton in 1249 and the 17th century), and Serrington (called Southampton in the early 14th century), suggest a Saxon origin: (fn. 15) the names of Uppington and Serrington evidently refer to their relationship to Stapleford. In the 18th century the largest settlements were Stapleford and Over Street, and each was stretched out along a road. (fn. 16) Over Street was so called c. 1537. Then and until the 19th century Church Street may have been a hamlet; (fn. 17) it was possibly the group of buildings at the south end of the continuous line of settlement called Stapleford village in 1773 and later, and if so was evidently losing its separate identity in the later 18th century and early 19th. (fn. 18) Notwithstanding the names Church Street and Over Street settlement seems to have grown gradually along the gravel strips; neither road is built up with houses on both sides and there is no evidence of early planning.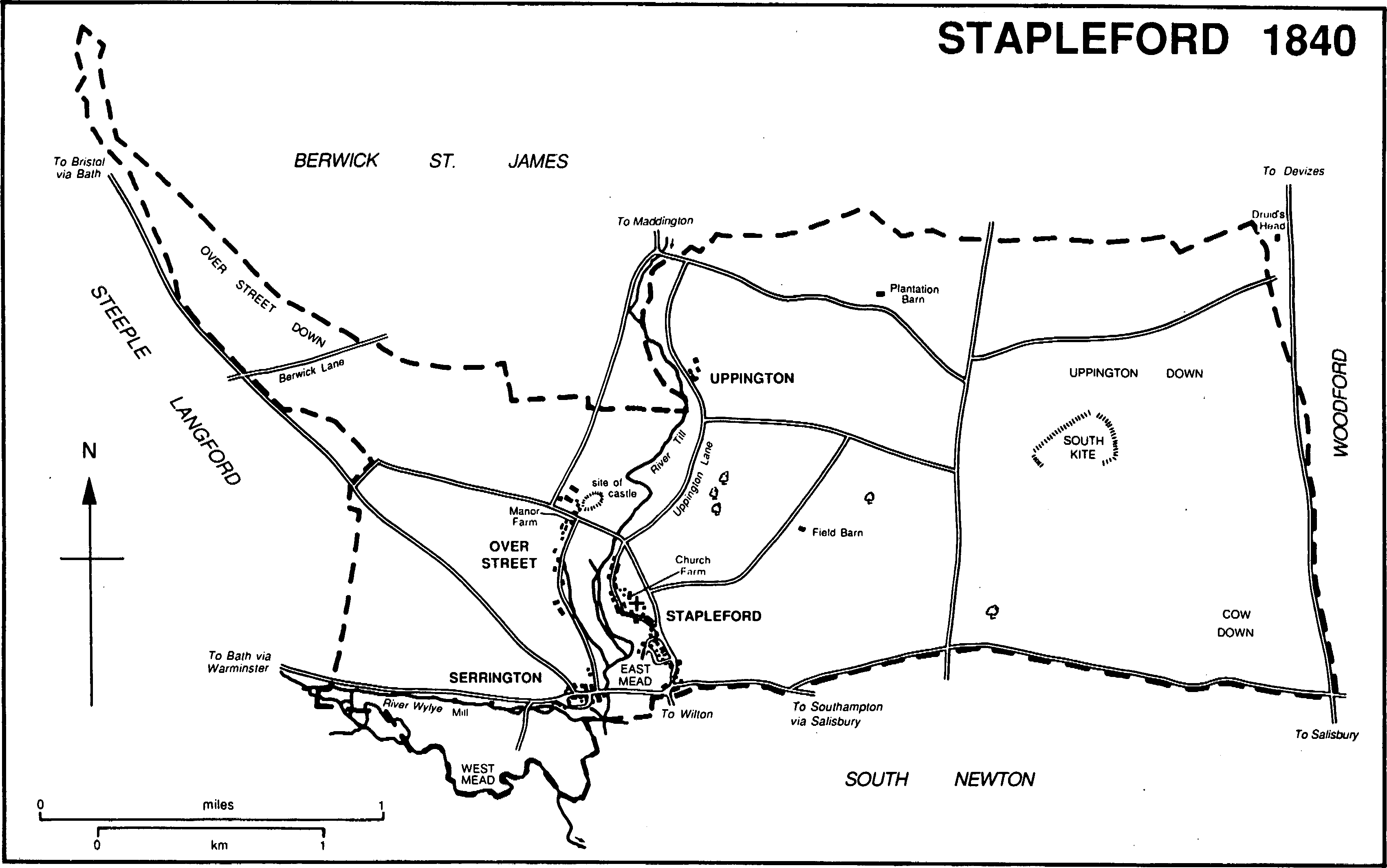 Stapleford.
In the late 18th century Stapleford village extended along the Maddington road from a little north of the church to the Bath road. In the south part of the village a lane, a footpath in 1992, formed a loop to the west. (fn. 19) The site of a demesne farmstead is immediately north of the church: a substantial house there was apparently built in the mid 19th century. South of the church and west of the road four 17th-century farmhouses of chequered flint and limestone survive: two of them, Parsonage House, which was extended in the early 19th century, and Seymour Cottage, which stands in the loop, are mid 17th-century. On the east side of the road and a little south of the church stand two early 18th-century cottages, one timber-framed and rendered, one of brick, and the Malthouse, a thatched 17th-century house of four bays, with a former malthouse as a long single-storeyed extension. (fn. 20) All those older buildings were included in a conservation area designated in 1988. (fn. 21)
Between 1773 and 1817 cottages built on the waste on the east side of the road took settlement north towards the lane which linked Stapleford and Over Street over Bury bridge, (fn. 22) so called in the late 19th century, (fn. 23) and by 1812 a back lane east of the north part of the village had been defined. (fn. 24) In the later 19th century some houses and cottages were rebuilt, and a school beside the western lane and a new vicarage house beside the eastern were built. (fn. 25)
There was little new building in the earlier 20th century. At the north end of the village six council houses were built in Riverside Terrace in 1950, and the local authority also built four houses and six bungalows in Hillside beside the eastern lane in 1961. (fn. 26) Private building after c. 1960 included small groups of houses and bungalows north of Riverside Terrace, in the eastern lane, in Church Pasture north of the church, and at the south end of the village.
Over Street.
West of the Till a small castle or a fortified house was apparently built in the 12th century or early 13th for a lord of Stapleford manor, held from the mid 12th century by members of the Hussey family. (fn. 27) The mound and ditch survive, but no masonry or other direct evidence of a building has been found. Over Street village is mainly on the west side of the road south of the castle site, and has changed little in extent since the late 18th century. (fn. 28) A demesne farmstead stood immediately south of the castle site. (fn. 29) The farmhouse, Manor Farm, was built in the 17th century as a small house of two storeys with attics, and, on the ground floor, had one room on each side of the main chimney stack: a large extension to the east was built c. 1860. Two cottages, of flint and limestone rubble, between Manor Farm and the castle mound are also of 17th-century origin. Manor Cottage, south of Manor Farm, and two cottages east of the road are early 18th-century, and a house of slightly later date stands at a right angle to the road on the west side further south. In the later 19th century farm buildings west of the castle mound were renewed and several cottages were built or rebuilt beside the road. Brooklet Farm, comprising a house west of the road and a farmyard east of it, was built c. 1930, and several private houses have been built west of the road in the later 20th century.
Serrington.
In the later 18th century Serrington was a hamlet of some eight houses beside the Warminster road; (fn. 30) its modern name was in use in the early 19th. (fn. 31) Several of the houses standing in 1773 survive. Bridge House, on the north side of the road at the junction with the road to Over Street, was built c. 1700; a northwest range was added in 1777. (fn. 32) On the south side of the road the Pelican, a building of late 17th- or early 18th-century origin, was an inn in 1751 (fn. 33) and 1992. West of the Pelican, Southington is a three-bayed house built of chequered flint and limestone c. 1700, and Pembroke Cottage is of similar date. A mill stood west of the village until the mid or later 19th century. (fn. 34) By 1840 more houses had been built near Bridge House. (fn. 35) Among them was the New Inn, which was open in 1848 and demolished c. 1908. (fn. 36) In the later 20th century four houses were built north of Bridge House, two police houses and two bungalows at the west end of the hamlet, and a house and a commercial garage near the Pelican. The bridge over the Till, called Southington bridge in 1705 (fn. 37) and Pelican bridge in 1899, (fn. 38) was rebuilt in 1937. (fn. 39)
Uppington.
Only three buildings stood at Uppington in 1773, (fn. 40) although earlier there may have been three small farmsteads there. (fn. 41) In 1992 a small farmhouse apparently of c. 1800 and a house of the earlier 20th century stood there.
Other settlement.
There was no building on the downs in 1817. (fn. 42) By 1840 Plantation Barn north-east of Uppington and Field Barn northeast of the church had been built. (fn. 43) Between 1840 and 1879 Plantation Barn was demolished and two new farmsteads, Druid's Head Farm and York Yard, were built respectively 500 m. south-east and 1.5 km. east of its site. The new farmsteads were linked by a road which in the later 20th century was called York Road. Druid's Head Farm was enlarged c. 1900 and again in the later 20th century; it incorporates a pair of bungalows. York Yard was also enlarged c. 1900 and, perhaps then, was converted to a stable yard; a house and two cottages west of it were built in the mid 20th century. (fn. 44) In Woodford parish near the north-east corner of Stapleford parish a small settlement called Druid's Head developed c. 1800 (fn. 45) and survived in 1992. In Stapleford parish, a house called Druid's Lodge (fn. 46) and a large stable block are part of the settlement. In the south-east part of the parish a farmstead called Chain Hill Farm was built near the southern boundary between 1840 and 1879 and another, called Cowdown Farm, in the south-east corner between 1879 and 1899. (fn. 47) Most of Chain Hill Farm has been demolished; Cowdown Farm is the site of Camp Cottages, a group of seven early 20th-century cottages. In the mid 20th century a few houses were built beside the Warminster road in the south-west corner of the parish, and a school beside the Maddington road near Berwick St. James village. (fn. 48)
Manor and other estates.
In 1084 and 1086 Suain held 10½ hides which his father had held in 1066 and which became STAPLEFORD manor. (fn. 49) Geoffrey Hussey held the manor in 1166–7. (fn. 50) It passed to Henry Hussey and, probably after 1189, to Henry's son Geoffrey, to whom it was confirmed in 1198. (fn. 51) With Figheldean manor it passed to Geoffrey's son Geoffrey (d. c. 1218), who was succeeded by another Henry Hussey. (fn. 52) By 1226 Henry (d. 1260 X 1263) had subinfeudated Stapleford manor to his son Sir Hubert: (fn. 53) the overlordship apparently passed to Henry's relict Maud (fl. 1263) (fn. 54) and presumably reverted to Sir Hubert, successors of whom held in chief. (fn. 55) The heirs of Sir Hubert (d. before 1277) were his daughters Margaret, who married Henry Sturmy (d. 1305), Maud (d. c. 1285, unmarried), and Isabel, who married John of Thorney: (fn. 56) the manor descended in moieties, presumably from c. 1285.
Before her death c. 1320 Margaret Sturmy may have granted her moiety to her son John Sturmy, who by 1325 had granted it to Hugh le Despenser, earl of Winchester (fn. 57) (executed 1326). (fn. 58) John recovered the moiety and by 1327 had granted it to John Mautravers (from 1330 Lord Mautravers). (fn. 59) By 1330, however, the moiety had been successfully claimed by John Sturmy's brother Henry (fn. 60) (d. c. 1338), whose son Henry (fn. 61) (d. 1381) was in 1359 granted free warren in his demesne lands at Stapleford. The moiety passed to Henry's nephew Sir William Sturmy (fn. 62) (d. 1427), whose heirs were his daughter Agnes, wife of John Holcombe, and grandson (Sir) John Seymour. (fn. 63) It was allotted to Seymour (fn. 64) (d. 1464), who in 1447 settled it on his son John (d. 1463) and that John's wife Elizabeth, (fn. 65) later wife of Richard Whiteley. On Elizabeth's death in 1472 the moiety passed to her son John Seymour (fn. 66) (d. 1491), who was succeeded in turn by his son (Sir) John (fn. 67) (d. 1536) and Sir John's son Sir Edward (cr. Viscount Beauchamp 1536, earl of Hertford 1537, duke of Somerset 1547). Like the Earldom manor in Amesbury it was forfeited on Somerset's death and attainder in 1552, and was restored in the same year to his son Edward (cr. earl of Hertford 1559, d. 1621), a minor until 1558. (fn. 68) It was held for life by Hertford's relict Frances (d. 1639), wife of Ludovic Stuart, duke of Richmond, and passed to the earl's grandson William Seymour, earl of Hertford (cr. marquess of Hertford 1641, duke of Somerset 1660, d. 1660). (fn. 69) William devised the moiety to trustees, (fn. 70) but its descent 1660–1743 is obscure. William's successors as duke were his grandson William Seymour (d. 1671), that William's uncle John Seymour (d. 1675), John's cousin Francis Seymour (d. 1678), and Francis's brother Charles (d. 1748), (fn. 71) but in 1743 the moiety belonged to William Seymour of East Knoyle (fn. 72) (d. 1747). It passed to William's brother Francis (d. 1761), in turn to Francis's son Henry (d. 1805) and grandson Henry Seymour (d. 1849), in turn to the younger Henry's sons Henry (d. 1877) and Alfred (d. 1888), and to Alfred's daughter Jane (d. 1943), (fn. 73) who held c. 890 a. in Stapleford parish in 1923. (fn. 74) The lands were bought after Jane's death by J. V. Rank and have since been part of the Druid's Lodge estate. (fn. 75)
The second moiety of Stapleford manor was conveyed by Isabel and John of Thorney to John Giffard, Lord Giffard, probably in 1316. (fn. 76) From then until 1560–1 the moiety descended almost like Sherrington manor. (fn. 77) In 1322 Giffard was executed and the moiety was granted to Hugh le Despenser, earl of Winchester (executed 1326); (fn. 78) unlike Sherrington it was granted as dower in 1327 to Giffard's relict Aveline (d. 1327). (fn. 79) Like Sherrington the moiety was conveyed in 1330 by John Callaway to John Mautravers (from 1330 Lord Mautravers, d. 1364); (fn. 80) between 1337 and 1347, while Mautravers was in exile, it was held by Maurice Berkeley. (fn. 81) It was restored to Mautravers in 1351, (fn. 82) passed to his relict Agnes (d. 1375) and granddaughter Eleanor, Baroness Mautravers (d. 1405), (fn. 83) and descended to Eleanor's grandson John d'Arundel, earl of Arundel (d. 1421). (fn. 84) Two further life interests were granted, between 1375 and 1379 to Thomas Adderbury (d. 1415), (fn. 85) and in 1416 to Joan Beauchamp (d. 1435), relict of William Beauchamp, Lord Bergavenny. Lord Arundel's grandson Humphrey FitzAlan, earl of Arundel (d. 1438), held the moiety from 1435, and Humphrey's uncle William, earl of Arundel (d. 1487), from 1438. (fn. 86) Like Sherrington it passed in the direct line, and in 1561 Henry, earl of Arundel, conveyed it by exchange to the Crown. (fn. 87) In 1580 the moiety was granted to John Castillion (fn. 88) (d. 1597), whose son Sir Francis sold it in 1611 to George Tattershall (fn. 89) (fl. 1624). (fn. 90) In 1642 it belonged to Tattershall's son George, (fn. 91) who conveyed it in 1667 to John Woolfe, perhaps a trustee. (fn. 92) Woolfe conveyed it in 1673 to Bernard Howard, (fn. 93) and Howard in 1693 to Sir Richard Grobham Howe, Bt. (fn. 94) (d. 1703). From then until 1808 the moiety descended with Great Wishford manor and was held by Sir Richard Howe, Bt. (d. 1730), John Howe, Lord Chedworth (d. 1742), John, Lord Chedworth (d. 1762), Henry, Lord Chedworth (d. 1781), and John, Lord Chedworth (d. 1804). (fn. 95) In 1808 that last Chedworth's executors sold it to Alexander Baring (fn. 96) (cr. Baron Ashburton 1835, d. 1848), (fn. 97) who in 1840 owned c. 1,030 a. in Stapleford. (fn. 98) The land passed with the barony to Alexander's sons William (d. 1864) and Francis (d. 1868), to Francis's son Alexander (d. 1889), and to Alexander's son Francis, (fn. 99) who sold it to E. T. Hooley probably in 1896. In 1898, following Hooley's bankruptcy, (fn. 100) the land was bought by Sir Christopher Furness, who in 1909 offered it for sale through the Cavendish Land Company. Manor farm, 407 a. west of the Till, was bought by Frank Moore: (fn. 101) in 1992 it belonged to his grandsons Mr. Roger Moore and Mr. Geoffrey Moore. (fn. 102)
Druid's Head farm, 478 a. east of the Till, may have been bought by F. B. Beauchamp in 1909. (fn. 103) In 1910 it belonged to A. P. Cunliffe as part of the DRUID'S LODGE estate. (fn. 104) The estate, the principal buildings of which stood on the boundary between Stapleford and Woodford, included land in Berwick St. James and Winterbourne Stoke parishes. (fn. 105) Cunliffe sold it in 1934 to J. V. Rank, after whose death in 1952 it was bought by the Fenston Trust. In 1989 the trust sold it to Mr. R. A. Hurst, the owner in 1992 when the estate included c. 1,400 a. in Stapleford. (fn. 106) Druid's Lodge, a plain red-brick house of two storeys with attics, was built in the north-east corner of the parish c. 1895. (fn. 107)
In 1406 John Bonham (d. 1411) and his son John held land in Uppington. (fn. 108) BONHAM'S was held in 1435 by the elder John's nephew Thomas Bonham (fn. 109) (d. 1473) and passed with an estate in Berwick St. James to Walter Bonham, who held it in 1559. (fn. 110) It was perhaps the estate held in 1780 by Sir James Harris (cr. Baron Malmesbury 1788, earl of Malmesbury 1800), (fn. 111) which comprised 193 a. in 1812. (fn. 112) Harris sold that estate c. 1815 to Alexander Baring, who added it to his moiety of Stapleford manor. (fn. 113)
Three estates held by religious houses were combined after the Dissolution, probably as SAPH'S. St. Denis's priory, Southampton, held land valued at 12s. in 1291, (fn. 114) 12 a. at the Dissolution; (fn. 115) Bath abbey held 1 yardland, probably given by Sir Hubert Hussey (d. before 1277); (fn. 116) in 1314 Andrew of Aldbourne was licensed to grant 4 yardlands to Keynsham abbey (Som.), (fn. 117) which held 86 a. at the Dissolution. The Crown granted the combined estate twice in 1557, first to Anselm Lane, (fn. 118) possibly a trustee, and secondly to William Northcote and his son John. (fn. 119) It was probably that held in 1631 by John Saph, (fn. 120) which passed in the direct line from John to John (d. 1683), John (d. 1699), Charles (d. 1726), and Charles (d. 1736). (fn. 121) By 1753 Saph's had apparently passed to another John Saph, (fn. 122) who was succeeded c. 1782 by his son John. The son sold the estate, 125 a. in 1812, to Alexander Baring c. 1822. (fn. 123)
Lands in Stapleford granted by Henry Hussey and his son Geoffrey were confirmed to Stanley abbey in 1189; (fn. 124) at the Dissolution the abbey received 8s. rent from land in the parish. (fn. 125) In 1291 Hyde abbey, Winchester, had lands in Stapleford valued at 10s., (fn. 126) at the Dissolution 2 a. (fn. 127) St. Thomas's church, Salisbury, was entitled to 13s. 4d. a year from Stapleford in the earlier 16th century; the rent was given by Easton priory, probably in the 16th century, for an obit, and was a charge on the Rectory estate; (fn. 128) it was apparently not paid after the Dissolution. In 1535 Salisbury cathedral received pensions of 1s. and 3s. 4d. respectively from the Rectory estate and Stapleford vicarage: (fn. 129) no later reference to the pensions has been found. From 1712 to 1981 Great Wishford church owned a rent charge of £10 from Stapleford. (fn. 130)
In 1446 Stapleford church was appropriated by Easton priory, (fn. 131) which held it until the Dissolution. In 1536 the RECTORY estate, consisting of tithes and land, was granted to Sir Edward Seymour, Viscount Beauchamp (later duke of Somerset), (fn. 132) who in 1547 gave it to the king in an exchange. Also in 1547 the king gave it to St. George's chapel, Windsor. (fn. 133) In 1840 the rectorial tithes were valued at £420 and commuted: St. George's chapel then held 122 a. in Stapleford. (fn. 134) The land passed to the Ecclesiastical Commissioners and was sold in 1871 to Thomas Powell. (fn. 135) Between then and 1910 it passed, presumably by purchase, to Alfred or Jane Seymour and was added to their moiety of Stapleford manor. (fn. 136)
Economic history.
In 1086 Stapleford had land for 10 ploughteams. On the demesne were 2 teams with 1 servus; 17 villani and 10 bordars shared 8 teams. There were 40 a. of meadow, and pasture ½ league square. (fn. 137)
When Stapleford manor was divided in the late 13th century (fn. 138) demesne and customary land was allotted to each moiety. In the 1320s John Giffard's moiety included 214 a. of arable, 20 a. of meadow, and pasture for 400 sheep: the arable, assessed at three different values, is likely to have been in three open fields. Seven customary tenants of the moiety held 1 yardland each, and one held ½ yardland; there were 10 cottagers. (fn. 139) The demesne was leased to members of the Harris family in the mid 15th century and the late 16th. (fn. 140) The demesne of the other moiety was leased in two portions in 1432 and in three in 1453, when one was described as in the west and one was of pasture only. In 1432 the moiety had 16 customary tenants, of whom 13 shared 17 yardlands and 3 were cottagers. (fn. 141) With the right to feed 212 sheep in 1341 the rector's 2 yardlands were probably more generously stinted than other holdings; the rector also had 3 a. of meadow. (fn. 142)
There were farmsteads in all four or five settlements in the parish, throughout which there was sheep-and-com husbandry in common. Holdings of the Seymours' moiety were based in each of the settlements, holdings of the Howes' moiety in Stapleford or Church Street, Over Street, and Serrington, but apparently not Uppington; the Howes, however, may have had Bonham's, based at Uppington. The lands of the two moieties remained intermingled until inclosure in 1812. (fn. 143) In the early 16th century the Seymours' moiety and the Rectory estate, about half the parish, included c. 535 a. of arable, c. 20 a. of meadow, and pasture rights for 1,076 sheep and 121 cattle and horses. The arable was in seven fields: the names of five, Church Street, Stapleford, Over Street, Uppington, and Serrington, presumably indicate where they lay; two larger fields, Marnham and Berry, are likely to have been east of the Till. Over Street down was in the parish's tail, Cow down was in the southeast corner, and Marnham down and Berry down were probably east of the fields bearing those names. (fn. 144)
About 1537 the demesne in the Seymours' moiety, 182 a. with rights to feed 420 sheep and 24 beasts, was held by lease with the lands of the Rectory estate, 45 a.; the demesne apparently became Church farm, which had its principal buildings immediately north of the church. Also c. 1537 that moiety had 7 other holdings based in Stapleford village and Church Street, 4 in Over Street, 2 in Uppington, and 1 in Serrington. (fn. 145) The demesne of the Howes' moiety became Manor farm, based in Over Street with principal buildings near the site of the castle; in the early 19th century the moiety had 11 other holdings of over 10 a., 5 based in Stapleford village, including Church Street, 2 in Over Street, and 4 in Serrington. (fn. 146) The main part of the Saphs' estate, assessed at 3 yardlands, was based at Uppington. (fn. 147) Nearly all the arable of each holding was almost certainly in the field or fields adjacent to the settlement in which the holding was based; (fn. 148) sheep of holdings based in Stapleford, Church Street, and Uppington were apparently fed on downs east of the Till, those of Over Street and Serrington on downs west of the Till, although there were some exceptions. (fn. 149) Rights to use West mead, beside the Wylye, East mead, beside the Till, and Cow down were, however, included in holdings based in all four or five settlements. (fn. 150)
Uppington field, in the north-east part of the parish, was apparently subdivided after c. 1537; in 1743 there were North, Middle, and South fields at Uppington. (fn. 151) An agreement of 1735 to water meadows adjacent to each other in Stapleford and Berwick St. James may have related to Uppington meadows. (fn. 152) In the later 18th century Uppington down was grazed for six months of every year by the demesne flock of the Howes' moiety of the manor: (fn. 153) part of it had been burnbaked by 1812. (fn. 154) In the south-east part of the parish, Cow down was 254 a. in 1808, Church Street down was 106 a.; an additional 250 a. of downland, which could support 1,000 sheep, were grazed only by the demesne flock of each moiety and by the flock on the Rectory estate. In the south-west part Serrington had a sheep down of 30 a. in 1808; (fn. 155) in the later 18th century part of it, or other land, beside the Steeple Langford boundary, was apparently used for cattle. (fn. 156) West mead, c. 70 a., was being watered in the early 19th century (fn. 157) and almost certainly much earlier. In the north-west Over Street down was 121 a. in 1808. Between Stapleford village and Over Street, East mead and other meadows totalled c. 25 a. (fn. 158)
Manor farm was apparently in hand in the 1690s, when a flock of 300 of Sir Richard Grobham Howe's sheep was moved between pastures in Stapleford and Great Wishford parishes. (fn. 159) In 1808 the farm included 133 a. of arable, 8 a. of water meadow, and pasture rights for 400 sheep. Other holdings in the Howes' moiety, seven held by lease, three by copy, and one at rack rent, then included 308 a. of arable and rights of pasture for 748 sheep, and nine more holdings were of less than 5 a. each. (fn. 160) In the late 18th century the Seymours' moiety apparently included Church farm and 12 smaller holdings, (fn. 161) and in 1715 the Rectory estate included 35 a. of arable, 7½ a. of meadow and inclosed pasture, and grazing for 200 sheep. (fn. 162) Although many of the holdings based in each of the four or five settlements remained small c. 1800, it is likely that by subletting they had by then been absorbed into substantial farms.
Common husbandry ceased in 1812, when the whole parish was inclosed under an Act of 1810. Between 1810 and 1840 more downland in the north-east corner of the parish and some in the south-east corner was ploughed, and in 1840 the parish had c. 1,040 a. of arable, c. 640 a. of downland pasture, c. 70 a. of lowland pasture, and c. 130 a. of meadow, mainly water meadow. In 1840 Manor farm was 750 a., Church farm 580 a.: the lands of each were scattered throughout the parish, and, in addition to its main farmstead, each had a barn and yard on high ground east of the Till. In addition to Church farm, there were apparently farms of 122 a., 38 a., and 34 a. based in Stapleford village, and, in addition to Manor farm, farms of 83 a. and 58 a. based in Over Street: those of 122 a. and 58 a. may have been worked together. Holdings of 52 a. and 26 a., each with a house at Serrington, may have been small farms, and a holding of 22 a. may have been worked from Uppington. (fn. 163)
New farmsteads were built on the downs in the east part of the parish in the 19th century, (fn. 164) and arable was converted to pasture; probably less than half the parish was ploughed in the 1890s, about a quarter in the 1920s. All of the parish west of the Till was grassland c. 1930: most of the arable then lay immediately east of Stapleford village. The increased areas of pasture were mainly for sheep. (fn. 165) In the later 19th century and the early 20th there were four principal farms. By 1898 Manor farm, then 475 a. including 51 a. in Steeple Langford, had been limited to land west of the Till: it was still predominantly arable, (fn. 166) but in 1929, when it was 371 a., was entirely pasture. (fn. 167) In 1992 it was a specialist arable farm of 528 a., including land in Winterbourne Stoke parish. (fn. 168) In 1898 Druid's Head Farm was the base for a farm of 516 a. in the north-east part of the parish. The farm was half downland pasture, much of it recently converted from arable, and half arable. (fn. 169) Presumably then, as in 1912, it was principally a sheep farm. (fn. 170) In 1910 Church farm comprised 755 a., Parsonage farm 122 a. (fn. 171) By 1934 they had been combined as Parsonage farm, 879 a., including 477 a. of arable, 234 a. of downland, and 42 a. of water meadow: the principal buildings were then on the west side of the Maddington road west of the church and at Field Barn. (fn. 172) In the late 20th century Druid's Head Farm became the main farm buildings of the Druid's Lodge estate, which included Druid's Head farm, Parsonage farm, and lands in Winterbourne Stoke and Berwick St. James, a total of c. 2,500 a. In 1992 the agricultural land of the estate was in hand and worked mainly from Druid's Head Farm and buildings in Berwick St. James as a mixed farm, on which sheep and cattle were kept and cereal and fodder crops were grown. (fn. 173)
From 1855 until c. 1923 members of the Williams family were nurserymen and seedsmen. (fn. 174) In 1898 and the 1920s the nursery was at Serrington south of the Warminster road. (fn. 175)
A racing stable built for A. P. Cunliffe about the same time as Druid's Lodge was opened in 1895. The gallops lay mainly outside the parish. The stable was very successful until the First World War, when it was requisitioned. It was used again for some years in the 1920s by Cunliffe and from 1934 by J. V. Rank, for whom more stables were built. Training ceased c. 1954. (fn. 176)
In 1086 Stapleford had woodland 1 league long and ½ league broad, (fn. 177) but later the parish was sparsely wooded. In 1603 parishioners were accustomed to take wood and ferns from Grovely forest c. 3 km. to the south. They were then said to do so without authority, (fn. 178) but in the early 19th century apparently still claimed the right. (fn. 179) In 1840 there were a few acres of withy bed and, on the eastern downs, c. 10 a. of plantation. (fn. 180) Further planting took place from the later 19th century, and in the 1970s there were c. 150 a. of woodland in the parish. (fn. 181)
In 1239 the lord of Stapleford manor was granted a yearly fair on 7 September and the three days following. (fn. 182) No fair is known to have been held at Stapleford.
There were two mills at Stapleford in 1086. (fn. 183) A moiety of a water mill was apparently assigned as part of each moiety of Stapleford manor in the late 13th century, (fn. 184) and the mill continued in joint ownership until 1840 (fn. 185) or later. In 1773, as presumably earlier, it stood west of Serrington on the Wylye. (fn. 186) It was demolished between 1840 and 1886. (fn. 187)
Charles Rowden, a maker of clocks and watches, lived in the parish between 1859 and 1875. (fn. 188)
Local government.
In 1198 Geoffrey Hussey was granted freedom from shire and hundred courts for Stapleford manor. (fn. 189)
The right to hold view of frankpledge for the whole parish descended with the moiety of the manor held by the Sturmy and Seymour families. (fn. 190) The records of courts held 1331–4 and in 1343 and 1364 survive. In the period 1331–4 and in 1343 a court met between three and five times each year. The court leet and the manor court were usually held separately; the number of each in a year varied, as did the dates at which they were held. Pleas between tenants provided much of the business. Presentments by the tithingman at the court leet included defaulters from the court, breaches of the assize of ale, many instances of the raising of the hue, and, in 1333, the killing of six ewes and theft of their skins. An aletaster was sometimes appointed at the court leet. Matters before the manor court included infringement of grazing rights and of the lord's rights to timber and certain hay crops, besides tenurial business. The court held in 1364 was apparently a court of survey. (fn. 191) A court was held 1453–4 (fn. 192) but no record of its business survives. The only business at the manor court 1559–60 was a few presentments by the homage and the admission of tenants. (fn. 193) At a view of frankpledge held in April 1651 a tithingman was sworn, the jury presented a road in need of repair, the homage presented the death of a copyholder, and other tenurial business was transacted. (fn. 194)
For the moiety of the manor held by the earls of Arundel and members of the Howe family (fn. 195) a court was mentioned for the years 1327–9, 1579, and 1712, (fn. 196) but little is known of its business. An annual court baron was held between 1782 and 1800: the homage presented defaulters from the court, regulations for the use of common pastures and other customs of the manor, encroachments by tenants of other manors, and the need to repair the stocks. In 1796 and 1797 the lessee of the Rectory estate was presented for not keeping a boar or a bull for parish use. Tenants were admitted to copyholds and a hayward was appointed. (fn. 197)
The parish spent £106 on poor relief in 1776, c. £135 in 1785. Expenditure had risen to £149 by 1803, when 10 adults and 23 children were relieved regularly, 4 people occasionally. The poor rate was then about the average for the hundred, its level presumably reduced by the £24 earned by the poor: Stapleford was one of the few parishes in which there was no workhouse but some earnings by the poor were recorded. (fn. 198) Expenditure on poor relief reached a peak in 1813, when 24 adults received permanent and 9 occasional relief at a cost of £394. (fn. 199) The amount raised by the poor rate varied considerably between then and 1829: in 1816 it was £129, in 1818 £397, in 1822 £269. (fn. 200) Average annual expenditure 1833–5 was £253. Stapleford became part of Wilton poor-law union in 1836, (fn. 201) and of Salisbury district in 1974. (fn. 202)
Church.
Stapleford church, which belonged to Salisbury cathedral in the earlier 12th century, (fn. 203) was served by a rector in 1220 (fn. 204) and until the church was appropriated in 1446 by Easton priory. A vicarage was evidently ordained in 1446. (fn. 205) In 1924 it was united with that of Berwick St. James, (fn. 206) and in 1992 the united benefice became part of Lower Wylye and Till Valley benefice, served by a rector. (fn. 207)
In 1220 Gundreda de Warenne, relict of Geoffrey Hussey (fl. 1198), acknowledged Salisbury cathedral's right to present a rector, (fn. 208) but later the advowson was disputed by the Hussey family and the dean and chapter. In 1236 Sir Hubert Hussey challenged a recent presentation by the dean and chapter, (fn. 209) and at the institution in 1305 of a rector presented by Maud Hussey an equal right of patronage was said to belong to the cathedral. (fn. 210) The cathedral's claim was not mentioned thereafter, and, like Stapleford manor, the advowson of the rectory descended in moieties to Sir Hubert's heirs, Margaret Sturmy and Isabel of Thorney. (fn. 211) Between 1337 and 1443 the successors to Margaret's title presented eight or nine times, the successors to Isabel's twice or thrice. In 1337 Henry Sturmy (d. 1381) presented, in 1338 the king presented as keeper of the estate of Henry Sturmy (d. c. 1338), between 1393 and 1423 Sir William Sturmy presented four times, once by grant of a turn, and in 1429 Agnes Sturmy and her husband John Holcombe presented. In 1361 John, Lord Mautravers, and in 1400 Reynold Cobham, Lord Cobham, husband of Eleanor, Baroness Mautravers, presented: (fn. 212) no successor of Isabel presented after 1400. Feoffees of Sir William Sturmy presented in 1434: one of them, John Benger, presented in 1442 by grant of a turn (fn. 213) and in 1443 granted the advowson to Easton priory. (fn. 214) Vicars were presented by the priors of Easton from 1446 to the Dissolution, except in 1473 when four confratres of Easton presented, probably because there was no prior, and in 1487, when Laurence Cox presented by grant of a turn. (fn. 215) In 1536 the advowson passed with the Rectory estate to Sir Edward Seymour, Viscount Beauchamp, and in 1547 to St. George's chapel, Windsor. (fn. 216) John Biggs, lessee of the Rectory estate, presented in 1551, 1554, and 1571, but thereafter St. George's chapel presented a vicar at every vacancy but one: (fn. 217) in 1854 the bishop presented by lapse. (fn. 218) The chapel was patron of the united benefice formed in 1924, (fn. 219) and from 1992 shared the patronage of Lower Wylye and Till Valley benefice. (fn. 220)
The rectory was valued at £8 in 1291, a little below the average for a living in Wylye deanery. (fn. 221) The rector apparently received most, if not all, tithes from the parish and had 2 yardlands with pasture for 212 sheep. (fn. 222) In 1446 Easton priory endowed the vicarage with £8 a year, personal tithes, 3 a. and a house, and mortuaries and oblations. (fn. 223) In 1535 the vicar's income, £9 7s. 2d., was well below the average for the deanery; (fn. 224) despite augmentations by Queen Anne's Bounty in 1816 and 1819, and of £15 a year by St. George's chapel in 1818, (fn. 225) at c. £106 it remained so in 1831. (fn. 226) A further augmentation of £400, of which Queen Anne's Bounty gave £200, was made in 1856. (fn. 227) The £8 a year was paid from the Rectory estate in the mid and later 16th century: (fn. 228) the amount had been increased to £12 by 1610 and to £34 by 1671. (fn. 229) The vicar was entitled to some small tithes, (fn. 230) which in 1840 were valued at £30 and commuted. His glebe never exceeded c. 3 a. (fn. 231) In 1650 his house was of two storeys, each of two rooms. (fn. 232) In 1705 it was said to be old and thatched, (fn. 233) c. 1825 mean and inhabited by paupers. (fn. 234) The old house, which stood immediately west of the church, (fn. 235) was replaced c. 1860 by a red-brick one north-east of the church; the new house, much enlarged in 1884, (fn. 236) was sold in 1991. (fn. 237)
In 1249 James, rector of Stapleford, was committed to gaol for wrongful disseisin. (fn. 238) John Bath, rector 1400–2, was licensed in 1402 to hold with Stapleford another living with cure of souls. (fn. 239) Other 15th-century rectors were more eminent and probably all absentees: John Perch, 1402–15, whose successor as rector claimed against his executors for dilapidation of the church and rectory house, was registrar of a court of Canterbury; (fn. 240) Nicholas Upton, 1434– 42, an author of treatises on war and heraldry, became precentor of Salisbury in 1446; (fn. 241) Adam Moleyns, 1442–5, was dean of Salisbury 1441–5 and later bishop of Chichester. (fn. 242) The prior of Easton, William Marshall, was himself vicar 1487–91. (fn. 243) In 1553 the churchwardens complained that the services were not held at the proper times because the vicar also served Winterbourne Stoke; it was also said that, having celebrated communion in that parish, he would return to administer but not receive the sacrament in Stapleford. In the same year the churchwardens reported that crosses had not been removed from the chancel. (fn. 244) Some or all of the quarterly sermons were omitted in 1585, probably because the vicar was not qualified to preach. (fn. 245) Humphrey Wall, vicar from 1622, signed the Concurrent Testimony in 1648, and in 1650 preached twice each Sunday at Stapleford. (fn. 246) Few 18th-century incumbents resided in the parish: (fn. 247) in 1783 the church was served with Berwick St. James by a curate who held one service at Stapleford each Sunday, alternately in the morning and the afternoon. Communion was celebrated at Christmas, Easter, and Whitsun: there were c. 20 communicants. (fn. 248) John Matthews, vicar 1808–53, was also vicar of Shrewton, where he lived. He was assisted in 1851 by a curate who lived at Little Langford: on Census Sunday in that year 85 people attended morning service in Stapleford church and 136 afternoon service. George Carpenter, vicar 1854–64, was probably the first resident incumbent for over a century. (fn. 249) In 1864 he held a service with a sermon each Sunday morning and Sunday evening. Services were also held on Wednesdays in Lent, on Good Friday, and on Ascension day. Communion was celebrated at Christmas and Easter, on Whit and Trinity Sundays, and on eight other Sundays: there were c. 17 communicants at festivals, c. 13 at other times. (fn. 250) From 1879 until the benefices were united in 1924 Stapleford was held in plurality with Berwick St. James: vicars usually lived at Stapleford. (fn. 251)
From 1793, and probably long before, the rent from c. 1 a. in Stapleford was used to maintain the church. The rent was 2s. in 1793, £3 3s. in 1873. In 1898 the land was sold and the proceeds invested. (fn. 252) The income of c. £8 a year from the investment was spent on repairs in the early 20th century, (fn. 253) but the charity had apparently been lost by 1992. (fn. 254)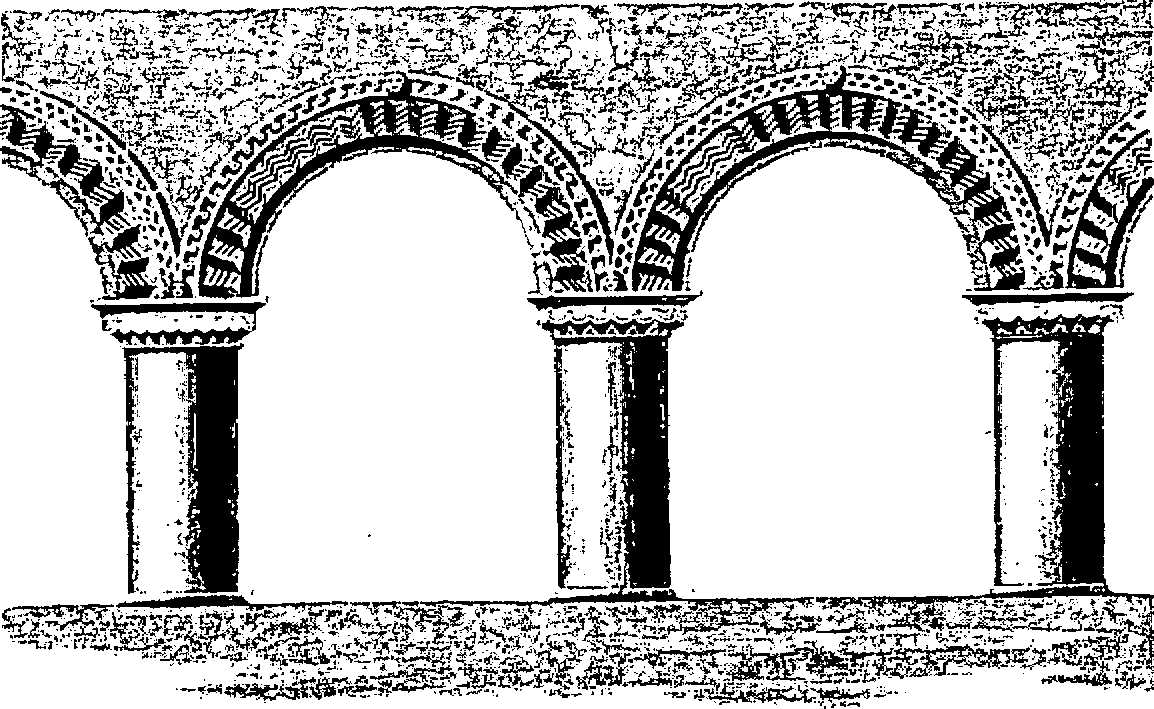 The church of ST. MARY was so called in 1446 and probably in 1239 or earlier. (fn. 255) It is of chalk ashlar and flint and has a chancel and a clerestoried nave with north chapel, south chapel, north tower, south aisle, and twostoreyed south porch. (fn. 256) The oldest parts of the church, the north and west walls of the nave, the south arcade, and the west wall of the aisle, are late 12th-century, but the nave is narrow and its shape may be that of the nave of an earlier church. The chancel, wider than the nave, was rebuilt in the later 13th century, and the north chapel was built about the same time. The tower was built, after and west of the chapel, in the late 13th century or early 14th, and in the mid 14th the south chapel was built and the south wall of the aisle was rebuilt on its old foundations. New windows and a piscina with triple sedilia were made in the chancel in the 14th century. In the 15th the nave was raised to accommodate the clerestory, and the porch was built. The upper stage of the tower was rebuilt in 1674. (fn. 257) The church was extensively restored in 1861: some walls and most of the roofs were rebuilt and windows were altered. (fn. 258)
In 1553 plate weighing 1½ oz. was confiscated and a chalice of 6 oz. was left in the parish. Plate belonging to the church in 1992 included a cup and a paten of 1678 but not a plated flagon bought in 1876. (fn. 259)
Three bells hung in the church in 1553. The ring was increased to five, apparently by two bells cast by John Wallis, one in 1611 and one in 1615. Three bells cast by Nathaniel Boulter in 1655 presumably replaced the old bells. The bell of 1615 was replaced by one of 1887 cast by Mears & Stainbank, who recast that of 1611 in 1907. (fn. 260) The bells of 1655, 1887, and 1907 hung in the church in 1992. (fn. 261)
Registers of burials survive from 1633, of baptisms and marriages from 1637; they are incomplete for the 17th century and early 18th. (fn. 262)
Nonconformity.
In 1605 George Tattershall, then resident in Stapleford and from 1611 owner of a moiety of the manor, was indicted as a recusant. (fn. 263) His father-in-law Christopher Biggs, also of Stapleford, was convicted of recusancy in 1609 and c. 1629, (fn. 264) and his son George forfeited a lease of the Rectory estate as a papist and a royalist in 1645. (fn. 265) Biggs's wife Alice was an excommunicate recusant at her death c. 1619. It was said that her corpse was buried secretly in Stapleford church by an unknown priest: the bishop later ordered its removal. (fn. 266) John Saph (probably he who d. 1683) owned an estate in the parish and was a papist in 1657, (fn. 267) three papists who lived in the parish in 1676 (fn. 268) may have been members of the Saph family, and Charles Saph (d. 1726), successor of John Saph as owner of the estate, was a Roman Catholic. (fn. 269) In 1783 there was said to be no papist in the parish. (fn. 270)
There were three protestant nonconformists in Stapleford in 1676. (fn. 271) There was a Quaker meeting house in 1690 and 1703, (fn. 272) and Quakers lived in the parish 1682–1715. (fn. 273) There was said to be no protestant dissenter in 1783. (fn. 274) In 1816 several Baptists lived in Stapleford and in 1820 a house was certified for their meetings. A Methodist chapel beside the western lane at the south end of Stapleford village was built c. 1820 and certified in 1824. On Census Sunday in 1851 Wesleyan Methodists held a morning and an evening service there, attended by 48 and 92 people respectively. (fn. 275) No service was held in the chapel after 1946 and it was demolished c. 1970. (fn. 276)
Education.
A school attached to the Methodist meeting house in 1824 was probably a Sunday school. (fn. 277) In 1833 there was a school in the parish for c. 10 infants but most children attended Great Wishford school. (fn. 278) A National school which had 20 pupils in 1847 (fn. 279) may have been that in Over Street which had 30–40 pupils in 1859. (fn. 280) It was presumably closed when a new school incorporating a teacher's house was built at the south end of Stapleford village in 1874. (fn. 281) Average attendance at the new school fell from 31 in 1906 (fn. 282) to 9 in 1914, when some children living in the parish attended Berwick St. James and Great Wishford schools. In 1914 the county council withdrew approval and funding from the school but it continued privately for several years and was re-adopted by the county in 1919 or 1920. In 1925, when there were 10 pupils, it was closed. (fn. 283) It was used as a school for 24 boys who were evacuated to neighbouring parishes in 1939 and 1940, (fn. 284) but was later a village hall.
In the north part of the parish Berwick St. James school was built in 1936 and closed in 1992. (fn. 285)
Charity for the poor.
None known.