Pages 263-275
A History of the County of Wiltshire: Volume 15, Amesbury Hundred, Branch and Dole Hundred. Originally published by Victoria County History, London, 1995.
This free content was digitised by double rekeying. All rights reserved.
TILSHEAD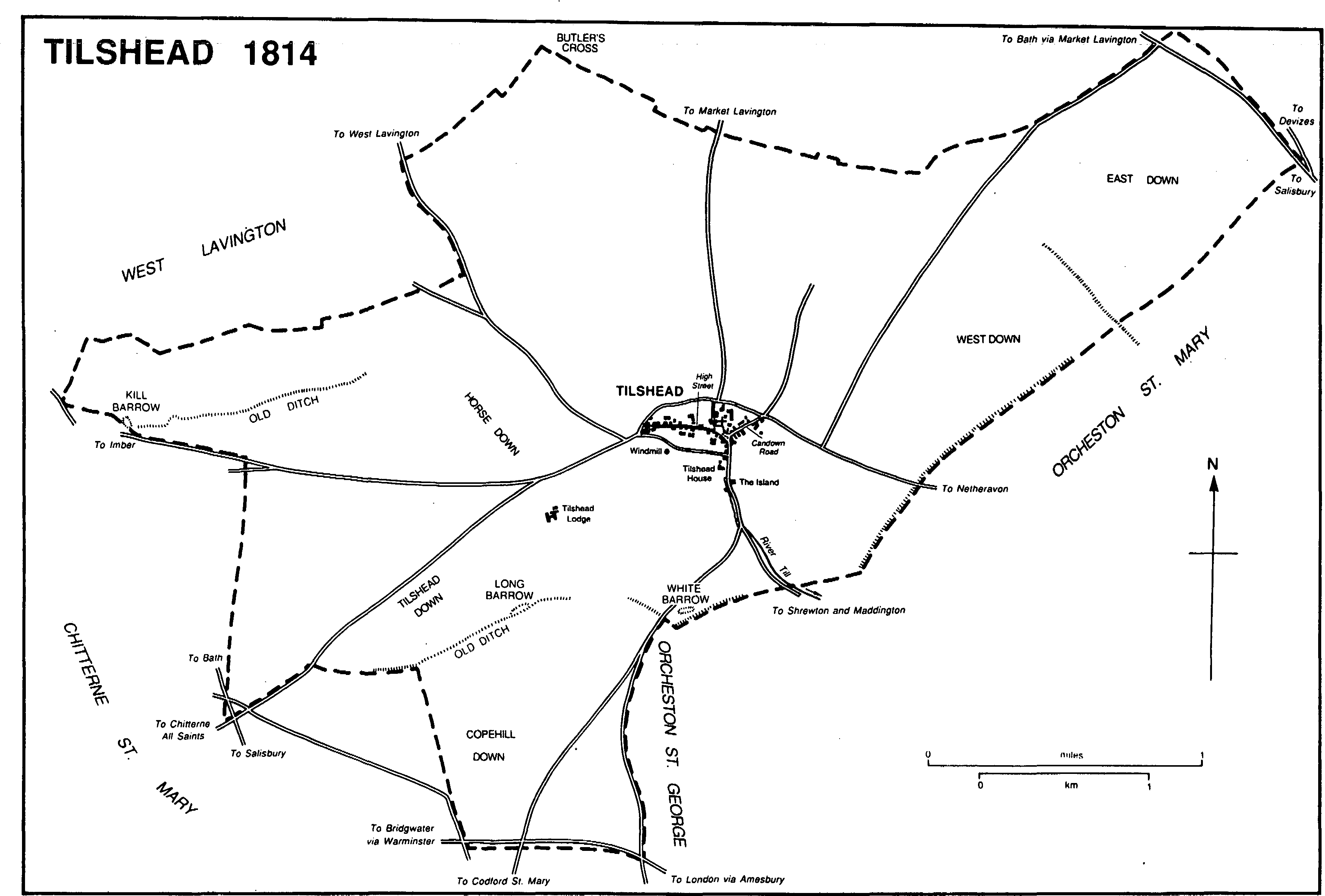 Tilshead lies on Salisbury Plain 13 km. WNW. of Amesbury at the head of the valley of the river Till. (fn. 1) Its name is first recorded as a form of 'Theodwulf's hide' in the nth century; the modern form of the name was in use in the 16th century, and the name of the river is derived from it. (fn. 2) In 1086 Tilshead was a borough and a large royal estate. The borough may have been planted as a collection centre for wool when sheep farming increased in the late Saxon period, (fn. 3) and the estate was evidently far more extensive than the modern parish. (fn. 4) Where the additional lands lay is not clear: lands of most neighbouring parishes can be otherwise identified in Domesday Book and it is perhaps most likely that much land worked from Tilshead in 1086 later went out of cultivation and was absorbed as rough pasture by other settlements around the plain. (fn. 5) There was extensive early arable on the downs around Tilshead. (fn. 6) The parish had two tithings, Tilshead North and Tilshead South, and measured 1,572 ha. (3,883 a.). Tilshead South tithing was in Whorwellsdown hundred, (fn. 7) but there is no evidence to support a suggestion that other Tilshead land was in Rowborough hundred. (fn. 8) Vestiges of a borough may perhaps be seen (fn. 9) but there was no reference to a burgess after 1086.
The parish boundary, unchanged since 1814, (fn. 10) is marked chiefly by man-made features, some of which are ancient. The southern of the two lines of the prehistoric Old ditch marks parts of the south-eastern and south-western boundaries. Three crosses stood on the boundaries: one was to the south-west in 1623, Cole's cross had by then been removed from the northern boundary, and the name of Butler's cross, which had marked an angle in the boundary north of Tilshead village, (fn. 11) was still in use in the late 20th century. Mounds marked other parts of the northern boundary in the late 19th century and the 20th, and in several other places the boundary is along roads. (fn. 12)
Chalk outcrops over the whole parish. The Till is no more than an occasional stream or winter bourne, and it was called the Winterbourne in the 16th century and earlier: (fn. 13) the name Till was not apparently used until c. 1900. (fn. 14) The large number of mills and the great area of meadow on the 11th-century royal estate called Tilshead suggest that the flow of the river was then more regular. (fn. 15) The Till has sometimes flowed with considerable force through Tilshead village, most notably in a destructive flood of 1841. (fn. 16) Its valley, mainly below 107 m. and broadening towards the southern parish boundary, and dry valleys which lead north-east and south-west towards it south of the village are lined with gravel; another tongue of gravel lies in a dry valley north-east of the village. The downland is highest, over 152 m., at the west corner of the parish and on East down and near Butler's cross in the northern corners; it reaches c. 140 m. on Copehill down to the south-west. (fn. 17)
From the Middle Ages arable seems to have been on the lower slopes of the downs nearer the village, with the higher slopes and land further from the village having been used principally for pasture. (fn. 18) From the early 20th century much of the parish has been rough grassland used for military training. (fn. 19) The estate called Tilshead included woodland 2 leagues long and 1 league broad in 1086 (fn. 20) but later the parish was sparsely wooded. In 1886 there was scattered woodland on the downs, some in the north-east and some near Tilshead Lodge, all probably planted after 1814. (fn. 21) Most of the plantations survive and some additional woodland was planted in the later 20th century. (fn. 22)
The parish was crossed by many roads over the plain, some of more than local importance. The road from London to Bridgwater (Som.) via Amesbury and Warminster, a major route in the later 17th century, crossed the southern tip of the parish, (fn. 23) the main Salisbury—Bath road, important until the mid 18th century, (fn. 24) crossed the south-west corner, and another downland Salisbury—Bath road, turnpiked in 1758 and disturnpiked in 1873, (fn. 25) crossed the north-eastern tip. On the last of those roads the main Devizes— Salisbury road converged at the parish's easternmost corner. In 1773 an apparently minor road linked Tilshead village to West Lavington to the north and Shrewton and Maddington to the south-east, other minor roads led from the village east across the downs to Netheravon, south-west to Codford St. Mary, and west to Imber, and there were various other downland routes. From the Imber road a road leading south-west to Chitterne All Saints was made between 1773 and 1814; (fn. 26) it was improved in the early 19th century. (fn. 27) Military use of the downs from the early 20th century led to the diversion or closure of roads, including those from Bath and Devizes to Salisbury. The route from West Lavington via Tilshead to Shrewton became part of a new Devizes-Salisbury road c. 1900. (fn. 28) The only other roads in the parish in public use in the late 20th century were one leading east from the village to join the old Salisbury road at the Bustard inn in Shrewton and the road to Chitterne.
Archaeological evidence of much prehistoric activity survives within the parish. The southern line of Old ditch, although broken, extends for c. 3.5 km. within Tilshead and along its boundaries, the northern line for 1.4 km. To the east, a third ancient ditch runs north-west and southeast, crossing the southern line of Old ditch and dividing East and West downs. A long barrow on Old ditch south-west of Tilshead village is 274 m. long and perhaps the largest in England. Beside the ditch south of the village lies White barrow, 233 m. long; its site, c. 2 a., was acquired by the National Trust in 1909. In the extreme west lies Kill barrow, 52 m. long, and there are other long and bowl barrows on the southern and eastern downs. A few artefacts, some associated with the barrows and ditches, have been found and date from periods from the Neolithic to the Pagan Saxon. There is evidence of prehistoric field systems on the western downs. (fn. 29)
In 1086, with 66 burgesses among its inhabitants, Tilshead was unusually populous but taxation assessments suggest that by the 14th century that was no longer so. In 1377 there were 125 poll-tax payers in the parish. (fn. 30) The population was 327 in 1801, for reasons that are not clear had risen sharply to 397 by 1811, and had reached 523 by 1851. Between 1861 and 1871 emigration reduced the number from 500 to 467, and the population was under 400 between 1891 and 1921. It rose from 395 in 1921 to 610 in 1931, evidently because army camps in the parish were more fully occupied at the later date. The total had risen to 989 by 1951 (fn. 31) but, probably because no camp was in residential use, had fallen to 314 by 1961 and 287 by 1981. There were 343 inhabitants in 1991. (fn. 32)
Tilshead village lies on the gravel near the parish's centre. The church stands north of a triangular open space at a road junction. The space and the width of the village street west of it may be evidence of the plan of the borough. (fn. 33) North and south of the junction stand houses called North Manor and South Manor: their sites may be those of the demesne farmsteads of the two manors in the parish. (fn. 34) In the late 18th century building extended west from the junction c. 500 m. along the street, later High Street, and south c. 250 m. along the Shrewton road to a farmstead east of the road and later called the Island. East of the church in the Netheravon road, later Candown Road, there are houses possibly of the 17th century, and in 1760 there was a line of settlement along the road. From the west end of High Street back lanes lead on the north to the Netheravon road and on the south to the Shrewton road. (fn. 35) Between 1760 and 1814 a few cottages were built in the centre of the triangle at the road junction south of the church. (fn. 36)
Some buildings of 17th-century or earlier origin survive in High Street. West of the church on the north side the Rose and Crown is a late-medieval timber-framed house of four bays: the roof of what was its central hall is smokeblackened and may have a central cruck truss. In the early 17th century a chimney stack and an upper floor were built in the hall and the south front was rebuilt in banded flint and ashlar: a north wing was added at the west end in the later 17th century. Further west on the south side Bell Cottage and the Black Horse may both be of 16th-century origin. Near the middle of the street on the north side Dean and Chapter House, timber-framed, was built in the earlier 17th century and refronted in brick in the early 19th. South Manor, a small house with a north front of banded flint, and, immediately west of the Rose and Crown, Hooper's Farm, timberframed and fronted in bands and chequerwork of flint and ashlar, may also be 17th-century. The houses possibly of 17th-century origin in Candown Road are Slades Farm, north-west of the road, and Lower Farm, south-east of the road.
North Manor was built c. 1800 and extended in the early 19th century. Between 1773 and 1814 there was new building in Candown Road, including a farmstead on the south-east side at the village's eastern edge. (fn. 37) In 1820 Tilshead House, a red-brick house of three storeys and three bays, was built for Richard Norris on the west side of the Shrewton road: (fn. 38) it was used as a home for the elderly in 1991. Many cottages in the village in the early 19th century were mud-walled (fn. 39) and thus vulnerable to damage by floods such as that of 1841 in which nine were destroyed. In 1842 two cottages, paid for by a national subscription to aid victims of the flood in Tilshead and neighbouring villages, were built on the south side of High Street. (fn. 40) New building of the later 19th century and the early 20th included a nonconformist chapel and, on the site of a house north of the church, a school. (fn. 41) Drax House, at the junction of High Street and Candown Road, and May Villa, near the Island, bear the dates 1900 and 1901 respectively. At the village's western end, called Townsend in 1886 and 1957 but later West End, (fn. 42) six council houses were built north of the Devizes road and six south of it in 1938–9. (fn. 43) A commercial garage was later built north of the road and two bungalows south of it. In Imber Place, north-west of Candown Road, 10 council houses were built in 1949 (fn. 44) and another 8 and 2 bungalows in the early 1960s. South-east of Candown Road four old people's bungalows were built in the late 1970s. Between 1957 and 1982 the buildings in the centre of the triangle south of the church were demolished, (fn. 45) and in 1991 there was a camping and caravan site south of Tilshead House.
In 1814 the only building in the parish outside the village was Tilshead Lodge, (fn. 46) built in the early 18th century, presumably as a sporting lodge. It was leased to Francis Godolphin (from 1712 earl of Godolphin, d. 1766) in 1704, 1730, and 1736, (fn. 47) and later to William, duke of Cumberland (d. 1765). (fn. 48) Another tenant may have been either William Graham, duke of Montrose (d. 1790), or his son James, duke of Montrose (d. 1836). (fn. 49) Formal gardens had been made south of the house by 1760. (fn. 50) The house was apparently rebuilt c. 1800 (fn. 51) and was demolished between 1957 and 1982. (fn. 52) Between 1814 and 1841 two downland farmsteads were built, one of them on Copehill down. (fn. 53) In 1886 there were farm buildings in the parish's north-eastern and north-western corners, and cottages in the south-west corner. All were demolished in the 20th century. (fn. 54)
There were two inns in the parish in the 1750s, (fn. 55) probably the Crown, from 1822 or earlier the Rose and Crown, and the Bell, which stood south-east of Candown Road in 1814. (fn. 56) Friendly societies recorded in the parish 1813–15 (fn. 57) may have met at the two inns. The Rose and Crown was open in 1991, the Bell was closed after 1939, (fn. 58) and the Black Horse was open in 1848 (fn. 59) and 1991.
In the early 19th century and the early 20th racehorses were trained at Tilshead Lodge. (fn. 60) Hares were coursed in the parish, and a hare warren straddled the eastern boundary with Orcheston St. Mary c. 1820. (fn. 61) In 1924 and 1925 the Old Hawking club had its headquarters in Tilshead, (fn. 62) and in the 1950s the Royal Artillery (Salisbury Plain) and Wylye Valley hunts met at the Black Horse. (fn. 63)
Lands in the east part of the parish bought by the War Department in 1897 (fn. 64) had by 1910 become part of artillery ranges extending northwest from Larkhill in Durrington: later the west part of the parish was included in the Imber ranges. The parish was used for training in the use of tanks for much of the 20th century. In the First World War there was a kite balloon school at Tilshead, in the Second a landing ground was made west of the village, (fn. 65) and there was a landing strip north of the village c. 1980. (fn. 66) West Down North camp had been set up in the parish's north-eastern corner by 1903. It was replaced c. 1925 by West Down camp immediately east of the village, and temporary camps, some tented, were set up elsewhere in the parish between 1918 and 1945. (fn. 67) West Down camp remained in summer use in the 1990s. (fn. 68) Groups of military buildings which stood c. 400 m. north of the village and south and west of Tilshead Lodge in 1957 had mostly been demolished by 1982: (fn. 69) a brick water tower stood south of the Chitterne road in 1991.
Manors and other estates.
In 1066 and 1086 the large estate called Tilshead belonged to the king. It had to render to him yearly the cost of a night's food and lodging for him and his household. (fn. 70)
What became TILSHEAD NORTH manor was granted, perhaps before 1113, by Henry I to Holy Trinity abbey, Caen (Calvados). (fn. 71) The grant was confirmed in 1131. (fn. 72) The manor was in royal keeping during wars with France in the 14th century and the early 15th. (fn. 73) It was apparently among Caen's Wiltshire possessions which in 1416 were granted to Syon abbey (Mdx.), founded the previous year: (fn. 74) a confirmation of Syon's endowments in 1424 expressly included it. (fn. 75) In 1442, however, Henry VI granted the manor to King's College, Cambridge; in 1444 Syon abbey was pardoned for illegal entry on that and other manors formerly Caen's, (fn. 76) and the college's right to it was confirmed. (fn. 77) The abbey still claimed the manor in 1459, when the college held it, (fn. 78) and in 1461 Edward IV restored it to Syon. In 1462 the college conceded the abbey's right, (fn. 79) which was confirmed by Edward IV in 1465 (fn. 80) and by Henry VI in 1470. (fn. 81) After the Dissolution the Crown retained the manor until 1583 (fn. 82) or later. By 1593 it had passed, presumably by sale, to Sir Robert Cecil (fn. 83) (cr. earl of Salisbury 1605, d. 1612). Cecil or his son William, earl of Salisbury, (fn. 84) apparently sold the manor in portions. (fn. 85)
Giles Tooker (d. 1623) bought the lordship and demesne and held them in 1616. He was succeeded in turn by his son Edward (fn. 86) (d. c. 1671) and grandson Sir Giles Tooker, Bt. (d. 1675). Sir Giles's estate was divided between his heirs, his sisters Philippa, wife of Sir Thomas Gore, and Martha, wife of Sir Walter Ernie, Bt. (fn. 87) The lordship and most of the lands passed to Philippa's son William Gore and in turn to William's sons Thomas (d. 1728) and William (d. 1769). The younger William's heir may have been his cousin John Gore, (fn. 88) named as owner of the estate 1780–95. (fn. 89) John's heir was probably his nephew Montague Gore, whose father the Revd. Charles Gore apparently held the estate, c. 800 a., as trustee in 1814 and c. 1825. (fn. 90) Some of the land had been sold by 1844. (fn. 91) After Montague's death in 1864 (fn. 92) other land was sold to W. D. Hulbert (d. 1890). Hulbert's executors sold Tilshead Manor farm, 344 a., in 1890 to Joseph Jackson. In 1908 the farm was bought by John Chamings, (fn. 93) who later bought other land in the parish. (fn. 94) Chamings sold c. 130 a. to the War Department in 1911; in 1920, after his death, his estate of 450 a. was sold, (fn. 95) perhaps to R. J. Evans who owned 440 a. in 1924. (fn. 96) Those lands too were later bought by the War Department: the Ministry of Defence owned them and nearly all the other land in the parish in 1991. (fn. 97)
In 1844 Walter Long (d. 1867) held c. 200 a. in Tilshead, formerly part of Charles Gore's estate. The land descended to Walter's son Richard (d. 1875) and to Richard's son W. H. Long, who in 1905 sold it to the Cavendish Land Company. The company sold it in 1906 to R. J. Farquharson, and it was part of an estate sold by Farquharson to the War Department in 1933. (fn. 98)
The lands inherited by Martha (d. 1688) and Sir Walter Ernie (d. 1682) passed with Winterbourne Maddington manor in Maddington in turn to their grandsons Sir Walter Ernie, Bt. (d. 1690), and Sir Edward Ernie, Bt. (d. 1729), to Sir Edward's daughter Elizabeth Drax (d. 1759), and to her son Thomas Drax. Thomas (d. 1789) was succeeded in turn by his brother Edward (d. 1791) and by Edward's daughter Sarah (d. 1822), wife of Richard Erle-Drax-Grosvenor, who held c. 160 a. in Tilshead in 1815. Those lands passed from Richard's and Sarah's son Richard (d. 1828) to their daughter Jane (d. 1853), wife of John Sawbridge-Erle-Drax, and in turn to Jane's daughters Maria SawbridgeErle-Drax (d. 1885) and Sarah, wife of F. A. P. Burton. Sarah (d. 1905) was succeeded by her daughter Ernie Plunkett, Baroness Dunsany (d. 1916), who sold 78 a. to the War Department in 1911. Ernie's son Reginald Plunkett-Ernle-ErleDrax (fn. 99) sold the remaining 83 a. in 1917 (fn. 100) to John Chamings: they were part of the estate sold in 1920 after Chamings's death. (fn. 101)
Several estates in the parish traceable from the late 16th century or the early 17th may have been derived from copyholds sold by Robert, earl of Salisbury. (fn. 102) One such estate, comprising 83 a. and pasture for 220 sheep, was sold in 1603 by John Eaton to John Long. (fn. 103) It passed from father to son to a second, third, and fourth John Long, (fn. 104) the last of whom held it in 1697. (fn. 105) In 1706 Catherine Stockdale sold the estate to Sir William Scawen (fn. 106) (d. 1722). Sir William was succeeded by his nephew Thomas Scawen (d. 1774), whose estate included TILSHEAD LODGE. Thomas or his son James (fn. 107) sold the estate, which may have been dispersed. In 1802 the house and a few acres were sold by Elizabeth Pratt to Gorges Lowther, (fn. 108) who bought several estates in the parish c. 1805, including the Rectory estate. (fn. 109) His combined estate, the Tilshead Lodge estate, 1,026 a. from inclosure in 1814, (fn. 110) was held in 1816 and 1817 by H. P. Isherwood (fn. 111) and sold in 1819 (fn. 112) presumably to John Long, who held it in 1820 and 1829. It was acquired c. 1830 by George Watson-Taylor (fn. 113) (d. 1841) and his wife Anne (d. 1852) and passed as part of their Erlestoke estate to their son Simon (d. 1902) and to his son G. S. A. WatsonTaylor. (fn. 114) In 1907 H. W. Hooper bought 292 a., which he sold in 1911 to the War Department. The remainder was bought in 1908 by R. J. Farquharson and sold by him in 1933 to the War Department. (fn. 115)
The estate which John Elliott alias Hill inherited from his father and in 1594 devised to his son John (fn. 116) may have been another former copyhold. It was conveyed with other holdings to Thomas Naishe in 1654, (fn. 117) and in 1694 was conveyed by Jonathan Hill and his wife to Laurence Cooper. (fn. 118) By will proved 1705 Cooper devised the estate to John Wansborough. (fn. 119) It was later bought by Joan Harris and passed to her kinsman James Harris, who held it in 1745. (fn. 120) James (d. 1780) was succeeded by his son Sir James (cr. Baron Malmesbury 1788, earl of Malmesbury 1800, d. 1820), (fn. 121) from whom the estate was acquired, presumably by purchase, by W. N. Maton c. 1787. A Mrs. Hayden held it in 1796 and 1804, as did Gorges Lowther from 1805. (fn. 122) It became part of the Tilshead Lodge estate. (fn. 123)
Peter Crook (d. 1633) sold to John Randall (fl. 1666) c. 100 a. of arable and pasture rights for 80 sheep, perhaps formerly part of Tilshead North manor. In 1692 Randall's son John sold that and other estates to Robert Goldisborough, (fn. 124) who in 1699 held c. 170 a. and pasture rights for 180 sheep in Tilshead. (fn. 125) In 1724 the Revd. William Aishton sold an estate which may have included lands formerly Goldisborough's to the dean and chapter of Salisbury. (fn. 126) The cathedral owned 94 a. in Tilshead from inclosure in 1814. (fn. 127) The Ecclesiastical Commissioners sold the land to the War Department in 1928–9. (fn. 128)
In 1206 Romsey abbey (Hants) held 1 hide or more in Tilshead: (fn. 129) the estate became TILSHEAD SOUTH manor. (fn. 130) The manor was presumably part of Steeple Ashton manor granted in 1539 by the abbey to Thomas Seymour (fn. 131) (cr. Baron Seymour 1547), and on his attainder in 1549 apparently passed to the Crown. (fn. 132) As part of Steeple Ashton manor it was sold by the Crown in 1629 and descended in the Long family from c. 1630. (fn. 133) It was held by Sir Walter Long, Bt. (d. 1672), Sir Walter Long, Bt. (d. 1710), Calthorpe Long (d. 1729), Sir Philip Long, Bt. (d. 1741), the Revd. John Long (d. 1748), and Walter Long (d. 1807). (fn. 134) Between 1760 and 1780 most of the land was sold (fn. 135) but Catherine Long was lord of the manor in 1814. (fn. 136) Of the farms derived from the manor the largest, South, was held in 1780 by a Mr. Miles and from 1791 by the Revd. Dr. Kent, perhaps Ambrose Kent (d. 1793), who also had several smaller holdings in the parish. (fn. 137) What had been Kent's estate belonged c. 1800 to a Mrs. Norris and c. 1810 to Richard Norris (d. 1826). Norris's estate, c. 850 a. from inclosure in 1814, was retained by his relict until c. 1838 and was acquired c. 1840 by Stephen Mills (fn. 138) (d. 1857), (fn. 139) who was succeeded by his sister Martha Mills. Martha (d. 1903) sold 500 a. in 1897 to the War Department and devised the remainder to her cousin T. L. Mills (fn. 140) (d. 1909). Most of T. L. Mills's lands were sold by his executors to the War Department in 1911. (fn. 141)
Lands which had been part of Tilshead South manor were apparently divided between William Wallis and Thomas Stevens. Wallis's share was bought by Joseph Houlton (d. 1720) and Stevens's by Joseph's son Joseph. The elder Joseph devised his portion to the young Joseph's son Nathaniel and in 1723 the younger Joseph (d. 1731) settled his on Nathaniel (fn. 142) (d. 1754). In 1768 Nathaniel's relict Mary (d. 1770) apparently held the lands. (fn. 143) The estate may have been that in the southern part of the parish held by William Cooper in 1781, acquired by Gorges Lowther c. 1804, and thereafter part of Tilshead Lodge estate. (fn. 144)
In 1086 four thegns held land at Tilshead. Alward held 1 hide, Alestan ½ hide, and Alvric Parvus and Almar 2½ yardlands each. (fn. 145) The holdings were apparently represented by four Tilshead estates recorded in 1242–3. Alvric's was probably the hide held by serjeanty in 1198 by William Spileman (fn. 146) (fl. c. 1212). (fn. 147) In 1242–3 Laurence le Gras was said to hold it of Spileman; no later reference to the estate has been found. Hyde abbey (Hants) held 1/5 knight's fee in 1242–3. Herbert of Stoke held the estate of the abbey and Robert Omedieu of Herbert. (fn. 148) Both Herbert and Robert were alive in 1249, (fn. 149) and in 1428 an estate was still said to be held by Robert's heirs. (fn. 150) It may have been that settled in 1444 on Isabel, relict of John Romsey, for life: the settlement was acknowledged before the abbot of Hyde in 1462 (fn. 151) but the estate has not been traced thereafter. The other estates in 1242–3 were of 1/5 knight's fee, held by Eustace of Hull of Ellis of Hull who held of Sir Ellis Giffard, and of 1/10 knight's fee, held by Walter de Baynton of the honor of Trowbridge. (fn. 152) Either Hull's or Baynton's estate may have been that including 62 a. in Tilshead held by Peter of Middleton in 1315 (fn. 153) and by his son Robert in 1350. (fn. 154) The Middletons' estate was settled in 1414 on Henry Pyres and his wife Christine (fn. 155) and may have been that claimed. c. 1510 by Elizabeth, wife of John Tremayle, and Joan, wife of Thomas Brooke, as daughters and heirs of John Speke. (fn. 156) Thomas and Joan apparently held a moiety of an estate in Tilshead in 1527. (fn. 157) That or the other moiety was held in 1544 by Thomas Horton (fn. 158) (d. 1549) and passed to his son Edward (d. 1603), who devised his estates to his grandnephew Edward Horton (d. 1605). The Tilshead lands, however, passed to William Horton, nephew of Edward (d. 1603). In 1610 they were settled by William on his son Toby, who in 1618 conveyed them to Sir John Horton (d. 1667), brother and heir of Edward (d. 1605). (fn. 159) In 1654 they were among lands conveyed to Thomas Naishe, (fn. 160) and with Naishe's other holdings later became part of the Tilshead Lodge estate. (fn. 161)
An estate including what became COPEHILL farm belonged to William Slade from c. 1780 until c. 1787, James Slade from c. 1788 until 1793, and another William Slade from c. 1794. (fn. 162) It comprised 221 a. in 1814 (fn. 163) and was sold after William's death in 1838. (fn. 164) It was conveyed in 1897 to John Coleman. Copehill farm, 143 a., was offered for sale in 1909 after Coleman's death; (fn. 165) it was sold, apparently by Coleman's trustees, in 1920 to J. C. Henley. In 1934 Henley sold it to the War Department. (fn. 166)
Tilshead church was appropriated by Ivychurch priory in 1317. (fn. 167) The RECTORY estate, comprising tithes and 2 yardlands, (fn. 168) passed from the priory to the Crown at the Dissolution (fn. 169) and was granted in 1602 to Robert Hopton. (fn. 170) Robert was succeeded by his son Sir Ralph (cr. Baron Hopton 1643, d. 1652), (fn. 171) whose estates were sequestrated in or before 1650. (fn. 172) By 1662 they had been restored to his coheirs, his sisters Catherine, wife of John Wyndham, and Mary, relict of Sir Thomas Hartop, his niece Elizabeth, wife of Sir Trevor Williams, Bt., and his brother-in-law Sir Baynham Throckmorton, who in that year jointly sold the Rectory estate to Edward Tripp. (fn. 173) In 1678 Tripp sold it to Edward Halliday (fn. 174) (d. 1701 or 1702), who was succeeded in turn by his son John (d. 1737) and by John's son John (d. 1754). The younger John's relict Mary (will proved 1792) held the estate for life (fn. 175) and John Hayter acquired it c. 1801, Gorges Lowther c. 1804. (fn. 176) In respect of the estate 493 a. were allotted at inclosure in 1814: (fn. 177) that land was added to Lowther's Tilshead Lodge estate. (fn. 178)
Tithes worth 4s. from Romsey abbey's demesne in Tilshead were granted in 1252 to the vicar of Ashton, (fn. 179) presumably Steeple Ashton: no later reference to them has been found. Tithes from Tilshead were also due to the abbey in 1341. (fn. 180)
Before 1317 tithes from the demesne of Tilshead North manor were held by the prebendary of South Newton. (fn. 181) As an endowment of the prebend in the conventual church, they were appropriated by Wilton abbey in 1450, passed to the Crown at the Dissolution, and were granted in 1551 to William Herbert, earl of Pembroke. (fn. 182) They descended with the earldom and in 1814 were exchanged for 87 a. in Tilshead. (fn. 183) In 1911 that land was sold by Sidney, earl of Pembroke and of Montgomery, to the War Department. (fn. 184)
Economic history.
The royal estate called Tilshead comprised in 1086 land for 40 ploughteams: there were 9 teams with 22 servi and 10 coliberts on the demesne, and 34 villani and 32 coscets shared 18 teams. It was said to include meadow 1 league by ½ league and there was pasture 1½ league by 1 league. Of the four smaller estates Alward's was worked by the single team which the land could sustain and included 1 furlong of pasture, and Alvric's had land for ½ team. (fn. 185)
It is probable that each of the two tithings in the parish had its own open fields and common pastures: Tilshead North was c. 3,000 a., Tilshead South c. 900 a. (fn. 186) In the 16th century there were apparently two open fields in each tithing, in both cases called East and West, (fn. 187) and in the 18th century the lands of the two main manors were not intermixed. The fields of Tilshead South tithing in 1760, then called East and South, lay east and south-west of the village and beyond them were East and South downs. (fn. 188) In the 17th century some downland pasture, perhaps on Copehill down, was several. (fn. 189) The two fields of Tilshead North presumably abutted those of Tilshead South east and west of the village. In the late 14th century Tilshead North manor included downland cattle pasture called Oxen leaze, (fn. 190) and Horse down west of the village was so called in 1814. (fn. 191) In the early 18th century some of the western downland was burnbaked. (fn. 192)
The demesne of Tilshead North manor may rarely have been in hand in the Middle Ages. About 1170, when it was worked as a farm by a group of nine tenants, it had 130 a. of sown arable, 8 oxen, and 252 sheep and lambs. By 1299 the area sown had increased to 362 a. and the stock to 18 oxen and 558 sheep. (fn. 193) Later it was further expanded or better exploited. In 1397 the farmhouse and outbuildings had recently been rebuilt or enlarged and there were then and in 1562 c. 400 a. of sown arable: the pasture was sufficient for 1,000 sheep in 1397 (fn. 194) and 1,300 in 1623. (fn. 195) In the earlier 16th century the demesne was leased to a single tenant. (fn. 196)
Customary tenants of Tilshead North manor c. 1170 included 16 who held between them 2 hides and 12 yardlands, 3 who held ½ yardland each, and 13 cottagers: the 16 each owed autumn works of carrying corn, the rest owed reaping services. Other men held 'gafol land', claimed common pasture in Tilshead, owed rents totalling 10s., and were required to plough 2 a. for each animal grazed. (fn. 197) The number of customary tenants had fallen by 1397 to 10, all yardlanders who still owed autumn works; there were then 12 cottagers and another 2 cottages were in hand because no tenant could be found. (fn. 198) A freehold, described as ½ carucate in 1198 and as 5 yardlands c. 1210, (fn. 199) and 2 yardlands, with pasture for c. 200 sheep, which belonged to the vicarage in the 14th century but earlier and later to the rectory, (fn. 200) may also have been in the north part of the parish. In the mid 16th century the 2 yardlands were leased to the tenant of the demesne. (fn. 201) The 11 customary tenants then shared c. 700 a. of arable, (fn. 202) and in 1623 tenants, presumably including free tenants, had pasture rights for c. 1,000 sheep. (fn. 203) In the later 17th century holdings derived from the customary lands included one of 63 a. with pasture for 125 sheep, one of 83 a. with rights for 220 sheep, and one of 107 a. with pasture for 80 sheep. (fn. 204) Between 1706 and 1710 Sir William Scawen complained of the management of his estate, that of 83 a.: the land had been inadequately ploughed, some intended for sowing had been left unbroken, and unfit seed had been used. Pasture rights on that and other estates in Tilshead North tithing had recently been reduced by a fifth. (fn. 205)
An estate of 1 hide, with pasture for 16 oxen and 200 ewes, held of Romsey abbey in 1206, may have been the demesne of Tilshead South manor. (fn. 206) In 1586 the lands of the manor were leased in two portions: one included 208 a. of arable, the other 57 a. (fn. 207) The manor may have had customary tenants earlier but none is recorded. In the late 18th century the largest farm in Tilshead South was apparently derived from the demesne: a smaller holding belonged to the lord of the manor and there were two or more other holdings. (fn. 208)
Open-field cultivation continued in both tithings until 1814, when the whole parish was inclosed under an Act of 1811. Allotments were made for land, pasture rights, and tithes, but no holding became unified. (fn. 209) For the rest of the 19th century and in the early 20th the largest farm was part of the Tilshead Lodge estate. In 1819 and 1907 it measured over 700 a. and was a sheep and corn farm. A new house and buildings in the village and a barn on the downs, perhaps Field barn in the parish's north-western corner, were built for the farm before 1819. (fn. 210) Although most farms continued to be worked from the village, additional farmsteads were built in the parish's north-eastern corner and on Copehill down between 1814 and 1886, (fn. 211) presumably to work downland arable created by burnbaking. In 1890 Tilshead Manor farm, c. 350 a. worked from buildings north of the church, was almost all arable and included 107 a. of burnbaked downland, and in 1911 Glebe farm, c. 240 a. worked from buildings on the north side of High Street, included 132 a. of poor arable and downland called the Bake land. (fn. 212)
Lands north-east and south-west of the new Devizes—Salisbury road were withdrawn from cultivation by the War Department before and after 1925 respectively. (fn. 213) Thereafter much of the parish was used as rough grazing only when military activities allowed. There was arable immediately north and south of the village in the 1930s, (fn. 214) and c. 550 a. remained arable in the 1990s. Approximately half of the remaining lands was used as pasture, principally for sheep, in 1991. (fn. 215)
There were 9 mills on the royal estate called Tilshead in 1086: (fn. 216) if any stood in or near the village there was more water in the upper reaches of the Till in the 11th century than in the 19th or the 20th. In 1341 the vicar was entitled to tithes of mills, (fn. 217) perhaps indicating that there was one or more in the parish, and a miller was a tenant of Tilshead North manor in 1517 and 1518. (fn. 218) Between 1773 and 1785 a windmill was built on the south-western edge of the village. When demolished c. 1904 it was a post mill with a thatched roof: the timbers were then used to repair Tilshead church. (fn. 219)
The Tilshead pipe company, founded in 1981, produced hand-made briar pipes in a small factory in Candown Road in 1991. (fn. 220)
Local government.
In the early 12th century, when the lord of what became Tilshead North manor, Caen abbey, may have had rights over the whole of Dole hundred, Tilshead may have been the head of the hundred, (fn. 221) and Tilshead North became a tithing of the hundred. (fn. 222) In the early 13th century the lord of what became Tilshead South manor also held Whorwellsdown hundred, (fn. 223) which included Tilshead South tithing from the earlier 14th century until the 19th. (fn. 224) The boundary between the tithings ran roughly north-east and south-west; Copehill down was a detached part of Tilshead North tithing, and the division of the village between the two tithings was complex. (fn. 225) In 1377 Tilshead North had 99 poll-tax payers and Tilshead South 26; (fn. 226) in 1814 they had respectively c. 45 and c. 10 houses. (fn. 227)
Caen abbey had extensive privileges, (fn. 228) in 1131 including sac and soke, toll and team, and infangthief. (fn. 229) Although the exemption of all the abbey's English estates from suit of shire and of hundred was confirmed in 1189 and 1190, the exemption of Tilshead North was challenged, unsuccessfully, in 1267 and 1281. (fn. 230)
View of frankpledge and a manor court for Tilshead North were recorded for 1517–18, 1612–16, and 1623. Both a view and a court were usually held in spring and autumn. A tithingman presented strays, buildings needing repair, and in 1612 and 1616 the disrepair of the butts. Orders were made to enforce or vary the rules of common husbandry, and in 1612 tellers for sheep and for cattle were appointed. In that year the right to glean was restricted to those of the poor unable to work. Then and in 1615 the jury was ordered to view the bounds and a survey of the boundaries, apparently of the whole parish, was recorded in 1623. (fn. 231)
In 1261 and 1262 a tithingman from Tilshead South presented at Whorwellsdown hundred court, and a suit between parties from Tilshead concerning a broken contract to build houses was heard in the court in 1261. (fn. 232) Romsey abbey was entitled to hold a Tilshead South manor court, but from 1457 or earlier Tilshead business may have come before the court of Steeple Ashton manor, also held by the abbey, (fn. 233) and no separate court for Tilshead South is recorded.
Two overseers of the poor were appointed annually in the 18th century. Between 1711 and 1732 their yearly expenditure fluctuated between £13 and £28. (fn. 234) The overseers were summoned at least once in both 1744 and 1745 and twice in 1746 for failing to relieve members of the Whitley family: only once did they show good cause for the omission. (fn. 235) The annual cost of poor relief had risen to £139 by 1776 and to £262 by 1803, when 39 adults and 68 children received regular relief and 20 people occasional relief. The level of the poor rate in 1802–3 was about the average for parishes of Branch and Dole hundred. (fn. 236) A poor house was recorded in the parish in 1807 (fn. 237) but not thereafter. Although the number of recipients had apparently fallen since 1803, expenditure on poor relief was at its peak, £450, in 1813. From 1815 until 1834 it was between £200 and £300 a year. (fn. 238) Tilshead became part of Amesbury poor-law union in 1835, (fn. 239) and of Salisbury district in 1974. (fn. 240)
Church.
There was a church at Tilshead in the early 12th century. (fn. 241) A rector was recorded c. 1170. (fn. 242) The patron was the king (fn. 243) and the living, valued at £16 13s. 4d. in 1291, (fn. 244) was rich although some tithes had already been granted away. (fn. 245) In the early 13th century the rectors were evidently absentees, since the church was served by vicars presented by the rectors. (fn. 246) A vicarage was apparently ordained, and by 1291 had been consolidated with the rectory. (fn. 247) In 1317 Edward II gave the advowson to Ivychurch priory with licence to appropriate the church. (fn. 248) A vicarage was again ordained (fn. 249) and in 1991 became part of the united benefice of Tilshead, Orcheston and Chitterne. (fn. 250)
Ivychurch priory held the advowson of the vicarage, the Crown presenting in 1361 when there was no prior, until the Dissolution. Thereafter the Crown retained the advowson (fn. 251) until it was bought in 1902 by the bishop of Salisbury, (fn. 252) who shared the patronage of the united benefice from 1991. (fn. 253)
The endowment of the vicarage, assigned in 1319, included lands formerly the rector's, pasture for 200 sheep, and small tithes apparently excluding those of wool and hay. The vicar was to be responsible for repairing the chancel. (fn. 254) In 1341 the vicar had 2 yardlands as part of his estate (fn. 255) but by the early 15th century, when he unsuccessfully sought augmentation of his living, (fn. 256) the lands may have been exchanged with Ivychurch priory for wool and hay tithes. In the 16th and 17th centuries the vicar had all tithes except those of corn and only c. 1 a. of glebe; (fn. 257) responsibility for the chancel had by then passed to the owner of the Rectory estate. (fn. 258) In 1535 the vicarage was valued at £7 15s. 8d., (fn. 259) well below the average for livings in Wylye deanery. In 1806 it was augmented by £200 from Queen Anne's Bounty and £200 from private donations. (fn. 260) The money was used in 1814 to buy 8 a. in Beckington (Som.), (fn. 261) and at inclosure in the same year most of the vicar's tithes were replaced by 241 a. in Tilshead. (fn. 262) In 1830 his income, c. £200, (fn. 263) was still below average. The remaining tithes, from the windmill, were replaced in 1853 by a rent charge of £1 1s. (fn. 264) In 1911 the War Department bought 78 a. of the glebe, and in 1912 a further 157 a. were sold. (fn. 265) The vicar had a house from 1319, (fn. 266) in the late 16th century a thatched house of perhaps three rooms. (fn. 267) A vicarage house of red brick was built in the early 1820s southwest of the church: (fn. 268) it was sold and a new house was built in High Street c. 1972. (fn. 269)
John Hobbes, vicar 1529–75, (fn. 270) was presented for not preaching all the quarter sermons in 1553; the communion table then lacked a covering. (fn. 271) In 1646 the vicar Richard Foote was said to have deserted his cure and was replaced by Robert Sharpe, whose constancy in preaching was commended in 1650. (fn. 272) In the later 18th century and the early 19th successive vicars were evidently non-resident pluralists, and curates served the church. In 1783 the curate, Thomas Davies, lived at Chitterne All Saints and served three cures. At Tilshead he held one service on Sundays and celebrated communion at Christmas, Easter, Whitsun, and Michaelmas, but held no other weekday service. (fn. 273) Henry Gauntlett, a prominent supporter of the Anglican evangelical revival, was curate from 1786 until c. 1800. (fn. 274) J. H. Johnson became curate c. 1824 and was vicar from 1837 until 1884. He oversaw, as curate, the building of a new vicarage house and, as incumbent, the building of a new glebe farmhouse and the restoration of the church, for which he made some stone carvings and coloured and fired most of the stained glass windows. He also prepared and produced in the vicarage house engravings to illustrate leaflets appealing for church funds and was an early photographer. (fn. 275) Each Sunday in 1864 he held either a morning or afternoon service and an evening service with a sermon. Services were held on all red-letter days, with an average attendance of 30; additional services held on winter Wednesday evenings, at which Johnson preached, had congregations of c. 60. Communion was celebrated at Christmas and Easter, on Ascension day, and on Whit and Trinity Sundays. (fn. 276) From 1966 until 1971 Tilshead was held in plurality with the benefices of Orcheston St. Mary and Orcheston St. George. (fn. 277) A chapel had been opened at West Down camp by 1982 (fn. 278) and remained in use in 1991. (fn. 279) In 1687 Hugh Cox gave by will the income from £10 for a sermon on Ascension day. The endowment had been lost by the early 20th century. (fn. 280)
A tradition that the early invocation of Tilshead church was of St. James is unsupported by evidence beyond the holding in the early 20th century of a feast or fair on or about St. James's day, 25 July. (fn. 281) A suggestion that the invocation was altered to ST. THOMAS A BECKET when the church was given to Ivychurch priory receives some support from the tradition that the saint was connected with the priory. (fn. 282) The dedication is first recorded in 1763. (fn. 283) The church is built of flint rubble and ashlar: some of the walls are chequered. It has a chancel, a central tower with north vestry, and an aisled and clerestoried nave with south porch. (fn. 284) The foundations of a south transept which were seen in 1846 (fn. 285) suggest that the church was cruciform. The nave arcades and the responds of the tower arches are early 12th-century. The nave was then built or rebuilt with narrow aisles and no clerestory. In the 13th century the chancel was rebuilt or, more likely, lengthened, the upper part of the tower was built, and the south aisle was altered. The porch may have been built in the 14th century, and the clerestory was probably made in the early 16th when hood moulds were constructed over the windows in the north aisle. Extensive repairs took place in the 17th and 18th centuries. In 1845–6, to designs by T. H. Wyatt and D. Brandon, west and south galleries were removed from the nave, the narrow north aisle was replaced by one as wide as the nave, the vestry was built, and buttresses and a parapet were added to the south aisle and buttresses to the chancel. (fn. 286) The triple lancet east window in the chancel (fn. 287) was then replaced by one in 15th-century style. The roof was repaired in 1904, with timbers from the windmill, and in 1965. (fn. 288)
In 1553 plate weighing 15 oz. was confiscated from the church, and a chalice of 9½ oz. was left. A cup and cover of 1787, perhaps incorporating part of an earlier cup, and a flagon of 1885 belonged to the church in 1991. (fn. 289) Three bells cast in 1764 by Thomas Bilbie, presumably to replace the three at Tilshead in 1553, hung in the church in 1991. (fn. 290) Registers of baptisms, marriages, and burials survive from 1664. (fn. 291)
Nonconformity.
There was one dissenter in Tilshead in 1676, (fn. 292) none in 1783. (fn. 293) In 1801 a house was certified for Independent meetings: houses certified in 1816 and 1818 were probably also used by Independents. (fn. 294) In 1851 a Baptist church or meeting was begun (fn. 295) but in 1864 there was no regular meeting in the village and only two professed dissenters: they, and presumably others, attended occasional sermons given in a cottage. (fn. 296) A small plain brick Baptist chapel, built in 1882, (fn. 297) was open in 1991.
Education.
A boarding school opened at Tilshead in the mid 18th century had 63 pupils in 1779; they included Henry Hunt, the radical politician of the early 19th century. (fn. 298) The school was called Tilshead academy in 1819, (fn. 299) apparently flourished c. 1825, (fn. 300) may have had only 6 pupils in 1833, (fn. 301) and was probably closed soon afterwards.
In 1833 there were two day schools in the parish, with a total of 37 pupils. (fn. 302) A National school, on a site south of the church given in 1841, (fn. 303) had between 30 and 40 pupils in 1859. Three or four boys from Tilshead then attended Shrewton school. (fn. 304) A new school built north of the church c. 1905 (fn. 305) was attended by c. 80 children in 1908–9, 50 in 1935–6, (fn. 306) and c. 28 in 1991. (fn. 307)
Charities for the poor.
Rents from two cottages built in Tilshead after the flood of 1841 formed part of an endowment to provide fuel and clothing for the poor of parishes affected by the flood. Tilshead was entitled to a seventh of the income, c. £7 in 1901 when it was used to provide sheets for 45 people. (fn. 308) In the mid 20th century most of the income was used to maintain the cottages: (fn. 309) in 1991 it was proposed to convert them to almshouses. (fn. 310)
By will proved 1876 John Parham gave the income from £200 to buy blankets for the poor of Tilshead. Little of the income was spent before 1899: from then c. £6 a year was spent on blankets until 1939. Thereafter no distribution was made until 1960 when money was given. In 1990 four beneficiaries received £5 each. (fn. 311)