Pages 275-284
A History of the County of Wiltshire: Volume 15, Amesbury Hundred, Branch and Dole Hundred. Originally published by Victoria County History, London, 1995.
This free content was digitised by double rekeying. All rights reserved.
WINTERBOURNE STOKE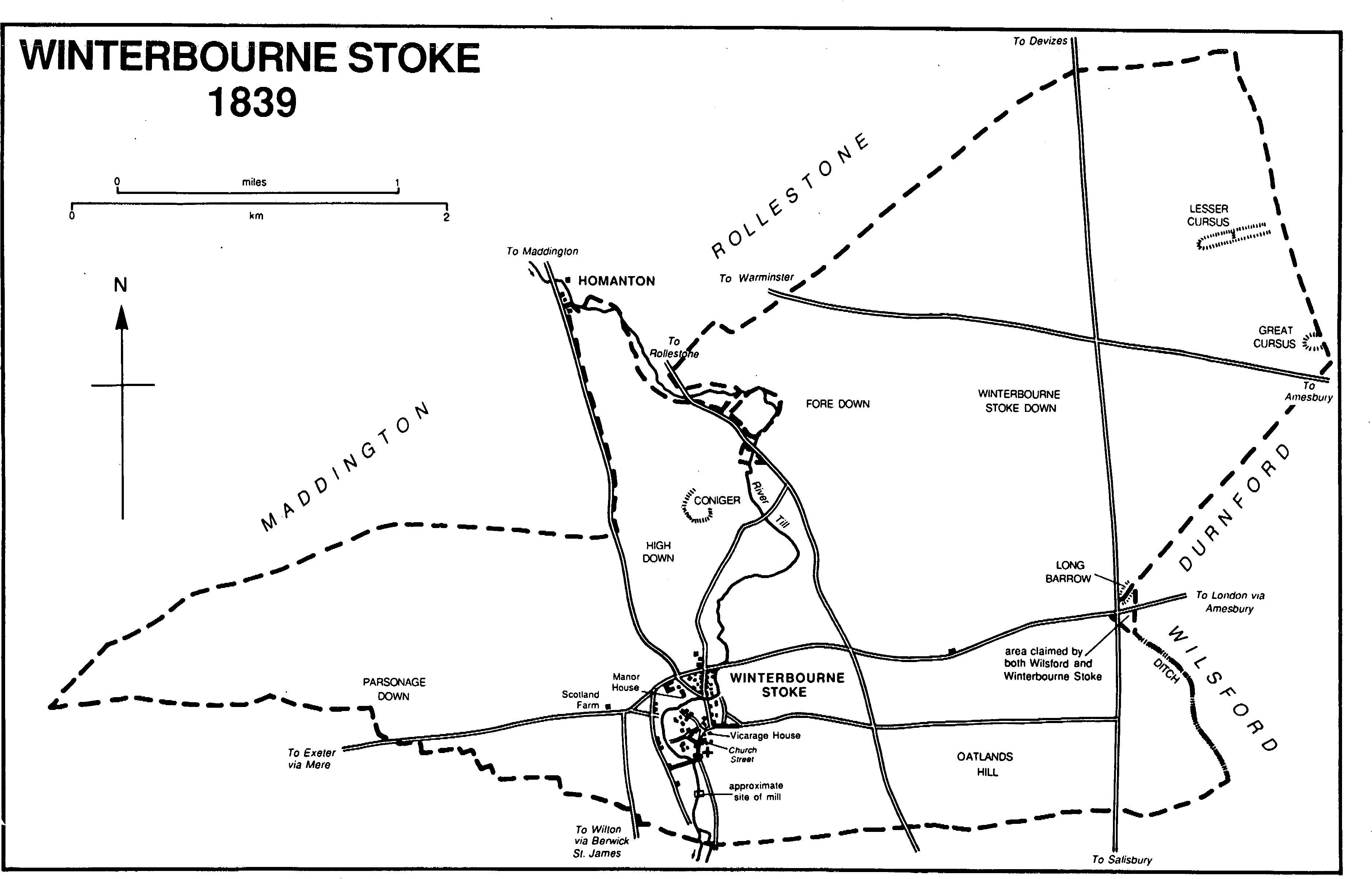 Winterbourne Stoke village is 8 km. west of Amesbury. (fn. 1) North of the village the parish had on its boundary or as islands within it five pieces of meadow land, c. 36 a. in all, detached parts of the parishes of Maddington, Shrewton, and either Orcheston St. George or Orcheston St. Mary. (fn. 2) The Orcheston land had been absorbed into Winterbourne Stoke by the 1880s, (fn. 3) and in 1885 that of Maddington and Shrewton was transferred to the parish. (fn. 4) A few acres on their common boundary were claimed by both Winterbourne Stoke and Wilsford parishes in the early 19th century: they were in Wilsford in the 1880s, since when Winterbourne Stoke has measured 3,572 a. (1,445 ha.). (fn. 5)
Winterbourne Stoke parish is crossed by the river Till, which was for long called the Winterbourne; many estates in the valley were called Winterbourne in the 11th century. Three were called Winterbourne Stoke: one of those became part of Berwick St. James parish, and Winterbourne Stoke parish was made up of the other two, on one of which was a church, and possibly included a third estate called Winterbourne. No other estate in the Till valley called Winterbourne was distinguished by suffix or prefix in 1086, and only Winterbourne Stoke has kept the name. (fn. 6)
On the west the boundary with Maddington in part follows a dry valley and in part is marked by a road. The parish is divided from Berwick St. James east of the Till by boundary mounds and from Wilsford by a prehistoric ditch. Barrows mark other parts of the eastern boundary.
Most of Winterbourne Stoke parish is downland, and chalk outcrops over all of it. The Till flows north—south across the centre and, as its earlier name implies, is sometimes dry in summer. It has deposited gravel and small amounts of alluvium, and there is also gravel in dry valleys leading from the north-east and north-west towards the river. (fn. 7) The relief is mostly gentle: from c. 70 m. by the river the land rises to 126 m. on Parsonage down in the south-west, to 135 m. west of that, and to 129 m. on Oatlands Hill, formerly Short, Slourt, or Stourt Hill, (fn. 8) in the south-east. From the Middle Ages the slopes of the downland nearest to the village were arable, and the downs further east and west were chiefly pasture. There were extensive meadows beside the river, some watered, but woodland was scarce. (fn. 9) In or soon after 1967 c. 400 a. in the west were declared a Site of Special Scientific Interest: 394 a. of them were, with adjacent land in what had been Maddington parish, part of Parsonage Down national nature reserve from 1980. (fn. 10) Between 1941 and 1946 Oatlands Hill was the site of a military airfield. (fn. 11)
The Amesbury—Mere road runs east—west across the south side of the parish: it was turnpiked on its present course in 1761, was disturnpiked in 1871, (fn. 12) and has been part of the London—Exeter trunk road since 1958. (fn. 13) The bridge carrying it over the Till was rebuilt in 1939. (fn. 14) The main Devizes—Salisbury road, also turnpiked in 1761, disturnpiked in 1870, (fn. 15) ran north—south across the east part of the parish. The two roads cross at the Longbarrow Cross Roads. Across the north-east corner of the parish a turnpike road linking Amesbury and Warminster was evidently made soon after 1761 and was disturnpiked in 1871: west of its junction with the Devizes—Salisbury road, which was closed north of the Bustard inn in Shrewton parish to allow for military training, it has been since c. 1900 part of the main Devizes—Salisbury road. (fn. 16) Minor roads in 1773 included one joining Maddington and Shrewton with Berwick St. James and Wilton, and one leading south-east from Rollestone across the downs. Other roads linked those two with Winterbourne Stoke village and the major routes. (fn. 17) Of the minor roads only that from Maddington to Berwick St. James, and the south part of that from Rollestone, were in public use in 1992. Near Winterbourne Stoke village an eastwards diversion of the Maddington road made between 1817 and 1839 created a widely staggered junction with the main road. (fn. 18) A military railway was built north-south across the east end of the parish in 1914–15; it had been dismantled by 1923. (fn. 19)
The parish is rich in archaeological remains, particularly in the east part, in the hinterland of Stonehenge. The Lesser Cursus, a possibly Neolithic earthwork over 400 m. long with a transverse ditch, lies in the north-east corner: south of it the rounded western end of the Great Cursus extends into the parish from Amesbury. The barrow c. 73 m. long on the boundary with Wilsford, which gave its name to Longbarrow Cross Roads, is one of a group of 19, some of which are outside the parish. Smaller groups are at the parish's north-east corner, south and west of the Lesser Cursus, on Fore down, and at the Coniger. High down and Winterbourne Stoke down are sites of Romano-British settlement, and medieval earthworks have been identified on Winterbourne Stoke down, on Fore down, north of Longbarrow Cross Roads, and at the Coniger. (fn. 20) Prehistoric field systems have been traced on Winterbourne Stoke down, north of Parsonage down, and straddling the eastern boundary with Berwick St. James. (fn. 21)
Winterbourne Stoke had 93 poll-tax payers in 1377, the second highest figure for a place in Dole hundred. In 1801 the population was 256. It had fallen to 215 by 1811, was 281 in 1821, and had risen to 383 by 1861. A sharp fall, to 293 in 1871, was attributed to a decline in demand for agricultural labour and the departure of young women for domestic service in towns. The population was 205 in 1921, remained c. 200, and was 193 in 1991. (fn. 22)
In the later 18th century Winterbourne Stoke village, standing on gravel beside the Till, consisted mainly of buildings along a winding street between the church and the Amesbury-Mere road and carried across the river by a bridge. The street was later called Church Street. West of the main line of settlement were the 17th-century Manor House, and, south of it, a farmstead which may have included a house described in 1588 as new. (fn. 23) The farmstead was demolished in the mid 19th century. (fn. 24) The oldest surviving buildings in Church Street are on the east side. Church Cottage, at the south end, and Old Glebe Farmhouse, 250 m. further north, are both of flint and limestone and of 17th-century origin. Riverside Cottage, by the Till south of the bridge, is also of 17th-century origin and is ornamented with flint and limestone chequerwork. In the early 19th century both sides of Church Street were lined with buildings at the north end. An alehouse, open in 1756, was probably the Bell inn which in 1812 and 1839 stood on the east side of the street near the main road. (fn. 25) In 1841 the Till flooded and 16 houses in Winterbourne Stoke were destroyed. (fn. 26) Most probably stood between the street and the river south of the bridge: between 1839 and 1886 several houses or cottages there, in addition to the farmstead, were demolished. At the south end of the street about five buildings on the east side were also demolished, probably c. 1850 when a new vicarage house was built. (fn. 27) At the north end, two bungalows and a village hall were built in the 1920s: the hall was converted to a house c. 1962. (fn. 28) West of the street near the south end seven houses and two bungalows in New Street in the early 1960s, and four houses and two bungalows in St. Peter's Close in 1970, were all built for the local authority. (fn. 29) Apart from four houses at the north end, there was little private building in Church Street in the later 20th century.
Between 1773 and 1812 about six cottages were built beside a back lane west of the Till and parallel to Church Street. (fn. 30) Two survive, one a stone and thatch farmhouse, probably of the late 18th century. The others had been demolished by 1923. (fn. 31)
North of the Amesbury—Mere road there were a few buildings opposite Church Street in 1773, (fn. 32) three houses, farm buildings, and a smithy in 1839. (fn. 33) Settlement later spread east and west beside the road. A house built on the north side of the road in the mid 19th century was open in 1886 and 1992 as the Bell inn, having replaced the inn of that name in Church Street. Two cottages in a style to match the house were also built on the north side of the road in the mid 19th century, and a new farmstead was built north of the Bell. In 1886 settlement extended west to the Maddington road, and there was more building on the north side between 1886 and 1899. (fn. 34) Five pairs of council houses, three on the north side west of Church Street, two on the south side east of Church Street, were built in the mid 1950s. (fn. 35)
Cottages on the northern edge of the parish were part of Homanton hamlet, mainly in Maddington parish. One stood there in 1812, (fn. 36) and a pair was built in 1842 with money raised to aid victims of the 1841 flood. The pair was demolished in 1987 and new houses were built on the site. (fn. 37) A farmstead called Scotland stood beside the Amesbury-Mere road west of the village in 1773. (fn. 38) The farmhouse, later called Scotland Lodge, comprises a single range with an east front of chequered flint and stone of the late 18th century: bay windows and a central porch, all in brick and of two storeys, were added in the 19th century. Other buildings erected in the parish away from the village in the 19th century included, between 1817 and 1839, a barn beside the Amesbury—Mere road east of the village (fn. 39) on or near the site of Grant's Barn, a group of farm buildings standing in 1866 and demolished c. 1990. Farmsteads called Foredown Barn and Greenland Farm were built respectively 1 km. and 3.5 km. north-east of the village between 1839 and 1866. (fn. 40) Hill Farm, 750 m. east of the village, was built between 1839 and 1879: (fn. 41) the farmhouse was demolished c. 1990, but several cottages and extensive farm buildings remained there in 1992. Wisma Poultry Farm was built south of the village in the late 1940s: later it was extended and two houses were built there. (fn. 42)
A cross stood on or near the parish boundary close to the Longbarrow Cross Roads in 1773: (fn. 43) its remains there in the later 20th century were in Wilsford parish. (fn. 44) A cross said to have stood east of the Devizes road in Winterbourne Stoke parish was moved in the mid 19th century. The base was reportedly placed beside the road, the shaft at a crossroads in Shrewton parish: (fn. 45) neither could be seen in those places in 1992, and the cross may in fact have been that at the Longbarrow Cross Roads in 1773 and the later 20th century. A stone monument was erected in 1912 at the junction of the Devizes—Salisbury and Amesbury-Warminster roads to commemorate a fatal aircraft accident. (fn. 46)
Manors and other estates.
What became WINTERBOURNE STOKE manor, 2 hides and 1 yardland, was held by the king in 1086, and earlier by Queen Edith. An estate of 1 hide called Winterbourne, held of Alfred of Marlborough by Edward in 1086, may have become part of the manor. (fn. 47) Robert, earl of Leicester, held the manor in 1170. (fn. 48) It was apparently confiscated on his rebellion in 1173 but may have been restored with his other estates in 1177. (fn. 49) Robert (d. 1190) probably gave the manor to his daughter Amice on her marriage to Simon de Montfort, who held it in 1185, and in 1188 and 1189 it was held by William des Barres, then her husband. (fn. 50) It was confirmed in 1205 to Amice (fn. 51) (styled countess of Leicester from 1204, d. 1215), but in 1207, when the estates of her brother Robert, earl of Leicester (d. 1204), were partitioned, moieties of the manor were allotted to her son Simon de Montfort, earl of Leicester (d. 1218), and Saier de Quency, earl of Winchester, her sister Margaret's husband. (fn. 52) Simon's moiety presumably passed to his son Simon, from 1239 earl of Leicester, whose estates were confiscated on his death in 1265 and granted in the same year to Edmund, earl of Leicester and later of Lancaster. (fn. 53) Edmund was overlord of 1 carucate in Winterbourne Stoke in 1275, (fn. 54) but there is no evidence that the overlordship descended to his successors. Saier's moiety may have been held after his death in 1219 by Margaret (d. 1235) and passed to their son Roger, earl of Winchester (d. 1264). (fn. 55) On the partition of Roger's estates in 1277 the overlordship of land in Winterbourne Stoke was allotted to his daughter Helen or Ellen (fn. 56) (d. 1296), relict of Sir Alan la Zouche. It passed to her grandson Alan la Zouche, from 1313 Lord Zouche (d. 1314), and to that Alan's daughter Maud, wife of Robert de Holand, from 1314 Lord Holand (fn. 57) (d. 1328): it was presumably confiscated with Robert's other estates in 1322 and restored in 1327. Maud (d. 1349) (fn. 58) was overlord of Winterbourne Stoke manor in 1331: (fn. 59) thereafter the overlordship has not been traced.
In 1242–3 Winterbourne Stoke manor was held in demesne by Sir Robert de Quency (fn. 60) (d. by 1266), whose coheirs were his sisters Joan, wife of Humphrey de Bohun (d. 1265), and Hawise, wife of Sir Baldwin Wake. It was allotted to Joan and on her death in 1284 passed to Hawise. (fn. 61) In 1292 one of Wake's sons, John, conveyed it to another, Hugh (fn. 62) (d. by 1312). Hugh's relict Joan, wife of Nicholas of Braybrook, held the manor until her death c. 1329. (fn. 63) It passed to her grandson (Sir) Thomas Wake (fl. 1390), (fn. 64) who, probably by 1399, was succeeded by his son Thomas (fn. 65) (will proved 1413). (fn. 66) The younger Thomas's relict Elizabeth, in 1416 wife of Thomas Trewin and later wife of Sir John Hamlin (d. by 1428), held the manor in 1430, (fn. 67) presumably for life. Thomas Wake's kinsman Thomas Poynings, Lord St. John, in 1416 conveyed the reversion to his son Sir Hugh Poynings alias St. John. (fn. 68) In 1427 Sir Hugh conveyed it to Walter Hungerford, Lord Hungerford, (fn. 69) who held the manor in 1435. (fn. 70) Hungerford (d. 1449) was succeeded in turn by his son Robert, Lord Hungerford (d. 1459), and Robert's son Robert, Lord Hungerford and Moleyns (d. 1464). The younger Robert's estates were forfeited on his attainder in 1461 (fn. 71) and Winterbourne Stoke may have been granted to Richard, duke of Gloucester: by an agreement of 1469 with Gloucester it was assigned for life to Margaret Hungerford, suo jure Baroness Botreaux (fn. 72) (d. 1478), relict of Robert, Lord Hungerford (d. 1459). (fn. 73) In 1474, however, the king granted it to Gloucester, who, as Richard III, granted it to John Howard, duke of Norfolk, in 1483. (fn. 74) It reverted to the Crown on Norfolk's attainder in 1485 and was probably among estates restored in that year to Sir Walter Hungerford, son of Robert, Lord Hungerford (d. 1464). Sir Walter (d. 1516) (fn. 75) held the manor in 1487 and 1505, (fn. 76) and it probably passed to his son Sir Edward (d. 1521) and to Sir Edward's son Sir Walter. It was, however, claimed by George Hastings, Lord Hastings (cr. earl of Huntingdon 1529), great-grandson of Robert, Lord Hungerford (d. 1464), (fn. 77) and was listed among lands settled on his marriage in 1532. Disputes over the Hungerford inheritance were settled by arbitration in 1535; (fn. 78) Winterbourne Stoke was presumably confirmed to Sir Walter (cr. Lord Hungerford 1536), who held it in 1536. It was forfeited on his attainder in 1540 (fn. 79) and became part of the jointure of Queen Catherine (d. 1548). In 1552 it was restored to Hungerford's son (Sir) Walter, (fn. 80) who was succeeded in 1596 by his half-brother Sir Edward Hungerford (d. 1607). Sir Edward devised his estates to his grandnephew Sir Edward Hungerford (d. 1648), who was succeeded by his half-brother Anthony Hungerford (d. 1657). Anthony's son Sir Edward (fn. 81) sold Winterbourne Stoke manor in 1674 to Sir John Nicholas (fn. 82) (d. 1704), whose son Edward sold it in 1715 to John Howe (fn. 83) (d. 1721) or his son John (cr. Baron Chedworth 1741, d. 1742). It descended with Great Wishford manor to John, Lord Chedworth (d. 1762), Henry, Lord Chedworth (d. 1781), and John, Lord Chedworth (d. 1804). (fn. 84) In 1807 the manor was sold by Lord Chedworth's executors to Alexander Baring (fn. 85) (cr. Baron Ashburton 1835, d. 1848). It passed with the barony to Alexander's sons William (d. 1864) and Francis (d. 1868), to Francis's son Alexander (d. 1889), and to Alexander's son Francis, (fn. 86) who sold it probably in 1896 to E. T. Hooley. Following Hooley's bankruptcy the manor, comprising c. 2,500 a., was sold to Sir Christopher Furness, probably in 1899. (fn. 87) It was offered for sale by Furness through the Cavendish Land Company in 1909: then or in 1910 Cary Coles (fl. 1915) bought Manor farm, c. 1,600 a., and probably Greenland farm, c. 400 a. (fn. 88) In 1923 G. C. Alexander owned the farms (fn. 89) and in 1945 sold them to L. E. Turner. In 1958 Turner sold the farms to his son Mr. J. L. Turner, owner in 1992 of c. 1,900 a. in the parish. (fn. 90)
Hill farm, 644 a., part of Winterbourne Stoke manor until 1909, was part of the Druid's Lodge estate, based in Stapleford and Woodford, between 1909 and 1912 and from the 1930s. F. B. Beauchamp may have bought the farm in 1909; (fn. 91) A. P. Cunliffe owned it in 1910, (fn. 92) and, probably in 1912, sold it to T. N. Coles, who owned it in 1923 (fn. 93) and sold it in 1936 to J. V. Rank (d. 1952). As part of the Druid's Lodge estate it was bought by the Fenston Trust and in 1989 sold to Mr. R. A. Hurst, the owner in 1992. (fn. 94)
Manor House is a long gabled house of flint and chalk. The central range and northern wing of the older part of the present house are early 17th-century: a southern service wing was added in the later 17th century, forming a U-shaped house with its open court to the west. The house was substantially extended northwards c. 1920 when new kitchens and servants' rooms were added.
In 1066 Alwi held an estate in Winterbourne Stoke possibly of 1½ hide: the 1/2 hide held by his wife in 1086 may have been her dower, was then held of the king, and may have become part of Winterbourne Stoke manor; 1 hide, formerly Alwi's, was held in 1086 by Edward of Salisbury and of him by Walter. Another estate, of 1½ hide, was also held of Edward by Walter in 1086. One of Edward's estates became Asserton in Berwick St. James, (fn. 95) the other became WINTERBO URNE MA UTRA VERS manor, overlordship of which evidently passed to Edward's descendants with the manor and overlordship of Shrewton and the earldom of Salisbury. (fn. 96) Thomas Montagu, earl of Salisbury, was overlord in 1409, (fn. 97) after which the overlordship has not been traced.
The manor was held in demesne by Nicholas Hall (de Aula) in 1275, (fn. 98) by Ralph Hall (de la Sale) and his wife Parnel in 1320, (fn. 99) and perhaps by Richard Hall in 1332. (fn. 100) In 1356 it was held by John Mautravers, Lord Mautravers (d. 1364). (fn. 101) From 1375 to 1560–1 it descended with Sherrington manor. (fn. 102) It was held by Mautravers's granddaughter Eleanor, Baroness Mautravers (d. 1405), her grandson John, earl of Arundel (d. 1421), and his relict Eleanor (d. 1455) (fn. 103) and from 1455 by successive earls of Arundel. (fn. 104) Henry, earl of Arundel, sold it to Nicholas Snow in 1562. (fn. 105) Snow (will proved 1588) was succeeded in turn by his son Adam (fn. 106) (d. 1618) and Adam's son William. (fn. 107) In 1664 William settled the manor on himself and his son William. (fn. 108) It was held by Edward Duke (d. 1705) and passed to his granddaughter Rebecca Duke, wife of George or Gorges Hely (fn. 109) (d. 1760). It passed to the Helys' son John (fl. 1791), whose son Gorges (fn. 110) sold the manor in 1805 to Hampden Hely (fn. 111) (will proved 1814). Hampden's son Hampden held Scotland (or Arundell) farm, 501 a., in 1839, and in 1859 was succeeded by his sister Anne, wife of Henry Bowen. From Anne (d. 1859) the farm passed to her son Henry Bowen. (fn. 112) In 1880 Henry sold it to William Salway, (fn. 113) who conveyed it to his son William in 1889. (fn. 114) The younger William sold it in 1895 or 1896 to George Saunders. (fn. 115) In 1910 and 1914 John Fallon owned Scotland farm (fn. 116) which, with adjoining land in Maddington parish, (fn. 117) was called the Scotland Lodge estate from the earlier 20th century. It was offered for sale, probably by Fallon, in 1920 (fn. 118) and was bought about then by R. C. Dawson, the owner in 1923. (fn. 119) In 1927 Robert Wales (d. 1979) bought the estate, which to fulfil his will was sold in 1980 for less than the market price to the Nature Conservancy Council. The council sold Scotland Lodge and c. 330 a. in 1980: its successor English Nature owned 394 a. in Winterbourne Stoke parish in 1991. (fn. 120)
Between 1227 and 1241 the abbey of Jumieges (Seine Maritime) was licensed to appropriate Winterbourne Stoke church when it next became vacant. The vacancy apparently occurred c. 1248 when Hayling priory (Hants), a dependent house of the abbey, disputed the church with a cleric claiming it by papal provision. (fn. 121) The appropriation by the abbey was confirmed in 1249. (fn. 122) The RECTORY estate was among the priory's possessions confiscated during wars with France in the 14th century, (fn. 123) passed to the Crown at the priory's dissolution in 1413, and was among the endowments of Sheen priory (Surr.), founded in 1414. (fn. 124) Before 1248 the rector's estate evidently comprised 1 carucate and all tithes from the whole parish. (fn. 125) Some tithes were taken from it to endow the vicarage in 1248, and more may have been alienated at other times. (fn. 126) The estate passed to the Crown on Sheen priory's dissolution in 1539, (fn. 127) was granted in 1541 to Arundel college (Suss.), and reverted to the Crown on the college's dissolution in 1544. (fn. 128) In 1562 it was sold to Basil Johnson. (fn. 129) It had been acquired by Sir Walter Hungerford by 1587, (fn. 130) possibly by 1580, (fn. 131) and afterwards passed with Winterbourne Stoke manor. By 1839 the lands had been absorbed into the manor, and tithes from 2,115 a. had been merged. The remaining rectorial tithes were valued at £131 in 1839 and merged. (fn. 132)
By 1291 Salisbury cathedral had acquired tithes of Winterbourne Stoke valued at £2, (fn. 133) and in 1650 had the rectorial and some other tithes from Winterbourne Mautravers manor. (fn. 134) The tithes, from 501 a., were valued at £95 in 1839 and commuted. (fn. 135)
Rents from Winterbourne Stoke belonged to Amesbury priory in 1435 (fn. 136) and at the Dissolution, when they totalled 30s. (fn. 137) The suggestion that Bradenstoke priory's manor of Winterbourne Shrewton in Shrewton parish included lands in Winterbourne Stoke probably arose from the use of the name Winterbourne (fn. 138) and cannot be verified.
Economic history.
By far the largest estate at Winterbourne Stoke in 1086 was the king's, which had 11 ploughteams on land for 12, 8 a. of meadow, and pasture 2 leagues square: the demesne, with 3 teams, 11 servi, and 5 coliberts on land assessed at only ½ yardland, was small, and most of the land was held by 15 villani and 15 bordars who between them had 8 teams. The other three estates of which two may have been in Winterbourne Stoke had on them 3 teams, 1 servus, 1 bordar, and 2 cottars, and included 1 a. of meadow and 6 a. of pasture. (fn. 139)
The arable in the demesne of Winterbourne Stoke manor apparently remained much less than in its customary holdings. The demesne included 300 a. of arable in 1284 and 1331: in 1331 c. 25 yardlands, each shown by later evidence to contain c. 27 a. of arable with feeding for c. 60 sheep, were held customarily. There were 19 customary tenants in 1284, 34 in 1331; customary works owed in summer may have been commuted in part by 1331. The demesne had 6½ a. of meadow in 1284, 20 a. of meadow and a flock of c. 500 sheep in 1331. (fn. 140) Although it had less arable than the customary tenants it may have had as much downland pasture, and in the 15th century management of the demesne flock was integrated with sheep farming on other estates of the Hungerford family, lords of the manor. New stock, in 1443–4 including 200 wethers, was sent from Heytesbury, and fleeces, wool, and animals for breeding were sent from Winterbourne Stoke to Farleigh Hungerford (Som.). The flock at Winterbourne Stoke numbered 1,330 in 1435–6, 940 in 1454–5. The arable had been leased by 1435, and part of it was leased in the 1440s in parcels of between 29 a. and 50 a. On what was in hand barley and wheat were the chief crops in the mid 15th century: from 164 a. sown in 1450 half the crops of wheat and of barley were sold and 40 qr. of grain were sent to the Hungerfords' household. In 1486 and 1504 demesne land was leased in two portions, one of pasture only. (fn. 141)
A warren, recorded in the late 14th century, was part of Winterbourne Stoke manor (fn. 142) and presumably at the site called the Coniger. In 1435–6 and 1440–1 it was leased: 42 couple of rabbits were caught in 1435–6. (fn. 143) The warren was leased as pasture in 1486 and 1545, (fn. 144) and was not recorded thereafter.
In the 1170s the rector's land was assessed at 1 carucate and had five tenants on it. (fn. 145) It was proposed in 1352 to repair buildings on the estate and to erect a new barn, (fn. 146) but in 1393 the farmhouse was dilapidated. (fn. 147)
Open-field husbandry, with common meadows and pasture, continued until the 19th century. In 1331 the demesne included arable assessed at three different values and perhaps therefore in three fields, but evidence that half the demesne arable was sown in the 15th century suggests a two-field system. (fn. 148) There may then have been distinct fields for the demesne, as there were later. In the 16th century the parish was probably half arable, including some recently broken land, and half pasture. The arable was mainly in two groups of fields: the demesne arable was in North and Breach fields, north of the village, and in Hide field, East Cranham field, and West Cranham field; a freeholder, 14 copyholders, and c. 6 leaseholders had c. 935 a. in Longbarrow or East field, Shorthill or South field, and Burden or West field, respectively east, south-east, and west of the village. The 180 ridges of arable on the Rectory estate may have been in the demesne fields. Of the three tenantry fields two were sown and one left fallow: other arable was sown on a three-year rotation of wheat, barley, and 'lenten' grain. Demesne pastures included Fore down and Chissels down: Summer down, 400 a., and Little down, 6 a., were tenantry sheep pastures near the eastern parish boundary. Cow down, 350 a. in the north-east, and sheep downs called Middle down, south of Cow down, and Gore down, in the south-east corner of the parish, each of 100 a., were shared by men holding either demesne or tenantry arable, and some men of Bourton in Maddington had rights to use Cow down. Fore mead, Midsummer mead, Stopples, Lammas mead, and Lot mead may all have been common meadows. The two groups of fields and those downs and meadows may also have included the lands of Winterbourne Mautravers manor, which were possibly in a single farm in the late 16th century. (fn. 149)
The demesne sheep pastures of Winterbourne Stoke manor remained in the lord's hand in the late 16th century, and the lord excluded the right to feed sheep from a lease of the land of the Rectory. Some arable may also have remained in hand but much was leased, mainly in five parcels of c. 80 ridges and two of 40. Although the tenants of the demesne arable had no right of pasture for sheep, the lord's flock was folded on their land: grain rents were paid and the tenants had to carry hay from the demesne farmhouse to the lord's wether fold. The freeholder, the 14 copyholders, and the c. 6 lessees of customary land had rights to feed c. 2,140 sheep in common. (fn. 150)
By c. 1610 the demesne sheep pastures, c. 400 a. of several downland for c. 1,200 sheep, had been leased with 200 ridges of demesne arable, 20 a. of meadow, 8 a. in pasture closes, and the 180 ridges of the Rectory arable: the farm was apparently that later called Manor farm. The largest copyhold 1545–1610 was one of 5 yardlands, including 135 a. of arable and feeding for 305 sheep, and in the late 16th century there were, excluding demesne arable, 8–9 holdings each exceeding 50 a. with feeding for more than 100 sheep. (fn. 151)
Between c. 1600 and c. 1800 the amount of arable in the parish may have declined slightly, although small areas of downland were brought into cultivation by burnbaking. (fn. 152) In the late 18th century and early 19th Mill mead and Lammas mead were being watered. (fn. 153) In 1806 Manor farm was 1,027 a., worked from buildings near Manor House, and mainly several: it included c. 400 a. of pasture, c. 600 a. of arable, and 20 a. of watered meadow. Scotland farm, the land of Winterbourne Mautravers manor, was 496 a. in 1805 and half arable and half pasture. (fn. 154) In 1806, the 20 tenants of Winterbourne Stoke manor, including six copyholders, held c. 750 a. of arable and pasture for 1,260 sheep. (fn. 155)
Common husbandry in the parish was ended by an award of 1812 under an Act of 1810: open fields, tenantry downs, and common meadows were inclosed and allotments were made of 2,659 a. (fn. 156) In 1839 there were approximately equal areas of arable and pasture, and c. 60 a. of meadow. All four principal farms were worked from farmsteads in the village: Manor farm was then 1,875 a., two other farms were of 678 a. and 287 a., and Scotland farm had 501 a. in two blocks west of the village. (fn. 157)
Between 1839 and 1880 new farmsteads were built on the downs in the east, (fn. 158) and in the late 19th century and the earlier 20th the lands which they served were in either Manor farm, c. 1,500 a., or Hill farm, c. 600 a.; Scotland farm remained c. 500 a. and was worked from the earlier 20th century with adjacent lands in Maddington parish. (fn. 159) In the 1860s and 1880s almost half the land worked from farmsteads in the parish was arable, and on half of that cereals were produced. Farms based in the parish had c. 3,000 sheep in 1866, over 5,000 in 1886. (fn. 160) On Manor farm there was a prize-winning flock of Hampshire Down sheep numbering c. 1,000 in 1899. (fn. 161) The area of arable declined sharply in the 1920s and less than a third of the parish was ploughed in the 1930s. Fewer sheep were kept but more cattle. (fn. 162) On Scotland farm, principally a sheep farm in the 1920s, cattle were kept in increasing numbers from the 1930s, and from the 1940s included rare breeds such as Gloucesters, Highlands, and Longhorns; Jacob sheep were also kept. Most of the land was never worked intensively and from 1980 the 394 a. of it in the Parsonage Down nature reserve have been grazed by cattle and sheep. (fn. 163) Manor and Greenland farms have been worked together from the 1940s, as a dairy and cereal farm in the 1940s and 1950s, since 1960 as a beef and cereal farm of c. 1,900 a. (fn. 164) In the 1990s the lands of Hill farm were worked with others in Berwick St. James and Stapleford as part of a large mixed farm. (fn. 165)
Horses were trained at Scotland Lodge from 1895; (fn. 166) in 1920 there was extensive stabling, c. 70 a. of pasture set aside for horses, and gallops on 260 a. of downland. (fn. 167) Horses were again trained there in the 1980s. (fn. 168)
Poultry houses for a business based in Berwick St. James were built at Wisma Poultry Farm in Winterbourne Stoke in the late 1940s and later. (fn. 169)
Mills.
There was a mill on the king's Winterbourne Stoke estate in 1086, (fn. 170) and one on Winterbourne Stoke manor from the 13th century to the 17th. The mill mentioned in 1284 (fn. 171) may have been the water mill repaired in 1435 and given a new wheel in 1436. (fn. 172) The water mill was untenanted and in disrepair in 1486 and 1546. (fn. 173) It had been rebuilt by 1574, (fn. 174) was in use c. 1610, (fn. 175) but had been demolished by 1773. (fn. 176) Its site was presumably south of the village where a pasture was called Mill Pond in 1839. (fn. 177)
Local government.
In 1255 Winterbourne Stoke manor was held with return of writs and view of frankpledge. (fn. 178) A court for the manor was held from the 13th century. (fn. 179) In 1436 and 1437 a view of frankpledge was held in April, and in 1436 the manor court was held four times. (fn. 180) The lord was said to keep both a court leet and a court baron twice each year in the late 16th century. (fn. 181) There are records of the manor court and the view of frankpledge, held together and usually in spring and autumn, for the periods 1512–46 and 1592–7, (fn. 182) and a court of survey, at which the customs of the manor were presented, is known to have been held in 1574 (fn. 183) and c. 1610. (fn. 184)
By 1574 the obligation to serve as tithingman had been attached to 15 holdings, presumably the copyholds of Winterbourne Stoke manor: the tithingman was chosen, and a hayward sworn, presumably at the combined view and manor court. (fn. 185) At earlier 16th-century meetings of the court the tithingman paid cert money and presented free tenants owing suit: also on his presentment the court dealt with stray animals, breaches of the assize of bread and of ale, and infringements of rules for the use of common pastures. At most meetings the homage also presented: their presentments included encroachment on the waste, pigs at large in places or at times forbidden by the court, obstruction of the highway, and removal of boundary stones. Both tithingman and homage presented the death of customary tenants. A jury found on both sets of presentments, and itself presented breaches of the peace, defaulters from the court, a burglary in 1533, and in 1517 failure to give doles due to the poor from the Rectory estate. In the 1590s the only formal presentments of the tithingman and the homage related respectively to free tenants and to strays and the death of tenants; none was made by the jury. Other business of the court included agreements for the use of common pastures and for keeping the river clear, orders to repair tenements and boundaries and to perform customary works, and admission to holdings. (fn. 186)
At the court and view of frankpledge held together yearly in October between 1782 and 1800 a joint jury and homage was sworn. Defaulters were presented, a hayward and a tithingman were appointed, and customs chiefly concerned with the common pastures were published. Copyholds were surrendered and new tenants admitted at the court and at an additional court baron held in 1788. (fn. 187)
In 1767–8 the parish spent £65 on poor relief; five parishioners received regular relief, and occasional payments were made for rents, clothing, and nursing. Expenditure was c. £70 a year in the 1770s and 1780s. In 1802–3 £303 was spent. The high cost may have resulted from payments to paupers travelling through the parish: 20 non-parishioners were relieved, among 28 adults and 38 children who received regular relief and 22 people relieved occasionally, and Winterbourne Stoke was then the only rural parish of the hundred to relieve more than two from outside the parish. (fn. 188) Expenditure reached a peak of £376 in 1813–14, although only 16 people then received regular relief and 8 occasional relief. (fn. 189) In the 1820s it was usually between £150 and £200 a year, and in 1833–4 was £134. (fn. 190) Winterbourne Stoke became part of Amesbury poor-law union in 1835, (fn. 191) of Salisbury district in 1974. (fn. 192)
Church.
A church stood on the king's Winterbourne Stoke estate in 1066, when it was served by a chaplain. (fn. 193) It was given to Jumieges abbey in the period 1078–83, (fn. 194) and later the abbey evidently presented rectors. The abbey appropriated the church, apparently c. 1248: (fn. 195) a vicarage had been ordained by 1246. (fn. 196)
The advowson of the vicarage apparently belonged to Jumieges abbey, and vicars may have been presented by its dependant, Hayling priory. During wars with France the king presented 12 vicars between 1338 and 1406. (fn. 197) In 1412 Queen Joan, wife of Henry IV, was patron for a turn. (fn. 198) The advowson was granted to Sheen priory, presumably with the Rectory estate in 1414, and passed to the Crown at the Dissolution. (fn. 199) It was apparently not granted with the estate in 1541 or 1562, (fn. 200) and the king presented in 1542. By 1580, however, the advowson had been acquired by Sir Walter Hungerford, lord of Winterbourne Stoke manor and owner of the Rectory estate from 1587 or earlier. Thereafter until the 20th century lords of the manor presented at most vacancies: (fn. 201) an exception was in 1615 when Francis Manners, earl of Rutland, presented, (fn. 202) presumably in the right of his wife Cecily, relict of Sir Edward Hungerford (d. 1607). (fn. 203) In 1909 or 1910 Cary Coles bought the advowson with Manor farm. His executors were patrons in 1935, 1943, and 1962, and the bishop of Salisbury presented by lapse in 1937. (fn. 204) The executors conveyed the advowson to the bishop in 1973. (fn. 205)
With land and apparently all tithes from the whole parish the rectory was valuable. (fn. 206) Jumieges abbey gave the vicar 15s. a year until 1248, when it augmented the living. (fn. 207) The vicarage, valued at £4 6s. 8d. in 1291, (fn. 208) £10 12s. 8d. in 1535, (fn. 209) and £172 c. 1830, (fn. 210) was among the poorer livings of Wylye deanery. From 1248 it was endowed with half the hay tithes and all the tithes of lambs, wool, and mills from the whole parish except the demesne of the Rectory estate. (fn. 211) By 1609 the vicar's tithes from Winterbourne Mautravers manor had been compounded to renders of only 3 fleeces, 3 lambs, and half the tithe hay from 4 a. The vicar was, however, entitled then to tithes of grain from the whole Rectory estate. (fn. 212) In 1839 the tithes and the renders of 3 fleeces and 3 lambs were valued at £220 and commuted. (fn. 213) From 1609 or earlier the vicar also received tithes of wool, of lambs, and of hay from 7 yardlands in Bourton: (fn. 214) they were valued in 1841 at £21 5s. and commuted. (fn. 215) The glebe was 3 a. in 1609 and later. A vicarage house was built or renewed in 1586. In 1783 it had three rooms on the ground floor and two above, walls partly of flint and partly of lath and plaster, and a thatched roof. (fn. 216) The house, fit for residence c. 1830, (fn. 217) was replaced c. 1850 by a larger building of cob with a tiled roof. (fn. 218) That house was sold in 1938. (fn. 219)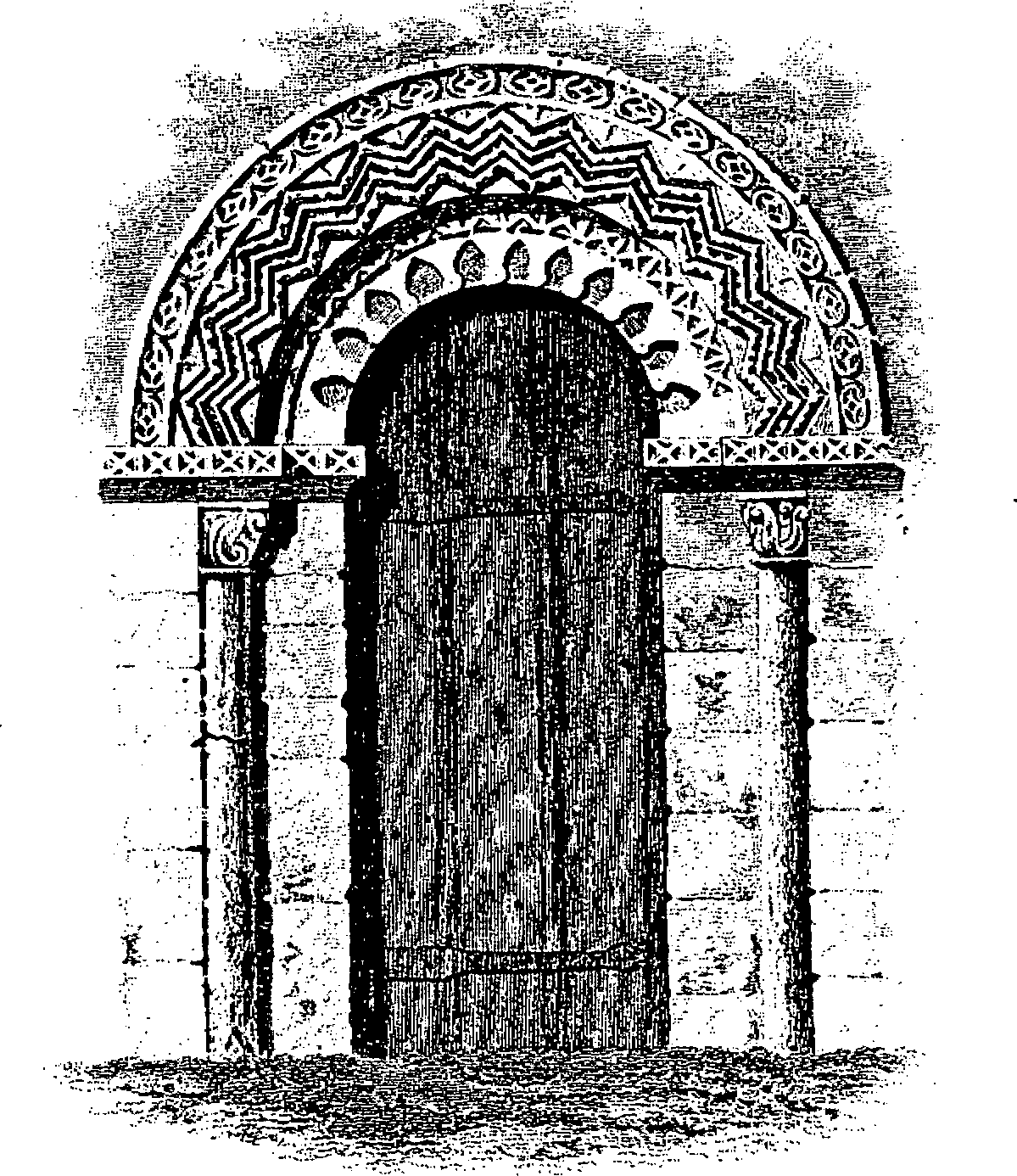 The vicarage changed hands 11 times between 1379 and 1416, 10 by exchange. (fn. 220) In 1393 the font had no cover and the church windows and the churchyard fence were in need of repair. (fn. 221) In 1553 the vicar did not reside and had not provided a curate: Sunday services were held by the vicar of Stapleford but not at the proper times, no service had been held on Wednesdays or Fridays for three years, and there was no cover for the communion table. (fn. 222) In 1556 a parishioner was presented for refusing to contribute to the purchase of ornaments, presumably those required by the restoration of Roman Catholicism: 33s. owed to the church by another parishioner may have been for furnishings removed from the church under Edward VI. (fn. 223) The vicar preached regularly in 1584, (fn. 224) and in 1650 the vicar, Roger Maton, who in 1648 signed the Concurrent Testimony, was commended as a preacher. (fn. 225) Mark King, vicar from 1658, was ejected for nonconformity in 1662. (fn. 226) Thomas Harward, vicar 1684–1708, was curate of Maddington, where he lived, and rector of Rollestone. (fn. 227) John Tomkinson, vicar 1713–55, and Neville Wells, vicar 1762–1801, were also pluralists: Wells lived at West Grimstead. In 1783 the curate, who was also curate of Orcheston St. George, where he lived, held one service at Winterbourne Stoke each Sunday alternately in the morning and the afternoon. He celebrated communion at Christmas and Michaelmas and on Easter and Whit Sundays: there were usually 20 communicants. (fn. 228) In 1851 two services were usually held each Sunday in summer, one each Sunday for the rest of the year: in summer the morning congregation comprised c. 110 adults, the afternoon one c. 150, and c. 70 children attended Sunday school. (fn. 229) Additional services were held in 1864 on Wednesdays in Lent and on Good Friday, Ascension day, and Christmas day: communion was celebrated at the four principal festivals and on the first Sunday in October, and the average number of communicants was 25. (fn. 230) The living was held with Berwick St. James vicarage from 1817 until 1879, (fn. 231) and from 1938 until c. 1980 with the united benefice of Shrewton, Maddington, and Rollestone: from 1981 the incumbent of the united benefice was also priest-in-charge of Winterbourne Stoke. (fn. 232)
At inclosure in 1812 land and pasture rights given earlier for the upkeep of the church were replaced by an allotment of c. I a. The land, which was let for between £2 and £3 in the 19th century and for Only 3s. in 1932, (fn. 233) was sold in 1954. (fn. 234)
ST. PETER'S church presumably took its dedication, recorded in 1163, from St. Peter's abbey, Jumieges. The church is of flint rubble with ashlar dressings, except for the chancel which is of yellow brick, and has a chancel with south organ chamber, a central tower with transepts, and a nave with north porch. (fn. 235) The nave is 12th-century with a north doorway of two orders and a blocked south doorway with a square-headed opening beneath a moulded arch of one order. The crossing is 13th-century and may be on the site of an earlier chancel. The transepts and the new chancel, with lancets in the north wall, were added at various dates in the 13th and 14th centuries, and the present tower was built in the later 14th. The north and south walls of the nave were each given a large new window at the east end in the 15th century, and the west wall was rebuilt with a doorway and a large window in the early 16th. (fn. 236) The church was extensively restored 1838–40. The main alterations to the nave were that the tracery of the windows at the east end was replaced in a 14th-century style, the north and south walls were each given a similar window at the west end, the porch was added, the floor was raised, and the roof replaced. The chancel was rebuilt: its north window has tracery in a 15thcentury style, perhaps that removed from the windows at the east end of the nave. (fn. 237) The north transept, which had been demolished by the early 19th century, (fn. 238) was rebuilt in 1880, and the organ chamber was added in 1881. (fn. 239) The church contains a 12th-century font, with a 17th-century cover, and a 17th-century pulpit. In the north and south windows at the west end of the nave there are stained glass panels with figures of saints and dated 1835.
In 1553 plate weighing 16 oz. was confiscated and a chalice weighing 8 oz. left in the parish. A cup, apparently larger than that chalice, a flagon or mug, and a plate, all of silver, were replaced in 1848 by a chalice and a paten, both of silver, and a flagon of plated metal. (fn. 240) The vessels of 1848 belonged to the parish in 1992. (fn. 241)
There were four bells in the church in 1553. Two of them, cast at Salisbury, a bell of 1712 by Robert and William Cor, and a bell of the late 18th century by James and Robert Wells (fn. 242) hung in the church in 1992. (fn. 243)
Registers of burials, baptisms, and marriages survive from 1726. (fn. 244)
Nonconformity.
In 1662 the vicar was ejected as a nonconformist and three women of the parish, one the mother of a child who had not been baptized, were presented for not attending church. (fn. 245) Two of the women were presented again c. 1670, one for absence from church, the other, with her husband, for remaining excommunicate. (fn. 246) Those may have been the three dissenters, probably Anabaptists, in the parish in 1676. (fn. 247) The curate claimed that there was no dissenter in the parish in 1783: (fn. 248) a house was certified in 1795 for Independent meetings, as others were in 1798 and 1811 for Baptist meetings. (fn. 249) In 1864 there were c. 12 Baptists and c. 12 Wesleyan Methodists: (fn. 250) they and later nonconformists presumably attended chapels outside the parish.
Education.
In 1684 the vicar, Thomas Harward, proposed to open a school in a building newly erected or converted. (fn. 251) A dame school in Winterbourne Stoke had c. 23 pupils in 1818, (fn. 252) when a schoolroom was built. (fn. 253) The school, affiliated to the National society, had 34 pupils in 1833, (fn. 254) 40–50 in 1858 and 1871. (fn. 255) The schoolroom was replaced in 1875 by a gabled red-brick school on the west side of Church Street near the Vicarage. (fn. 256) Average attendance was 35 in 1895, (fn. 257) 47 in 1909–10, and 17 in 1935–6. (fn. 258) The school was closed in 1949. (fn. 259)
Charities for the poor.
Seven strikes of wheat and 7d., due yearly from the Rectory estate to the poor of the parish, had not been given for four years in 1517. (fn. 260) The tenant of the estate was required to make the gift in 1562, (fn. 261) but no later reference to the charity has been found.
Winterbourne Stoke was entitled to a seventh of the income of the Shrewton Flood charity, derived from the rents of cottages including the two on the north edge of the parish. Its share was to provide clothing or fuel for the poor: in 1904 c. £5 was spent on 27 sheets. From the mid 20th century the charity's income was spent chiefly on its cottages; in 1987 those in the parish were sold and the proceeds used to repair others. (fn. 262)