Pages 284-294
A History of the County of Wiltshire: Volume 15, Amesbury Hundred, Branch and Dole Hundred. Originally published by Victoria County History, London, 1995.
This free content was digitised by double rekeying. All rights reserved.
GREAT WISHFORD
Great Wishford village is 8.5 km. north-west of Salisbury. (fn. 1) The parish measures 680 ha. (1,679 a.).
The parish's boundary with Little Langford follows a dry valley and had been fixed by the 10th or nth century. (fn. 2) On the north and east the boundary follows the river Wylye and may also have been fixed early: the boundary is marked by the main course of the river in some places, by side-streams in others. To the south, where the woodland of Grovely forest lay between Great Wishford and Barford St. Martin, the boundary may have been defined equally early, but, if so, was later changed. In 1604 the jurors of a forest court gave the prehistoric Grim's ditch as the boundary of the two parishes: that boundary left seven coppices of the forest in Great Wishford, (fn. 3) but in 1609 the rector claimed tithes from only the easternmost, Bonham's copse, later called Heath wood. (fn. 4) In 1839 Heath wood, bounded to the south by Grim's ditch, was in the parish, but the other six coppices were not: by then the rest of the southern boundary of the parish had been moved north from Grim's ditch to what was until c. 1800 the north edge of the woodland. (fn. 5)
Chalk outcrops over the whole parish, and the relief is sharp. The downs reach 170 m. on Ebsbury Hill and 155 m. on Hadden Hill and are crossed by deep valleys, now dry, cut by tributaries of the Wylye. Heath wood is on clay-with-fiints at c. 150 m., and there is also a small area of clay-with-flints on the west side of the village. Near the Wylye, at c. 60 m., there is alluvium, and gravel has been deposited along the Wylye and in the tributary valleys. (fn. 6) There were open fields on the lower slopes of the chalk and, mostly further from the river, the steeper slopes and higher downland provided pasture. There is extensive meadow land beside the river, especially in the north part of the parish. Apart from Heath wood, there was until c. 1800 little woodland in the parish as defined in 1839. (fn. 7)
The Roman road from Winchester and Old Salisbury to the Mendips is thought to have crossed the south-east end of the parish, running west from the Wylye and north of Heath wood. (fn. 8) Also to the south-east the Grovely ridge way was apparently on the same course as Grim's ditch along the south boundary of Heath wood in 1589: (fn. 9) a track remained there in the late 20th century. Unusually for a Wiltshire parish no road in Great Wishford was turnpiked. The principal road through it is that, apparently of Saxon origin, (fn. 10) between Wilton and Warminster linking the villages on the right bank of the Wylye. From it a road led across Stoford bridge (fn. 11) to the road on the left bank, which became a trunk road in the 20th century. In 1773 and 1993 minor roads led south-west from Great Wishford village. (fn. 12) The Salisbury—Warminster section of the G.W.R., opened in 1856, runs beside the principal road. A station built in the village in 1856 or soon after was closed in 1955. (fn. 13)
Earthworks covering c. 100 a. on Ebsbury Hill provide evidence of Iron-Age and Romano-British settlement, and coin hoards probably deposited in the 5th century A.D. have been found. A RomanoBritish field system extends over part of the site, and other prehistoric field systems have been identified west of Ebsbury Hill and on Hadden Hill. Grim's ditch may be of slightly later date than the Roman road to the Mendips. (fn. 14)
The parish had 138 poll-tax payers in 1377. The population was 346 in 1801, 291 in 1811, 372 in 1821: the reason for such large changes is obscure. From 1821 to 1871, when there were 381 inhabitants, numbers were roughly constant. Thereafter they fell, reaching a low point of 234 in 1951. (fn. 15) From the 1950s new housing was accompanied by a sharp increase: 328 people lived in the parish in 1971, 360 in 1991. (fn. 16)
Great Wishford village is close to the Wylye. The church stands at the centre of an arc of gravel, and the village grew west and south along the arc to form two streets, West Street and South Street. (fn. 17) Great Wishford manor house stood 200 m. north-west of the church: part was evidently demolished in 1785, the rest in the mid 19th century (fn. 18) when a new farmhouse was built among farm buildings near its site. Near the church at the junction of West Street and South Street stand the old rectory house, a mid 17th-century almshouse, and an early 18th-century school. (fn. 19) In West Street the principal surviving house is Wishford House, on the north side. It consists of a main 18th-century range, on which a new south front of brick was built in the early 19th century; a north extension was built in the early 19th century apparently to replace a kitchen wing, a north service wing of flint and brick was built in the late 19th century, and the interior of the main range was much altered in the mid 20th century. In South Street, on the east side, Shatfords is a farmhouse of chequered flint and limestone and of 17th-century origin. South of it on the same side Wishford Farmhouse may also be of 17th-century origin. It was altered in the mid 18th century, probably for Sir Edward Knatchbull, Bt. (d. 1789), the tenant in 1773: (fn. 20) a new west front of brick was built, and a high-quality oak staircase was inserted. West Street and South Street are each built up on both sides, and in each several cottages and small houses of 17th- or 18th-century origin survive: some are timber-framed, some are of flint and stone, and some are of brick with stone dressings. Both streets were in a conservation area designated in 1974. (fn. 21)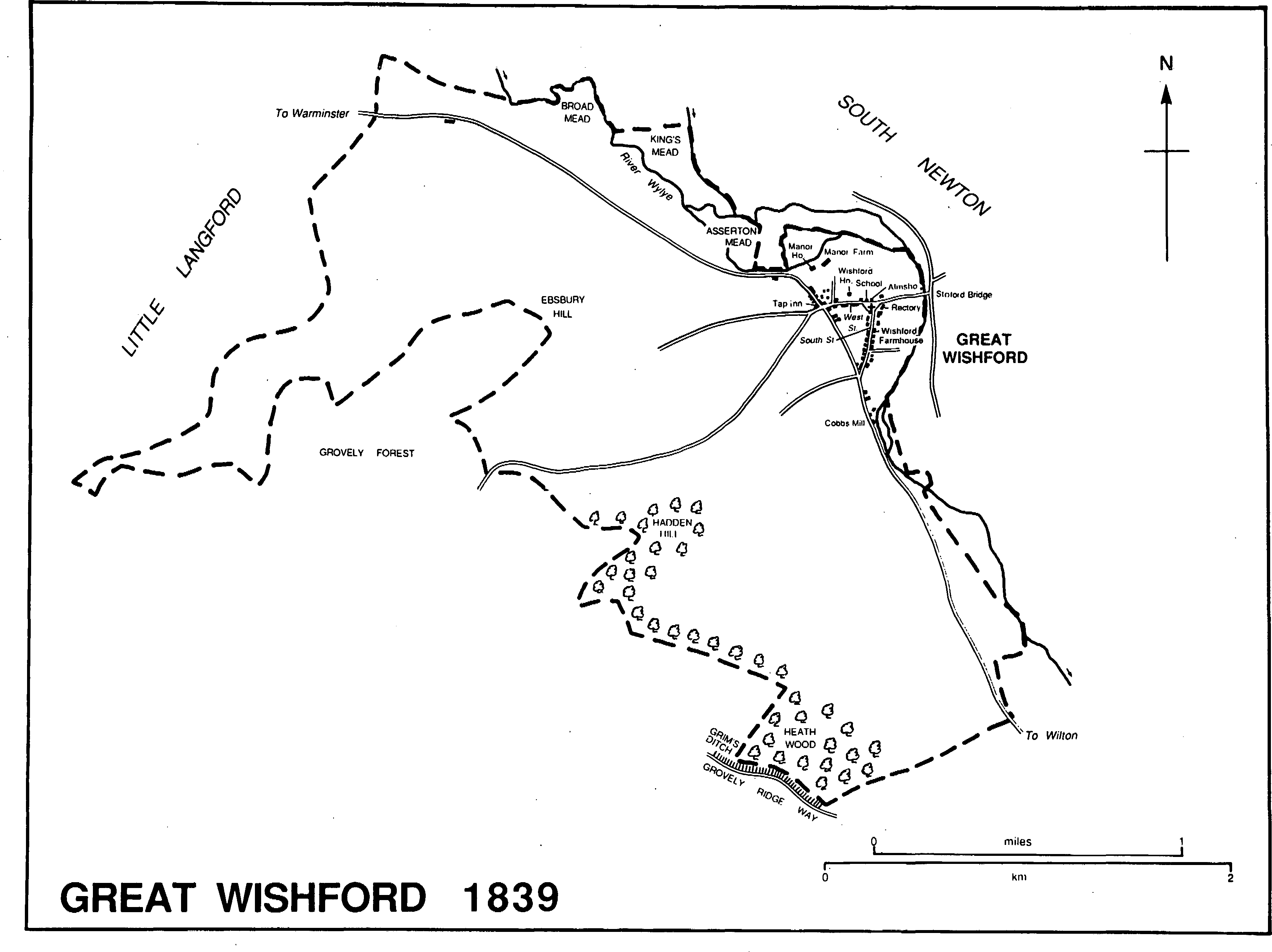 A little east of the village a mill stood on the Wylye at Stoford bridge. (fn. 22) A little south of the village one of two houses standing close to a branch of the Wylye in 1773 was later called Cobbs Mill: (fn. 23) between 1773 and 1802 a third house was added to form a group. By 1773 both West Street and South Street had been built up between the church and the Wilton—Warminster road, and there were then several buildings beside the road near the junction with West Street. Several more had been erected there by 1802, (fn. 24) and, also beside the road, two more between the south end of South Street and Cobbs Mill by 1839. (fn. 25) An alehouse at Great Wishford was recorded in 1618. (fn. 26) On the west side of the Warminster road at its junction with West Street an inn called the Tap was open in 1822 and 1839. (fn. 27) By 1848 it had been renamed the Royal Oak, (fn. 28) under which name it remained open in 1993.
In the mid 19th century new farm buildings, south of Wishford Farmhouse, and a terrace of four estate cottages of banded brick and flint north of it, were erected in South Street, and Wishford station was built beside the Wilton—Warminster road. There was evidently little new domestic building in the late 19th century. In the 20th the principal road came to be called Station Road between its junctions with West Street and South Street, Langford Road to the north-west. About 1900 a pair of brick villas and in 1929 four council houses were built at the south end of South Street. (fn. 29) The southern end of the village was further developed 1949–54 when Grovely Cottages, 22 council houses and bungalows, (fn. 30) and c. 1987 when Kingsmead, an estate of 12 private houses, were built. At the north end in Langford Road 4 estate cottages were built in 1953 (fn. 31) and Bonhams Close, 6 flats and 11 bungalows, in 1969. (fn. 32) In Station Road the stationmaster's house survives: a later 19th-century goods shed was demolished after 1980. (fn. 33) In the later 20th century c. 10 private houses were built beside the road. In 1993 there were few buildings within the triangle formed by Station Road and the houses in West Street and South Street: one there, among farm buildings west of South Street, was a weatherboarded granary of the 18th century.
Outside the village beside the Warminster road a thatched cottage was built between 1773 and 1802 (fn. 34) and a barn between 1817 and 1839. (fn. 35) In the north-west corner of the parish Hungerford Lodge Farm was built near the site of the barn from the mid or later 19th century; a pair of cottages was added in the early 20th. (fn. 36) Dairy Cottages and farm buildings were erected 1 km. south of the church between 1839 and 1886; (fn. 37) the farmstead was enlarged in the 20th century. A sewage works was built in the parish's south-east corner between 1958 and 1969. (fn. 38)
Great Wishford was within the bounds of Grovely forest. (fn. 39) In the mid 13th century it was represented at forest inquests, (fn. 40) the jurors at the forest court of 1604 were drawn from Great Wishford and Barford St. Martin, (fn. 41) and inhabitants of Great Wishford owed suit at a similar court in 1618. (fn. 42) A small estate in Great Wishford was attached to the office of keeper of the north bailiwick of the forest, (fn. 43) and it included housebote, haybote, and firebote from the underwood of Grovely. (fn. 44) Men of Great Wishford had rights to pasture in the forest by the mid 13th century and rights to wood by the 16th century. In 1597 the lord of the manor was entitled to certain loads of wood each year, and his tenants had the right to fetch boughs from Grovely on Saturdays and holidays from 1 May to Whitsun, to fell a load of wood annually, and at all times to take dead wood and wood from Grim's ditch. (fn. 45) In 1604 it was customary for the men of the manor to claim their rights by going in procession to Salisbury cathedral on the Tuesday after Whitsun and there reciting the words 'Grovely! Grovely! And all Grovely!'. After 1660 the date of the procession was changed to 29 May. The right to take boughs in May was compounded for in 1681, and pasture rights were extinguished in 1809, but the ceremonial claim continued to be made. In the early 19th century the procession was replaced by a deputation of two women who placed boughs from Grovely forest on the cathedral altar. By 1885 the ceremonial claim in Salisbury cathedral had been replaced by a yearly procession in Great Wishford village. (fn. 46) From c. 1890 processions and other events were organized by the Oak Apple club, and from 1951 a claim to rights in Grovely forest was again made in Salisbury cathedral. (fn. 47)
In 1728 a fire engine made by Richard Newsham was bought for the parish. (fn. 48) It remained in use until the 1920s or later, and from 1972 was preserved in the church. (fn. 49)
The price of bread at various dates between 1800 and 1984 is recorded on stones inserted in the north-east wall of the churchyard.
Manor and other estates.
In 1066 Avitius and in 1086 William Corniole, one of the king's servants, held what became GREAT WISHFORD manor. (fn. 50) Henry I gave the estate to Patrick de Chaworth, who before 1127 subinfeudated the manor to his son-in-law Henry Daubeney. (fn. 51) From Patrick the overlordship descended with Berwick St. James manor, until the 14th century in the Chaworth family: Patrick de Chaworth was overlord of 1½ knight's fee in 1242–3, (fn. 52) and Maud de Chaworth, wife of Henry of Lancaster, earl of Leicester from 1324 and of Lancaster from 1326, was overlord at her death c. 1322. (fn. 53) The overlordship thereafter descended with the earldom and dukedom of Lancaster. (fn. 54)
Henry Daubeney was succeeded by his son Robert, who gave Great Wishford manor to his brother Niel (fl. 1166). (fn. 55) The manor passed to Niel's son William and before 1207 to William's son Henry, who held it in 1242–3. Ralph de St. Amand held a third of the manor in 1242–3, possibly as tenant by the courtesy, and of that third stood as mesne lord between Henry and Patrick de Chaworth. Henry (fl. 1258) was succeeded in or before 1268 by his son Walter (fn. 56) (d. by 1273). Walter was succeeded by his brother Henry (fn. 57) (d. c. 1278), whose heirs were his sister Clarice Daubeney and grandnephew Maurice Bonham. (fn. 58) From c. 1278 to 1576 the manor descended in moieties.
Maurice Bonham (d. 1302) was succeeded in turn by his sons William (d. by 1316) and Sir John (fn. 59) (fl. 1348). (fn. 60) His moiety passed to Sir John's son Robert, who in 1356 granted it to his brother Nicholas (d. 1386). (fn. 61) Nicholas's relict Edith (fl. 1387) may have held the moiety for life (fn. 62) and in 1391 his son Thomas held it. (fn. 63) From Thomas (d. 1420) it passed in turn to his sons William and Thomas (d. 1473). Thomas, who held the moiety in 1429, was succeeded by his son Walter (fn. 64) (d. 1476). It passed to Walter's son William (fn. 65) (fl. 1514), and in turn to William's sons Walter (d. 1527) and Nicholas (fn. 66) (d. 1559), who devised it for life to his relict Alice. In 1574 Alice and her husband Anthony Styleman surrendered their interest to Nicholas's son Walter, (fn. 67) who acquired the second moiety and in 1597 sold the whole manor to Sir Richard Grobham. (fn. 68)
Grobham (d. 1629) settled the manor for life on his wife Margaret (d. 1637), with reversion to a kinsman George Grobham. George presumably died without issue, and the manor passed, probably before 1650, to Sir Richard's nephew John Howe (cr. baronet 1660). (fn. 69) In 1661 Sir John (d. by 1672) settled it on his son (Sir) Richard (fn. 70) (d. 1703), who was succeeded by his son Sir Richard (d. 1730). The manor was held for life by the younger Sir Richard's relict Mary (d. 1735) (fn. 71) and passed to his second cousin John Howe (fn. 72) (cr. Baron Chedworth 1741, d. 1742). With the barony it passed to John's sons John (d. 1762) and Henry (d. 1781) and their nephew John Howe (d. 1804). (fn. 73) In 1808 the last Lord Chedworth's executors sold the manor to George Herbert, earl of Pembroke and of Montgomery. (fn. 74) Thereafter it passed with the Pembroke title, (fn. 75) and in 1993 Henry Herbert, earl of Pembroke and of Montgomery, owned most of the land in the parish. (fn. 76)
A chapel belonging to Walter Daubeney (d. by 1273) may have been at a manor house at Great Wishford; (fn. 77) John Bonham was taxed at Great Wishford in 1332; (fn. 78) and in 1408 and 1410 Thomas Bonham was licensed to hear mass there in an oratory in his manor house, (fn. 79) where his descendants evidently lived in the 16th century. (fn. 80) A manor house was lived in by Sir Richard Grobham (d. 1629), and probably by Sir Richard Howe (d. 1703) and Sir Richard Howe (d. 1730). (fn. 81) In 1773 Lady Chedworth, presumably Dorothy (d. 1777), relict of John, Lord Chedworth (d. 1742), lived in it. (fn. 82) Nothing is known of the architecture of the house; it was said to have been demolished in 1785, (fn. 83) but part of it remained a house until demolished between 1839 and 1886. (fn. 84)
The second moiety of Great Wishford manor was held in 1281 by Clarice Daubeney's husband Sir Edmund Spigurnel (d. by 1296) (fn. 85) and in 1298 by her son Adam de la Ford (fn. 86) (d. by 1326). It passed to Adam's son Sir Adam (d. by 1349) and was evidently held by Sir Adam's relict Elizabeth, wife of Sir Robert of London, until 1390 or later. (fn. 87) Sir Adam's heir may have been Robert Brent, probably his nephew, and in 1402 the moiety was held by John Brent (d. c. 1413), probably Robert's grandson. (fn. 88) John was succeeded in turn by his son Sir Robert (d. 1421) and daughter Joan, whose husband John Trethek held the moiety in 1428. (fn. 89) With Ford manor in Bawdrip (Som.) it presumably passed to Robert Brent (d. 1508); from Robert's son John (fn. 90) (d. 1524) it passed in the direct line to William (fn. 91) (d. 1536) and Richard. (fn. 92) In 1564 Richard (d. 1570) settled the moiety for his life on his daughter Anne and her husband Thomas Paulet and thereafter on his wife Dorothy for life with reversion to Anne and Thomas. (fn. 93) It was reunited with the other moiety in 1576 when Anne and Thomas Paulet sold it to Walter Bonham. (fn. 94)
At her death in 1281 Edith, daughter of John Humphrey, held in Great Wishford an estate of 2 yardlands, later QUINTIN'S: 1½ yardland was held by serjeanty of keeping the north bailiwick of Grovely forest. The estate passed to Edith's son Henry Quintin (d. 1284) and from him in the direct line to William (d. by 1290), William (fn. 95) (d. by 1341), William (fn. 96) (d. 1351), and Richard (fl. 1373). (fn. 97) Thomas Stabber held it at his death c. 1416 and it passed in moieties to his daughters Elizabeth (d. c. 1419) and Joan, wife of John Wilton (alias John at the end). Elizabeth's moiety was inherited by Joan (d. 1421), whose heirs were Thomas's sisters Edith (d. 1433), wife of John Stone, and Agnes (d. 1433), wife of John Dykeman. Dykeman apparently held both moieties until 1445. John Cooper and his wife Maud, granddaughter and heir of Agnes and evidently Edith's eventual heir, (fn. 98) in 1466 conveyed what was probably the whole estate to Maurice Berkeley. (fn. 99) By 1597, when the lord of Great Wishford was forester of the northern part of Grovely forest, the whole had evidently been absorbed by the manor. (fn. 100)
Bolle held 3 yardlands in Great Wishford in 1066: Robert held them of Waleran the huntsman in 1086. (fn. 101) The overlordship apparently descended like Steeple Langford manor and was held by John of Monmouth in 1242–3 and by Oliver de Ingham, Lord Ingham, in 1343 or 1344. In 1242–3 the estate, 1/10 knight's fee, was held of Monmouth by John de Camp and of John by Warin of Wishford. By 1344 it had been added to Great Wishford manor. (fn. 102)
Arnulf Bisset gave to Margery or Margaret Bisset 8 yardlands in Great Wishford which by 1243 she had given to the hospital and priory of Maiden Bradley. (fn. 103) The estate passed to the Crown at the Dissolution. In 1544 it was granted to Edward Seymour, earl of Hertford, (fn. 104) and sold by him to Nicholas Bonham: (fn. 105) thereafter it passed with Bonham's moiety of Great Wishford manor.
Tithes from the demesne of Great Wishford manor were c. 1191 an endowment of South Newton prebend in the conventual church of Wilton abbey; (fn. 106) they were confirmed to the abbey in 1208. (fn. 107) By 1291 they had been replaced by a pension paid by the rector of Great Wishford, of 13s. 4d. in 1291, (fn. 108) 6s. 8d. at the Dissolution. (fn. 109)
The tithes of the first cut of part of Asserton mead, 12 a. in Great Wishford, belonged to Asserton chapel in Berwick St. James parish. (fn. 110) The endowment of the chapel passed to the Crown c. 1547, from 1615 belonged, like Great Wishford manor, to Sir Richard Grobham, (fn. 111) descended with the manor, and was devised by Sir Richard Howe (d. 1730) to Great Wishford school. (fn. 112) In 1840 the tithes were valued at 30s. and commuted. (fn. 113)
Economic history.
In 1086 Great Wishford had land for 2½ ploughteams. Although not expressly mentioned there may have been demesne with 1 team or more on it; 3 villani and 2 bordars had 1 team, and there were 2 other bordars. There were 12 a. of meadow. (fn. 114)
In 1273 the demesne of Great Wishford manor was said to comprise 500 a. of arable, 33 a. of meadow, and pasture for 32 beasts and 400 sheep: what may have been a roughly equal amount of land was held by 18 customary tenants. (fn. 115) Between c. 1278 and 1576, while the manor descended in moieties, the demesne may have been worked in two parts. In 1326 one of the moieties was said to include in demesne 100 a. of arable and 8 a. of meadow; on the moiety were 2 free tenants, 4 customary tenants who held 32 a. and had to wash and shear sheep and to mow, and 6 cottagers. (fn. 116) In 1545 on the other moiety 145 a. of arable with pasture rights for 274 sheep was in 5 copyholds and 1 leasehold. (fn. 117) The other holdings in Great Wishford in the Middle Ages were evidently small. In 1284 that held for keeping part of Grovely forest and comprising 54 a. of arable, 2½ a. of meadow, and presumably pasture rights, may have been the largest: (fn. 118) in 1341 houses on it were in disrepair and of its 60 a. of arable 15 a. had evidently gone out of cultivation. (fn. 119) The 8 yardlands given to Maiden Bradley priory by 1243 were held by 13 tenants, (fn. 120) in 1544 apparently by 8 tenants. (fn. 121) From the later 16th century, when the moieties of the manor were reunited, (fn. 122) most of the demesne was in a single farm, later called Manor. In 1606 the farm was apparently in hand except for fishing rights in the Wylye, small areas of meadow, and a warren: from 1659 it was leased. (fn. 123)
Common husbandry prevailed at Great Wishford until 1809. In 1326, when three different values were set on arable, there may have been three open fields, as there were later. (fn. 124) Some or all of the downland was used in common, (fn. 125) and from 1252 or earlier men of Great Wishford had a right of pasture in Grovely forest. (fn. 126) Quintin's estate had pasture there for all animals except sheep and goats, (fn. 127) and c. 1356 the lord of a moiety of Great Wishford manor claimed common there both for his demesne and his tenants. (fn. 128) In 1603 all men of Great Wishford had common of pasture throughout the forest for all beasts except 'cattle of two teeth', perhaps cattle over a year old, and, during the fence month, goats and pigs over a year old. (fn. 129)
In 1802 Great Wishford had c. 852 a. of arable, nearly all in open fields. The three fields were of roughly equal size, and each holding with land in them had about the same amount in each. South field was c. 279 a., Middle field c. 282 a., West field c. 265 a. Between the fields and the Wylye there were c. 98 a. of meadows, of which c. 61 a. were in five common meadows. Between the fields and Grovely forest were 543 a. of downland: East End down, north of Heath wood, and, about twice as large, West End down, south-west of Ebsbury Hill, 278 a. in all, were tenantry downs; Farm down, 265 a., was south-west of the village between the tenantry downs. Manor farm, 595 a., included commonable and several land. Its downland, Farm down, was several, and by 1802 c. 9 a. of it had been burnbaked and 61 a. planted with trees. The farm included 29 a. of several meadows and rights in the common meadows, and it had 247 a. in the open fields, mostly in parcels much larger than those of the other holdings. There were 28 other holdings of Great Wishford manor with land in the open fields: some were small and some tenants had more than one. They included c. 555 a. of arable with feeding for 1,027 sheep on the downs and for cattle in the common meadows: the largest holding, later called Wishford farm, was of c. 190 a. with grazing for 344 sheep. In 1806 Manor farm no longer included the 61 a. of new woodland, and c. 17 a. more of Farm down had been ploughed. (fn. 130)
Common husbandry was ended in 1809 by an agreement which also extinguished pasture rights in Grovely forest. Lands already several were among those allotted; Farm down was taken from Manor farm which, worked from the buildings near the manor house, was thenceforth restricted to a compact area in the west part of the parish. The other farms were worked from South Street and West Street and the lands allotted to them were intermingled in the centre and east parts of the parish. (fn. 131) The parish contained 862 a. of arable and 649 a. of grassland in 1839, when there were four principal farms. Manor farm was 497 a.; Wishford farm, worked from Wishford Farmhouse and with most of its land in the south-east part of the parish, was 429 a.; a farm of 187 a. was worked from Wishford House, and one of 108 a. was worked from South Street. (fn. 132) About 1863 Manor farm included 289 a. of arable, 159 a. of downland, and 13 a. of water meadow, Wishford farm 250 a. of arable, 177 a. of downland, 20 a. of lowland pasture, and 9 a. of water meadow. (fn. 133) An additional farmstead for each of those farms was built outside the village between 1839 and 1886. (fn. 134) By 1910 the smaller farms had been absorbed: Wishford farm was c. 800 a. in 1896, Manor farm 569 a. in 1910. (fn. 135) Sheep-and-corn husbandry predominated until c. 1920; thereafter more dairy cattle were kept. (fn. 136) In the 1930s there was much less arable than there had been in the 1830s, and Wishford farm was nearly all pasture. (fn. 137) More land on Wishford farm was ploughed during the Second World War, but it remained principally a beef and dairy farm. In 1993 it included 450 a. of arable on which cereals were grown and 435 a. of pasture: there was a dairy herd of 150, beef cattle were kept, and 75 a. were set aside. (fn. 138) Manor farm, 570 a., then included c. 460 a. on which cereals were grown and 100 a. of permanent grassland: a flock of 450 breeding ewes was kept, and the farm had 180 a. of additional sheep pasture in South Newton parish. (fn. 139)
Like others in the Wylye valley (fn. 140) meadows at Great Wishford may have been watered from the 17th century. Three common meadows, King's mead, Broad mead, and Little mead, a total of c. 30 a. north-west of the village, were being watered in 1782, when two parishioners were appointed at the manor court to oversee the watering. (fn. 141) The inclosure agreement of 1809 provided for King's mead, thereafter used in severalty, to be watered between 1 November and 5 April each year. (fn. 142) From 1812 until 1842 or later two overseers and a common drowner were appointed at the manor court. (fn. 143) There were 50 a. or more of water meadows in the parish c. 1863 (fn. 144) but by 1877 watering of some had probably ceased. Drowners were recorded in the 1930s, when the Wilton Fly Fishing club held dinners for them, but not thereafter. (fn. 145)
Great Wishford had no woodland in 1086, (fn. 146) and later the men of the parish had rights to take wood from Grovely forest. (fn. 147) One of the coppices of the forest, Heath wood, 59 a., is in the parish, (fn. 148) and new woodland was planted on 61 a. of Farm down (Hadden Hill) evidently not long before 1802. There was little other woodland in the parish in 1802 (fn. 149) or the later 20th century. (fn. 150)
There was a mill in 1086 on what became Great Wishford manor. (fn. 151) A mill at Great Wishford in 1273 was, as part of the manor, held in moieties from c. 1278 and was in poor repair in 1326. (fn. 152) It may have stood beside Stoford bridge, where a mill standing in 1773 (fn. 153) had been demolished by 1802. (fn. 154) There was a mill in 1243 on Maiden Bradley priory's estate. (fn. 155) It may have stood south of the village on the site of Cobbs Mill, so called in the earlier 19th century. (fn. 156) Cobbs Mill is unlikely to have been used for grinding in 1773 (fn. 157) and there is no evidence that it was later.
A weaver lived in the parish in 1699, as did a clothier in 1729 and 1741: the weaver was associated with the Wilton cloth industry, and the clothier may have been. (fn. 158) There was a malthouse in the village in the early 19th century, (fn. 159) and a foundry near the church in 1839. (fn. 160) From the 1850s, presumably after the opening of Great Wishford station, until the 1930s, coal merchants traded in the parish. (fn. 161)
In 1298 rights to hold an annual fair on 31 August and 1 September and a weekly market on Mondays were granted to Adam de la Ford, the lord of a moiety of the manor: (fn. 162) the holding of neither fair nor market is recorded.
Local government.
Although Great Wishford was held before 1127 with rights including sac and soc, toll and team, and infangthief, (fn. 163) Roger de Hales, sheriff of Wiltshire 1226–7, distrained men of Great Wishford to do suit at Branch hundred court: they were summoned as two tithings, said to correspond to a fee of Daubeney and, inexplicably, to a fee of Fancourt. In 1268, however, it was confirmed that Great Wishford manor was held free of suit of shire and hundred and with a gallows and an ordeal pit, and then and thereafter Great Wishford was apparently a single tithing. (fn. 164)
A court may have been held for Adam de la Ford (d. by 1326) as lord of a moiety of the manor, (fn. 165) but none held for his successors is recorded. View of frankpledge passed with the Bonhams' moiety: there are records of a view and a manor court held, usually together and probably twice yearly, in 1391, 1404, and 1454. Cert money was paid and a tithingman presented defaulters from the court, strays, infringements of grazing rights, and affrays. Tenurial business was transacted, and orders were made to repair a bridge, probably one over the Wylye, and for fishing the river. In 1454 a jury found on the presentments. (fn. 166) A court of survey was held in 1545. A view or law day and a manor court are recorded for 1560 and for most of the years 1579–87; some of the records consist only of lists of presentments. The view and the manor court were usually held on the same day as each other and twice a year. In 1579 the tithingman presented at the view, the homage at the manor court. Matters presented at the view included breaches of the assize of ale, the taking of stray animals, the dilapidation of bridges, the butts, and the pound, and, in 1582 and 1586, the playing of unlawful games of bowls. In 1586 the tithingman was presented for allowing a traveller suspected of felony to escape. Business before the manor court included defaulters from the court, vacant tenements, and breaches of grazing customs; orders were made to maintain ditches and headlands, in 1584 to destroy rabbit burrows, and to regulate the gathering of wool from fields. (fn. 167)
A court leet and a manor court were held together, usually in October, from 1782 to 1842, annually until the mid 1830s, less frequently thereafter. In 1782 the homage and jury presented customs of the manor, that the stocks needed repair, and the death of a copyholder; a tithingman, a hayward, two sheeptellers, and the overseers of the water meadows were appointed. The business of the court was similar until c. 1830; in 1801 it was recorded that swans on the manor had been destroyed, apparently unlawfully. From the 1830s most non-tenurial business concerned watercourses and water meadows. Between 1782 and 1887 a court for the transaction only of tenurial business was held occasionally. (fn. 168)
The parish (fn. 169) spent £81 on poor relief in 1775–6 and an average of £87 a year in the three years to 1785; £209 was spent in 1802–3, when the poor rate was about the average for the hundred, 19 adults and 34 children were regularly relieved, and no occasional relief was given. (fn. 170) In 1806 the parish held houses in the village on lease to accommodate some of the poor. (fn. 171) Spending was at a peak of £830 in 1813, when 237 of a population of c. 300 received relief, 51 regularly, 186 occasionally. (fn. 172) It fell to £313 in 1816, but rose to £712 in 1817. It was usually between £250 and £350 in the 1820s (fn. 173) and averaged £242 between 1833 and 1835. Great Wishford became part of Wilton poor-law union in 1836, (fn. 174) and of Salisbury district in 1974. (fn. 175)
Church.
The church may have been standing in the 12th century or earlier. (fn. 176) It was first recorded in 1207, when it was served by a rector. (fn. 177) In 1952 the area served by Grovely Wood chapel was added to the ecclesiastical parish, (fn. 178) and in 1992 Great Wishford rectory became part of the benefice of Lower Wylye and Till Valley. (fn. 179)
In 1207 the advowson of the rectory was disputed between the abbess of Wilton and Henry Daubeney, lord of Great Wishford manor. (fn. 180) The abbess surrendered her claim in 1208, (fn. 181) and the advowson presumably passed with the manor to Henry Daubeney (d. c. 1278). A right of presentation at alternate turns descended with each moiety of the manor from c. 1278 to 1576. Thereafter the advowson passed with the manor, (fn. 182) and from 1992 Lord Pembroke shared the patronage of the new benefice. (fn. 183) Six presentations other than by owners of the manor or a moiety of it are recorded. Hugh le Despenser, Lord le Despenser (cr. earl of Winchester 1322), keeper of the estate of William Bonham, a minor, presented between 1302 and 1305; (fn. 184) the bishop collated by lapse in 1391; trustees of John Brent, probably the half-brother of Joan Brent (fl. 1421), presented in 1430; in 1637 trustees of John Bower, a former rector, presented his son Robert by grant of a turn; Dorothy, relict of John, Lord Chedworth (d. 1742), presented in 1770 and 1774. (fn. 185)
The rectory was valued at £5 in 1291, a little below the average for Wylye deanery; (fn. 186) at £17 10s. 6d. in 1535 and c. £342 in 1830 it was about the average. (fn. 187) Between 1609 and 1705 the rector's income included rent from 2 a. in South Newton parish: no later reference to the rent has been found. (fn. 188) The rector was entitled to all tithes from the parish, from 1291 or earlier including those from the demesne of Great Wishford manor, but excluding those from part of Asserton mead: (fn. 189) they were valued at £437 in 1838 and commuted in 1840. (fn. 190) In 1609 the glebe comprised 20 a. of arable, 1½ a. of meadow, and feeding for 5 cattle, an unlimited number of pigs, and, in autumn, 4 horses; (fn. 191) some of the grazing may then as later have been in Grovely forest. (fn. 192) After inclosure the glebe measured 18 a.; (fn. 193) c. 2 a. were sold in 1961, (fn. 194) and c. 13 a. remained glebe in 1993. (fn. 195) There was a house on the glebe in 1513. (fn. 196) In the early 17th century a new house was built of stone; its north-south range survives in the present house. In the early 18th century the house was extended to the south and east and mullioned windows were used in the new walls. A north-east wing was built, probably later in the century and possibly as a replacement. Between c. 1825 and c. 1850 the inside of the house was altered. The west front was refaced in brick probably in the same period, and c. 1850 bay windows were added to the north-east wing. In 1976 the house was sold and a new rectory house built north of the church. (fn. 197)
In 1386 St. Mary was invoked at the altar in the north part of the church; the lights of St. Nicholas, St. John, and Holy Cross in the church may have been on separate altars. (fn. 198) In 1305 Richard of Langtoft, the rector, was licensed to leave the parish for a year's study, and a curate was appointed. (fn. 199) Richard Burleigh, rector 1468– 93, Alexander Hody, rector 1493–1518, and Thomas Hulse, rector 1518–31, were all pluralists. (fn. 200) In 1553 the church had no copy of Erasmus's Paraphrases or covering for the communion table: (fn. 201) in 1556 the rector, William Hardy, was said to have been guilty of simony. (fn. 202) Robert Bower, rector from 1637 and a canon of Salisbury, was ejected in 1645 or 1646; he was charged with keeping fasts appointed by the king, using prayers against parliament, and using the Book of Common Prayer. He was restored to the rectory in 1660. (fn. 203) In 1648 and 1650 the living was served by Robert Parker, a signatory of the Concurrent Testimony and a regular preacher. (fn. 204) James Birch, rector 1773–1823, also served Burcombe chapel in 1783. At Great Wishford he then held two services every Sunday and services on Christmas Day, Good Friday, the Monday and Tuesday after Easter, and the Monday after Whit Sunday. Communion was celebrated at Christmas, Easter, Whitsun, and Michaelmas: there were c. 20 communicants. (fn. 205) In 1851 on Census Sunday 66 people attended morning service, 149 afternoon service: numbers were said to be lower than usual because of an outbreak of measles. (fn. 206) In 1864 three services were held each Sunday; there were also services at the great festivals, on Ash Wednesday, on Fridays in Lent and Advent, and every evening in Holy Week. In the Wiltshire part of Salisbury diocese Great Wishford was one of only five parishes in which communion was celebrated weekly: there were 40–50 communicants at the great festivals, 20–30 at other times. The rector, T. B. Buchanan, regretted that the liturgy was too inflexible to make possible brief daily services which agricultural workers might have time to attend. (fn. 207) Between 1926 and 1973 the rectors also served Little Langford. From 1926 they presumably served Grovely Wood chapel, (fn. 208) which had been built in Grovely forest in 1867, (fn. 209) was in Barford St. Martin civil parish from 1934, (fn. 210) and was demolished probably in the 1940s. (fn. 211) From 1973 until 1992 Great Wishford was served by a priest-incharge, and from 1992 the benefice of Lower Wylye and Till Valley was served by a rector resident in Great Wishford. (fn. 212)
In 1681 Philip, earl of Pembroke and of Montgomery, gave £6 a year to Great Wishford church in return for the surrender by the parish of rights to take wood from Grovely forest. Payments were irregular until 1712 when Thomas, earl of Pembroke and of Montgomery, compounded with Sir Richard Howe, lord of Great Wishford manor. Howe charged his estate in Stapleford with a payment to the church of £10 a year, (fn. 213) which was made until 1981. (fn. 214) From 1714 and probably earlier the right to cut hay from the Monday before Ascension day to 12 August from 6 a. in Great Wishford was auctioned each year and the money paid for it given to the church. From the late 18th century the grass was called the Midsummer Tithe. The auction raised c. £3 yearly in the early 18th century, c. £11 in the early 19th and early 20th. (fn. 215) Grass from part of the meadow was not auctioned after 1945: that from the remainder raised £85 in 1993. (fn. 216) Agnes Kennedy (d. 1941) gave by will to the church three cottages: (fn. 217) they were sold in 1945 and the income from the proceeds, £176 in 1993, has since been used for the church's upkeep. (fn. 218)
The church of ST. GILES, so called in 1386 (fn. 219) and possibly in 1298, (fn. 220) is built of irregularly chequered chalk ashlar and flint and has a chancel with north vestry, an aisled and clerestoried nave with south porch, and a west tower. The narrowness of the nave, which was rebuilt in the 19th century, suggests that its predecessor may have been of the 12th century or earlier. The chancel was probably rebuilt in the 13th century, when a stepped-lancet east window was inserted. The south aisle and the lower stages of the tower were built in the 14th century. Possibly in the 15th or 16th century the upper stages of the tower were built, and the porch was probably built in the 16th. In the 17th the chancel was largely rebuilt to accommodate a monument to Sir Richard Grobham (d. 1629). In the early 18th the north wall of the nave was raised and given a clerestory of oval windows, the south wall of the aisle was raised, the arcade was removed, and the roof of the aisle was merged with that of the nave. (fn. 221) In 1863–4 the chancel arch, the nave with north and south aisles and a clerestory of rectangular windows, and the porch were rebuilt in a 14th-century style to designs by T. H. Wyatt; the chancel was reroofed, the upper part of the tower rebuilt with elaborate crenellation and pinnacles, and the vestry added. (fn. 222) The vestry was rebuilt in 1955. (fn. 223) Stone figures of the 14th century, representing a man and a woman, each in an arched recess in the north aisle, probably commemorate members of the Bonham family, as does a 15th-century brass. (fn. 224)
John Bonham (d. 1411) gave to the church a crucifix, a paxbred, and a cup, all of silver. (fn. 225) In 1553 a chalice weighing 10 oz. was left in the parish and 2 oz. of plate were confiscated. The chalice was replaced by a tazza-shaped cup of silver gilt, hallmarked for 1576 and probably of secular origin. A flagon of 1637, a chalice with paten cover of 1679, a paten of 1711, and an almsdish converted in 1864 from a flagon, all of silver gilt, were, with the cup, held by the church in 1993. (fn. 226)
Two bells hung in the church in 1553. The ring was increased to five, presumably in 1751 when five new bells were cast by James Burrough of Devizes. The fourth was recast by Mears & Stainbank in 1887. (fn. 227) Those five bells and a sixth, bought from Queenhill (Worcs.) in 1978, hung in the church in 1993. (fn. 228)
Registers of baptisms, marriages, and burials survive from 1558: those of baptisms and burials are largely complete, that of marriages lacks the years 1747–54. (fn. 229)
Nonconformity.
In 1662 four parishioners, presumably dissenters, were regularly absent from divine service: one had not had his child baptized. (fn. 230) There was no dissenter in the parish in 1676 or 1783. (fn. 231) In 1797 a house was certified for nonconformist meetings. One was certified for Independent meetings in 1817 (fn. 232) and converted to a chapel in 1839. An evening service held there on Census Sunday in 1851 had a congregation of 22. (fn. 233) The chapel is said to have stood in West Street. (fn. 234) A house was certified in 1832 for Primitive Methodist meetings, (fn. 235) and in 1864 c. 12 Wesleyans and Independents met in a small room. (fn. 236)
Education.
The foundation stone of a school, of red brick with stone dressings and standing in 1993, was laid in 1722. Sir Richard Howe (d. 1730) by will endowed the school with tithes from Asserton mead and from Asserton, all valued at £30 c. 1730. A master and a mistress were to receive £10 each for teaching subjects including the church catechism to 20 boys and 20 girls respectively. The school's remaining income was for fuel and repairs. The income was £63 55. annually between 1810 and c. 1830, £51 in 1903, (fn. 237) and the interest on c. £1,000 in 1993. (fn. 238) The school had two rooms and accommodation for a teacher in 1846. (fn. 239) Another classroom was built in 1896, (fn. 240) and the school was further extended in 1962. (fn. 241) In the 1830s there were difficulties in filling the school until children under five and more girls than boys were admitted. (fn. 242) There were 21 boys and 22 girls in 1846: (fn. 243) the total had risen to 70 by 1859. (fn. 244) Average attendance was 62 in 1906, (fn. 245) 60 in 1911–12, and 50 in 1935–6; (fn. 246) in 1993 there were 51 pupils, principally from Great Wishford and South Newton parishes. (fn. 247)
In 1833 a boarding school in Great Wishford was attended by seven girls. (fn. 248)
Charities for the poor.
Sir Richard Grobham (d. 1629) gave by will lands in South Newton to endow an almshouse in Great Wishford. The almshouse, a range of banded flint and stone, was built probably in the mid 17th century and survived in 1993. It was built as four cottages, each for a single parishioner, and the services of a nurse or housekeeper were to be provided. Rents from the lands were £60–£80 from the mid 18th century to the early 20th. (fn. 249) The lands were sold in 1948; (fn. 250) the income from the proceeds was between £250 and £500 in the 1960s. (fn. 251) Men and women were nominated to places in the almshouse until c. 1790: in most cases in the 1790s and in the 19th century the nominee was a married man whose wife shared his accommodation. In 1904 two couples and a single man occupied three of the cottages: the fourth was leased and from the rent another parishioner was given money. Each almsman received c. 30s. monthly in the mid 19th century. A housekeeper was appointed 1870–85 but probably not at other times. By a Scheme of 1898 the almshouse was managed with Oland's, Williams's, and Smokem's charities. (fn. 252) It was converted to two dwellings in 1969–70, and thereafter occupants paid rent according to their means. The income from endowments and rent, £1,396 in 1991, was used to maintain the building. (fn. 253)
David Oland (d. 1737) by will gave the income from £200 to apprentice boys from Great Wishford school and, on their apprenticeship, to give each £5 for tools. He also gave the income from £50 to buy bread and meat on Christmas Eve for 10 poor families not receiving poor relief. No payment was made until 1762; thereafter the income, c. £10 yearly in total, was used as Oland directed. The Revd. F. de V. Williams (d. 1863) by will gave £70, and Mary Smokem by will proved 1888 gave £100, to augment the doles provided by Oland. In 1888 and 1903 bread and beef were given to 30 families. (fn. 254) Apprenticeship premiums and grants for tools were occasionally paid until the 1930s or later, (fn. 255) but in the 1980s and in 1992 the charities' whole income of c. £10 was distributed in cash at Christmas. (fn. 256)
The poor of Great Wishford were entitled to a third share of a charity set up by the Revd. E. B. Hill (d. 1925) and governed by a Scheme of 1926. In the 1960s the income of the charity was c. £1 10s. yearly and occasional grants were made to the needy. (fn. 257)