Pages 179-190
A History of the County of York East Riding: Volume 3, Ouse and Derwent Wapentake, and Part of Harthill Wapentake. Originally published by Victoria County History, London, 1976.
This free content was digitised by double rekeying. All rights reserved.
THORNTON
The village of Thornton lies about 10 miles south-east of York, and with its townships of Melbourne and Storwood the parish occupies a large tract of low-lying ground around the Beck, the chief watercourse draining this part of the Vale of York. (fn. 1) Thornton, which was occasionally distinguished by the suffix 'in Spalding Moor', and Melbourne, the 'Middle Stream', were apparently Anglian settlements, but Storwood was Scandinavian. In the Middle Ages the hamlet was called Storthwaite, the 'brushwood inclosure', but the alternative name Storwood began to be used in the early 17th century. At Thornton the name Millhouse appeared in the 14th century, (fn. 2) and there was later an outlying group of buildings known as Millhouses. The vill of 'Chetelstorp', probably in Storwood, was mentioned in 1086 (fn. 3) but it was not recorded again and its site is unknown. The parish, irregular in shape, covers 6,684 a., of which Melbourne accounts for 3,148 a. and Storwood 1,222 a. (fn. 4) Several stretches of the parish boundary follow watercourses, among them the Beck, which also forms the boundary between Thornton and Melbourne townships. In Storwood the parish boundary with East Cottingwith follows Hacking and Newlands drains. For civil purposes Storwood was united with East Cottingwith in 1935. (fn. 5)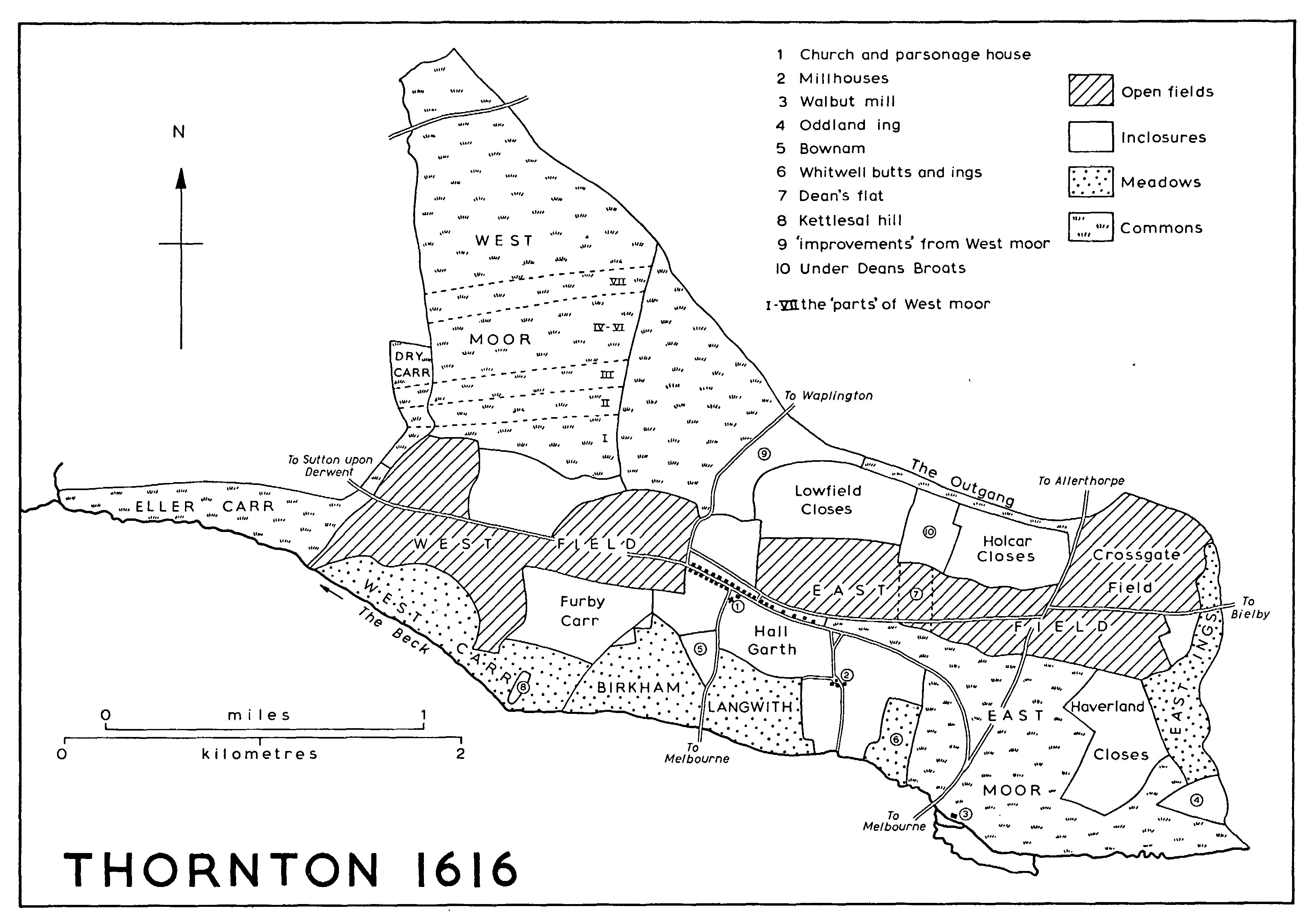 Throughout the parish the ground nowhere reaches 50 ft. above sea-level and large areas are below 25 ft. The settlements all stand on higher ground, Storwood close to the Beck but Melbourne ¼ mile and Thornton ½ mile from it. Much of the parish is covered with outwash sand, silt, and clay, but there is much alluvium on the lowest ground, alongside the Beck. (fn. 6) Thornton was described in 1797 as in general 'an entire sand and in most parts very light'. (fn. 7) The open fields of Thornton and Melbourne lay in the better drained sandy areas, with meadows and carrs on the wetter ground, and there were extensive common wastes in all the townships, including the huge Ross moor in Melbourne and Storwood on the heavier silts and clays. The open fields, commons, and meadows in Thornton were inclosed at various times from the 17th to the 19th century, and those of Melbourne and Storwood in 1782. Between 1940 and 1947 an area in the southeast of Melbourne was used as an airfield by the Royal Air Force. (fn. 8)
The drainage of the parish and the management of the Beck have long been a problem. In the 1320s flooding was caused by the neglect of drains further south in the Vale of York, as well as by interference with the stream at Walbut water-mill in Thornton, which also hindered road traffic across the Beck. (fn. 9) Frequent flooding of the road to Pocklington was referred to in 1415. (fn. 10) Flooding was again caused at Walbut mill in the 17th century, when the court of sewers ordered the construction of a new overflow channel. (fn. 11) Attempts to improve drainage in Thornton are suggested by the existence of Haverland dike, in the east of the township, in 1577. (fn. 12) Conditions were still bad in the 18th century, however, and it was said of the meadow land in Thornton in 1797 that 'for want of a better outfall, a great deal of it is very much injured'. (fn. 13) At the inclosure of the ill-drained waste in Melbourne in 1782 provision was made for five new drains on Ross and East moors. (fn. 14) Two land-drainers lived at Melbourne in 1851. (fn. 15) The lords of Thornton and Melbourne manors were in dispute over drainage in the 1850s, (fn. 16) and still in the 1880s the full rent of Park farm, Melbourne, was said to be unattainable 'until ... the undrained or imperfectly drained portion of the land was made dry'. (fn. 17)
Sir Henry Vavasour of Melbourne was a leading promoter of the Pocklington canal, which was constructed in 1816-18 alongside the entire length of the Beck in Thornton, Melbourne, and Storwood. There were three locks in the parish, and a short 'cut' branched from the canal towards Melbourne village. The canal, which carried mainly coal, fertilizers, corn, timber, and flour, was neglected after its purchase by the York & North Midland Railway in 1848. Little traffic passed beyond Melbourne by the 1890s and navigation was abandoned in the 1930s. (fn. 18)
Minor roads lead from Thornton village towards Sutton upon Derwent, Barmby Moor, Allerthorpe, Melbourne, and Bielby. The Sutton road, now called Field Lane, existed in 1616 but was only a farm road in 1974. The Barmby road apparently has a later origin. In 1616 the road running northwards from the west end of the village led instead to Waplington; by the mid 18th century its line had been moved westwards, and by 1851 it had been moved further west and its destination changed, probably at the inclosure of West moor. From the other end of the village two roads led eastwards in 1616, one continuing the line of the back lane towards Bielby, the other leading from the village street to join the Melbourne-Allerthorpe road, which crosses Thornton township. Part of the Bielby road was later stopped up, almost certainly at the inclosure of the open fields in the mid 18th century, and the second road was realigned at the inclosure of East moor at about the same time. (fn. 19) A high-backed brick bridge carries the road over the canal near Walbut mill. A more direct road to Melbourne runs southwards from the church at Thornton; it was called 'Melbourne church way' in 1577. (fn. 20) The north-west corner of Thornton township is crossed by the road from Sutton upon Derwent to Barmby, known in Thornton as the Street.
Two roads run east-west across Melbourne and Storwood townships, one through Melbourne village and the other further south; they are linked by half-a-dozen cross roads. West of the village the first of the chief roads was called 'Melbourne new road' in 1779, (fn. 21) possibly because of realignment during the inclosure then in progress. The road continues westwards to Hagg bridge, over the Beck, and so into Sutton upon Derwent. This was perhaps the bridge at Thornton which was being built of stone in the late 1420s by Nicholas Blackburn, a York merchant. (fn. 22) It was called Hagg bridge by 1735. (fn. 23) By 1806 the county was responsible for the bridge, which consisted of one brick arch in 1884. The adjoining brick bridge was built to carry the road over the canal in the 19th century. Eastwards the road leads into Thornton, crossing the Beck by the single brick arch of Walbut bridge, which as 'Melbourne bridge' was already being maintained by the county in the 1880s. (fn. 24)
As a through route from East Cottingwith to Seaton Ross the more southerly of the two chief roads already existed before the inclosure of the commons in 1782, but several straight sections of it were apparently newly laid out then. Some of the cross roads were also made at inclosure, either wholly or partly on new lines, and old roads across Ross moor from Ellerton and Foggathorpe were replaced. Storwood hamlet stands on the most westerly of the cross roads. (fn. 25)
Other minor roads in Melbourne include that running north to Thornton, which crosses the canal by Church bridge, another high brick structure with curving parapet walls. Several farm roads lead down to the canal and formerly crossed it by swing bridges, now fixed.
The 19th- and 20th-century houses of Thornton stand on both sides of a single village street, with the church towards the east end. Gardens in front of the houses represent the narrowing of the wide street that existed in 1616. There was also a back lane behind the northern row of houses in 1616 which was apparently stopped up at the inclosure of the open fields in the mid 18th century. There are eight council houses and a village hall. At Millhouses, just to the south-east of the village, there were ten houses in 1577 and thirteen in 1767, but by 1851 only one. (fn. 26) In the 18th century there were one or two licensed houses in Thornton. (fn. 27) The Plough existed in 1797, (fn. 28) and in 1851 and the 1870s the Grey Horse. (fn. 29) The half-dozen outlying farms in the township all date from after the 18th-century inclosures.
The straggling village of Melbourne, less than a mile south of Thornton, lies mostly along one street, though some recent houses stand to the south near the mission church and a few buildings are situated on the remnant of a former outgang into West field. Most of the houses date from the 19th and 20th centuries. They include an early-19thcentury house with a central pediment, a symmetrical pair of lodges flanking a projected entrance to Melbourne Hall, (fn. 30) and Deanery Farm. A reading room, built in the late 19th century, (fn. 31) is now a private house; the present village hall stands on land acquired for the purpose in 1953. (fn. 32) Many houses and bungalows, including a dozen council houses, have been built in and around the village in recent years.
There were usually one or two, and occasionally three, licensed houses at Melbourne in the 18th century. (fn. 33) The Cross Keys inn was mentioned from 1823 onwards and still exists. The Blacksmith's Arms, mentioned from 1840, was called the Horse Shoes in 1850; it became the Melbourne Arms in the early 20th century but closed c. 1968. (fn. 34) A third inn, the Ross Moor, existed in 1840 and was perhaps renamed the Charles James Fox, which stood on the moor in 1850. (fn. 35)
The hamlet of Storwood, nearly 3 miles west of Melbourne, consisted of a dozen houses in the mid 18th century but only about six by 1850. (fn. 36) Apart from Storwood Manor (fn. 37) there were four houses in 1974. There was a licensed house at Storwood in the 18th century and an inn at Hagg bridge in 1850 and the 1870s. In 1890 the latter was called the Temperance Hotel. (fn. 38)
Most of the two dozen outlying farm-houses in Melbourne and Storwood date from after the inclosure of 1782, but Ball Hall, Park House, and East Wood (now Rossmoor Grange), all in Storwood, were then already in existence. (fn. 39) Melbourne Hall stands in parkland south of the village. (fn. 40) Rossmoor Lodge, built for Gen. James Wharton in 1816, is a large yellow-brick house with three projecting bays on the main front, which faces the former park. (fn. 41) Melbourne Grange has an early-19thcentury central range extended by cross-wings with low-pitched gables of the later 19th century. Melbourne Lodges, an identical pair of red-brick houses, flank the road to Seaton Ross on the township boundary. The name Bibbill Farm derives from Bibbehale, 'Bibba's nook of land', which was referred to in the 13th century. (fn. 42) Other isolated buildings include those of a former prisoner-of-war labour camp in Storwood, opened in 1940. (fn. 43) Some of the former airfield buildings were used for agricultural purposes in 1974, while commercial development to the east of Melbourne village originally made use of others.
There were 83 poll-tax payers in Thornton township in 1377. (fn. 44) Forty-nine households were included in the hearth-tax return in 1672, of which 10 were not chargeable, 38 had a single hearth each, and one had 3 hearths. (fn. 45) There were 78 families in the parish in 1743 and 104 in 1764. (fn. 46) The population of Thornton alone was 217 in 1801; it remained at c. 200 until the mid century, but by 1901 it had fallen to 137. (fn. 47) It increased to 178 in 1951 but was only 145 in 1971. (fn. 48)
There were 143 poll-tax payers in Melbourne and Storwood in 1377, (fn. 49) and 68 households were included in the hearth-tax return in 1672, 16 of them exempt. Of those chargeable 52 had a single hearth, 4 had 2 each, and one had seven. (fn. 50) The population of Melbourne rose from 308 in 1801 to 437 in 1821 and 568 in 1861, but had fallen to 356 by 1901. It remained about the same until 1931 but then rose to 499 in 1951; in 1971 it stood at 444. Storwood's population was 86 in 1801, rising to 119 in 1831 and falling to 76 in 1901. In 1931 it was 63. (fn. 51)
MANORS AND OTHER ESTATES.
The 6-carucate estate in Thornton which Eddiva held in 1066 had passed to Ralph de Mortimer by 1086, (fn. 52) and its overlordship remained with the Mortimers until 1425. (fn. 53)
William de Vescy held 3 knight's fees in Spalding moor of Ralph de Mortimer in 1243 (fn. 54) and his son John was dealing with THORNTON manor in 1275. (fn. 55) The property continued to descend in the Vescy family. (fn. 56) In 1289-90 and 1316 the 4-carucate estate was held by Clemence, wife of John de Vescy (d. 1295), (fn. 57) but before her death in 1343 it had apparently passed to Gilbert de Aton, descendant and heir of William de Vescy (d. 1183). In the early 14th century Gilbert conveyed property in Thornton and elsewhere to John de Mowbray, (fn. 58) who was returned as tenant in 1346. (fn. 59) By 1428, however, the Mowbrays had been succeeded by John, duke of Bedford, (fn. 60) and in 1489 the manor was held to the use of Henry Percy, 4th earl of Northumberland. (fn. 61) The property, which was regarded as a member of Wressle in 1577, (fn. 62) thereafter descended like Catton in the Percy, Seymour, and Wyndham families. (fn. 63) The Wyndham estate at Thornton, which consisted of 2,279 a. in 1897, (fn. 64) was broken up and sold in 1920-1, (fn. 65) The 403-acre Thornton Grange farm and the 141-acre Hall Garth farm were bought by Henry Stubbins in 1921, (fn. 66) and the Stubbins family have since acquired a further 200 a. which were formerly part of the Wyndham estate. (fn. 67)
In 1066 Eddiva had 6 carucates in Melbourne and another carucate in 'Chetelstorp'. These lands were held by Ralph de Mortimer in 1086. (fn. 68) Apart from an interruption in Edward III's reign, the overlordship remained with the Mortimers until 1425, when the family's earldom of March passed to Richard, duke of York. (fn. 69) The earldom was united with the Crown on the accession of Edward, earl of March, in 1461. (fn. 70) The overlordship was last mentioned in 1622. (fn. 71) The Vescy family were mesne lords in the late 13th century. (fn. 72)
Robert de Ros held land in Melbourne and Storwood in the early 13th century by a Vescy grant, (fn. 73) and his son William had a knight's fee there and elsewhere in 1243. (fn. 74) At his death c. 1285 William's son Robert held STORWOOD manor, (fn. 75) and the estate, comprising 6 carucates in Melbourne and Storwood in 1289-90, continued to descend in the main line of the Ros family. (fn. 76) Margery, widow of William, Lord Ros (d. 1343), held the manor as dower until her death in 1363. (fn. 77) Thomas, Lord Ros (d. 1384), held the estate jointly with his wife Beatrice, who died seised of it in 1415. (fn. 78) After Thomas, Lord Ros's attainder in 1461 the manor was granted for life to Ralph, Lord Greystoke, in 1468. (fn. 79) It may have been briefly regained that year, when it was settled on Thomas's son Richard. (fn. 80) Edmund de Ros was restored on Henry VII's accession. Edmund's sister Eleanor married Sir Robert Manners and at Edmund's death in 1508 the manor passed to her son Sir George Manners. (fn. 81)
The Manners family, earls of Rutland, held it (fn. 82) until the death of Elizabeth Manners in 1591, when her heir was her son William Cecil, Lord Ros. (fn. 83) Cecil died in 1618 and his uncle and heir Sir Richard Cecil (fn. 84) sold the manor to Sir Peter Chapman in 1620. (fn. 85) Chapman died seised of the manor of Storwood and Melbourne in 1622, leaving as coheirs John Bradley, William Blanshard, and Elizabeth Robinson, his nephews and niece. Blanshard and Elizabeth Robinson confirmed their purparties to Bradley, (fn. 86) whose son Peter later married an Elizabeth Robinson. (fn. 87) Sir Charles Bolle and John Bowles were involved in Bradley-Robinson settlements of the mid 17th century, (fn. 88) and it was by the terms of another John Bolle's will, dated 1727, that the manor passed to his niece Margaret Spencer and her husband William in 1735. (fn. 89) John Stephenson acquired an interest in the property in 1738 although it was not until 1761 that William Spencer released his remaining rights. (fn. 90) Sarah Stephenson devised the manor in 1775 to her cousin Elizabeth Danser, who had succeeded by the following year, and she sold it to John Walker in 1786. (fn. 91) The estate was briefly divided by sales to Barnard Clarkson and Thomas Whitaker in 1790, (fn. 92) but was reunited when Henry Vavasour bought the parts in 1793 and 1797. (fn. 93) His grandson Sir H. M. Vavasour sold the manor in 1850 to James Christie, (fn. 94) and in 1890 the manor, Melbourne Hall, and over 1,900 a. were sold to Walter Cliff. (fn. 95) Charles Bedwell bought the estate from Cliff's executors in 1920. (fn. 96) The Bromborough Estate Co. bought the manor and about 1,400 a. in 1926, (fn. 97) but disposed of most of the estate in separate lots in the 1950s and 1960s. (fn. 98)
The Ros manor-house at Storwood was mentioned in 1285 (fn. 99) and was described as ruinous in 1343; (fn. 100) the site, at the south end of the hamlet, is still surrounded by a prominent moat. (fn. 101) It may have contained a chapel, for in 1414 Beatrice de Ros left £20 for a chaplain to celebrate mass in Storwood chapel. (fn. 102) In 1639 John Bradley was living at Storwood, though apparently not in the manor-house. (fn. 103) The present Manor House is a mainly 19th-century building. By the late 18th century, however, the manor-house had been moved to Melbourne. Melbourne Hall was built soon after the inclosure of 1782; by 1790 the manorial estate included the 'lately erected' house and its gardens, as well as an adjacent piece of East moor planted with trees and presumably emparked. (fn. 104) The house was let intermittently during the 19th and early 20th centuries. (fn. 105) Together with its 71-acre park it was bought from Charles Bedwell by William Egerton in 1923, (fn. 106) and in 1940 the property passed to John Seed and his wife, the widow of Francis Egerton. (fn. 107) Melbourne Hall is a large red-brick house of two storeys, with three canted bay windows placed at the centre and ends of the south front. Its west front incorporates the original stable block, and the present stables to the north of the house date from the early 19th century.
The Ros family held Breighton manor as well as Storwood and Melbourne, and land in Melbourne became attached to Breighton. Thus in 1361 Sir James de Ros of Gedney (Lines.) died seised of Breighton and rents from 6½ bovates in Melbourne held of Thomas, Lord Ros. Sir James's son Sir Robert succeeded to the properties (fn. 108) and died in 1381, leaving his brother Nicholas as his heir. (fn. 109) Breighton, apparently still with the land in Melbourne, passed like a manor in Hunmanby to the Paulets and Strangeways in the 16th century. (fn. 110) In 1544, however, the manor was granted by the Crown to Matthew, earl of Lennox, and his wife, (fn. 111) and in the early 17th century 167 a. of former Lennox land in Melbourne were let by the Crown. (fn. 112) The estate had passed to the archbishop of York by 1664. (fn. 113) The archbishop was awarded 140 a. at inclosure in 1782, (fn. 114) when his whole Melbourne estate comprised 314 a. (fn. 115) In the 1850s the archbishop and the Ecclesiastical Commissioners sold about 322 a. in Melbourne, some of it described as formerly belonging to Breighton manor; the largest sale, of about 137 a., was to James Christie. (fn. 116)
The chapter of York had an estate in Melbourne in the 18th century: they were awarded 23 a. at inclosure for their open-field land, and about 50 a. of old inclosed ground belonging to them were involved in exchanges. (fn. 117) Their lands probably included an unspecified amount bought in 1717 as a choir endowment. (fn. 118) In 1900 the chapter had 162 a. at Melbourne. (fn. 119) The estate was transferred to the Ecclesiastical Commissioners in 1938, and the Church Commissioners sold it as Deanery farm to J. H. Gibson in 1950. (fn. 120)
By the mid 19th century St. Peter's School, York, had an estate at Melbourne which was intermingled and administered with that of the chapter. (fn. 121) The school's 70-acre estate was sold in 1904 to Walter Cliff. (fn. 122)
Warter priory had a hermitage at Storwood in the 12th century. (fn. 123) In the 14th and 15th centuries the Ros profits at Storwood and Melbourne included £20 rent from the priory, part of it perhaps for property there. (fn. 124) Fountains abbey held a bovate in Thornton in 1428. (fn. 125)
From 1252 Thornton rectory belonged to the dean of York. (fn. 126) The tithes of Thornton and Melbourne were worth £30 and £32 a year respectively in 1650. (fn. 127) In 1802 the Thornton tithes were valued at £103, (fn. 128) and rent-charges of about £281 were awarded to the dean at their commutation in 1845. (fn. 129) The Melbourne tithes were commuted at inclosure in 1782 for 233 a. and rent-charges of about £4. (fn. 130) The tithes of corn, hay, wool, and lambs at Storwood were let for short terms from 1538 and for lives from the late 16th to the early 18th century, during which time they were held by the Constable family. (fn. 131) They were valued at £14 in 1650 (fn. 132) and at their commutation in 1782 rent-charges of nearly £38 and 52 a. were awarded to the dean. (fn. 133)
The rectorial glebe consisted c. 1613 of 38 a. in Hall garth, 14 a. in East field, and 7 a. in the ings, all in Thornton. It included land granted to the dean, probably at an early date, (fn. 134) in lieu of certain tithes: he was thus entitled to take the forecrop from Kettlesall hill in the west ings 'in consideration of the tithe hay of all the lord's common meadow grounds . . . and land ends' in Thornton, and he was similarly restricted to the first crop in East field and East ings. (fn. 135) The glebe at Thornton still consisted of 60 a. in the early 19th century. (fn. 136)
In 1844 the rectorial estate was vested in the Ecclesiastical Commissioners, (fn. 137) who sold all 233 a. in Melbourne to James Christie in 1854 (fn. 138) and the land in Thornton to George Wyndham in 1857. (fn. 139) A house stood in Hall garth c. 1613 (fn. 140) and an early19th-century description of the dean's farm at Thornton mentions Rectory House in the garth; the house was not referred to in 1857. (fn. 141)
ECONOMIC HISTORY.
There was land for three ploughs at Thornton in 1086 but the estate, which had been worth 14s. before the Conquest, was then waste. (fn. 142) Subsequent reclamation is undocumented, but by 1225 land in the field to the north of the chapel was mentioned, together with probable meadow land at 'Keteleshal'. (fn. 143)
The manor was worth about £29 in the 1530s and 1540s, the tenants' rents amounting to nearly £26 and the farm of the water-mill to £3. (fn. 144) The value of the manor was much the same c. 1570. (fn. 145)
By the late 16th and early 17th centuries (fn. 146) there were two open fields in Thornton, called East and West fields by 1577 and containing 282 a. and 248 a. respectively c. 1613. East field included one consolidated but uninclosed holding, the 14 a. of rectorial glebe known as Dean's or Dean's Broat flat. Part of East field, containing 92 a. c. 1613, was called Crossgate field. The open fields had almost certainly been diminished by this period. In 1616 East field thus had many small closes, called Holcar and Lowfield closes and Under Deans Broats, containing in all about 140 a., on its northern flank. The 8-acre Bownam, described as 'all one furlong' in 1577, may similarly represent an inclosed portion of neighbouring West field. Fifteen acres were inclosed in Scorbutts and Borow flat on the northern edge of West field c. 1613, while in 1616 one man held his 16-acre share of the field in severalty.
Alongside the Beck in the south and east of the township there were 250-300 a. of common meadows. In 1616, for example, East ings contained 50 a., West carr (or West ings) 100 a., Birkham and Langwith ings no a., and Whitwell butts and ings 19 a. The 13-acre Oddland or Outland ing, adjoining East ings, was shared with Lord Ros, who took the first hay crop and left the aftermath to the lord and tenants of Thornton. The 50-acre Furby carr was apparently the only sizeable meadow held in severalty at this period.
The common wastes at Thornton consisted of East and West moors, Dry carr (or Dry Acre) common, and Eller carr, which was intercommoned with the tenants of Woodhouse. The moors, described as 'very good and large' in 1577, provided 'sufficient common' for each tenant's beasts, as well as turves for which all the inhabitants paid 10s. a year. East moor had, nevertheless, been diminished by inclosure. In 1616 56 a. in Moor closes and other closes on the moor's western flank were held by the inhabitants of Millhouses, who may have been responsible for assarting them. Haverland closes to the east of the moor then contained about 70 a., and two small closes near Walbut mill had also been taken out of East moor by c. 1613. Nevertheless, just over 200 a. of the moor remained; it was apparently subject to temporary division for practically all of it was let to 'oxgangmen and grassmen' c. 1613 in plots of 3-8 a.; only 15 a. 'at the town end' was then in common use. Parts of West moor were also improved and divided. Thus by 1616 33 a. had been fully inclosed as 'improvements'. About 1613 a further 528 a. in West moor, Dry carr, and Eller carr were let to tenants in temporary divisions of 30-36 a., and in 1616 there were various 'parts' in the moor, some of 36 a. There were still 180 a. in common use.
All 40 tenants at Thornton in 1570 were leaseholders, including three cottagers; 10 of them had 2 bovates each, 18 had one, and there were also unspecified amounts of land in some of the holdings. In 1577 tenants-at-will held 46 houses and cottages in the township. The only freeholders c. 1613 were the rector and the vicar. Tenants then held 47 houses and 1,884 a. of land; 17 holdings comprised 60-79 a. each, 19 contained 20-59 a., and 16 were of under 20 a. The 17 largest holdings were held by two-oxgangmen c. 1613; with one exception each of them had a basic holding composed of 15½ a. in West field, 3 a. in Crossgate field, 3 a. in East ings and 6 a. in West ings, and 30-36 a. in Eller carr, Dry carr, and West moor. The one-oxgangmen each had 10 a. in East field, 5 a. in Birkham and Langwith, and 8 a. in East moor. The cottagers held no openfield land but rented small plots in the ings and East moor. There were about 250 a. unlet c. 1613.
The remaining open fields were inclosed c. 1760 without an Act. Crossgate was by then known as Crosswood field, (fn. 147) while parts of West field were called Town End, West Hill, and Brick Kiln fields. Inclosure was imminent in 1758, when it was specified that tenants' leases were to be void in the event of it, (fn. 148) and had been effected by 1767. (fn. 149) The common meadows were inclosed between 1767 and 1845. (fn. 150)
Much of the waste was probably inclosed at the same time as the open fields. East moor, which still contained some 50 beast-gates in 1758 (fn. 151) and included 135 a. in 1767, (fn. 152) nevertheless lay in distinct parcels in the latter year and was certainly in closes by 1845. (fn. 153) In 1755 West moor contained 235 a., occupying the ground lying west of the old Waplington road and part of the temporary divisions of the early 17th century. The rest of the divisions lay in several Moor closes by 1767, and Eller carr had been fully inclosed by that date. An outgang along the township's northern boundary remained in common use in 1767. (fn. 154) The common was further reduced in the late 18th and early 19th centuries, some of the former waste being used for rabbit-farming. In 1797 one farm included 111 a. in use as a warren and another consisted of 144 a. which had 'lately been a warren'. In 1845 a 28-acre close called Rabbit Warren lay next to the common, which by then had shrunk to 77 a. (fn. 155)
On the eve of inclosure in 1758 there were 35 holdings at Thornton, 18 of 50-120 a., 8 of 20-49 a., and 9 of less than 20 a. (fn. 156) By 1797 there were 42 holdings, 14 of over 50 a., 10 of 20-49 a., and 18 of less than 20 a. (fn. 157)
In 1086 there was land for three ploughs at Melbourne. The estate had been worth 20s. before the Conquest but was then waste, like the land at 'Chetelstorp'. Pasturable woodland at Melbourne was 2 leagues long and 2 furlongs broad. (fn. 158)
By the 13th century much land in the townships of Melbourne and Storwood had been reclaimed, although extensive wastes remained. In 1285 the value of the manor, about £28, was equally divided between Storwood and Melbourne. As well as the manor-house and park, valued at £3 10s. a year, there were 80 a. of arable land in demesne at Storwood, and a turbary worth,£6 13s. 4d. Twelve cottagers, who had fishing rights, paid over £1 in rents. At Melbourne three free tenants owed rents of about £2, bondsmen held 27 bovates for £9, and 20 cottagers paid about £1. There were also 12 a. of meadow, presumably in demesne, and a mill. (fn. 159) The turbary lay in the waste already known as Landrikmose in the 13th century. (fn. 160) The Ros right of free warren in Landrikmose occasioned at least one dispute with men from adjoining townships. (fn. 161) The cottagers' fishing rights were not in the Beck but in a pool in neighbouring Wheldrake parish; thus in 1218-19 the abbot of Fountains granted members of the Ros family the right to fish Alemar when they were in Yorkshire, but restricted the men of Storwood to fishing there according to custom and at certain times. (fn. 162) The park at Storwood was repeatedly alleged to have been broken by trespassers in the late 13th and 14th centuries. (fn. 163)
In 1343 the manor was worth about.£30. The demesne comprised 80 a. of poor land, 14 a. of meadow, 12 a of poor-quality meadow called Oddland ing, and a close at Melbourne. The park was valued for herbage and there was a small wood. The herbage and turves of the moor were worth £5, unless there was flooding, and a fishery 'in the marsh' produced 6d. in summer. The rents of villeins and tenants-at-will at Melbourne amounted to £14, those of cottars to nearly £3, and those of freeholders to £1 6s. 8d. At Storwood the tenantsat-will owed about £1 15s. Court profits were only 3s. 4d. because of the tenants' poverty. (fn. 164)
The manor was valued at about,£38 a year in 1421. In addition to the turbary and the park, which were worth £15 a year, there were 80 a. of arable and 80 a. of meadow in demesne; the rents of free tenants amounted to £1 10s. and those of 20 tenants-at-will to £10. (fn. 165) The manor was worth £55 a year in the mid 16th century. (fn. 166) In 1622 the manor of Storwood and Melbourne comprised 410 a. of arable, 236 a. of meadow land, 920 a. of pasture, and 400 a. of waste. (fn. 167) Little is known of the open fields at Storwood but ridge-and-furrow exists around the hamlet. There were common ings and carrs in the township alongside the Beck and a considerable area of waste in Landrikmose, which was usually called West moor or Ross moor, after the seigneurial family, in the 17th and 18th centuries. (fn. 168) The park, which probably lay to the east of the manorhouse on ground now called the Parks, was described as a close in 1727, (fn. 169) and in 1776 the manorial estate in Storwood consisted of 55 a. in nine closes, besides 9 a. in the carrs. (fn. 170) Apart from the lord of the manor there were 22 proprietors in the township in 1782 holding 643 a. of old-inclosed land. (fn. 171)
In Melbourne township four open fields, Angram, Church, Garth End, and West fields, survived into the 18th century, though their size may have been reduced before final inclosure in 1782. Thirteen closes called Angrams, containing 25 a. in 1776, may thus have been taken from the adjacent Angram field. (fn. 172) Ings and carrs bordered the Beck, and the township had extensive waste in Ross and East moors. The turbary was still exploited by the lord in the 17th century, when every husbandman in Melbourne and Storwood was bound to render him a load of turves or 1s. (fn. 173) By 1782 there were several hundred acres of old inclosures in the south of Melbourne, including an area called New moor. (fn. 174) Old closes called Coney garths, mentioned in 1790, suggest that a rabbit warren was formerly sited in the south of the township. (fn. 175)
The remaining open fields and other common lands were inclosed in 1782 (fn. 176) under an Act of 1777. (fn. 177) A total of 2,344 a. were allotted, at least 1,182 a. lying in Ross moor, about 500 a. in East moor, 60 a. in Angram field, 88 a. in Garth End field, at least 99 a. in the ings, and over 53 a. in the carrs. Awards of plots of mixed origin make it impossible to determine the areas more fully. John and Elizabeth Danser received 1,045 a. for their land and manorial rights in the waste, the dean of York 283 a. and the vicar 62 a. for their tithes, and the archbishop of York 143 a. There were also 6 allotments of 40-80 a., 9 of 20-39 a., and 28 of less than 20 a. As provided for in the Act, the costs of inclosure were covered in the case of the dean, vicar, and archbishop by the deduction and sale of a proportion of their allotments. About 100 a. of old inclosed ground were involved in exchanges effected at inclosure.
In the 19th and early 20th centuries there were generally 13-18 farmers in Thornton, of whom about 5 had 150 a. or more in the 1850s, 1920s, and 1930s. At Melbourne there were usually 20-30 farmers, including 4 with over 150 a. in the 1850s and one in the early 20th century. There were 6-10 farmers at Storwood, only one with over 150 a. (fn. 178)
In 1801 1,299 a. in Thornton and Melbourne were under crops, mainly oats (546 a.) and wheat (370 a.). (fn. 179) There was, however, much woodland in Melbourne and Storwood following the 1782 inclosure; by 1790 part of East moor had been planted with trees, and in the late 19th century the timber on the Melbourne Hall estate was valued at nearly £10,000. (fn. 180) At Thornton in 1845 there were 1,457 a. of arable, 463 a. of meadow and pasture, 167 a. of woodland, and 77 a. of common. (fn. 181) The position was much the same in 1905, with 1,426 a. of arable, 739 a. of grassland, and 30 a. of woodland. Arable was less prominent in Melbourne in 1905, with 1,459 a. compared with 1,271 a. of grassland and 204 a. of woodland. At Storwood there were about 509 a. each of arable and grassland, and 52 a. of woodland. (fn. 182) In the 1930s and later the parish had roughly equal amounts of arable and grassland, with the former predominant in the east and grassland in the west alongside the Beck and on the former Ross moor. In the 1960s Thornton also included an area of rough pasture, comprising Seavy carr and Bownams. Most of Thornton's woodland, and notably that on the common, had disappeared by the 1930s. (fn. 183) In the 1960s the Forestry Commission acquired 49 a. of woodland in Melbourne and 25 a. in Storwood. (fn. 184)
There was little non-agricultural employment in the parish before the 19th century. A shearman was mentioned at Melbourne in 1559, (fn. 185) and two weavers in the early 18th century. (fn. 186) Brick Kiln field in Thornton was mentioned in 1758, (fn. 187) and there was a brickyard on East moor in Melbourne in 1790. (fn. 188) By 1851 Melbourne had two brick-makers and Storwood one, (fn. 189) but the occupation was not mentioned after 1892 for Melbourne and 1879 for Storwood. (fn. 190) Brick-making and marling account for the numerous pits in Melbourne. (fn. 191) The coal merchant, waterman, lock-keeper, and sailor mentioned at Melbourne in 1851 were presumably all dependent upon the canal. (fn. 192) In 1974 a firm of agricultural merchants had premises on the site of airfield buildings to the east of Melbourne village.
Walbut mill, which was mentioned in 1323 (fn. 193) and frequently thereafter, stood on the Beck south-east of Thornton village. A miller was last mentioned in 1901 but the building still stood in 1974. (fn. 194) The site of another mill, probably wind-powered, lay at the east end of Hall Garth in 1577; (fn. 195) the mill presumably existed by the 14th century, when Millhouse was first mentioned. (fn. 196) A mill at Melbourne was mentioned in 1285 (fn. 197) and a ruined windmill in the early 16th century. (fn. 198) It perhaps stood at the east end of the village, where the name Mill Hill still survives.
LOCAL GOVERNMENT.
Surviving court rolls for Wressle from the period 1505-1663 contain information about its member Thornton, (fn. 199) and call rolls and other records of Thornton manor survive from the period 1833-57. (fn. 200) In the 16th and 17th centuries there were usually 2 constables, 2 keepers of the assize of ale and of bread, 4-5 bylawmen, and a pinder at Thornton. (fn. 201) In the mid 19th century the officers included one or 2 constables, 2 bylawmen, and one or 2 pinders. Court rolls exist for Melbourne and Storwood for a dozen years between 1521 and 1581. (fn. 202) There were 4 bylawmen for Melbourne in the 16th century, and 2 bylawmen, 2 constables, and 2 aletasters for Storwood.
Churchwardens' accounts survive from 1822 onwards. (fn. 203) There were poorhouses at Melbourne in the 19th century. (fn. 204) Thornton, Melbourne, and Storwood joined Pocklington poor-law union in 1836 (fn. 205) and Pocklington rural district in 1894. (fn. 206) They became part of the North Wolds district of Humberside in 1974.
CHURCH.
Although not named, Thornton, like Allerthorpe, was one of the chapels given by the king between 1100 and 1108, along with their mother-church of Pocklington, to the archbishop of York and York minster. They were apparently assigned by the archbishop to the dean, and between c. 1119 and 1129 the king confirmed the assignment. (fn. 207) The parish was subsequently within the dean's peculiar jurisdiction. In 1225 the archbishop confirmed a gift of land and the altarage of the chapel which the dean had made to one of his clerks 'in the name of a vicarage', (fn. 208) but it was not until 1252 that a vicarage was fully ordained jointly at Thornton and Allerthorpe, with provision that a minister be found for each church. (fn. 209) Subsequently Thornton was a vicarage and Allerthorpe a curacy. There were separate ministers in 1525-6, but from the 17th century the vicarage and curacy were usually held by one man. (fn. 210) Baptisms and marriages apparently took place at both Thornton and Allerthorpe after 1252, but the right of burial was reserved to Pocklington until 1360. (fn. 211) Thornton and Allerthorpe still constituted a united vicarage in 1974.
The advowson presumably belonged to the dean of York in the Middle Ages and later, despite a Crown grant of it, along with Thornton manor, to Thomas Percy in 1557. (fn. 212) In 1650 the advowson, said to have formerly belonged to the dean, was held by the Commonwealth. (fn. 213) The Crown presented in 1660 (fn. 214) but the dean in 1662 and later. (fn. 215) With the vesting of the rectory in the Ecclesiastical Commissioners in 1844, the patronage passed automatically to the archbishop of York. (fn. 216) In 1871 it passed to the Crown by exchange, (fn. 217) and the patronage was exercised by the Lord Chancellor in 1973. (fn. 218)
The vicar's income in 1525-6 was £3 5s. (fn. 219) The vicarage was worth £7 5s. 8d. net in 1535 (fn. 220) and £6 10s. in 1650. (fn. 221) The average net income of the joint living in 1829-31 was £210. (fn. 222) In 1863 rentcharges of about £86, formerly belonging to the dean of York, were transferred to the vicarage by the Ecclesiastical Commissioners, and the living was simultaneously endowed with £100 a year for a curate. (fn. 223) The net value of the living was c. £300 in 1884 and £239 in 1915. (fn. 224)
In 1252 the vicarage was endowed with the small tithes. (fn. 225) Those in Melbourne were valued at £3 a year in 1650, (fn. 226) and in 1684 an annual composition of £20 was paid for the small tithes and fees in Thornton, Melbourne, and Storwood. (fn. 227) At inclosure in 1782 the vicar was awarded 62 a. and rent-charges of 15s. in Melbourne and £8 18s. in Storwood in lieu of tithes. (fn. 228) The Thornton tithes were commuted for £92 in 1845. (fn. 229) The 66-acre Glebe farm in Melbourne was sold to Walter Cliff by the Ecclesiastical Commissioners in 1901. (fn. 230)
The parsonage house stood next to Thornton church in 1616 (fn. 231) and was in need of repair in the 1620s. (fn. 232) In 1726 it consisted of three rooms 'on one floor' and a back kitchen. (fn. 233) The house, of brick and 'post and pan' with a thatched roof, had probably been enlarged by 1770, when it also had a parlour, three chambers, and a garret. (fn. 234) By 1809, however, the vicar had moved to Allerthorpe, (fn. 235) and by the mid 19th century the Thornton house had been demolished. (fn. 236)
There may have been a chantry in the church for in the 1530s and 1540s £1 6s. 8d. a year was paid out of Thornton manor to the chaplain of the chantry 'next to Thornton'. (fn. 237) In 1554 the Crown granted a bovate in Allerthorpe, which had formerly supported an obit in Thornton church, to John and Joan Constable. (fn. 238)
In addition to the vicar there were two parochial chaplains at Thornton and Melbourne in 1525-6, each receiving £4 a year. (fn. 239) During the 18th century and the first quarter of the 19th the incumbent also held the vicarage of Barmby Moor with Fangfoss. (fn. 240) An assistant curate appointed after 1863 (fn. 241) later served a new church built at Melbourne in 1882, (fn. 242) and there continued to be a curate until 1926. (fn. 243)
There was a weekly service at Thornton in 1743; Holy Communion was celebrated four times a year and about 58 people communicated at Easter. (fn. 244) By 1871 two services were held each Sunday, of which one a week in summer and one a fortnight in winter were in Melbourne school; there were, however, only three communion services a year, with an average of 12 communicants. (fn. 245) Communion was celebrated monthly from 1877 but 'very few' communicated. By 1894 there was only one service a week at Thornton, but a second service was held in Melbourne mission church. In 1915 two weekly services were held at Thornton and two at Melbourne. Communion was celebrated at least monthly at Thornton and on occasion at Melbourne, and at Easter 1914 there were 14 and 38 communicants respectively. (fn. 246) In 1973 no services, apart from Holy Communion, were held in Thornton church, but there were two services a month at Melbourne church, one held with the Methodists, and a further two united services in the Methodist chapel at Melbourne.
The church of ST. MICHAEL is largely built of rubble and consists of a chancel and a nave which formerly had a north porch. No part of the fabric can be certainly dated to a period earlier than the 14th century, but the nave may now incorporate a former north aisle and the small size of both nave and chancel suggests that their plan is earlier. The 14th-century features include windows in the nave and chancel, and both doorways. The side windows in the chancel are of unusual design and may date from the 15th century.
In 1568 the windows and fabric of the chancel were in decay but they had apparently been repaired by 1590. (fn. 247) There was a restoration in 1890-2 under the direction of Ewan Christian when the west end and the chancel arch appear to have been rebuilt and the roofs renewed. (fn. 248)
The church had four bells in 1552 but by 1770 only two. (fn. 249) There are still two: (i) 1767; (ii) undated. (fn. 250) In 1552 the church had a silver chalice. (fn. 251) The present plate includes a silver communion cup, inscribed in 1715 but of an earlier date, and a pewter flagon and paten. A silver service presented by J. C. Hanson, vicar, in 1892 was used at Melbourne mission church. (fn. 252)
The registers of baptisms and burials begin in 1615 and are complete; the marriage registers are complete from 1652. (fn. 253) The churchyard was extended in 1926. (fn. 254)
The iron mission church at Melbourne, dedicated to St. Monica, was made by the Windsor Iron Works, Liverpool, and erected in 1882. (fn. 255) The cruciform church, with its north-east vestry and north-west tower and spire above a porch, has a corrugated iron exterior and a pine-boarded interior. The font was given by Thomlinson Walker. (fn. 256)
NONCONFORMITY.
There were 4-11 Roman Catholics at Thornton in 1615-27 and in the 1640s and 1660s, but only 2 in the mid 18th century. (fn. 257) Melbourne and Storwood had 11 recusants in 1664. (fn. 258)
The Methodists had 22 members at Thornton in 1789, the number rising to 64 in 1798 and standing at 37 in 1816. At Melbourne there were about 20 members in 1805-16, and 6-25 at Storwood in 1799-1816. (fn. 259) Houses and other buildings at Thornton were licensed for dissenting worship in 1764, 1784, 1791, 1803, 1812, 1819, 1820, 1821, 1827, and 1841. (fn. 260) Private buildings were also registered at Melbourne in 1791, 1819 (two), and 1820, (fn. 261) and at Storwood in 1820. (fn. 262) A Wesleyan schoolroom existed at Thornton by 1800 and was being used for worship in 1851; (fn. 263) a chapel was built in 1909 (fn. 264) and was still in use in 1974. Wesleyan and Primitive Methodist chapels were built at Melbourne in 1811 and 1821 respectively, (fn. 265) and a Wesleyan chapel at Storwood in 1837. (fn. 266) The Storwood chapel was rebuilt on a new site and registered in 1895; it had closed by 1954 and has since been demolished. (fn. 267) The former Primitive Methodist chapel at Melbourne had ceased to be used for worship by 1949, (fn. 268) but was still standing in 1974. The former Wesleyan chapel was in use in 1974; it has pointed windows with wooden tracery.
EDUCATION.
In 1743 the parish clerk taught the principles of Christian religion in a private school at Thornton, (fn. 269) and a schoolmaster was supported by parents in 1764. (fn. 270) About 1800 the Poor's Money and a sum raised by assessment were used to build a school-house. (fn. 271) Fifteen children attended a school supported by subscription in 1819, (fn. 272) and 23 pupils were paid for by their parents in 1835. (fn. 273) Although the school received £5 a year from Col. George Wyndham in 1856, (fn. 274) it was described as an unendowed church school in 1865, when about 35 were in attendance. (fn. 275) The average attendance at the school, which was united with the National Society, was 12 in 1871 and about 25 in 1877. (fn. 276) The school received an annual government grant from 1875. (fn. 277) Between 1906 and 1932 attendance was usually 20- 25, but it fell to 14 in 1938. (fn. 278) A new school was built on the same site in 1927. (fn. 279) The senior pupils were transferred to Pocklington in 1955, and in 1965 the remaining pupils were sent to Melbourne primary school and Thornton school was closed. (fn. 280) The school, standing behind the former master's house, was used as a dwelling house in 1974.
At Melbourne the Poor's Money and a sum raised by subscription and assessment were used to build a school in 1810. (fn. 281) By 1835 the township had three schools, attended by 57 pupils at their parents' cost; (fn. 282) a schoolmaster lived in the village in 1851, and a dame school was mentioned in 1865. (fn. 283) There were two schools, catering for 24 children, in 1871, one of them a National school. (fn. 284) A school board was formed in 1875, and a new school built in 1878 initially had 65 pupils. (fn. 285) The school received an annual government grant from 1880. (fn. 286)
In 1906-27 attendance fluctuated between 42 and 54, but had fallen to 31 by 1938. (fn. 287) In 1953 the senior pupils were transferred to Market Weighton and the school was reorganized as a junior and infants' school. (fn. 288) A new school was opened close by in 1961 and enlarged in 1969; the old building was demolished. (fn. 289) There were 124 on the roll in January 1974. (fn. 290)
In the early 20th century children from Storwood attended the school at East Cottingwith. (fn. 291)
CHARITIES FOR THE POOR.
Thomas Wood, by will dated 1568, devised a rent-charge of £10 a year from an estate at Kilnwick Percy for the benefit of Thornton, Melbourne, and many other townships. In 1824 Thornton and Melbourne each received 5s. (fn. 292) Henry Frederick, Baron Hotham, owner of the Kilnwick Percy estate, redeemed the rent-charge in 1961 and £10 stock each was subsequently assigned to Thornton and Melbourne. (fn. 293) The Thornton income of 5s. was not distributed in 1968. (fn. 294)
The Poor's Estate at Thornton, comprising various small benefactions, had a stock of about £33 in 1743 (fn. 295) and £28 in 1786. The interest was distributed to the poor until c. 1800, when the capital was used to build a school-house and a smithy. The income was thereafter derived from the rents of the buildings, which amounted to £2 a year in 1824, when the Poor's Estate was administered with Wood's charity. (fn. 296) No more is known of the charity.
The Poor's Estate at Melbourne comprised various gifts and had a stock of about £60 in 1743, (fn. 297) £47 in 1764, (fn. 298) and £40 in 1786. It was used c. 1810 to build a school and an adjacent house; the latter was let for the poor's benefit and produced £2 a year in 1824, (fn. 299) and after its disuse as a school the former also produced rents for the poor. (fn. 300)
Oddland ing in Thornton was said c. 1805 to be charged with annual payments of 5s. each to the Melbourne and Storwood poor. (fn. 301) It was presumably the same land from which 5s. was paid to the poor of Melbourne in 1824, when it was applied with the Poor's Estate and Wood's charity. (fn. 302) The charity may have derived from the share in Oddland ing enjoyed by the lords of Storwood and Melbourne in the 17th century. (fn. 303)
Wood's charity for Melbourne, the Melbourne Poor's Estate or Old School House charity, and the unknown donor's charity (Oddland ing) were combined as the United Charities under a Scheme of 1912. The total endowment was represented by £142 stock in 1970, and by a Scheme of that year the income was to be used for gifts in money and goods. (fn. 304) The income of £3.50 was not distributed in 1973. (fn. 305)