Pages 190-197
A History of the County of York East Riding: Volume 3, Ouse and Derwent Wapentake, and Part of Harthill Wapentake. Originally published by Victoria County History, London, 1976.
This free content was digitised by double rekeying. All rights reserved.
WILBERFOSS
The parish of Wilberfoss, including Newton upon Derwent township, lies about 7 miles east of York, on the east bank of the river Derwent and astride the Escrick moraine. (fn. 1) Newton village lies on the slopes of the moraine but Wilberfoss stands just to the east of the ridge beside the substantial Foss beck, which flows southwards to become Blackfoss beck in Sutton upon Derwent. The name Wilberfoss was not recorded until c. 1150 but it seems likely that it was an Anglian settlement, possibly established near an improved natural stream. Newton was first mentioned at the same time and its suffix was added in the 13th century. (fn. 2) The irregularly-shaped parish covers 3,185 a., of which Wilberfoss township accounts for 1,472 a. and Newton 1,713 a. (fn. 3) Newton and Wilberfoss civil parishes were combined in 1935. (fn. 4)
The moraine, composed of glacial sand and gravel and boulder clay, exceeds 50 ft. above sea-level across the whole width of the parish, separating lower ground towards the Derwent on the west from other more extensive low grounds on the east. The latter are drained principally by Foss and Sails becks and Black dike. In the extreme east of the parish the ground again rises above 50 ft. Long stretches of the parish boundary are formed by the Derwent and the becks. Part of the open-field land of both villages lay on the moraine but much of it occupied the outwash sand, silt, and clay of the low ground in the middle of the parish. In the west of Newton and in the east of both townships there were extensive common pastures, and limited areas of common meadow land lay on the alluvium beside the river and streams. (fn. 5) The open fields and other common lands were inclosed in 1766.
The principal road in the parish, leading from Kexby bridge over the Derwent, through Wilberfoss village, and on towards Barmby Moor, now forms part of the York-Hull trunk road. It crosses Foss beck by Stone bridge, so named by 1850, (fn. 6) which was probably the Wilberfoss bridge mentioned in 1463 (fn. 7) and in the early 18th century. (fn. 8) The present bridge consists of three brick arches. It perhaps dates from the 18th century but has been widened on both sides. The road was turnpiked in 1764 and side gates were set up at the end of roads leading from Fangfoss and Newton; the trust was discontinued in 1881. (fn. 9) Two of the milestones remain. A bypass for Wilberfoss was built in the 1960s and the road widened and straightened on both sides of the village. (fn. 10) A straight road across the former East moor, leading to Bolton, was made at inclosure, together with an unsurfaced road to Yapham. Another minor road, running along the eastern parish boundary, crosses Foss beck by New bridge, so called by c. 1602; the present bridge dates from 1935. (fn. 11) The Newton road runs along the crest of the moraine and on towards Sutton upon Derwent, and from Newton village a minor road runs eastwards to join the York-Hull road and Mask Lane leads down to the Derwent. The Roman road from Brough to Stamford Bridge crossed the parish but its line was not followed by later roads.
The York-Hull road formed the main street of Wilberfoss until the village was bypassed. Near Foss beck it crossed an open area, now partly inclosed, which was presumably the Town Green mentioned in the early 19th century. (fn. 12) From the main street Beckside and Middle Street both lead towards the church, the latter crossing the beck by Church bridge, a single-arched stone footbridge of uncertain date. Back Lane forms a small loop on the south side of the main street and from it Church or Butts Lane led to a footpath formerly running towards Newton.
The earliest houses in the village stand in Middle Street and are at least 18th-century in date. Among later buildings the largest is the Villa, probably built for the cattle dealer H. Q. Gillah c. 1885-90; (fn. 13) it is a white-brick building with large cattle sheds in the same material. The village has greatly expanded since the Second World War and there are several private housing estates, as well as about 60 council houses. An alehouse was licensed at Wilberfoss in 1729 and there were 2-4 such houses in the later 18th century. (fn. 14) In 1823 the inns were the Horse Shoes, the True Briton, and the Waggon and Horses. (fn. 15) The first, usually called the Blacksmith's Arms, stood on the main road at the east end of the village (fn. 16) and was demolished for the building of the bypass. The second, renamed the Oddfellows' Arms by 1840, (fn. 17) still stood in the village centre in 1974. The Waggon and Horses near by had closed by 1872. (fn. 18)
The single village street of Newton lies just to the west of the road along the moraine, here called Back o' Newton, and is joined to it at each end. The most noteworthy houses are two known as Hall Farm. (fn. 19) The Poplars is dated 1868, and there are six council houses. Newton had 1-3 licensed houses in the later 18th century and 2, the Half Moon and the Sportsman, in 1840. (fn. 20) The former still exists in the village street, but the latter was last mentioned in 1851; it stood on the turnpike road near the Barmby Moor boundary. (fn. 21)
There are about ten outlying farm-houses in Wilberfoss township and six in Newton, the latter including Holly Farm with a prominent dovecot; all date from after the inclosure of 1766. Gale House and Peacock Farm in Wilberfoss probably derive their names from two local families, the Gales being impropriators in the 16th and 17th centuries. (fn. 22) In Wilberfoss a mid-19th-century house of brown brick with white-brick dressings stands on the former East moor, where more than a dozen houses and bungalows occupy small allotments made at inclosure in 1766.
There were 105 poll-tax payers in Wilberfoss in 1377 and 63 in Newton. (fn. 23) Forty-four households were listed in the hearth-tax return for Wilberfoss in 1672, 13 of them exempt; of those that were chargeable 25 had only one hearth each, 4 had 2, and 2 had 3 or four. At Newton 4 out of 36 households were exempt; of the rest 30 had one hearth each, one had 2, and one had four. (fn. 24) There were 104 families in the whole parish in 1743 and 65 in 1764. (fn. 25) The population of Wilberfoss township in 1801 was 282; it rose to a maximum of 414 in 1881 and fell to 346 in 1901. Newton had 188 inhabitants in 1801, rising to 246 in 1861 and falling to 216 in 1901. There was little change by 1931, when the two villages had 341 and 193 inhabitants respectively, but thereafter the population of the combined civil parish rose to 648 in 1951 and 860 in 1971. (fn. 26)
MANOR AND OTHER ESTATES.
Wilberfoss and Newton were not mentioned in 1086, when they lay within the manor and soke of Catton. (fn. 27) The lordship subsequently descended with Catton in the Percy, Seymour, and Wyndham families. (fn. 28) Under the Percys a mesne lordship in 5 carucates in Wilberfoss was held by the Kyme family. In 1260 it belonged to William of Kyme and in 1315 to Philip of Kyme; (fn. 29) Philip was described as a lord of Wilberfoss in 1316, along with Eleanor Percy, who was then sole lord at Newton. (fn. 30)
Under the Kymes the demesne tenants included the Burdon family, lords of Kexby. Robert Burdon had 6 bovates in 1260 and Thomas Burdon possibly 20 bovates in 1284-5; (fn. 31) Thomas was granted free warren at Wilberfoss in 1290. (fn. 32) The subsequent descent of this estate is obscure but in the 15th century it belonged, like Scoreby, to the Nevilles, and after the partition of the earl of Warwick's estate in 1474 to the duke of Gloucester. (fn. 33) It was later accounted for along with Sheriff Hutton (Yorks. N.R.). (fn. 34) It was presumably this land which was said c. 1602 to have formerly belonged to the duchy of York: 71 a. of it had been bought by the Percys and 11 bovates belonged to freeholders. (fn. 35)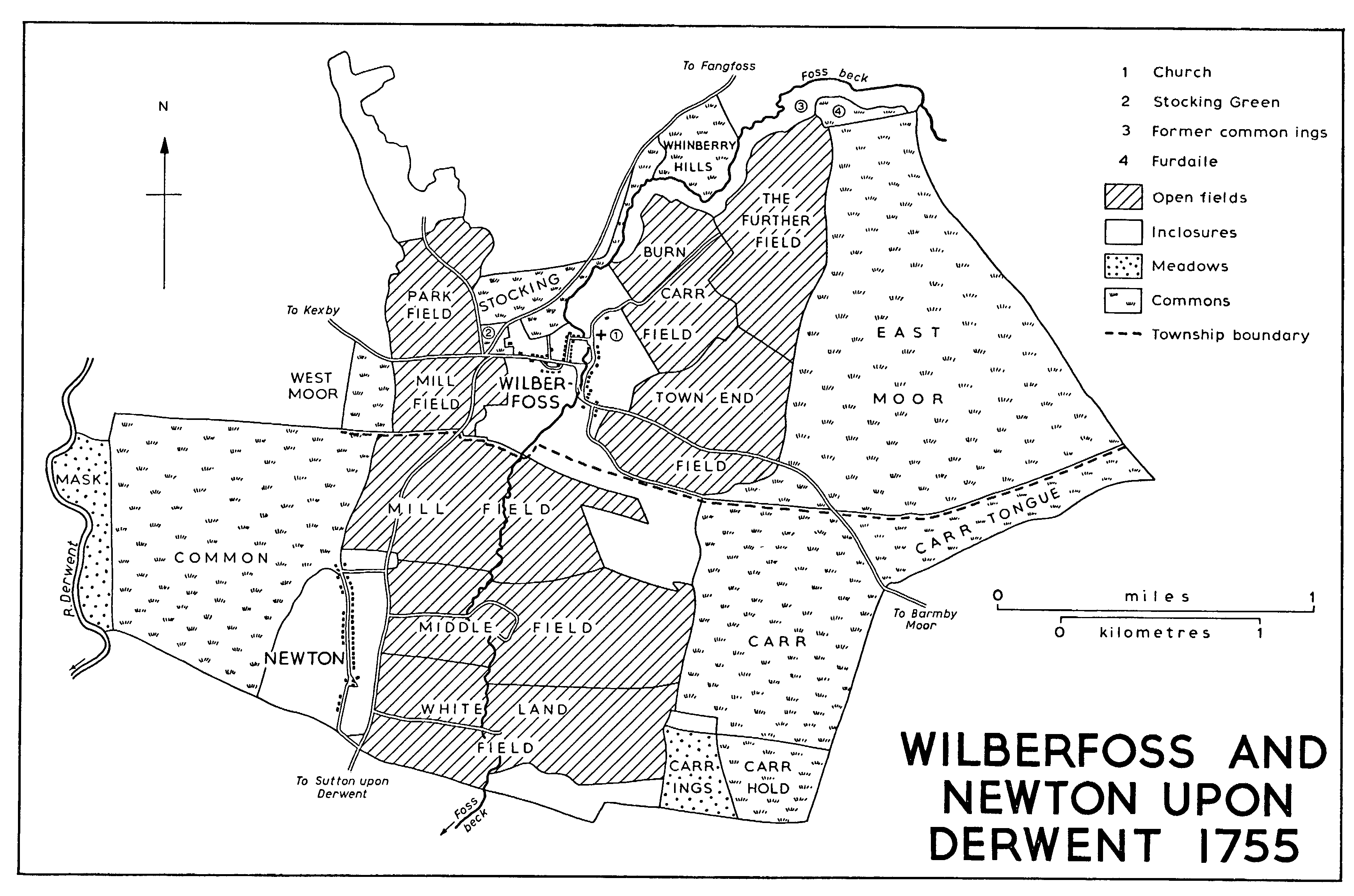 In 1766 the lands of the earl of Egremont, as lord of Catton, comprised 176 a. in Wilberfoss and 350 a. in Newton. (fn. 36) They descended with Catton until 1920-1, when 161 a. in Wilberfoss (fn. 37) and 370 a. in Newton were sold in separate lots by C. H. Wyndham, Lord Leconfield. (fn. 38)
Of the numerous estates held of the Percys and the Kymes only one was reputed to be a manor. In 1314 John de Rotherfeld held 5 carucates in Newton of Henry de Percy, (fn. 39) and this was perhaps the manor of NEWTON which Adam of Rotherham granted to William Clarel in 1319. (fn. 40) In 1473 Newton manor was conveyed by Nicholas Drapour to Richard FitzWilliam. (fn. 41) It was later held by Thomas FitzWilliam (d. 1513) and then by his son Sir William FitzWilliam (d. 1515). (fn. 42) Sir William was succeeded by his daughters Alice (d. 1533), wife of James Foljambe, and Margaret (d. 1557), wife of Geoffrey Foljambe. (fn. 43) Francis Foljambe had the manor in 1577 and Sir Thomas Foljambe c. 1602, when it comprised 10 bovates and some closes. (fn. 44) Sir Thomas sold it to John Molyneux in 1610, and he to Robert Tirwhit in 1614. (fn. 45) Robert Morley was said to have the manor in 1646. (fn. 46)
At least part of the estate may have passed to the Burdon family, who already had other land in the township. (fn. 47) In 1722 Richard Burdon sold a capital messuage, 7 bovates, and other land to John Nottingham, (fn. 48) and he or another of the same name had 223 a. in 1766. (fn. 49) Another John Nottingham sold a house and 132 a. to Richard Price in 1819, (fn. 50) and on Price's death in 1857 the estate passed to his grandson J. R. Haig. (fn. 51) In 1918 D. P. Haig sold the property, then called Newton Hall farm, to William Leach, (fn. 52) and the Leaches have since retained it. Hall Farm is a large plain 19th-century farm-house.
Another part of the estate, comprising a house and 61 a., was sold in 1879 by Joseph Terry and others to W. J. Bentley. (fn. 53) It passed to Bentley's nephew J. B. Scholes (d. 1944), whose executors sold it in 1948 to W. M. McNeil. In 1969 McNeil sold it to C. J. S. Wood. (fn. 54) The house, also known as Hall Farm, is an early-18th-century building with a single range of five bays.
One of the largest estates held under the Percys in Wilberfoss was that of the Wilberfoss or Wilberforce family. An early member of the family was Ilger of Wilberfoss, who is said to have married Margaret, daughter of William of Kyme. (fn. 55) William of Wilberfoss held 9 bovates of the Kymes in 1260. (fn. 56) The estate was never described as a manor. William Wilberfoss (d. 1557) was succeeded by his son Roger, who in 1577 had a capital messuage and 28 bovates. (fn. 57) In the 17th century the family also acquired the former Wilberfoss priory estate, including the rectory. (fn. 58) After the death of William Wilberfoss in 1709 the estate was divided among his four sons, (fn. 59) and other members of the family also held land in the township. In 1757 another William Wilberfoss sold the 'mansion house', 5 bovates, and 43 a. of closes to Thomas Butterfield, (fn. 60) who had 137 a. in the township in 1766. (fn. 61) Butterfield devised the estate in 1777 to his nephew William Wilkinson, who died in 1839 holding 255 a., including Hall farm. (fn. 62) His devisees sold Hall farm in 1857 to John Dalton and others, and they in 1871 to George Brown: it then comprised 143 a. (fn. 63) Brown died in 1902 and devised the estate to his son William Brown and grandson M. G. Wharram, (fn. 64) and in 1931 the latter sold it to J. D. Burton. (fn. 65) The Burtons still held it in 1974.
Hall or Church Farm, standing on the site of the former priory, was demolished c. 1950. It was a two-storeyed L-shaped house, probably of the earlier 17th century, built of brick on a stone plinth. There was a two-storeyed entrance porch on the main front. (fn. 66) The farm buildings included in 1974 a small square structure of early brickwork with a stone plinth which may have been contemporary with the house.
Several religious houses, including Wilberfoss priory itself, had estates in the parish. Land there was confirmed to Waiter priory in 1178, (fn. 67) and the priory had 4 bovates in Wilberfoss in 1280. (fn. 68) After the Dissolution the estate was granted by the Crown to Thomas Manners, earl of Rutland, in 1541. (fn. 69) By 1591 it had been sold to Wilfrid Dinnis, (fn. 70) and c. 1602 it consisted of a house and 4 bovates in Newton township. (fn. 71) The Austin friary at Tickhill (Yorks. W.R.) had land at Newton worth over £5 in 1535. (fn. 72) It was held by Francis Gower c. 1602, when it included 11 houses. (fn. 73) William Gower was dealing in property in Newton in 1636. (fn. 74) A plot of land formerly belonging to Kirkham priory was granted to Joan and John Constable in 1554. (fn. 75) In 1539 the Knights Hospitallers had a house in Wilberfoss and rents there and in Newton. (fn. 76) The property was briefly restored to them in 1558 (fn. 77) and their former cottage was mentioned c. 1602. (fn. 78) St. Nicholas's hospital, York, had a cottage and close at Wilberfoss (fn. 79) which were granted to John Somer and Thomas Kerry in 1564. (fn. 80) St. Peter's hospital, York, was given land in Wilberfoss in the 12th century, (fn. 81) and St. Williams's college, York, had property there in 1546. (fn. 82)
Jordan son of Gilbert's gift of Wilberfoss church to Wilberfoss priory, perhaps c. 1150, (fn. 83) was followed by small gifts of land by Alan of Catton and others. (fn. 84) At the Dissolution the priory consisted of a church adjoining the parish church, cloisters, a chapter house, and many rooms and smaller buildings, as well as orchard, gardens, and farm buildings. (fn. 85) The priory site and land in Wilberfoss and Newton, together with the rectory, were granted by the Crown in 1553 to George Gale. (fn. 86) The Gales held the property (fn. 87) until 1636, when they sold the 'manor' of Wilberfoss to Roger Wilberfoss and John Agar. (fn. 88) Wilberfoss acquired the Agar share in 1656. (fn. 89) With the exception of the rectorial tithes the estate presumably descended with the Wilberfoss family's other lands in the parish. (fn. 90) Some of the former priory land in Newton had been separated from the rest by 1611, when Wilfrid Dinnis granted 2 bovates of it to George Lister; it was sold to Francis Burdon in 1623 and Thomas Horsley in 1629. (fn. 91)
There were disputes over the payment of tithes in the early 17th century. (fn. 92) The tithes of Wilberfoss were worth £30 and those of Newton £27 in 1650. (fn. 93) The Wilberfoss family sold the former to Marmaduke and John Simpson in 1736. (fn. 94) Those of Newton were subsequently divided: by 1747 half belonged to the Jeffersons and were sold by Richard Jefferson to the earl of Egremont in 1759, (fn. 95) and in 1766 a quarter belonged to John Horsley and the rest to William Hardcastle and George Simpkin. At the inclosure of 1766 combined allotments for tithes and freehold estates were made to the several impropriators. (fn. 96)
ECONOMIC HISTORY.
Medieval agricultural arrangements are obscure. The extension of the cultivated lands in Wilberfoss township is probably indicated by Jordan son of Gilbert's gift to the priory in the 12th century of 6 bovates of old land and one 'of increase'. Several copses were also given to the priory. (fn. 97) A dozen sub-tenants held land of the Kymes in 1260, (fn. 98) and in the 16th century and later there were many freeholders in the township. In 1577 there were 10 freeholders and a tenant-at-will, and 38 people paid 'boons' in respect of services formerly rendered to the lord of Catton manor, of which Wilberfoss was a member. (fn. 99) About 1602 30 houses and 41 bovates belonged to freeholders, and 4 houses and 71 a. were held of Catton manor by unfree tenants; (fn. 100) and in 1616 there were 49 houses in Wilberfoss but only 4 unfree tenants. (fn. 101)
The arable land of the township lay in seven open fields by 1616, namely Burn Carr, Far, New Bridge, Mill, Park or Stone Pit, Stocking, and Town End fields. Park field had been referred to as West field in the 16th century. (fn. 102) Burn Carr ings in 1616 were presumably common meadows near Foss beck. The common pastures were then known as Low or South-east moor, containing 494 a., Stocking, of 36 a., and Furdaile, of 11 a. (fn. 103) The moor was used solely by Wilberfoss, but the inhabitants also intercommoned on East and West moors in Catton. Limited rights on West moor were enjoyed under an agreement made with Richard de Percy in the 13th century, but Wilberfoss apparently lost them in the 16th century after persistent encroachment. (fn. 104)
By the early 18th century a little inclosure had taken place. The 15-acre New close in Far field was mentioned in 1709, and Seave and Beck closes in 1716; (fn. 105) Seave close may have been in the medieval 'Seveker', (fn. 106) and it seems that it was the beckside meadows and carrs that were being inclosed. By the 1750s there was also a substantial area of closes around the village and part of Park field had been inclosed. (fn. 107) In 1766 the total extent of ancient inclosed land was about 270 a. (fn. 108) Stocking common was said in 1755 to be 'useful for a hold for calves and horses'. (fn. 109)
The remaining open fields and commons were inclosed in 1766 (fn. 110) under an Act of 1760. (fn. 111) A total of 1,149 a. was allotted, comprising 97 a. in Birker, 107 a. in Far, 52 a. in Mill, 75 a. in Stone Pit, and 153 a. in Town End fields, and 551 a. in East moor, 38 a. in Stocking, 3 a. in Stocking green, 25 a. in West moor, and 48 a. in Whinberry Hills. The largest allotment, partly in lieu of tithes, went to John Simpson, and the earl of Egremont received 86 a. One other allotment exceeded 100 a., and there were 4 of 70-99 a., 4 of 30-69 a., 12 of 10-29 a., and 12 of under 10 a.
At Newton there were 15 free tenants in 1577 and 28 people paid 'boons' to the lord of Catton. (fn. 112) Newer reclaimed land is indicated by the mention of 'forby lands' in 1611, (fn. 113) and by 1662 the township's open fields were known as Middle, Mill, and Whiteland. (fn. 114) Newton apparently had the sole use of Newton carr, but Low Catton men intercommoned in Newton moor or common and in the open fields, just as Newton men did in West moor in Catton. (fn. 115) Beast-gates in the carr were mentioned in the 18th century. (fn. 116) Onions, from seed bought in York, and parsnips were grown in a garden in the village in the 1590s. (fn. 117)
The open fields and commons were inclosed with those of Wilberfoss in 1766, (fn. 118) when allotments totalling 1,447 a. were made. They comprised 203 a. in Middle, 215 a. in Mill, and 202 a. in White Land fields, 31 a. in Carr ings and 45 a. in Mask, and 345 a. in the common, 51 a. in Carr Hold, and 355 a. in the carr and Carr Tongue. The largest allotments consisted of 299 a. to the earl of Egremont, 223 a. to Mann Horsfield, and 208 a. to John Nottingham. There was one other allotment of over 100 a., 3 of 70-99 a., 6 of 30-69 a., 5 of 10-29 a., and 6 of under 10 a.
In the 19th and 20th centuries there have usually been 15-25 farmers at Wilberfoss and 10-20 at Newton. In 1851 5 in each township had over 100 a., but in the 1920s and 1930s only one or 2 at Newton had 150 a. or more. (fn. 119) The arable area in 1795 amounted to 597 a. in Wilberfoss and 795 a. in Newton, (fn. 120) and in 1905 there were 1,095 a. of arable, 384 a. of grassland, and 9 a. of wood in Wilberfoss, and 979 a. of arable, 425 a. of grassland, and 5 a. of wood in Newton. (fn. 121) Arable was still predominant in the 1930s and later, with pasture mainly near the Derwent and the becks and around the two villages. (fn. 122) There have been half-a-dozen smallholders in the 20th century, mainly on the former commons in the east of the parish. (fn. 123)
There is little evidence of non-agricultural employment in the parish, but at Wilberfoss a brickmaker was mentioned in 1775, (fn. 124) a tanner in 1791, (fn. 125) and a brewer in 1823, (fn. 126) and at Newton there was an agricultural implement maker in the late 19th century. (fn. 127) The location of former brickworks is indicated by Brickyard Farm, in Carr Lane at Newton, (fn. 128) and old clay pits south of the Hull road in Wilberfoss. (fn. 129) There are large disused gravel pits on the moraine in both townships. An agricultural engineer has operated from a site on the Hull road at Wilberfoss since 1949 (fn. 130) and there are now extensive warehouses.
A water-mill at Wilberfoss belonging to the priory was mentioned in the 1230s, (fn. 131) and a windmill was included in the grant of former priory property to George Gale in 1553. (fn. 132) A windmill was mentioned again in 1669 (fn. 133) and from 1823 onwards, a miller being last recorded in 1933. (fn. 134) The latest mill stood on the moraine north-west of the village but was demolished c. 1970. The name Mill field in both Wilberfoss and Newton suggests that there was at least one earlier windmill site in the parish. In 1755 an oatmeal mill stood near the beck at Wilberfoss, close to Stone bridge. (fn. 135)
LOCAL GOVERNMENT.
Surviving court records for the manor and soke of Catton, within which Wilberfoss lay, show that in the 1470s two constables and two aletasters were elected for Wilberfoss township and two constables and one aletaster for Newton. Two constables were chosen for each township in the 1660s, and a constable, four bylawmen, and a pinder were appointed for Wilberfoss in the 19th century. (fn. 136)
No parochial records before 1835 are known. Several poorhouses stood on Stocking green at Wilberfoss in 1755 (fn. 137) and 1850, (fn. 138) and six families lived there in 1851. (fn. 139) Wilberfoss and Newton joined Pocklington poor-law union in 1836 (fn. 140) and Pocklington rural district in 1894. (fn. 141) They became part of the North Wolds district of Humberside in 1974.
CHURCH.
It was perhaps c. 1150 that Jordan son of Gilbert gave Wilberfoss church and its chapel at Newton upon Derwent, together with 7 bovates of land, to Wilberfoss priory. (fn. 142) The gift was confirmed in 1233 (fn. 143) and the church was appropriated to the priory, though no vicarage was ordained. (fn. 144) After the Dissolution Wilberfoss remained a perpetual curacy until the 19th century; it was styled a vicarage by 1872. (fn. 145) The benefice was united with Kexby in 1959. (fn. 146)
The church was presumably served by a chaplain, found by the priory, until the Dissolution. Thereafter the appointment of curates and presentation of vicars descended with Catton manor. (fn. 147) After 1959 the patrons of the united benefice were J. E. Vesey, 6th Viscount de Vesci, and J. E. R. Wyndham, created Baron Egremont. (fn. 148)
The parochial chaplain received £4 6s. 8d. in 1525-6. (fn. 149) The curate's stipend, paid out of the rectory, was £10 in 1650 (fn. 150) and £12 in the 18th century. (fn. 151) The curacy was augmented with £200 from Queen Anne's Bounty in 1764, 1786, and 1810 and with a parliamentary grant of £1,200 in 1819. (fn. 152) The average net income was £67 in 1829-31. (fn. 153) An endowment of £17 a year was made from the Common Fund in 1871 in respect of a gift of £510 to the Ecclesiastical Commissioners. (fn. 154) The net income of the vicarage was £99 in 1884 and £86 in 1915. (fn. 155)
Open-field land apparently belonged to the curacy in the late 17th century, (fn. 156) but in the 18th there was no glebe (fn. 157) until bounty money was used by 1786 to buy 6 a. in Dunsforth (Yorks. W.R.). Another 9 a. were bought at Bempton by 1809, 2 a. at Huntington (Yorks. N.R.) by 1817, and 5 a. at Wilberfoss by 1849. (fn. 158) The Wilberfoss land was sold in 1971 but that at Dunsforth and Bempton still belonged to the living in 1974. (fn. 159) In the 18th century the only other source of income was fees. A cottage belonged to the curacy in the late 17th century (fn. 160) but there was subsequently no parsonage house until one was bought, with half of the parliamentary grant, by 1825. (fn. 161) The Vicarage, a late-18th-century house standing in the west of the village on the York road, was sold in 1936. (fn. 162)
A guild of St. Mary at Wilberfoss was mentioned in 1402. (fn. 163) The dependent chapel at Newton, given with the church to Wilberfoss priory, (fn. 164) was mentioned again in 1447, (fn. 165) and in 1539 the chaplain's stipend was said to be paid by the lessee of the former priory property in the parish. (fn. 166) The chapel was perhaps suppressed along with the chantries. Chapel garth was granted by the Crown to George Gale in 1553 and the lands formerly belonging to the chapel to Francis Barker and Thomas Browne in 1571. (fn. 167) It was stated in 1582 that about sixteen years earlier a villager had taken a chalice and vestment from the chapel and kept them. (fn. 168)
The curate of Wilberfoss was also vicar of Bugthorpe in 1705, (fn. 169) and in 1743 he was rector of Sutton upon Derwent, where he lived. (fn. 170) In 1764 he lived at Wilberfoss, in a rented house. (fn. 171) From the early 20th century the vicar also held and lived at Kexby, (fn. 172) and since 1959 the incumbent of the united benefice has continued to live at Kexby. (fn. 173)
A service was held in the church weekly in summer and fortnightly in winter in 1743; communion was then celebrated four times a year and there were 98 communicants the previous Easter. (fn. 174) By 1764 there were two services a week, and the number of communicants at Easter had dropped to 68. (fn. 175) There was again only one Sunday service by 1851 (fn. 176) but two once more by 1871, and in 1884 there was also a service on Wednesdays. Communion was celebrated six times a year, with 20-30 recipients, in 1865, monthly in 1871, and weekly in 1894. (fn. 177) In 1974 there were two services each Sunday.
The church of ST. JOHN THE BAPTIST, of rubble and ashlar, consists of chancel with north vestry, nave with south aisle and porch, and west tower. It is probable that in the late medieval period the priory church occupied the position of the present chancel and that the claustral ranges abutted upon the existing nave. The north wall of the nave is now windowless and although plastered on both faces may be dated by the stumps of two 12thcentury buttresses. The nave has a south arcade of the 13th century but the aisle and porch date from the 15th century; the aisle was described as new built in 1447-8. (fn. 178) The tower was also a 15th-century addition and there was a bequest towards its building in 1461. (fn. 179) Although it incorporates some old materials the present chancel appears to date from the 19th century. On its north side the vestry, like the organ recess projecting from the nave, is a 19th- and 20th-century adaptation of the stumps of old walls running towards the priory.
From 1766 income for the repair of the church was received from a one-acre close and a 6s. rent-charge in Wilberfoss and a one-acre close and a 9-acre allotment, made at inclosure that year, in Newton. (fn. 180) Rents from the property were received by the churchwardens in 1824. (fn. 181) The joint Church and Poor's Lands charity at Newton was divided under a Scheme of 1925, when the church charity had 10 a. in Newton, £18 stock, and £84 cash. In 1962 the income of £25 was used for repairs and in 1973 £30 was so used. (fn. 182)
The bells were rehung in 1629 (fn. 183) and payments were made for recasting in 1753 and 1791. (fn. 184) There are three surviving bells: (i) 1759; (ii) 1790, Dalton of York; (iii) 1667. (fn. 185) The plate includes a silver cup dated 1805 and a pewter flagon and paten. (fn. 186) The registers of baptisms, marriages, and burials begin in 1618, with a gap in 1666-77. (fn. 187)
The churchyard was enlarged in 1858 (fn. 188) and 1926. (fn. 189)
NONCONFORMITY.
In 1571 Roger Wilberfoss and Edward Harling were reported to have kept undefaced the timber of the rood loft and the stones of the cross from the church. (fn. 190) In the 1590s and early 17th century there were more than a dozen recusants in the parish, including members of the Gale family. There were still a few recusants in the mid 17th century, (fn. 191) and two in 1676. (fn. 192)
A house was registered for protestant nonconformist worship in 1764, (fn. 193) and there were eight Methodist families in the parish that year. (fn. 194) The Methodists had 7-33 members in Wilberfoss and 4-22 in Newton in 1790-1816. (fn. 195) Houses in Wilberfoss were licensed for worship in 1812 and 1819, (fn. 196) and in Newton in 1820 and 1821. (fn. 197) The first chapel in the parish was registered by the Wesleyan Methodists at Newton in 1818 (fn. 198) and replaced by a new one on the same site in 1901, (fn. 199) still used in 1974. A Wesleyan chapel in Wilberfoss was built facing the beck in 1841 (fn. 200) and also remained in use in 1974. A Primitive Methodist chapel in Wilberfoss was built in Back Lane in 1824 (fn. 201) and rebuilt on the same site in 1872. (fn. 202) It was deregistered in 1937 (fn. 203) but was still standing in 1974.
EDUCATION.
There was a schoolmaster at Wilberfoss in 1748-9, (fn. 204) and in 1764 a schoolmaster was hired by the inhabitants of Newton. (fn. 205) By 1835 there were two day schools with about 40 children and a boarding school for 14 boys at Wilberfoss, and a day school for 12 pupils at Newton; all were supported by the parents. (fn. 206) The boarding school was presumably that kept by the incumbent in 1840. (fn. 207) A school stood beside Wilberfoss green in 1851. (fn. 208) In 1868 60-75 children attended three schools in the parish, (fn. 209) but in 1871 there was only a school at Newton, with 24 in attendance, while Wilberfoss children went to Kexby. (fn. 210) A school at Wilberfoss was built in 1873, together with a schoolmaster's house, and opened the next year, receiving its first annual government grant in 1875; the average attendance in 1874 was 78. (fn. 211) It was united with the National Society. (fn. 212)
The attendance usually varied between 70 and 100 in 1906-37. (fn. 213) In 1955 senior pupils were transferred to Pocklington. (fn. 214) A new school on the Fangfoss road was opened in 1973, but the old building also continued to be used. There were 103 on the roll in January 1974. (fn. 215)
By a Scheme of 1884 half the income of the poor's share of the Church and Poor's Lands charity at Newton was paid to help children attending Wilberfoss school. The educational part of the income was then £10 a year, but little or none was used for the benefit of Newton children in the early 20th century. The educational part was separated from the general charity in 1905. Under a Scheme of 1925 the income was widely applied on behalf of local children, including payments towards other than elementary education. The income was then still £10 a year and there was £72 cash in hand. (fn. 216) In 1969 a grant of £15 was made to the Sunday school and in 1971 £94 was used for repairs to charity property; no grants were made in 1971-3. (fn. 217)
CHARITIES FOR THE POOR.
Thomas Wood, by will dated 1568, devised a rent-charge of £10 from an estate at Kilnwick Percy for the benefit of Wilberfoss, Newton, and many other townships. In 1824 3s. 4d. each was distributed in Wilberfoss and Newton. (fn. 218) Henry Frederick, Baron Hotham, owner of the Kilnwick Percy estate, redeemed the rentcharge in 1961 and £13 stock was assigned to Wilberfoss and Newton. (fn. 219) The income of 6s. 8d. was not distributed in 1967. (fn. 220)
William Clark before 1764 devised 10s. a year from land at Newton to be distributed in the parish in cash at Christmas, Easter, and Whitsun and in bread on one Sunday each year. It was distributed largely as intended in 1824. (fn. 221)
John Horsley, by will dated 1719, bequeathed £40 after his wife's death to the poor of Newton township. She died by 1728. The churchwardens and overseers held 9 a. in Newton in respect of the charity in 1766. In 1824 the income was distributed in lots of between 5s. and £3. (fn. 222)
Clark's and Horsley's charities, along with another for Newton's share of repairs to Wilberfoss church, were later jointly administered as the Church and Poor's Lands charity; by a Scheme of 1884 half of the income of the poor's part was applied to education. The educational share was separated from the general charity in 1905. The latter was divided by a Scheme of 1925 into distinct church and poor's charities; the poor's charity then had a cottage and 9 a. in Newton and £59 cash. The poor's charity income was £42 in 1962, and payments made included gifts of £2 to each of 7 persons. (fn. 223) In 1973 gifts totalling £28 were made to 17 persons. (fn. 224)
John Bell (d. 1938) instructed his trustees to administer a fund to supply a nurse for Wilberfoss parish. By a deed of 1941 a nursing association was promoted and a nurse was provided from then until 1971. By a Scheme of 1972 the nursing association was converted to the John Bell Relief in Sickness and Infirmity Fund. Its endowment then comprised £2,075 stock and £119 cash, and the income was to be used for the general benefit of Wilberfoss and adjoining parishes. (fn. 225) In 1974 the income of £70 a year was used to employ a 'home help'. (fn. 226)