Pages 295-301
A History of the County of York East Riding: Volume 6, the Borough and Liberties of Beverley. Originally published by Victoria County History, London, 1989.
This free content was digitised by double rekeying. All rights reserved.
THEARNE AND WOODMANSEY
The villages of Thearne and Woodmansey, lying respectively about 3 km. and 4½ km. southeast of Beverley, occupy the low-lying ground between Beverley Parks and the river Hull. Both places have largely lost their separate identities as the result of ribbon development along the Beverley-Hull road in the 20th century. The names, meaning 'thorn tree' and 'woodman's pool', were first recorded in the late 13th century and are Anglian. There may also have been small groups of houses at Sicey, the Anglian 'broad pool', lying south of Thearne and first mentioned at the same period, and at Sneerholmes, the Scandinavian 'Snorri's water meadow', lying east of Woodmansey and first mentioned in the mid 14th century; (fn. 1) along with Thearne and Woodmansey they were among the 'water towns' of Beverley. (fn. 2) Woodmansey was part of the township of Woodmansey and Beverley Parks, and Thearne was a separate township; both by c. 1800 were parishes for local government purposes.
In 1852 Woodmansey contained 333 a. (134.8 ha.) and Thearne 516 a. (208.8 ha.), and a further 336 a. (136 ha.) were described as intermixed between the two. (fn. 3) In the 1880s the intermixed area was divided, 170 a. going to Thearne and 155 a. to Woodmansey and Beverley Parks, (fn. 4) but the latter township was left with a detached part of 42 a. lying in Thearne. In 1935 the two civil parishes were combined as the civil parish of Woodmansey, which contained 3,804 a. (1,549.5 ha.). (fn. 5) In 1985 the civil parish, then reckoned at 1,540 ha., was enlarged by the addition of the neighbouring village of Dunswell, comprising 330 ha. (fn. 6) Because some aspects of the history of Thearne and Woodmansey are difficult to disentangle, and because of the distinct character of Beverley Parks, Thearne and Woodmansey are treated together here and the Parks separately.
In neither Thearne nor Woodmansey does the ground anywhere reach 7 m. above sea level and large areas are covered with alluvium. Around the villages, however, where there are patches of boulder clay and sand and gravel, the ground is sufficiently elevated not to have been liable to drainage rates. (fn. 7) Until the early 17th century the low grounds of both hamlets were drained by dikes that entered the river close by. The inadequacy of the dikes and sluices, however, led to frequent flooding not only of farmland but also of the Beverley-Hull road and the road to the ferry between Thearne and Wawne. In 1647, therefore, the Court of Sewers for the East Parts of the East Riding ordered that those grounds should be drained by a dike leading southwards through Skidby ings to a new sluice in Cottingham; the upkeep of the dike and sluice was shared equally by the inhabitants of Thearne, Woodmansey, and Skidby and the Wartons, lords of the Water Towns manor. (fn. 8) Under an Act of 1785 Thearne and Woodmansey were removed from the jurisdiction of the Court of Sewers and a new Beverley and Skidby Drainage Board was formed. (fn. 9) The drainage award consequently made in 1788 set out Figham, North Carr, Old Wife Carr, Park, Sicey, and Western drains, all leading to the main or mother drain which discharged water into the river at a sluice in Sculcoates. The common pastures of Thearne and Woodmansey were inclosed the same year, and 700 a. of old and new inclosures were rateable to the drainage. (fn. 10) Drainage works in the townships include the maintenance of flood banks alongside the river. The work of the Beverley and Skidby Drainage Board was taken over in 1956 by the Hull and East Yorkshire River Board, (fn. 11) the responsibilities of which had passed to the Yorkshire Water Authority by 1987. Thearne and Woodmansey are also crossed by the Beverley and Barmston drain, cut c. 1801 under an Act of 1798, but it has no part in their drainage. (fn. 12)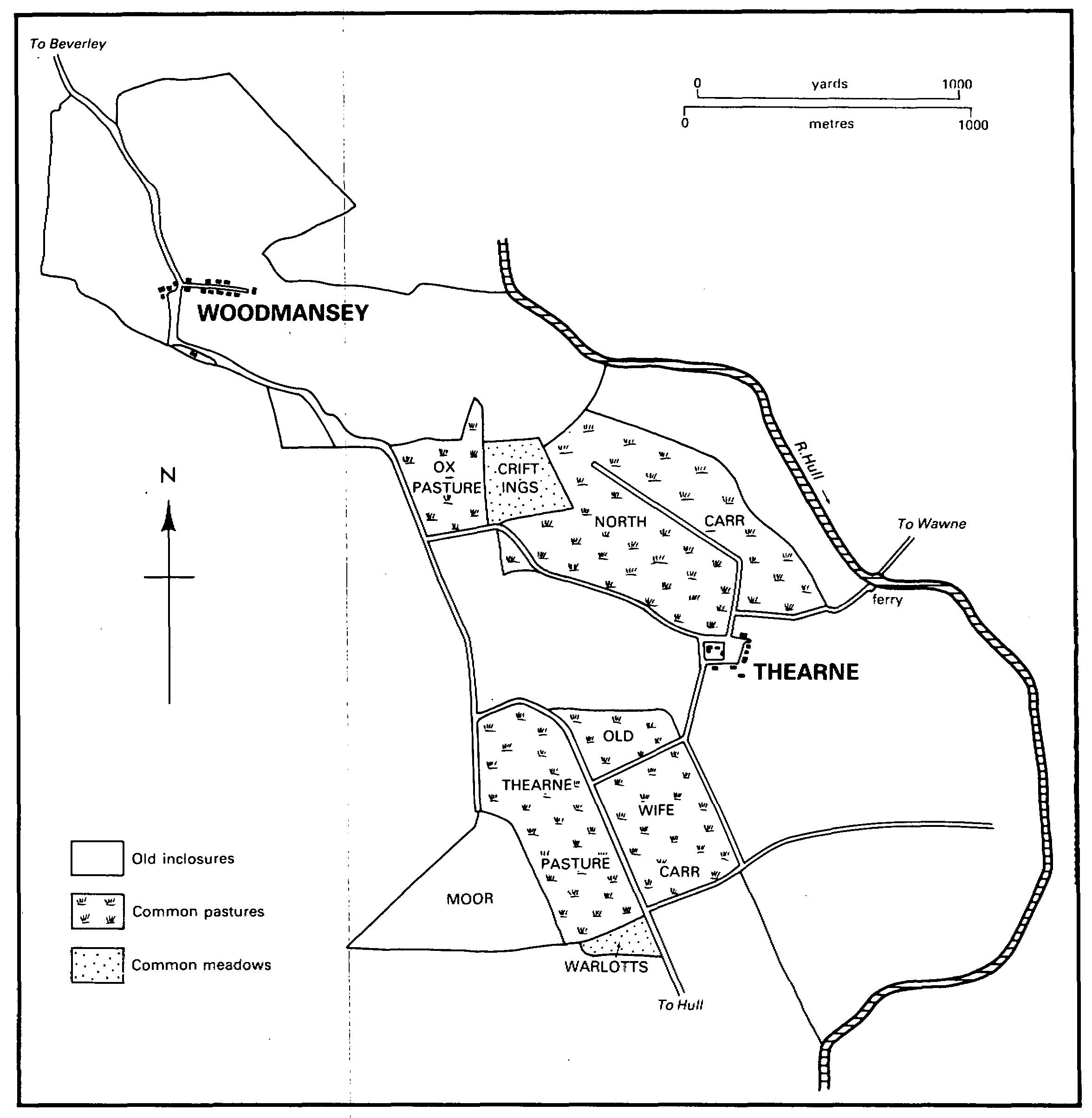 The main road from Beverley to Hull (fn. 13) runs through Thearne and Woodmansey, in places separating them from Beverley Parks; the nucleus of Thearne village lies over ½ km. east of the road and that of Woodmansey close beside it. It is possible that as a through road to Hull it did not exist until the early 14th century. (fn. 14) From the main road Long Lane runs westwards into Beverley Parks and Thearne Road and Thearne Lane eastwards to Thearne village. Close to Thearne village a lane joining Thearne Road and Thearne Lane was stopped up at inclosure in 1788. (fn. 15) From Thearne another road led to a ferry over the river Hull, to Wawne. The ferry was mentioned in the mid 12th century (fn. 16) and contributed the comparatively large sum of £3 or £4 to the value of the manor of Beverley in the 14th and 16th centuries. (fn. 17) In the 20th century it had a pontoon for horses and carts as well as a boat for foot passengers. It was closed in the 1950s. (fn. 18) There was also a landing place for goods near the ferry in the 19th century. (fn. 19)
The dozen houses of Thearne village include five cottages built in 1833 (fn. 20) and later called Chapel Row. Thearne Hall dates from the 19th century. (fn. 21) A small piece of ground north of the village was registered as common land in 1970. (fn. 22) The houses of Woodmansey village formerly lay on a short cul-de-sac known as King Street which only since the Second World War has been extended to loop back to the main road. No. 4 King Street, the house of the Beverley antiquary Gillyat Sumner (1793-1875), (fn. 23) dates from the 18th century but was evidently much altered after he bought it in 1825; at the side is a doorway from Beverley guildhall which Sumner installed at Woodmansey in 1836 (fn. 24) and in the garden a turret from St. Mary's church, Beverley, which he bought in 1851. (fn. 25)
Away from the villages Snoreholm houses were mentioned c. 1362 and Sneerholmes House in the 17th century, (fn. 26) and there were presumably houses at Sicey in the Middle Ages. (fn. 27) By the late 18th century, however, there were no houses at either place. (fn. 28) In the early 19th century a dozen houses were built on the commonable lands which had been inclosed in 1788. Houses and cottages built beside the main road at Woodmansey included three, put up by 1824, which occupied encroachments made upon the road. Other isolated farmhouses built by 1852 included Kenley Reach Farm, Sicey Hall (later Sicey) Farm, Woodmansey Grange, and those later called Sicey Cottage and Sober Hall. Entick House had been added by 1900. (fn. 29) Near the main road at Thearne six smallholding houses were built by Hull corporation in 1921-2, including two known as New Farm. (fn. 30)
By 1900 a school and a church, (fn. 31) standing roughly midway between Thearne and Woodmansey, had been added to the scattered buildings beside the main road. Ribbon development along the road began in the 1920s and accelerated after the Second World War. Rows of houses and bungalows were built north and south of Woodmansey village, and almost continuously from the church to Plaxton's bridge; other houses were put up in Thearne Road and Thearne Lane. (fn. 32) At Woodmansey more than 80 council houses were built on an estate which eventually joined the eastern end of the village to the main road, (fn. 33) and 15 flats were added nearby in the 1980s. A village hall at the end of Long Lane was opened in 1964. (fn. 34) A sewerage scheme for the two villages, with a treatment works near the river at Thearne, was completed in 1956. (fn. 35)
There was at least one licensed house at Woodmansey in the late 18th and early 19th century. (fn. 36) By 1812 a house on the south side of the village street, adjoining the Beverley-Hull road, was used as a public house; a cottage on the opposite side of the street was then described as lately so used. (fn. 37) By 1823 the house was called the Altisidora and it retained that name after Robert Dixon bought it in 1839. (fn. 38) By 1852 it was called the Dixon's Arms. (fn. 39) It was rebuilt in the 20th century.
There were 87 poll-tax payers at Thearne and Woodmansey together in 1377, (fn. 40) and 8 households were liable to hearth tax in Thearne and 36 in Woodmansey and Beverley Parks in 1672, besides 2 in Thearne and Woodmansey that were exempt. (fn. 41) The population of Thearne was 74 in 1801; it fluctuated during the 19th century, with a maximum of 113 in 1861, and stood at 97 in 1901. Between 1921 and 1931 numbers rose from 122 to 183. (fn. 42) At Woodmansey there were 200 inhabitants in 1851 and 231 in 1861, but the population was not otherwise recorded separately from that of Beverley Parks. The population of Woodmansey and Beverley Parks was 229 in 1801, rising to 429 in 1841 and 883 in 1881, before falling to 772 in 1901. (fn. 43) In 1881 there were 342 people at Victoria barracks, Beverley Parks, and thereafter the barracks made a significant contribution to numbers in the township. In the 20th century the increase in the population reflected house building in Beverley Parks as well as in Thearne and Woodmansey. Numbers rose from 785 in 1921 to 953 in 1931 and 2,312 in 1951, before falling to 1,648 in 1961, partly as a result of the closing of the barracks. By 1971, however, they had risen to 1,968 and in 1981 there were 2,136 residents. (fn. 44)
ESTATES.
Thearne and Woodmansey belonged to the archbishop of York as appurtenances of the manor of Beverley until 1542. They later formed part of the manor of Beverley Water Towns, passing to C. A. Pelham in 1775. (fn. 45) Much of the land in the townships was copyhold, of which there were still c. 570 a. in 1899. (fn. 46)
C. A. Pelham's freehold estate in 1775 included 245 a. in Thearne and 31 a. in Woodmansey, and he was allotted 34 a. there for his common rights at inclosure in 1788. (fn. 47) In 1806 the Pelhams sold a house and 258 a. in Thearne and Woodmansey to George Knowsley, a Hull merchant. (fn. 48) After Knowsley's death in 1809 the house and 205 a. were conveyed in 1810 to John Wray, a Hull banker, and in 1821 to J. R. Pease (d. 1866), another Hull banker. (fn. 49) Pease's father, also J. R. Pease (d. 1807), already had at least 89 a. in the two villages in 1788. (fn. 50) The younger Pease bought another 22 a. in Thearne in 1824 and 41 a. there in 1865. (fn. 51) In 1898 most of the estate, comprising 252 a. in Thearne and 23 a. in Woodmansey, was sold by another J. R. Pease (d. 1915) to Thomas Weatherill; it included Entick House, Sicey Cottage, and Sicey Hall farms. (fn. 52) After Weatherill's death in 1940 the estate was split up and sold the next year; (fn. 53) the largest part, the 101-a. Sicey (formerly Sicey Hall) farm, going to Henry G. Moore. (fn. 54) Moore died in 1948 and the estate passed to Frank Moore, who sold Sicey farm in 1961 to Tom and Molly Rodmell. (fn. 55) The Rodmell family still owned it in 1987. (fn. 56)
In the early 17th century one of the largest copyholds in Thearne was that of the Wardell family of Hull Bank, in Cottingham. (fn. 57) John Wardell (d. 1659) was succeeded by his son John, after whose death in 1667-8 the holding was evidently divided between his widow Theodosia and his daughter Margaret, who married Thomas Westby. Margaret's son W. G. Westby succeeded her in 1698 and in 1704 he inherited Theodosia's share. Westby sold part of the holding, comprising c. 75 a. and common rights, to Henry Etherington in 1746. (fn. 58) Etherington died in 1760 and his son Sir Henry Etherington (d. 1819) (fn. 59) was allotted 33 a. at inclosure in 1788, when he also had more than 60 a. of old inclosures in Thearne. (fn. 60)
A large part of the Etherington estate was sold to Robert Ramsey of Beverley before 1814. (fn. 61) After Ramsey's death in 1822 his house, then known as Thearne Cottage, (fn. 62) and 76 a. were sold in 1824 to William Wilkinson, (fn. 63) who conveyed them in 1829 to James, later Sir James, Leighton. After the latter's death F. S. Leighton sold the estate in 1868 to Bryan B. Jackson (d. 1892). (fn. 64) Thearne Hall (the former Cottage), Hall Farm, and 85 a. were sold by Harold R. Jackson to Thomas Weatherill in 1919. (fn. 65) After Weatherill's death in 1940 William Weatherill sold the Hall and 2 a. to William M. Wallis and Hall farm to Geoffrey W. Newlove in 1941. (fn. 66) Wallis sold the Hall to Newlove in 1942 and after several further changes of ownership it belonged to Mr. and Mrs. R. H. Spink in 1987. (fn. 67) Newlove gave Hall farm to Geoffrey B. Newlove and Roy V. Newlove in 1965; it was assigned to the former in 1969 and the same year he gave an undivided half share to his wife Vera. In 1987 Mr. and Mrs. Newlove still owned the farm. (fn. 68)
Thearne Cottage, later called Thearne Hall, was described in 1824 as 'lately enlarged, altered, and improved' by Robert Ramsey. (fn. 69) It was later said to have been built, presumably rebuilt, by William Wilkinson. (fn. 70) It was occupied in 1856 by George Barkworth, a Hull merchant. (fn. 71) The house is a plain villa of white brick. Shelter belts of trees surround the former estate.
The Baintons of Beverley Parks (fn. 72) also had land in Thearne and Woodmansey, comprising two farms of 210 a. altogether in 1900. (fn. 73) It was sold, as three farms, in 1919-20. (fn. 74)
After the suppression of St. John's college, to which they had belonged, (fn. 75) the tithes of Thearne and Woodmansey were several times let by the Crown (fn. 76) before they were granted in fee in 1613 to Francis Morrice and Francis Phillips. (fn. 77) They were sold by them in 1615 to Sir William Cope, Bt., from whom Sir Michael Warton bought them in 1625. (fn. 78) Those of Thearne were worth £11 and those of Woodmansey £12 a year to Sir Michael Warton in 1650. (fn. 79) At the partition of the Warton estates in 1775 the tithes of the demesne estate passed to C. A. Pelham; they were later sold with the land and were eventually merged. (fn. 80) The rest of the tithes fell to the share of Michael Newton, (fn. 81) and at the inclosure of Thearne and Woodmansey in 1788 he was allotted 22 a. for those from the commonable lands. (fn. 82)
Tithes were still paid from the old inclosures. In 1813, after Newton's death, those from 228 a. in Thearne were sold to John Lockwood, (fn. 83) who later divided and sold them. (fn. 84) Many tithes, including some of those sold to Lockwood, were later merged but those from 175 a. at Thearne remained to be commuted in 1849, when rent charges of £16 13s. were awarded to Edward Page, £19 17s. 6d. to William Whytehead, and £2 16s. to Edward Woolley. (fn. 85) The tithes from c. 270 a. at Woodmansey were sold in 1812 to the landowners (fn. 86) and, like the rest, they were later merged. (fn. 87)
In 1535 the seven parsons of St. John's college had property at Woodmansey worth £4 a year; it comprised ½ bovate in Thearne and 2 bovates, a close, and 5 houses in Woodmansey in 15423. (fn. 88)
ECONOMIC HISTORY.
It seems likely that Thearne and Woodmansey had separate open fields but the inhabitants may already in the Middle Ages, as later, have intercommoned in their meadows and pastures. The common pasture of Thearne and Woodmansey was mentioned in 1303. (fn. 89) The inhabitants of Woodmansey evidently also had common rights in Figham until the 13th century; the archbishop withdrew those rights as part of the agreement which he made with the townspeople of Beverley c. 1255, and which was confirmed in 1282. (fn. 90) In 1310 the archbishop ordered that land, with meadow and pasture, held of him in the townships should be measured and let to tenants, (fn. 91) but the circumstances were not recorded. Rents from tenants at Thearne and Woodmansey made a modest contribution to the value of the manor of Beverley. For example, in 1340 at Thearne bond and customary tenants' rents amounted to less than £2 and in 1542-3 c. £6 15s. In the same years at Woodmansey free and customary tenants rendered a little over £1 and nearly £7. Larger sums were received from the farm of the demesnes. In 1340 five holdings in Sicey produced £5, East Carr in Thearne £10, demesne land of at least 27 a. in Woodmansey £1 8s., and Sneerholmes and the ferry together £3. In 15423 Sicey produced over £9, the 72-a. East Carr £8, and Sneerholmes and the ferry £4. (fn. 92)
The open fields of Woodmansey evidently still existed in 1548, when a holding there included several bovates of land; there was also a common meadow called Firth. (fn. 93) Both fields and meadow had, however, been inclosed by the early 17th century, when those of Thearne were still in existence. In 1622 there were 13 customary tenants at Thearne holding 5 houses, 9 cottages, 5½ bovates of open-field land, half a dozen closes, ½ a. in Crift ings, and ½ beast gate in Ox pasture; they rendered 15 'lake hens'. At Woodmansey that year there were 20 customary tenants holding 4 houses, 16 cottages, about 35 closes, 7½ a. in Crift ings, 23¾ beast gates in Ox pasture, 14½ beast gates in the moor and 1 in the commons, and several small parcels in Warlotts; they rendered 16 'lake hens'. Four of the closes were called North fields, perhaps indicating a former open field lying north of the village, and one tenant had 2 bovates divided into 5 closes. Five tenants each had a Firth close, presumably in the former meadow. The townships were said to have two commons, North carr and Wyth carr. The tenants of Woodmansey were allowed ½ a. to keep a bull. (fn. 94) Some ridge-and-furrow survived south of the village in 1987. The open fields of Thearne, evidently called East and West fields, were inclosed by the mid 17th century. Thus in 1659 John Wardell's 2½ bovates consisted of 20 a. in 4 closes in East field and 8 a. in a close in West field. They lay on the higher ground around the village and some ridge-andfurrow west of the village survived in 1987. The moor had also been inclosed by the mid 17th century, for tenants had only closes and small parcels of land there. The other common pastures remained. They included the summer pasture, perhaps that later called Thearne pasture. Old Wife carr, perhaps the earlier Wyth carr, was mentioned in 1694. (fn. 95) Land in both townships was used as pasture by Michael Warton, as lord of the Water Towns manor, and at his death in 1688 he had 80 cattle at Thearne. (fn. 96)
The remaining commonable lands in Thearne and Woodmansey were inclosed in 1788, under an Act of 1785. (fn. 97) There were then 40 common rights in Thearne common (presumably North carr) and 36 in Thearne pasture. Only two people had an interest in both Crift ings and Ox pasture. (fn. 98) Allotments were made totalling 260 a., of which 112 a. were from North carr, 61 a. from Thearne pasture, 55 a. from Old Wife carr, 25 a. from Ox pasture, and 6 a. from Warlotts; common rights in Crift ings were extinguished by an exchange between the two proprietors. There were eight allotments of 10-50 a. each and thirteen of under 10 a. The award also dealt with a small plot at the eastern end of Woodmansey village which had presumably been an outgang to Figham before rights there were lost c. 1255.
In the 19th and 20th centuries there were c. 8 farmers in Thearne and 5 in Woodmansey, but many men were engaged in other agricultural pursuits. (fn. 99) A market gardener worked at Woodmansey by 1823 and the number of gardeners rose to about 15 in the two townships later in the century. Horticulture was boosted in the 1930s by the introduction of Dutch methods, principally by Cornelis Los and Johannes van Staalduine. (fn. 100) There were still several acres of market gardens and glasshouses in 1987. A large part of the townships was still devoted to pasture in the 20th century, (fn. 101) and half a dozen cowkeepers and dairymen supplied milk to Beverley. (fn. 102) Several smallholdings were established at Thearne in 1921, when Hull corporation bought 112 a. for the purpose. (fn. 103) There have also been a few animal and corn dealers, and a fellmonger. George Wiles of Woodmansey was recorded as a fellmonger from 1905 and Charles Wiles (d. 1954) from 1921. Charles, who later worked in partnership with his brothers, bought 5 a. adjoining Figham in 1917 and built a factory there; in 1925 he bought another 7 a., on part of which he built Dunwood House soon after for his own residence. A further 22 a. were acquired in 1951. (fn. 104) About 1950 the firm changed to the production of chemical fertilisers and bone meal. The much enlarged factory was sold in 1964 to Hargreaves Fertilizers but the business continued to be managed by the Wiles family. (fn. 105) In 1984 Dunwood House was used as the firm's offices.
A windmill for corn formerly standing at Thearne was recalled in 1625, (fn. 106) but none was mentioned again until 1815. (fn. 107) The new mill stood on ground inclosed in 1788. (fn. 108) Steam power was added by 1856. (fn. 109) The mill was last used c. 1913 (fn. 110) and was later demolished; mill-stones stood at the roadside in 1984. The last miller, Moses Copeland (d. 1931), became a corn dealer after the closure of the mill. (fn. 111)
LOCAL GOVERNMENT.
Officers to serve Thearne and Woodmansey were appointed by Beverley corporation in the late 16th century (fn. 112) and at the Beverley Water Towns manorial court in the 17th and 18th centuries. Those for Woodmansey usually also served Beverley Parks. Each township normally had a constable, one or two overseers of the poor, a surveyor of highways, one or two bylawmen, and a pennygrave. (fn. 113) Both townships probably had poorhouses in the early 19th century. For Woodmansey and Beverley Parks in 1816 there were two cottages built by the township and occupied rent-free by paupers, and that year it was proposed to build two more. (fn. 114) The surviving overseers' account book for Thearne for 1757-1828 mentions a poorhouse, presumably in the township, and also the workhouse, probably the one in Beverley. (fn. 115) One person in Thearne and one in Woodmansey had indoor relief between 1812 and 1815. (fn. 116) Both townships joined Beverley poorlaw union in 1836 (fn. 117) and remained in Beverley rural district (fn. 118) until 1974, when they became part of the Beverley district of Humberside. Woodmansey had a parish council under the Act of 1894. (fn. 119)
CHURCH.
The townships, part of St. John's parish, Beverley, may have been served in the Middle Ages by the prebendary of St. Peter in the collegiate church, who enjoyed the tithes there. (fn. 120) Baptisms, marriages, and burials usually took place in the minster. (fn. 121) There was a chantry chapel at Thearne dedicated to St. Mary. In 1378 the archbishop was licensed to give a plot of land to a chaplain who would celebrate in a chapel to be built upon it by Richard of Thearne, canon of Beverley, and in 1390 Richard and others were licensed to make endowment for the chaplain at St. Mary's altar in the chapel. (fn. 122) In 1535 the total rents received, £5 6s. 8d., included £1 from Thearne and in 1548 the chantry was worth over £6 net. (fn. 123) After its suppression the chapel, described as in Woodmansey, was granted by the Crown to Edward Pease and William Winlove in 1549 and it was also included in a grant to Beverley corporation in 1585. (fn. 124) Chapel garth, perhaps the site of the chapel, was mentioned in the 17th century (fn. 125) but its location is not known.
A chapel of ease at Woodmansey was mentioned in 1851 (fn. 126) and was held in the former Church Methodist chapel until 1856, (fn. 127) when the newly built school there was licensed for worship. (fn. 128) The school was also licensed for marriages in 1886. (fn. 129) Woodmansey and Thearne were served by St. John's parish burial ground in Queensgate, Beverley, which was consecrated in 1861. (fn. 130) In 1898 a new chapel of ease and chapel yard, standing beside the Beverley-Hull road between Thearne and Woodmansey, were consecrated. (fn. 131) The chapel was licensed for marriages in 1900. (fn. 132)
The chapel was served by assistant curates from the minster. A weekly service was held by 1865, and communion was celebrated five times in 1868, monthly by 1877, fortnightly by 1884, and on two Sundays in three by 1931; there were usually up to a dozen communicants. (fn. 133)
The so-called church of St. Peter was built in 1896-7 at the expense of William Bainton of Beverley Parks to designs by Alfred Beaumont. (fn. 134) It is of red brick with stone dressings, in a Gothic style, and comprises chancel with south tower over a vestry and nave with south porch.
NONCONFORMITY.
Houses at Thearne were registered for worship in 1781, by Methodists, and 1790. Wesleyan Methodist services there ceased in 1827. (fn. 135) A meeting house at Woodmansey registered in 1821 was possibly used by Wesleyan Methodists, who held services in the village between 1810 and the 1830s. (fn. 136) A Church Methodist chapel was built at Woodmansey in 1825 but had not been opened by the next year; the site was given by Gillyat Sumner and adjoined his garden. (fn. 137) The chapel was used by the Church of England in 1856 (fn. 138) and was later demolished. In 1865 there was no regular place of worship but Methodists held occasional meetings at Woodmansey and there were about 20 'ranters' in the two villages. (fn. 139) A Primitive Methodist chapel was built at Thearne in 1867 and registered in 1869. (fn. 140) It was enlarged in 1952 (fn. 141) but was closed in 1958 (fn. 142) and used as offices in 1984. Particular Baptists began to hold services in a cottage at Woodmansey c. 1867 and a chapel was built there, at the east end of King Street, in 1872. (fn. 143) It was used until the Second World War (fn. 144) but was later demolished.
EDUCATION.
No school was recorded in either village before the mid 19th century. A school to serve both places and Beverley Parks was built on the Hull-Beverley road south of Woodmansey in 1855 and opened the next year. A school house was added by 1889. The school was united with the National Society. The schoolroom, which was also used for church services, is in a plain early Gothic style. The attendance in 1856 was 60. (fn. 145) The school received its first annual government grant in 1857-8. (fn. 146) There were 33 children in attendance on inspection day in 1871. (fn. 147) From 1906 to the 1920s there were c. 55 pupils, rising to c. 80 in the 1930s. (fn. 148) An additional classroom was built in 1935. Pupils aged 12 and over were transferred to Longcroft County Secondary school in 1950 and 11-yearolds to Cottingham County Secondary school in 1955 until the completion of a school at Molescroft. For the remaining children at Woodmansey another classroom was built in 1962. (fn. 149) There were 75 pupils on the roll in 1986. (fn. 150) Income from Anne Routh's charity was shared with other elementary schools in St. John's parish. (fn. 151)